This post may contain affiliate links to things like tours, hotels, Amazon associates and products. These help me earn a small commission at no additional charge to you.
Cape Town is heaven for foodies and it was one of the reasons I was excited to visit.

I arrived in South Africa on a 40-day tour from Kenya. The trip was one of the best of my life but I'd eaten the same slightly stale ham, cheese and random veg sandwich for lunch every single day (budget tours are pocket-friendly but not always lunch friendly!) hence why I was so looking forward to a change of cuisine.

I don't claim to have eaten all the good foods in Cape Town YET but here are some of my favourite eating spots in town:
The Neighbour Goods Market, The Old Biscuit Mill, Woodstock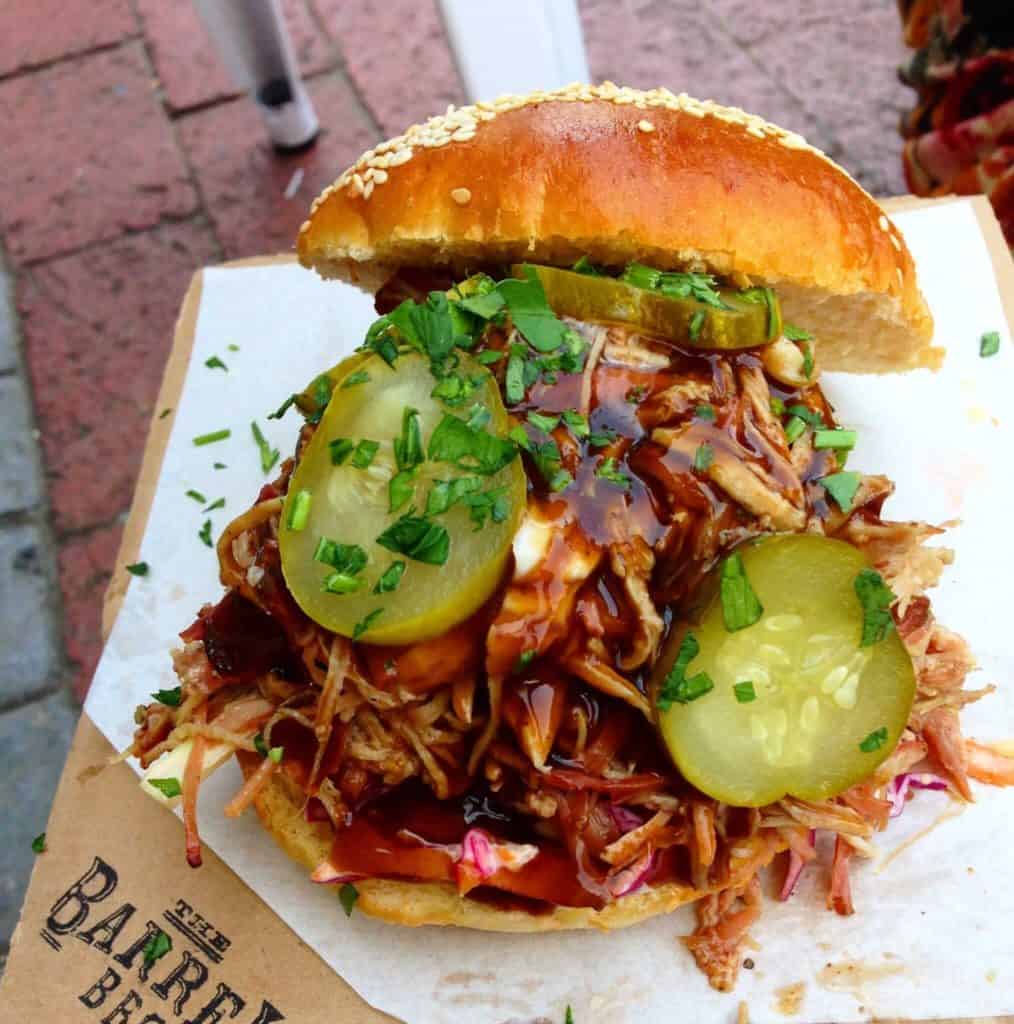 Capetonian businesses like Honest Chocolate and Truth Coffee set up camp every week at this Saturday food market.

You'll find everything from Korean food to cakes and paella to posh fast food, and the only problem is that there's only so much you can eat during one lunchtime sitting. Saying this, I gave it my best shot!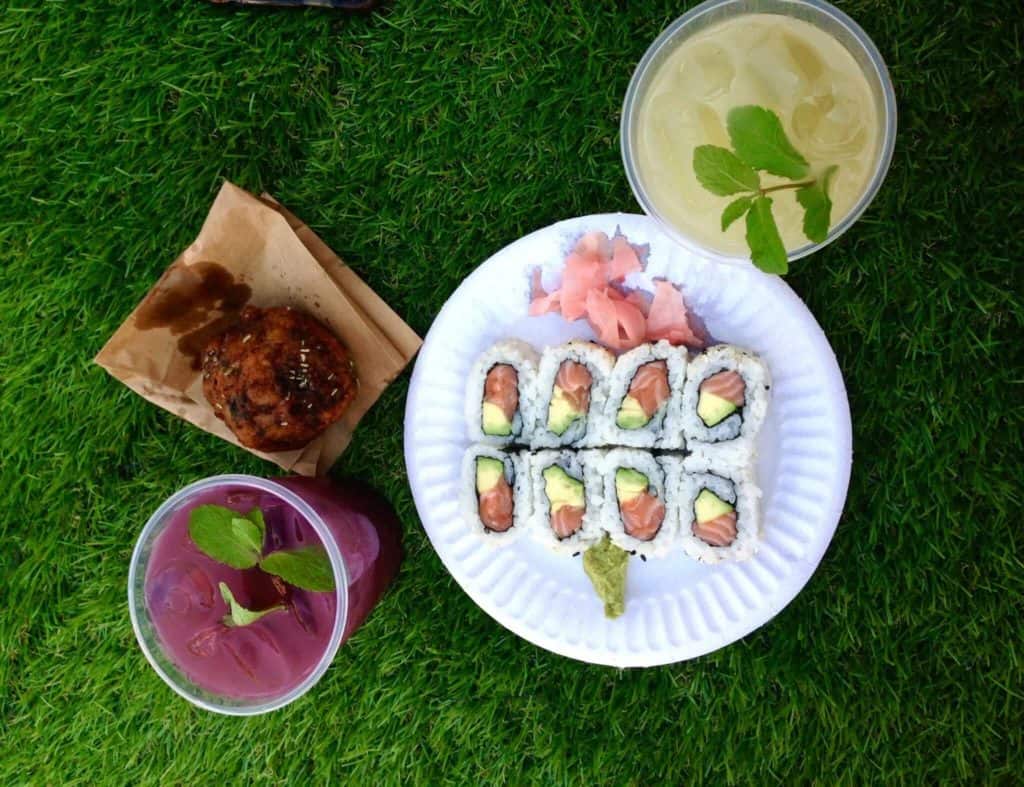 I managed to eat Vietnamese fresh spring rolls (one of my favourite foods on the planet), Chinese food, sushi, a deep-fried mac and cheese ball, a pulled pork burger (I will now use another set of brackets to tell you just how much I also love pulled pork) AND churros. A well-worth-it food coma commenced.
Ocean Basket, various locations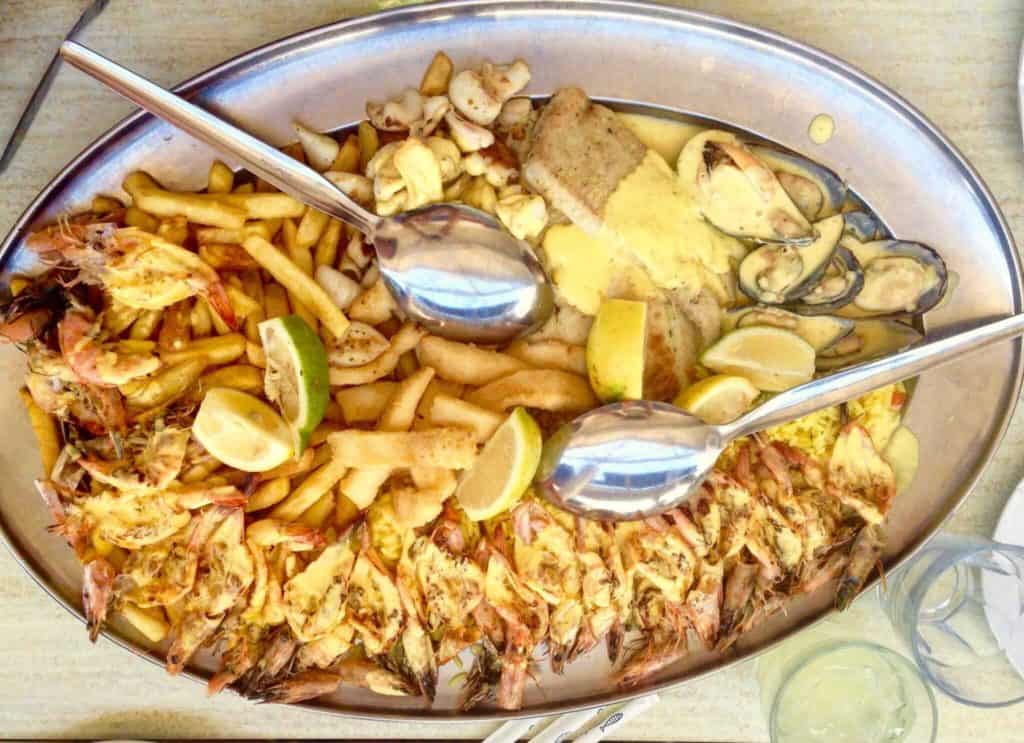 South Africa's favourite seafood chain, Ocean Basket, is all about fresh, fast seafood in generous, inexpensive portions. The shrimp and mussel combo comes in at R100 and contains huge, juicy prawns with a load of mussels and a side of chips – all bathed in golden garlicky butter sauce. I could drink this stuff.
Jason Bakery, Brie Street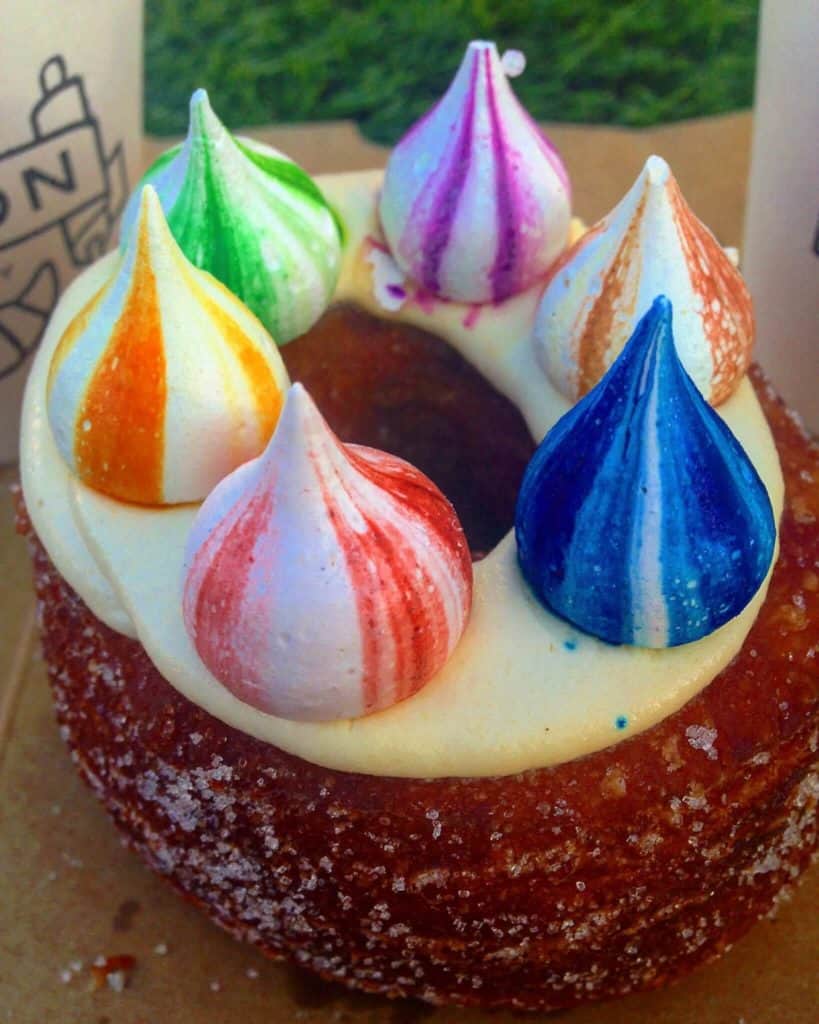 The perfect pick me up/sugar coma, Jason Bakery is famed for its doughsants…

Say, what? Yep, croissants in the shape of doughnuts. You heard it here first.

Every week they release a different flavour – when I visited it was filled with caramel and topped with creme fraiche and multicoloured meringues. The croissant cups are also delicious.
Spier Wine Farm, Stellenbosch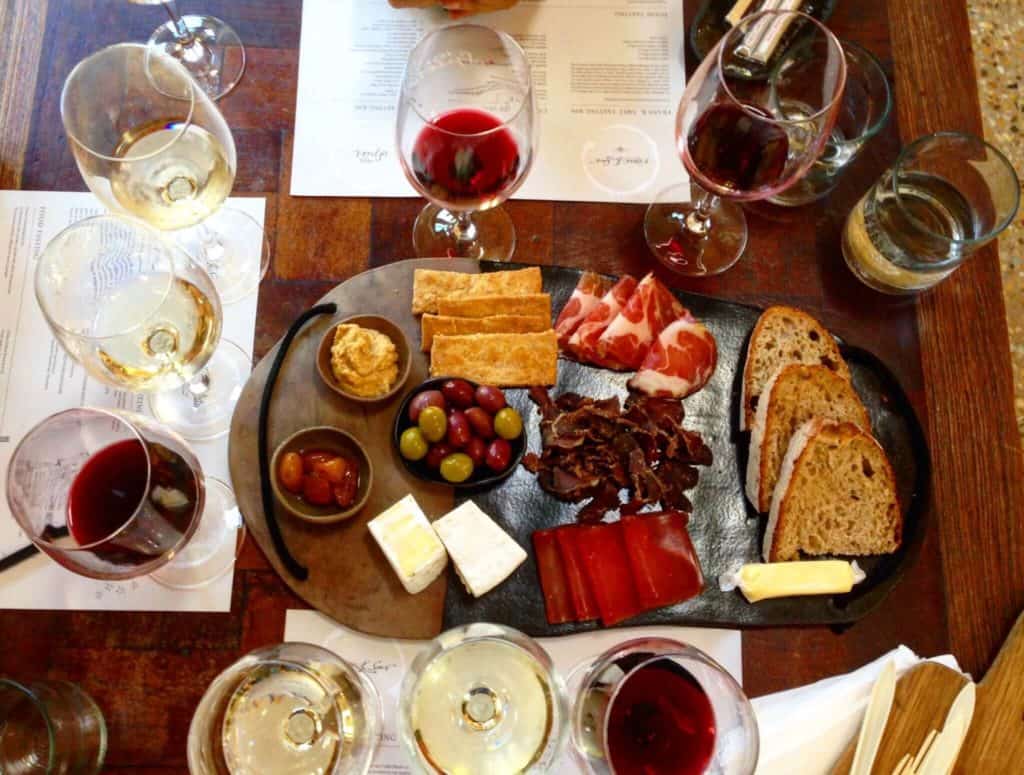 You can't visit Cape Town and not go wine tasting in Stellenbosch – especially when places like Spier do paired wine and chocolate tasting for R50. The deli boards are well priced and delicious too – like this biltong/ham/olive/cheese feast.
The Codfather, Camps Bay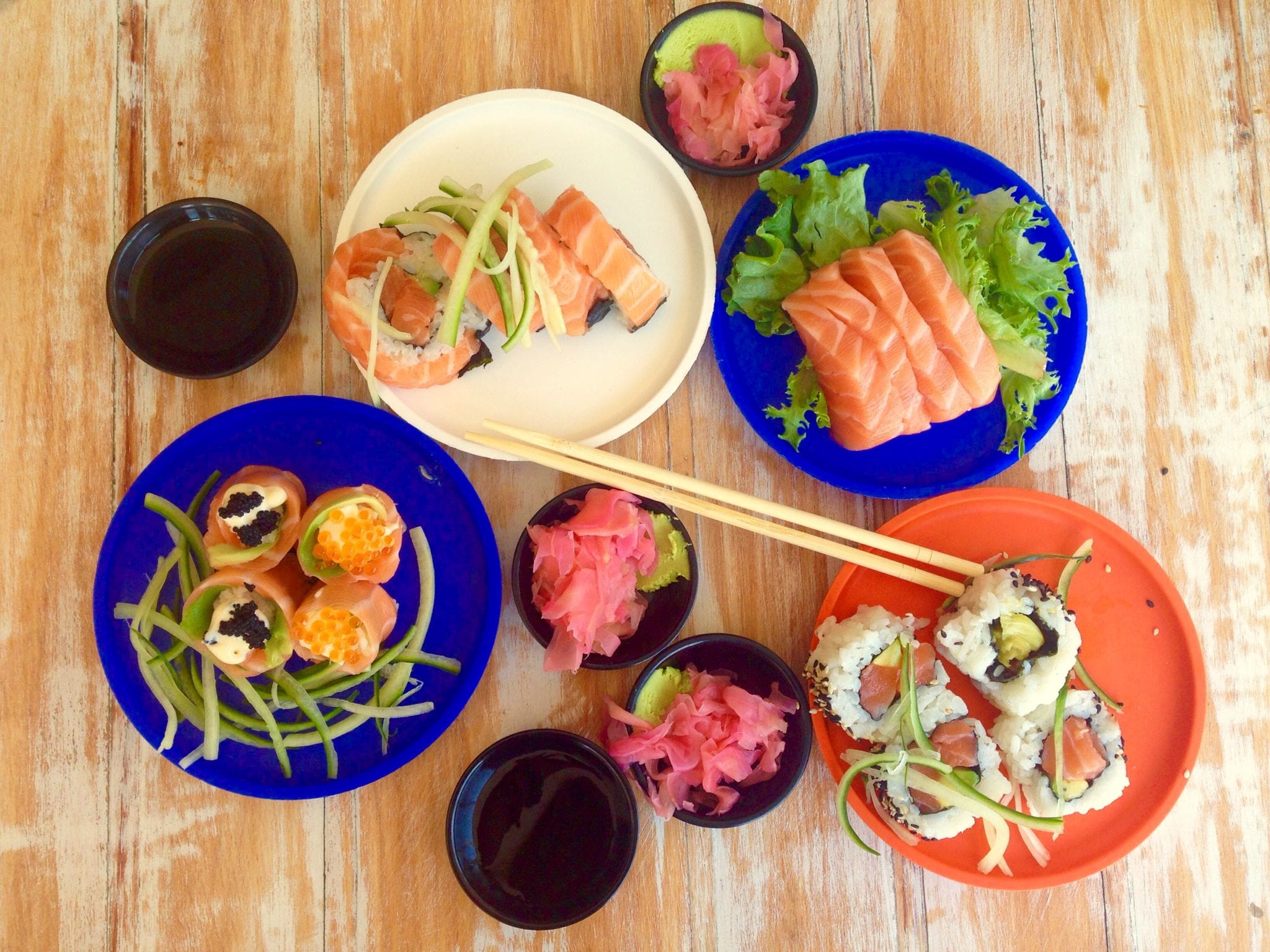 A local recommended that I head to the Codfather and try the butterfish: a white fish with a rich, buttery flavour. I went for a friend's leaving meal so splashed on sushi AND seafood.

Two courses and a couple of glasses of wine came to around R500 each so it could have definitely been pricier.
Hokey Poke, Church Street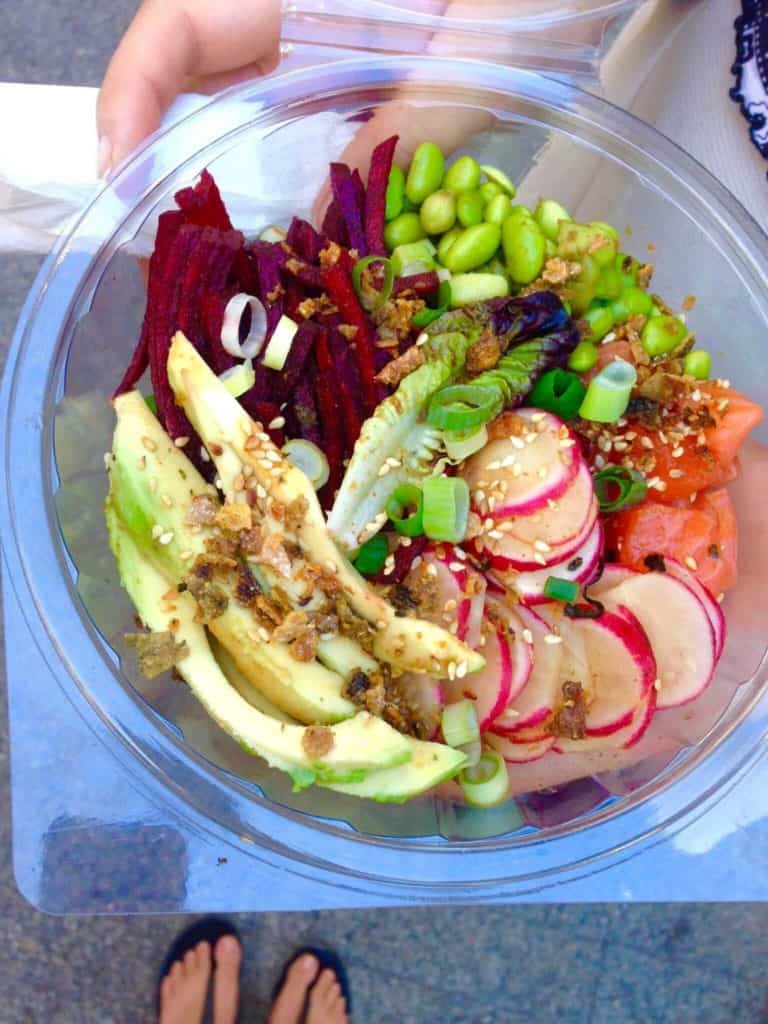 The nicest healthy meal I've eaten in ages was at Hokey Poke. Poke bowls are a Hawaiian speciality – I'd never heard of them but am now a big fan. You can pick from the set bowls or make your own with ingredients like salmon, avocado and edamame.
Charly's Bakery, Canterbury Street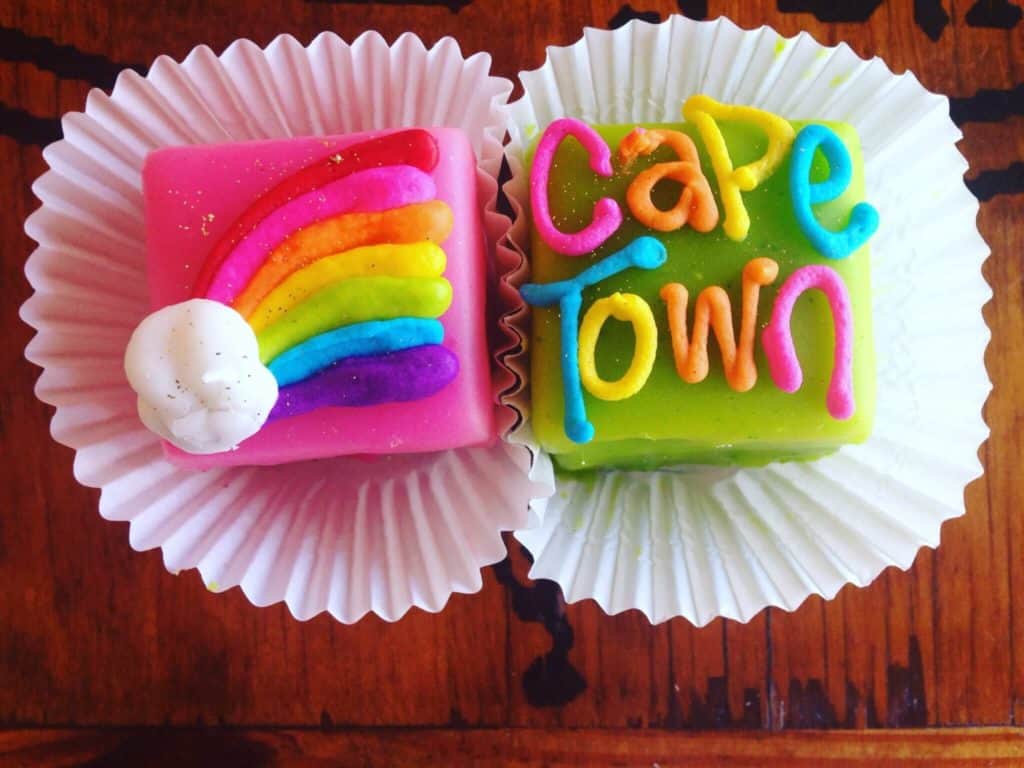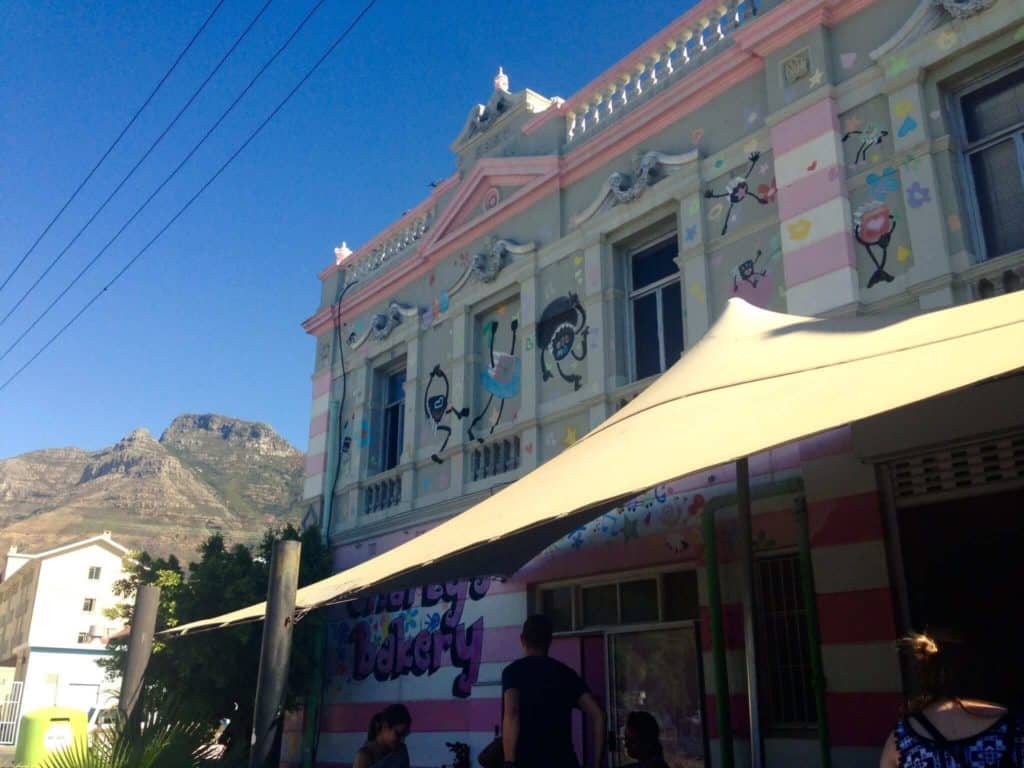 I don't know what was prettier – this cool, European-style building covered in art, or the cakes themselves. Charly's provides catering for weddings and all kinds of special occasions (mine was that it was a Tuesday afternoon).

It's a peanut-free zone and the cakes are made with almond extract for a gooey marzipan flavour.
Fish and chips at Mariner's Wharf, Hout Bay
I felt like I could have been back in England (with nicer weather) sat on a rock with a warm box of battered cod and chunky chips. Hout Bay is the best spot in town to look out over boats and lazy seals – and this is definitely the ideal food to accompany the experience.
Cafeen, Kenilworth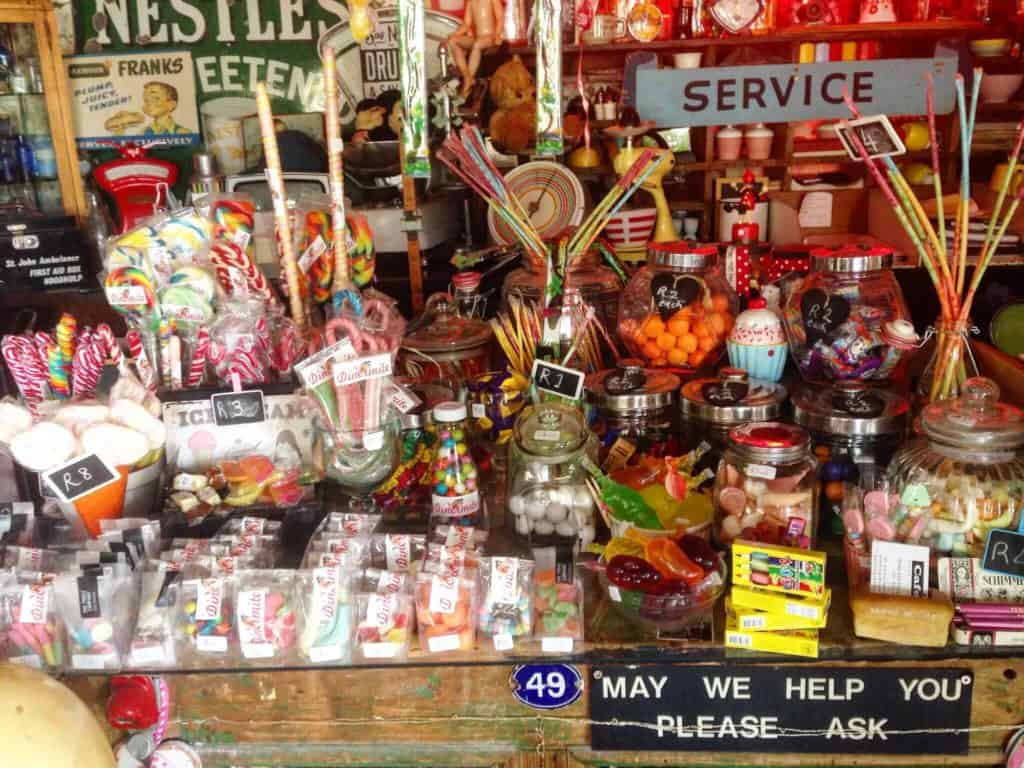 I love this place. It's out of town in residential Kenilworth but if you're passing through (it's not far from the Kirstenbosch Botanical Gardens), definitely check it out.

It's probably the quirkiest place I've ever eaten. The decor around the room includes manikins, retro sweet machines, artwork, posters, statues, giant coke bottles and resident cats. I can vouch for the nachos and the biltong salad (pictured above); neither of which cost more than R100.
Schoon de Companje, Stellenbosch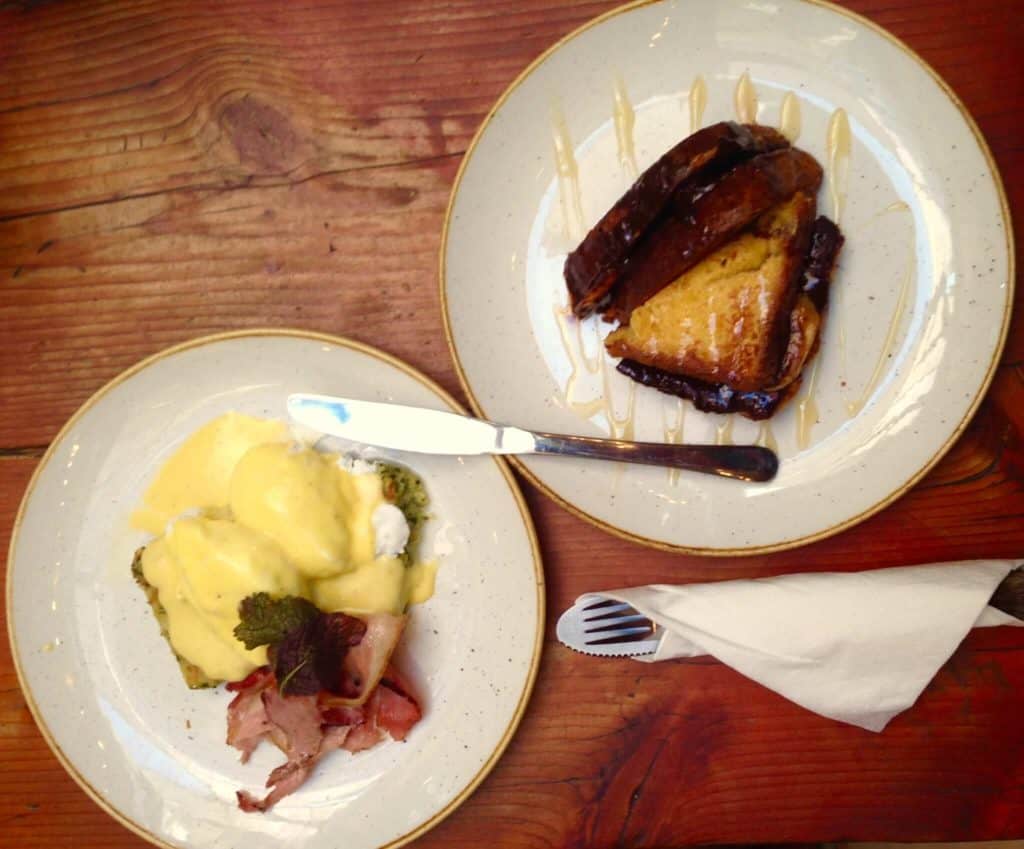 No day wine tasting in Stellenbosch would be complete without a glutinous brunch, and this place has the ambience and the ingredients.

Pictured is eggs benedict and chocolate and banana french toast (not together, obviously). Both were amazing and priced below R100 each.
Lekker, Kalk Bay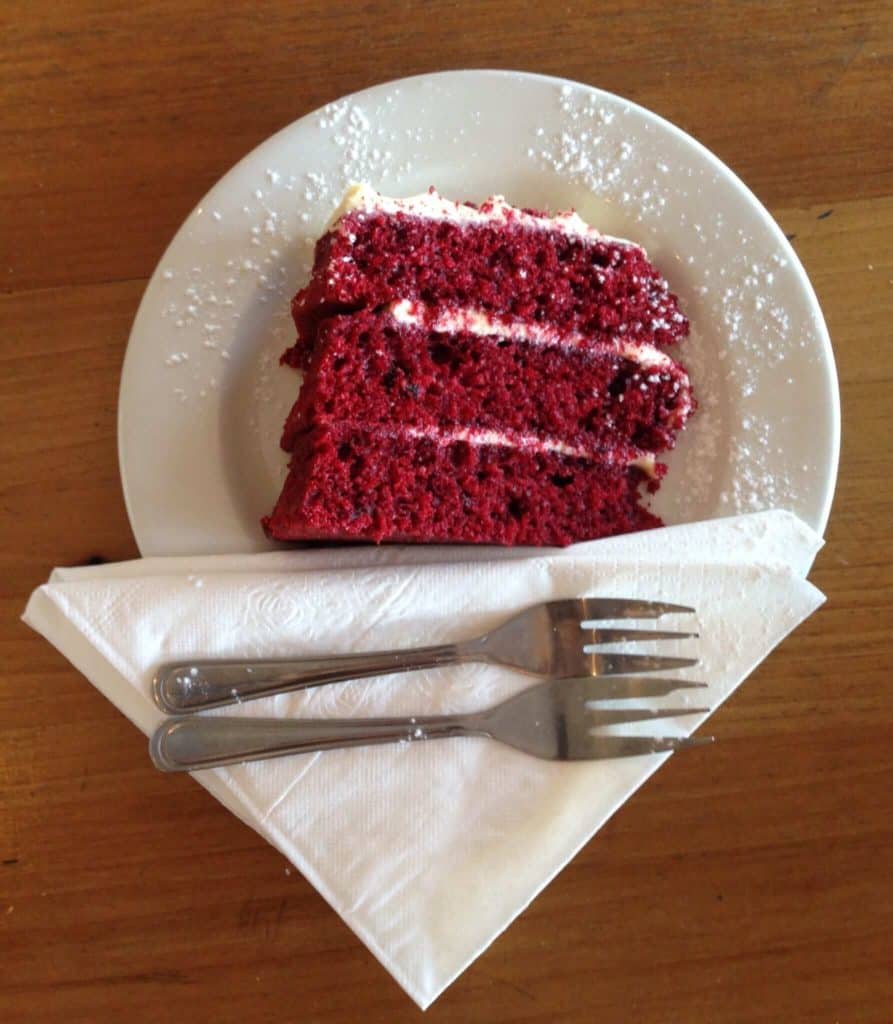 Kalk Bay is a cute seafront town en route from the city to Cape Point, Simon's Town or Boulders Beach. Lekker means tasty in Afrikaans and this cafe lived up with delicious mains – but I was all about the coffee and cake. Red velvet is the one.
La Cuccina, Hout Bay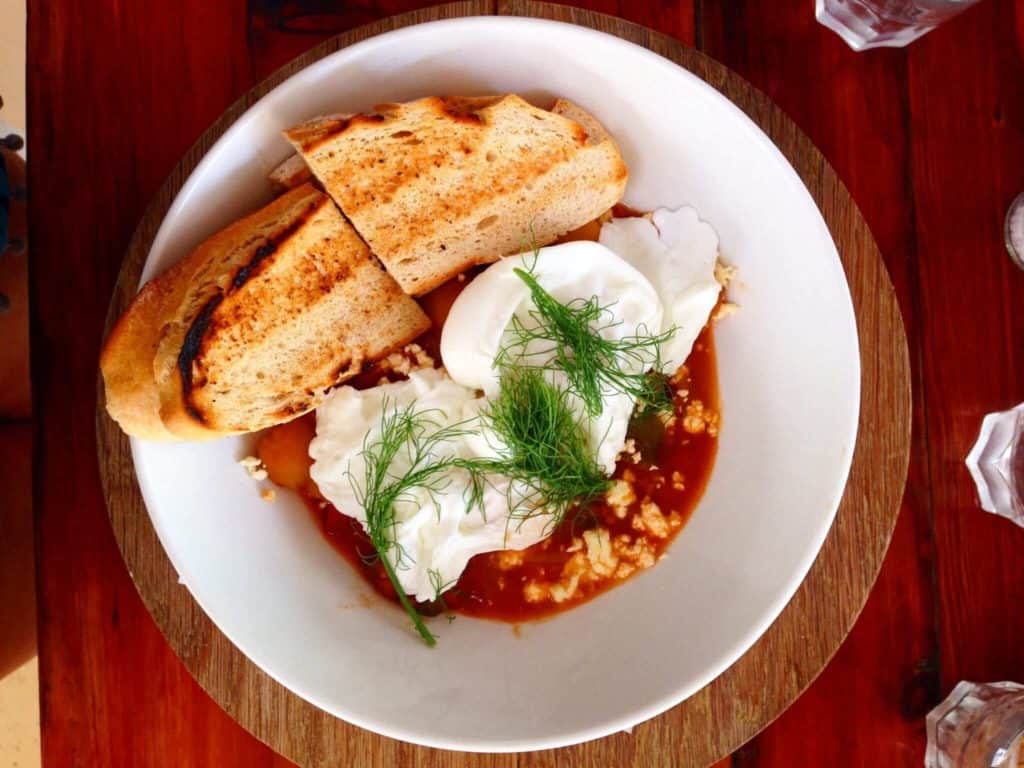 I'd been wanting to try shakshuka for ages and it didn't disappoint. The poached eggs, feta and spicy tomato were all tasty and La Cuccina have plenty of other breakfast, lunch and dinner dishes, too.
Crumbs and Cream, Sea Point and V&A Waterfront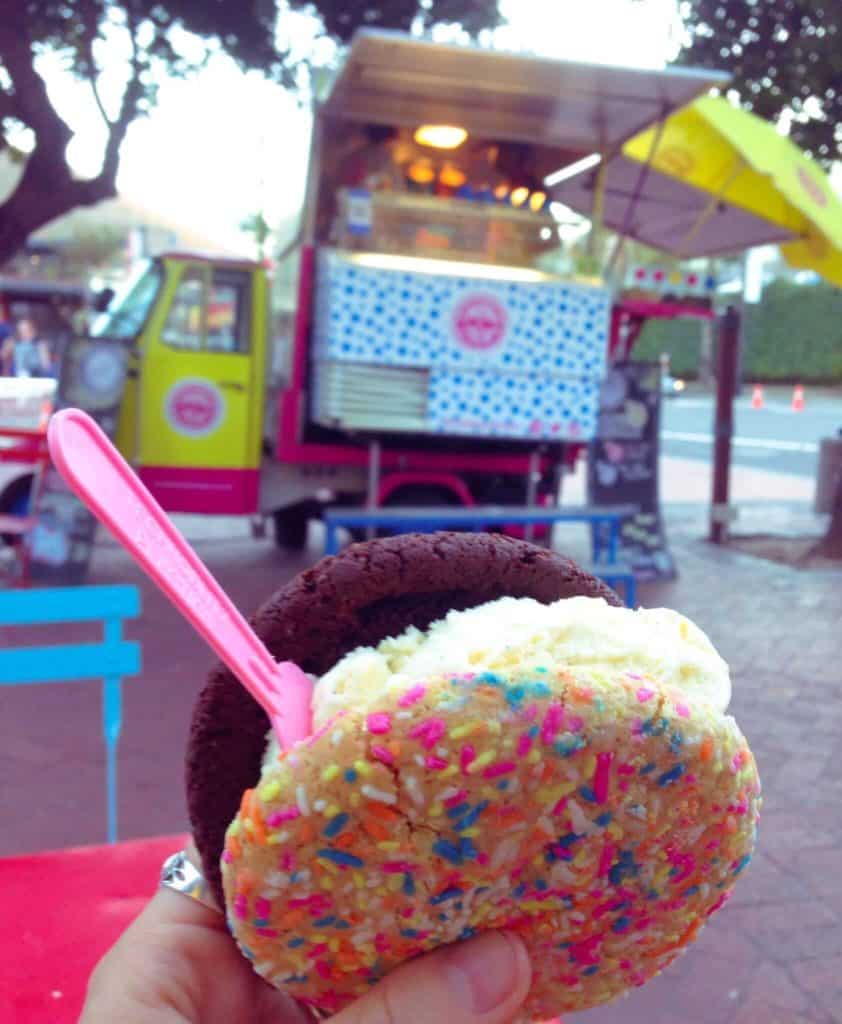 Yes, that's vanilla ice cream. With a chocolate cookie. And a rainbow sprinkle cookie. All sandwiched together for sugary, rainbow goodness at the C&C shop in Sea Point or this funky takeaway van at the V&A Waterfront. Ice cream sandwiches are R38.
Clarke's Bar & Dining Room, Brie Street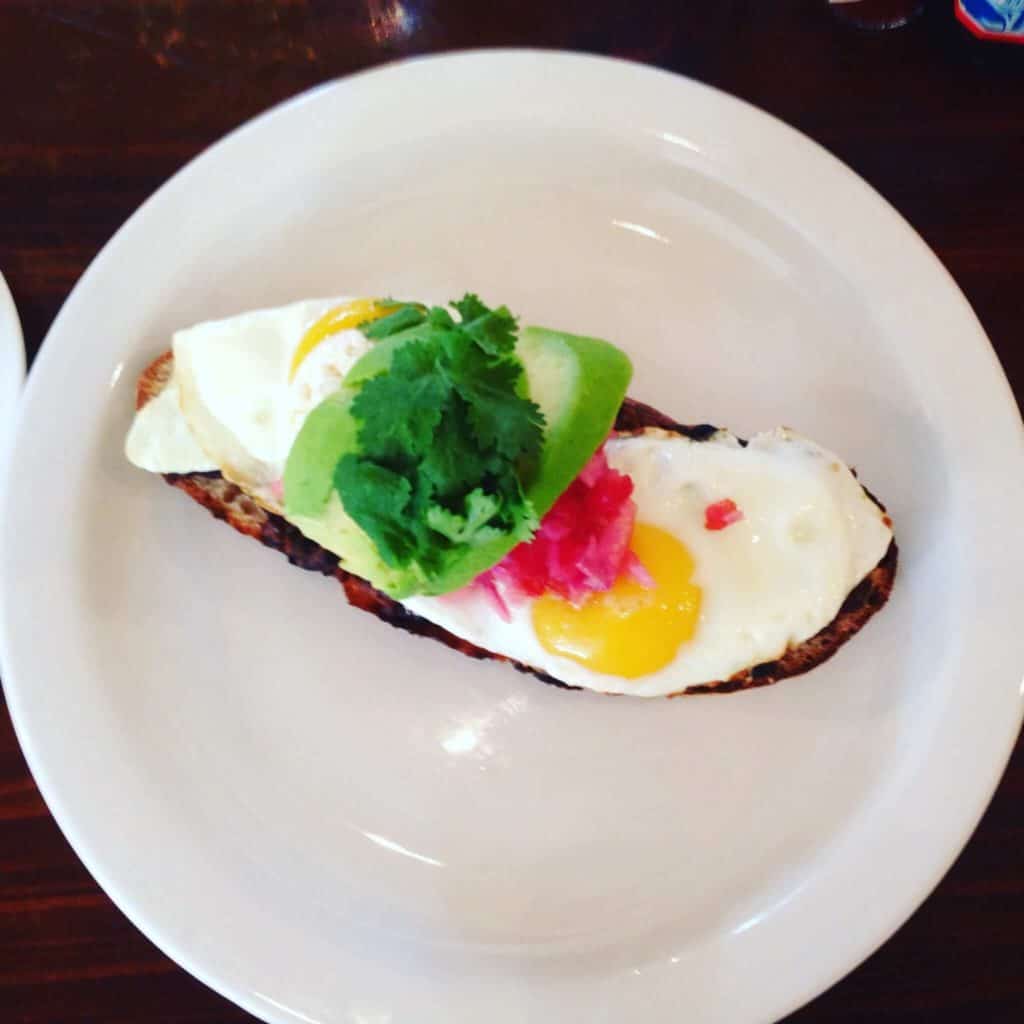 My first meal in Cape Town and still one that's memorable. Brunch was simple and tasty: sourdough, black beans, eggs and avo. What else could you need? If it's a top location on a trendy street, you've got that too.
Hussar Grill, various locations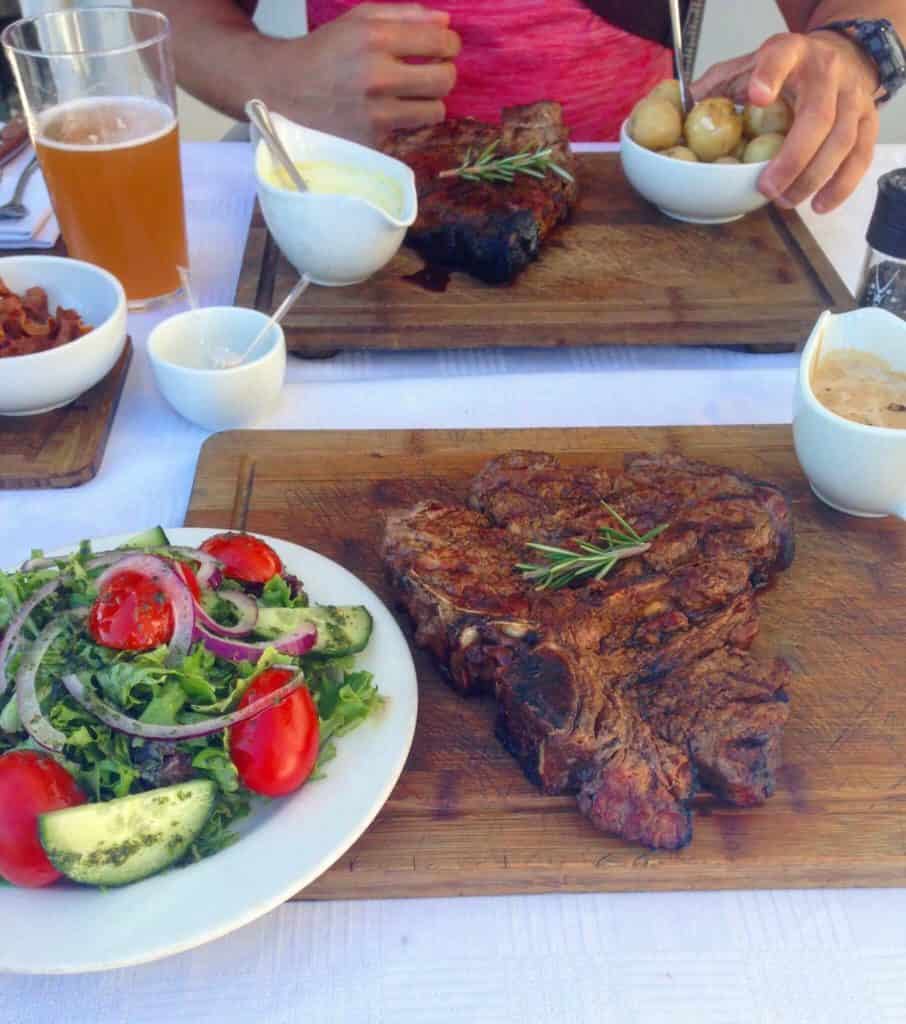 This place is famous for its steak and for good reason. There are few branches in town – I visited the one on Mouille Point seafront but it'll be just as good wherever you go.

You can choose from various cuts of meat – and naturally I chose one of the biggest, the 600g T-bone. I honestly thought I'd never eat again, despite pairing it with a salad. Dinner for two with sides and beers came to R500 and was worth every penny.
Honest Chocolate, Wale Street
Don't miss this chocolate hotspot if you have a sweet tooth.

I had hot chocolate and the sweet bunny chow, both of which were indulgent and delicious. For those who don't know regular bunny chow, it's a South African dish comprising a loaf of hollowed-out bread filled with curry. This sweet alternative uses banana bread exploding with rich chocolate sauce and vanilla ice cream. Does that sound like heaven or what?
V&A Waterfront Food Market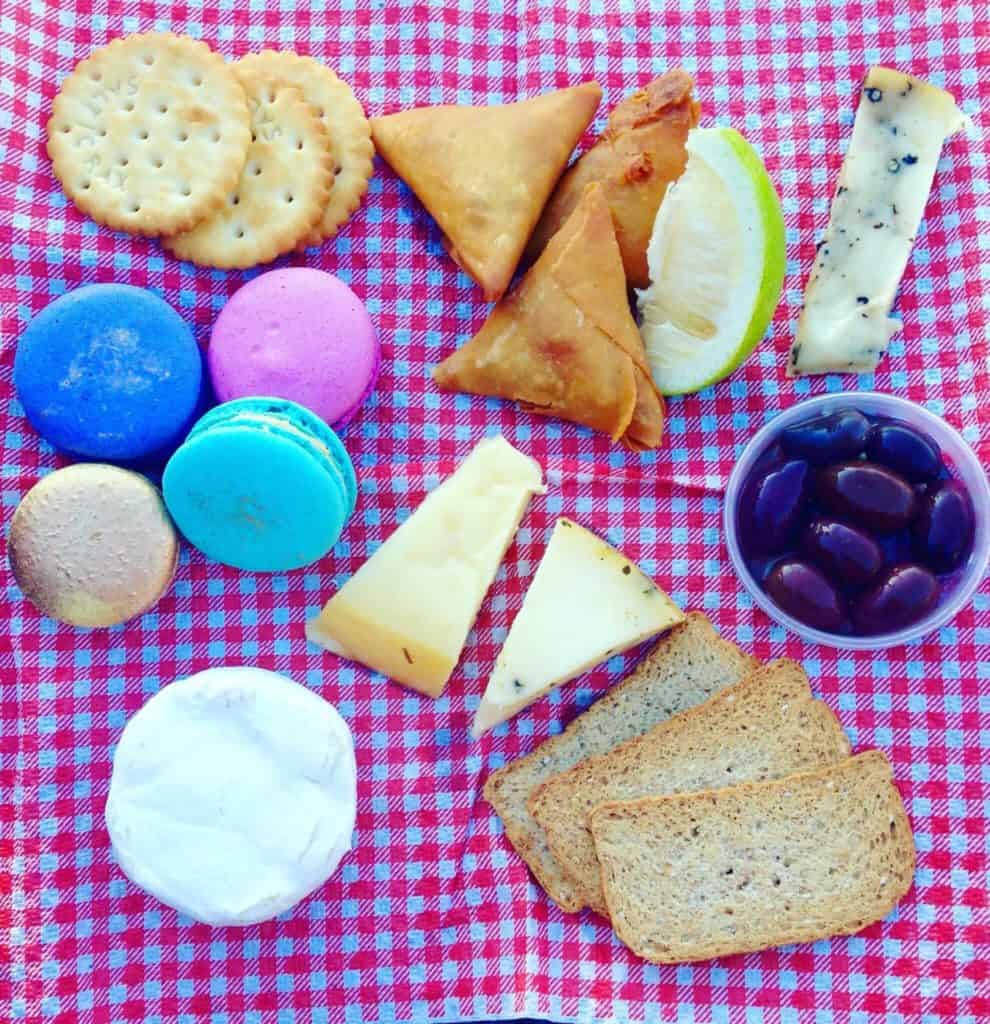 You'll find everything from British scones to African kebabs and gourmet dried mango at the Waterfront Food Market and the price tags aren't hefty on any of the food stands.

We picked up a picnic for a sunset dinner at the top of Signal Hill but it also makes for a quick and tasty lunch whilst exploring the waterfront.
Giovanni's Deliworld, Green Point
The name's not an exaggeration – anything deli-related you can get at Giovani's Deliworld be it croissants, cheese, ham, sundried tomatoes, biscotti and Italian wine. Oh, and seriously good coffee. Sit and eat in the sun outside OR shop in the deli supermarket and take your feast away.
The Bay Harbour Market, Hout Bay
Similar to the Neighbour Goods market in Woodstock, this Friday to Sunday pop up has everything. Bacon, brie and avo croissants? Check. Sushi? Check. Ridiculous flavoured doughnuts? Check!
Kleinsky's, Sea Point
A Jewish-run bakery in fashionable Sea Point serving all kinds of kosher goods. I can vouch for the bagels and schmear – choose two flavours on a poppy seed bagel and pay R30. The coffee is really tasty, too.
Copacabana, Bloem Street
This place is Mexican heaven. I went healthy with the spicy chicken salad but all the usual classics are on the menu, too. Also look how cool the outside is!
My Sugar, Sea Point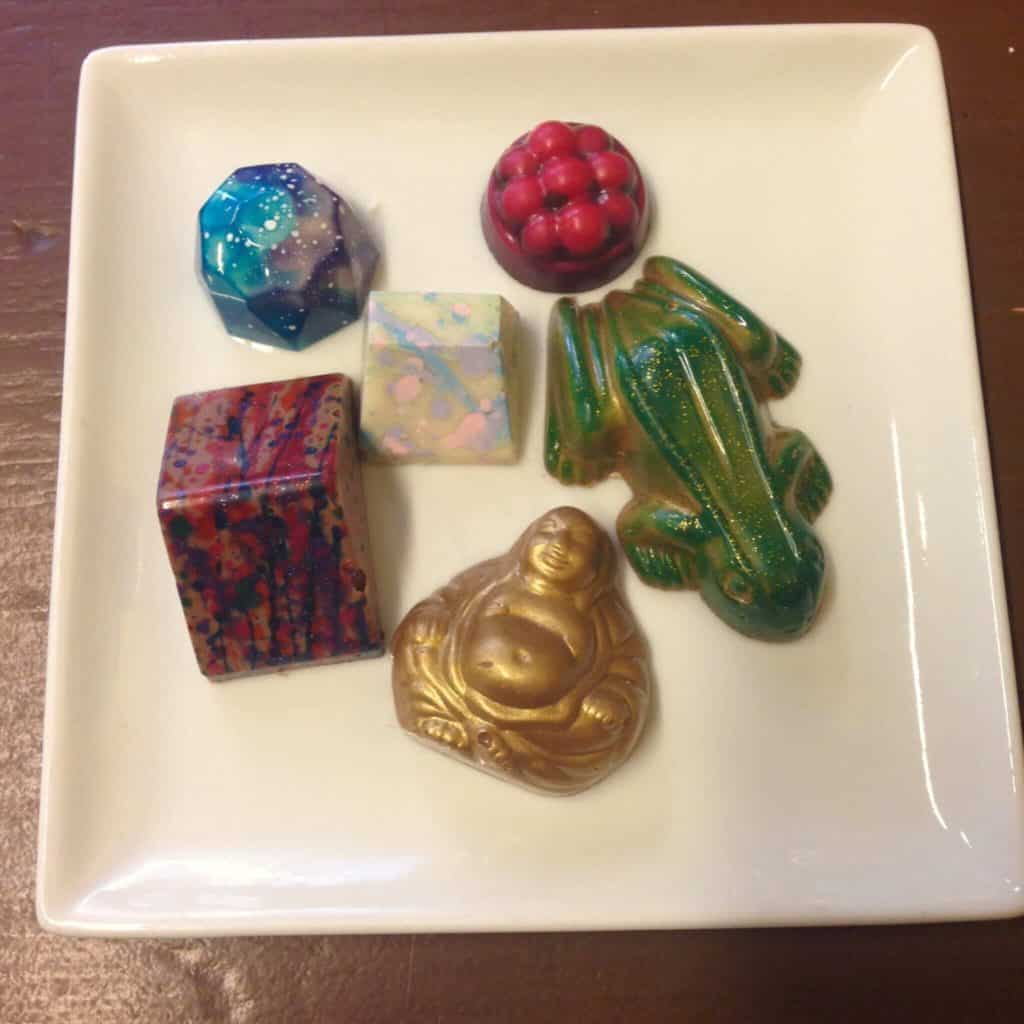 Can you believe everything in the first photo is made from chocolate? My Sugar is basically on-set diabetes but who can complain when it looks and tastes like it does? Various sugar-loaded milkshakes are on offer plus gourmet chocolates like these, all with different fancy fillings.
Sushi Box, Kloof Street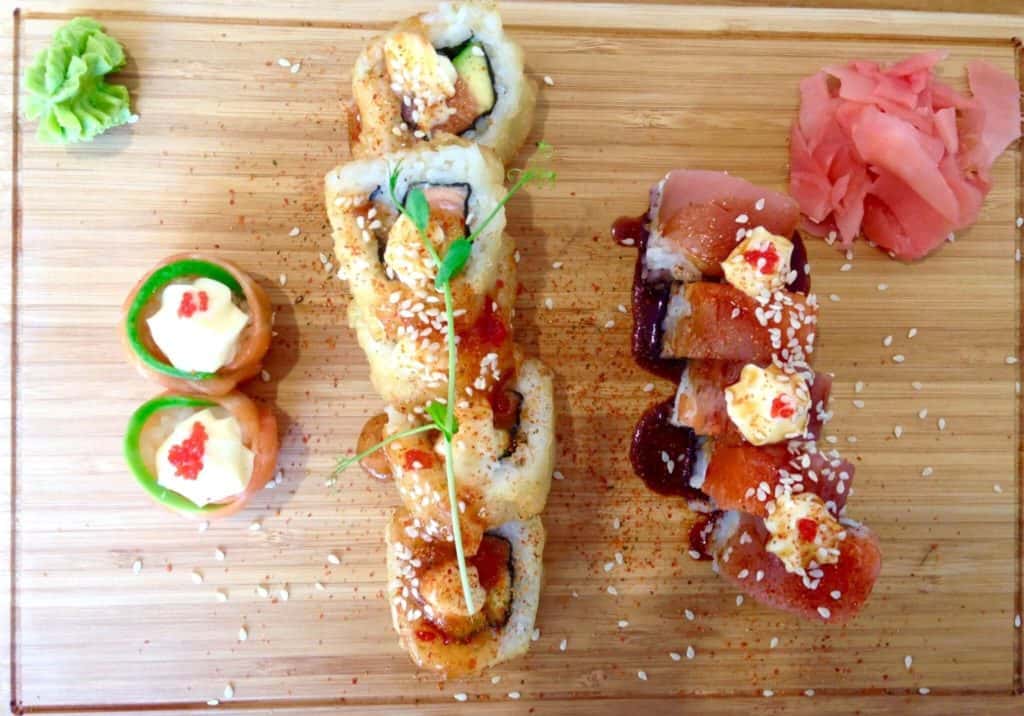 Possibly the best sushi in town – if not the world. Order whatever bits and pieces you fancy or get a box (pictured above is the Fusion Box). Too good for words.
---
I hope I've left you feeling suitably hungry and keen to visit Cape Town. If there are any gastronomic spots I've missed, give me a shout!
Thanks for reading!
If you liked it, please share it 🙂
Check out my other Cape Town posts:
See you next time for more adventures,
Rose