This post may contain affiliate links to things like tours, hotels, Amazon associates and products. These help me earn a small commission at no additional charge to you.
Hello and welcome to another food blog, my favourite type to write. This time it's about the food in Verona, Italy, one of the destinations from my recent Europe backpacking trip from Croatia through Slovenia finishing in Milan.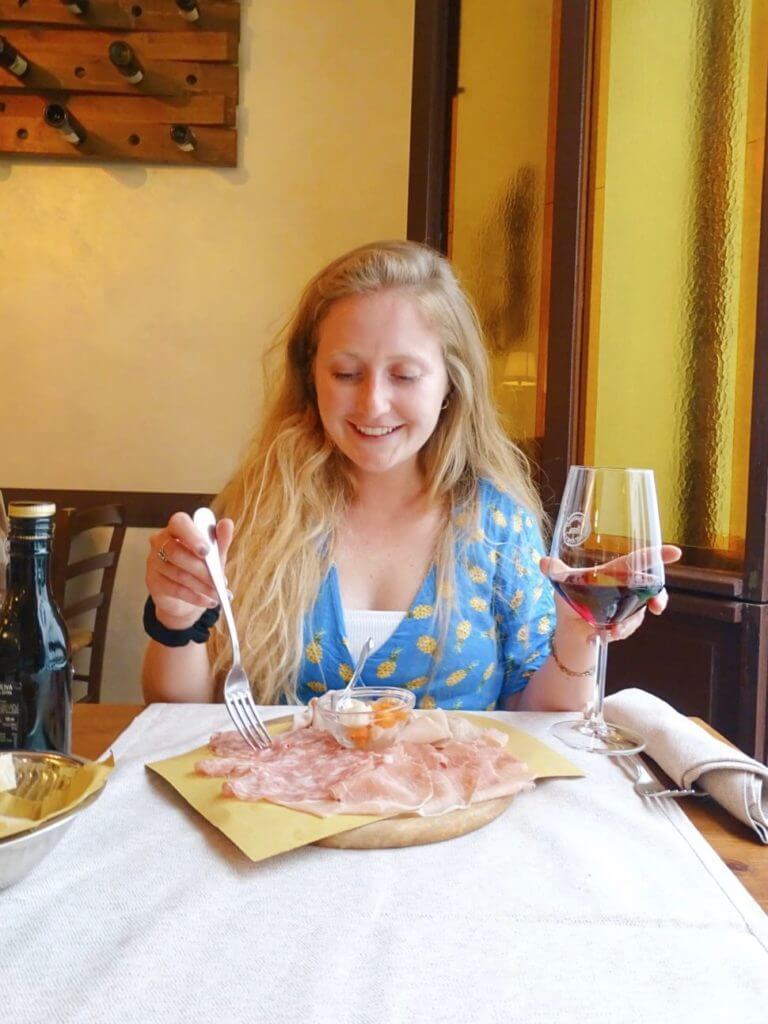 In this guide, I'm going to take you on a cultural food adventure in Verona with help from Original Travel!
A quick introduction to Verona
Verona is a city in Northern Italy with 250,000 residents. Built in the bend of the Adige River, its history spans the Roman Empire, the medieval era, rule under the elite Scala family, the Habsburg Empire and finally, Italian independence.
As the famous setting for Shakespeare's Romeo and Juliet, Verona attracts tourists from around the globe. The colourful buildings, quaint backstreets and romantic charm make this a destination you won't forget in a hurry.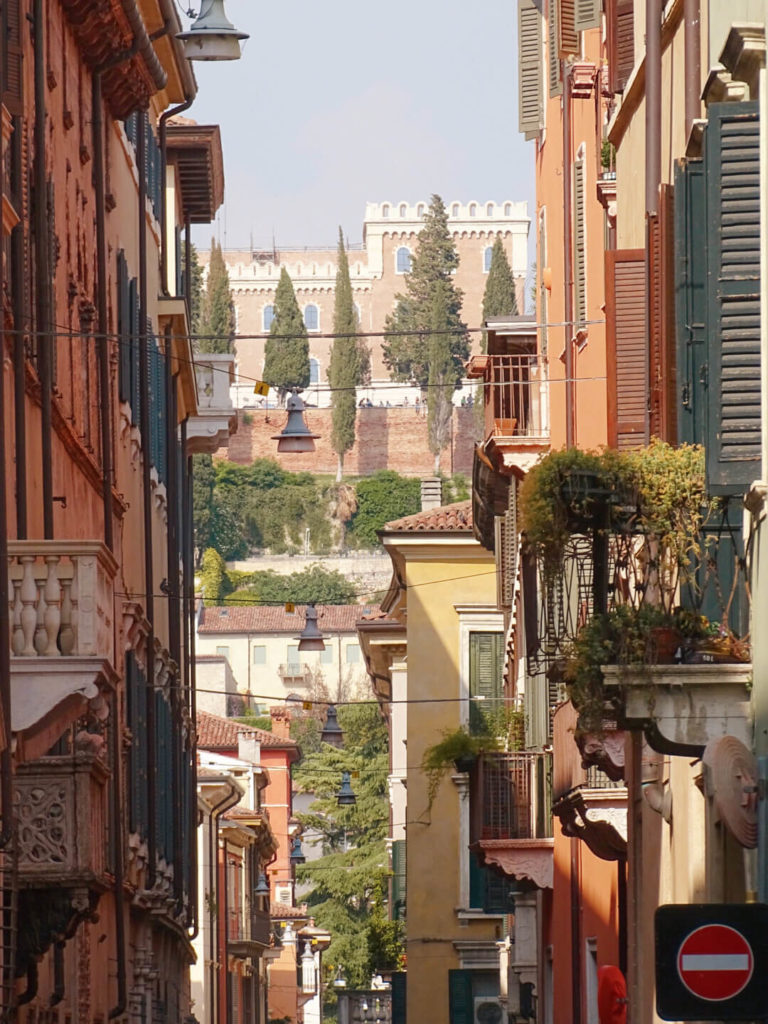 Read next: the ultimate Northern Italy itinerary
Who are Original Travel?
Original Travel specialise in tailor-made holidays. Working off the ethos that no two travellers are the same, they say 'we want to find out what you like, what you love and what you would rather do without'. In a world where tourism can make you feel like cattle, I was already a fan of this concept.

I was thrilled to experience one of their tailor-made experiences in Verona. My guide, Monica, had clearly visited my blog and considered how best to show me the city based on my interests. Judging by the fact we had cheese, it must be obvious that eating cheese is paramount to what I do 😉

Obsessing over details in the best possible way, Original Travel create thoughtful, personalised trips with your every want and need catered for!
Browse their Italy holidays here.
Discovering the Verona food culture
Now for the good stuff! The food in Verona benefits from centuries of history and fertile surroundings where fresh vegetables are grown, grapes are harvested for wine, and animals live organically. Food products are made according to recipes passed through generations, maintaining the highest quality.

Here's what I ate during 24 hours in Verona and learnt about Verona cuisine…
Cheese from Verona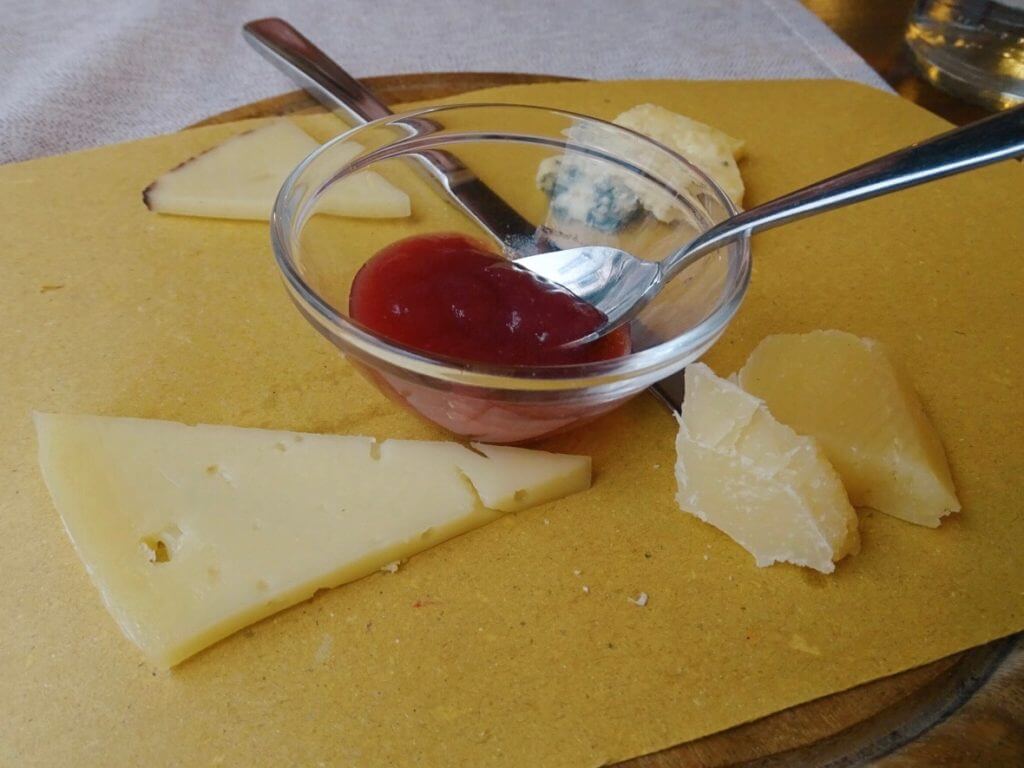 There are few things I love in this world as much as cheese so I was thrilled with the way my Verona food education started!

In the lovely Il Bacaro dell'Arena Trattoria Pizzeria restaurant, Monica and I sat down to a tasting feast beginning with a selection of cheeses from Verona.
Monte Veronese – this semi-hard cow's milk cheese from the Province of Verona (bottom left) is made according to traditional farming practices in the Monti Lessini and Monte Baldo mountains. It has a buttery, nutty flavour paired best with pasta, risotto and white wine.
Monte Veronese ubriaco – the matured or 'drunk' variety of Monte Veronese cheese has a richer, spicer flavour resulting from a minimum ageing time of 1 year. Its black rind sets it apart from the original version.
Erborinato di capra – this rich blue cheese is made with cow and sheep's cheese. It goes perfectly with chutney, particularly the red onion variety we sampled it with.
The Monte Veronese was my favourite. It's been granted prestigious Slow Food Products status and no Verona festival or food fair is complete without it.
Look out for the D.O.P stamp of food approval!
You may have heard the term 'DOP' used when talking about food. It stands for Protected Designation of Origin and is a geographical indicator from the EU that recognises products from specific regions, celebrating local producers and regional ingredients.

Monte Veronese cheese, among other foods from Verona, proudly carry this status.
Verona salami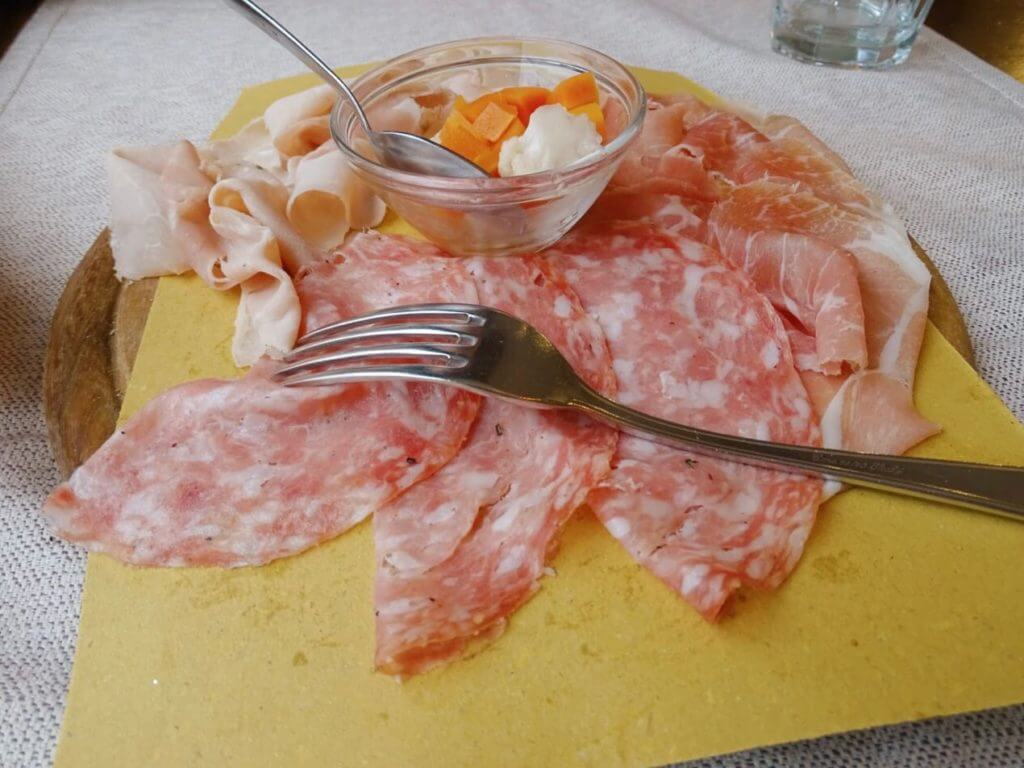 Salami is one of the most famous foods from Verona, made from ground, air-dried meat. It's been enjoyed in Italy, and around the world, for centuries, although the recipe varies according to region.

Unlike many forms of salami around the world that have lost quality due to mass production, the salami here (like much of the food in Verona) is made using traditional practices that don't compromise on quality. It's so beloved that you'll see frescos painted in the city demonstrating its production!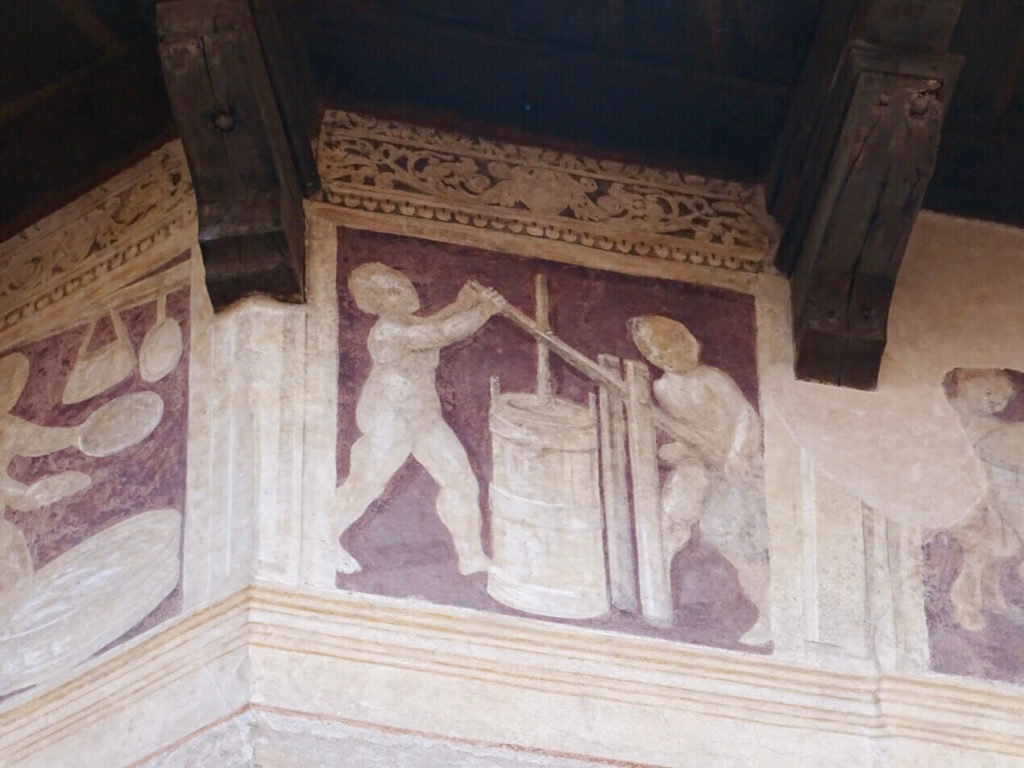 Popular types of salami to try in Verona:
Salame Veronese – named after the branches used in cellars to hang meat, this traditional food from Verona is made according to expert curing processes that bring out its distinctive flavour.
Sopressa – translating as 'hand pressed', this large type of salami from Northern Italy uses the best cuts of pork. Spices like cinnamon, cloves and rosemary add to its rich, smooth flavour, and a short ageing period maintains its soft texture.
Prosciutto crudo della Lessinia – this thin, dry-cured ham was some of the best I've tried.
Wine in Verona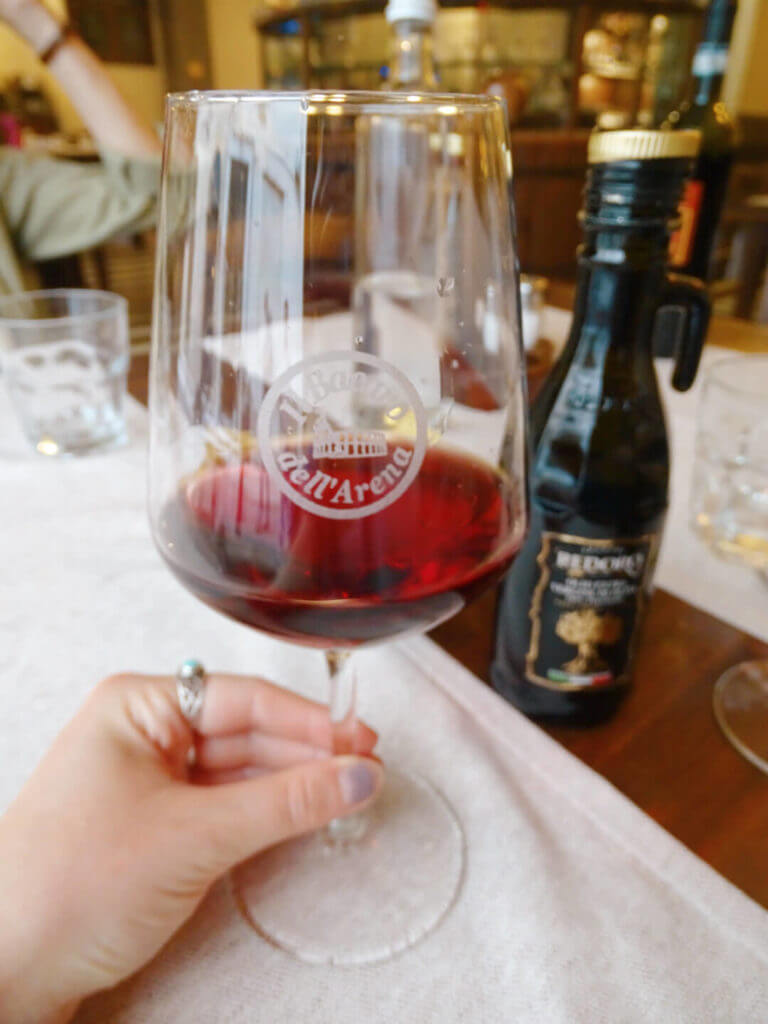 Well, it wouldn't be a trip to Italy without sampling the local vino, am I right?

Soave – this DOP product is a well-known dry Italian white wine. Made from Garganega grapes grown in the Verona region, it's a light wine with fresh, fruity notes. This is my favourite type of white wine so I was very happy with this pairing. It went perfectly with my cheese selection.

You'll see Soave in most restaurants and bars so be sure to give it a try while enjoying the Verona food scene.

Valpolicella – this red wine is named after the area it's grown. Known as one of the top wine regions in Italy, its viticultural history spans millennia, the name translating as 'valley of many cellars' in a mix of Latin and ancient Greek.

With notes of black cherry and spicy fruit, it goes well with red meat and red-sauce pasta. I didn't try the latter but I can vouch for it with salami and prosciutto.
More typical Verona dishes
Now we've covered the basics (wine, meat and cheese, what else do you need?), let's delve deeper into the different dishes from Verona.
Pastissada de caval
A dish that divides the masses is pastissada de caval or, in English, horse meat stew. The story goes that Theodoric, king of the Ostrogoths, fought a bloody battle in Verona which resulted in many slain horses. As the event coincided with a famine, the meat became food.

Although you can't flog a dead horse, you can certainly use it to end a famine!

Onions, carrots and cloves add texture and flavour to the sauce which is topped up with red Valpolicella wine to soften the meat. On the side, you'll find polenta, a hearty staple in the local cuisine.
Risotto all'Amarone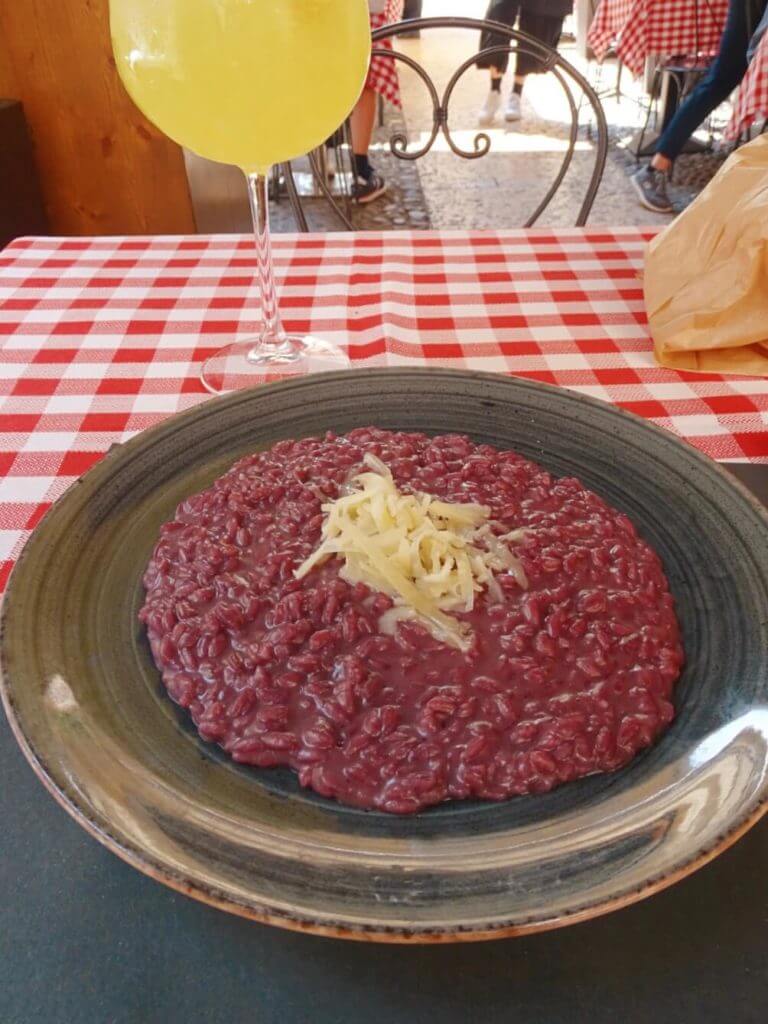 Although I've eaten risotto countless times, I've only tried it with white wine. I'd never heard of red wine risotto but I can confirm it to be rich and delicious.

Risotto all'Amarone is a traditional Verona food and the star dish at many restaurants, simmered with Amarone della Valpolicella (beloved red wine from Northern Italy's Valpolicella region) and topped with a generous grating of local cheese.

As for what to drink with a red risotto, I'm guessing red wine is preferable to white, but instead I enjoyed a cocktail. A spritz always hits the spot in Italy!
Where to eat Risotto all'Amarone in Verona?
I tried this tasty Verona dish at Ostregheteria Sottoriva 23, a rustic tavern with indoor and outdoor seating. The inside is atmospheric with red-checkered tablecloths and wooden shelves heavy with wine bottles.
Risotto tastasal
Those who'd rather stick to traditional risotto can try risotto tastasal, made using ground pork seasoned with salt and black pepper. The word 'tastasal' means to sample and refers to the dish's origin: it was eaten to test the quality of the meat.

Using onion, garlic and meat broth, it's a simple yet flavoursome dish to try in Verona. Expect a generous shaving of Parmigiano Reggiano.
Lesso con la pearà
Pearà – meaning peppered – is a dish for meat-eaters featuring boiled beef in a broth made from bone marrow, bread crumbs, pepper and butter. With humble origins and decades of history, it's a simple dish often made for festivals and cultural events.
Pandoro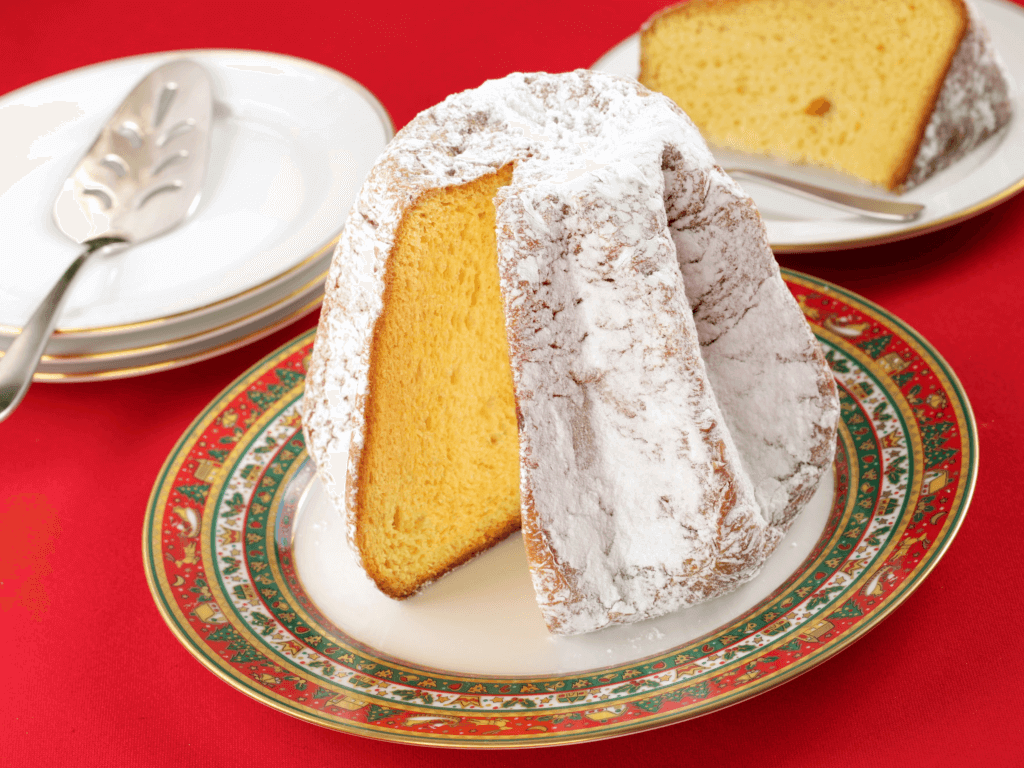 Ask anyone from Verona what they eat at Christmas and they'll lament their love for pandoro. Less famous than Milan's panettone, this regional dish from Verona is simple yet sweet. Commerical varieties may include a filling made from lemon or chocolate cream, however a quality pandoro needs no enhancements; just a dusting of icing sugar.

Pandoro is known for its browned exterior, cut open to reveal a fluffy golden heart. But simple doesn't equal easy: pandoro notoriously requires four separate risings and coolings, plus the correct pandoro mold. As you can see, it's a distinctive tall cake with slanted sides.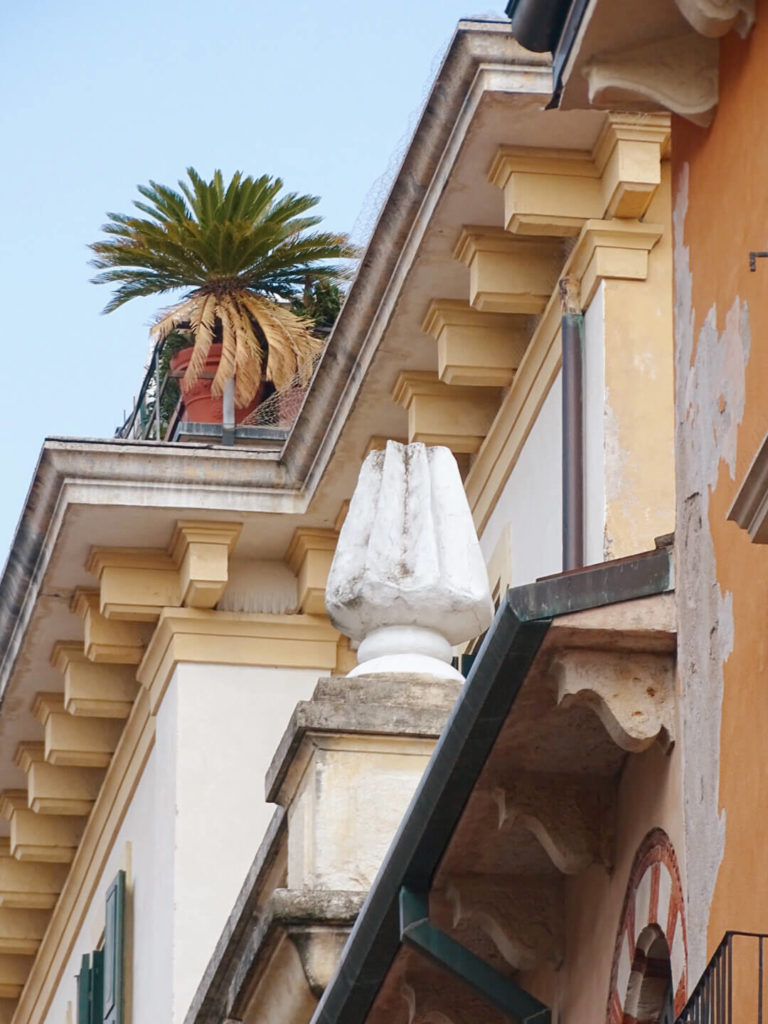 If your visit to Northern Italy doesn't coincide with Christmas, it will be tricky to try it. However, there's another way to encounter this popular food from Verona: finding the pandoro statue above historic Melegatti Bakery, founded in 1894.

Although they migrated to a factory after patenting the famous dessert, the statue can still be seen at 21 Corso Porta Borsari.
Frittole
Known as 'carnival fritters' these ball-shaped circles of soft dough are studded with raisins and dusted with icing sugar. They could be considered Italian doughnuts, just without a hole in the middle or a jam filling.

Since they're easy to make, frittole are widely available and extremely affordable. You'll most commonly see them around Carnevale celebrations in late February when locals will be scoffing them before upcoming lent.

They're a simple, delicious treat… almost devoid of nutritional value. Well, you're on holiday!
Where to eat in Verona?
So, where to try these typical dishes from Verona?
Other Italian dishes to try
These aren't unique to Verona but they're still deliziosa dishes to try while in Italy. Keep an out for…
Gnocchi
Gnocchi outside of Italy tends to underwhelm (especially the pre-made supermarket variety). It wasn't until I ate gnocchi in Italy that I came to truly appreciate – and crave! – these doughy potato dumplings.

You'll be spoilt for choice when it comes to gnocchi in Verona. Often its served with meat, ricotta, spinach and other Italian staples.
Polenta
Polenta may not be the first dish to spring to mind when Italian food is concerned yet it's a popular side dish in Verona. Given Northern Italy's proximity to Central Europe and the Hapsburg connection, the cuisine in Verona shares similarities with food from colder climates.

Historically in winter and times of famine, stodgy polenta was an important staple. Many typical foods from Verona, such as pastissada de caval, are served with a hearty portion of polenta.
Piadina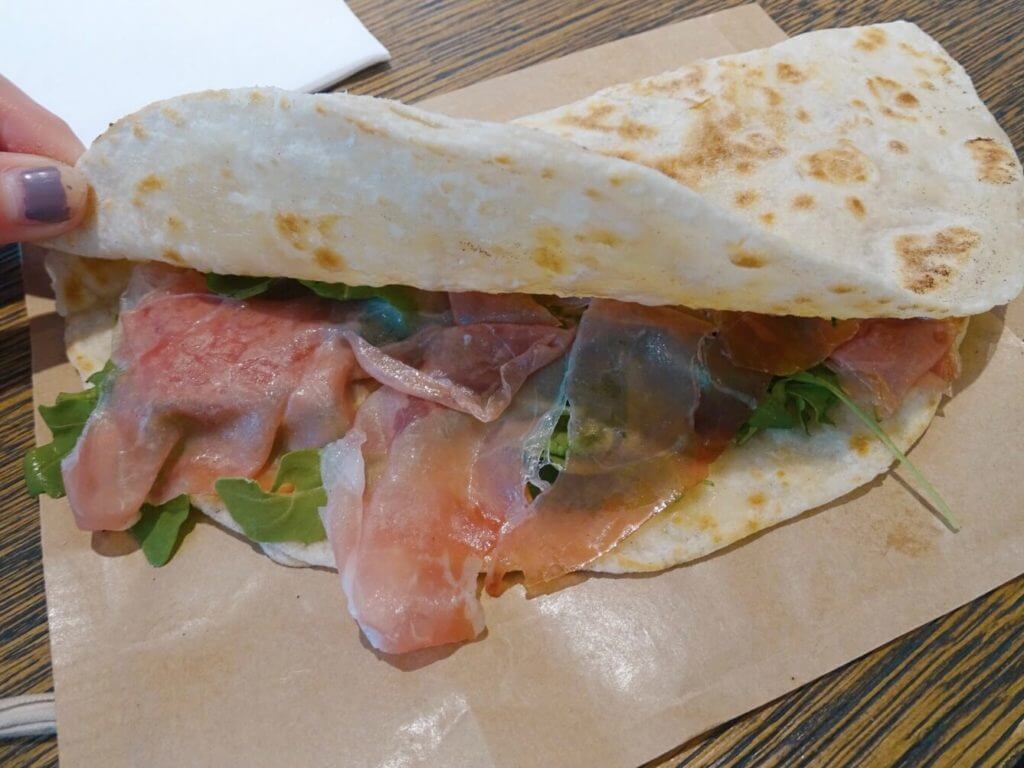 Although it doesn't originate from the city, piadina is everywhere in Verona from restaurants to late-night takeaways. This thin Italian sandwich is folded in two, filled with deli staples like prosciutto, rocket and cheese.

Those eating in Verona on a budget can grab a piadina for a couple of Euros. A backpacker's delight!
Coffee in Verona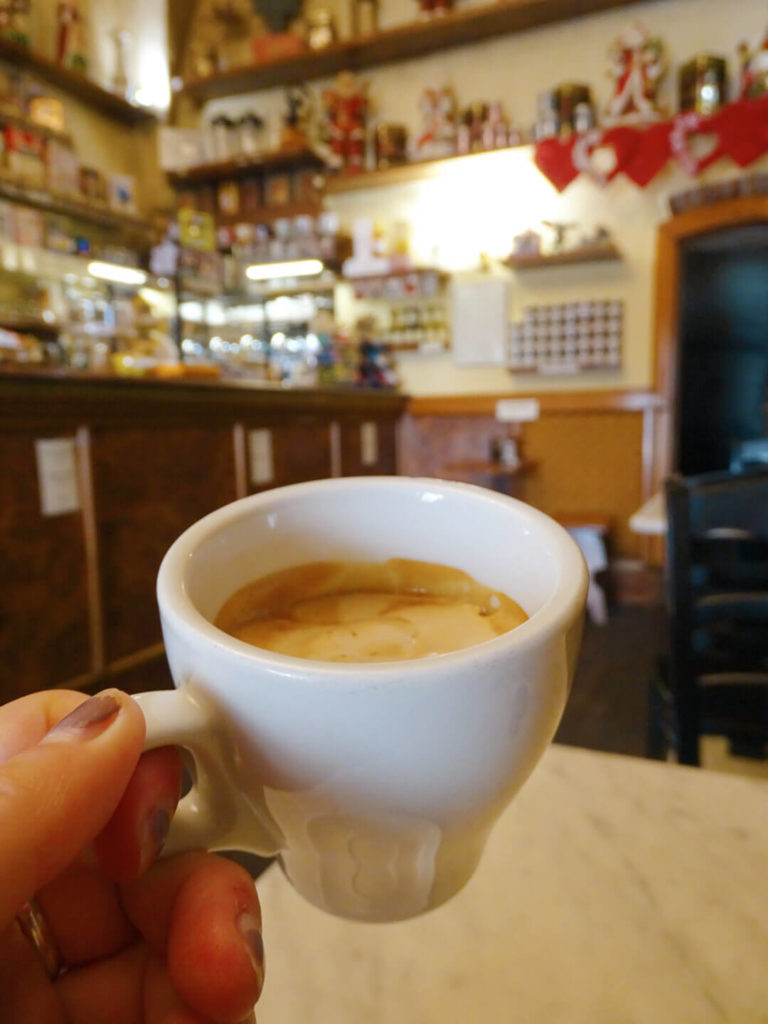 Although I can't claim to be an expert on Italian coffee yet (I had one too many mix-ups with cafe macchiato vs latte macchiato although thankfully not the ultimate latte confusion resulting in a glass of plain milk), it seems sinful to write a Verona culinary guide without mentioning coffee at all!

Italy is a renowned coffee paradise so you can expect countless cafes in Verona from holes-in-the-walls frequented by locals to Insta-friendly tourist cafes and edgy speciality coffee shops rocking the predictable exposed brick interior.

Cafes that will come up in the search for Verona's best coffee include Pasticceria Barini, Café Carducci and La Ciacola Cafè.

Without time to try them all, I escaped the midday sun in Caffè Borsari, a traditional establishment with dark wooden furnishings and shelves ladened with edible delicacies. After opting for caffè con panna, I can confirm that coffee with cold cream is blissful on a hot day!
Verona cuisine FAQs
What is a coperto? You may notice this word on restaurant menus and upon your bill. Coperto is a cover charge per head (usually €1-3) covering use of the tablecloth, cutlery, salt, pepper and sometimes bread. Whether you eat the bread or not, the charge applies.

What is an osteria? When discovering the Verona food scene, I noticed many restaurants had osteria in their name. It refers to simple, inexpensive eateries with a focus on sitting together sharing food and wine. You may also see Verona restaurants called trattoria which refers to a simple restaurant, often nestled away on side streets.
What else to do in Verona?
As well as eating, I was shown some of the city's hidden gems and peaceful streets by Original Travel. I also whizzed around the tourist hotspots myself so here's a blend of the best bits…
Find frescos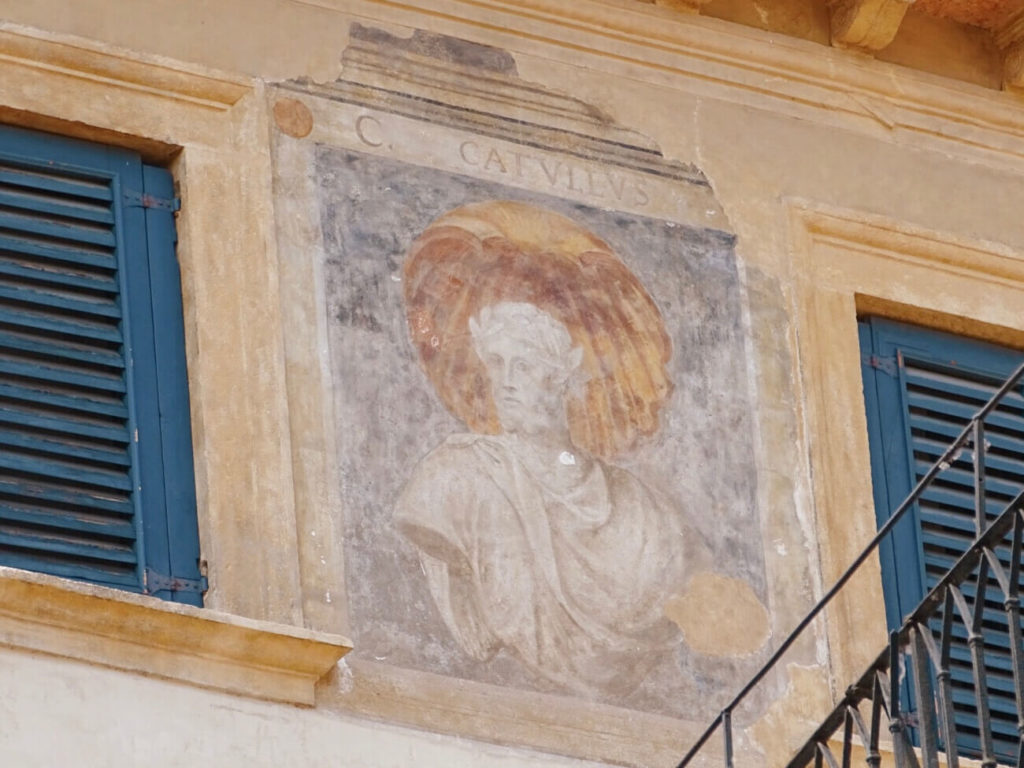 After enjoying the fantastic food in Verona, I found the most fascinating aspect of the city to be the fresco art. These detailed wall paintings were considered the height of fashion during the 1500s and 1600s, depicting scenes from religion, mythology and daily life.

On Via Ponte Pietra, you can even see frescos demonstrating the production of salami! Now that's priorities 😉

Right beside the salami frescos, you can find a deli with decades of history serving salami, cheese and other goods. It even has a riverside garden where you can enjoy your picnic.

To see more frescos, visit the Tomba di Giulietta, a museum holding a tomb rumoured to have belonged to Juliet. In my opinion, a better reason to visit is the vast collection of frescos.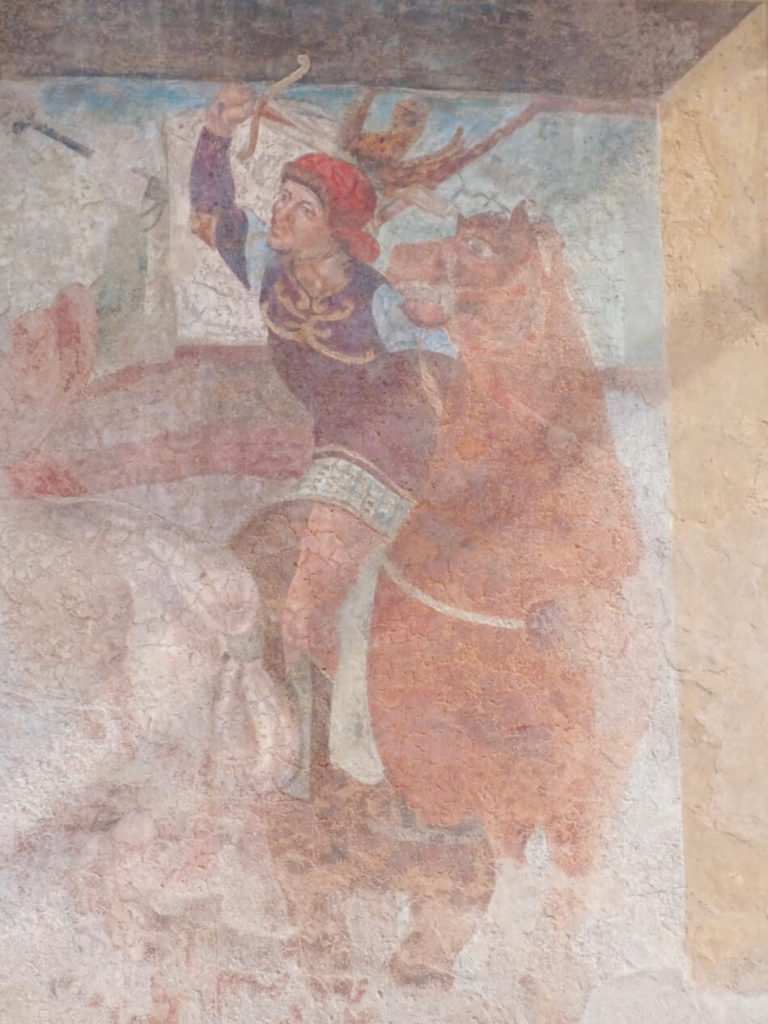 Enter the Arena
It's impossible to miss this Roman amphitheatre in Piazza Bra, an atmospheric square where tourists and locals come to congregate. Built in 30 AD, it was where powerful parties hosted gladiator shows (often featuring live lions and tigers) with the town's population watching.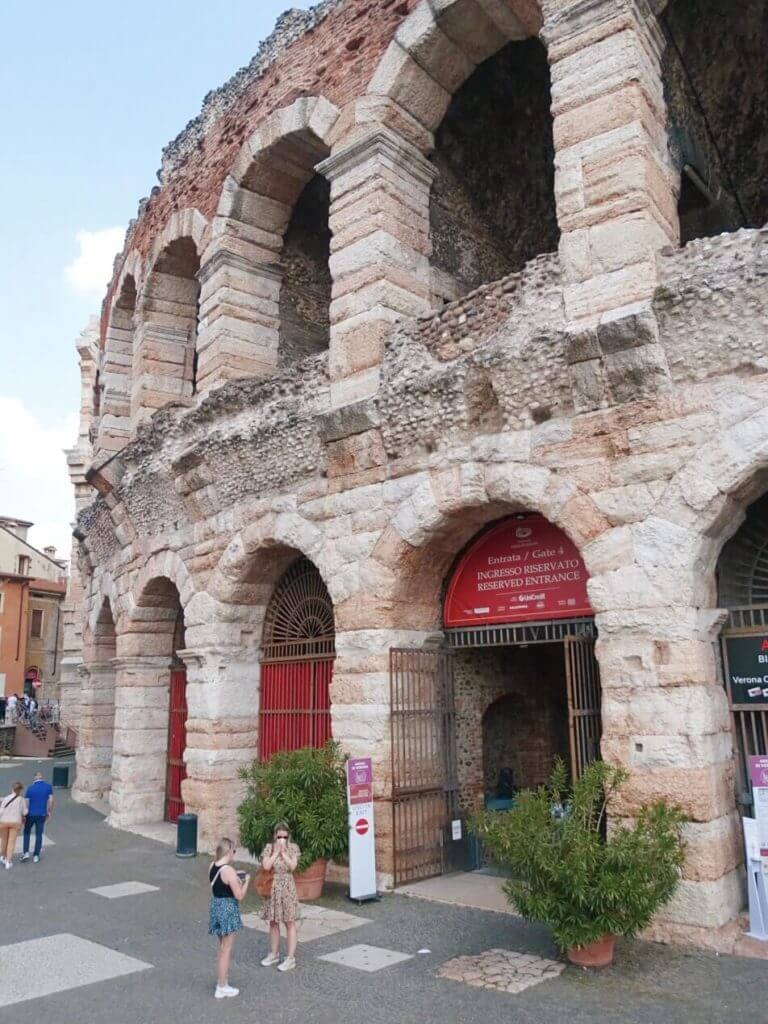 Nowadays, it holds far less morbid entertainment: summer opera and pop performances!
Learn about Romeo & Juliet
Despite the other religious, cultural and culinary attractions, it's the story of Romeo and Juliet that puts Verona on the map for many tourists. Although the star-crossed lovers probably weren't real, their families were: the Montagues and Capulets were divided by their differing dedications to the Pope and the German Bishop.

Nowadays, Juliet's Balcony attracts tourists from around the world. You can visit the courtyard with the balcony and pose with a gold statue of Juliet for free – although expect to queue – or alternatively, pay €6 to go inside the museum and stand on the famous balcony.
Ride the cable car to Castel San Pietro
In my opinion, Castel San Pietro is most beautiful viewed from Ponte Pietra (Stone Bridge). However, riding the cable car ($1.50) to the castle is a fun experience ending with beautiful views of Verona. The only better viewpoint in town is…
Climb Torre dei Lamberti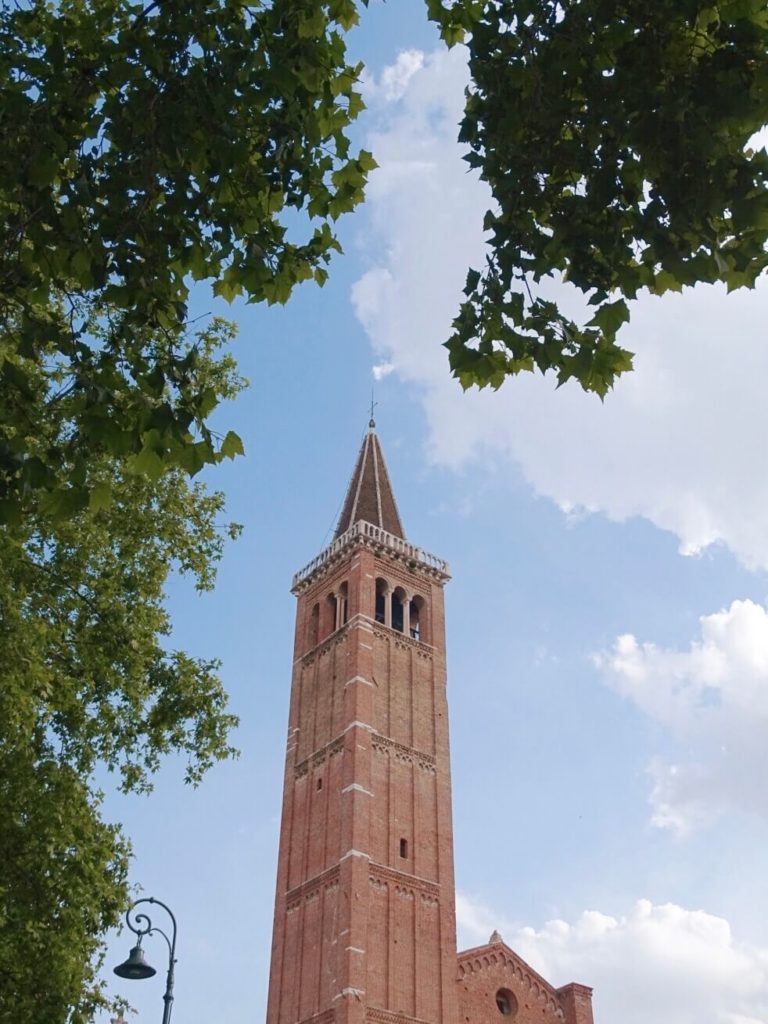 Verona's tallest medieval tower offers spectacular views of the city, countryside and Castel San Pietro. Pay €6 to climb or take the lift to the viewing platform at the top.
Final review of Original Travel
I had a fantastic time exploring the city with my guide, Monica. It was clear she had abundant knowledge and enthusiasm for Italian history as well as Verona food and culture. I imagine an entire holiday organised by Original Travel would really bring your destination to life.

If you're keen to explore Italy on a personalised adventure, be sure to check out Original Travel's Verona holidays and Italy holidays.
Thanks for reading my Verona food guide!
Check out my other Europe blogs and follow me on Instagram, Facebook, Twitter and YouTube.
Read my other Italy posts:
Note – I was a guest of Original Travel but all opinions are my own.
Pin this for later!