This post may contain affiliate links to things like tours, hotels, Amazon associates and products. These help me earn a small commission at no additional charge to you.
If you've read my blog before, visited my Instagram or even met me for 3 seconds, you'll know that travel and food is basically my life!

Having lived in Porto for three months in late 2021, I'd become well accustomed to the Porto food partly thanks to Taste Porto Food Tours. But when spending 3 days in Lisbon during the same trip, I didn't have time to take a similar tour.

Following one emotional Brexit-inforced departure, three months living in Croatia, one month backpacking and one return to Portugal, I found myself back in Lisbon and hungry for the local cuisine!
Disclaimer – I was hosted as a guest on the Taste of Lisboa food tour but all opinions are my own.
Who are Taste of Lisboa Food Tours?
Taste of Lisboa are one of Lisbon's best-known and highest-rated food tour companies.

I joined their Lisbon Roots, Food & Cultural Walk as I was keen to try the food but also uncover the history of Portugal's vibrant, cultural capital. This seemed like the best introduction but they also offer market tours, cooking classes, dinners in homes and private tours if you fancy something different.

Generally, I think food tours are great when you're travelling alone. If you're travelling solo in Lisbon, be sure to take one!

I won't mention the names of all the places we visited as I think it's best that Taste of Lisboa show you the way! However, here's my review of the tour and some of the delectable dishes you can expect to try...
Like Portuguese food? See my Porto food and Madeira food guides
Wine, cheese and dictatorships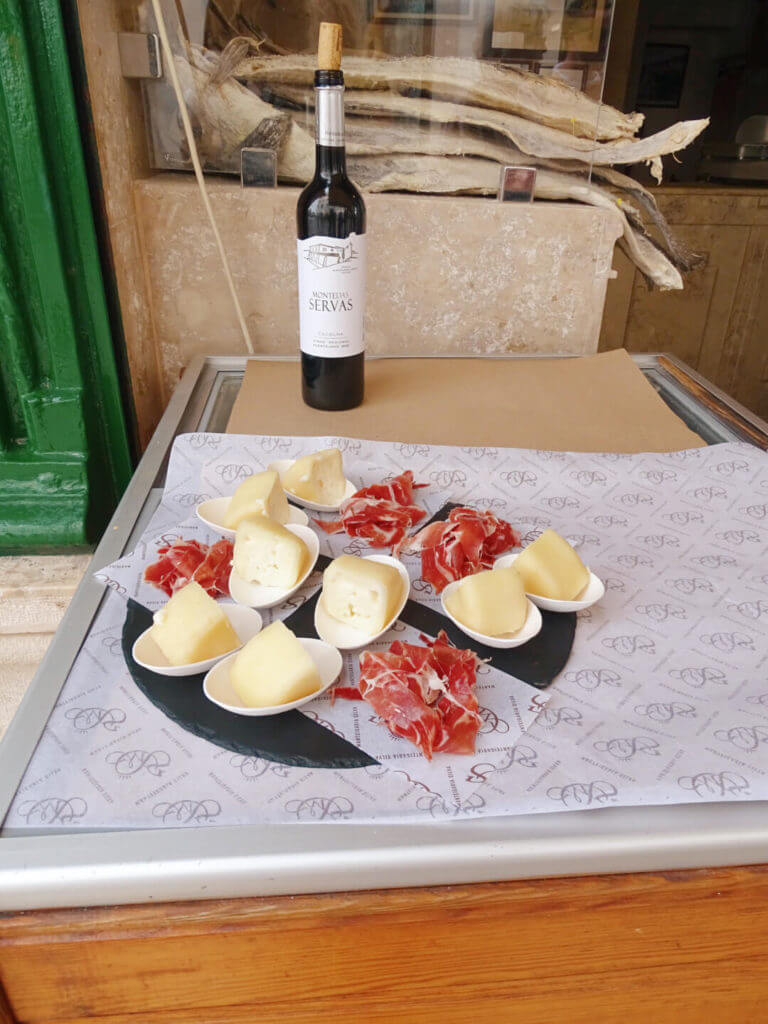 From port to vinho verde, I adore Portuguese wine (and have a pretty concise guide to Porto wine bars should you be heading that way). So I was expecting to enjoy this stop but I didn't realise how much new information I'd glean about Portuguese wine.

Most interestingly, I learnt from our guide, Dani, that the political events of the last century shaped the wine to this day. The rule of dictator, António de Oliveira Salazar (yes, whose name inspired J.K. Rowling's character, Salazar Slytherin), resulted in a huge number of native Portuguese grapes as the industry developed in isolation.

As a result (and because many grapes have unusual names), many types of Portuguese wine are relatively unheard of. Is that a bad thing? Absolutely not! The joy of travel is learning and trying things you wouldn't at home.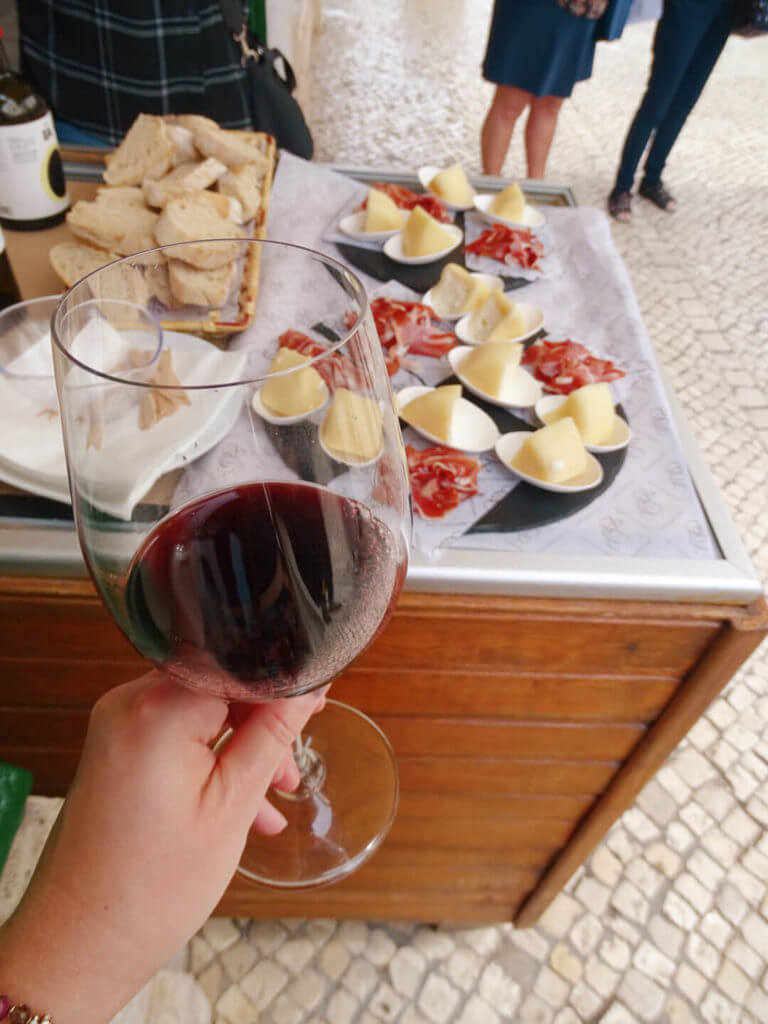 We tried a delicious red from Portugal's Alentejo wine region east of Lisbon. Dani mentioned that a bottle costs around €5, apparently expensive by Portuguese wine standards! * Brits weep *

I later noticed that my Airbnb host – a Lisbon lifelong local – seemed to drink Alentejo exclusively. This is all the proof I need that this is an authentic wine!

We also sampled some fantastic azeitão cheese, olive oil, fresh bread and Pata Negra ham. Portuguese cheese is some of my favourite on earth!
Welcome to the cod capital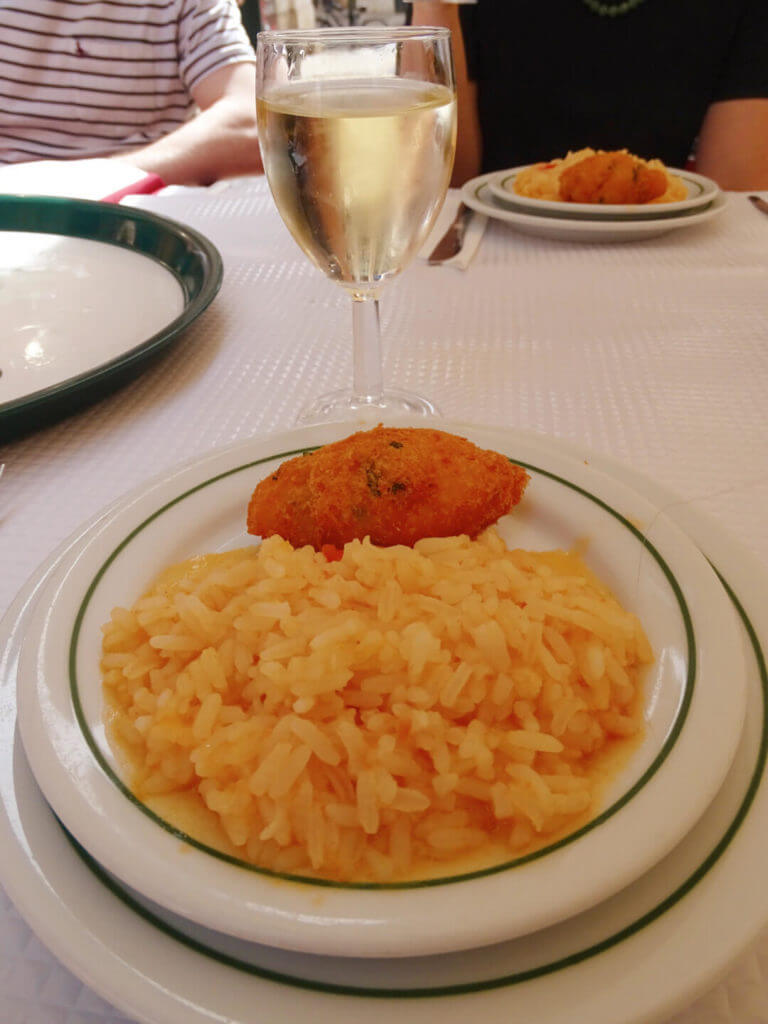 If you don't know already, Portugal is cod mad. I'll leave Taste of Lisboa to fill you with fish facts, but here's a snap of my pastéis de bacalhau (codfish cake) with tomato rice. We ate this at a simple but renowned snack bar in the city centre. It was fresh, salty and well seasoned.

Chatting with the group, I washed my food down with vinho verde, light Portuguese white wine grown in the region of the same name. Like many other drinks (Champagne, Prosecco, Tequila etc), beverages must be produced in this region to qualify.

If you like fresh and light white wines, I can promise you'll love vinho verde. It's the perfect summer wine.
Sandwiches and smelly cheese: a match made in Lisbon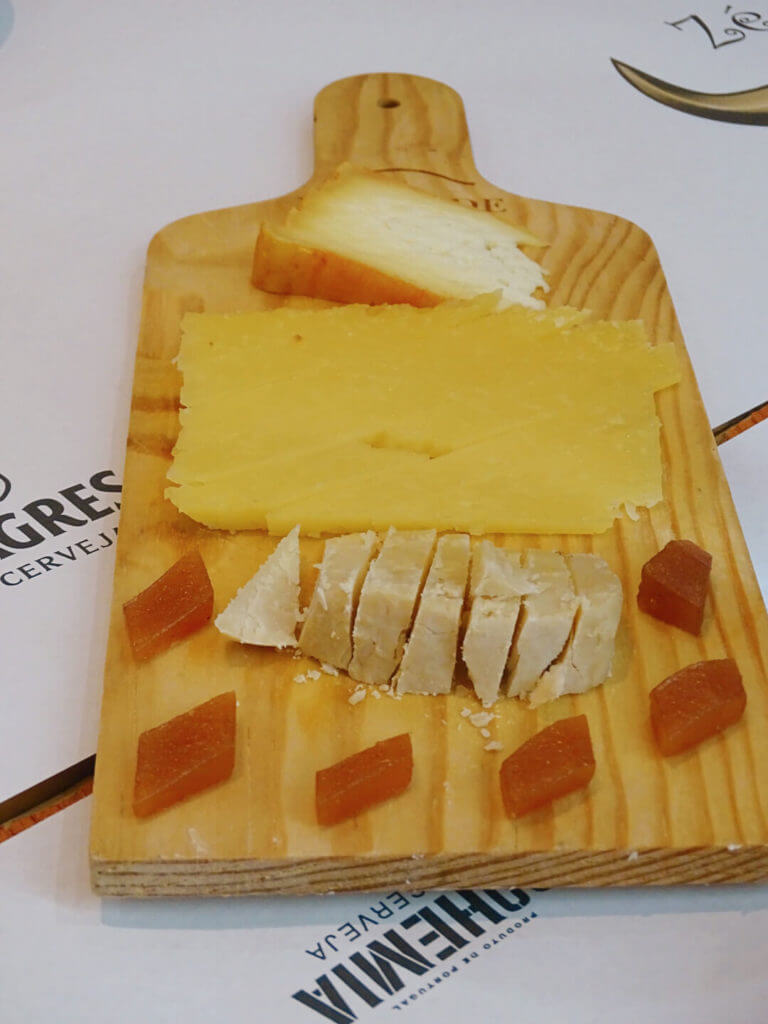 Our next stop was an equally modest eatery that I'd have never noticed from the outside. As I'm fast learning, these are by far the best places to eat in Portugal!

After Dani shared with us a funny story about the owners of the place, we went inside to try a selection of cheeses (including a tasty but very smelly one) paired with quince jelly. The combination is colloquially known as 'Romeo and Juliet' as the elements are so perfectly suited.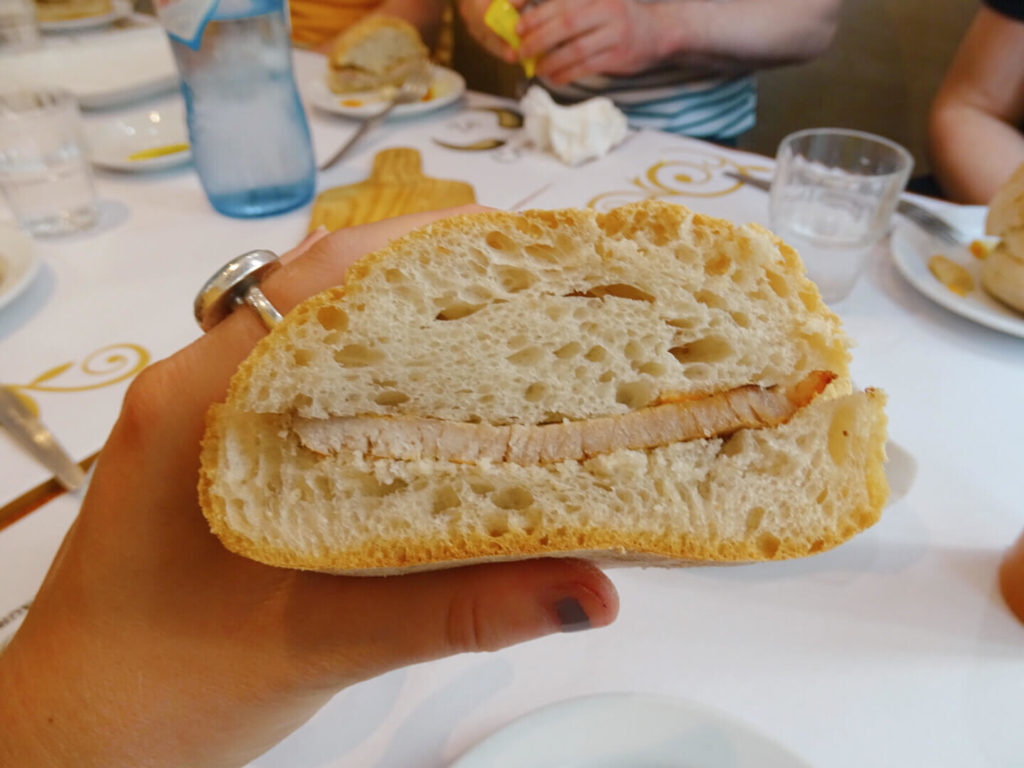 We also sampled another of my favourite Portuguese snacks: a bifana. These simple pork sandwiches in crusty bread are served with quality mustard. Perfecto!
Cherry liquor won't make you sicker!
In a tiny, atmospheric bar with generations of history, we tried Lisbon's most famous liquor. My photo in low lighting was terrible so you'll have to use your imagination to envisage us packed like sardines sipping sweet cherry shots.

We learnt that Ginjinha liquor was sometimes used as medicine but actually holds no medicinal value. But, as Dani joked, after a whole bottle you won't feel anything! 😉
Sailors & samosas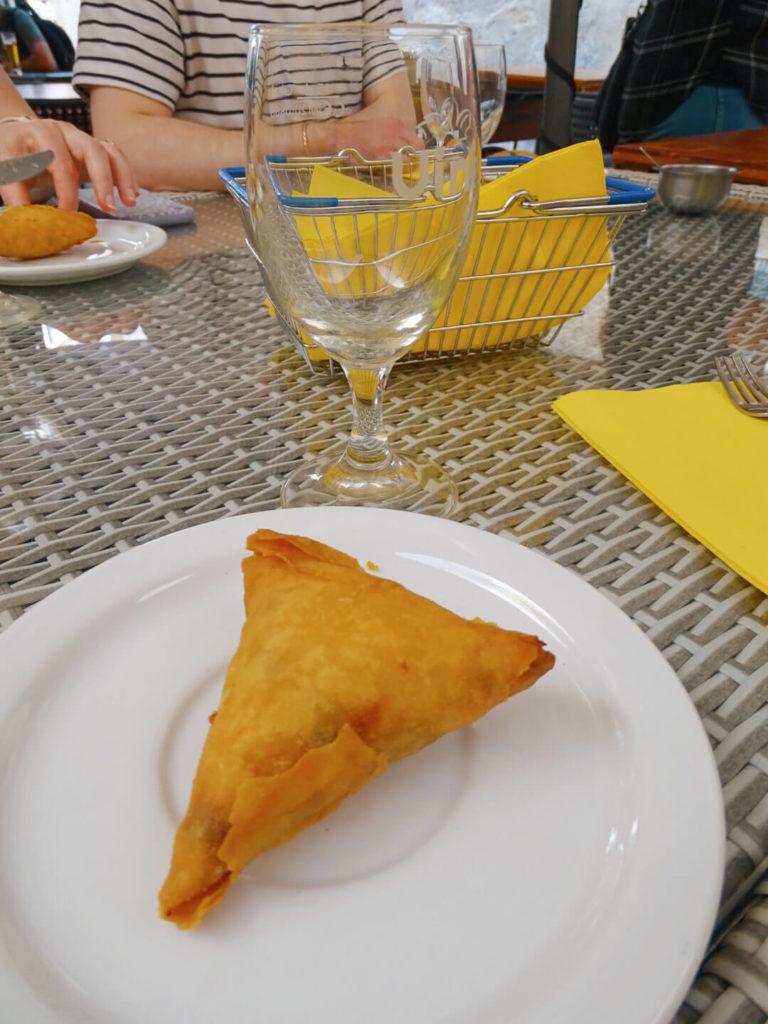 For our penultimate stop, we dove deep into Portuguese history. Vasco da Gama, the famous Portuguese explorer, was the first European to reach India by ship. Throw in the colonial connection between Goa and Portugal, and it's little wonder the diverse city of Lisbon has an Indian population to this day.

Indian samosas are usually vegetarian but the ones in Portugal may be made with veggies or ground beef. We tried one of each in a sunny tavern with outdoor seating. I really enjoyed both.
Pastel de nata, golden orbs of sun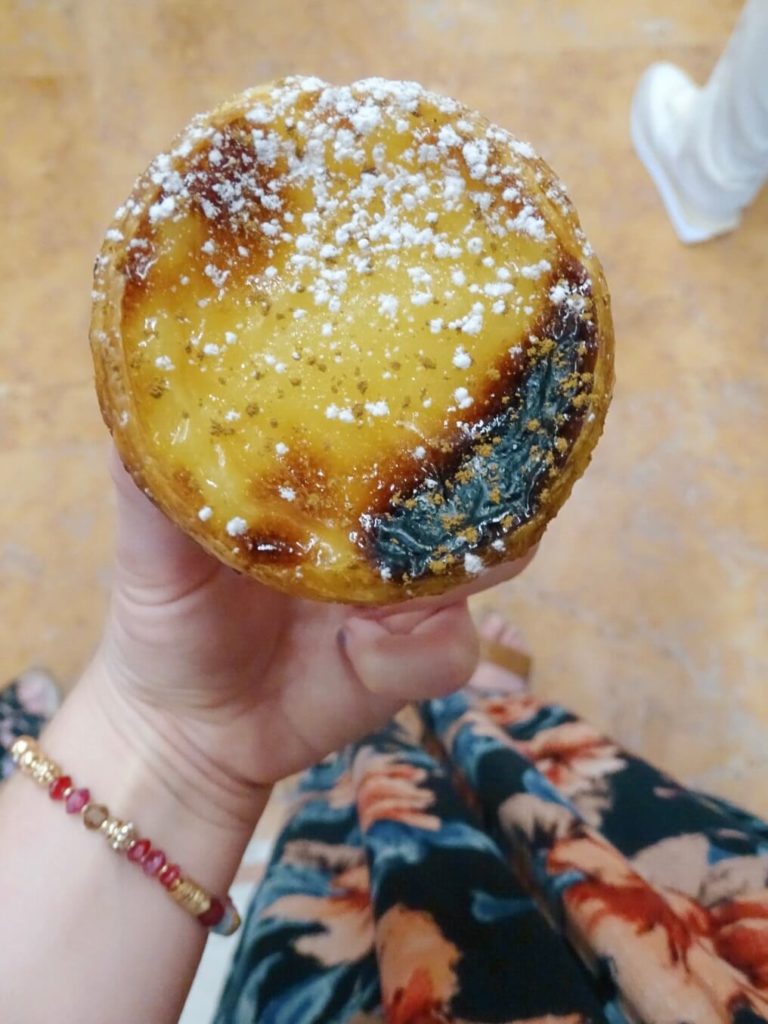 Finally, a sweet treat!

Such is my dedication to natas that I wrote a guide about finding the best pastel de nata in Porto. I hadn't had one in four months so you can imagine my glee sinking my teeth into the sweet custard and flaky pastry. Just bliss!

Taste of Porto's favorite nata cafe is also mine. You can't beat it!
Hidden 'hoods in lovely Lisbon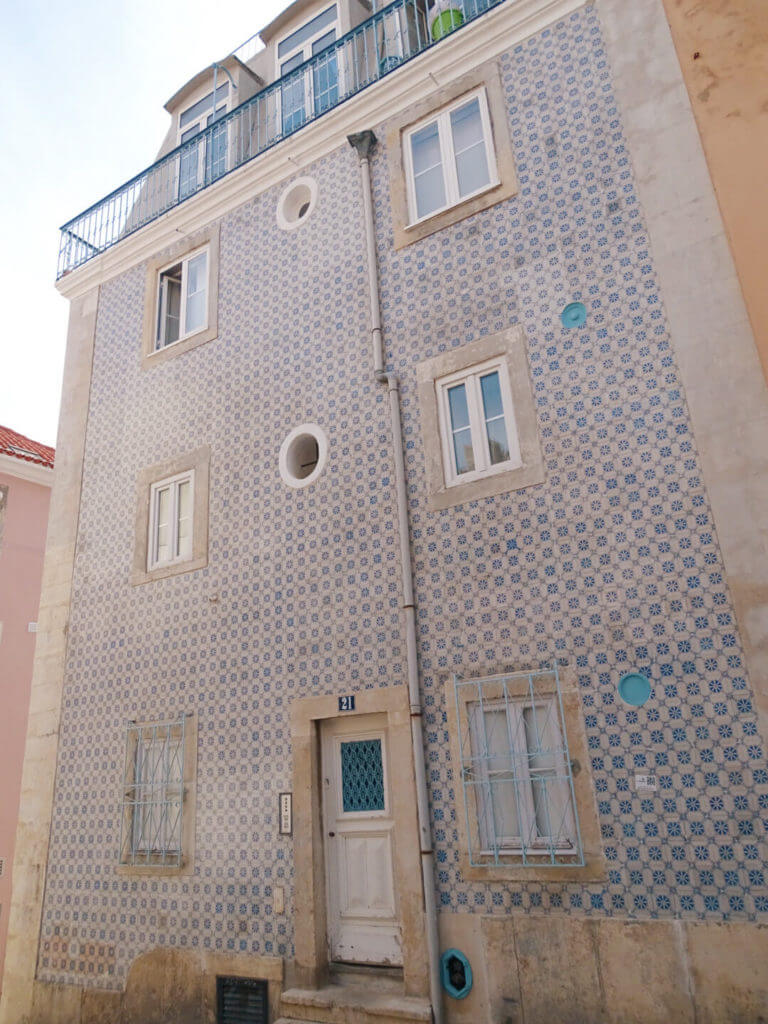 Something I really enjoyed about the Taste of Lisboa tour was exploring areas I didn't previously know about. Mouraria is a Lisbon hidden gem where you can feel the history and learn about the past and present residents in a way you can't in Baixa or Chiado.

You'll have a great time exploring this pretty 'hood with the team.
Final thoughts
Overall, I'd highly recommend the Taste of Lisboa tour. Dani was a fantastic guide; friendly and knowledgeable in equal parts. You can really tell she loves her city and its cuisine.

I got to try some dishes I wouldn't have otherwise in family-run venues that I'm happy to support. It felt like tourism done right. Plus, there was cheese. What else d'ya want? 😉

You can book and browse all their tours here.
Pin this for later!