This post may contain affiliate links to things like tours, hotels, Amazon associates and products. These help me earn a small commission at no additional charge to you.
There aren't many places that can rival the dive scene in the Philippines.

Saying that, the Great Barrier Reef is definitely up there. I had my first dive experience at the Reef when I was 19 and I was sold within seconds. Everything was peaceful and moved slower underwater; it was a whole different world and I couldn't get enough of seeing all the weird and wonderful sea life.

I got such a buzz and surfaced with a new passion. I hadn't spoken a word or had a word spoken to me during the time I was underwater, but the ocean itself spoke… well, oceans.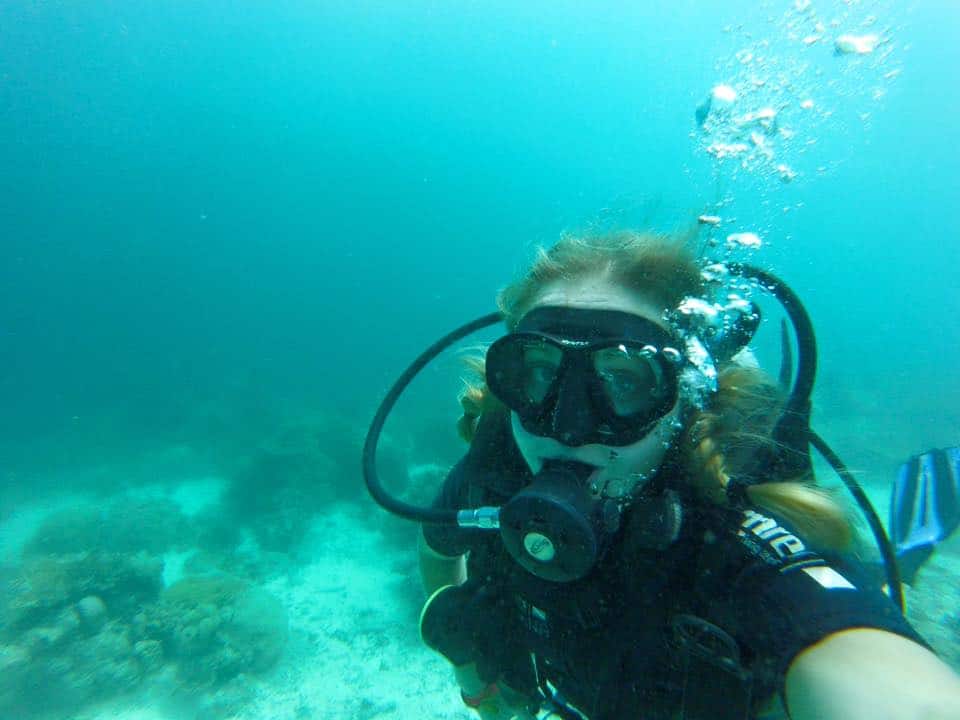 But then study and work happened and I didn't visit anywhere renowned for diving for a few years.

As soon as I got to Thailand I took my Open Water Diver course, allowing me to dive almost anywhere on the globe. I put my new qualification to good use a couple of months later in Borneo and knew there would be more opportunities in the Philippines.
Malapascua's dive scene – with sharks!
I'd heard people talking about diving in Malapascua – a small Filipino island off the coast of Cebu which is known as one of the only places in the world where you can dive with thresher sharks.

Seeing the general underwater world is always a cool experience for me and I'm happy even if I don't see anything specific aside from some colourful fish (this has happened on plenty of my dives). But I LOVE animals – every time I see a turtle I nearly pass out with joy – so going somewhere to see a specific type was really exciting.
Getting qualified
Thresher sharks are harmless but I was still a weeny but scared, especially as you have to descend to 30 metres to see them clean and feed, which meant I needed ANOTHER qualification.

To explain, the Open Water Diver qualification allows you to dive up to (well, down to) 18 metres anywhere in the world, which is often deep enough to see everything you'd want to in a specific area.

The Advanced Course allows you down to 30 metres and includes other modules such as night dives and navigation dives.
Initially, I'd been concerned I wouldn't be able to see the sharks from Malapascua without doing an expensive and time-consuming Advanced Course. Luckily, travellers who'd already been told me there was an alternative – Open Water Divers on Malapascua have the option to just take the deep dive module of the course for a fraction of the total cost.

Once I'd found this out, there was no keeping me away!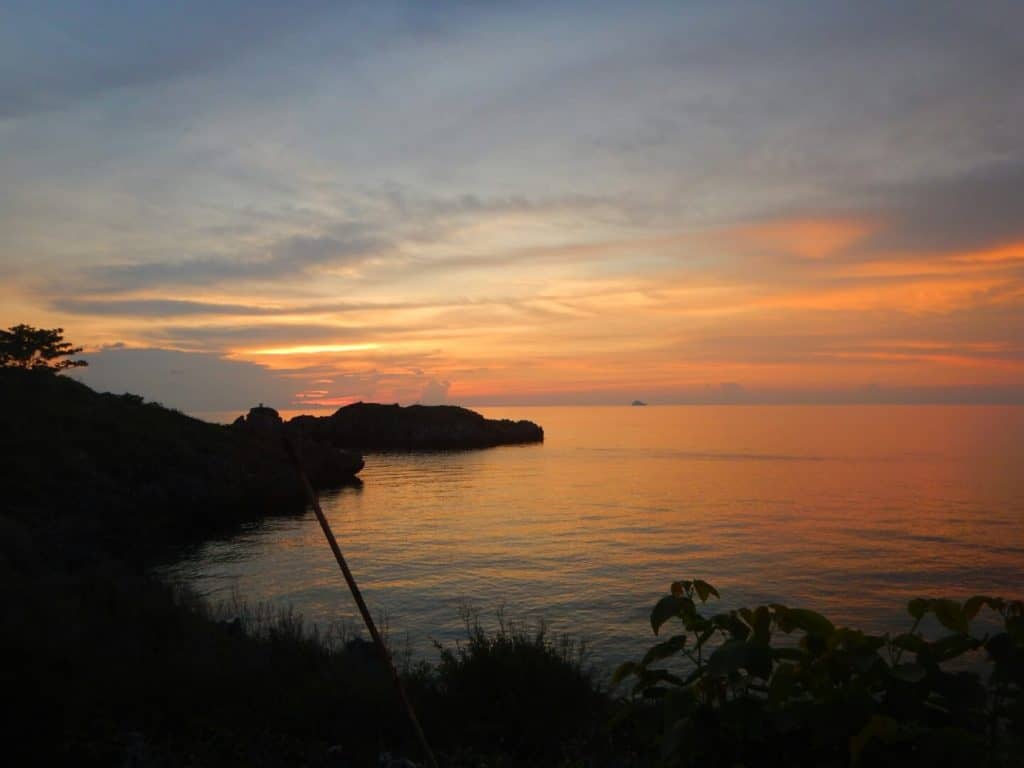 Getting there
I set off from Cebu on a local bus to Malapascua. My taxi driver to the bus station tried to persuade me to let him drive me the whole way which would take about five hours. To be fair, it would have only set me back £20 but I politely turned him down, jumped out of the car in the pouring rain and found my bus, which was pretty comfy and even had WiFi.
Later that day, I arrived at a small port where local boats were chugging towards Malapascua. I had to wait a while for one to fill up and once it had, we spent half an hour cruising across crystal-clear waters towards the little sandy paradise that would be home for the next six nights (I wasn't intending to go for that long but I fell in love with the island A LOT).

We landed on the sand and immediately a couple of guys ambled over asking where we were staying and offering us a ride on their scooters. I hopped aboard, big rucksack still on, and tried not to topple off the back (I'm a pro at this now) as we whizzed out of the small town, through fields and along a sandy track to my hostel.

Checking in at the front desk, the face of another girl who'd been on the boat popped up beside me. We laughed, realising we should have travelled from the boat together (not that there was really room for a third body and second backpack on one scooter but the locals would have certainly found a way).
Federica and I became friends and headed out on island tours and boat trips together over the next few days. My iPhone and Go Pro soon broke so she ended up being my personal photographer and supplying me with her awesome DSLR photos. Another guy I met, Joakim, made an incredible video of the thresher sharks we saw on our dive (look out for this shortly).
Where to stay
Our hostel, Threshers Cove Resort and Dive Centre, was THE BEST! It was the only place that came up on Hostelworld for Malapascua and even though it was expensive (£15 per night; three times what I usually pay) it had great reviews, a swimming pool, private beach and included breakfast so I thought, why not?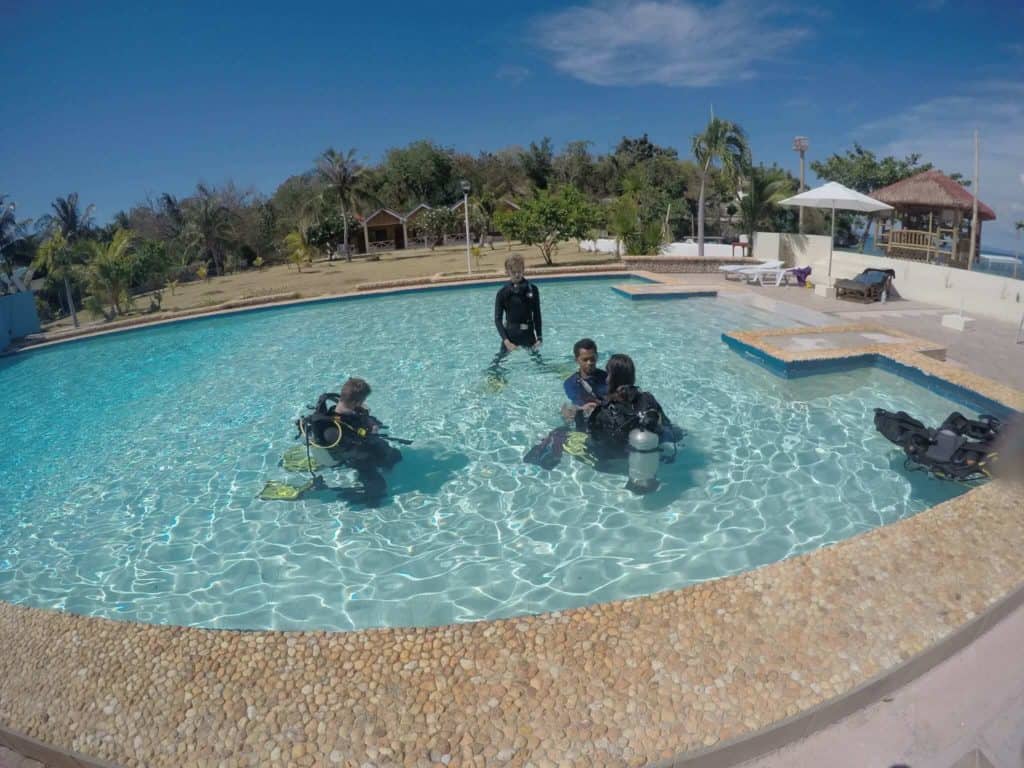 Speaking to other backpackers later, it turned out there were other cheaper hostels on the island which just weren't advertised online. But you've got to splash out every once in a while – a few nights before a rat had run over my face during the night at a scuzzy hostel so I was in the market for recovery.
I got exactly what I needed: the pool looked out over the private beach, the restaurant food was incredible though kinda pricey (we were a way from town), and it was a good place to hang out in the evenings with sofas and a big TV.

However, the night before my shark dive someone put Jaws on – seriously, guys!?
Signing up to dive
One of the first things I did on arrival was sign up for my deep diving qualification. I paid about £50 for this – not too bad considering it included the shark dive itself.

The staff gave me a study book and I spent one evening doing homework on the safety issues and skills required when going down to minus 30 metres.
I set my alarm for 4.45am the next morning to meet my instructor and run through my homework before we set off with the rest of the day's divers. Thresher sharks are usually only seen in the morning so it's crucial to get there early – luckily we witnessed a stunning sunrise as we sailed towards our destination so the early start became more bearable.

We were diving at the Monad Shoal: an underwater island with a 200m drop-off where the sharks are commonly found.
The first fail of the day
Initially, I'd been told I was the only person doing the deep dive qualification that morning so it would just be me and my instructor in a group. At the last minute a guy who'd just completed his Open Water decided he wanted to upgrade to the deeper dives so, only having dived for the first time two days before, he joined us.
The only problem was he was super nervous and as soon as we jumped from the boat, he lost his flipper and our instructor spent 10 minutes swimming around trying to find it. Then, as we began our descent, he panicked, got water in his mask and we had to resurface.

By the time we got to the ocean floor, the day's other divers had been hanging with the sharks for 20 minutes but they'd now left the area for the day. We expelled the air from our suits (meaning we'd be heavier and could stay at the bottom) and sat on the ocean floor waiting but, due to the speed at which you consume oxygen at that depth, we couldn't stay long.

At least we saw this guy – a beautiful eagle ray – on the way up!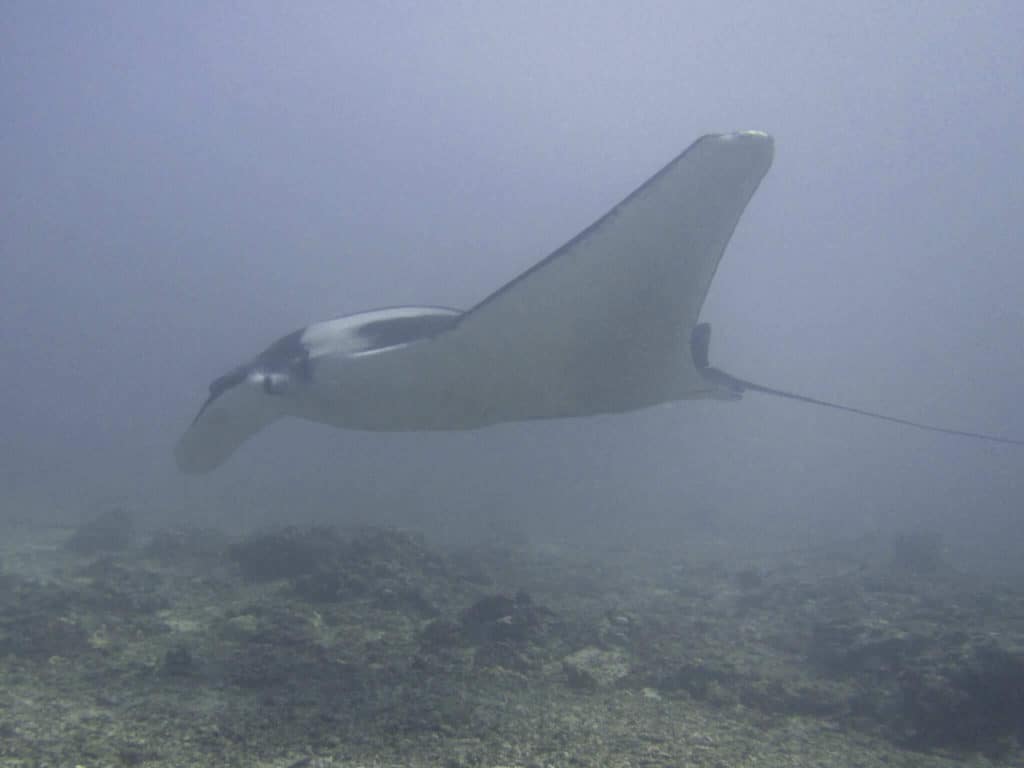 I was so disappointed! The guy was super apologetic and I felt bad for him as I know what it's like to get things wrong to begin with – but I couldn't help feeling gutted.

One interesting thing that did happen was our instructor demonstrating to us how we perceive colour at minus altitudes. He showed us an image of a bright red circle before we descended, then showed it to us again at the bottom – all the colour had vanished and to my eyes it was black. The ocean never fails to amaze me!
Trying again
I decided to get up at 5am to try the dive again the next day. By this point it was my last morning on the island so I was getting desperate! It was a huge success – as soon as we reached the floor, a large thresher shark came to play.

He swam back and forth in front of us, circling above us and coming up close. My heart was beating a million miles an hour – I was totally in awe at this crazy planet we live on!!
He looked very sharky, unlike other species I've seen up close like docile whale sharks (which bear no resemblance to the toothy types we see on screen). Facially, he reminded me of a Great White (eek) but with a long, distinctive tail. Watch Joakim's video and you'll see:
Exploring the island
While this was the highlight of my time on Malapascua, I did some other cool things too. Federica and I took a scooter tour of the island and rode on the back of two local guy's bikes as they showed us the sights including the lighthouse viewpoint, various beaches and the cliff jumping point.

We met an Aussie guy who was sleeping up on the cliffs to save money on accommodation. Budget savvy!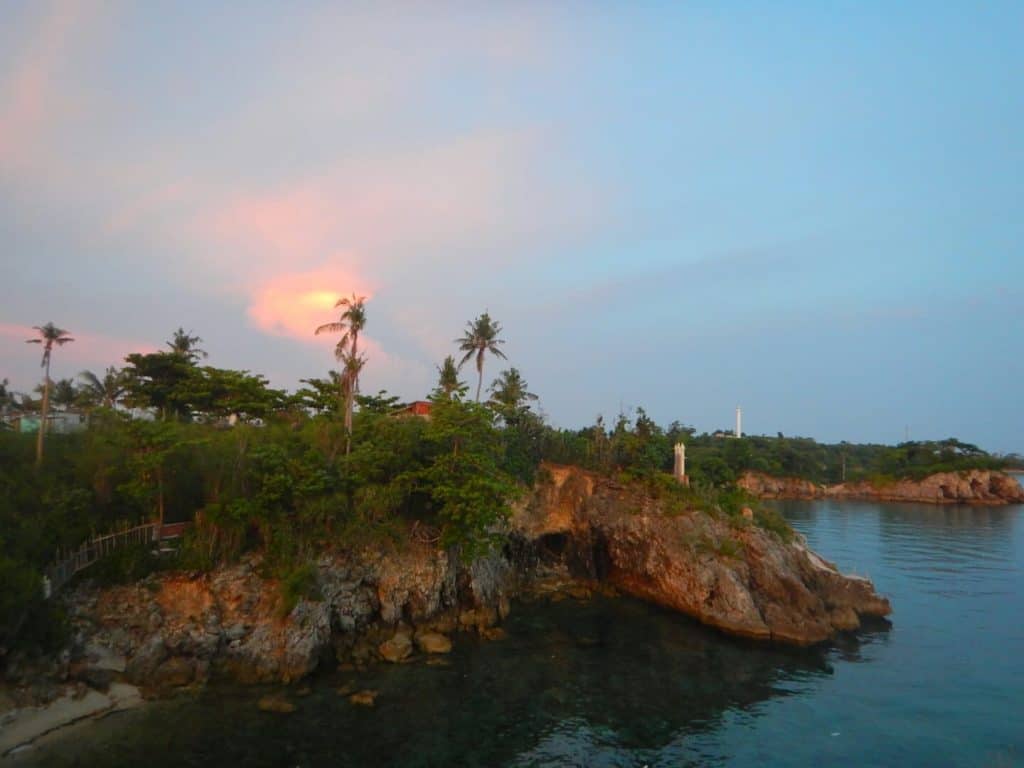 Doing what the locals do
Even though Malapascua isn't especially touristy, there were a few Western-style restaurants in the town so we asked our guides to take us somewhere local for dinner. We ended up an open-fronted wooden house on a quiet street which we'd have otherwise mistaken for someone's home.

I'm glad we found it as the food was SO good. If you've been to the Philippines you may agree with me that the cuisine isn't quite as exciting as Thai or Vietnamese but they certainly do a good barbeque!! I had about eight chicken wings and sausages all coated in a sticky, sweet sauce.
Our guides were sweet but quite shy. At dinner they assumed they'd sit at a different table to us, then when we asked what they'd like to eat and offered to pay the bill they seemed bashful.

I'd hate to ever cause offence but buying your guide lunch is usually seen as a polite gesture so I don't shy away from doing it. After all, it was only about £2 for wings all round – if only it were the same back home!

During our time on Malapascua, Federica and I also took a boat trip to Kalanggaman island – a thin sand bar out in the ocean with only a couple of palm trees for company. This has got to be one of the most picturesque places I've ever been – and thanks to Federica and her camera, I actually have the photo evidence!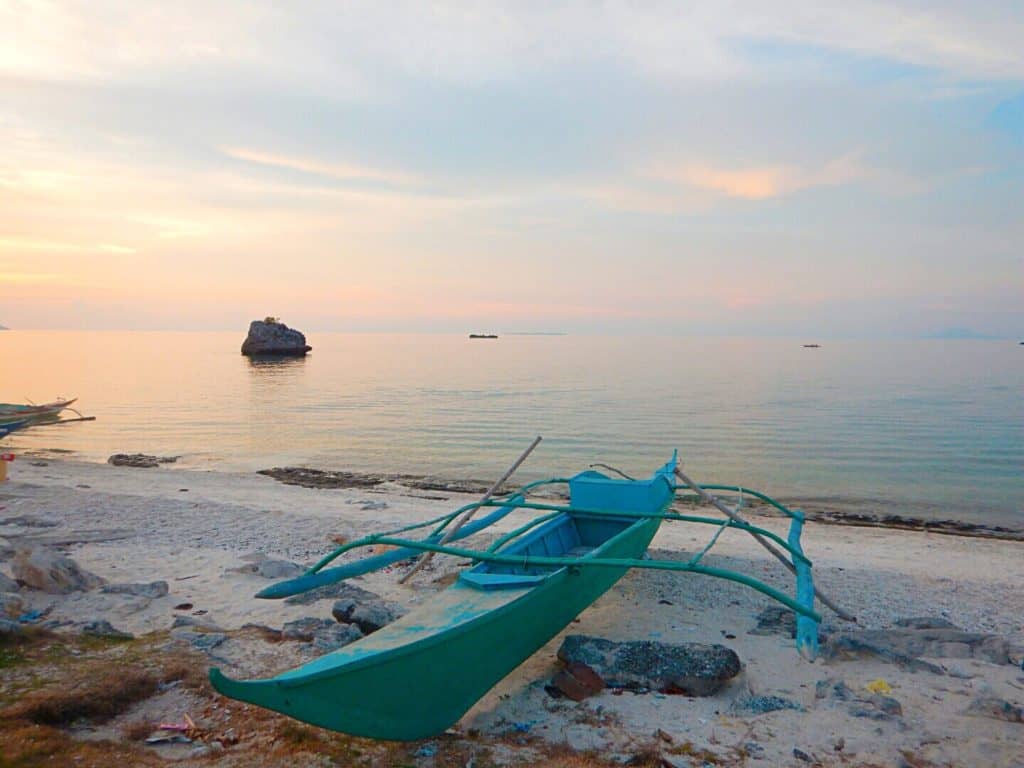 What a week! I had the best dive experience of my life and I have to say Malapascua could be one of my all-time favourite islands. It's off the beaten track enough to not feel overrun with tourists, you can see loads of local life and villages, and the residents are friendly and interested in you.

The sunsets were to die for and the island hopping to Kalanggaman blew my mind.
I met some awesome people here and saw Joakim and his friend Johnny a few days later on party island, Boracay. My few days there might as well have been in a different universe as Boracay is known as the touristy, drinking spot of the Philippines – worlds away from sleepy, local Malapascua!

I hope I return one day and everything's just as I left it…
Thanks for reading!
If you liked it, please share it 🙂
Read my other posts about the Philippines:
See you next time for more adventures,
Rose