This post may contain affiliate links to things like tours, hotels, Amazon associates and products. These help me earn a small commission at no additional charge to you.
Well what can you really say about a month where you spent most of it in your pyjamas?
BTW – I started this series when I started travelling full-time in May 2018. Read my other monthly round-ups here.
It's nice being home after an extended period away isn't it? I'd say this was in fact the nicest trip home ever simply because it wasn't the end of an adventure. Usually when I return to England it's because I'm out of money and have had to build up from 0 again. This time it's just a Christmas holiday and I'm going back to Southeast Asia in January.
The main excitement in December (apart from eating my body weight in strawberry creams) was my first fully-comped press trip before I headed home.
Bangkok with TakeMeTour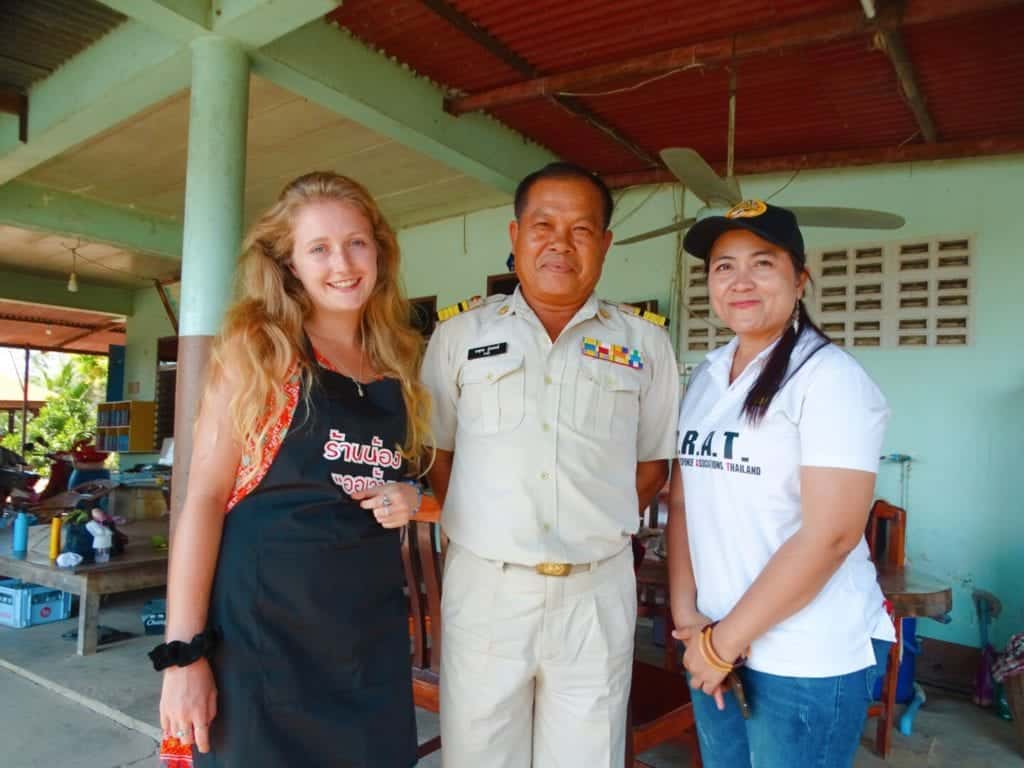 On the 2nd of December I flew to Thailand to explore the local food with TakeMeTour. They were celebrating the LocalTable campaign which was all about eating Thai food in local homes – can you imagine anything more 'me'? As well as indulging in six lunches, I also got to visit Ayutthaya, the ancient capital of Thailand and tour the countryside. I always just think of Bangkok being crazy hectic which obviously it is, but the surroundings are actually really green and glorious. I had no idea. I had the sweetest tour guide, Mai, for the tour who made it easy to get great content because she was always happy to take my photo.
Being on a sponsored weekend away was so much fun. I felt like I finished the year on a real high, and I even had some free time to explore Bangkok.
I went to Chatuchak, the biggest weekend market in the world and explored the Grand Palace, Wat Arun and Wat Pho. They were all stunning! I love Thailand and can't wait to spend more time there next year.
Being non-me in Kuala Lumpur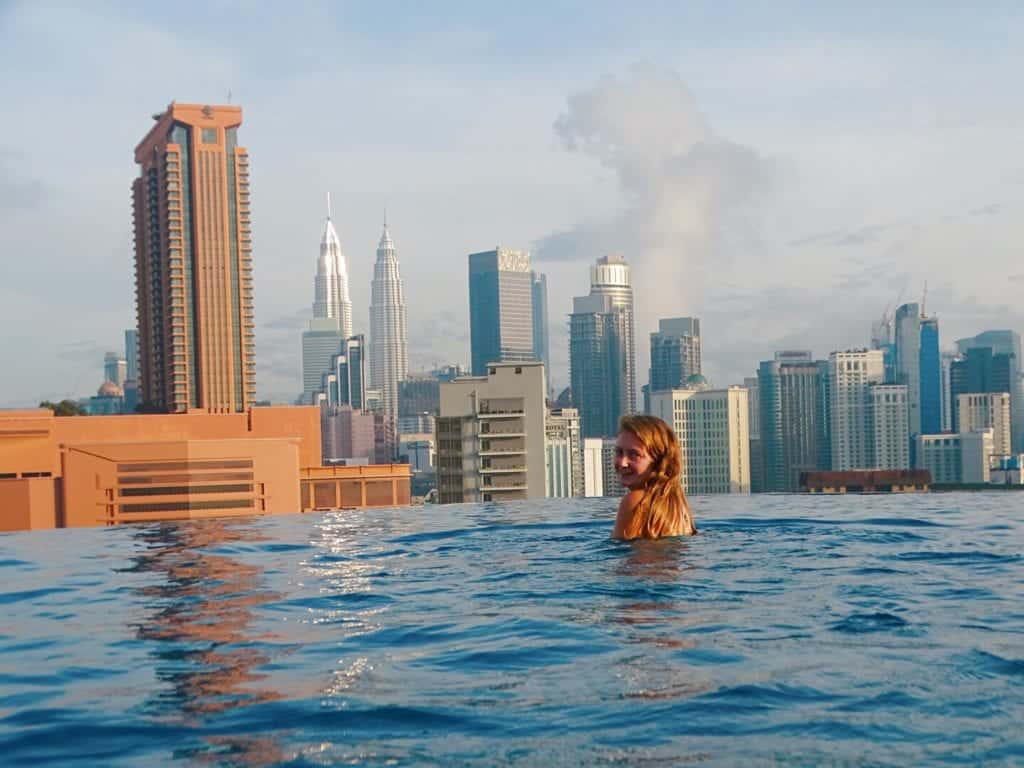 When I say 'non-me' I'm referring to the fact I stayed in a hotel rather than a hostel for my final 2 nights in Southeast Asia.
I constantly see Instagrammers in rooftop pools in Kuala Lumpur and I was aware you can get some massive bargains. I'd done most of the cultural and foodie things in KL and felt the skyline scene was something I'd not experienced. So when I got back from Thailand, I maximised my last few nights in Southeast Asia before returning to English prices. Gotta get a bargain while you can!
I paid about £30 a night for a self-serviced apartment and access to the rooftop pool, sauna and gym. The pool was of course the reason I was there!
I was sad to be leaving Malaysia but I think I'm going to pass through again in January so at least I can slurp down a few final laksas. I honestly think Malaysia is one of the most underrated countries in Southeast Asia. Perhaps the 'wow' moments aren't as intense as in some others since it's a tad more western, but it's just such a cool place to hang out. Whether you want cities, beaches, nature, culture or basically anything, Malaysia's got it. I feel so at home there – however long I leave for, I slot back in and remember why I love it. There's such just something about it!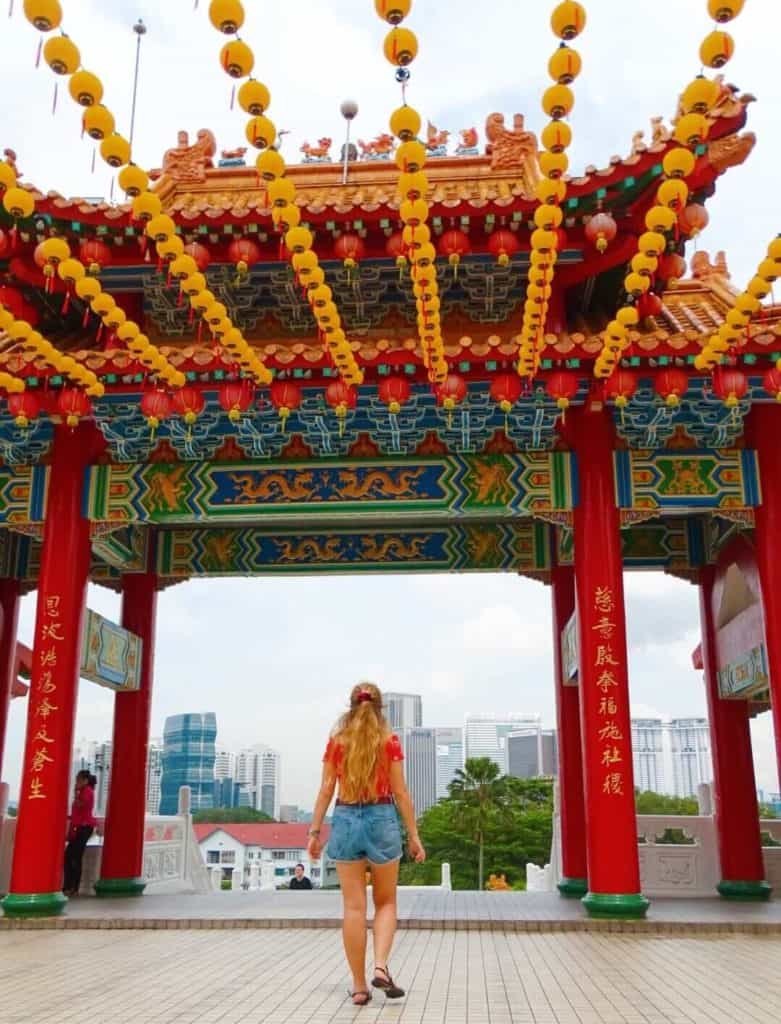 Heading home!
I arrived at Heathrow at 5am wearing a sarong and flip flops in December. YOLO. I had absolutely no winter clothes (obviously), and I wasn't about to buy some for the 45 minute bus ride back to Oxford where I had a wardrobe full of them.
Whilst at home in December, I had all my usual freelance copywriting to do. No holiday pay for freelancers, hey? At least I did it while in my pyjamas eating cheese I hadn't paid for. Thanks fam. For Christmas itself, me, mum, dad and Joni went to Leicester to stay with our aunt, uncle and cousins. Christmas was calorific and lovely.
In December I also went to London for 5 days to hang out with London pals including my best friend, Hannah. We've been friends for about 13 years through thick, thin and getting pooed on by cows – if anyone was reading in 2015, you'll have seen us having a hilarious time on our India adventures. For this reunion, we simply got drunk at midday and performed at a hip-hop karaoke brunch – as you do.
Every time I go to London, it reminds me how much I love and miss it. In case you didn't know, I lived there for 3 years after uni before going travelling. Saying that, I don't miss it enough to hang up my backpack and stop travelling!
Fun things I got up to London included…
Exploring the Brixton street art + food
One of my favourite areas of London is Brixton, full of culture and character. I lived just a few tube stops away from 2013-15 so it's somewhere I know well. It's one of those areas that used to be run-down but now is gentrified and a very expensive postcode to live in (like most of London to be honest!). With large African and Caribbean populations, it's a vibrant and multicultural area, known for its markets and street art. A new David Bowie piece has popped up since my last visit so I knew I had to visit.
I parked myself in Brixton Village for an afternoon with some speciality coffee. This undercover market is awesome: a mix of hipster coffee shops and African eateries. London's favourite burger chain, Honest Burgers, also started here so it's a good spot to try the original. In the evening, I met my lovely housemate from uni, Meisha, and we went to Pop Brixton for dinner. I love this vibey food market, and we ended up eating delicious burgers in English muffin buns. It was a tough choice as there's so much to pick from!
Spotting deer in Richmond Park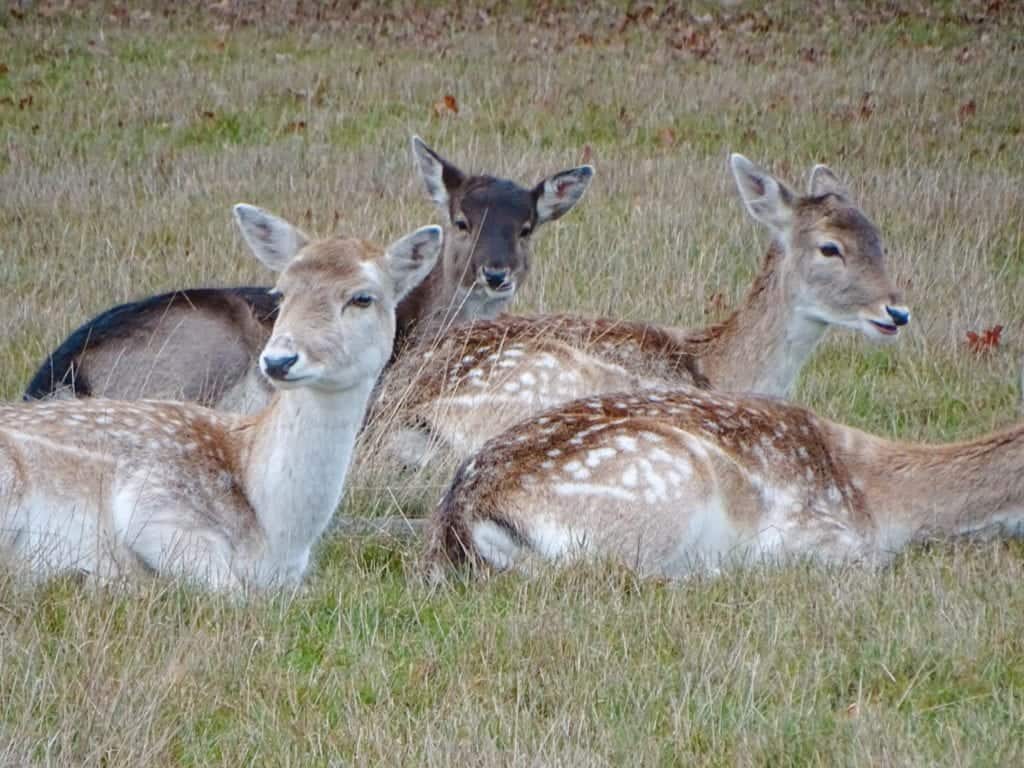 This is something I've been wanting to do for ages. Richmond Park is relatively far out in West London which probably explains why I missed it when I lived in London. Something Londoners are known for is their reluctance to travel around the city, something I used to relate to when I was hungover on a Sunday and friends wanted me to make a 1.5-hour return journey to see them. Now I'm happier to travel but, as it happened, I was staying not far away at Hannah's so we popped over for a Sunday walk. The weather was cold and grey but the beautiful deer made the trip worth it!
The Treatment Rooms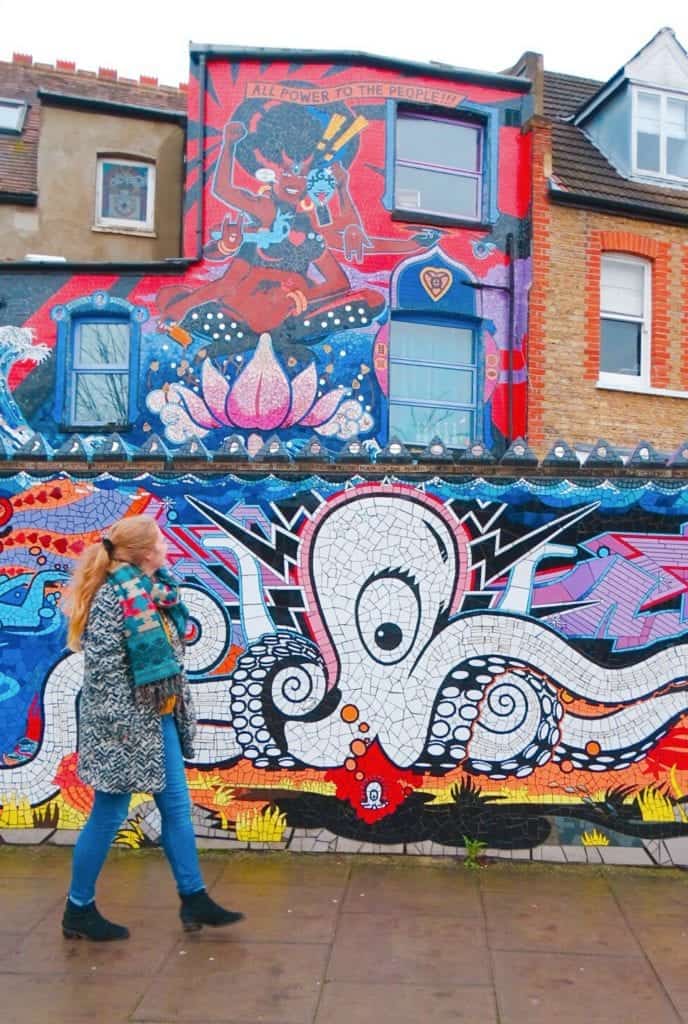 How cool is this colourful house? It's definitely a hidden London gem because I'd never even heard of it before. The Treatment Rooms belong to Carrie Reichardt who is known for her artistic activism – around the walls you'll find murals telling stories of individuals convicted on the back of patchy evidence, some put to death in the US. If you have time to trek over to Chiswick Park, it's a fascinating place to check out!
The Sky Garden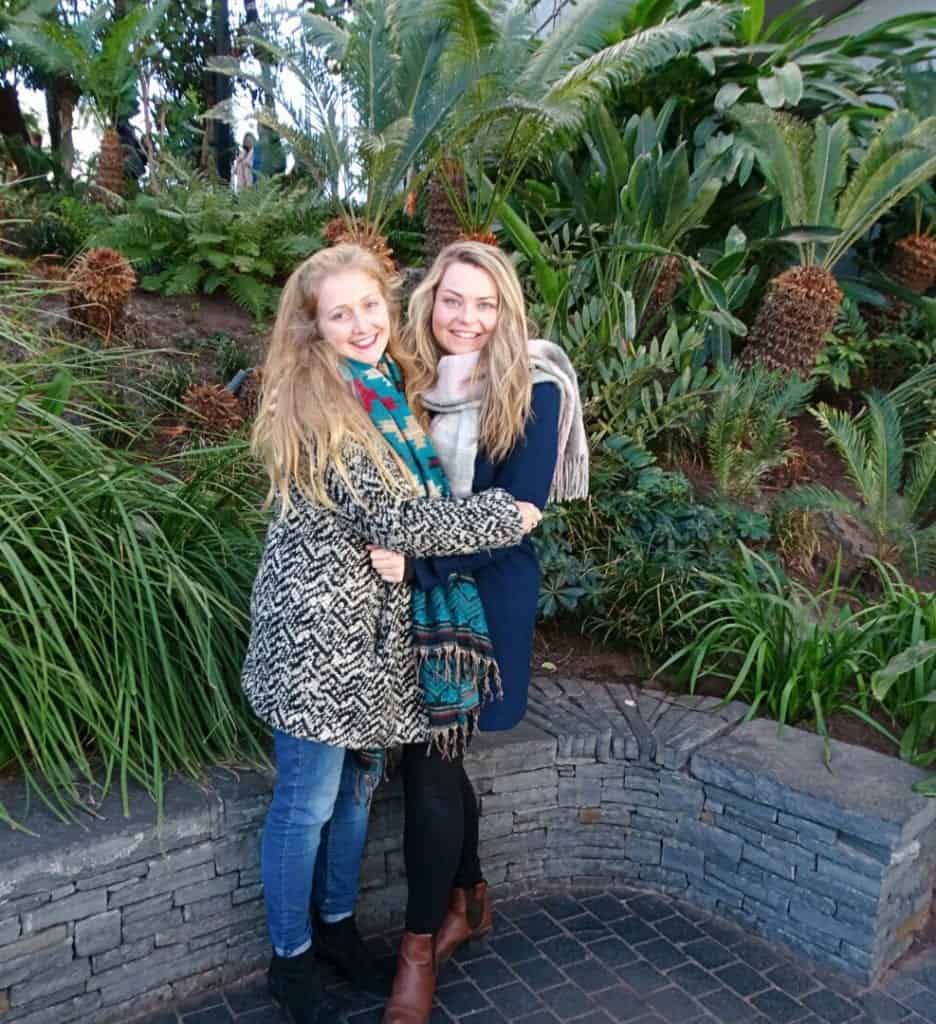 I definitely ticked off a few things on my London bucket list this time around. I'd been meaning to go to the Sky Garden for so long but you have to book tickets several weeks in advance which I always fail to do. This time I was organised and got them for me and Hannah in time – and I'm glad I did. This leafy garden on the 43rd floor of the Walkie Talkie (otherwise known as 20 Fenchurch Street) is so cool and offers amazing views of the capital. Better yet, it's totally free to visit!
What's next?
On January 12th, I fly back to Asia for a quick stop in Singapore before travelling overland through Southern Malaysia in time for my flight from Kuala Lumpur to Chiang Mai, Thailand. So many digital nomads work online here that I'm excited to see what the fuss is all about. I visited and partied in Chiang Mai in 2016 but didn't get to know it properly. I'll base there for at least a month which I'm really looking forward to.
That's all for December! See you in 2019.
Thanks for reading!
Read my other monthly round-ups here.
See you next time for more adventures,
Rose x