This post may contain affiliate links to things like tours, hotels, Amazon associates and products. These help me earn a small commission at no additional charge to you.
Travelling in Malaysia? You might like the following posts:
In a rush? Pin this for later on Pinterest.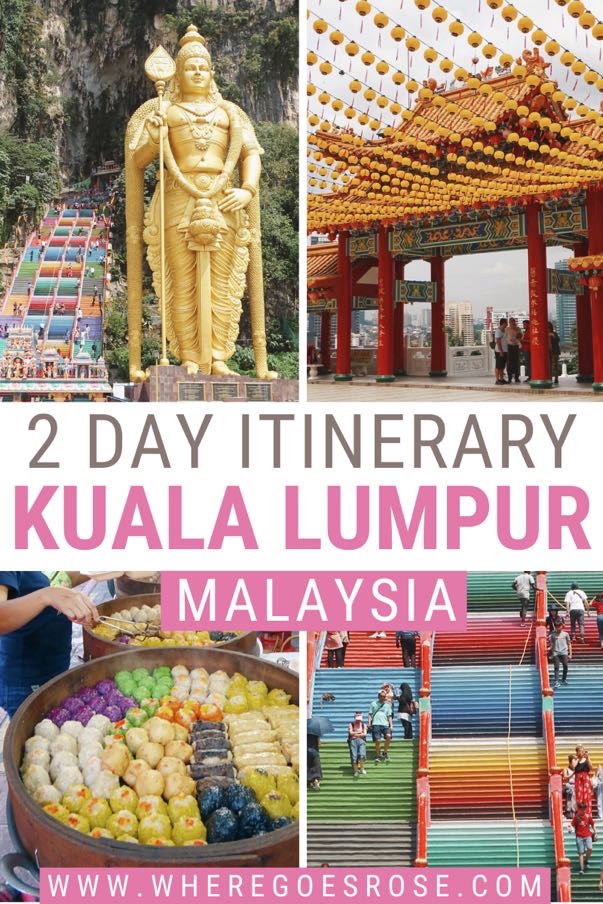 Why visit KL?
Your entry and exit flights to Malaysia will likely be in and out of Kuala Lumpur, plus it makes a great visa hop from the neighbouring countries or a layover on a long flight.

If you're travelling around Malaysia, you're definitely going to end up in Kuala Lumpur at some point. It's not uncommon to pass through multiple times during one trip.

If you go down south to Melaka or up north to Penang or Ipoh (spoiler, you should) you'll likely connect in KL.

There are so many reasons why it's practical to spend 2 days in Kuala Lumpur – and even more why it's a lot of fun! I'm going to share my Kuala Lumpur itinerary to save you the research.
Read next: solo travel in KL and Malaysia
Is 2 days in Kuala Lumpur enough?
While I could easily live as an expat in Kuala Lumpur, you're probably visiting on a short trip.

I'd say that 2 days are enough to visit Kuala Lumpur. This will allow you to see the sights at a fairly fast pace but you won't be rushed off your feet.

Two days in Kuala Lumpur makes for a great introduction, so let's dive into the best things to see, do and eat…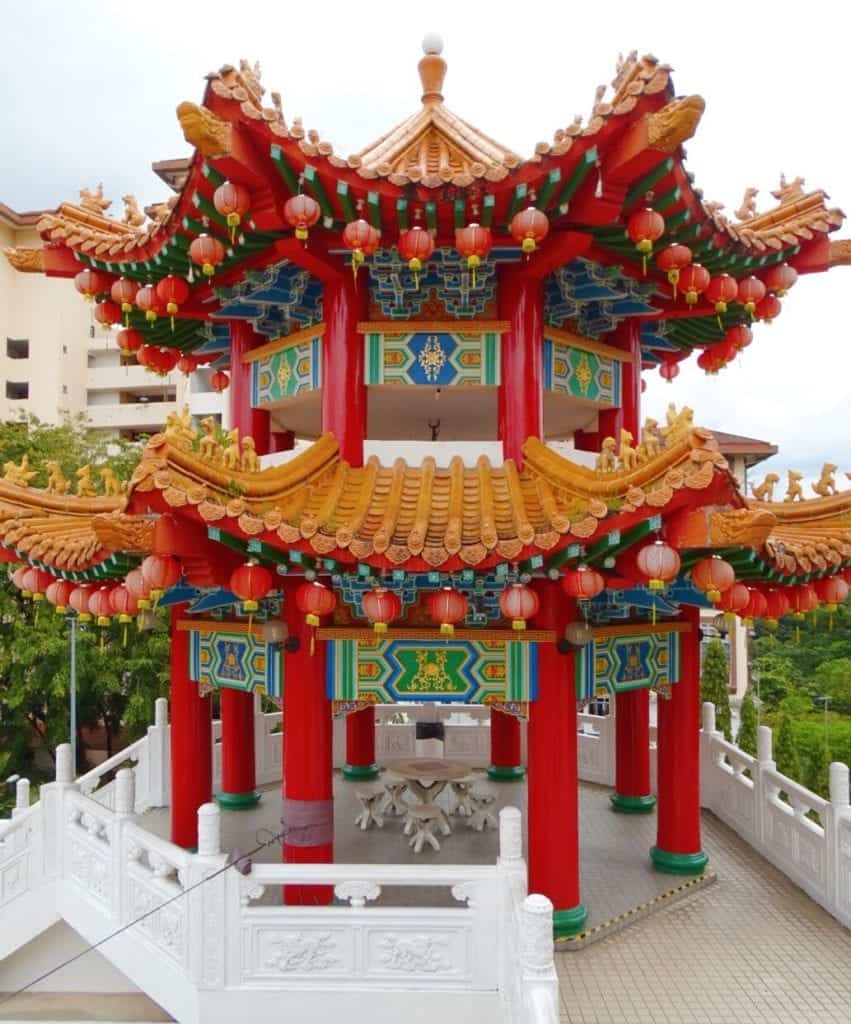 Where to stay in Kuala Lumpur
For backpackers: For a basic but comfy, friendly base, stay at Explorers Guesthouse. I've stayed here countless times over the last few years and it's always been a good experience. The downstairs area has tables which are good for laptop work and a sofa and TV area.

Toast, tea and coffee are included for breakfast. Dorms start at $6 a night and private rooms are slightly more.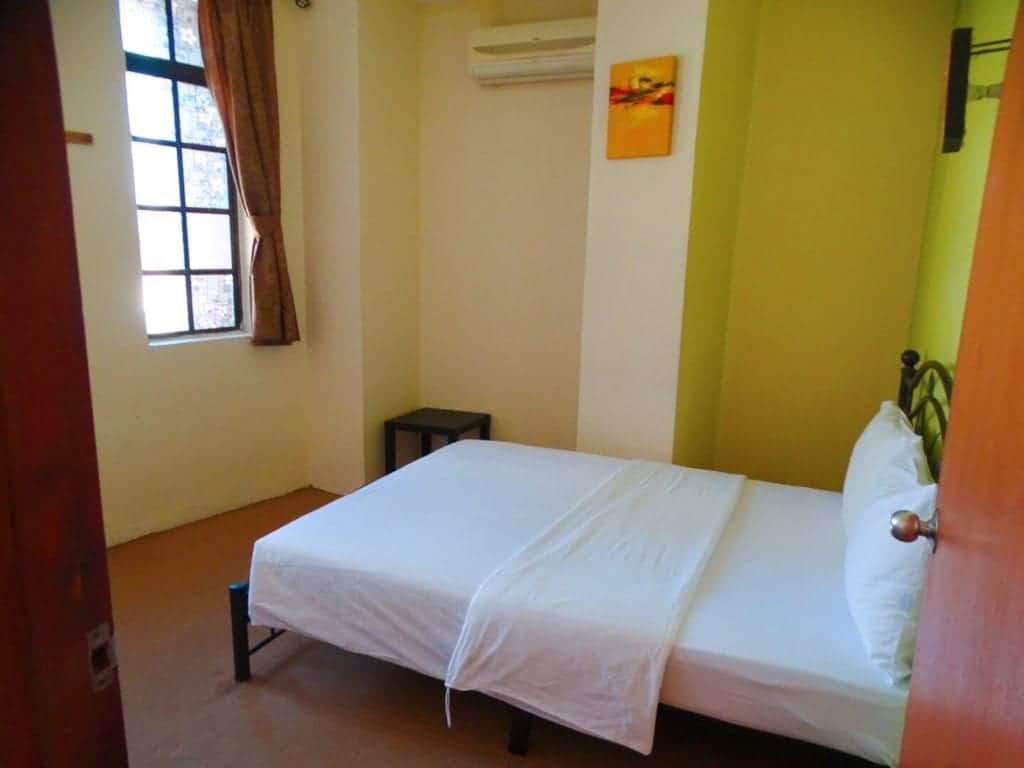 Space Hotel @ China Town Kuala Lumpur – this boutique capsule bed hotel just 2 minute's walk from Petaling Street. Dorm beds start at $10.
Splurge: If you're splashing out during your 48 hours in Kuala Lumpur, The Face Suites is one of the fanciest places to be with rooms starting from $60 a night and amazing views from the rooftop pool.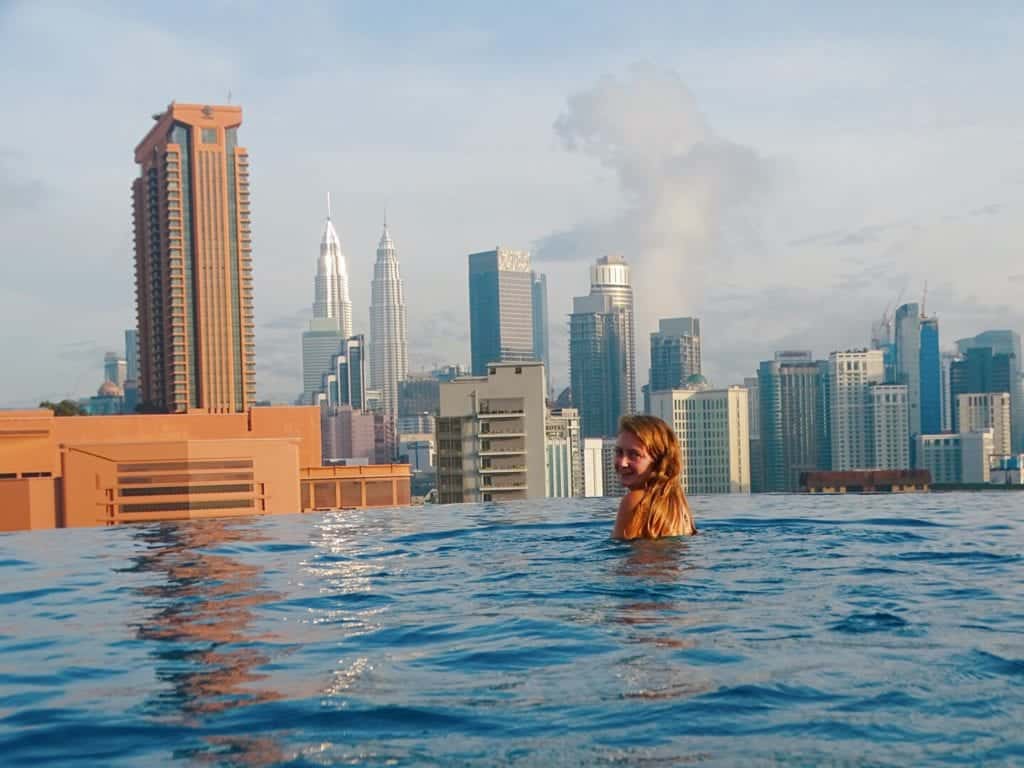 Kuala Lumpur itinerary: day 1
You'll get your culture fix today as you discover the heart of KL. Follow my KL itinerary and you'll visit a Chinese temple, a Hindu temple and a mosque by lunch – you could only be in Malaysia!
Wander Chinatown / Petaling Street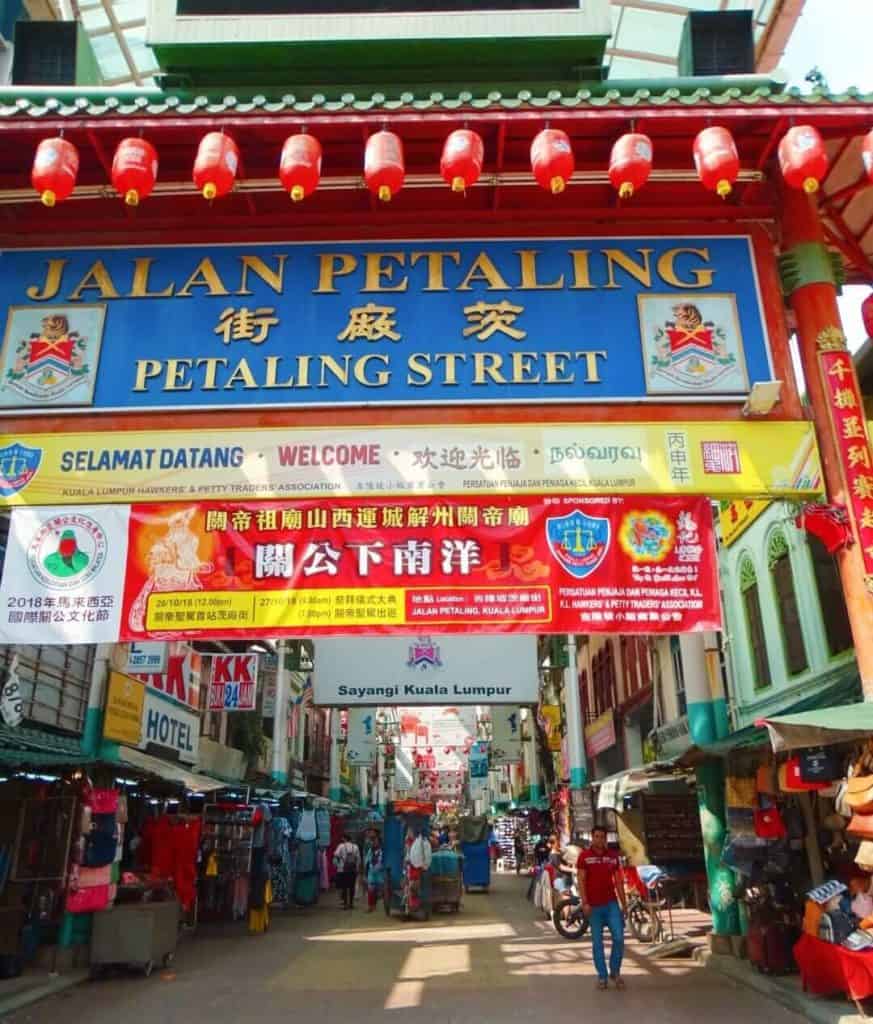 Chinatown is a great place to start your 2 day Kuala Lumpur itinerary: there's culture, street art, food, coffee and shopping opportunities. As I found out when eating Chinese food in Melaka, the Chinese diaspora has contributed to Malaysia's rich cuisine and culture.

Start at Petaling Street, a market that churns out every 'designer' good imaginable: sunglasses, watches, makeup, bags and electronics (I'd avoid buying the latter unless you want them to explode while on charge). It's a little hectic but well worth a wander. Behind the gleaming goods are authentic food courts and bustling local temples.

Note – you might be disappointed if you expect a shiny Singapore from KL's Chinatown. It is a little grubby in parts and you'll want to keep an eye on your bag. I've never had trouble there but I just want to manage your expectations.
Guan Di Temple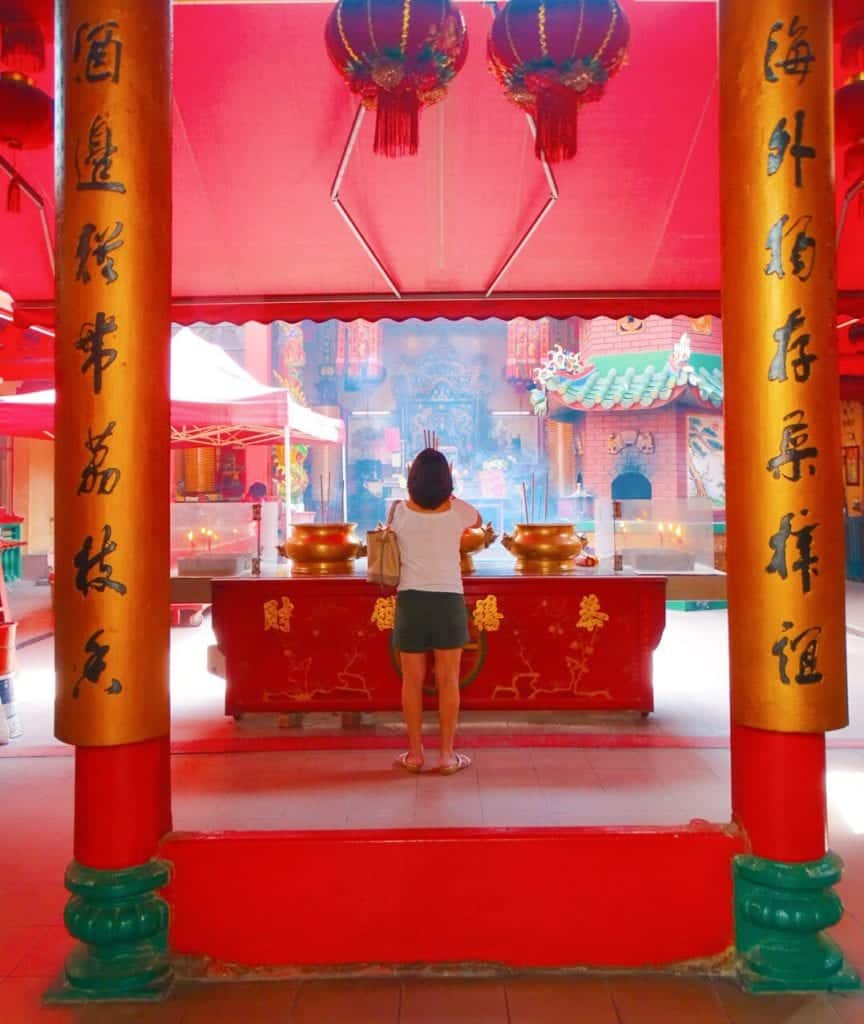 Right beside Petaling Street Market sits this practising Taoist temple. If you haven't visited many Chinese temples before, you'll be captivated by the swinging lanterns and slowly-burning incense.

There's an even more impressive Chinese temple to visit later in this Kuala Lumpur itinerary, but this is a good introduction.

Next, walk a few metres towards…
Sri Mahamariamman Temple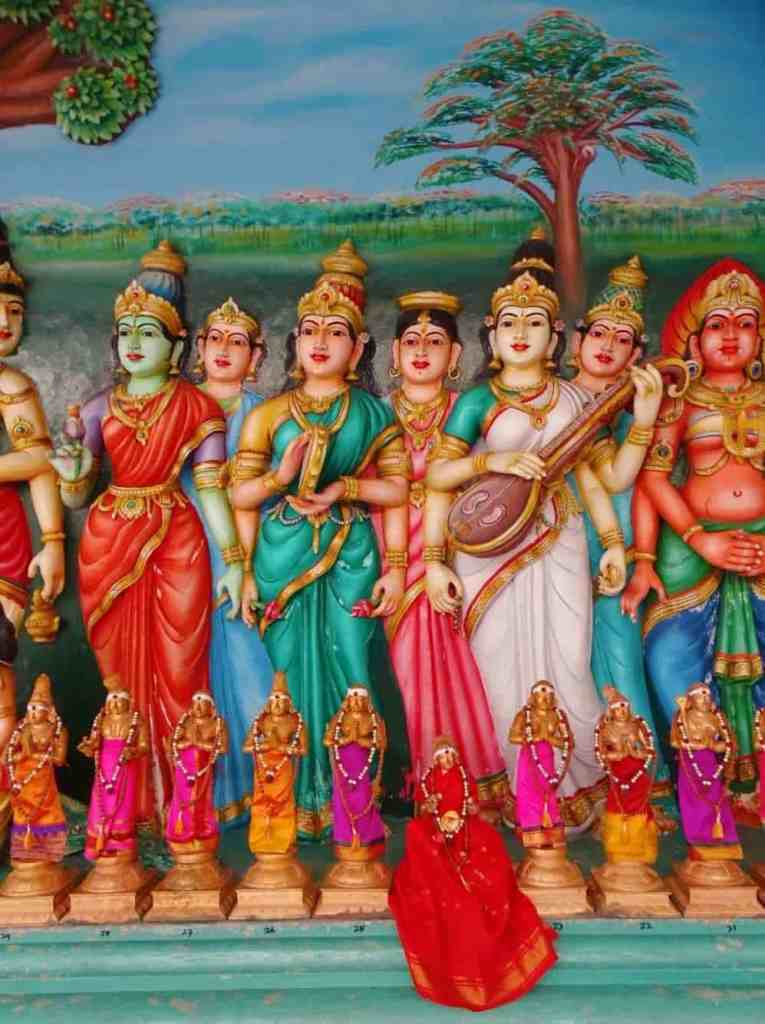 Across the road from Guan Di Temple is one of my favourite spots in Kuala Lumpur, Sri Mahamariamman Temple. This colourful Hindu temple was one of the first things I saw when I first arrived in Malaysia in 2016. I've been back many times since.

You can go inside but make sure your legs are covered – borrow a sarong for free at the entrance if you don't have your own.
Don't miss the vibrant street art as you stroll Chinatown!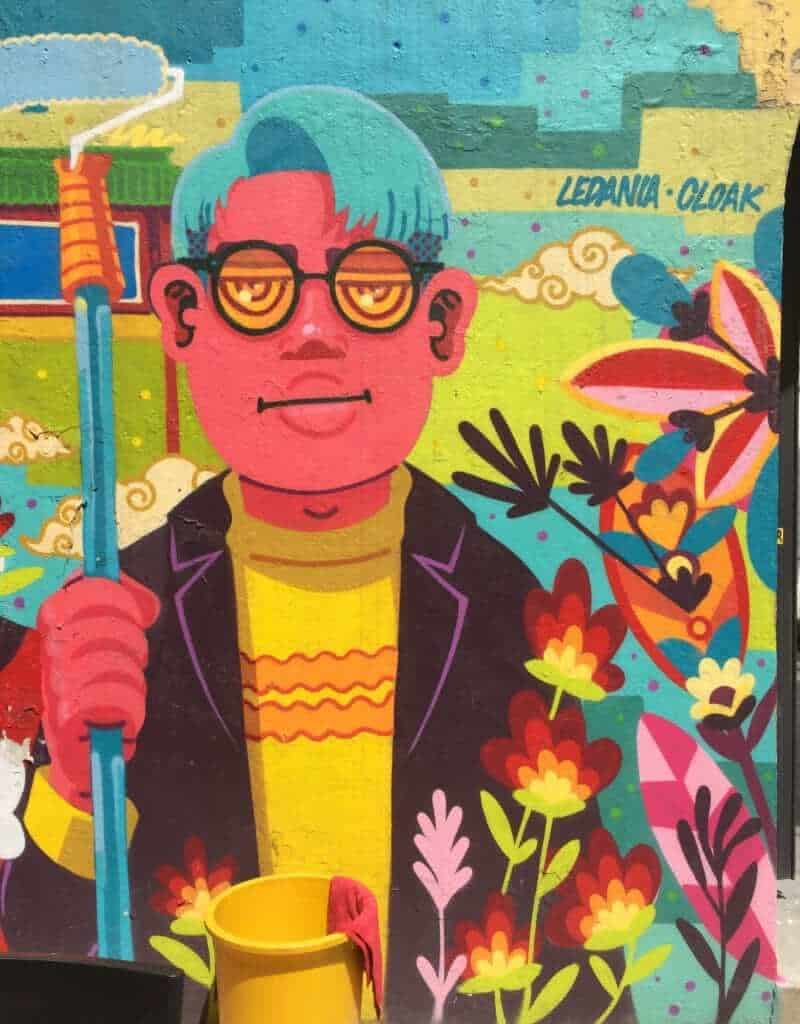 Lunch – street food or a cute cafe
There are options for all palettes during 2 days in Kuala Lumpur. Start your eating adventures in Chinatown. In addition to Chinese food, you'll find lots of Malaysian dishes and Western cafes, too.
Street food
Chinatown is a fantastic spot for eating as the locals do. There are lots of options but I can vouch for Tang City Food Court where you'll find clay pot dishes and lots of fusion Malay-Chinese food.

For an even more local option (and a contrast to touristic Petaling Street Market), find the Wet Market. This mainly sells fresh fish and veg but you'll find a few authentic hawker stands serving delicious food.
Read next: A guide to the street food in Chinatown KL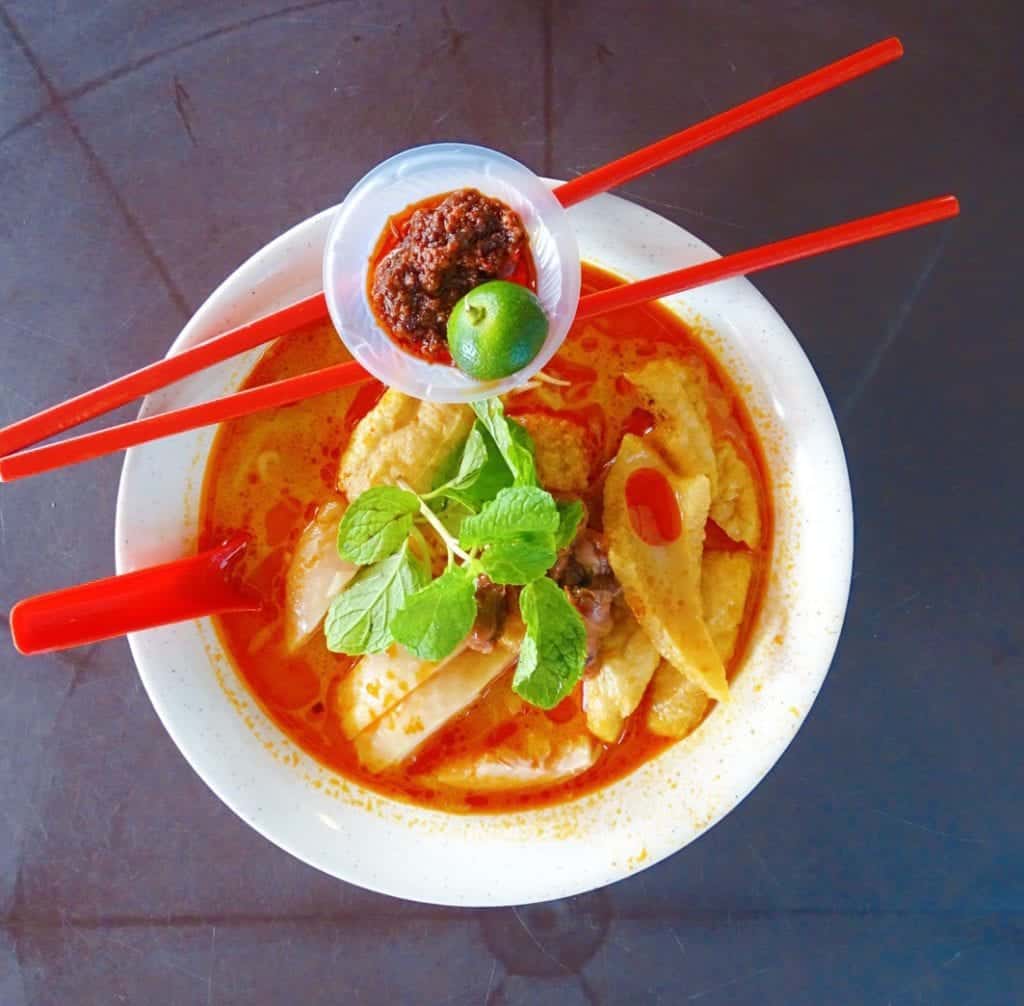 Another great option is Kedai Kopi Lai Foong, a busy local hawker market across the road from Petaling. The lala clam noodles and beef noodle soup are highly recommended. Mains are around 10 MYR.
Cute cafes
My favourite place for sit-down local food is Old China, a charming 100-year-old cafe serving Straits food (named after the people who moved from China to Malaysia in the colonial era).

The laksa noodle soup and the nasi lemak (pictured) will only set you back 15 MYR each: a bargain for such authentic food in beautiful settings. Old China is open until 11pm so you can visit for lunch or dinner.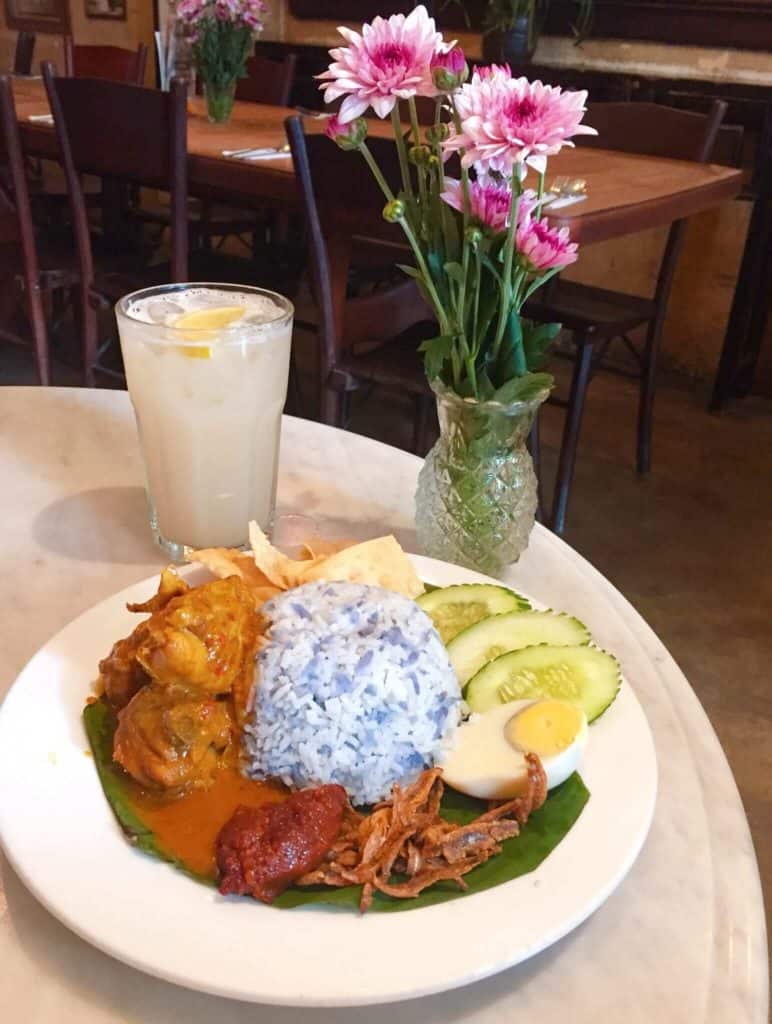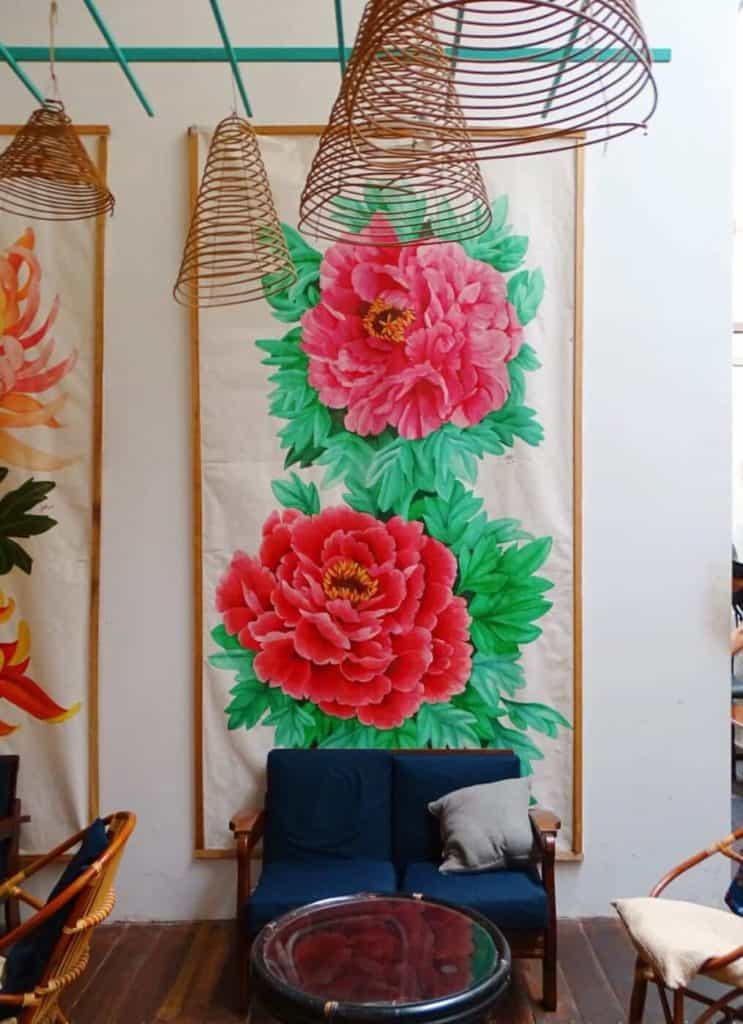 Merdeka Square / Masjid Jamek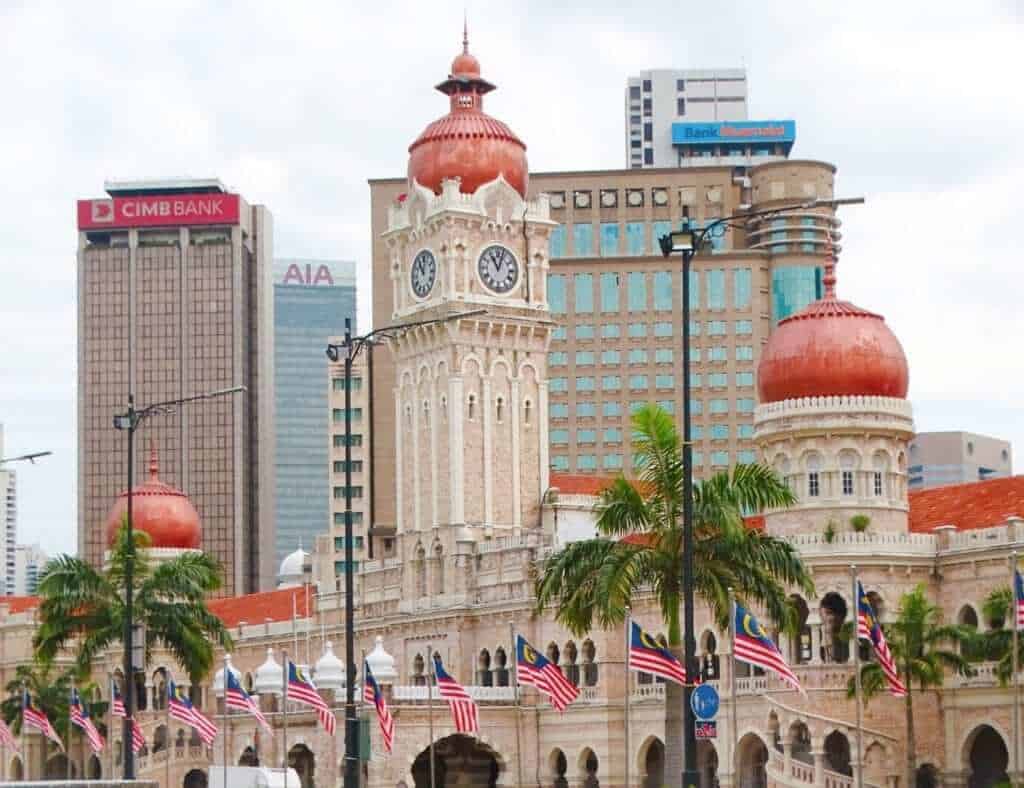 From Chinatown, you're just a short walk to Merdeka Square. This is one of the most popular places to visit during a 2 day Kuala Lumpur itinerary, translating as Independence Square. Following the Chinese and Indian temples you've seen this morning, here you'll find the majestic Jamek Mosque. Told you KL is full of culture!

The other impressive thing to see in Merdeka Square is the Sultan Abdul Samad Building which dates back to days of British rule. Its style is Moorish which means European architecture influenced by Oriental elements. You can definitely feel both old England and the Middle East as you wander this part of Kuala Lumpur.
KL Forest Eco Park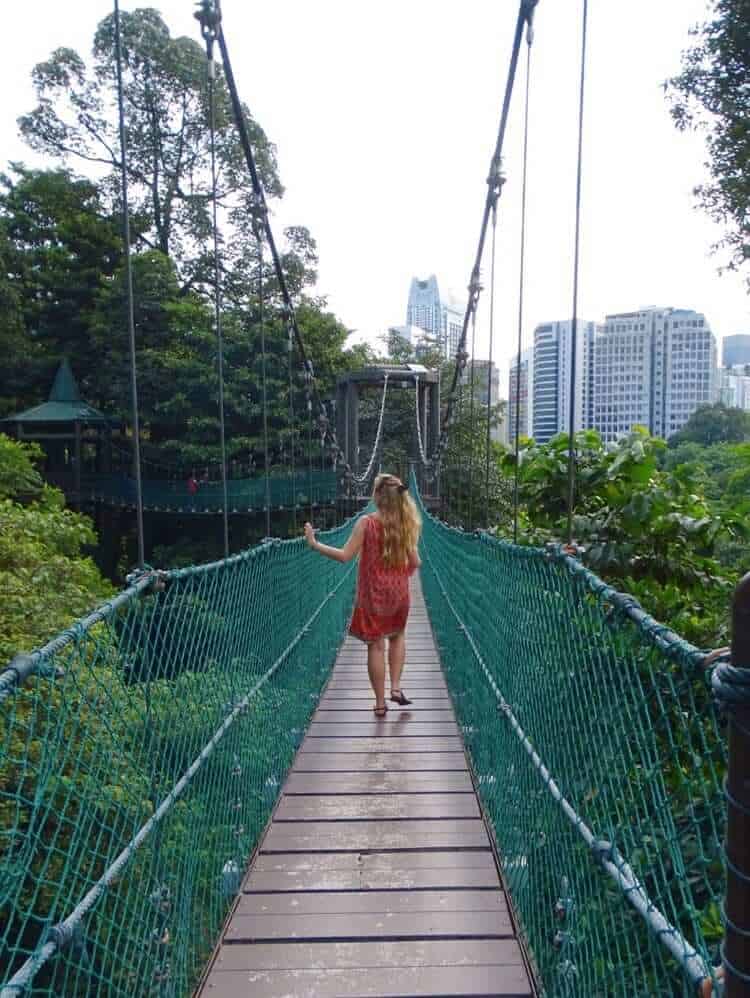 From Merdeka Square, take a 15-minute walk or short taxi ride to one of the most unique places in the city: KL Forest Eco Park.

Surrounded by major highways, you'll totally forget their existence once you're surrounded by humming rainforest. There are multiple canopy walks and nature trails within the park which you can an hour or so wandering.

From the tallest vantage points you'll have a clear view of the city skyline. A must while spending 2 days in Kuala Lumpur!

Entrance to KL Forest Eco Park is 40 MYR.
Bukit Bintang – street art and street food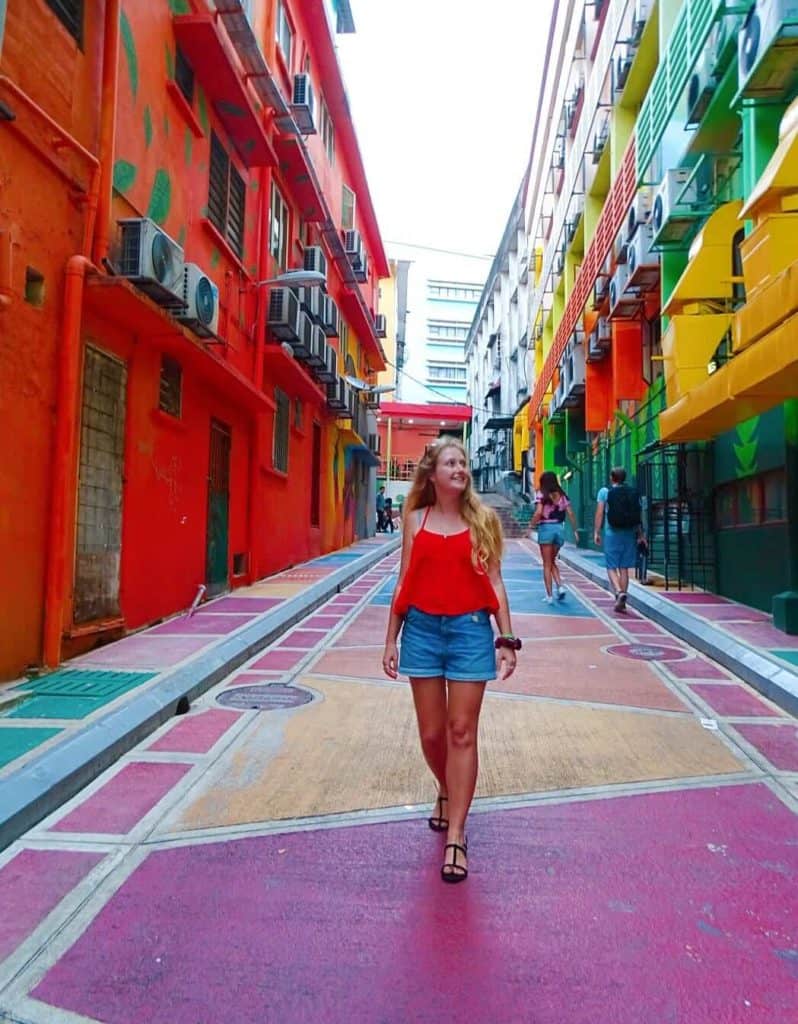 Finish your day in Bukit Bintang. This part of town is known for shopping and entertainment but I'm bringing you there for street art and street food!

I timed my trip as best as I could, exploring the street art until the light faded then tucking into a tasty dinner at Jalan Alor Night Market. Sunset is around 7pm (though I'd recommend getting your street art pics by 6pm for the best lighting) and the food market gets busy soon after.

Have a drink and wait for the hungry crowds to arrive – peak time is from 7pm onwards. It's a really buzzy, atmospheric experience in Kuala Lumpur. Don't miss it!
Where to find the street art in Bukit Bintang:
There are two main spots for art, only a minute's walk from one another. Head to both these adventurously-named pins: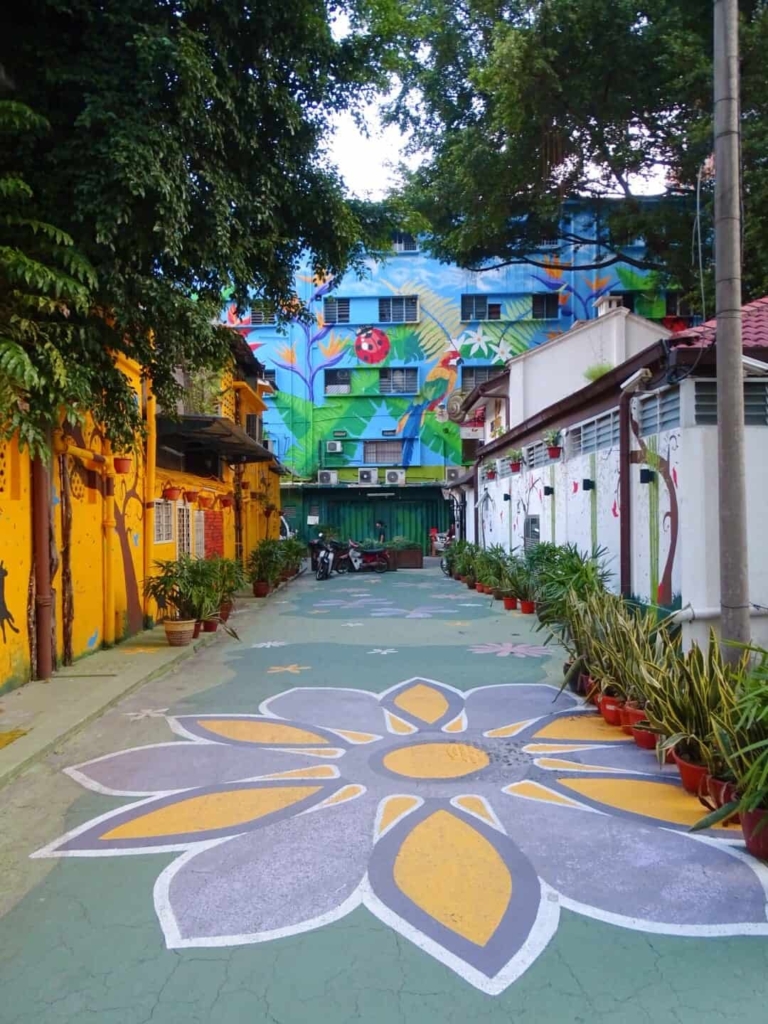 Gorgeous, right? Bukit Bintang is a bright, vibrant part of Kuala Lumpur, whatever time of day you visit.
Read next: My Malaysia street art guides to Penang and Ipoh
Jalan Alor Night Market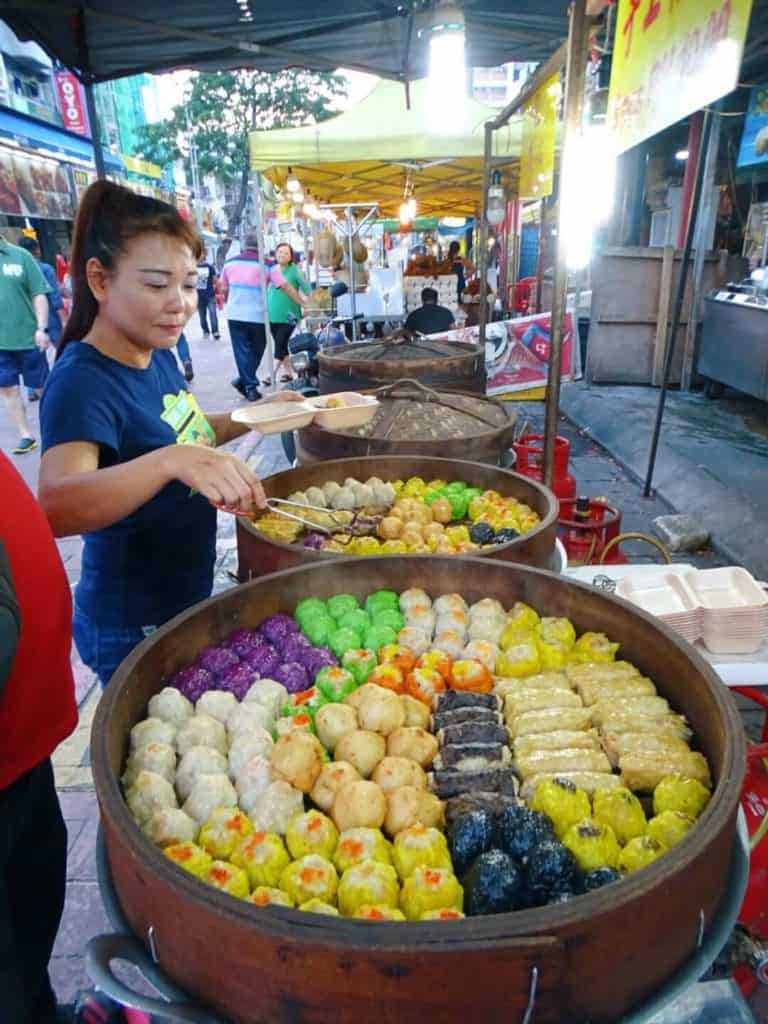 It's the street food in Penang that gathers worldwide acclaim but, being the capital, Kuala Lumpur can pf course compete. There are countless delights to sample at Jalan Alor Night Market but I can vouch for the following:

Colourful steamed buns. Pick 'n' mix them while working out which colour relates to which flavour. They might look like they're packed with E numbers but most are flavoured with pandan, turmeric or purple yam.

Char kway teow. This is a typical Malay dish made from noodles, prawns, cockles and beansprouts that you shouldn't miss during 2 days in KL. Most of the guys flashing their menus were charging 15 MYR upwards but I managed to find a quieter stall serving for 7 MYR, along with fresh fruit juices for 6 MYR.

Rather explore the KL street food with a guide? GetYourGuide have some great options.
Admire the Petronas Towers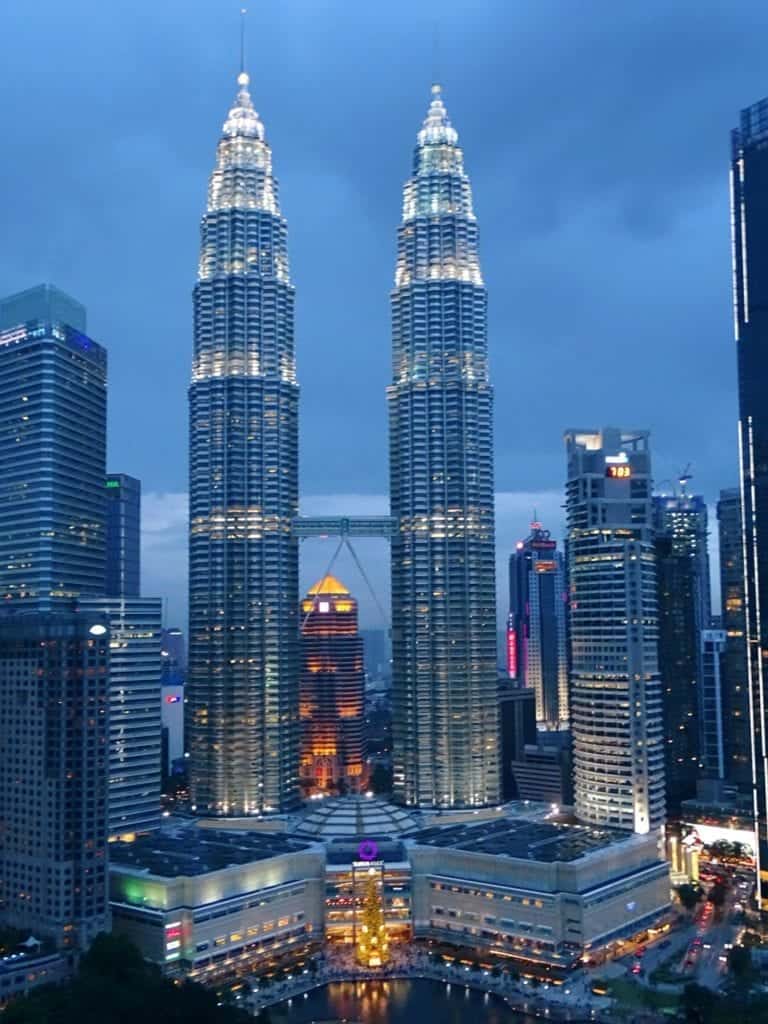 If you have any energy left after this busy day, stay in Bukit Bintang for the bars, or go for a rooftop drink at SkyBar. This chic bar on the 33rd floor of Traders Hotel serves various cocktails, wines and beers, but the highlight is the clear view of the Petronas Towers.

Between 1998 and 2004, these were known as the tallest building in the world. Many tourists take a trip to the top of them but personally I think it's better to get a skyrise view alongside them. Snapping photos across the KL skyline is a Southeast Asia bucket list essential!

Some of the drinks at SkyBar are pricey but you can get a half-pint of beer for 18 MYR and stay as long as you like.
Kuala Lumpur itinerary: day 2
Have a small breakfast today to save yourself for an Indian lunchtime feast! There are plenty of cool places still to visit during this 2 day KL itinerary. Catch a taxi or call a Grab to…
Thean Hou Temple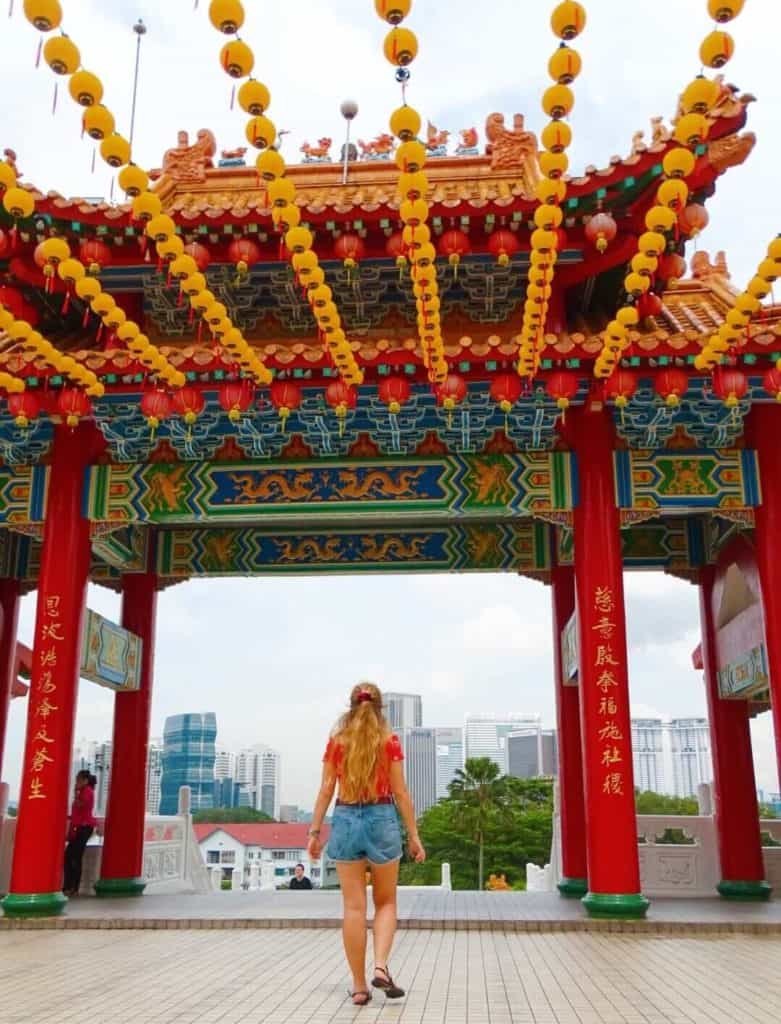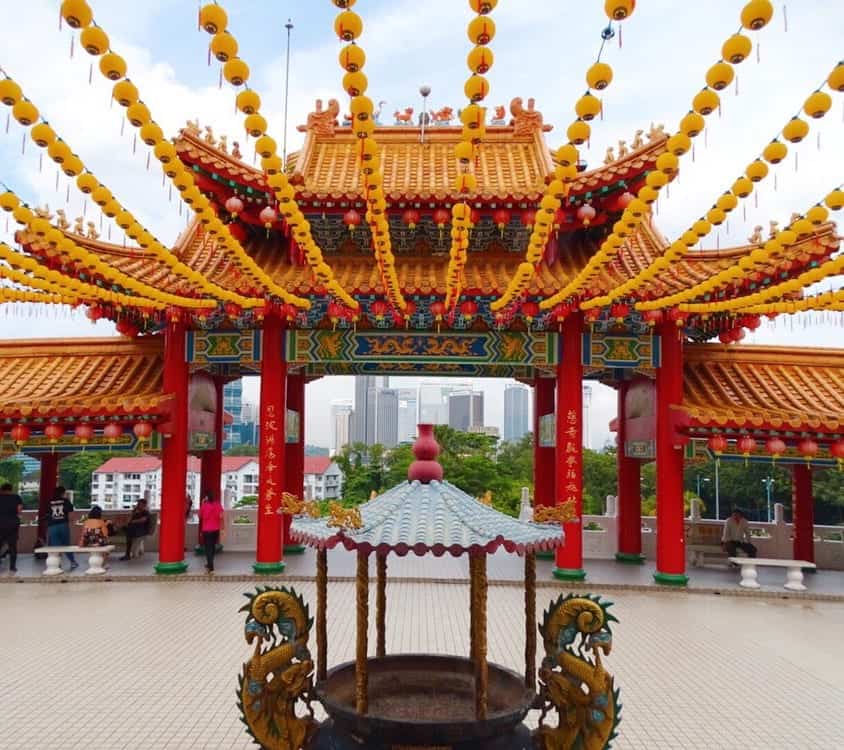 I can't get enough of Thean Hou. Not only is it a gorgeous temple, it offers impressive views of the city. In between the hanging lanterns and dreamy spirals of incense, you'll glimpse city skyscrapers. It doesn't seem quite right but as I'm learning, in KL anything goes!

Thean Hou has six tiers and is dedicated to the Chinese goddess of the sea.

Entrance is free and a taxi there only costs a couple of dollars. It's up a fairly steep hill without much sign of pavement so I wouldn't recommend walking.

Once you're finished, it's just a 5-minute taxi ride to…
Lunch in Little India (Brickfields)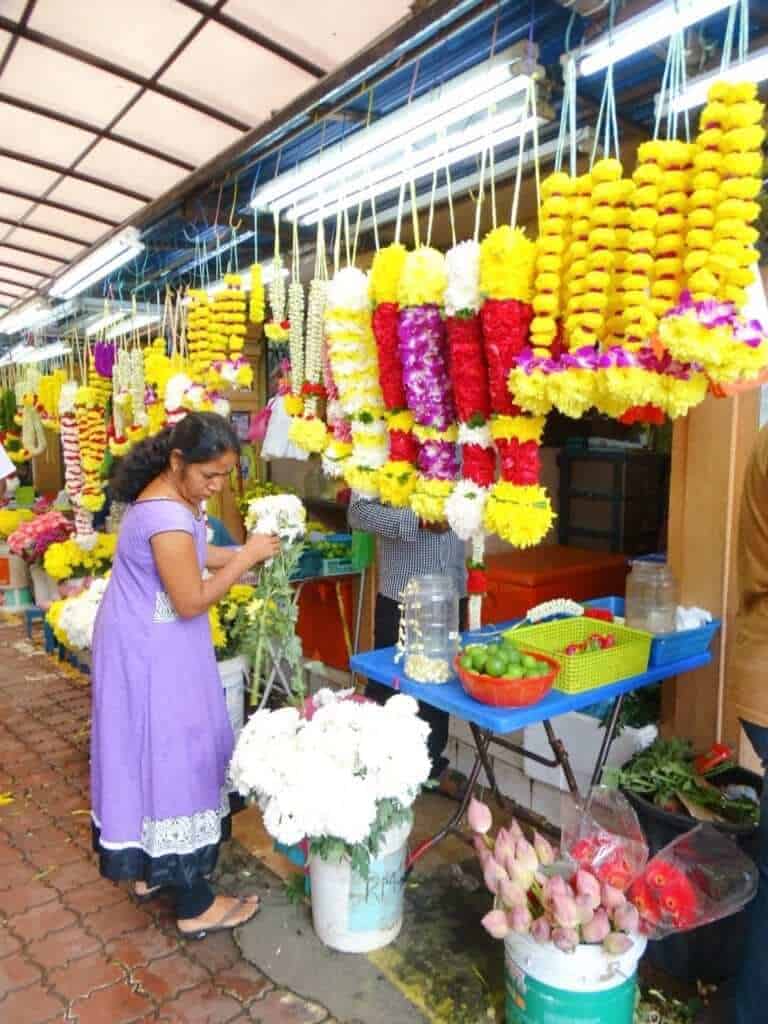 If you've explored Chinatown, a visit to Brickfields (Little India) will be an cultural contrast. As well as seeing how the other major ethnic group in Malaysia live, you'll find jewellery & fabric stores, colourful markets and food… So much food!

Grab a stool anywhere busy and tuck into a tasty, affordable feast. I paid 6 MYR for this veggie plate above.
The Batu Caves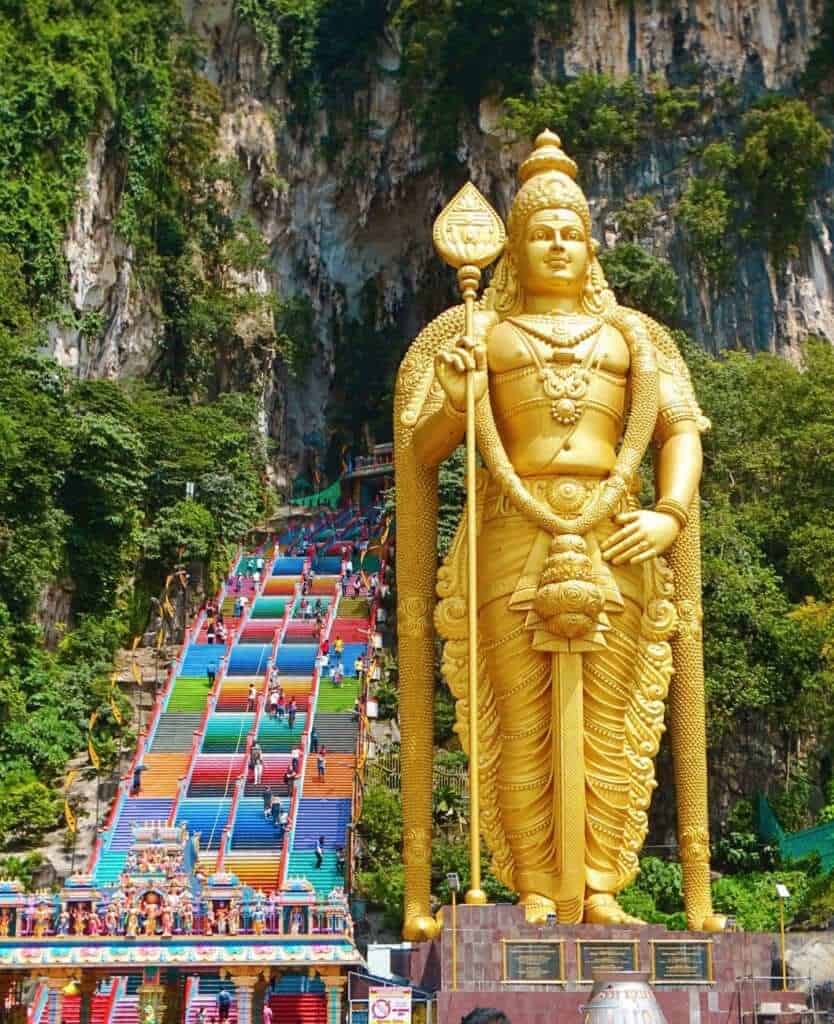 I think my 48 hour KL itinerary works well (I hope you do too!) because from Little India you're metres from KL Sentral Station. From here it's super easy to hop on a train to the Batu Caves.

Note – the trains between KL and the Batu Caves are sporadic and sometimes leave every 1.5 hours. Use Google Maps to see when the next one is leaving and plan around that!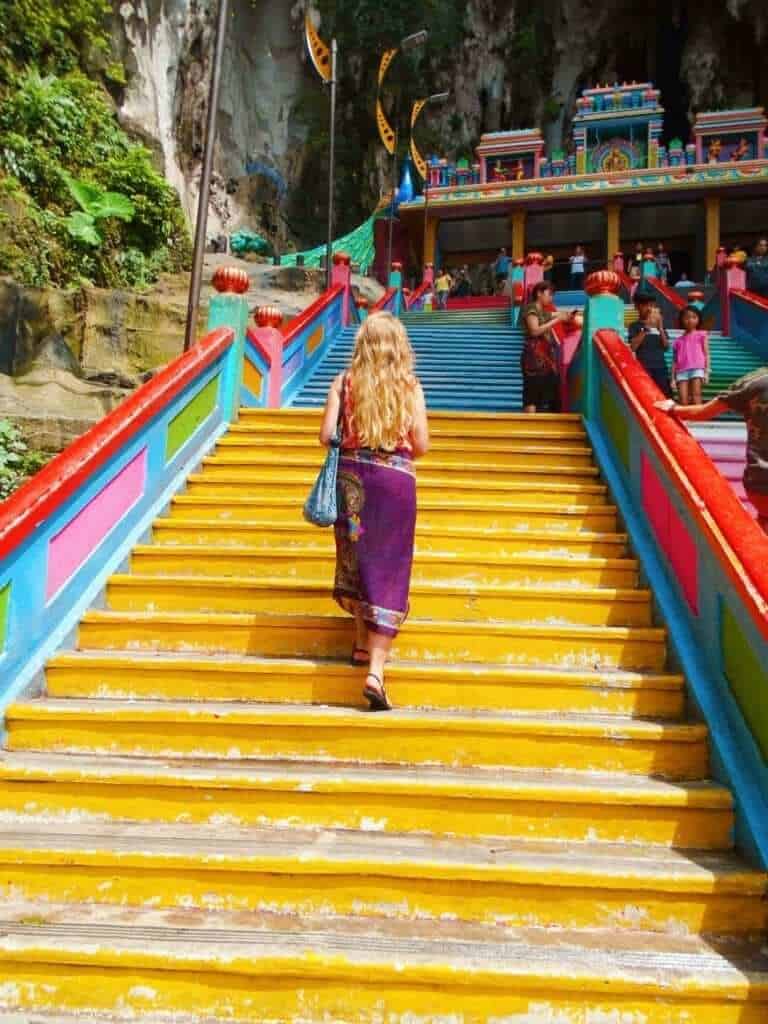 You can't spend 2 days in Kuala Lumpur and miss this stop. The world-famous Batu Caves have recently had a makeover. When I visited in 2016, the stairs were plain; now they're rainbow-coloured and I know which I prefer!
Spend the afternoon climbing the staircase, dodging the cheeky monkeys who will steal anything you let them, and admiring skyline views of Kuala Lumpur from the top.
You can head inside the caves to explore colourful Hindu temples, and even take a tour to learn about the history of the area. Your guide will take you into pitch darkness which is kinda spooky!
Note – you need to cover your legs at the Batu Caves. Sarongs can be rented for a refundable deposit at the bottom.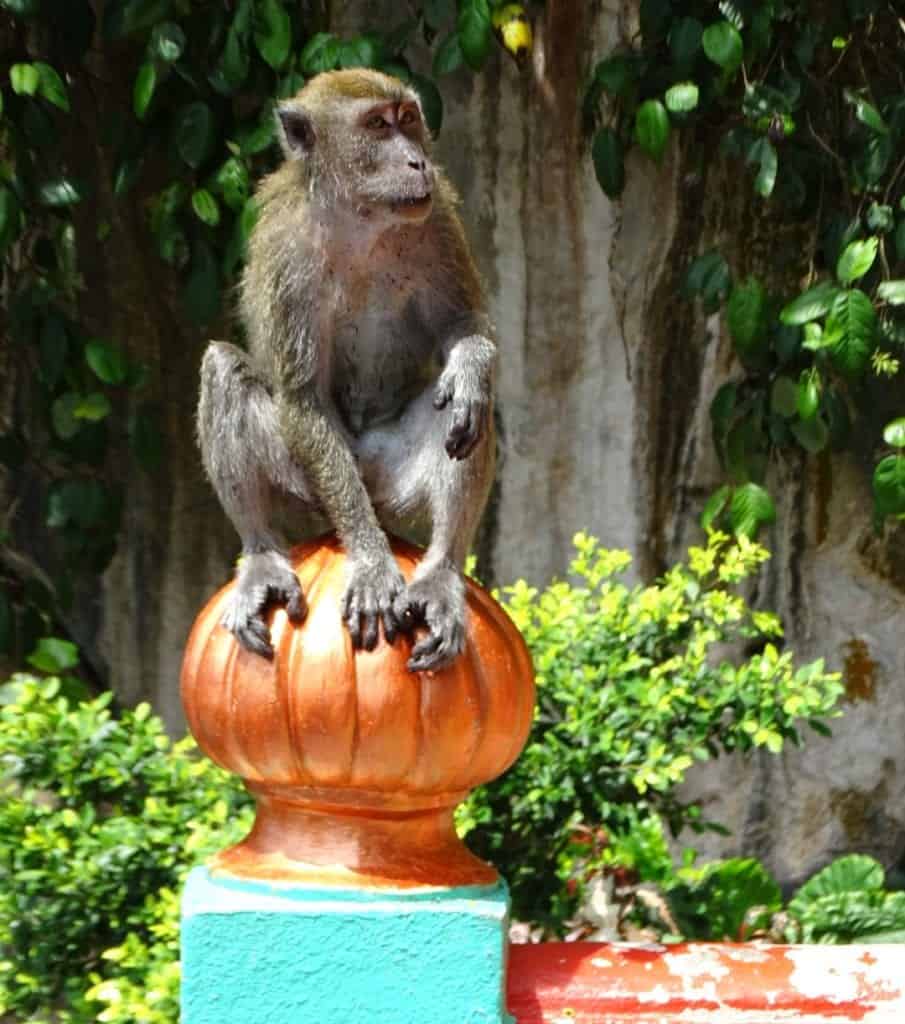 If you'd prefer, take a guided tour to Batu Caves ($8 USD) or a half day KL tour inc a Batu Caves stop ($14).
Best things to eat in Kuala Lumpur
A highlight of visiting KL is clearly the food. Don't miss the following dishes:
Char kway teow, delicious flat noodles in a stir fry with sausage, prawns, cockles, egg, beansprouts and chives. Eat them as street food at Jalan Alor Night Market
Nasi lemak, the national dish of Malaysia made from rice, spicy sambal, anchovies, peanuts and cucumber. Eat it as street food and in restaurants.
Indian food in Little India including biriyani and roti canai
Curry mee – a noodle soup dish served with yellow curry soup.
Assam laksa – noodle soup flavoured either with creamy coconut or sour tamarind. Both versions are spicy and served with fresh veggies.
Hainanese chicken rice – a Chinese fusion dish served with flavoursome chicken breast and flavoured with soy sauce.
Satay skewers with nutty peanut sauce
Bun Choon Egg Tart served with sweet, rich custard inside.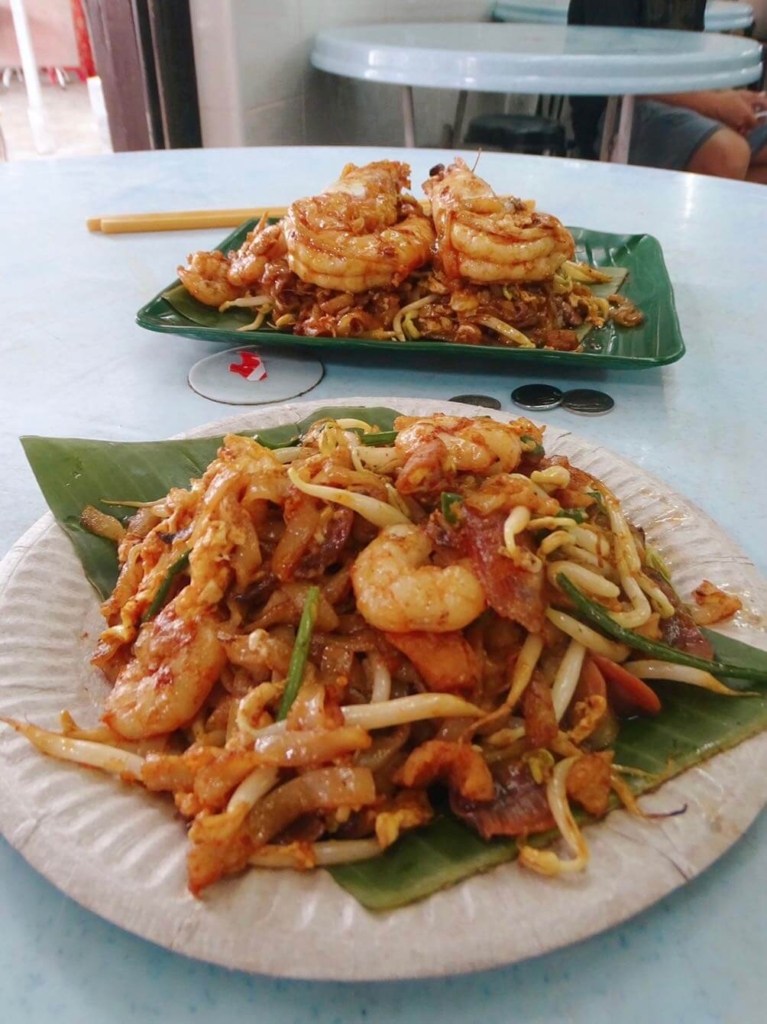 Foodie visiting Kuala Lumpur?

Check out the KL Old Markets & Beyond food tour from a Chef's Tour, one of my favourite food companies in Southeast Asia!
Thanks for reading my Kuala Lumpur itinerary!
Penang posts:
Melaka posts:
Ipoh posts:
Southeast Asia travel planning:
See you next time for more adventures,
Rose
For more content, follow me on Instagram, Facebook, Twitter and YouTube.
Ps. Liked this 2 day Kuala Lumpur itinerary? Pin it for later!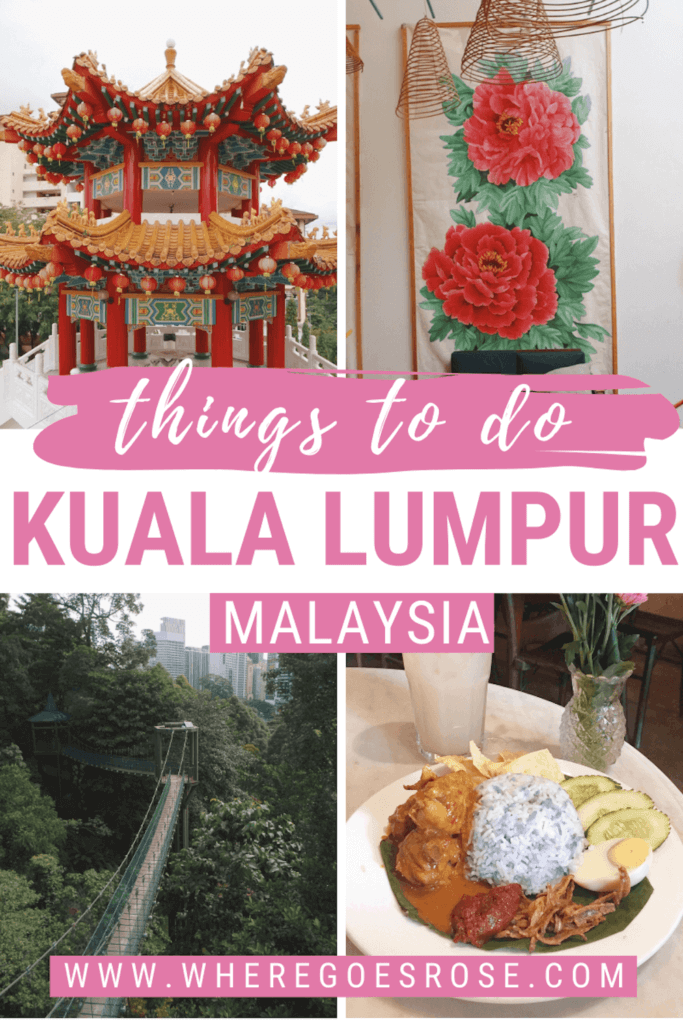 Malaysia useful links

Flights – I use Skyscanner to find the best-value flights, using the 'search by month' tool to find the cheapest dates. You can also use the 'to anywhere' feature if you're flexible on where you're going.

Stay connected with E-sim data plans that don't require delivery or collection; just span the QR code.

In my opinion, Lonely Planet offer the best guidebooks. Get the latest Copy of Lonely Planet Malaysia.

For Malaysia buses and trains, I use 12GoAsia. The search feature allows you to compare prices and durations.

I use Booking.com for accommodation. They have the best range of hotels and self-catering apartments, plus you can filter by review score and price to find the best-rated budget places. For hostels, I use Hostelworld.

To save money on accommodation, I use Trusted Housesitters, a website that connects homeowners going away and travellers who can sit their homes & pets.

For activities, I use GetYourGuide and Viator as they both have a huge range of affordable tours.

Need travel insurance? I use True Traveller (for UK & Europe residents) since it's affordable but covers everything you'd need including various activities, valuables and pre-existing conditions. Unlike some companies, they insure you if you're already travelling / don't yet have your flight home booked. Get a quote.

For travel insurance for other nationalities, I recommend Hey Mundo and for long-term digital nomad travellers, I suggest Safety Wing.

Check out my resources page for more travel discounts and tips!