This post may contain affiliate links to things like tours, hotels, Amazon associates and products. These help me earn a small commission at no additional charge to you.
Coffee in Melaka
There are two main types of coffee in Malaysia: local coffee and Western coffee.

The local coffee is very sweet and cheap as chips. A local meal with a coffee will likely set you back less than a lone flat bought in a Western-style cafe in Melaka. For starting your day cheaply, it's the one.

But be warned: local Malaysian coffee contains not just copious amounts of sugar but margarine. It's delicious but not the healthiest choice.
Read next: the best cafes in Penang, Malaysia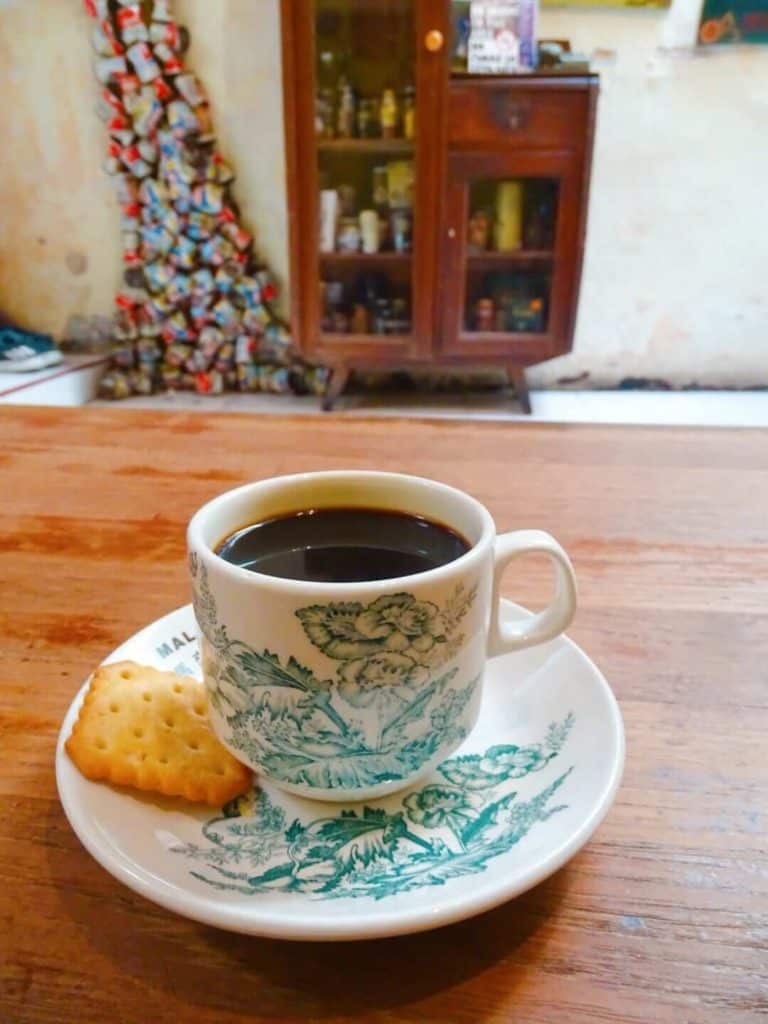 Western coffee in Melaka is like any around the world. They do it really well in Malaysia, plus the cafe scene is fantastic. The biggest trend in Malaysia is rustic-style cafes with exposed brick walls and a shabby-chic feel. Oh-so hipster.

Luckily there are plenty of coffee shops in Melaka where you can find both local and Western options.
Co-working in Melaka
I won't lie, the internet is Melaka is not the best and it apparently has something to do with missing underground cables. I'm not an expert but I think the ancient nature of Melaka could have something to do with it.

If you're looking for co-working cafes in Melaka, you still have some good options despite the slow Wi-Fi. I beat the problem by picking up an unlimited monthly SIM card for 38 MYR in the 7-Eleven and hotspotting my laptop when the internet was slow. I'll share which of the following Melaka cafes are good for co-working.
Best cafes in Melaka
Whether you're co-working in Melaka or simply want to sip coffee in gorgeous cafes and coffee shops, there are plenty of options. These are some of the cutest Melaka cafes serving some of the best coffee in Melaka…
1. Mods Cafe
The coffee at Mods Cafe was good but I've mainly it included it in my Melaka coffee blog for its gorgeous vintage vibe. It's got to be the best cafe in Melaka for aesthetics: I loved the giant flowery VW van inside.

The owner has set up a coffee bean grinder in the back, and you take your sugars and syrup from the window ledge.

The downside of this Melaka cafe is the wooden stools which aren't comfortable and the small tables that are hard to share. There's just a squatter toilet and the menu isn't extensive: they just serve coffee, with one tea option and one hot chocolate.
The sign on the door does say 'serious coffee lovers only' so maybe I should have known.

Coffees at Mod Cafe start at 10 MYR and they serve a selection of desserts like cheesecake, tiramisu and scones. I liked the decor, particularly this colourful display of beer cans. Come for the interior, stay for the coffee and maybe bring your own cushion!

Coworking in Melaka score: 4/10, not the best as it just wasn't very comfy.
2. Navy Cafe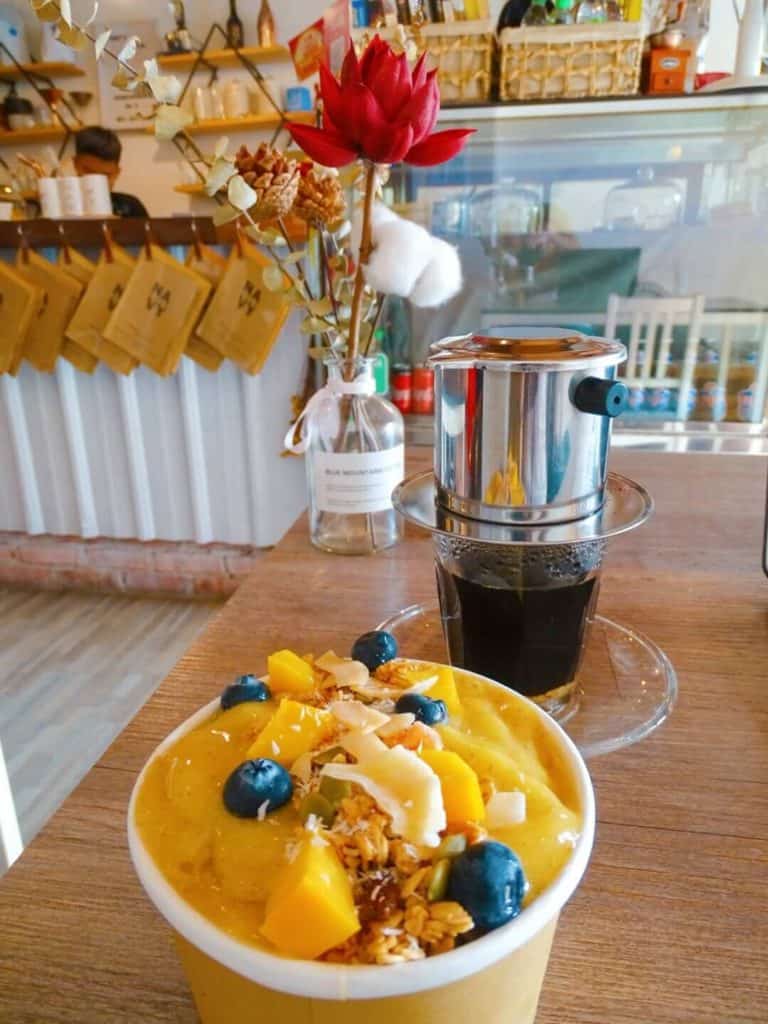 I loved the clean, minimalistic feel at Navy Cafe in Melaka and it made a change from the rustic vibe at most Malaysian coffee shops. For healthy food and fresh coffee in Melaka, this spot won't disappoint.

I was in need of fruit so opted for one of the smoothie bowls. It was delicious, though I was surprised it came in a plastic-lined paper bowl when Navy market themselves as an eco-friendly, straw-free cafe.

My friend Lola asked for hers in a bowl having seen mine and they obliged – so it's weird they don't just serve them in bowls to start with.

Coffees start from 8 MYR and they have a good variety including my favourite, Vietnamese drip coffee. The other brunch dishes looked generous and tasty, too.

Coworking in Melaka score: 8/10, loved the simple and non-distracting interior.
3. The Daily Fix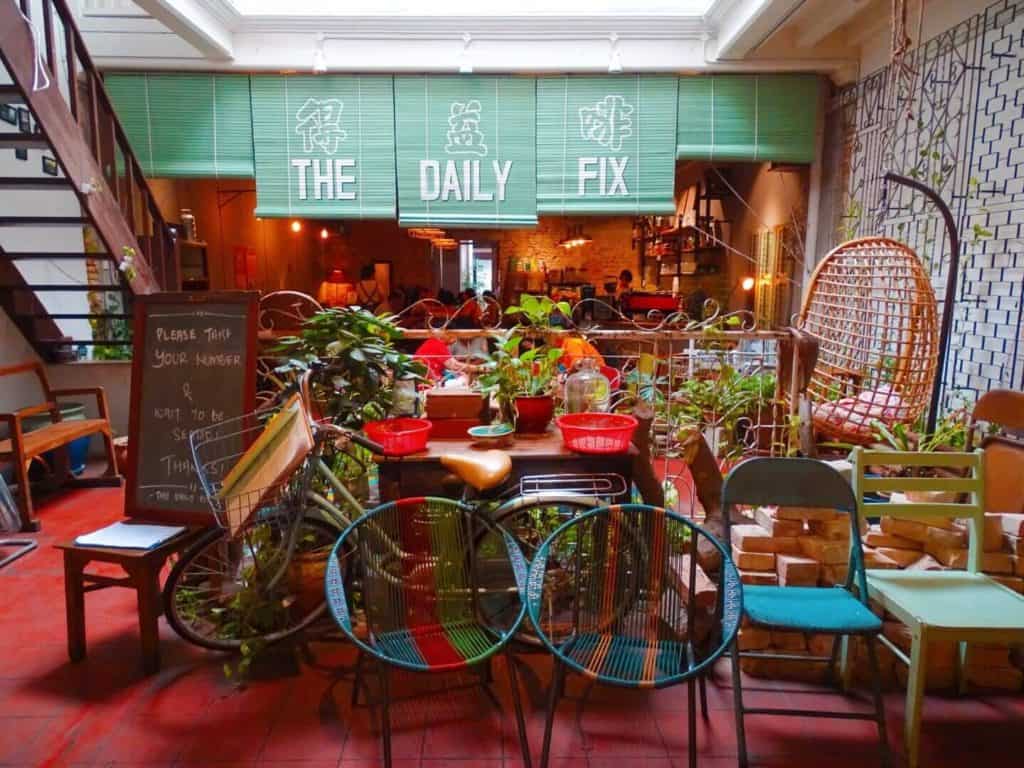 Some of the best coffee in Melaka is served in the adorable surroundings of The Daily Fix Cafe. It couldn't feel more rustic with quirky bric-a-brac everywhere, plants growing up the walls, and a swinging basket chair.

It's not the best co-working cafe in Melaka because it's always busy and you'll feel like you're taking up space by staying for hours.

For a social visit or a bit of me-time, it's one of the cosiest cafes with some of the best coffee in Melaka. I'm sad I didn't get around to trying the pancakes!

Coworking in Melaka score: 5/10, too busy.
4. Heesan Kopi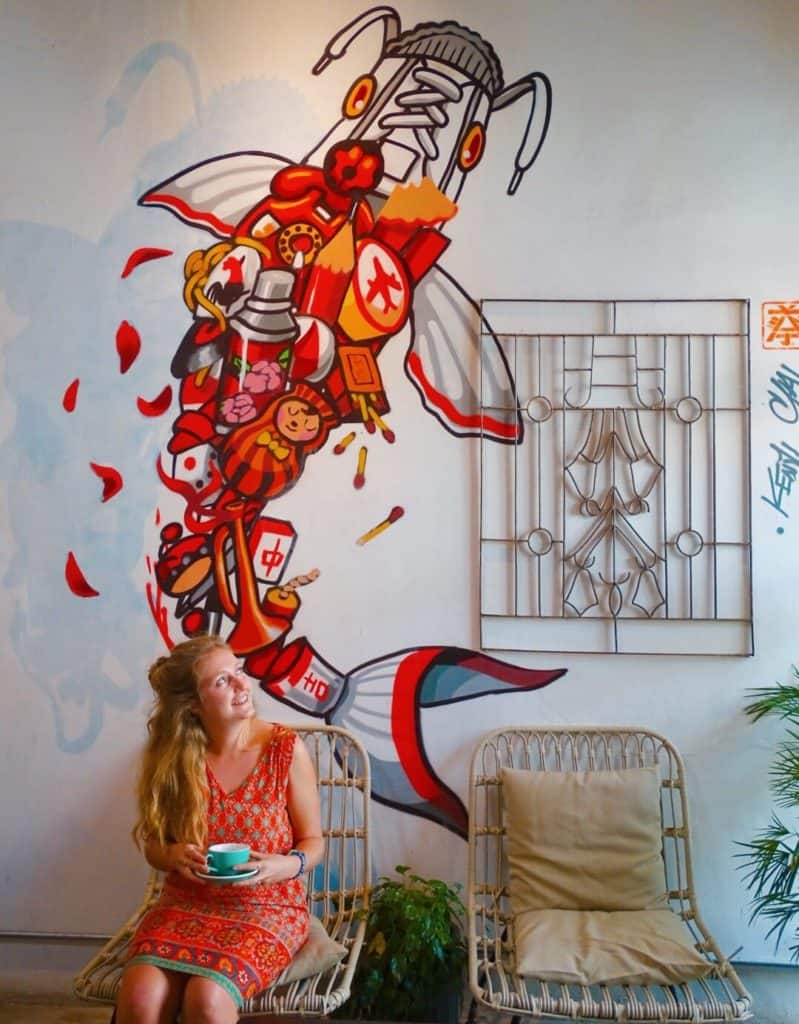 Another of the top cafes in Melaka is Heesan Kopi, especially if we're judging by aesthetics. As a street art fan I'm probably biased but I loved the giant detailed murals which are apparently painted by a local Malaysian artist.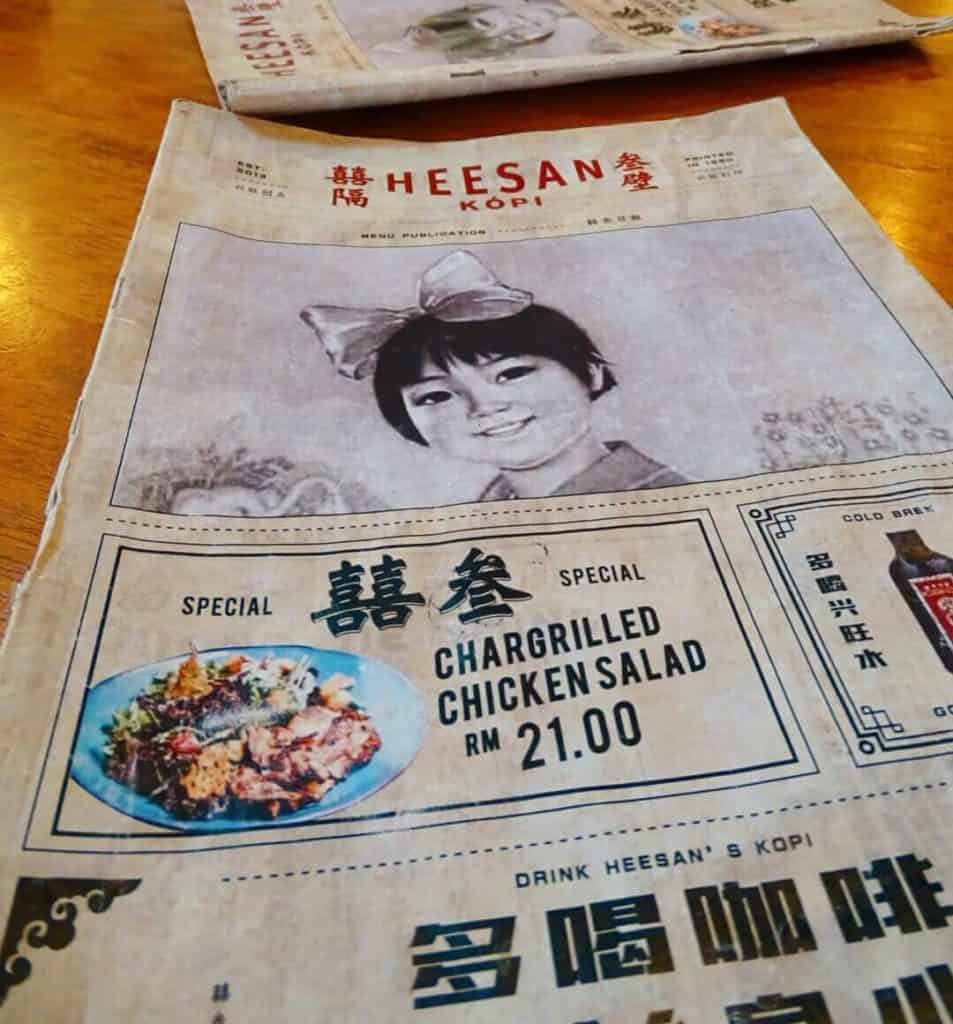 Heesan Kopi really pay attention to the little details. I loved the little tea house floating in my drink, as well as the shortbread biscuits stamped with the cafe's logo.

Coworking in Melaka score: 9/10 as it doesn't seem to get as busy as other cafes like The Daily Fix. The music was so relaxed it almost sent me to sleep – not sure if that's a good or bad thing.
5. Stolen Cup
Many speciality coffee shops around the world have the feeling of being the same. What I like about Stolen Cup is its signature drinks that could only be served here in Melaka.

The gula Melaka latte is similar to a regular coffee but flavoured with sweet and indulgent gula Melaka syrup.

I'm usually the person who rejects vanilla syrup or extra sugar in their coffee as I prefer to fully experience the flavour of the coffee, but here I'm happy to make an exception. I didn't try the salted egg yolk croissant as I'm not a fan but I appreciate the Asian-Western fusion efforts of this Melaka coffee shop!

As aesthetics go, it's quirky and colourful with lots of inspirational quotes and vintage clutter.

Coworking in Melaka score: 6/10, this is quite a busy social cafe in Melaka central so you'll probably be distracted.
6. Backlane Coffee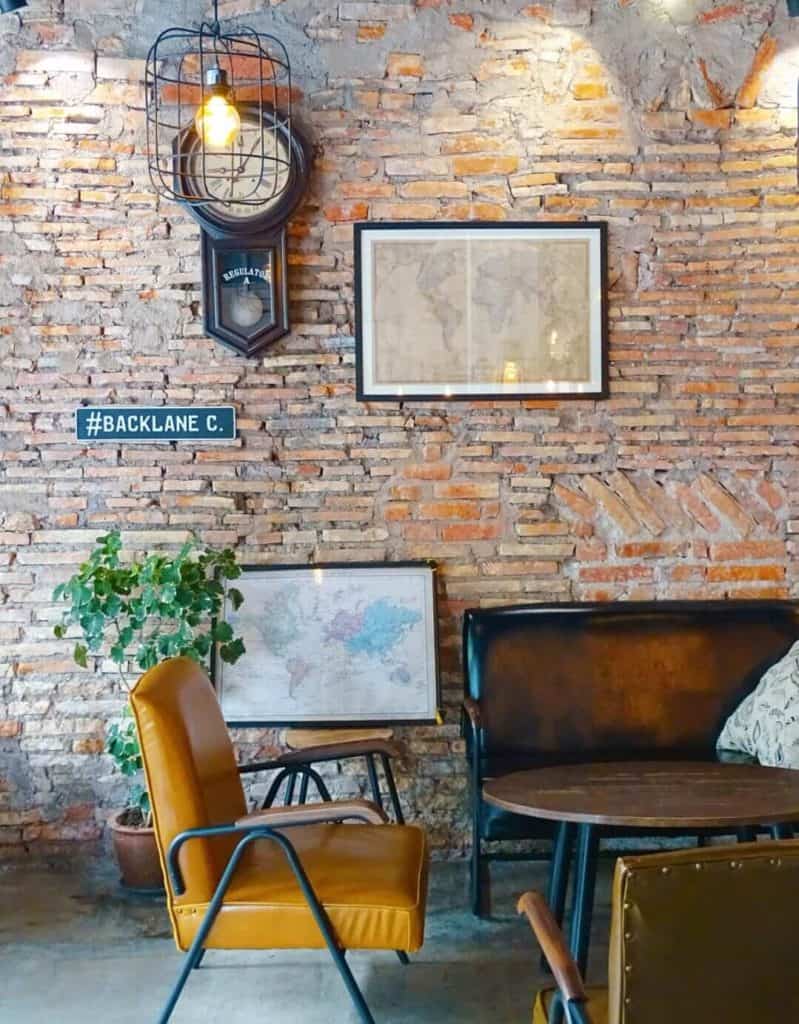 Hipsters and co-workers will love Backlane Coffee. The exposed brick walls and antique telephones would sit right at home in the quirky cafes of Shoreditch or Melbourne.

The fact that it's quiet and tucked away makes it the best co-working cafe in Melaka. The music when I visited was delicate French piano music – not distracting whatsoever.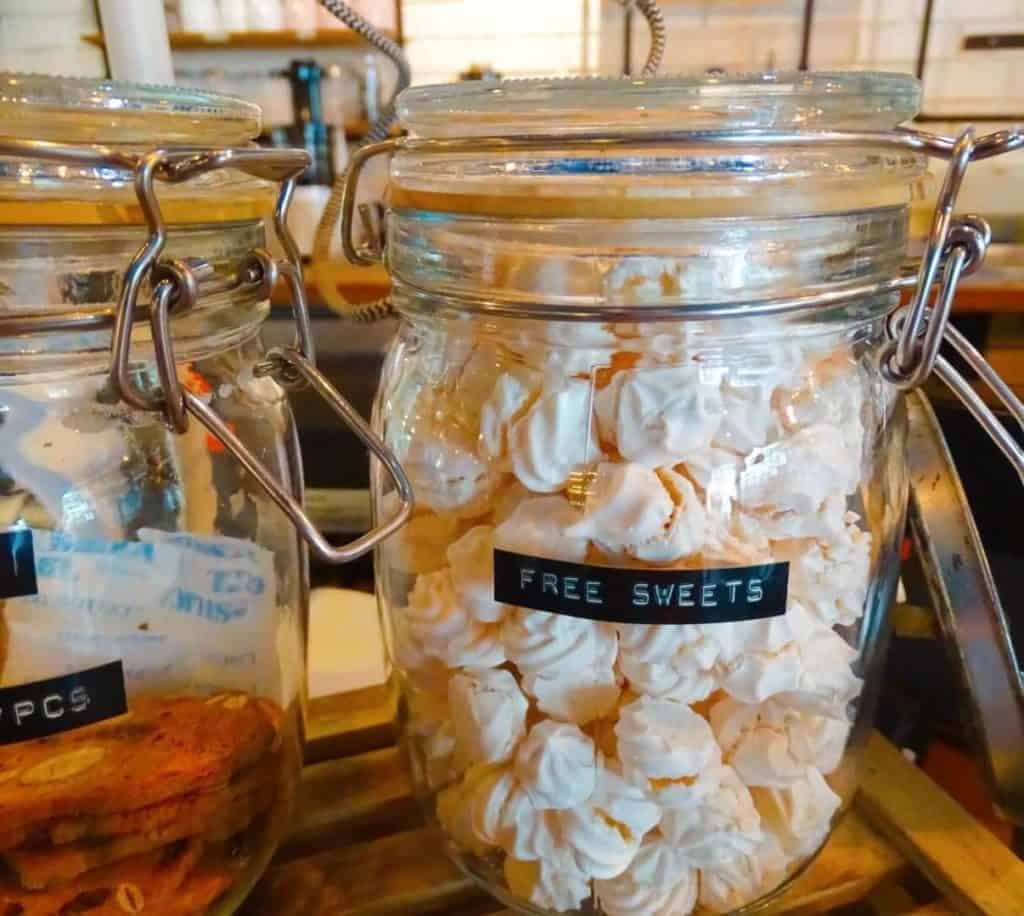 Backlane Coffee is owned by the same management as Heesan Kopi so you'll notice the same delicious pizzas and fancy (but small) cakes.

The iced latte was some of the best coffee in Melaka that I had, and I love that they give away free sweets at the counter!

Coworking in Melaka score: 9/10, can't fault this one.
7. Calanthe Art Cafe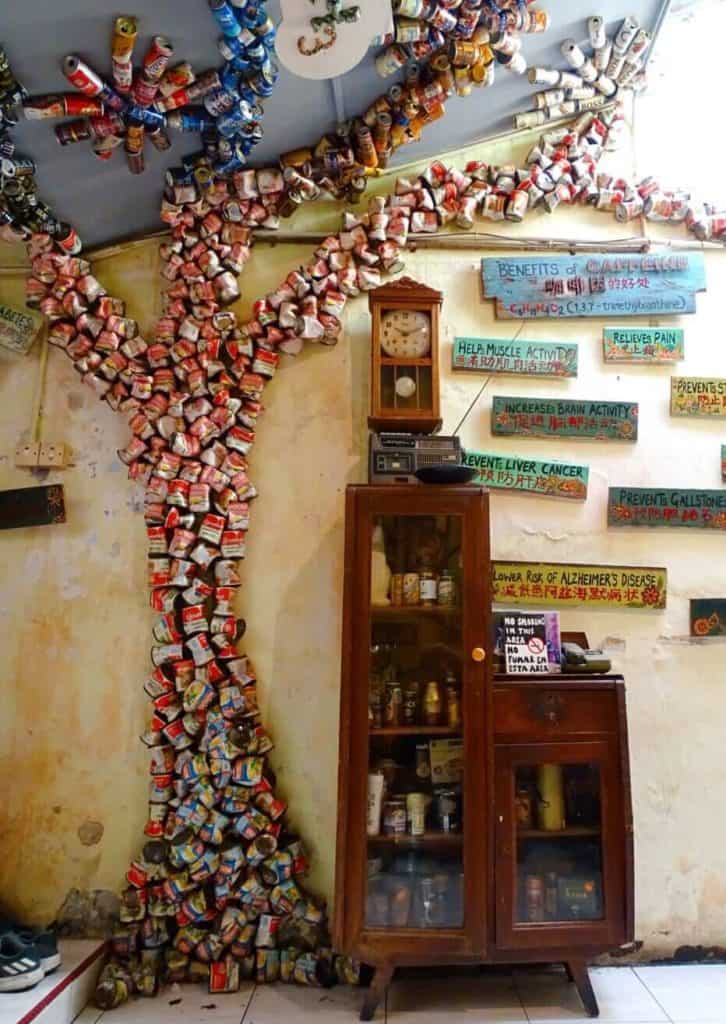 If all the cute Melaka cafes start feeling a bit samey, head to Calanthe Art Cafe. While there are Western coffees on the menu too, the focus is on local coffees from the 13 states of Malaysia. Will you work your way through them all?

I didn't but I can vouch for the Negari Sembilan blend from the state with the same name. All the coffees come in traditional china wear with a biscuit.
Even though I didn't eat here, the French toast and other brunch dishes look amazing. For a local twist, opt for toast with gula Melaka. This sweet and sticky syrup is a locally-made favourite (you won't need sugar in your coffee once you've tried it!).

The quirky surroundings make Calanthe one of the cutest cafes in Melaka: wall art is made with recycled cans; quirky memorabilia hangs everywhere, and there's even a fish tank inside a retro television!

Coworking in Melaka score: 7/10, pretty decent but would avoid on a weekend when it's busy.
8. Locahouz
This cafe in Melaka set inside a traditional Straits Chinese house is quirky yet traditional. As soon as you see the entrance with its overflowing flower baskets and hanging Chinese lanterns, you'll know this is a Melaka cafe with character.

Inside, the place is characterised by tiled floors, wall art and hanging plants that drape from the ceiling to floor.

Locahouz serves some of the prettiest coffee in Melaka, topped with decorative flower displays. How they get them looking quite so perfect I'll never know. The layered iced coffees topped with pineapple look delicious, too. They also serve a mix of Chinese and Western dishes including burgers and eggs & avo breakfasts.

Coworking in Melaka score: 6/10. The low tables and rounded chairs aren't great for posture but at least it's quiet and relaxed inside.
9. Kaya Kaya Cafe – 2023 update, now closed!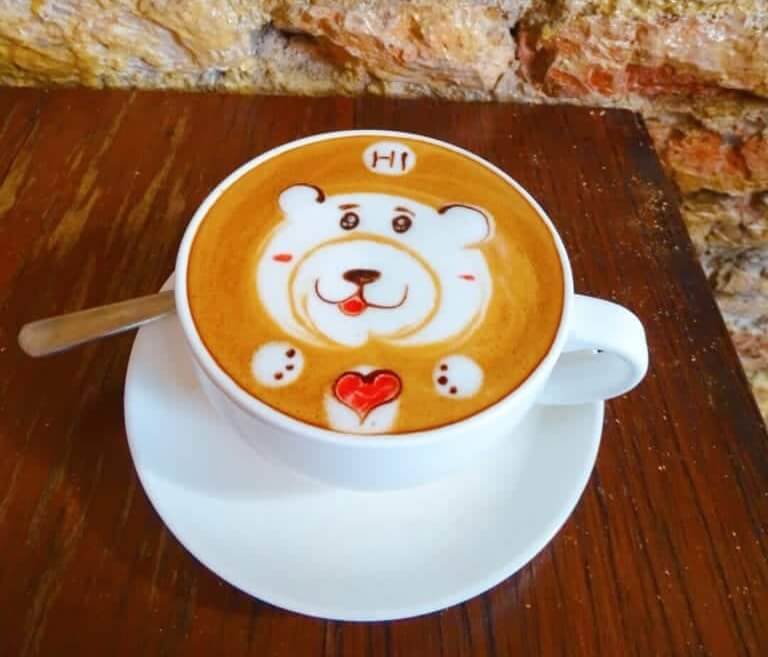 This cafe on Jalan Tukang Besi is very cute but the highlight has to be this adorable latte art. Whether or not it's the best coffee in Melaka, it's definitely the cutest! The menu doesn't openly offer it but I'd seen the latte art online and the staff were happy to make it for me.

Kaya Kaya Cafe serve all your usual coffees, teas and juices from 10 MYR as well as cakes, breakfasts, snacks, pasta and salads for around 20 MYR. The exposed brickwork and street art murals were cool but honestly, it was blurring into one after seeing six similar Melaka cafes!

Coworking in Melaka score: 7/10, good because it's slightly hidden away from busy Jonkers Street, making it one of the best cafes in Melaka for co-workers.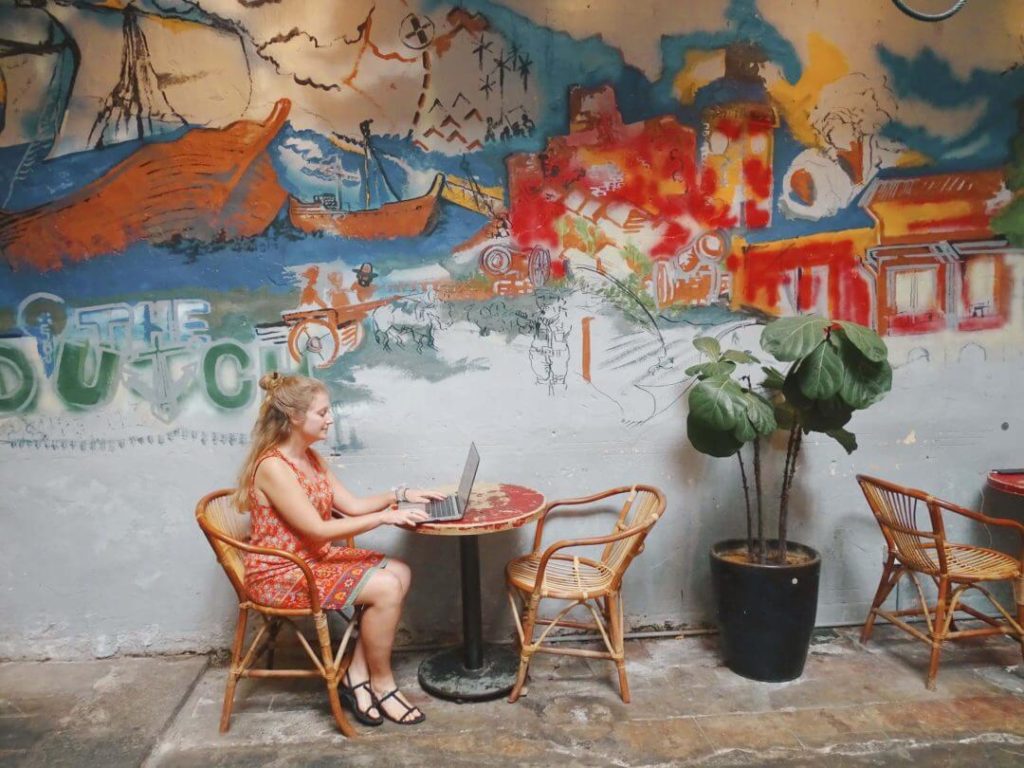 10. Coffee Jar
Coffee Jar isn't a fancy or flashy cafe but a modest hole-in-the-wall that prioritise quality coffee over aesthetics.

The owner is a local who trained as a journalist but realised her passion wasn't writing from cafes but the cafes themselves!

You'd almost miss Coffee Jar walking by because it doesn't have an obvious sign, just a small chalkboard in the window reading 'Coffee Jar'. Inside, the shabby-chic interior looks effortless although I'm sure, like every hipster cafe in the world, it's mindfully styled.

There's just a coffee bar and a few tables where you can grab a seat and sip some of the best coffee in Melaka.

Coworking in Melaka score: 5/10. With just a few tables in this cosy cafe, you'd feel you were taking up space by staying several hours.
Thanks for reading my Melaka cafe guide!
Penang blogs:
Ipoh blogs:
Kuala Lumpur posts:
Southeast Asia travel planning:
See you next time for more adventures,
Rose
Follow for more Malaysia content on Instagram, Facebook, Twitter and YouTube.
Ps. Liked these cafes in Melaka? Pin this for later!