This post may contain affiliate links to things like tours, hotels, Amazon associates and products. These help me earn a small commission at no additional charge to you.
The captivating city of Havana is unlike anywhere else I've visited. While there are so many things to do in the capital, one of my favourite activities was visiting the many iconic bars in Havana.
Gazing across the mismatched rooftops, watching local life from above, washing it all down with a mojito? Bliss.
CUBA TRAVEL ESSENTIALS

Accommodation: Airbnb / Booking.com / Hostelworld

Copy of Lonely Planet Cuba

Latin American Spanish Phrasebook & Dictionary

Travel insurance: True Traveller (European travellers) / Hey Mundo (other nationalities) / Safety Wing (digital nomads)

Activities: Urban Adventures
I have to say the cocktails alone are a solid reason to visit Cuba. I'm not knocking the culture, history, cities or nature because I enjoyed getting immersed in all of them. But I am saying the Cuban cocktails were really, really good.
Read next: The ultimate 10 day Cuba itinerary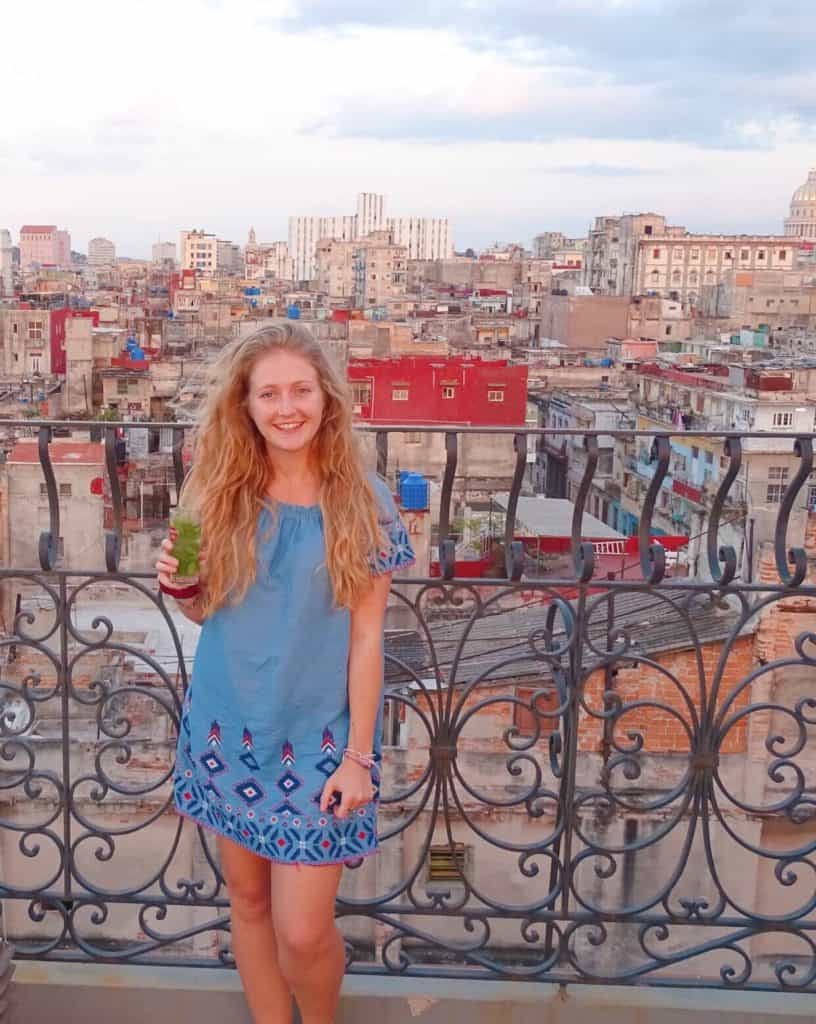 With rum-based cocktails like mojitos and daiquiris originating from Cuba, it's the best place to try them especially when you consider the low prices. I often drank pina coladas for 2 CUC which is the equivalent of £1.50. At those prices, it was hard not to have three with lunch!
Best bars in Havana Cuba
There are multiple sides to the Havana bar scene: iconic drinking holes frequented by famous figures a century ago (some of these venues even invented many of our favourite cocktails) as well as lively hotspots where young Cubans party today.

You'll also find all your usual tourist bars and today, a few luxe Havana rooftop bars to soak up unrivalled cityscape views.

The following bars in Havana were my favourites. I've tried to include a mix of iconic venues with rich histories, fancy bars with rooftop views, and local joints where Cubans hang out. Enjoy!
Iberostar Parque Central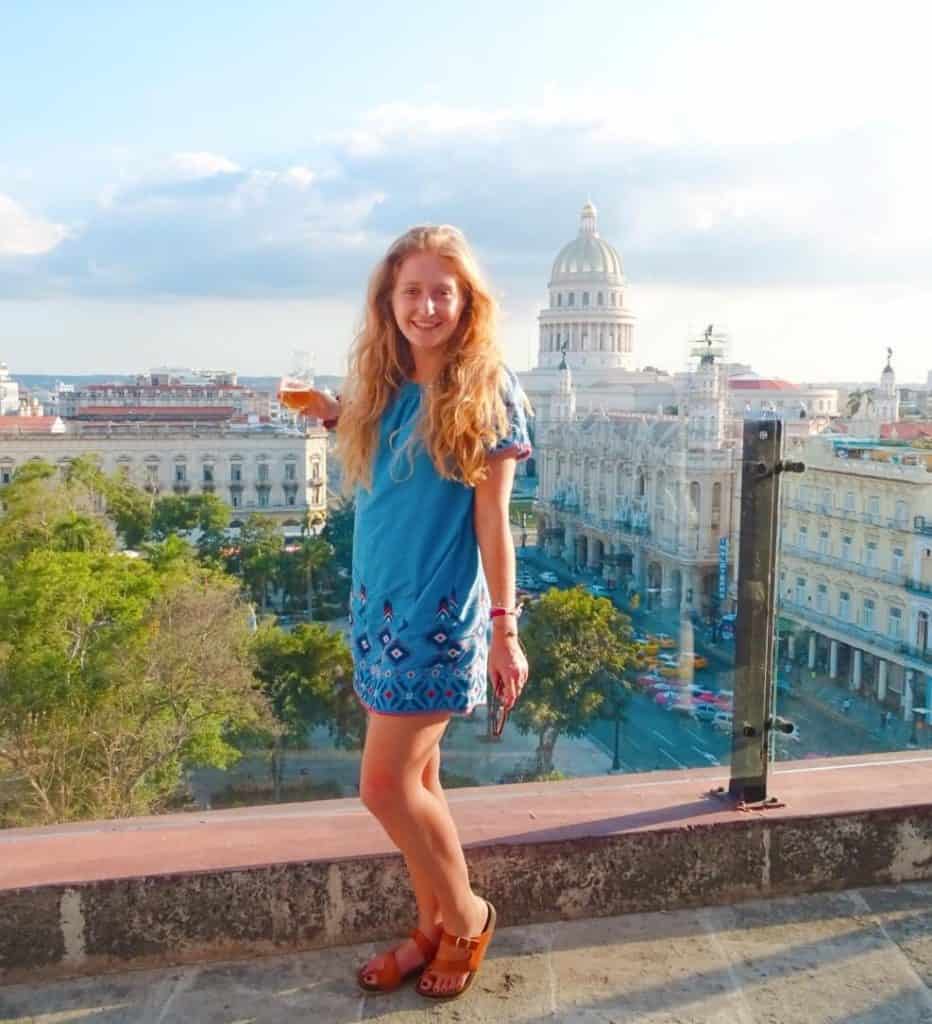 The first bar I visited was Iberostar Parque Central, a five-star hotel with spectacular views of the National Capitol Building, one of Havana's most iconic sights. Set in a leafy square across from El Floridita, the bar where the daiquiri was invented, this is an attractive part of Havana to explore.

I'd highly recommend supporting the locals by staying in a casa particular (a local home) rather than a global hotel chain like Iberostar. However, I would recommend popping in for a drink. The views from the bar are fantastic and they serve cocktails, wine and beer.

There's also a pool and sundeck which I believe can be visited with a day pass. Drinks start at 5 CUC.
La Guarida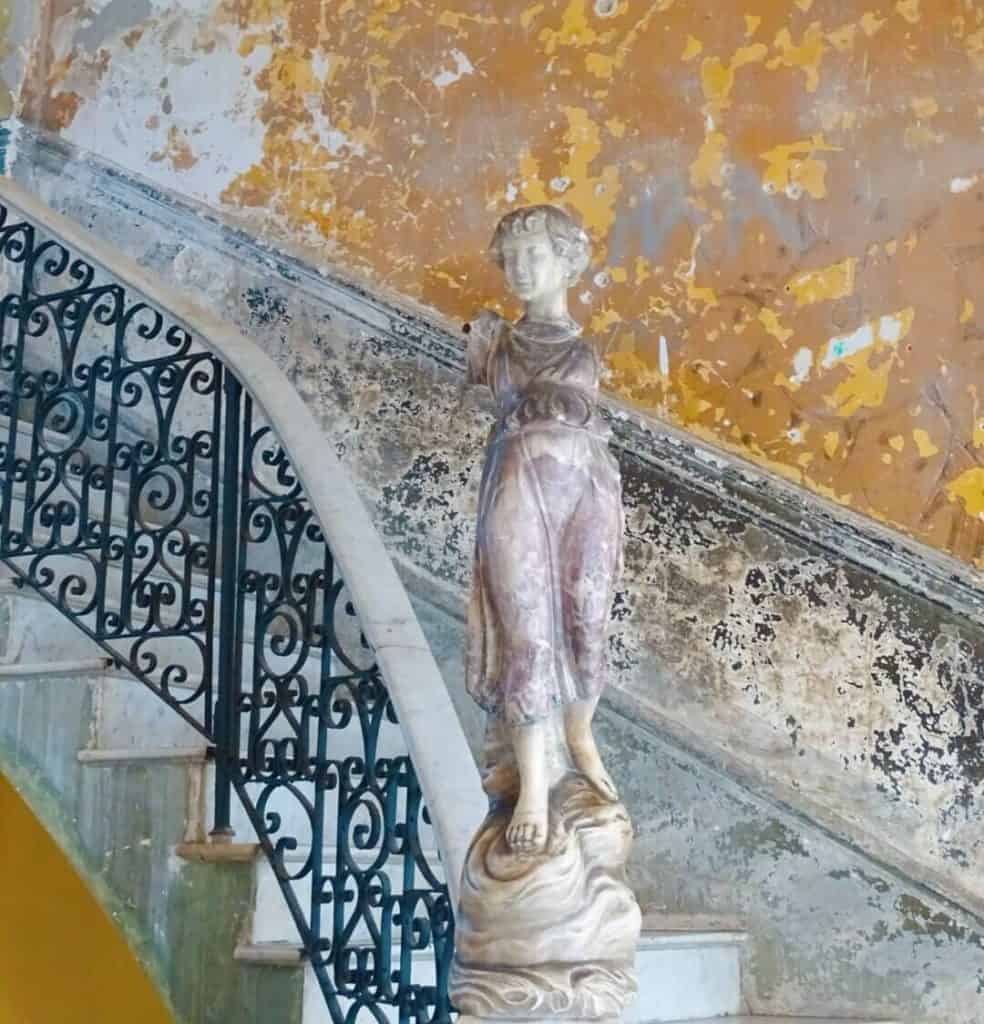 If fancy hotels sound boring to you (I feel you on that), there's a bar in Havana that culture lovers shouldn't miss. La Guarida is more than a rooftop bar in Havana but a paladar AKA a privately-owned Cuban restaurant (although I didn't personally try the food).
This building dating back to the early 20th century was the filming location of 1993 movie, Fresa e Chocolate (Strawberry and Chocolate). This is the story of the unlikely friendship between a flamboyant gay artist and a straight-laced young communist in 1970s Cuba. I've heard it's a great watch, although I've not yet got around to seeing it, so add it to your travel movie bucket list!

In more recent years, Rihanna and Beyonce have both dined at this iconic Havana bar. Here you can try Cuban classics like ropa vieja (slow-cooked shredded pork) and fish of the day, as well as starters and desserts. You'll pay around $40 US for dinner and drinks which is expensive for Cuba but affordable considering it's one of the country's best restaurants.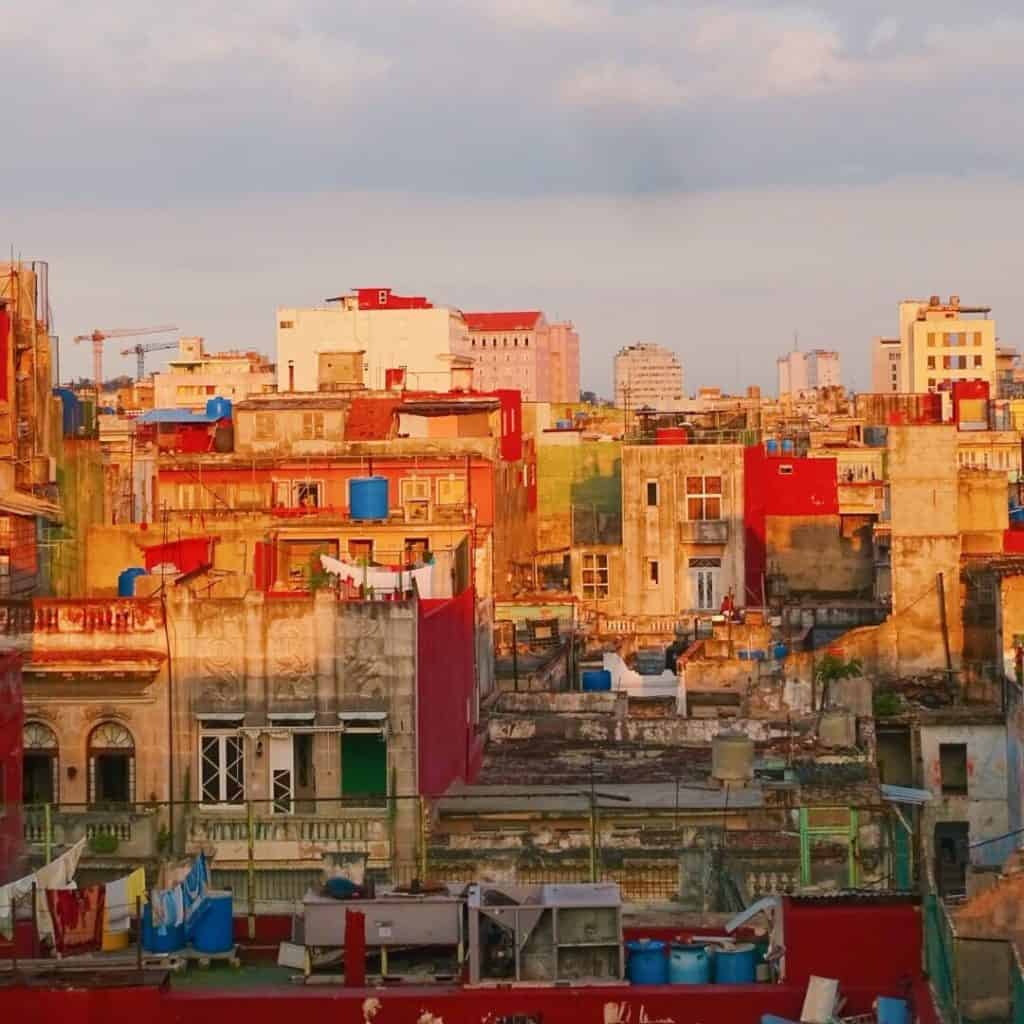 Alternatively, you can simply sip an insanely strong cocktail at the open-top bar. I'd never usually complain about this but my mojito almost had too much rum (is there such a thing?). However, I liked that they didn't use plastic straws.
El Floridita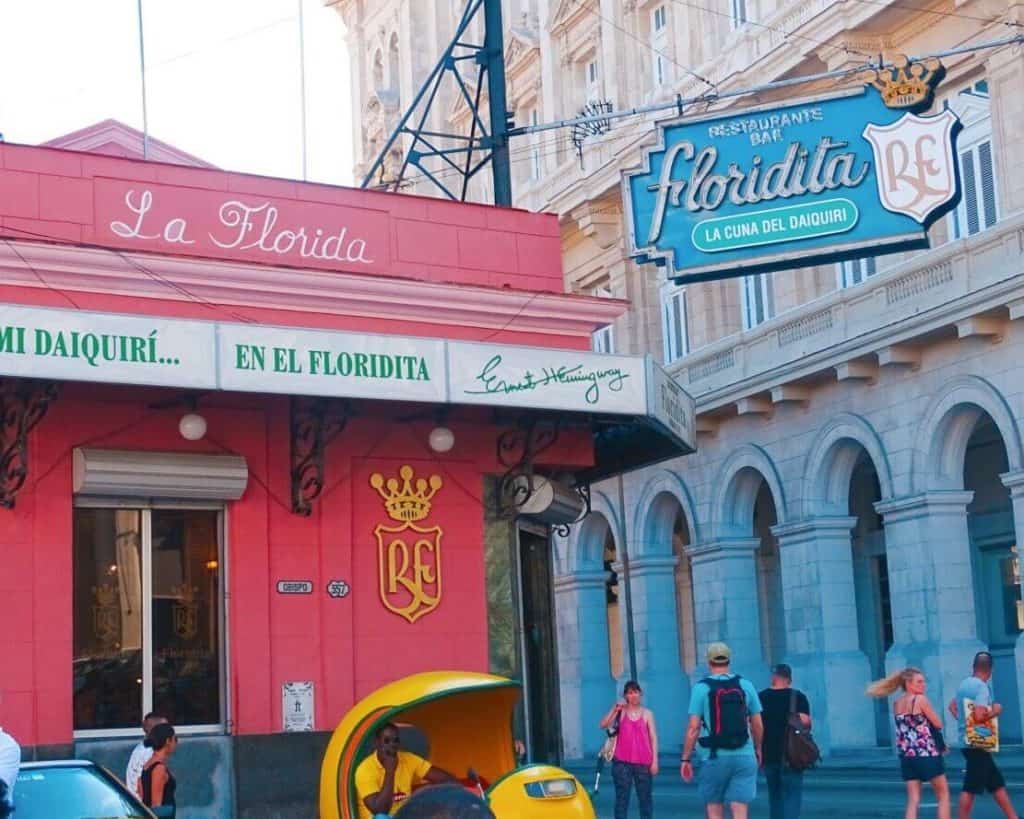 The birthplace of the daiquiri is a must-visit while touring the best Havana bars. This pink building across from Iberostar Parque Central is always busy and not just because there's a Wi-Fi hotspot right outside.
The interior of El Floridita is a throwback to 1930s Havana when guests including Ernest Hemingway would rub shoulders. Actually, it's even older: the bar started life 200 years ago under the name La Pina de Plata (The Silver Pineapple) when it was more of an off-license than a stylish bar.

After Cuba got its independence from Spain and became more Americanised, many venues became more experimental with cocktails. This coincided with American prohibition which meant visitors were even more inclined to visit Cuba and drink alcohol. Fair enough!

An expert cantinero (bartender) named Constante Ribalaiguia spent 20 years perfecting the daiquiri formula, earning the bar the nickname the Cradle of the Daiquiri. When exploring the best bars in Havana, be sure to visit El Floridita to sample one for yourself. Sample some fresh seafood while at it.
Manzana-Kempinsky Hotel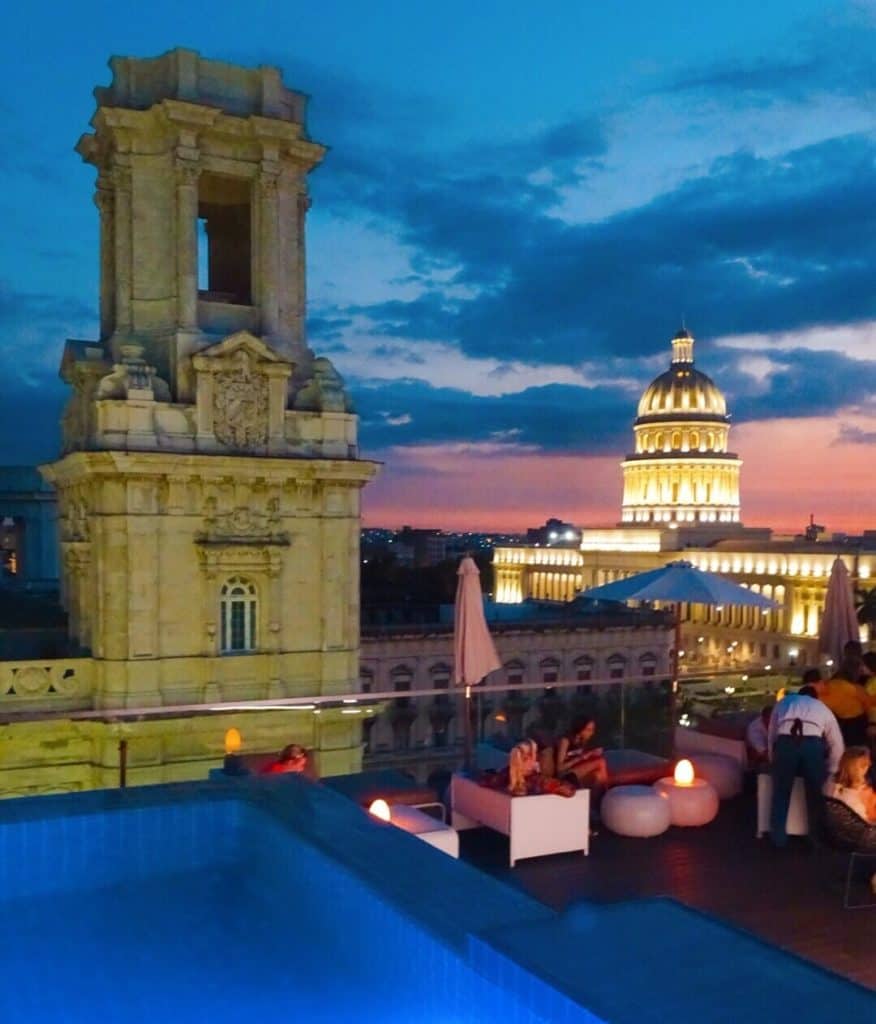 A fancy yet iconic Havana rooftop bar is the Gran Hotel Manzana Kempinski. We arrived here just as the sun had set and admired the illuminated city at night. A day pass for the pool is apparently $80 (although I believe this includes food) so unless you're feeling fancy, I'd recommend just visiting for a beer.

If you like luxe venues, this is one of the best bars in Havana. I preferred it to Iberostar Parque Central as the bar area was more spacious.
La Bodeguita del Medio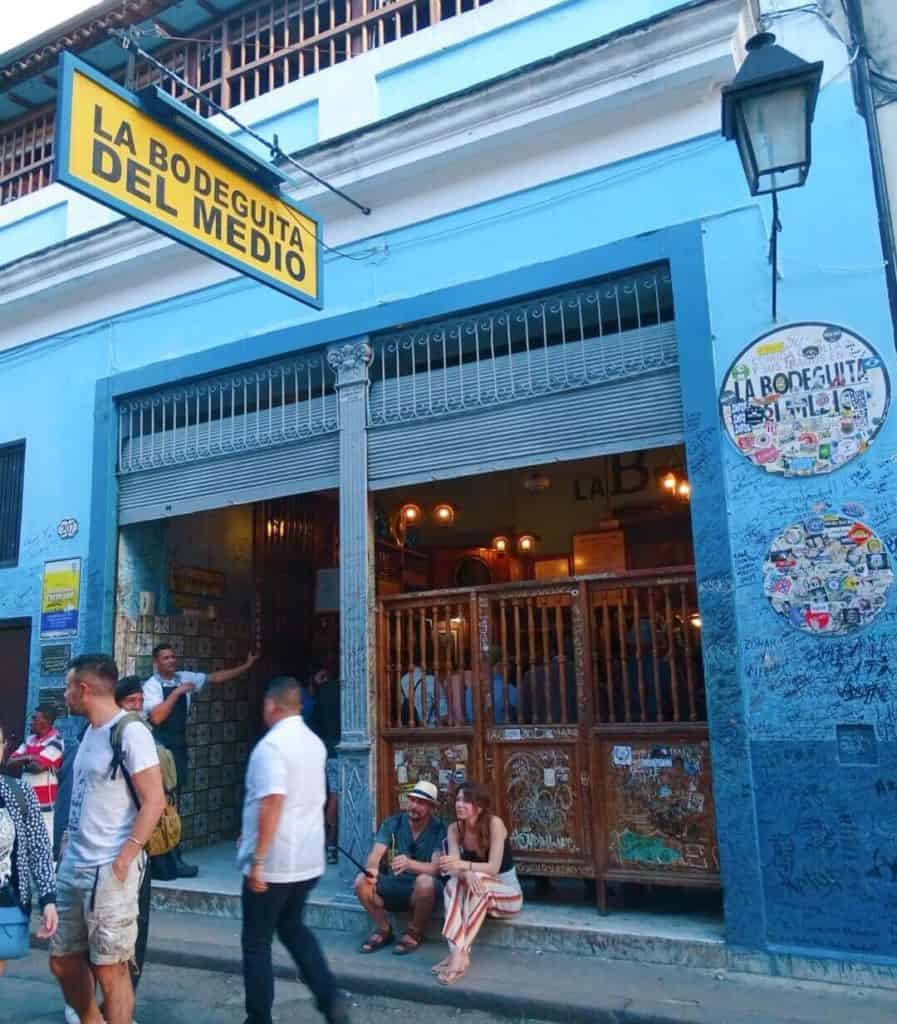 La Bodeguita del Medio is a must-visit Havana bar whether you buy a drink or not. The bold blue building on Empedrado is busy day and night with visitors sprawling onto the streets, perching on the curb to sip mojitos (the beverage that put La Bodeguita del Medio on the map).
Today tourists visit more for the atmosphere than the quality of the drinks. The blue walls are adorned with graffiti scribbles including those of past customers, Fidel Castro and Nat King Cole.

La Bodeguita del Medio started life as a modest grocery store and began serving food and drink in the 1940s. Rumour has it the mojito was invented here so that's, of course, the drink I recommend you try! Expect to pay around 4 CUC a drink.
Hotel Ambos Mundos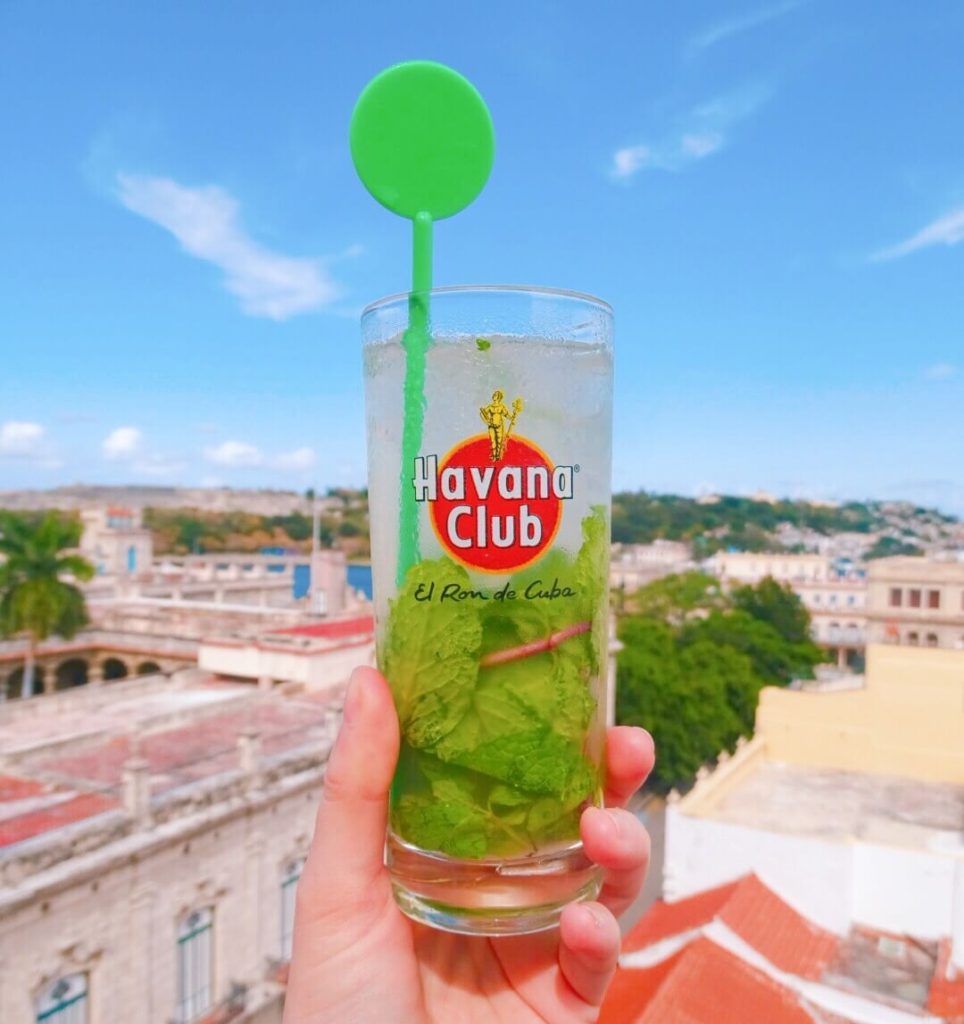 I visited this iconic rooftop bar in Havana bar during my last day in Cuba. It was not time wasted!

Hotel Ambos Mundos is a gorgeous five-story pink hotel located on the corner of Obispo and Mercaderes. Its claims to fame is hosting Ernest Hemingway in the 1930s while he worked on his novels. Nowadays you can pay 5 CUC to visit the suite where he lived.

For the same price you can get a mojito so it's no mystery which I chose! For such a well-known location, I was pleasantly surprised by the prices. The views out over Havana didn't disappoint, either. In the evenings you might be lucky and catch a live jazz band.
Madrigal Bar Cafe
This stylish colonial townhouse has gained a new lease of life since the end of Castro's rule. Beforehand, private businesses were prohibited meaning properties sat empty. Since this has lifted, many buildings have turned into bars and clubs which have the unique feel of drinking in someone's (very stylish) living room.

Madrigal is preserved in period style with tiled floors, Cuban wall art and original furniture. Sit out on the balcony if possible and enjoy Cuban tapas and cocktails while jazz bands play. Drinks are affordable at 3-5 CUC.

Madrigal Bar Cafe is a bit of a trek from Old Havana so I'd suggest catching a taxi (and preferably splitting it with a few others due to how expensive the Havana government taxis can be). Once you're there, you can spend the night hopping other bars in the neighbourhood.
Pazillo
Just around the corner from Madrigal Bar Cafe is another of Havana's best bars. I visited Pazillo late on a Saturday night when cocktails were free-flowing and a live jazz band were playing. From the outside, Pazillo looks like a large private home with a garden, which is of course it once was. Partying here felt more like a house party than a bar which was a novel experience.

I'm told Pazillo serves delicious burgers, ceviche and salads.
Fábrica de Arte Cubano
Finally, less of a bar and more of a club and art gallery (it's not often those things go together, right?) is this iconic venue. Locals will tell you this is where they party at weekends. Spread out over several floors, this enormous venue houses art, pub-style seating, a dance floor and stage for live bands.

Entry is just 2 CUC and you'll be given a card which you can use to purchase drinks and pay at the end. Fábrica de Arte Cubano is a little far from town (expect to pay 15 CUC in a taxi) but well worth the journey. Visit after 10pm.
Best bar experiences in Havana
Sometimes it's nice to have a local show you around. I explored the bars in Havana during two separate tours and really enjoyed them both as they were totally different. There were…
Havana rooftop bar & vintage car tour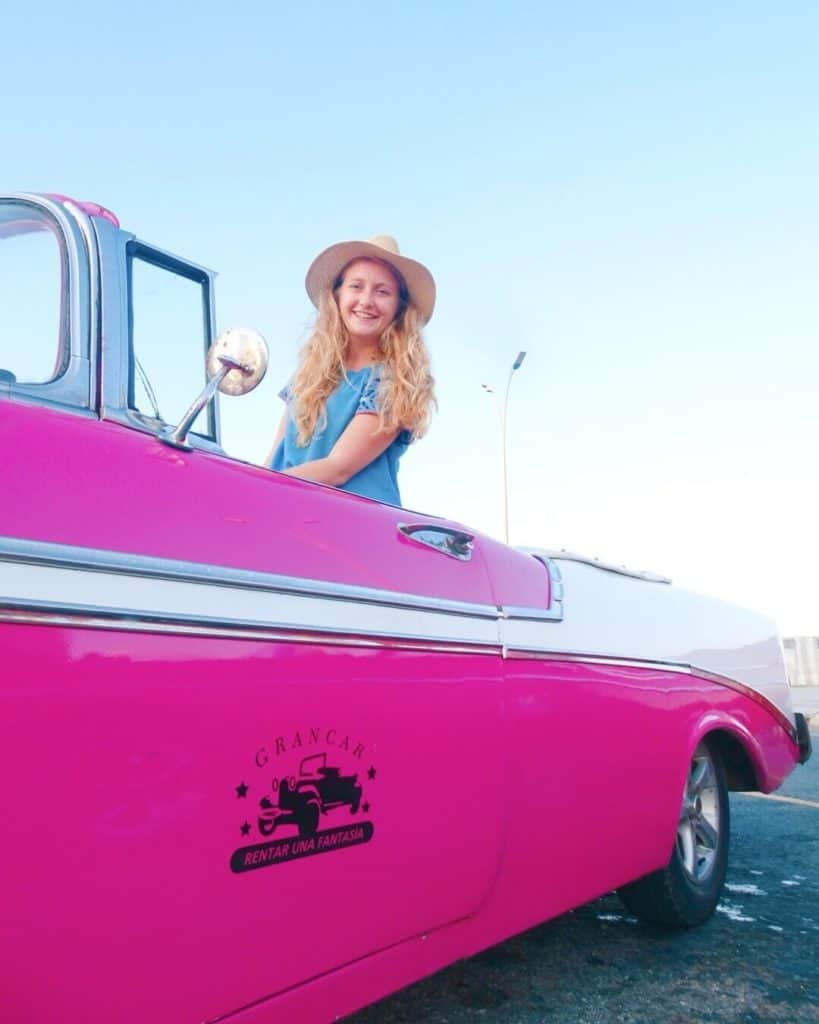 During my time in Cuba, I was hosted on the rooftop bar and convertible car tour with Cuba Enjoyzzz. As well as visiting three rooftop bars, we travelled between the venues by hot pink classic convertible.

This was such a fun experience and our local tour guide was really knowledgeable. I learnt a lot about Cuba, as well as the bars we were visiting. For Cuba solo travel, I wouldn't have justified paying for a convertible car ride solo (they're around $50) so it was a great way to split the costs.

The tour costs $65 including drinks in each bar and the car ride. We visited some of the fancier Havana bars like Manzana-Kempinsky Hotel, La Guarida and Iberostar Parque Central so it was well worth the price tag.

2022 update – I noticed the tour I took has been discontinued but you can find similar ones via Airbnb Experiences.
Cuba Bar Hop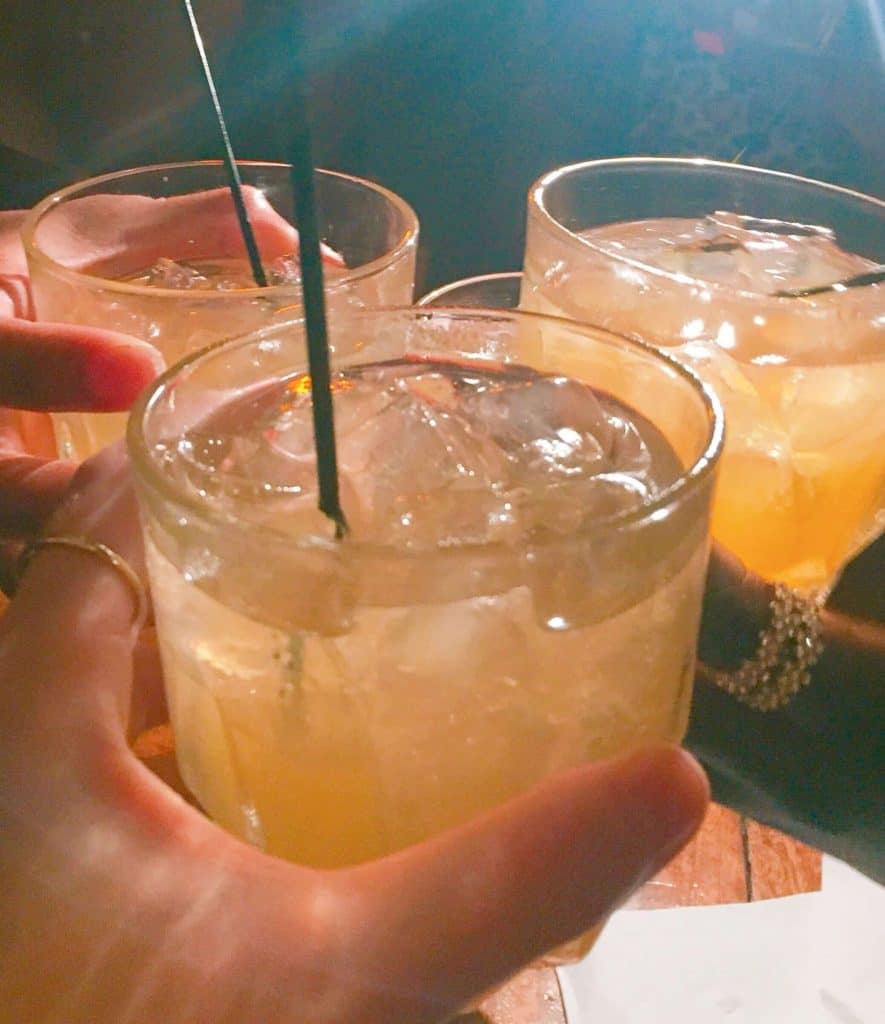 If you're more about fun bar crawls than fancy sky bars, you need to book a tour with Andito and his friends. These friendly young Cubans are keen to share their culture while showing you their favourite bars in Havana.

You'll get to check out Madrigal Bar Cafe and Pazilla, ending the night in a Cuban club. As a solo traveller, it meant I didn't miss the nightlife and had someone to help me get a taxi safely home at the end of the night. Andito advised us on the best cocktails to order and gave us all a Cuban cigar to try.

I had such a laugh on this tour which was mainly booked by travellers from all around the world aged in their 20s and 30s. Highly recommended for a fun Havana night out and meeting the locals! Book on Airbnb Experiences here for $30 per person.
Thanks for reading!
For more travel content, follow me on Instagram, Facebook, Twitter and YouTube.
Check out my other Cuba blogs:
See you next time,
Rose x
Note – I was hosted by Cuba Bar Hop and Cuba Enjoyzzz but all opinions are my own.
Ps. Liked these Havana bars? Pin this for later!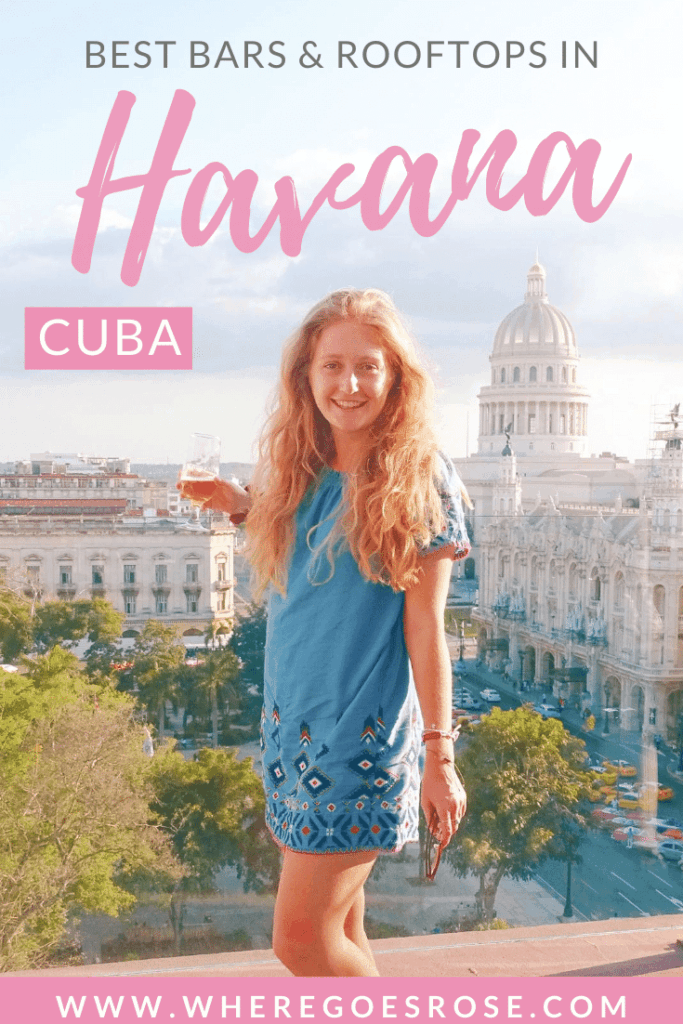 VISITING CUBA?

These are my trusted resources:

Getting there – I use Skyscanner to find the best-value flights, using the 'search by month' tool to find the cheapest dates. You can also use the 'to anywhere' feature if you're flexible on where you're going.

For apartments and private rooms, use Airbnb. For hotels, I recommend Booking.com.

For hostels, I use Hostelworld. Hostels in Cuba are the best places to meet other travellers.

Browse Cuba tours and activities on Airbnb Experiences and Urban Adventures.

Pack the latest copy of Lonely Planet Cuba.

Need to top up your Spanish? Pick up a Lonely Planet Latin American Spanish Phrasebook & Dictionary.

Need travel insurance? I use True Traveller (for UK & Europe residents) since it's affordable but covers everything you'd need including various activities, valuables and pre-existing conditions. Unlike some companies, they insure you if you're already travelling / don't yet have your flight home booked. Get a quote.

For travel insurance for other nationalities, I recommend Hey Mundo and for long-term digital nomad travellers, I suggest Safety Wing.

Check out my resources page for more travel discounts and tips from 10+ years of travel!