This post may contain affiliate links to things like tours, hotels, Amazon associates and products. These help me earn a small commission at no additional charge to you.
So you're coming to Cuba? Maybe you're in the early stages of tentative planning or you're all booked and seeking Cuba itinerary specifics. Either way, I'm going to relive my 10 days in Cuba so you can plan your trip!

First let me say, Cuba is a once-in-a-lifetime experience. If you're going, be excited because you're about to experience a culture unlike any other. There were things I loved about Cuba and things that I really didn't. But it's certainly a trip you won't forget or regret!
CUBA TRAVEL ESSENTIALS

Accommodation: Airbnb / Booking.com / Hostelworld

Travel insurance: True Traveller (European travellers) / Hey Mundo (other nationalities) / Safety Wing (digital nomads)

Activities: Urban Adventures
10 days in Cuba – what to expect
I don't want to say Cuba is overhyped but I do want to paint a real picture of the country so you know what to expect. A lot of Instagram feeds will give the impression it's all colourful houses and girls in twirly dresses in front of pink convertibles. In reality, Cuba is so much more than that.
Read next: What I thought of Cuba – my honest thoughts
Walking around Central Havana, I was confronted with trash, crumbling buildings and people living with very little. If you use Instagram to set your impressions of Cuba, you may be disappointed.

Cuban culture is a rich one but the government are oppressive and many people live on as little as $30 a month. Be aware of this and learn about Cuba to bridge the gap between Instagram expectations and reality.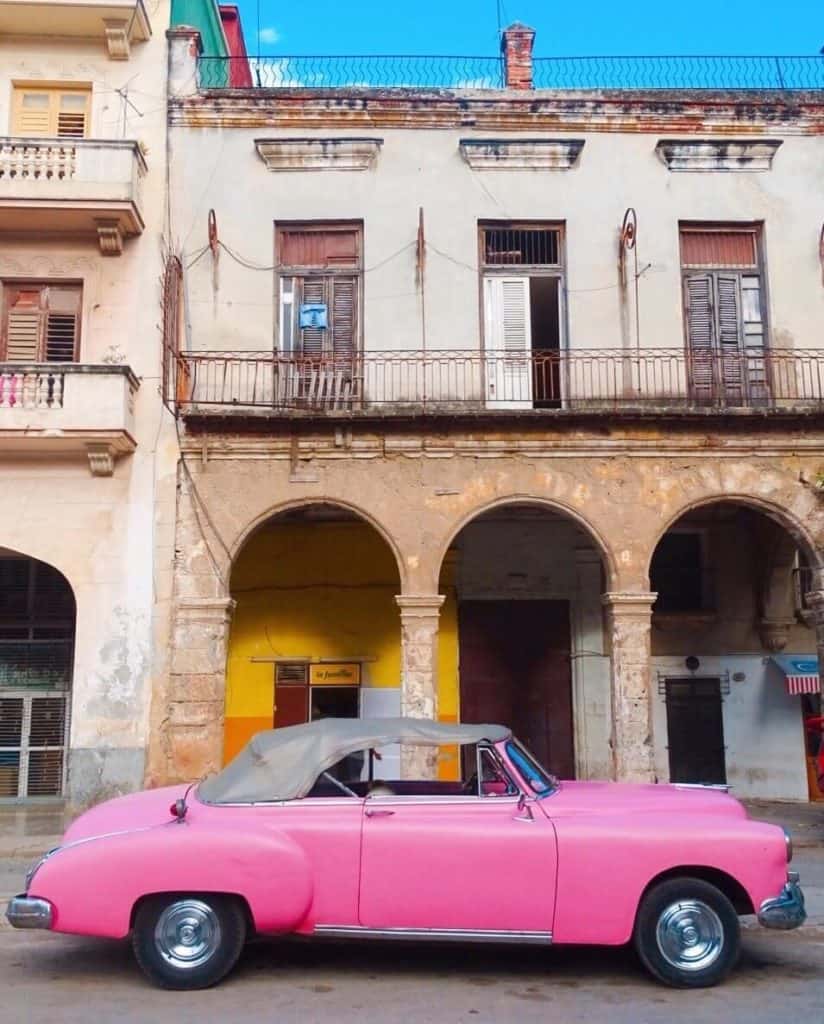 Top tip – since it's so hard to get online in Cuba, I would recommend bringing a guidebook and phrasebook to help you along the way. I recommend the latest copy of Lonely Planet Cuba and a Latin American Spanish Phrasebook & Dictionary.
Cuba itinerary for 10 days
You might be wondering how long to spend in Cuba. I think 10 days is optimum.

I would highly recommend seeing Havana, Trinidad and Viñales. Visiting these three places will allow you to experience a big city, a charming small town, the countryside and have at least one beach day. A week would be tight for this itinerary.

Two weeks in Cuba might have been a little long for me, especially as a solo traveller who was basically cut off speaking to friends and family while offline in Cuba. I also didn't love the Cuban cuisine and it was so hard to buy necessities as everything is rationed. Ten days were enough for me.
Read next: Complete Cuba budget guide
I hope you enjoy my Cuba itinerary for 10 days!
Day 1 – Explore Old Havana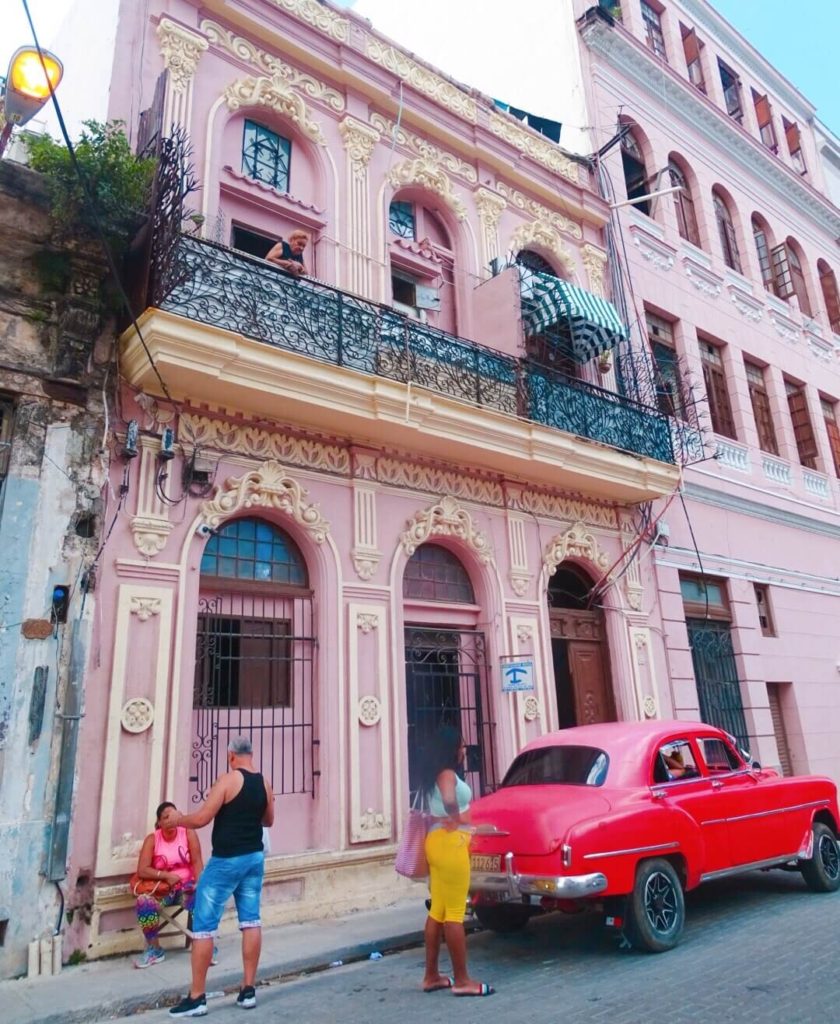 Start your Cuba trip by exploring Havana's most iconic neighbourhood, Old Havana, full of crumbling, charming architecture, vintage cars and local life. This is the Cuba that has inspired photographers, moviemakers and tourists to visit in their throngs.

There are many things to do in Old Havana but I mostly enjoyed wandering, drinking coffee and soaking up the vibes. Honestly, I could have spent days just doing this but it all depends how busy you like to keep.

For your first morning in Havana, I would highly recommend the Free Walking Tour of Havana by the Me Gusta Company. They run an Old Havana tour of the charming historical city as well as a Central Havana tour that explores the gritty, wider city and focuses on culture and local life (I'll include this in tomorrow's itinerary).
Things to do in Old Havana:
Plaza Viej – this iconic square in the heart of Old Havana is known for its classic architecture and cafes spilling into the square.
Camera Obscura – don't miss this tower in the corner of Plaza Veij. Images of the city are projected into a dark room which you can visit for just 2 CUC. The views of the city from the top terrace are unrivalled.
Calle Obispo – this busy pedestrian street passes art galleries and historical spots.
National Capitol Building – this iconic building dating back to 1929 is being restored but you can still snap photos from the outside.
Almacenes San José Artisans' Market – walk to the waterfront and browse Cuban art and souvenirs at this enormous, colourful market. Don't miss 3 CUC pina coladas served inside hollowed-out pineapples.
The Revolution Museum – this might be the most biased and least objective museum on earth but it's worth a visit (while thinking critically) to understand the level of propaganda that operates in Cuba.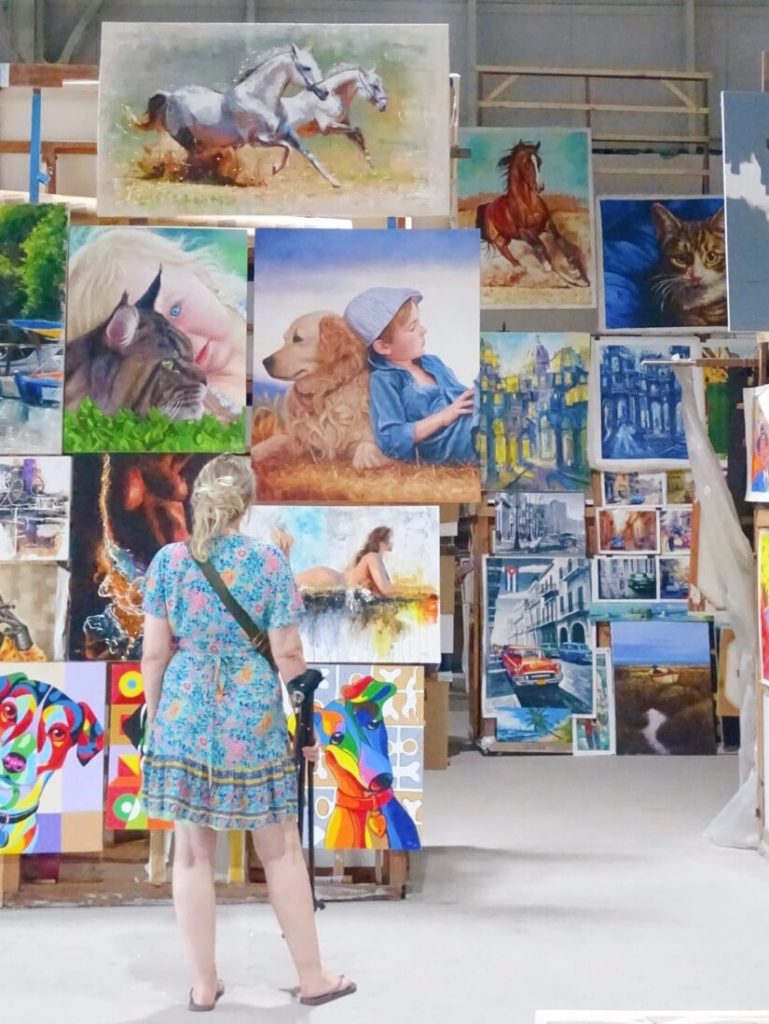 Day 1 evening
For your first evening in Cuba, check out the bar scene. There are plenty of historical bars including Hotel Ambos Mundos where Ernest Hemmingway once lived and El Floridita, the home of the daiquiri.

If you fancy a rooftop bar, check out Manzana-Kempinsky Hotel. My personal favourite rooftop bar was La Guarida, an old colonial mansion and filming location for iconic movie, Fresa e Chocolate. If you'd rather explore with a group, take a guided bar crawl.
Read next: The best bars in Havana, Cuba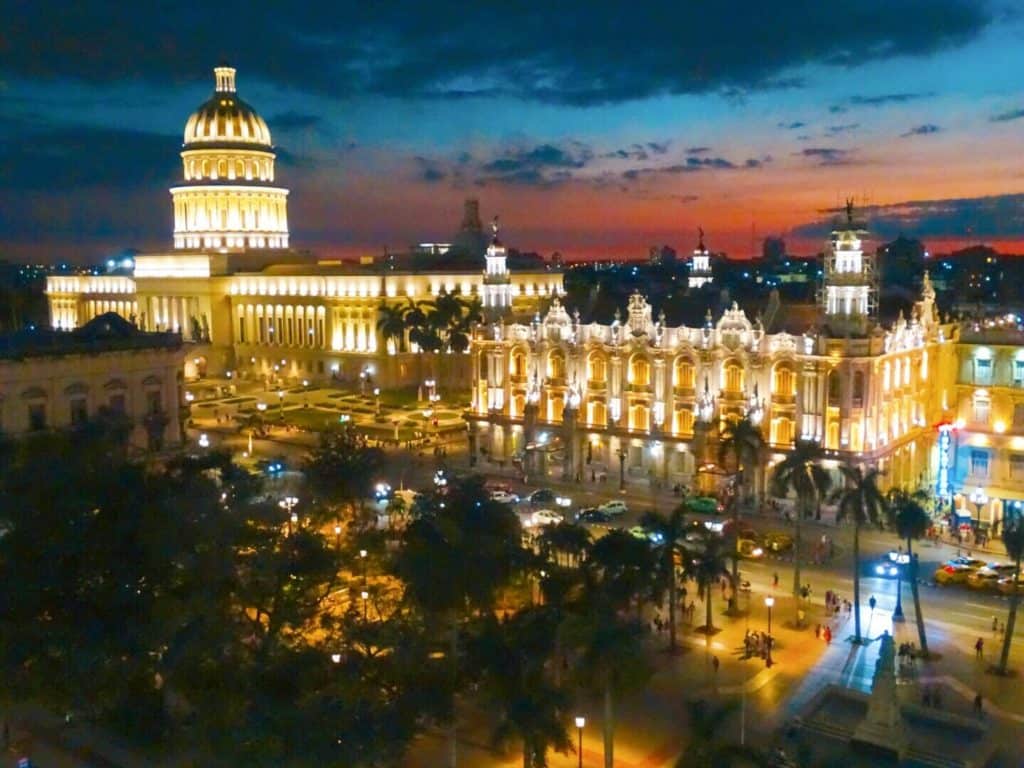 Day 2 – venture to Central Havana
After you've explored Old Havana, explore a little further to see local life in Central Havana. To get immersed in the area and learn more about Havana, I would highly recommend the Me Gusta Company's Central Havana free walking tour mentioned above.

This runs at 9.30am or 4pm, departing from Parque Central.

Things to do Central Havana:
Walk along the Malecon – this long waterfront road runs for miles. Wander along it while soaking up views of the ocean and watch colourful convertible cars cruise by.
Callejon de Hamel – this vibrant alleyway is full of arty statues and colourful street art. It was created to brighten up the area which was once dilapidated. Now it's a vibrant tourist hotspot with quirky cafes. Visit on a Sunday for a rumba party at noon or take an Afro-Cuban religion tour of the area.
Necrópolis Cristóbal Colón – this cemetery lavished in marble and gold has become somewhat of a tourist attraction. There are over a million graves, some resembling small palaces. Entrance is 1 CUC.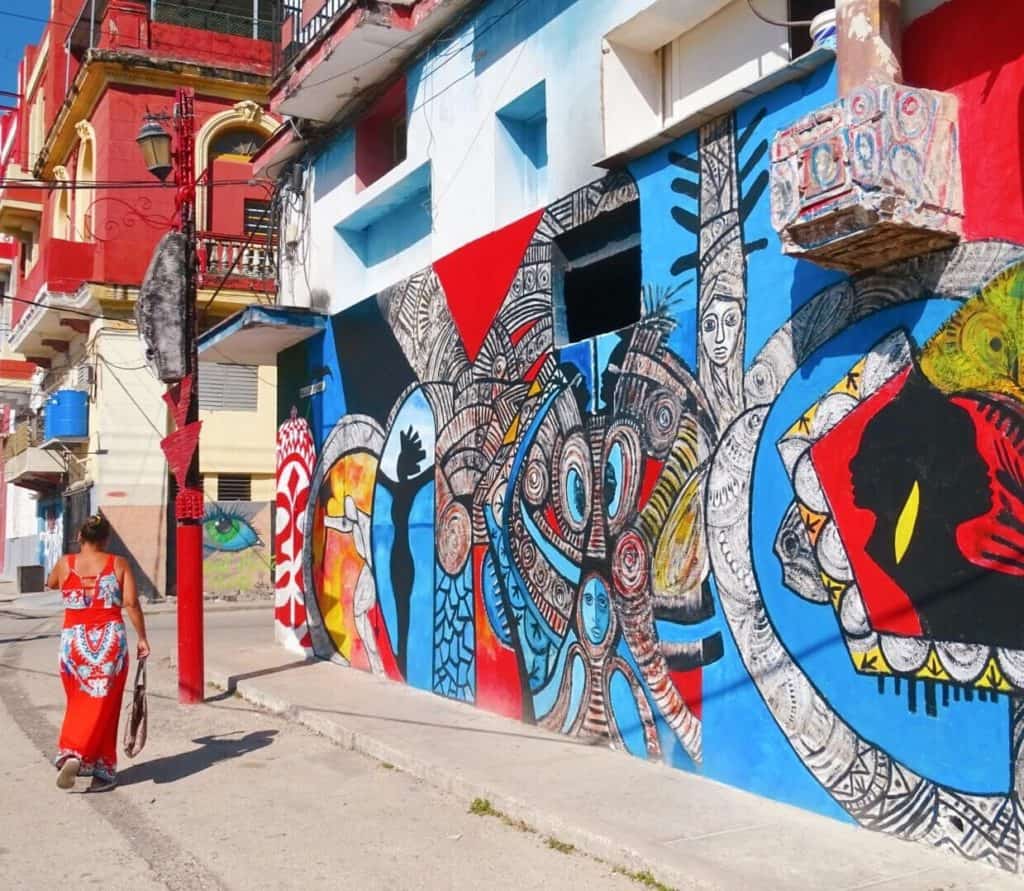 Afternoon: Later during day two in Cuba, why not consider taking a vintage car tour? Local drivers will offer you these; they're not hard to come by. Alternatively, you can pre-book a classic car tour with Urban Adventures. I felt like a basic Insta girl but honestly, it was so much fun cruising around Havana by open-top car soaking in the sights.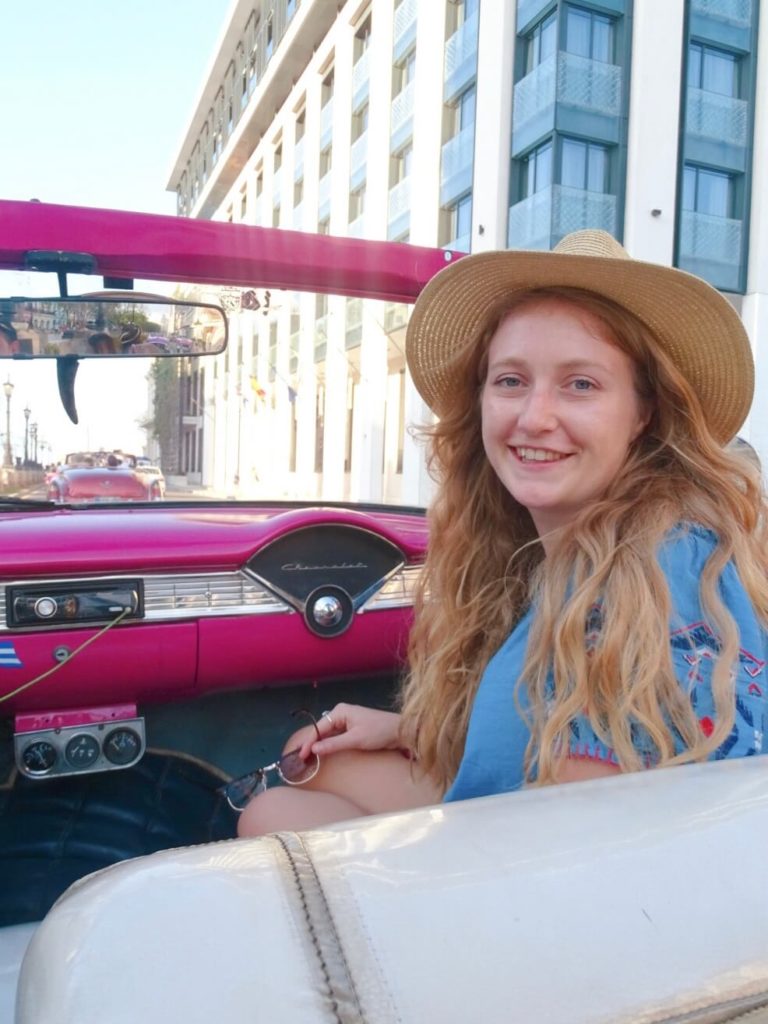 Where to eat and drink in Havana
I make no secret about the fact I didn't really enjoy the cuisine in Cuba, although perhaps that was because I was coming from foodie paradise, Mexico.

Ingredients are rationed in Cuba which makes it hard for restaurants. The food is meat-heavy and non-spicy so may not be to everyone's taste. Still, here are some good options for eating in Havana:
Brown Cafe near Callejon de Hamel. This cosy restaurant serves tasty Cuban tapas for reasonable prices as well as amazing cocktails. Coconut tequila and lychee margaritas? Yes please.
La Guarida – I only came here for drinks but people rate it as one of Cuba's best restaurants. Dinner and drinks will cost $40 which is good value since it pleases the likes of Beyonce and Rihanna!
Malecon 663 – this boutique hotel and art gallery has a colourful cafe downstairs with menus printed on old vinyls. I stopped by for brunch and coffee for 6 CUC.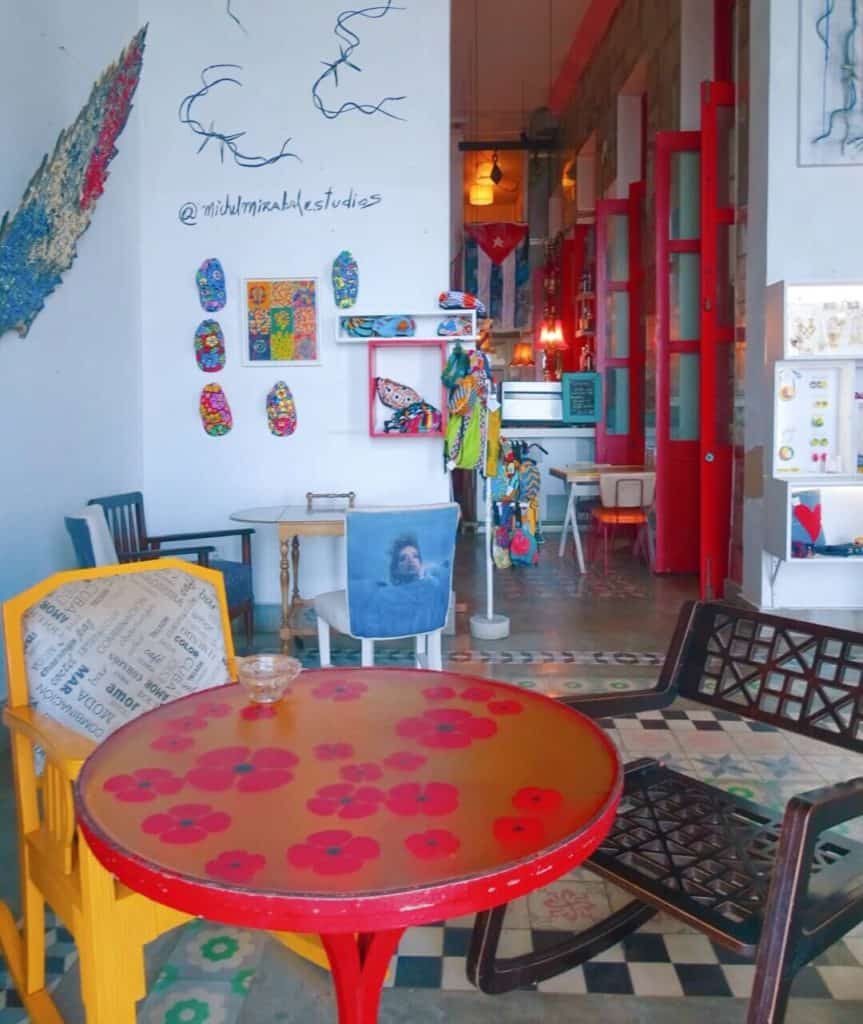 Day 3 – take the ferry to Casablanca
To see another side to Havana and explore further, why not catch the Lanchita de Casablanca ferry across the harbour? Here you can hike up to the Cristo de La Habana, in other words the enormous Jesus statue on the hillside.

You can also visit Castillo De Los Tres Reyes Del Morro, the 16th-century castle on the waterfront.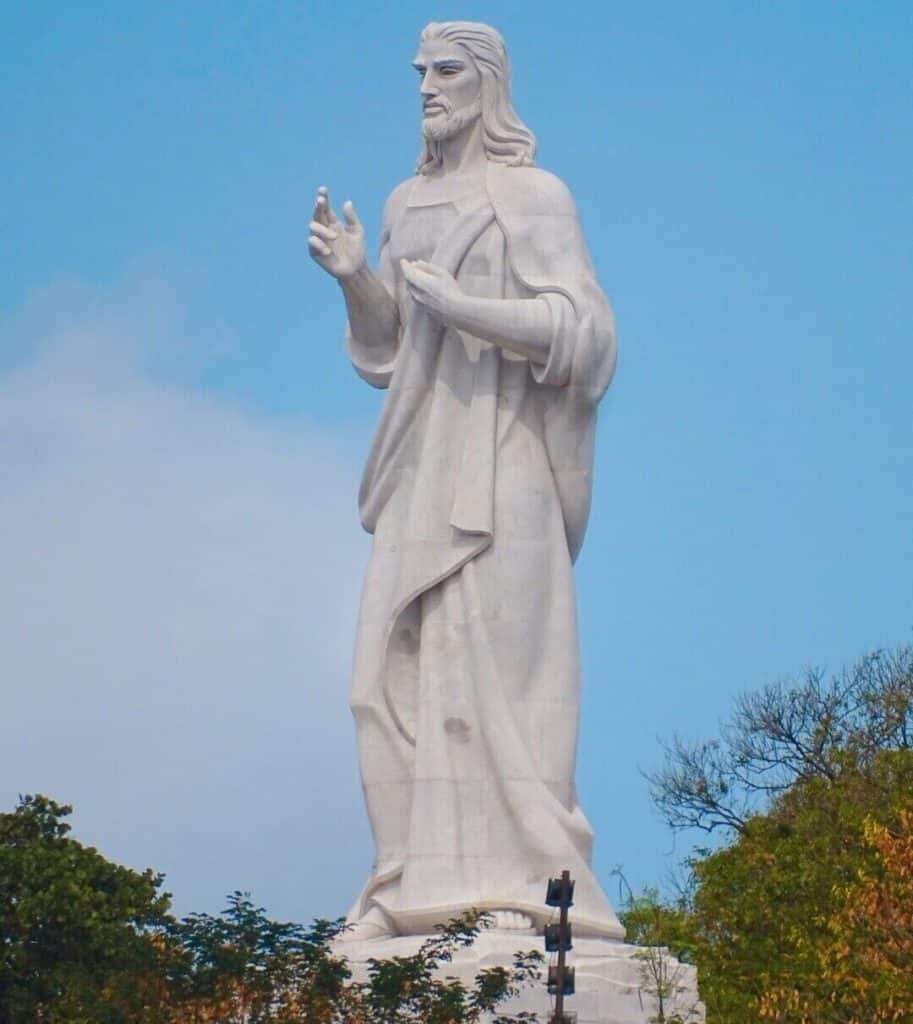 The ferry ride to Casablanca costs 10 CUC. Another fun option would be to explore Casablanca's attractions by hired bicycle. You can bring them on the ferry for a surcharge.
Day 4 – travel to Trinidad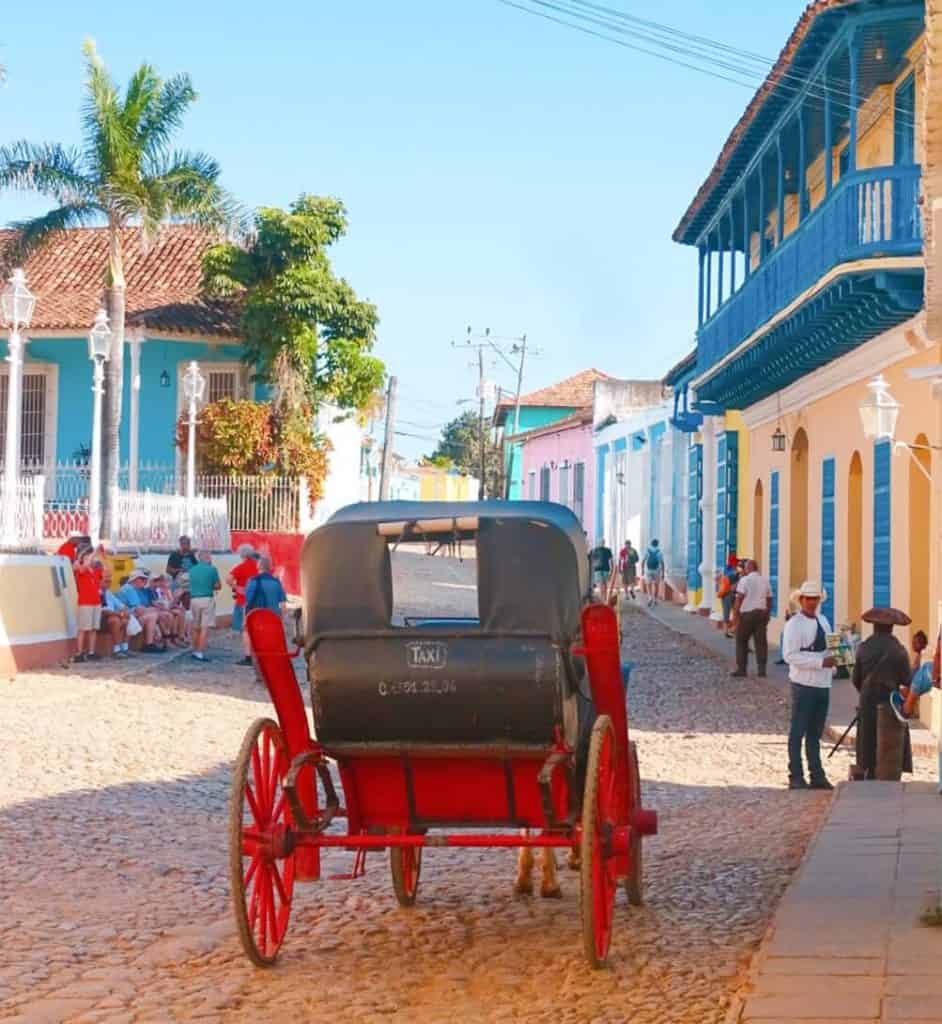 After three days in Havana, it's time to continue our Cuba itinerary.

Getting around Cuba can be expensive since government taxis charge a flat rate of 35 CUC between Havana and Trinidad. Buses are also available but you often have to book in advance and travel by expensive taxi to out-of-town bus stations. The government taxis can be booked in your accommodation and drive you door-to-door which is why I would recommend them for convenience.

The drive from Havana to Trinidad takes just 3.5 hours so you'll have plenty of time to explore Trinidad during the afternoon of day 4. I liked the colourful, colonial city of Trinidad in central Cuba. The slow pace of life and one-storey buildings were a total contrast to busy, high-rise Havana.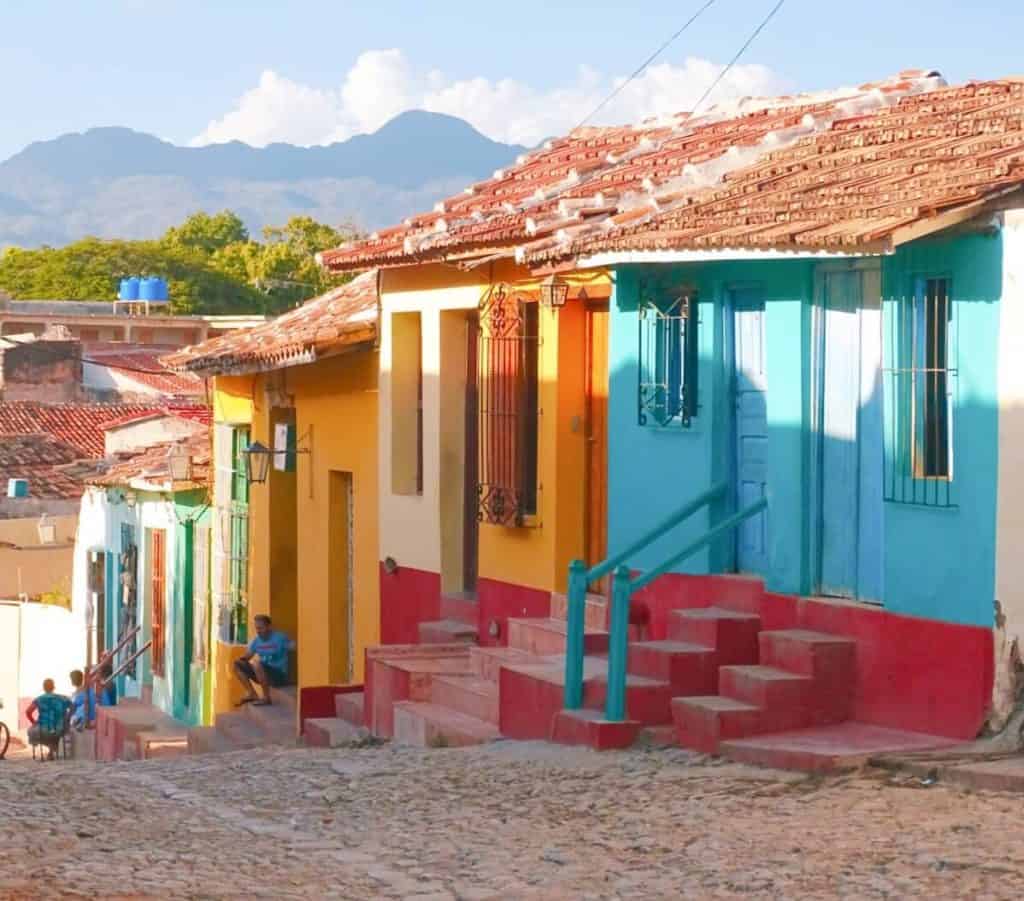 Things to do in Trinidad:
Wander the colonial city centre and shop for souvenirs at local markets.
Climb the bell tower for 5 CUC and enjoy views over Trinidad.
Visit La Casa de la Musica (the house of music) at 7pm each night to watch a colourful Cuban dance show.
Party at the cave club, also known as Disco Ayala. This bar set underground in a real cave is the most iconic place to experience Trinidad's nightlife.
Day 5 – hike and swim in El Cubano National Park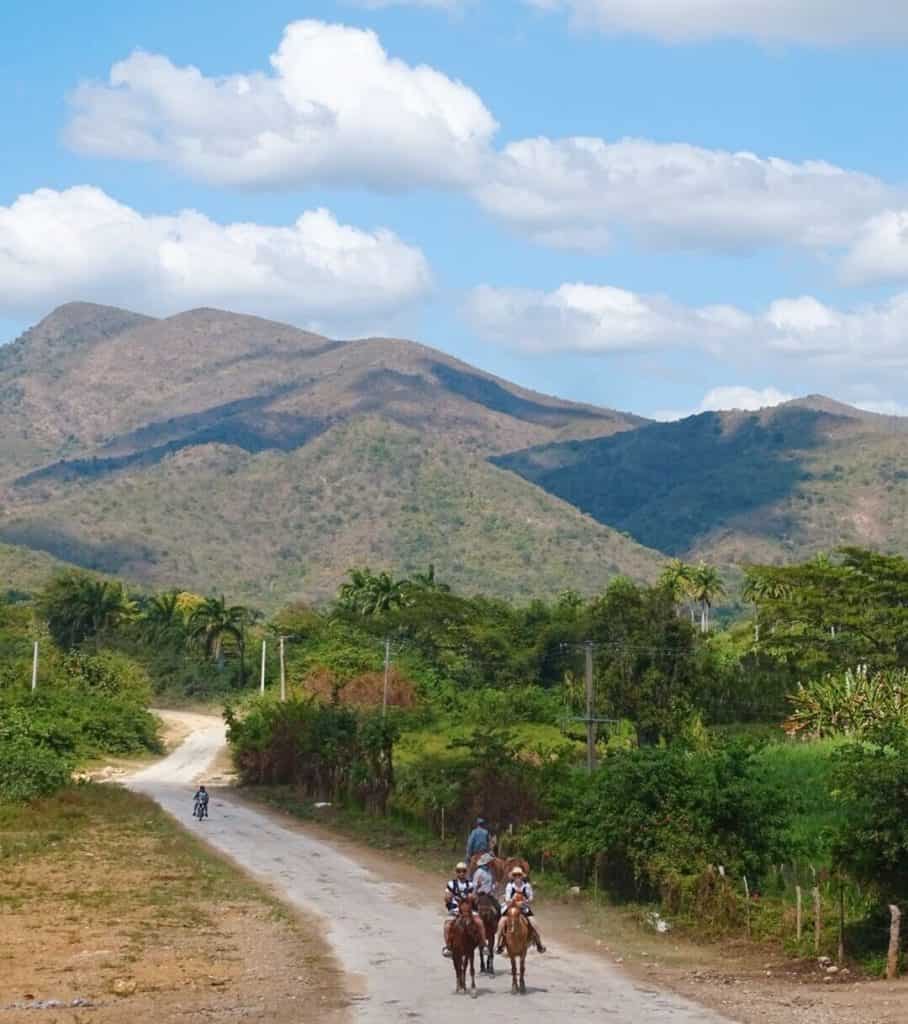 Trinidad is surrounded by incredible nature. While spending 10 days in Cuba, I would highly recommend getting immersed in it.

While cycling to El Cubano Natural Park, I passed traditional villages unchanged for decades, as well as rolling hills and forests. This enormous national park is full of waterfalls and natural swimming holes.

The only thing I'd mention is that, unless you take a horse riding trip, it can be a little hard to access El Cubano Natural Park. I didn't want to ride a sad and mistreated horse so I opted to cycle there. I easily found a bike shop where I could hire a bike for 5 CUC but the ride was hot and bumpy.

If you take this option during your Cuba itinerary, I would suggest following the horse riding groups until you come to a clearing and parking area. From there, you can take a very short and easy hike to the waterfalls after paying 5 CUC entrance fee.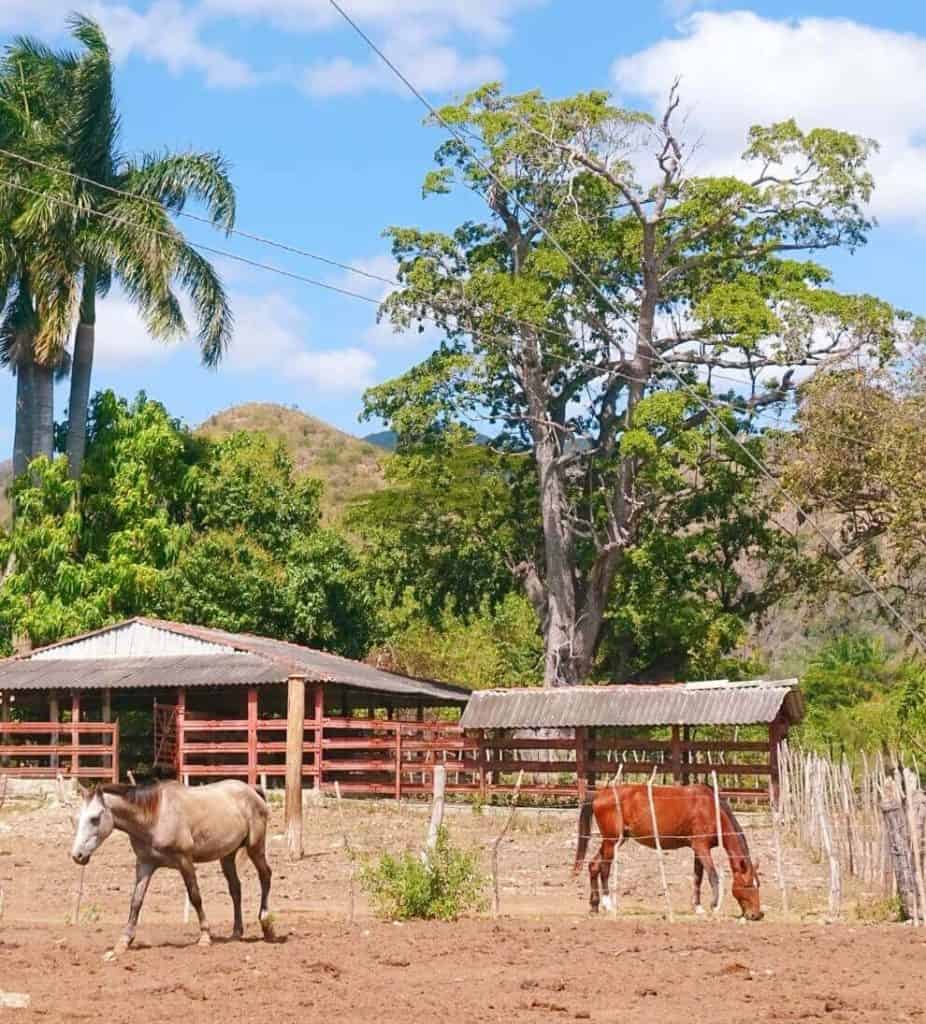 For me, the trip to El Cubano National Park was a half-day out. I arrived back in Trinidad for a late lunch and, after my pedalling and walking, I spent the afternoon drinking pina coladas and reading my book. Bliss!
Day 6 – Ancon Beach
After the busy Cuba itinerary you've had so far, a beach day is in order.

Ancon Beach is only a 15-minute drive from Trinidad so it's the perfect place to visit as a half or full-day trip. Taxis charge 10 CUC which I split between two others in the hostel but I hear there's also a 5 CUC local bus which you can take.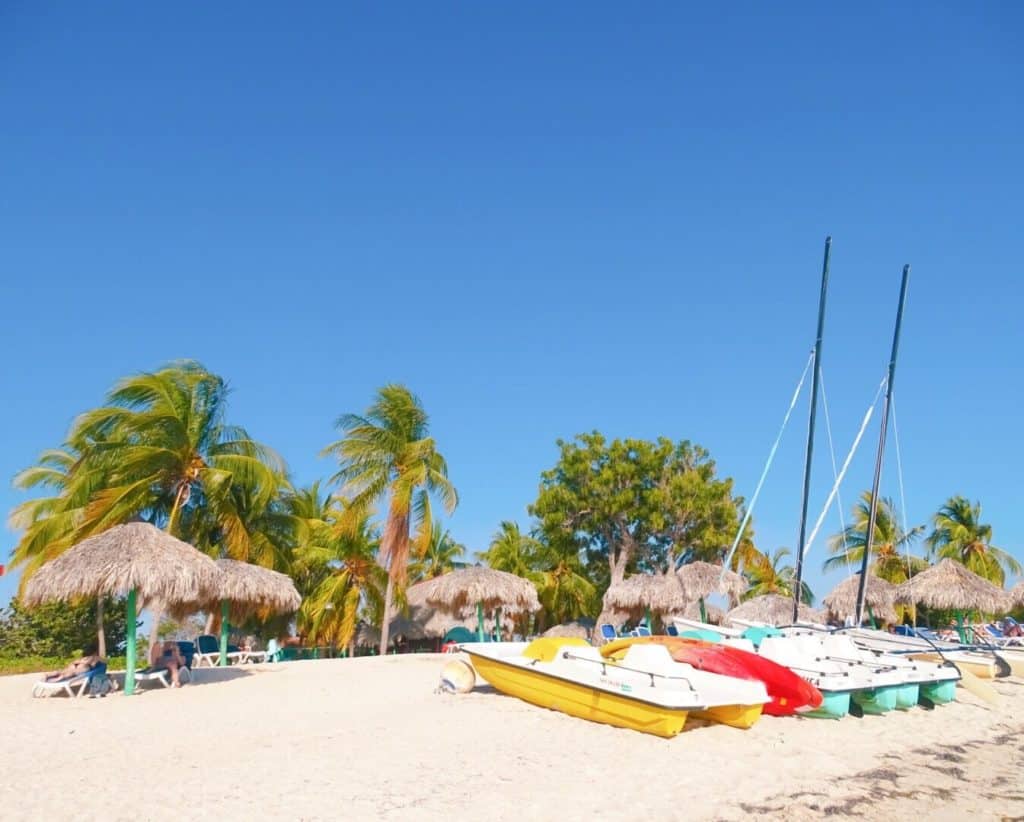 Ancon is a gorgeous beach with white sand and clear, refreshing water to swim in. While there are beach loungers you can pay for, it's easy to find shady spots to lounge in for free.

Sadly there was a lot of trash on the beach and I spent a long while collecting it and throwing it away. There are a few beach bars serving drinks in plastic cups so I would suggest bringing your own reusable cup and straw if you'll want mojitos on the beach (something I certainly did!).
Day 7 – head to Viñales
Now you've experienced busy Havana and charming Trinidad, you may want to escape the towns and cities altogether. Viñales is a must-visit region during any 10 day Cuba itinerary. The striking cliffs reminded me of China or Vietnam and totally didn't fit with my prior expectations of Cuba.
Read next: How to take a Viñales day trip from Havana
Getting from Trinidad to Viñales: This will be your longest travel day. Government taxis don't make the direct journey so you'll have to change in Havana. It will take 3.5 hours to reach Havana from Trinidad and a further 2.5 hours to get to Viñales.

You'll spend 60 CUC on both journeys (35 CUC from Trinidad to Havana and 25 CUC from Havana to Viñales) so make sure to budget for this.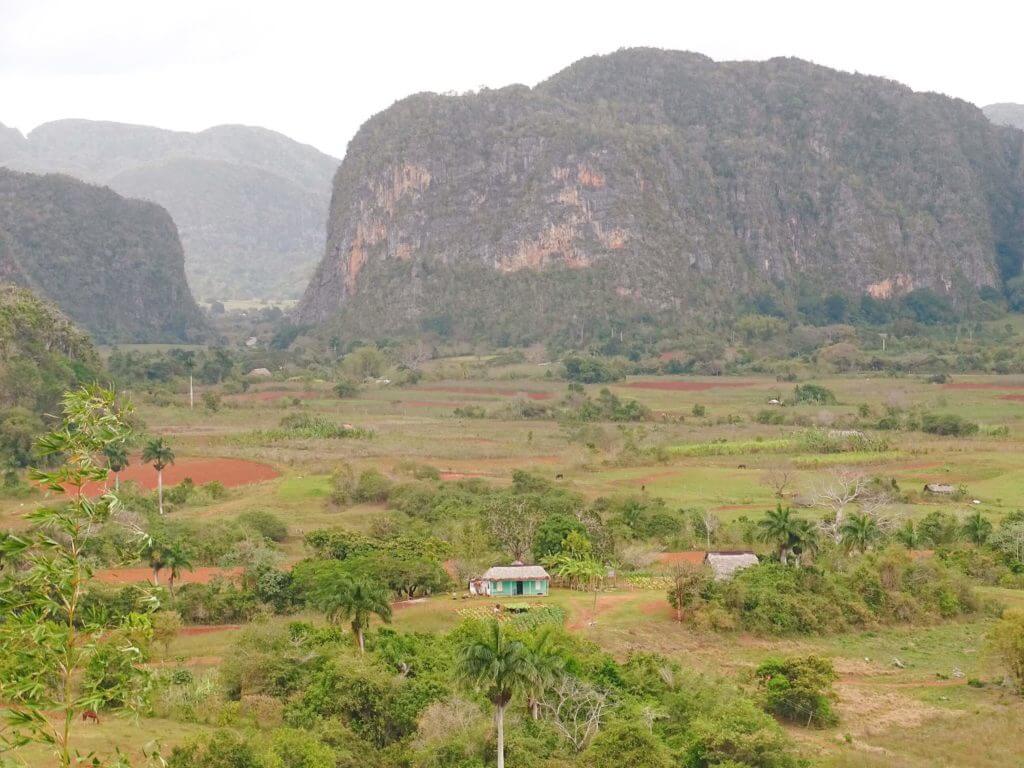 Alternative option
I actually chose to spend my last few days in Havana and visit Viñales as a day trip. I'm such a city girl so this was the right option for me, especially as a solo traveller who often gets bored in remote locations alone. But if you're travelling with someone else and love nature, you'll definitely want to spend a couple of nights in Viñales.
Day 8 – Explore Viñales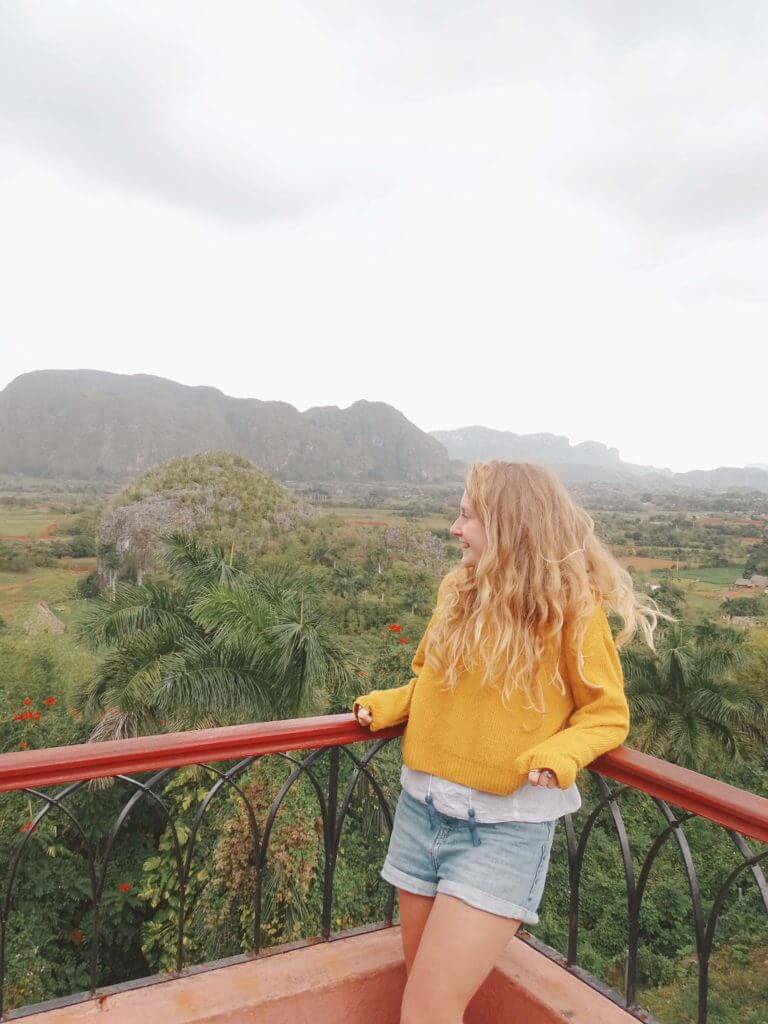 Located in the west of Cuba, the town of Viñales is an ideal base for exploring the countryside. There was a rare spell of bad weather during my visit but it only made the region mistier and more intriguing. I took a guided tour around Viñales but you can also explore this countryside region by bicycle if you don't mind a bit of workout.

Things to do in Viñales:
Visit a tobacco plantation and learn how famous Cuban cigars are made (and try one).
Cueva del Indio – walk through these awe-inspiring caves and catch a riverboat through the final section.
Mural de la Prehistoria – this enormous mural on a cliff face is apparently the second-largest in the world.
Visit Hotel Jazmines for the best viewpoint in town – you don't have to be staying here to visit, although you can buy a coffee at the onsite cafe.
Day 9 – Viñales or head back to Havana
This depends on the time of your flight. If it's early in the day, you may wish to journey back to Havana the day before. Countryside lovers may wish to spend day nine exploring Viñales in more depth, whereas I personally used the extra time to soak in Old Havana one last time.

Whichever option you choose, the return journey from Viñales to Havana will cost 25 CUC. Make sure to save enough cash for your journey to the airport which costs 25 CUC (per car not per person) from Havana.
Day 10 – head home 🙁
I had mixed feelings as I left. I'd had such an amazing 10 days in Cuba and learnt a lot about this fascinating country. On the other hand, I was excited to go online again and not haemorrhage money every time I needed to take a taxi. I also couldn't wait to eat delicious Mexican food again!
Thanks for reading my Cuba itinerary for 10 days!
Read my other Cuba posts:
See you next time for more adventures,
Rose
Ps. Liked this? Pin it for later!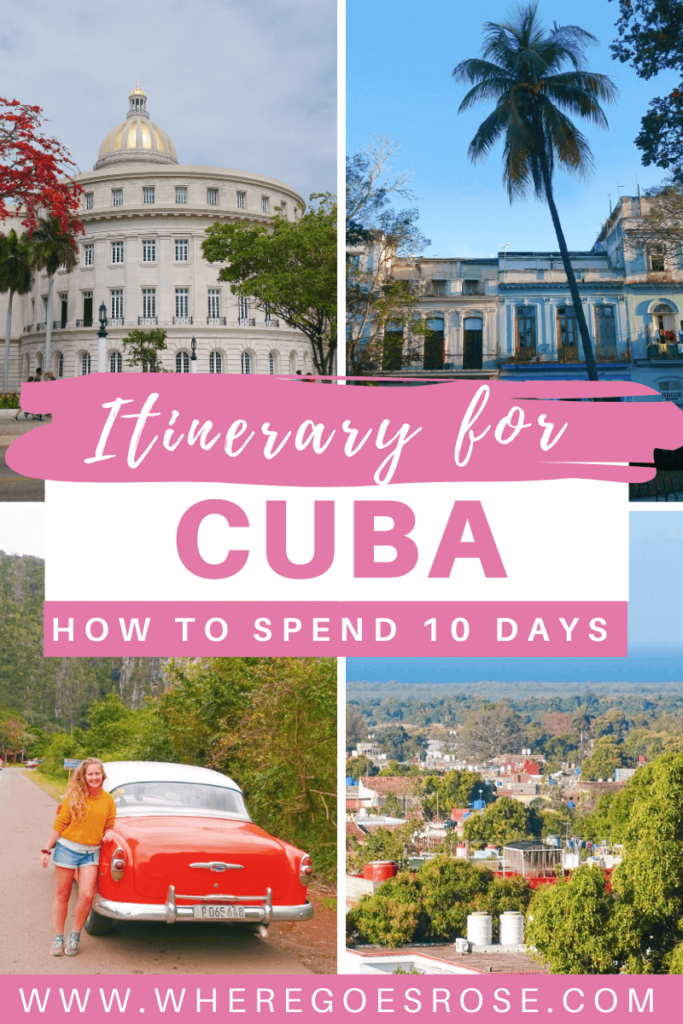 VISITING CUBA?
These are my trusted resources:

Getting there – I use Skyscanner to find the best-value flights, using the 'search by month' tool to find the cheapest dates. You can also use the 'to anywhere' feature if you're flexible on where you're going.

For apartments and private rooms, use Airbnb. For hotels, I recommend Booking.com.

For hostels, I use Hostelworld. Hostels in Cuba are the best places to meet other travellers.

Browse Cuba tours and activities on Airbnb Experiences and Urban Adventures.

Need to top up your Spanish? Pick up a Lonely Planet Latin American Spanish Phrasebook & Dictionary.

Pack the latest copy of Lonely Planet Cuba.

Need travel insurance? I use True Traveller (for UK & Europe residents) since it's affordable but covers everything you'd need including various activities, valuables and pre-existing conditions. Unlike some companies, they insure you if you're already travelling / don't yet have your flight home booked. Get a quote.

For travel insurance for other nationalities, I recommend Hey Mundo and for long-term digital nomad travellers, I suggest Safety Wing.

Check out my resources page for more travel discounts and tips from 10+ years of travel!