This post may contain affiliate links to things like tours, hotels, Amazon associates and products. These help me earn a small commission at no additional charge to you.
Hello and welcome to my Loch Ness travel guide!

Lord knows I planned my trip all wrong and learnt how to do it better for you guys!

Early this year, I travelled to Edinburgh to see a friend and decided to tag on a couple of extra destinations before heading home. I'm a city girl through and through but I really wanted to see the Scottish Highlands.

With limited time, I picked one of the country's most famous spots as my countryside excursion. I travelled to Loch Ness from Edinburgh and afterwards headed to Glasgow. What I saw around Loch Ness was a total contrast to both and I'm so glad I got to see a different side to Scotland.
What and where is Loch Ness?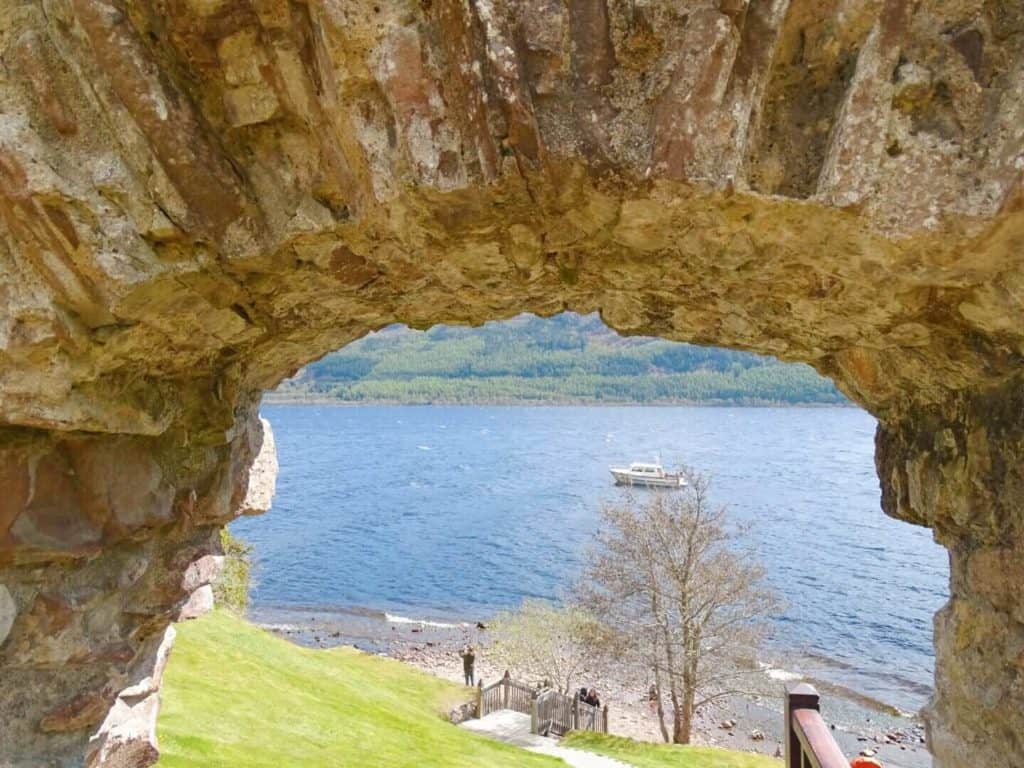 First up in my Loch Ness travel guide, where the heck actually is Loch Ness… and can it even be mentioned in a sentence without the word monster?

Loch Ness is the UK's biggest volume of water. It measures 23 miles in surface area which shockingly doesn't make it the biggest by area or the deepest, but it does make it double the volume of all the lakes in England and Wales combined. So basically, it's all about the volume. It's deep and murky down there and no one really knows what's at the bottom…

(Non-mysterious and boring practical edit: actually, they do. Countless teams have used high-quality equipment to scour Loch Ness but it's still fun to imagine, right?).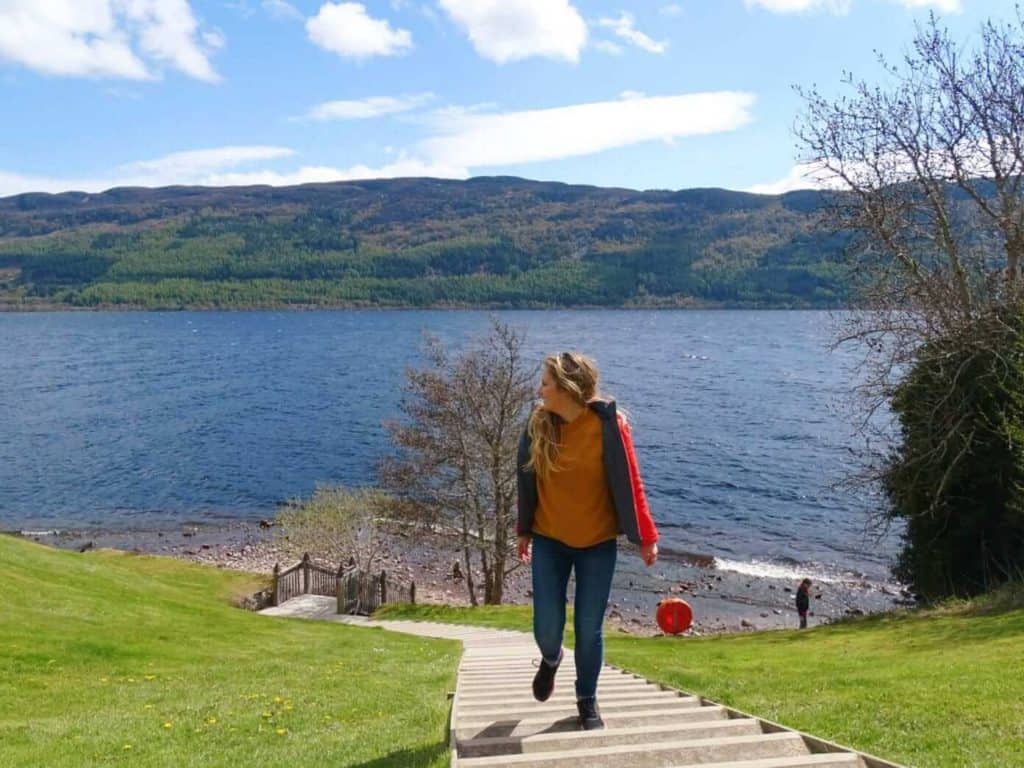 So, what's Loch Ness most famous for?
I'm sure you already know – Nessie AKA the Loch Ness Monster!

Guys, I'm sorry but after my visit, I'm not convinced. The famous surgeon's photo from 1934 catapulted Nessie to fame but sadly was proved to be a hoax. Saying that, some believe a monster has been referenced to since the year 565 when an ancient book told the tale of a man being killed in the Loch by a 'dragon or pre-historic animal'.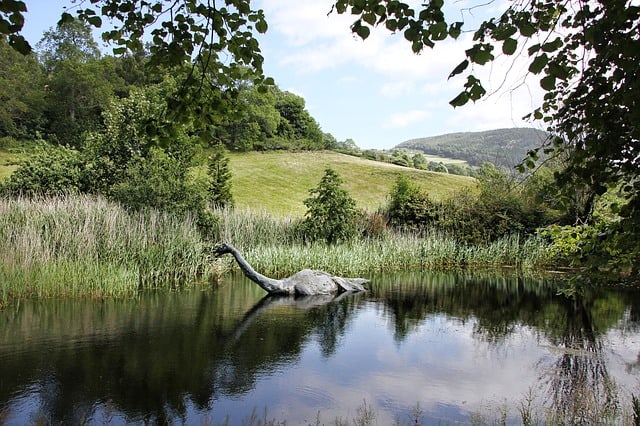 Despite all this, I can't believe she's down there with so many tourists visiting Loch Ness every day and not catching a glimpse. I still love the story, though. Doesn't everyone? I think there's a reason Loch Ness is the only Scottish loch most people can name.

Moving from monsters back to my Loch Ness travel guide…
Where to stay when visiting Loch Ness?
I'd recommend staying in Inverness which is only a 20-minute drive away. Loch Ness stretches all the way to Fort Augustus which is another popular destination, though far smaller and with fewer (and more expensive) accommodation options.

For that reason, I'd recommend staying over in Inverness when visiting Loch Ness. I stayed at Black Isle Backpackers which is a comfy, friendly base with bunks for £25 a night. There are plenty of hotels and guesthouses if that's more your scene.
How to get to Inverness?
The two cities that people most commonly travel to Inverness from are Glasgow and Edinburgh. Both are a similar distance from Inverness and will include a stunning drive, bus or train journey through Cairngorms National Park. I caught a Megabus from Edinburgh to Inverness for £14 and another one from Inverness to Glasgow for £11. Bargains!

Alternatively, you can fly into Inverness Airport which is a 20-minute journey from the city centre by car, taxi or bus (take the number 11).
How to get to Loch Ness from Inverness
Your options are to drive, take a tour or catch a bus (though this wasn't the most convenient option as I'll cover below). The journey takes about 20 minutes, though to travel on the Loch itself you'll need to catch a boat.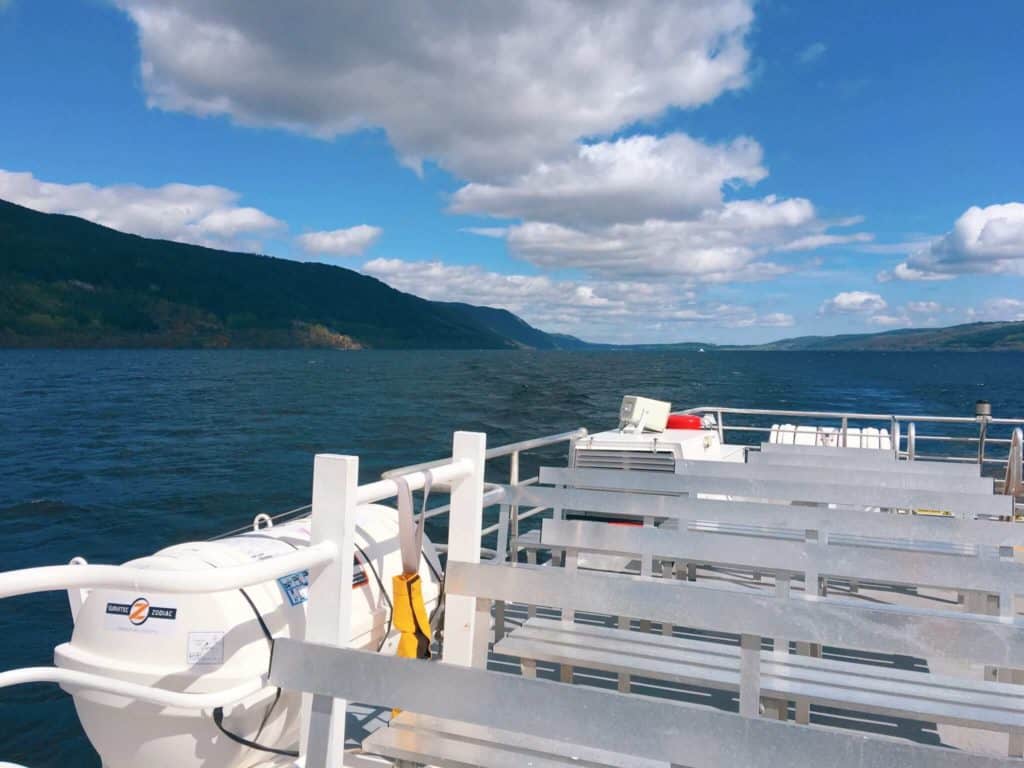 Loch Ness tour from Inverness
Without a car, this is your best option. This is the quickest and most convenient option. options include:

Best value tour: 1 day Loch Ness experience from Inverness

Best tour inc scenery: Loch Ness & Highlands tour

Ultimate tour: Loch Ness full day tour inc whisky and Outlander locations
Can you visit Loch Ness by public transport?
As I mentioned above, this Loch Ness travel guide was born from the fact I made my trip difficult for myself. I'm always travelling in the UK on a budget so I decided to try and save money on a tour.
There are two parts to the question of whether you can visit Loch Ness by public transport. Technically, yes you can because I did, but should you? Probably not! I looked up the bus times in an effort to save money on a tour. It all seemed easy but it didn't go to plan. Why?
I caught the 919 bus from Inverness to Loch Ness which turned out to be almost £10 for the shortest journey ever. Then, it transpired it didn't return for another four hours (we're not in London now, Rose!) and I had to catch the 304 bus back and pay for that, too. There was no bus stop by the Loch Ness Clansman Harbour meaning I had to stand on the main road and wave to flag it down and get home.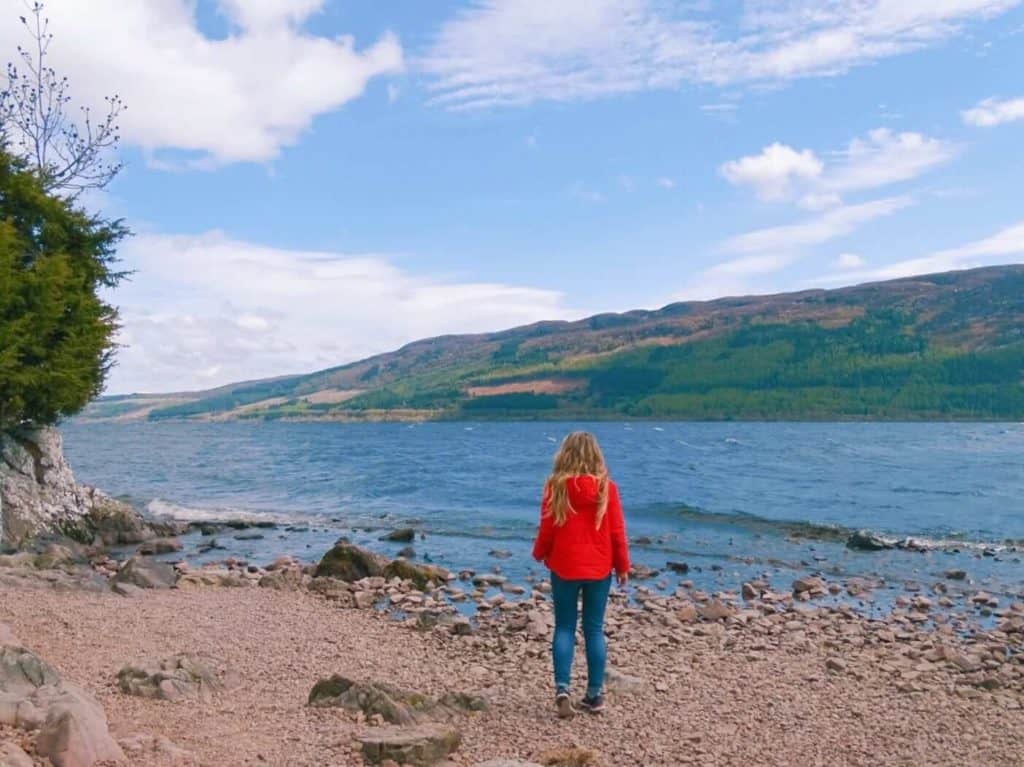 So, Inverness to Loch Ness by public transport is possible but it was a lot of hassle and didn't save me much money (if any) on the bus tour. However, there was one massive benefit in that I ended up with an entire Loch Ness cruise to myself because my trip didn't coincide with any bus tours arriving.

Hilarious! I was laughing as I cruised on a private 100-person vessel with no idea if I'd ever get home. Despite my fail, I do love an adventure.
What else to see nearby
I can't post a Loch Ness travel guide without mentioning Urquhart Castle! It's absolutely stunning and lies at the corner of Loch Ness. With over 1,000 years of history, it's a great attraction in its own right. Entrance is £9 or pick a cruise that includes a visit.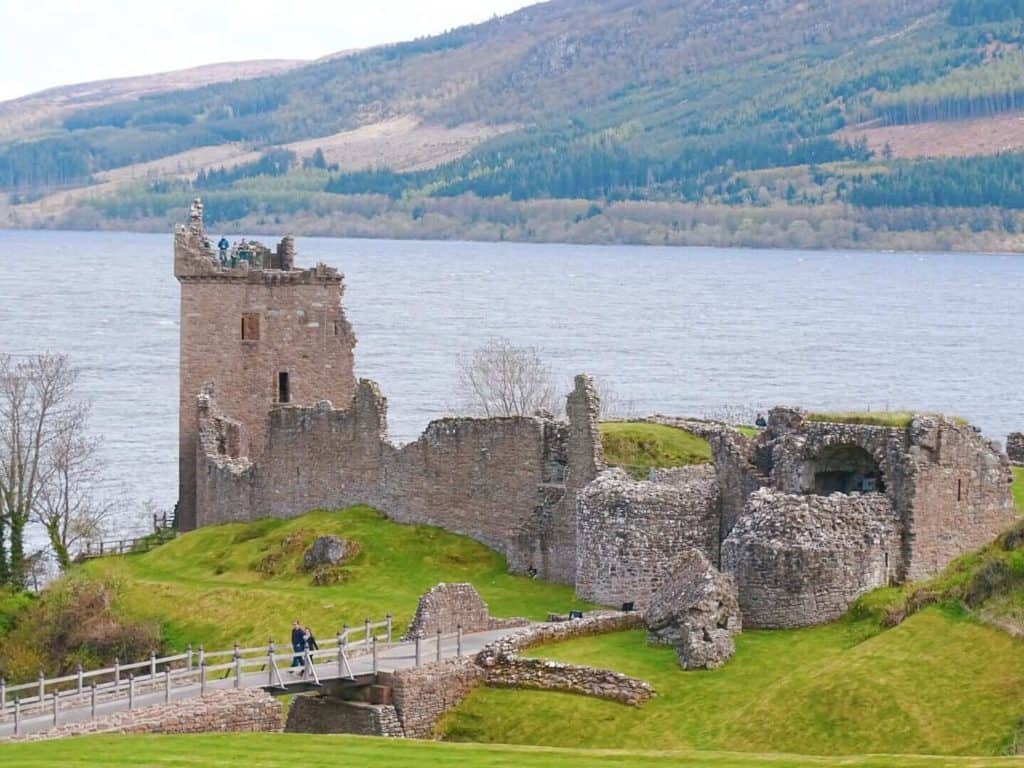 I had such an enjoyable and scenic day in the Highlands, even if visiting Loch Ness by public transport wasn't my best idea. I hope you enjoy Inverness, Loch Ness and Urquhart as much as I did!
Check out my reasons to visit Inverness including what to see, do and eat there.
Thanks for reading my Loch Ness travel guide
Check out my other Scotland posts:
See you next time for more adventures,
Rose
For more travel content, follow me on Instagram, Facebook, Twitter and YouTube.
Ps. Liked this Loch Ness travel guide? Pin it for later!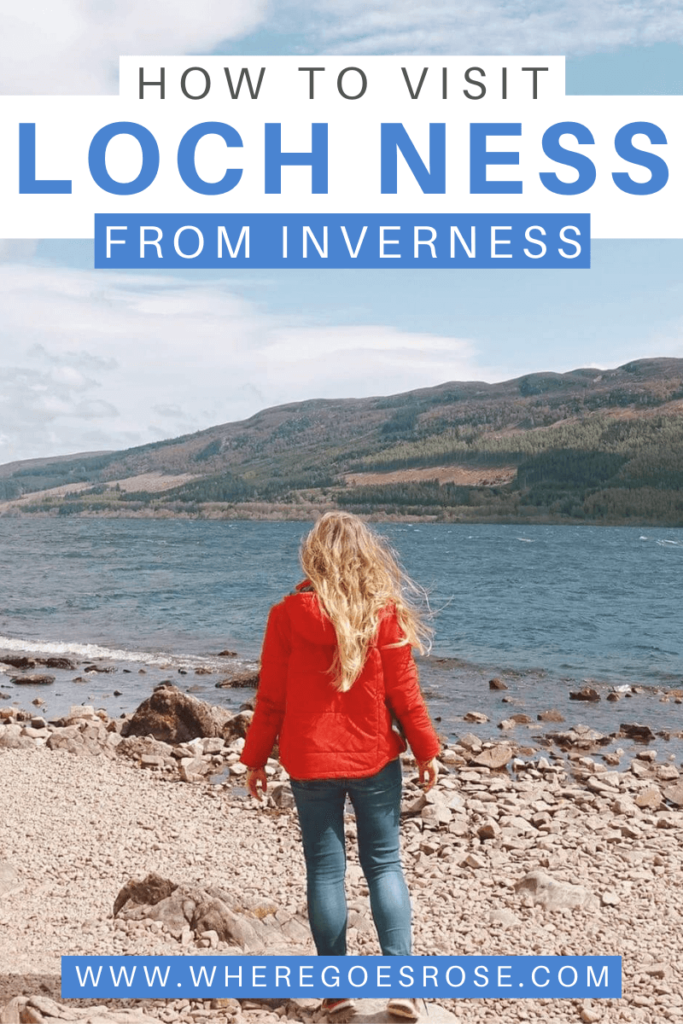 Visiting the UK? 

These are my trusted resources…

Guidebooks – LP always get my seal of approval. Use the latest copy of Lonely Planet Scotland / Lonely Planet Great Britain.

Flights (international and domestic): I use Skyscanner to find the best-value flights, using the 'search by month' tool to find the cheapest dates. You can also use the 'to anywhere' feature if you're flexible on where you're going.

Car hire – use Rentalcars.com to compare car rentals and campers in the UK (and all around the world).

For UK trains, I use Trainline. The search feature allows you to compare prices, and they show live departure times on the website.

For buses, I use Busbud. It's the only site that compares UK coaches and buses. Find London to Manchester journeys for £1! 

Use Omio to compare trains and buses in one search. It's so handy.

For hotels and self-catering apartments, I use Booking.com. You can filter by review score and price to find the best-rated budget places. For hostels, I use Hostelworld.com.

To save money on accommodation, I use Trusted Housesitters, a website that connects homeowners going away and travellers who can sit their homes & pets.

I use GetYourGuide for tours & activities when I don't want to travel solo. The guides are knowledgeable and you can't beat the prices. I also check Viator as they often have fun and unique offerings.

For food tours pairing travellers with passionate local chefs and foodies, check out EatWith.

Need travel insurance? I use True Traveller (for UK & Europe residents) since it's affordable but covers everything you'd need including various activities, valuables and pre-existing conditions. Unlike some companies, they insure you if you're already travelling / don't yet have your flight home booked. Get a quote.

For travel insurance for other nationalities, I recommend Hey Mundo and for long-term digital nomad travellers, I suggest Safety Wing.

Check out my resources page for more travel discounts and budget tips from my 10+ years on the road!