This post may contain affiliate links to things like tours, hotels, Amazon associates and products. These help me earn a small commission at no additional charge to you.
Sometimes I write blogs I'm not sure are 100% needed – there are a LOT of Sydney brunch blogs on the internet!

Still, I love to write about what I do and eat. I spent two weeks in Sydney and ate a few brunches that deserve to be shared with the world (or my readers at least!). I'd have probably sampled even more if I hadn't been travelling a Western country while earning a not-so Western wage.
Best brunch and coffee in Sydney
Hopefully if I spend more time in Australia next year I'll add to this blog as I dive deeper into the Sydney brunch scene. These are the ones I'd recommend so far…
Two Good Eggs Cafe, Surry Hills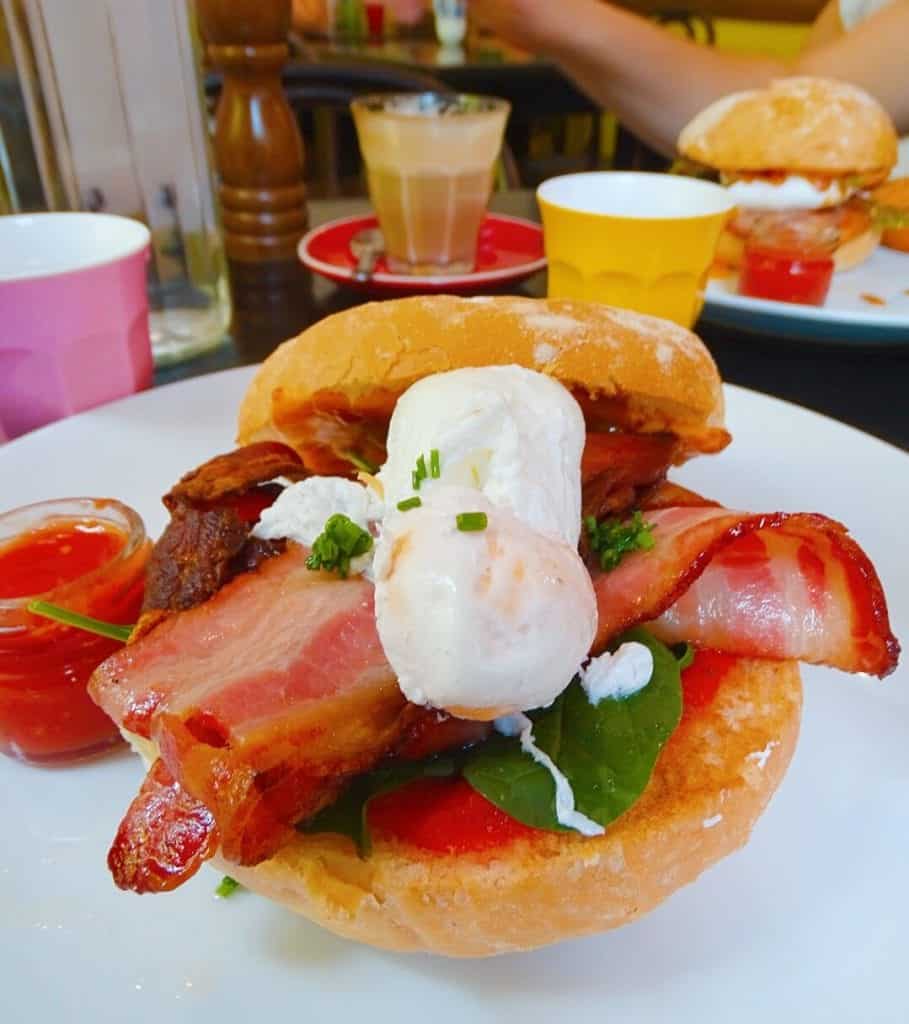 I think this might be my favourite Sydney brunch overall. Two Good Eggs Cafe saved my life on a hangover as we headed for the Bondi to Coogee beach walk. The oozy egg and bacon burger sorted me out in seconds!

The coffee was great and the prices reasonable for Sydney ($16 for a breakfast burger and flat white). The bright and friendly cafe is centrally located on Goulburn Street, just off Oxford Street.

My only complaint was that it was an extra $2 to add cheese which turned out to be a thin slice of the supermarket plastic variety. A chunk of cheddar is surely fair!
Ampersand Cafe and Book Shop, Paddington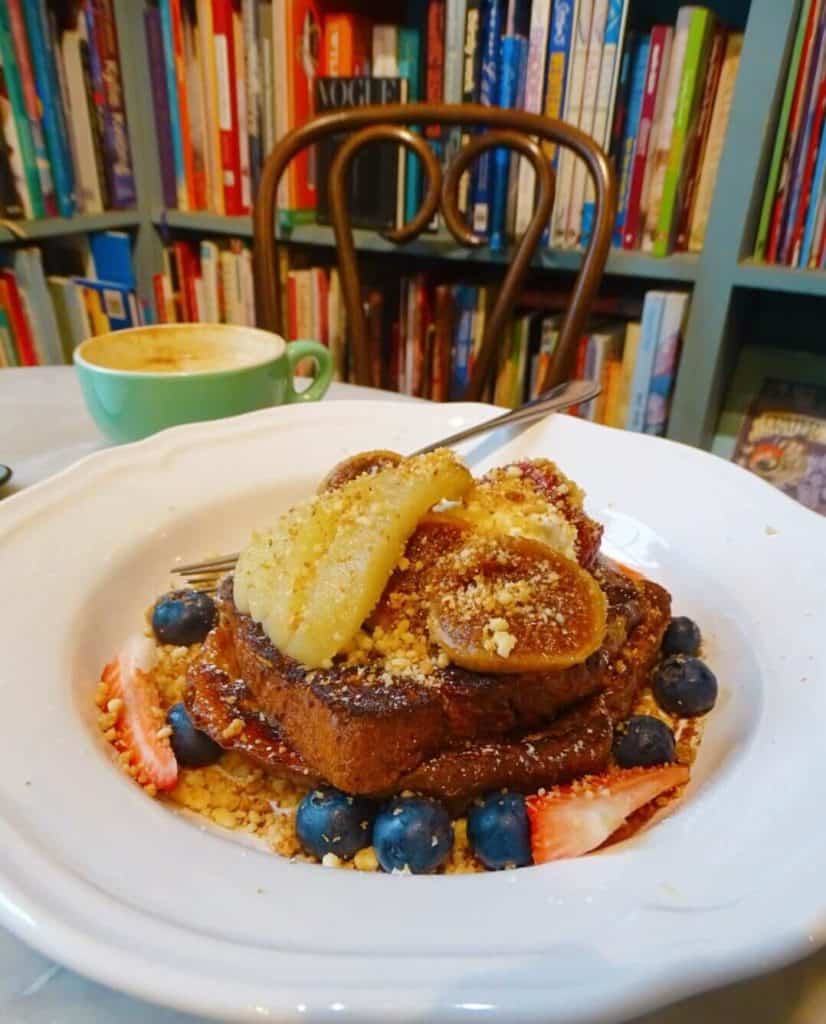 The food at Ampersand is so delicious and goes that extra mile when it comes to interesting, elegant dishes. The best bit for me was the surroundings: it's not only a cafe but a bookshop where you can sit and read the books for long as you want.

The ground floor of the cafe is busy and social but the basement is a real hidden hideaway – had I not had work to do I could have stayed all day. Ampersand doubles up as peaceful co-working cafe for freelancers.

Best dish – the French toast with poached pear, figs, strawberries, blueberries and syrup. Very sweet but SO good! Not bad for $20 including a coffee.
The Nectar Coffee House, Ultimo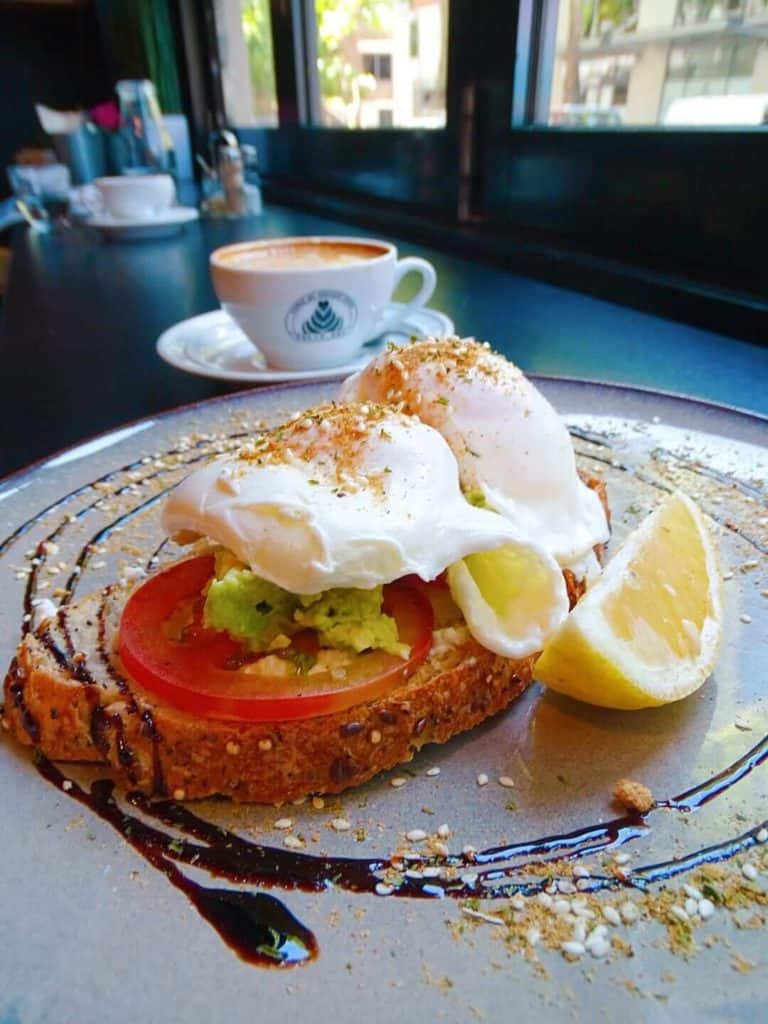 One of the longest brunch menus in Sydney has to be at The Nectar, a chilled-out cafe in Ultimo. I discovered it by staying at the Airbnb above it and I'm glad I did – it's so affordable for such a central location.

I went with the healthy brunch: poached eggs, avocado, tomato and ricotta on brown bread with a coffee for just $15. Despite the fact people say Sydney is expensive compared to the UK, I really disagree when I see prices like this.

If you just want avocado toast on a weekday, you can pair it with coffee for just $9. On weekdays they serve $3 burgers. I didn't try them myself, but you just can't argue with those prices.

The matcha pancakes with fruit and syrup look amazing. I need to go back to try them!
Elbow Room Espresso, Chatswood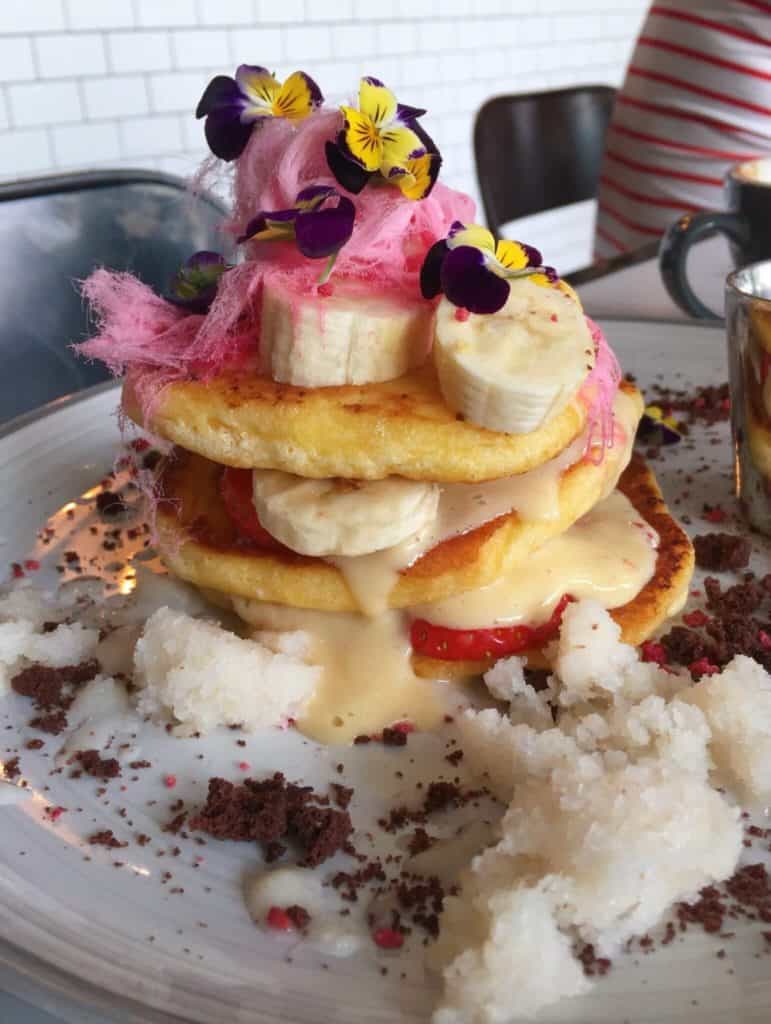 Chatswood may be a little far from central Sydney but if you're in the area, swing by this cosy brunch bar.

I had pancakes with vanilla syrup, strawberries, edible flowers and pink candy floss, obviously made with social media in mind but who's complaining?

Elbow Room Espresso serve a few other creative brunch dishes like shakshuka and Mexican breakfast burritos.
Hoochie Mama Cafe, Newtown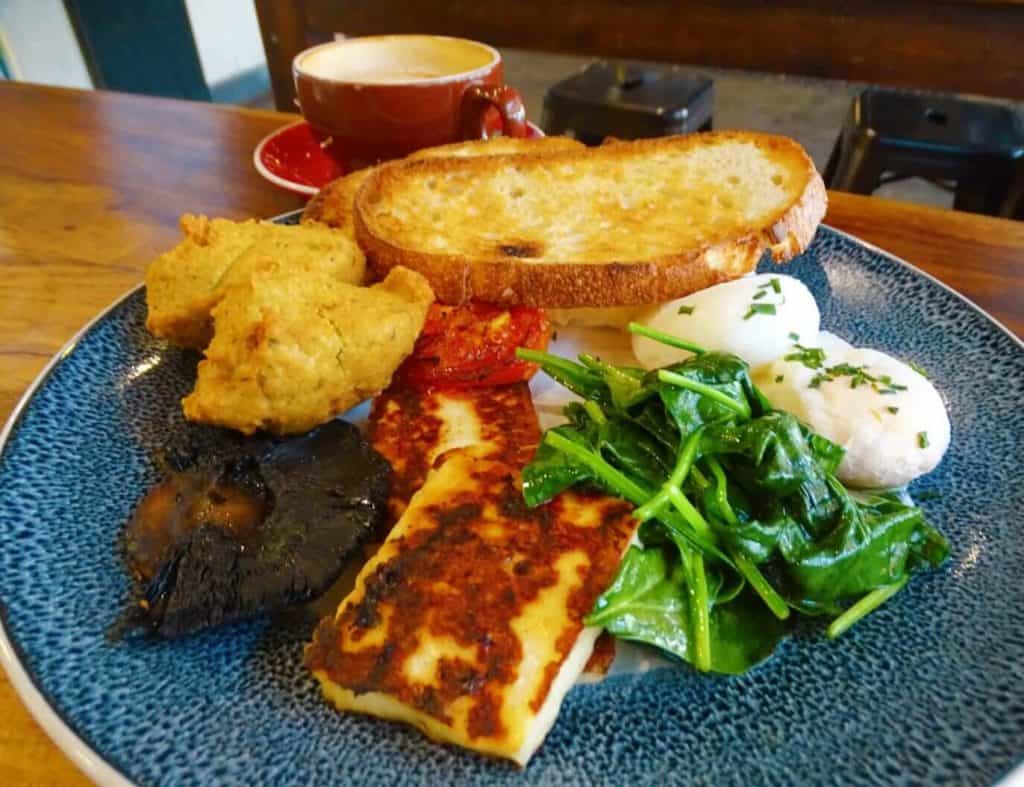 For a substantial (and relatively healthy) brunch in a stylish area of Sydney, get to Newtown. If you don't know the Sydney neighbourhoods yet, this part of town is fashionable and hipster-friendly with lots of artisan coffee shops and cool street art.
Hoochie Mama Cafe is spacious with plenty of great breakfast, brunch and lunch options. I happily co-worked there for a few hours but there were also groups, families and friends – it seems to suit all purposes.

I paid $22 for coffee and a giant veggie breakfast with sourdough toast, halloumi, spinach, mushrooms, eggs, tomatoes and chickpea patties. Seriously yum and guilt-free.
Campos Coffee, Newtown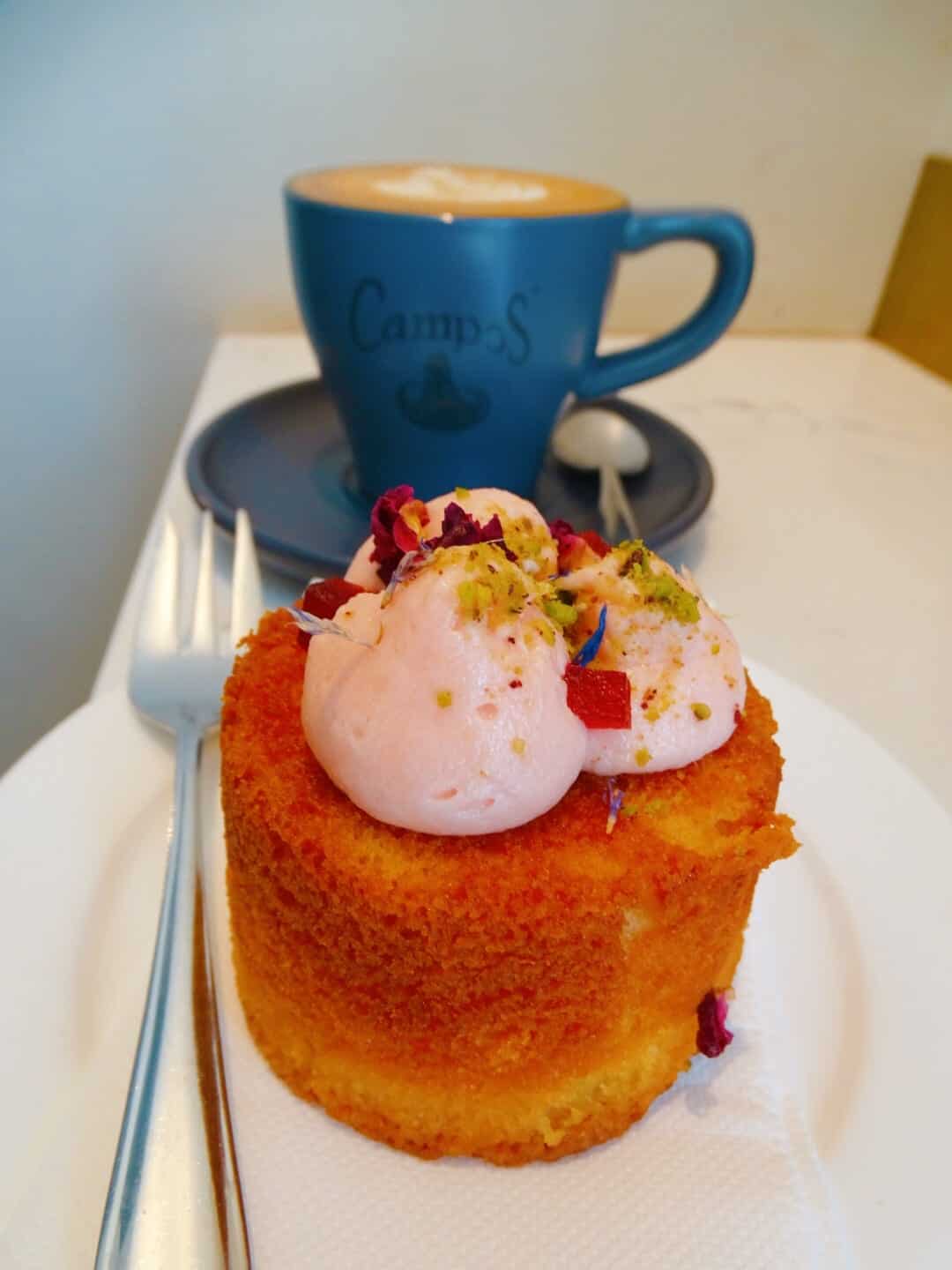 Throwing in a much-needed spot of cake into this Sydney brunch and coffee guide, enter Campos Coffee. You'll find a few of these cafes around Sydney but I ate at the Newtown branch not far from Hoochie Mama Cafe. The cupcakes topped with rose icing, pistachio and delicate flowers were definitely extra!

Campos are renowned for their coffee and I can't deny it was fantastic. I'm guessing they see themselves as a social cafe rather than a co-working one as they don't have Wi-Fi. Fair enough, but it didn't stop me hotspotting my laptop and working at the coffee bar – this gal's got deadlines.
A couple of coffees to start or end Sydney's hikes…
Sydney is an amazing place for brunch and coffee but it's also a city where you can experience the great outdoors. Want to sample both? There's nothing I enjoy more than sipping coffee knowing I'm about to go on an adventure…
Barefoot Coffee Traders, Manly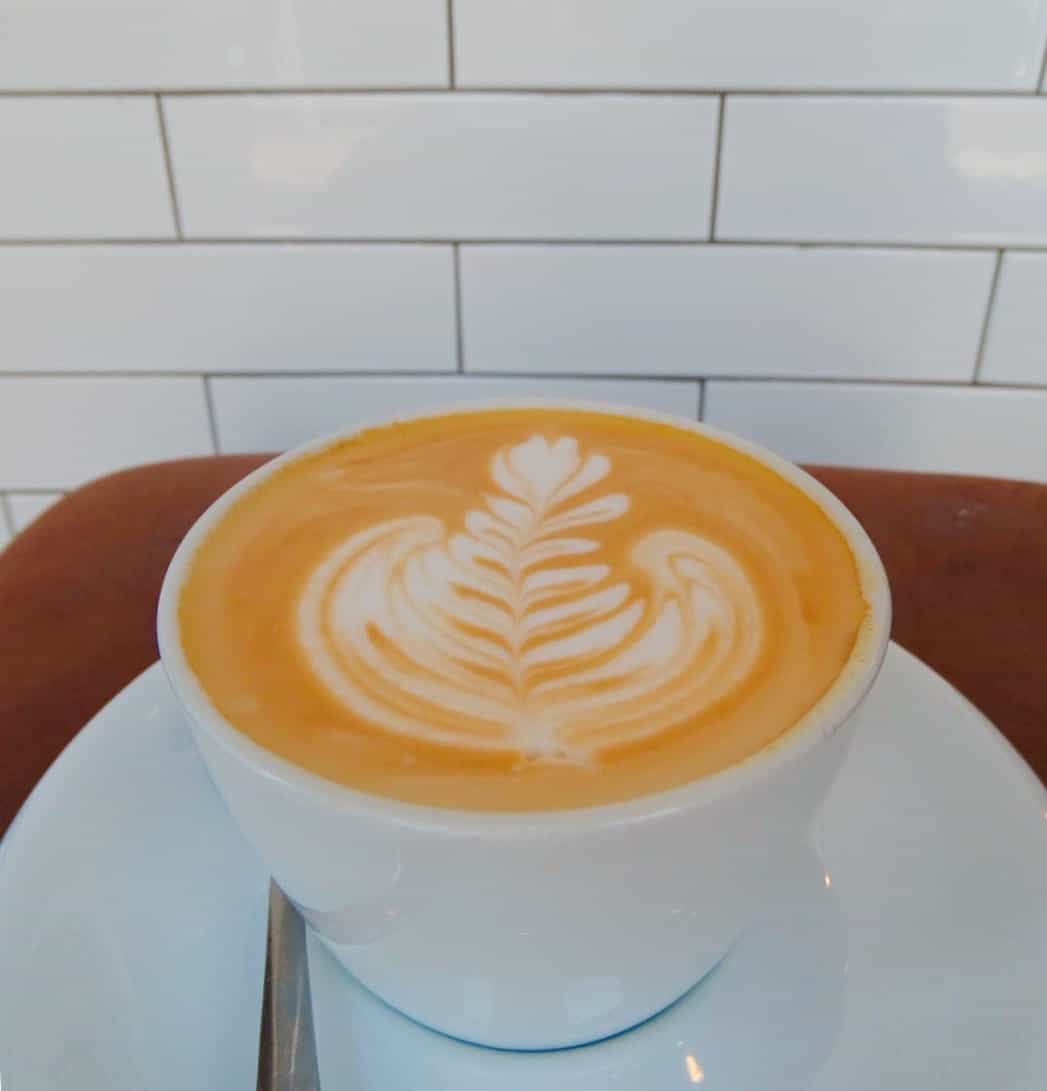 Barefoot Coffee Traders is where you'll get quality coffee for $3.5 as well as very indulgent hot chocolates and breakfast waffles. It's a simple menu but often the best are.

The airy open-fronted cafe is a good place to watch the world go by, plus it's just a moment's walk from the start of the Manly to Spit Bridge walk. Fuel up once you get off the Sydney-Manly ferry.
Tide Cafe, Rose Bay (NOW CLOSED)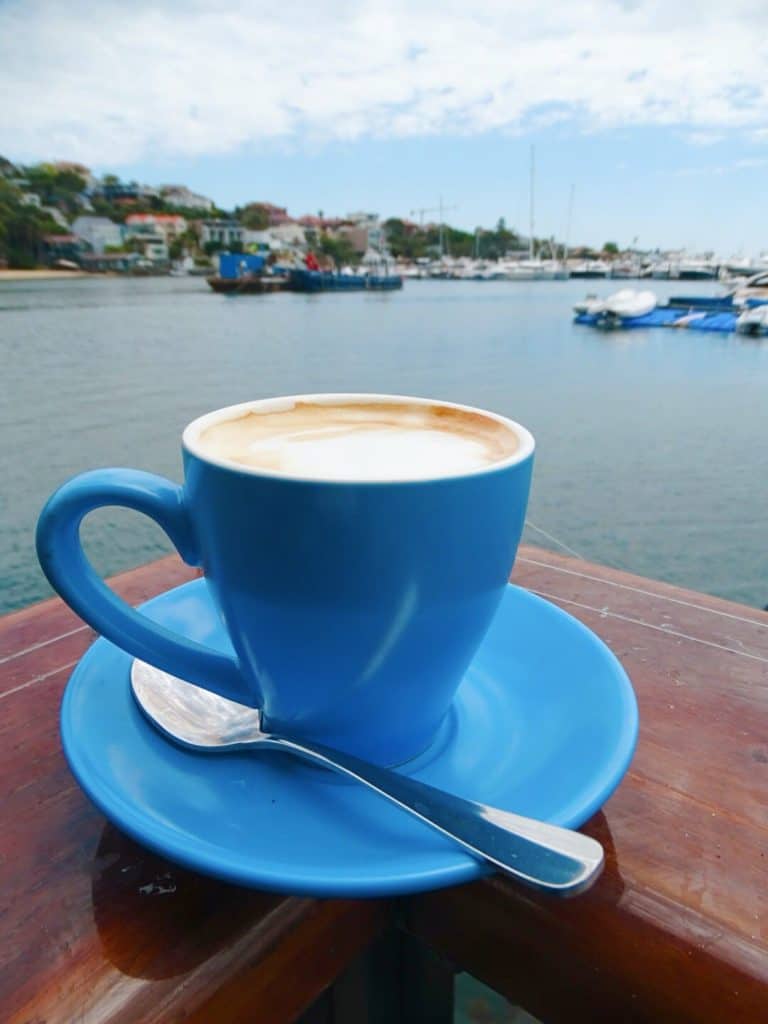 For a stunning setting for your morning coffee, it really doesn't get much better than Tide Cafe.

At the end of a small harbour just across from Rose Bay, this small coffee shop is tucked away from the crowds. The seating is all outside which is perfect for looking out over the pretty bay and peaceful beaches.

The brunch dishes looked good but I just sipped a flat white and prepped for my hike from Rose Bay to Watson's Bay. Beware of seagulls trying to steal your food!
Thanks for reading my Sydney brunch and coffee guide!
Check out my other Sydney posts:
See you next time for more adventures,
Rose
Ps. Liked my Sydney brunch and coffee blog? Pin it for later!