This post may contain affiliate links to things like tours, hotels, Amazon associates and products. These help me earn a small commission at no additional charge to you.
If you're a pet parent planning a holiday or an animal lover who adores exploring new places, then a pet sitting website can seem too good to be true, no matter how good the TrustedHousesitters reviews are.

But if you want to save money on accommodation while travelling on a budget, or ensure your pet is looked after when you go away, then TrustedHousesitters can be a realistic – and perfect – solution.

As an experienced pet sitter who's now looked after beloved pets in four different countries, I'm used to the surprised looks on friends' faces when they ask: 'Strangers really let you stay in their houses… for free?!'
Well, yes. That's precisely what they do!

But is TrustedHousesitters legit? And is it worth it?

Well, let's start by saying that, by using TrustedHousesitters, I've been fortunate to stay in some beautiful places. My recent pet sits have included a 16-century Tudor cottage in rural England, a townhouse in historic York, and a listed stone building within the Yorkshire woodland. Further afield, I spent a month in a Bali villa and stayed near the beach in Gold Coast, Australia.
Read next: the cost of UK budget travel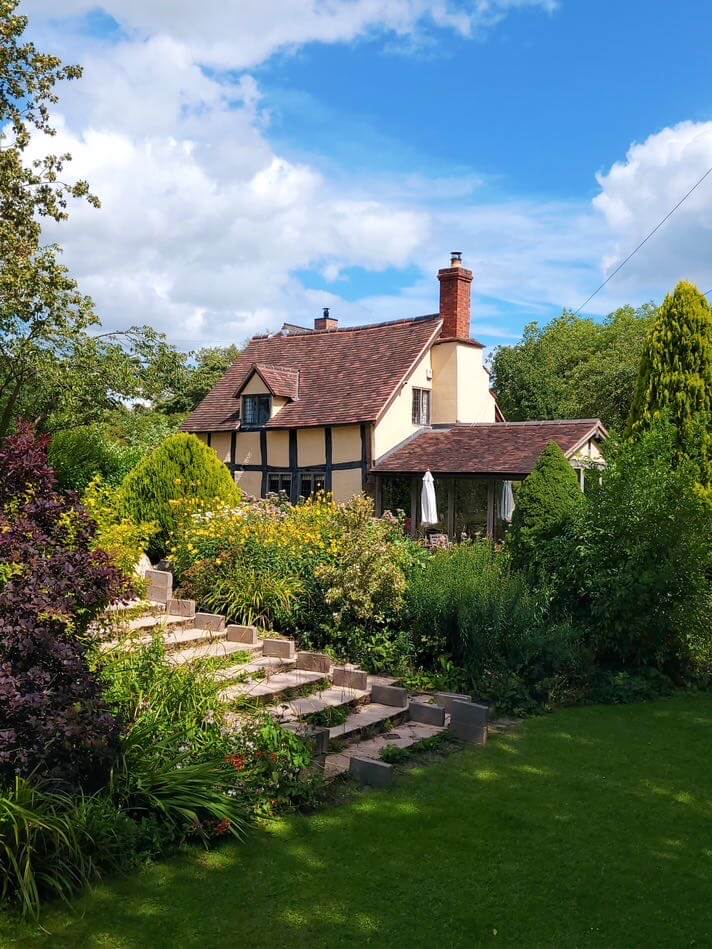 In return, I've given some wonderful pets lots of love and attention while their owners have been away – without any money exchanging hands.

After experiencing the highs (and occasional lows) of pet sitting, today I'm here to share my review of TrustedHousesitters so you know exactly what to expect. In this post, I'll walk you through the basics of how TrustedHousesitters works before giving you my honest thoughts about the service.
Looking to save money on accommodation? See my Worldpackers vs. Workaway volunteer platform comparison
How does TrustedHousesitters work?
TrustedHousesitters works as an exchange between two parties. Firstly, the pet sitter will take care of a homeowner's beloved pets and home while they're away. In exchange, the homeowner will allow the pet sitter to stay in their home – for free – during their trip.

The party in the middle of this – the pets – benefit most of all, as they get to stay in familiar surroundings and keep up their usual routines while their family take a trip.

Finding a pet sitter or pet sit using TrustedHousesitters is easy!
On the TrustedHousesitters homepage, click on 'search for homes to sit' or 'find a pet sitter.'
Browse for free to check if TrustedHousesitters is worth it based on the availability of sits or pet sitters in your region
Next, sign up to make your profile.
Use my discount link to save on your TrustedHousesitters annual plan.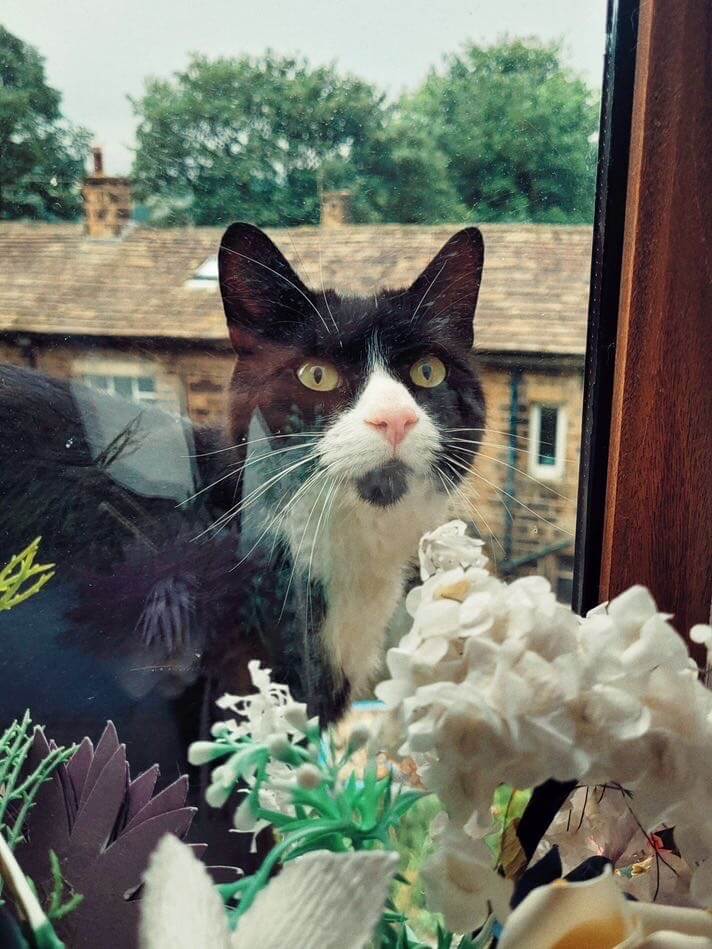 Making your profile
When making your profile, follow the TrustedHousesitters prompts and be as thorough as possible, as this helps add trust. To make TrustedHousesitters worth it, you need to make a great profile!
Pet sitters should list their experience with animals and pet sitting, verify their identity, and add photos and information about their lifestyle. Make it clear why someone should trust you with their pets.
If you're a homeowner, write about your property, location and pets. Why would someone be interested in looking after your home? What makes your place unique? What routine do your pets usually follow? Add clear photos so pet sitters know what to expect when they arrive at your house.
Searching for sits
Once your profile is set up, you can search for homes or pet sitters!
Pet sitters can use the search tools to find pet sits within specific regions and dates, and contact homeowners about house sits they're interested in. You can also filter your search by duration of stay, specific animals (perhaps you only want to look after dogs, but not cats, for example), and if a car is required.
If you're a homeowner, you can wait for pet sitters to apply to your sit dates, or search for pet sitters and message people directly.
As part of this TrustedHousesitters review, I can confirm the search features and filters work brilliantly.
Once you've made contact and found a fantastic home or pet sitter, it's best to set up a voice or video call to get to know each other better.

If it's the right fit, confirm your dates with them! And voila, your trip is confirmed.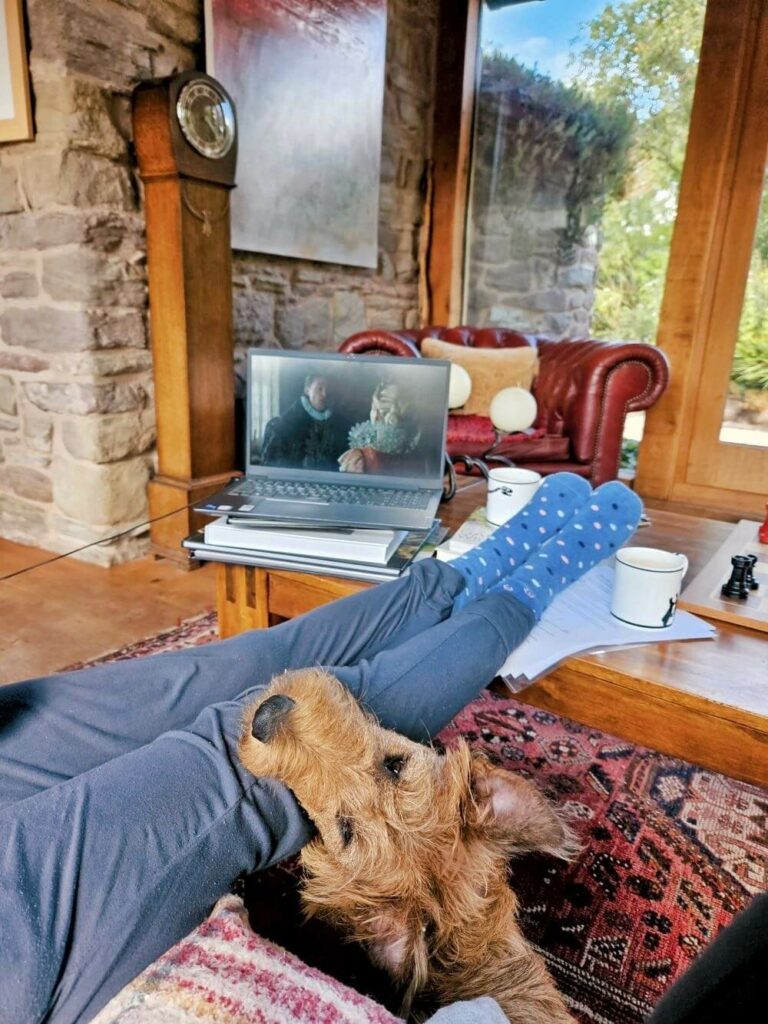 What do pet sitters actually do?
As a pet sitter, I do more than just care for someone's pets. In fact, maintaining good communication with their owners is an integral part of pet sitting. Here's what an average pet sit looks like…
Before a pet sit
Once I've found a perfect listing on TrustedHousesitters, had a phone call with a homeowner and finally confirmed a new sit, then I need to work out the logistics: booking train travel, arranging any awkward 'in-between accommodations,' and reorganising my work schedule so that I don't end up with any huge deadlines on travel days. And packing my bags, of course!
Arriving at a pet sit
Although I get a little nervous before arriving, every pet parent I've met has been lovely! I've made some fantastic connections and still speak to a couple of them months later!

On the first day of a sit, the pet parents show me around their home and garden, introduce me to their pet and give clear instructions on where everything is. Most homeowners also provide a detailed welcome manual with clear instructions on everything their pet needs, alongside general helpful information about their home and area.

You'll also get the keys… and the Wi-Fi password!

Usually, during a sit, you are welcome to use everyday things within the home, such as their Netflix account, herbs and spices in the kitchen, or pick veggies from the garden! But obviously, only do this within reason – don't go taking bottles from their wine cupboard! This may lead to a poor TrustedHousesitters review for you. I always check what I can and can't use in advance.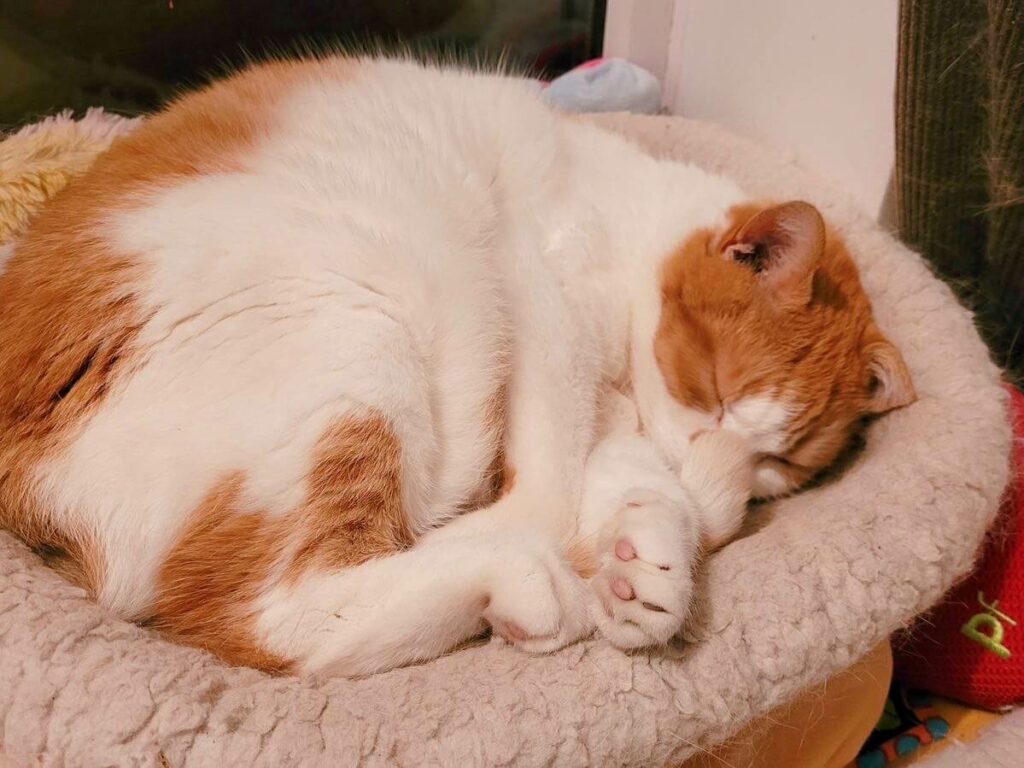 During a pet sit
Most importantly, I keep up with the animals' daily routines: food, walks, play, medications and cuddles! Sometimes, I look after sick, old or recently rescued animals needing care and attention. On other sits, the pets have been super low-maintenance and independent. Getting to know the animals is always the best and most rewarding part of any sit!

I also send regular updates to the owners on how their pet is doing. When I'm not sure what to say, I will send a cute photo! I'll also keep the home tidy, collect parcels, water plants and put the bins out when needed, alongside any other general tasks that need doing. It can be a lot of work but I honestly believe using TrustedHousesitters is worth it!

As a remote worker, the biggest challenge is finding a good work routine after arriving in an unfamiliar place. If I have time and depending on how long the pets can be left alone, I will explore the local area sometime during my stay.
Before leaving a pet sit: Although I try to keep the home clean and tidy throughout my stay, the last day always involves a deeper clean. Once I've packed my things, I ensure everything looks the same as when the owners left.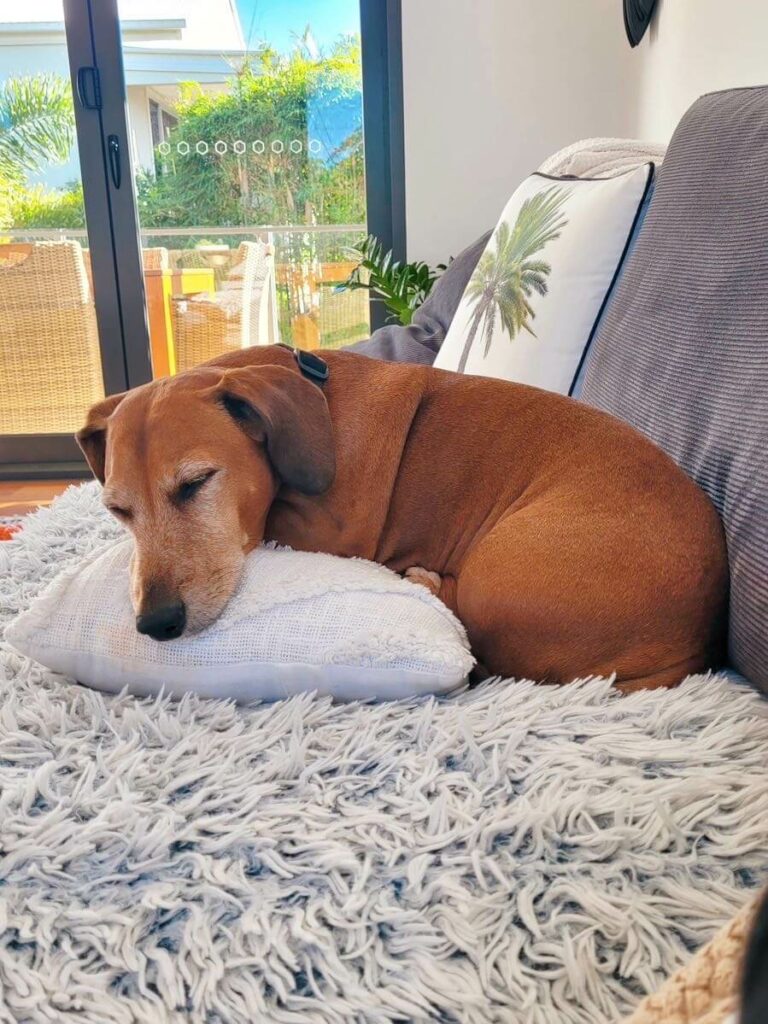 If I remember, I'll leave a thank you note on the fridge… but if not, an appreciative 'thank you' email once I've left seems just as welcome. I also let the homeowners know any vital information for their return, such as if their dog needs another walk that day or if I broke a glass during my stay. (Oops. That did happen recently, but thankfully, the owners didn't mind!)

And, finally, I'll say goodbye to the pets before I go. This is always the most challenging part and I often feel a tiny bit heartbroken as we have our final farewell cuddle.
After leaving a sit
Usually, leaving a sit is hectic as I'm travelling to my next location. At my next sit, there's a whole new set of instructions to follow and a new, unique animal to get to know. So it's usually full speed ahead and on to the next destination!
How much does TrustedHousesitters cost?
The only TrustedHousesitters membership type available is an annual membership, which comes with three different options: basic, standard and premium.

You'll be fine with the basic membership type if you just want to find and confirm sits and sitters. However, you might prefer the standard option if you want further reassurance like cancellation and content insurance.

Check out the table below to see which membership type will work best for you. After reading this TrustedHousesitters review, you can decide whether it's worth the below costs…
Membership type
Sitter
Homeowner
Combined (to both sit and find sitters)
Basic
£99 / US$129

Includes: Find unlimited pet sits all over the world, free background check if you're based in the USA, alerts on saved searches.
£99 / US$129

Includes: Find pet sitters for an unlimited number of trips.
£149 / US$189
Standard
£129 / US$199

Includes the above plus:

Free video calls with vets,
third-party and accident liability coverage.
£129 / US$199

Includes the above plus:

Content protection up to $1 mil, free video calls with vets, boost your listing, see who has saved your listing.
£179 / US$229
Premium
£199 / US $259

Includes the above plus:

Two global airport lounge passes, sit cancellation insurance up to $1500 per trip.
£199 / US $259

Includes the above plus:

Two global airport lounge passes, sitter cancellation insurance up to $1500 per trip.
£249 / US$319
I use the basic tier as a full-time sitter. When travelling abroad, I also arrange separate travel insurance (I use True Traveller available to European travellers, but I can also vouch for Hey Mundo for all nationalities and Safety Wing long-term digital nomad travellers).

Aside from the membership fee, no other money exchanges hands when you use the site. In a world full of payments, invoices and formal contracts, it can feel rewarding to partake in a free exchange. I can vouch for the fact that TrustedHousesitters is legit and trustworthy.

However, if you're a homeowner, please ensure you have left enough pet food, alongside plans for an emergency fund in case your animal needs the vet while you're away!

So now you know the costs of signing up, let's delve into how TrustedHousesitters works and answer the question, is TrustedHousesitters worth it?
Who should use TrustedHousesitters?
TrustedHousesitters is like Bumble for pet sitters and homeowners… but way cuter! The site is filled with dozens of cute animal photos, so you don't have to worry about anyone judging your profile photo!

That said, you need to be serious about pet sitting in order to find a 'match.' If you only want to sign up for free accommodation while travelling and don't enjoy the company of animals, then a homeowner is unlikely to see you as their 'dream pet sitter.'

You might be a great match for TrustedHousesitters if you are…
Animal lovers who love to explore
Although the free accommodation that comes with pet sitting is a bonus, ideally, it's not the only reason why you want to try house sitting. At the end of the day, pet sitting involves providing a service of sorts. I love knowing I'm helping pet parents enjoy a carefree holiday while I enjoy some delightful animal company.

So, hopefully, at least part of why you're signing up for TrustedHousesitters is because you value helping others – both animals and humans!
Remote workers
As an animal lover who also works remotely, pet sitting is perfect for me. Since I work from home, the pets will get loads of attention, and I get some excellent office company.

On that note, TrustedHousesitters is worth it for solo travelling remote workers. You'll no longer have to pay double for decent accommodation (booooo), plus you'll get some excellent fluffy company.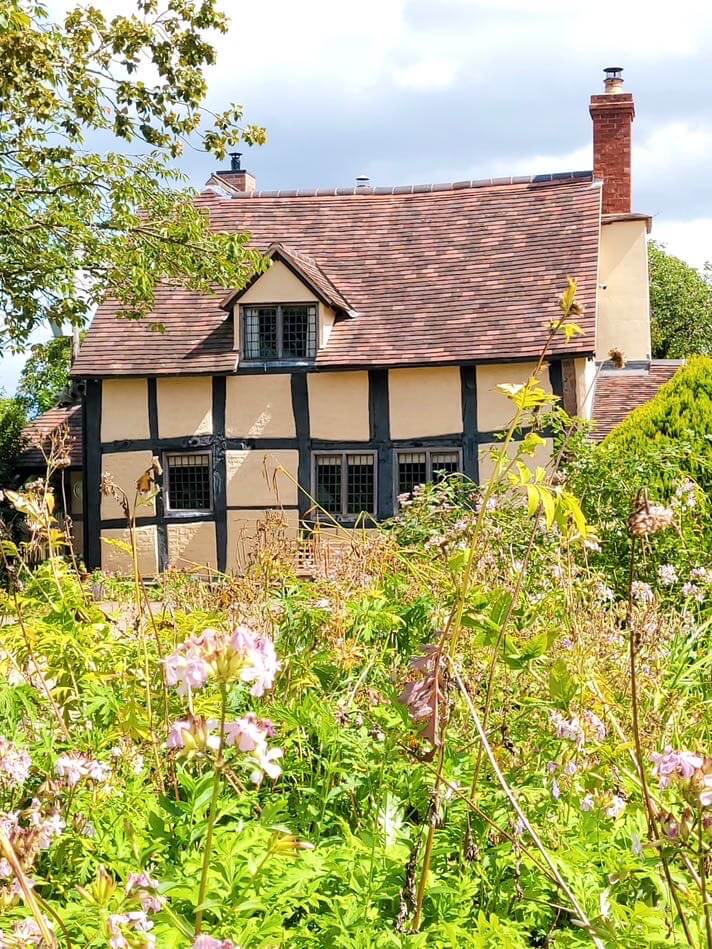 Retirees, anyone on a sabbatical, flexible workers
Similar to above, if you can travel to pet sits without worrying about what's going on in the office (or have retired from work entirely), then pet sitting is ideal.
People who've just moved abroad
Moving abroad can be such a hassle with visas, new jobs and bank accounts to sort out, not to mention getting orientated in a whole new city or country. With house sitting, you can avoid spending money on expensive hotels before you've found a flat.
Pet owners who love to travel
And for those who are proud pet parents, you no longer have to be worried about what happens to your furriest family members when you go away.
Who shouldn't use TrustedHousesitters?
The service isn't for everyone. People who leave bad reviews about TrustedHousesitters perhaps weren't using it for the right reasons, for example…
Travellers who plan on leaving the animals at home all day
Some animals require more attention than others but, regardless, their needs should come before your travel plans. The animals are why you've been given access to somebody's home, after all.

Sometimes, pet sitting is really hard work, or you'll be asked not to leave pets home alone. Always let homeowners know your travel plans so they can assess if you're the right pet sitter for them.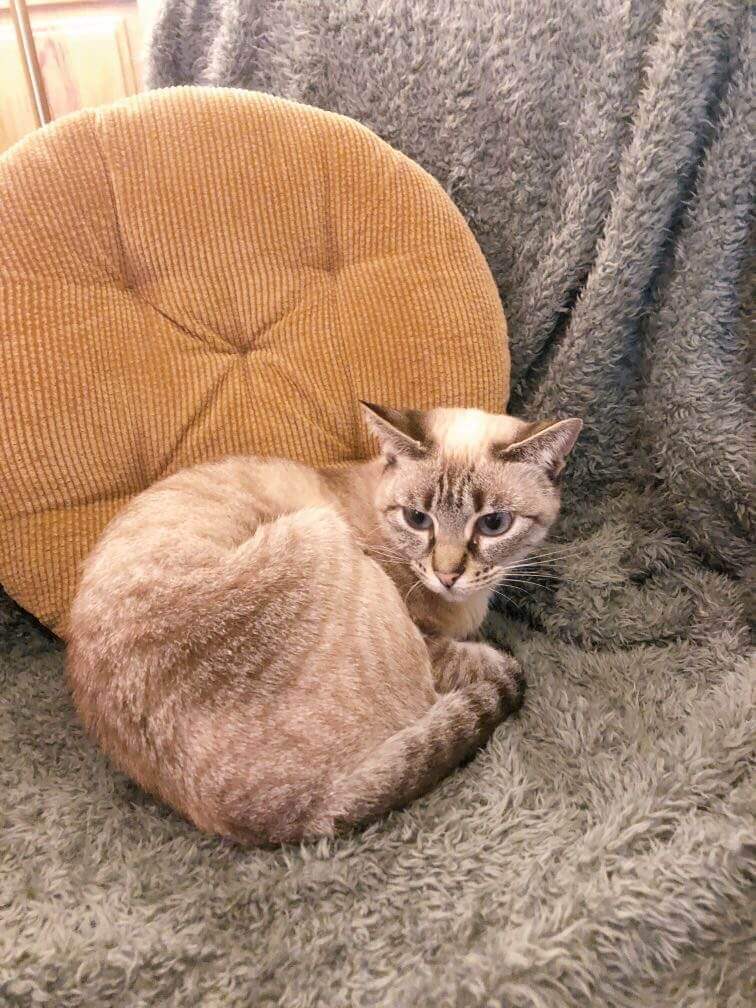 Travellers with zero animal experience
Don't let a lack of pet sitting experience put you off pet sitting, but maybe don't dive in the deep end. Ask your friends or family if you can take care of their pets when they go on day trips or weekends away before signing up so you can figure out if this is something you actually enjoy before doing this for a stranger.

If you're wondering is Trusted Housesitters worth it?, consider whether being around excitable animals drains or boosts your energy!
Homeowners who don't like people being in their house
Are you particularly houseproud and can't stand the idea of someone in your home, potentially messing up your carefully organised cupboards?

Pet sitters should absolutely keep your home clean and tidy while you're away, but they should also feel relaxed and enjoy the experience. This is how TrustedHousesitters works in a mutually beneficial way! If you know that you'll be worried the whole time and end up checking in constantly, or worse, sneakily sending a neighbour around to report back to you, then it's not for you.

You will not get good TrustedHousesitters reviews from pet sitters and, as a result, not attract new ones. It's unfair to make a pet sitter feel on edge: this is an equal exchange, and they're not your staff member.
Homeowners with untrained pets or homes not set up for guests
Your pet sitter should feel relaxed and comfortable around your pet, not stressed or nervous. That doesn't mean you can't find a pet sitter for your beloved puppy who pulls on the lead or has attachment issues, but make sure you list these things on your profile so you can find a pet sitter who's the right fit for your pet's specific needs.

But if your pet is aggressive? This sounds like a job for a trained professional.
Also, be honest about the condition of your home. It doesn't need to be fancy or modern, but it does need to be clean, comfortable and safe for your sitters (especially if they're alone in a new area).

Take clear photos and be honest about any mod-cons that have stopped working around the house. Most of us don't mind a few imperfections; we just want to know what we're signing up for before we arrive!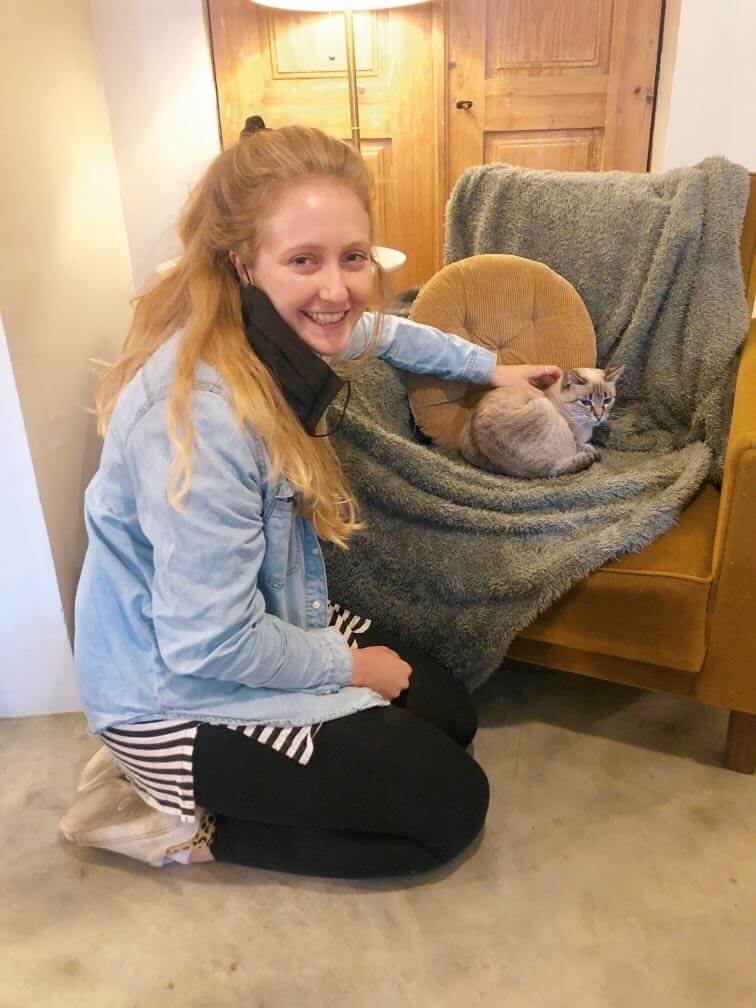 My personal TrustedHousesitters review
Signing up to TrustedHousesitters has been one of my smartest decisions! As a full-time traveller and remote worker, it makes complete sense to cut out my biggest cost – accommodation – while also getting some fantastic animal company as a solo woman on the road.

Personally, I much prefer longer sits (around 2+ weeks) to short ones. Otherwise, the constant searching for sits, organisation and travelling can end up being tiring – and I've heard other full-time sitters say the same thing! As much as I'd love to explore different areas, it's not practical from a remote work perspective, either. I also budget for Airbnb stays between sits and potentially expensive transport costs between houses.
Before agreeing to sit, I recommend a voice or video call. It's essential to get a feel for the person and ensure you're a good 'match!'

As you become more experienced, you'll understand what's important to you during a sit. Maybe you prefer calmer animals over chirpy ones or want a house within walking distance from the shops. Jot these requirements down so you remember to ask these questions on your call with the homeowner.

In my experience, TrustedHousesitters is a legit platform that saves me LOADS of money and has enriched me with some pretty cool stories!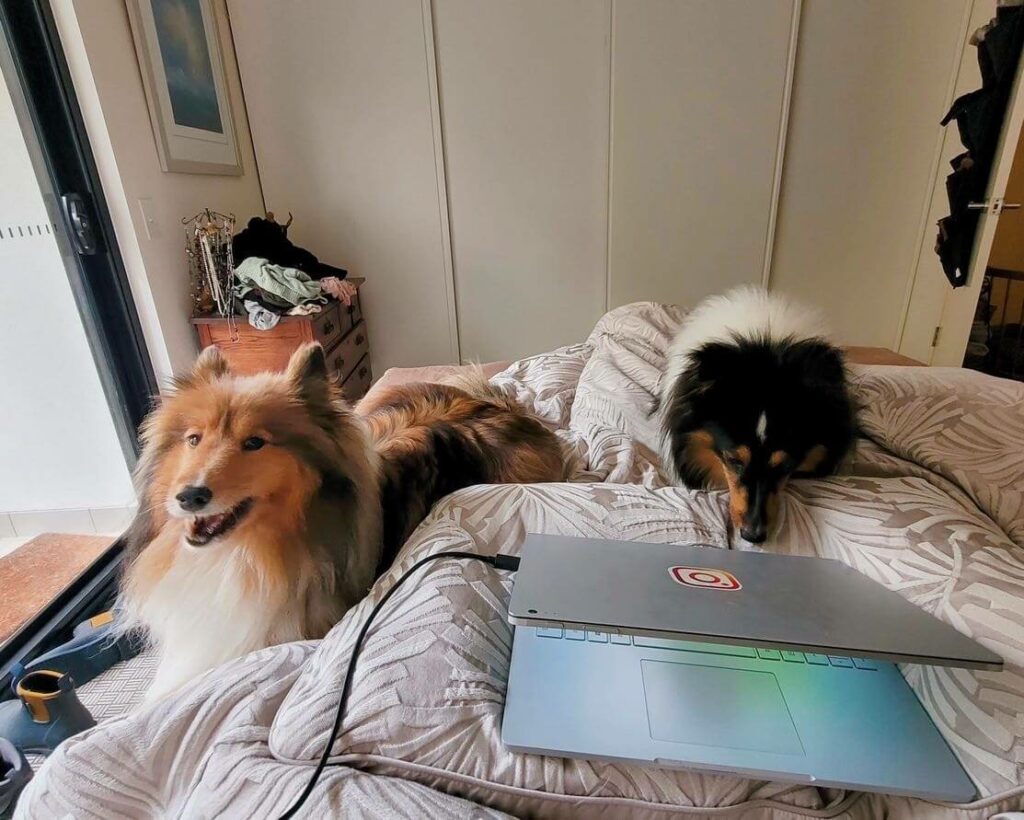 PROS of TrustedHousesitters
The animals! I've got to meet some amazing pets during my time pet sitting, from an elderly greyhound to three teeny kittens (who grew up fast during the month of my stay), an adorable husky, a charming dachshund and two black cats who were so well-behaved that they came back from the onsite woodland at the sound of a whistle.

For homeowners, knowing that their beloved animals will be looked after by someone who adores pets and will prioritise their individual needs is a huge bonus.

Pet sitting can be extremely rewarding. On that note, your time with animals can be really moving. Not every pet is going to be super sociable. In fact, pet parents often choose to use a service like pet sitting because they don't think their nervous pet would be able to survive in a kennel or cattery.
For example, I recently pet sit a nervous rescue cat who I was warned might be too scared to even be in the same room as me. By the end, he was meowing at me for pats and giving me a prompt headbutt every time dinner came around.

The website is user-friendly. For anyone who's even remotely tech-savvy, navigating the TrustedHousesitters website is easy. Signing up and making your profile is really straightforward.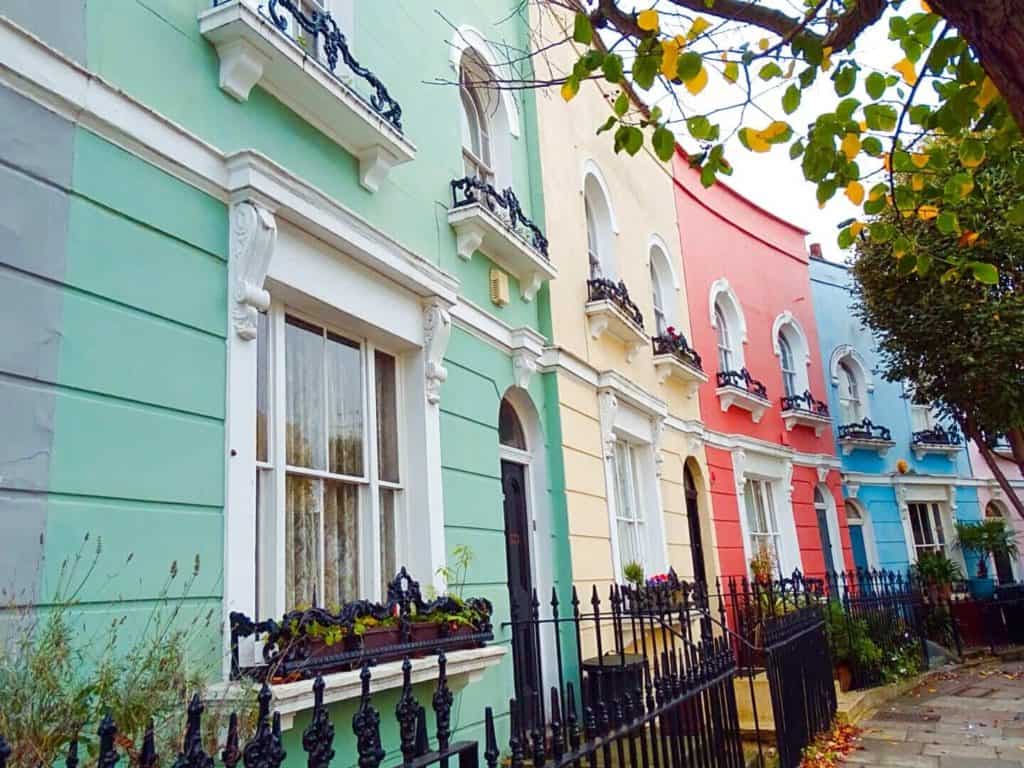 I can only give a positive TrustedHousesitters review here because they give users lots of prompts to help make their profile shine. I know many people struggle to write about themselves, but it's essential when you'll be staying in or allowing a stranger into your home!

Lots of filters. If you're looking for a pet sit, it's straightforward to filter the search by location and date. You can also check whether sits are accessible by public transport and more.

Affordable membership fee. The membership fee is hardly steep when you factor in the money you'll save on accommodation (or paying for a pet sitter).
CONS of TrustedHousesitters
Pet sitting is competitive. TrustedHousesitters have bumped up their advertising in recent years so there's been an influx of members using the site. On the one hand, this is great as there are more house sits and pet sitters to go around… On the other, you really need to make sure your profile stands out to guarantee an excellent sit or sitter!
The app can be clunky. I like the app; it's much more modern and user-friendly than any other house sitting app I've used. But it's still not perfect, and I've noticed it crashing a few times during searches.

Time-consuming. Although most pet sits I've done have been breezy, it's still time-consuming looking after animals – as any pet parent knows. A pet sitter can't leave the animals at home most of the day while they go out exploring because you're there to give the animals lots of love and attention, not just feed them or take them for a quick walk.

Setting up sits also takes a lot of organisation, from searching for sits, messaging homeowners, taking introductory calls and finally travelling to destinations and getting used to a whole new location.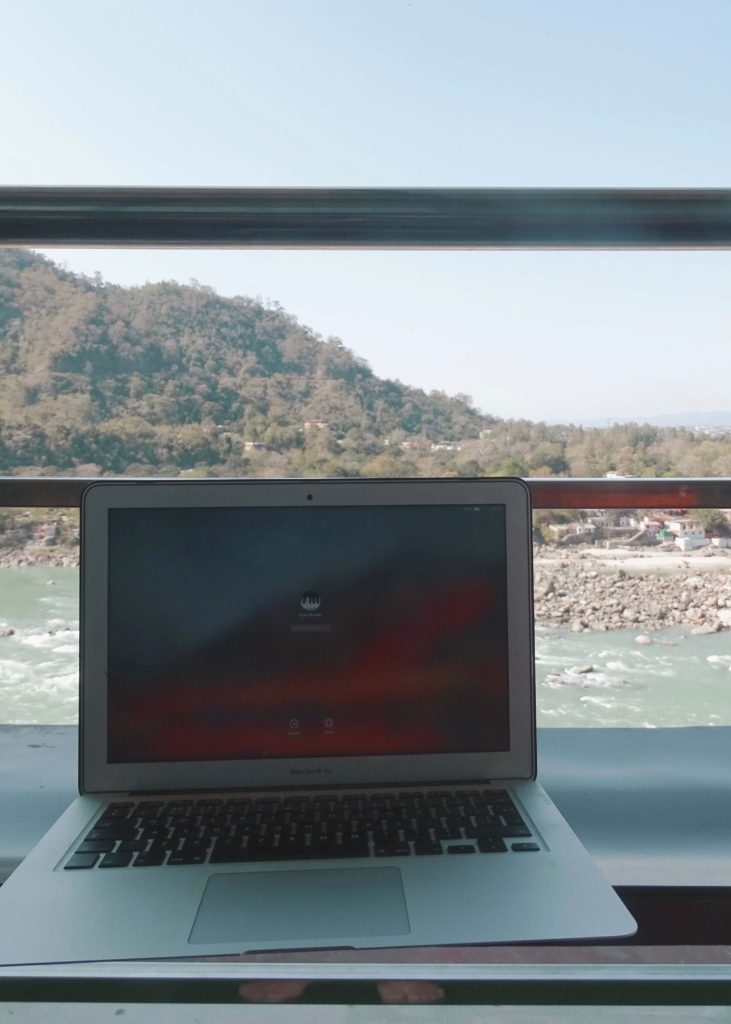 It can be hard work. Fortunately, this doesn't happen often, but not every animal will be well-behaved. I had one bad experience with two VERY naughty dogs who needed me to keep my eye on them every second, weren't appropriately trained (or toilet trained!) and barked through the night to try and get me to come and play.

They were adorable, but they left me feeling stressed and very tired.
Overall, is TrustedHousesitters worth it?
Yes, signing up to TrustedHousesitters is definitely worth it.

Pet sitting is a win-win-win. Pet sitters get to stay in interesting houses and destinations all over the world while pet parents get to travel knowing their pet is getting lots of love and attention… and, best of all, your pet will get to stick to their usual routine, in their own home, with a pet sitter who loves animals as much as you do!

Providing a service that benefits homeowners, house sitters AND pets, it's no surprise that TrustedHousesitters reviews are usually pretty glowing.

Speaking from my own experience, it's a fantastic way to connect with incredible people and animals all around the globe.
Read next: my work abroad interview series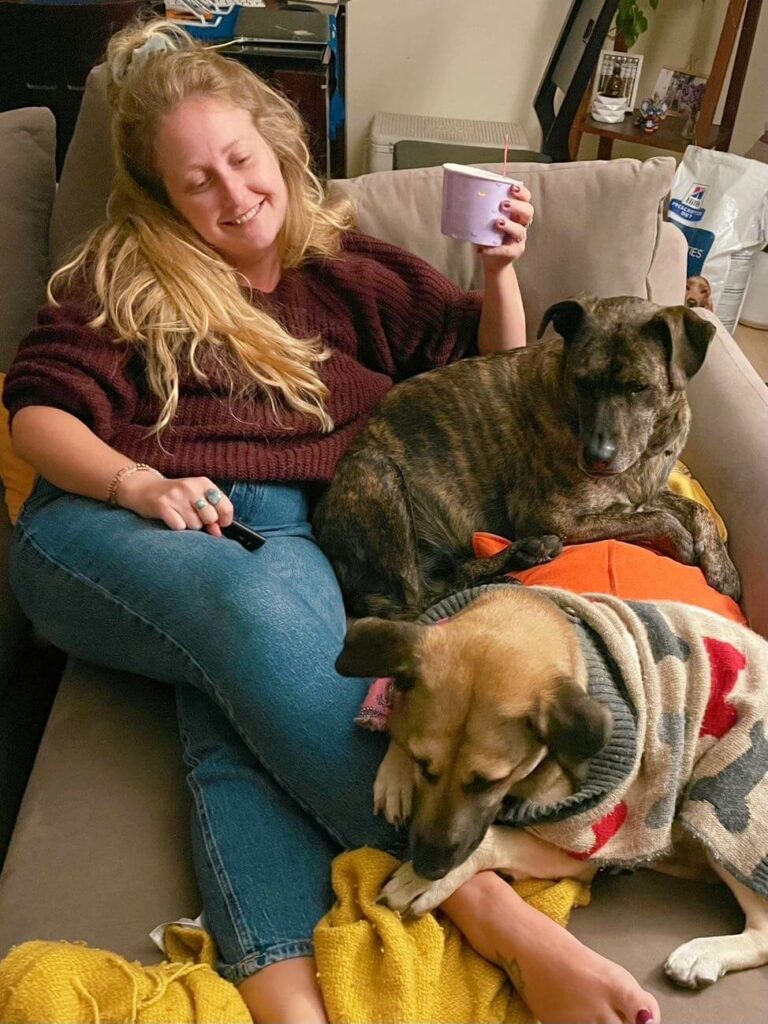 FAQs
A few final notes about how TrustedHousesitters works…

Is TrustedHousesitters safe? Yes, TrustedHousesitters is a legit platform with decent customer service and plenty of good reviews. You can see reviews of individual hosts or pet sitters to check how other users have found them.

Is TrustedHousesitters free? No, there are 3 membership tiers as listed above; the first one starts from £99 a year.

Is TrustedHousesitters paid? No, you don't get paid to be a sitter. You pay to use the service but you get so much value from it that you'll definitely save money!

Is TrustedHousesitters good? Absolutely! I've had so many enriching (and free!) experiences because of it, plus the platform is easy to use.
Thanks for reading!
I hope you have a better idea of how TrustedHousesitters works and whether you want to sign up!
Read other budget guides:
Liked this? Pin it for later on Pinterest!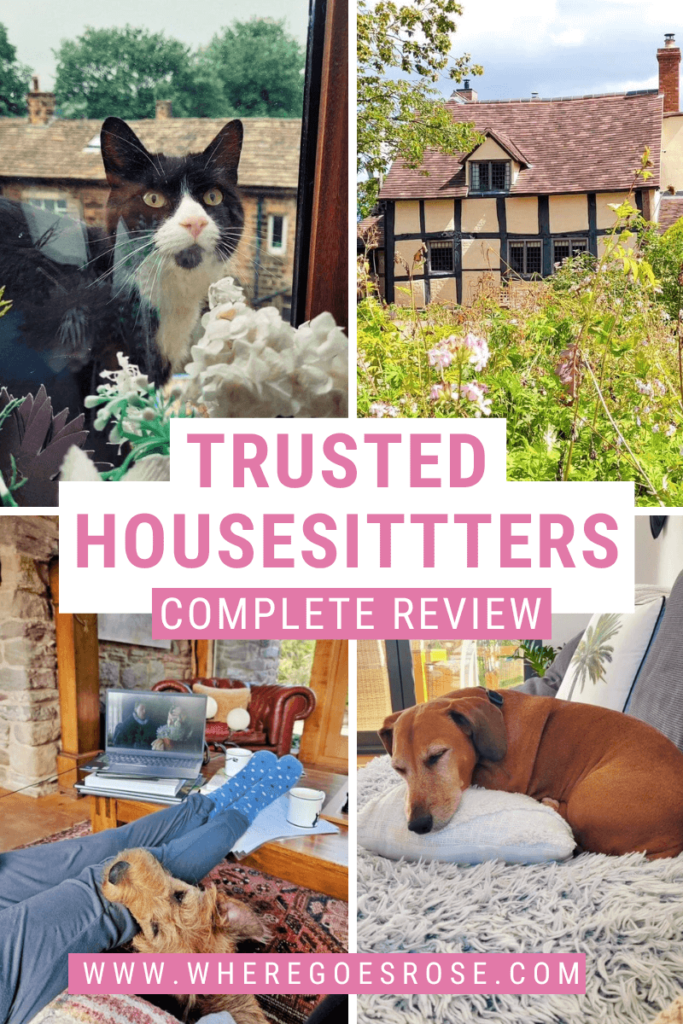 For more travel content, follow me on Instagram, Facebook, Twitter and YouTube.