This post may contain affiliate links to things like tours, hotels, Amazon associates and products. These help me earn a small commission at no additional charge to you.
I loved a lot of things about Romania from the striking scenery to the quaint towns of Transylvania, the legends of Dracula, and the friendly locals who welcomed me to their country.
The one thing I enjoyed maybe more than all the above? Romanian food!

The only people who won't love Romanian food are vegetarians and those on a diet. By default, this means I was a big fan of the cuisine, known for its reliance on meat, carbs and cheese. I'm not sure I could live on it eternally but it was certainly a treat during my 2 week trip to Romania.
Visiting Bucharest? Check out the top Bucharest hidden gems!
I've taken a food tour in almost every country I've been to lately and that's not a trend I'm about to buck. Food tours are a great way of escaping the tourist scene and finding out what and where the locals eat.

This was never more necessary than in Bucharest, a city where the heart of the Old Town is choc-a-block with American steakhouses and British-style pubs. So when the chance arose to work with Urban Adventures on their Bohemian Bucharest Markets & Mahallas tour, I jumped at the chance.
The tour with Urban Adventures was a chance to discover the hidden gems of Bucharest and sample some local delicacies.

I'd have never found the Armenian Quarter of the city without a guide, spied the abandoned mansions of the backstreets or found myself at one of Bucharest's biggest and busiest local markets.
Pretzels and introductions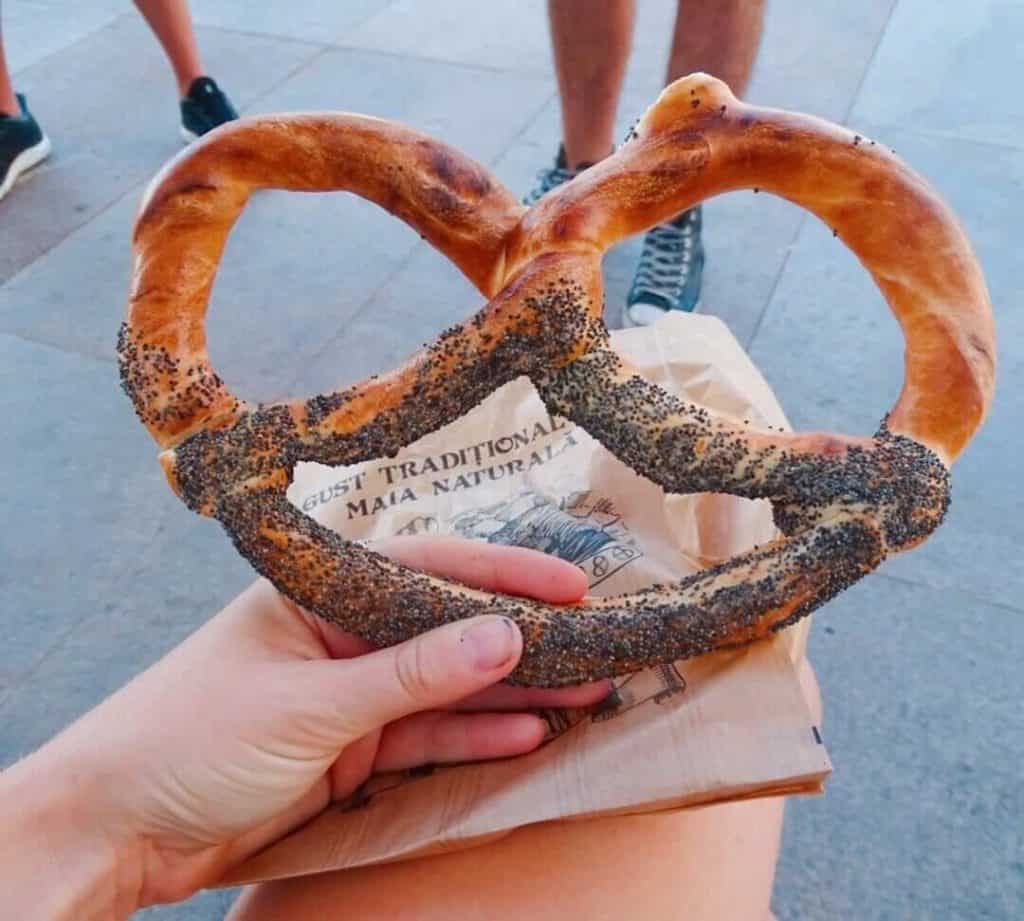 I met my Urban Adventures tour group and guide on the steps of the National Theatre at 10am on my final day in Bucharest. I hadn't been blown away by the Romanian capital thus far so I was hoping the day would surprise me. It certainly did!

Our local guide, Bogdan, greeted us in true Romanian style: with snacks. I'd noticed already that East Europeans are extremely welcoming when it comes to meeting new people.

When I'd met my friend's Slovakian boyfriend, he'd presented me with a pack of wafer biscuits as a 'hello' gift. This is a tradition I'm very on board with and I was happy to tuck into my pretzel as I'd yet to eat breakfast.
Deli platters in an ex-secret police headquarters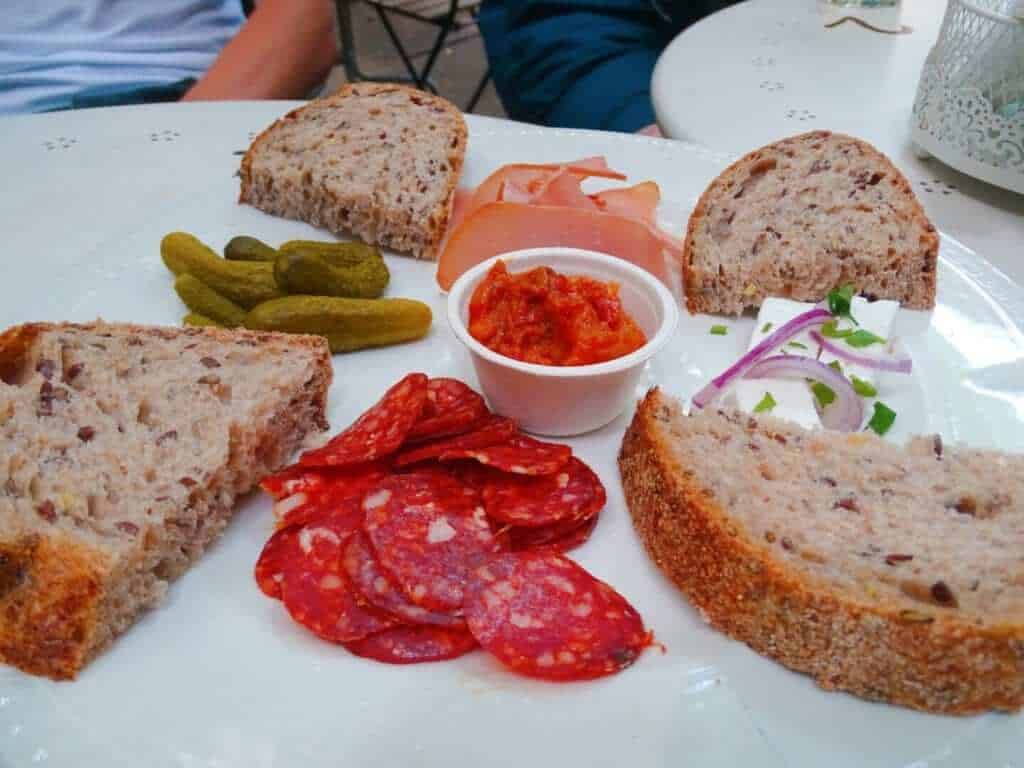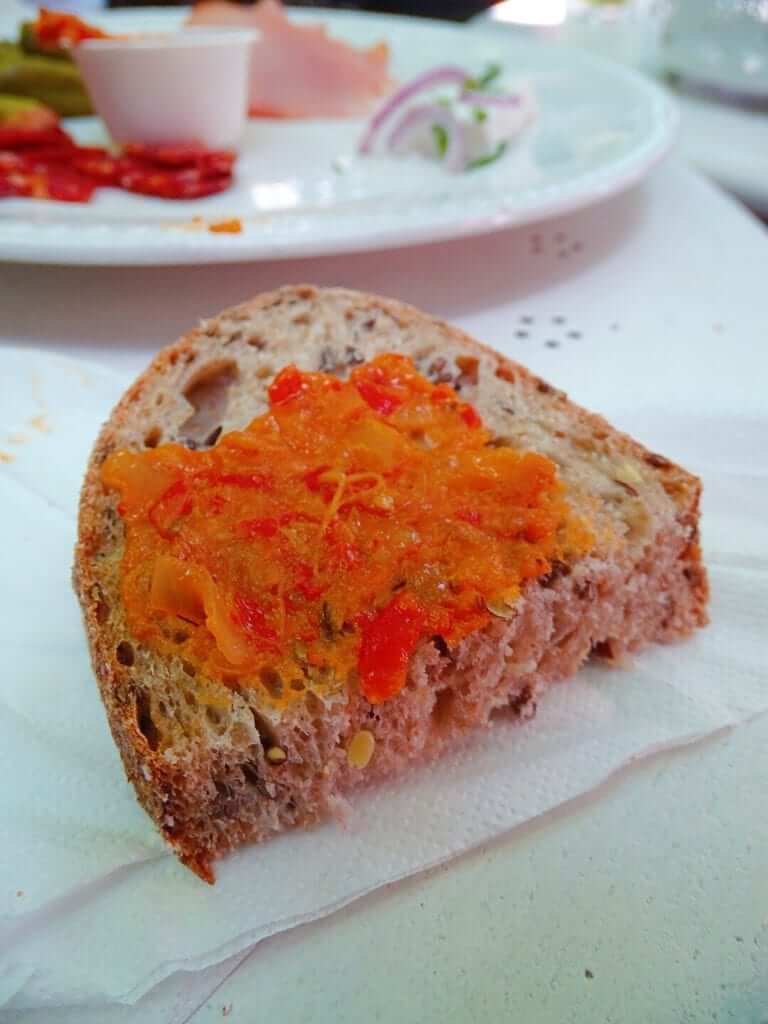 For our first culinary treat of the tour, we arrived at a chilled-out garden cafe that I'd never have spotted myself.

Hidden away in the backstreets and more than a stone's throw from the touristic restaurants of the Old Town, Dianei 4 has an unusual history. Once a secret police headquarters during communist rule, it's now quite the opposite: an artsy hang out frequented by young Romanians.

We tucked into tasty 'peasant platters' of chunky bread, spicy salami and local white cheese similar to feta.

The best bit was the rich zacuscă, an aubergine and tomato spread that's popular with Romanians all over the country. I'd heard it mentioned several times but not seen it on any restaurants menus so I was thrilled to try it during my final day in the country.
Abandoned mansions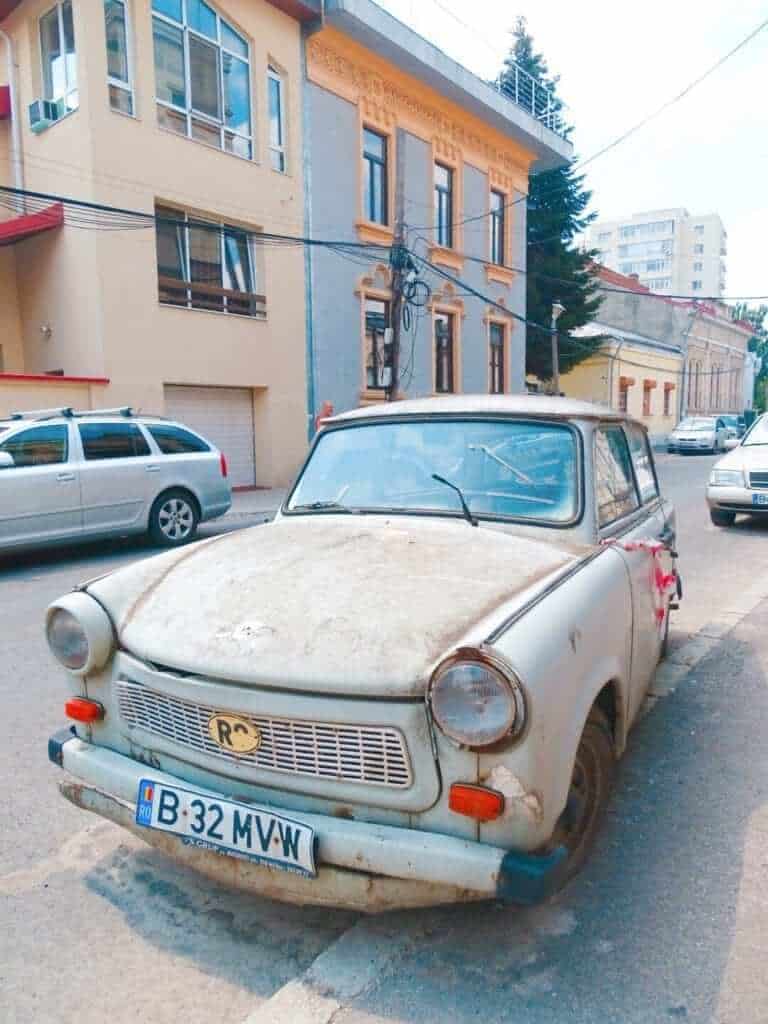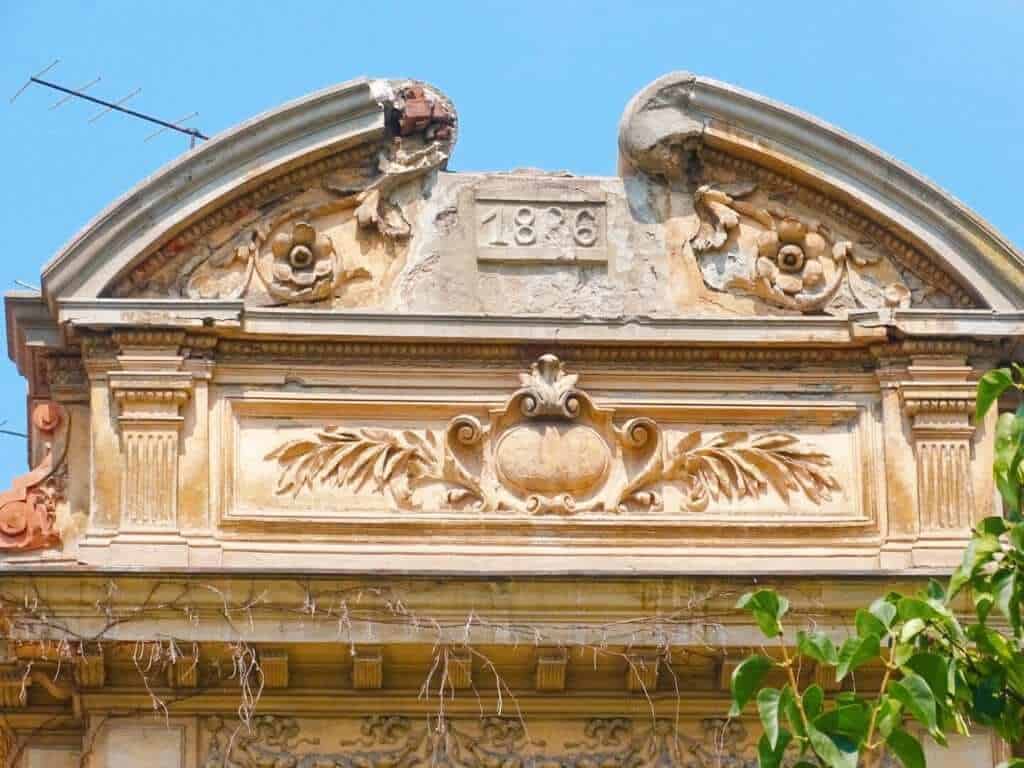 One of the best bits of the Urban Adventures tour was getting immersed in the backstreets of Bucharest. As I mentioned before, I hadn't been wild about the city centre but I also hadn't known where the hidden gems were hiding. Having Bogdan, a lifelong local, to take us around was invaluable when it came to seeing more of the city.

I couldn't believe how many incredible, extravagant buildings in Bucharest sit empty and abandoned. During communist rule, many businesses were forced to close and buildings became repurposed.

The following decades saw turbulent financial times for Romania and subsequently, some parts of the city remain uncared for.
Little Armenia & orthodox churches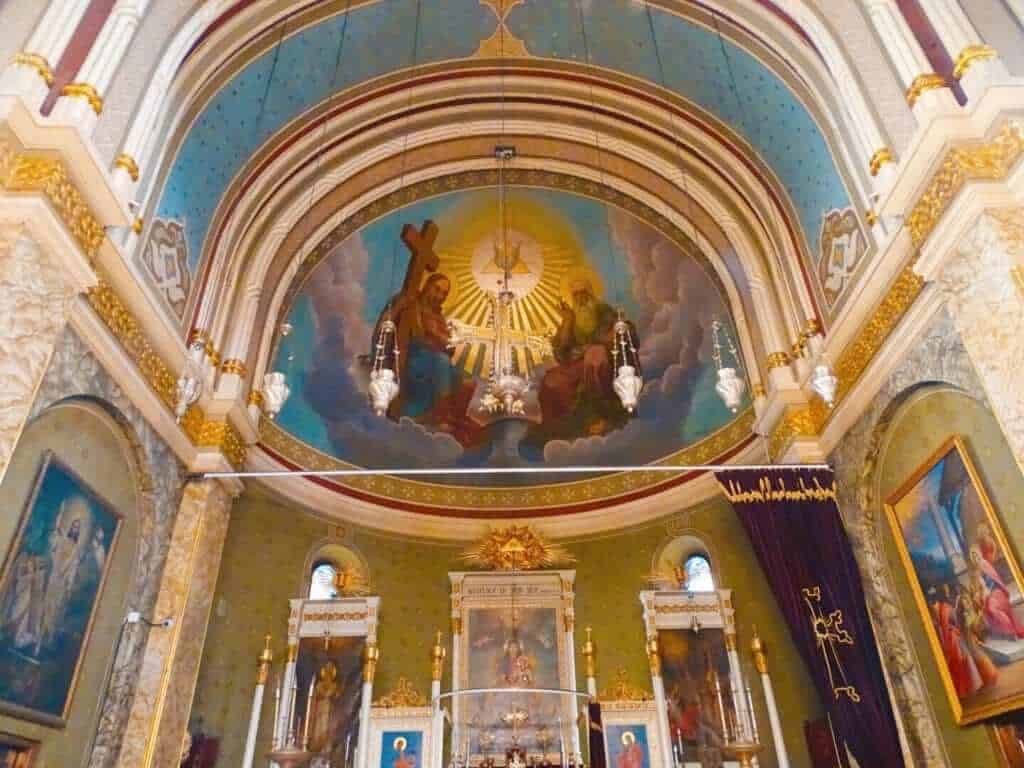 To truly escape the crowds of Bucharest and see some old-style architecture, a trip to the Armenian Quarter is a must. I'd never even heard of this place, nor realised the Romanian capital was home to a large Armenian community.

Many of the historical sights of Bucharest were sadly destroyed by the communist government so I'm thrilled this gorgeous part of town has survived. If you visit the area yourself, check out the Armenian Church with its gorgeous domed roof and religious artwork.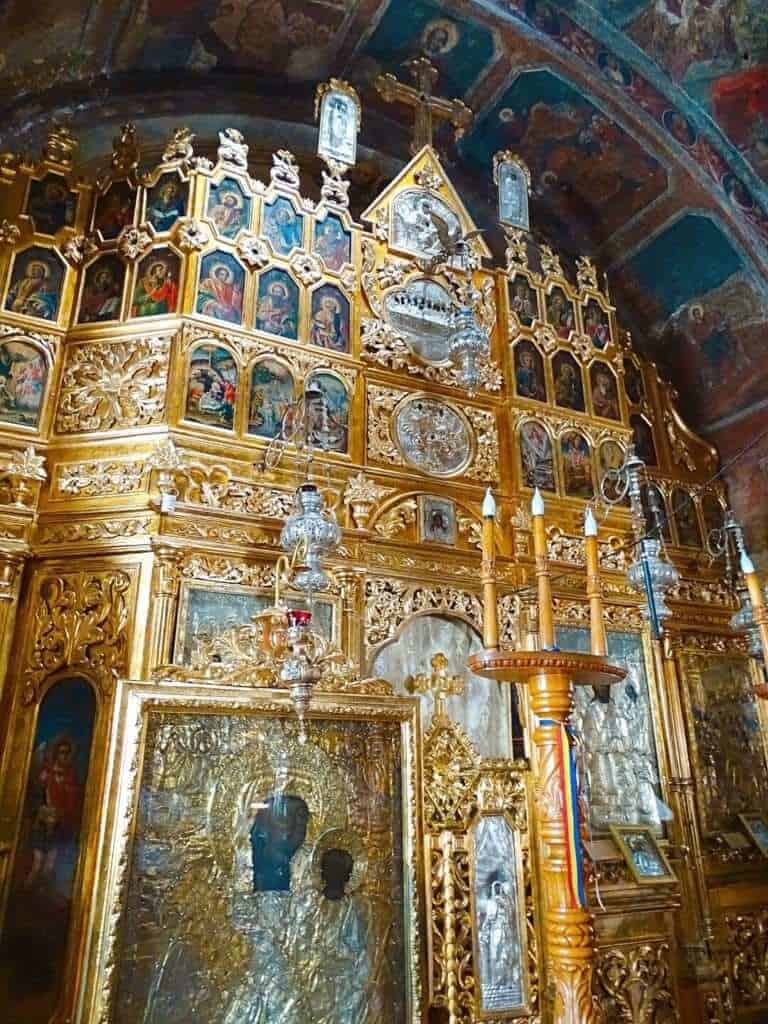 Before heading to our next foodie stop, we also stopped at Biserica Olari din București, an Orthodox Church in the northeast of Bucharest.

We ducked inside to find a breathtakingly detailed interior awaiting us, quite unlike anything I've seen in Christian and Catholic churches before.
Bucharest's biggest market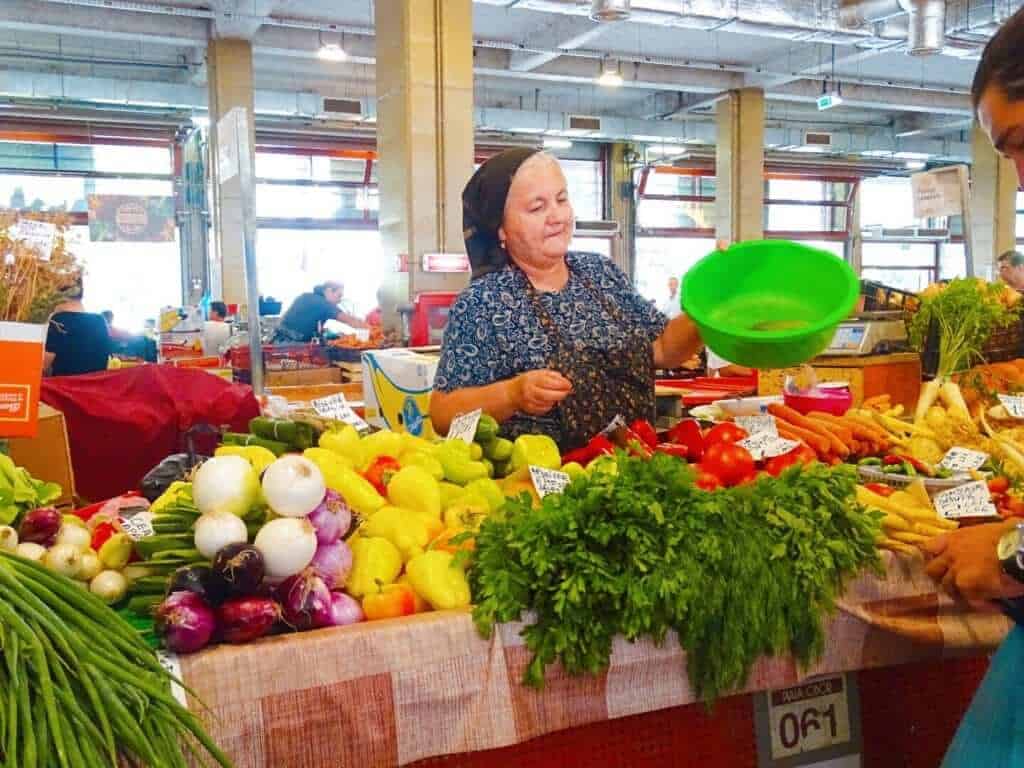 Next, we arrived at Obar Market, the biggest local market in Bucharest. To get there, we hopped on a local tram which looked straight outta the '80s. I love the old school details that exist around Romania.

The market was a great experience, overflowing with colourful local produce and sights, sounds and smells.

This was no tourist market: in fact, I'm pretty sure we were the only foreigners there. Instead, locals shopped for groceries including juicy sour cherries, giant piles of walnuts and pungent cloves of garlic.
Mici, beer & a picnic to remember
After several hours on our feet, we sat down to a feast from the local market. We paired our spread of fresh veggies, cheese and fruit with a plate of mici, the most famous Romanian food. These skinless sausages are unbelievably rich and moreish. I definitely could have eaten an additional five!

We also got to sample some Romanian beer and a shot of palinca, a strong type of local brandy.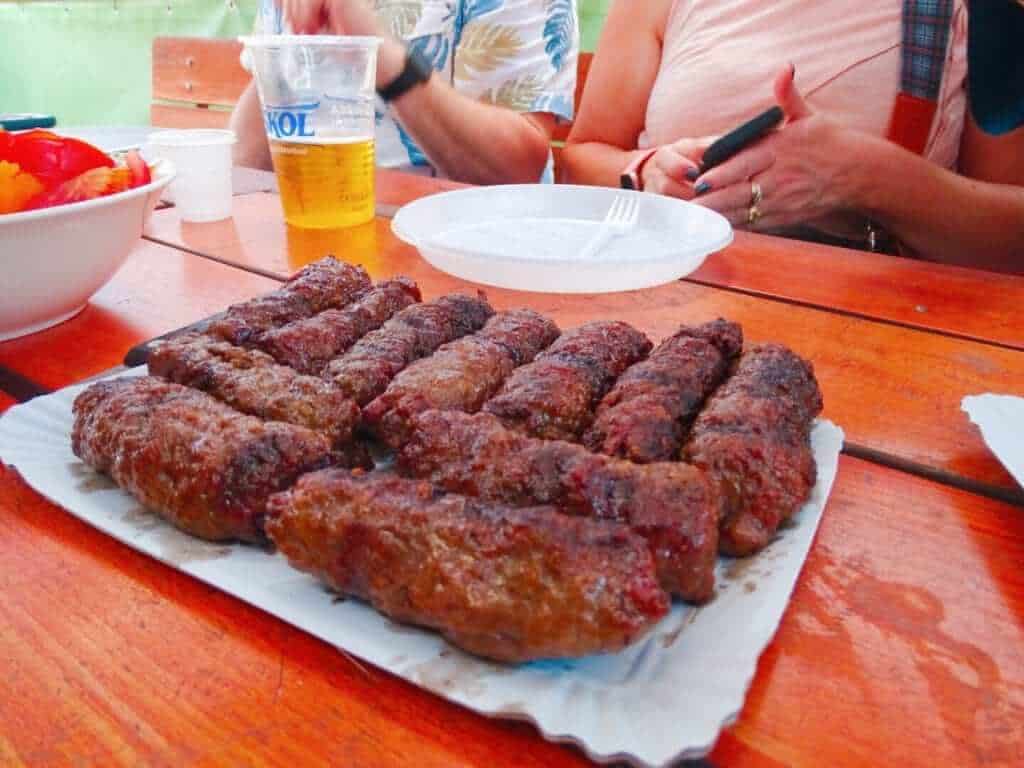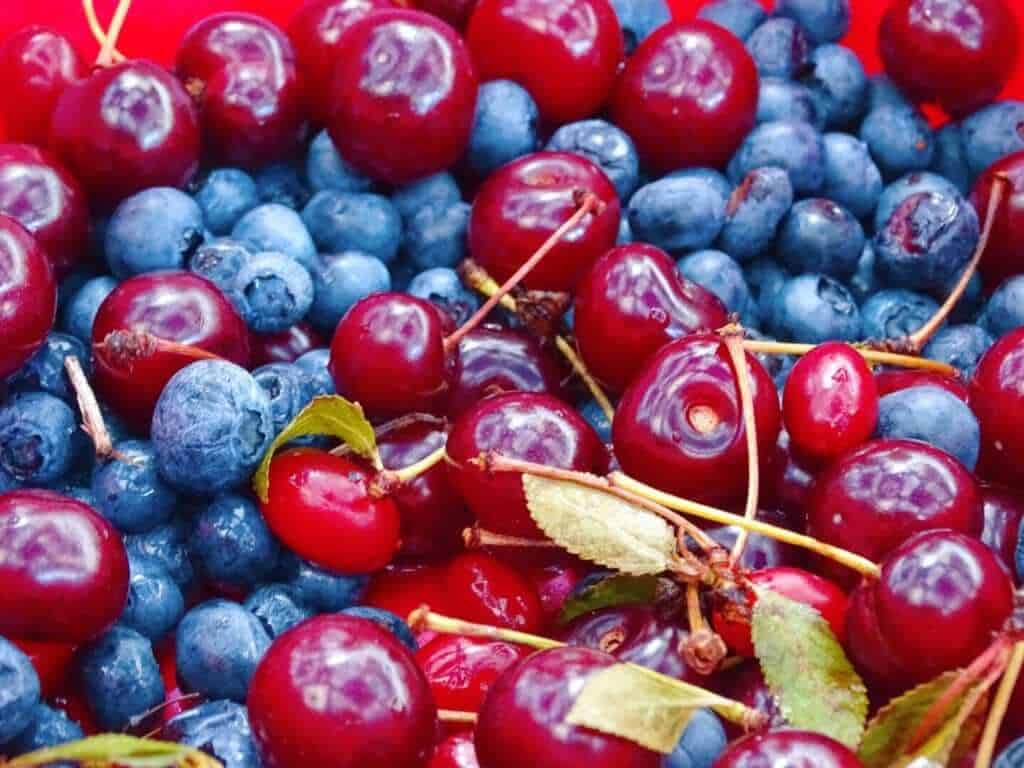 Doughnuts for dessert
There was one final treat before the tour ended: a warm type of doughnut only found in this part of Romania. Indeed, I hadn't seen this variety during my 2 weeks around Transylvania or Timisoara.

The warm fried dough was twisted into a knot and served with a sprinkling of powder sugar. The perfect end to an adventurous day in Bucharest!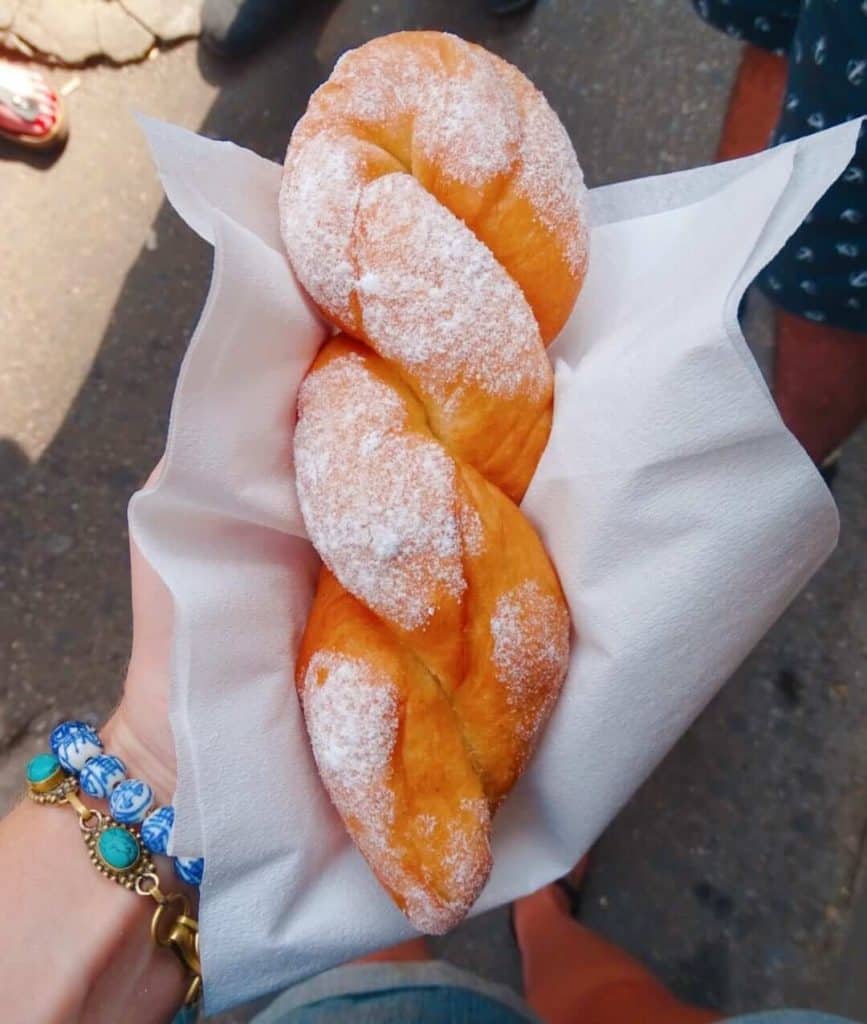 Booking a tour with Urban Adventures
Do you fancy discovering the hidden gems of Bucharest and sampling some excellent food? If so, I'd highly recommend the Bohemian Bucharest Markets & Mahallas tour. Click this link to book it for yourself!
Thanks for reading!
Read my other Romania blogs:
See you next time for more adventures,
Rose
Note: While I travelled as a guest of Urban Adventures, all opinions are my own.