This post may contain affiliate links to things like tours, hotels, Amazon associates and products. These help me earn a small commission at no additional charge to you.
A couple of weeks ago I ventured into the depths of Phong Nha-Kẻ Bàng National Park – something I'd been wanting to do for a while!

I'd heard people mention this area last time I was in Vietnam at the end of 2015. At the time, I was travelling the coast in just three weeks and decided not to stop off. I was short of time and a little nervous about arriving at 4am by myself. It was my first solo adventure and the bus arrived at that time only.

Fast-forward to now (2018) and it turns out it was easy – though I would say the increased tourism to the region in the last two years probably has something to do with this. From speaking to our hostel owner, Phong Nha tourism has boomed lately but I'll touch more on this later.
What and where is Phong Nha National Park?
This incredible national park is a few hours south of Hanoi. It might be green and glorious but there's an underworld of limestone caves and underground rivers churning beneath your feet. Would you believe the largest cave in the world resides in this region?

You can only visit it during a two-week expedition with a team of porters but that's fine because there are plenty of others you can see on a day trip. I've never in my life seen such weird and wonderful natural shapes and formations as I did during my time in Phong Nha!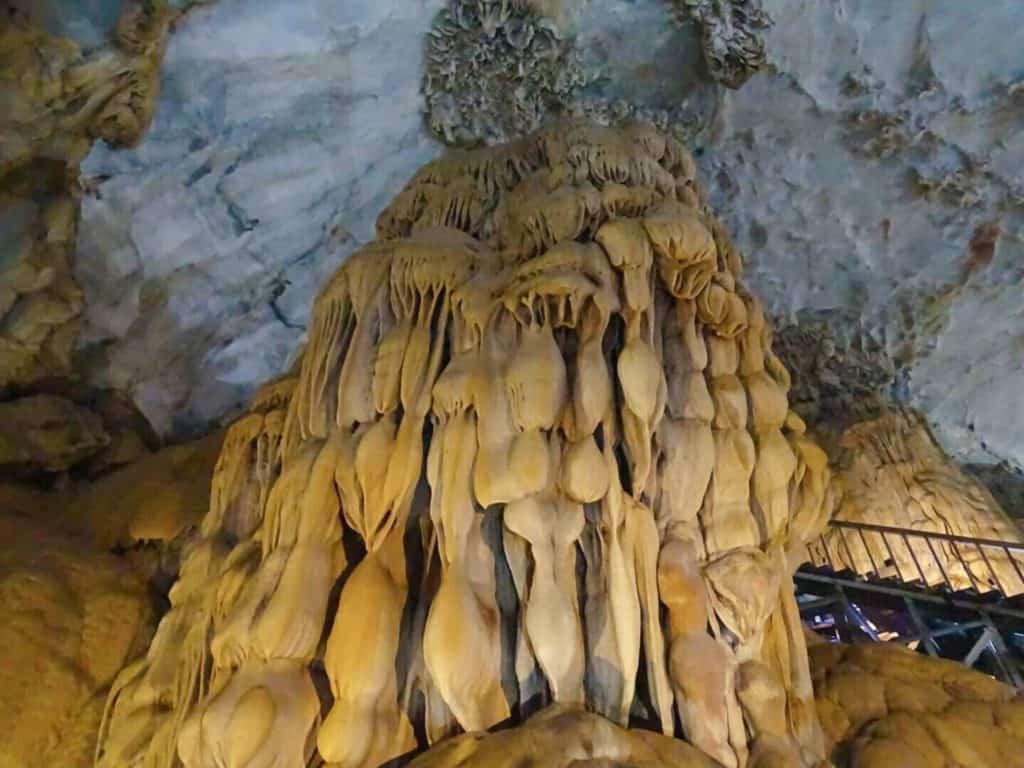 What's so amazing about Phong Nha is that much of it is relatively undiscovered. Swimming in a cave opened to the public less than two years ago was undoubtedly one of the best things I did in Southeast Asia. If you're looking for a time to visit Phong Nha, it's definitely sooner rather than later.

We had just one day in the region which was pretty hectic considering we arrived at 4am. Still, we made the best of it and booked a tour bleary-eyed as we arrived at our hostel. I could have been signing up for anything and probably wouldn't have clocked! We settled in for three hours shut-eye and downed some much-needed coffee before it began.

Here's what we got up to…
Paradise Cave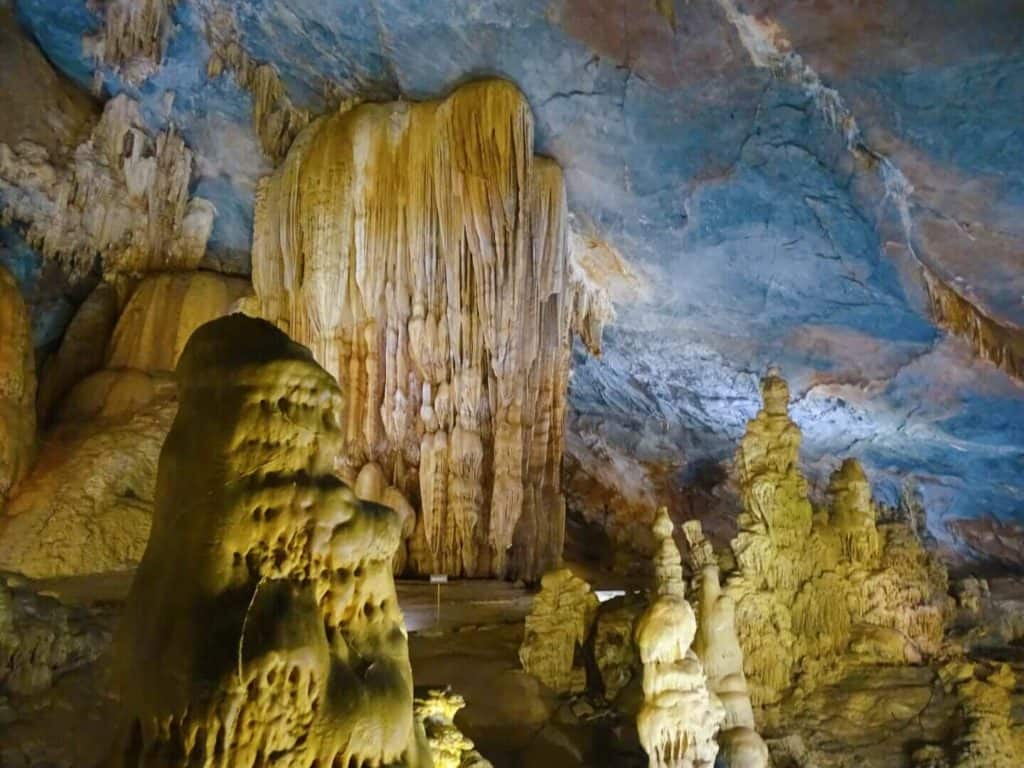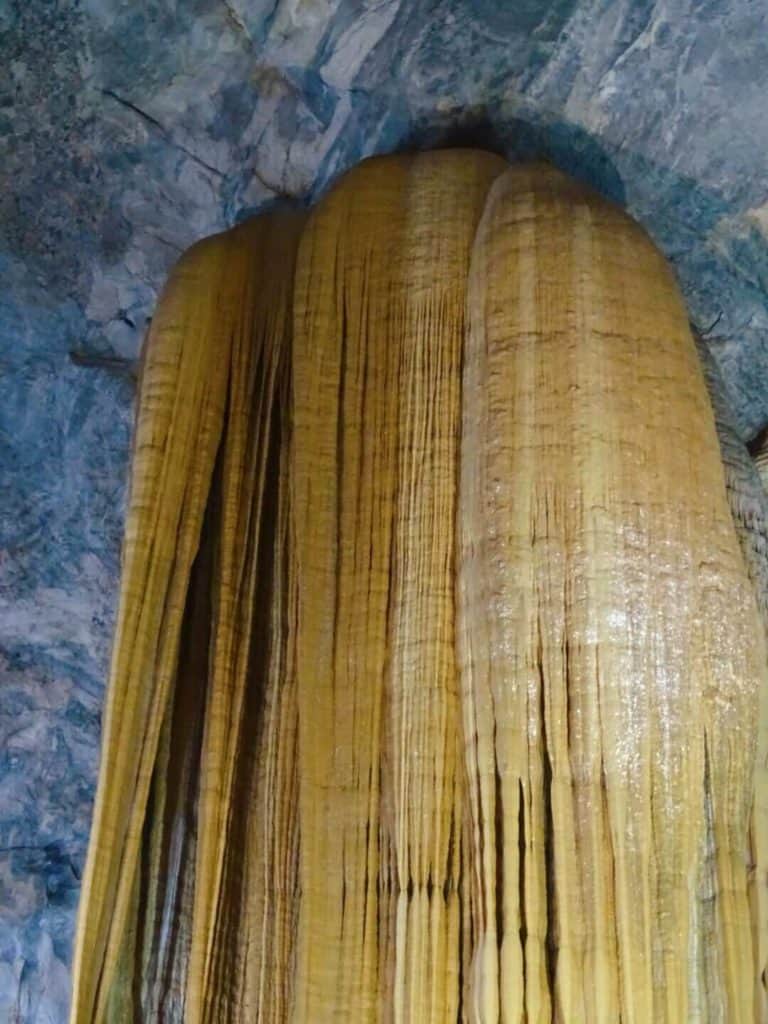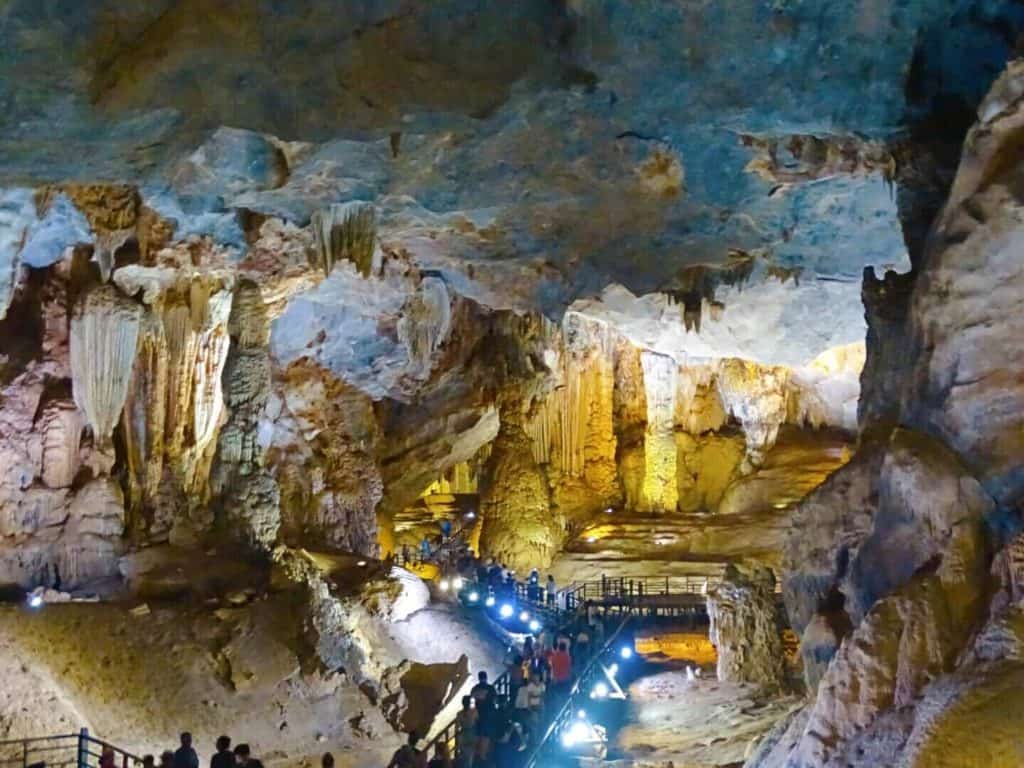 See what I mean about those weird and wonderful cave formations? How they were made by mother nature I'll never understand. I was half expecting some swamp monster to break out at any moment!

This 6 million-year-old cave was discovered by a local man in 2005. He would have had no idea of the tourism boom that was about to hit his discovery. Tourists were allowed access in 2010 and it's recently been decked out with modern walkways and lamps to illuminate the stalactites and stalagmites. I can't imagine anything more spooky than exploring it in the dark.

Our visit coincided with a weekend and was pretty busy… I'm thankful in our sleepy state we managed to pick a tour that also took us to some more remote caves later on.

Despite how busy it was, Paradise Cave was a fantastic intro to Phong Nha. The whole cave measures 31km in length making it longer than any run I'll ever go on!
8 Ladies Cave and temple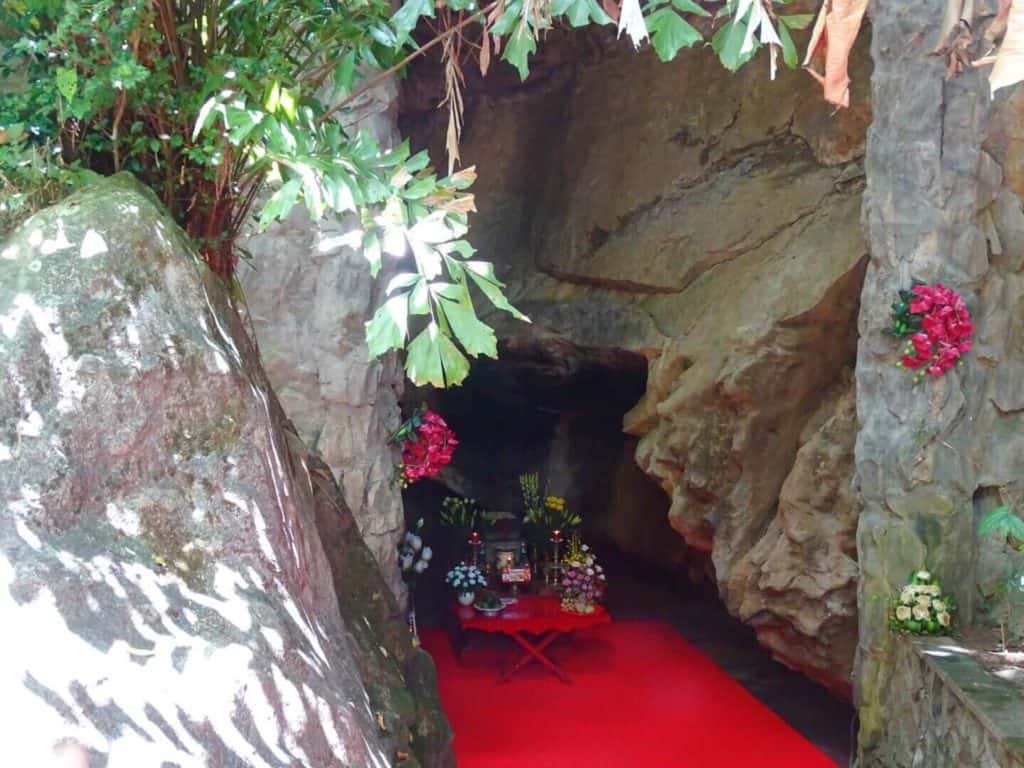 8 Ladies isn't a visually spectacular cave like some of the others in the Phong Nha but it's an important part of the history. Our tour guide, Sara, explained the significance of the cave, the temple beside it and the road leading up to it.
Eight women aged 18-20 were trapped in the cave following a US bombing during the Vietnamese War. A huge boulder blocked the entrance and they became trapped inside. Sara told us that locals tried to prise them out and posted rice through a crack but after a week the women tragically died.

The Memorial Temple beside the cave remembers not just them but the thousands of soldiers who died building Road 20, which we walked on to reach the temple.

Road 20 was constructed during the War as a means to transport medicine and supplies between the north and south of the country. It was built in just five months by young Vietnamese soldiers but sadly many died as it was heavily bombed to disrupt the trail.
Jungle trekking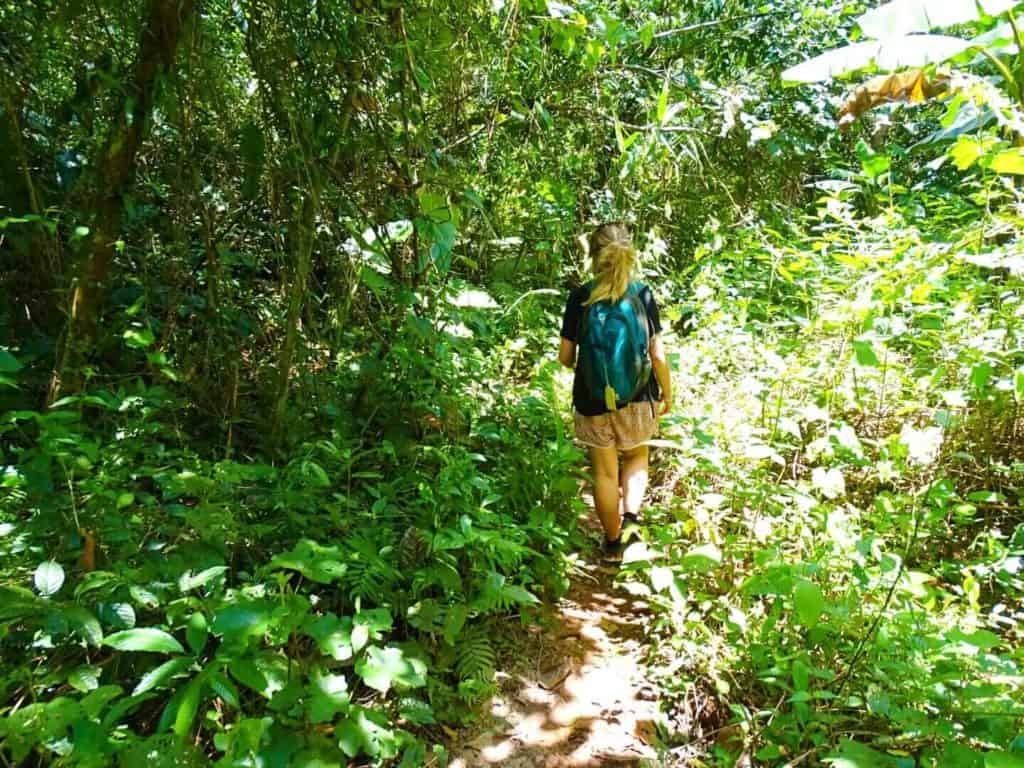 Next, Sara announced we would trek through the humid undergrowth. As we left the highway, I slid – not on a random item but the highway itself which appeared to be melting in the heat.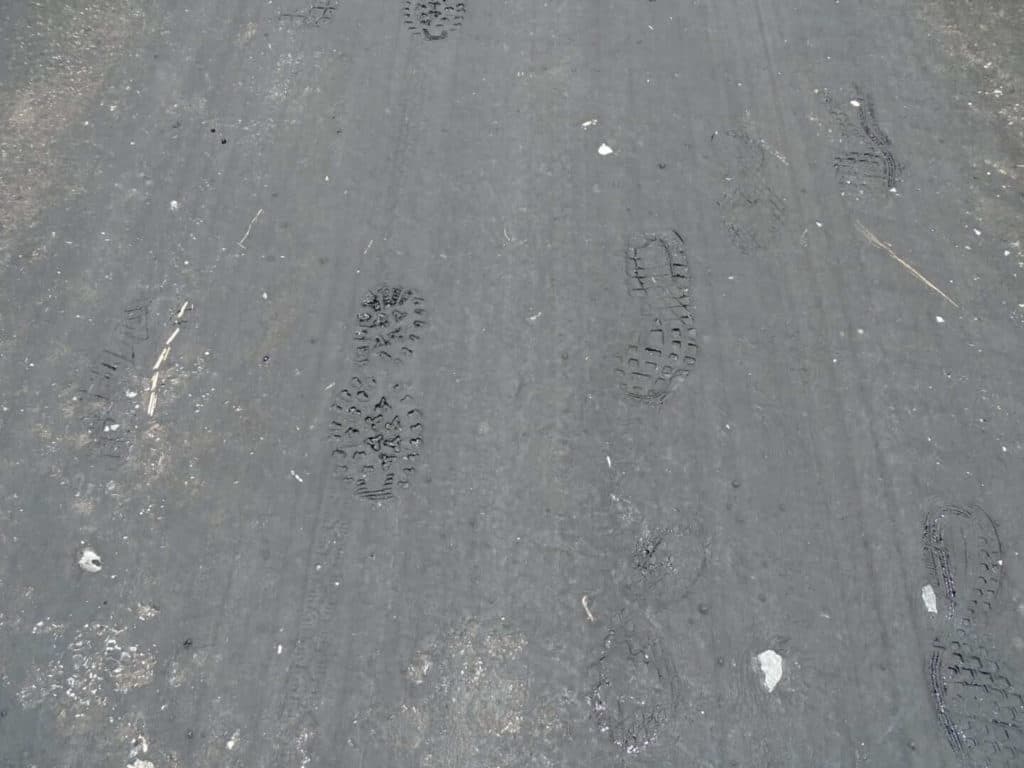 As we eased down a steep and slippy slope into the hot forest, I mused that I did NOT remember reading this on the itinerary. Then again, I don't remember most of things I do at 4am!

Luckily the trek wasn't overly long and we emerged in a clearing beside a river and a fluttering cloud of butterflies. I've never been so happy to strip off and dive into the cold water!

After our swim, we sat in a long line on a roll of canvas and ate lunch: barbecue pork with vegetables and sheets of rice paper. We rolled the ingredients up to make fresh spring rolls – my favourite Vietnamese dish!
Tra Ang Cave
Next was the highlight of my day – swimming through the eerie, empty Tra Ang Cave! This one was only opened to the public two years ago (in 2016) despite being millions of years old.

It's great for an off-the-beaten-path experience because the hidden location and difficult scramble to get inside probably put off most visitors.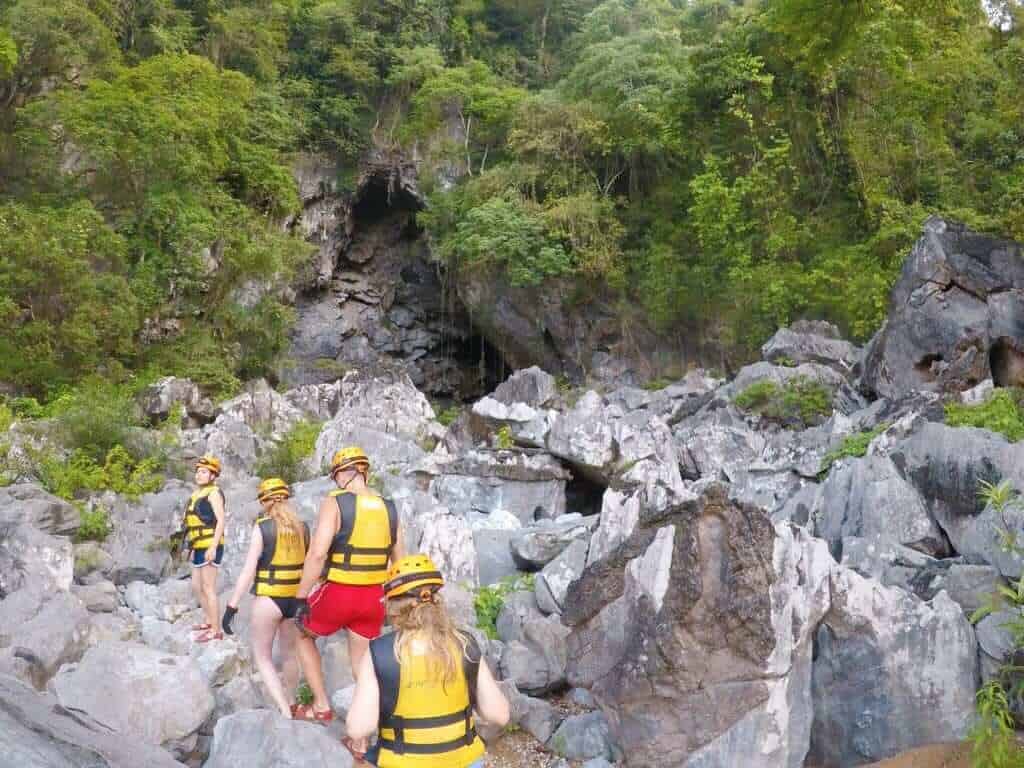 The story of the National Park
As we travelled by taxi to the train station at the end of our stay, our hostel manager told us a bit about the lives of the Phong Nha locals.

It's amazing how much the region seems to have changed in the last few years. He told us he'd opened the hostel in 2015 and had been one of the first ones the street – now every other building is a guesthouse or tourism office!

The increased number of visitors has brought new career options to the area with tourism being the main employment sector. I asked what people had done before tourism and he told me they'd hunted animals in the forest to sell to China, and now they're all gone. While this didn't sound ethical, it also sounded concerning for the people – aside from farming, what would they have done for an income with their main source about to dry up?

We'll never know. Tourism is in full swing in Phong Nha National Park and it's only set to grow. There's loads to see and experience and I'd thoroughly recommend stopping off. Have you been or are you planning a trip?
Thanks for reading!
If you liked it, please share it 🙂
Check out my other Vietnam posts:
See you next time for more adventures,
Rose
Vietnam quick links

Getting around by air – it's easy to get between cities by flight. I use Skyscanner to find the best-value flights, using the 'search by month' tool to find the cheapest dates. You can also use the 'to anywhere' feature if you're flexible on where you're going.

Stay connected with E-sim data plans that don't require delivery or collection; just span the QR code.

In my opinion, Lonely Planet offer the best guidebooks. Get the latest Lonely Planet Vietnam.

For Vietnam buses and trains, I use 12GoAsia. The search feature allows you to compare prices and durations.

I use Booking.com for accommodation. They have the best range of hotels and self-catering apartments, plus you can filter by review score and price to find the best-rated budget places. For hostels, I use Hostelworld.

To save money on accommodation, I use Trusted Housesitters, a website that connects homeowners going away and travellers who can sit their homes & pets.

For activities, I use GetYourGuide as they have a huge range of affordable tours.

Need travel insurance? I use True Traveller (for UK & Europe residents) since it's affordable but covers everything you'd need including various activities, valuables and pre-existing conditions. Unlike some companies, they insure you if you're already travelling / don't yet have your flight home booked. Get a quote.

For travel insurance for other nationalities, I recommend Hey Mundo and for long-term digital nomad travellers, I suggest Safety Wing.

Check out my resources page for more travel discounts and tips!