This post may contain affiliate links to things like tours, hotels, Amazon associates and products. These help me earn a small commission at no additional charge to you.
When I heard that about Tam Thanh Mural Village near Hoi An, I was pretty excited.

We all know I'm a massive street art fan but I wasn't expecting to stumble across any in Vietnam especially in Hoi An where the UNESCO city centre is crumbling and government-protected from new building work.

People come here to see the quaint and the traditional, not the cool and quirky – or so I thought.
Guide to Tam Thanh Mural Village
An hour's drive south of Hoi An lies Tam Thanh Mural Village, a colourful addition to any Hoi An itinerary.

The fishing village is beside a beautiful, abandoned beach that would be mobbed in minutes if it were in Hoi An!

The beauty of the project is that it attracts tourists somewhere else than the packed streets of Hoi An. By contrast, Tam Thanh is just 30 or so houses that, until recently, remained totally unexplored. It helps the locals, who unlikely benefit from tourism to Hoi An, make an income.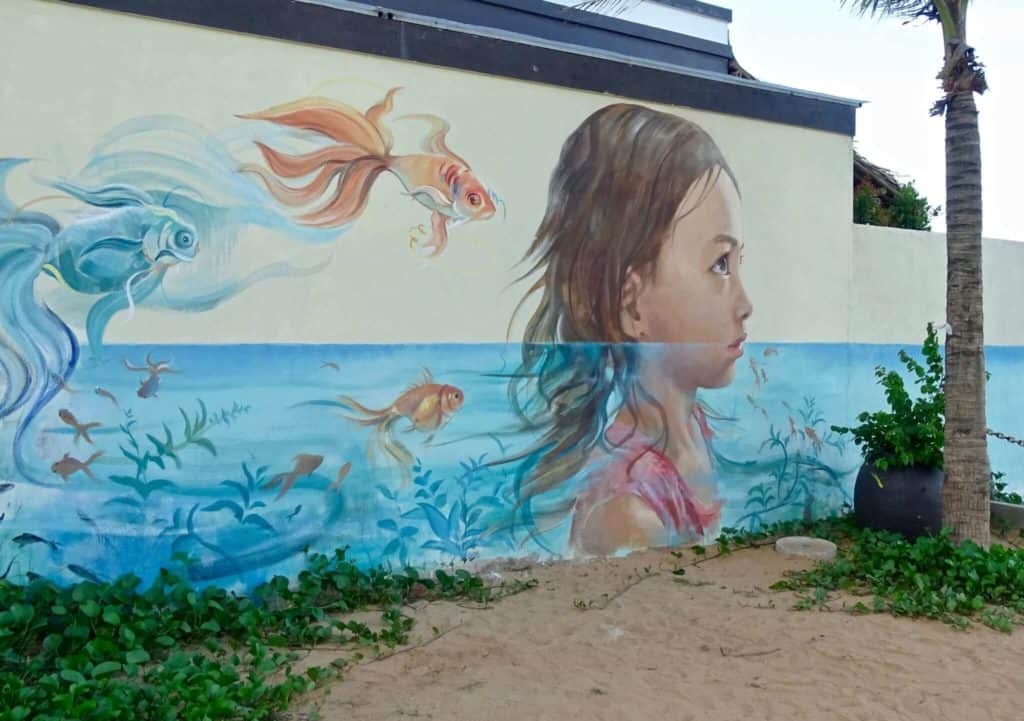 Each wall is splattered with colour, and even roofs and fishing boats are painted with colourful designs. I couldn't get over the skill of the artwork – it was so lifelike and detailed!
What's the story of Tam Thanh Mural Village
The works of art were painted by a group of Korean volunteers in a collaboration with the Quang Nam Province (the area Hoi An is also based in). Mural villages in South Korea are a popular way to tell stories of real people and their daily lives, as I found out when visiting Ihwa Mural Village in Seoul.

The team of Korean volunteers created Vietnam's very first street art village, Tam Thanh Mural Village. With the mission statement art for a better community, the original works were painted in just 20 days in 2016.

I'm told that Tam Thanh was picked as a deserving place because its rural location meant it had missed out on the opportunities tourism was bringing to Hoi An, Saigon and other destinations. It also had lots of houses close together which made it the ideal canvas.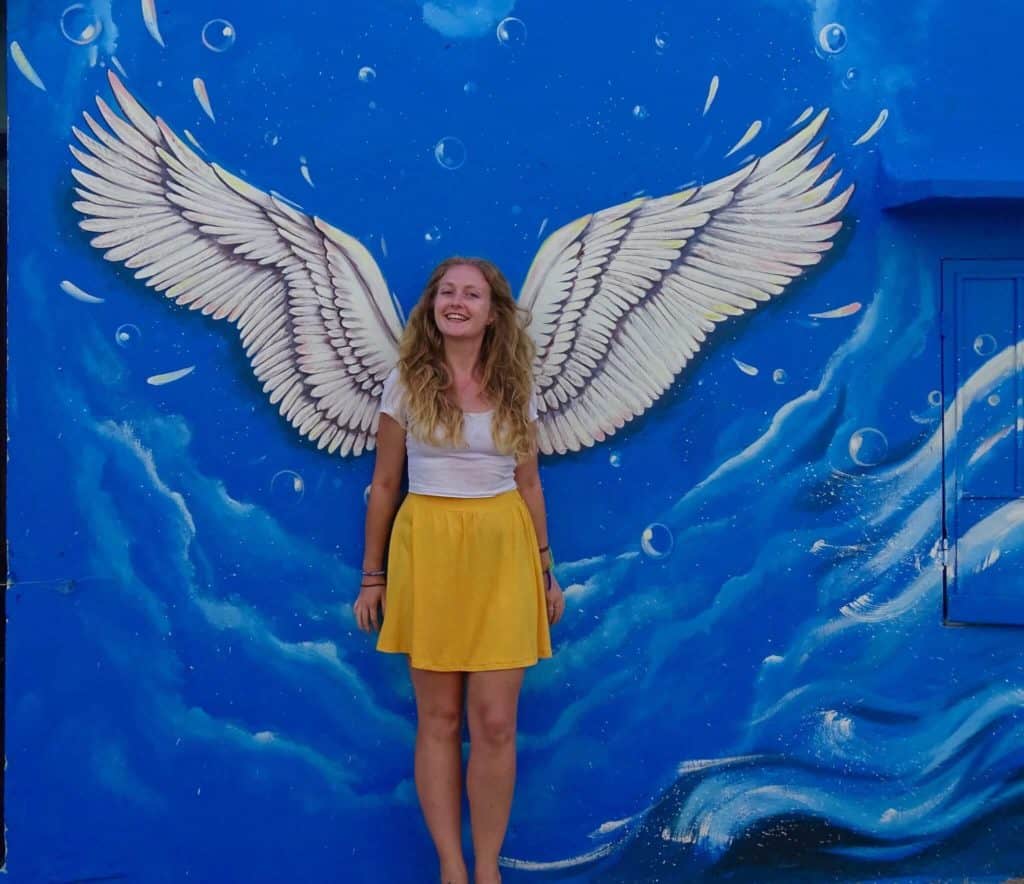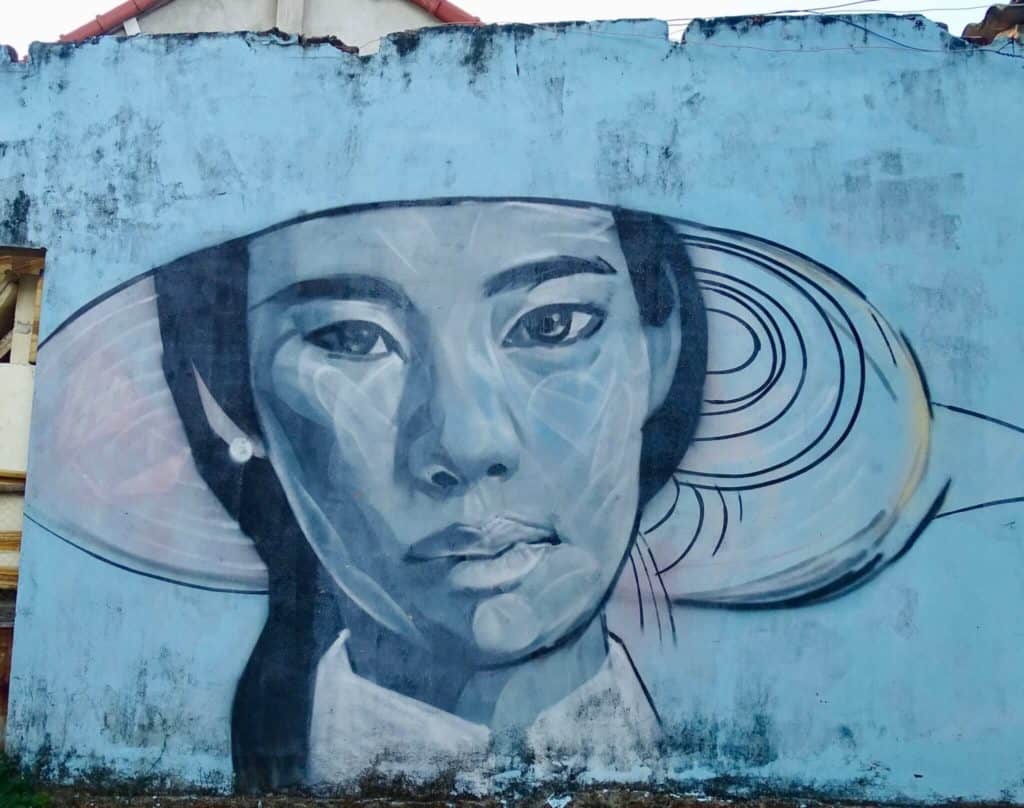 How to get to Tam Thanh Mural Village from Hoi An
Self-drive: It's an hour's drive from Hoi An so if you feel comfortable hiring a scooter, this will be your cheapest and easiest option.

Guided tour: There's an easy and affordable way to get to Tam Thanh Village from Hanoi and back. An organised tour costs just $16.

Taxi: Before deciding to take a tour, my friend and I had haggled one for 600,000 VND ($25) which included two hours of waiting time for us to explore. You'll want to secure a ride home in advance because there will be no cabs hanging around this tiny settlement!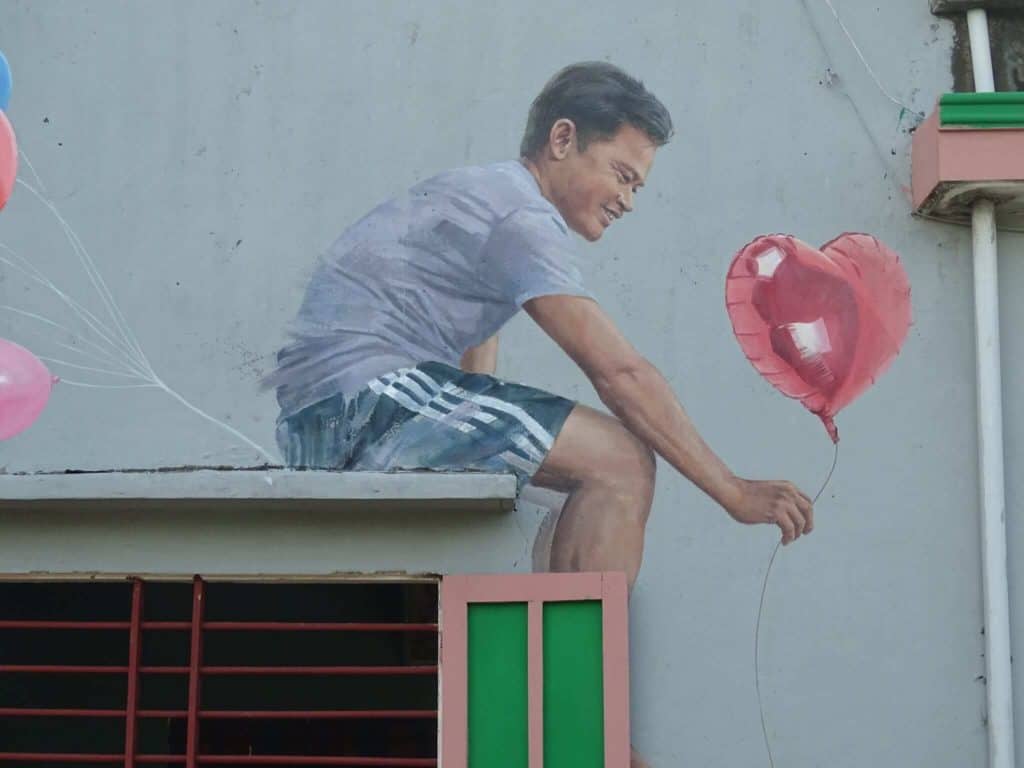 Taking a tour
Our tour picked us up in Hoi An at 1pm and arrived in Tam Thanh at 3.30pm, stopping at a couple of other attractions along the way. If you want a guide to fill you in on the history and to see some of the countryside as you go, it's a great option! We arrived back in Hoi An at 5.30pm.

Here we go with a little gallery of everything we saw during the street art tour…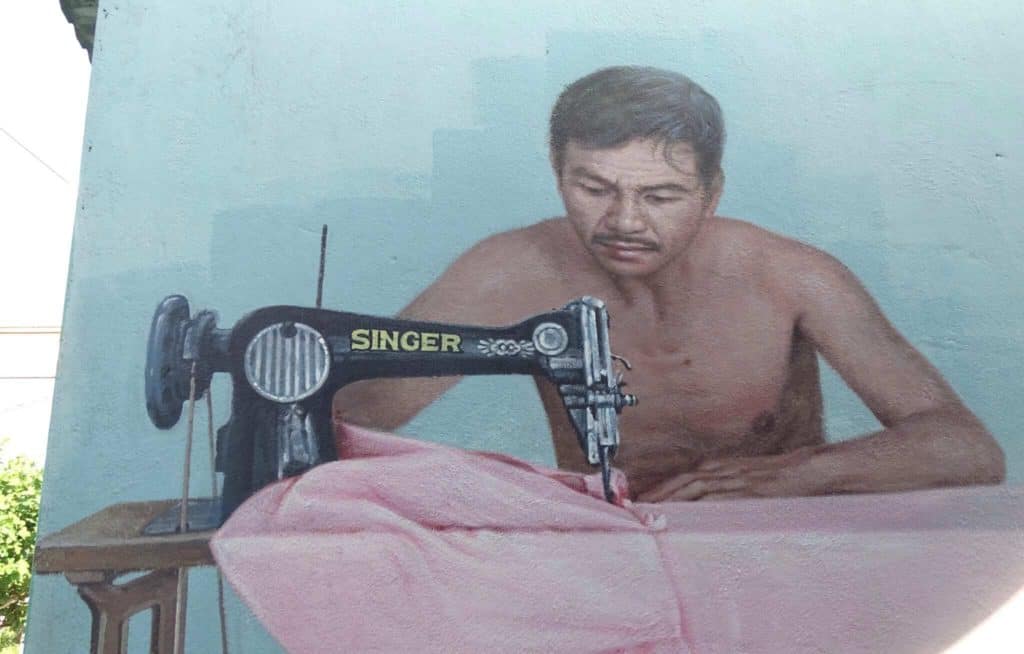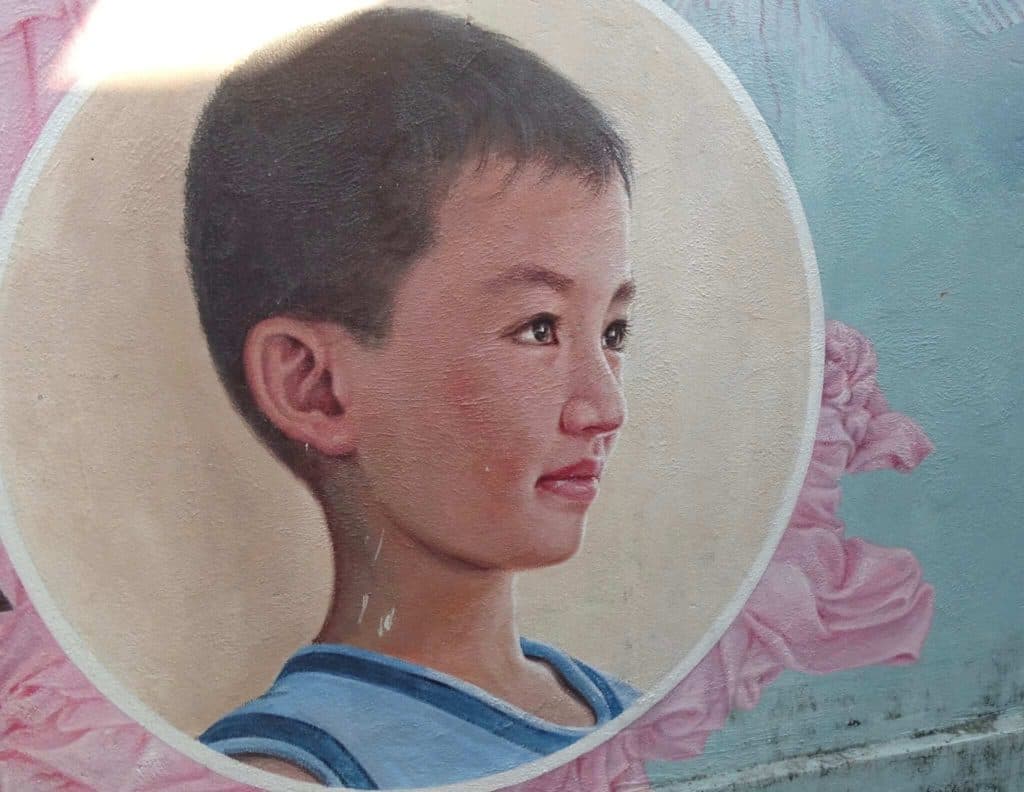 What to do there & on the way back
As I mentioned above, the drive between Hoi An and Tam Thanh Mural Village is only an hour but there's some gorgeous countryside on the way and…
The Vietnamese Heroic Mother Statue
This Heroic Mother statue measures 18.6m high and 120m wide and is dedicated to mothers who lost their children in battle. Apparently, it cost US$20 million to build – which seems like a crazy sum of money, but then it is very impressive and detailed.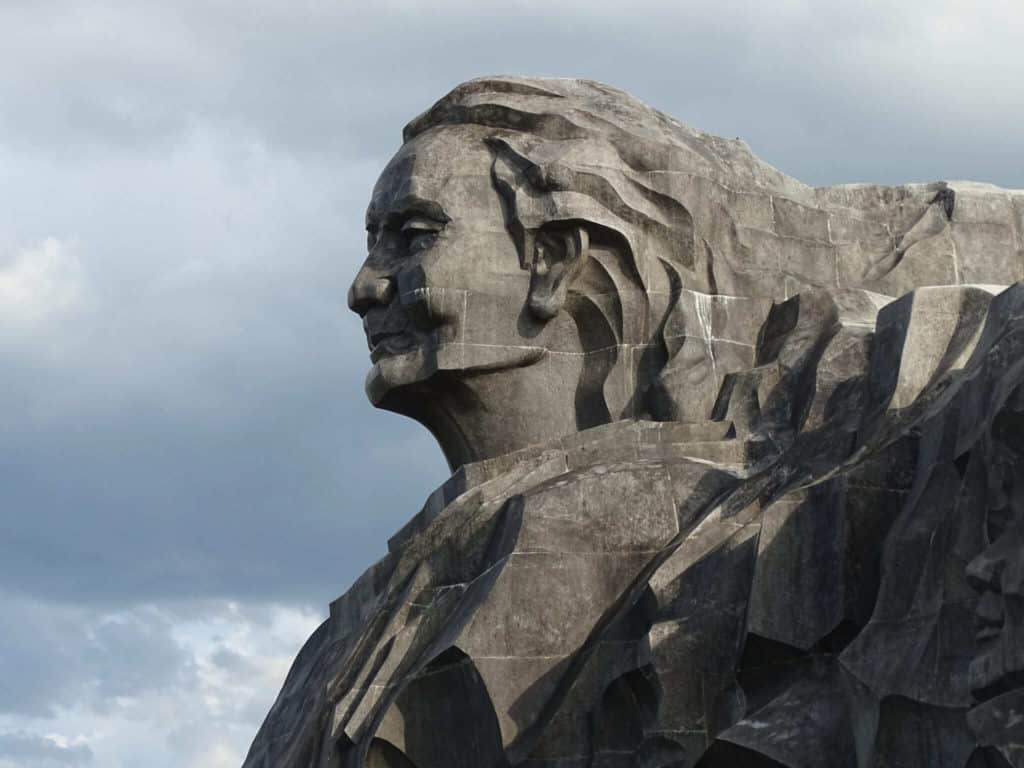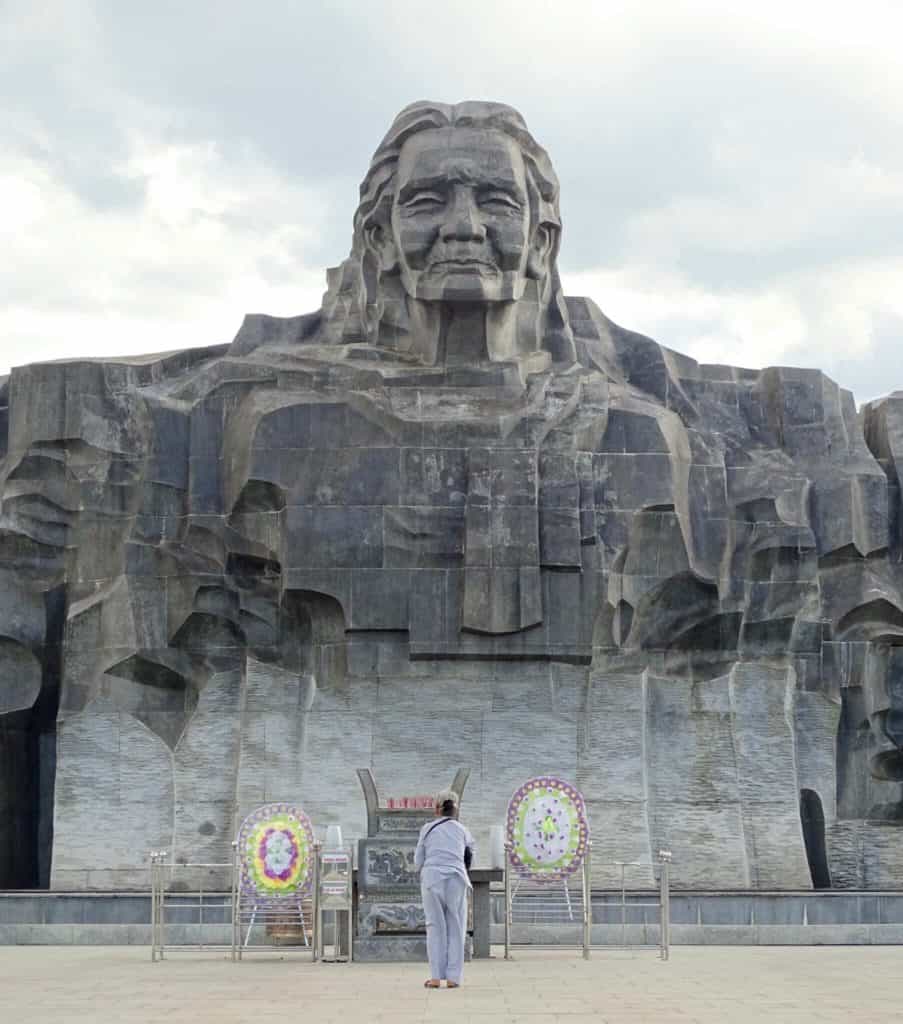 When to visit Tam Thanh Mural Village
Ideally, visit in the morning to get the best light. Then stop off at the Vietnamese Heroic Mother Statue on the way home. An easy half-day trip!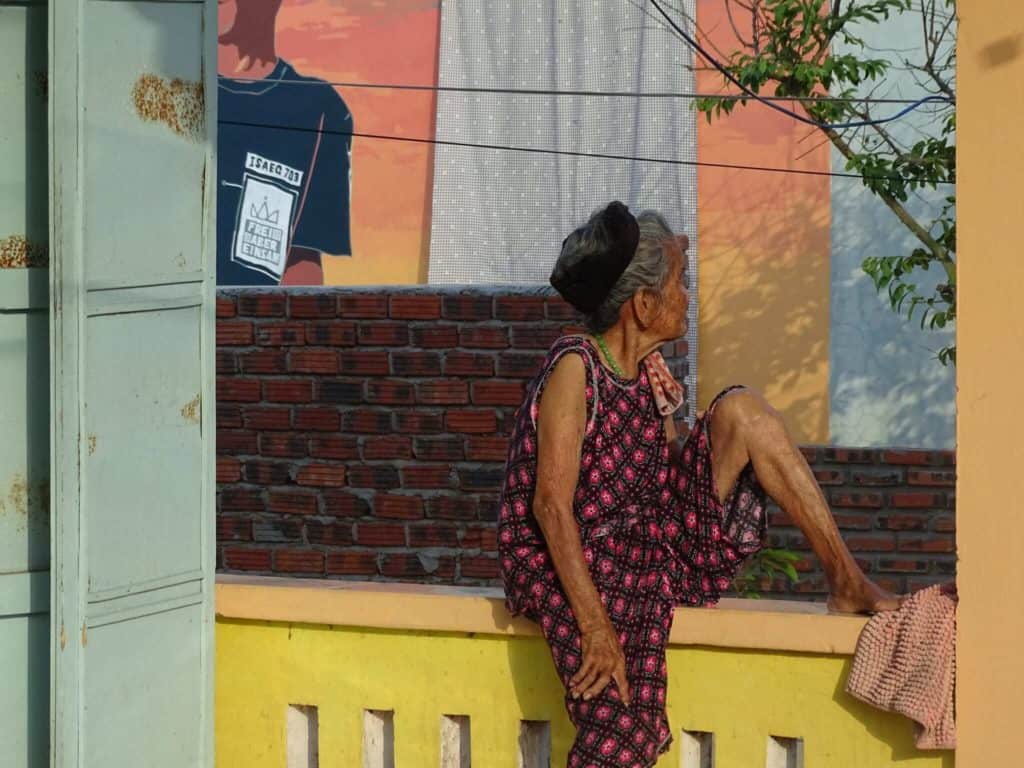 I'm so glad I heard about and visited this beautiful village. As well as the street art, I enjoyed visiting the gorgeous beach and meeting the friendly locals who were keen to smile and wave at us.

Apparently, the mural village has been a great success! It was fairly quiet during our visit but it's been reported up to 1,000 guests have visited on certain days. A new street art village called An Binh islet is also opening up near the Mekong Delta. I can't find much online about this yet, but I hope it's the second of many in Vietnam… and in fact, everywhere!

I think the whole world could do with a splash of colour and the chance to tell its stories…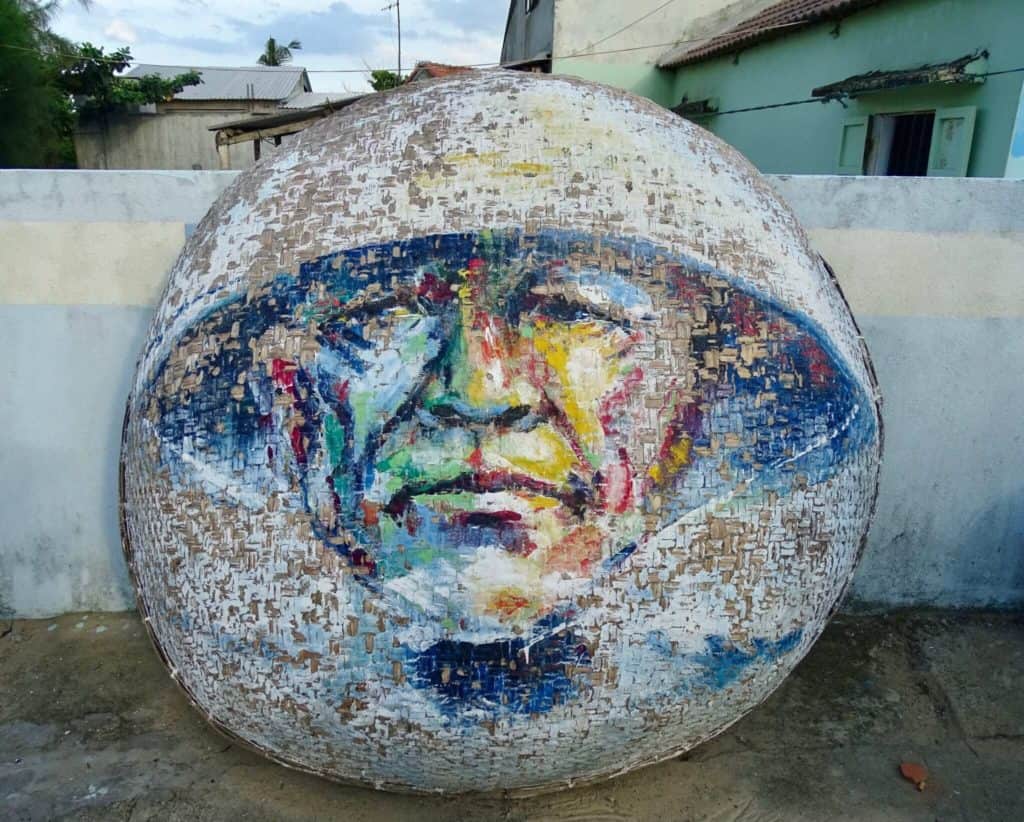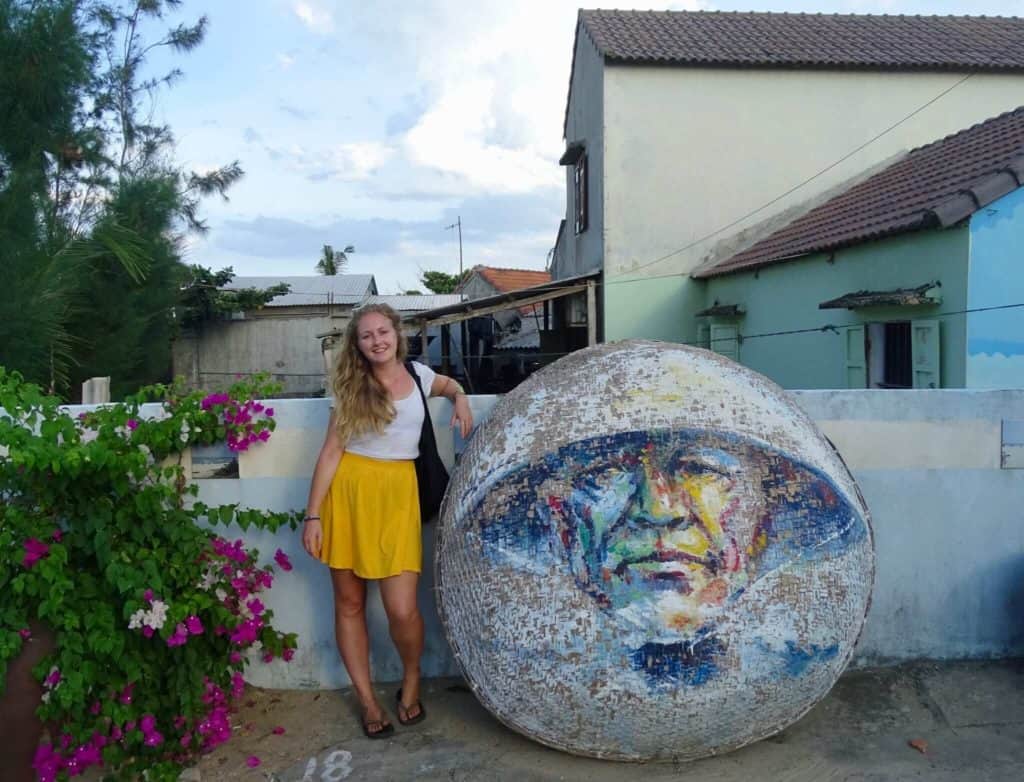 Read my other Hoi An blogs:
Thanks for reading!
Check out my Northern Vietnam posts:
Central Vietnam posts:
Saigon posts:
See you next time for more adventures,
Rose
Vietnam quick links

Getting around by air – it's easy to get between cities by flight. I use Skyscanner to find the best-value flights, using the 'search by month' tool to find the cheapest dates. You can also use the 'to anywhere' feature if you're flexible on where you're going.

Stay connected with E-sim data plans that don't require delivery or collection; just span the QR code.

In my opinion, Lonely Planet offer the best guidebooks. Get the latest Lonely Planet Vietnam.

For Vietnam buses and trains, I use 12GoAsia. The search feature allows you to compare prices and durations.

I use Booking.com for accommodation. They have the best range of hotels and self-catering apartments, plus you can filter by review score and price to find the best-rated budget places. For hostels, I use Hostelworld.

To save money on accommodation, I use Trusted Housesitters, a website that connects homeowners going away and travellers who can sit their homes & pets.

For activities, I use GetYourGuide as they have a huge range of affordable tours.

Need travel insurance? I use True Traveller (for UK & Europe residents) since it's affordable but covers everything you'd need including various activities, valuables and pre-existing conditions. Unlike some companies, they insure you if you're already travelling / don't yet have your flight home booked. Get a quote.

For travel insurance for other nationalities, I recommend Hey Mundo and for long-term digital nomad travellers, I suggest Safety Wing.

Check out my resources page for more travel discounts and tips!