This post may contain affiliate links to things like tours, hotels, Amazon associates and products. These help me earn a small commission at no additional charge to you.
Another day, another city, another excited Rose looking for street art! I was so looking forward to finding street art in Singapore.

I had just three nights in town and managed to pack in many of the best Singapore activities. It's a city with many different faces: glamorous and upmarket in the Core, local and ethnic in Chinatown and Little India, and colourful and hipster in various places!

You'll find that much of the street art in Singapore is condensed into certain neighbourhoods, as well as stand-alone pieces dotted around.

I hope you enjoy my Singapore street art guide!
Singapore street art in Little India
If ever there was a bright and bold canvas perfect for street art in Singapore, it was Little India. This whole area is a playground for the senses with bright colours splattered on the buildings, aromatic food bubbling at the food stands, and chattering groups enjoying the neighbourhood.

The Singapore street art is really easy to find and you won't be able to avoid stumbling upon it.
Kerbau Road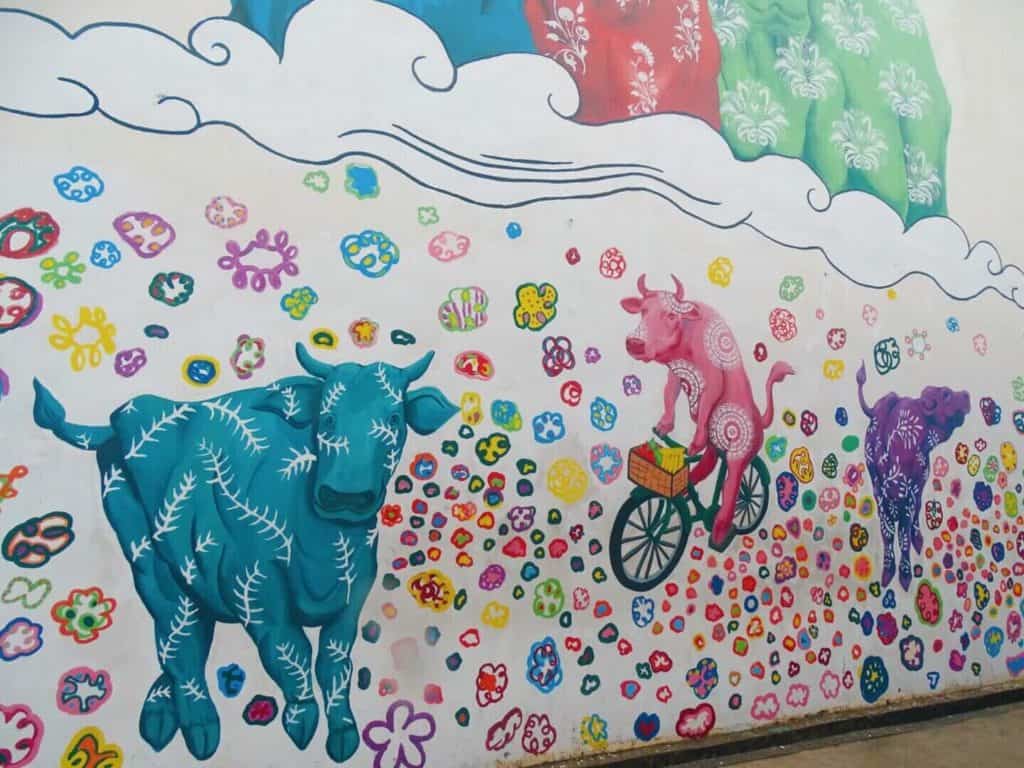 Kerbau means buffalo in Malay which is the meaning behind this colourful art piece on Kerbau Road. As you may know, cows are considered sacred in Hinduism and this piece links to the religion with lots of Indian-inspired patterns.
Racecourse Road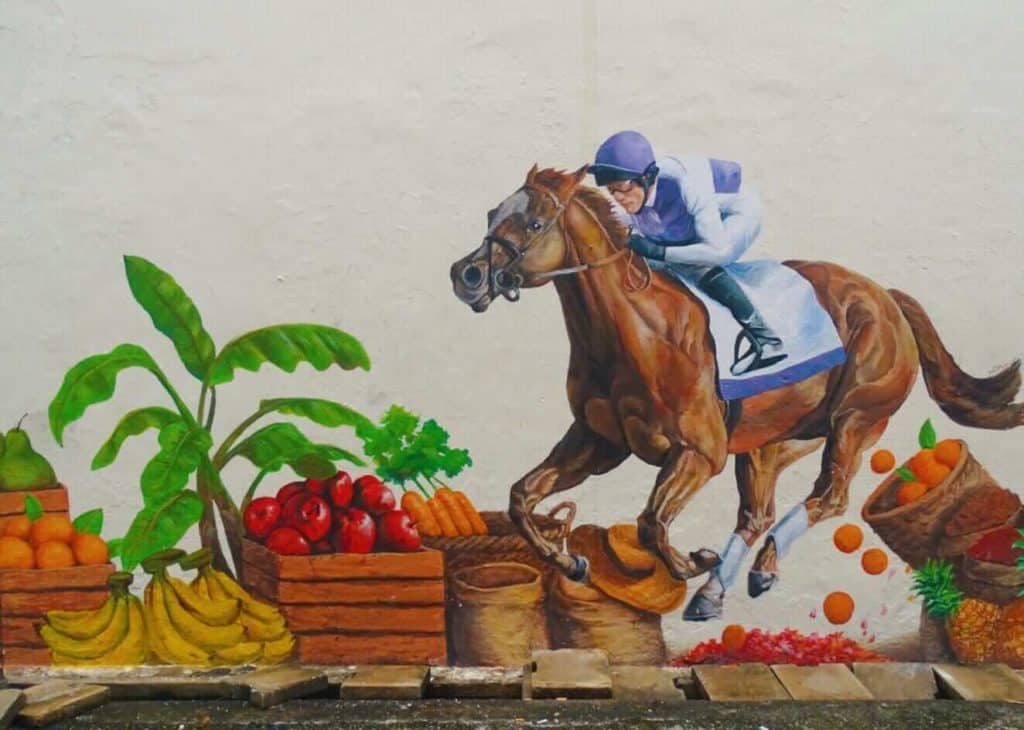 Is it obvious what used to lie on Racecourse Road? If the name isn't enough of a clue, this Singapore street art showing a horse and jockey will probably give the game away!
Baboo Lane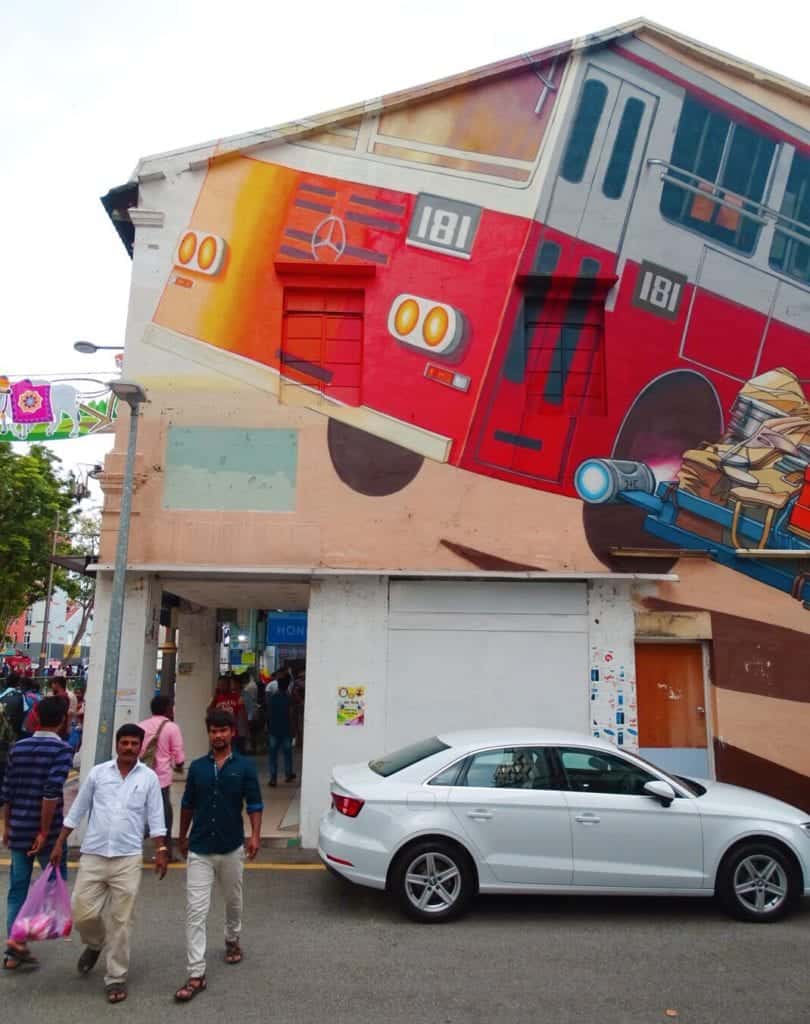 Find this striking piece of Singapore street art at the corner of Baboo Lane and Serangoon Road. The other half of the image shows how workers transport tiffin tins – a relevant part of life and work in Little India. This mural was only painted in 2018 so it's still bright and colourful.
Clive Street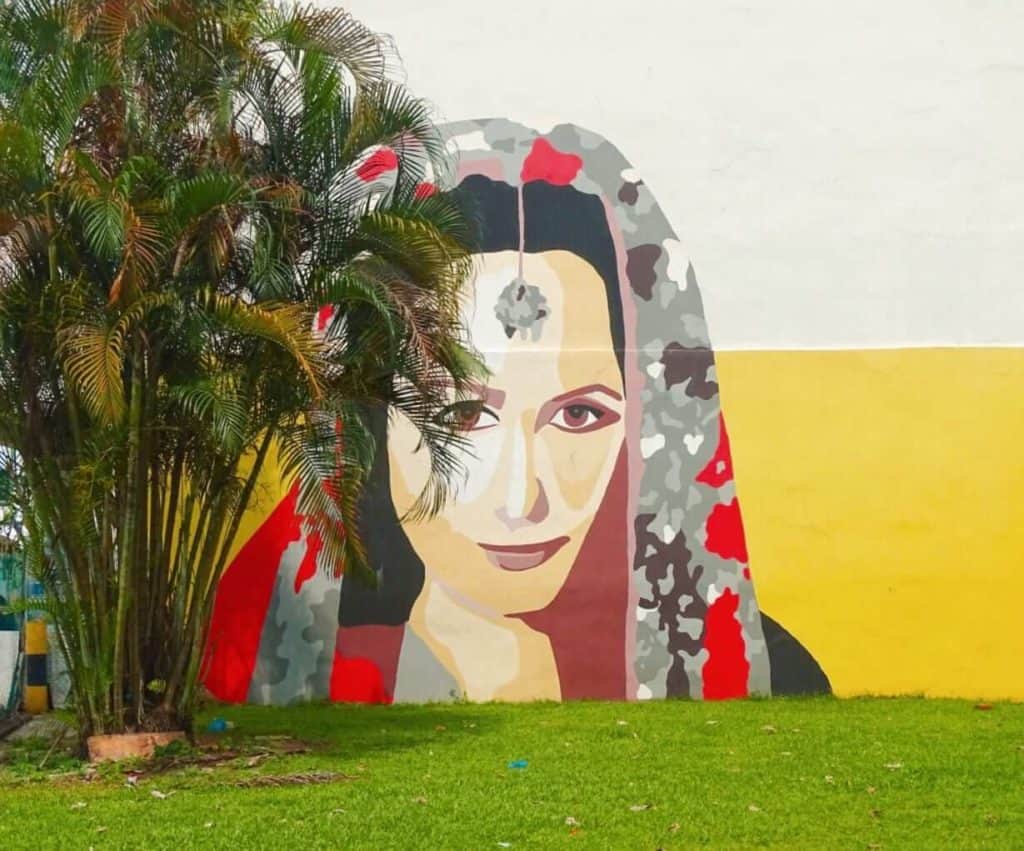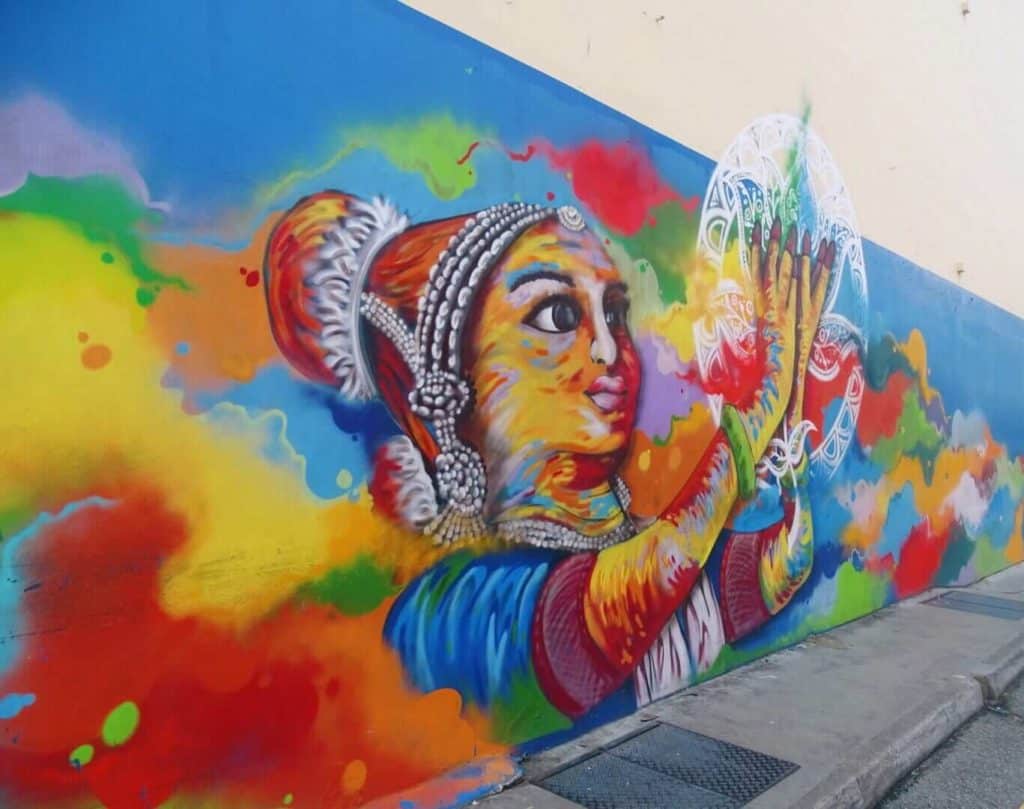 These colourful pieces on Clive Street are situated around a small park. The woman with the headscarf is at the back of the grass and the colourful figure above is on the main street beside it.
Hindoo Road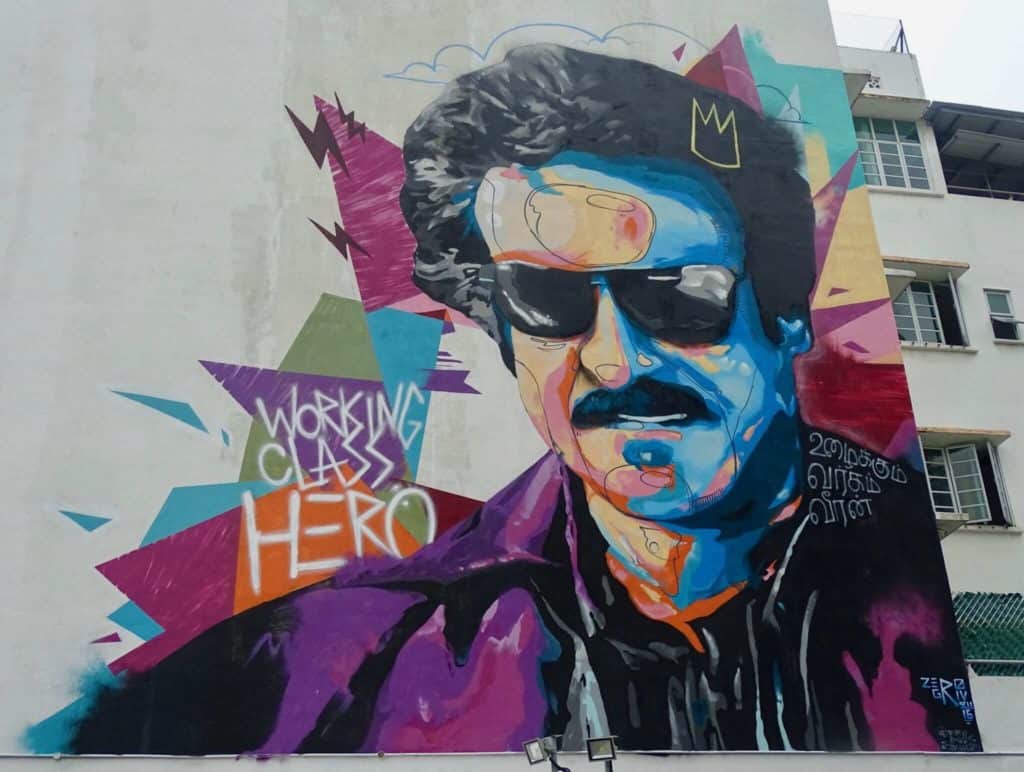 Celebrating Indian heroes from modest backgrounds, this piece of art shows Tamil film star, Rajinikanth.
Rowell Road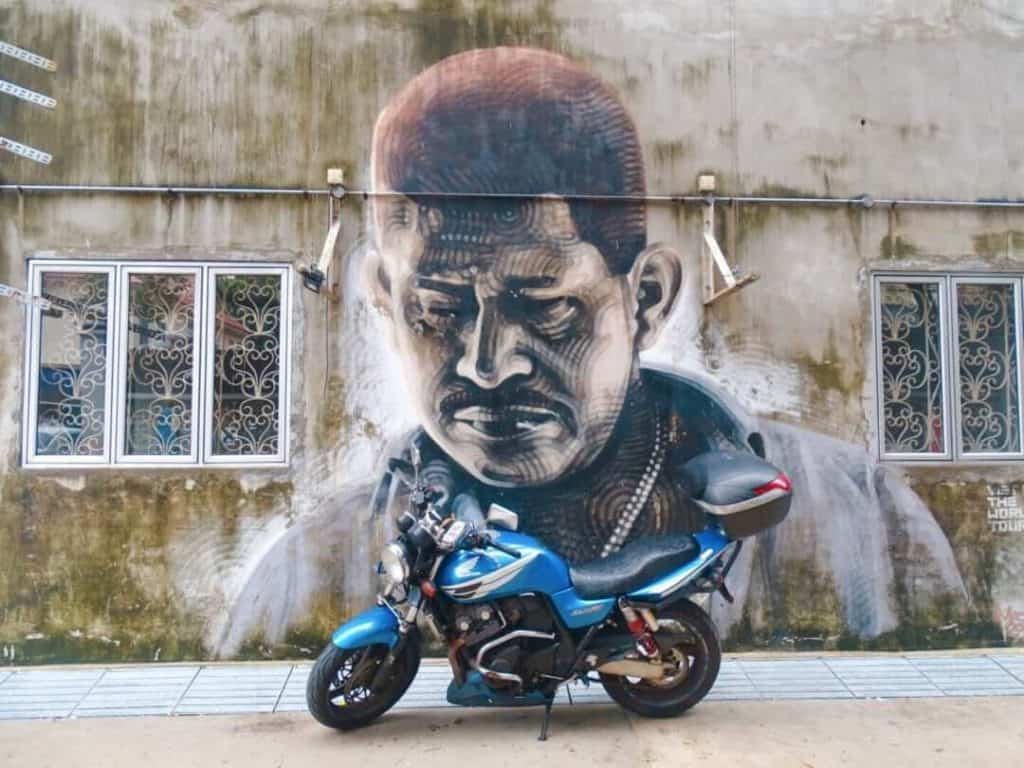 American street artist, Elmac uses ripple shapes rather than straight lines in his work. This piece of Singapore street art on Rowell Road is one of the most iconic ones in the area – Elmac somehow captures a sense of mood and expression in the subject's face.

It wasn't on purpose but I think the motorbike parked in the shot is the perfect grammable accessory!
Belilios Lane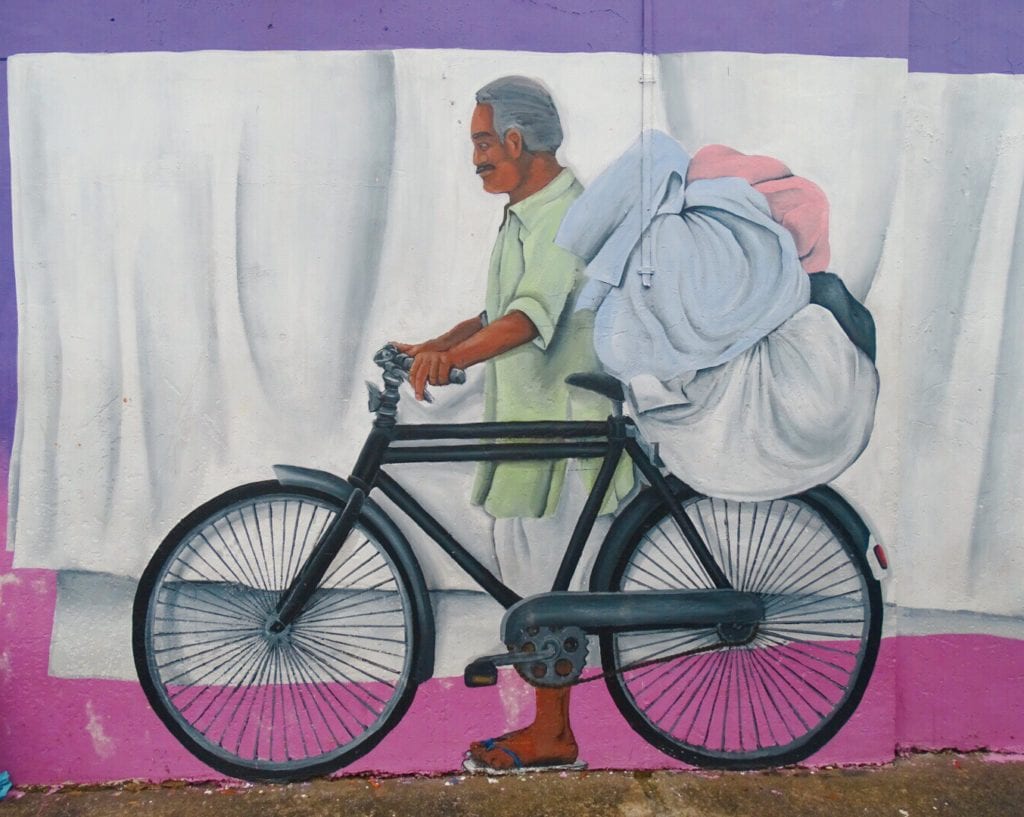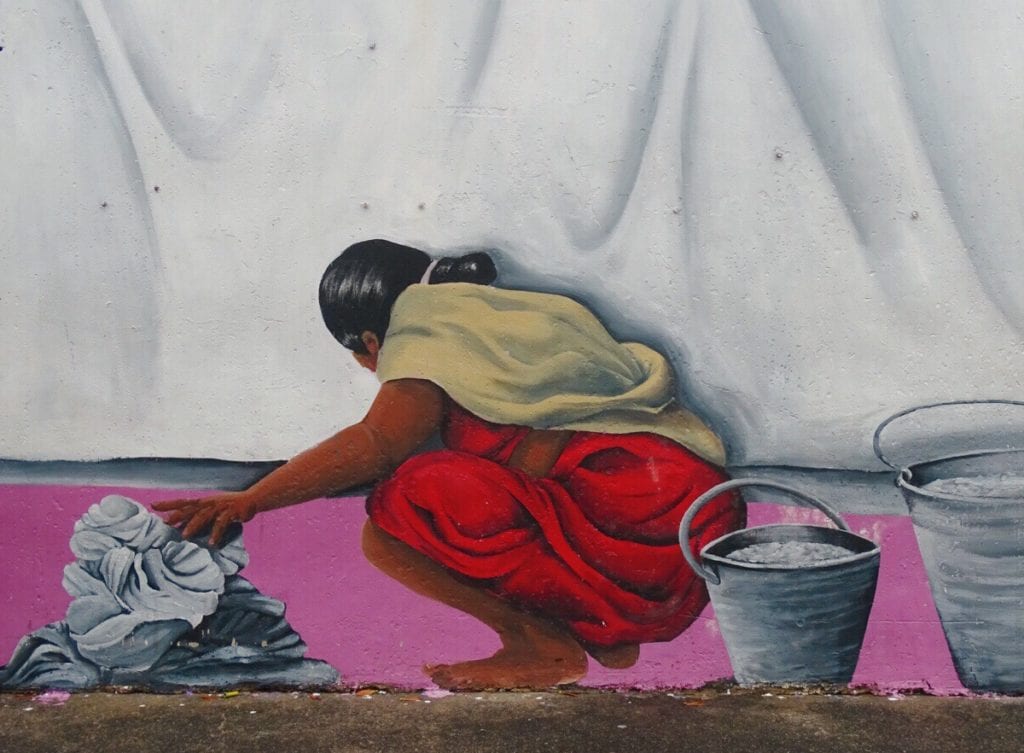 There are a whole collection of colourful images on Bellios Lane which show the local trades of the Indian community. You can see people washing clothes, selling tea and handmaking flower garlands.
Upper Dickson Road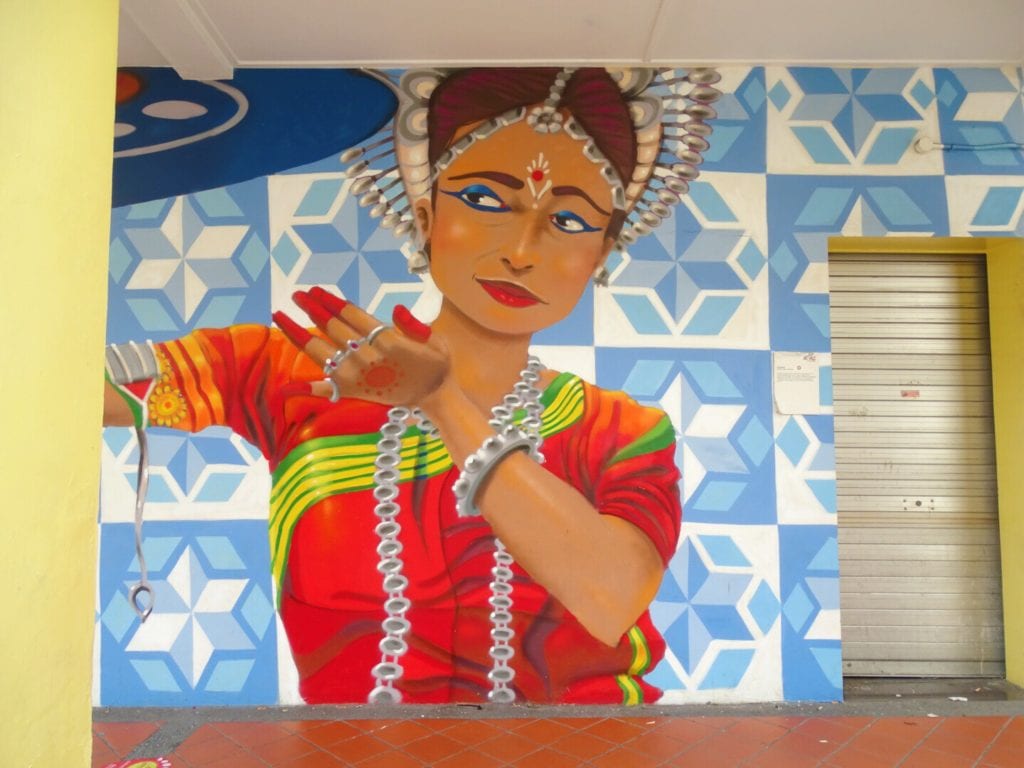 If you're on the hunt for street art in Singapore, don't miss Upper Dickson Road. Just before Dickson Road joins the main road, you'll find these colourful images underneath a sheltered walkway. They show Indian women partaking in traditional Indian dances clad in beautiful sarees and traditional jewellery.
More Singapore street art locations
While Little India is home to most of the street art in Singapore, don't stop there. I found a few other colourful corners of Singapore known for their urban art. These included…
Interactive art at 51 Waterloo Street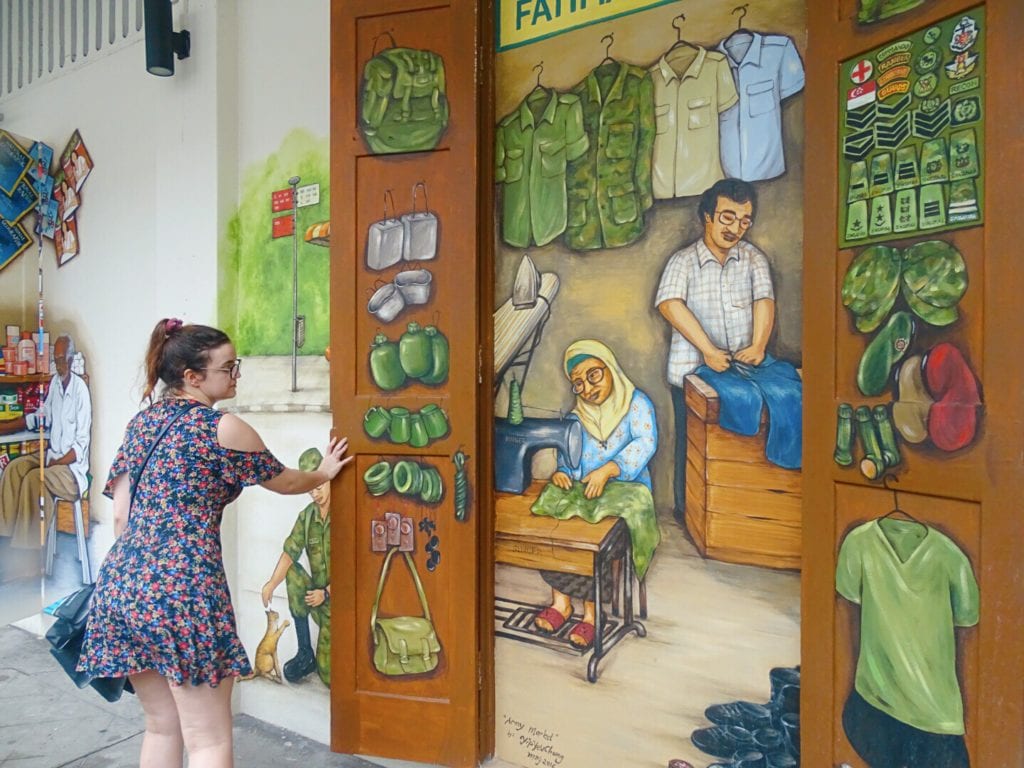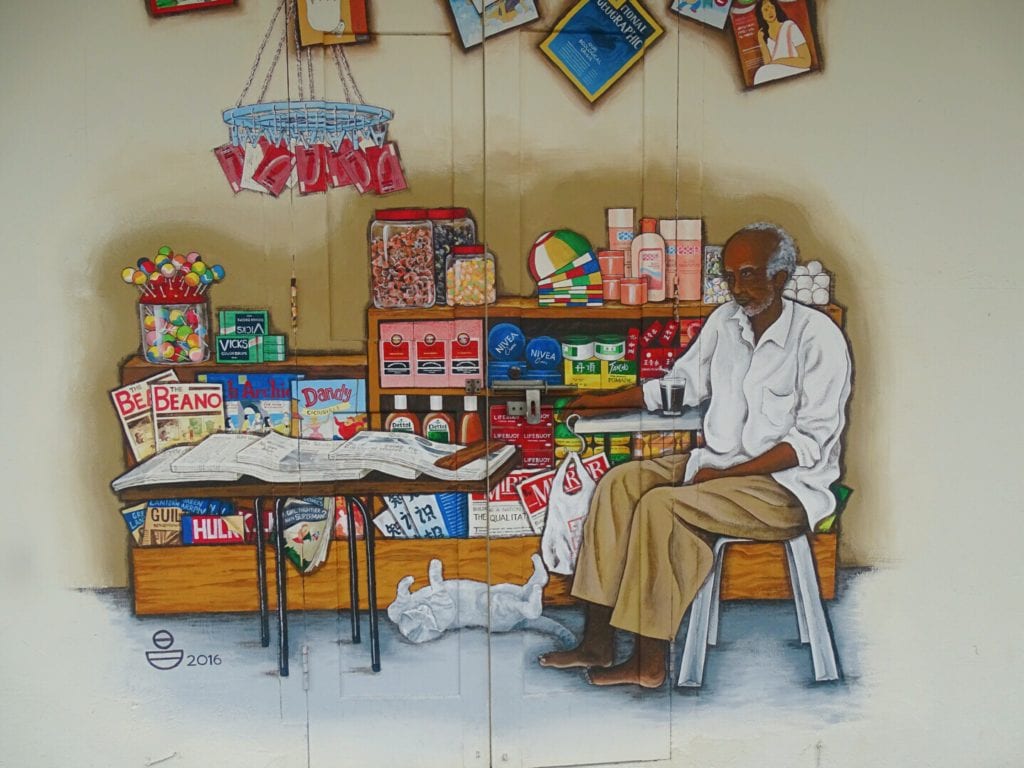 Heading out of Little India, I found some of the coolest street art in Singapore. The pieces at 51 Waterloo Street can be found in a hidden corridor off the main street and use interactive elements like doors that open and close over the art to show different scenes.

They tell stories from the 1970s and 80s with details like Beano comics and $2 cinema tickets. It's all very retro and fun!
Queen Street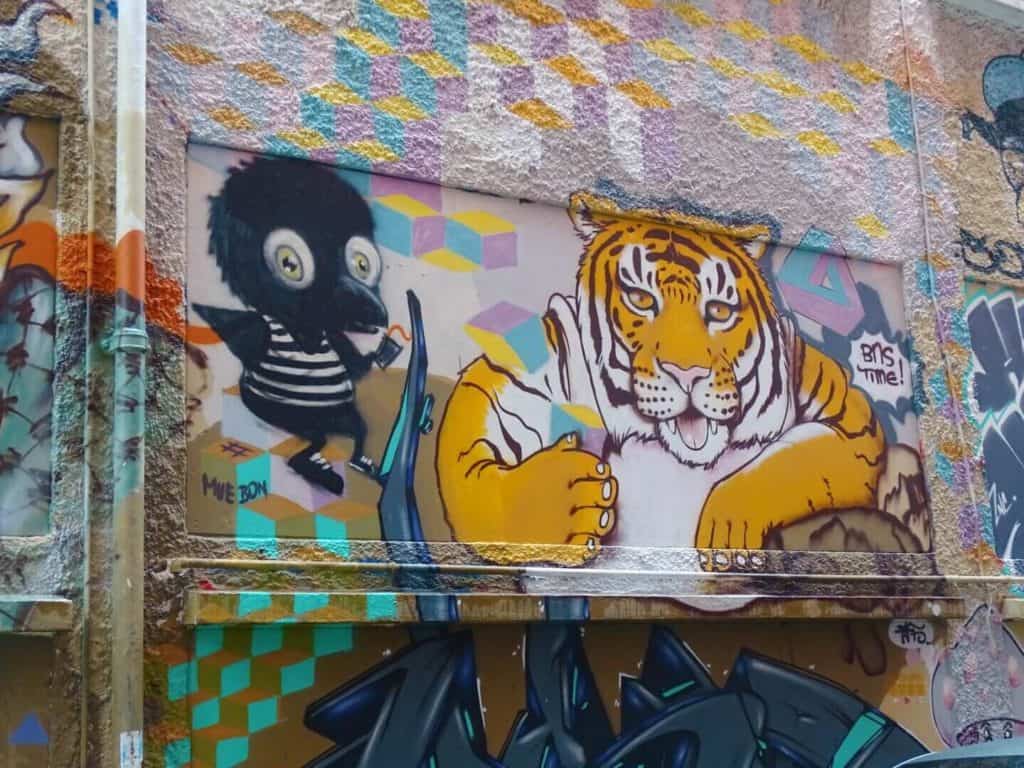 Head around the corner from Waterloo Street and find this colourful alleyway packed with cartoon art including this giant tiger.
Haji Lane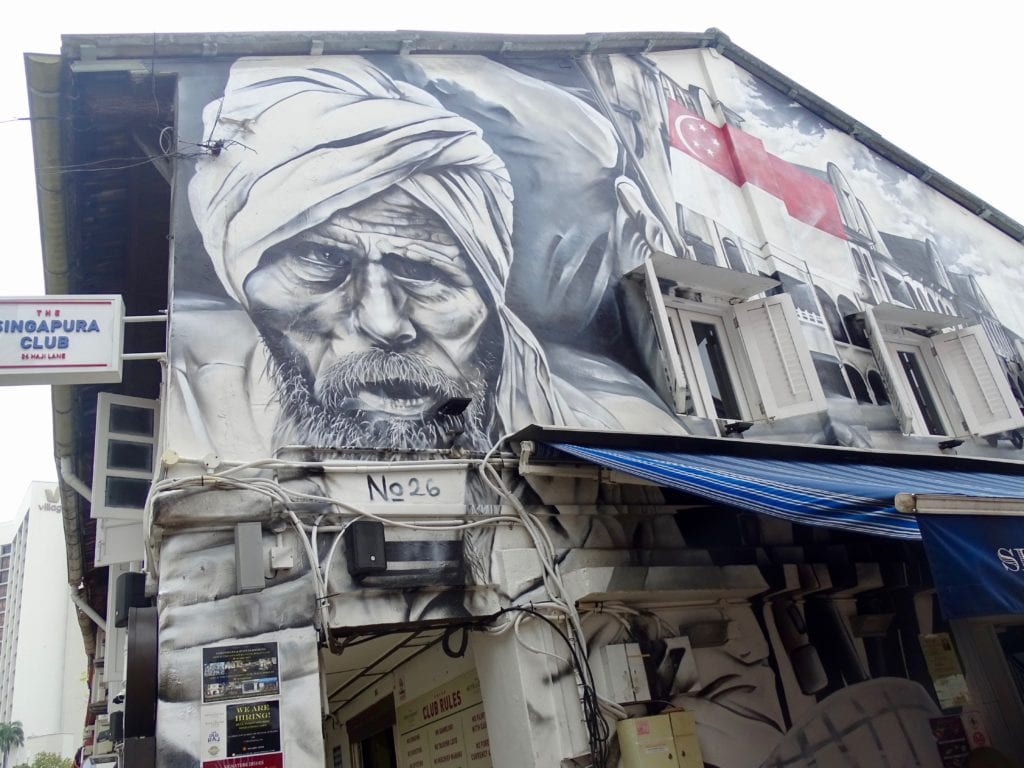 Haji Lane is an awesome place to spend time whether you're looking for Singapore street art or not! This colourful part of town is packed with cute cafes, boutique shops and a lot of colourful murals. I liked this life-like man on the wall of the Singapura Club.
Victoria Street
Sultan Arts Village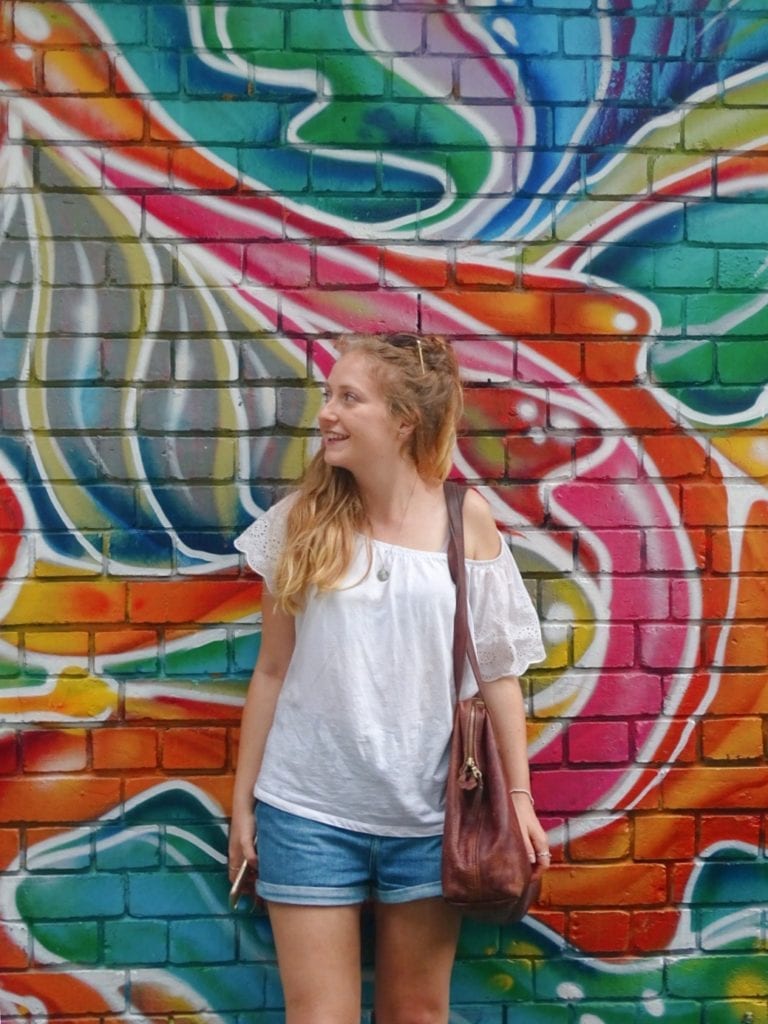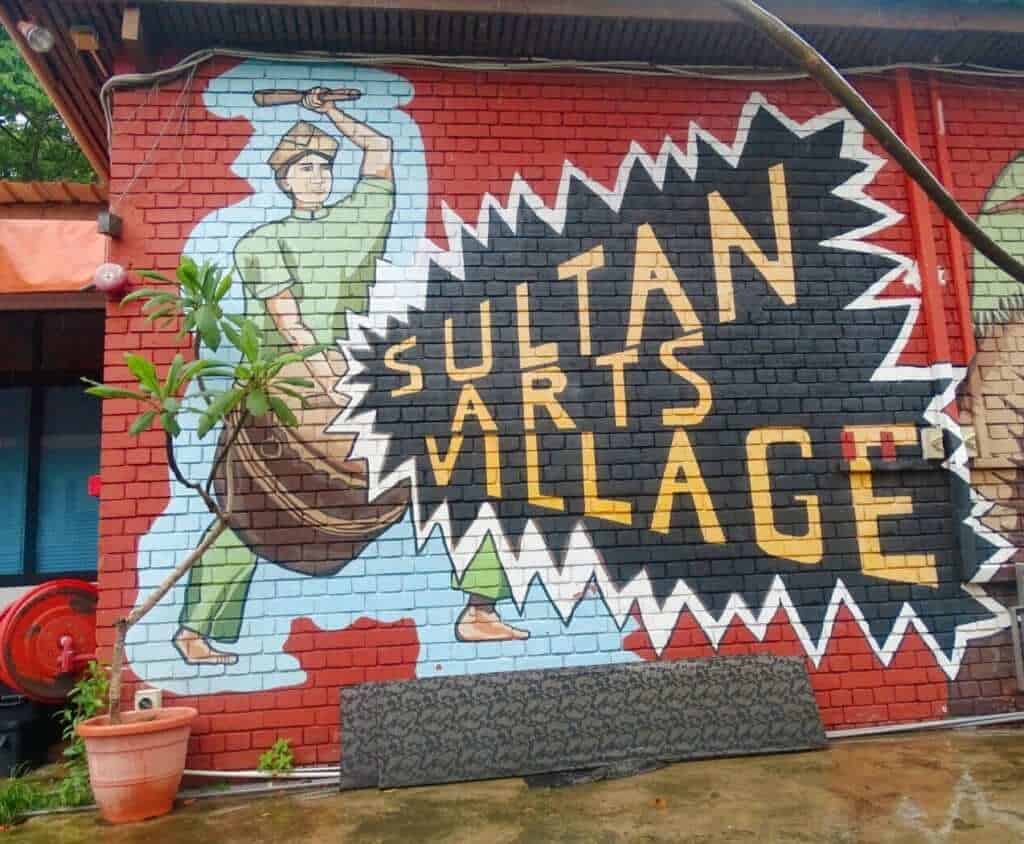 Also not far from Haji Lane lies Sultan Arts Village. It's a small compound with some cool art galleries and shops, plus plenty of outdoor paintings. This multicoloured wall is a great backdrop to pose for the gram!
Amoy Street Food Centre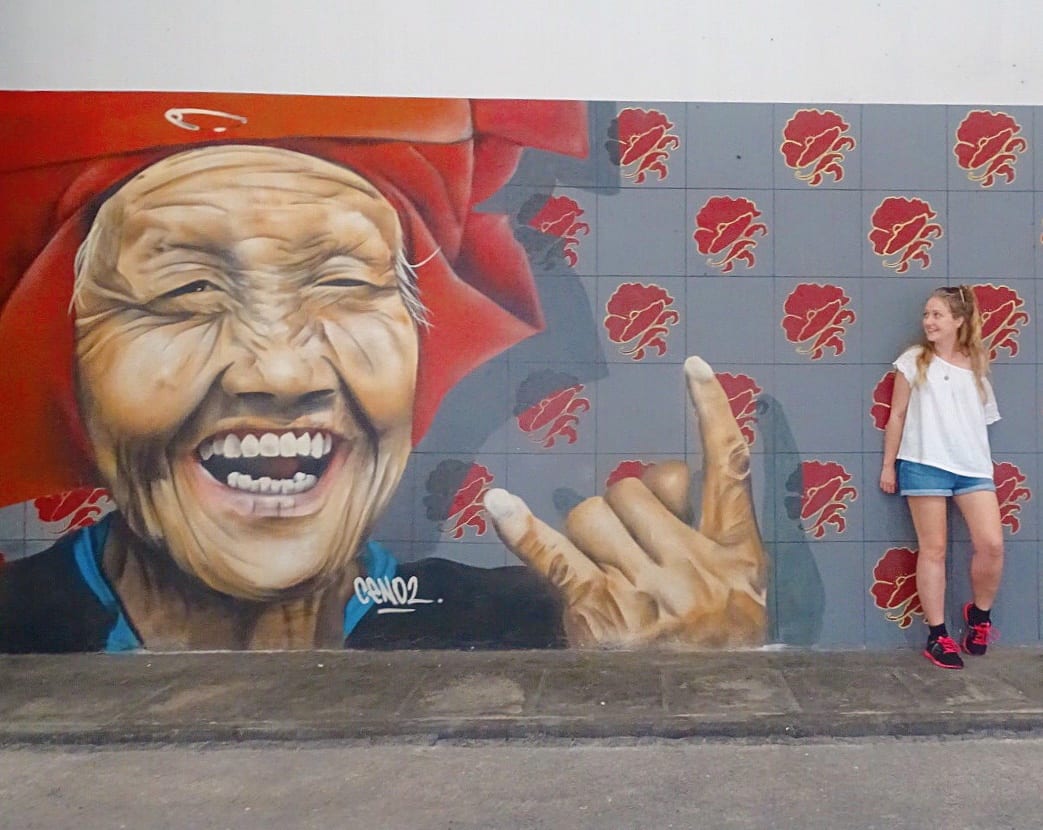 Chinatown is home to less Singapore street art than Little India but the pieces are just as colourful. Don't miss Amoy Street Food Centre where Singapore street food is served to a backdrop of huge murals. I particularly liked this cool old lady who looked full of character.

I hope you've enjoyed this Singapore street art guide and it helps you find all these pieces of street art. The great thing about Singapore is that there's always something quirky and colourful that other people have missed – so you're bound to spy some I didn't. Enjoy!
Thanks for reading my Singapore street art guide
Check out my other Singapore posts:
More Asia street art blogs:
See you next time for more adventures,
Rose
For more travel content, follow me on Instagram, Facebook, Twitter and YouTube.
Ps. Liked this Singapore street art guide? Pin it for later!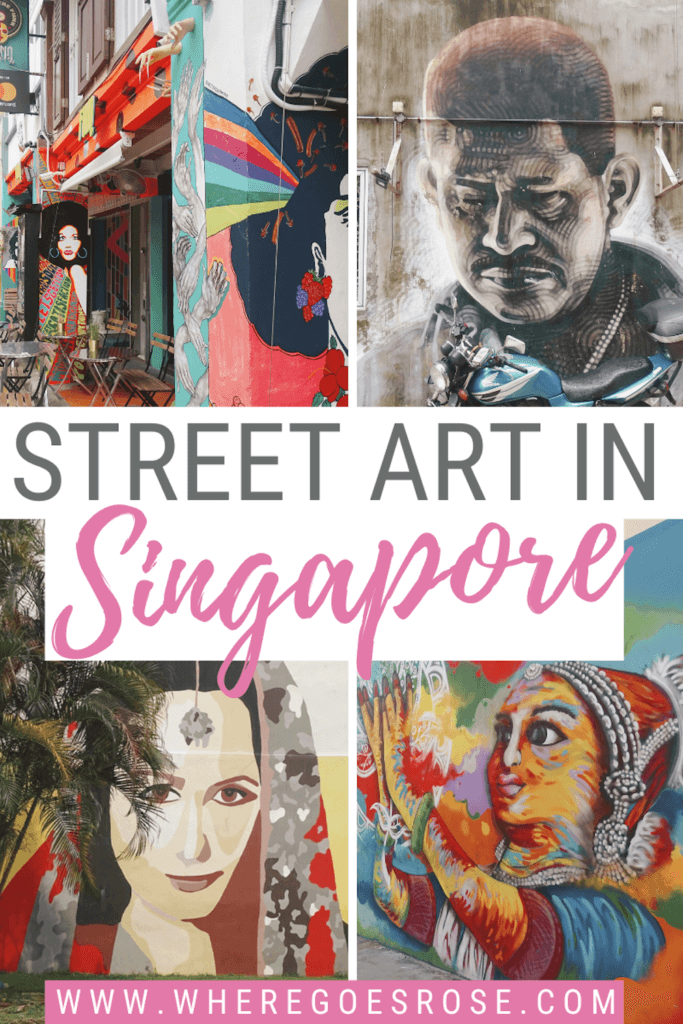 Singapore useful links

Flights – I use Skyscanner to find the best-value flights, using the 'search by month' tool to find the cheapest dates. You can also use the 'to anywhere' feature if you're flexible on where you're going.

Stay connected with E-sim data plans that don't require delivery or collection; just scan the QR code.

In my opinion, Lonely Planet offer the best guidebooks. Get the latest Lonely Planet Singapore.

For buses to Malaysia, I use 12GoAsia. The search feature allows you to compare prices and durations.

I use Booking.com for accommodation. They have the best range of hotels and self-catering apartments, plus you can filter by review score and price to find the best-rated budget places. For hostels, I use Hostelworld.

To save money on accommodation, I use Trusted Housesitters, a website that connects homeowners going away and travellers who can sit their homes & pets.

For activities, I use GetYourGuide and Viator as they both have a huge range of affordable tours.

Need travel insurance? I use True Traveller (for UK & Europe residents) since it's affordable but covers everything you'd need including various activities, valuables and pre-existing conditions. Unlike some companies, they insure you if you're already travelling / don't yet have your flight home booked. Get a quote.

For travel insurance for other nationalities, I recommend Hey Mundo and for long-term digital nomad travellers, I suggest Safety Wing.

Check out my resources page for more travel discounts and tips!