This post may contain affiliate links to things like tours, hotels, Amazon associates and products. These help me earn a small commission at no additional charge to you.
I'd heard of the Rainbow Village of Taichung long before my trip to Taiwan. How could I not? It often crops up on social media and, being the street art fanatic I am, it was never going under my radar.

What I didn't know was the incredible story behind the Rainbow Village of Taiwan. I thought it was a tourist initiative, like the mural village of Hoi An, but that's not the case at all.

Admittedly, travellers from around the globe visit which has really put Taichung on the map. While there are plenty of other things to do in Taichung, today I'm going to tell you the story of this once-sleepy hamlet.

It was the brainchild, not of a savvy tourism body, but a 90-year-old man trying to save his home. Let's get into the full story after a few details on visiting the Rainbow Village of Taiwan…
TAICHUNG ESSENTIALS

Accommodation – Booking.com / Hostelworld

Getting there – car hire / bus / train (12Go)

Activities: GetYourGuide / Viator

Guidebook: Lonely Planet Taiwan

Staying connected:unlimited 4G SIM card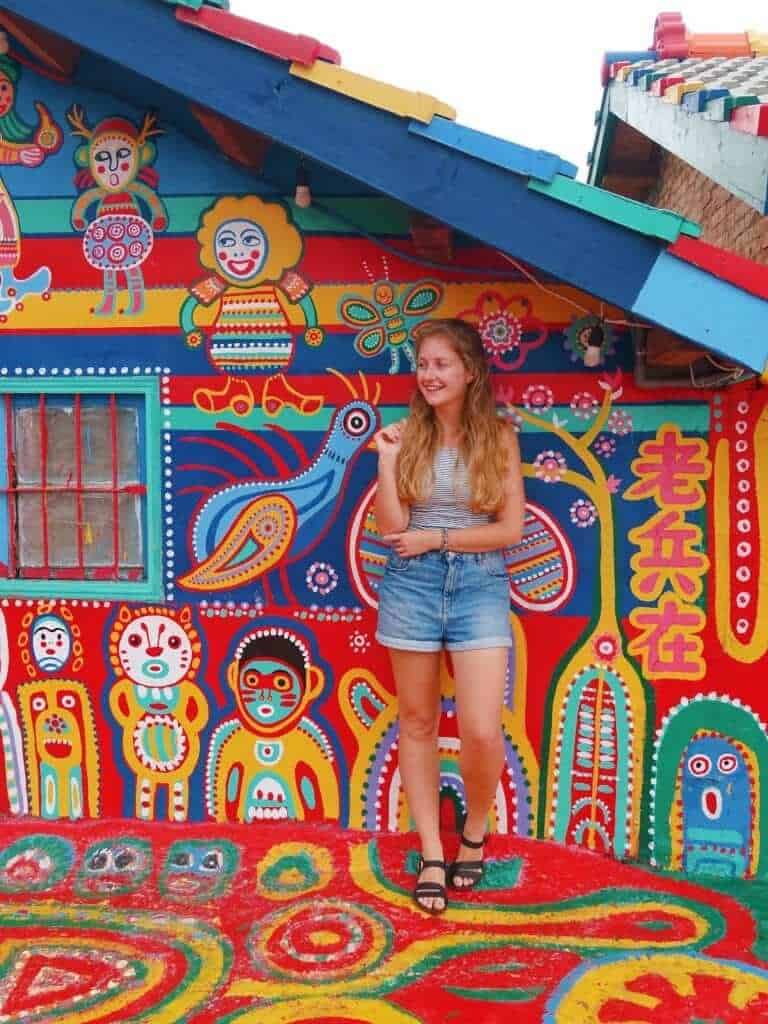 Looking for more street art in Taiwan? Check out my guide to Kaohsiung
Where is the Rainbow Village of Taiwan?
The Rainbow Village is in Taichung, a city of 3 million on the west coast of Taiwan.

The fast train from Taipei takes 2.5 hours each way from there, you need to catch a bus over the Rainbow Village which is on the outskirts. For that reason, I'd do it as a day trip from Taipei only as a last resort if you don't have a spare night to spend in Taichung.

If you have the time, I'd recommend spending a couple of days in Taichung where you can also visit Sun Moon Lake and sip bubble tea in its birthplace.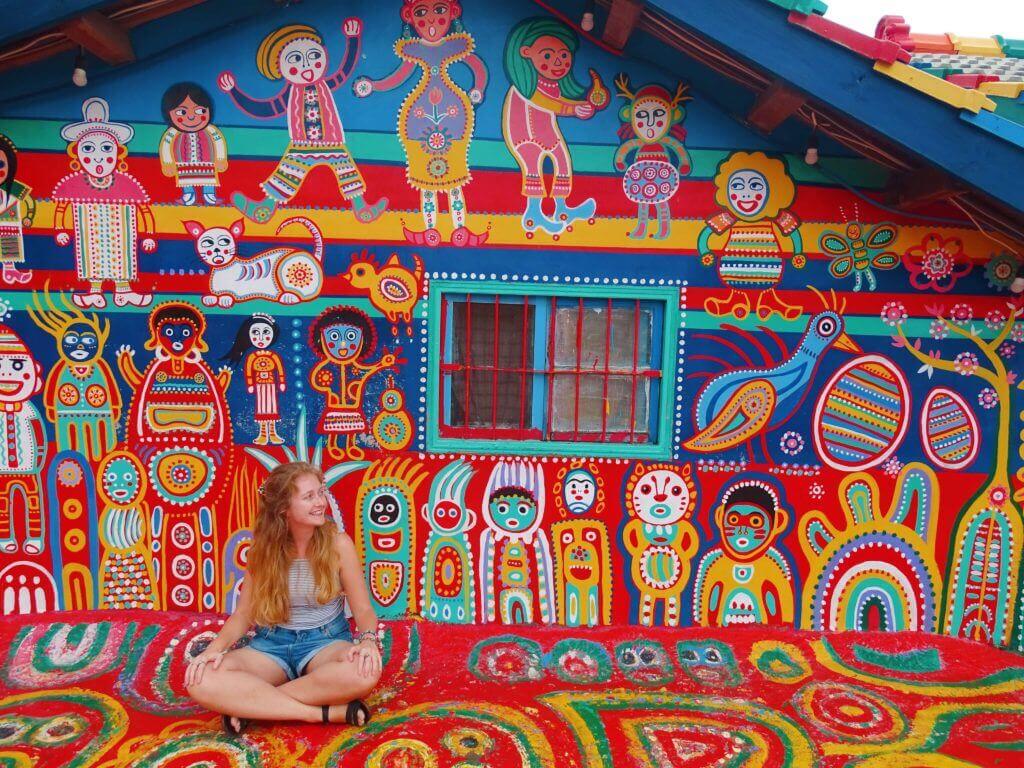 Read next: the ultimate 2 week Taiwan itinerary
Getting to the Rainbow Village Taichung
As I mentioned, the Rainbow Village Taichung is on the outskirts of the city.

The best way to visit from the main train station is to catch a local bus: the 89 and 27 run regularly to Ling Tung University, from where you can walk to the Rainbow Village in 8 minutes. The fare is a bargain at 12 TWD or free if you have an EasyCard.

If you're staying near Yizhong Street like I was, the number 56 bus runs direct and takes 50 minutes, stopping right outside the village. The bus stop is actually called 'Rainbow Village' (in English) so you can't miss it.

For more practical info, check out my top 25 Taiwan travel tips for a smooth visit.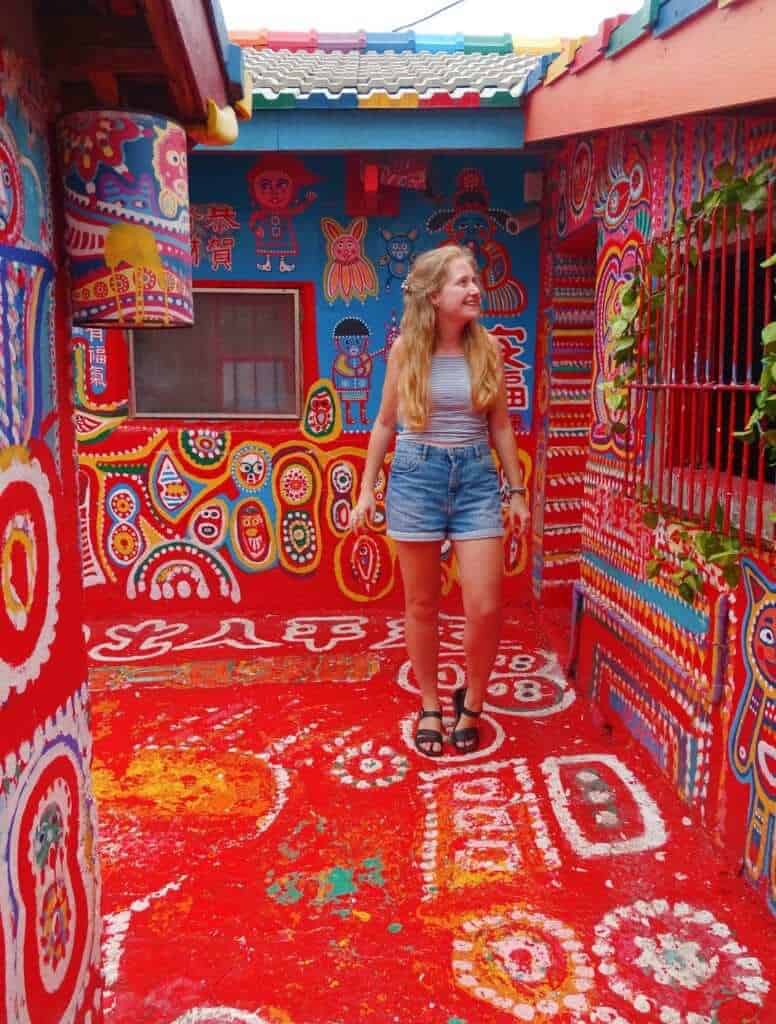 The story of the Rainbow Village Taichung
Before the Rainbow Village was splashed in colourful hues, it was an unremarkable settlement used as temporary army housing.

Huang Yong-Fuhe, also known as the Rainbow Grandpa, was a retired serviceman, having served for many years in the military. Reports paint him as a loving gentleman with a fascination for animals and a sense of right prevailing over wrong.

The Rainbow Grandpa was born in China, conscripted to fight against the Japanese, relocated to Hong Kong and conscripted again to fight in Taiwan. He finally settled and bought a house in a military village in Taichung.

However after some years, the village was scheduled for demolition by the government. Whilst others left the hamlet behind, Yong-Fu decided to stay put and fight for his home. He became one of the only residents.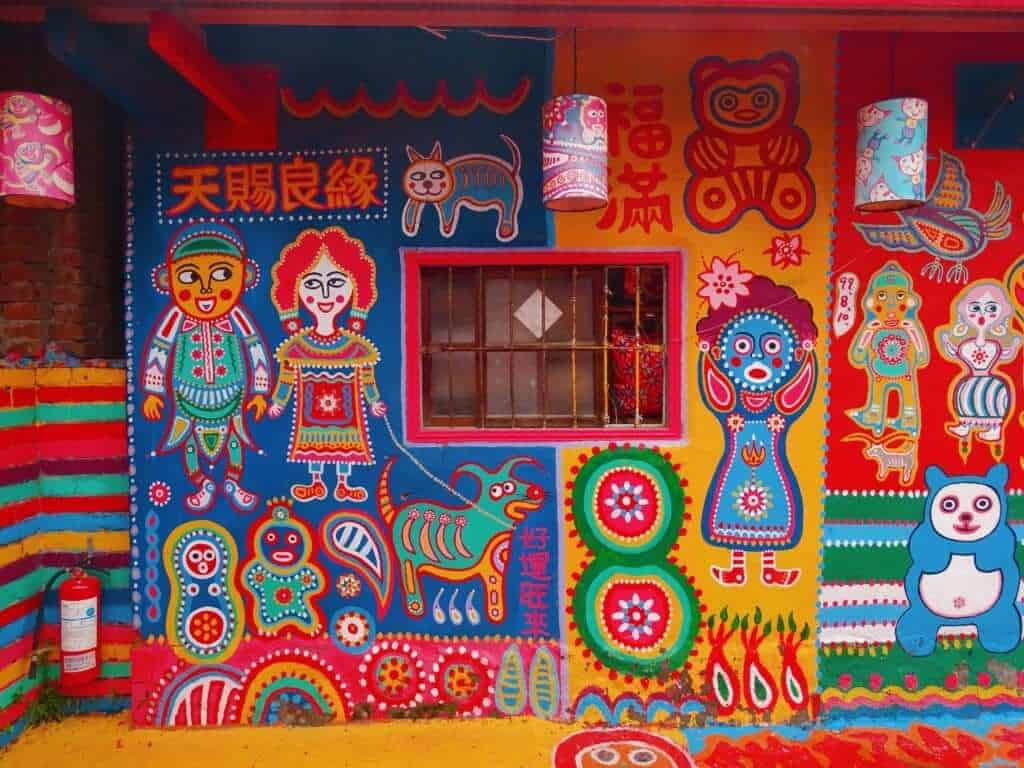 Perhaps in determination, perhaps in hopelessness, he took a paintbrush and began doodling on the old military houses. He had quite the talent and began to paint colourful pictures of animals in a cartoon style that he hoped would appeal to local children and bring them happiness.

Over time, word spread and a group of young local artists picked up on the plight of the Rainbow Village. They enlisted their creative skills and petitioned to save the village – and succeeded!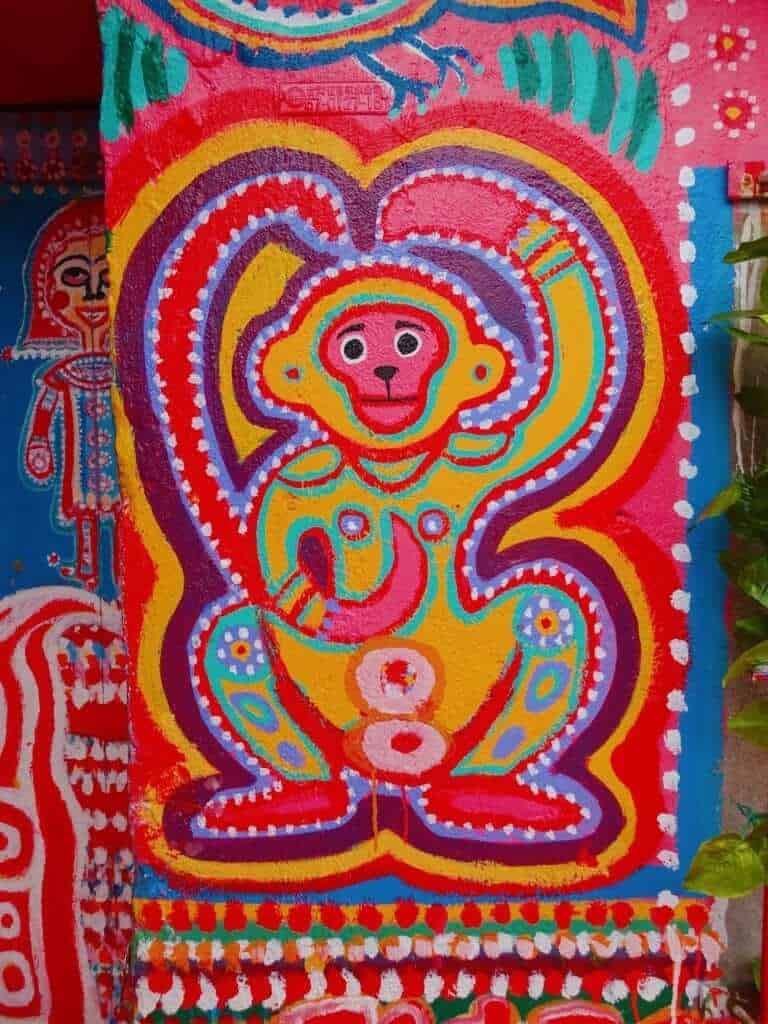 For all the negative news out there, I just think this is such a nice story! Despite being 94, the 'Rainbow Grandpa' lives nearby and gets up every day at 4am to maintain his artwork.

I wish I'd been able to meet him but sadly I am far too lazy to wake up at 4am!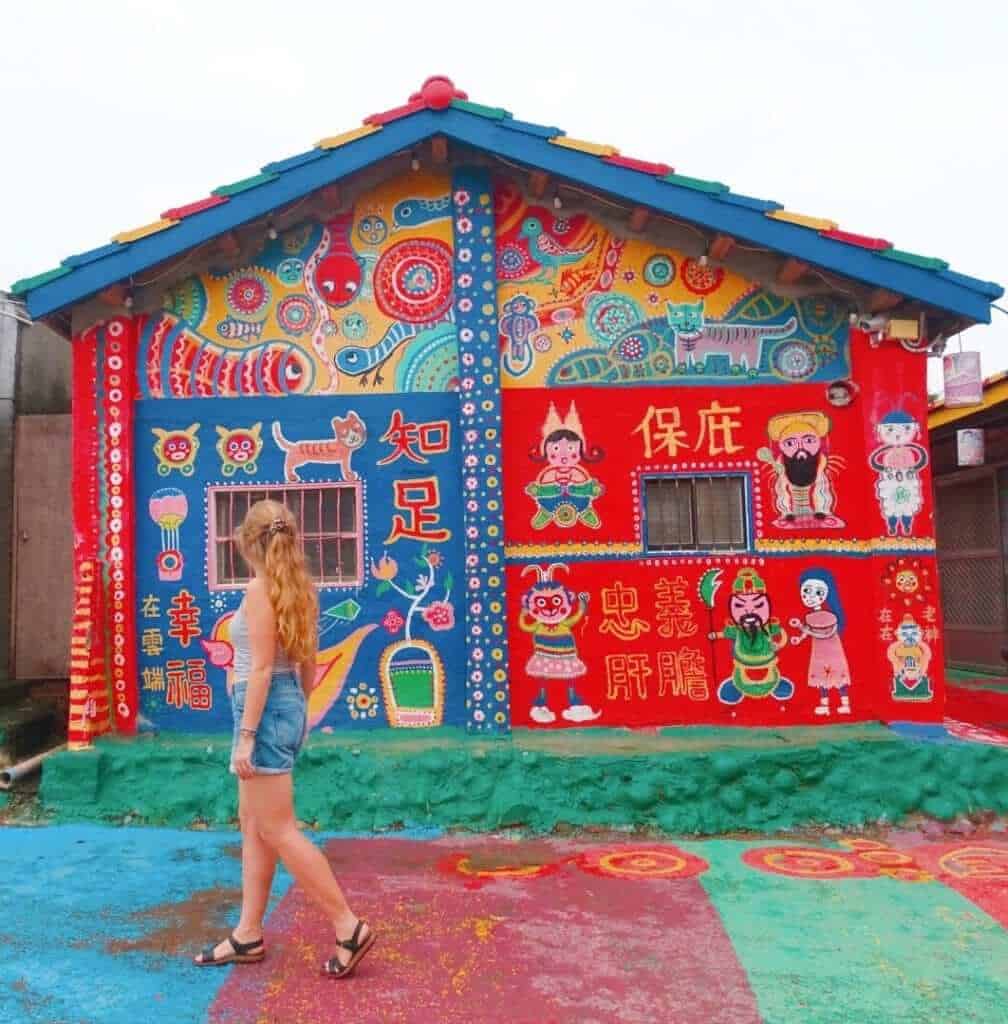 What to expect when visiting the Rainbow Village Taichung
Visiting the Rainbow Village Taichung doesn't take long because it's pretty small. I visited at 11am on a weekday and there were a handful of other visitors but it wasn't overly hectic. I imagine on a weekend it would be pretty rammed.

There were no tour buses there, only independent travellers, and I'm not sure whether tour parties visit or not. Even two buses at once would swamp the Rainbow Village of Taichung.

There's also a story room where you can read about the Rainbow Grandpa and his plight to save the village. I'd recommend popping in here while visiting the Rainbow Village of Taichung – you'll come away with a better understanding of the history and background.
Liked this? Browse all my Asia street art posts.
Cost of visiting Taiwan's Rainbow Village
Entrance to the Rainbow Village Taichung is free. There's a gift shop on-site and a hatch serving rainbow ice pops and bubble tea (it's Taiwan so of course there's bubble tea!) but the commercialisation doesn't feel forced.

The only other thing to pay for is your transport getting there.
Related read: Complete Taiwan budget guide
Where to stay when visiting the Rainbow Village Taichung
Getcha Hostel and Bistro is a great base for visiting the Rainbow Village Taiwan. As well as being the lively location of Yizhong Street Night Market, it's also well connected to the rest of the city.

You can walk into Taichung in 30 minutes or jump on a bus (free with an EasyCard) in 10 minutes. It's also a direct ride to the Rainbow Village on the number 56 bus.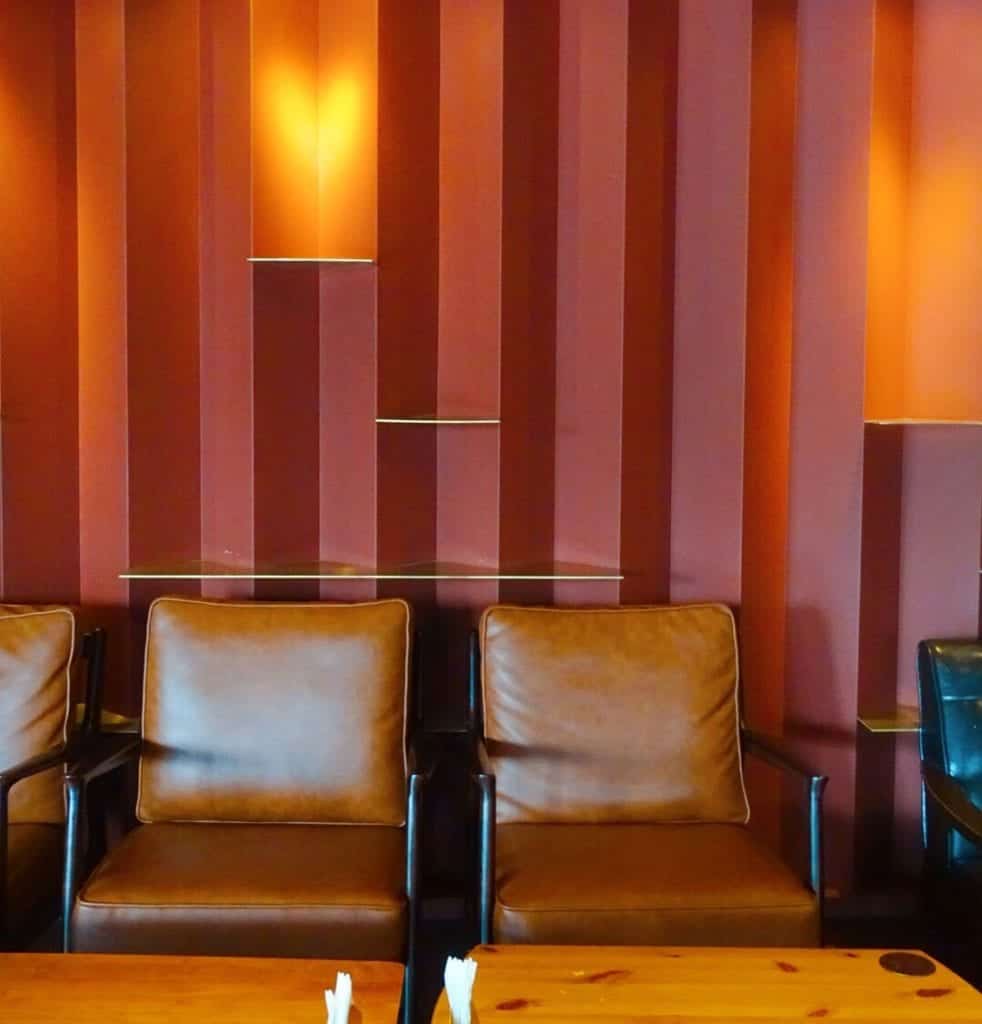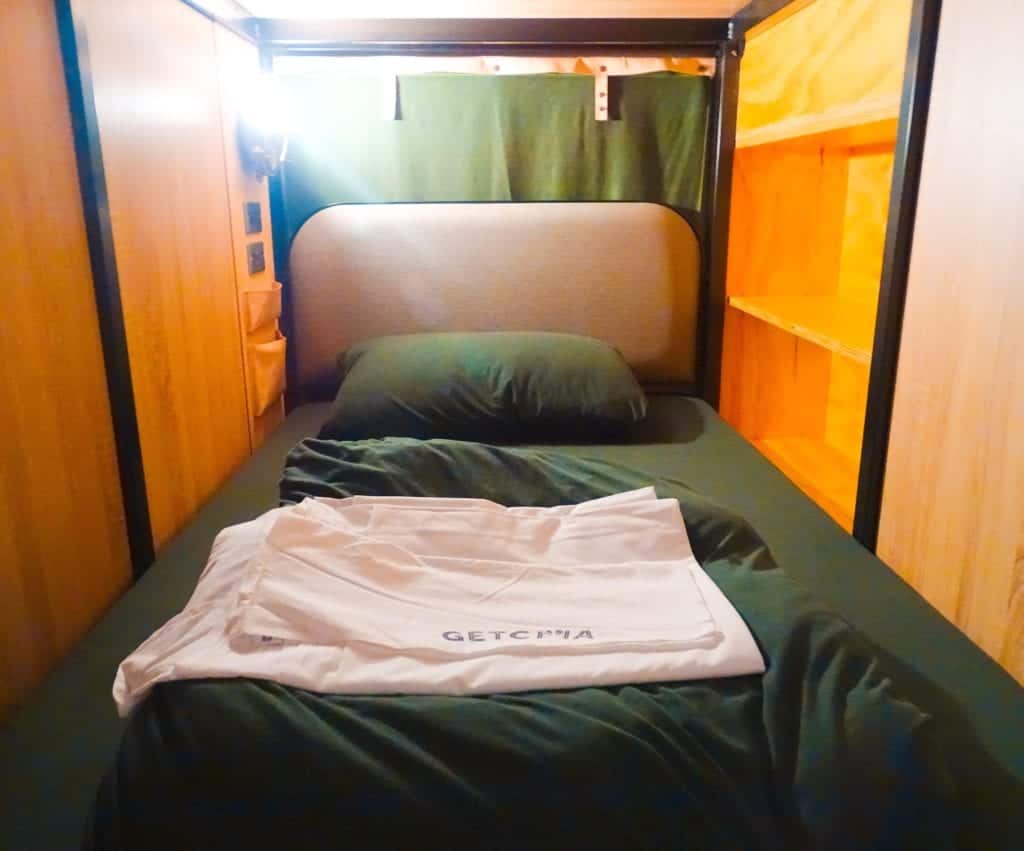 The beds at Getcha are pod-style with their own chargers, shelves, lights etc. As hostels go, it was super-swish: rather than having a room key, you scan in with a QR code that the staff set up on your phone. They check you in on a TV screen and use it to pull up useful information like bus timetables. Very high-tech!

The bistro is amazing and serves really decent coffee and food. If you're craving your Western comforts in Taichung, this is the place to do it whether you're staying at the hostel or not.

I also had the most decadent drink – this 'love at first sight' cocktail made with raspberry and vodka, served with confetti and a single rose inside a dome of smoke! I mean wow.

Book the hostel here.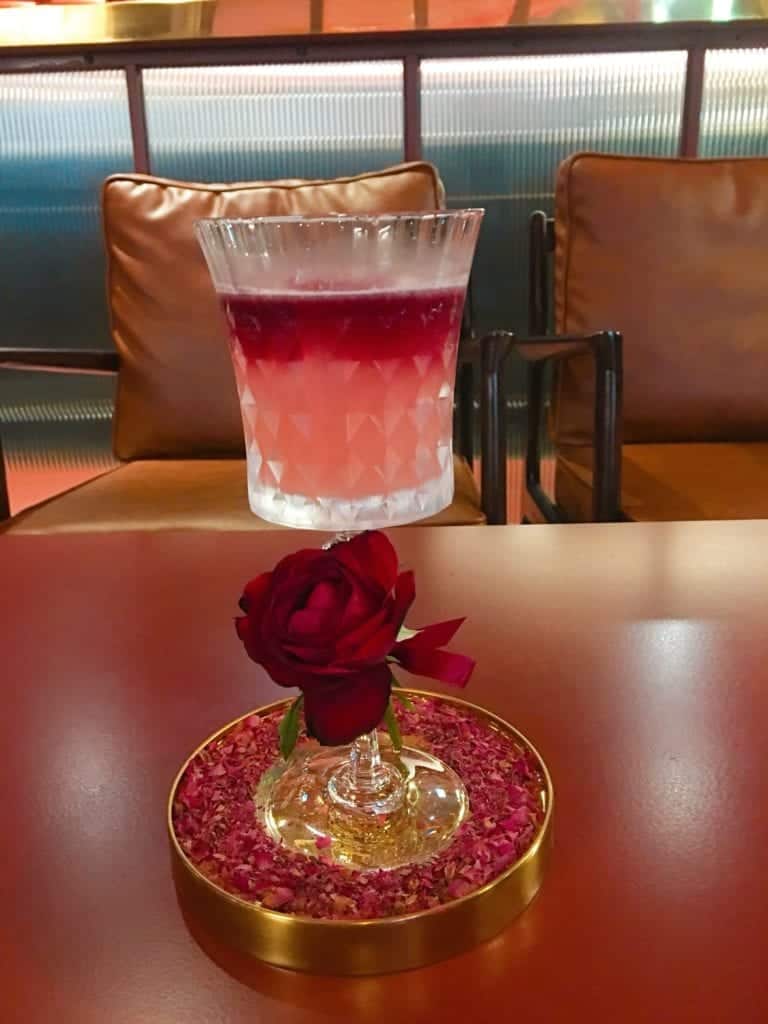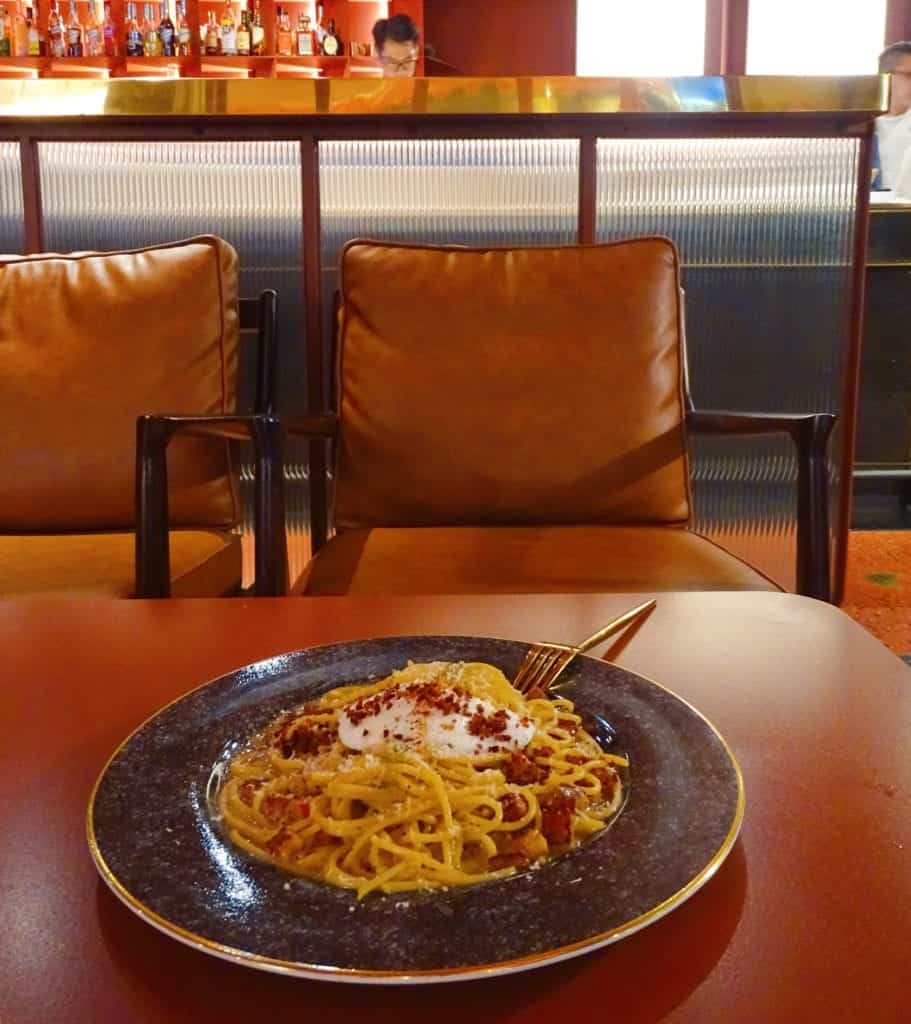 Thanks for reading my guide to Taichung Rainbow Village!
Check out some of my other Taiwan posts:
Note: While I was a guest at Getcha Hostel & Bistro, all opinions are my own.
See you next time for more adventures,
Rose
TAIWAN QUICK LINKS

Getting there – it's easy to arrive by flight. I use Skyscanner to find the best-value flights, using the 'search by month' tool to find the cheapest dates.

Stay connected with an unlimited 4G SIM card for 3, 5, 7, 10, 15 or 30 days.

In my opinion, Lonely Planet offer the best guidebooks. Get the latest Lonely Planet Taiwan.

Car hire – I recommend RentalCars.com for car hire in Taiwan and around the world.

For Taiwan High Speed Trains, use 12Go. The search feature allows you to compare prices and durations.

I use Booking.com for accommodation. They have the best range of hotels and self-catering apartments, plus you can filter by review score and price to find the best-rated budget places. For hostels, I use Hostelworld.

To save money on accommodation, I use Trusted Housesitters, a website that connects homeowners going away and travellers who can sit their homes & pets.

For activities, I use GetYourGuide and Viator as they both have a huge range of affordable tours.

Need travel insurance? I use True Traveller (for UK & Europe residents) since it's affordable but covers everything you'd need including various activities, valuables and pre-existing conditions. Unlike some companies, they insure you if you're already travelling / don't yet have your flight home booked. Get a quote.

For travel insurance for other nationalities, I recommend Hey Mundo and for long-term digital nomad travellers, I suggest Safety Wing.

Check out my resources page for more travel discounts and tips!