So, how do you want to live? I loved eating $2 roti and paneer with my hands on the roadside while chatting with the Indian restaurant owners about their lives in Singapore.

However, I love the modern and luxurious downtown core just as much. The futuristic Gardens by the Bay and the elegance of Marina Bay Sands temporarily convince me I'm a wealthy heiress, poised to tap my Amex for one more Singapore Sling.

There are many different styles in which to explore Singapore but I hope this upcoming itinerary gives you a bit of both: street food, sky bars, culture, history and the must-see attractions for a first visit!
Day 1 – explore the core
Many of the glamorous sights of Singapore are positioned around the HarbourFront. Wander the area to discover the Merlion, Gardens by the Bay, the Cloud Forest and numerous impressive shopping centres (get used to Venice replica boats cruising inside them!).

Here's what to do in 2 days in Singapore…
The Gardens by the Bay
Entrance fee: the trees are free to view from the ground or you can pay S$8 to take the 22-metre high OCBC Skyway walk. Buy a skip-the-line ticket in advance.

Opening times: 9am-9pm daily.

Opening hours: You can walk around the grove from 5am-2am while the ticketed skywalk is open from 9am-9pm (last ticket sale 8pm).
The Cloud Forest
The ArtScience Museum
The Merlion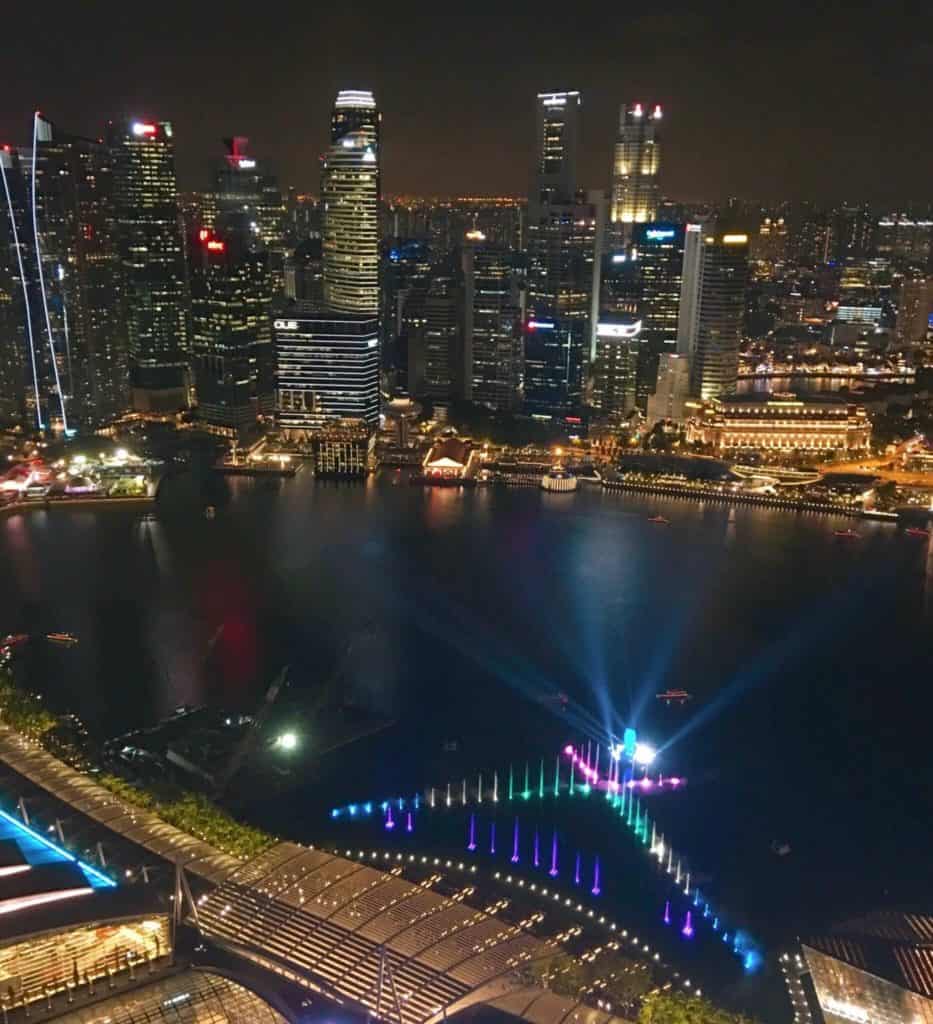 Saturday night – grab a skyline drink
During your 2 day Singapore itinerary, take a trip to CÉ LA VI, the bar at the top of the Marina Bay Sands hotel where you'll either purchase a drink at the bar or buy a S$20 token at the entrance (the system changes depending on how busy the evening is).

Either way, cocktails are about S$20 so we opted for a Singapore Fling – a frozen version of the iconic Sling – and dragged out our time at the top. We got to see the city light show (8pm and 9pm each night) from above which was incredible.
Day 2 – get your culture fix
Once you've seen the glamorous, futuristic centre of Singapore, a day of culture is on the cards. The diversity of Singapore is another thing I love about the city: the Indian, Chinese and Malay groups make Singapore a melting pot of religious temples and delicious ethnic eats.

For the ultimate Singapore itinerary for 2 days, here's how I'd recommend spending the last day...
Chinatown
Haji Lane and the Arab Quarter
Little India
I feel I may have discovered my spirit home in this part of town, not least for the incredible street art and moreish food. I ate a very cheap and local murtabak (a fried roti stuffed with chicken and veg) on the street corner at Big Boss Bistro and a slightly more upmarket curry dinner at Banana Leaf Apollo.

Both meals were fantastic (and about S$10 and S$25pp respectively including drinks). If you can time your arrival for early evening, it's an atmospheric dinner spot for a Singapore two day itinerary.
Budget for 2 days in Singapore
As I mentioned, there's something for all budgets in Singapore. You can visit Singapore on a budget of $30 a day or splurge $300! Visiting the Cloud Forest (S$28 including the Flower Dome), the ArtScience Museum (S$14 for the exhibition) and a drink at Marina Bay Sands (S$20) will set you back just under S$50 so this will likely be your most expensive day.

However, during a day exploring Little India, the Arab Quarter and Chinatown you can get away with just buying food as all of the entrance costs are free.

Eat local food and you could spend less than S$30 during 2 days in Singapore but eat at the restaurants in Marina Bay Sands and you could spend hundreds. I noticed that alcohol in Singapore was relatively expensive compared to food: in hawker markets, you can pick up a main dish for S$4 but not a beer.
Transport is very cheap in Singapore. Underground train journeys on the MRT tend to cost around 90 cents. You'll want to get a cab to the airport as it's a long journey on public transport – a metered taxi will cost around S$20 from Changi Airport or you can pre-book your airport pick-up.