This post may contain affiliate links to things like tours, hotels, Amazon associates and products. These help me earn a small commission at no additional charge to you.
Hue is a gorgeous city in central Vietnam between Hanoi and Hoi An. I spent 2 days in Hue after arriving via the Hai Van Pass. It's a beautiful place that's safe for solo travel in Vietnam with lots of temples and historic sights.

Hue is a fantastic addition to your Vietnam itinerary due to the city's historical importance. The main attractions are the Imperial City and the tomb, which are less morbid than they sound and more like temples or palaces by our standards.

Since there are so many I'd recommend splitting them up across two days. I also made a trip to the Abandoned Waterpark, a quirky addition to any Southeast Asia bucket list. I'll cover this on day two…
HUE ESSENTIALS

Copy of Lonely Planet Vietnam

Getting there: bus / train (12GoAsia)

Getting around: scooter / Grab taxi / tour

Staying connected: E-sim data plan

Accommodation: Booking.com // Hostelworld

Tours & activities: GetYourGuide, Viator
How to get around Hue
The attractions in Hue are based across the countryside so getting around is something to consider. Your options are:
Hiring a scooter from 100,000 VND ($5) a day.
Taking a day tour. Your accommodation and all the tourism offices in town will offer day tours by car or you can book one in advance.
Freestyle like we did! We used the Grab app to call very affordable bikes to take us between attractions, and hailed metered taxis in areas where this wasn't possible.
Day 1 in Hue itinerary
The Imperial City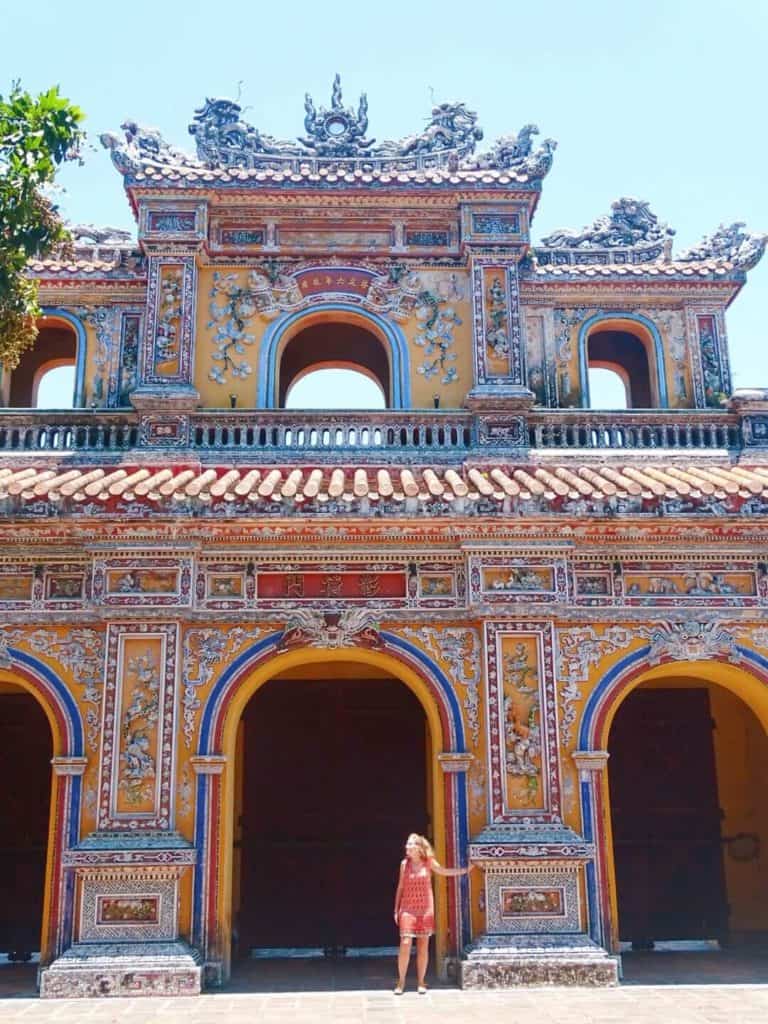 Otherwise known as the Citadel, this is without a doubt one of the most impressive places in Central Vietnam and one you shouldn't miss during 2 days in Hue. When I passed through Hue for a day in 2015 it was basically the only thing I did!

The Citadel was the centre of the last imperial dynasty of Vietnam which only ended in 1945. Since then, the Hue Citadel has seen two wars and been virtually destroyed and rebuilt. You can spend a good few hours exploring the various temples, gates and courtyards, some of which are insanely detailed and colourful.

Entrance price: 150,000 VND.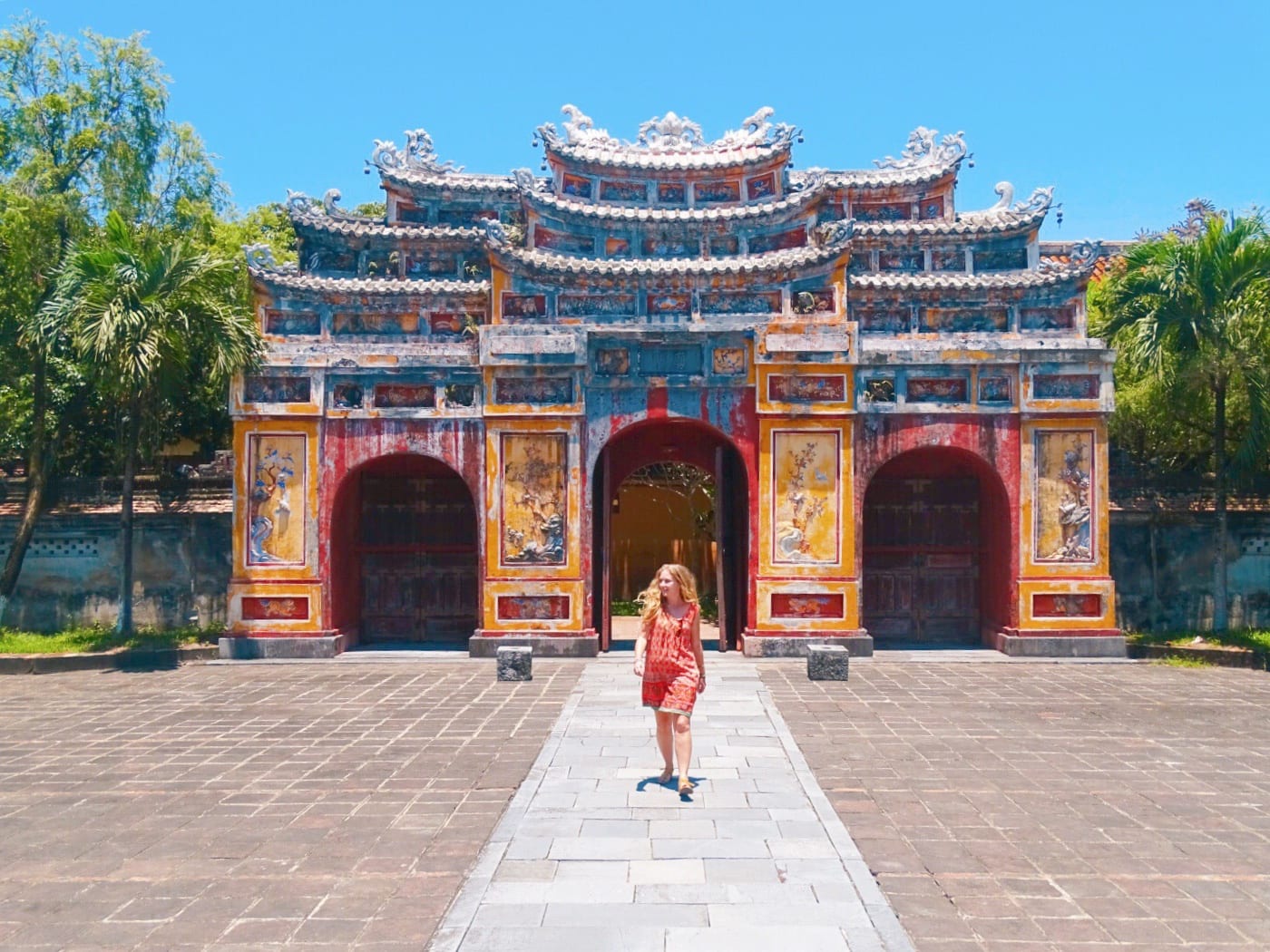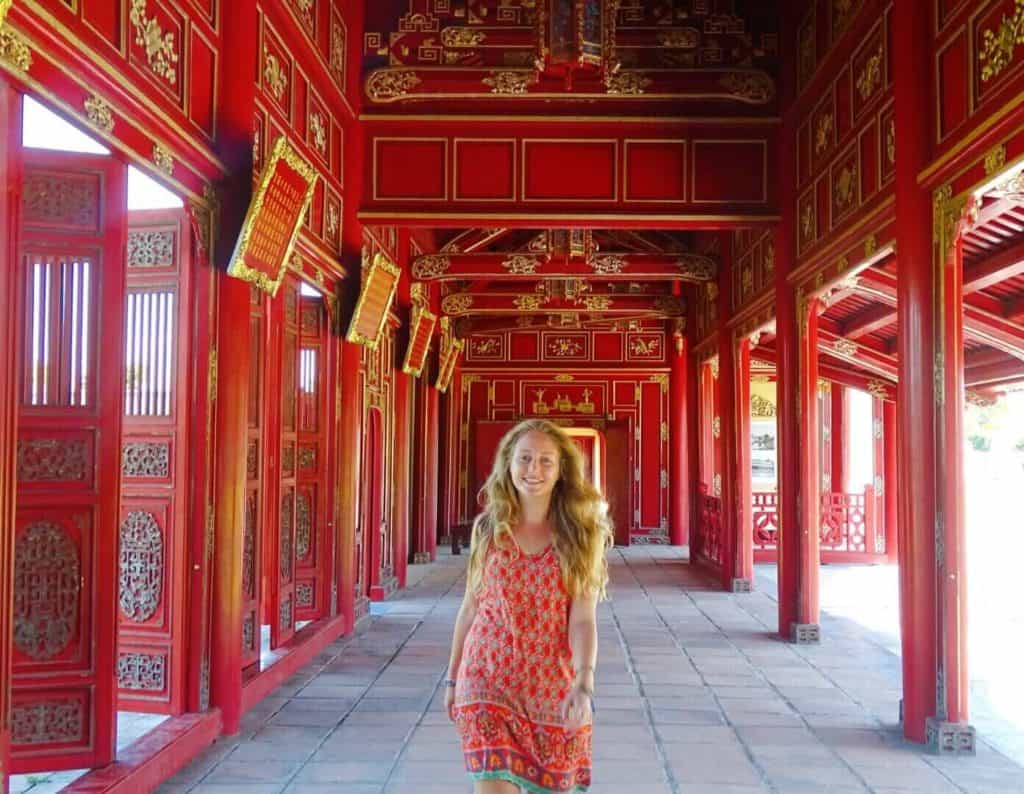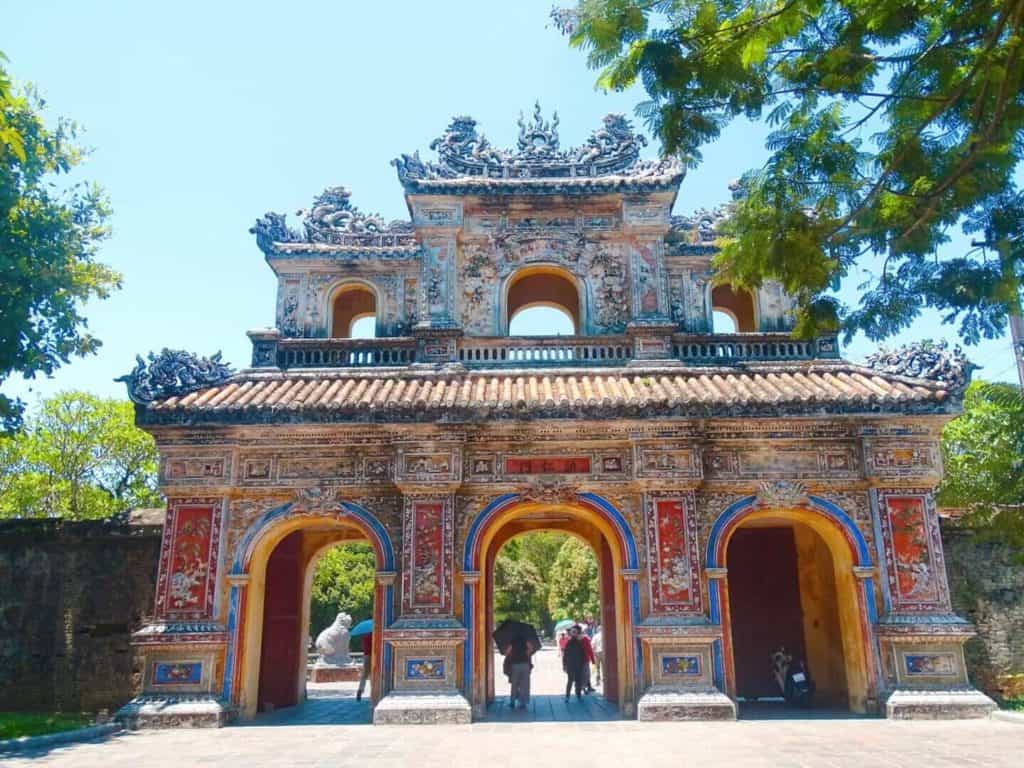 After a morning at the Citadel, stop for some lunch. I'd recommend Nook Eatery which I'll mention again in the foodie section towards the end of this post. Afterwards, head to…
The Royal Temple of Tu Duc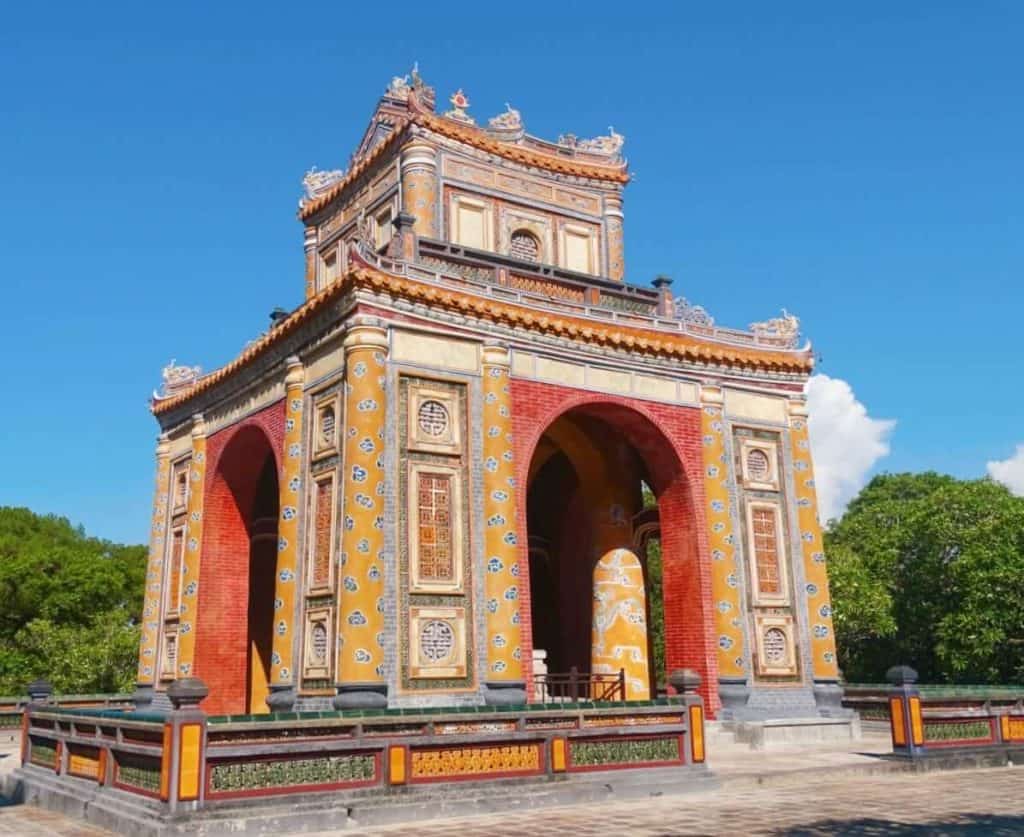 This peaceful temple site made me feel like I was back in Beijing. Colourful temples towered about elegant lilypad ponds swimming with Koi Karp.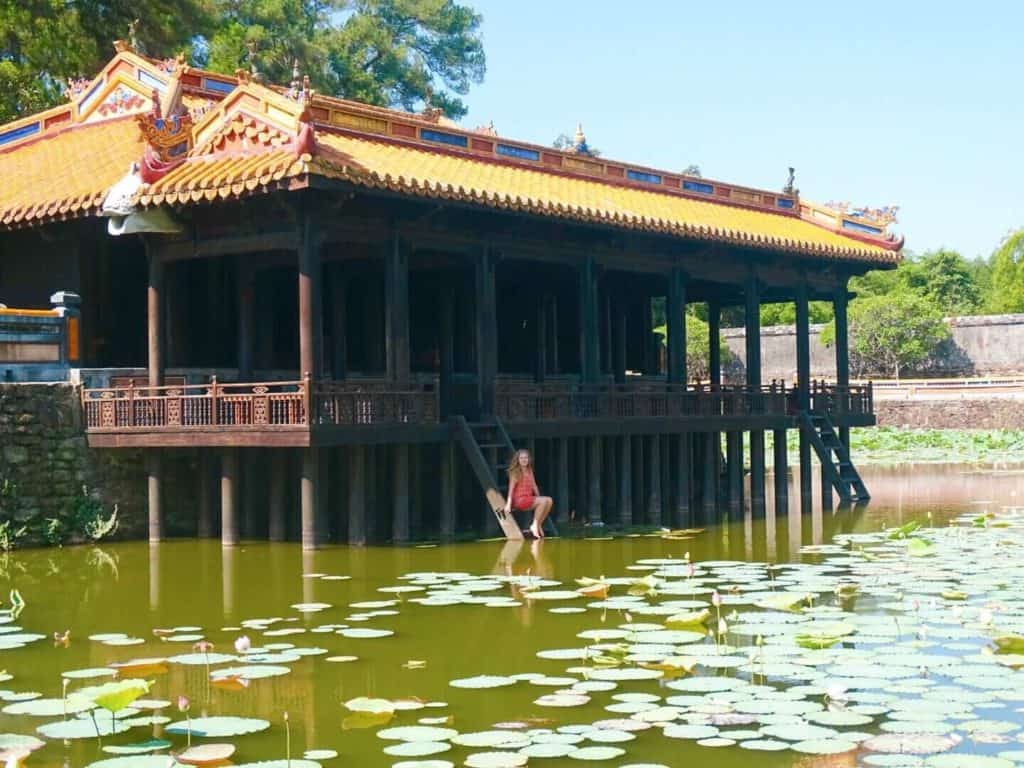 Emperor Tu Duc built this mausoleum in advance of his death, something I always find a bit morbid!

The most interesting and shocking fact I learnt was that all 200 of the men who helped bury Emperor Tu Duc were beheaded to keep the location safe from grave robbers. Not only did Tu Duc have 104 wives, but the forced labour involved in building his tomb also caused an uprising that was suppressed. It sounds like he was an extremely powerful (and evil!) man…

Entrance price: 100,000 VND.
Tu Hieu Pagoda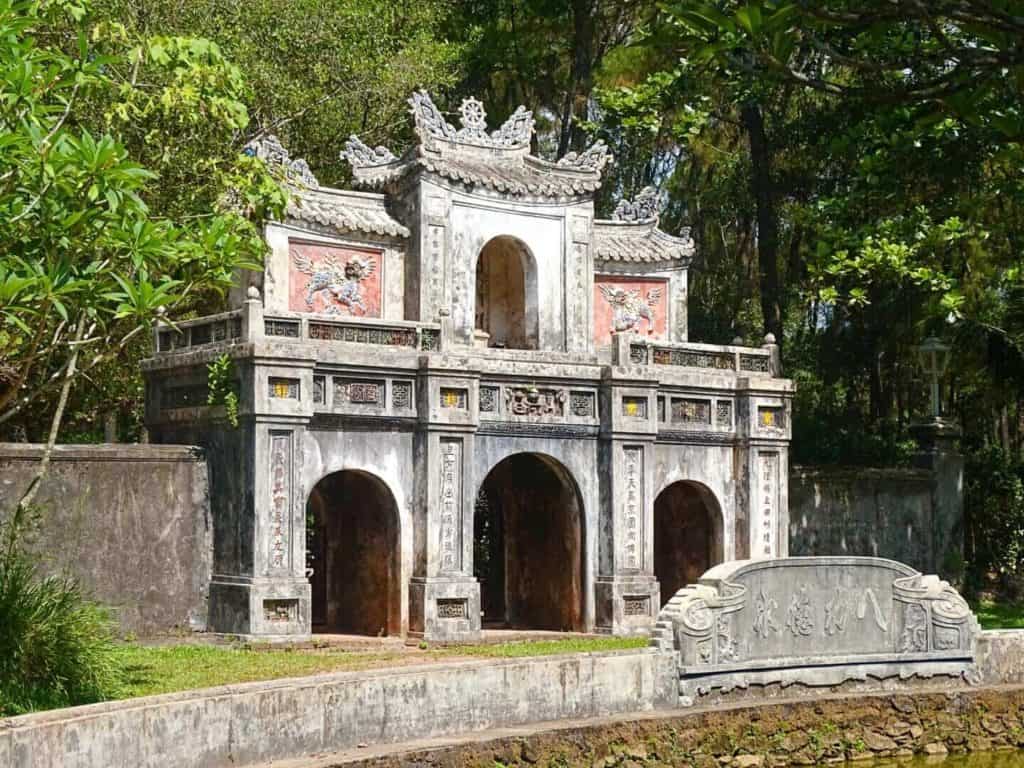 Just a seven-minute drive from Tu Duc is this much quieter and smaller temple site. It isn't nearly as grand but it's a nice contrast – entrance was free and we were the only people there!

Around 70 monks live at this pagoda nestled within the surrounding pine forest. They chant several times a day so you might be lucky and catch them mid ritual. If you're visiting Tu Duc, definitely stop by.
Catch a sunset
For your evenings in Hue, start with a sunset by the river! If you're feeling fancy, watch it with a cocktail from the rooftop bar at the Imperial Hotel. Grab dinner at the Night Market between 5pm and 11pm.
Day 2 in Hue
For your second day in Hue, head out on an unusual adventure if you're up for it…
The Abandoned Waterpark at Ho Thuy Thien Lake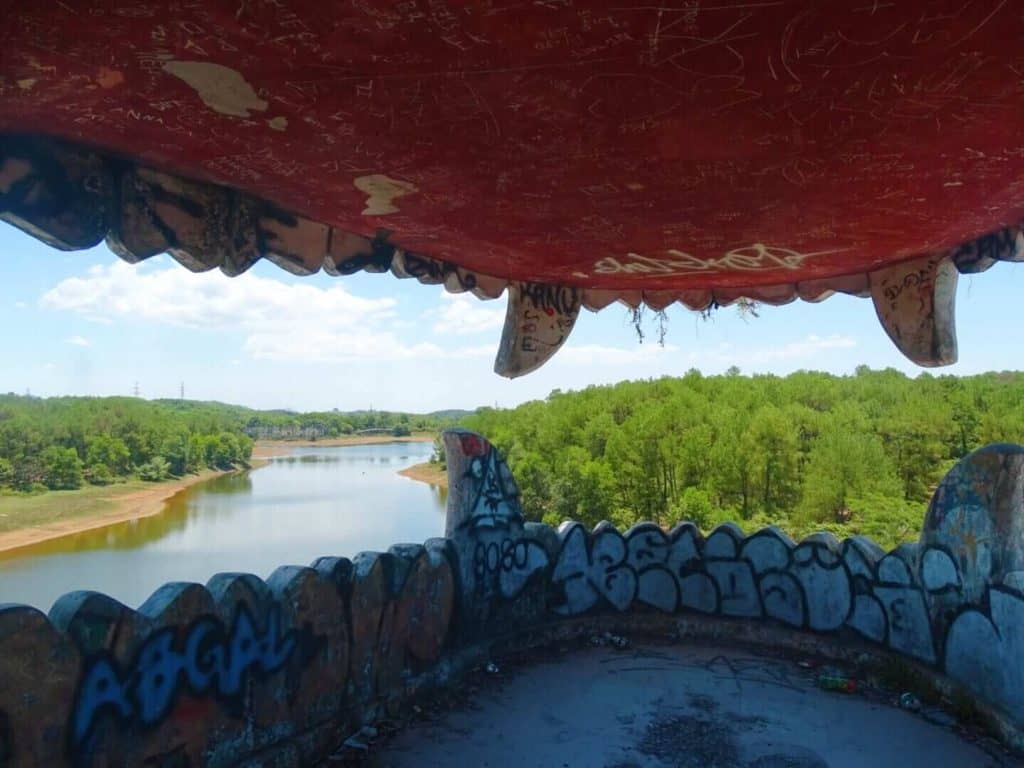 The craziest thing we did during 2 days in Hue was bribe a security guard, hop on the back of a scooter and trek through the forest to get to the Abandoned Waterpark which we'd read so much about!

Is it for you? Unless you're up for a challenge, probably not! It's not exactly the famous temples and tombs that most people come to Hue for. However, it was different and quirky so I loved it. Read my guide to the Hue Abandoned Waterpark.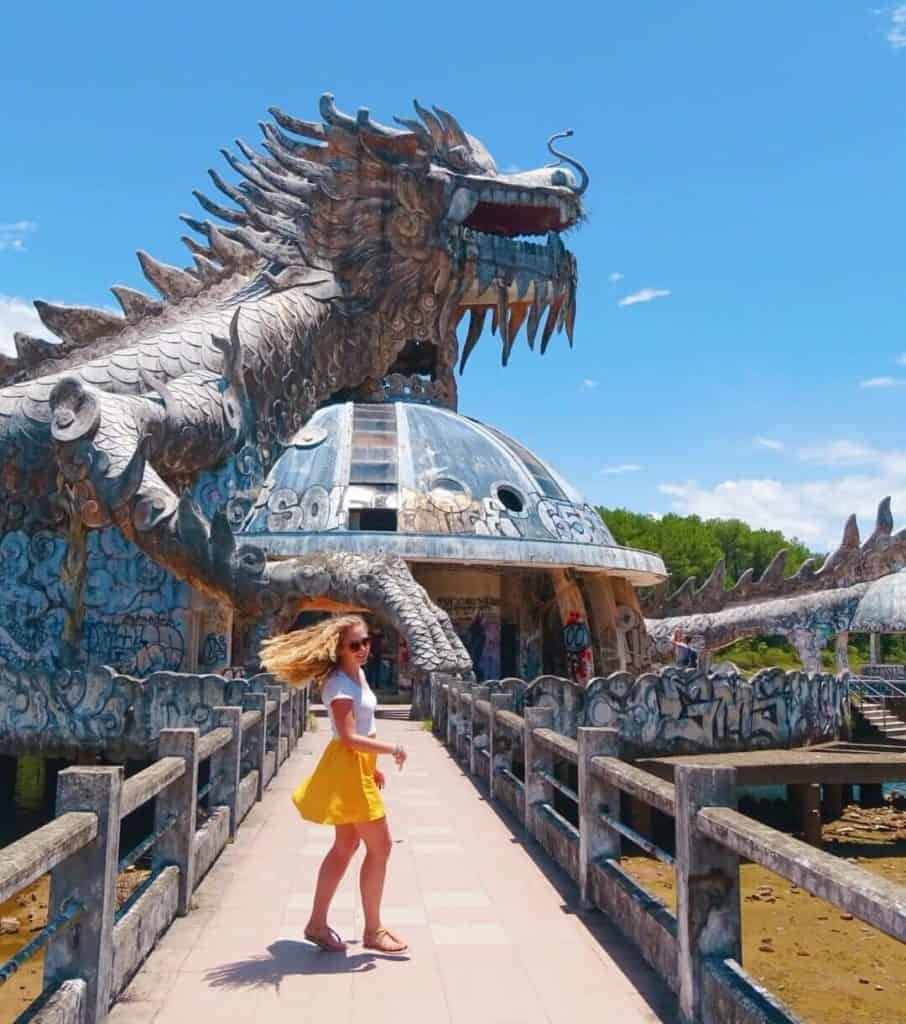 For the afternoon, get back on the tomb scene starting with…
The Tomb of Khai Dinh
The most interesting thing about Khai Dinh? The outside it's entirely made from grey stone but once you get inside it's SO colourful and detailed! You'd never expect it from the outside. Khai Dinh was the 12th emperor of the Nguyen Dynasty meaning it's one of the newest tombs at just under 100 years old.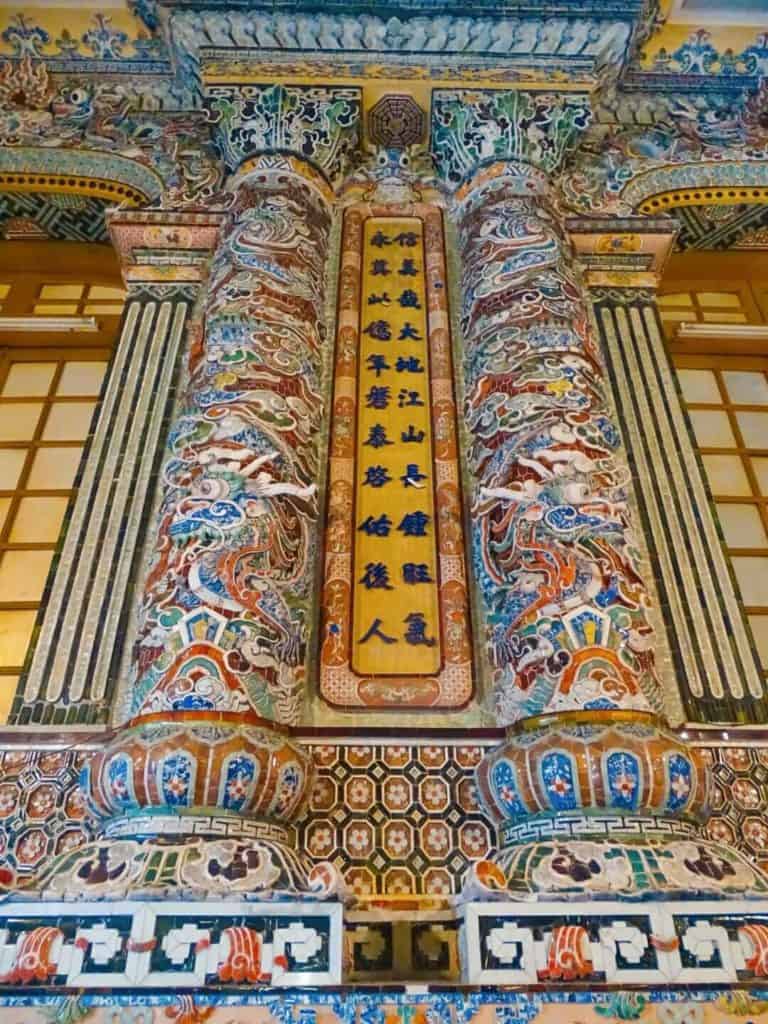 The stone soldiers and elephants in the outside grounds are a reason to visit – as are the views from the top over the green countryside and mountains! I think this was my favourite tomb in Hue due to the colourful interior.

Like many of the Hue tombs, the people of the time paid for the construction. Taxes were raised to 30% whilst it was being built, something people were unhappy about as Khai Dinh was so unpopular. Vietnam was under French rule and people described him as a puppet to the French.

Entrance: 100,000 VND.
Minh Mang Tomb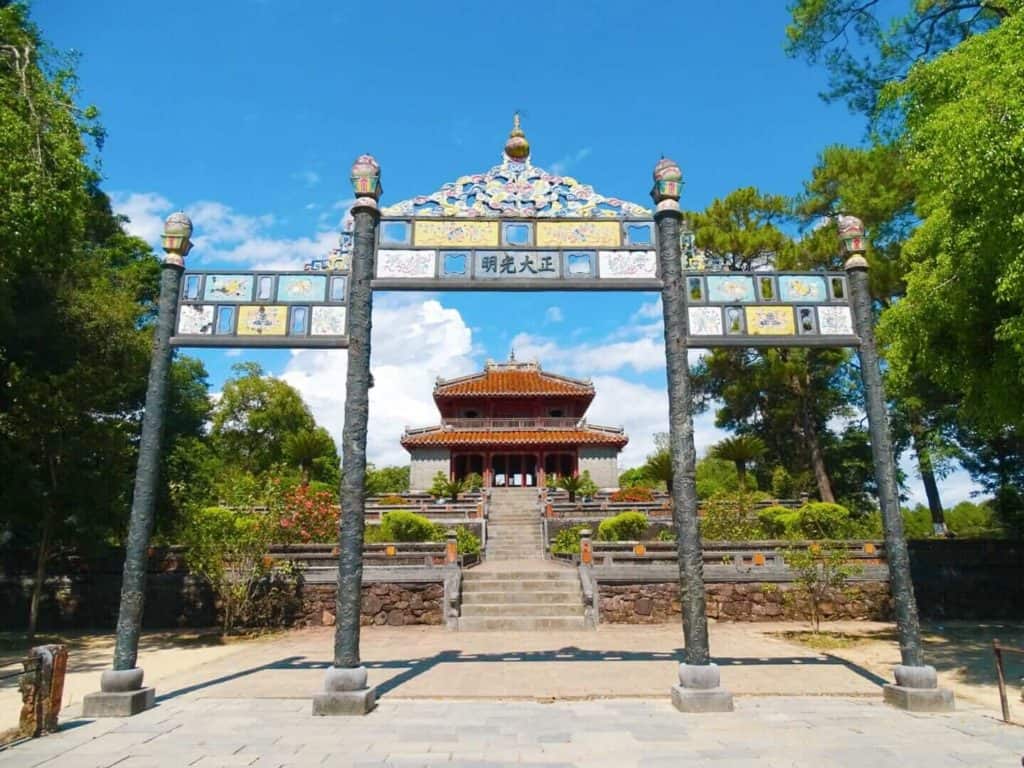 From Khai Dinh, you're not far from this impressive site. It reminded me of the previous day's visit to Tu Duc with its relaxing lake and lilypads. In the 40 acres of walled grounds comprising Emperor Minh Mang's final resting place, there are 44 structures dedicated to him.

Entrance: 100,000 VND.
The Temple of Literature & Linh Mu Pagoda
You're probably feeling templed-out by this stage but if you have energy left, I'd recommend a trip to these two sites on the Perfume Riverbank!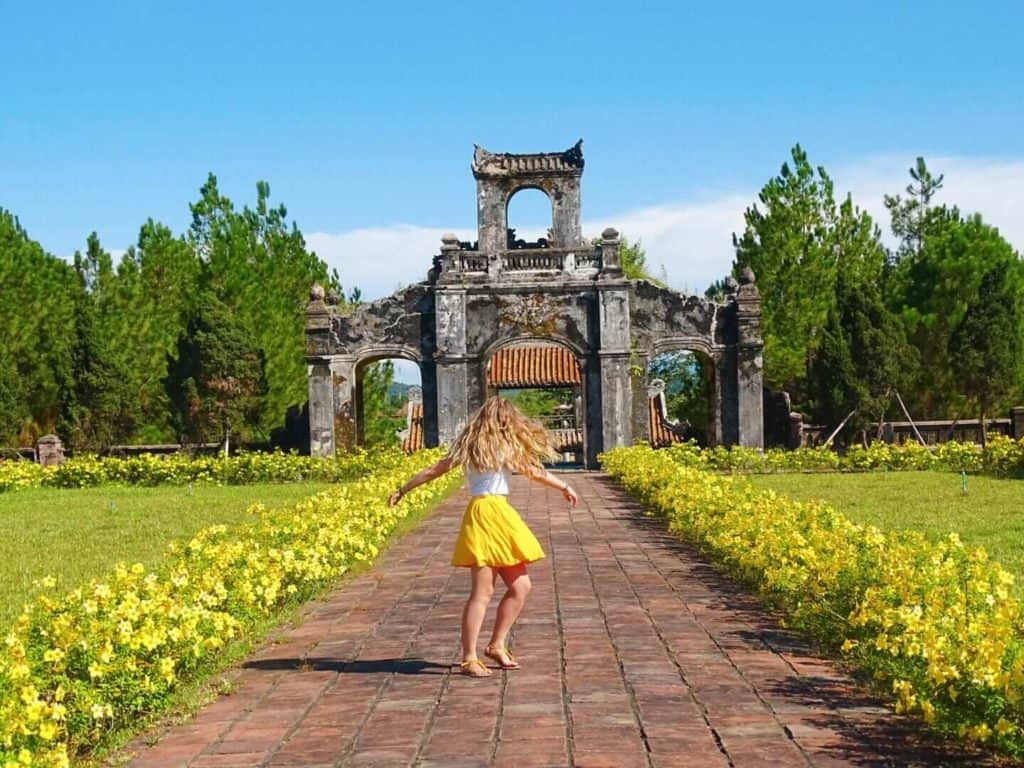 The Temple of Literature is surrounded by bright yellow flowers and features 32 giant stone scripts displaying the names of students who passed National Examinations under the Nguyen Dynasty.

Just a few minutes around the corners is the Linh Mu Pagoda also known as the Palace of the Celestial Lady. It's seven stories tall and was built in the 1600s in the memory of a local lady who foretold a prophecy of it being erected on that very hill.

Entrance to both temples: free!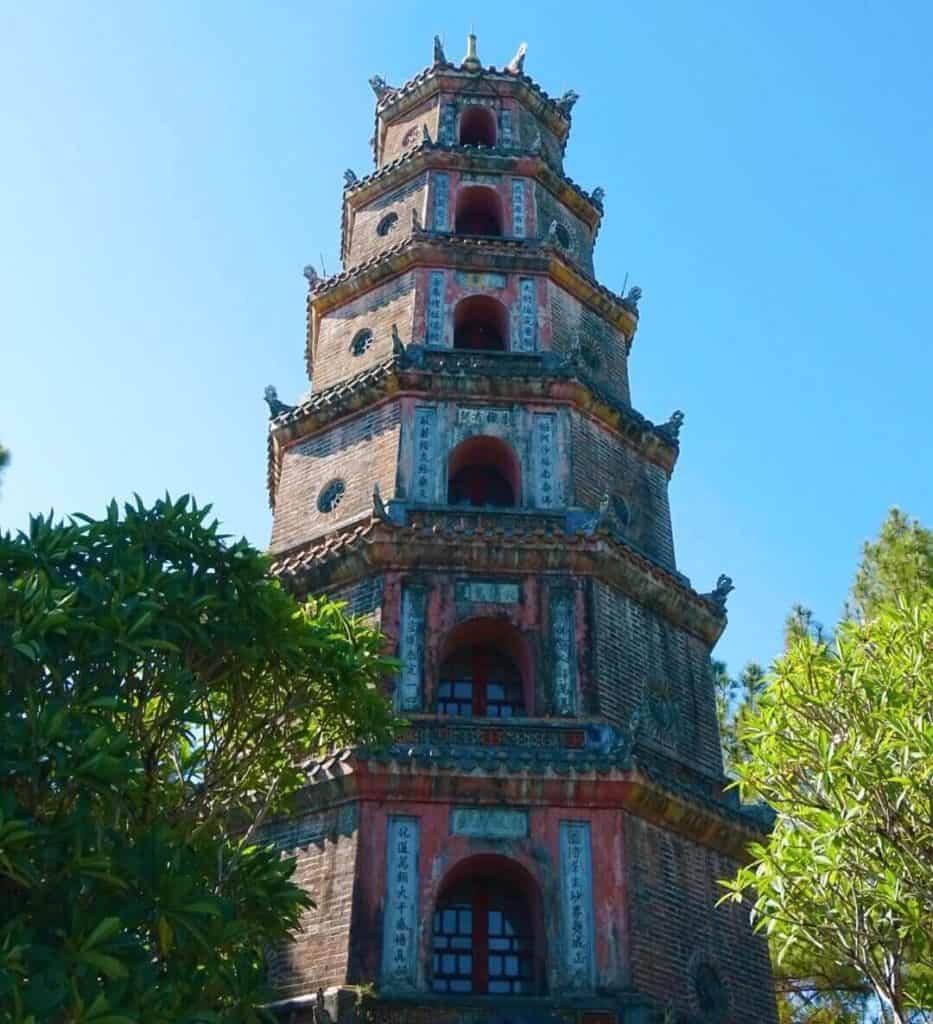 A really special way to travel between the main city and these two riverbank temples is by dragon boat. They run regularly and you can haggle on tickets – we got them down to 100,000 VND for a 30-minute journey.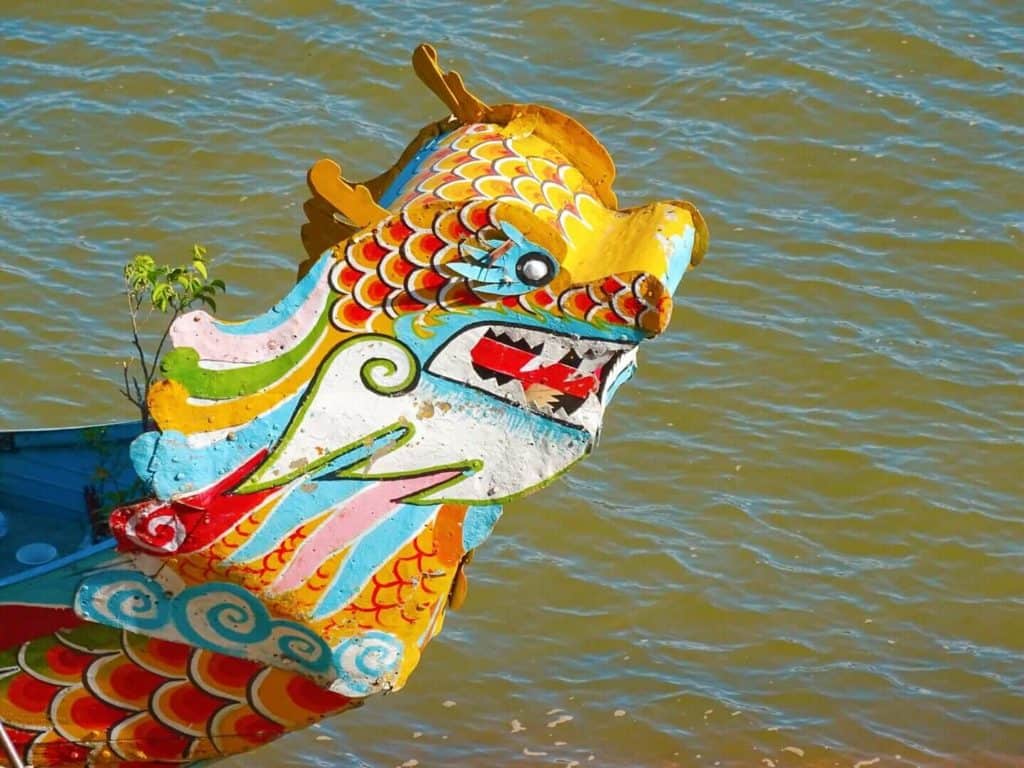 Where to stay in Hue
During our 2 days in Hue we stayed at Hue Ecolodge which is absolutely beautiful. It's a totally peaceful and secluded spot with leafy walkways between the rooms (which are more like private cabins) and a stunning pool area. The breakfast buffet is to die for!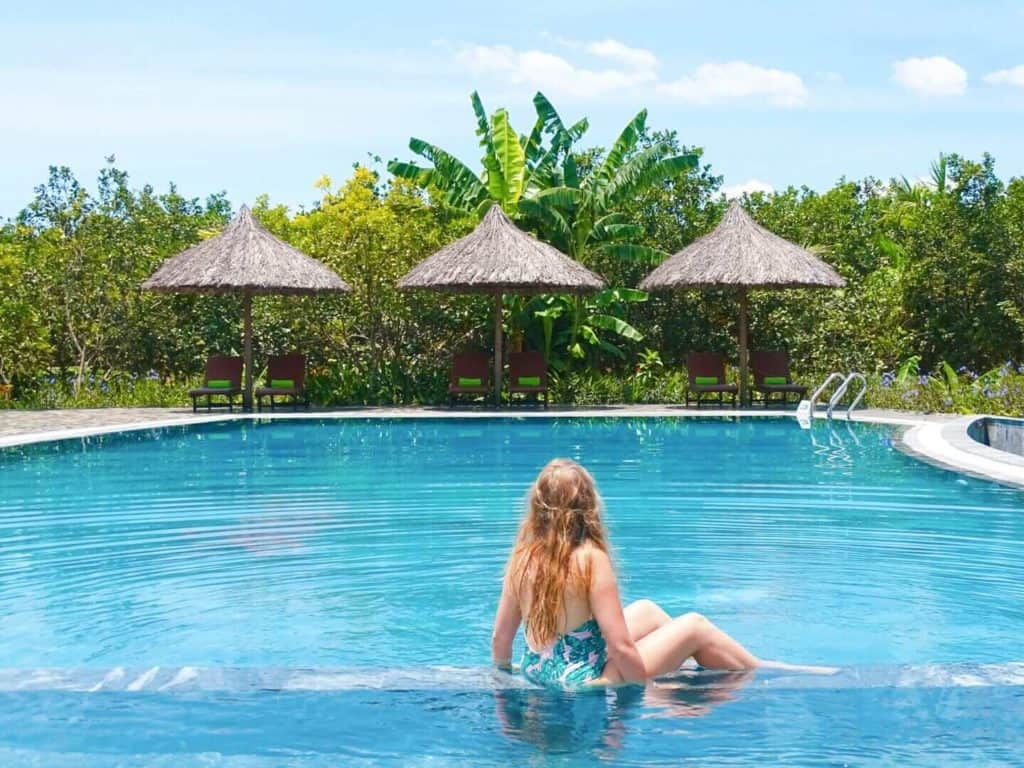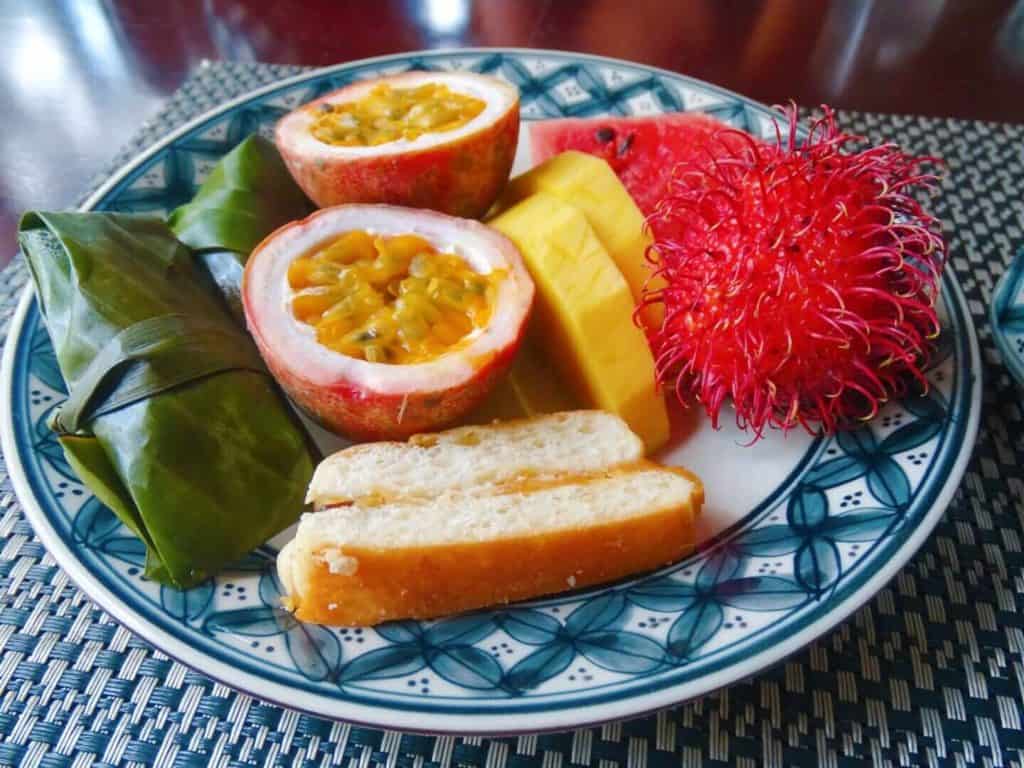 Hue Ecolodge is based a distance outside town but there's a free return shuttle each evening should you fancy dining out.
What to eat in Hue?
Bun Bo Hue – this tasty noodle soup was invented in Hue and differs from pho in its use of flat noodles and tangy, lemongrass broth.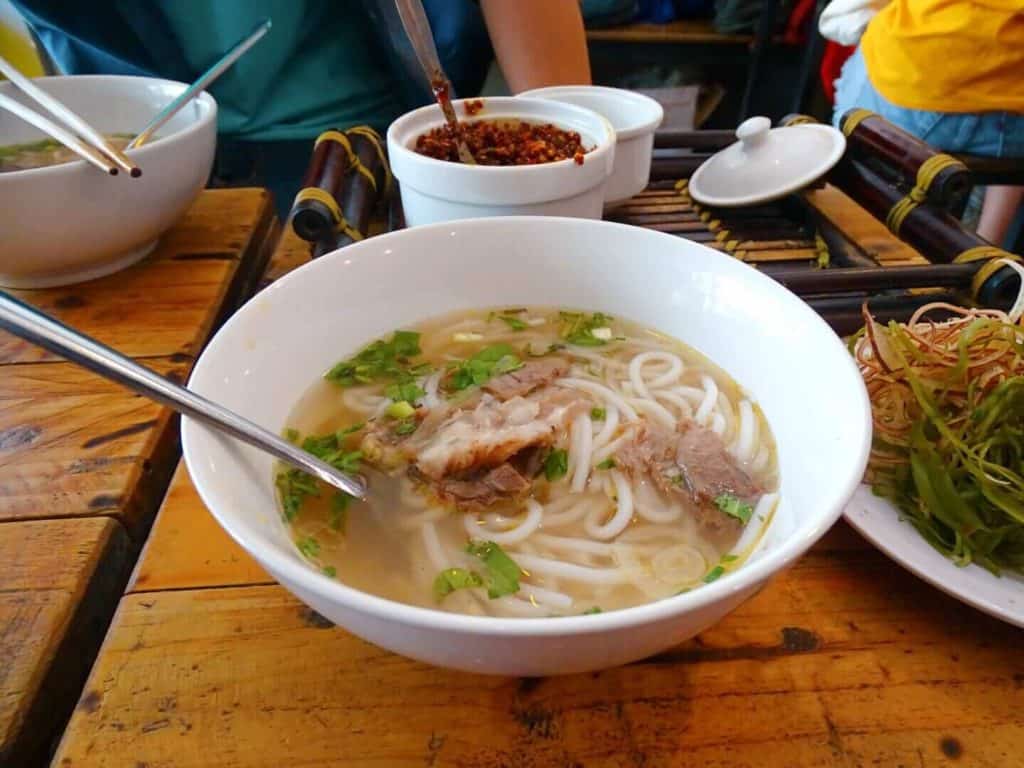 Hue Pancakes – these crispy fried pancakes are folded over and filled with pork, prawns, eggs, shallots and bean sprouts. Really tasty!
Where to eat in Hue
There are a lot of tasty places to eat in Hue as well as some popular Vietnamese dishes that were invented in the region. Look out for…
Nook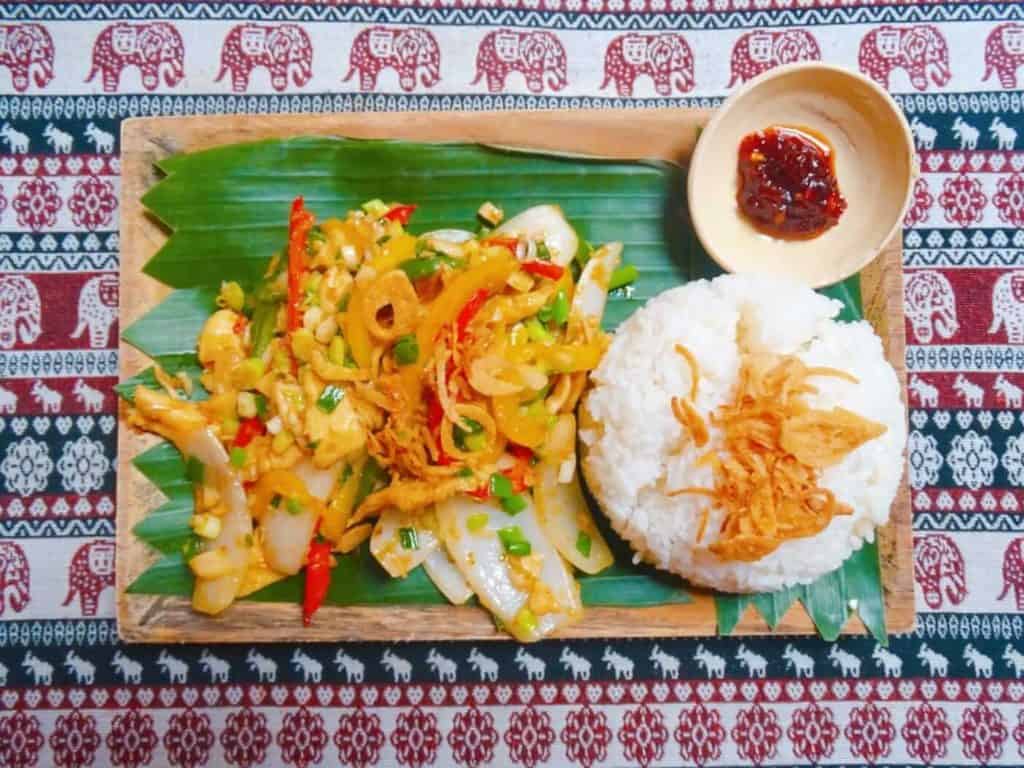 My favourite foodie find in all of Hue was this adorable cafe. Nook Cafe & Bar is full of character from the moment you see the lantern and bike-laden exterior. It only gets cuter inside with elephant print tablecloths and kitch wall art.

The food is well presented and very tasty with options ranging from burgers to Vietnamese street food. Most mains are around 100,000 VND.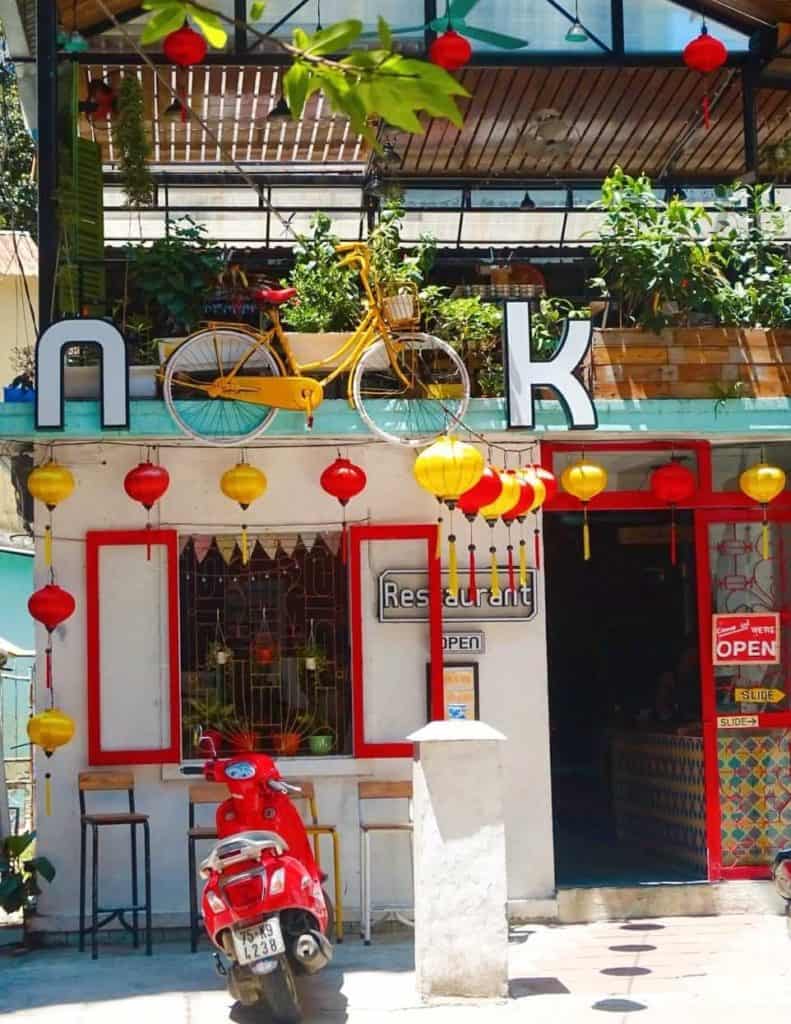 Nina's Cafe
Around the corner from Nook is Nina's Cafe, another cute cafe/restaurant. Here I ate bun thit nuong, one of my favourite Vietnamese dishes (pork with noodles, salad and spring rolls) for 70,000 VND. There are other Asian and Western options too, plus veggie options.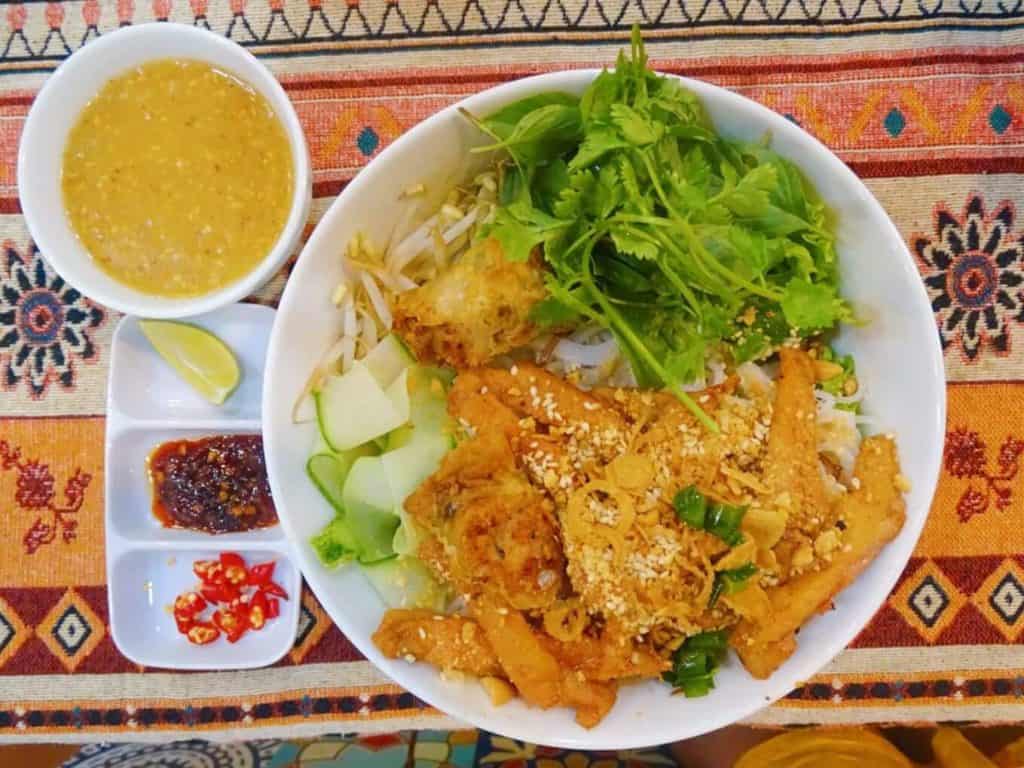 An Instagrammable cafe not to miss
We glanced these teacup style tables from outside and knew we had to get up close! The One Cafe and Bakery on Hùng Vương serves coffees, teas, matcha lattes and giant fruity concoctions, plus it's an icy-cold place to escape Vietnam's heat.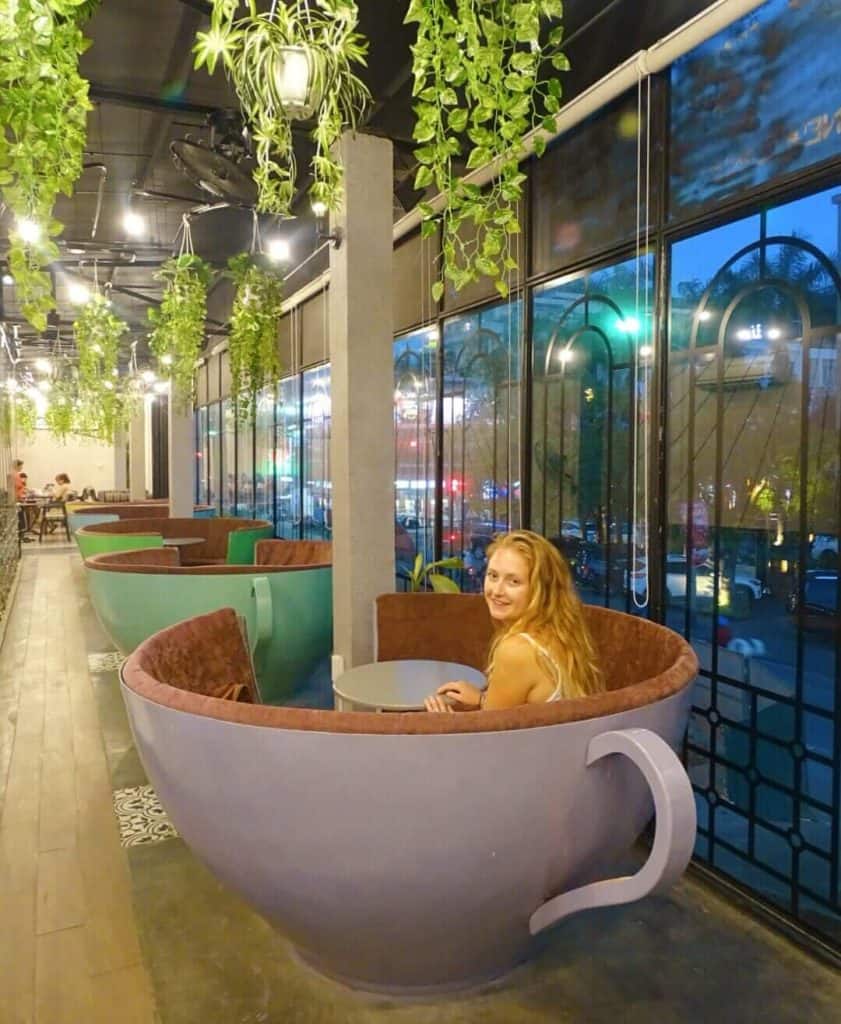 Getting to Hue
Many backpackers arrive in Hue by bus which is a cheap and easy option during a Southeast Asia backpacking itinerary.

If you're coming from the north, it's an overnight journey from Hanoi which arrives in Hue early in the morning. From the south, it's a three-hour journey from Hoi An. Tickets are cheap and can be booked online or at any tour agency.

For a more beautiful journey to or from Hoi An, consider taking the train. Our journey only cost $5 and included a stretch on this stunning coastline.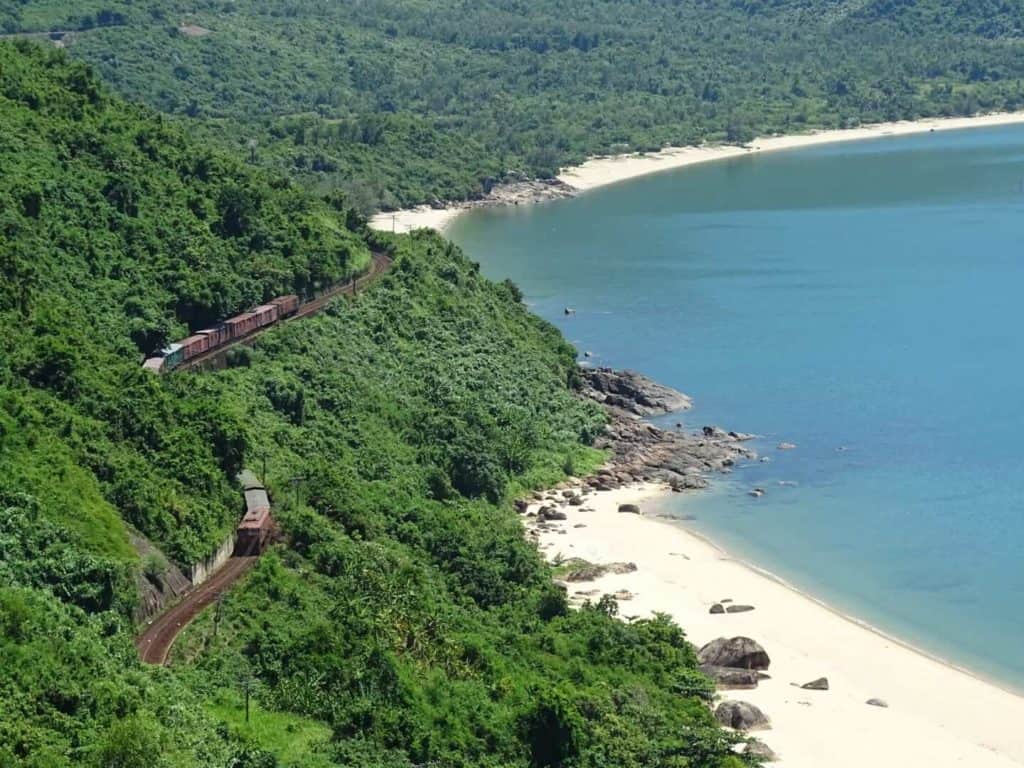 For an even MORE beautiful journey, think about taking the Hai Van Pass. This stretch of amazing coastline runs between Hue and Hoi An and can be driven by scooter or Jeep either independently or as part of a day tour. Read about our day in my Hai Van Pass travel guide.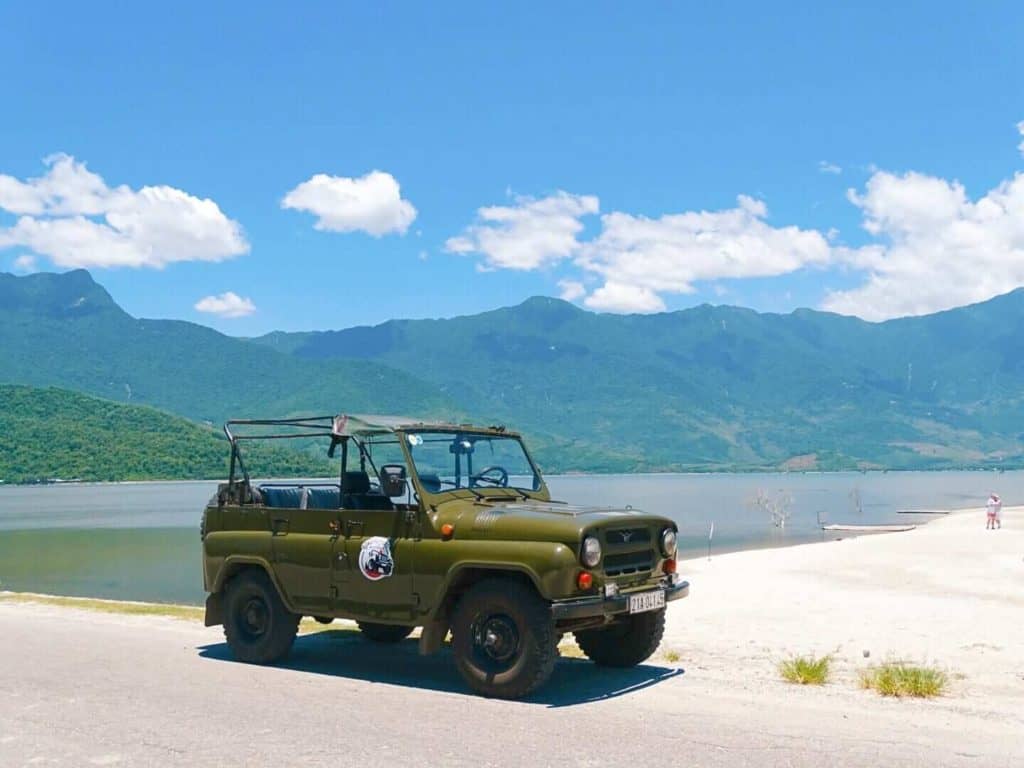 I hope my blog's given you a better idea of how to spend your time in Hue, and where to sleep, eat and drink. If you need any more help, drop me a comment below.
Thanks for reading my 2 day Hue guide
Thanks for reading!
See you next time for more adventures,
Rose
Ps. Liked this Hue itinerary? Pin this for later!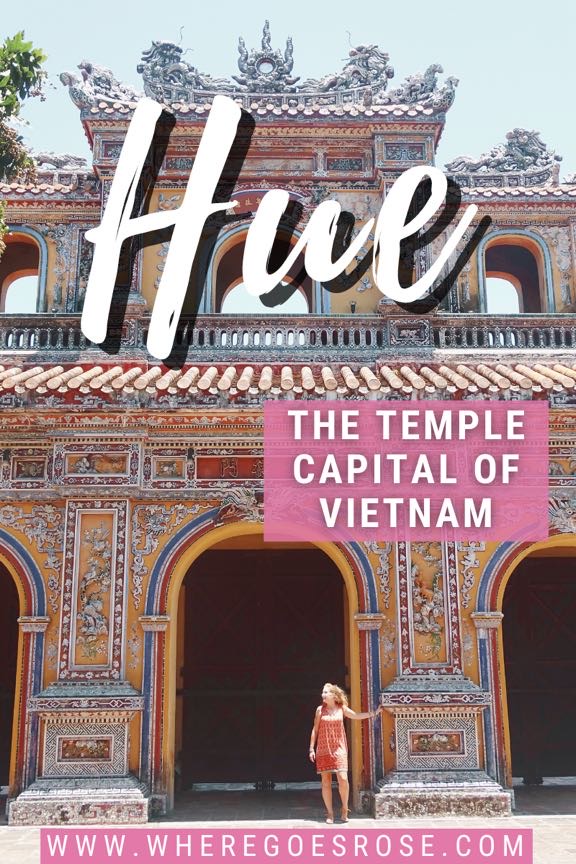 Vietnam quick links

Getting around by air – it's easy to get between cities by flight. I use Skyscanner to find the best-value flights, using the 'search by month' tool to find the cheapest dates. You can also use the 'to anywhere' feature if you're flexible on where you're going.

Stay connected with E-sim data plans that don't require delivery or collection; just span the QR code.

In my opinion, Lonely Planet offer the best guidebooks. Get the latest Lonely Planet Vietnam.

For Vietnam buses and trains, I use 12GoAsia. The search feature allows you to compare prices and durations.

I use Booking.com for accommodation. They have the best range of hotels and self-catering apartments, plus you can filter by review score and price to find the best-rated budget places. For hostels, I use Hostelworld.

To save money on accommodation, I use Trusted Housesitters, a website that connects homeowners going away and travellers who can sit their homes & pets.

For activities, I use GetYourGuide as they have a huge range of affordable tours.

Need travel insurance? I use True Traveller (for UK & Europe residents) since it's affordable but covers everything you'd need including various activities, valuables and pre-existing conditions. Unlike some companies, they insure you if you're already travelling / don't yet have your flight home booked. Get a quote.

For travel insurance for other nationalities, I recommend Hey Mundo and for long-term digital nomad travellers, I suggest Safety Wing.

Check out my resources page for more travel discounts and tips!