This post may contain affiliate links to things like tours, hotels, Amazon associates and products. These help me earn a small commission at no additional charge to you.
Vegetarian and vegan restaurants in Hoi An
It's all been so tasty that I decided to put together a guide (what else does Where Goes Rose do, right?) to all the best vegetarian and vegan food in Hoi An.
I hope this blog will be a useful resource for plant-based eaters coming to Vietnam, plus those who just need a break from fish sauce and pork!

In this guide, I'll be running through what we ate on the tour whilst filling you in on all my other favourite vegetarian and vegan restaurants in Hoi An…
Related: where to drink coffee in Hoi An
Tam Quang Minh (veggie versions of Hoi An's famous dishes)
My favourite restaurant on the vegan tour I took was Tam Quang Minh, an eatery with nothing but 5* Trip Advisor reviews. We tried veggie versions of the two most famous dishes from Hoi An:
Mi Quang: noodles with prawn, pork, peanuts, quail eggs and spring rolls
Cao lầu: thick noodles with barbeque pork, crispy crackling, bean sprouts and stock.
(We had tofu and tomato broths substituting the meat).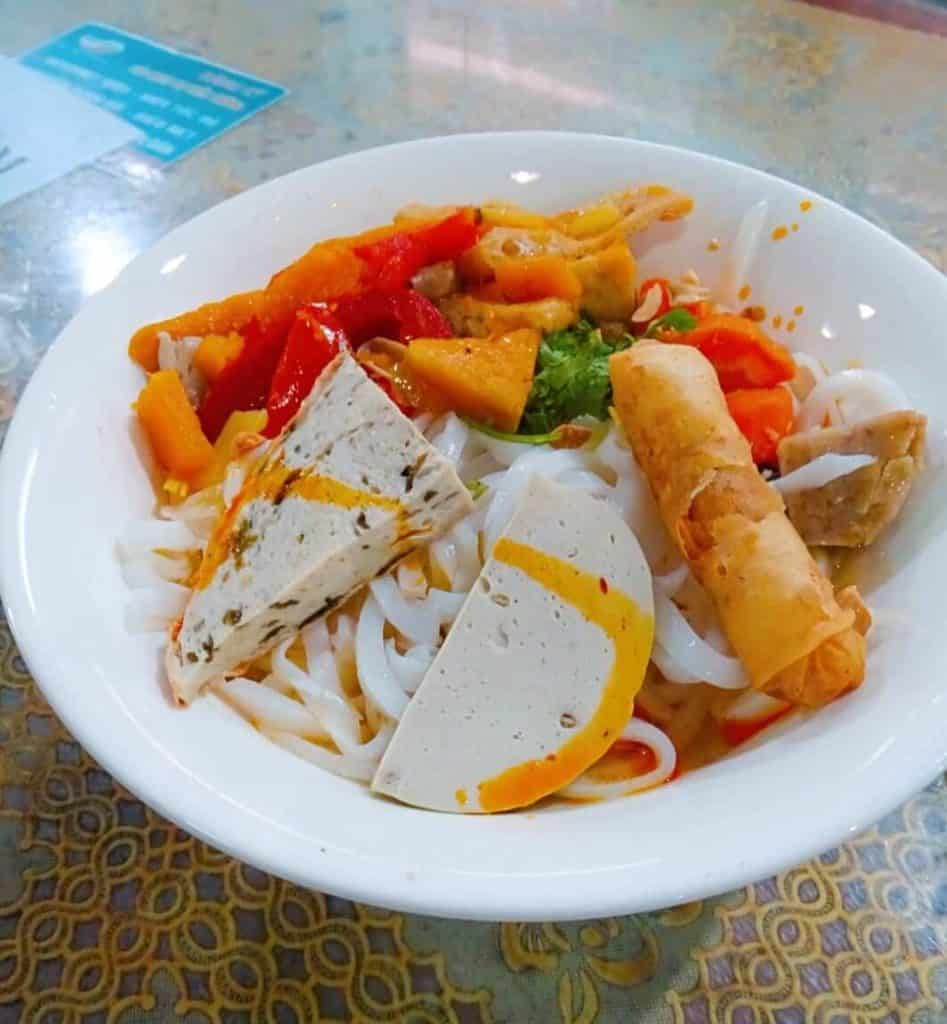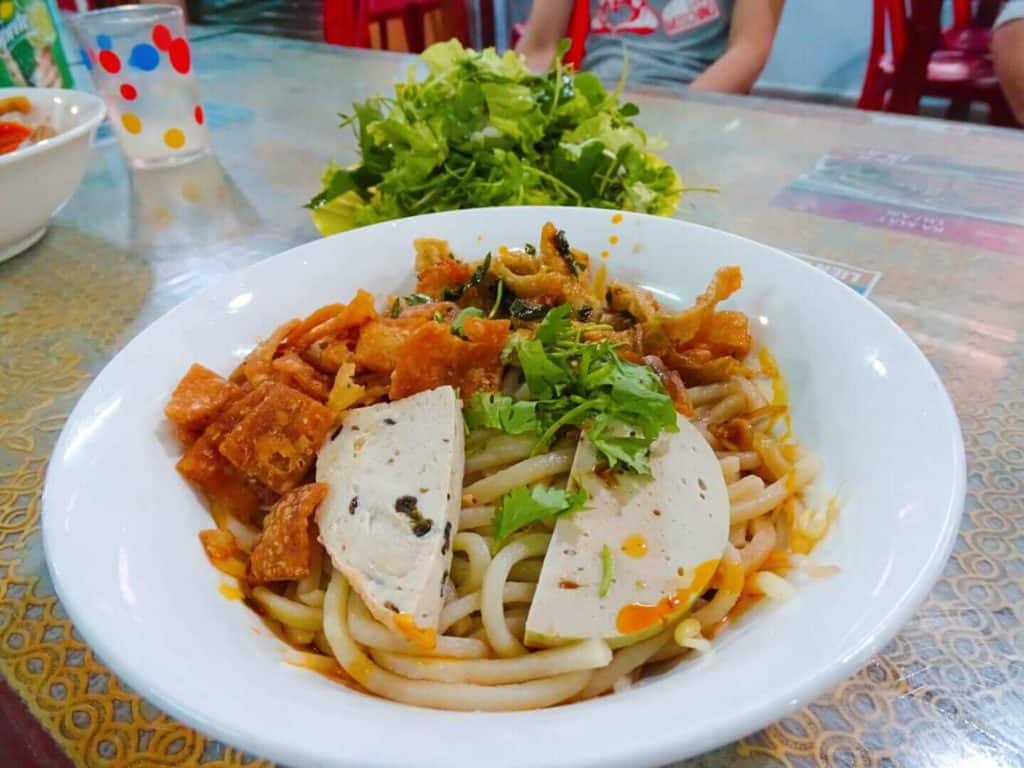 Both were tasty but I especially liked the subtly chewy noodles of the cao lầu. This dish is only found in Hoi An due to the fact that it includes ash from one particular tree and water from one particular well – plus the fact that only one woman apparently knows how to make it!
The Fisherman, An Bang Beach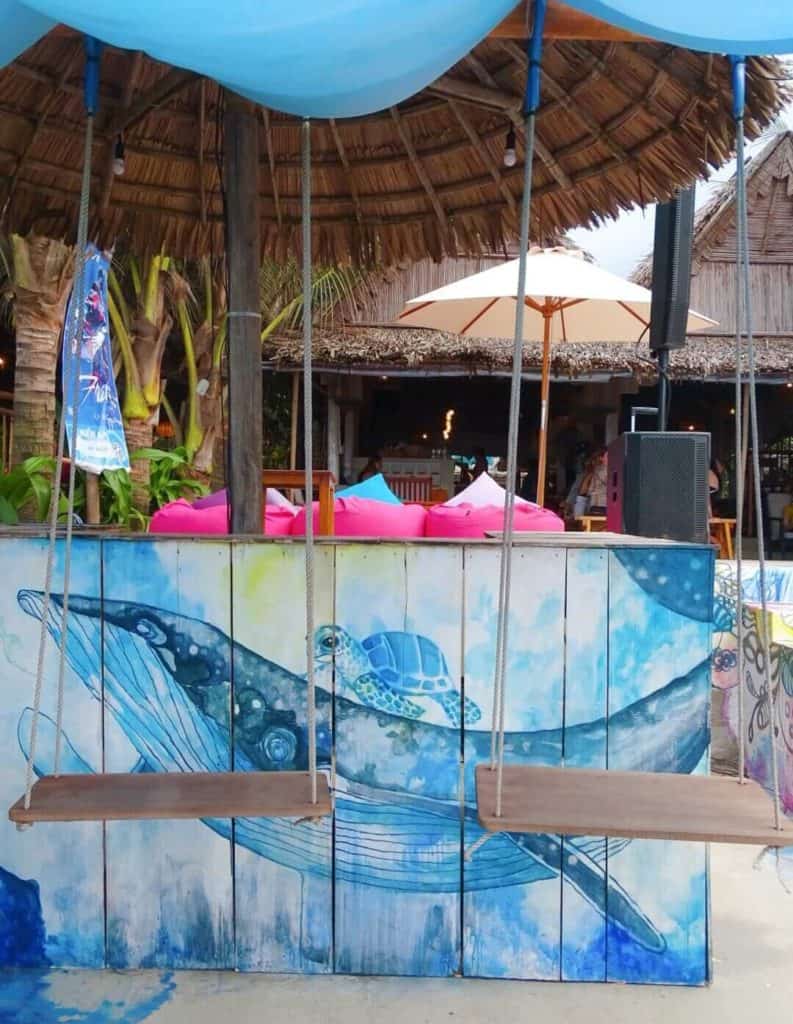 I believe The Fisherman to be the first all vegan restaurant in Hoi An. It's run by a local family and the name dates back to a time when they served seafood before becoming more eco-conscious.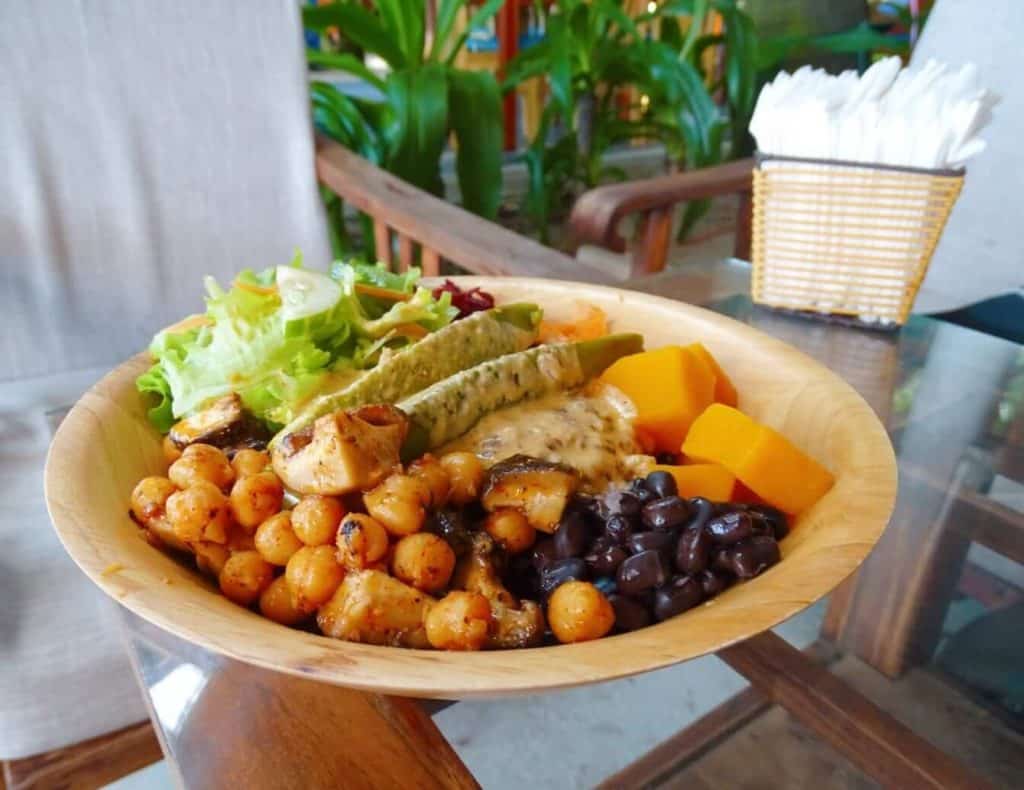 The vegan dishes on the menu are very creative. I like the Buddha bowl with avocado, brown rice, black beans, satay sauce, sweet potato and mushrooms. It's very filling but also healthy, and not too pricey at 90,000 VND (£3).

Other highlights include the chickpea curry and the Mexican wrap… The fact that you're at a beach bar just metres from the ocean isn't bad either!
Ấm Vegetarian Restaurant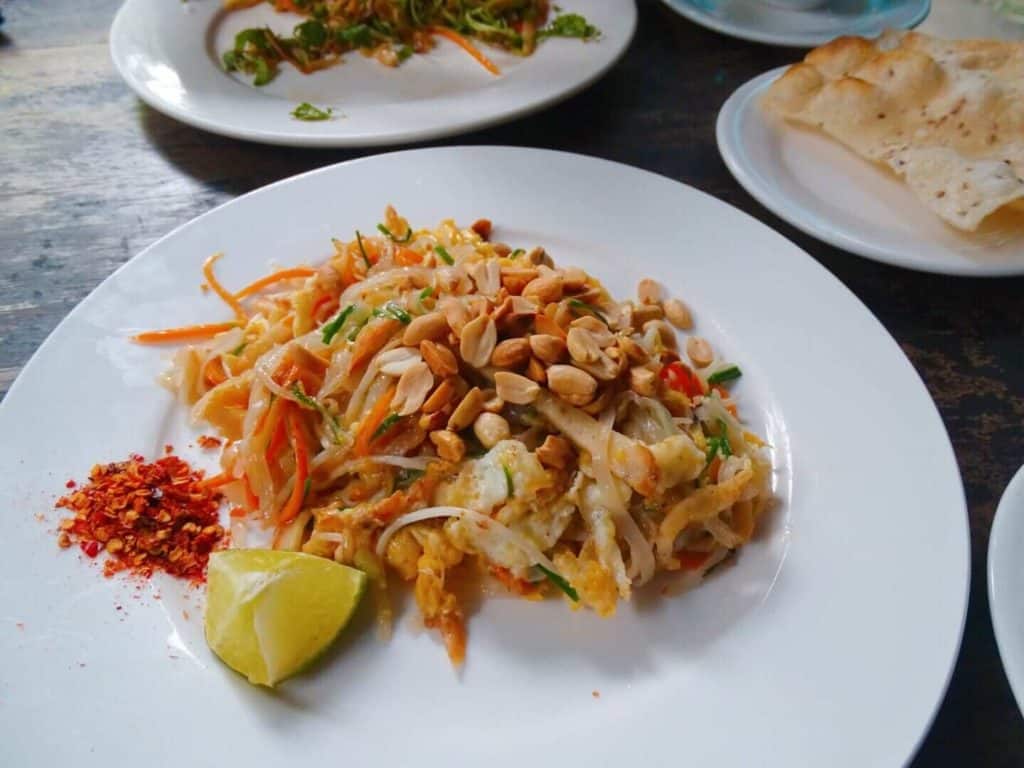 Ấm is my go-to vegetarian restaurant in Hoi An and a decent place. From the fresh spring rolls to the moreish pad Thai, you'd never notice the absence of meat. Most of the dishes can be made vegan, for example the pad Thai can be cooked without egg.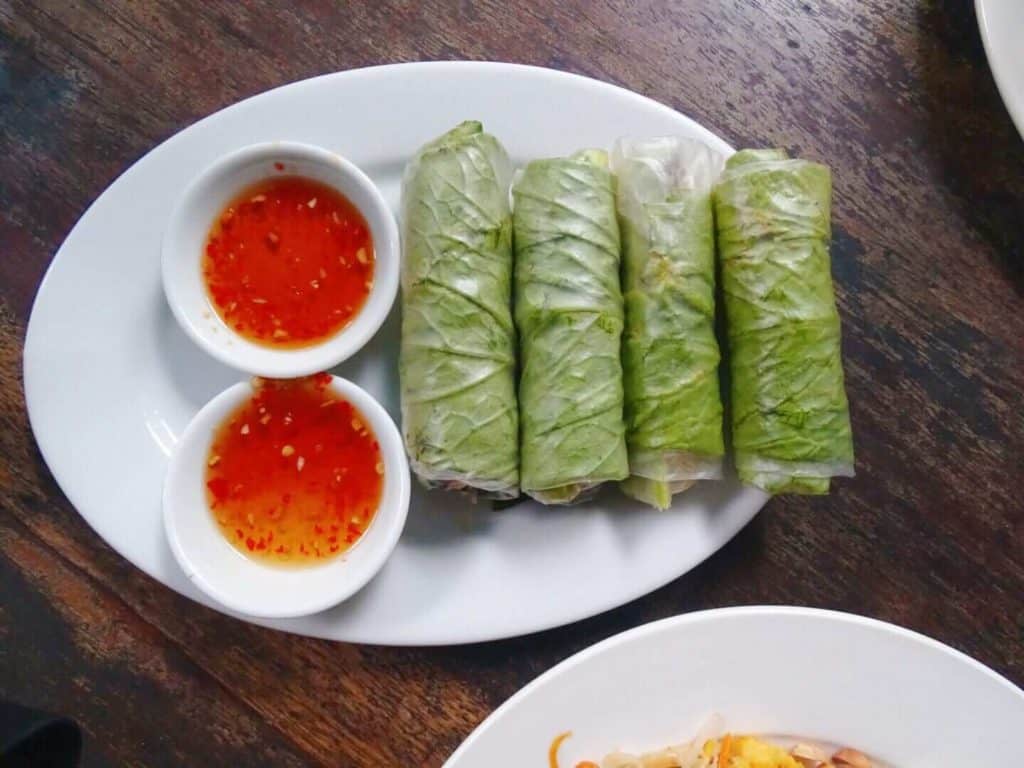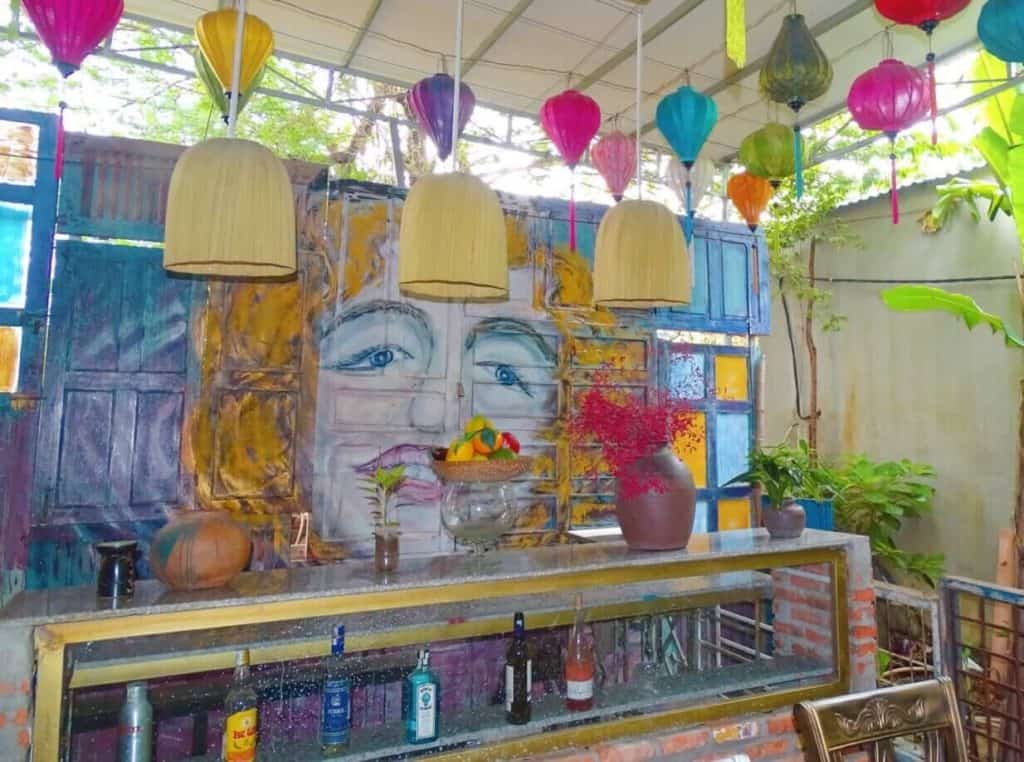 The interior might be the highlight, however. You can eat your dinner on squishy sofas while admiring the colourful lanterns hanging from the ceiling. Could it be more Hoi An?
Tam Quang Minh (another one!)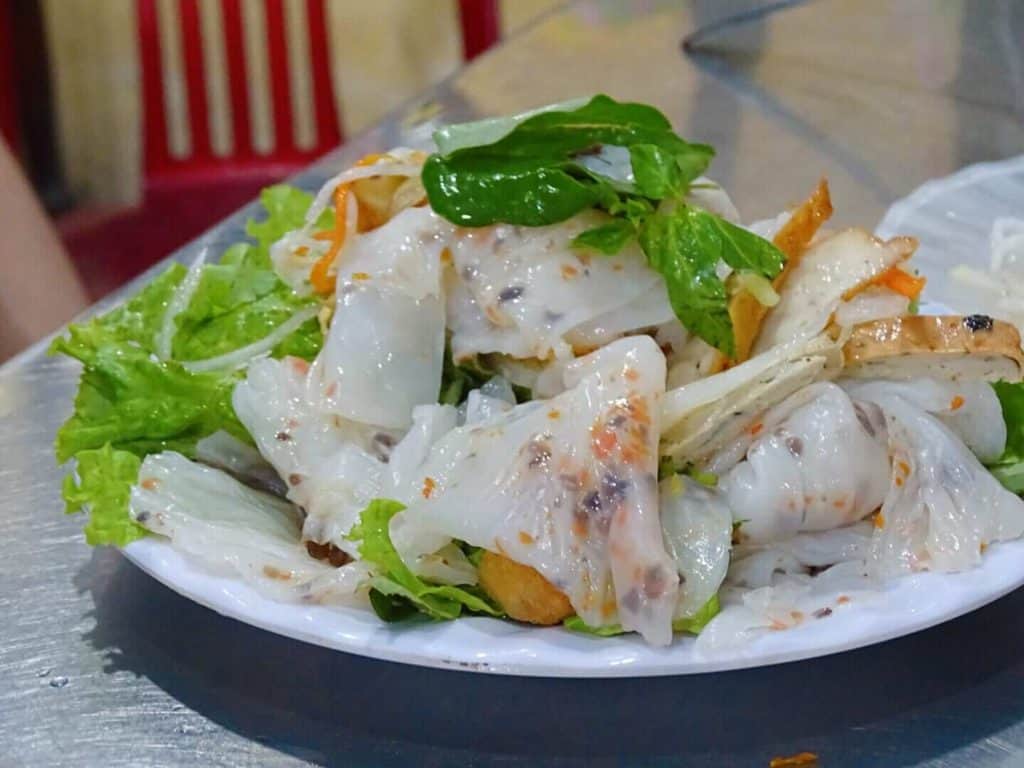 With the same name as the first place on my list, this vegetarian restaurant can be found at 63-65 Phan Dinh Phung. This Tam Quang Minh is not mapped on Google (type it in and you'll be taken to the first one) so it's a bit of a local gem.

Here they serve one of my favourite Vietnamese dishes, bánh cuốn. Soft, gooey rice paper is wrapped around ingredients but I've only had it with meat before. Here it's served as a fresh and flavoursome vegan dish with tofu and salad. I loved the flavour and have eaten it without meat since.
Minh Hien (don't miss the garden!)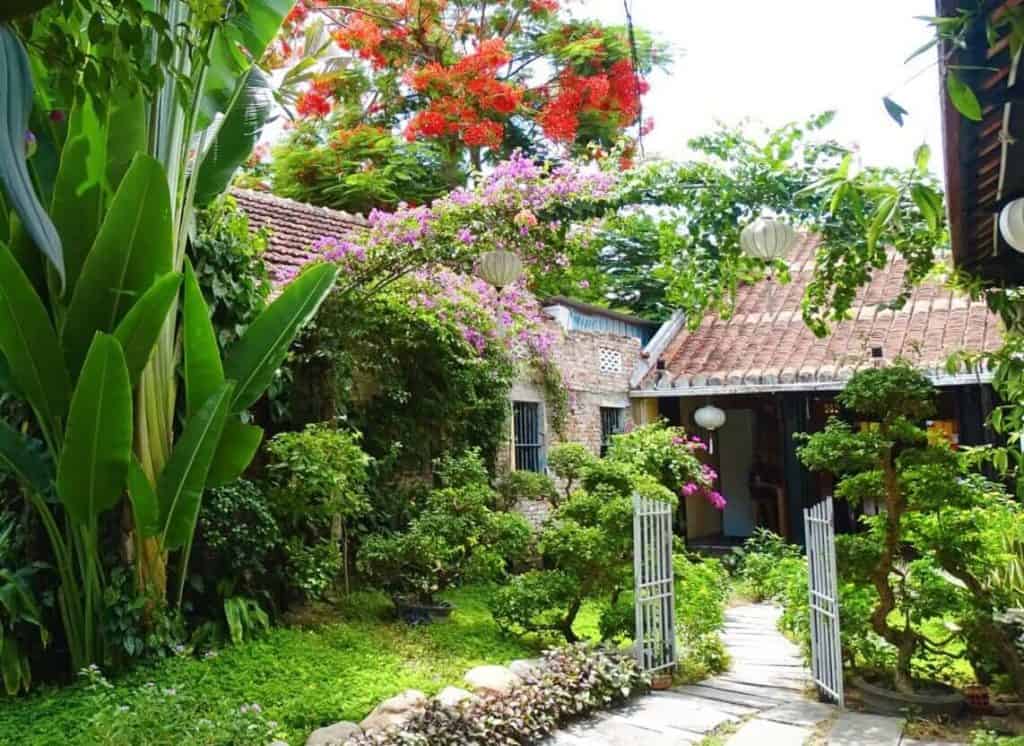 Minh Hien is probably the most famous spot for vegetarian food in Hoi An. Right in the heart of the busy Ancient Town, it's the perfect escape during a busy Hoi An itinerary.

The pretty garden includes a stream and bridge, plus the food is just as au naturale. I love the aubergine cooked in banana leaf for 60,000 VND (£2) which makes for a main meal when served with rice. You can also try vegetarian versions of Hoi An's signature dishes like white rose dumplings.

Address: There are two, Minh Hien 1 at 50 Tran Cao Van and Minh Hien 2 at 30 Đinh Tiên Hoàng.
Ba Dam – a bargain vegetarian buffet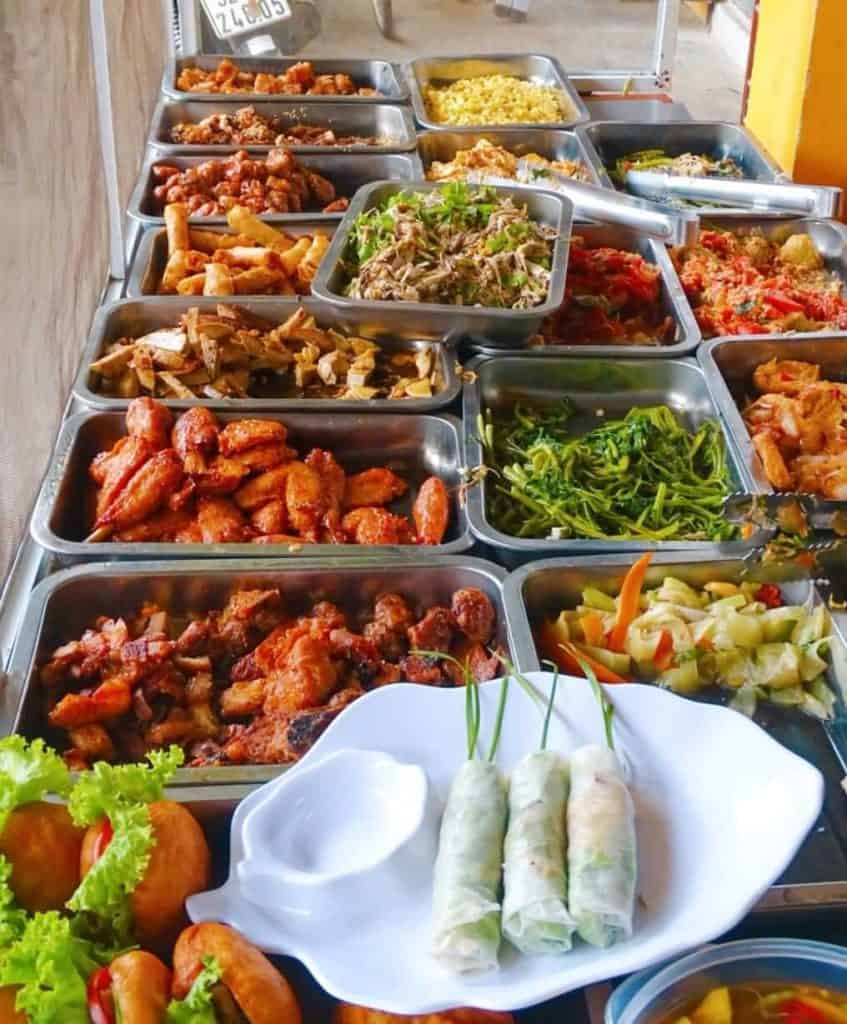 I have to say, the cheapest vegetarian restaurant in Hoi An is probably my favourite. The food at Ba Dam is served buffet-style: you point at what you want and get it dished up, from morning glory to pulled jackfruit, sweet corn fritters, fresh spring rolls and sauteed veg.

I paid 30,000 VND (£1) for the biggest plate of veggie goodies which made me feel healthy even though I was absolutely stuffed!
Nhan Duyen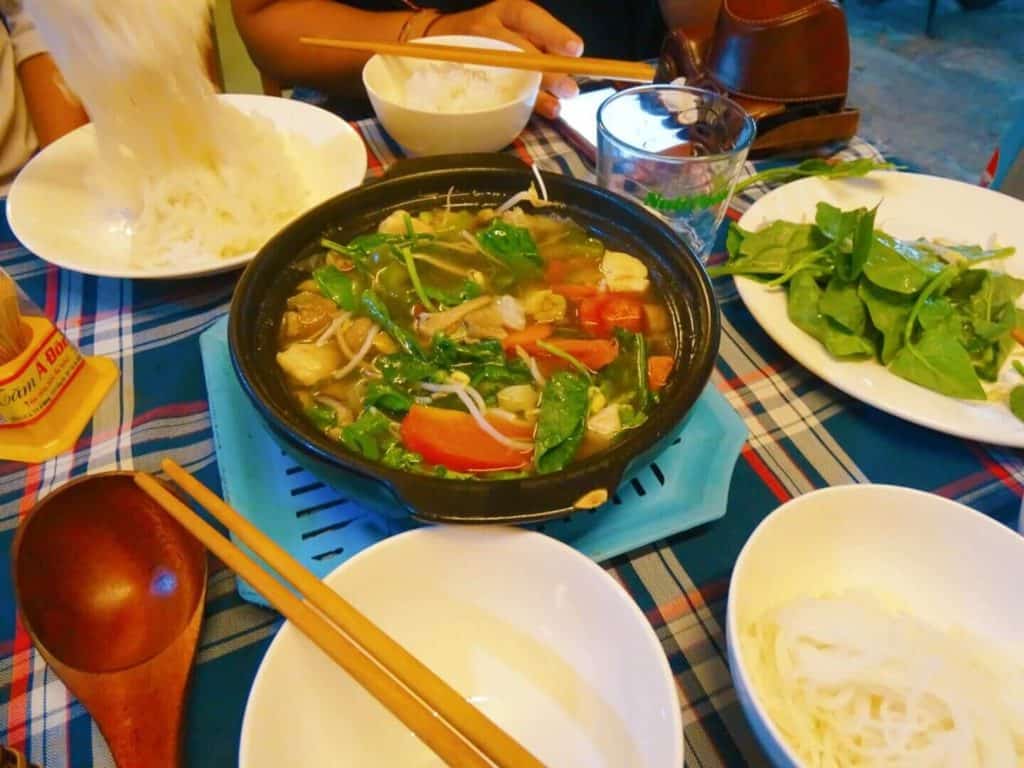 For the final stop of our tour, we headed to another vegetarian restaurant in Hoi An, Nhan Duyen. This cosy spot had a local feel and very reasonable prices. We tucked into a hotpot packed with various organic veggies (grown up the road at Tra Que Vegetable Village) including pineapple and star fruit.
Vegan Zone Hoi An
This new addition to the scene is a highly rated vegan restaurant known for its traditional Vietnamese dishes like lemongrass tofu. The relaxed setting at Vegan Zone Hoi An is unpretentious (think Nepalese prayer flags and pretty wall murals) but the food is beautifully presented and very tasty, served in clay pots with healthy side salads.

Don't miss the tasty fruit drinks like apple, mint and lime juice!
Do you know any other vegan or vegetarian restaurants in Hoi An I've missed? Let me know in the comments.
Read my other Hoi An blogs:
Check out my complete 2 week Vietnam travel itinerary!
Thanks for reading!
See you next time for more adventures,
Rose
For more content, follow me on Instagram, Facebook, Twitter and YouTube.
Ps. Pin this for later!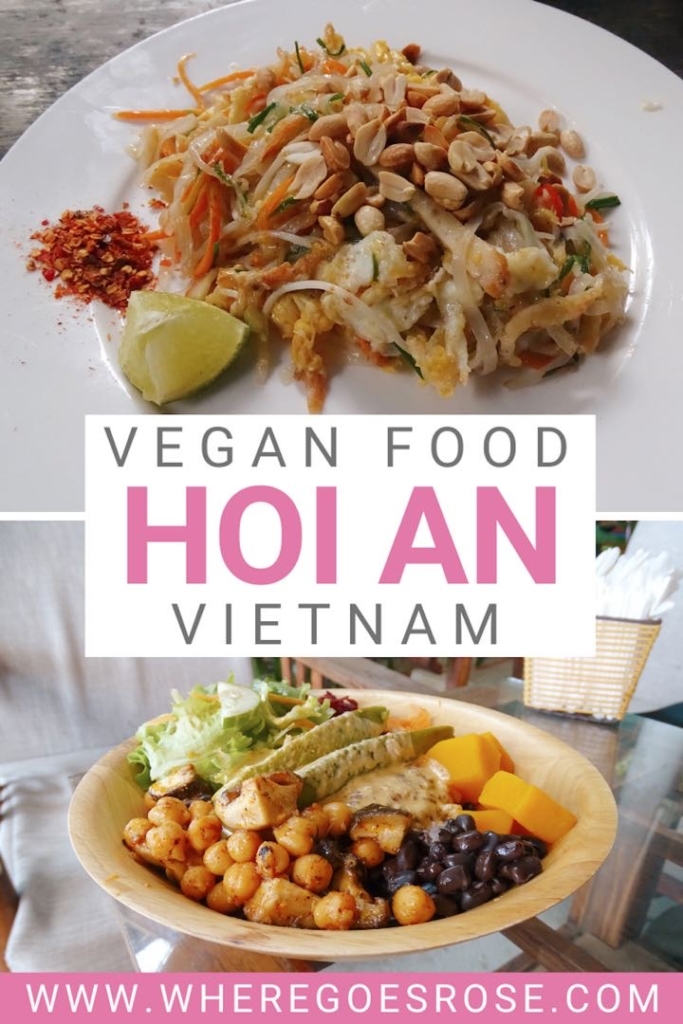 Vietnam quick links

Flights – I use Skyscanner and Kayak and search by month to see the cheapest dates.

Confused about visas? I use iVisa to check visa requirements and apply for visas online.

Stay connected with E-sim data plans that don't require delivery or collection; just span the QR code.

In my opinion, Lonely Planet offer the best guidebooks. Get the latest Lonely Planet Vietnam.

For Vietnam buses and trains, I use 12GoAsia. The search feature allows you to compare prices and durations.

I use Booking.com for accommodation. They have the best range of hotels and self-catering apartments, plus you can filter by review score and price to find the best-rated budget places. For hostels, I use Hostelworld.

To save money on accommodation, I use Trusted Housesitters, a website that connects homeowners going away and travellers who can sit their homes & pets.

For activities, I use GetYourGuide as they have a huge range of affordable tours.

Need travel insurance? I use World Nomads. They cover 150 countries and have 24-hour emergency assistance.

Check out my resources page for more travel discounts and tips!