This post may contain affiliate links to things like tours, hotels, Amazon associates and products. These help me earn a small commission at no additional charge to you.
While visiting Bulgaria in the summer, I went on an adventure to Rila Monastery from Sofia. I'd never heard of this place but it soon popped up on my radar after doing some research on day trips from the capital. In this guide, I'll tell you to visit independently and share the best Rila Monastery tours from Sofia.
SOFIA ESSENTIALS

Accommodation: Booking.com // Hostelworld

Tours & activities: GetYourGuide // EatWith
My whole time in Bulgaria was kind of a happy accident.

I was visiting Romania on the way from Asia before relocating to Mexico. I'm aware that's a whole load of places that have no relation to Bulgaria but, basically, I discovered that flights to the UK from Bulgaria were a tenth of the price they were from Romania.

I decided to travel overland from Romania and check out what Sofia was all about before boarding a budget flight home.

I'm so glad I did! Not only did I love Sofia as a city, but the Bulgarian countryside took my breath away. Then there's the hearty Bulgarian cuisine at ridiculously cheap prices compared to Western Europe. If you're on the fence about visiting Bulgaria, I hope that doesn't last long!
There are a few day trips from Sofia that I would recommend. In this guide, I'm going to tell you about my day trip from Sofia to Rila Monastery including how to get to Rila Monastery from Sofia, what to see, and tips for your visit.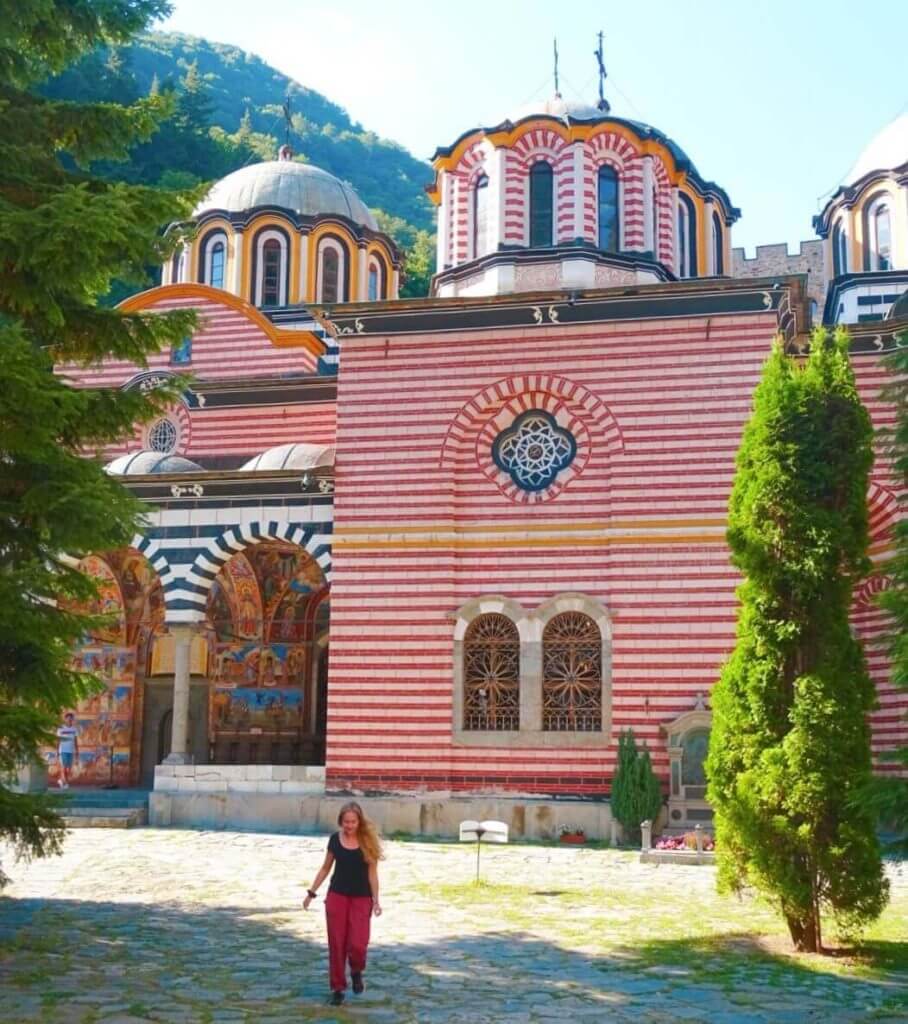 Why to visit Rila Monastery
Located just under 2 hours drive from Sofia, it's easy to take a day trip to Rila Monastery. Over 1,000 years old, the monastery is a great visit for history lovers and you can learn a lot about Bulgaria's past.

Then, there's the draw of its hidden-away location surrounded by mysterious mountains and forest.

Rila Monastery can even be seen on the 1 lev banknote. As one of Bulgaria's most important cultural sights, you shouldn't miss it.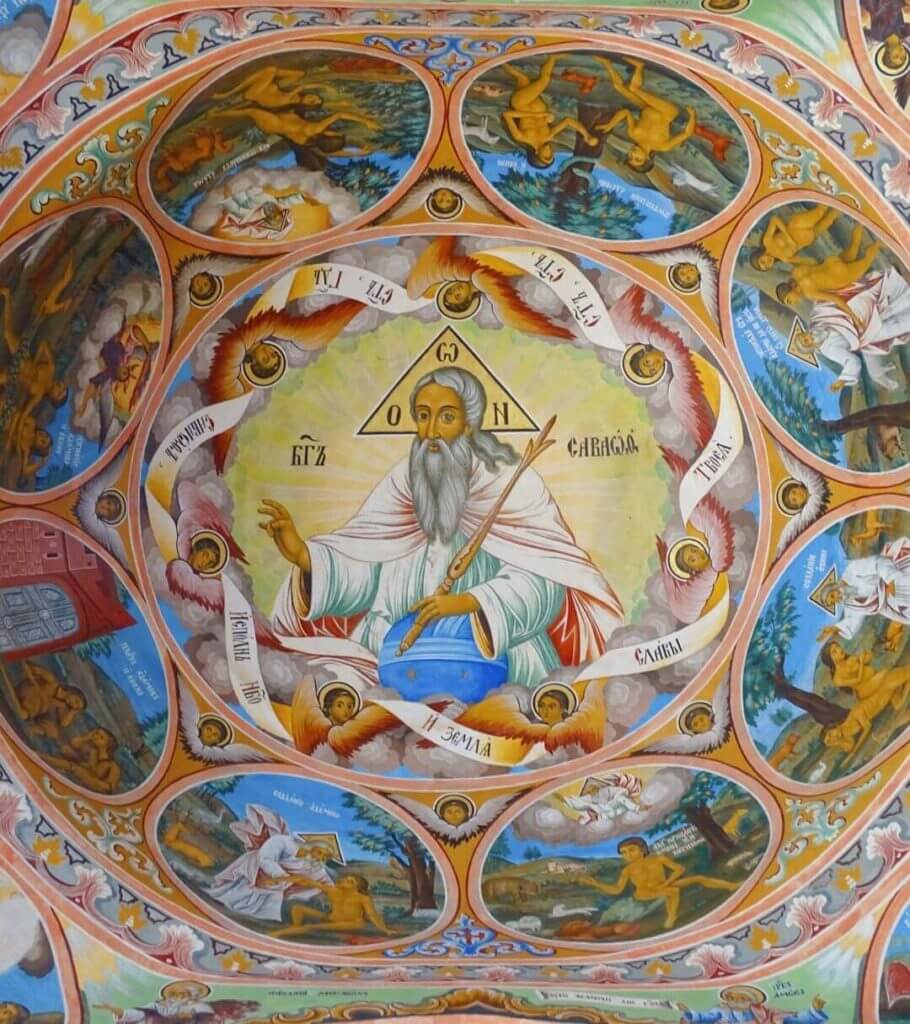 Quick history of Rila Monastery
Rila Monastery is part of the Orthodox Church, a type of Christianity widespread in Eastern Europe. The houses of worship are traditionally very grand and impressive, often inspired by Middle Eastern architecture.

This particular monastery was once the home of a hermit, St John of Rila, and in fact, it still is because his remains reside there.

During Ottoman rule in Bulgaria which lasted almost 500 years, Rila Monastery was one of the few Orthodox houses of worship that wasn't turned into a Greek Orthodox Church by the Ottomans. It's credited with keeping the national religion and language safe, as well as protecting lots of important Bulgarian artefacts and manuscripts.

Unfortunately, a fire destroyed much of the monastery in the late 1800s but luckily, the architects of the country came together to restore the famous monastery.

Have a listen to this podcast for more details before your setting off on your Rila Monastery day trip from Sofia.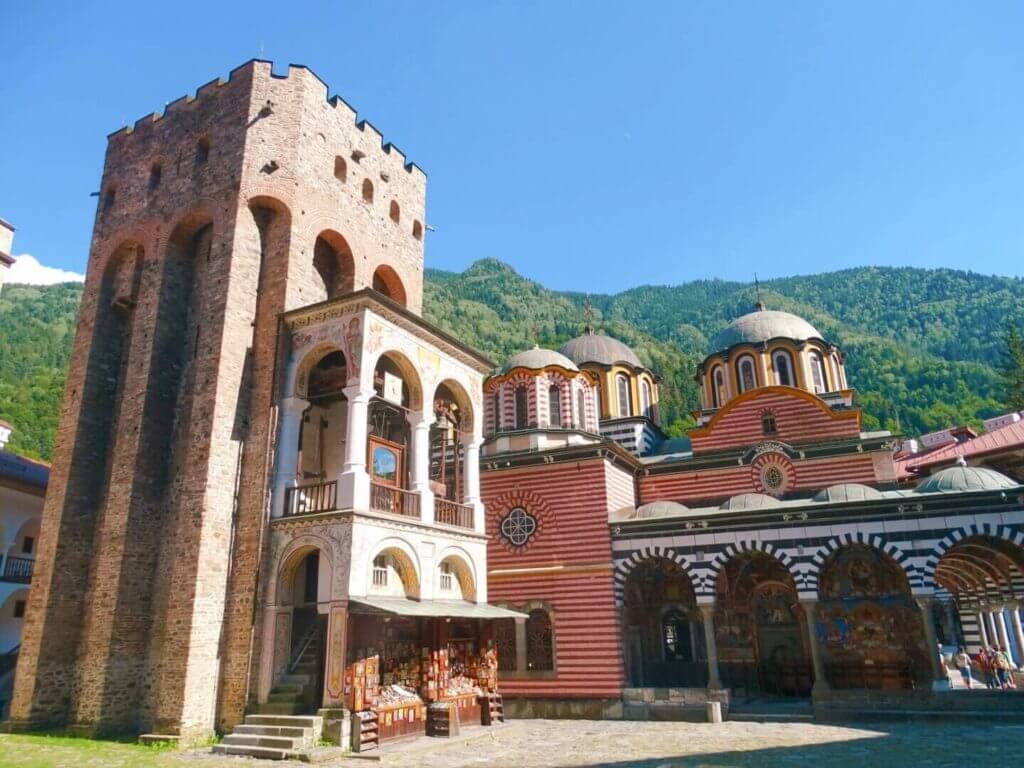 How to get to Rila Monastery from Sofia
There are a few ways to travel from Sofia to Rila Monastery. The most convenient way is of course by car. If you're hiring a car in Bulgaria, you won't need to pay for a tour or figure out bus schedules. Car rentals in Bulgaria are affordable and start at £10 a day.

Rila Monastery day trip by tour: This is the option I took. The GetYourGuide Sofia to Rila Monastery tours are affordable starting from €20 so I decided it was the best option since I don't drive. I only had one spare day to see Rila Monastery before flying back to the UK so I didn't want to risk missing the local bus or anything going wrong.

Browse Rila Monastery tours. You can opt for a tour including Boyana Church, St Ivan Rilski Cave or 7 Rila Lakes.
Sofia to Rila Monastery bus: The cheapest option for a day trip to Rila Monastery from Sofia is public bus. This leaves and departs once per day so make sure you don't miss it. I'm not quite sure where you'd stay near Rila Monastery if you missed the return journey. Catch the bus to Rila Monastery from Sofia from Bus and Coach Station Zapad – Ovcha Kupel at 10.20am arriving at 1pm.

To get to the bus and coach station, you can catch the N5 tram from the city centre. On the way back, you can catch the same journey from Rila Monastery to Sofia at 3pm, arriving at 5.30pm. You will pay 22 lev return.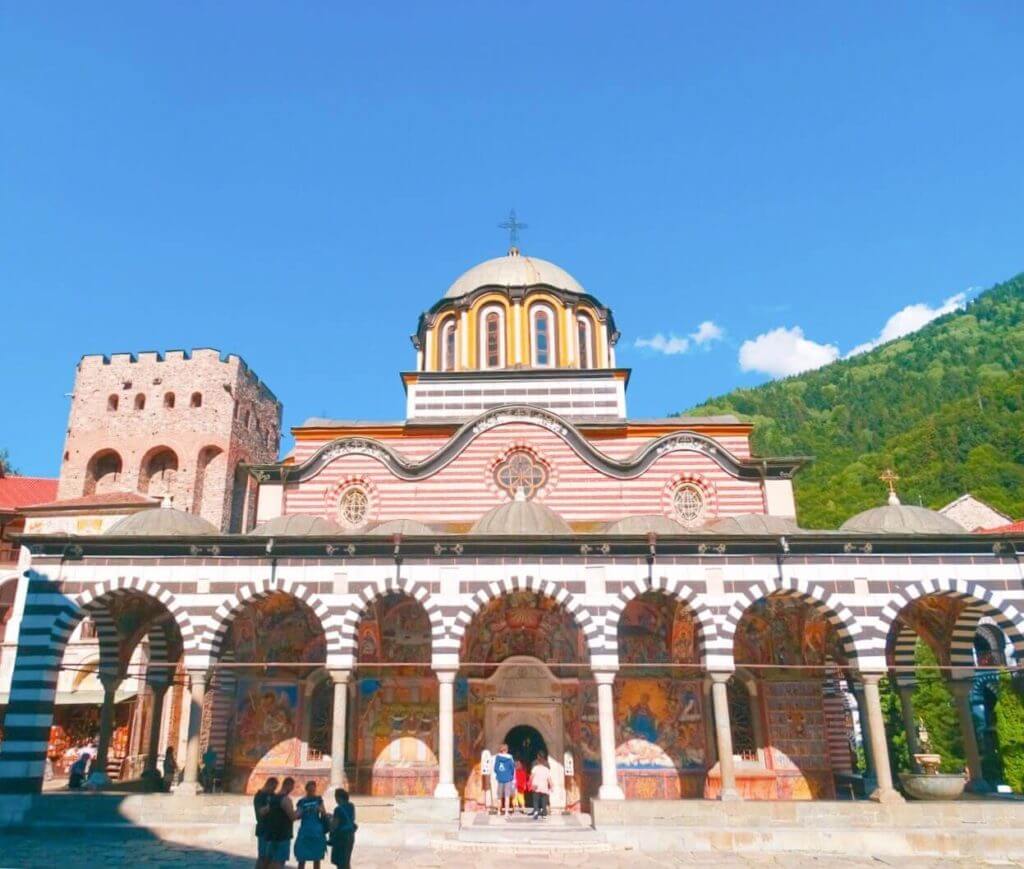 How long to spend at Rila Monastery
Around two hours is enough time to spend at Rila Monastery. There's not loads to do but you can wander the courtyard and head inside the Church of Rozhdestvo Bogorodichno.

My favourite bit was walking the elaborately painted walkways with their detailed, colourful paintings depicting Bulgaria in days gone by.

As well as being a gorgeous place to explore and take photos, Rila Monastery is extremely pretty and peaceful. Dense forest surrounds the monastery giving the feeling you're really in the middle of nowhere.

As well as the mysterious surrounds, I loved wandering Rila Monastery because the distinctive pink and yellow architecture looked dissimilar to anywhere I'd been before.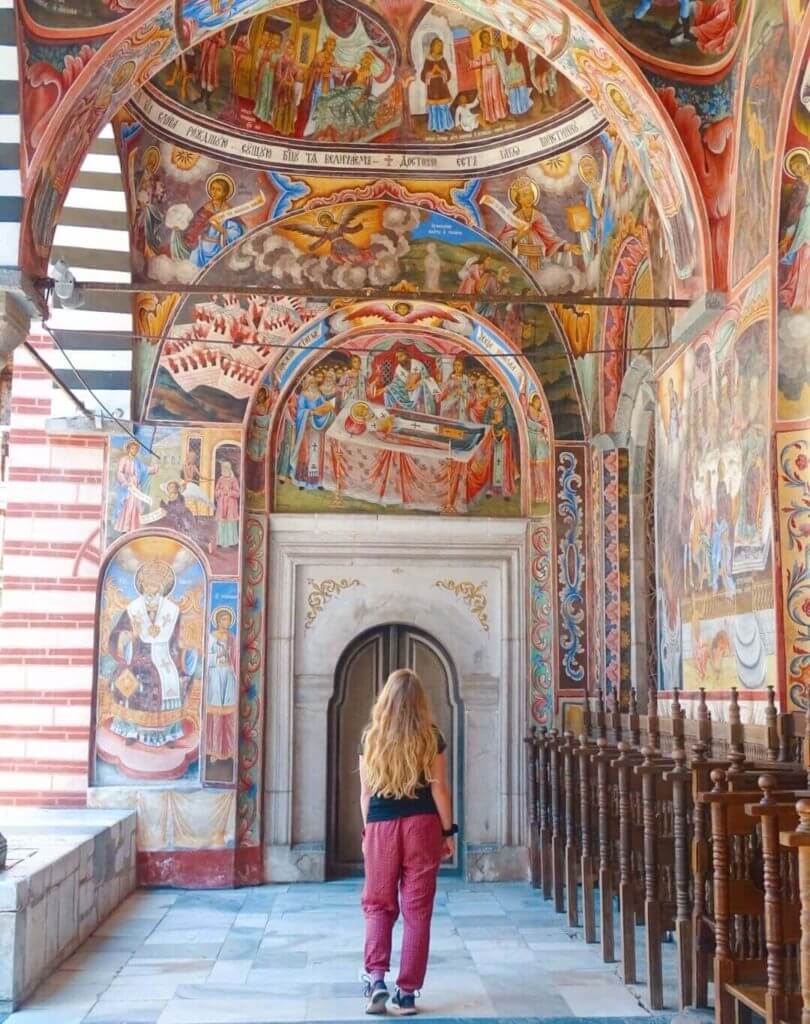 Itinerary for a day trip to Rila Monastery
This will look a little different depending on how you get there but as a rule of thumb:
10am – journey from Sofia to Rila Monastery
Midday – arrive at Rila Monastery
2-3pm – depart Rila Monastery
5pm – return to Sofia.
Of course, if you're driving you could consider setting off early to beat the crowds and have Rila Monastery to yourself. The times above reflect the public bus and tour bus schedule so it's always nice to mix it up if you can.
Rila Monastery opening times & entry fee
The Monastery is open from 8.30am-5pm, opens very day.

You will pay 8 lev entrance, around $5 USD.
What else to include in a Rila Monastery day trip
If you want to see more of Bulgaria (who could blame you?), here are a few other options…
Boyana Church & National Museum of History
Boyana Church is an Orthodox Church dating back to the 10th century, much like Rila Monastery. The incredibly detailed and colourful paintings are considered some of the best-preserved of their kind. They don't look as 'perfect' as the ones at Rila Monastery but that's probably because the church wasn't lost to a fire and rebuilt in recent centuries.

Since Boyana Church is located close to the bus and coach station (Zapad – Ovcha Kupel), it's a natural stop when visiting Rila Monastery as a day trip from Sofia. Many guided tours will include a stop here en route.

Alternatively, if you're visiting by public bus, you could do a DIY stop to Boyana Church. It's a 12-minute drive so if you can flag a local taxi, you can swing by before heading back to central Sofia.

Useful details: Opening times are 9.30am-5.30pm from April to October and 9am-5pm in the winter months. Entrance is 8 lev ($5 USD) per attraction or €10 for both the church and the museum.

Book a combined day tour to Boyana Church and Rila Monastery (€20).
Seven Rila Lakes
If you don't mind a busy day, you can tick off another amazing place in Bulgaria while visiting Rila Monastery from Sofia.

Seven Rila Lakes are a cluster of lakes (seven if you didn't guess by the name) in Rila National Park. Check the Rila Monastery map at the start of this blog to see their location.
Read next: How to hike Seven Rila Lakes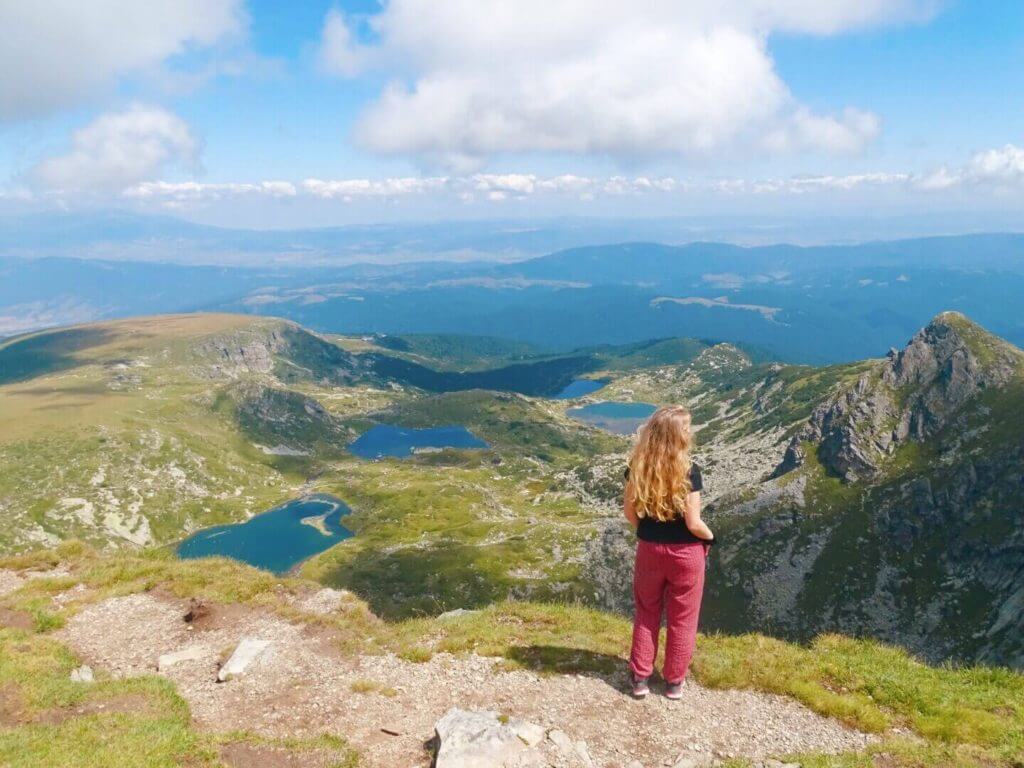 A couple of hours spent hiking them is time well spent. Not only are the views of the lakes incredible but you'll get to enjoy the Bulgarian countryside and fresh air, plus sip crystal-clear water straight from the steams.

While the Seven Rila Lakes are located closely to Rila Monastery, it's a 1.5-hour drive through the windy mountains to reach them. For that reason, you wouldn't be able to visit them and Rila Monastery from Sofia during the same day by public transport. If you have a car or take a 7 Rila Lakes and Rila Monastery Self-Guided Trip (€35), it's a long day but worth it!

You will depart from Sofia at 7am, arrive at Seven Rila Lakes for a few hours of trekking them drive to Rila Monastery and arrive back in Sofia by 7pm. It was long and tiring but overall, an amazing day.
More Rila Monastery tours from Sofia:
What else to do in Sofia?
Use my weekend in Sofia guide to plan a perfect trip. A few things to do include:
Visit Alexander Nevsky Cathedral
Take a free tour with Balkan Bites
Step back in time at the Red Flat Sofia
Discovering the Sofia street art
Tour the Central Mineral Baths
Hike up Vitosha Mountain.
Where to stay in Sofia
Backpackers should head straight to Hostel Mostel. You get free all-you-can-eat breakfast and dinner! Check availabilty from €9.

Hotel: Central Hotel Sofia has rooms and private suites, some with kitchenettes and living areas. Check availability from €84.

Boutique hotel: Art 'Otel is a refurbished 1930s hotel with stylish rooms. Check availability from €60.
Thanks for reading my Sofia to Rila Monastery guide!
I hope you have a better idea of how to get to Rila Monastery from Sofia and what to do there. Let me know any questions in the comments.
Check out my other Balkan blogs:
See you next time,
Rose
Ps. Liked this day trip to Rila Monastery? Pin this for later!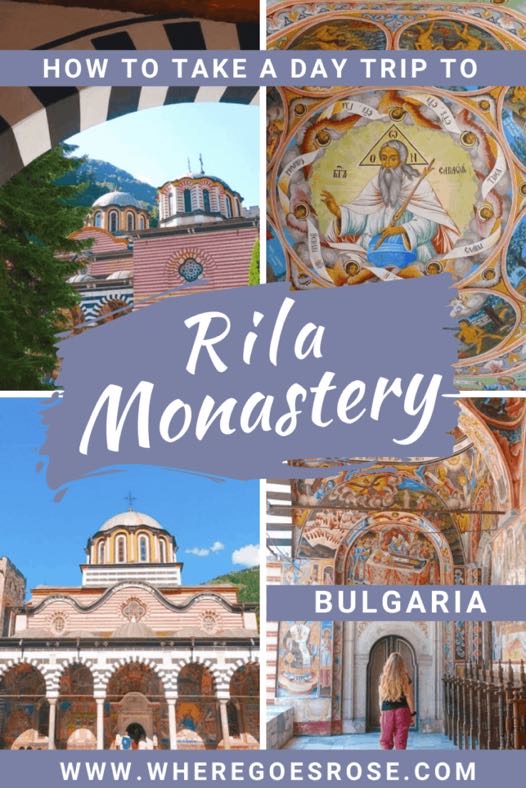 TRUSTED RESOURCES FOR VISITING BULGARIA

Getting around by air – I use Skyscanner to find the best-value flights, using the 'search by month' tool to find the cheapest dates. You can also use the 'to anywhere' feature if you're flexible on where you're going.

Driving in Europe – use Rentalcars.com to compare car rentals in European countries (and all around the world).

For trains, I use RailEurope. The search feature allows you to compare prices, and they show live departure times on the website.

For buses, I use FlixBus. Find journeys between European countries from €1! 

For hotels and self-catering apartments, I use Booking.com. You can filter by review score and price to find the best-rated budget places. For hostels, I use Hostelworld.com.

To save money on accommodation, I use Trusted Housesitters, a website that connects homeowners going away and travellers who can sit their homes & pets.

Browse tours and activities on GetYourGuide.

For food tours pairing travellers with passionate local chefs and foodies, check out EatWith.

Need travel insurance? I use True Traveller (for UK & Europe residents) since it's affordable but covers everything you'd need including various activities, valuables and pre-existing conditions. Unlike some companies, they insure you if you're already travelling / don't yet have your flight home booked. Get a quote.

For travel insurance for other nationalities, I recommend Hey Mundo and for long-term digital nomad travellers, I suggest Safety Wing.

Check out my resources page for more travel discounts and budget tips from my 10+ years on the road!