This post may contain affiliate links to things like tours, hotels, Amazon associates and products. These help me earn a small commission at no additional charge to you.
I recently spent a fantastic day exploring Lacock. Although this village is pretty and quaint, I have to confess the highlight was finding the Lacock Harry Potter filming locations!
Are you a Potterhead? Check out my other Harry Potter blogs: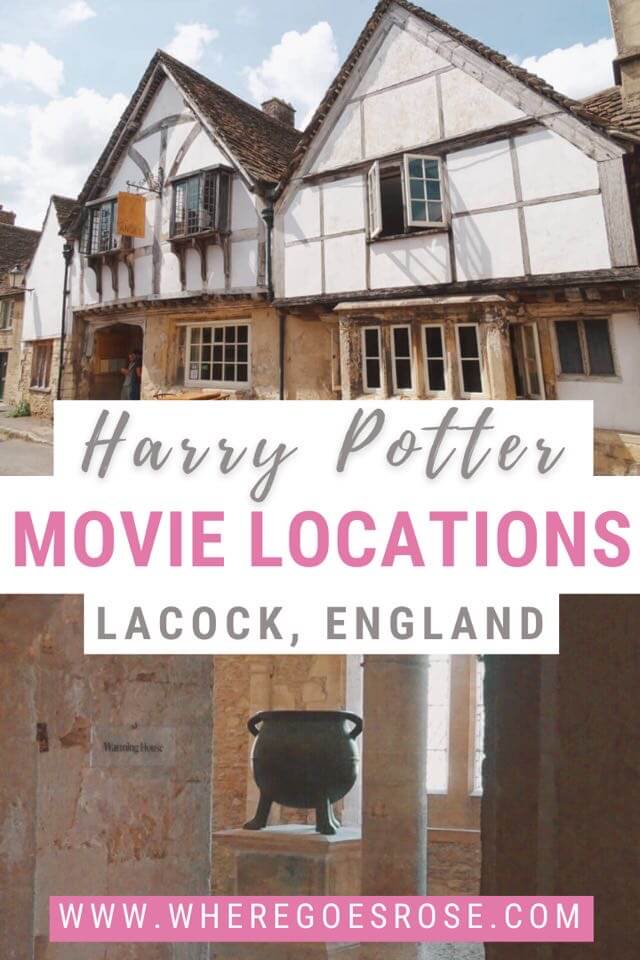 LACOCK ESSENTIALS

Accommodation: Booking.com

Rough Guides The Cotswolds

Related reading: My Cotswolds blog posts
Lacock background
Lacock is for sure one of the most beautiful villages in the Cotswolds, located in the county of Wiltshire. It's 3 miles from Chippenham and 13 miles from Bath.

Beautiful Lacock has almost 1,000 years of history, first mentioned in the Domesday book in 1086 when it had a population of 200. The population hasn't grown exponentially: today it has a population of just over 1,000.

In the summer months, I imagine the tourists outnumber the locals as they flock to gorgeous Lacock Abbey (National Trust) and the many Lacock village Harry Potter locations!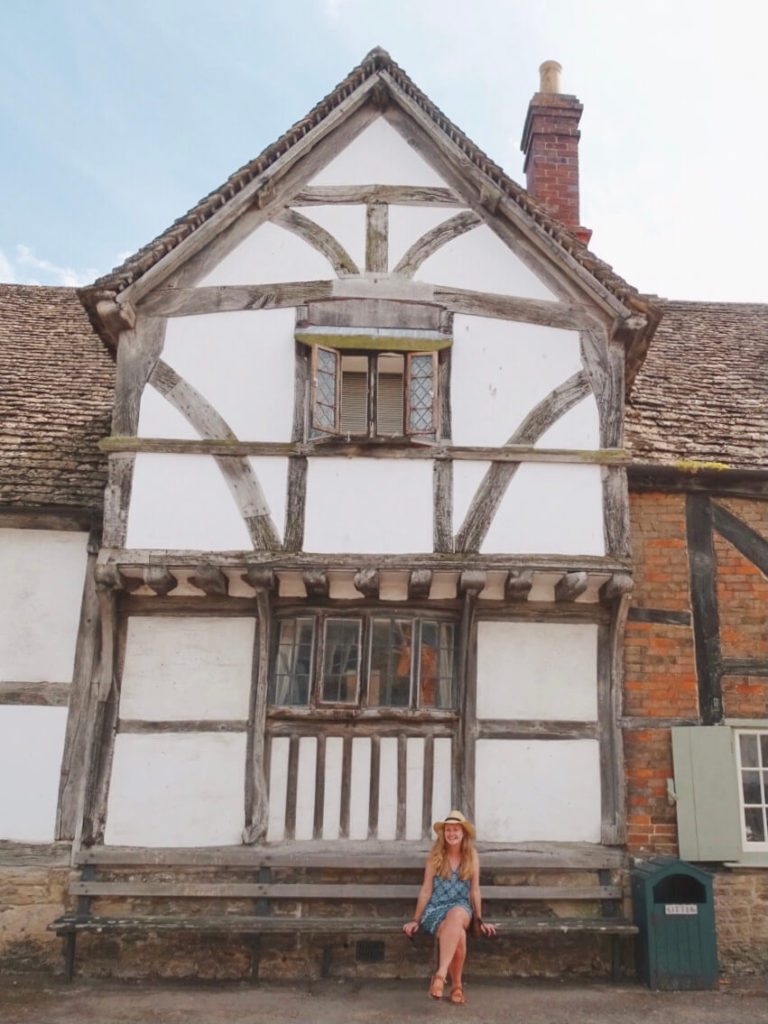 Read next: how to take a Cotswolds day trip from London
Lacock history
Lacock Abbey was founded in the 1200s by Ela, Countess of Salisbury, one of the most powerful women of the Middle Ages. I like the sound of her!

Sadly, the Abbey was dissolved in the 1500s after Henry VIII parted ways with Rome and the Catholic Church.

However, just a few years later, the Abbey was bought by William Sharington for £730 (bargain!) who turned it into a country house. While some religious elements were destroyed, luckily he kept the cloisters… a saving grace for future Harry Potter filming at Lacock Abbey.

In recent years, the National Trust has restored the property.

In the 1800s, another famous figure lived at Lacock: William Henry Fox Talbot who invented part of the photography process. He captured the world's first photographic negative at Lacock Abbey. While snapping photos around the beautiful Abbey, I couldn't help marvel at the irony!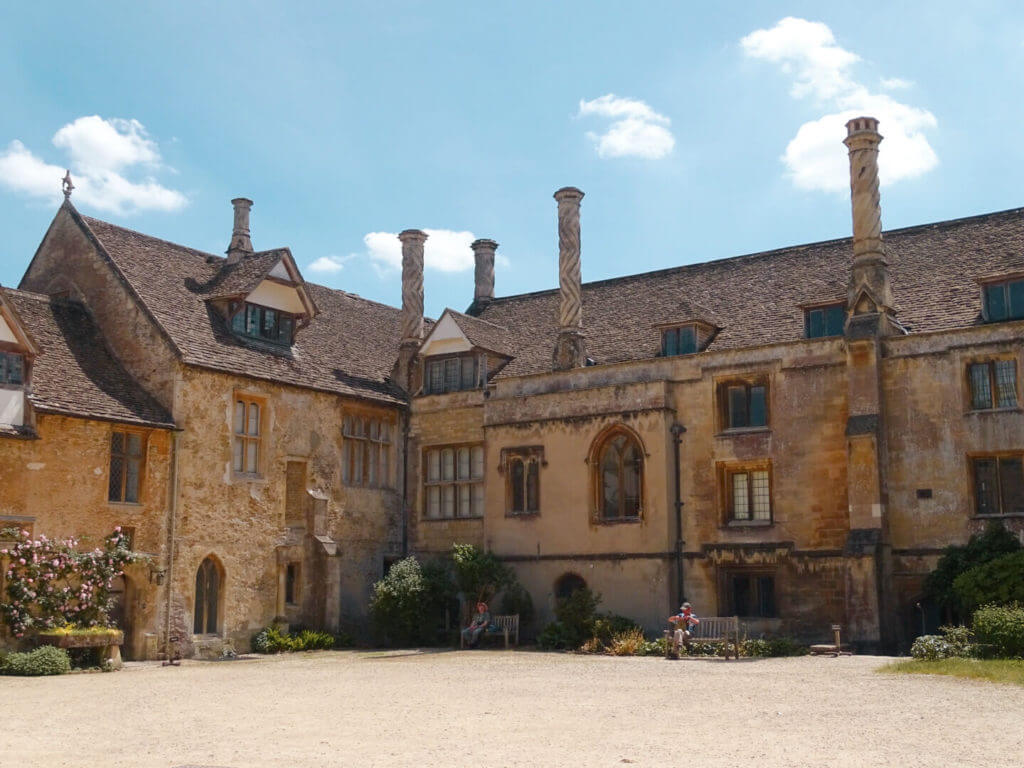 Lacock Harry Potter history
Ready for the fun bit?

Harry Potter was filmed in various places around the UK and Ireland including Edinburgh, Oxford, Gloucester Cathedral and the Cliffs of Moher. I've ticked off several of these spots but there are still more to do!
Harry Potter and the Philosophers Stone (2001)
Harry Potter and the Chamber of Secrets (2002). Both the above were mainly filmed at the Abbey.
Harry Potter and the Half-Blood Prince (2009), mainly filmed around Lacock Village.
Fantastic Beasts: The Crimes of Grindelwald (2018).
In this guide, I'll share the Harry Potter filming locations around Lacock Abbey as well as the other Lacock village Harry Potter sites.
As you can see, some of the Harry Potter Lacock locations are in the Abbey and others are in the village. I'll run through them both starting with the Abbey.

So dust off your virtual wizard hat, jump on your broomstick and join me on this Lacock Harry Potter tour!
Harry Potter filming locations at Lacock Abbey
After arriving in Lacock, I headed straight to the Abbey. Because of 2021 safety restrictions, you have to choose a 30-minute window for your arrival when booking your ticket online (this staggers guests and prevents the Abbey from getting crowded). As usual, I was right on the edge of being late and had to power walk to avoid missing my slot!

As soon as we were inside, we began spotting the Lacock Abbey Harry Potter filming locations. These are…
The Cloisters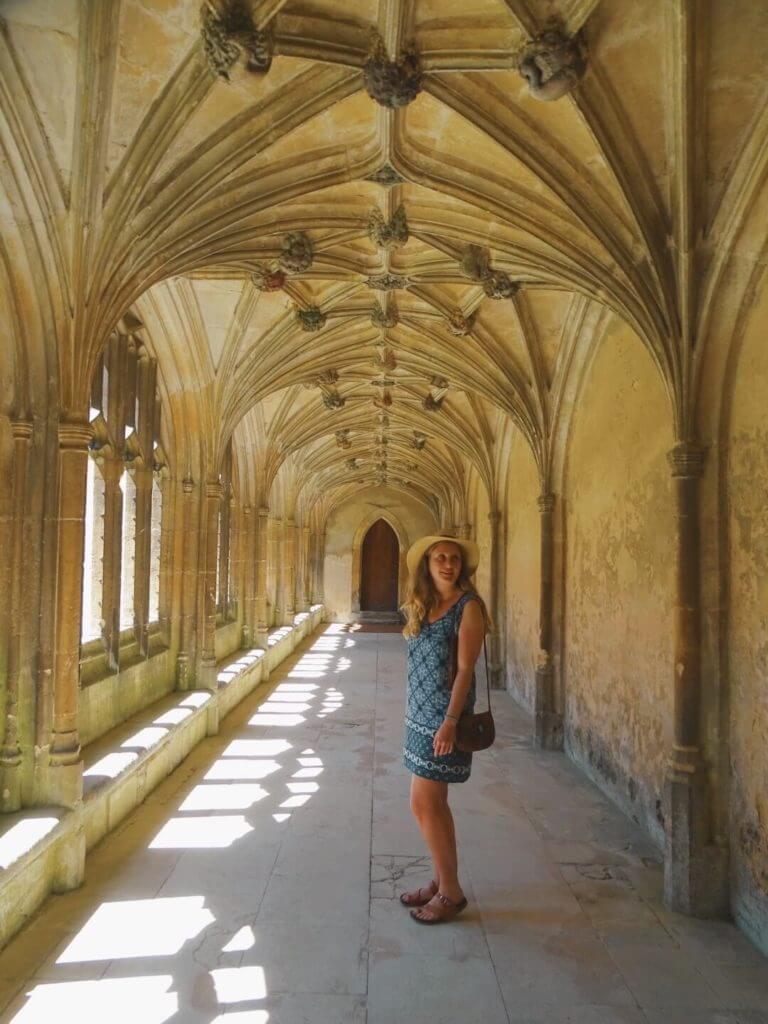 Recognise these halls? If you've watched the Harry Potter movies, you certainly will.

When you see the cast walking through Hogwart's corridors in the first two movies, they're often strolling around Lacock Abbey cloisters.

I marvelled at how similar they look to the cloisters around Oxford University. The ones at New College and Christ Church College were famously used during Harry Potter filming in Oxford.
More Hogwarts corridor scenes were filmed at Gloucester Cathedral. Check out my Harry Potter guide to Gloucester Cathedral!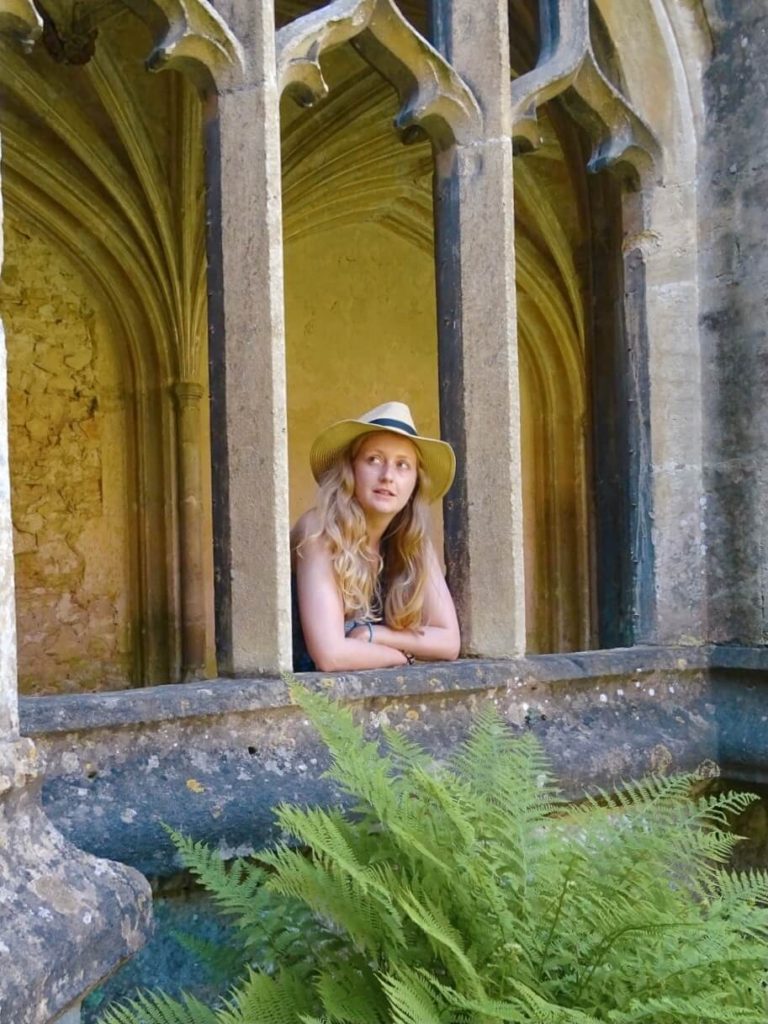 Harry Potter scenes at the Cloisters:
Harry visits the restricted section at Hogwarts Library, hidden under an invisibility cloak. He's nearly discovered by Snape and Quirrell (Philosopher's Stone)
When Professor McGonagall introduces Harry to Oliver Wood to talk about joining the Quidditch team (Philosopher's Stone)
When Harry hears the basilisk moving behind the walls before discovering Ginny has been captured (Chamber of Secrets).
History of Lacock Abbey cloisters: Built in the 13th century, these are widely considered some of the best-preserved in the country. When Lacock Abbey was a nunnery from the 13th-15th centuries, they provided nuns access between the church and private chambers.

A tomb dedicated to the Abbey's founder, Ela the Countess of Salisbury, can be seen along south cloister walk.
The Sacristy (Snape's Potions class)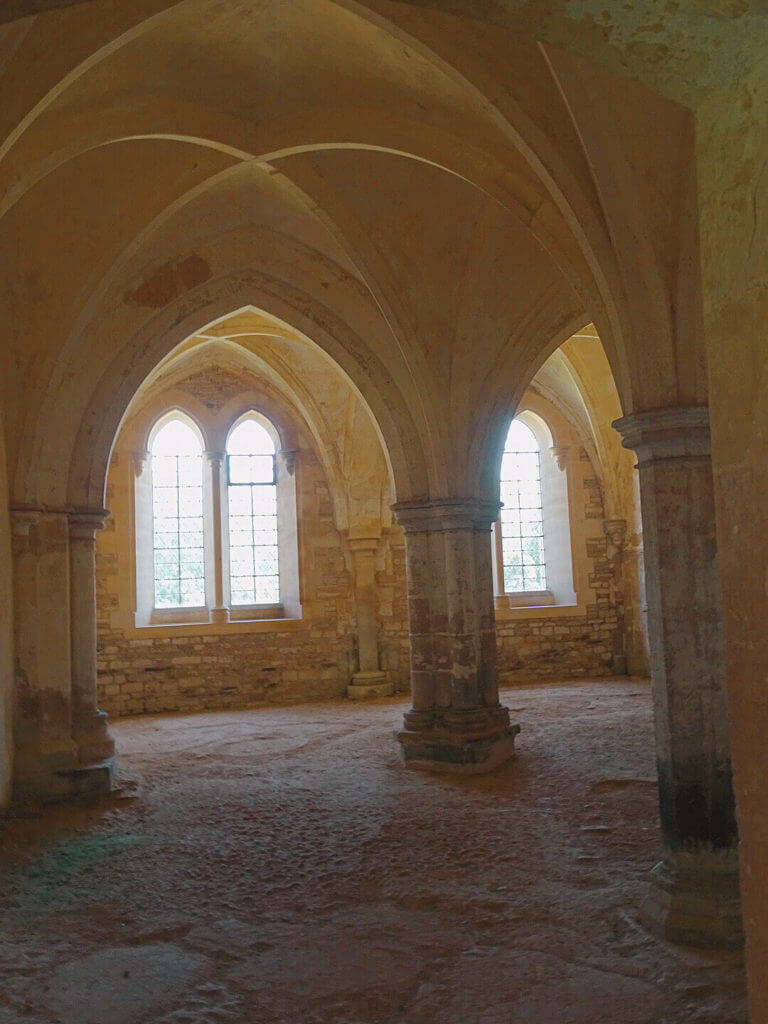 The Sacristy is a small room off Lacock Abbey's cloisters, although not the most impressive in my opinion. The movie directors covered up the windows for a 'dungeon' feel that the real room doesn't possess. I preferred the Chapter House with its tiled floor and the Warming Room with its metal cauldron (I'll mention both these next).

Harry Potter scenes at the Sacristy: It features as Snape's Potions classroom in the Harry Potter franchise. When a young Harry goes to his first Potions class and feels overwhelmed by Snape's tough approach to magic, it's filmed in this room.

History of the Sacristy: This room would have been used for storage, mainly for church furniture and other items in between services. Parts of the walls are original, dating back to medieval times. It had a gothic facelift in the 13th century, bringing it in line with the style of the times.
The Chapter House (Mirror of Erised scene)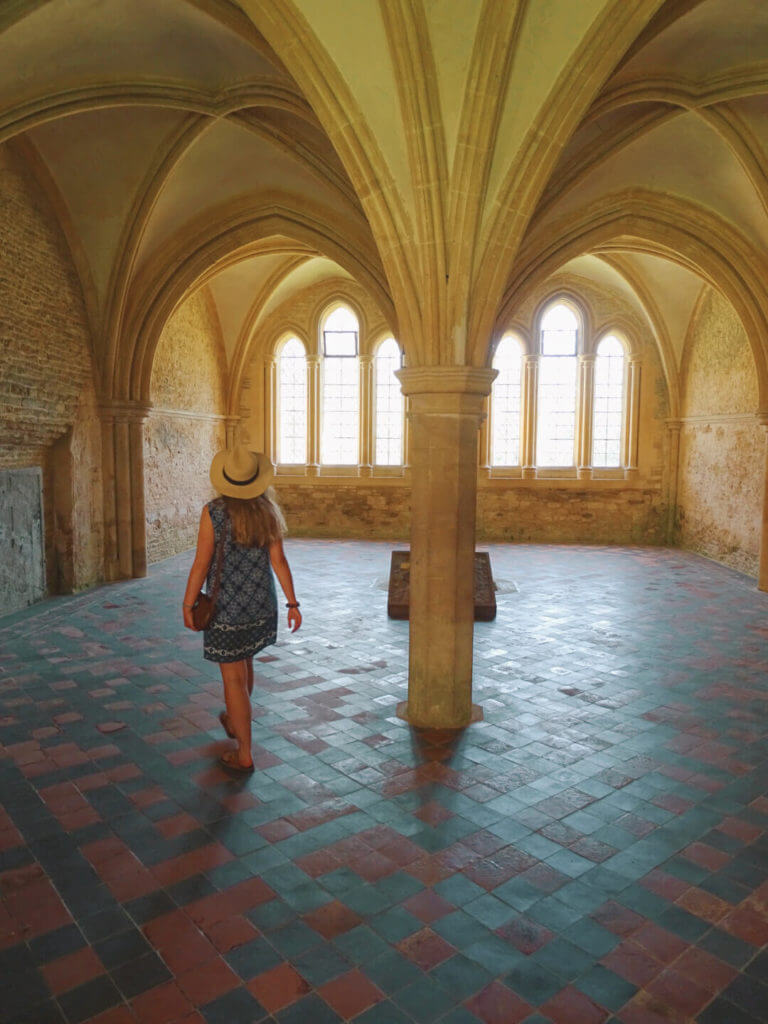 With its tiled floor and elaborate pillars, the Chapter House is one of my favourite Harry Potter locations at Lacock Abbey. You'll find it right next door to the Sacristy.

Harry Potter scenes at the Chapter House: Remember the scene in the Philosopher's Stone when Harry discovers the Mirror of Erised? It was filmed here in the Chapter House. Sadly, the mirror is no longer here (dare I even suggest it may have been CGI) but luckily, the atmospheric setting is enough to spark the imagination!

If you don't remember, the Mirror of Erised was a magical mirror that showed the viewer 'the deepest, most desperate desire of our hearts' (according to Dumbledore). Erised backwards actually spells 'desire'.

The mirror showed Harry reunited with his parents. When he asked Dumbledore what it showed for him, he said a thick pair of socks!

I'm sure if there was a Mirror of Erised for muggles, it would show me a) drinking margs on a beach in Mexico or b) sipping bubble tea in a futuristic Asian city! (Hurry up and get back to normal, world!).

The Chapter House appears again in the Chamber of Secrets when the students are seen studying for an exam. Harry hears students gossiping about whether he's the heir of Slytherin after he accidentally speaks Parseltongue in front of them.

History of the Chapter House: After William Sharington purchased the Abbey in the 1500s and converted it from an Abbey into his home, he built a fireplace in the Chapter House, the remains of which can be seen today. The Chapter House is the only room in the Abbey with a tiled floor, added in the 19th century over the original (plainer) medieval floor.
The Warming Room (Quirrell's Defense Against the Dark Arts class)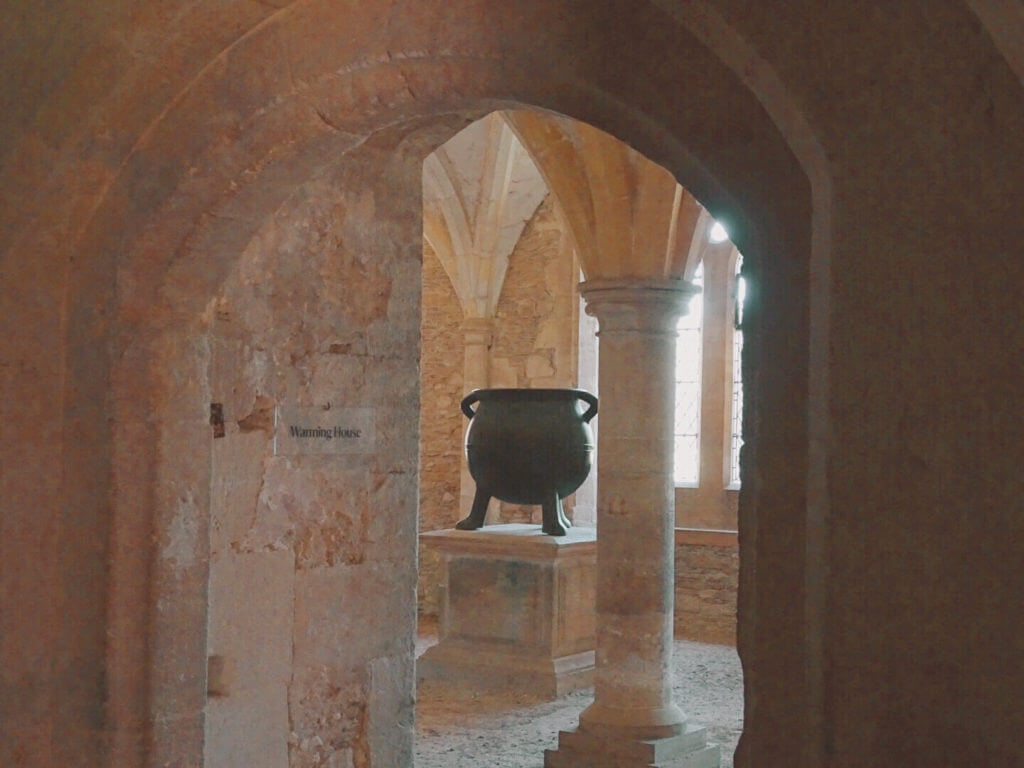 How perfect is this Lacock Abbey Harry Potter location? Unlike most of the rooms where you'll need to use your imagination, the Warming Room displays an enormous black cauldron.

History of the Warming Room: Rather than a Harry Potter movie prop, this striking cauldron is an authentic 16th-century item, allegedly used by Queen Anne during her visit in the 1700s (or rather by her servants, I'd imagine!).

In the Abbey's early days, the Warming Room was indeed the warmest room in the house because it was the only one where the residents were allowed a fire. I'm not sure if this was due to cost or the risk of burning down the Abbey!

Harry Potter filming in the Warming Room: It was used for Lacock Abbey Harry Potter filming as Professor Quirrell's Defense Against the Dark Arts classroom. You may remember the scene where Quirrell is seen holding an iguana beside a giant cauldron. I need to re-watch The Philosopher's Stone to pinpoint this moment.
Lacock village Harry Potter filming locations
Once I finished exploring the Lacock Abbey Harry Potter filming locations, I headed into the village. Not only did the directors film at the Abbey, but they also selected several locations in Lacock village as Harry Potter filming sites.

Here are the top Harry Potter filming locations in Lacock village…
Harry Potter's parent's house (Lacock Harry Potter house)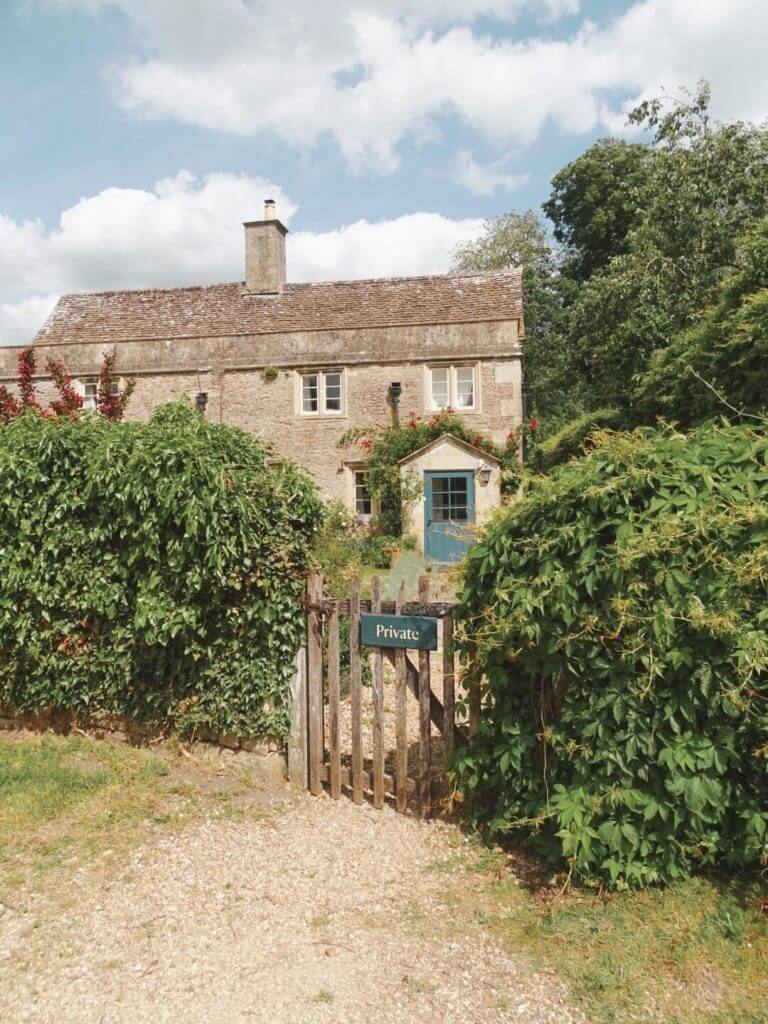 How quaint is this stone cottage? Not only is it pretty but it's famous with Potterheads visiting Lacock.

This cottage served as Harry Potter's parent's house during a flashback scene in the Philosopher's Stone. This comes when Hagrid explains to Harry his magical background and how his parents tragically died. Whilst he's talking, the viewer sees a flashback to his parents' home AKA this Lacock cottage.

Although the National Trust list the house on their printed leaflet, it's important to note this is a private home. I'm sure the people who live there don't enjoy tourists snapping photos so make sure to be subtle and respectful. Don't capture the locals in your snaps!

How to find Harry Potter's parents' house in Lacock: It's right at the end of Church Street beside St Cyriac's Church. You'll find the house at the back of a quiet courtyard nearby Lacock Pottery.
Horace Slughorn's hideaway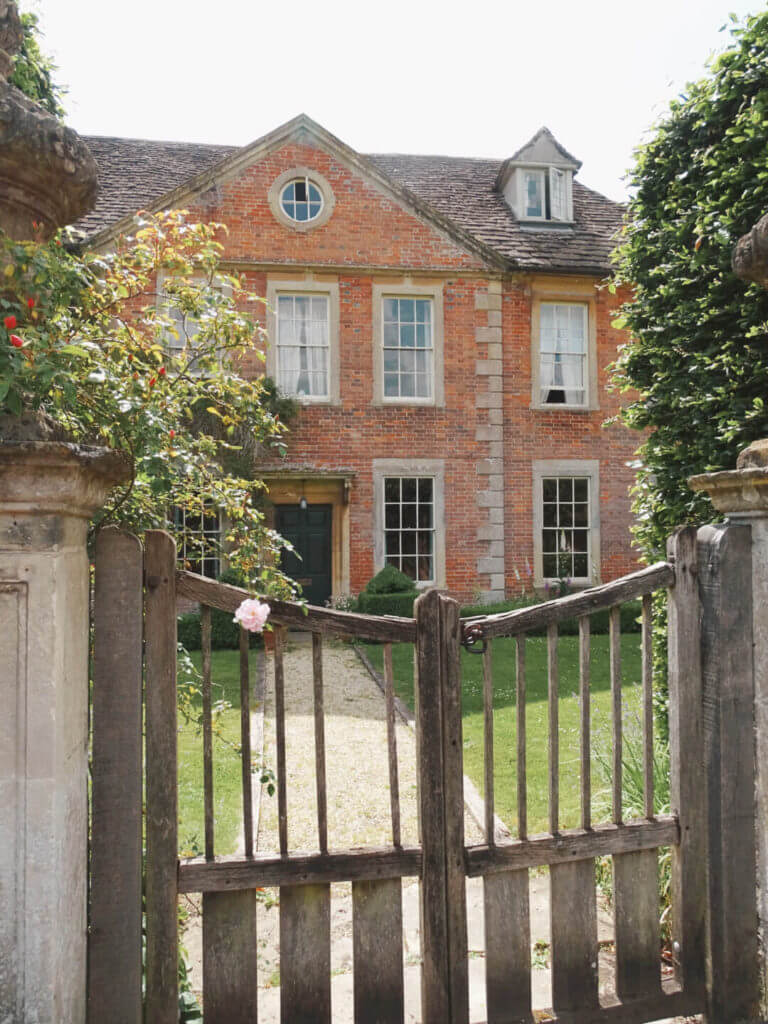 One of the most impressive Harry Potter locations in Lacock village is this red brick three-storey house with gated grounds. It's unlike the other buildings in Lacock which are mainly made with golden Cotswold stone.

The house appears in Harry Potter and the Half-Blood Prince as Horace Slughorn's hideout in the village of Budleigh Babberton. If you're wondering, there's no such place: it's a fictional village that came to life on screen thanks to picturesque Lacock village.

If your memory needs jogging, Horace Slughorn was a Potions master and Head of Slytherin House (played by Jim Broadbent).

You may remember the scene where Harry is reading a newspaper in a railway cafe and a Muggle waitress starts to chat him up. He's interrupted by Dumbledore who whisks him away to Budleigh Baberton to find Slughorn (who's hiding from Death Eaters in a Muggle home whilst they're on holiday) and recruit him as Potions teacher.

Find the house on Chapel Hill leading away from Lacock village.

As with Harry's parents' house, this is a private home so be respectful with your photos and videos!
The Sign of the Angel Lacock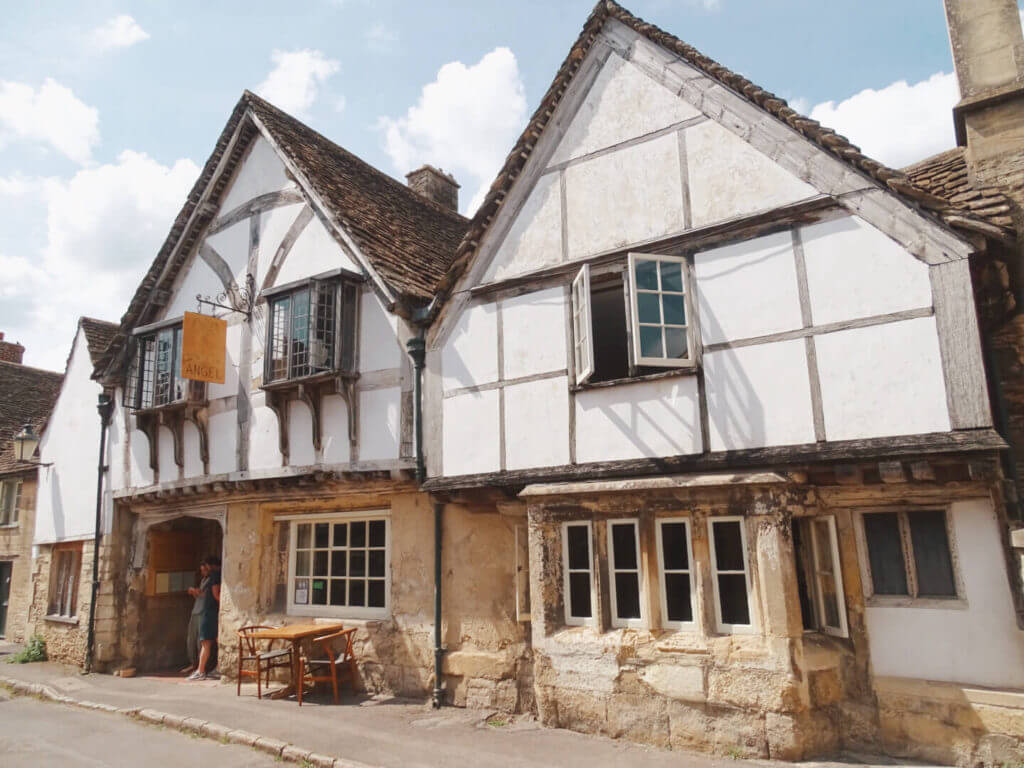 The final Lacock village Harry Potter filming location is the Sign of the Angel pub. This black and white building with traditional timber rafters dates back to the 15th century. What could be a more fitting HP movie set?

In The Half-Blood Prince, it's not called the Sign of the Angel but the Babberton Arms in – no prizes for guessing – Budleigh Babberton village. After Harry and Dumbledore apparate into the village and recruit Slughorn, they pass by this pub.

You may remember in the movies that there's also a particularly impressive monument in the centre of Budleigh Babberton that Harry and Dumbledore arrive beside. Sadly, this was created for the movies and is not a real feature of Lacock village.

If you're hungry, thirsty or need a place to lay your head, Sign of the Angel is a fully functioning pub with a wide range of beers, ales, ciders and wines, hearty English cuisine and boutique double bedrooms. Book to stay from £130 a night.
Can you take an organised Harry Potter Lacock tour?
Surprisingly, there are very few guided tours in Lacock (perhaps the National Trust don't allow them). The only one online is from GetYourGuide (a company I highly recommend) but it's a private guided tour from London at £800. Even if you get a group together and split it, it's pricey. I'll update this section if a better option becomes available.
Where to shop in Lacock for Harry Potter souvenirs
Want to remember your day in Lacock? Don't miss these final Harry Potter Lacock locations; you'll find some great souvenirs!
Watlings Gift Shop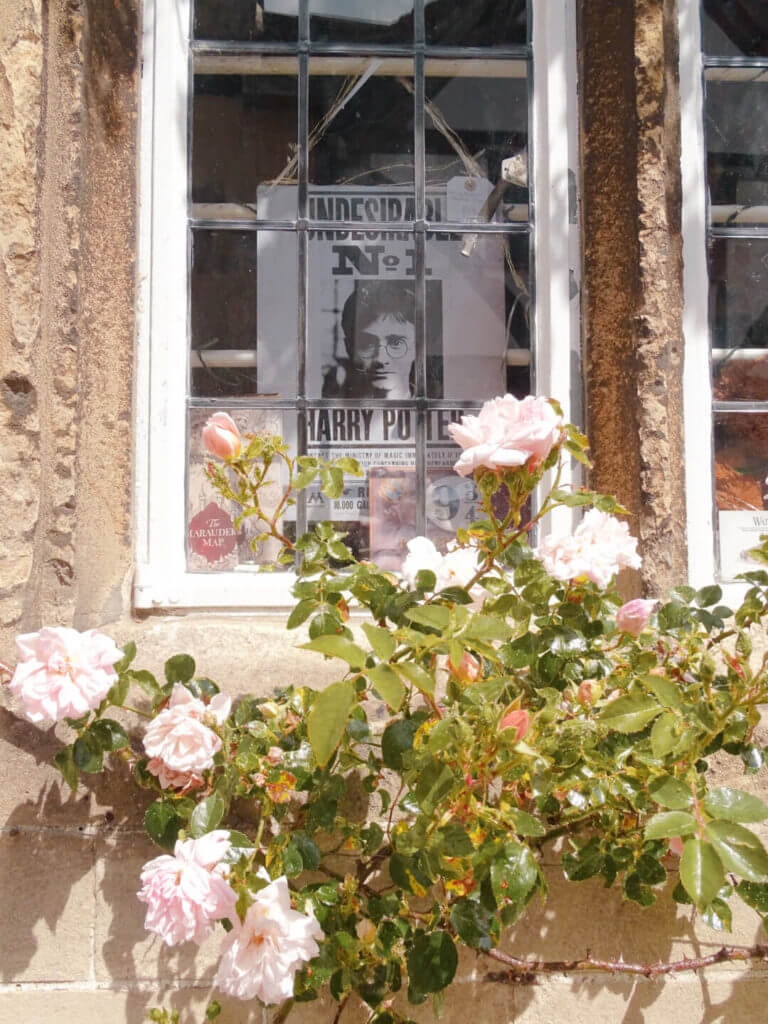 Although Watlings Gift Shop didn't feature in the films, it's a place where Harry Potter fans can get their souvenirs. There's a wanted poster for Harry in the window and lots of Harry merchandise to shop, as well as a red Platform 9 and Three-Quarters sign outside.
The National Trust Gift Shop
Located at 21 High Street, this shop sells a whole range of goodies from edibles to trinkets and items relating to Lacock Abbey, Fox Talbot Museum and of course, Harry Potter!
Other things to do in Lacock
I'm glad I didn't whiz around the Lacock Harry Potter locations and leave; although it's small, there's plenty to do.

In Lacock you can…
Learn about the birth of photography at the Fox Talbot Museum inside Lacock Abbey. This is where Fox Talbot took the world's earliest photographic negative of a small window in the South Gallery in 1835. The museum has lots of interesting relics, early photographic equipment and info about the other people involved in the process.
Pop inside St Cyriac's Church, a 15th-century building allegedly dedicated to a 3-year-old executed by the Romans for refusing to give up his Christian beliefs.
Shop for antiques at Sue Stokes Antiques on West Street. It's packed with vintage collectables.
Browse gifts and other goods at Wiltshire Scrapstore. It's a real treasure trove of everything from fabrics to bits and bobs and craft items. There's also a cafe on-site.
Lacock Abbey visitors information
Lacock Abbey and grounds (along with the Fox Talbot Museum, Stable Cafe and National Trust Gift Shop) are open from 10am-5pm, 7 days a week. A ticket grants you entry to all the above.

It's recommended to book your ticket in advance (by 3pm the day before your visit), especially for weekends and weekdays during school holidays. You will be given a 30-minute arrival slot to ensure distancing.

Once you have shown your ticket and checked in, you're free to explore the Abbey and grounds for as long as you like. Book on the National Trust website. It costs £10 for adults and £5 for children. National Trust membership is £72 for the year.

FAQ – how close is the Abbey to the village? Right beside one another, barely a minute's walk away.
Other Lacock filming locations
While Harry Potter brings in the crowds, several other TV shows and movies have been shot locally. Other Lacock film locations include:
White Princess (2013) – the cavalry is seen charging through Lacock ford
Cranford (2017) – the High Street was used to film a snowy Christmas scene
Downtown Abbey (2015) – livestock were housed on Church Street for filming
Pride and Prejudice (1995) – the Red Lion was used to film the assembly rooms
The Other Boleyn Girl (2008) – scenes were filmed at the picturesque Abbey courtyard.
Getting to Lacock Village
Lacock village is located in Wiltshire, a 30-minute drive from Bath (side note, check out my Bath day trip itinerary if you're planning a visit!).

Arriving by car: To arrive at the main car park in Lacock, set your satnav to Hither Way, Lacock, Chippenham SN15 2LG.

Arriving by public transport: The Cotswolds region is not fantastically connected by public transport but it's doable.

From London Paddington, you can catch a direct train to Chippenham taking 75 minutes and costing £35. Use Trainline to get the best prices. National Express coaches also run but take closer to 3 hours. From Chippenham, catch the 234 bus which departs hourly (Mon-Sat), taking 15 minutes to Lacock.

From Bath, you can catch either a train or a bus into Chippenham and transfer to the 234 to Lacock.
Parking in Lacock village
There's plenty of parking in the National Trust car park. This costs £4.50 or free for National Trust members. When you arrive, simply park up and either pay or scan your membership card at the machines. You will be issued a ticket to put in your window for the duration of your stay. A ticket is valid for the whole day.
Where to stay in Lacock
As mentioned above, the Sign of the Angel Lacock is a great place to stay with bespoke bedrooms and a traditional English breakfast included. Book to stay from £130 a night.

The Red Lion is another a cosy Georgian pub and hotel just a minute's walk from the Abbey. Book to stay from £110.
Where to eat & drink in Lacock
Pub grub and pints at the Red Lion or the George Inn.
Locally sourced English fare at King Johns Hunting Lodge.
Modern British fare at the Sign of the Angel pub.
Tea and cake at Lacock Bakery. The only thing more appealing than the confectionary is the exterior of the bakery with its traditional signage and an old-fashioned bicycle. It doesn't get more quaint than this!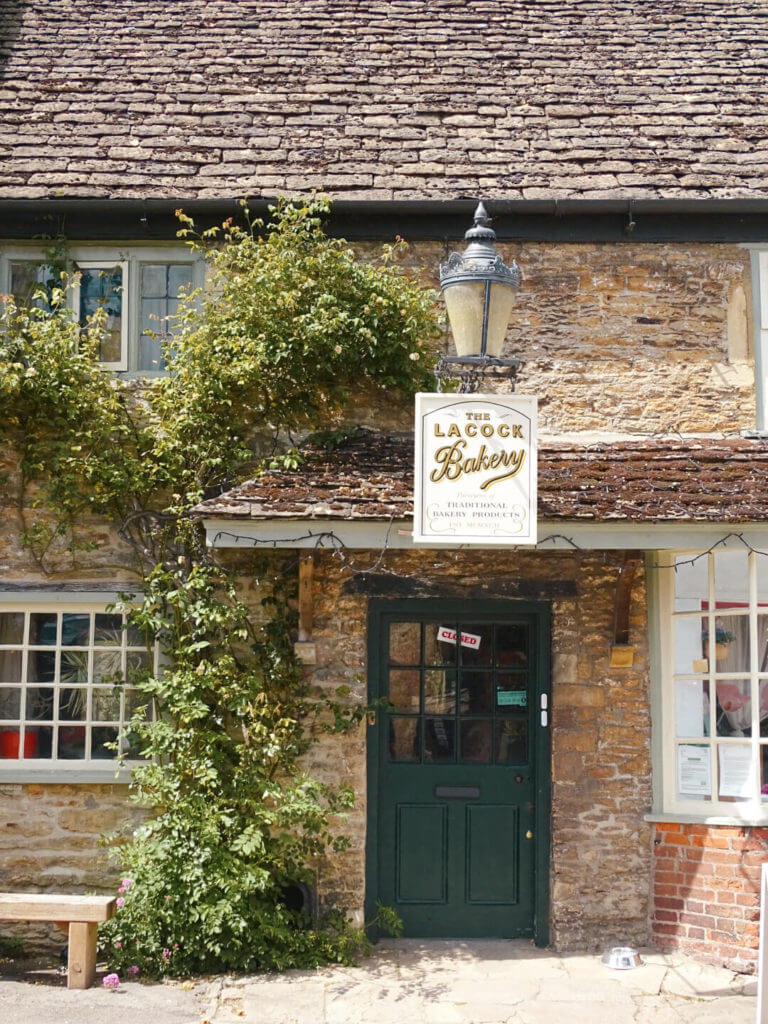 What else to do nearby?
I may be biased but I truly believe the Cotswolds is one of the most beautiful parts of England!

As a local (sort of), I have several other blogs you can check out. If it's your first time in the region and you don't know where to start, read my guide to all the best places in the Cotswolds.

I also have a specific guide if you're looking for pretty Cotswold villages like Lacock and the Slaughters. Both Upper Slaughter and Lower Slaughter are idyllic.

Use my Cotswolds weekend itinerary to plan a perfect weekend getaway.

For more idyllic towns, read my guides to Tetbury and Burford, two of my favourite Cotswold locations.

Head over to Gloucester (just outside the Cotswolds) to find even more Harry Potter filming locations at Gloucester Cathedral.

If you're heading to Oxford, don't miss my guide to the Harry Potter Oxford locations… As well as my many Oxford blogs!

Finally, browse my England blogs.
Thanks for reading my Harry Potter Lacock guide!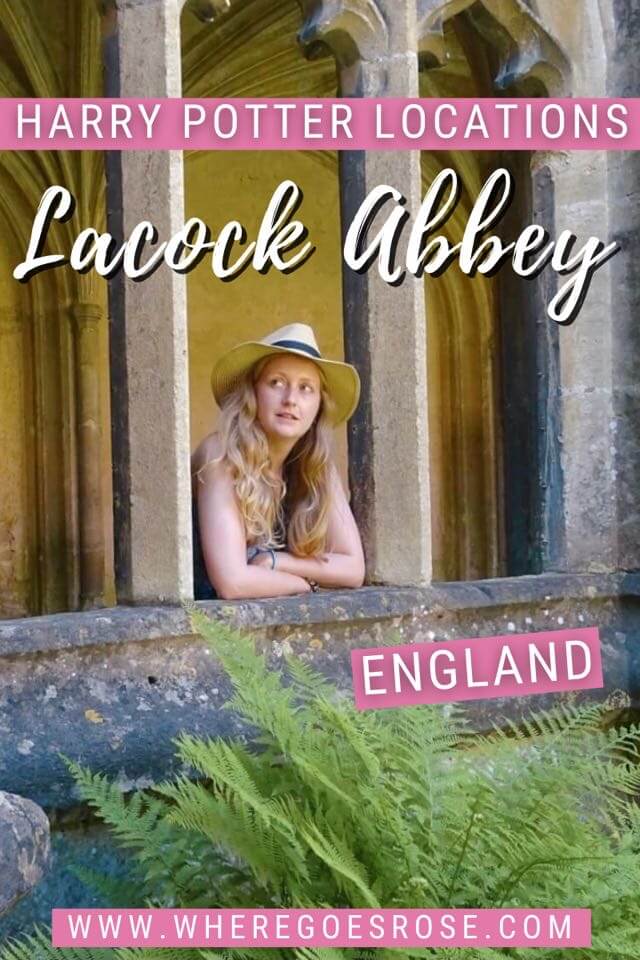 Visiting the UK? 

These are my trusted resources…

Guide books – LP always get my seal of approval. Use the latest copy of Lonely Planet Great Britain.

Flights (international and domestic): I use Skyscanner to find the best-value flights, using the 'search by month' tool to find the cheapest dates. You can also use the 'to anywhere' feature if you're flexible on where you're going.

Car hire – use Rentalcars.com to compare car rentals in the UK (and all around the world).

For UKtrains, I use Trainline. The search feature allows you to compare prices, and they show live departure times on the website.

For buses, I use Busbud. It's the only site that compares UK coaches and buses. Find London to Manchester journeys for £1! 

For hotels and self-catering apartments, I use Booking.com. You can filter by review score and price to find the best-rated budget places. For hostels, I use Hostelworld.com.

I use GetYourGuide for tours & activities when I don't want to travel solo. The guides are knowledgeable and you can't beat the prices. I also check Viator as they often have fun and unique offerings.

For food tours pairing travellers with passionate local chefs and foodies, check out EatWith.

Pack the latest copy of Lonely Planet UK.

To save money on accommodation, I use Trusted Housesitters, a website that connects homeowners going away and travellers who can sit their homes & pets.

Need travel insurance? I use True Traveller (for Europe residents) since it's affordable but covers everything you'd need including various activities, valuables and pre-existing conditions. Unlike some companies, they insure you if you're already travelling / don't yet have your flight home booked. Get a quote.

For travel insurance for other nationalities, I recommend Hey Mundo and for long-term digital nomad travellers, I suggest Safety Wing.

Check out my resources page for more travel discounts and budget tips from my 10+ years on the road!
For more travel content, follow me on Instagram, Facebook, Twitter and YouTube.