This post may contain affiliate links to things like tours, hotels, Amazon associates and products. These help me earn a small commission at no additional charge to you.
I recently spent a glorious afternoon in Tetbury, somewhere I'd never been before. After many months in the house during winter 2020-21, I was thrilled to explore more of England and discover all the best things to do in Tetbury, the Cotswolds.

This small town of just over 5,000 people is a real UK hidden gem. It's one of the best places to visit in the Cotswolds because it's far less crowded than places like Bourton-on-the-Water.

Despite receiving slightly less tourist footfall, it's just as charming. The golden stone, creeping wisteria and red phone boxes are typically English, and you have the feeling the town hasn't changed for centuries.
TETBURY UK ESSENTIALS

Rough Guides The Cotswolds

Accommodation: Booking.com

Car hire – Rentalcars.com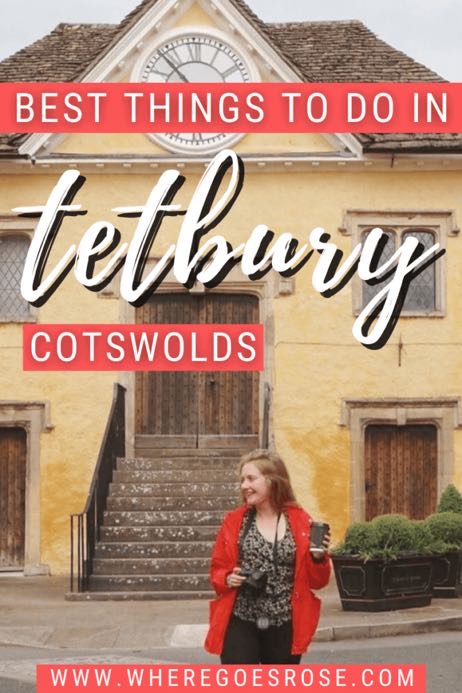 Getting to Tetbury
By car – arrive via the A433, B4014 and A4135. There are several places to park.
By train – the nearest station is Stroud. From the station, you need to catch bus 69 to reach Tetbury.
By bus – buses 278, 69 and 882 connect Tetbury to other Cotswolds towns including Cirencester and Stroud.
Read next: how to visit Tetbury during a Cotswolds day trip
Where to park in Tetbury
There's free parking at Rail yard car park (beside Tetbury Goods Shed Arts Centre), just a few minutes' walk – slightly uphill – from town. Use postcode GL8 8DG.

To park in the town centre, pay 50p per hour / £2 all day at Chipping Car Park.
Quick history of Tetbury
This charming town is over 1,300 years old, built on the site of an ancient hill fort and Anglo-Saxon monastery. The king of Wessex (an Anglo-Saxon kingdom in southern Britain) is thought to have founded Tetbury in 681.

Tetbury was an important market town in the Middle Ages known for its wool and yarn. Many of Tetbury's charming Cotswolds cottages were built with money from the textiles industry.

These days, Tetbury is still known for its goods and shopping but with a focus on antiques, souvenirs and fancy deli foods (certainly not what workers in the Middle Ages would have eaten!).
Things to do in Tetbury Cotswolds
For a small town, there are plenty of points of interest in Tetbury. I'd suggest spending half a day to enjoy them at your leisure. I'll share the main attractions in the town as well as the best things to do around Tetbury.

Here's what to do in Tetbury Gloucestershire for a lovely visit…
Tetbury Goods Shed Arts Centre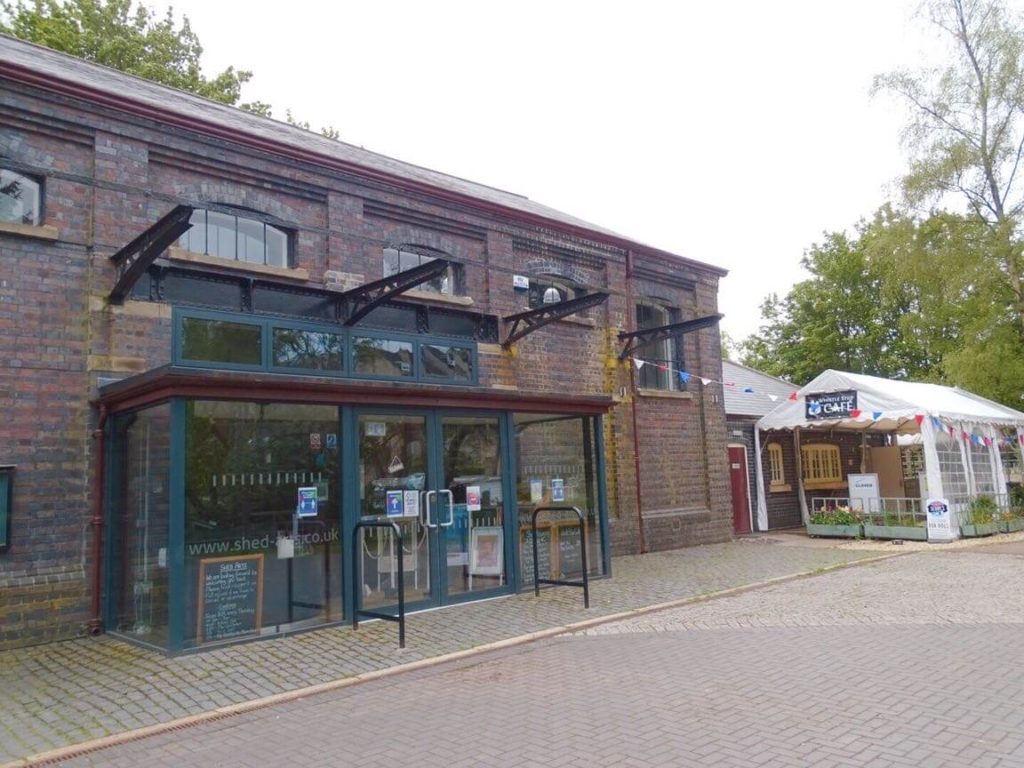 The first place I visited was the Goods Shed Arts Centre beside the car park. Once a Victorian GWR railway building, it was converted into an arts centre in 2017. I love to see the traditional and modern co-existing in creative ways so, for that reason alone, it's easily one of the best things to do in Tetbury. It's testament to Tetbury Rail Lands Regeneration Trust who campaigned to save the building for over 20 years!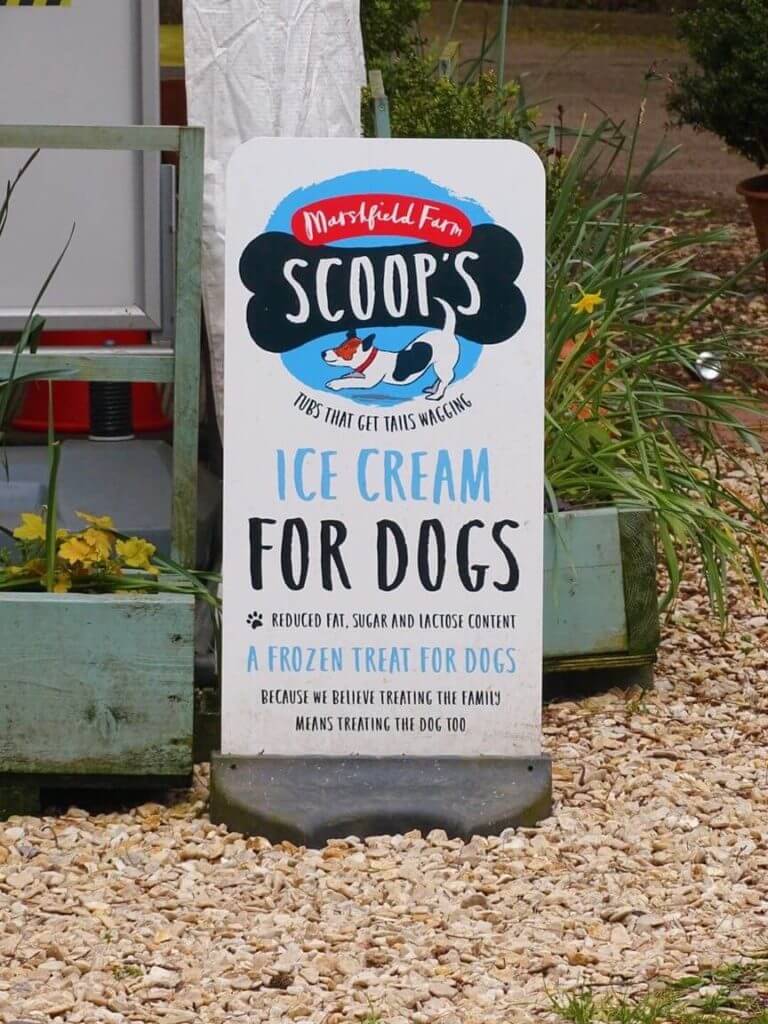 Behind the station is a static railway carriage, refurbished to hold arts and crafts classes for children and adults of all abilities.

The Goods Shed turns into a cinema once a week showing everything from kids films to mainstream movies, art house films and documentaries. Check the what's on page on the Goods Shed website.

Don't miss Whistlestop Cafe beside the Goods Shed serving sandwiches, cakes and coffee. There's even ice cream for dogs so no one gets left out!

Address: The Old Station Yard, Cirencester Road, Tetbury, GL8 8EY.

Opening times: 11am-3pm, Wednesday to Sunday.

Whistlestop Cafe opening times: 10am-4pm, Wednesday to Sunday.
Spot Tetbury dolphins (the town's emblem)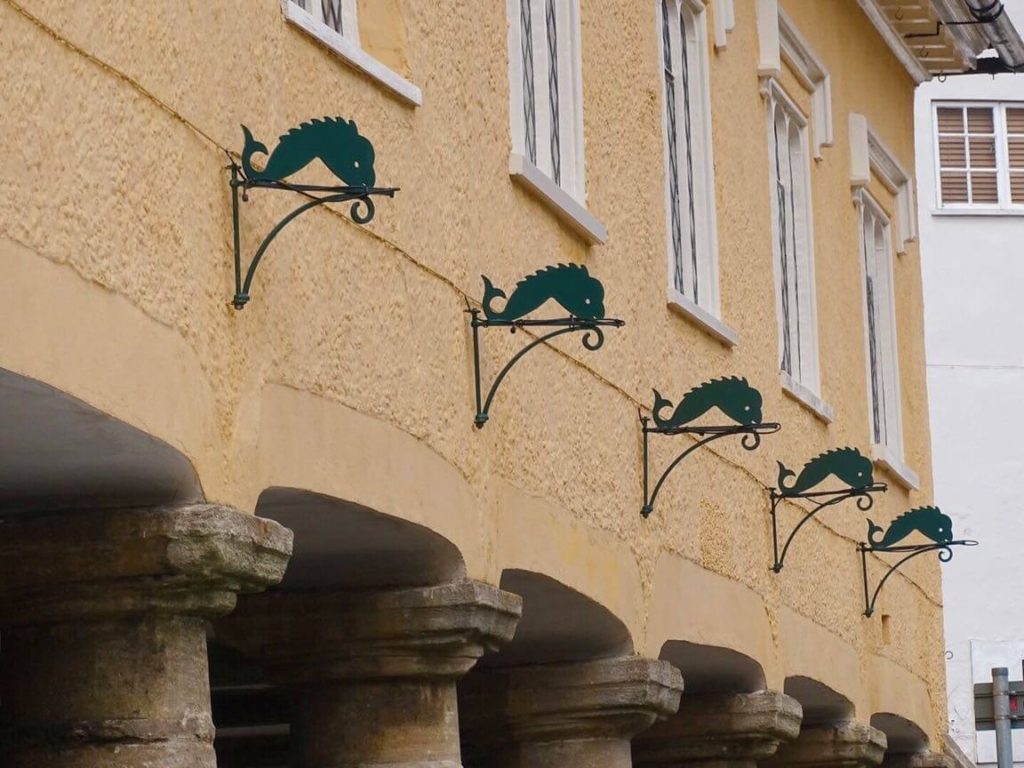 I was surpised to discover that Tetbury's mascot is a dolphin. For a landlocked town miles from the coast, this seemed bizarre. When you take a look at the dolphin statues, decorations and door knockers around Tetbury, you'll be forgiven for wondering if the ancient residents had ever seen a dolphin before?

While the dolphins around Tetbury look more like evil sea lizards than anything else, I loved this quirky edition to an otherwise typical Cotswolds town.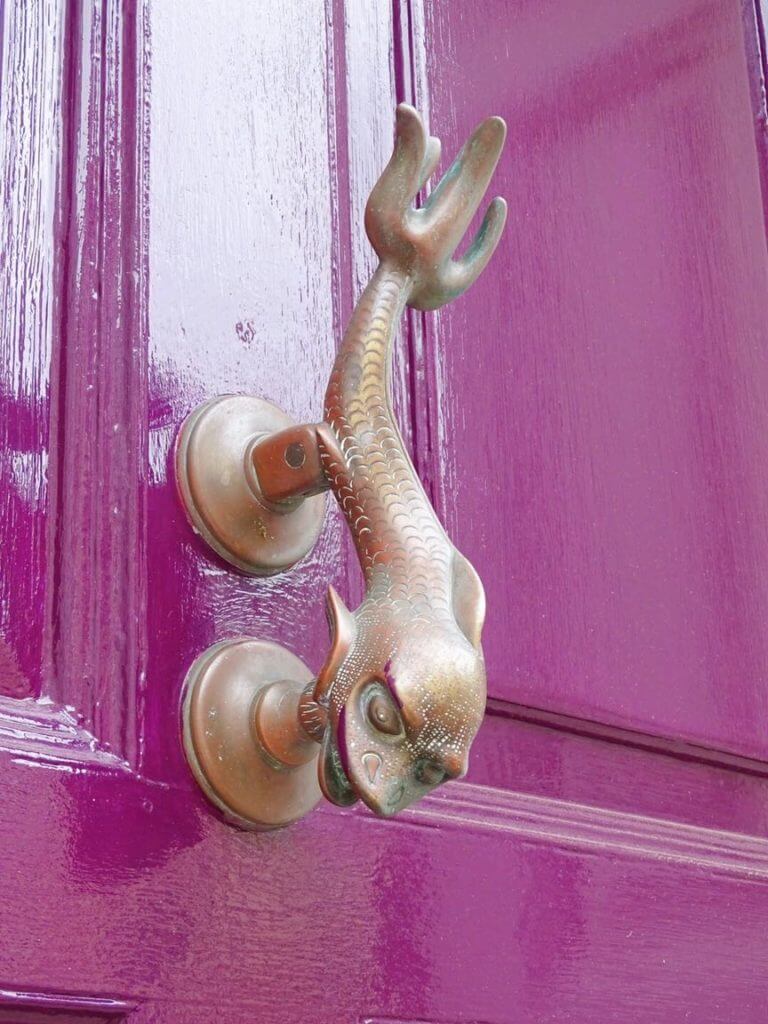 No one seems sure where the dolphin inspiration came from. A popular theory is that a member of the De Braose family (a prominent Anglo-Norman family with links to King John of England) had his life saved by two dolphins in the Irish Sea. He added them to Tetbury's crest and they became a popular icon for the town.

Where to see Tetbury dolphins:
As hanging baskets along the side of Tetbury Market Hall
This purple door knocker on Long Street
On the arch above the entrance to St Mary's Church
Keep your eyes peeled for more!
Antique shopping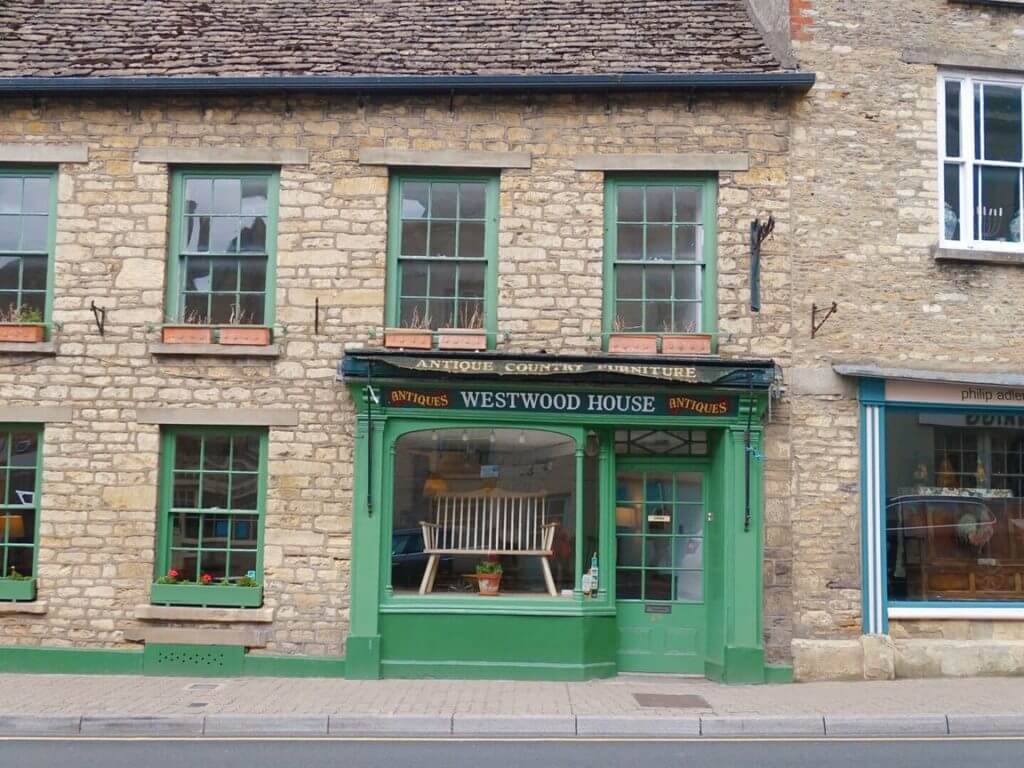 If you're looking for Tetbury things to do, don't miss the antique shops. A few of the best include:
Top Banana Antiques – a mix of furniture, paintings, homeware and books
Brownrigg – furniture and decorative antiques
Westwood House – furniture and trinkets
Muir Antiques – 20th-century retro antiques
Lorfords – upholstered sofas and armchairs
Trilogie Antiques – period furniture
Jester Antiques – antique clocks.
Tetbury Market Hall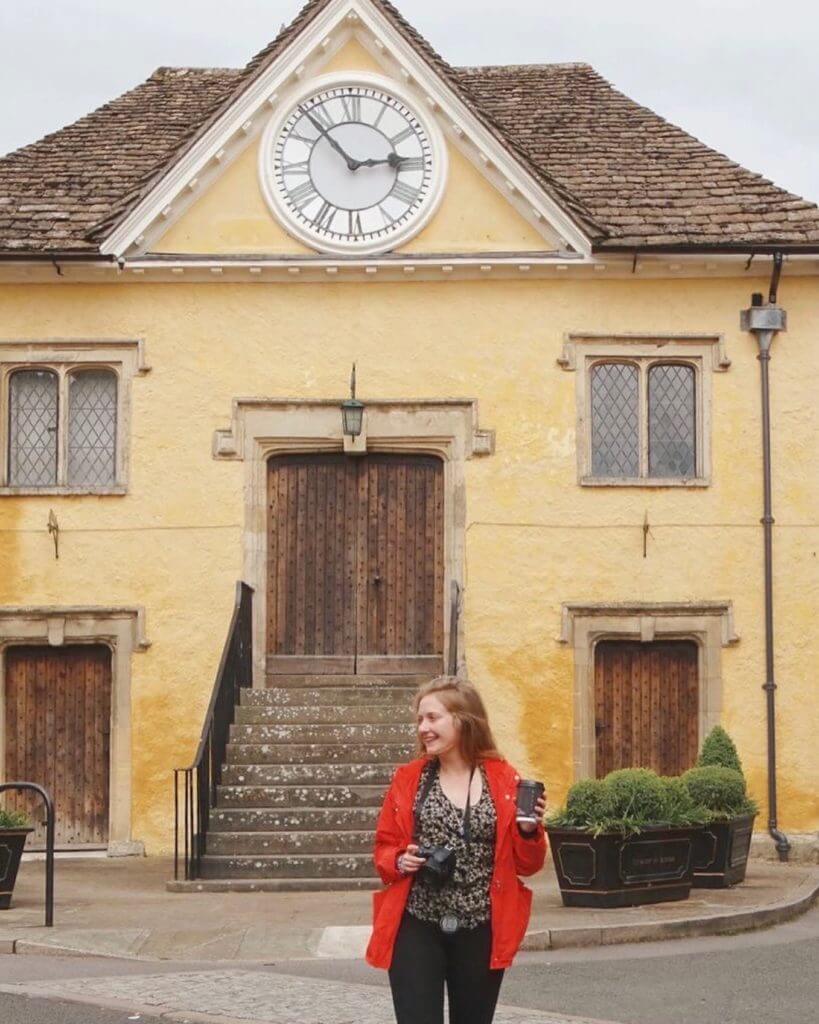 Tetbury Market Hall is a yellow Grade I listed building with almost 400 years of history. Unless your visit times with a market day (9am-3pm on Wednesdays), there's not anything specific to 'do' here but it's a pretty spot to take photos or, do what I did, and sip a takeaway coffee on the steps.
Highgrove shop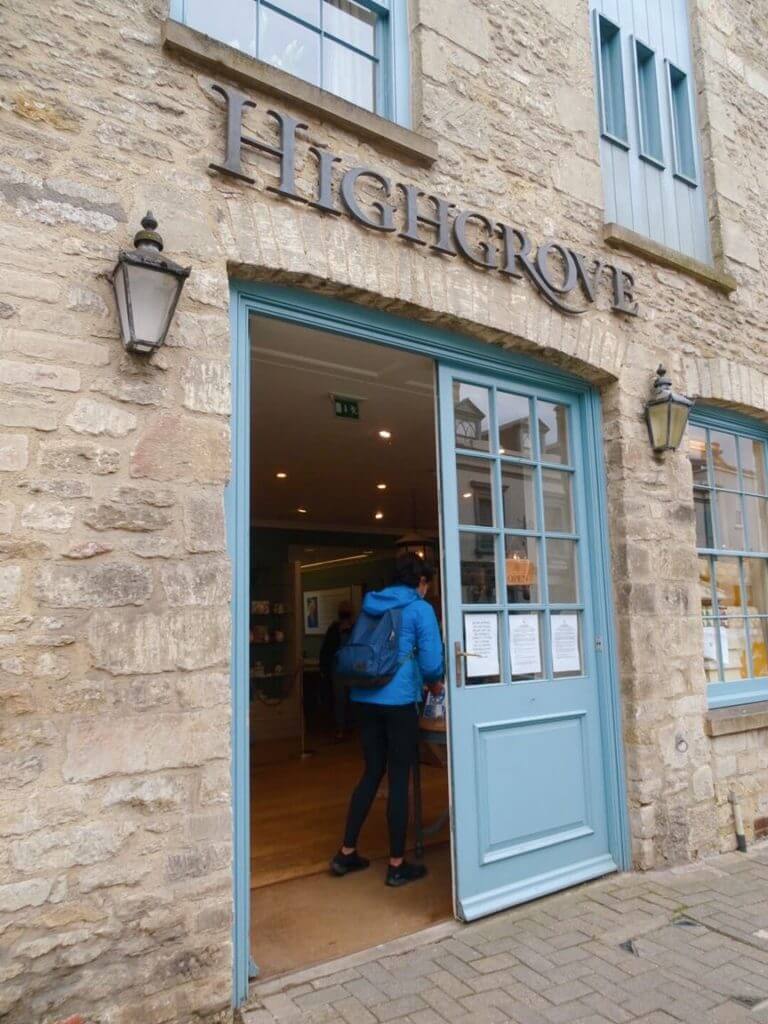 One of the best things to do in Tetbury for royalists is visit Highgrove Shop, curated by Tetbury's most famous resident, Prince Charles. It's full of high-end products you may want but will probably never need. For that, there's the Co-op across the road!
Hunt for wisteria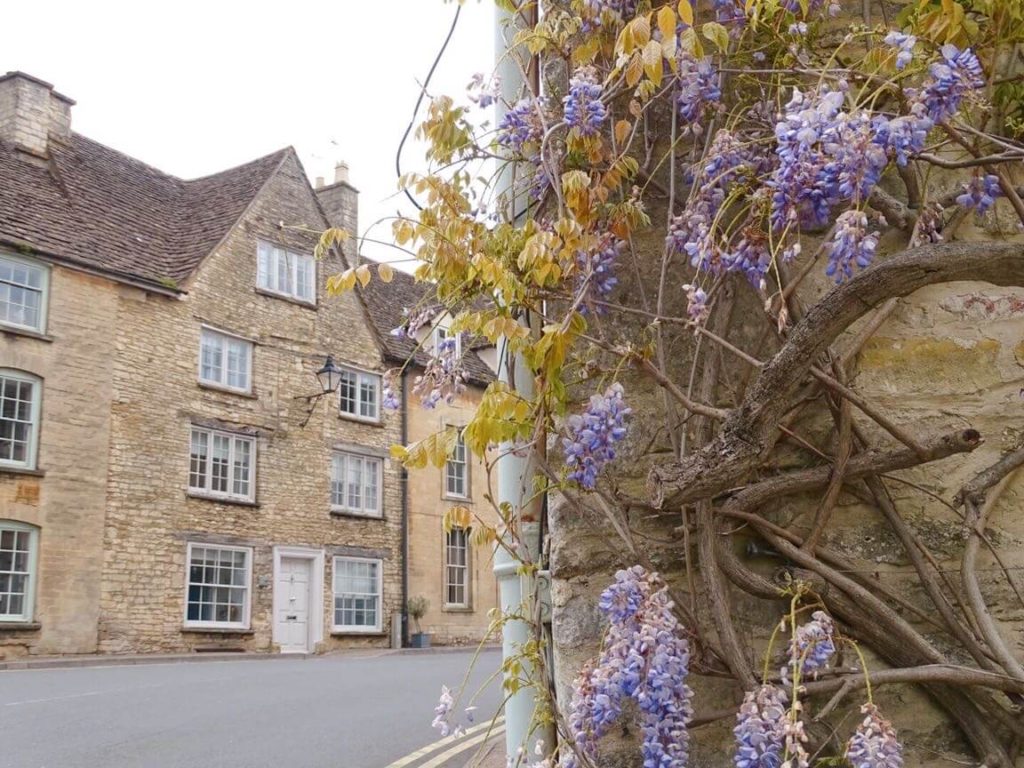 My favourite feature of British springtime is sweetly-scented purple wisteria. It was everywhere during my May visit, eclipsing shops and houses. If you visit Tetbury during the spring or early summer, turn down the quiet backstreets for a wisteria tour of this gorgeous Cotswold town.
Climb Chipping Steps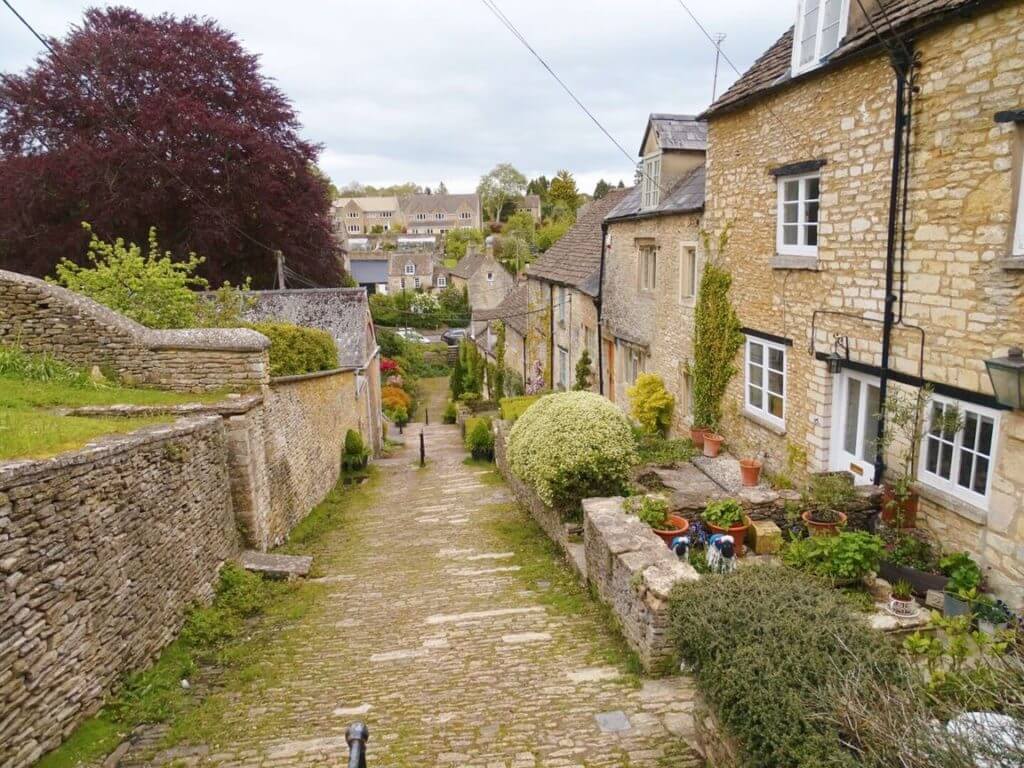 Another of the most popular things to do in Tetbury is find Chipping Steps, surely one of the prettiest and most charming streets in the Cotswolds. These steps were once the official entrance to the medieval town of Tetbury, lined with traditional weaver's cottages. I'm sure a job in production wouldn't afford you one these days!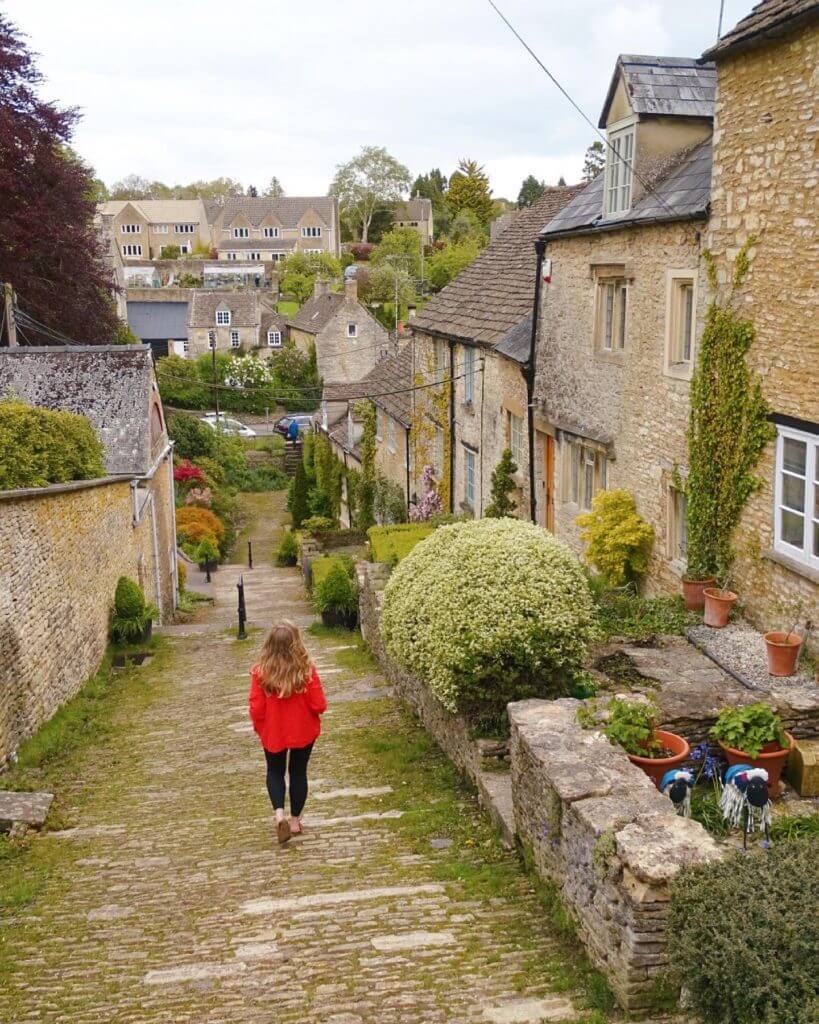 At the top is the The Chipping, the town's old marketplace. At the bottom is a small cemetery connecting to the main road.

The Chipping Steps are easy to find, connecting to Chipping Car Park. They're cobbled and slightly steep so wear comfy shoes to walk up and down.

Remember these are people's homes so be mindful about disturbing the locals or catching them in your photos.
St Mary The Virgin's Church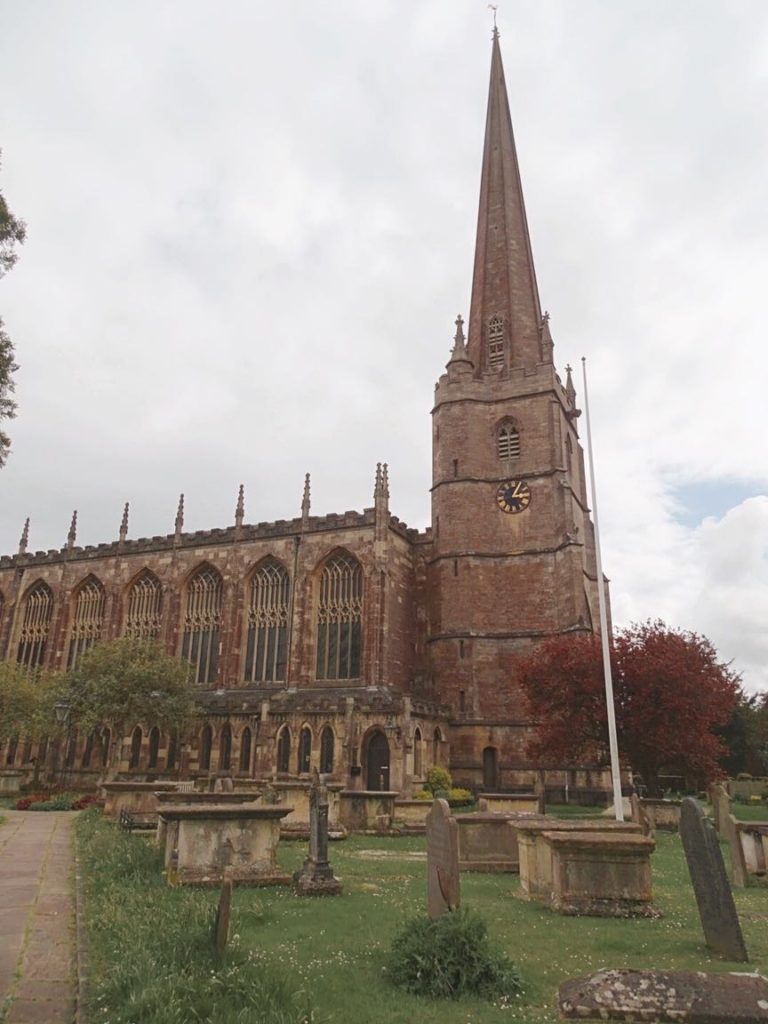 St Mary's Church has been a place of Christian worship since at least 681 AD. This church was built in 1777, replacing the former medieval church that stood on this spot. It's one of England's best examples of Georgian Gothic style, although it was 'Victorianised' in 1901 and 'un-Victorianised' to bring back its original Georgian style in 1993.

Tetbury Church is still an active part of the local community, holding a holy communal at 9.30am every Wednesday. Locals and visitors are welcome to attend.

Address: Church St, Tetbury GL8 8JG.

Opening hours: 9am-1pm, Tues-Fri.
Tetbury Police Museum
A quirky thing to do in Tetbury is visit the Police Museum inside a period Victorian police station and courthouse. It's dedicated to Gloucestershire Constabulary and displays various artefacts and even a children's dressing up box. Although it was closed during my visit, I still took the chance to pose with the policeman mural in the right corner.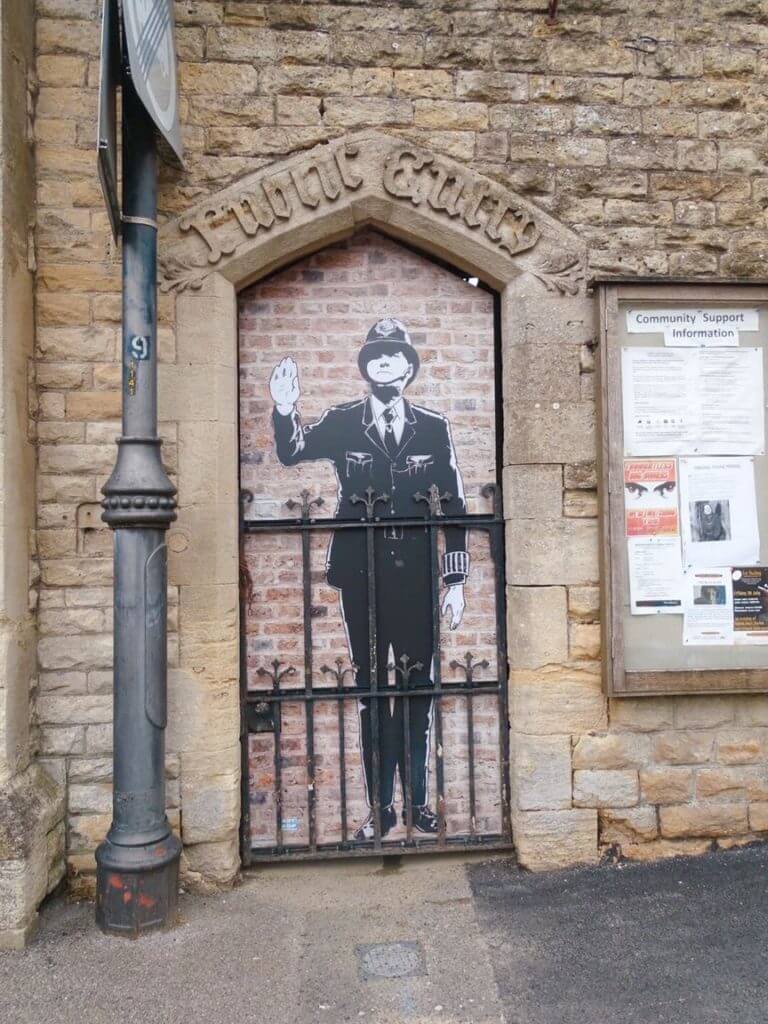 Address: The Old Court House, 63 Long St, Tetbury GL8 8AA.

Entrance is free.
Stop for coffee at Veloton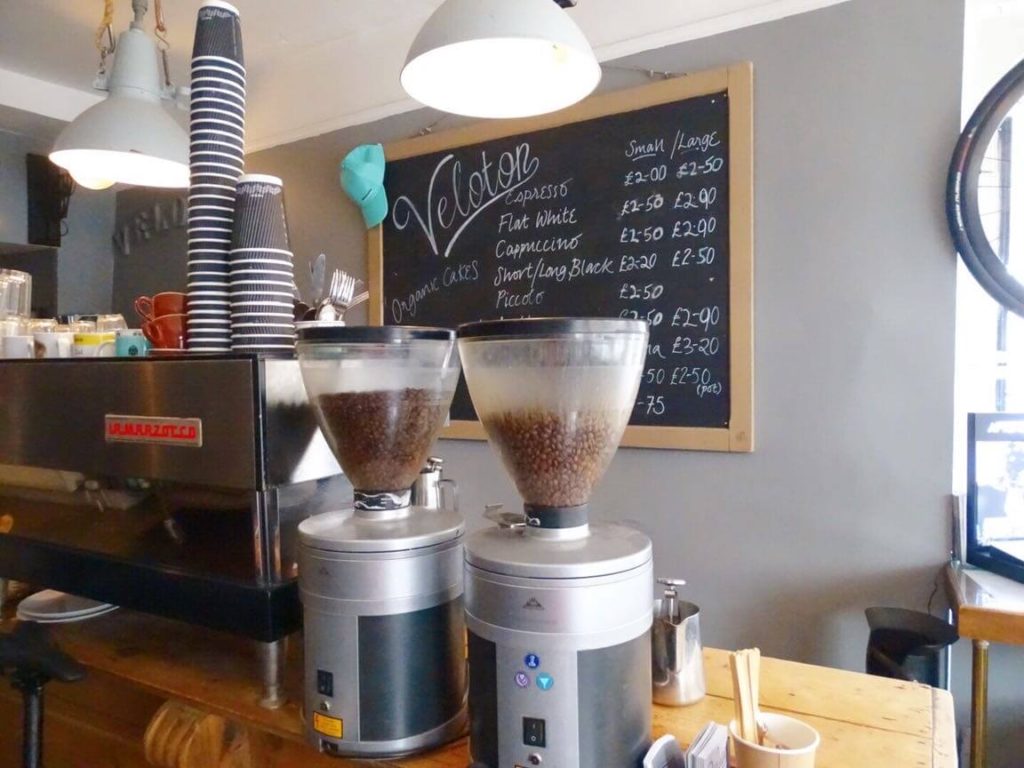 A blog post without a mention of food and drink (so far)? I must be ill!

Since coffee is my fuel, one of the first things I did in Tetbury was grab coffee at Veloton, a quirky cafe and bicycle shop in the heart of town. The staff are cyclists who can tend to any bike questions or issues, and they support the local community by buying their milk from a local dairy and their juices from a local farm shop. They also serve a selection of bakes and baked goods which are all homemade and organic.

Address: 22 Market Pl, Tetbury GL8 8DD.

Opening times: 8.45am-4.30pm, Tues-Sat; 8.45am-12.30pm, Sat; closed Mon.
Eat at Cafe 53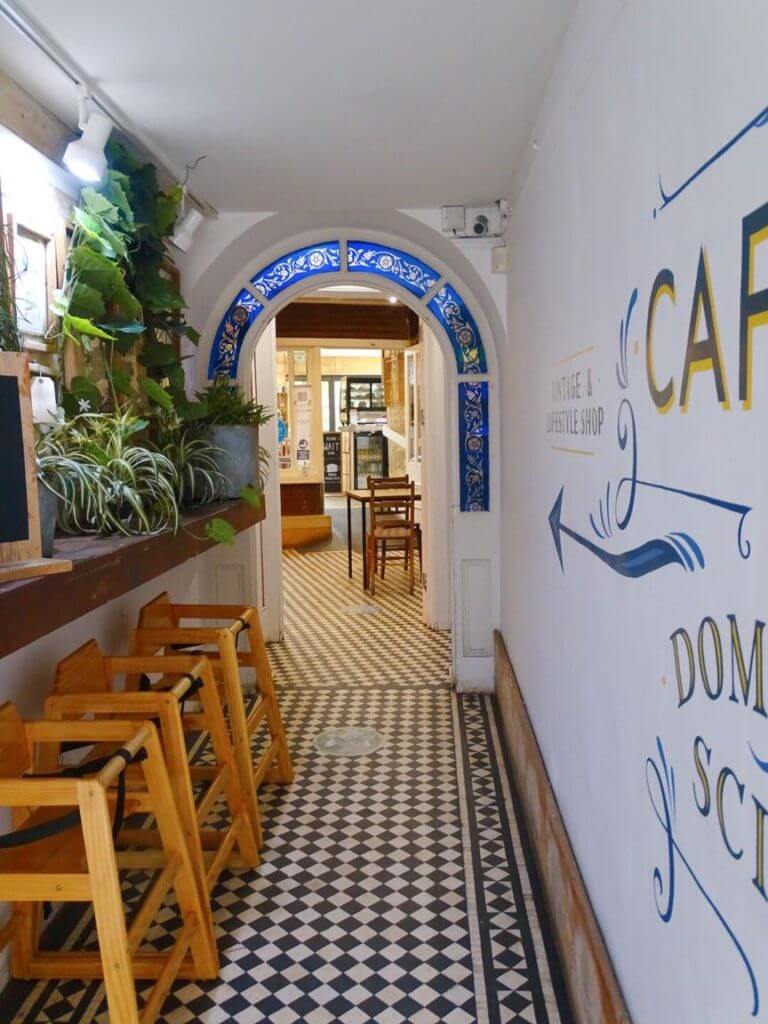 Another great place to eat and drink in Tetbury is Cafe 53. They serve upmarket English dishes like posh beans on toast, English breakfast muffins, pancake stacks and rhubarb apple porridge until midday. From 12-4pm, they serve European lunch dishes like fish and chips, gnocchi, soup and sandwiches.

Address: 53 Long St, Tetbury GL8 8AA.

Opening times: 9am-4pm daily (from 10am on Sun).
Drink at Vinotopia
Wine drinkers will agree this is one of the best things to do in Tetbury! Vinotopia is found on The Chipping, the old market square near Chipping Steps. If you're parked in the car park, it's the perfect place to pick up a bottle (or five) to take home. If you're not the designated driver, it's an even better place to sample wines from around the world.

Vinotopia serve and sell white wine, rosé, red and Champagne sorted by region, price, grape variety and flavour.

Address: 1-3, Baytree Court, The Chipping, Tetbury GL8 8EU.

Opening times: 9.30am-5.30pm, Mon-Sat; closed Sun.
Attend a Tetbury festival
See if your visit coincides with any of the following events. Most had to be cancelled in 2020 and 2021 so check the dates for future events.
Tetbury Music Festival – a classical music festival held in October
Tet Fest – an opportunity for local artists to showcase their talents, usually held in July
Tetbury Woolsack Race – held on steep Gumstool Street in late May, contestants run to the bottom of the hill, collect a heavy woolsack and race back up carrying it. In 1998, Prince Charles unveiled a plaque to mark the starting point.
Tetbury Wacky Races – usually held on May Day bank holiday, the town becomes taken over with wobbly wagons and crazy carts.
Things to do near Tetbury
Provided you're visiting Tetbury with a car, you may wish to explore your surrounds. Here's what to do near Tetbury…
Wander Westonbirt Arboretum
Famous for its spectacular autumn leaves in all shades of red and orange, Westonbirt Arboretum is a popular place to visit 3 miles from Tetbury. While it's most famous for the Autumn Colours festival, you can visit year-round to wander the grounds with 15,000+ trees from around the world. Cross the canopy via the treetop walkway and reward yourself afterwards at the cafe.

Entrance fees: £15 during autumn season; £11 from March-Nov; £4 for children (both seasons).
Tour Highgrove Gardens (Prince Charles' abode)
One of the best places to visit near Tetbury is Highgrove House, the official residence of Prince Charles. While you (understandably) can't go inside, you can tour Highgrove Gardens between April and October.

This 18th-century residence with 350 acres of land boasts 26 gardens including the Wildflower Meadow and Sundial Gardens. If you're looking for summer activities in Tetbury, take an organised tour, relax in the Orchard Tea Room, browse the estate shop, or even splash out on a Champagne afternoon tea tour.

Make sure you book tickets ahead of time – you can't just turn up to Highgrove.
Visit Chavenage House
For a final thing to do near Tetbury, pay a visit to Chavenage House. This 14th-century Cotswold manor has barely changed throughout the centuries making it a popular filming location for TV shows including Poldark. Only two families have resided in the manor since Tudor times, passing it down through the line (let's face it, who would give up somewhere this nice?).

Chavenage is open to visitors on Thursday and Sunday afternoons between May and September (reopening from 21 June 2021) with guided tours between 2-5pm. If you're hungry, pop into Wild Carrot Coffee Shop onsite, open from 8.30am-4.30pm daily.

Address: Chavenage House, Tetbury GL8 8XP.

Entrance fee: £10 for adults, £5 for children.
Where to stay in Tetbury
Private cottage – Market Place Cottage, Tetbury, Cotswolds Grade II Central location.

Budget hotel – The Priory Inn. This historical building is known for its comfy double ensuite rooms and fantastic pizza restaurant.

Splash out – The Hare & Hounds Hotel. This luxurious retreat has a highly-rated restaurant onsite.
Where to go nearby Tetbury
If you're visiting the Cotswolds, use my best places in the Cotswolds guide to plan your trip.

For all the most picturesque villages, read my best Cotswold villages guide!

For a handy weekend Cotswolds itinerary, I have you covered, too.

Although it's towards the Oxford side of the Cotswolds, it's worth stopping in Burford as you leave. This charming town is known as the gateway to the Cotswolds and there are plenty of things to do in Burford as well as some fantastic places to eat.

If you're visiting Bourton-on-the-Water, consider visiting the nearby Slaughters. The drive takes less than 5 minutes or you can take a 1.5-mile country walk to Lower Slaughter (which has pubs and the famous Old Mill with a museum and teashop) and take a wander through sleepy Upper Slaughter village.

In the southern Cotswolds, be sure to explore Castle Combe and Lacock Abbey.

If you've brought your walking shoes, check out my favourite walks in Oxfordshire – some aren't too far from the Cotswolds.

If you're new to the UK, use my guide to travelling the UK on a budget to save some pennies!
I hope you enjoyed these Tetbury things to do!
I hope you have a better idea of what to do in Tetbury, Cotswolds and enjoy your time in this charming town!
For more travel content, follow me on Instagram, Facebook, Twitter and YouTube.
Pin this for later!