This post may contain affiliate links to things like tours, hotels, Amazon associates and products. These help me earn a small commission at no additional charge to you.
When I started researching my North Wales trip, Conwy kept popping up. Not only are there a whole host of things to do in Conwy, but it's one of the UK's most beautiful walled cities.

Conwy can be found on the north coast of Wales, nestled slightly inland on the banks of the River Conwy. With 14,000 residents, it's a small town where tourists outnumber the locals during the summer months.

It's easy to explore Conwy as a day trip but it would also make a lovely base for exploring North Wales. With Snowdonia National Park just 30 minutes away and seaside town, Llandudno, even closer, it's well located – especially if it's your mission to visit lots of Welsh castles and beaches.
Getting to Conwy
Exit the North Wales Expressway at junctions 17 or 18 for Conwy. From Snowdonia, take the A470 and change to the B5279 at Tal-y-cafn.

To take public transport to Conwy, arrive and depart Llandudno Junction station, connected to Conwy by bus. Services 15, 19 and CS1 take 8 minutes between Llandudno Junction and Conwy.
Things to do in Conwy, Wales
The majority of Conwy's attractions are historical. You won't find hipster cafes or shiny, new buildings – nor would you want to. Conwy has more than 800 years of history, founded in 1283 by English king, Edward I, where a Cistercian monastery used to stand.

Conwy was one of several fortified towns built by the English who had recently invaded Wales. You can still see original features of this era including the famed city walls.

Wondering what to do in Conwy? Here's the lowdown…
Conwy Castle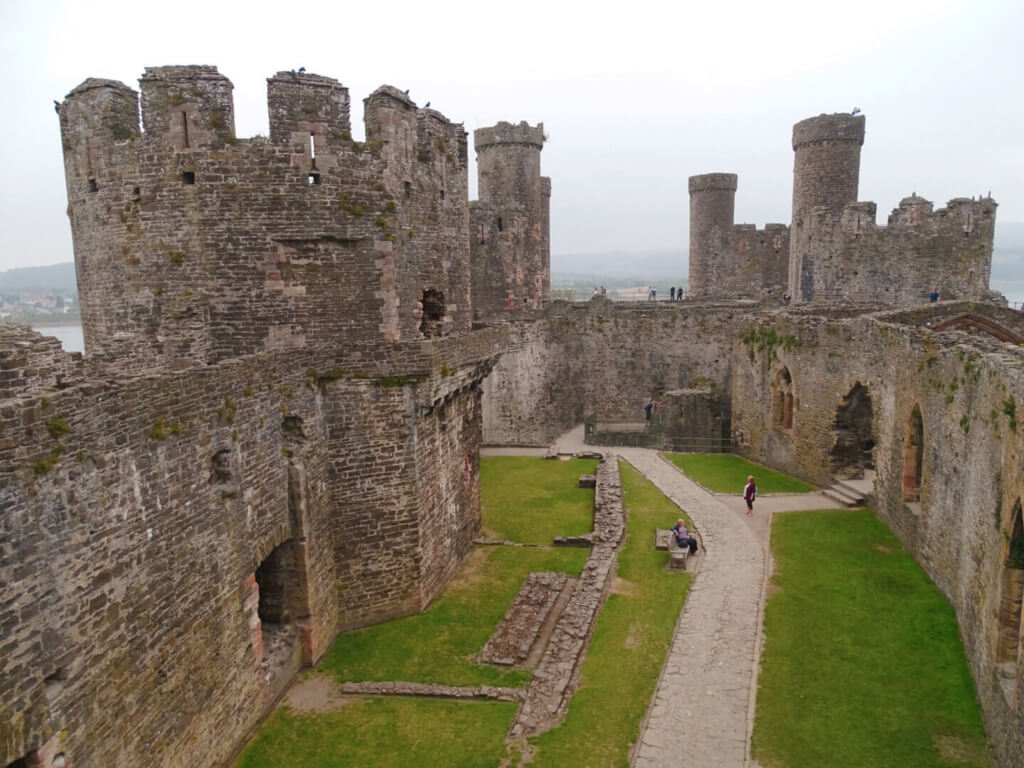 Let's start with the most obvious attraction in Conwy. With 700 years' history, Conwy Castle is widely considered one of the most impressive medieval fortresses in Europe.

The Castle has eight watchtowers each measuring 12 metres in diameter. They really didn't want intruders getting in!

Conwy Castle may be a ruin rather than a lived-in residence, but it's remarkably well preserved. Each tower contains a spiral staircase allowing visitors to take a complete tour of the castle.

The views from the castle turrets are exceptional. Look out over the quay, town, castle walls all the way to Snowdonia on the horizon.

Something I love about Welsh castles? They're not boring. The larger ones like Caerphilly and Caernarfon have interactive features including projected cartoons explaining the history, and buttons that trigger sounds and music. Perhaps these are aimed at kids but I'm easily entertained…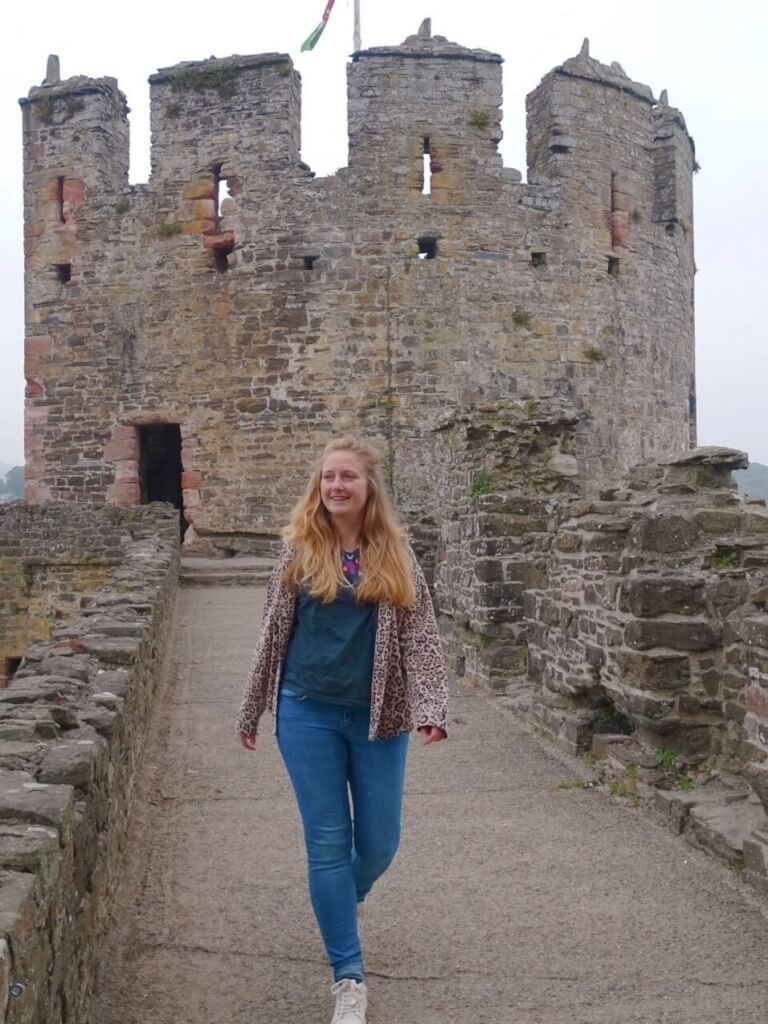 Conwy Castle visitors info: Entry costs £11.10 per person or £36.60 for a family ticket (2 adults, 2 children). Juniors (5-17) enter for £7.80 and seniors (£65+) for £10.60.

Conwy Castle opening times are 10am to 4pm in winter, 5pm in spring/autumn and 6pm in summer, with lunchtime closure between 1 and 2pm. Check exact opening times on the website.
Castle Walls walk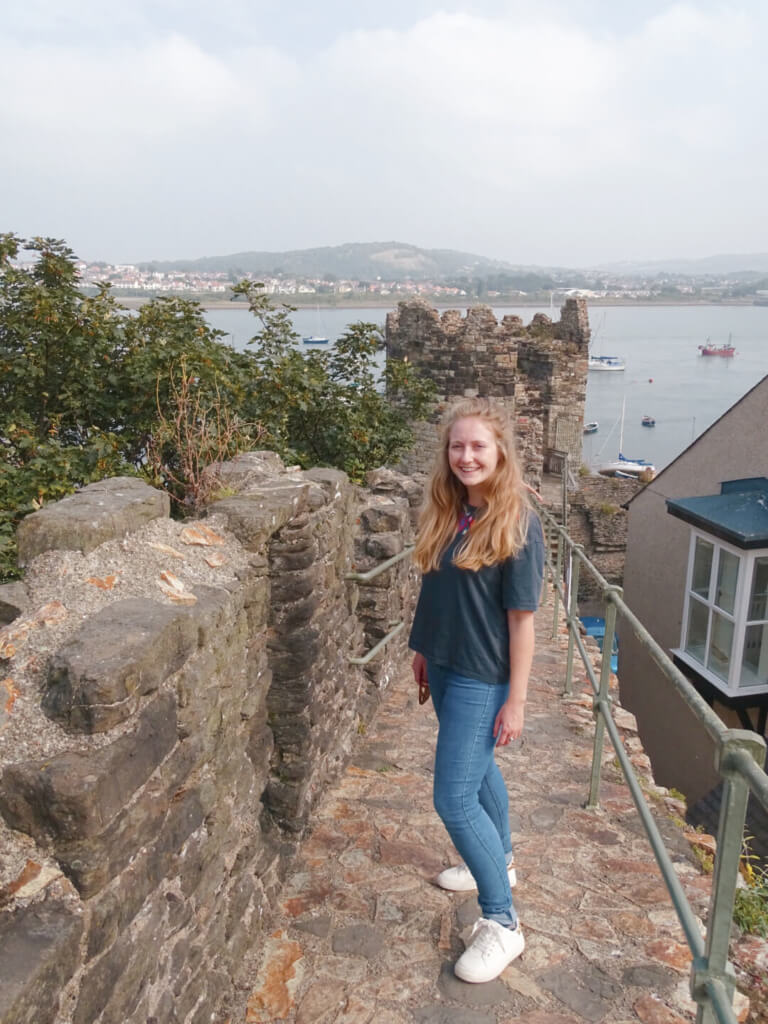 For fantastic views, one of the best things to do in Conwy is walk for three-quarters of a mile along the medieval City Walls. You can easily spend 1-2 hours meandering around the walkway that hugs Conwy, snapping photos of the surrounding scenery as you go.

Many settlements in Wales would have once had a similar set but it's only in Conwy and Denbigh that you can still see and walk along them.

Conwy City Walls, complete with 21 towers, have flat pavings that are easy to walk along. Although there are handrails, the walls are accessed by a steep flight of stairs not suitable for wheelchairs.

Access points are at Tower 5 and the Upper Gate. Make sure to follow the circuit in the right direction as there's a one-way system in place.

Entry price: free! No booking required.
Squeeze inside the Smallest House In Great Britain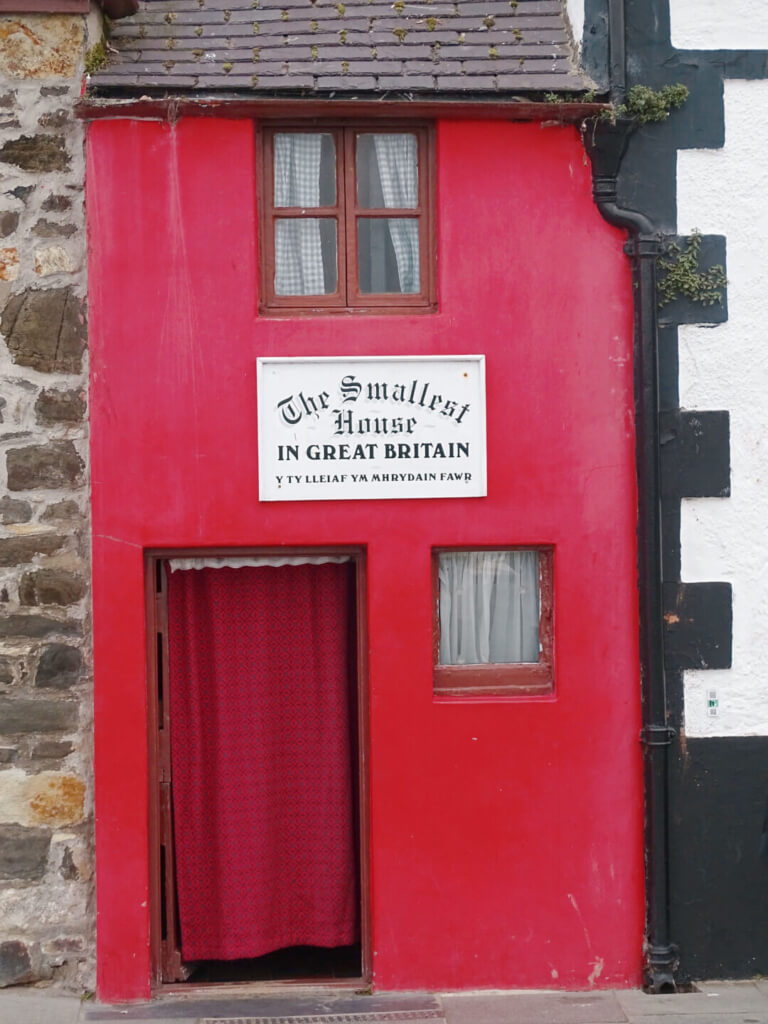 For a quirky place to visit in Conwy, head to the smallest house in Britain. You can't miss this bright red house beside Conwy Quay, partly because there's usually a line of people waiting to take their photo beside it.

Squidged between a black and white building and a turret of the City Walls, this tiny house measures just 72 inches wide and 122 inches tall.

Its story? It dates back to the 16th century when two rows of houses were built along the City Walls facing the harbour. The two rows met but not neatly meaning there was space for a miniature property in the gap between. It was rented out as low-cost housing.
In the late 1800s, the property was bought for just £20. Bargain! However, in the early 1900s, it was deemed unsuitable for habitation and scheduled for demolition. Locals petitioned to save it and, as a result, it's now one of the top Conway tourist attractions.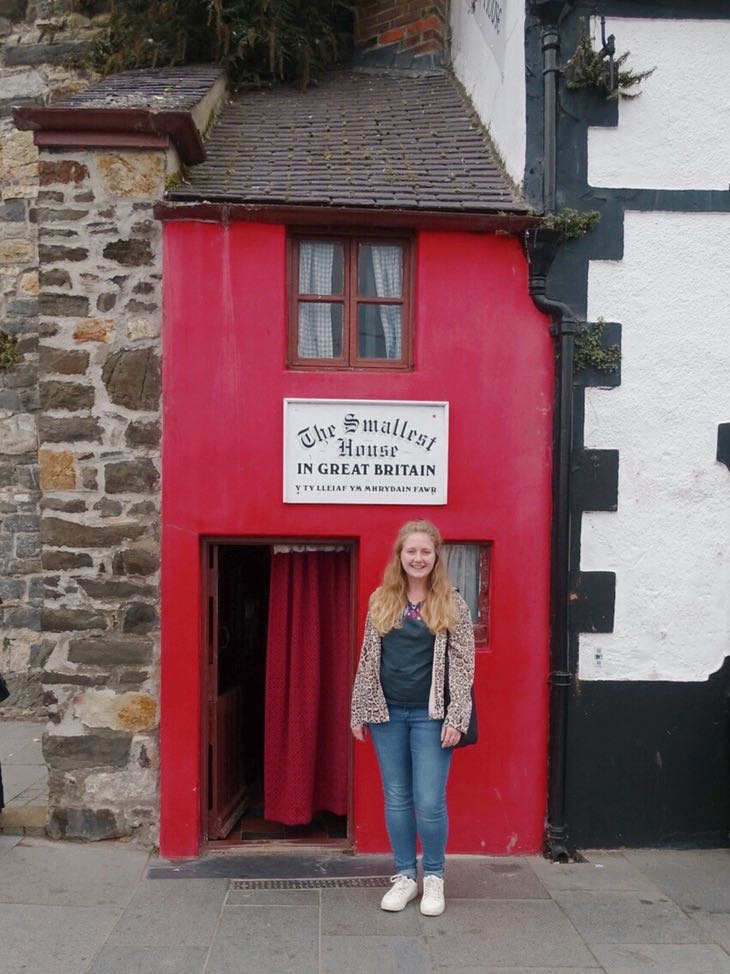 Although taking photos outside is a popular activity in Conwy, it's possible to venture inside the house. You can't squeeze more than 2-3 people inside at a time.
Despite its small size, it's surprisingly practical and well-equipped. Downstairs is a fireplace and table and, up a flight of stairs, is the bedroom.
The wildest thing about this tiny house? It was once lived in by a 6 foot 3 sailor. Why someone so tall chose this specific home remains a mystery! I hope he was practising yoga to stay flexible…

Entry fee: £1.50. No pre-booking is required but they don't take card so bring cash. Change is given.
Cruise around Conwy Quay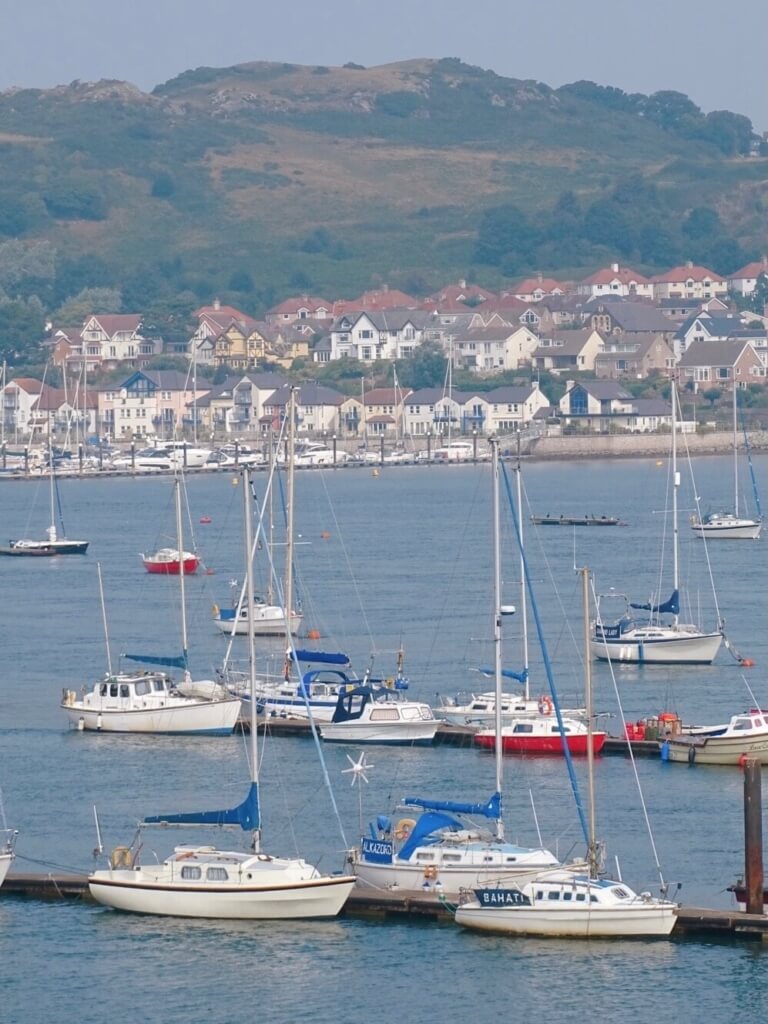 By the time you've visited Conwy's Smallest House, you'll already have spied the harbour beside it.

Although you could park yourself on a bench and watch the world go by, there are a few things to do at Conwy Marina & Quay for those wanting to stay busy.

Sink a pint at the Liverpool Arms, sample local fish n chips (and fiercely guard them against seagulls who will nab the lot given half a chance) or take a boat trip around the harbour.

Sightseeing Cruises offer boat trips around the Quay for £7.50 per adult and £4.50 per child. Trips run from February to October and take in the best things to do see in Conwy including the Castle and Snowdonia. Drinks and refreshments are served on board. Dogs, prams and wheelchairs are accommodated.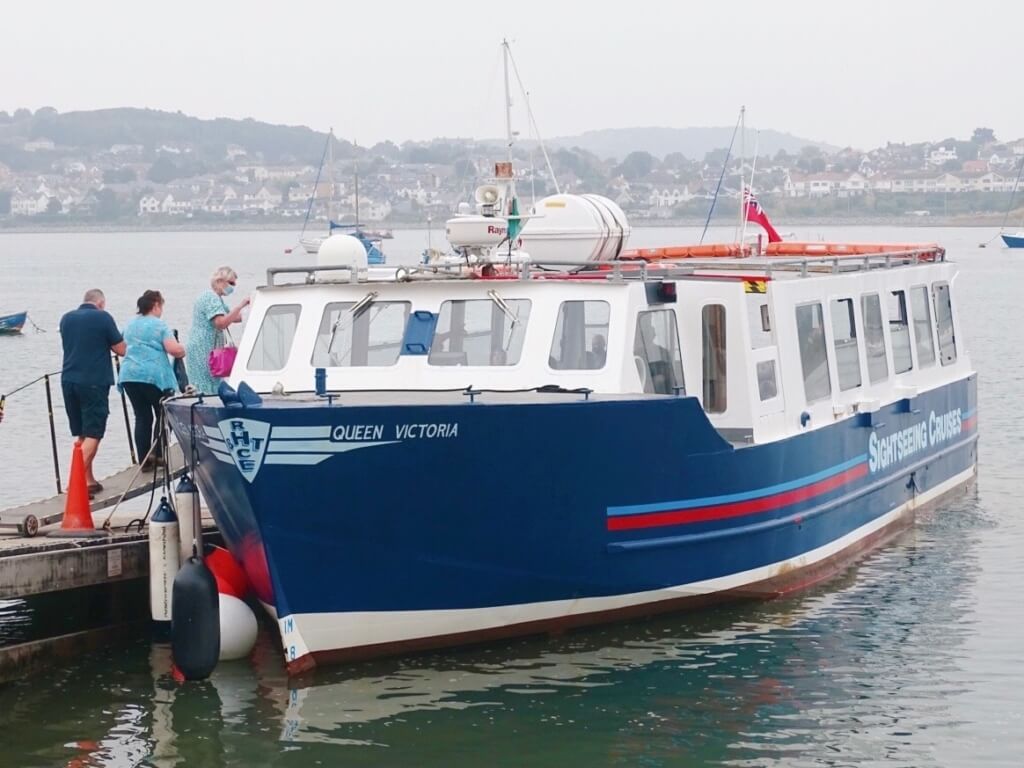 If you're visiting in July, one of the best things to do in Conwy is hang around for Conwy River Festival. This annual event sees sail racing in the bay with prizes to be won and celebratory beach barbeques.
Walk the Conwy bridges
Conwy Suspension Bridge is a Grade I-listed structure owned by the National Trust. It hangs above Conwy River and can only be accessed by foot or bicycle.

Take a walk across it to soak up the views and snap photos. It's free to enter; just make sure to follow the one-way system in place.

The other bridge in town is Robert Stephenson's Conwy Railway Bridge, also known as Conwy Railway Bridge.
Step back in time at Plas Mawr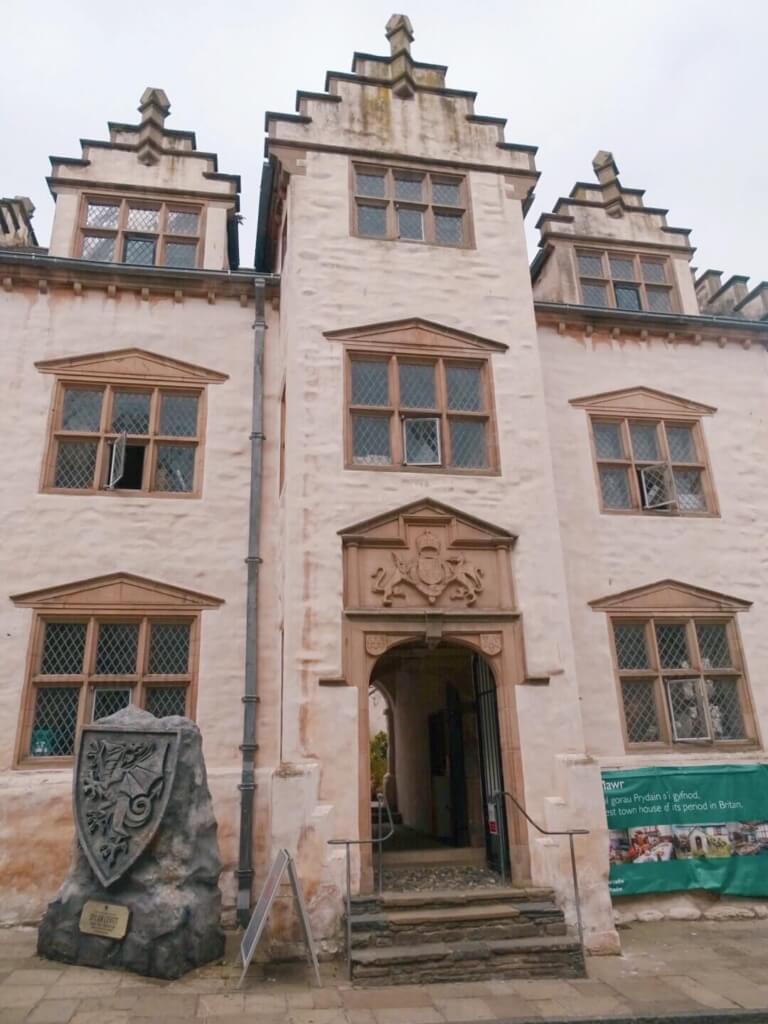 This 16th-century Elizabethan townhouse is worth a visit. It's widely considered the best example of its kind in the country.

It's one of two historic houses in Conwy so, if you plan to tour them both, I'd suggest staying overnight and splitting them into different days. If you only want to admire them from the outside, it's easy to do; they're just a few metres from each other.

Plas Mawr was once owned by Robert Wynn who, after earning a fortune as a Tudor diplomat, bought the property for £200, a fortune in the 1500s. He renovated it according to the luxurious style of the times, as exhibited by the 17 well-preserved bedrooms and several elegant courtyards you can visit today.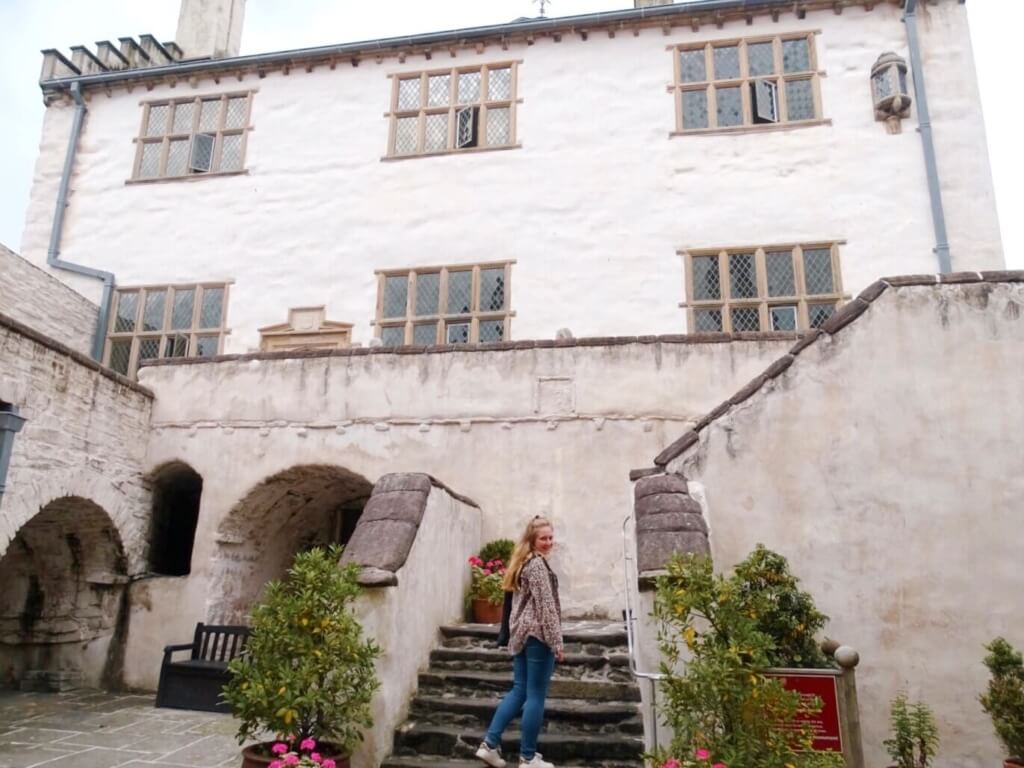 To step back in time and catch a glimpse of Elizabethan grandeur, Plas Mawr is a must for historians wondering what to do in Conwy.

Tickets cost £8.30 for adults or £27.40 for a family. Opening times are generally 10am-5pm but do double-check as they vary throughout the year.
Visit Aberconwy House (National Trust)
Another attraction in Conwy for history lovers is Aberconwy House, a 14th-century merchants' house, open to the public and preserved as it would have looked 600 years ago.

Aberconwy is located on the corner of Castle Street and High Street beside L's Coffee & Bookshop which serves as an excellent pitstop before or after visiting the historical house.

2023 note – Aberconwy House is closed until further notice. The National Trust are using this closure time to consider renovation since the property hasn't had any updates since the 90s. Hopefully, it will re-open better than ever before.
Where to eat in Conwy
It wouldn't be a Where Goes Rose? blog without some scrumptious food. Although I didn't spend long in Conway, I managed to squeeze in a couple of excellent meals.

Foodies on their travels may wish to make a beeline for…
Doughnuts & coffee at Lorenza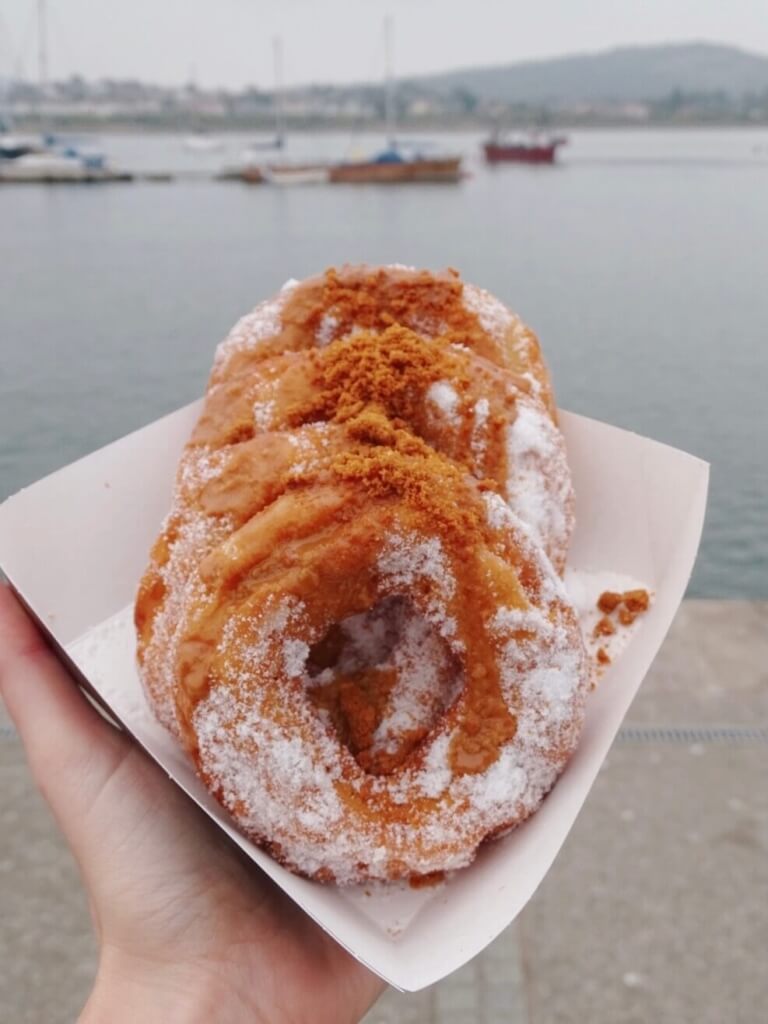 Don't leave without sampling Conwy's famous doughnuts. I confess I'd already seen these online before my visit and, being the foodie I am, sniffed them out as soon as we arrived. 10am doughnuts, why not?

Lorenza's is a static stand beside Conwy Quay. Warm up on a cold day with hot drinks from tea to coffee and decadent hot chocolates with marshmallows and various toppings.

The freshly-fried doughnuts can be topped with Biscoff, Nutella, Ferrero Rocher, rainbow sprinkles or simply a dusting of sugar. If you have a sweet tooth, you'll be in your element!
FIVE Conwy cafe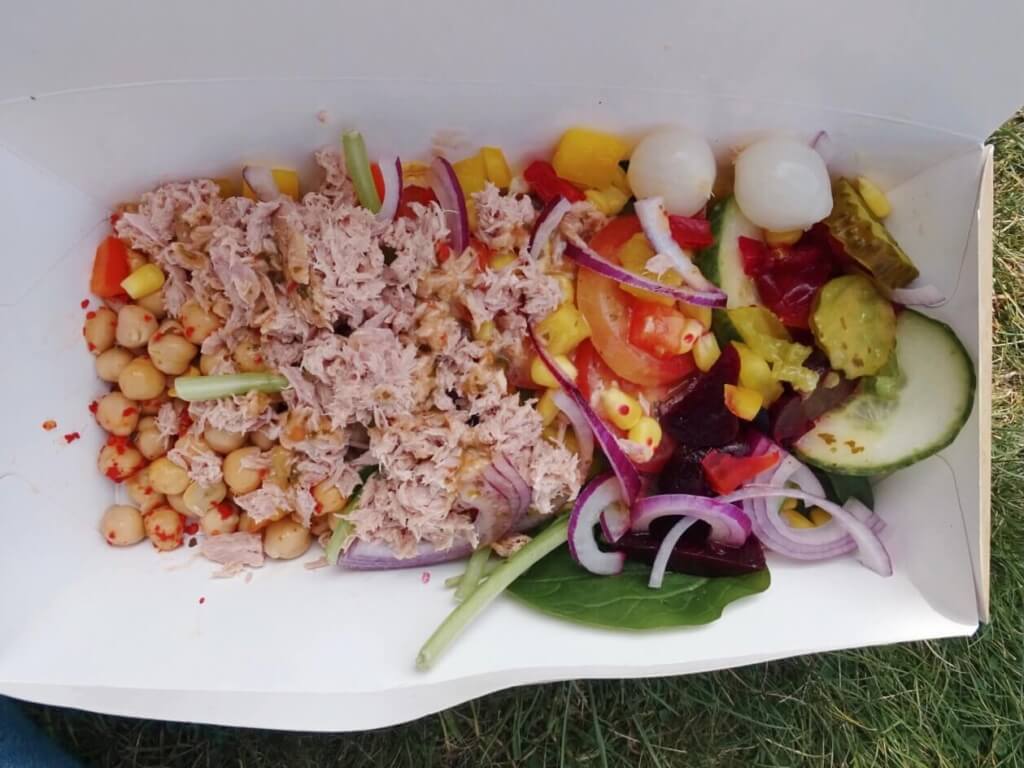 After the doughnuts above, I was craving something fresh and nutritious. Luckily, I stumbled upon the perfect cafe, FIVE. Giant salad boxes are £6 including your choice of protein, grains, veggies, toppings and dressing.

They also serve sandwiches, paninis and coffee. The topped toast breakfast dishes look delicious. They only have a couple of seats by the window so it's more of a takeaway bar. Grab a box and eat in Conwy Castle grounds (free to enter).
LS Coffee & Bookstore
For a cosy cafe with great food and drink, check out LS Coffee & Bookstore on High Street. Visit early for a brekkie burger with egg, sausage and bacon or pay a visit in the afternoon for tea and scones with jam and cream.

Loaded fries, healthy smoothies and tortilla salads are also on the menu. If your dog's in tow, treat them to a dog yoghurt. We wouldn't want to leave them out, would we?
Things to do near Conwy
If you've explored all the places to visit in Conwy, head further afield.

These are some of the best places to visit near Conwy…
RSPB Conwy
This 47-hectare nature reserve beside Conwy estuary is home to a plethora of wildlife from warblers to lapwings, shelducks and water rails.

Created from material dug out from the A55 road construction, RSPB Conwy is now one of North Wales premier nature reserves, less than a 10-minute drive from Conwy.

There's ample car parking, open until 5pm. Entrance to the reserve is £6 for adults, £3 for children and £15 for families.

Top tip – set up camp by the raised mound behind the coffee shop for 360-degree views of the wetlands.
Llandudno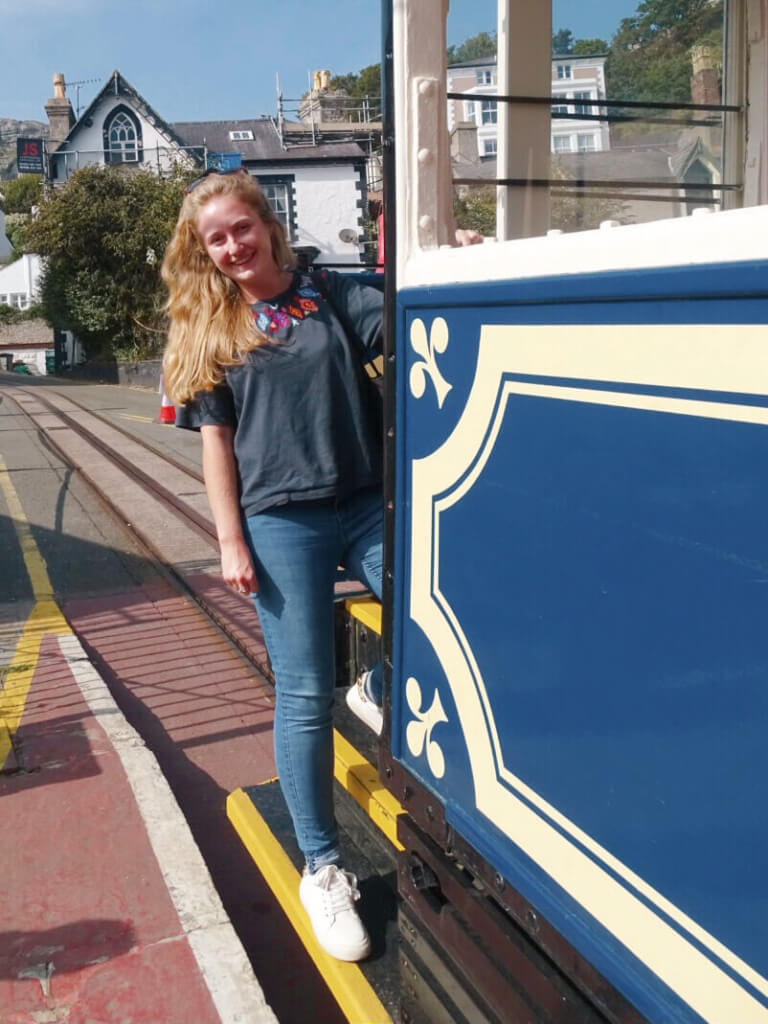 Just a short drive from Conwy is Llandudno, a Victorian seaside town with bags of charm.

You could easily spend a day exploring the best things to do in Llandudno but, if you're on a quick trip, take the tramway up the Great Orme. If you think the views from Conwy Castle are impressive, you'll be blown away by the views for miles around.

Llandudno also has beaches, a pier and lots of great food. Don't miss it as an excursion from Conwy!
Bodnant Gardens
A free thing to do in Conwy for National Trust members is visit Bodnant Gardens. With 80 acres of manicured lawns, a wildflower meadow, a peaceful lake and a manmade waterfall, it's a gorgeous place to spend half a day.

Entry for non-members is £15.40 for adults, £7.70 for children and £38.50 for families.
Snowdonia National Park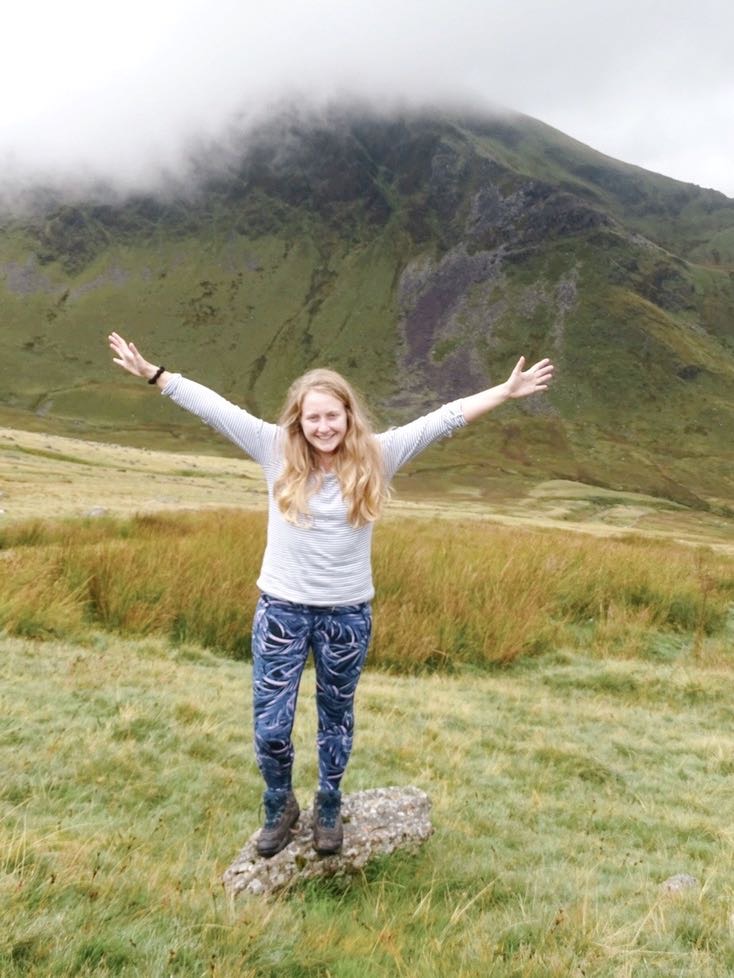 If you're looking for active things to do around Conwy, head straight for Snowdonia. This national park of more than 800 square miles is prime for adventure activities, the most popular being climbing Mount Snowdon. You can drive there from Conwy in 30 minutes.
Sychnant Pass
This scenic pass travelling between Conwy and Conwy Mountain (in Welsh, Mynydd y Drefis) is known as one of the most scenic drives in Wales.

Depart Conwy and follow the Sychnant Pass through spectacular countryside all the way to the coast. Finish the road trip in small village, Dwygyfylchi.
Thanks for reading!
For more travel content, follow me on Instagram, Facebook, Twitter and YouTube.
Browse my other Wales blogs:
See you next time,
Rose 🙂
Liked these things to do in Conwy, Wales? Pin this for later!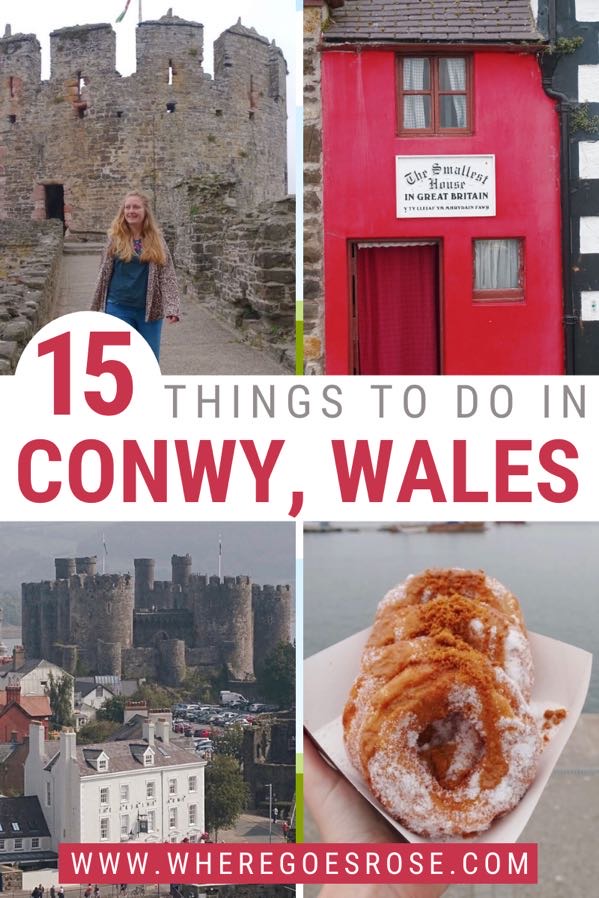 WALES QUICK LINKS

Guidebooks – LP always get my seal of approval. Use the latest copy of Lonely Planet Wales / Lonely Planet Great Britain.

Flights (international and domestic):  I use Skyscanner to find the best-value flights, using the 'search by month' tool to find the cheapest dates. You can also use the 'to anywhere' feature if you're flexible on where you're going.

Car hire – use Rentalcars.com to compare car rentals and campers in the UK (and all around the world).

For trains, use Trainine. The search feature allows you to compare prices and see live departures.

For buses, I use Busbud. It's the only site that compares UK coaches and buses. Find London to Manchester journeys for £1! 

For hotels and self-catering apartments, I use Booking.com. You can filter by review score and price to find the best-rated budget places. For hostels, I use Hostelworld.com.

To save money on accommodation, I use Trusted Housesitters, a website that connects homeowners going away and travellers who can sit their homes & pets.

Browse UK tours and activities on GetYourGuide.

For food tours pairing travellers with passionate local chefs and foodies, check out EatWith. 

Need travel insurance? I use True Traveller (for Europe residents) since it's affordable but covers everything you'd need including various activities, valuables and pre-existing conditions. Unlike some companies, they insure you if you're already travelling / don't yet have your flight home booked. Get a quote.

For travel insurance for other nationalities, I recommend Hey Mundo and for long-term digital nomad travellers, I suggest Safety Wing.

Check out my resources page for more travel discounts and budget tips from my 10+ years on the road!