This post may contain affiliate links to things like tours, hotels, Amazon associates and products. These help me earn a small commission at no additional charge to you.
What's this, a colourful, charming Italian village? Sure. But, wait – it's in WALES?

It certainly is. I'd had this idyllic destination on my bucket list for years and I finally got to tick it off. From the best things to do in Portmeirion to useful visitor info, here's everything you need to know for a perfect trip… And a whole load of photo spam!
PORTMEIRION ESSENTIALS

Copy of Lonely Planet Wales

Accommodation: Booking.com
In a rush? Pin this guide to the Portmeirion attractions for later.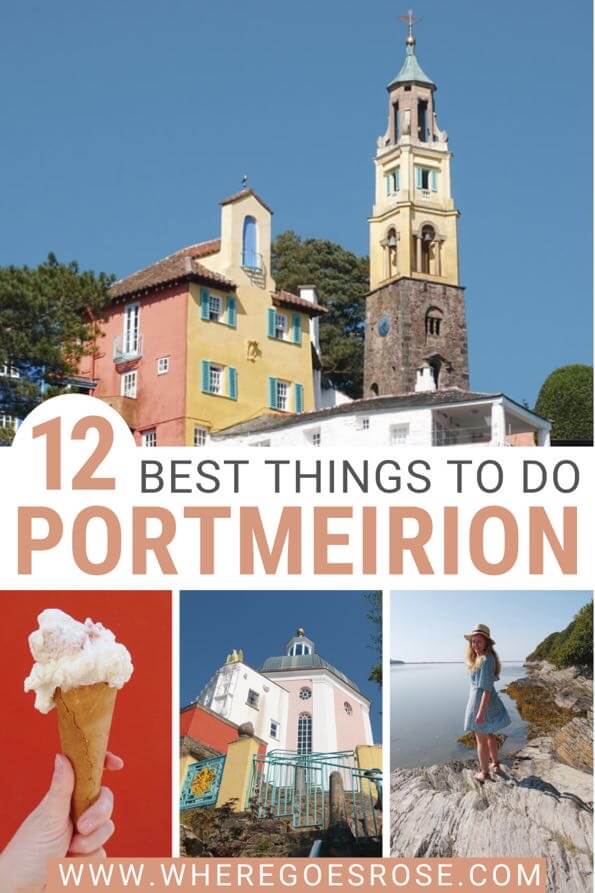 What and where is Portmeirion?
Portmeirion is a charming Italian-style village in the country of Gwynedd in North Wales.

Unlike most villages that you can freely wander into, Portmeirion is owned by a charitable trust meaning you have to buy a ticket. This may seem strange but I can assure you it's worth it. After all, how often can you say you've visited an Italian village without leaving the UK?
Portmeirion entry fee & tickets
Adult entry costs £15, concession entry (for those 60+ or with student ID) costs £12 and child entry costs £9. Under 5s are free. Should you be visiting as a group, there are numerous family tickets depending on the number of adults and children.

For 2021, you're required to book your Portmeirion tickets in advance online for a specific time slot. No refunds are given so make sure to stick to your slot.
Opening times
Portmeirion is open from 9.30am to 6.30pm, 7 days a week. Last entry is 5pm which is also when the shops in the village close.

Note – dogs are not allowed in Portmeirion unless they're registered assistance or guide dogs.
Getting to Portmeirion
By car: Enter LL48 6ER into your satnav. There's a large parking area right beside the ticket kiosks.

By bus: Between March and October, you can catch the daily service from Porthmadog. Check Traveline.Cymru for timetables.

By rail: It's not easy to take the train to Portmeirion but it can be done. An express service travels between London Euston and Llandudno Junction or Bangor. From here, you can transfer to the Conwy Valley line to Blaenau Ffestiniog. Taxis can pick you up here or you can travel closer still to Minffordd (1.5 miles to Portmeirion) aboard the scenic Ffestiniog Railway.

On foot: You can walk from Minffordd by following the footpath beside Castell Deudraeth.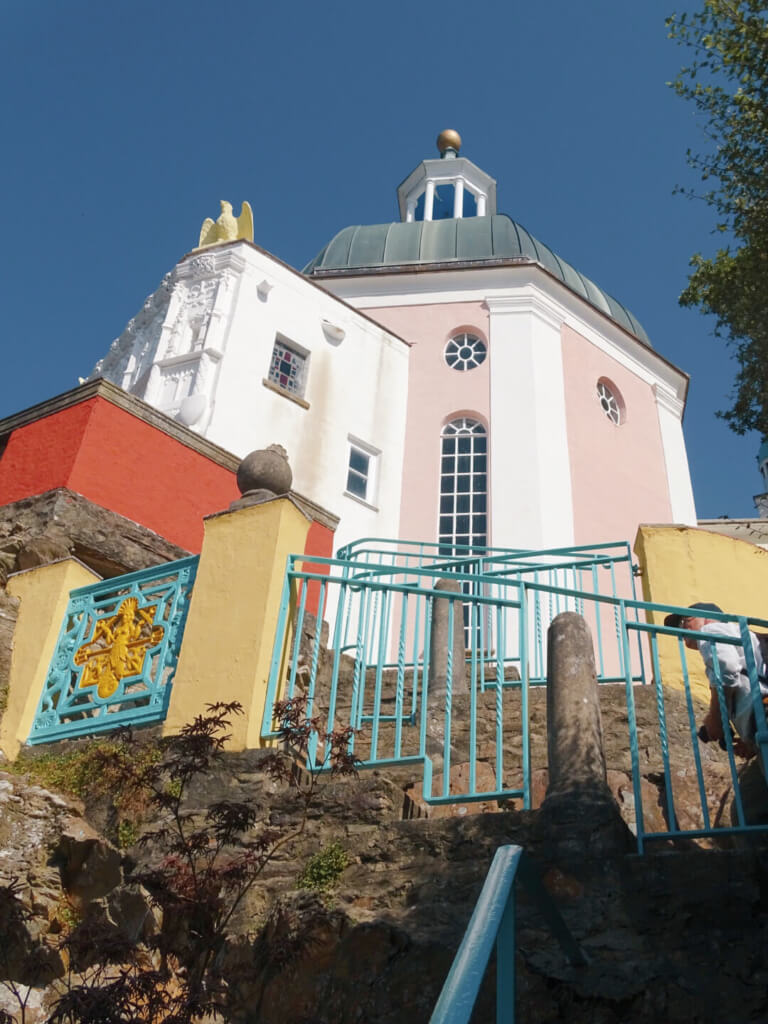 Where to stay in Portmeirion
There are 32 village rooms and 13 self-catering cottages as well as Hotel Portmeirion and Castell Deudraeth (both 4* hotels). Staying in the village gains you full entry without having to pay for day tickets.

Browse all Portmeirion accommodation and book on Booking.com.
Portmeirion history
Welsh architect, Clough Williams-Ellis, built the village of Portmeirion between 1925 and 1973, modelling it on an Italian village.

His aim was to prove that beautiful places can be developed without being spoilt. He certainly proved his point: there are few places with as many gorgeous buildings AND natural surroundings!

Castell Deudraeth, now part of the estate, predates the village by hundreds of years, dating back to 1188. However, it had fallen into disrepair by the early 1900s when Clough Williams-Ellis bought and began to renovate it.
Things to do in Portmeirion
If you're expecting endless activities in Portmeirion, you may be disappointed. The main attraction is the idyllic village itself with its pastel-coloured buildings, turrets and rooftops. You can wile away half a day without having to 'do' anything specifically.

However, if you're looking for more than meandering, here are a few places to visit in Portmeirion…
Central Piazza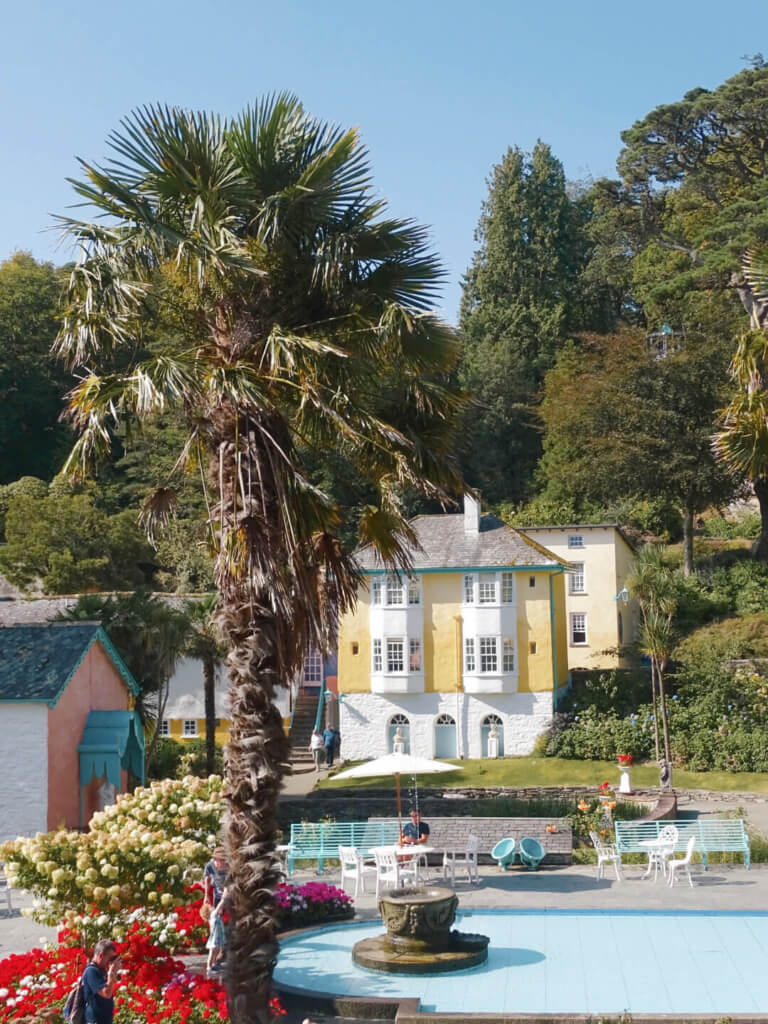 As any self-respecting Italian village would, Portmeirion has a gorgeous Central Piazza at its heart. Here you'll find a fountain and giant chessboard.

The Central Piazza is the optimum spot for sitting back and soaking up all the colours of the village. I doubt there's a shade you can't see. Even the benches are a sunny turquoise.

This Portmeirion attraction is best accompanied with an…
Ice cream at Caffi'r Angel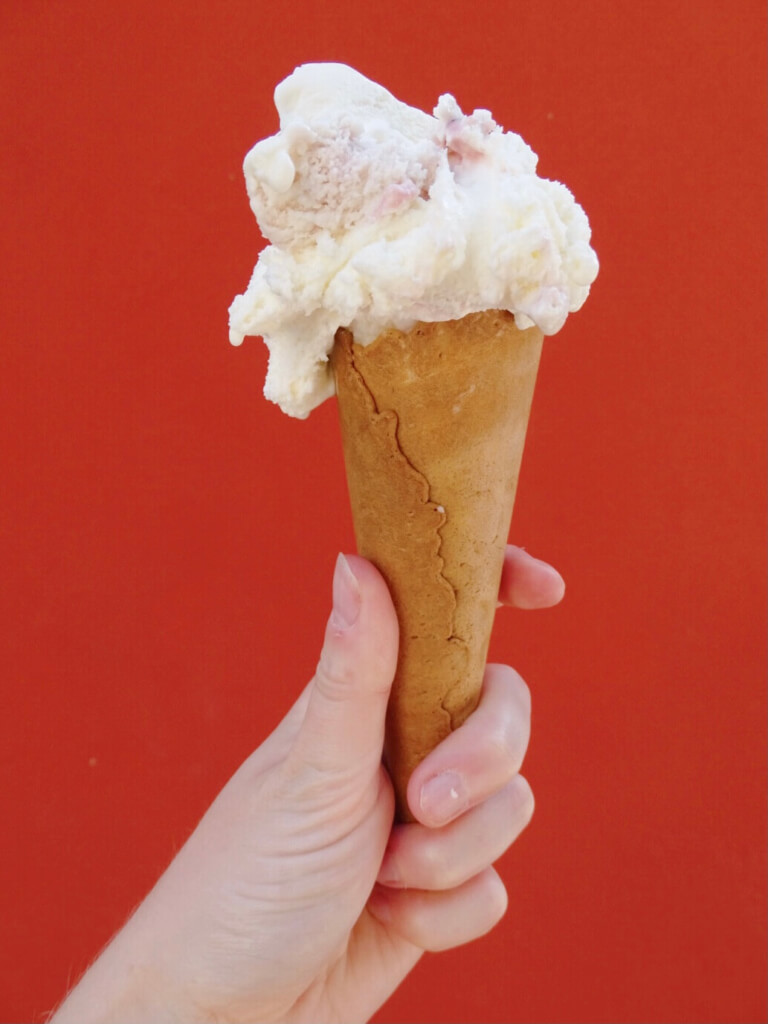 Well, it wouldn't be a holiday without an ice cream, right?

Seconds from the Central Piazza, Caffi'r Angel is Portmeirion's answer to an Italian gelateria. Homemade flavours include salted caramel and raspberry ripple, as well as a few Welsh-inspired offerings like bara brith.

On a sunny day, they often sell out of the best flavours so visit early, lest you get stuck with vanilla!

They also serve tasty coffee and cakes. Keep reading for more Portmeirion food options…
Find the gold Buddha statue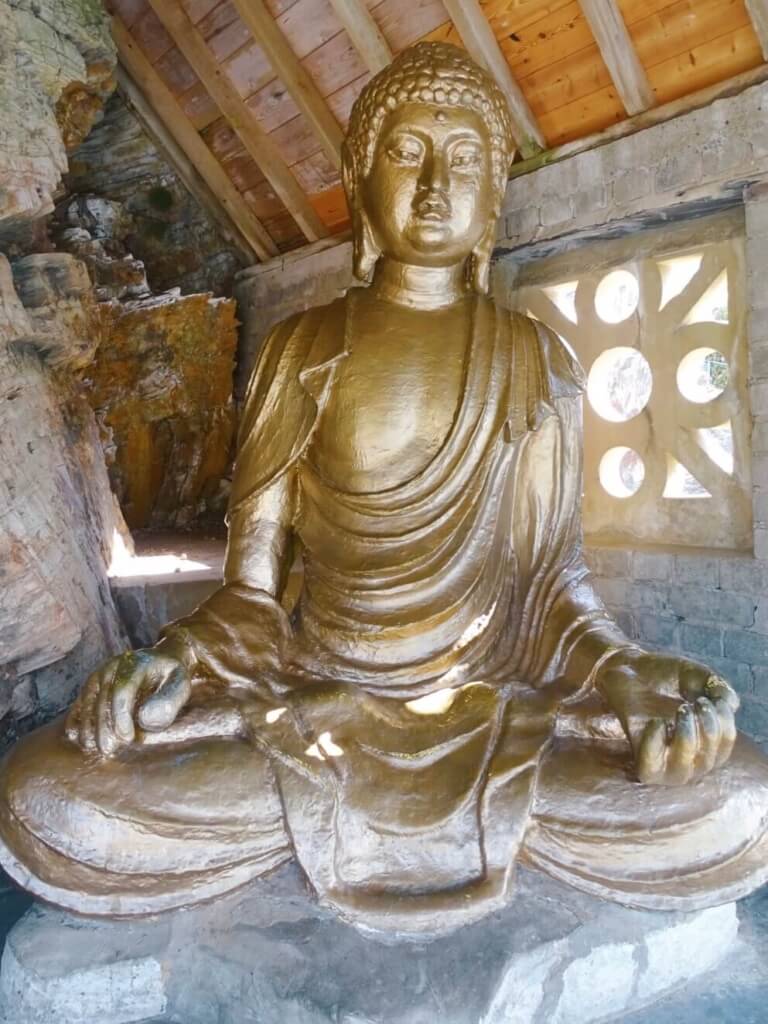 Here's something you wouldn't expect to find in an Italian village OR at a Welsh tourist attraction!

The giant gold Buddha is a quirky feature of Portmeirion found in a blue pagoda with a red roof to your right as you enter the village.

Unlike the chubby Buddha you often see in Chinese restaurants, this thin version is the historical Buddha, Siddhartha Gautama, after his fasting. A tidbit of info from my Asia days!
Buy Portmeirion Pottery
Portmeirion Pottery has a long history and is now sold around the world. The business was founded in 1960 by Susan Williams-Ellis, daughter of Clough Williams-Ellis who founded the village.

Susan began making pottery to sell in the village gift shop and it quickly became a hit. The pottery is now produced in England however Portmeirion will always remain its spiritual home.

Visit Llestri Pottery in the centre of the village to browse beautiful crockery and homeware.
Battery Square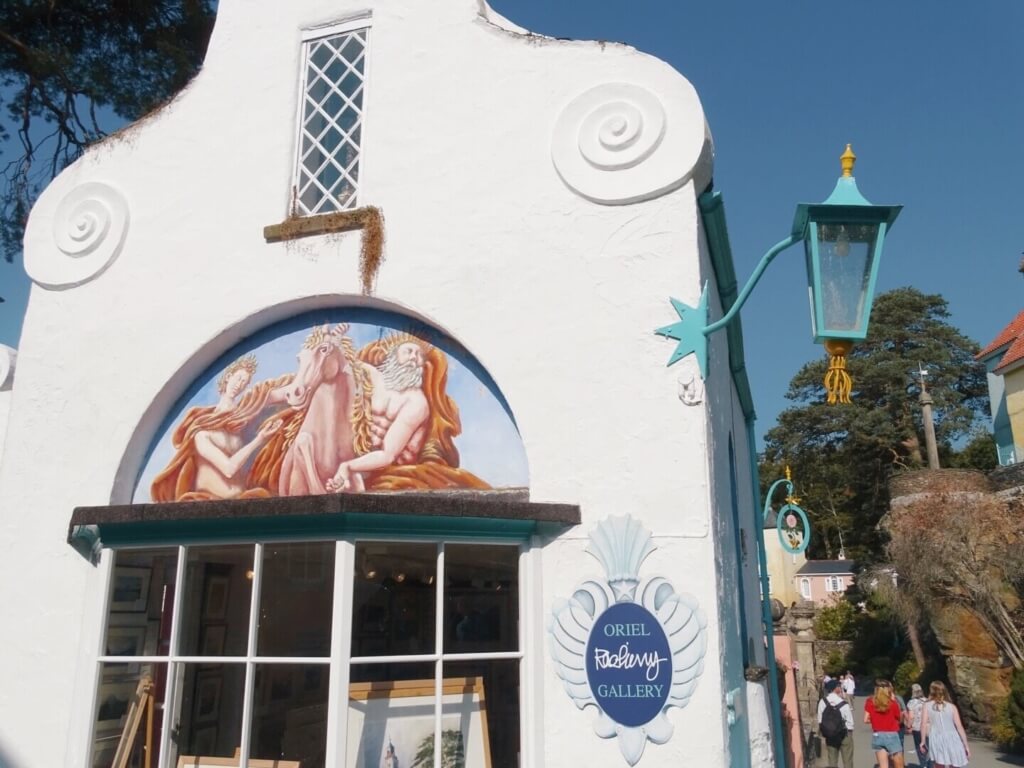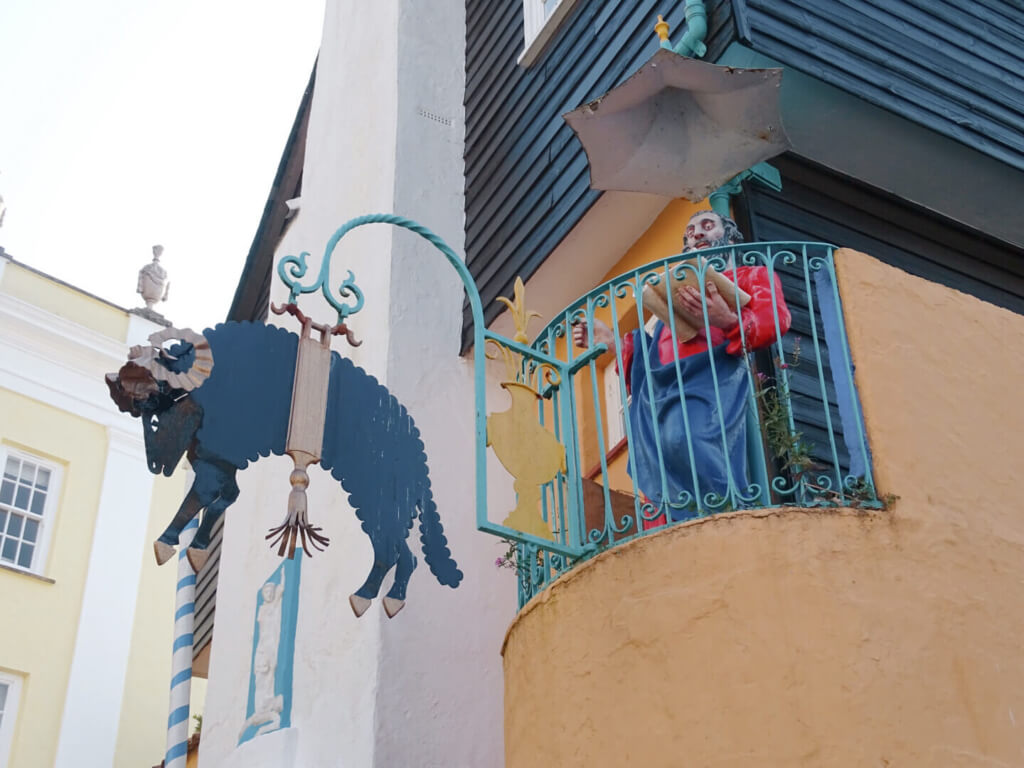 One of the first places you see after entering Portmeirion is Battery Square. This colourful corner of the village has a few Portmeirion attractions worth checking out. Stop at Caffi'r Sgwâr for coffee, tea and cake, or browse art at Rob Piercy Gallery.

Battery Square is also where fans of The Prisoner can find a plaque commemorating the show. For those not in the know, this 1960s TV show was a cult classic around the world. The main actor, Patrick McGoohan, plays a British intelligence agent trapped in a coastal village. Although the destination was fictional, it was filmed here in Portmeirion.
Afternoon tea at Portmeirion Hotel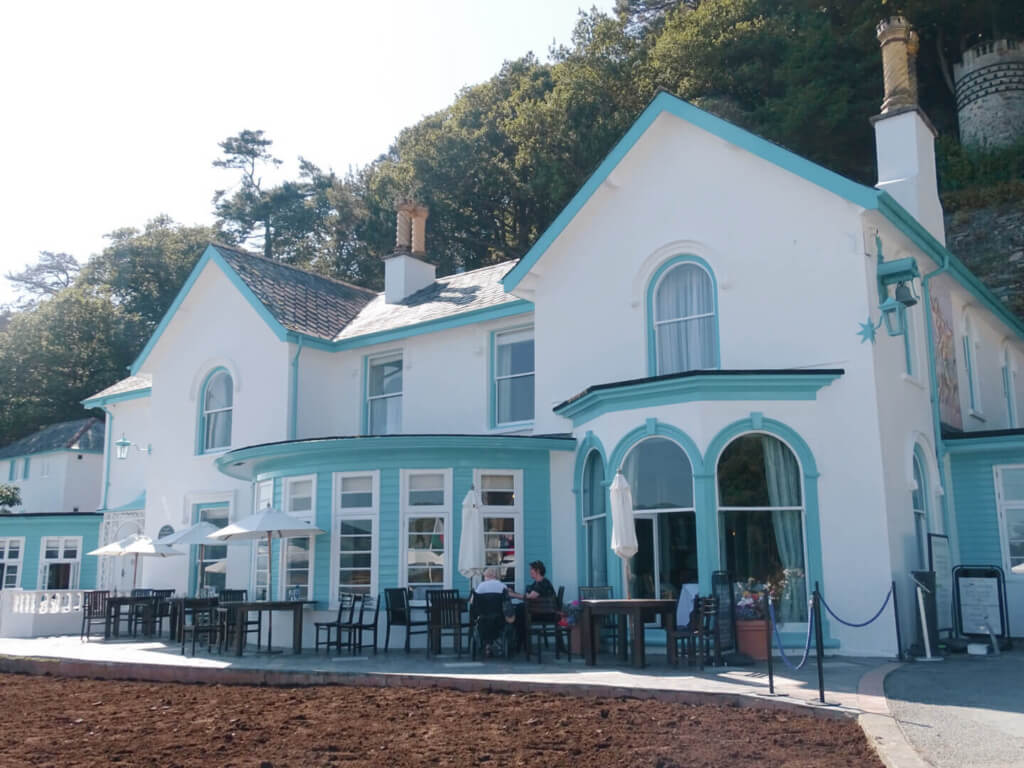 The best thing to do in Portmeirion for foodies is tuck into a decadent afternoon tea at the Portmeirion Hotel. For such a touristic location, it's not too expensive: £25 for sandwiches, scones with jam and clotted cream, cakes and a pot of tea.

Add £5 to make it a sparkling tea with a glass of Prosecco and a further £2 to make it Champagne.
Top tip – eat lunch at the Portmeirion Hotel to get free entry into the village! After your meal, you will be able to stroll all the areas of the village without buying a ticket.
Quayside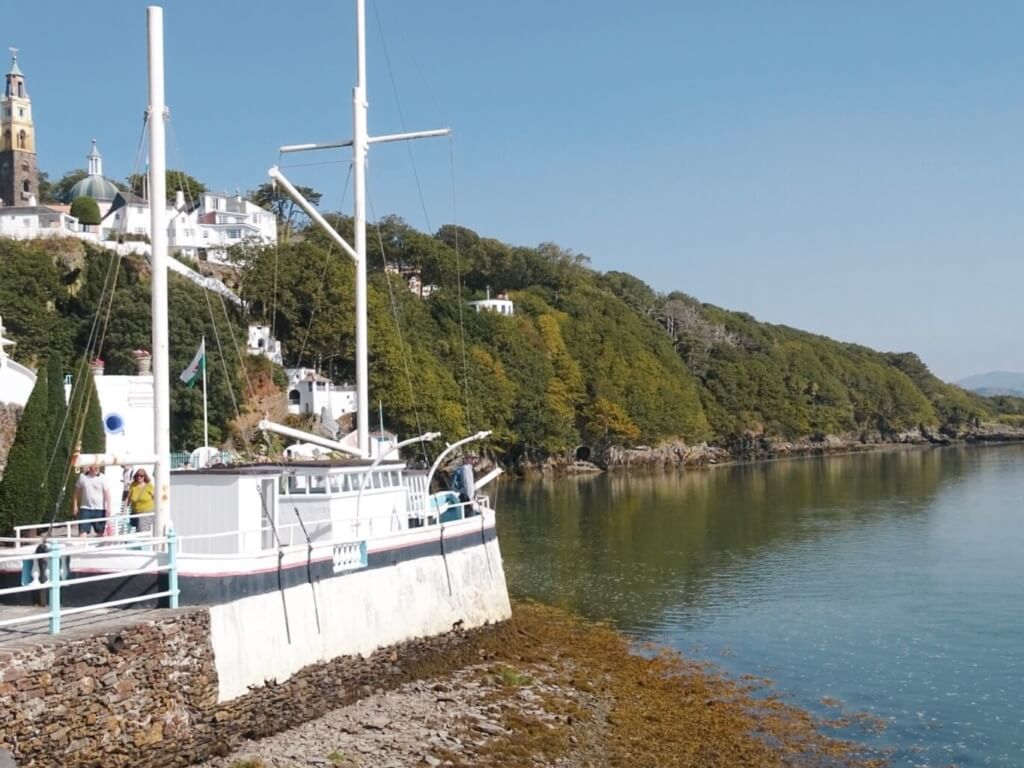 Even if you're not dining at the Portmeirion Hotel, head down to Quayside where it's located. This is one of the prettiest areas, halfway between the colourful village and Dwyryd Estuary. You'll get a full view of the village skyline, as well as the ocean and forest.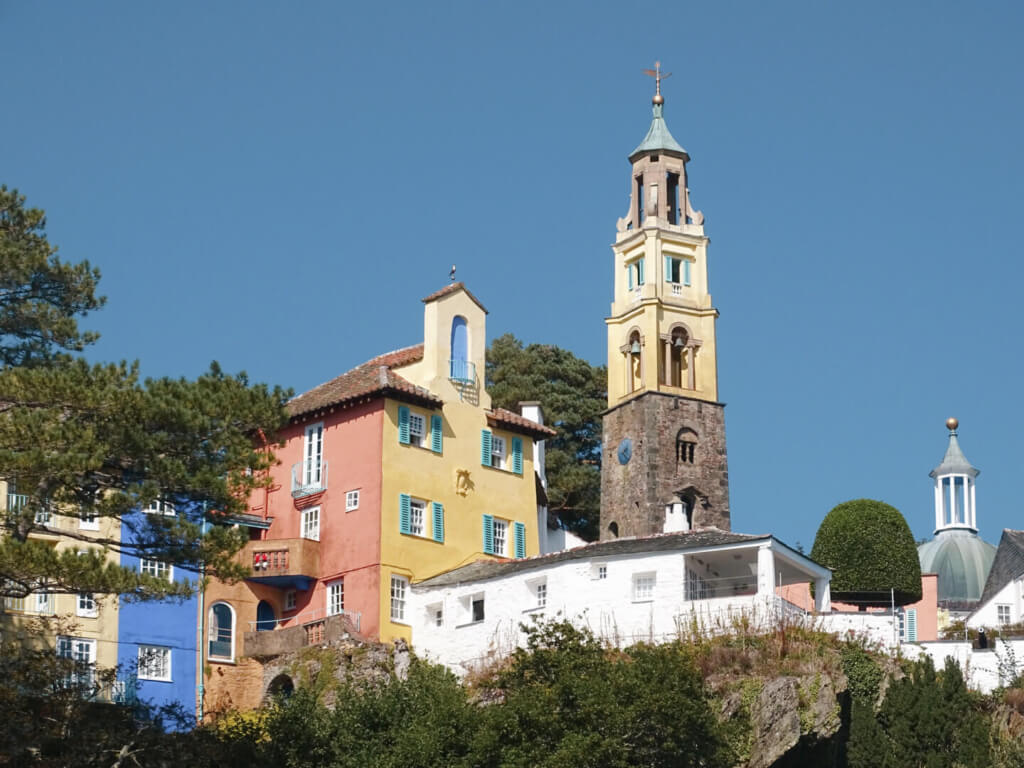 Mermaid Spa
If a spot of pampering is what you need, there are few more idyllic locations than the banks of the Dwyryd Estuary. Mermaid Spa is the only spa in the village with treatments starting at £65.

Choose from 50-minute treatments including the 'uplifting spa' (exfoliating scrub and a back, neck & shoulder massage) and the 'relaxing spa' (Swedish body massage and hot foot cleanse). Blissful!
Dwyryd Estuary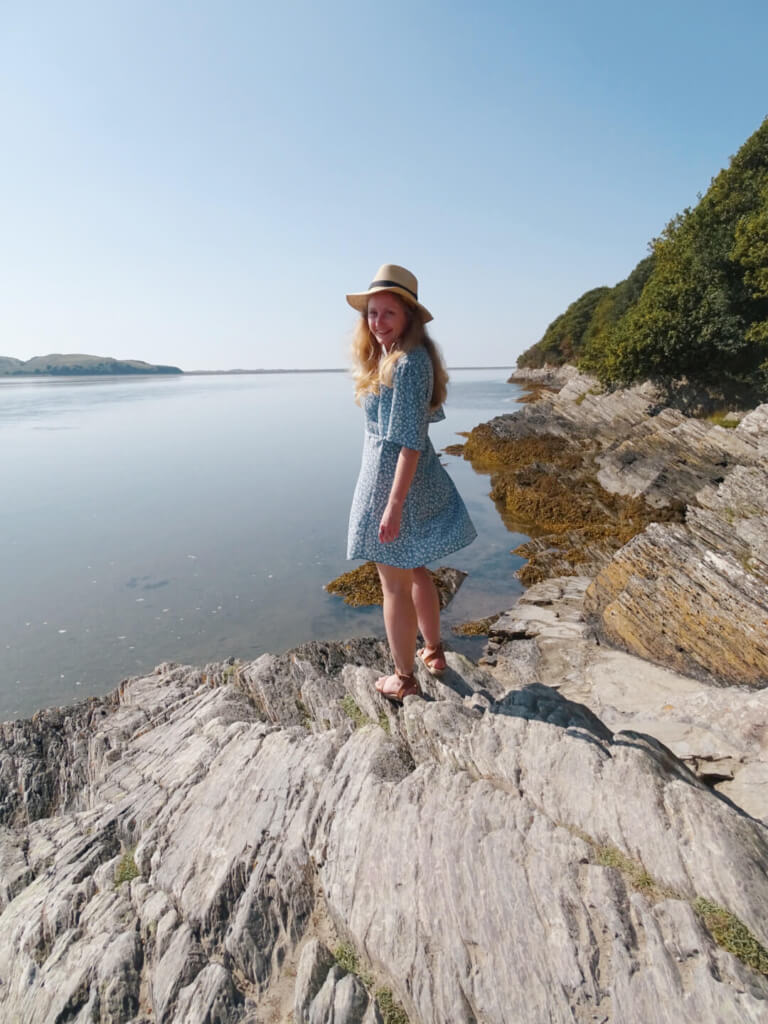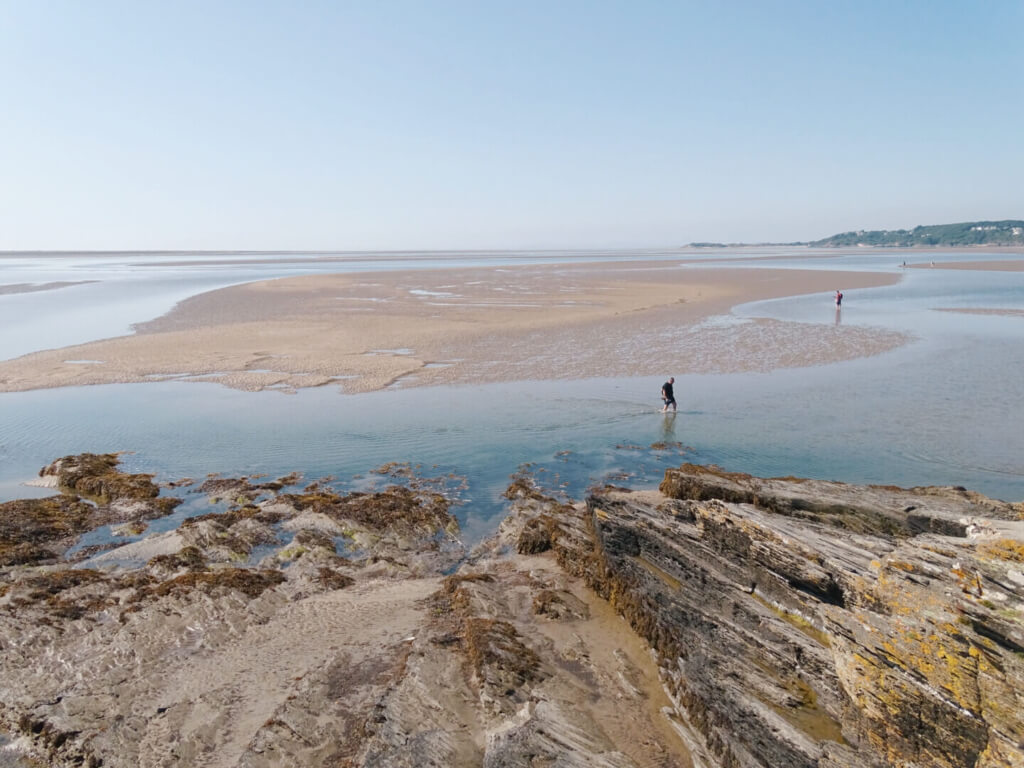 Thought Portmeirion was an idyllic village and nothing more? So did I prior to my visit.

One of the top things to do near Portmeirion is take the short coastal walk to Dwyryd Estuary. This stretch of coastline where the Dwyryd River meets the ocean is only accessible to those with a Portmeirion ticket. All the more chance of having the beach to yourself!

Walk in the Gwyllt
If stunning coastal scenery wasn't enough, take a walk in the Gwyllt, 70 acres of forest within the grounds.

You could spend half the day walking miles of coastal paths, finding peaceful lakes, lilyponds, walled gardens and shaded pagodas. Many of the unusual plants and flowers date back to Victorian times when one of the owners was a renowned botanist.
Find the Japanese Gardens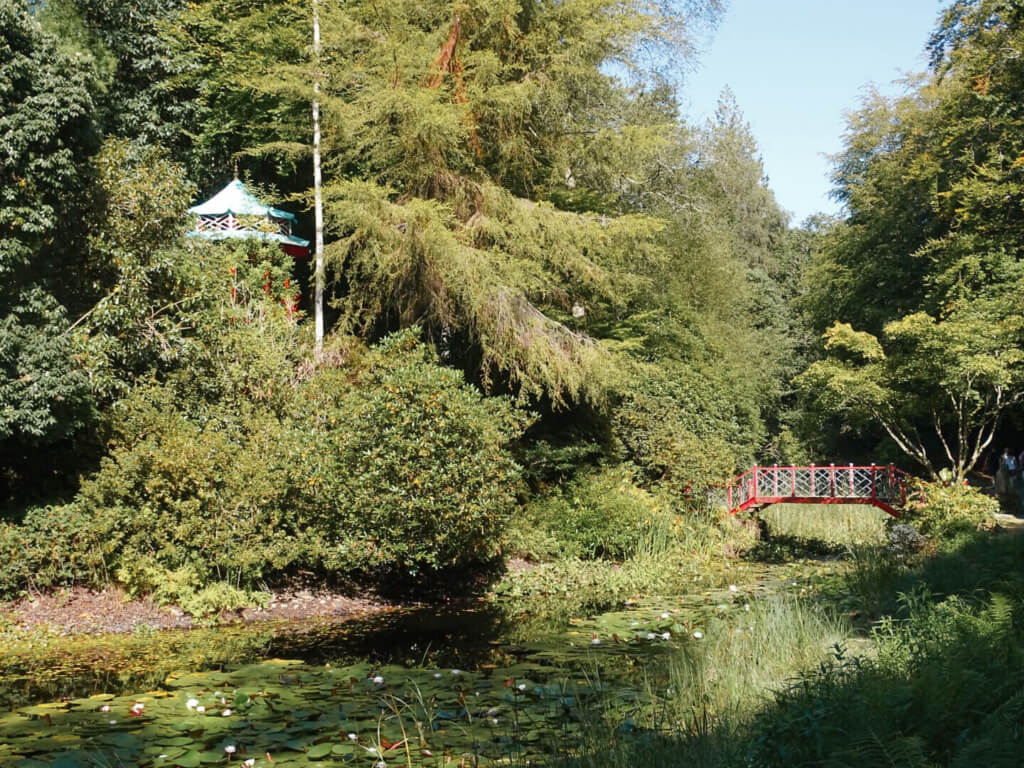 The beautiful Japanese Gardens are easily one of the best places to visit in Portmeirion. Meander across the ornate red bridge, admire blossoming lilies in the pond, and make your way up to the decorative pagoda.

The Japanese Garden is nestled in the Gwyllt and is easy to find; simply follow signposts dotted around (note that it's sometimes also listed as the Chinese Garden).
Relax in numerous pagodas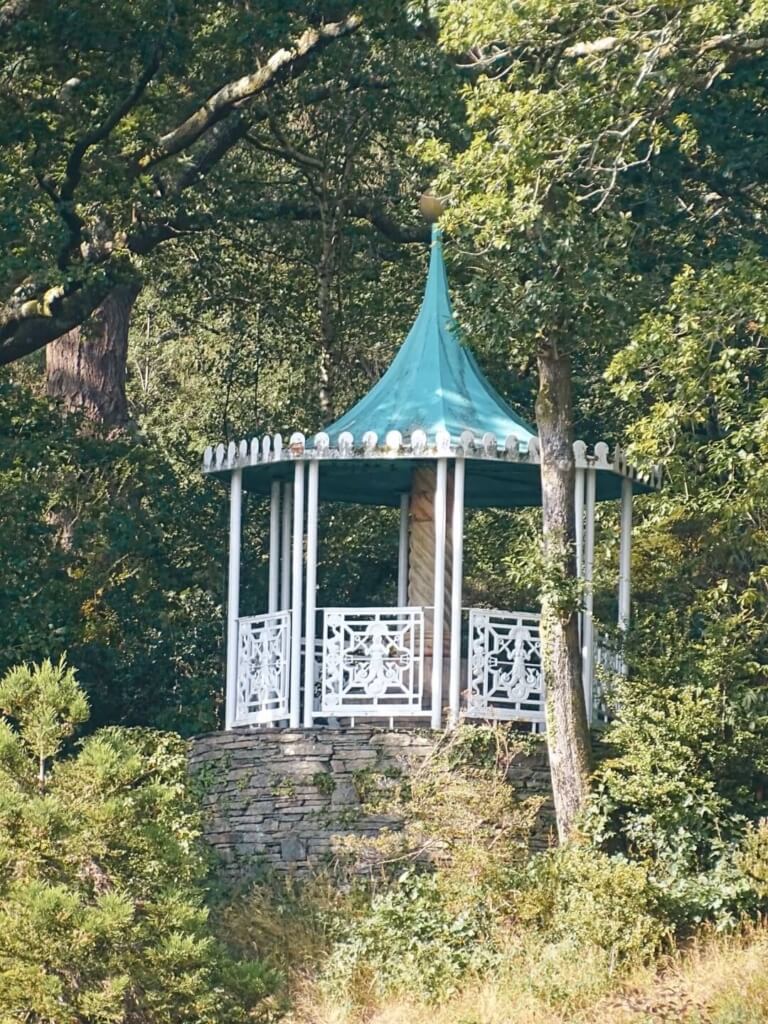 We had spectacular weather during our September visit and kept seeking out pagodas to catch some shade and sip water (something I can now barely believe as I write this two weeks later wearing three layers and a scarf!).

The temple with the blue roof above can be seen from the village, up on the hillside. It offers some of the best views around. The other pagoda (above right) is found halfway between the Japanese Garden and the village.
Where to eat and drink Portmeirion
Foodies wondering what to do in Portmeirion need look no further. There are several places to eat and drink. Given Portmeirion's popularity, prices are unsurprisingly inflated so be prepared to pay more than you would in surrounding North Wales towns and villages.
Related read: UK budget guide & cost break down
Some of the best places to eat and drink include:
Castell Deudraeth – eat lunch at the upmarket restaurant between 12pm and 2.30pm.
Hotel Portmeirion – this is another upmarket option serving food from 12-4pm. Lunch is served from 12-2.30pm and afternoon tea is served from 2.30-4pm.
The Town Hall – this restaurant and bar is open from 9.30am-4.30pm during the summer months and closed from 31 October throughout the winter.
Caffi Glas – eat outside in the village at this cafe open until the end of September. Pizza, paninis and other Italian treats are on the menu.
Caffi'r Angel – get your ice creams here!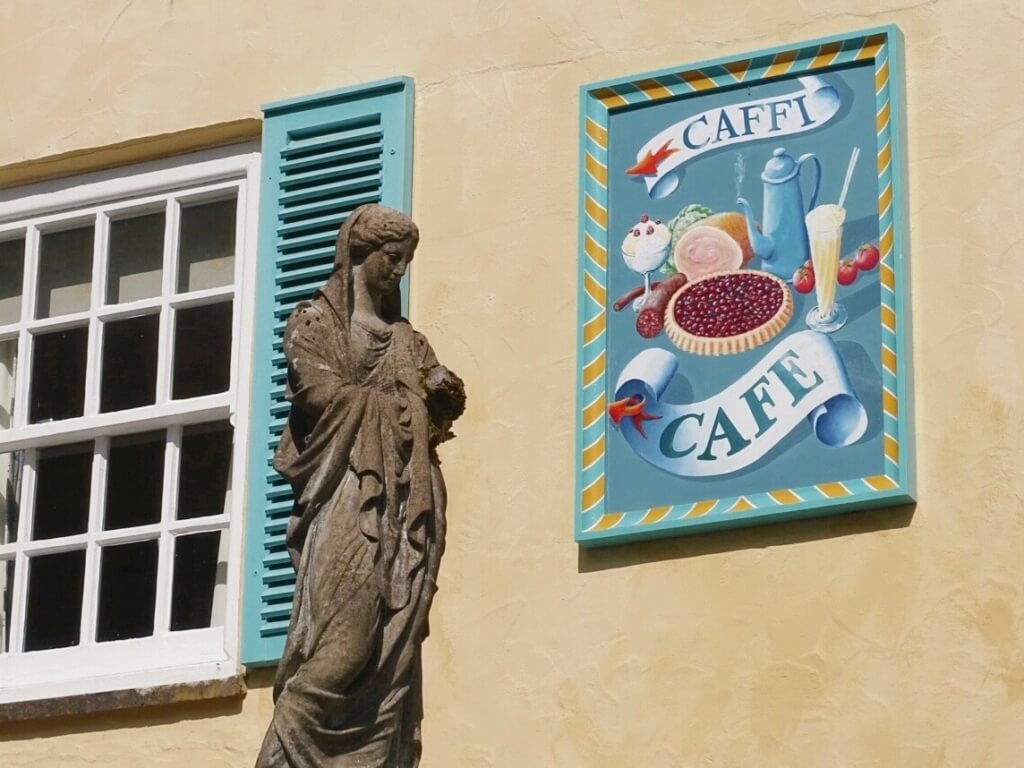 Things to do near Portmeirion
If you manage to tick off all the activities in Portmeirion, get immersed in the local area. A few places to visit near Portmeirion include:

Ffestiniog and Welsh Highland Railways – from nearby town, Porthmadog, take the once-in-a-lifetime chance to see North Wales by locomotive. Travel from Porthmadog to Canaerfon or take a loop around Snowdonia on a traditional steam train. Book your tickets from Porthmadog.

Snowdonia – from Portmeirion, you're not far from Snowdon, the most famous national park in North Wales. Climbing Mount Snowdon steals the show but there are plenty of other things worth doing in Snowdonia.

Harlech Beach – this is one of North Wales most beautiful and secluded beaches, just 10 miles from Portmeirion. Overlooking the beach is World Heritage Site, Harlech Castle, built by Edward I during his invasion of Wales between 1282 and 1289. Building the whole thing cost £8,000 – probably less than a night's stay if they ever let it out on Airbnb!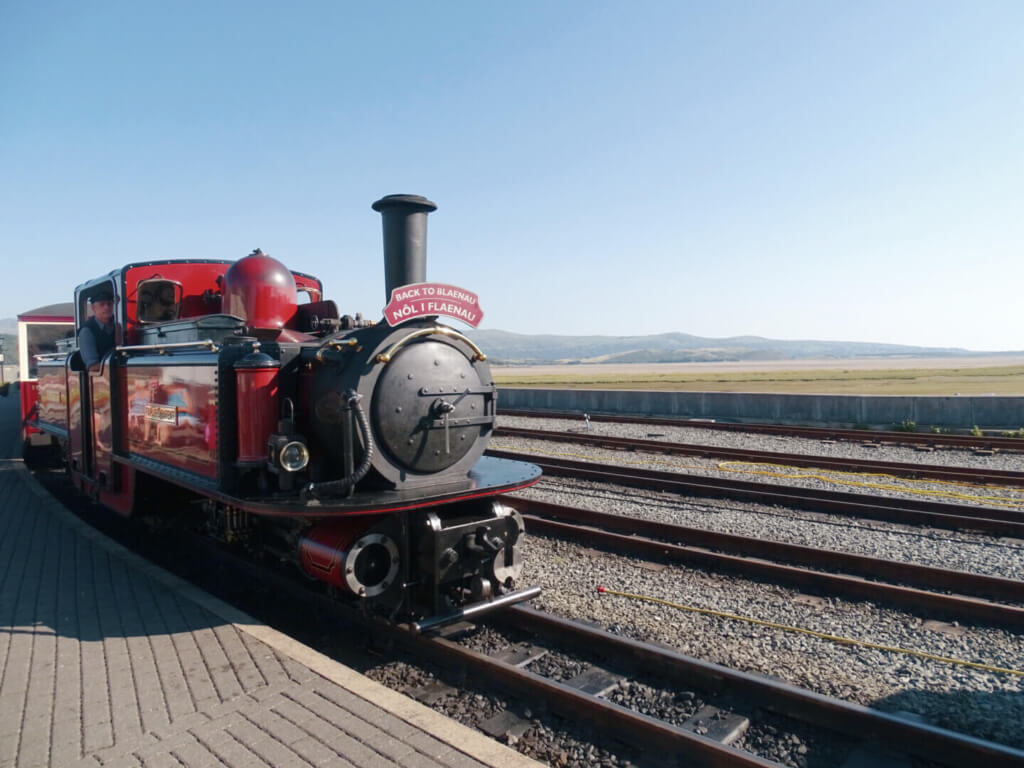 Thanks for reading!
Check out my other Wales blogs:
For more travel content, follow me on Instagram, Facebook, Twitter and YouTube.
Liked these things to do in Portmeirion village? Pin this for later on Pinterest.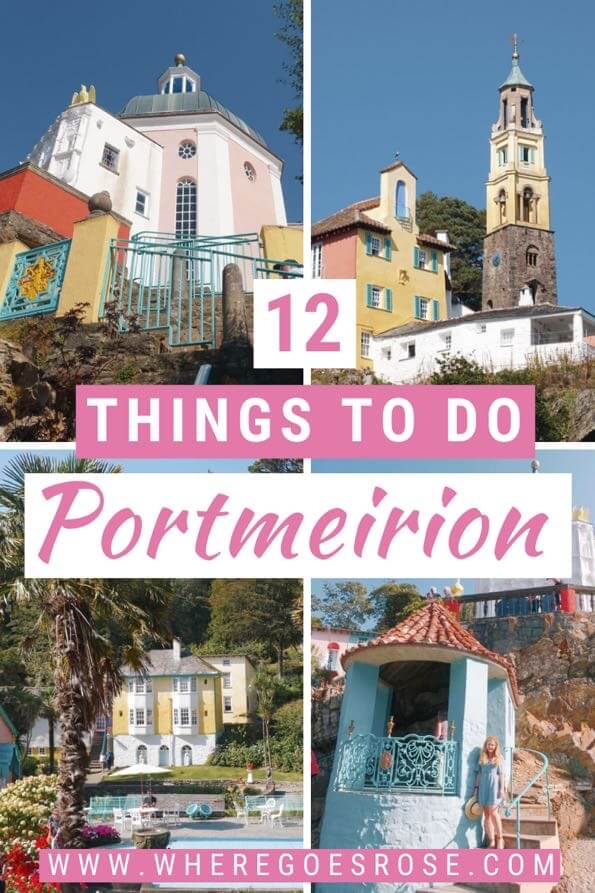 WALES QUICK LINKS

Guidebooks – LP always get my seal of approval. Use the latest copy of Lonely Planet Wales / Lonely Planet Great Britain.

Flights (international and domestic): I use Skyscanner to find the best-value flights, using the 'search by month' tool to find the cheapest dates. You can also use the 'to anywhere' feature if you're flexible on where you're going.

Car hire – use Rentalcars.com to compare car rentals and campers in the UK (and all around the world).

For trains, use Trainine. The search feature allows you to compare prices and see live departures.

For buses, I use Busbud. It's the only site that compares UK coaches and buses. Find London to Manchester journeys for £1! 

For hotels and self-catering apartments, I use Booking.com. You can filter by review score and price to find the best-rated budget places. For hostels, I use Hostelworld.com.

To save money on accommodation, I use Trusted Housesitters, a website that connects homeowners going away and travellers who can sit their homes & pets.

Browse UK tours and activities on GetYourGuide.

For food tours pairing travellers with passionate local chefs and foodies, check out EatWith. 

Need travel insurance? I use True Traveller (for Europe residents) since it's affordable but covers everything you'd need including various activities, valuables and pre-existing conditions. Unlike some companies, they insure you if you're already travelling / don't yet have your flight home booked. Get a quote.

For travel insurance for other nationalities, I recommend Hey Mundo and for long-term digital nomad travellers, I suggest Safety Wing.

Check out my resources page for more travel discounts and budget tips from my 10+ years on the road!