This post may contain affiliate links to things like tours, hotels, Amazon associates and products. These help me earn a small commission at no additional charge to you.
Despite the rain and lack of eye contact on the Tube, London is truly one of my favourite cities in the UK. With centuries of history and buckets of character, there are countless famous London streets to explore.

From famous London shopping streets to those with a political function or literary connection, there are almost too many notable London streets to count.
LONDON ESSENTIALS

Lonely Planet Pocket London

Getting to London: Trainline / Busbud

Getting around London: Tube / Bus / Overground

Accommodation: Booking.com / Hostelworld

Activities: GetYourGuide
In a rush? Pin these famous London roads for later.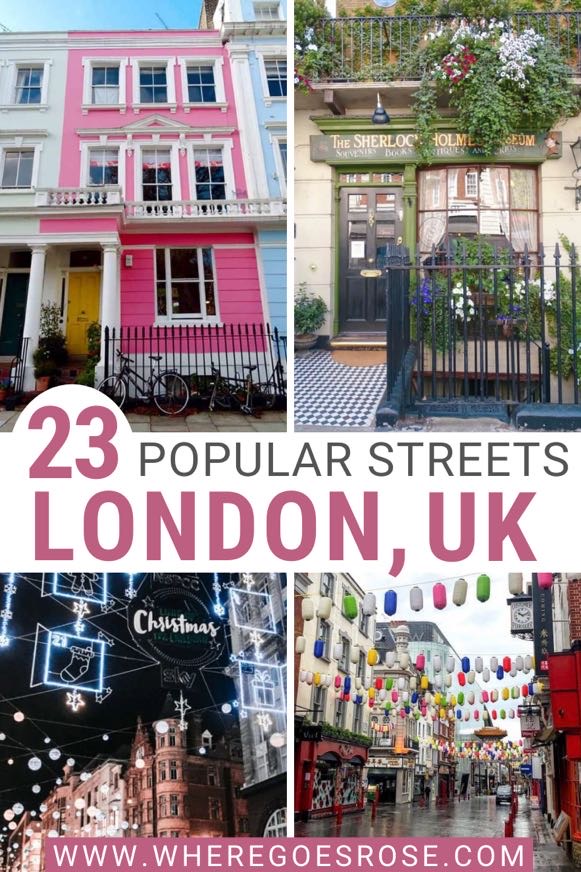 Famous streets in London
Since London is a vast city best explored during several days, I've split this guide into four sections: Central, West, East and North.

From important political roads in Central London to high-end shopping streets in West and Central London, colourful houses in West and North London, and quirky market streets splattered with street art around East London, there's no end of interesting streets in London.

Pack your comfy shoes and be sure to stop for many coffee and cake breaks (for hydration and nutrients, obviously)…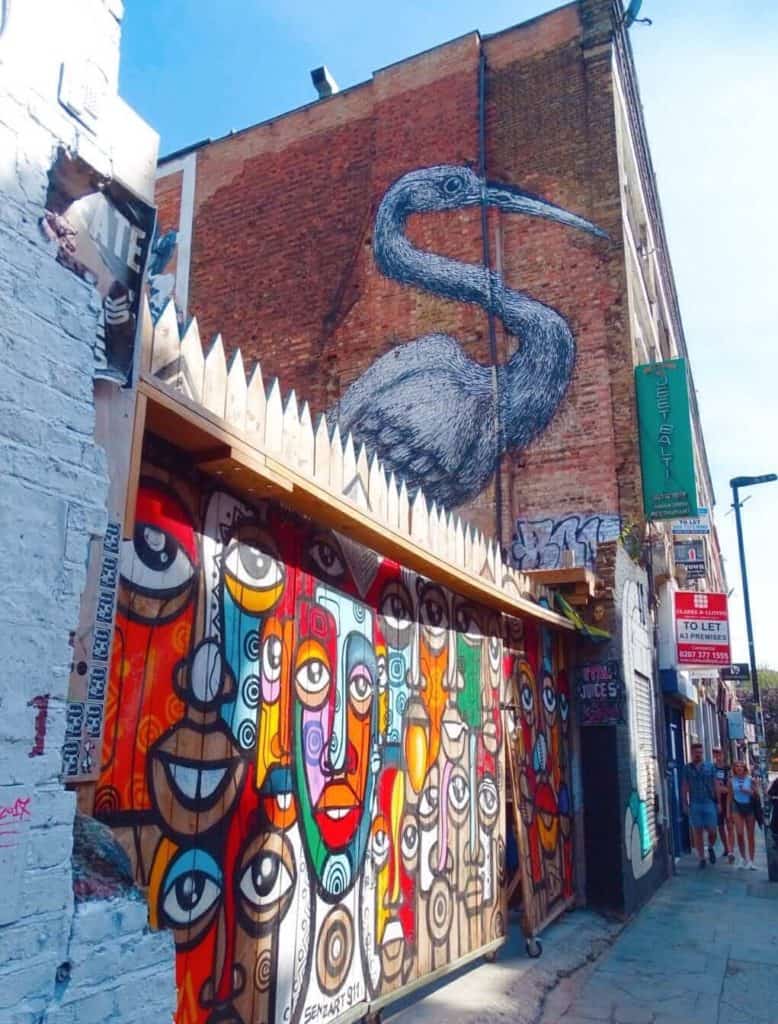 Famous streets in West London
Featuring colourful houses and endless mews (courtyards of small houses once used as stables), West London is a wonderland.

Some of the city's most enviable (not to mention expensive) postcodes can be found in Chelsea and Kensington. Keep your eyes open and you may spot cast members from Made in Chelsea, a TV show documenting the lives of the West London elite.

Famous streets in West London include…
Portobello Road – a popular London street for antique shopping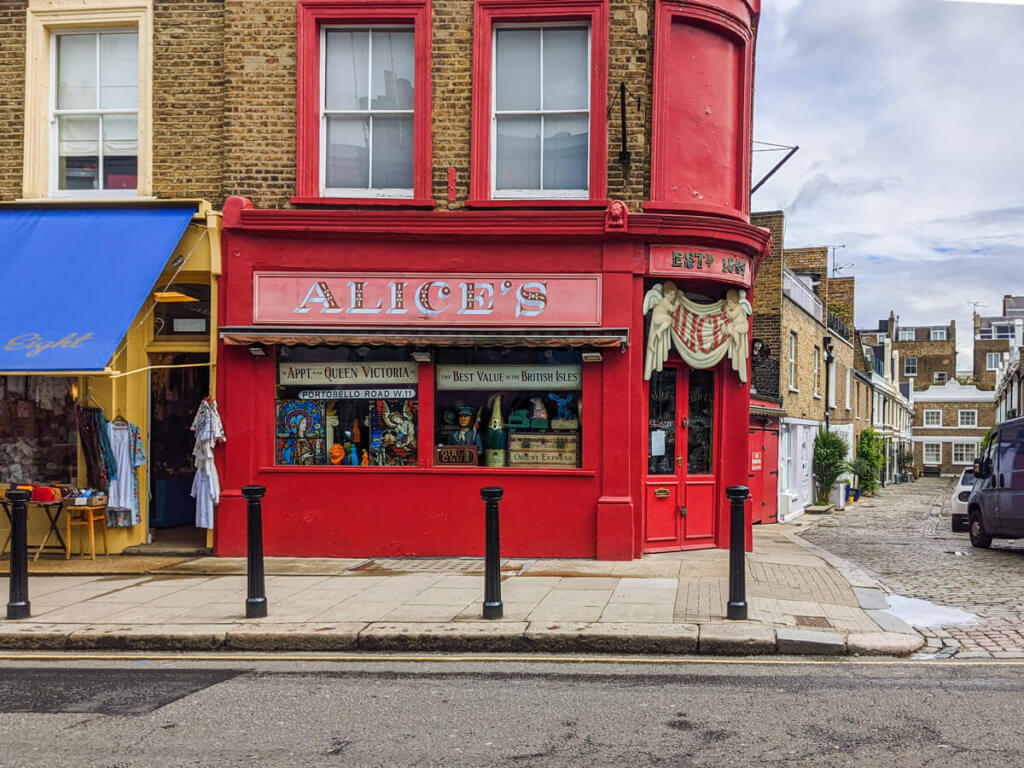 Portobello Road is one of the most famous London streets for shopping. Whether you're looking to buy unique gifts from London or simply enjoy the variety of foods, antiques and artisan goods on display, this Notting Hill hotspot is a must-visit.

Much of the road is taken up by famous Portobello Market, one of the largest antique markets in the world. With over 1,500 stalls selling everything from first-edition books to centuries-old tea sets and vintage clothes, there's something for every taste and budget.

From Friday-Sunday, foodies can try international street food like Jamaican jerk chicken and Venezuelan arepas at Portobello Green Market. If trendy brunches are more your thing, treat yourself at Portobello Road cafes such as Farm Girl, Sally Clarke Shop and Eggslut.

Portobello Road recommended by Chelsea from The Portable Wife.
Read next: things to do in Notting Hill
St Luke's Mews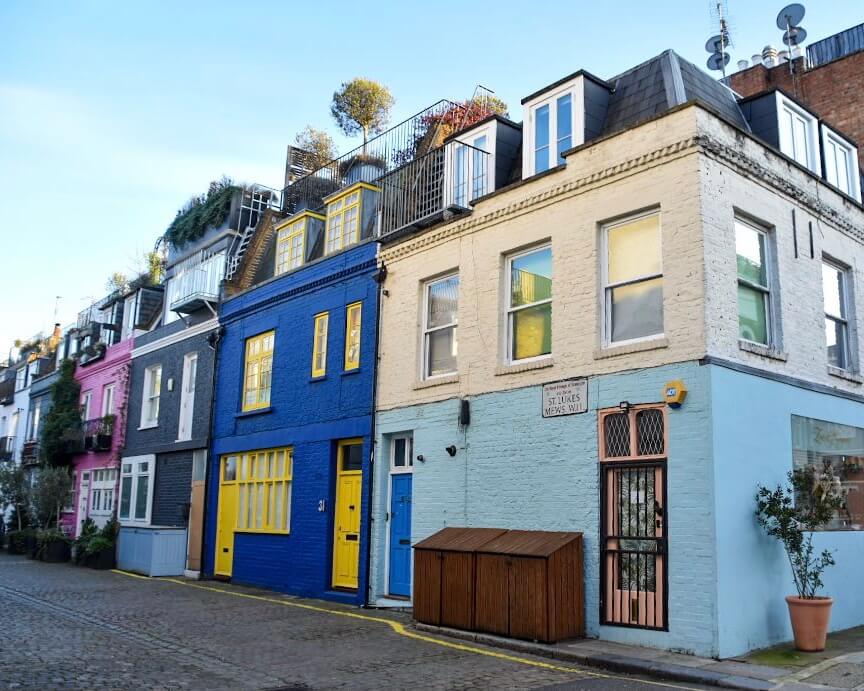 One of the most famous streets in London for photographers and Instagrammers is St. Luke's Mews. Located in Notting Hill, it's quiet, colourful and somewhat of an English hidden gem.

The quaint cobblestone courtyard is lined with around 20 houses, all with unique features. The colours range from classic red brick to bright blue with sunny-yellow accents, not forgetting the pink house at number 27, one of the most photographed homes in London.

This particular house became famous when it appeared in the 2003 film, Love Actually. You'll see it during the scene where Keira Knightley opens her door to find Andrew Lincoln declaring his unrequited love via a series of (creepy) homemade signs.

The Mews is also close to other famous rom-com filming locations including Notting Hill shot in 1999.

St Luke's Mews recommended by Miry of Miry Giramondo.
Read next: where to find colourful houses in London
Ennismore Gardens Mews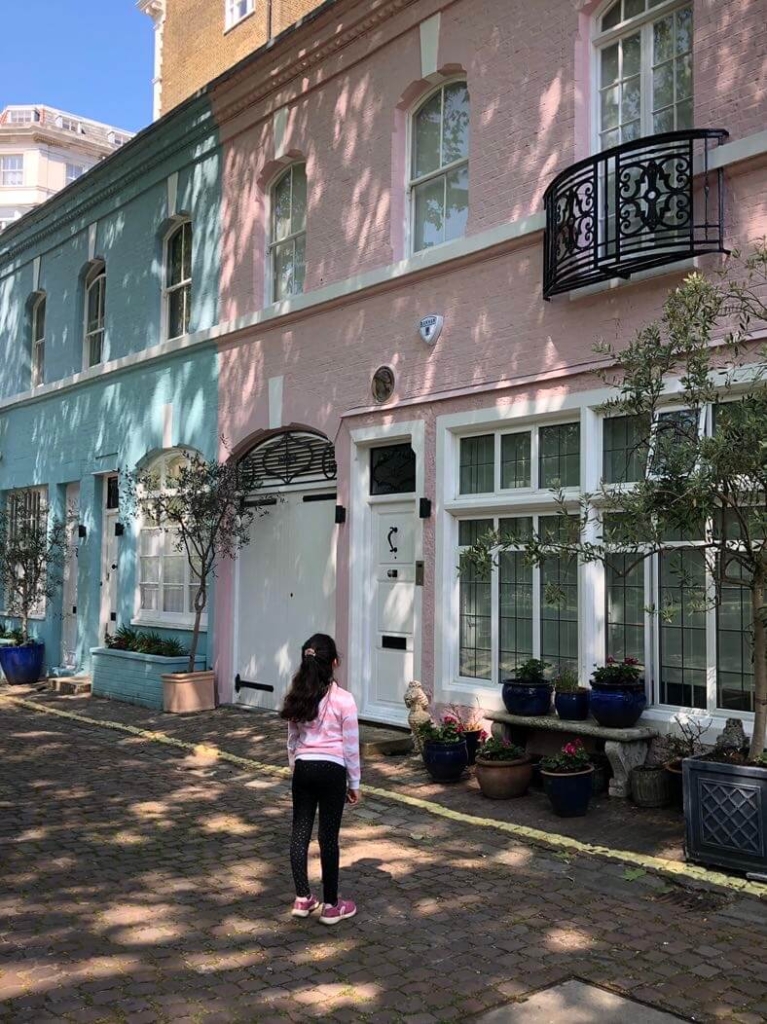 Another famous London street is Ennismore Gardens Mews in Knightsbridge. This narrow cobbled street will temporarily transport you from bustling London to a country village.

Here you'll find endless photo opportunities thanks to the pastel-coloured houses in shades of pink, yellow and blue. These houses were previously coach houses and stables, since converted into desirable houses and apartments.

The best bit? This West London street isn't as crowded as many other popular streets in London. Afterwards, visit nearby places of interest including Brompton Oratory Church, the Victoria and Albert Museum and Brompton Road, famous for its luxury shops and cafes.

Ennismore Gardens Mews recommended by Asha Bhatia from Home Travel Guide.
Kynance Mews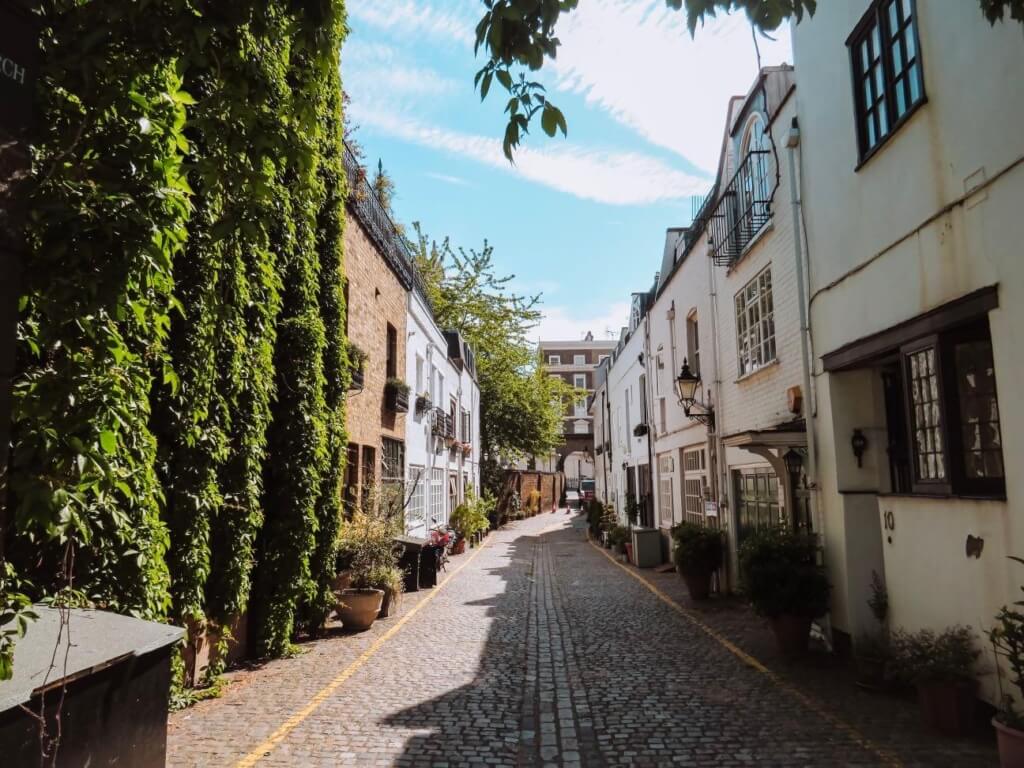 Had your fill of adorable alleyways yet? If not, take a trip to Kynance Mews in South Kensington, another of the most famous roads in London.

Kynance Mews is a popular spot among photographers, but this hasn't always been the case: it was originally used to house horses and maids serving London's elite in the 18th century.

Nowadays, you can walk the cobbled streets and admire houses decorated with foliage that changes with the season. Kynance Mews is worth visiting any time of the year but it might be worth moving to London to see red leaves in autumn AND the cherry blossom/wisteria in spring!

As with the other Instagrammable spots in London, visit the mews early in the morning to avoid the crowds.

Kynance Mews recommended by Cristina from My Little World of Travelling.
Brompton Road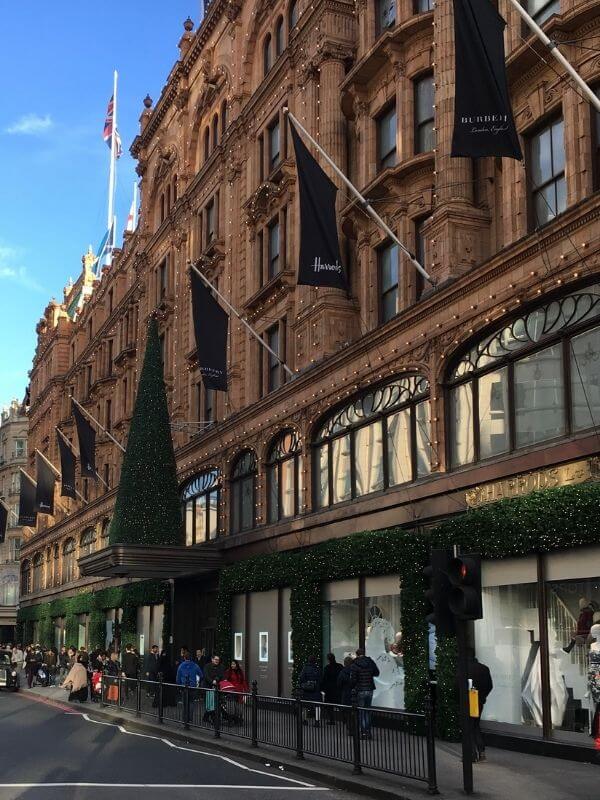 Brompton Road, running through the centre of Knightsbridge, is a keen contender for the most famous shopping street in London. It's mostly one-way, ending just before South Kensington station.

Between these two points, there are hundreds of shops selling products ranging from sunglasses and handbags to antiques and designer clothes.

Browse items by world-famous designers such as Armani, Chanel and Louis Vuitton, as well as internationally renowned jewellers and antique and art dealers. Brompton Road is also home to some of the most expensive retail property in the world.

You'll find some of London's most famous stores including Harrods (featuring on many London bucket lists), located on the eastern side of Brompton Road near Harvey Nichols.

The 1km-long road is easily walkable. Just remember to leave the credit cards at home!

Brompton Road recommended by Tracy from UK Travel Planning.
Bywater Street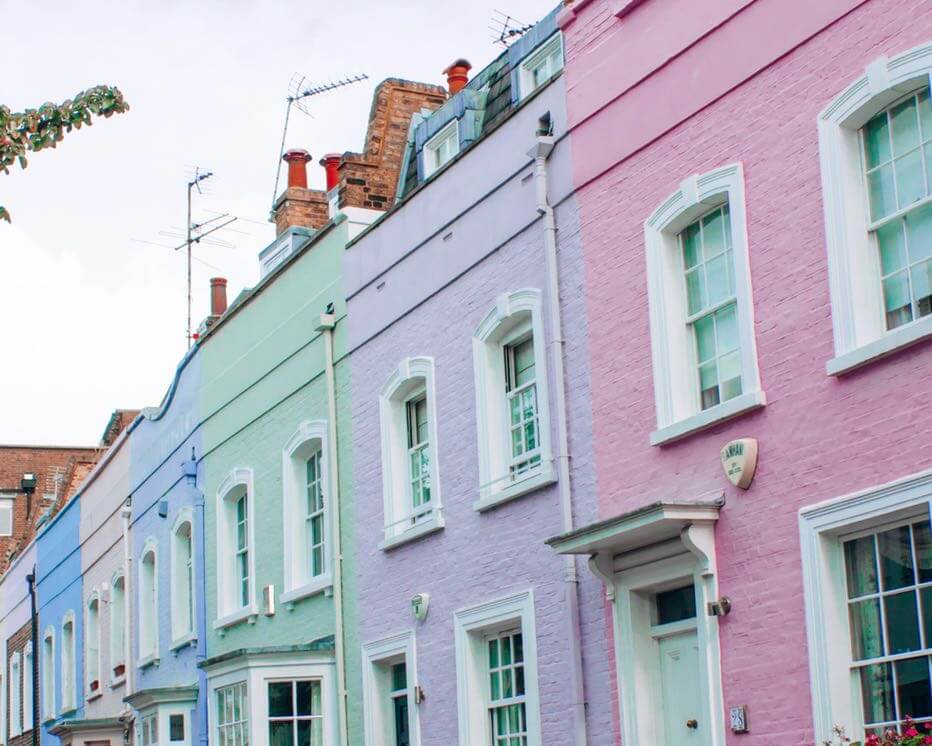 Another of the most notable streets in West London is Bywater Street, found in Chelsea next to King's Road. The street is known for being one of the most colourful places in London… And for the crowds of people usually snapping photos of the rainbow houses!

Nearby, you can find some excellent (and very Insta-friendly) cafes and restaurants such as Peggy Porschen bakery and the Ivy Chelsea Garden.

Another reason Bywater Street is a well-known street in London is that number 9 was the home of George Smiley, a fictional character from the books by John le Carré. The street appears in various film and series adaptations of the novels.

Bywater Street recommended by Dymphe from Dym Abroad.
Exhibition Road – a famous London street for museums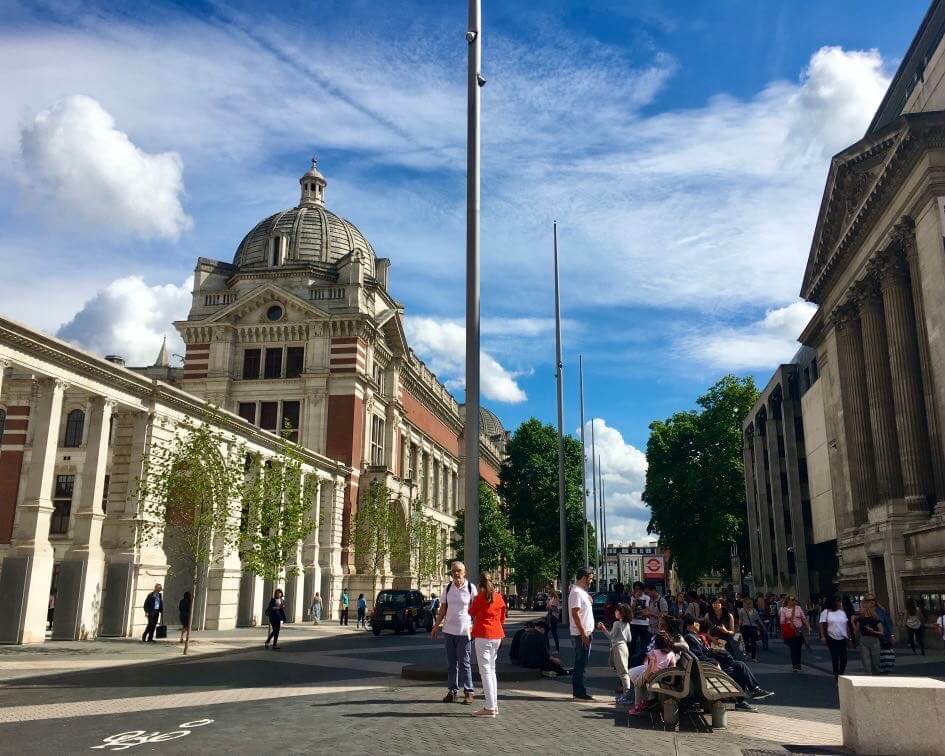 As notable streets in London go, one of the most culturally rich is Exhibition Road. The reason is simple: it houses three grand museums, a world-class university and numerous smaller institutions.

The road took its name from the Great Exhibition of 1851 held in the area. The exhibition was a success and the money collected was used to fund the four great institutions of the road: the Natural History Museum, the Victoria & Albert Museum, the Science Museum and the Imperial College London.

Exhibition Road has a wide pavement (almost indistinguishable from the road), commonly packed with tourists queuing to enter the museums, students rushing to lectures and street performers entertaining the crowds.

The area around Exhibition Road is also worth a wander. At one end, you'll find Alexandra Gate leading to Hyde Park and Kensington Gardens and, at the other end, South Kensington station and a variety of restaurants. The Royal Albert Hall, known for its diverse schedule of performances, is just a short walk away.

Exhibition Road recommended by Elina from Empnefsys &Travel.
King's Road
With more than 300 boutiques, this is easily one of the most famous shopping streets in London. But be warned, you won't find any bargains here! The King's Road in upmarket Chelsea is one of the most expensive areas of London, home to designer labels galore. By their own admission, 'You don't walk the King's Road. You strut.'

Gulp. I'm not even sure I CAN strut!

The street's name references the era before 1830 when it was a private road for King Charles. During the 1960s, it became the home of mod culture and, later, an alternative stomping ground for hippies and punks – not that you'd know it now. These days, it's dominated by shiny socialites and tourists with cash to splash.

As well as boutiques and jewellery stores, you'll find quaint bookstores and plenty of enviable eateries, the most famous being the Bluebird, serving modern European cuisine and often frequented by the cast of Made in Chelsea. To summarise, visit King's Road for a good time, not a cheap time!
Famous streets in Central London
Unlike than the pretty mews of West London, the notable streets in Central London tend to have either historical or political importance or an entertainment function. These roads are big, busy and often pedestrianised.

A few famous London roads in Central include…
Carnaby Street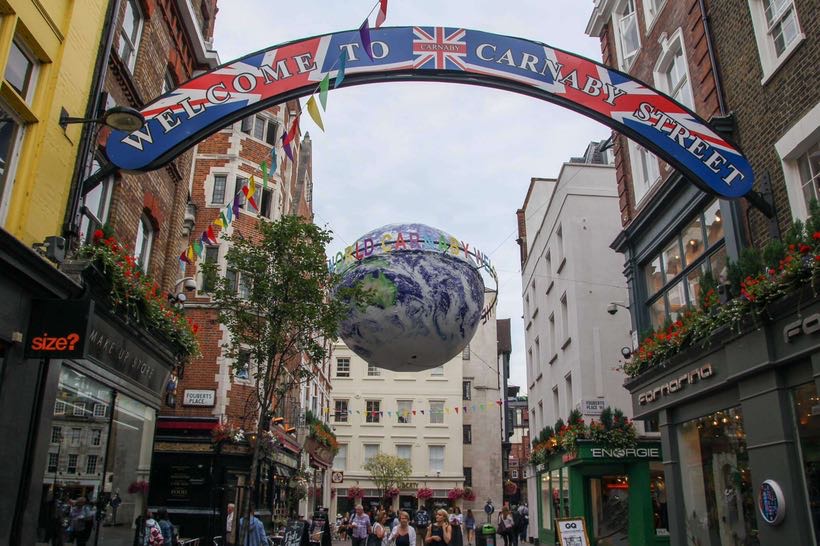 Carnaby Street is one of the most popular streets in London and for good reason. Located north of Central London's Soho district, it's a magnet for visitors from around the world.

Although little of the former 1960s flair is left, the reinvented pedestrian zone remains a jewel of the city with colourful townhouses, eye-catching decorations and unique boutiques and restaurants.

In the colourful shopping streets, you can splurge or browse in the boutiques and find charming spots to take photos. Don't miss the passage with the well-photographed 'Welcome to Carnaby Street' sign.

The numerous pubs, bars and restaurants make Carnaby Street a great evening destination although, due to its central location, sadly not a cheap one!

You can easily reach Carnaby Street by bus or Tube (Oxford Circus and Piccadilly Circus stations are nearby).

Carnaby Street recommend by Martina from PlacesofJuma.
Shaftesbury Avenue
Shaftesbury Avenue is the main street running through the West End theatre district. Even people who have yet to set foot in the capital have heard of this famous street in London home to theatres including the Lyric, Gielgud, Sondheim, Palace Theatre and Shaftesbury Theatre, among others.

The West End is one of the most famous theatre districts in the world so why not treat yourself to a show when visiting London? Matinee performances can be quite affordable.
Iconic shows to catch in 2021 include Disney's The Lion King, Cinderella, Hamilton, Jersey Boys, Les Misérables, Mama Mia!, Marry Poppins and Wicked.

Piccadilly Circus is the nearest underground station.
Related activity: West End silent disco musicals walking tour
Gerrard Street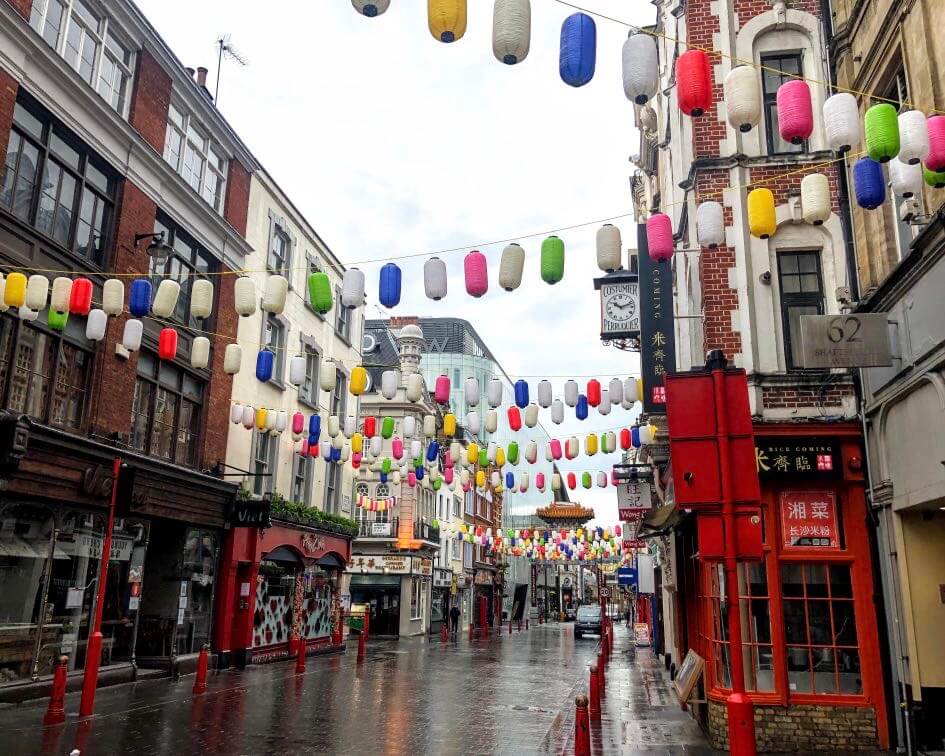 Every major world city has a Chinatown and London is no exception. Gerrard Street is the most famous street in London's Chinatown, based in the City of Westminster bordering Soho and Theatreland.

You can't miss this distinctive road, framed by red gates at either end and strung with Chinese lanterns and other colourful decorations, especially around Lunar New Year.

Visit for an abundance of authentic Asian restaurants and supermarkets. For reasonably priced, no-frills Cantonese fare, check out Wong Kei, then pick up some sweet treats from Kowloon Cake Shop. Remember to bring cash; there's a surprising lack of ATMs nearby.

Gerrard Street recommended by Liz from Snap & Roam.
Baker Street – the most famous London literature street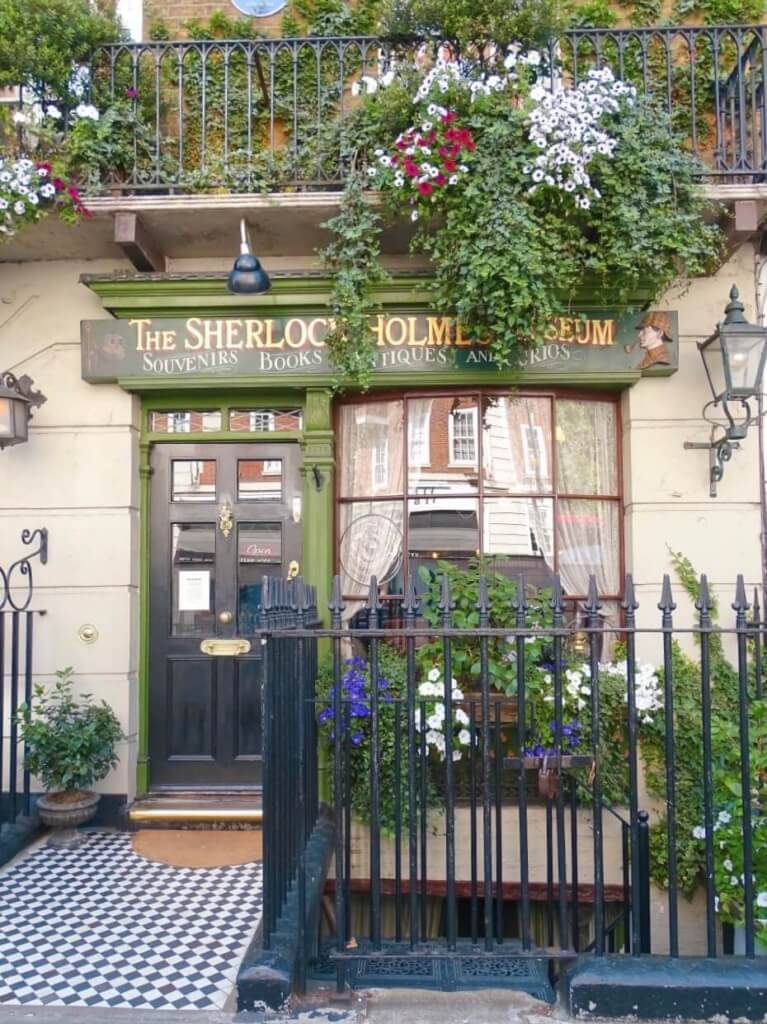 Located in the upmarket neighbourhood of Marylebone, Baker Street is one of the most famous London streets for literature fans. This is because of number 221B, the address of the famous fictional detective, Sherlock Holmes.

Looking for fun facts about London? When Arthur Conan Doyle was writing Sherlock Holmes, 221B Baker Street didn't exist and the postal address was fictional. As time passed and London grew, Baker Street was extended and 221B Baker Street became the address of the Abbey National Building Society.

They were showered with fan letters addressed to Sherlock Holmes, beginning a dispute between the Building Society and the Sherlock Holmes Museum located nearby.

Head to the Museum to see the famous Sherlock study, the original manuscript and other memorabilia.

Baker Street recommended by Ania from The Travelling Twins.
Parliament Street & Downing Street – London's famous political street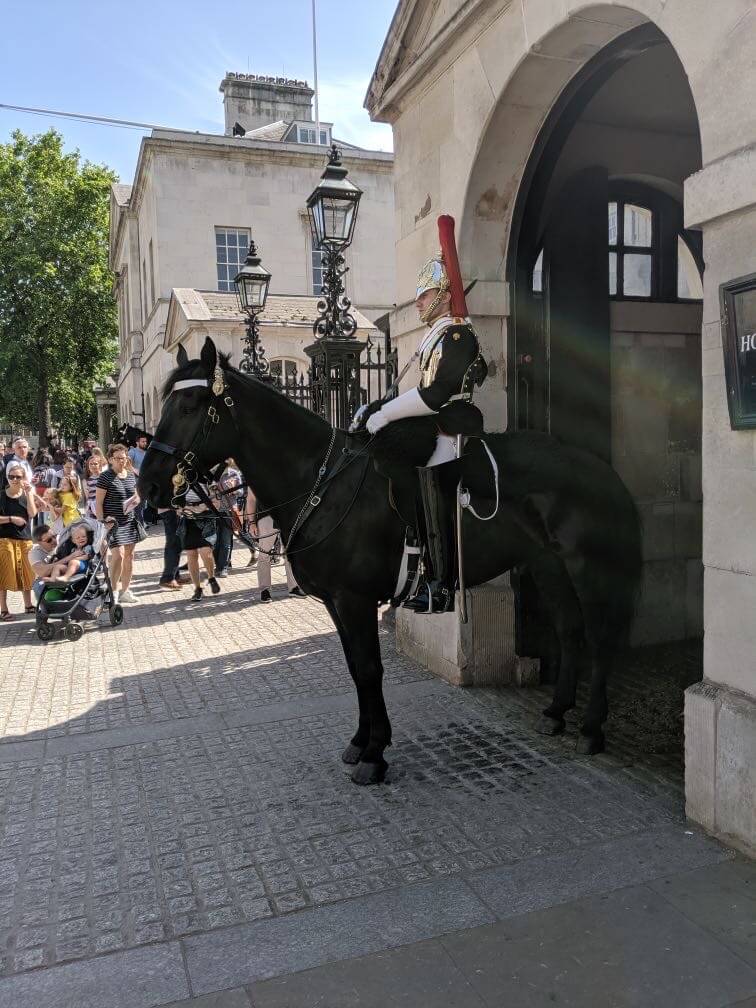 Once you've visited Big Ben and the Houses of Parliament, head down the road to Parliament Street. This historic London street is lined with government buildings and monuments leading to Trafalgar Square.

There are numerous war memorials on this stretch of road, the first being the Cenotaph where red poppy wreaths are laid to honour British servicemen and women who died serving their country.

The road changes from Parliament Street to Whitehall at the Cenotaph and, on the left, is Downing Street where the Prime Minister lives and works at Number 10. Downing Street is fenced off to the general public so the closest you'll get is the black gates on Parliament Street beside the white plaque reading Downing Street.

The best spot to take a souvenir picture is with a Horse Guard. The costumed soldiers guard the entrance and only members of the royal family can pass through the arch.

Parliament Street recommended by Bernadette from Explorer Chick.
Oxford Street – popular London shopping street
Oxford Street is one of the most famous streets in London for shopping, packed with stores selling clothes, souvenirs and more, alongside plenty of restaurants and hotels. With the beautiful buildings lining each side of the street, you could easily spend the day window shopping.
At Christmas, Oxford Street features some of the best Christmas lights in London. Each year the theme changes, but the display is always magical. Visit in the evening to see the lights turn on, or later once the crowds have gone. You can also visit early in the morning since the lights are on all night. Even during the day, the display is beautiful.

Oxford Street recommended by Christine of Live Love Run Travel.
Related activity: London Christmas lights bus tour
Bond Street
In the heart of Mayfair (yes, the most expensive spot on the Monopoly board!), Bond Street is full of boutiques catering to millionaire clientele. Although it connects to Oxford Street, it's the fancier area known for luxury boutiques, designer brands, antiques and art.

For iconic shopfronts on Bond Street, you can't do better than Cartier. This designer store with multiple floors and even more windows often gets dressed up for Christmas. A few years ago, she was decked out to look like a giant Christmas gift, bow and all!
Regent Street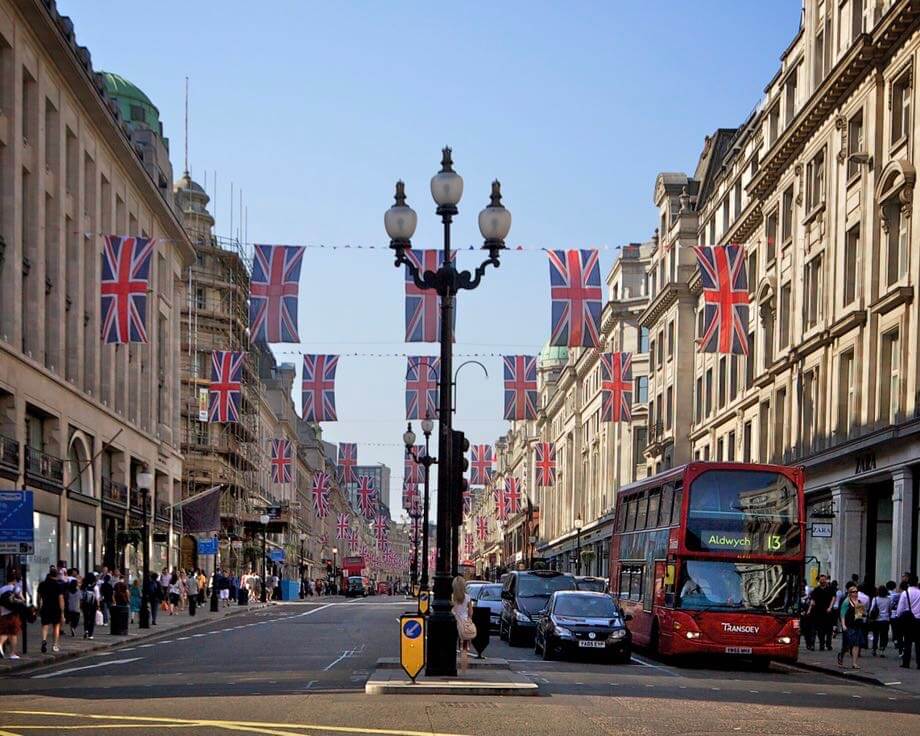 This famous London street starts at Langham Place and sweeps south past Oxford Street and Piccadilly Circus, ending in St James.

Along the way, you'll see famous stores including upmarket department store, Liberty, and London's oldest toy store, Hamleys. It's also home to the UK's flagship Apple store so expect to see huge queues when a new product is released.

Regent Street was designed during the regency of Prince George (later George IV) in the early 1800s, although most of the buildings were replaced during reconstruction in the late 19th century.

The street was also home to the Café Royal, the place to be seen for much of the 20th century. Famous patrons included Oscar Wilde, DH Lawrence and Diana, Princess of Wales. Sadly, the original closed in 2008, but in its place is the Hotel Cafe Royal, a lovely place for afternoon tea.

Although these, and many less famous establishments, are a great reason to visit Regent Street, you can simply stroll its length and get immersed in the West End of London.

Regents Street recommended by Chris of England and Explore.
Famous streets in East London
If I had to pick a word to describe East London, it would be 'quirky'. Areas go from rundown to gentrified and expensive, leaving the cool kids to move further out in search of the next one.

Areas like Shoreditch, Dalston, Spitalfields, Stoke Newington and Hackney Wick have been hip for several years now.

Popular East London streets include…
Broadway Market
Near London Fields, you'll find Broadway Market, a lively pedestrian street filled with independent shops and eateries. This Victorian market has been used since Roman times, historically as a tradesman's route.

Every Saturday, the happening street hosts its famous Saturday Market where stylish locals browse the stalls for artisanal products. It's one of the best non-touristy things to do in London for a peek into local life. Grab an outdoor table at La Bouche for coffee and people-watching.

Afterwards, browse the stalls for vintage goodies and handmade products. Buy delicious street food from one of the many food trucks and walk a few minutes north to London Fields for a picnic.
Read next: the best London street food markets & 18 dishes to try
The nearest overground station to Broadway Market is London Fields and the nearest tube station is Bethnal Green.

Broadway Market Street recommended by Cecily of Groovy Mashed Potatoes.
Brick Lane – famous London street art!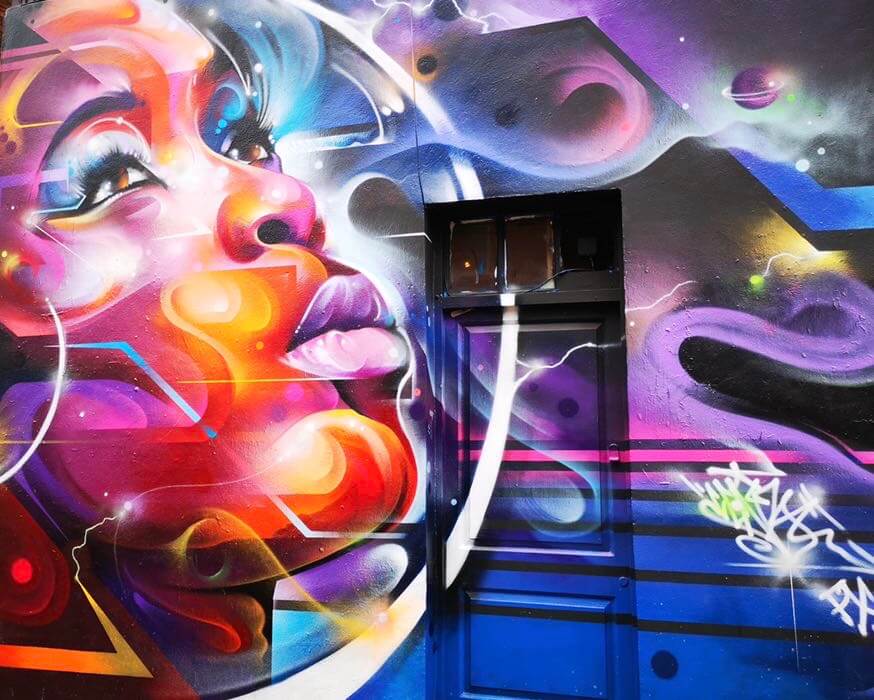 Brick Lane is a vibrant, multi-cultural street that runs through the heart of trendy Shoreditch. Add it to your London itinerary to peruse the spectacular array of street art that adorns Brick Lane and the surrounding streets.

Historically, Brick Lane was a poor area, dominated by slums in the streets stretching to Whitechapel where Jack the Ripper carried out his heinous crimes.
Related activity: Jack the Ripper walking tour
Later, Brick Lane became home for thousands of immigrants earning it the nickname Banglatown, thanks to the thriving Bangladeshi community, with Bangladeshi translations appearing on some street signs.

Since the '90s, Brick Lane has become one of the most popular London streets. The blend of cultures, coupled with edgy nightclubs, weekend markets and independent shops makes for a captivating combination.

Be sure to stop at some of the excellent cafes, curry houses and food stands. For authentic Jewish bagels oozing salt beef and mustard, look no further than Brick Lane Beigel Bake.
Brick Lane recommended by Claire from Tales of a Backpacker.
Columbia Road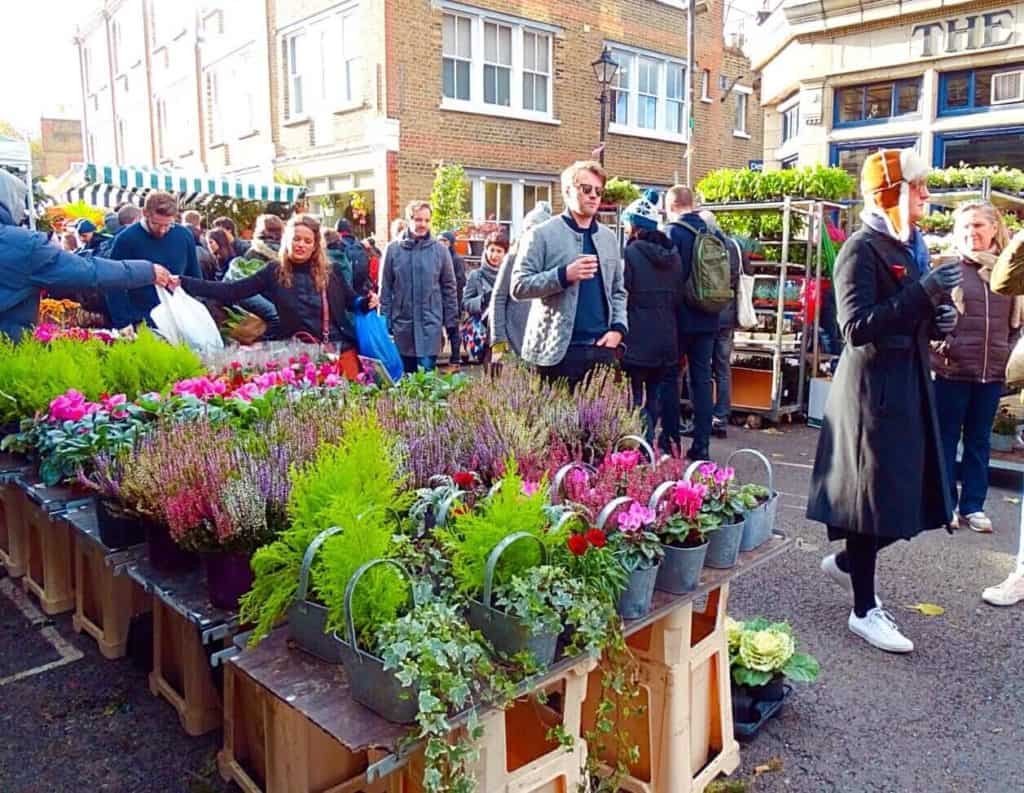 Although this London street of Victorian shops holds appeal in its own right, it's become synonymous with Columbia Road Flower Market, one of the top London markets to squeeze into your sightseeing plans.

Despite no longer being a hidden gem, the flower market has managed to retain a local feel rather than a touristic one (but make no mistake, it will still be rammed if you visit at peak times). Stalls with colourful canvas awnings pop up each Sunday, selling bright and beautiful flowers by the bucket load.

Visit from 8am-3pm come rain or shine. To bag a bargain, visit in the final hour and, to befriend the vendors, pay in cash rather than with card.

Aside from the Flower Market, browse ceramic art at Colbert Studio and tuck into pub grub at the Birdcage pub or the Royal Oak. Other notable eateries include Stringray Globe Pizzeria and Hermanos coffee shop.
Read next: how to spend a Sunday in East London
Famous streets in North London
Known for its fancy neighbourhoods like Hampstead and quirky hubs like Camden, you wouldn't want to miss North London. Here are a few of the unique streets to visit…
Flask Walk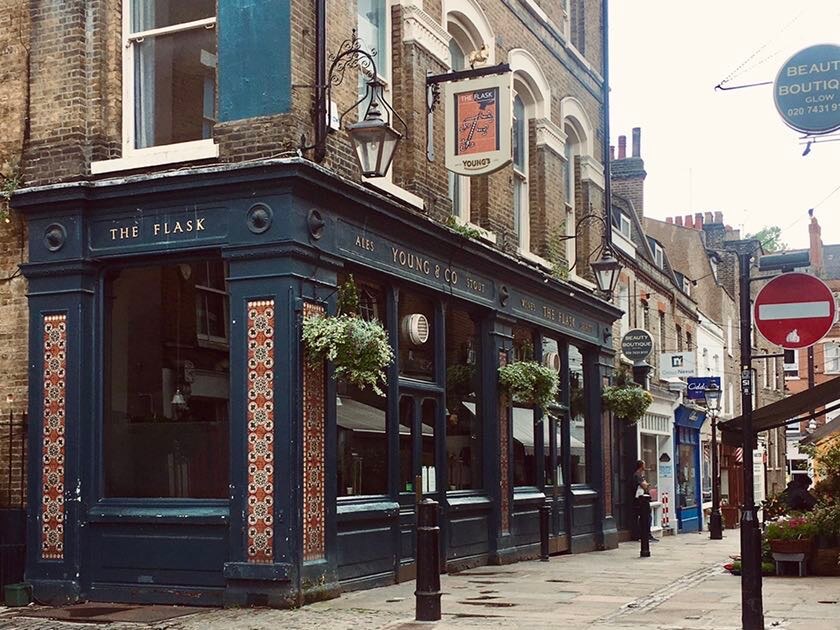 Hampstead is now a cosmopolitan neighbourhood where modern shops, restaurants and cafes – always in step with culinary trends – are hidden behind old-fashioned facades.

However, should you step off the high street and into one of its most famous alleys, Flask Walk, you'll discover the charm of an ancient English countryside village with small boutiques and shops. Let yourself be transported back in time by this historic London street.
Flask Walk is pedestrianised for the first 100 meters, dotted with small independent shops. The antique shop and second-hand design shop come first, followed by other interesting stores including barbers, ice cream parlours, pottery shops and an impressive plant and flower boutique, ending with the historic Flask Pub.

Continuing on, you can admire the delightful facades of the semi-detached houses which, with their colourful doors, will invite you to move here immediately! However, don't get confused by the village feeling: houses are perfectly in line with the high cost of living in London.

Flask Walk recommended by Clotilde from A Princess Travelling with Twins.
Abbey Road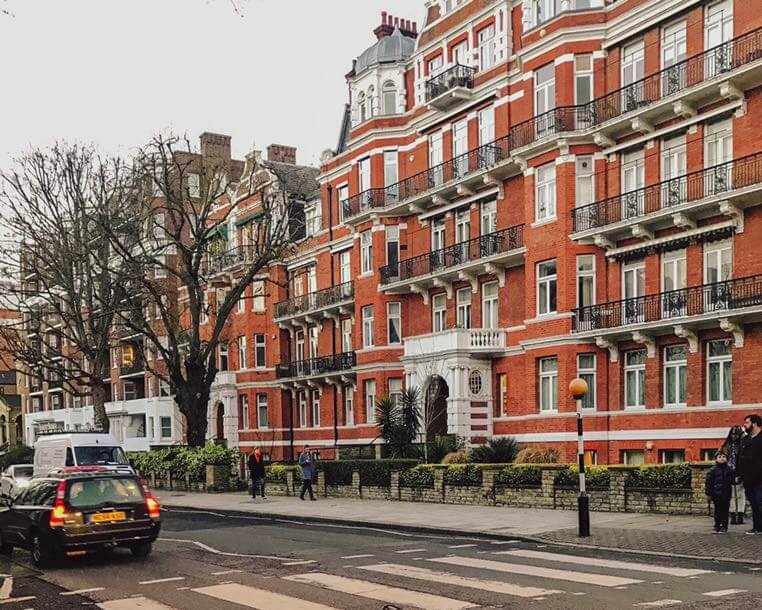 If you ask any music buff which is the most famous street in London, chances are they'll say Abbey Road, home to the world-famous Abbey Road Studios and the iconic zebra crossing featured on the cover of the Beatles' aptly-named 1969 album, Abbey Road.

Because of its importance in music history, Abbey Road is on the London bucket list of many travellers. The Abbey Road album art is one of the most iconic images in pop culture history, and tourists flock to this iconic London street to recreate it. The crossing is right beside the studios.

Although the studios aren't open for tourists, you can make your mark on their graffiti wall and pick up souvenirs at the official Abbey Road shop.

There's also a live webcam feed of the zebra crossing, so let your friends and family know when you're visiting so they can try to spot you!

Abbey Road recommended by Sydney from A World in Reach.
Camden High Street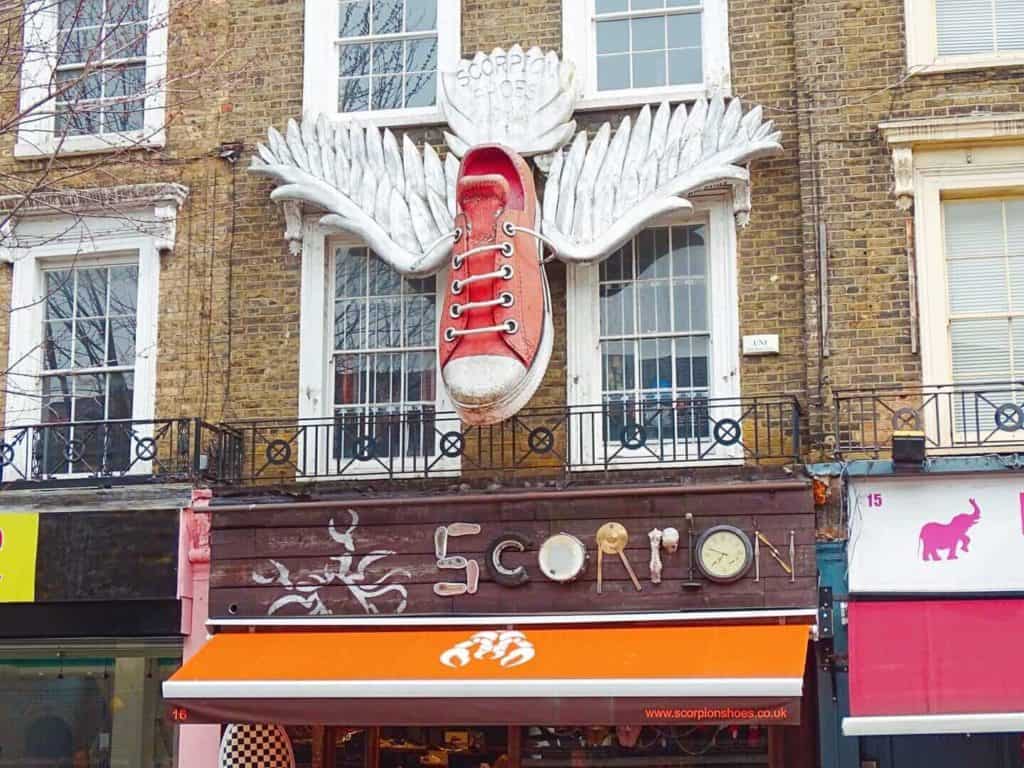 If you're searching for free things to do in London, look no further than Camden High Street, located near Camden Lock. The whole street is covered in funky artwork and iconic Camden street art, splattered on shops selling everything from urban clothing stores to eccentric homeware and souvenirs.

Of course, the most famous place to shop is Camden Market, open from 10am every day. This vibrant market boasts over 1000 stalls selling clothing, jewellery, food and trinkets. Don't miss KERB street food market in the back, serving delectable cuisine from around the world and, best of all, the famous halloumi fries from Oli Baba's!

Camden High Street recommended by Alice from Adventures of Alice.
Read next: a complete guide to visiting Camden
Chalcot Crescent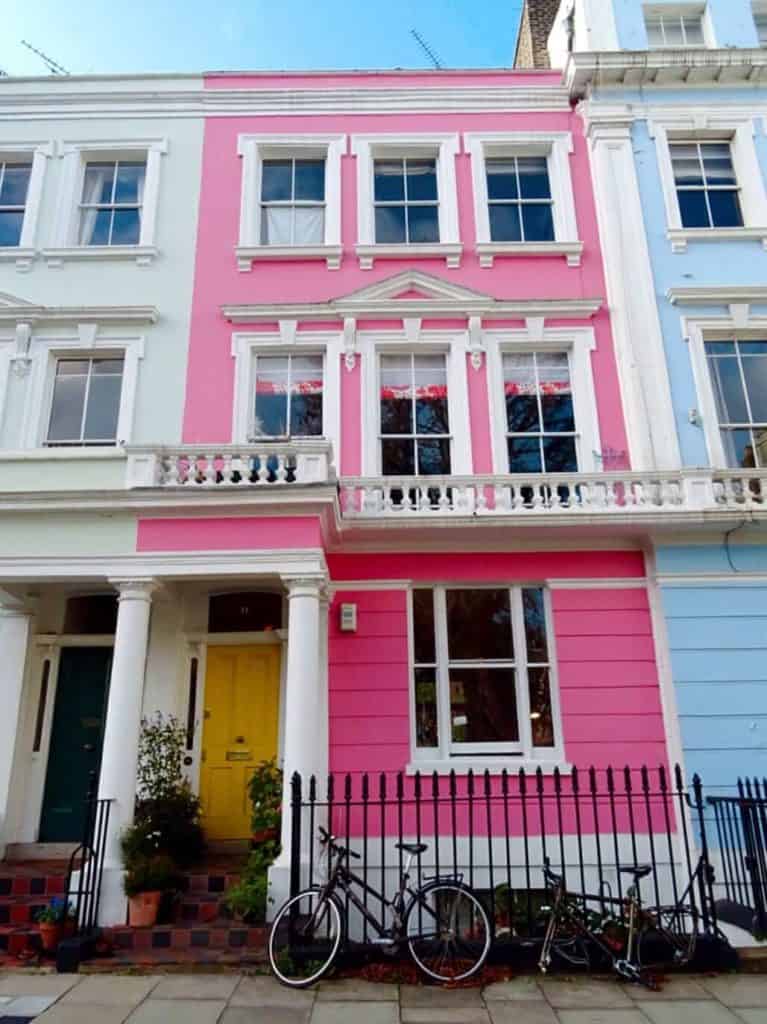 Colourful Chalcot Crescent is a popular street in London, located in the enviable North London neighbourhood of Primrose Hill. The main appeal of Chalcot Crescent is the long, curved row of tall pastel-coloured houses.

After admiring the Chalcot Crescent houses, explore Primrose Hill by visiting Regents Park, taking a canal ride and admiring London's skyline from the Primrose Hill walk.

In addition, Primrose Hill is full of literary links. Spot blue plaques around the area to see where writers and other famous people once lived. Finally, support local businesses by doing a spot of shopping.

Chalcot Crescent, Chalcot Square and the surrounding Primrose Hill streets have long been popular with celebrities and, during the 90s, Kate Moss, Jude Law and the Gallagher brothers were known as 'the Primrose Hill Set'. The area still holds residential appeal so be on the lookout for stars!

Chalcot Crescent recommended by Shireen from The Happy Days Travels.
Recap of the famous streets in London
Portobello Road (West London) – market shopping and movie locations
St Luke's Mews (West London) – colourful houses
Ennismore Gardens Mews (West London) – colourful houses
Kynance Mews (West London) – colourful houses
Brompton Road (West London) – designer shopping
Bywater Street (West London) – colourful houses
Exhibition Road (West London) – museums
King's Road (West London) – upmarket shops and restaurants
Carnaby Street (Central London) – shops and restaurants
Shaftesbury Avenue (Central London) – West End theatres
Gerrard Street (Central London) – Chinatown
Baker Street (Central London) – Sherlock Holmes history
Parliament Street / Downing Street (Central London) – political buildings
Oxford Street (Central London) – shopping and Christmas lights
Bond Street (Central London) – designer shopping
Regent Street (Central London) – shops and sightseeing
Broadway Market (East London) – artisan goods shopping
Brick Lane (East London) – street art and ethnic eats
Columbia Road (East London) – famous flower market
Flask Walk (North London) – a step back in time
Abbey Road (East London) – music history
Camden High Street (North London) – markets and street art
Chalcot Crescent (North London) – colourful houses.
FAQs about London's famous roads
What's the oldest street in London?

Fleet Street in the City of London is thought to be the most historic street in London dating back to the Middle Ages. It's also a former newspaper hotspot.

What are the busiest streets in London?

Oxford Street is probably London's busiest street, along with Regent Street just around the corner. Avoid on Saturdays, if possible!

What is the famous shopping street in London?

Oxford Street and Bond Street are prime shopping streets, but you can head to King's Road for upmarket boutiques and Portobello Road for antique market shopping.
Thanks for reading!
Check out my other London blogs:
Liked these famous London roads and streets? Pin this for later!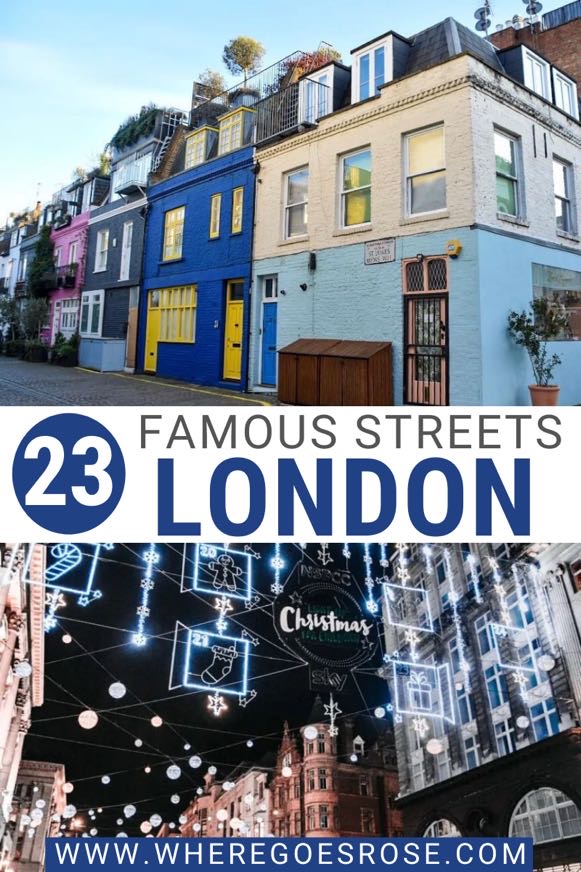 For more travel content, follow me on Instagram, Facebook, Twitter and YouTube.
Visiting the UK? 

These are my trusted resources…

Guidebooks – LP always get my seal of approval. Use the latest copy of Lonely Planet England.

Flights (international and domestic): I use Skyscanner to find the best-value flights, using the 'search by month' tool to find the cheapest dates. You can also use the 'to anywhere' feature if you're flexible on where you're going.

Car hire – use Rentalcars.com to compare car rentals in the UK (and all around the world).

For UK trains, I use Trainline. The search feature allows you to compare prices, and they show live departure times on the website.

For buses, I use Busbud. It's the only site that compares UK coaches and buses. Find London to Manchester journeys for £1!

Use Omio to compare trains and buses in one search. It's so handy!

For hotels and self-catering apartments, I use Booking.com. You can filter by review score and price to find the best-rated budget places. For hostels, I use Hostelworld.com.

To save money on accommodation, I use Trusted Housesitters, a website that connects homeowners going away and travellers who can sit their homes & pets.

I use GetYourGuide for tours & activities when I don't want to travel solo. The guides are knowledgeable and you can't beat the prices. I also check Viator as they often have fun and unique offerings.

For food tours pairing travellers with passionate local chefs and foodies, check out EatWith. 

Need travel insurance? I use True Traveller (for Europe residents) since it's affordable but covers everything you'd need including various activities, valuables and pre-existing conditions. Unlike some companies, they insure you if you're already travelling / don't yet have your flight home booked. Get a quote.

For travel insurance for other nationalities, I recommend Hey Mundo and for long-term digital nomad travellers, I suggest Safety Wing.

Check out my resources page for more travel discounts and budget tips from my 10+ years on the road!