Despite the rain and lack of eye contact on the Tube, London is truly one of my favourite cities in the UK. With centuries of history and buckets of character, there are countless famous London streets to explore.

From famous London shopping streets to those with a political function or literary connection, there are almost too many notable London streets to count.
LONDON ESSENTIALS

Lonely Planet Pocket London

Getting to London: Trainline / Busbud

Getting around London: Tube / Bus / Overground

Accommodation: Booking.com / Hostelworld

Activities: GetYourGuide
Portobello Road – a popular London street for antique shopping
Ennismore Gardens Mews
Another famous London street is Ennismore Gardens Mews in Knightsbridge. This narrow cobbled street will temporarily transport you from bustling London to a country village.

Here you'll find endless photo opportunities thanks to the pastel-coloured houses in shades of pink, yellow and blue. These houses were previously coach houses and stables, since converted into desirable houses and apartments.

The best bit? This West London street isn't as crowded as many other popular streets in London. Afterwards, visit nearby places of interest including Brompton Oratory Church, the Victoria and Albert Museum and Brompton Road, famous for its luxury shops and cafes.

Ennismore Gardens Mews recommended by Asha Bhatia from Home Travel Guide.
Kynance Mews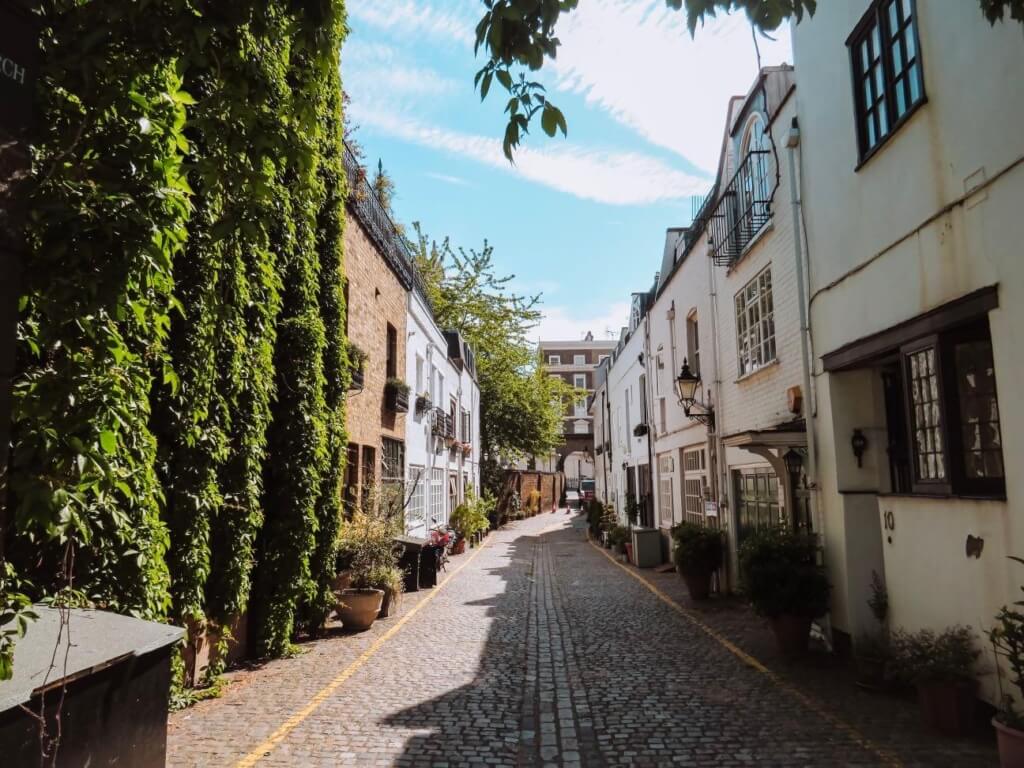 Brompton Road
Brompton Road, running through the centre of Knightsbridge, is a keen contender for the most famous shopping street in London. It's mostly one-way, ending just before South Kensington station.

Between these two points, there are hundreds of shops selling products ranging from sunglasses and handbags to antiques and designer clothes.

Browse items by world-famous designers such as Armani, Chanel and Louis Vuitton, as well as internationally renowned jewellers and antique and art dealers. Brompton Road is also home to some of the most expensive retail property in the world.

You'll find some of London's most famous stores including Harrods (featuring on many London bucket lists), located on the eastern side of Brompton Road near Harvey Nichols.

The 1km-long road is easily walkable. Just remember to leave the credit cards at home!

Brompton Road recommended by Tracy from UK Travel Planning.
Bywater Street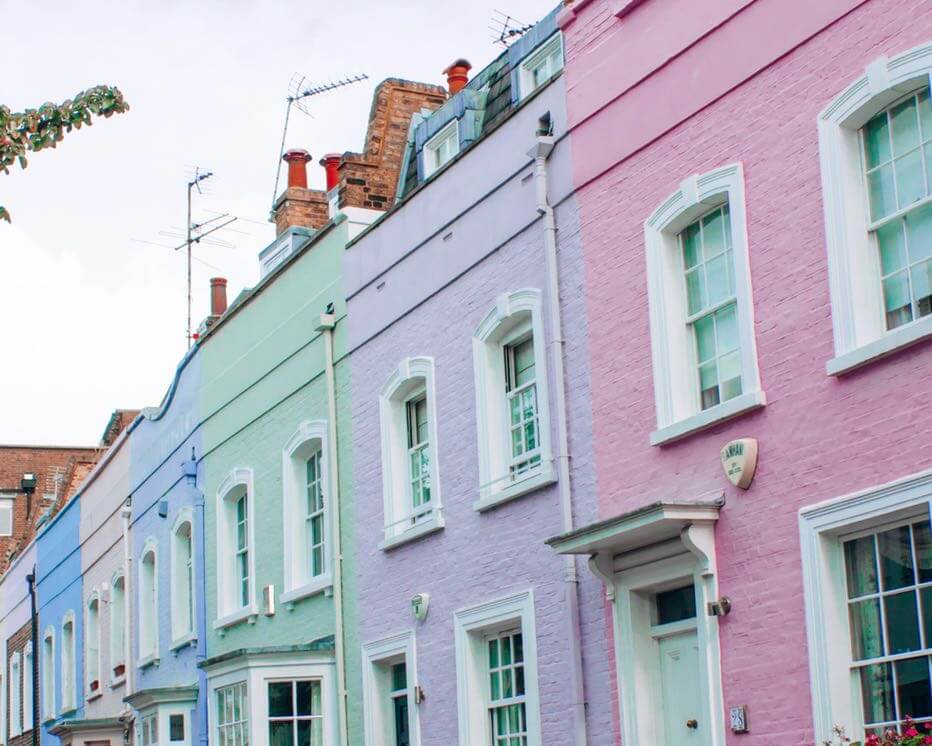 Another of the most notable streets in West London is Bywater Street, found in Chelsea next to King's Road. The street is known for being one of the most colourful places in London… And for the crowds of people usually snapping photos of the rainbow houses!

Nearby, you can find some excellent (and very Insta-friendly) cafes and restaurants such as Peggy Porschen bakery and the Ivy Chelsea Garden.

Another reason Bywater Street is a well-known street in London is that number 9 was the home of George Smiley, a fictional character from the books by John le Carré. The street appears in various film and series adaptations of the novels.

Bywater Street recommended by Dymphe from Dym Abroad.
Exhibition Road – a famous London street for museums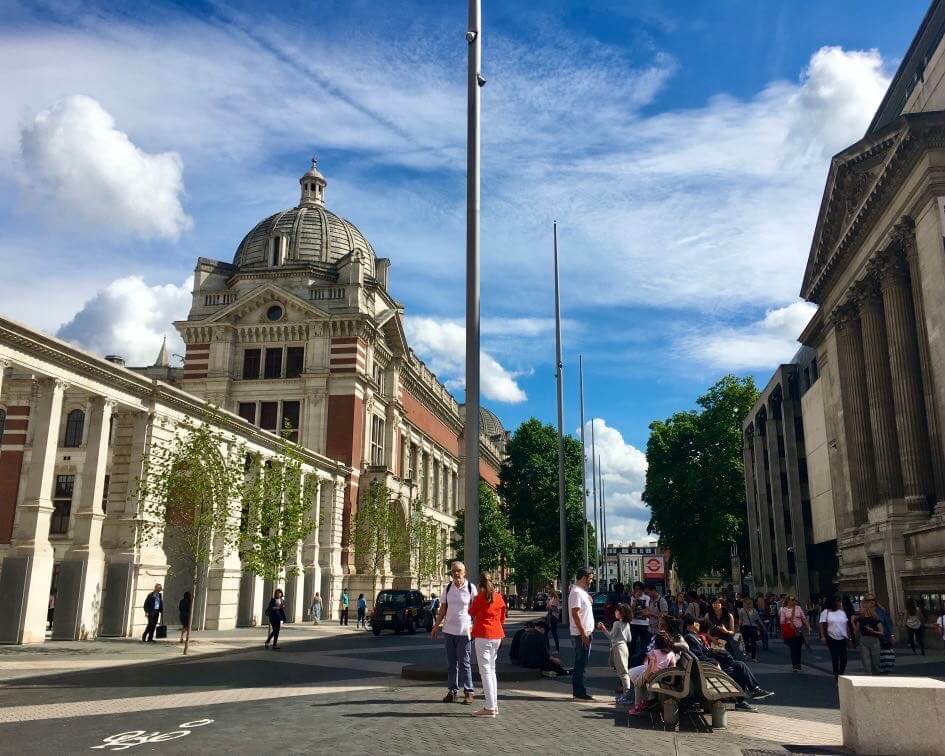 As notable streets in London go, one of the most culturally rich is Exhibition Road. The reason is simple: it houses three grand museums, a world-class university and numerous smaller institutions.

The road took its name from the Great Exhibition of 1851 held in the area. The exhibition was a success and the money collected was used to fund the four great institutions of the road: the Natural History Museum, the Victoria & Albert Museum, the Science Museum and the Imperial College London.

Exhibition Road has a wide pavement (almost indistinguishable from the road), commonly packed with tourists queuing to enter the museums, students rushing to lectures and street performers entertaining the crowds.

The area around Exhibition Road is also worth a wander. At one end, you'll find Alexandra Gate leading to Hyde Park and Kensington Gardens and, at the other end, South Kensington station and a variety of restaurants. The Royal Albert Hall, known for its diverse schedule of performances, is just a short walk away.

Exhibition Road recommended by Elina from Empnefsys &Travel.
Carnaby Street is one of the most popular streets in London and for good reason. Located north of Central London's Soho district, it's a magnet for visitors from around the world.

Although little of the former 1960s flair is left, the reinvented pedestrian zone remains a jewel of the city with colourful townhouses, eye-catching decorations and unique boutiques and restaurants.

In the colourful shopping streets, you can splurge or browse in the boutiques and find charming spots to take photos. Don't miss the passage with the well-photographed 'Welcome to Carnaby Street' sign.

The numerous pubs, bars and restaurants make Carnaby Street a great evening destination although, due to its central location, sadly not a cheap one!

You can easily reach Carnaby Street by bus or Tube (Oxford Circus and Piccadilly Circus stations are nearby).

Carnaby Street recommend by Martina from PlacesofJuma.
Gerrard Street
Baker Street – the most famous London literature street
Parliament Street & Downing Street – London's famous political street
Once you've visited Big Ben and the Houses of Parliament, head down the road to Parliament Street. This historic London street is lined with government buildings and monuments leading to Trafalgar Square.

There are numerous war memorials on this stretch of road, the first being the Cenotaph where red poppy wreaths are laid to honour British servicemen and women who died serving their country.

The road changes from Parliament Street to Whitehall at the Cenotaph and, on the left, is Downing Street where the Prime Minister lives and works at Number 10. Downing Street is fenced off to the general public so the closest you'll get is the black gates on Parliament Street beside the white plaque reading Downing Street.

The best spot to take a souvenir picture is with a Horse Guard. The costumed soldiers guard the entrance and only members of the royal family can pass through the arch.

Parliament Street recommended by Bernadette from Explorer Chick.
Oxford Street – popular London shopping street
Oxford Street is one of the most famous streets in London for shopping, packed with stores selling clothes, souvenirs and more, alongside plenty of restaurants and hotels. With the beautiful buildings lining each side of the street, you could easily spend the day window shopping.
Regent Street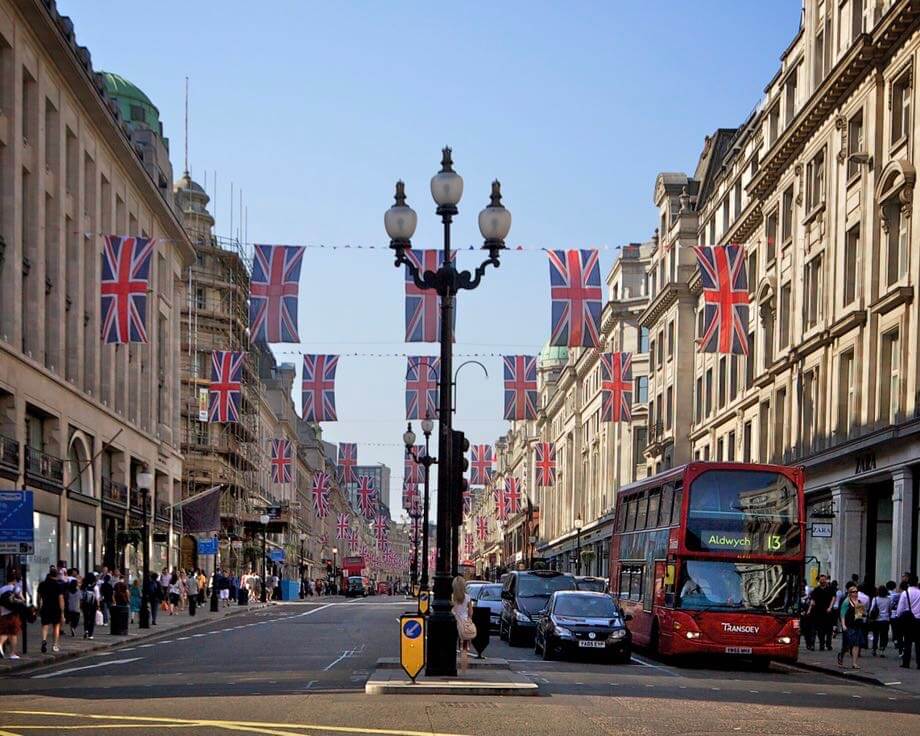 This famous London street starts at Langham Place and sweeps south past Oxford Street and Piccadilly Circus, ending in St James.

Along the way, you'll see famous stores including upmarket department store, Liberty, and London's oldest toy store, Hamleys. It's also home to the UK's flagship Apple store so expect to see huge queues when a new product is released.

Regent Street was designed during the regency of Prince George (later George IV) in the early 1800s, although most of the buildings were replaced during reconstruction in the late 19th century.

The street was also home to the Café Royal, the place to be seen for much of the 20th century. Famous patrons included Oscar Wilde, DH Lawrence and Diana, Princess of Wales. Sadly, the original closed in 2008, but in its place is the Hotel Cafe Royal, a lovely place for afternoon tea.

Although these, and many less famous establishments, are a great reason to visit Regent Street, you can simply stroll its length and get immersed in the West End of London.

Regents Street recommended by Chris of England and Explore.
Broadway Market
Brick Lane – famous London street art!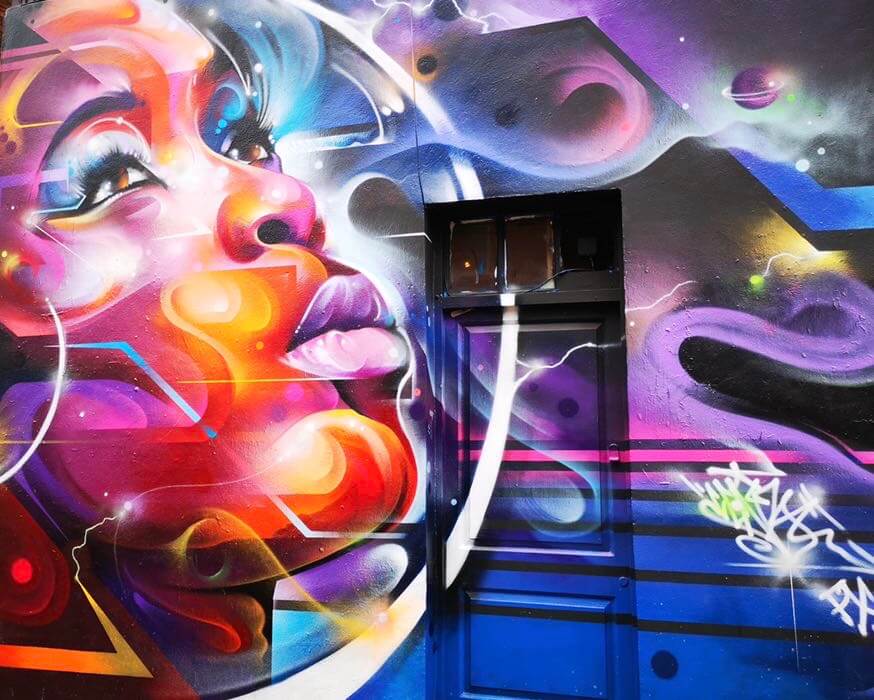 Brick Lane recommended by Claire from Tales of a Backpacker.
Columbia Road
Flask Walk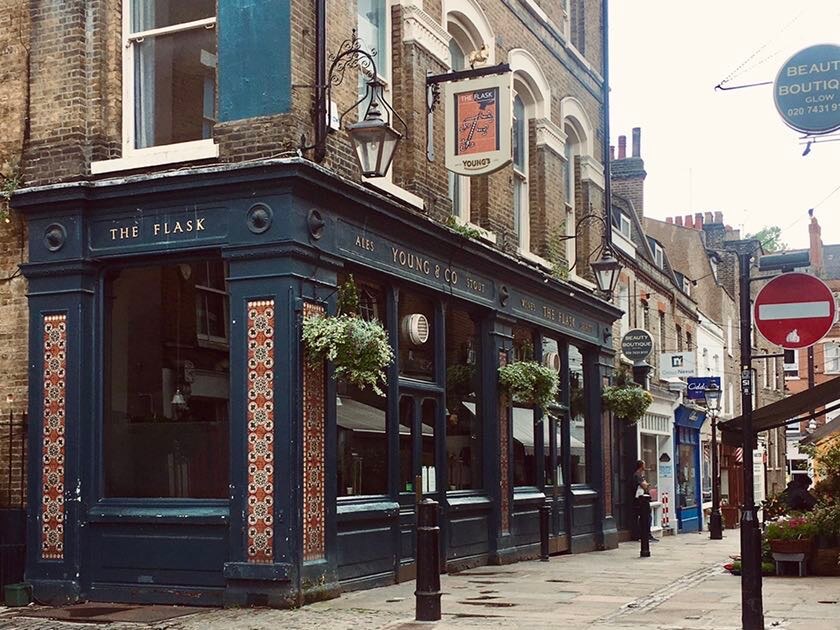 Hampstead is now a cosmopolitan neighbourhood where modern shops, restaurants and cafes – always in step with culinary trends – are hidden behind old-fashioned facades.

However, should you step off the high street and into one of its most famous alleys, Flask Walk, you'll discover the charm of an ancient English countryside village with small boutiques and shops. Let yourself be transported back in time by this historic London street.
Flask Walk is pedestrianised for the first 100 meters, dotted with small independent shops. The antique shop and second-hand design shop come first, followed by other interesting stores including barbers, ice cream parlours, pottery shops and an impressive plant and flower boutique, ending with the historic Flask Pub.

Continuing on, you can admire the delightful facades of the semi-detached houses which, with their colourful doors, will invite you to move here immediately! However, don't get confused by the village feeling: houses are perfectly in line with the high cost of living in London.

Flask Walk recommended by Clotilde from A Princess Travelling with Twins.
Abbey Road
Camden High Street
Chalcot Crescent
Colourful Chalcot Crescent is a popular street in London, located in the enviable North London neighbourhood of Primrose Hill. The main appeal of Chalcot Crescent is the long, curved row of tall pastel-coloured houses.

After admiring the Chalcot Crescent houses, explore Primrose Hill by visiting Regents Park, taking a canal ride and admiring London's skyline from the Primrose Hill walk.

In addition, Primrose Hill is full of literary links. Spot blue plaques around the area to see where writers and other famous people once lived. Finally, support local businesses by doing a spot of shopping.

Chalcot Crescent, Chalcot Square and the surrounding Primrose Hill streets have long been popular with celebrities and, during the 90s, Kate Moss, Jude Law and the Gallagher brothers were known as 'the Primrose Hill Set'. The area still holds residential appeal so be on the lookout for stars!

Chalcot Crescent recommended by Shireen from The Happy Days Travels.
FAQs about London's famous roads
What's the oldest street in London?

Fleet Street in the City of London is thought to be the most historic street in London dating back to the Middle Ages. It's also a former newspaper hotspot.

What are the busiest streets in London?

Oxford Street is probably London's busiest street, along with Regent Street just around the corner. Avoid on Saturdays, if possible!

What is the famous shopping street in London?

Oxford Street and Bond Street are prime shopping streets, but you can head to King's Road for upmarket boutiques and Portobello Road for antique market shopping.