This post may contain affiliate links to things like tours, hotels, Amazon associates and products. These help me earn a small commission at no additional charge to you.
I want to tell you about the most gorgeous summer afternoon I spent exploring Wittenham Clumps. Despite them being in Oxfordshire where I grew up, I'd never even heard of this place before. I'm so glad it's now on my radar because I'd come back again and again.

Whether you park beside the Clumps or spend a half-day taking a Wittenham Clumps walk from Dorchester-on-Thames, it's well worth a visit.

In the relatively flat county of Oxfordshire, the elevated Wittenham Clumps – known locally simply as 'The Clumps' – provide a scenic vantage point. The views from the top are the best for miles around.
Read next: The best walks in Oxfordshire
Whether you're an Oxfordshire local or visitor, I would highly recommend a couple of hours or a half-day visiting Wittenham Clumps. There are two ways to visit depending how much time you have and if you fancy a countryside walk.

In this blog, I'll outline how to see The Clumps, where to park, a brief history and how to take a full Wittenham Clumps walk.
What are Wittenham Clumps?
A good question. From afar, you might see these two rounded hills with clumps of trees on top and wonder what on earth they are. We know clumps can be made of different things but Wittenham doesn't give many clues.

Actually, the name Wittenham Clumps doesn't refer to the two hills but the trees. These dense beech trees on top create a thick clump which were recently used as a filming location in the third series of the Netflix show, Black Mirror.

There are two notable hills to visit at Wittenham Clumps. The adventurously-named larger one is called Round Hill and stands at 120m above sea level. The slightly smaller Castle Hill displays the remainder of an ancient fort used to spy and ward off attackers during the Iron Age.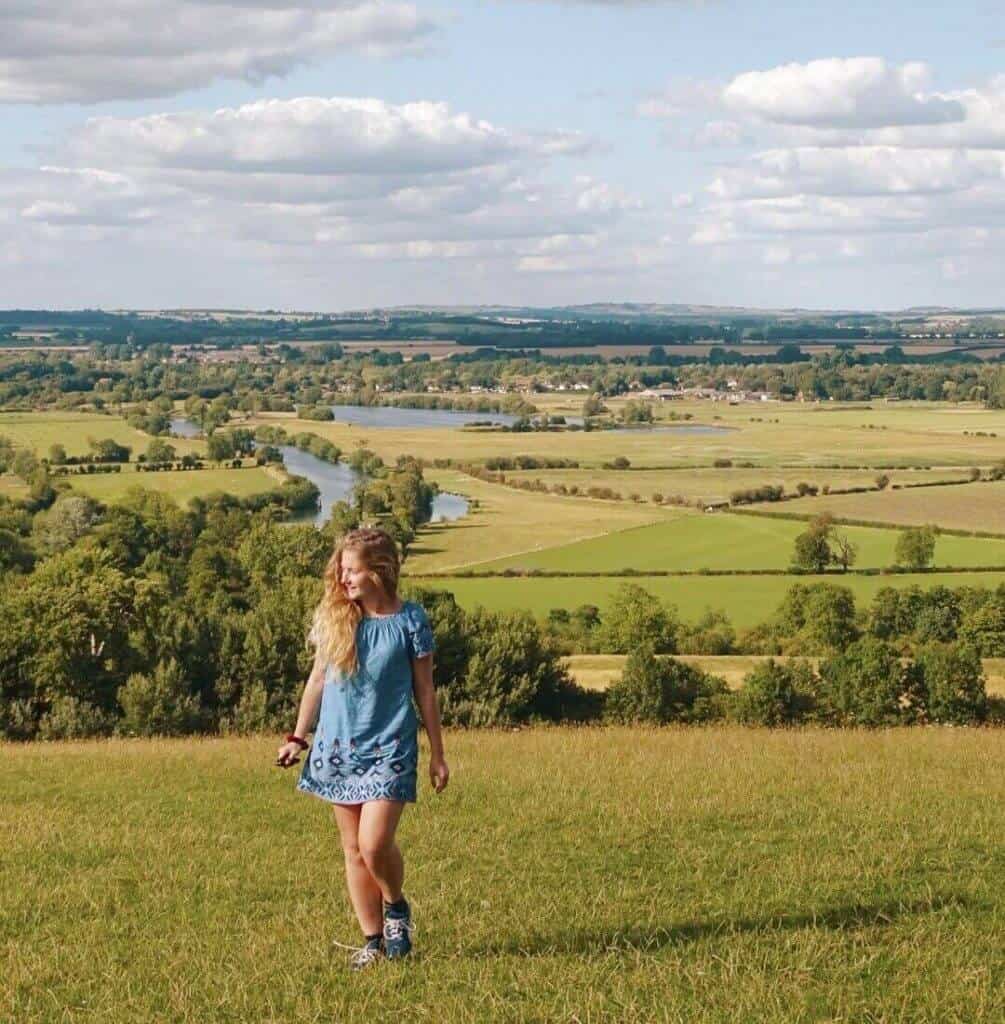 Where are Wittenham Clumps?
These unusual hill formations can be found beside the Thames in south Oxfordshire. The nearest villages are Long Wittenham, a small and idyllic village, and Dorcester which is slightly larger and home to Dorchester Abbey and various pubs and shops.
Getting to Wittenham Clumps
Wittenham Clumps are a 10-minute drive from Abingdon, a 20-minute drive from Oxford and around 90 minutes from London. We came from West Oxfordshire but I imagine the journey from London would be an attractive one, passing through the Chiltern Hills AONB.

Public transport around this area is quite limited. However, you could catch a bus from Oxford or Abingdon to Dorchester-on-Thames and take the Wittenham Clumps walk in 30 minutes, taking in gorgeous surroundings along the way.

Actually, even if you're driving, I'd really recommend starting in Dorcester and enjoying this scenic walk which I'll discuss later on.

Parking at Wittenham Clumps: There's a car park right beside Wittenham Clumps, simply enter Car park for Wittenham Clumps into Google Maps. It's around a mile off A4130 at Brightwell-cum-Sotwell. You can park for free for up to two hours which is more than enough time to visit them. The walk from the car park is a short one of five minutes but it's fairly steep.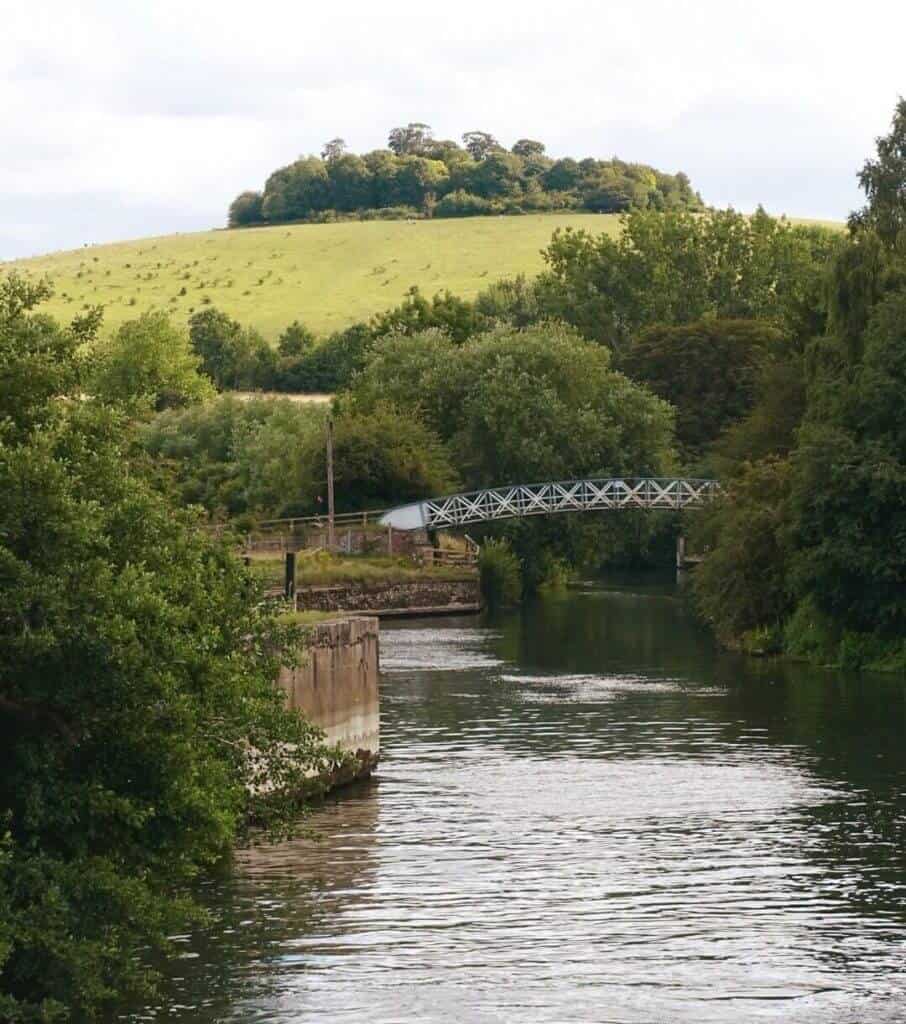 History of Wittenham Clumps
While these chalk hills were naturally formed, Wittenham Clumps have a long history dating back thousands of years. Artifacts found in the area date back to the Bronze Age. If that doesn't mean much to you, don't worry because it didn't to me either.

Quick history lesson – the Bronze Age spanned the years 3000–1300 BC meaning it began around 5,000 years ago.

Evidence from the Iron Age and Roman era can also be found at Wittenham Clumps. The smaller Castle Hill isn't as visually impressive as Round Hill but it's a must-see for historians because of its Iron Age hill fort. You can clearly see where walls would have surrounded the fortress, as well as a ditch where a moat would have surrounded it.

This would have also likely penned in goats and cattle, ensuring the settlement could source food and provide for itself during a siege.

The lofty position of Castle Hill would have meant that the inhabitants would have seen intruders coming many miles away.

As for the clumps themselves, they have a long history. The dense thicket of beech trees was planted in the 1740s, now making them some of the oldest in England. Wittenham Clumps have inspired visitors for centuries including British artist, Paul Nash. Upon seeing the impressive twin hills, he wrote:
A beautiful legendary country haunted by old gods long forgotten

Paul Nash
Things to do at Wittenham Clumps
Wandering around Wittenham Clumps and taking photos might be enough for you. If not, there are a few specific things to do nearby. Sadly the footpath through the thicket of trees has been closed due to danger of falling branches.

These days you can stroll around the Clumps and capture different countryside views from the outside. I was enchanted by the two-toned fields of light and dark crops in the distance seen through purple thistles with springs of aromatic wild marjoram at my feet.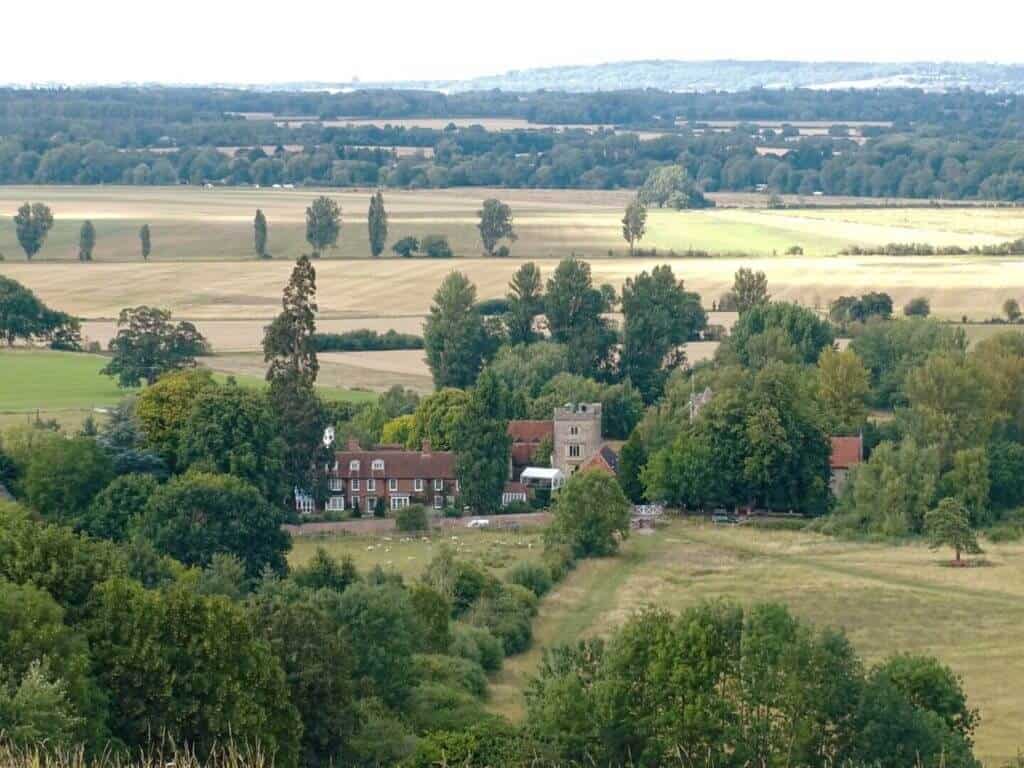 The Poem Tree
Until 2012, a tree that had stood upon this spot sadly collapsed after 300 years of life. In 1845, a British poet named Joseph Tubb carved into the tree a poem detailing the story of Wittenham Clumps, although the words became illegible with age.

Nowadays, a rock stands in its place with a plaque where you can read the original poem in his handwriting.
Wittenham Clumps walk (starting at the Clumps)
If you follow the footpath down Wittenham Clumps (the opposite side to the car park) you will reach St Peter's Church in Little Wittenham. From here, you can take a lovely 2-mile Wittenham Clumps walk. Turn right when you reach the church and cross the bridge over The Thames.

Take another right along the Thames Path and embark on a circular walk with the river running along your right-hand side. Just before you reach another bridge and tributary of The Thames, take a left and continue all the way around the field until you reach back to the first bridge near St Peter's Church.

Alternatively, you can walk into Dorchester-on-Thames rather than back to Wittenham Clumps.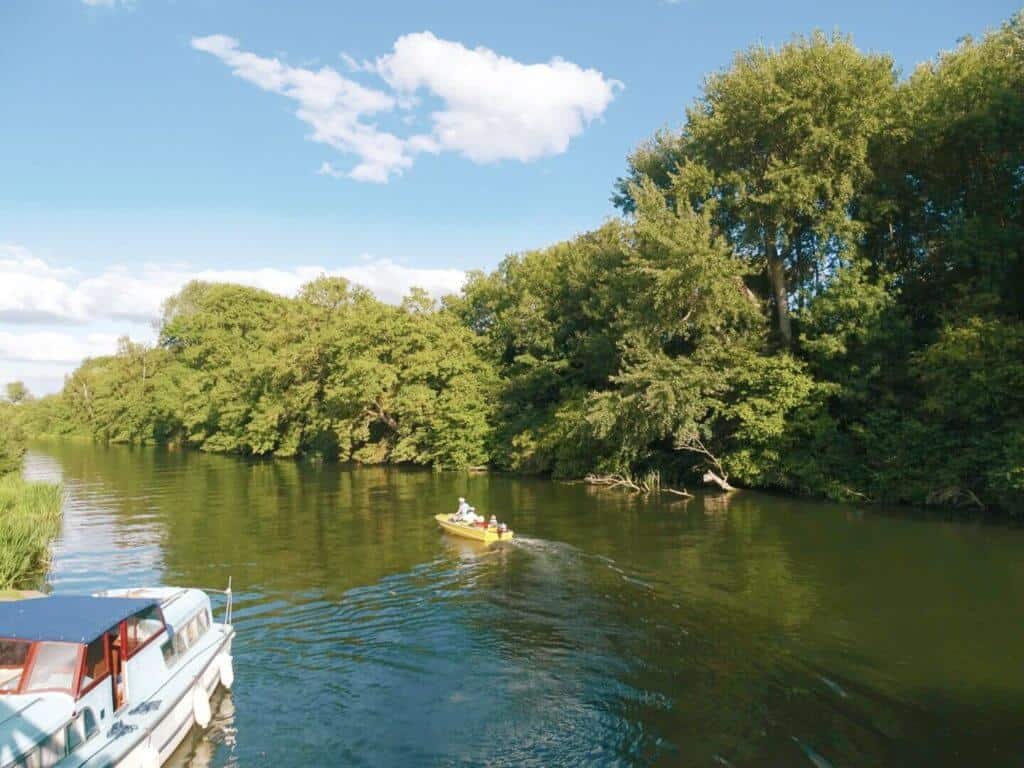 Tombs
Unusual burial sites have also been found surrounding Wittenham Clumps. Archaeologists have discovered a notable joint grave containing a male and a dismembered female buried alongside a sheep, joint of meat and supply of grains, presumably to supply them in the afterlife.

There's speculation this could have been a human sacrifice due to the dismembered nature of the female, something that was practised by the Romans. These tombs resemble large bumps in the ground. Find them in the field across the bridge (past the lock) on the way to Dorchester-on-Thames.
Days lock
Another interesting place to visit near Wittenham Clumps is Days Lock, a historic site in Oxfordshire with some quirky history. The World Poohsticks Championships were held on this bridge for three decades until 2015.

I'm sad to hear they've stopped but all is not lost. People still play pooh sticks on this bridge, including a little boy of about four as we passed by. In summer months, there's also a campsite by the Locks, plus you can start steamboat cruises here with Salter's Steamers.

Otherwise, you can simply wander along the bridge crossing the Lock and learn how they function.
Wittenham Clumps walk from Dorchester-on-Thames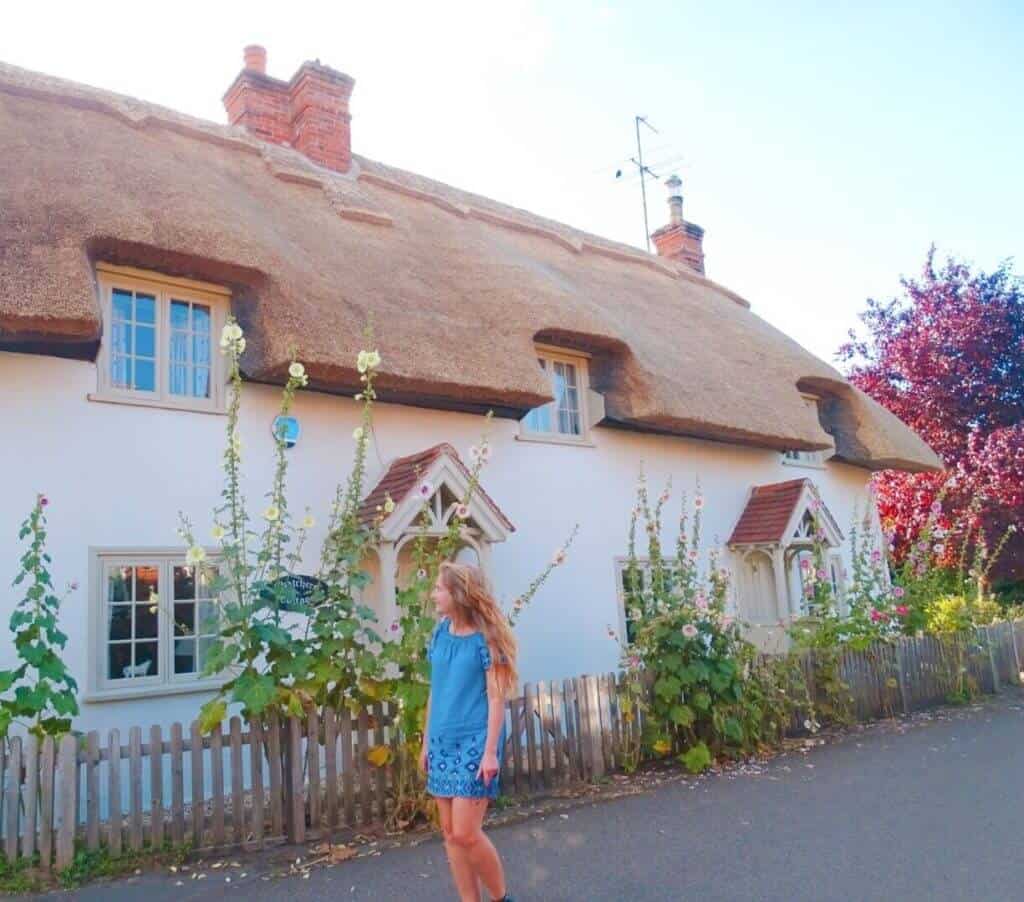 For the full afternoon trip that I took, I would recommend parking in Dorchester-on-Thames, either in town or the car park by the bridge, where there are also public toilets.

You can start or finish your Wittenham Clumps walk by wandering around the quaint village and checking out the main attractions before beginning your 4-mile walk to Wittenham Clumps. Keep reading for the directions…
Things to do in Dorchester
Dorchester Abbey: The most impressive attraction within Dorchester-on-Thames is Dorchester Abbey dating back to the year 1140. This medieval abbey was built on the site of a Saxon Cathedral meaning some type of religious building has stood here since the 7th century.

The Abbey is open every day of the year from 8am until 6pm in summer and dusk in winter. Entrance is free but you can leave a donation, or pop into the museum and cafe where you can purchase tea and cake.

The George Hotel: Don't leave Dorchester without nipping into this 15th-century coaching inn for a pint or spot of tea and cake. Many years ago, this was a place for weary travellers journeying by coach and horses to stop and rest their heads.

The coaches may have been upgraded to cars but the principle is the same today. If you need a place to stay overnight while visiting Wittenham Clumps, check availability here.

Otherwise, you can visit the pub garden for breakfast, lunch, dinner, afternoon tea or drinks. I didn't eat here myself but the menu includes burgers, scampi and chips, vegan wellington, ploughman's cheese and meat platters, sandwiches and jacket potatoes. Proper English pub grub!
Dorchester to Wittenham Clumps walk
Depart Dorchester-on-Thames from the (free) car park on the right-hand side of the bridge and head towards St Birinus Church, a charming catholic church. The church was closed to visitors during my visit due to coronavirus but I hear there are some impressive stained glass windows inside.

After a quick visit inside, find Wittenham Lane on the other side of the road. Here you'll see a public footpath sign pointed towards the River and Wittenham. Follow this lane until you reach the field and take the gate into it.

Turn right and follow the path towards Little Wittenham with the ancient burial mounds on your left, crossing the River Thames over the bridge. From here, you will be able to see Wittenham Clumps and head upwards towards them.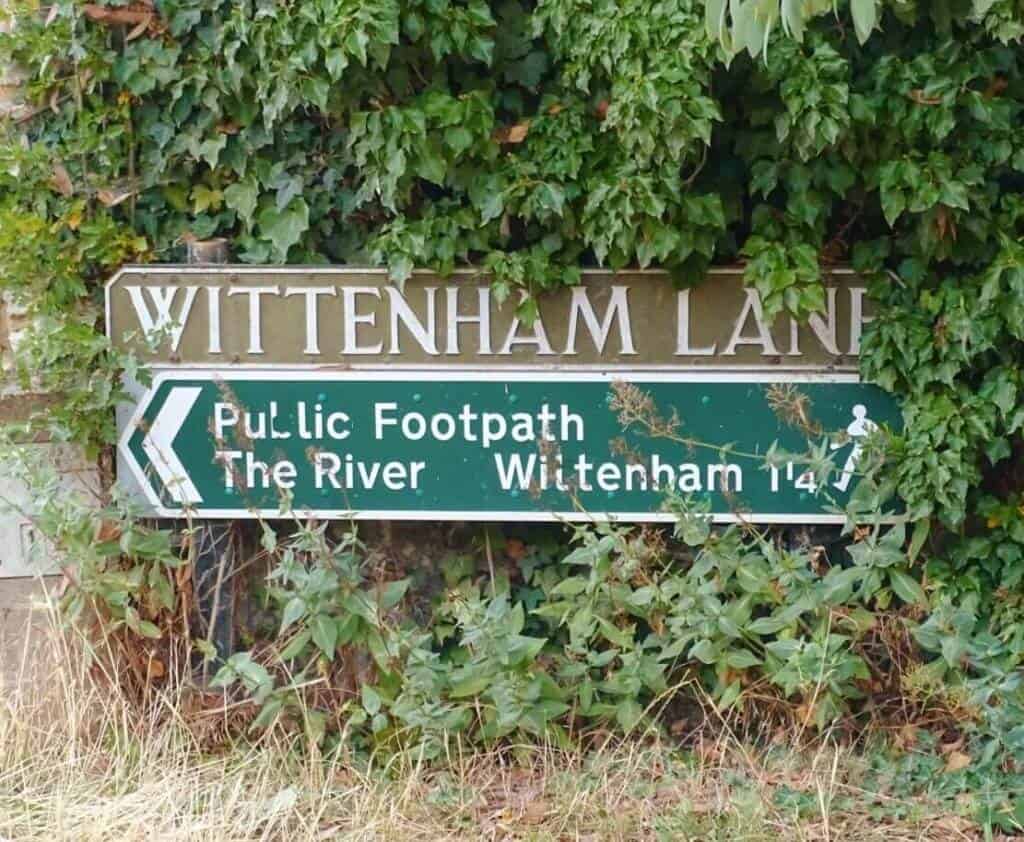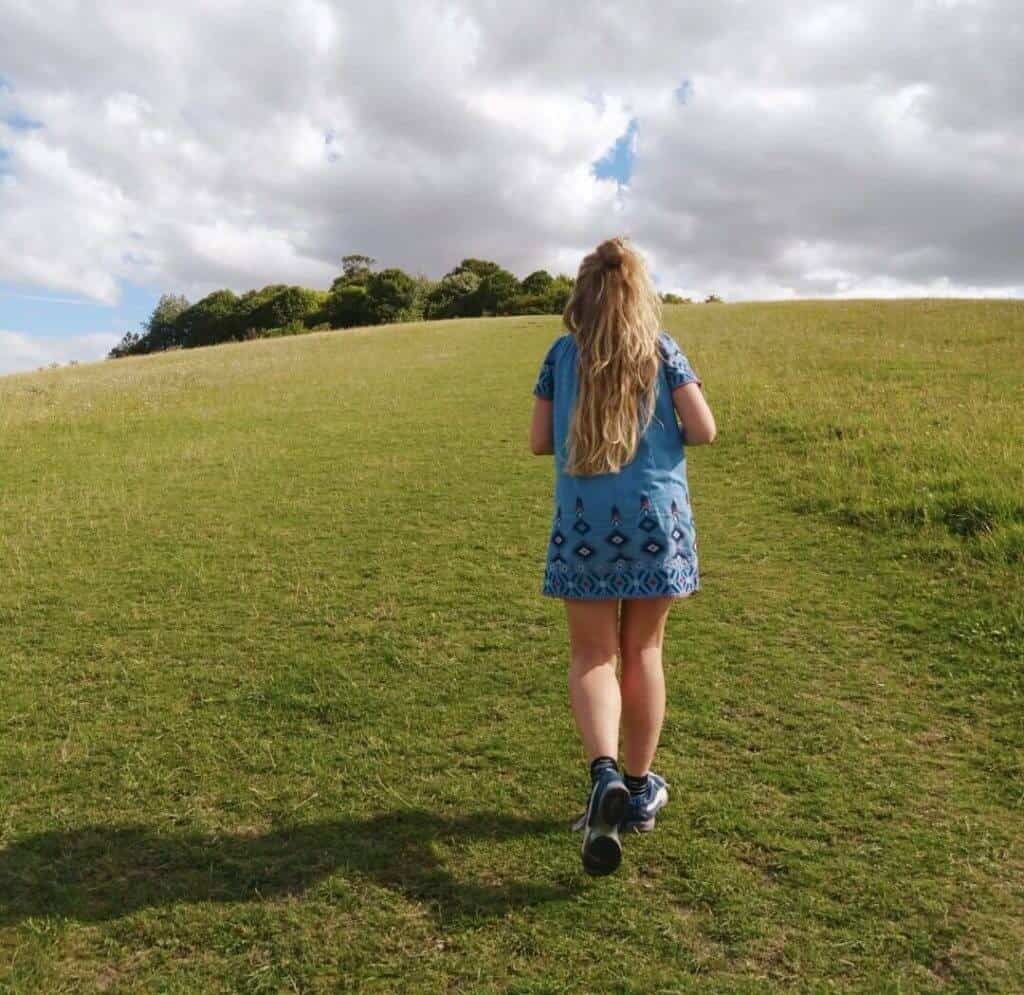 After an hour exploring Wittenham Clumps, you can do the Wittenham Clumps walk in reverse. Alternatively, take the longer river walk detailed above. If you missed this before, simply take a right after you've crossed the bridge (double back under the bridge itself) over the river on your way back from Wittenham Clumps and follow the field along the river.

Before the next bridge, turn left and finish the field walk, ending your journey back in Dorchester-on-Thames.
What to pack for visiting Wittenham Clumps
This isn't an intrepid trek but it's a little steep and can be windy at the top. For this reason, I'd recommend bringing the following:
Comfortable shoes – you won't need proper hiking shoes but something comfy is best (no flip-flops) and you might want to wear shoes with closed toes because there are lots of cow pats around.
18L day backpack; I use the Bolt from Mountain Warehouse
A reusable water bottle that you can fill up with filtered water.
A picnic or snacks – as I mentioned there aren't many shops around apart from a Co-op in Dorchester-on-Thames. We stopped by the river for a thermos of tea and bag of Jelly Babies and I can't think of a better idea, tbh.
Extra layer – even on a summers day, it's windy at the top of Wittenham Clumps since it's the highest point around. Bring a jumper or light jacket.
A camera – I use a Sony Digital Compact Bridge Camera and a GoPro HERO7 Black for videos.
A kite (optional) – you will probably see people flying kites from the top of Wittenham Clumps. Why not join them?
Costs for visiting Wittenham Clumps
Totally free! As long as you don't spend more than 2 hours at Wittenham Clumps car park, you won't incur any parking fees. If you think you will spend longer doing the river walk or exploring Dorchester-on-Thames, it's best to make the most of free parking in Dorchester itself.

Since we brought a picnic and there are no entrance fees for visiting The Clumps or going inside Dorcester Cathedral, our whole afternoon out was free, apart from petrol (and Jelly Babies, naturally).
Thanks for reading!
I loved exploring this gorgeous slice of English countryside and I hope you do, too. Wittenham Clumps is truly a unique spot worth exploring from a historical perspective, plus it's the perfect place to get some fresh air and panoramic views over the Oxfordshire countryside.

I have no doubt I'll head back here to do the Wittenham Clumps walk again before the end of the summer.
Read my other England blogs:
See you next time for more adventures,
Rose
For more travel content, follow me on Instagram, Facebook, Twitter and YouTube.
Ps. Liked this? Pin it for later!