This post may contain affiliate links to things like tours, hotels, Amazon associates and products. These help me earn a small commission at no additional charge to you.
Victoria Falls was our personal oasis – a halfway mirage in our 40 days of camping with the chance to sleep in actual beds.

Settled on the border between Zambia and Zimbabwe, the world's largest waterfall can be viewed from either country.
G Adventures recently amended the tour itinerary meaning our group was the first to travel to the Zimbabwe side to visit. Previous groups have stayed on the Zambia side which is where we'd just come from. It meant purchasing an extra visa for Zimbabwe but the view of the Falls was incredible and I can't imagine them having been better from the other side.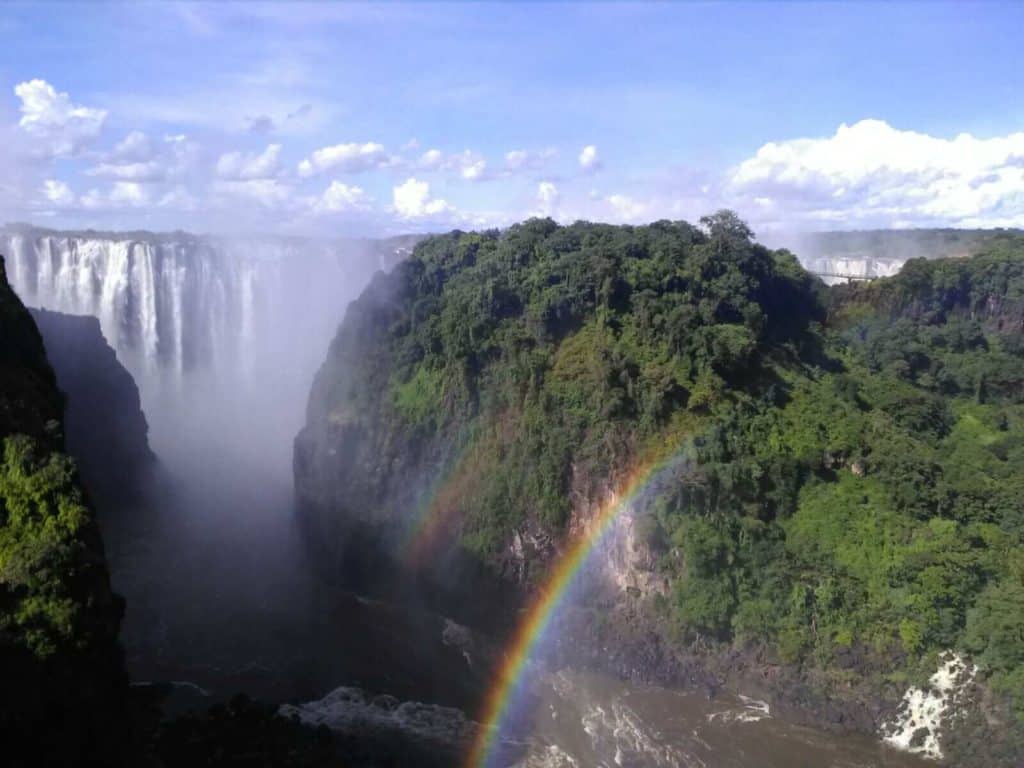 We also stayed at a cool campsite, Shearwater Explorer's Village, with the option to upgrade from our tents to private rooms. We were all about this – during the last 20 days we'd slept in a bed three times and the upcoming second half of the trip was set to have even fewer opportunities.
Sarah and I were thrilled in equal measures at the prospect of fresh sheets, air con and not having to check for lions before going for a wee in the night (always a novelty).

When we weren't chilling out, there were plenty of activities to keep us busy. Being a bit of a baby and not having hundreds of dollars to kill, I stuck to exploring the Falls. Others went zip wiring and white water rafting which I've done before, and on helicopter rides which looked awesome but would have really blown the budget.

Bernie went on the helicopter tour and his photos are so cool: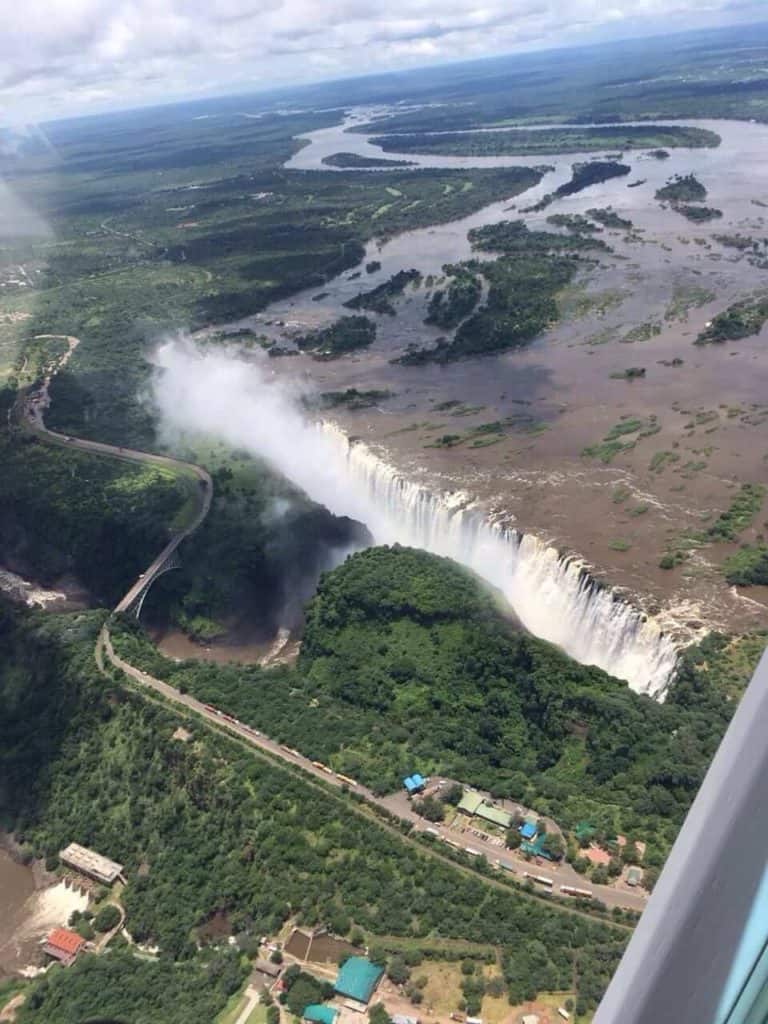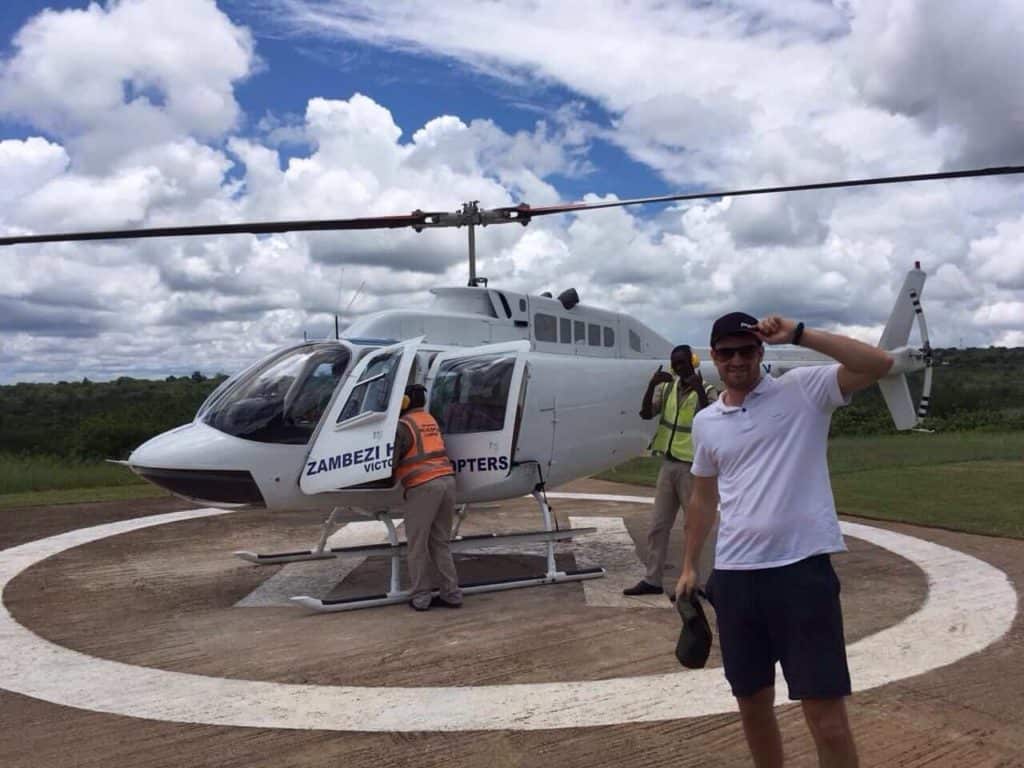 Sarah and I opted to go and explore the Falls ourselves. I'm loving the tour but as someone who usually travels independently, it was nice to escape the organisation of moving as a pack and just wander at our leisure.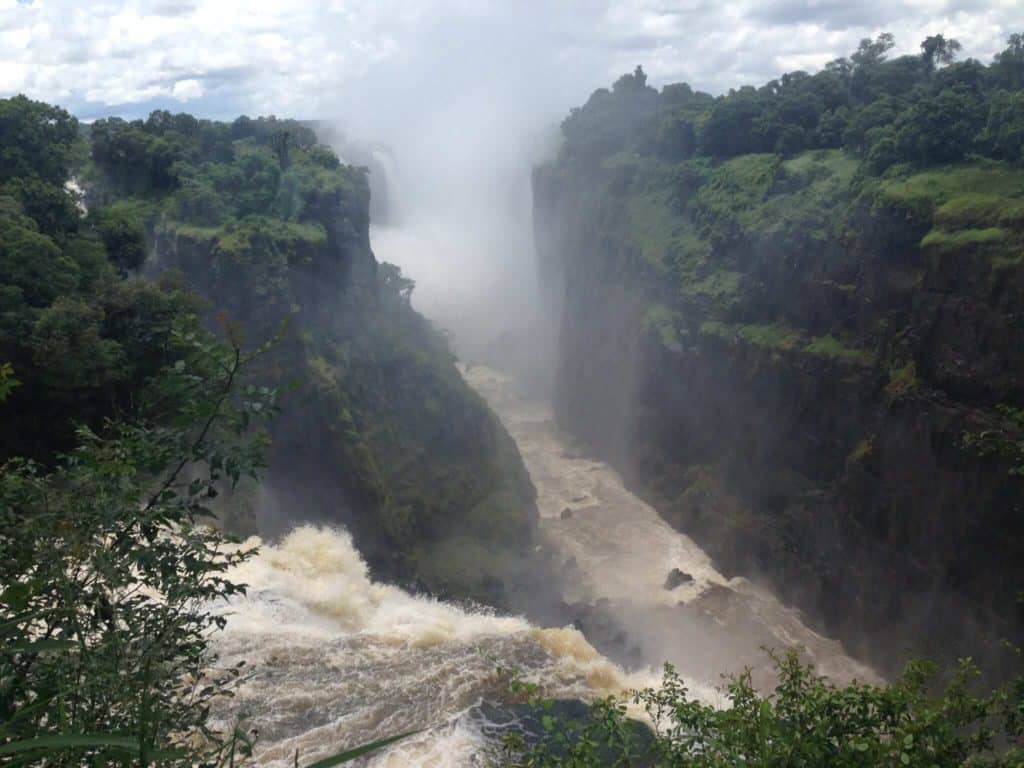 The Falls were seriously impressive! At 107 metres in height, they're the world's tallest. We paid $30 to get into the park – it seemed like a lot to see a natural feature, but it's one you definitely wouldn't want to miss.
To set some background, Zimbabwe is one of the world's poorest countries with a life expectancy of just 37. While it's a region home to corruption and many social and economic problems, it's also a land that's intensely beautiful – Victoria Falls is certainly proof of that! All the locals we met were incredibly friendly and I'm a little sad I won't be getting to explore more of the country on this trip.
As a town, Victoria Falls definitely isn't representative of Zimbabwe as a whole: it's touristic, prices are inflated and Western food is in abundance. It's a convenient point of entry to see the Falls and book your activities but not somewhere you'd come to learn about the culture of the country.
As we're on an itinerary, seeing more of Zimbabwe will have to wait for another trip. Sarah and I regularly discuss the pros and cons of taking a tour like the one we're doing – and the biggest con is always the lack of control.

We chose the tour knowing this and based on the attractive pre-defined itinerary through eight countries, so it's not a complaint of G Adventures or in fact any tour company – more a musing that if you fall in love with a location, or hear of a nearby spot you'd love to check out, you can't while on tour.
I digress! Back to the wonderful world of waterfalls…
We walked between various viewpoints which allowed us to see the Falls at all angles. Towards the end we got soaking wet because of the spray in the air… I'm not talking a light shower though; we could barely see for the water in our eyes – it was torrential! Despite bringing a waterproof I think every single thing I was wearing quickly became soaked, right down to my underwear.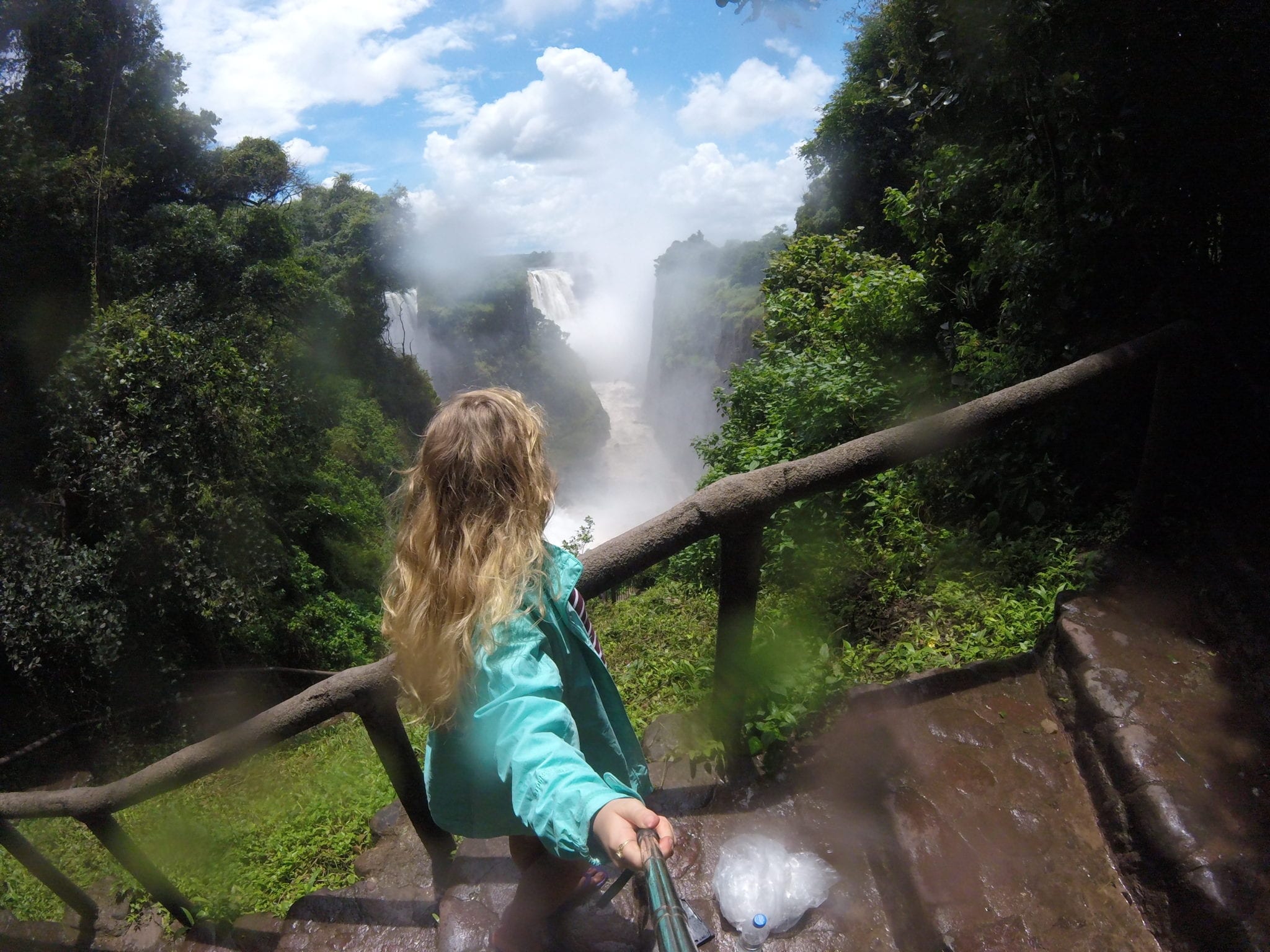 We wound down (and tried to wring out our dripping clothes) over lunch. We marvelled over the most ridiculous sight – a boy who got his lunch stolen by monkeys not one or two times, but THREE. Sarah and I ordered burgers and ate them quickly and protectively, as only sensible people would.
The boy, however, asked the staff for a second burger after his first one was stolen, then sat on his phone and looked around which caused the incident to occur again. We had sympathy to start with which dwindled when it happened a third time! We left the restaurant in despair at the boy and his careless antics.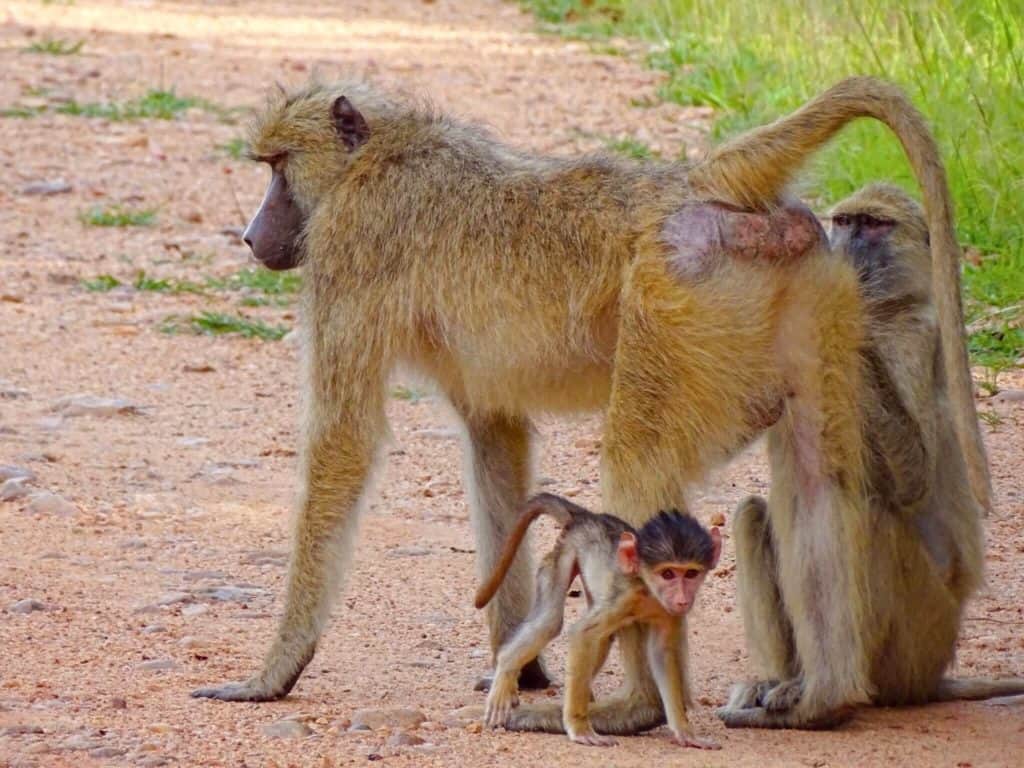 That evening we cruised down the river on a sunset boat ride. This was partly a farewell activity for some members of the group as we were about to be separated – after 20 days and 20 nights, it was the end of the first half of the trip.
Of the 15 of us on the tour, only seven were continuing on for the next 20-day leg ending in Cape Town. This meant that eight of our new friends were off to their home countries – Germany, Canada, the US, Greece and Australia – whilst the rest of us were to be joined by 15 new passengers. As a full capacity bus trip of 22, we were headed next to Botswana, followed by Namibia and South Africa.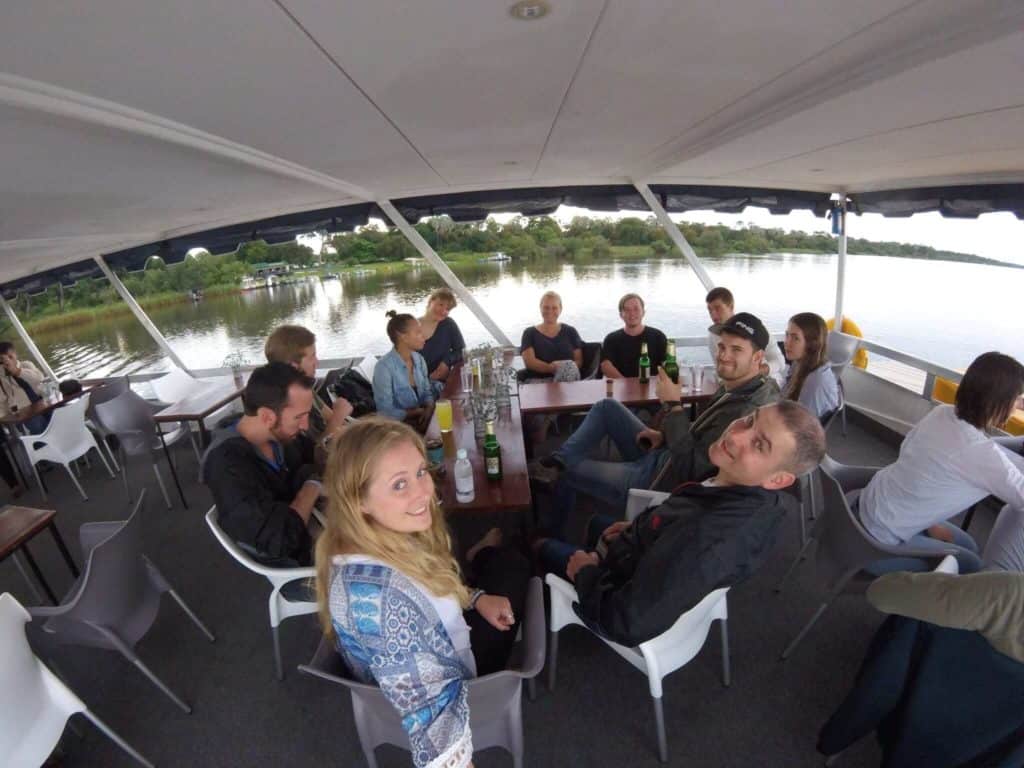 What better way to say goodbye than by boozing (an open bar was included) upon hippo-infested waters? We cruised down the Zambezi River – the fourth largest in Africa – rum in hand, sun setting, as the hippos gently serenaded us with their soft gurgles… All while, less poetically, pooing and spinning their tales to flick it everywhere. Well, you can't be poetic all the time…
Next stop: Botswana!
Thanks for reading!
Read my other Africa overloading posts:
See you next time for more adventures,
Rose x