This post may contain affiliate links to things like tours, hotels, Amazon associates and products. These help me earn a small commission at no additional charge to you.
The Naschmarkt in Vienna is Austria's biggest and most popular market. It was one of my favourite places during my Vienna trip and not just because I gorged myself on lots of delicious food (though that is part of the reason).

In this guide, I'll share everything you need to know before visiting Vienna Naschmarkt and, if you're still in two minds about visiting, hopefully persuade you! I really enjoyed this colourful corner of Vienna because it's a complete contrast to the ornate palaces and more traditionally 'pretty' parts of the city which can get crowded, especially during the summer weekends.
VIENNA ESSENTIALS

Copy of Lonely Planet Vienna // Lonely Planet Austria

Accommodation: Browse hotels in Vienna (Booking.com)

Tours & activities: GetYourGuide / EatWith

Travel insurance: True Traveller (European travellers) / Hey Mundo (other nationalities) / Safety Wing (digital nomads)
What to expect at the Naschmarkt Vienna
The Naschmarkt is a vibrant collection of over 120 market stalls located in Vienna. During the Saturday flea market, you'll find clothes, souvenirs, fabrics, throws, trinkets, antiques and food… So much food! Luckily the food is consistent whatever day of the week you visit.
Before visiting the Naschmarkt I was assuming it would be a traditional market, good for trying Viennese cuisine if little else. I was wrong: the Naschmarkt overflows with food from around the globe including Italian, Indian and Vietnamese.

The best bit is that it's authentic and not too expensive. Many markets around the world have a pop-up hipster feel now which I'm easily seduced by (to the dismay of my bank balance) but the food isn't always the most authentic. At the Naschmarkt, there's a large selection of Middle Eastern deli goods which are cheap and delicious without feeling pretentious.
For low prices and tasty food, you have to visit the Naschmarkt Vienna… Preferably with an empty stomach. To be honest, I wish I had a spare one I could swap in and graze even more.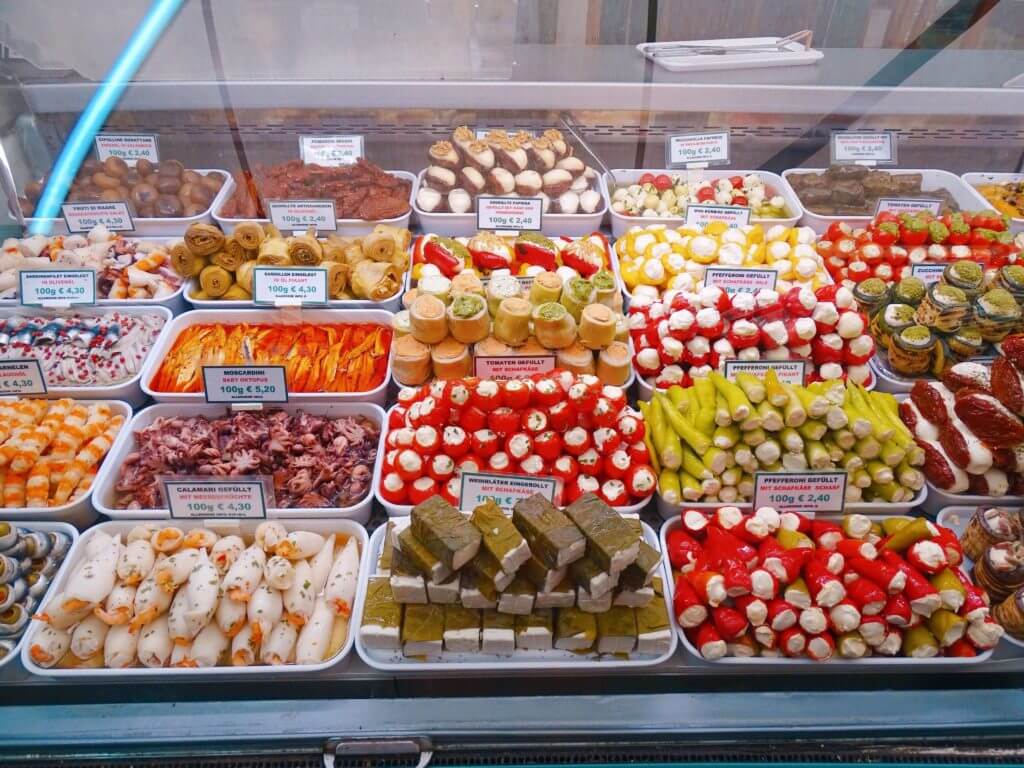 Want to find the best food at the Naschmarkt? Take a tour & picnic with a local guide.
How to get to the Naschmarkt Vienna
The Naschmarkt is in southwest Vienna, only a 15-minute walk from the city centre. If you're staying centrally (around Stephansplatz) you can grab a coffee and walk to the Naschmarkt in time for breakfast or lunch.

If you're staying elsewhere and relying on public transport, it's easy to reach the Naschmarkt from anywhere in Vienna. The nearest S-Bahn (metro) station is Kettenbrückengasse which is connected by the green U4 or red U1 line.
Single tickets for the S-Bahn are €2.40 per journey and half price for children, senior citizens and dogs. If you'll be making several stops throughout your trip, you can get a 24/48/72-hour pass for €8 / €14.10 / €17.10.
Once you leave Kettenbrückengasse station, it's just a one-minute walk to the Naschmarkt. Keep an eye out for these distinctive buildings below which signify the start of the market.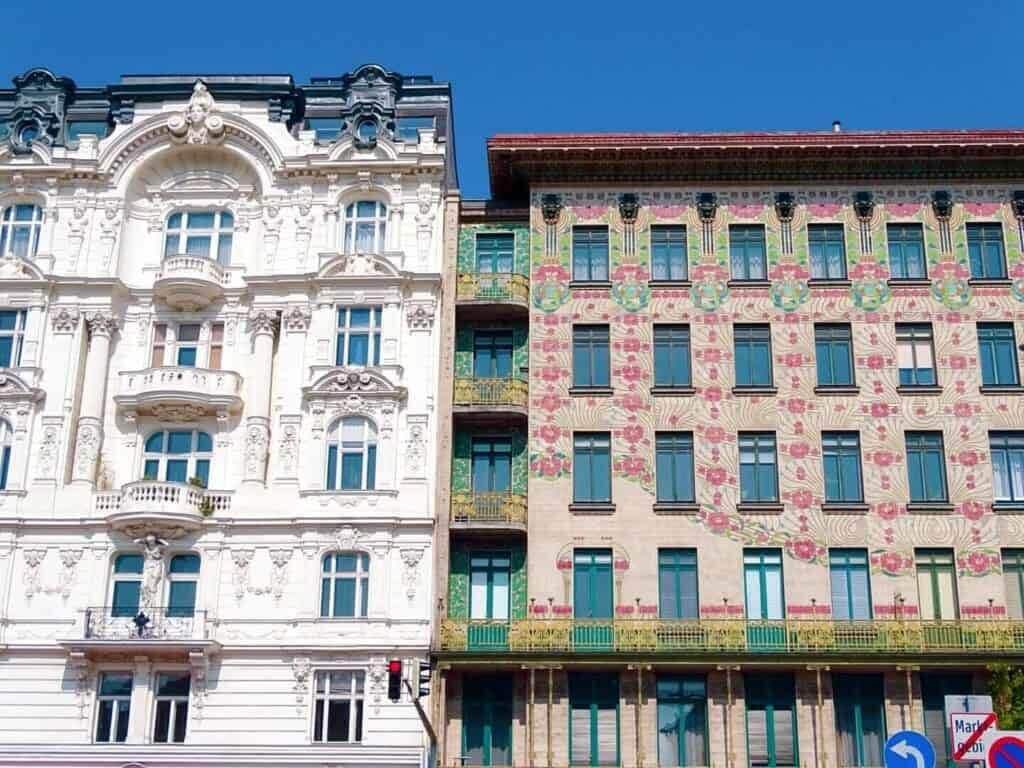 Quick history of the Naschmarkt
The Naschmarkt is thought to have been around since the 16th century. No one knows for sure where the word Naschmarkt came from but it's thought to be linked to the local word asch which means ash. One theory is that the market was built on a site for landfill waste and ash; another is that vendors originally sold milk from wooden buckets made from ash trees.
The primary purpose of the Naschmarkt several hundred years ago was to serve fruits and vegetables to those arriving by boat via the Danube canal. There were originally two rivers here but the second one was covered and made into a promenade walk that the market now runs along.

In the last 50 years, the market has become a modern one with cafes and restaurants as well as street stalls. In the last five years, it's become almost hipster with lots of flat whiles and brunch cafes. Isn't that the way of the world?
Naschmarkt Vienna opening hours
The Naschmarkt is open 6 days a week from Monday to Saturday for you to browse, shop and eat.

Monday-Saturday: 9am-6pm

Sunday: closed.

It's best to visit early when the stalls still have lots of goods in stock.

Top tip – on Saturdays, the stalls shut at 5pm but the rest of the week everything stays open until 7.30pm so you can even grab an early dinner if you wish.
Best season to visit
The market is open year-round but it's best visited in late spring or summer when you can wander around in the open air at your leisure.

During the summer months, many of the cafes have open-air seating where you can relax in the sunshine and people-watch as the market comes to life.
Naschmarkt Vienna flea market
If you really want to experience the full atmosphere of the Naschmarkt, your best bet is visiting on a Saturday when the weekly flea market is in full swing. Things open up early in the mornings and wind down around 2pm, after which the normal Naschmarkt stalls continue serving until 5pm.
The streets of the Naschmarkt are much busier on Saturdays as guests come to shop for quirky bric-a-brac and homeware. The Flohmarkt has been running for 20 years and sells everything from paintings, ceramics, colourful rugs and pillows, crystals, clothes, toys, vintage antiques and more.

The prices are low already compared to high street boutiques, plus you can haggle them even lower if you're feeling confident (my skills from backpacking Asia were put to good use).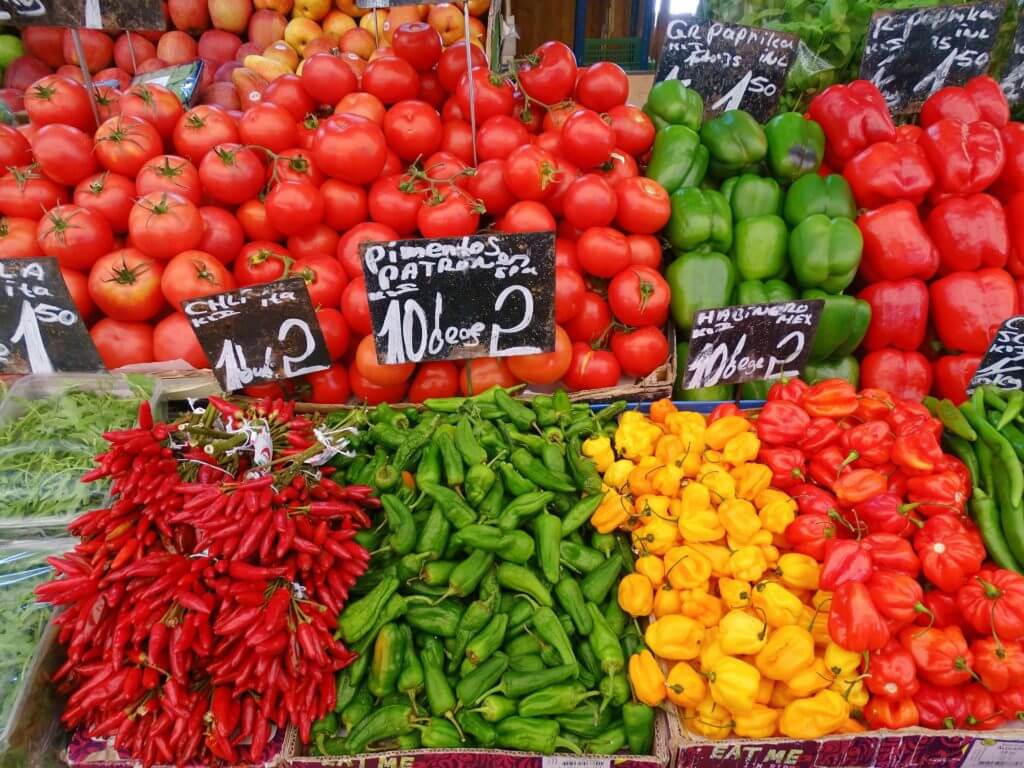 What to eat at Vienna Naschmarkt
Now for the fun bit! There are several sit-down restaurants at the Naschmarkt but I'll start by telling you about the delicious market delicacies you shouldn't miss…
Stuffed dolma leaves
I love these stuffed vine leaves which are popular around the Middle East, Balkans and Central Asia. The dried grape leaves are stuffed with rice, meat and spices. Despite the rice, they're fairly light and very snackable so you might want to pick up a few.
Cheese-stuffed tomatoes and peppers
There are a lot of stuffed Middle Eastern dishes at the Naschmarkt. Cheese is a common ingredient – no complaints from me! As well as mozzarella-stuffed tomatoes, there are peppers soaked in oil and stuffed with rich feta cheese. If you can find stand La Bottega del Gusto, this is one of the best places for Eastern deli fare.
Snacks: Vendors hand out free samples of snack foods like nuts, wasabi peas, olives and dried apricots. Browse and buy if you like them… or just keep snacking at the next vendor!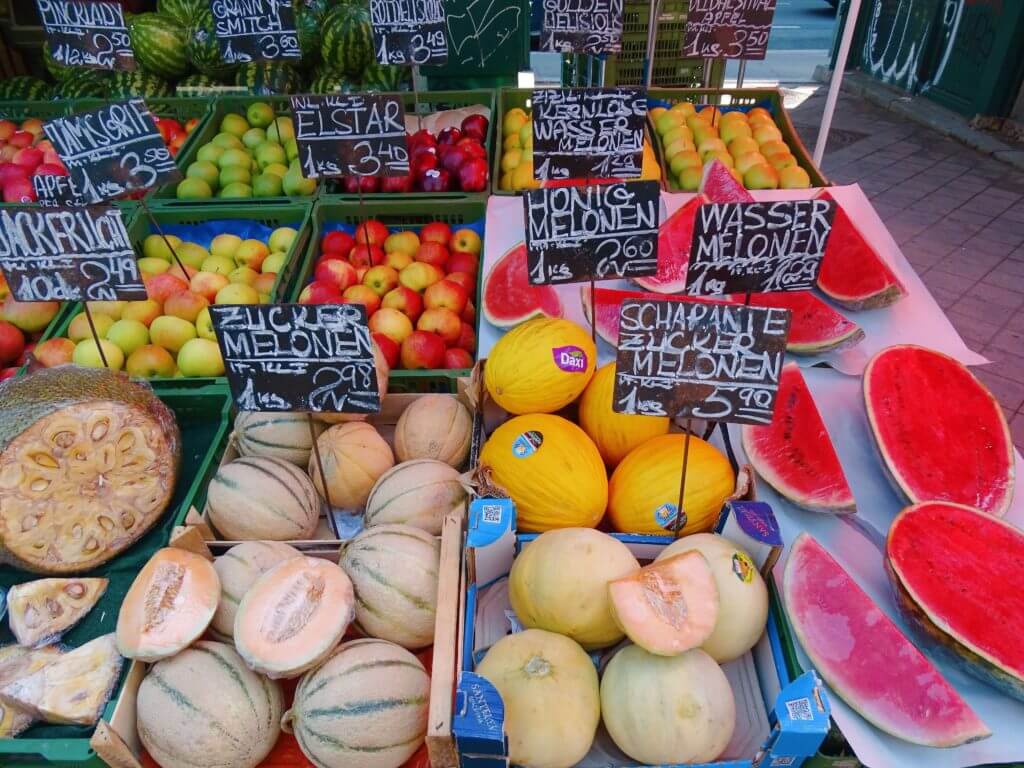 Pfefferoni
If you like spicy food, keep an eye out for this word which means peperoncino in Italian. We might just call them hot chilli peppers. You can get these fresh stuffed with feta or dried to take home.
Sundried tomato with cheese
Yet more cheese! The best thing I ate at the Naschmarkt Vienna was a 'sandwich' made from two enormous sundried tomatoes filled with an equally enormous slab of mozzarella.
Falafel
Since the Naschmarkt is known for Middle Eastern food, it's no surprise there's a falafel stall or ten. Head to the orange Dr. Falafel stall to try some of the best in the market. I'm not sure what being a doctor of falafel entails but I'm thinking of retraining…
Gegrillte Kurbis
These fresh grilled pumpkins were tasty enough to eat by themselves.
Spices
I've never seen as many spices before! Every colourful cooking spice from around the world can be found at the Naschmarkt including some quirky additions like unicorn spice. Who knows what that contains?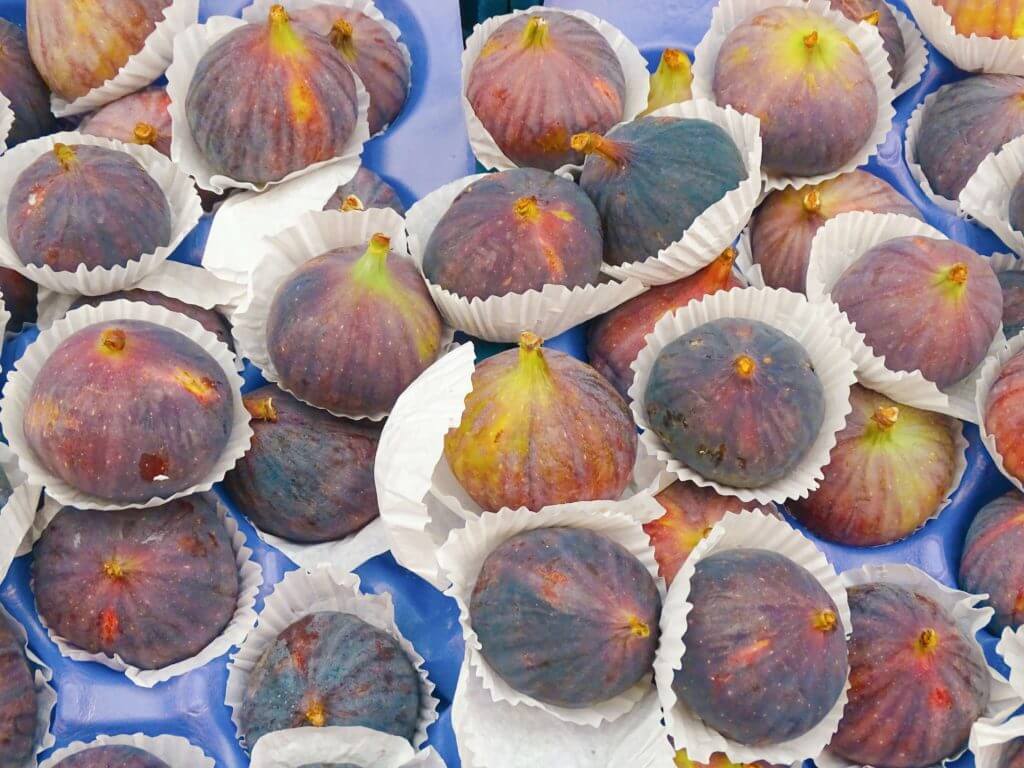 Seafood at the Naschmarkt Vienna
Moscardini (baby octopus): Many stalls serve tiny octopi in oil. I know some people squirm at eating something so 'alive' looking but personally I can't resist any type of seafood.
Sadellen (anchovies): These salty fish are served in abundance at the Naschmarkt.
Calamari: No translation needed! Unlike battered squid rings you see in restaurants, the calamari is served fresh at deli stands in the Naschmarkt.
Drinks and desserts at the Naschmarkt Vienna
Baklava: I'm assuming anyone with a sweet tooth loves baklava as much as me. Honey, nuts and filo pastry are layered in this Middle Eastern dessert.
Fresh fruit: The stands of fresh fruit and veggies go on forever at the Naschmarkt. I probably wouldn't snack on raw veggies but I would most definitely snack on the many fresh peaches and cherries.
Feigen: Or figs to you and me! I became obsessed with eating and photographing these gorgeous fresh figs at Vienna's Naschmarkt.
Apple strudel: this is the signature dessert of Vienna, apart from perhaps Sacher torte. Wherever you go in Vienna, make sure you seek out a fresh slice of apple strudel dusted in icing sugar.

Top tip – if you love apple strudel, don't miss the daily apfelstrudel show at Schönbrunn Palace!
Sturm (fermented grape juice): I'd never tried this drink before but it was very tasty. You'll see several stalls laden with coloured bottles. Their owners will entice you with the promise of free samples!
Where to eat a picnic at the Naschmarkt
Eating oily peppers oozing cheese standing up and trying to navigate the streets will always end messily. I'd recommend crossing the road and entering Alfred-Grünwald-Park just a few metres away. Here you can perch on the grass or a bench while eating your market feast. We had a picnic of deli goods, baklava and fresh fruit juice that I think I'll remember for about 20 years.
Cafes & restaurants at the Naschmarkt Vienna
The diversity of the Naschmarkt is that you can eat cheap market food or dine at sit-down restaurants and cafes. Especially during summer weekends, the atmospheric market environment includes people spilling out of the cafes and dining outside. Some of the restaurants require reservations at the weekends. These are a few places to add to your list:
Tewa
This light and bright cafe in the middle of the Naschmarkt serves organic cuisine with a particular focus on breakfast and brunch. They also have fresh smoothies and lasis (my favourite Indian drink) in different fruit flavours.

Tewa means 'nature' in Hebrew so, unsurprisingly, there's a focus on Middle Eastern and Mediterranean cuisine. Order the Mediterranean breakfast with hummus, olives, pita, a mango lass and tea or coffee for €9.90.
Urbanek
If you like wine and cheese, you have to swing by this cosy deli cafe in the Naschmarkt. The inside is decked out with deli goods like hams, cheese, bottles of wine and fresh fruit. There's also an outside area where you can sit the sun with a platter of cold cuts, cheese and a glass of wine. Look for the cafe with the bright red awning.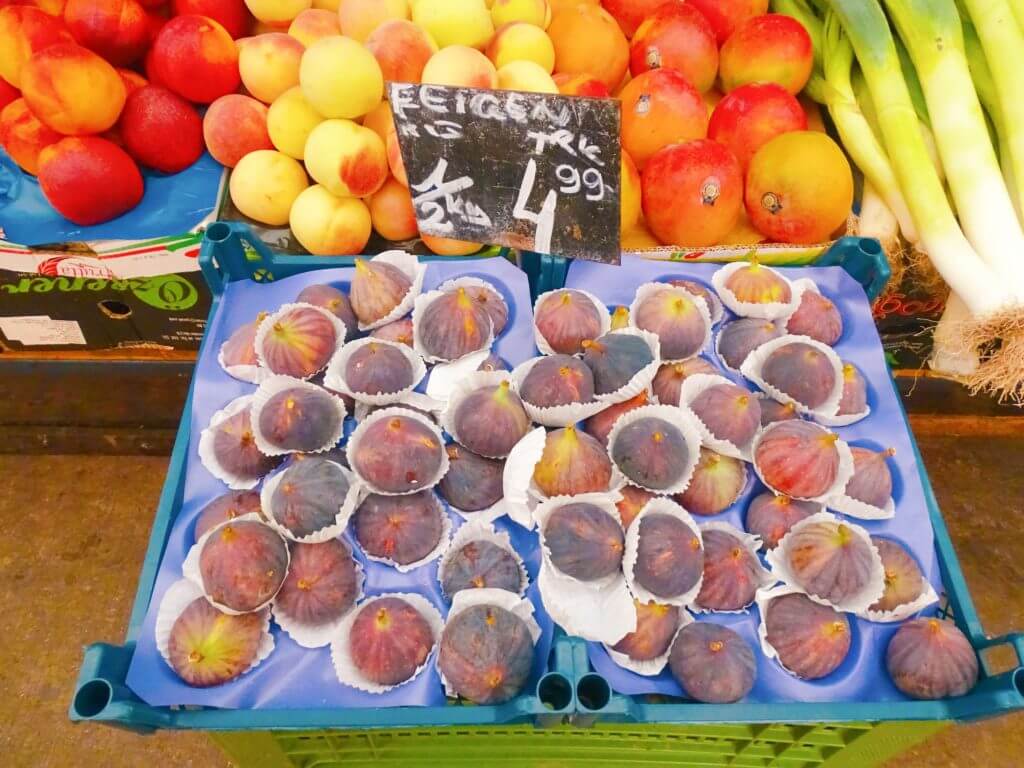 Drechsler
This old-style coffee house is known for its quality Viennese coffee. These days it has a modern touch with a bright mural wall and trendy brunch dishes on the menu. I didn't dine here myself but I hear good things about the pancake dishes and eggs benedict. Everything comes in big portions with fresh ingredients.
Stella am Naschmarkt Vienna
This cafe mixes up traditional Viennese dishes like chicken schnitzel and apple strudel with Asian curries and fresh Mediterranean food. There are lots of veggie dishes mostly under €10.
Neni
Right in the middle of the Naschmarkt, Neni serves yet more Middle Eastern food. Falafel salad and half-boiled eggs are served with tzatziki on giant pittas, plus there are breakfast dishes, shakshuka and excellent flat whites and other fancy coffees.
Where to stay near the Naschmarkt Vienna
Imagine waking up with this many brunch and coffee options on your doorstep!

Hostel: Wombat's Hostels are a chain of hostels all over Europe with private and dorm rooms, spacious areas for meeting other people, and friendly staff who can sign you up for tours and help you plan your trip. The Naschmarkt is right beside The Wombats City Hostel Vienna Naschmarkt which has rooms from $20. Check availability here.

Hotel: Das Opernring Hotel has comfy boutique-style rooms and breakfast (from €120 a night).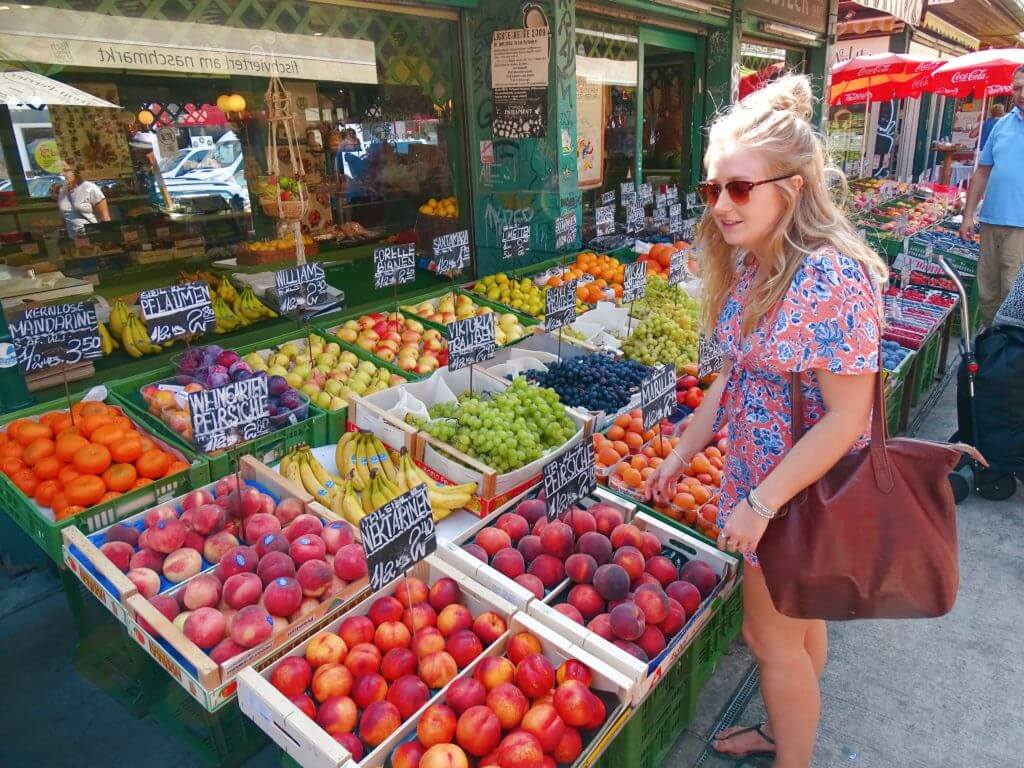 Safety at the Naschmarkt Vienna
I felt safe the whole time in Vienna including at the Naschmarkt. But it's worth noting that Vienna is a busy capital city with lots of tourists visiting in the summer.

Like any capital city, there are the odd few pickpockets who could ruin your trip. My best tip is to not do what I'm doing in the photo above and have all your valuables in one bag. I actually no longer own this bag as it was snatched off me from a scooter in Vietnam.
Instead, have a small cross-body bag for money and your phone, then have your larger and less valuable items, like a water bottle, map etc, in your more spacious side bag. If you're concerned about safety, you could use a money belt in place of a crossbody bag.

Either way, you don't need to worry much in Vienna. Just keep your belongings safe and step away from anyone who comes too close for comfort. Enjoy!
What next?
Follow my 3 day Vienna itinerary for more food, sightseeing, bars, attractions and day trips from Vienna. A few highlights include:
Exploring Schönbrunn Palace and its huge grounds
Visiting Hofburg Palace
Climbing to the top of St Stephen's Cathedral
Sipping cocktails at Das Loft on the 18th floor of the Sofitel Hotel
Snapping photos of Hundertwasser Village
Admiring The Kiss by Gustav Klimt at Belvedere Palace
Taking a spin on the Prater Ferris wheel
Spotting street art with my Vienna street art guide!
Vienna is an incredible city and I'm sure you'll love it as much as I did!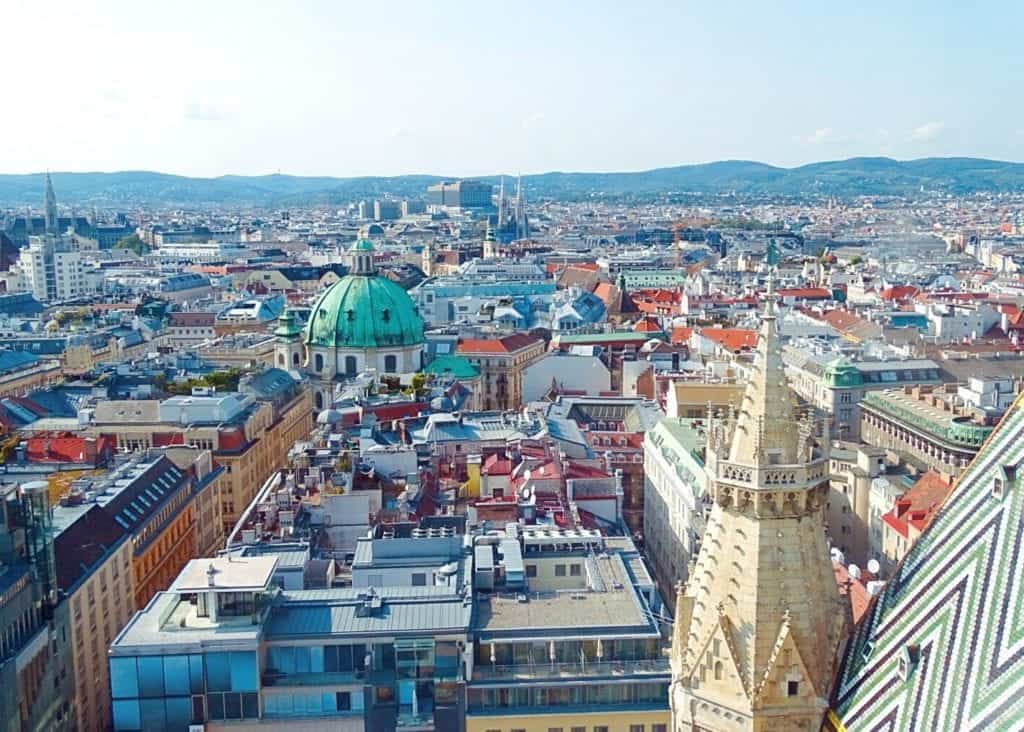 Where next?
Central Europe is stunning and easy to get around. Here are a few of my favourite cities nearby…
Thanks for reading my guide to the Naschmarkt Vienna!
MY TRUSTED RESOURCES FOR VISITING AUSTRIA

Getting around by air – I use Skyscanner to find the best-value flights, using the 'search by month' tool to find the cheapest dates. You can also use the 'to anywhere' feature if you're flexible on where you're going.

Driving in Europe – use Rentalcars.com to compare car rentals in European countries (and all around the world).

For trains, I use RailEurope. The search feature allows you to compare prices, and they show live departure times on the website.

For buses, I use Flixbus. Find journeys between European countries from €1! 

For hotels and self-catering apartments, I use Booking.com. You can filter by review score and price to find the best-rated budget places. For hostels, I use Hostelworld.com.

To save money on accommodation, I use Trusted Housesitters, a website that connects homeowners going away and travellers who can sit their homes & pets.

Browse tours and activities on GetYourGuide.

For food tours pairing travellers with passionate local chefs and foodies, check out EatWith.

To save money on accommodation, I use Trusted Housesitters, a website that connects homeowners going away and travellers who can sit their homes & pets.

Need travel insurance? I use True Traveller (for UK & Europe residents) since it's some of the most affordable insurance out there but still covers everything you'd need including various activities, valuables and pre-existing conditions. Unlike some companies, they insure you if you're already travelling / don't yet have your flight home booked. Get a quote.

For travel insurance for other nationalities, I recommend Hey Mundo and for long-term digital nomad travellers, I suggest Safety Wing.

Check out my resources page for more travel discounts and budget tips from my 10+ years on the road!
See you next time,
Rose
For more travel content, follow me on Instagram, Facebook, Twitter and YouTube.
Liked this? Pin it for later!