I was so excited to return to Budapest for my second trip. The thermal baths were one reason, spending time with my bestie was another. And the food of course played a part! Here are all my foodie findings so you know what to eat in Budapest during your trip.

It's safe to say I ate a lot during my first trip in 2015. However, there are so many things to eat in Budapest and I'd far from sampled everything. I'm better at blogging and finding the best eats than I was five years ago so, armed with my camera and a healthy appetite, Jenny and I set about finding the best food in Budapest.
Töltött Káposzta
Similar to dolma eaten in Turkey and Middle Eastern countries and sarmale eaten in Romania, these stuffed leaves are popular food in Budapest. Cabbage leaves are fermented and stuffed with pork and paprika.
Langos
Nokedli (dumplings)
Chicken paprikash
This typical Hungarian dish is super warming on a cold Budapest day. Paprikash is a chicken dish flavoured with butter, onion, stock, sour cream, salt and unsurprisingly, paprika. It's usually served with a side of nokedli dumplings mentioned above.

Where to eat chicken paprikash in Budapest: Don't miss include Barack and Szilva Restaurant run by a local husband and wife who specialise in hearty Hungarian cuisine.
Camembert with cranberry
Goulash
Israeli food
What to eat in Budapest – best desserts
Apart from famous chimney cakes, I didn't have a clue about Hungarian desserts until my recent visit. As it turns out, much of the best food in Budapest is sweet.

If you can find space for pudding after the gluttonous main courses, here are more of the best things to eat in Budapest…
Flodni (Jewish cake)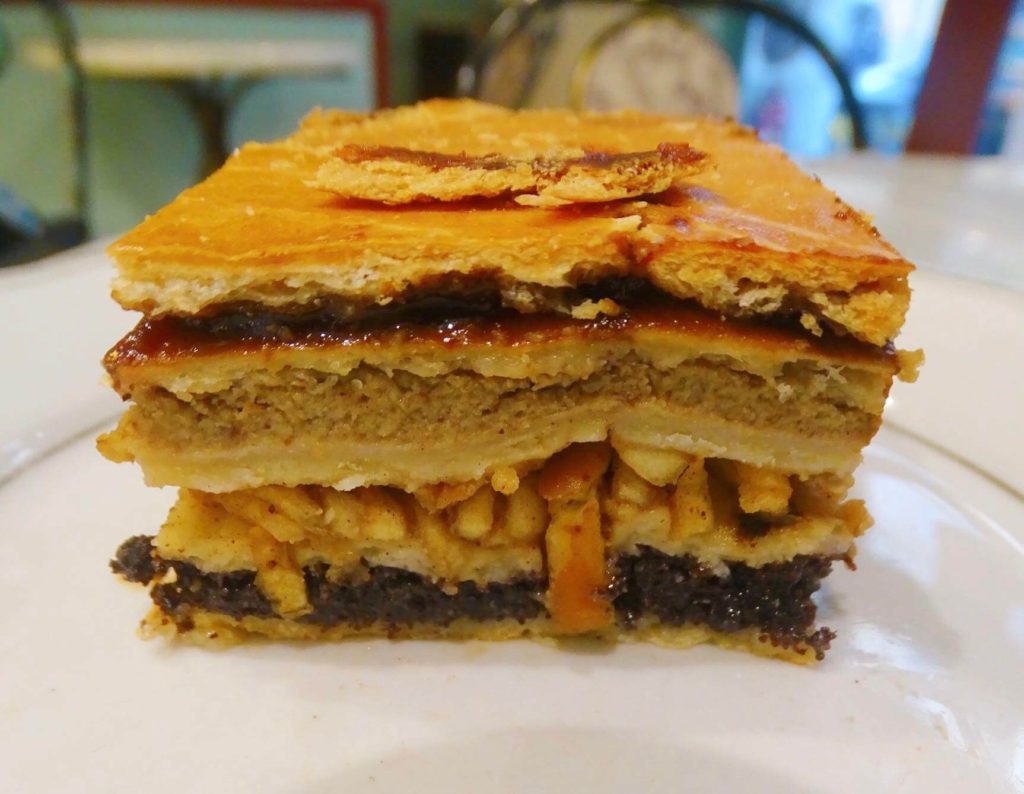 Back in the vibrant Jewish quarter, there's a popular dessert you should try. Flodni has been passed down for generations and features five layers of pastry and four different fillings.

From top to bottom, these are plum jam, walnut paste, stewed apples and poppy seeds. It wasn't overly sweet so I'm not sure sugar lovers will be sold, but I'd still recommend it as a dessert to try while in Budapest.

Where to try flodni in Budapest: Order it at Cafe Noe, which is actually on Google Maps as Noah's Patisserie Cafe. Here you can try the original version made by Rachel Flodnija, an ancestor of the family who invented it.
Rétes
If you're wondering what to eat in Budapest and love strudel, this will hit the spot. These authentic Hungarian pastries are made with flaky pastry stuffed with stewed fruit, usually apple or cherry. Eat them dusted with icing sugar and washed down with coffee.
Kürtőskalács (chimney cake)
Túró Rudi
Solmlói (sponge cake)
Best Budapest drinks
Where to eat in Budapest
Artizan Bakery
Zoska
Central Market Hall
Looking for all the best things to do in Budapest?