This post may contain affiliate links to things like tours, hotels, Amazon associates and products. These help me earn a small commission at no additional charge to you.
I was so excited to return to Budapest for my second trip. The thermal baths were one reason, spending time with my bestie was another. And the food of course played a part! Here are all my foodie findings so you know what to eat in Budapest during your trip.

It's safe to say I ate a lot during my first trip in 2015. However, there are so many things to eat in Budapest and I'd far from sampled everything. I'm better at blogging and finding the best eats than I was five years ago so, armed with my camera and a healthy appetite, Jenny and I set about finding the best food in Budapest.
BUDAPEST ESSENTIALS

Accommodation: Booking.com / Hostelworld

Food tours: GetYourGuide

Supper clubs: EatWith

Getting there: flight (Skyscanner), train (RailEurope), bus (Flixbus)

Getting around: Tram / Metro / bus
The best food in Budapest
There's so much amazing food in Budapest although your waistline may not think so! Hungarian food is basically the opposite of being on a diet. Meat is fried, paired with carbs and usually topped with sour cream.

While it's traditionally a meaty cuisine, there are a surprising number of excellent vegan restaurants in Budapest.

Check out my other Europe food guides:
Luckily, most people visit Budapest for a weekend rather than a week-long trip, so at least you can justify the indulgence and go on a detox later. Here are my recommendations for what to eat in Budapest which I'll follow which my favourite cafes and restaurants.
Hortobágyi palacsinta (chicken pancakes)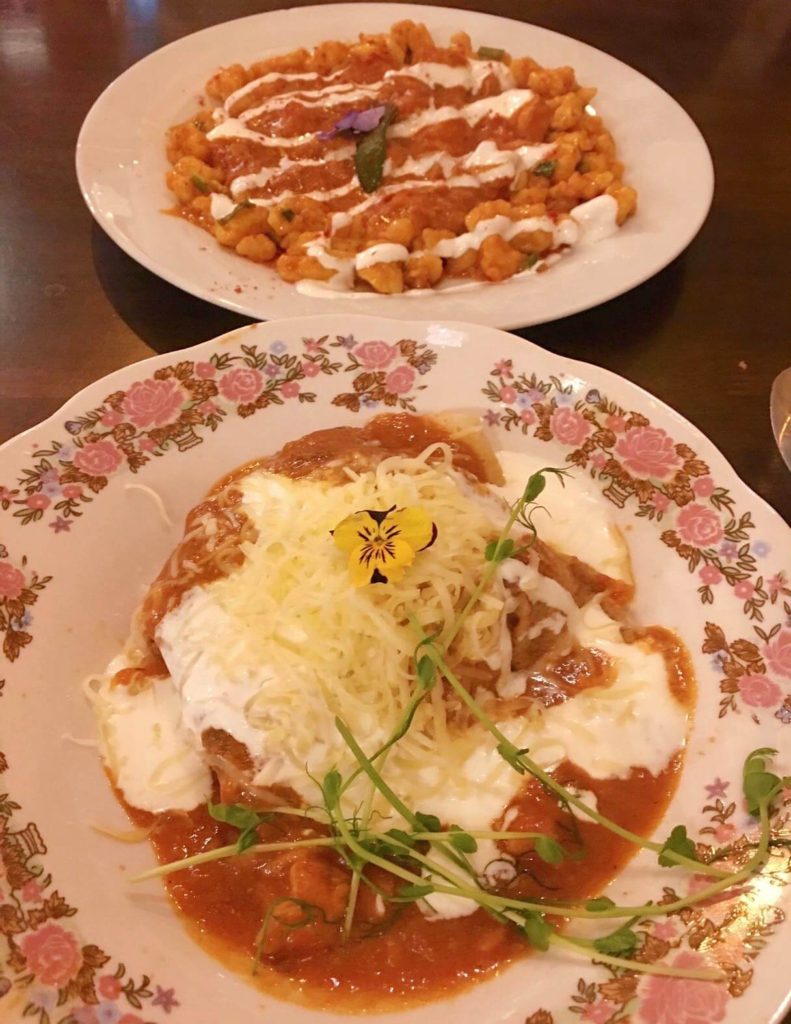 Traditional Hungarian staples like meat, stew and carbs unite to make hortobágyi palacsinta, also known as chicken pancakes.

Rather than the sweet variety eaten in other countries, these thin savoury pancakes are layered with chicken in a rich sauce, topped with cheese and sour cream. These two ingredients are mighty popular in Hungary.

Where to eat hortobágyi palacsinta: While there are endless cafes in Budapest serving chicken pancakes, I tucked in at Drum Cafe in the Jewish Quarter. This restaurant is cheap, cheerful and serves almost every Hungarian dish imaginable. It's not fine dining but it fills a void on a cold day.
Töltött Káposzta
Similar to dolma eaten in Turkey and Middle Eastern countries and sarmale eaten in Romania, these stuffed leaves are popular food in Budapest. Cabbage leaves are fermented and stuffed with pork and paprika.
Langos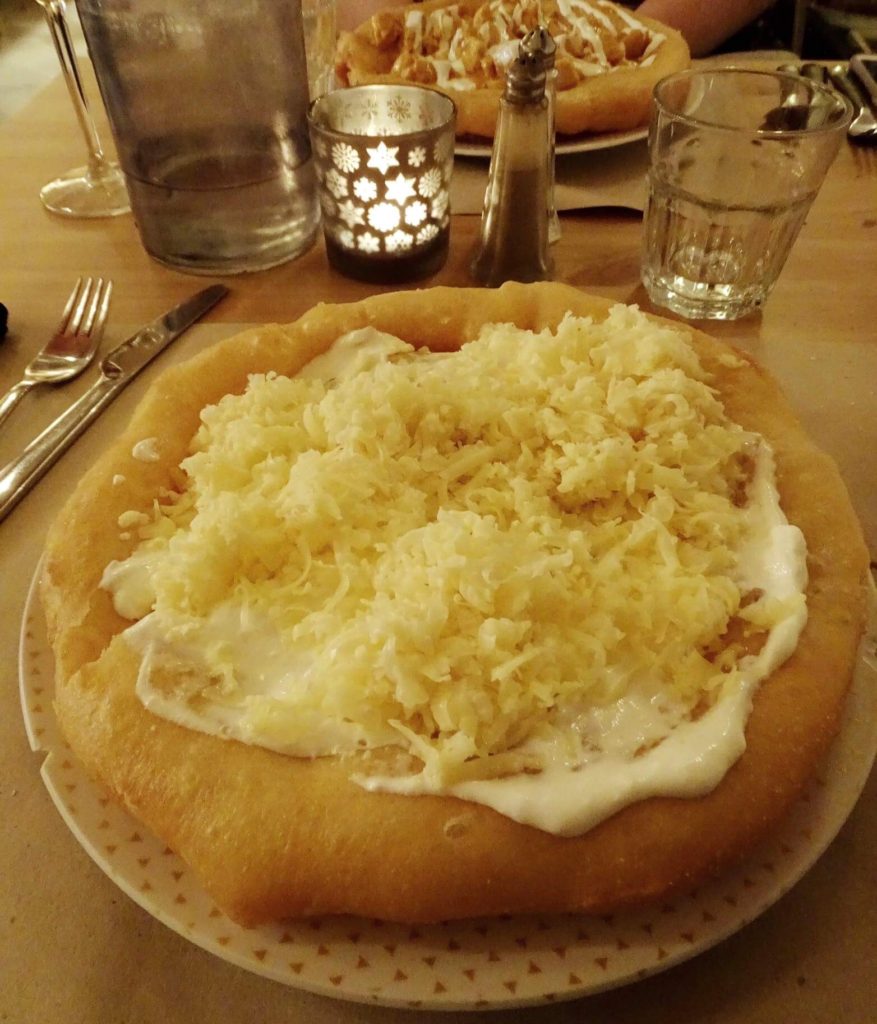 These deep-fried delicacies are where diets come to die but they're worth the extra calories.

'Hungarian pizzas' are made from fried dough topped with sour cream and cheese. Different toppings may include sausage, meat and veggies.

Where to eat langos in Budapest: Langos Papa serve some of the best food in Budapest. Opt for the €10 set meal including langos as a main plus your choice of starter and dessert. If you really love langos, you can have a sweet one for pudding!
Nokedli (dumplings)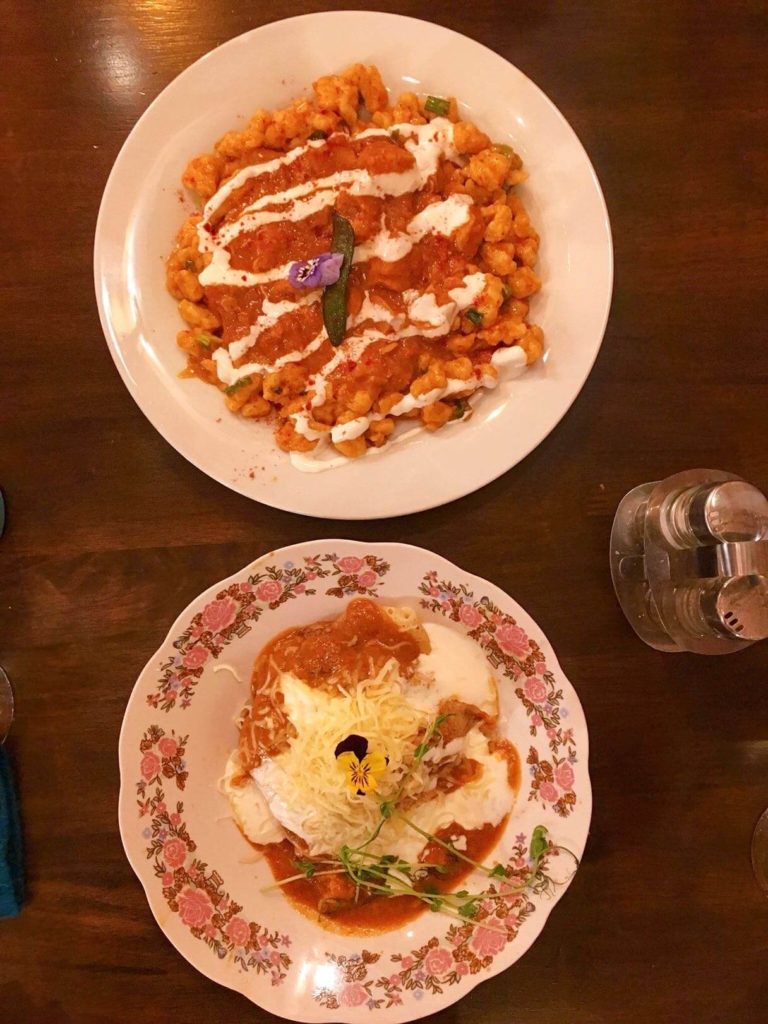 One of the best things to eat in Budapest on a cold day is a hearty plate of nokedli. These fresh pasta dumplings are nothing like the ones I eat in Asia. They're similar to spätzle served in Germany and Switzerland.
Related read: what to eat in Germany
Sampling nokedli in Budapest isn't hard because they come as a side to many dishes such as goulash and chicken.
Chicken paprikash
This typical Hungarian dish is super warming on a cold Budapest day. Paprikash is a chicken dish flavoured with butter, onion, stock, sour cream, salt and unsurprisingly, paprika. It's usually served with a side of nokedli dumplings mentioned above.

Where to eat chicken paprikash in Budapest: Don't miss include Barack and Szilva Restaurant run by a local husband and wife who specialise in hearty Hungarian cuisine.
Camembert with cranberry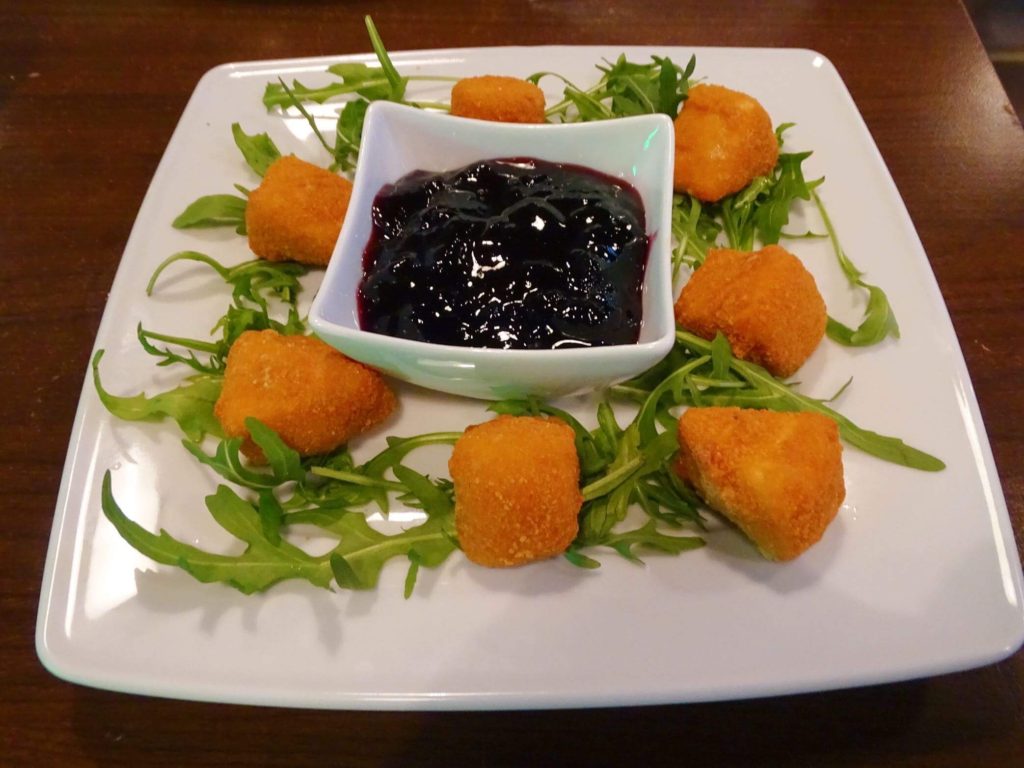 Cheese is life, not to mention one of the best things to eat in Budapest. I had no idea camembert specifically was so popular in Hungary until my first trip to Budapest in 2015.

Most Hungarian restaurants pair it with cranberry dip as a starter or main dish. In fact, it's so popular that even McDonald's offer it on their menus (but of course I don't recommend trying it there).

Where to eat camembert in Budapest: I had this tasty serving at Kupak Bar & Cafe in the Jewish Quarter.
Túrós csusza
Three words: noodles, cheese, bacon.

This heart-attack-waiting-to-happen is one of the best foods to try in Budapest: it's hearty, filling and affordable. Cheese curds (túró) are mixed with bacon and noodles, topped – like all the best Hungarian dishes – with a hearty dollop of sour cream.
Goulash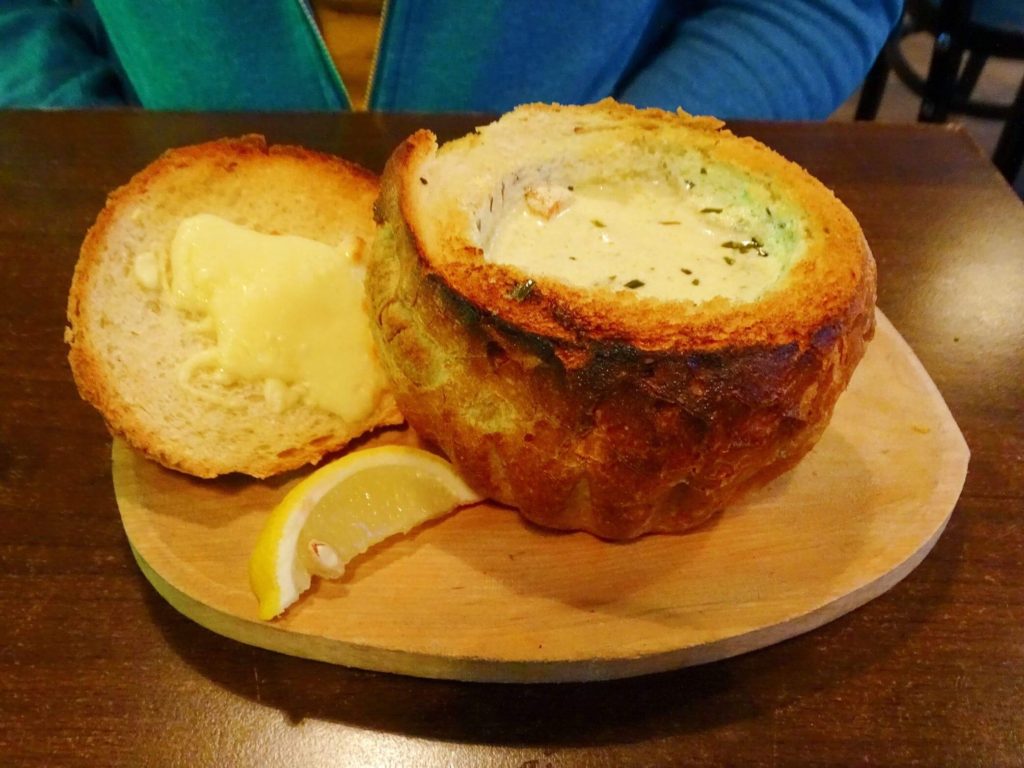 Another of the best things to eat in Budapest is the Hungarian national dish. If you only eat one meaty stew, go with this one.

Goulash dates back to medieval times and is made with beef, potato, vegetables and spices. It's a bonus if you can find it served in a loaf of bread rather than a bowl.

Where to eat goulash in Budapest: Kiosk Pest is known as one of the most famous and trendy places to try it.
Related tour: Goulash evening boat cruise
Israeli food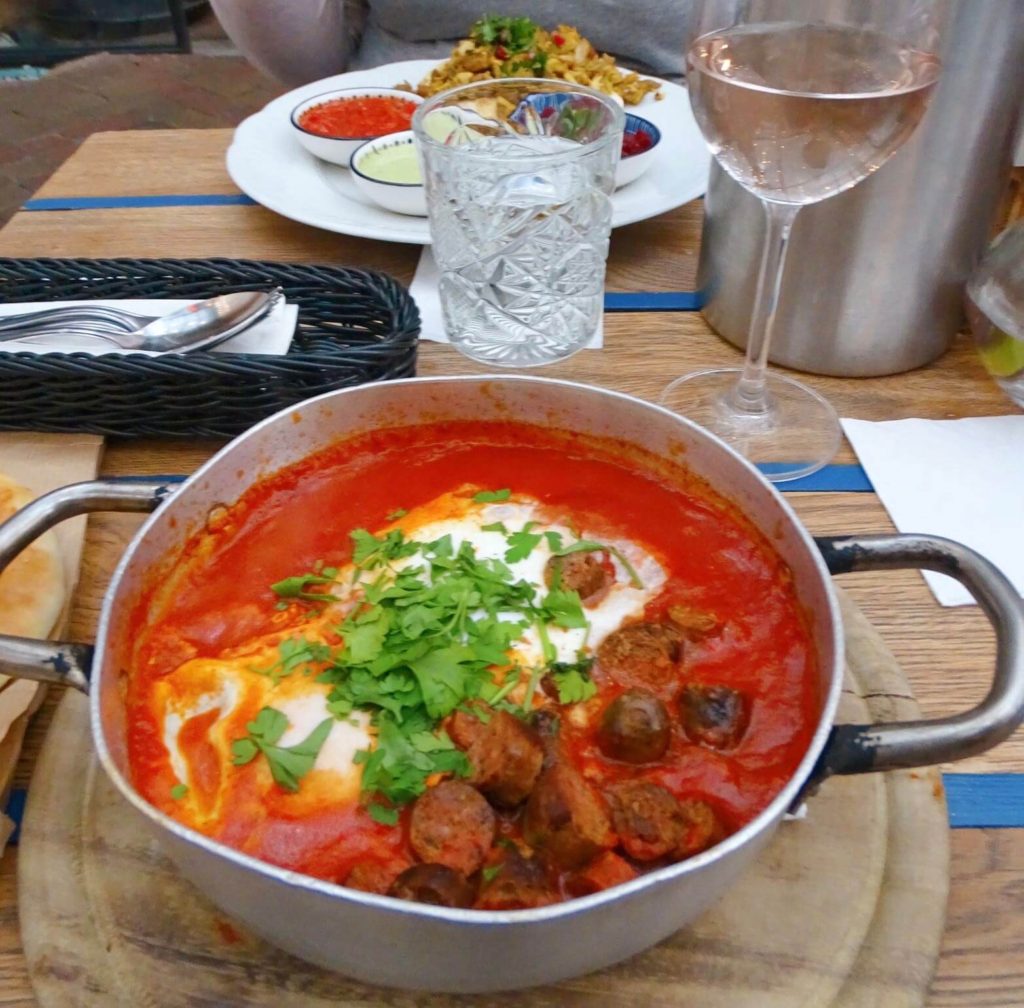 Hungary's large Jewish population makes the city a great place to learn about the history and sample traditional foods.

In the area around Dohány Street Synagogue, there are countless eateries serving Israeli and Middle Eastern foods like shawarma and shakshuka, my favourite brunch dish made with baked eggs, tomato sauce, chorizo and feta.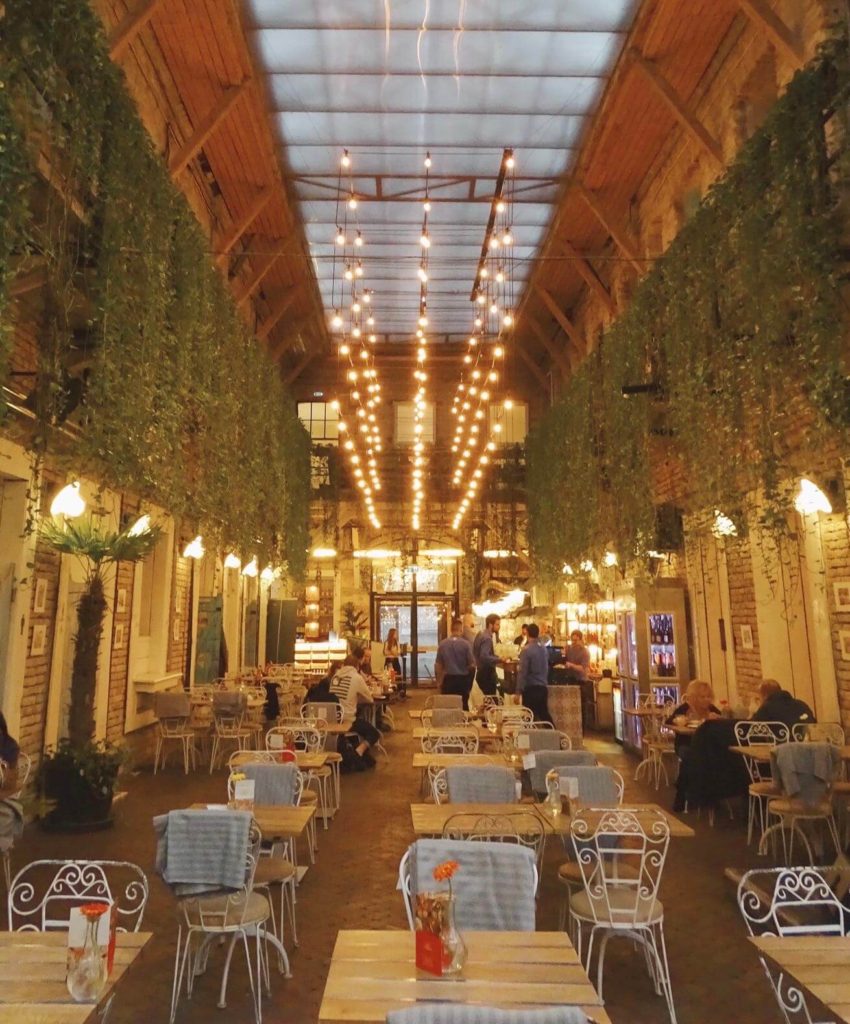 Where to eat Israeli food: Some of the best food in in Budapest is served at Mazel Tov, a restaurant inside an old warehouse. It's technically a ruin bar thanks to its refurbished nature, though more of an upmarket one than Szimpla Kert. The high ceilings are decked with fairy lights, plus the food is fantastic. You can try countless Middle Eastern dishes like hummus and falafel.
Halászlé (fisherman's soup)
What's this, another stew with paprika?

Basically, yes. Although unlike the meaty stews in Budapest, this is a fish dish. Carp, pike or catfish are stewed with onions, peppers and lashings of paprika to make a warming, flavoursome soup. It's served with bread and paprika paste because what else would better accompany paprika than more paprika?
What to eat in Budapest – best desserts
Apart from famous chimney cakes, I didn't have a clue about Hungarian desserts until my recent visit. As it turns out, much of the best food in Budapest is sweet.

If you can find space for pudding after the gluttonous main courses, here are more of the best things to eat in Budapest…
Flodni (Jewish cake)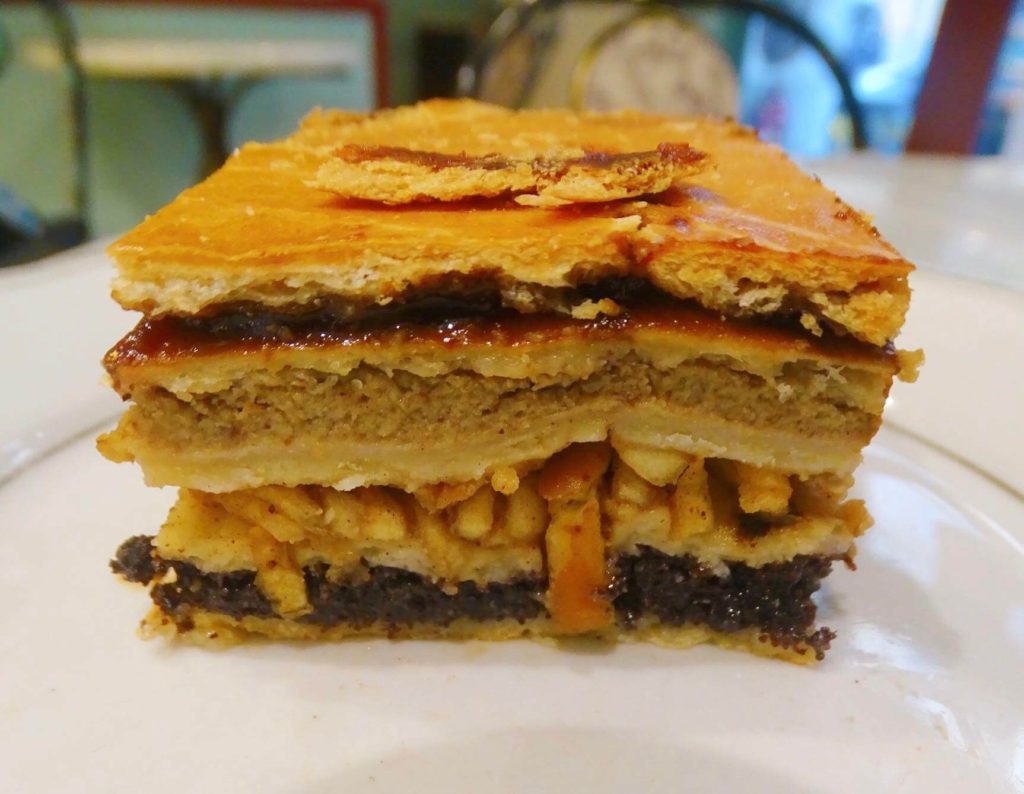 Back in the vibrant Jewish quarter, there's a popular dessert you should try. Flodni has been passed down for generations and features five layers of pastry and four different fillings.

From top to bottom, these are plum jam, walnut paste, stewed apples and poppy seeds. It wasn't overly sweet so I'm not sure sugar lovers will be sold, but I'd still recommend it as a dessert to try while in Budapest.

Where to try flodni in Budapest: Order it at Cafe Noe, which is actually on Google Maps as Noah's Patisserie Cafe. Here you can try the original version made by Rachel Flodnija, an ancestor of the family who invented it.
Rétes
If you're wondering what to eat in Budapest and love strudel, this will hit the spot. These authentic Hungarian pastries are made with flaky pastry stuffed with stewed fruit, usually apple or cherry. Eat them dusted with icing sugar and washed down with coffee.
Kürtőskalács (chimney cake)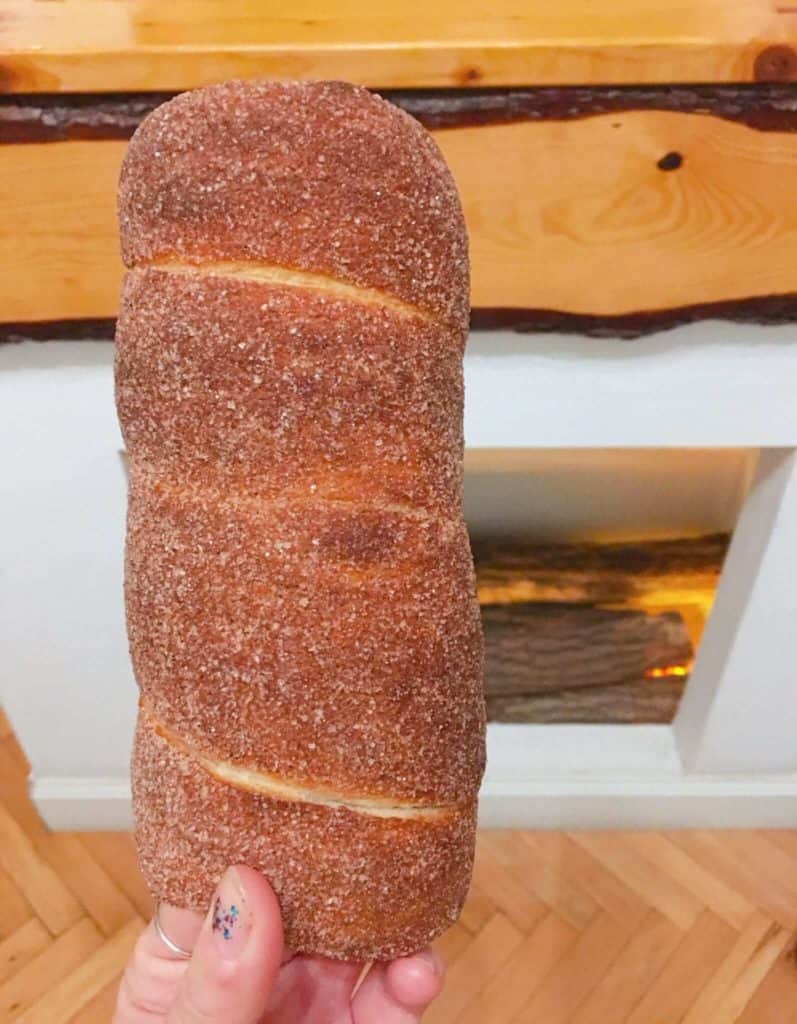 Kürtőskalác is popular around much of Central and Eastern Europe: you'll find it in Prague, Romania and Poland. However, it originated from Hungary so be sure to try it while in Budapest.

Sweet dough is made into strips and twirled around a spiral shape, then rolled in sugar, cinnamon or nuts. It may seem calorific but I like to fool myself that it's not so bad when you consider the middle is usually hollow…

Alternatively, for a very extra dessert, get down to Street Cakes.
Suggested activity: Chimney Cake Workshop
Túró Rudi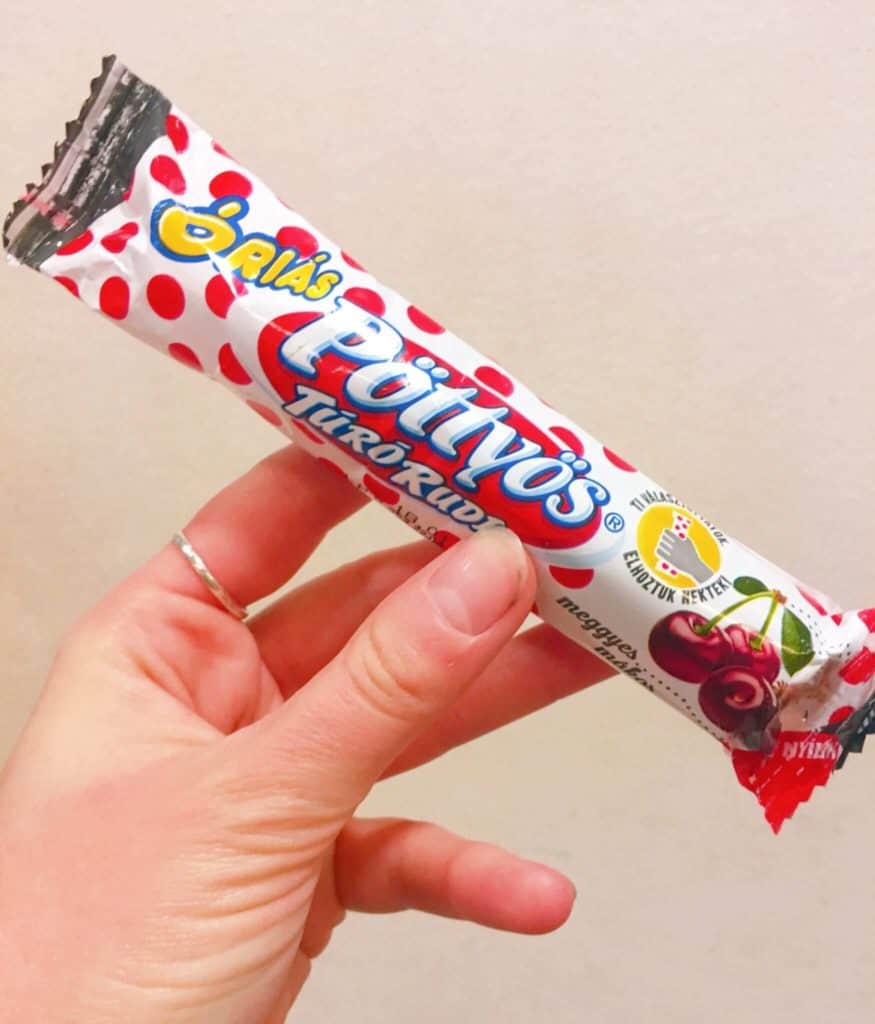 Hungary's favourite chocolate bar is called Túró Rudi. There are a few flavours of Túró Rudi but most people recommend the cherry variety.

I enjoyed the flavour but found the texture a bit odd: not quite ice cream yet strangely milky. It's worth sampling even if it can't rival chimney cake (spoiler: it definitely can't!).

Where to eat Túró Rudi in Budapest: This is easy. Head into any supermarket and find it cold with the dairy products.
Solmlói (sponge cake)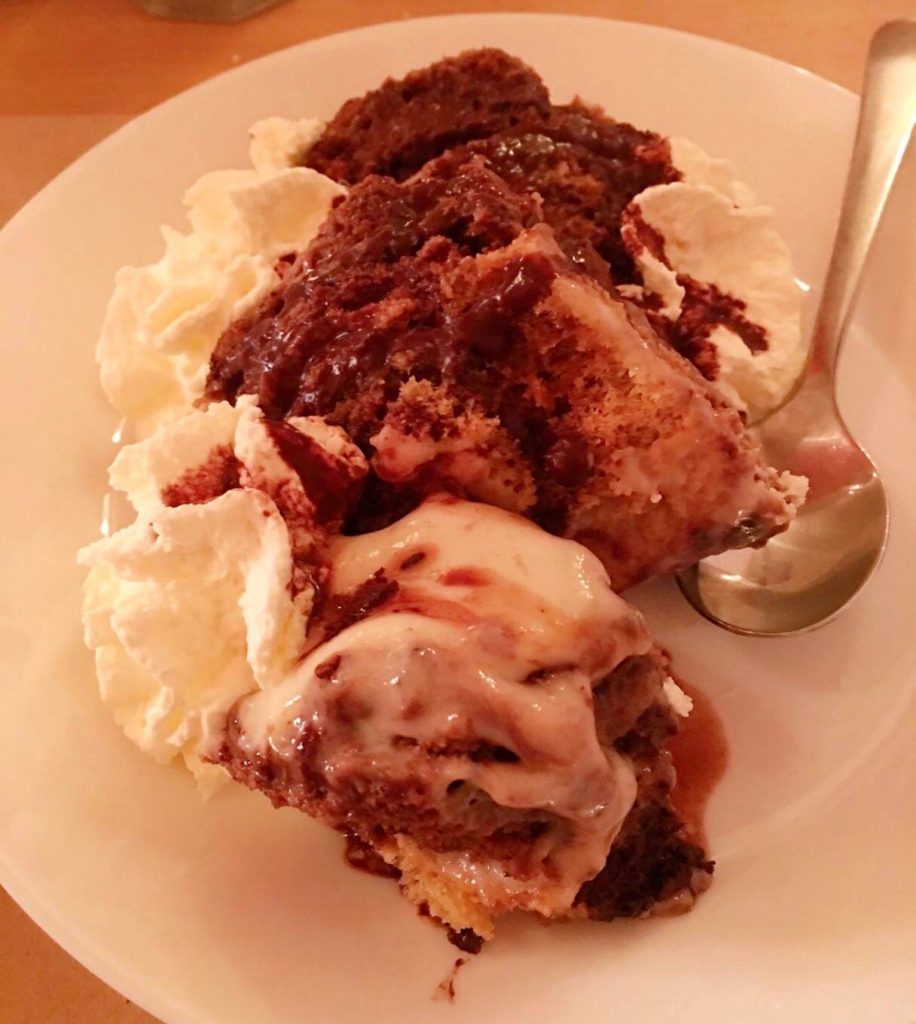 Three types of sponge, rum syrup and cream make up a somlói cake. I can only describe it as like a cakey trifle with an alcoholic aftertaste. Not being a massive trifle fan, it wasn't my favourite dessert in Budapest. I had it at Langos Papa but you'll find it on any dessert menu.
Meggyleves (sour cherry soup)
Cherry may not be your classic soup flavouring but this is actually a delicious dish to try in Budapest. Cream, sugar and fresh cherries are cooked until the fruit begins to stew. A glug of red wine is sometimes added. It's usually a dessert but occasionally an appetiser.
Best Budapest drinks
Hungarian wine
I had no idea Hungary was famous for its wine but I was pleasantly surprised. With 22 wine regions, the history of Hungarian winemaking dates back to the 12th century.

Try red and white wines at Budapest restaurants and bars or take a guided Hungarian wine tasting tour for a fun evening out. Don't miss tokaji (strong dessert wine), bikaver (red wine translating as 'bull's blood') and szilva (plum brandy).
Budapest craft beer
Although I didn't know about Hungarian wine, I did know that Hungary, like many Central European counties, is a big beer consumer.

Although beer has been popular for centuries, the recent craze of craft beer is relatively new. As one of the cheapest European countries for a pint, Budapest has a fantastic craft beer scene. Check out the top Budapest breweries or take a guided craft beer tour.
Unicum
This infamous Hungarian beverage is an acquired taste. Unicum is a bitter liquor made from herbs aged in oak barrels. With centuries of history, it's a national treasure. You probably won't like it but give it a swig anyway!
Where to eat in Budapest
Artizan Bakery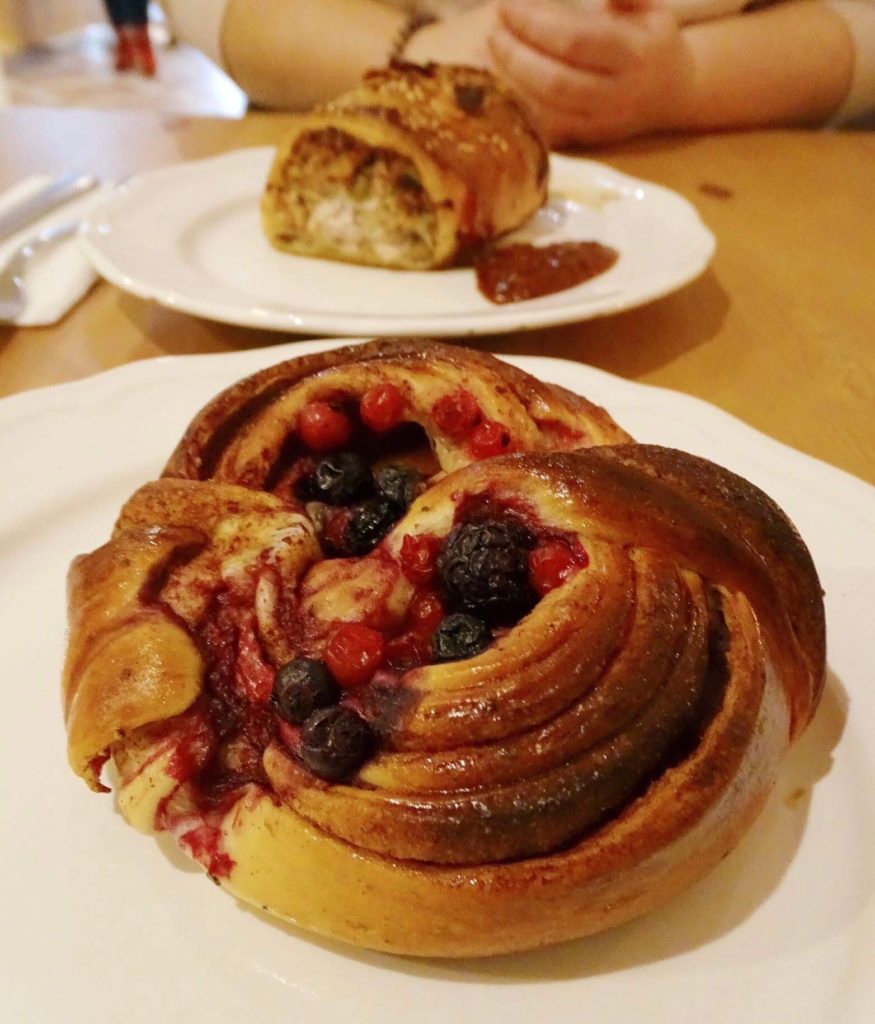 For an afternoon pitstop or a pastry-based breakfast, visit Artizan Bakery. Here you can try various pastries but you should opt for a red berry one if you want a typical Hungarian treat.

Meat lovers can also sample the sausage roll, without doubt the biggest and juiciest I've ever eaten. Olives and almonds pepper the mix for a delicious flavour.
Gelarto Rosa
These rose-shaped ice creams are essential for a summer trip to Budapest, and even winter visits if you can brave the cold. Gelato Rosa is beside St Stephen's Basilica so you can tick off two attractions in one go whilst snapping your Instagrammable ice cream to an iconic backdrop.
Zoska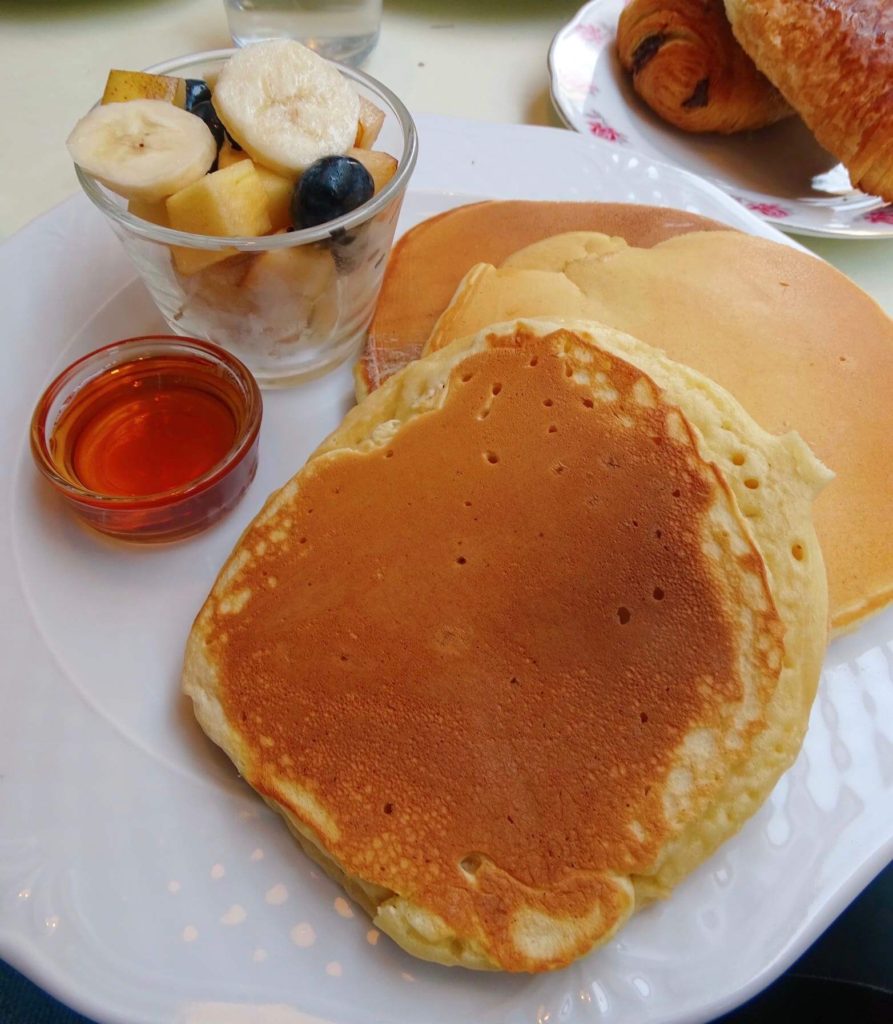 If you're wondering where to eat in Budapest for a tasty brunch, I'd recommend Zoska, a cosy cafe with hundreds of post-its decorating the walls. I had pancakes, fruit and a cappuccino for a tiny price tag.

For a more traditional and beautiful option…
New York Cafe
Often voted the most beautiful cafe in the world, this is where to eat in Budapest for phenomenal views and photo opportunities. It feels less like a cafe and more like a spectacular palace.

The cafe dates back to 1894 when it was a meeting place for the rich as well as the creative. Many artists and musicians would hang out here and presumably feel inspired.

Perch yourself at a table and marvel at the gold details, marble pillars and crystal chandeliers. Enjoy a decadent afternoon tea for €65, brunch or dinner (Hungarian and international dishes available). It's an expensive but memorable experience.
Best food experiences in Budapest
Here are a few ways to find more of the best food in Budapest while having a memorable travel experience…
Foodie walking tour
Walk up an appetite between stops as you explore the Budapest food scene with a local. I love food tours, especially when travelling solo, because you get to try so many more dishes than you would by yourself.

Try 10 favourite Budapest dishes on a guided walking tour.
Central Market Hall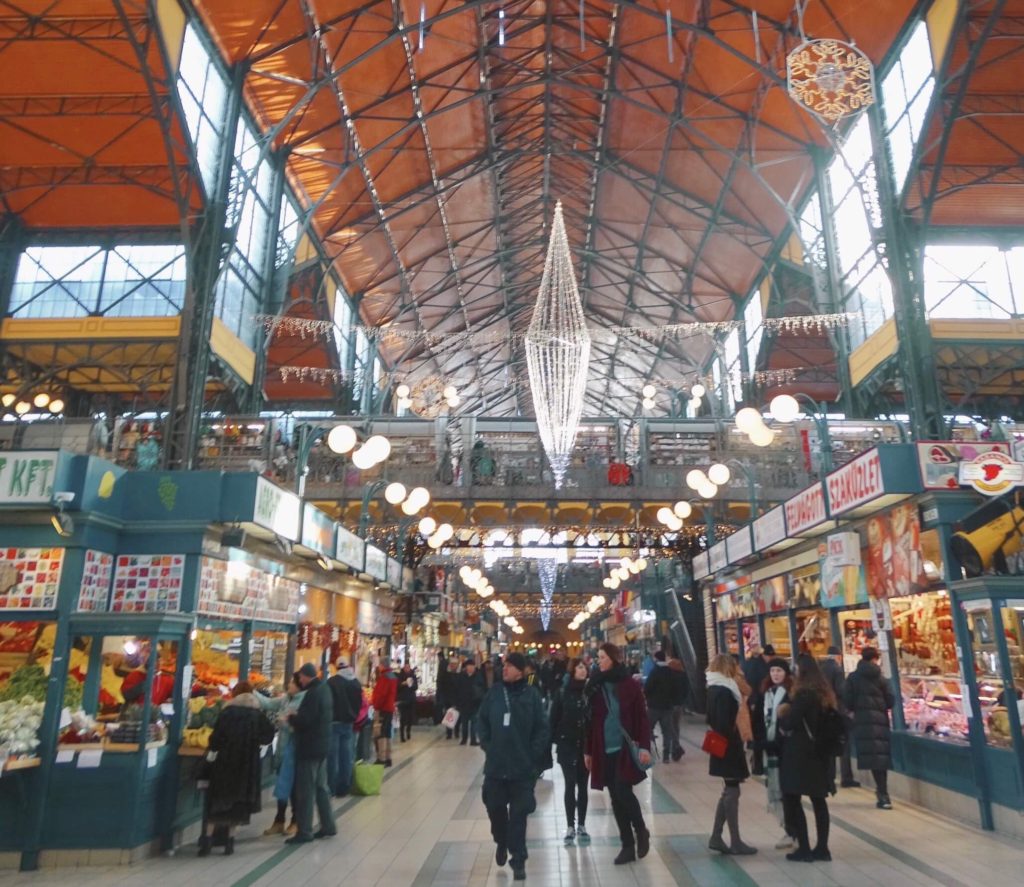 If you can't decide what to eat in Budapest, stroll this enormous market for inspiration. Wander the fresh grocer stalls downstairs then head up to the food court to try various Hungarian specialities.

Take a Central Market Hall food tour with tastings to learn about Budapest food from an experienced guide.
Take a cooking class
This is one of my favourite things to do in a new country. I'm a terrible cook so always need a local to show me the ropes!

Try a 4-hour Hungarian cooking class in a local home. You'll cook a 3-course meal with snacks and Hungarian wine.
Supper clubs
I recently discovered EatWith, a website hosting food experiences from supper clubs, food workshops, cooking classes and market visits. They're all hosted by locals keen to show you their city. I like the look of this strudel workshop!
Looking for all the best things to do in Budapest?
Now you know what to eat in Budapest, you might be ready to research activities and itineraries. Check out my weekend guide:
Read next: 3 day Budapest itinerary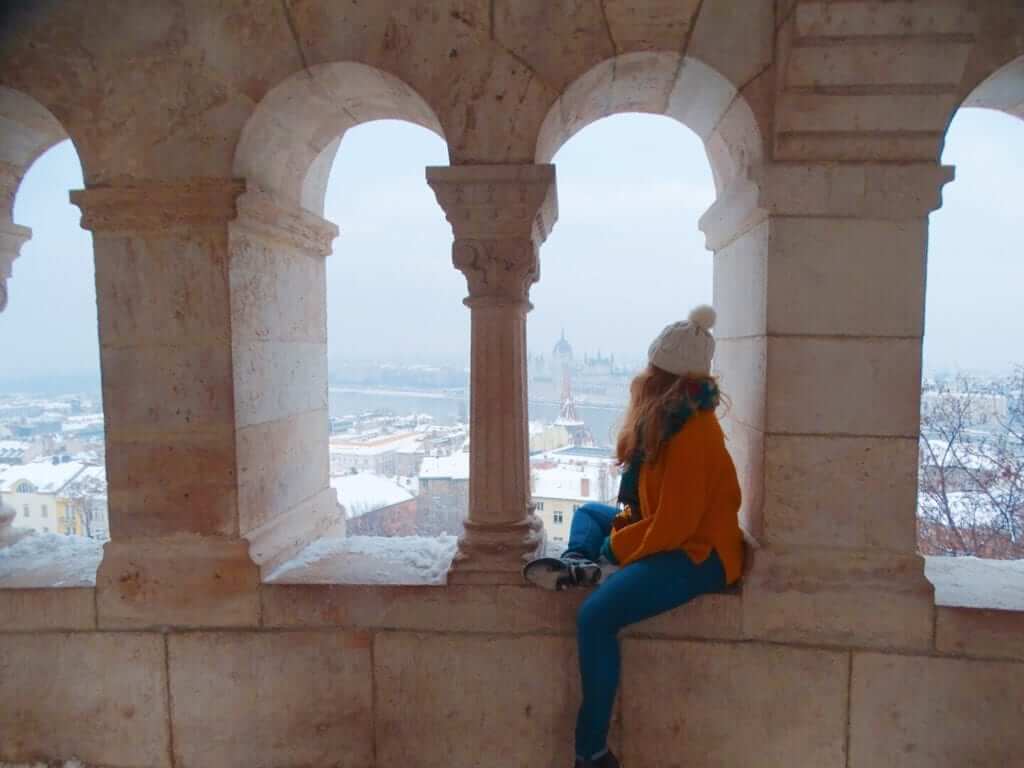 Thanks for reading my Budapest food guide!
I hope you enjoy your trip and have a good idea of what to eat in Budapest. There are so many other things to eat in Budapest but these delectable dishes are a solid start!
Check out some of my other Europe guides:
See you next time for more adventures,
Rose
Ps. Liked this? Pin my Budapest food guide for later!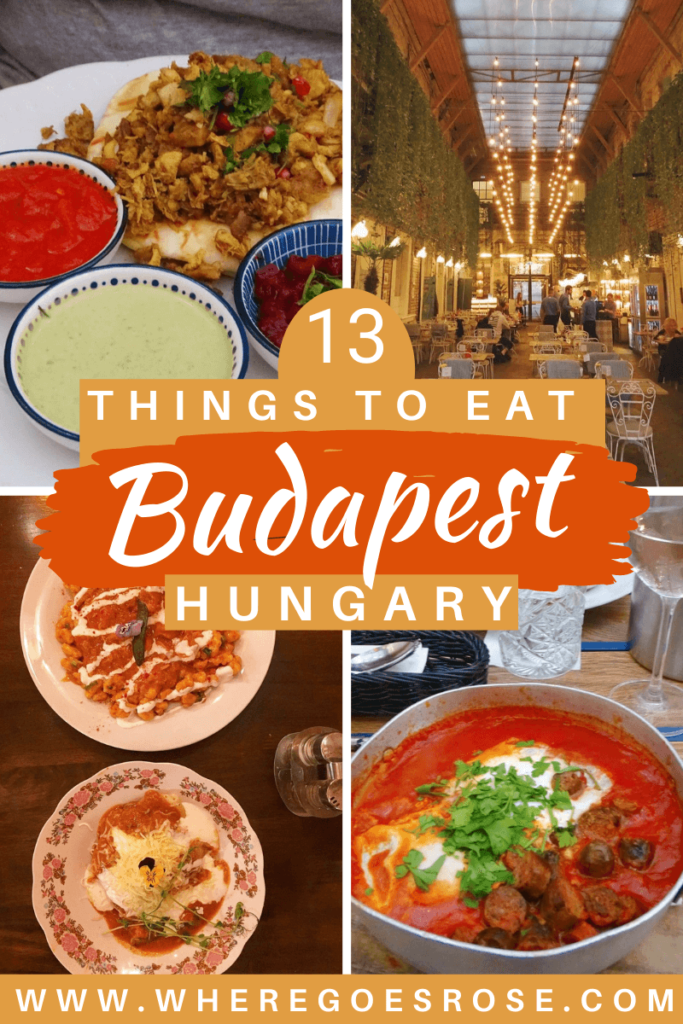 TRUSTED RESOURCES FOR VISITING HUNGARY

Getting around by air – I use Skyscanner to find the best-value flights, using the 'search by month' tool to find the cheapest dates. You can also use the 'to anywhere' feature if you're flexible on where you're going.

Driving in Europe – use Rentalcars.com to compare car rentals in European countries (and all around the world).

For trains, I use RailEurope. The search feature allows you to compare prices, and they show live departure times on the website.

For buses, I use Flixbus. Find journeys between European countries from €1! 

Use Omio to compare trains and buses in one search. It's so handy!

For hotels and self-catering apartments, I use Booking.com. You can filter by review score and price to find the best-rated budget places. For hostels, I use Hostelworld.com.

To save money on accommodation, I use Trusted Housesitters, a website that connects homeowners going away and travellers who can sit their homes & pets.

Browse tours and activities on GetYourGuide.

Need travel insurance? I use True Traveller (for UK & Europe residents) since it's some of the most affordable insurance out there but still covers everything you'd need including various activities, valuables and pre-existing conditions. Unlike some companies, they insure you if you're already travelling / don't yet have your flight home booked. Get a quote.

For travel insurance for other nationalities, I recommend Hey Mundo and for long-term digital nomad travellers, I suggest Safety Wing.

Check out my resources page for more travel discounts and budget tips from my 10+ years on the road!