This post may contain affiliate links to things like tours, hotels, Amazon associates and products. These help me earn a small commission at no additional charge to you.
Welcome to my Hamburg food guide!

En route to Hamburg, I did my usual Instagram scan of the foodie accounts and quickly knew I was in for good things.
HAMBURG ESSENTIALS

Accommodation: Booking.com / Hostelworld

Copy of Lonely Planet Hamburg

Browse Hamburg food tours

Getting there: flight (Skyscanner), train (RailEurope), bus (Flixbus)
If you eat the traditional dishes, a trip to Germany is always carby and delicious. If you don't believe me, check my guide to the best German foods to try.

Browse my other Central Europe food guides:
Hamburg food guide
During my trip, I worked hard to find the best food in Hamburg. From traditional German food to modern cafes, speciality coffee and the best restaurants in Hamburg, there's no shortage of options.

Nowadays, there's also a whole new side to Hamburg eating. Like in Berlin, you'll find a thriving hipster scene complete with great coffee, quirky eats and loads for veggies and vegans. From speciality coffee to warehouse pop-ups, it could be Shoreditch but nope… It's cheaper and it's Hamburg!
Best food in Hamburg
If you're looking for restaurants in Hamburg to and dig into tasty food, this section of my Hamburg food guide is for you.

During our February trip to Germany, we escaped the cold countless times by ducking into cafes and restaurants.

Find some of the best food in Hamburg at these restaurants:
Nord Coast Coffee Roastery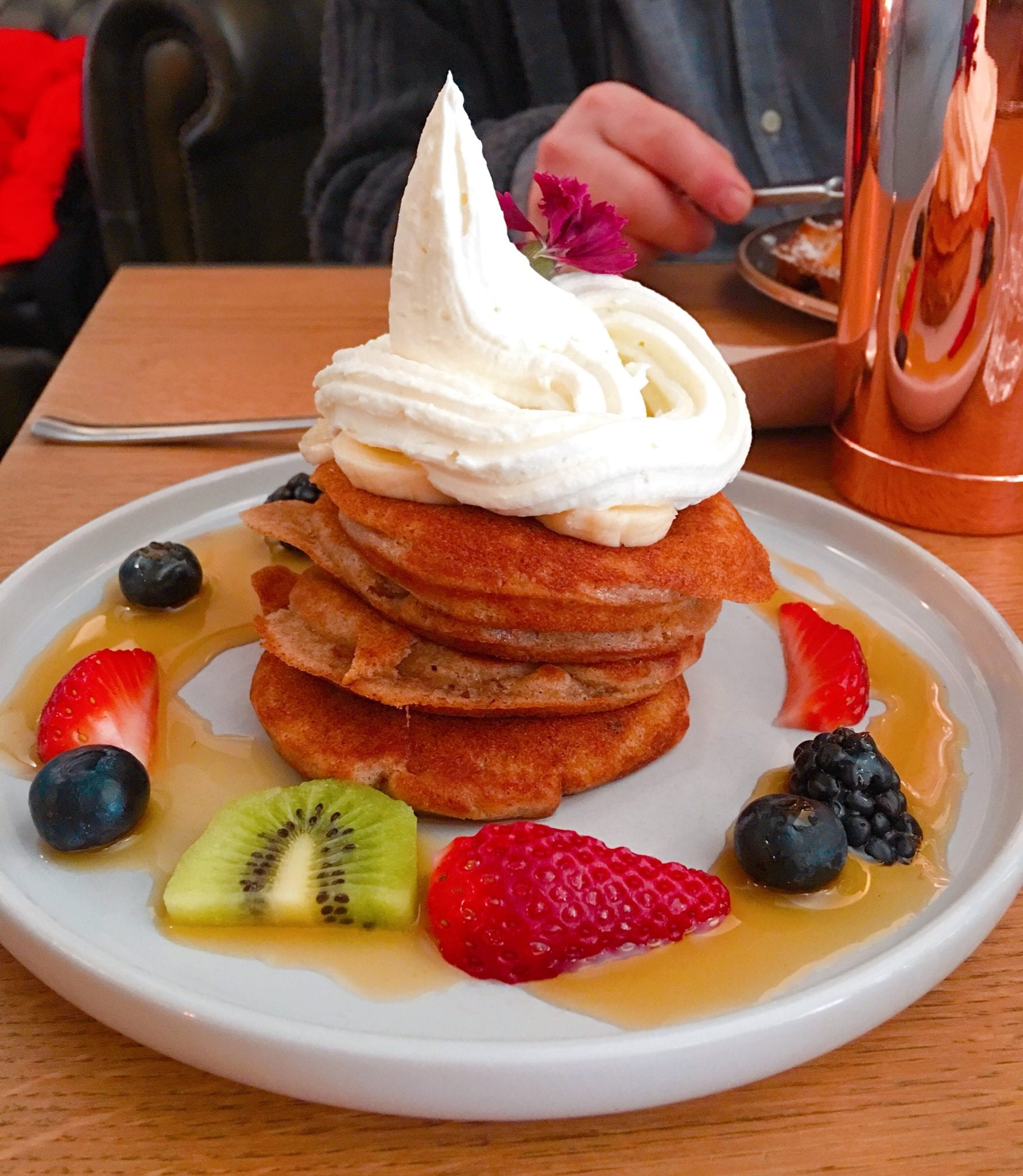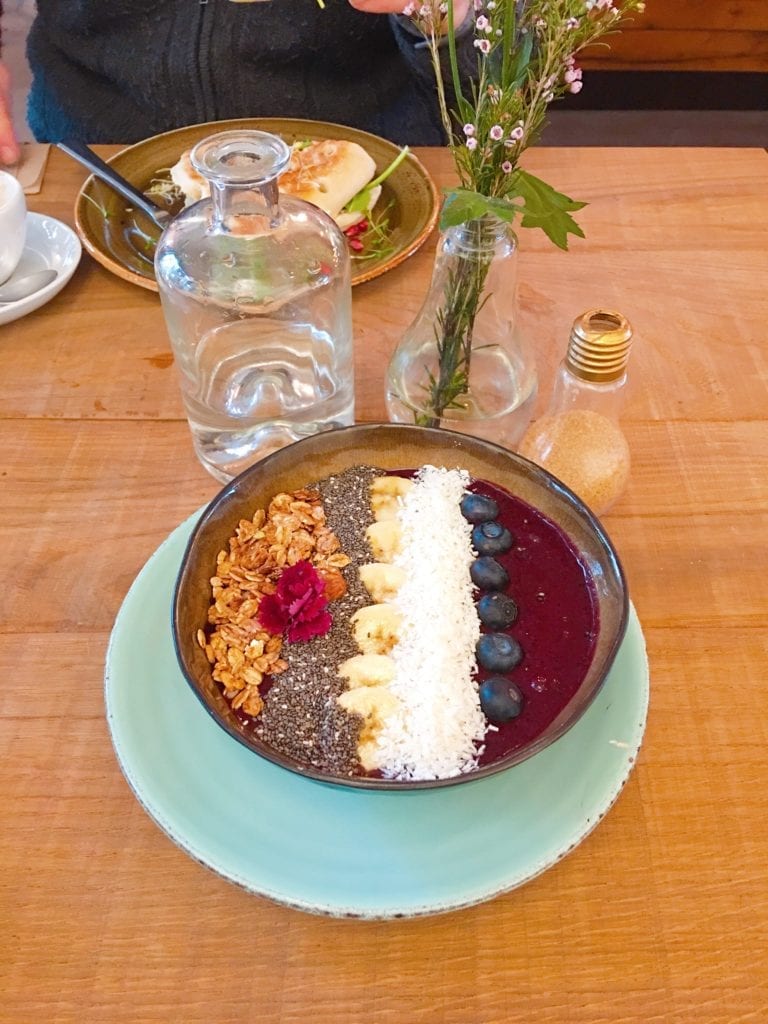 Right next to our apartment on Deichstraße, this Hamburg restaurant serves excellent coffee and brunches. Following a few morning visits, I can vouch for the açai bowls, fruit waffles and banana pancakes.

If you're lucky enough to nab a window seat (I'd recommend booking in advance for this) you'll get views of the river and the old timber houses on the opposite bank.

I also enjoyed the cosy interior and quirky details. Even the sugar shakers are made from recycled lightbulbs.
Kartoffel Keller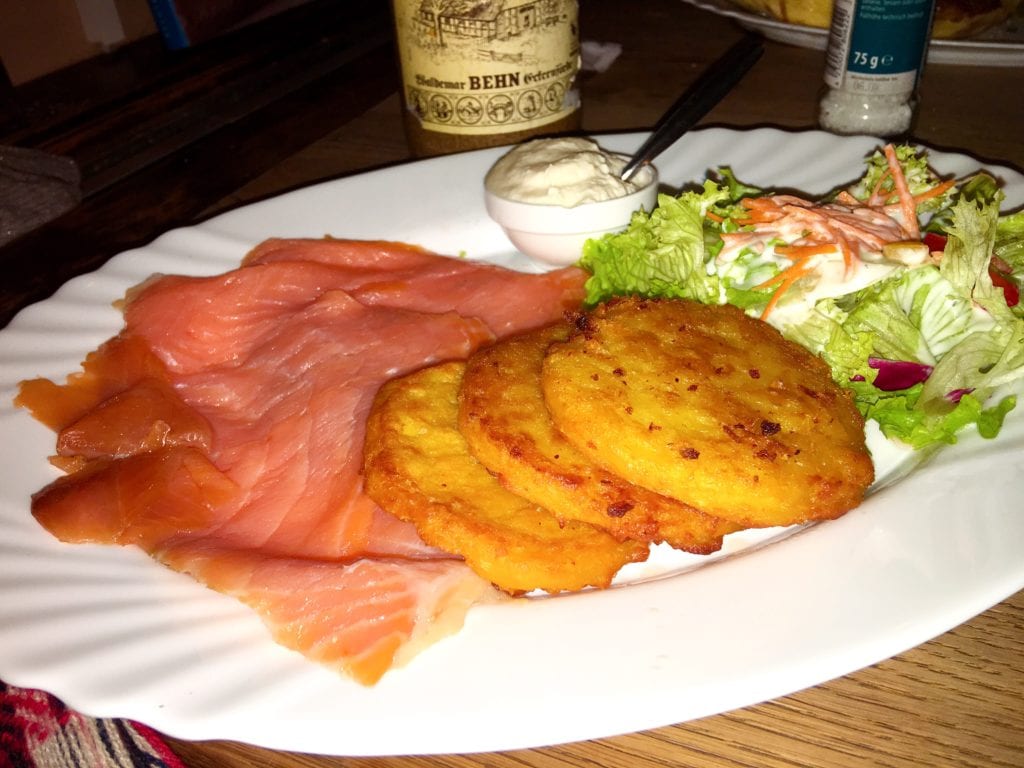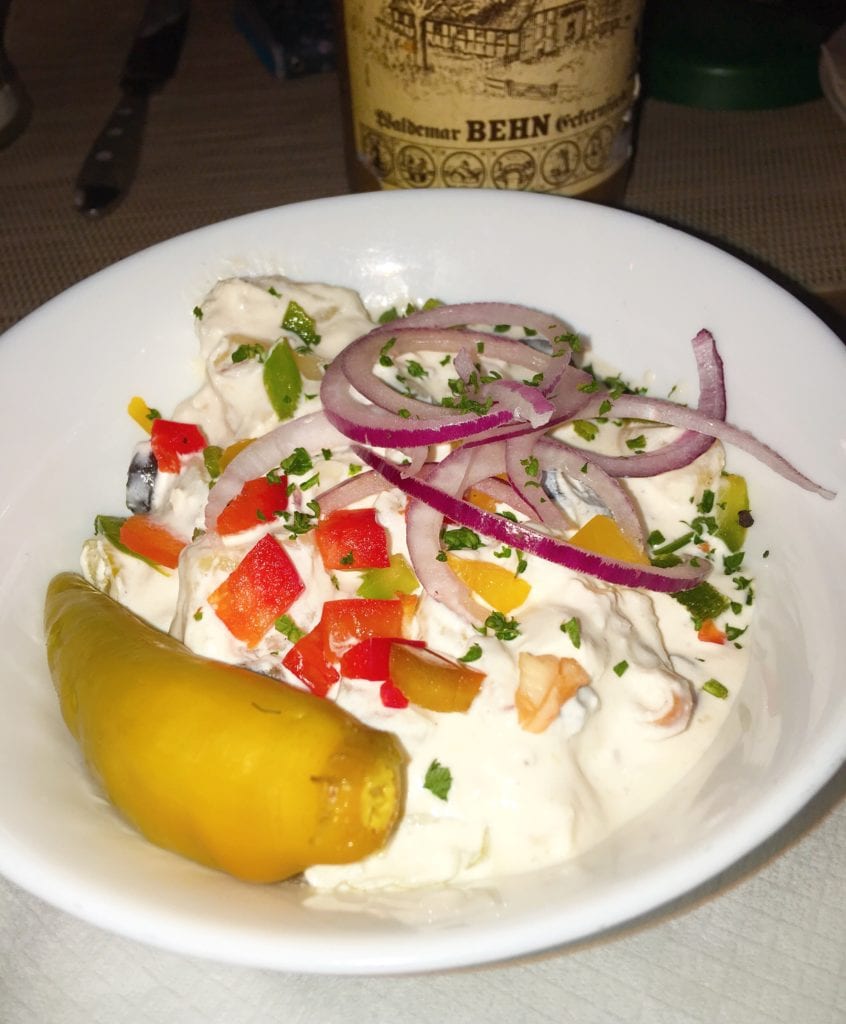 For hearty German food, this is probably the best restaurant in Hamburg. Also on Deichstraße, Kartoffel Keller translates as potato cellar. It's exactly what it says on the tin and serves every potato-based dish you could think of.

We shared a selection including potato pancakes (kartofelpuffer) with smoked salmon and a creamy mustard dip; a potato and bacon omelette; and a dish of cheesy, layered potatoes with spinach and a white sauce. Oh, and a side of potato salad. Why do anything by halves?
Otto's Burger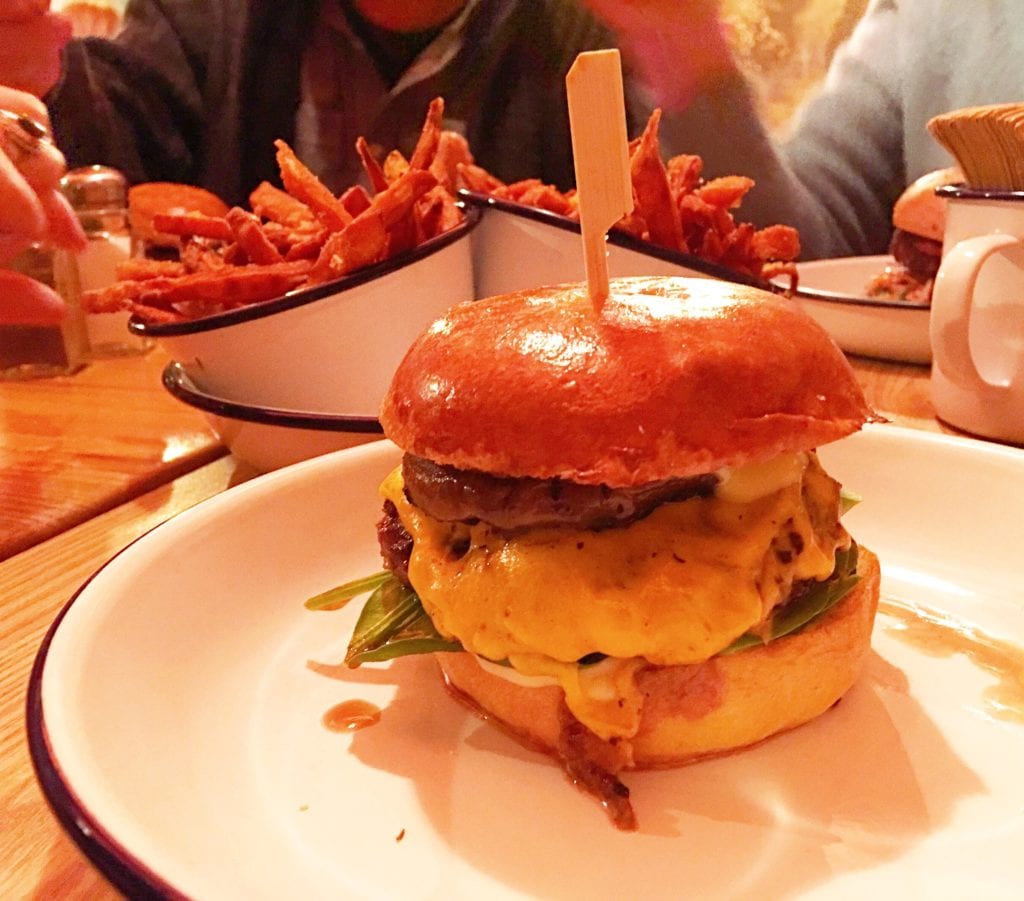 I can't miss hamburgers from a Hamburg food guide, can I? Once we'd discovered yes, hamburgers do originate from Hamburg, finding one was on the agenda.

Otto's is in the Sternschanze district of the city which is hipster heaven. Food is served on plastic plates, the music is repetitively housey and there are neon signs on the shabby chic walls proclaiming 'don't go bacon my heart'.

The burgers were delicious: rich patties on brioche buns overloaded with cheese. There were so many options including veggie and vegan burgers, plus they serve my favourite Canadian dish, poutine (mouthwatering cheesy curds with gravy and chips).
Urban Foodie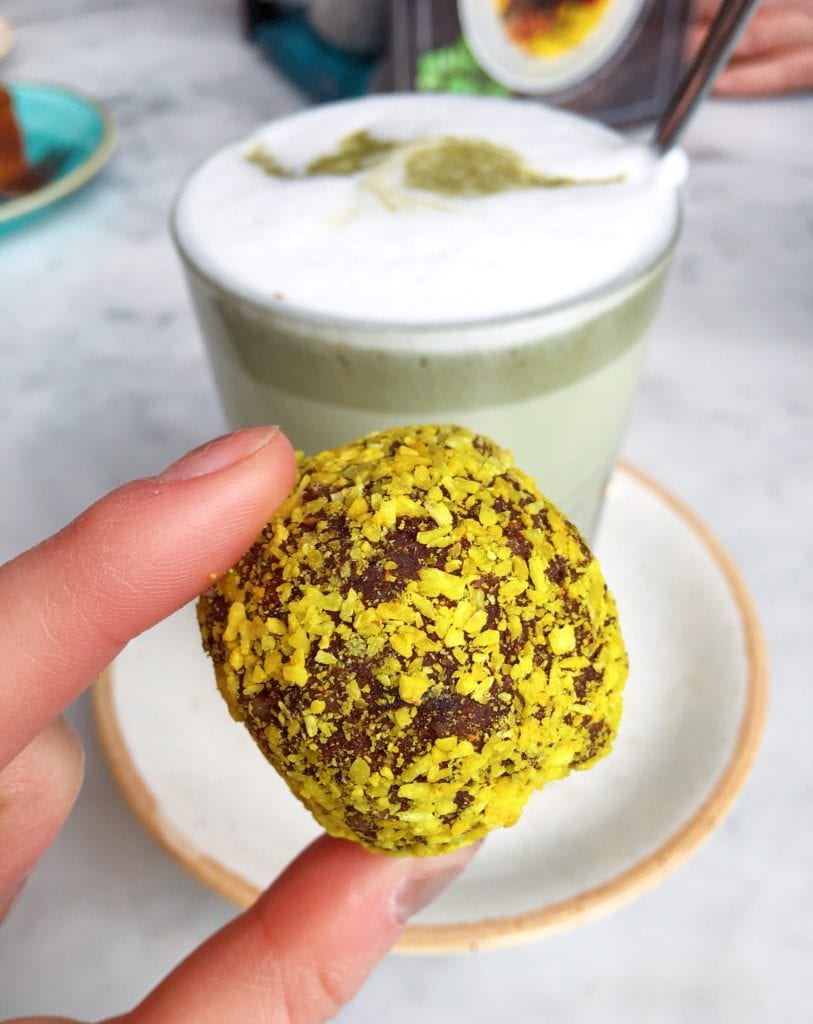 Continuing the cool and slightly pretentious theme, we stopped at Urban Foodie to shelter from the cold and kill time before our flight. If you like matcha you need to do the same!

I had a matcha latte and my first raw energy ball. Urban Foodie also serve brunch and Hawaiian poke bowls. The upstairs is mainly bar stools but we noticed the downstairs looked much comfier and cosier with views of St Nikolai Church.

2020 update – this place is now called UF Poke Bar. Can't wait to go back and try their poke!
Cafe Johanna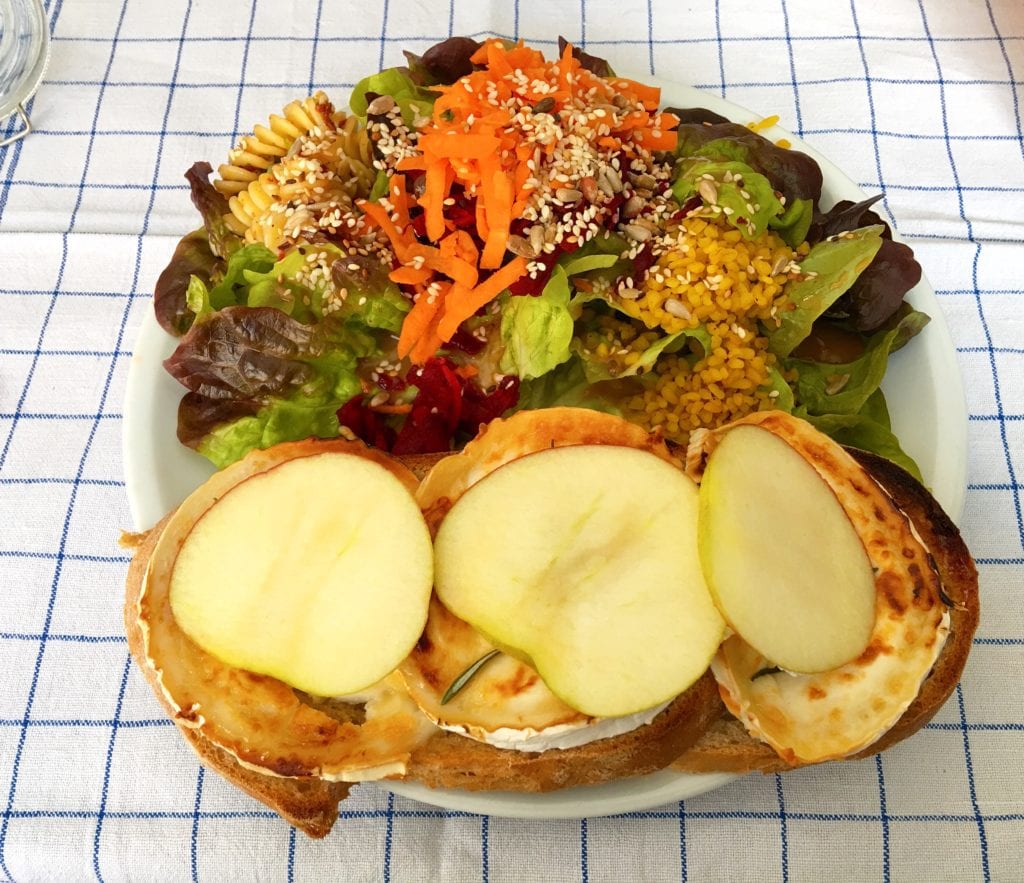 We ended up at Cafe Johanna because our favourite Nord Coast was closed, something I'm now I'm glad about because it meant we got to try another place to eat in Hamburg.

I had the most enormous plate of honey and goat's cheese toast with salad which kept me full for hours.

Cafe Johanna is on a residential street close to Landungsbrücken station. While you probably wouldn't come across it while wandering, it's worth seeking out.
Food tours in Hamburg
How many food tours have I taken around the world? The limit does not exist!

As a solo traveller, I love taking food tours because you get to try so many more things without getting full. You also get to learn from local guides who know their home city inside out.

A few fun Hamburg food tours include:
The best coffee in Hamburg
I wasn't expecting Hamburg to have such a fantastic coffee scene but it's not surprising: Hamburg's shipping history means that coffee has been passing through the city for centuries.

The first coffee house opened in 1677 before spreading the craze to the rest of Germany.

These are my top picks for the best coffee in Hamburg:
Nord Coast Coffee Roastery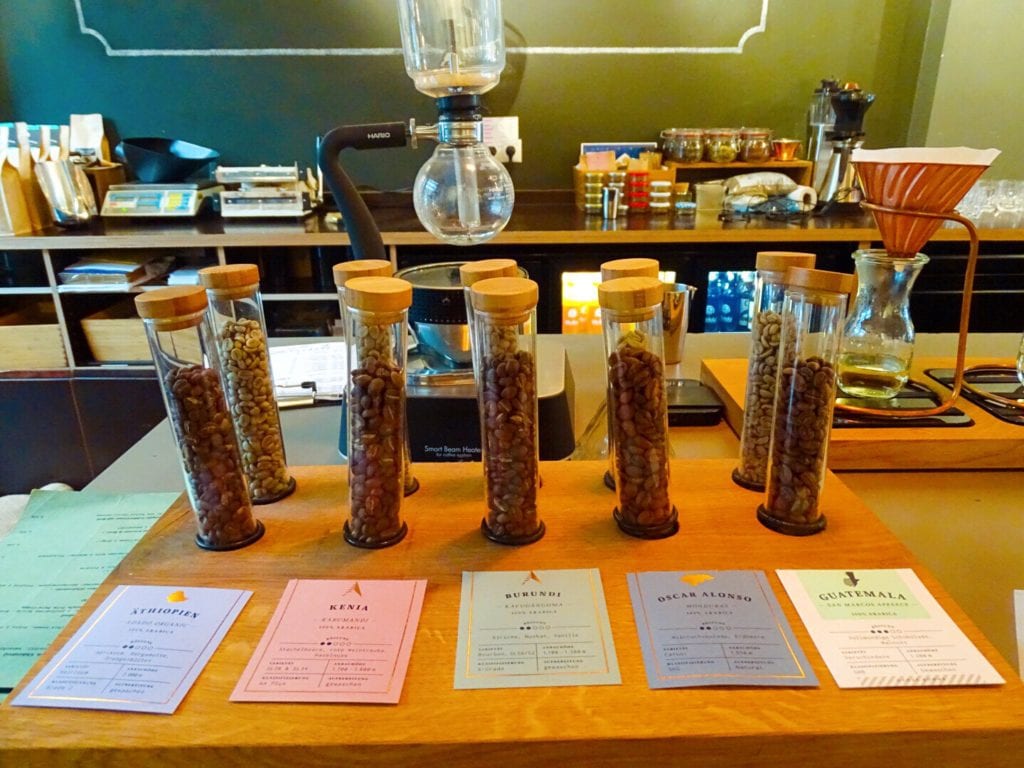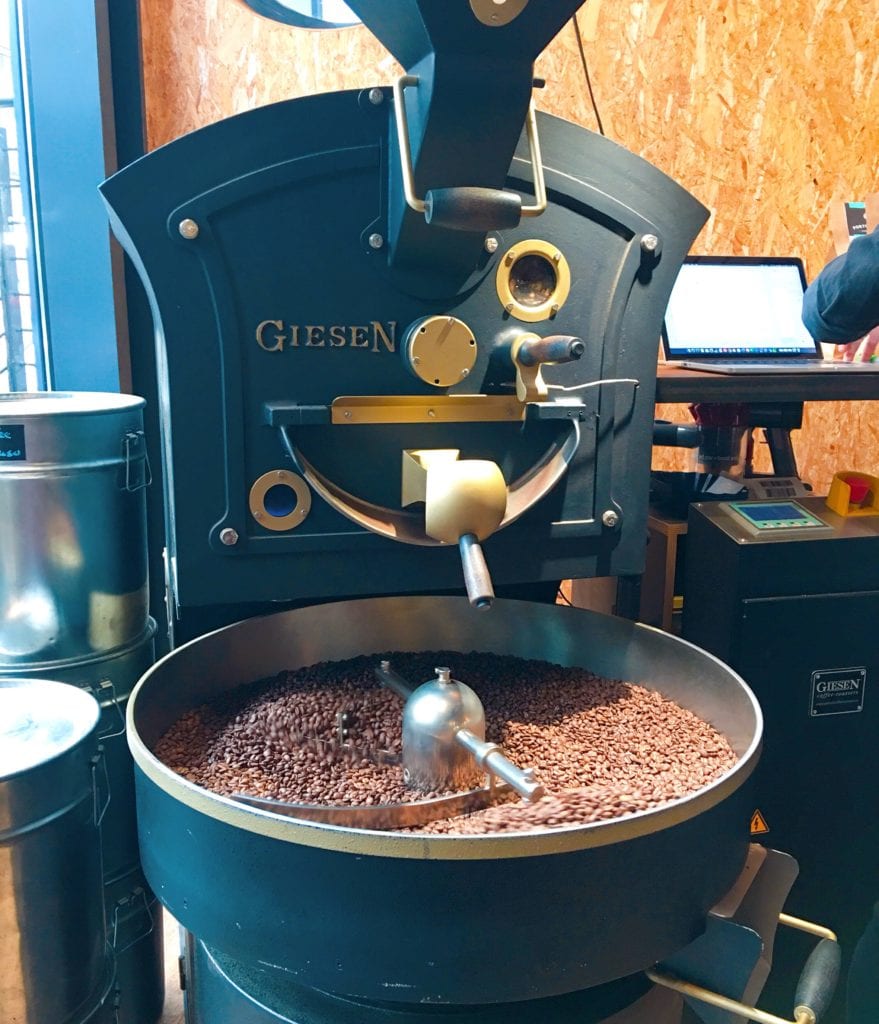 A well-deserved second mention for Nordcoast Coffee Roastery. If you don't fancy a full-blown brunch, visit to try some of the best coffee in Hamburg.

There's a bit of a Breaking Bad theme (but with ya know, caffeine instead of meth) and you'll notice beans displayed in test tubes and cooling cylinders. There's also a giant industrial bean grinder by the door.

I'll give it a 10/10 for interiors AND coffee.
elbgold Röstkaffee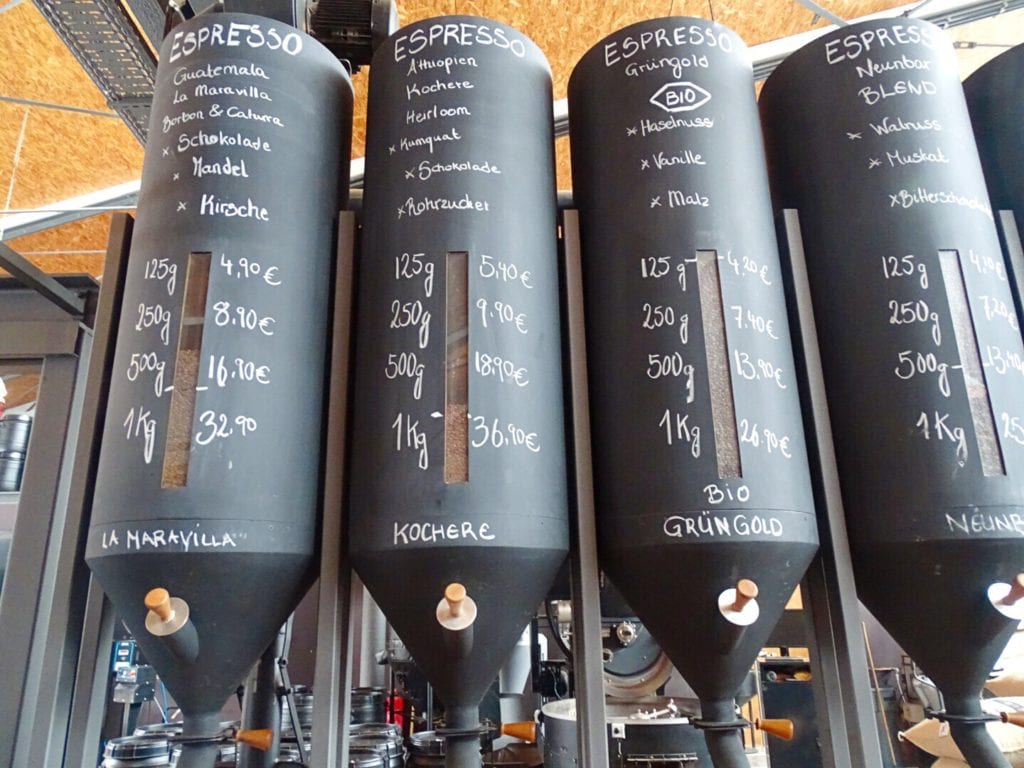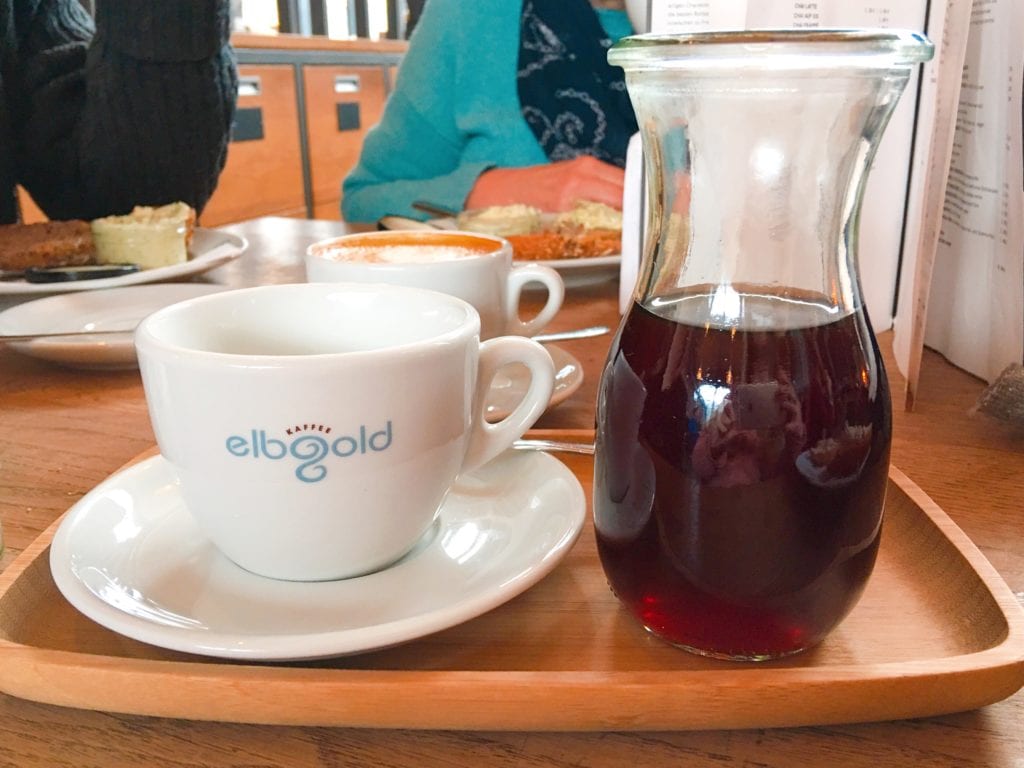 The only bad thing about Elbgold was finding it. We got lost and eventually located it up some steps in an old warehouse building behind Sternschanze station.

Once you're in, it's decked out exactly how you'd expect a coffee warehouse to be. Opt for your regular cappuccino/latte options or choose between almost 100 blends from around the world.

The bagels and spreads are also delicious. I can vouch for the fig and goat's cheese bagel.
Traditional German food in Hamburg
Next up in my Hamburg food guide, we're moving worlds away from raw balls and artisan coffee.

There are plenty of traditional German foods to try in Hamburg some of which are specific to the north of the country. Give these a try for a true taste of Hamburg: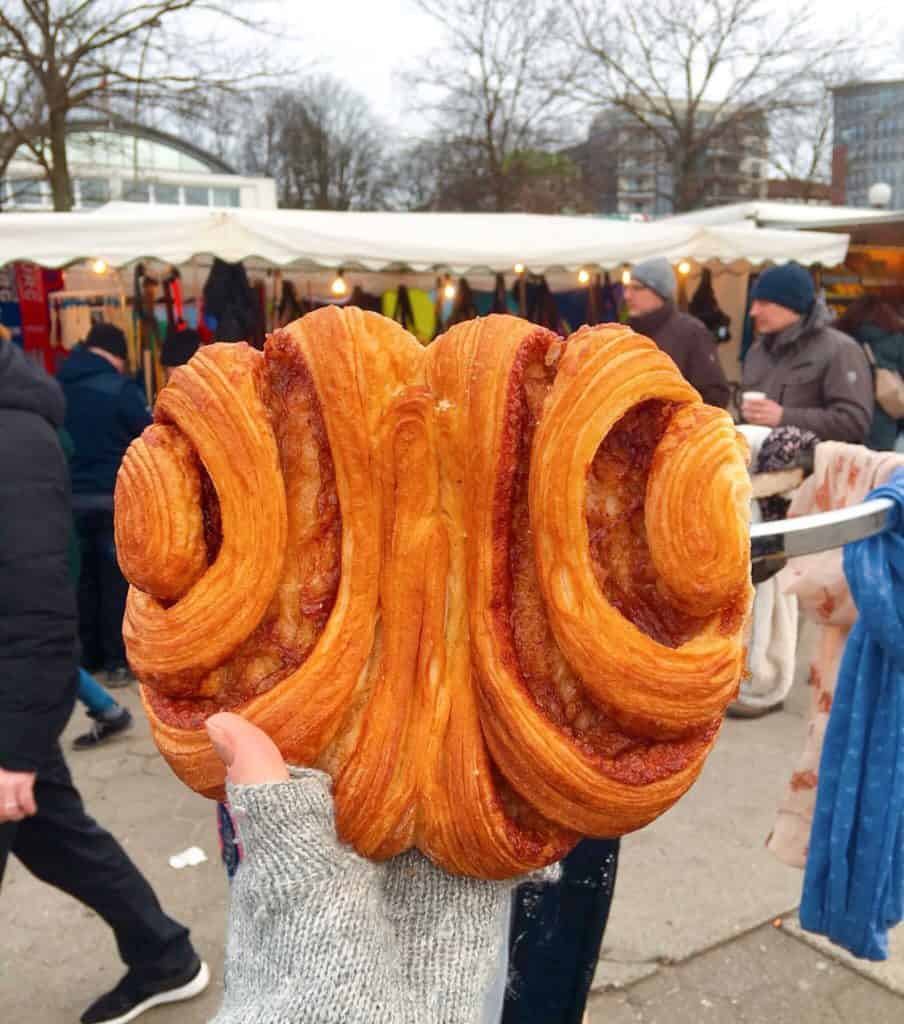 Franzbrötchen: Essentially a cinnamon roll the size of your head, this should be on your German food list. Sometimes raisins or chocolate chips are added to the recipe and they're best served warm. You'll find franzbrötchen everywhere, from cafes to street stalls – and they won't set you back more than a Euro or two.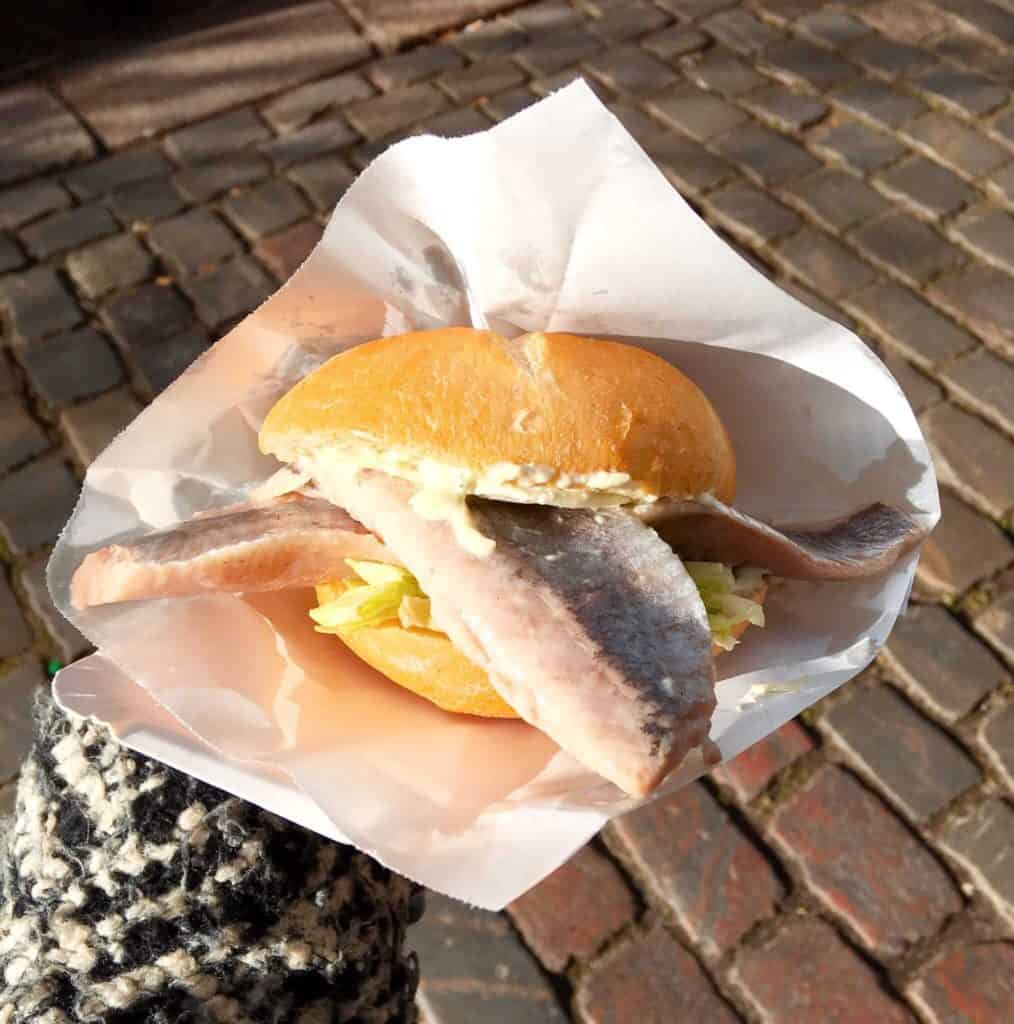 Fischbrötchen: This dish has prompted everyone who's seen the photo to reply with a nauseous, green face emoji. But it wasn't bad you know!

Fischbrotchen translates as 'fish bread' which is exactly what it is. Herring is the fish of choice so you might need a strong stomach.

I had mine at Fisch & Co, a tiny fish shop on Deichstraße with room for about six customers and portholes for windows. I paid €4 for a double portion with salad and fish sauce but a single is only €2.80.

Alternatively, visit the city's famous Sunday morning Fischmarkt and try it with smoked salmon or prawn instead. Another popular stand is Brücke 10 beside Hamburg harbour.
Hamburg traditional foods I didn't get around to trying
Panfisch – a traditional fish dish served with potato and mustard.
Labskaus – this traditional Hamburg food comprises corned beef, mashed potatoes and onion with a side of beetroot, herring and a fried egg. Sailors still enjoy it far and wide: you can even find it on menus in Liverpool just called 'scouse'. The name stuck and Liverpudlians today are known as 'scousers' – all because of this traditional German food from Hamburg!
Rote Grütze – red berries served with cream or vanilla sauce. This dessert was originally from Denmark but is now popular in northern Germany
Matjesfilet mit Speckstippe – salted herring with green beans, potatoes, fried bacon and onions, cooked in parsley butter. Northern Germany's famous Pickled Herring Fest is dedicated to it!
Foodspiration
Follow these Instagram accounts to research other great eateries in town.
What else to do in Hamburg?
While finding all the best foods in Hamburg, don't miss the main sightseeing attractions. My 2 day Hamburg itinerary will help you find the best things to do, where to stay and how to get around.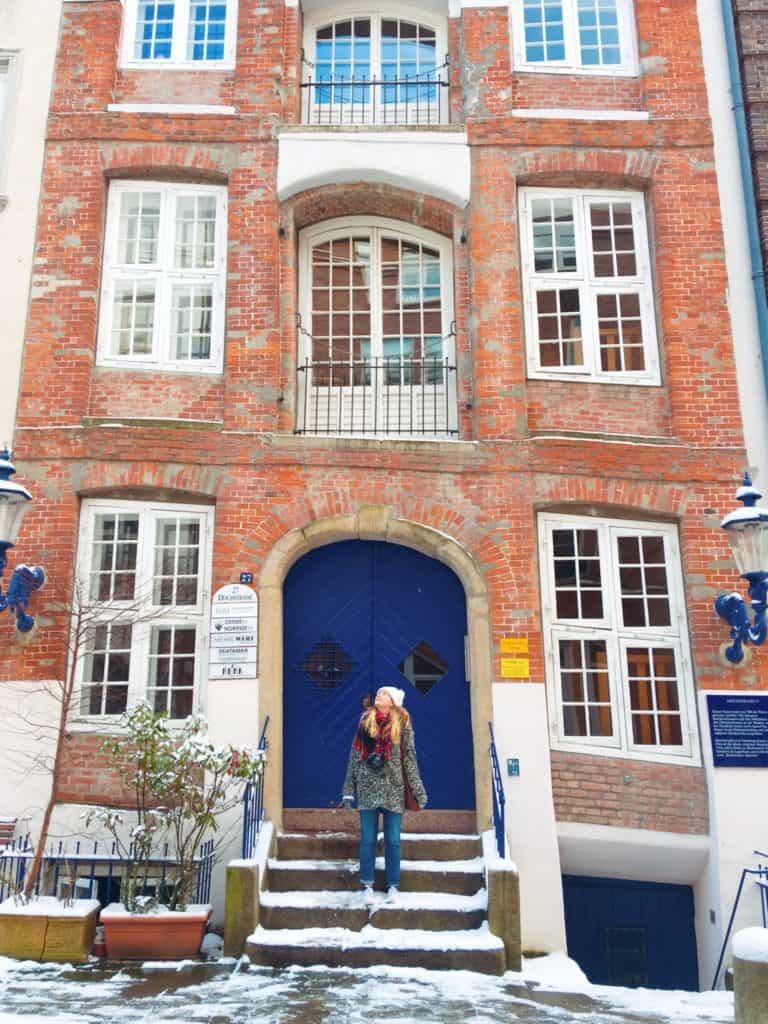 Thanks for reading my Hamburg food guide
If you liked it, please share it 🙂
Check out my other Germany posts:
See you next time for more adventures,
Rose
For more travel content, follow me on Instagram, Facebook, Twitter and YouTube.
Ps. Liked these best foods in Hamburg? Pin this for later!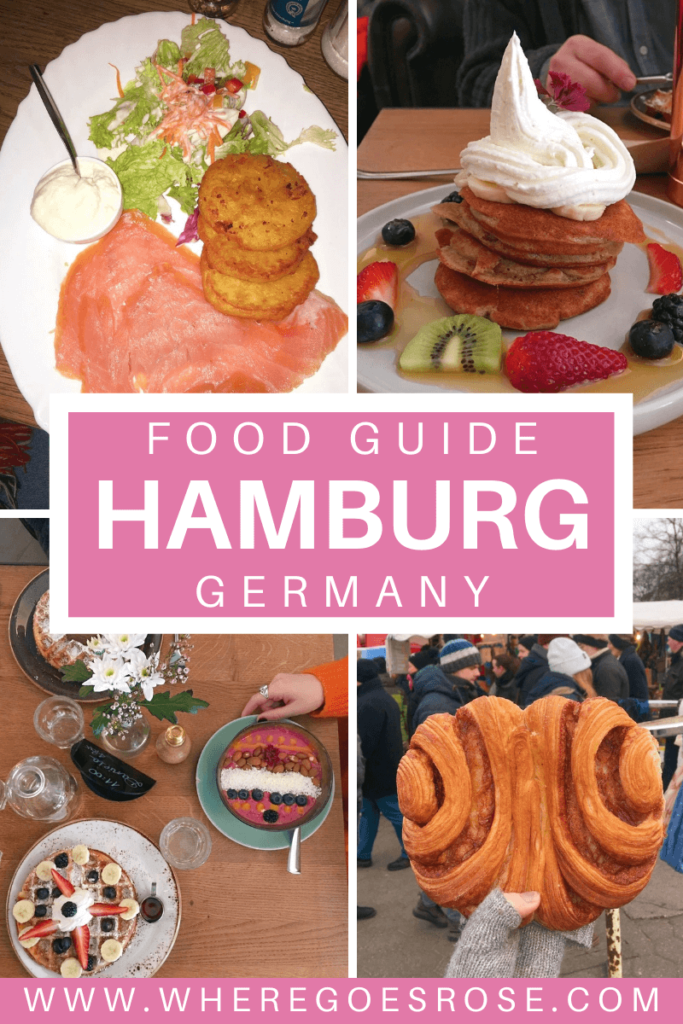 TRUSTED RESOURCES FOR VISITING GERMANY

Getting around by air – I use Skyscanner to find the best-value flights, using the 'search by month' tool to find the cheapest dates. You can also use the 'to anywhere' feature if you're flexible on where you're going.

Driving in Europe – use Rentalcars.com to compare car rentals in European countries (and all around the world).

For trains, I use RailEurope. The search feature allows you to compare prices, and they show live departure times on the website.

For buses, I use FlixBus. Find journeys between European countries from €1!

Use Omio to compare trains and buses in one search. It's so handy!

For hotels and self-catering apartments, I use Booking.com. You can filter by review score and price to find the best-rated budget places. For hostels, I use Hostelworld.com.

To save money on accommodation, I use Trusted Housesitters, a website that connects homeowners going away and travellers who can sit their homes & pets.

Browse tours and activities on GetYourGuide.

Need travel insurance? I use True Traveller (for UK & Europe residents) since it's some of the most affordable insurance out there but still covers everything you'd need including various activities, valuables and pre-existing conditions. Unlike some companies, they insure you if you're already travelling / don't yet have your flight home booked. Get a quote.

For other nationalities, I recommend Hey Mundo and for long-term digital nomad travellers, I suggest Safety Wing.

Check out my resources page for more travel discounts and budget tips from my 10+ years on the road!