I just got back from a weekend in Hamburg and I know it won't be my last. I'm here to share my tried-and-tested Hamburg itinerary so you can plan the perfect 2 days in Hamburg, Germany.
Best season for a weekend in Hamburg
There's no bad season to visit Hamburg, it really just depends on how much you can withstand the cold.

Average temperatures in January are around 0°C, while August can reach 30°C.

There are plenty of things to do in Hamburg in winter so wrap up warm and continue as normal.
Where to stay during a weekend in Hamburg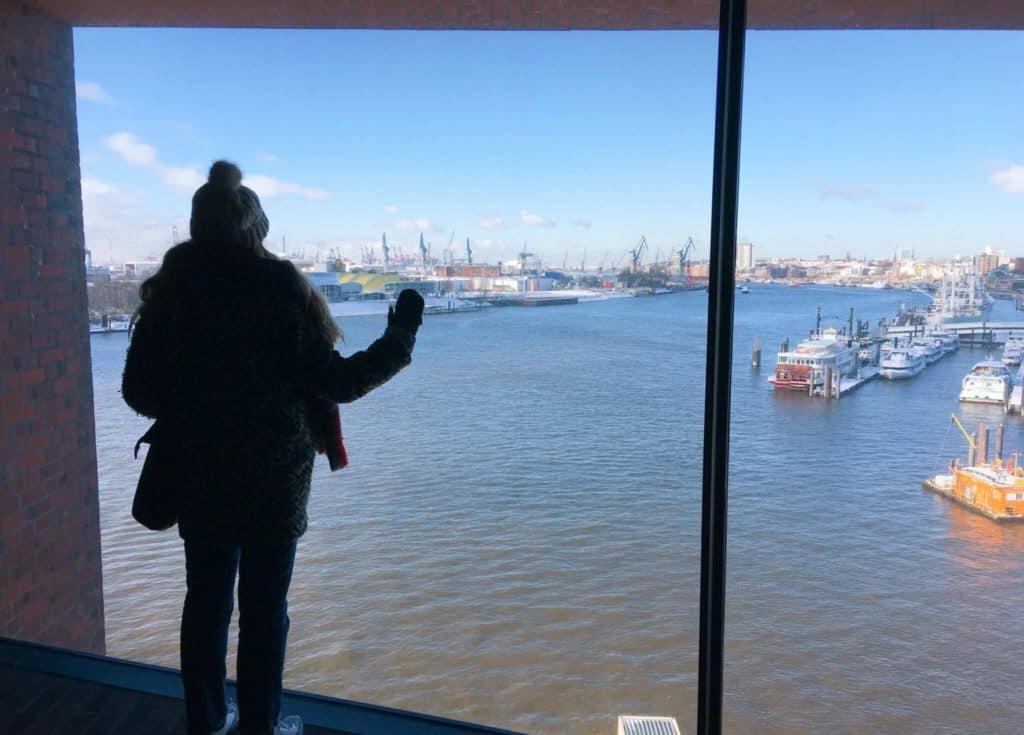 Getting to Hamburg
By air: Hamburg International Airport is 11km from the city. I use Skyscanner to find the best-value flights, using the 'search by month' tool to find the cheapest dates.

Getting from the airport: Take a 30-minute ride on the S1 U-Bahn line. Get off at Jungfernstieg station rather than Hauptbahnhof (central station) as it's actually closer to the city.

By train: Hamburg is well connected to other German cities and European capitals. Search trains to & from Hamburg on RailEurope.

By bus: You can also arrive and depart by Flixbus. Journies to Berlin start from €3! Search buses to & from Hamburg.

Top tip – to compare prices & durations of flights, trains and buses, use Omio.
Getting around Hamburg
2 days in Hamburg – best areas
Top 5 activities in Hamburg
Hamburg itinerary – day 1
We began our weekend in Hamburg by exploring the Aldstadt (old city) and HafenCity, the newest and most modern part of Hamburg, for contrast.

Since we were staying on Hamburg's oldest street, Deichstraße, we began with brunch at Nord Coast Coffee Roastery. I can vouch for the pancakes and smoothie bowls here.
Take a free walking tour – 11am or 2pm
Go up the Elbphilharmonie building
Afternoon – Walk the bridges
Feel inspired on the 'Art Mile'
Evening – St Pauli & Reeperbahn
For a true taste of multi-faceted Hamburg, you can't miss edgy St Pauli neighbourhood.

Beatles Platz: Fans of the famous four will want to pay homage at this square dedicated to the band. They regularly played in Hamburg and John Lennon famously said 'I might have been born in Liverpool – but I grew up in Hamburg'.

Personally, I found the square underwhelming but I think this is because I didn't learn any of the history. Take a walking tour to learn about the Beatles history: you don't learn any facts by seeing the square alone.

Bars and nightlife: Although the red light district is a bit of a culture shock, the Reeperbahn is one of the best places in Hamburg for bars and clubs. A great way to visit without feeling overwhelmed is with a guide. Try a bar crawl with drinks (10.30pm) or browse more Reeperbahn tours to learn from diverse Hamburg locals.

If you'd prefer to visit in the daytime, take a 1.30pm walking tour with a local drag queen!
Hamburg itinerary – day 2
For our second day in Hamburg, we're going to leave the city centre behind and explore the riverside and hipster districts.

Since Hamburg is such a quirky city, it would be a shame to miss these neighbourhoods. They really add to the city's culture.
Get up early for the Sunday Fischmarkt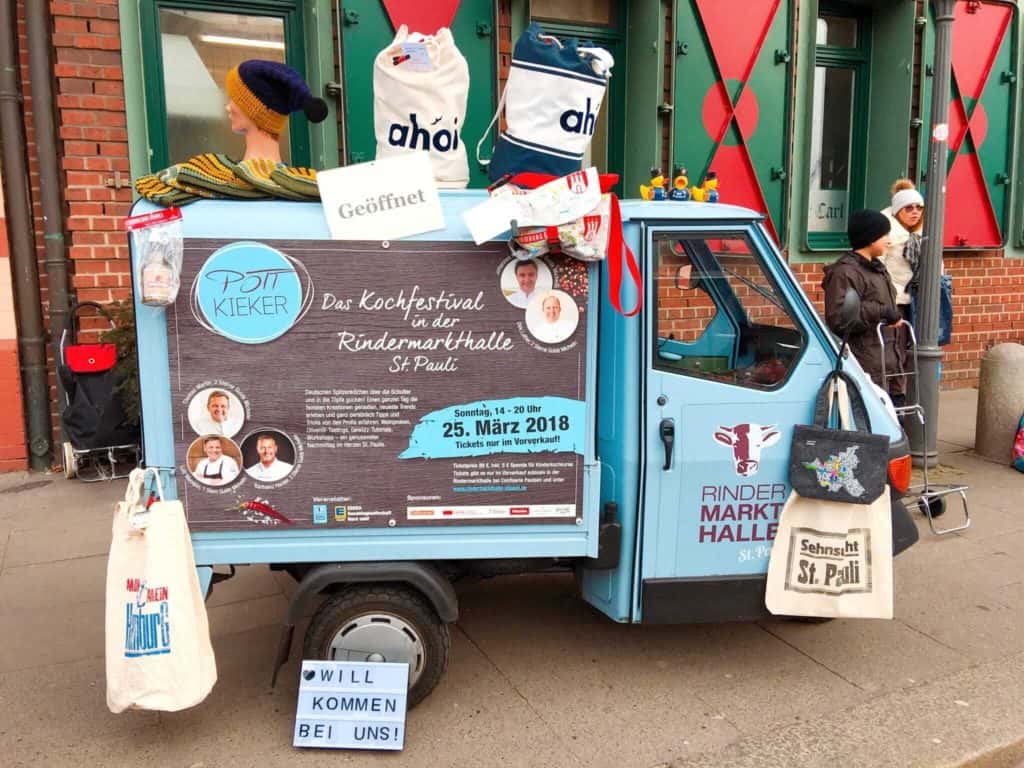 For a vibey addition to your Hamburg itinerary, head to this famous morning market on the banks of the river. It's renowned for opening at the same time as the bars close meaning clubbers head to the Fischmarkt for breakfast.

Alternatively, do what we did and get up early to arrive by 9am and explore before it closes at 9.30am. It's still worth a visit for non-fish fans as there are loads of souvenirs and craft stalls as well as pastries and coffee.
Peek into the Elbe Tunnel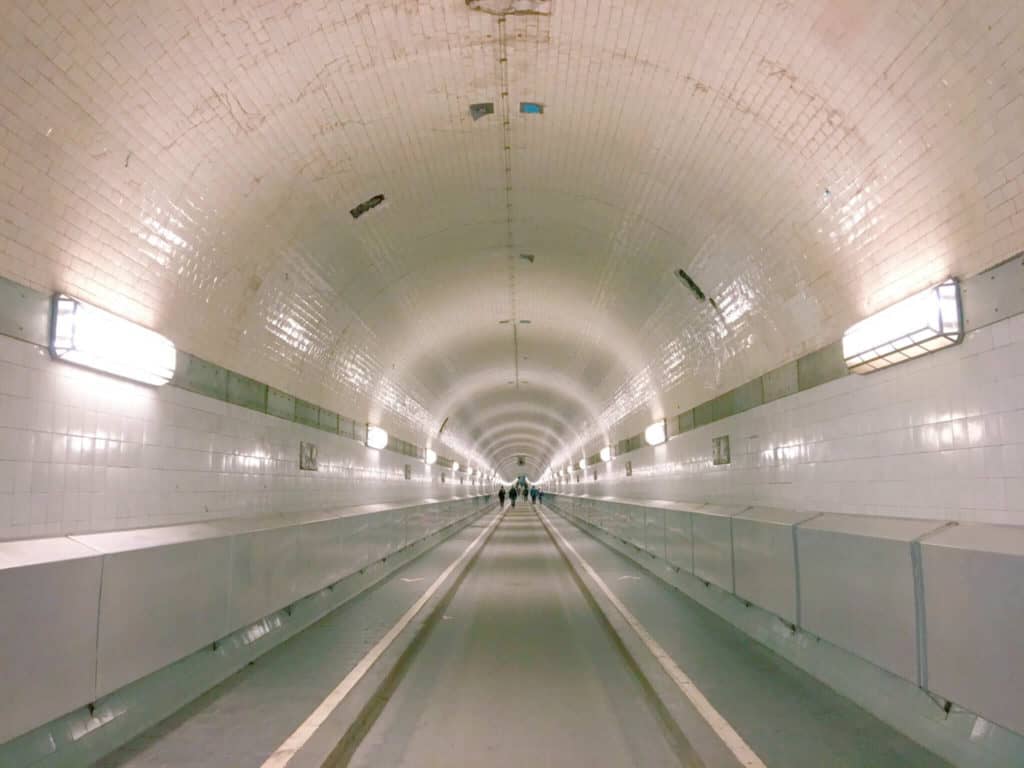 Another iconic Hamburg sight, the Elbe Tunnel runs under the river and connects the central city with the dockyards. It's just 10 minutes walking from the Fischmarket making it a natural next stop for your Hamburg itinerary.

We didn't walk the whole thing (it's almost 2 miles long) and instead popped in to take some photos near Landungsbrücken station.
St Michael's Church is one of Hamburg's five most important churches and without doubt the most popular with tourists. The inside of the church is lovely but the highlight was catching the lift to the top tower where you'll get a fantastic view out over the city.

During a Hamburg weekend trip, you can visit the evening bar open on Fridays and Saturdays.
Krameramtswohnungen
Try pronouncing this mouthful! No seriously, can you? I can't.

Hamburg isn't home to as many traditional German timber houses as Bavaria but you'll find this tiny, windy street full of them close to St Michael's Church.
Sternschanze for quirky shops and street art
Sunset view at Skyline Bar 20up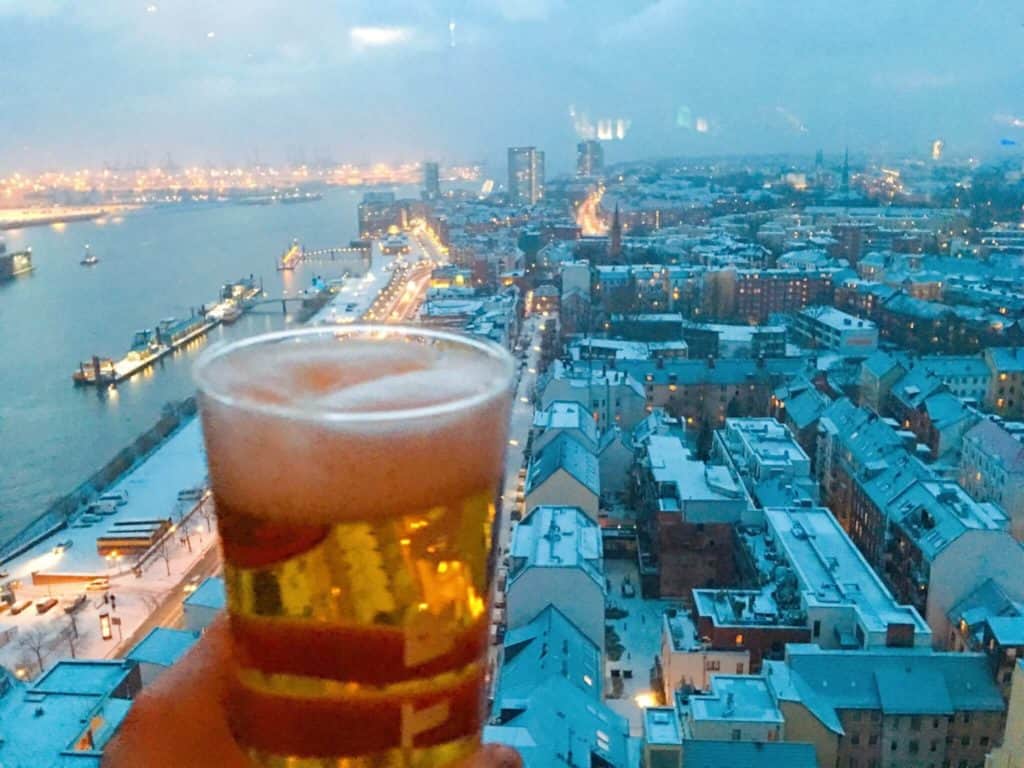 Head to Empire Riverside Hotel and catch the lift 20 floors to Skyline Bar 20up.

Prices are steep so my family and I each had a small $6 beer and nursed it for over an hour. Gotta do what you gotta do!
Extra activities for a weekend Hamburg
If you are looking to fill empty space while seeing Hamburg in 2 days or one of the above activities doesn't appeal to you, consider the following…
Relax at Alster Lake
Because of the -5 degree weather during our winter Hamburg trip, we gave this activity a miss. However, I hear that these manmade lakes near the city centre are beautiful in spring and summer. You can run, walk or cycle around the lake path or enjoy activities on the water itself.

From March to October, you can explore Alster Lake by pedallo or boat cruise. Book an Alster lake cruise.

To get there, take the S1, S2, S3, U1 or U2 to Jungfernstieg station.
Where to eat during a Hamburg weekend trip
I had so many great meals and coffees in Hamburg I wrote a separate blog about them.

From hipster eats to traditional potato and fish dishes, you won't leave the city feeling hungry. Check out my Hamburg food guide for everything to eat.
Traditional foods to try in Hamburg:
Fischbrötchen – the ultimate fish sandwich
Labskaus – a corned beef dish with onion, beetroot a fried egg and side of pickled herring
Aalsuppe – eel soup
Franzbrötchen – a sweet pastry made with cinnamon
Rote Grütze – red berries served with cream or vanilla sauce.
Let me know if you try any of these traditional Hamburg dishes. I think it's fair to say only the last two sound particularly appetising!