This post may contain affiliate links to things like tours, hotels, Amazon associates and products. These help me earn a small commission at no additional charge to you.
Budapest makes for the perfect city break. I recently spent 3 days in Budapest which was enough to see the main sights. I'm going to share my 3 day Budapest itinerary so you can see them, too!
There's not so much to do that you'll be rushing around yet you definitely won't get bored. Since I've visited Hungary twice, both times in January, this weekend Budapest itinerary is an enchanting winter one.

Those travelling on a budget will be happy because Budapest is one of Europe's more affordable cities. You can eat and drink cheaply, making it easy to sample the traditional foods. If you enjoy gluttonous carbs, I think you're going to love Hungarian food!
There's history in abundance in Budapest, although much of it is harrowing. But what's new for our crazy world? Learning about it is an important addition to your otherwise relaxed sightseeing adventures during 3 days in Budapest.
How long to spend in Budapest?
At least 2 days! This is the minimum to see the highlights of Budapest.

However, I'd recommend exploring Budapest in 3 days instead. You'll have time to do and see more without rushing… More time stopping for coffee and snacks (win!).

If you're keen to explore Budapest's quirky side, you'll want to spend 3 days. This also allows you to start the day slowly if you've had a couple of drinks the night before.
BUDAPEST ESSENTIALS

Accommodation: Booking.com / Hostelworld

Activities: GetYourGuide

Getting there: flight (Skyscanner), train (RailEurope), bus (Flixbus)

Getting around: Tram / Metro / bus
In a rush? Pin this for later on Pinterest.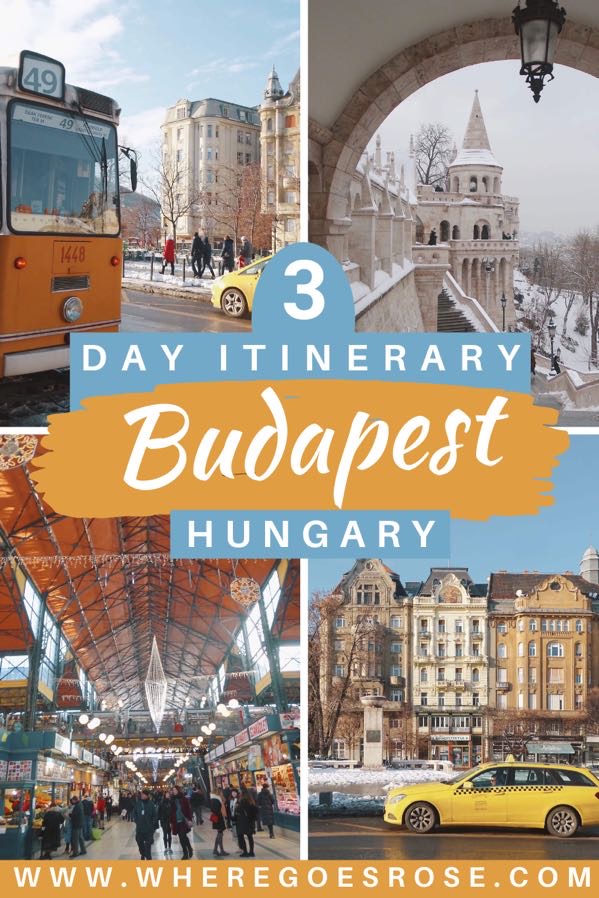 Getting to Budapest
Begin your weekend in Budapest by flying into Budapest Airport. EasyJet, Ryanair and Wizz Air are the lowest-cost contenders. I use Skyscanner to find the best prices.

From Budapest Airport, hop on the 103 bus which makes multiple drops in the city centre. This costs 1,800 HUF (€5) each way.

Alternatively, book an organised airport shuttle (€10) straight to your hotel or a private airport taxi.

Getting to Budapest by train: Budapest is well connected to cities like Vienna, Bratislava and Munich by train. Use RailEurope to book tickets.

Getting to Budapest by bus: The cheapest way to travel around Europe is by bus. Book tickets on Flixbus.
Getting around Budapest
If you don't mind a bit of exercise, you can see most of the sights on foot. But to make the most of Budapest in 3 days, utilise public transport. You have a few options: Metro, buses and trams.

You can purchase tickets for all three at ticket machines using cash or card. Your best option is a 24-hour ticket which includes unlimited travel and costs 1,650 HUF (€4.60).

Budapest is a bike-friendly city. Consider a guided bicycle tour to see the highlights.

The final option is a hop-on-hop-off bus tour. These are obviously very touristy but quite fun (my guilty pleasure!).
Is the Budapest Card worth it?
If you're not a big walker, the Budapest Card may well be worth it because it includes unlimited public transport (including to the airport).

You'll also get free entry to Lukács Thermal Bath, 19 museums, luggage storage and 50% off many attractions. Book yours for €20.
Best neighbourhoods to stay during 3 days in Budapest
To be in the heart of the action, Belváros (downtown) and the Castle District are close to all the main attractions. To experience the nightlife, the Jewish Quarter is a great area to stay in Budapest.

There are countless hostels, hotels and Airbnbs in Budapest. We stayed in the Jewish Quarter during our 3 days in Budapest. It's close to many of the best bars and restaurants and not far from the main sights.
Best hostels in Budapest
Wombats Hostel – this chain is a good option all around Europe with private and dorm rooms, social areas and daily events.

The Hive Party Hostel – for backpackers looking to socialise, this base has a rooftop bar and famous ruin bar right beside it.

Pal's Mini Hostel – for affordable private rooms within a hostel setting, you can't rival the prices at Pal's.
Best hotels in Budapest
OnRiver Hotels – for an impressive breakfast buffet and river views, this is an affordable hotel option in Budapest.

Fortuna Boat Hotel – beside pretty Margaret Island, this hotel has rooms from basic to superior from €40 a night.

Hotel President – this venue has grand rooms, Jacuzzis, the works. Splash out on rooms for €100 a night.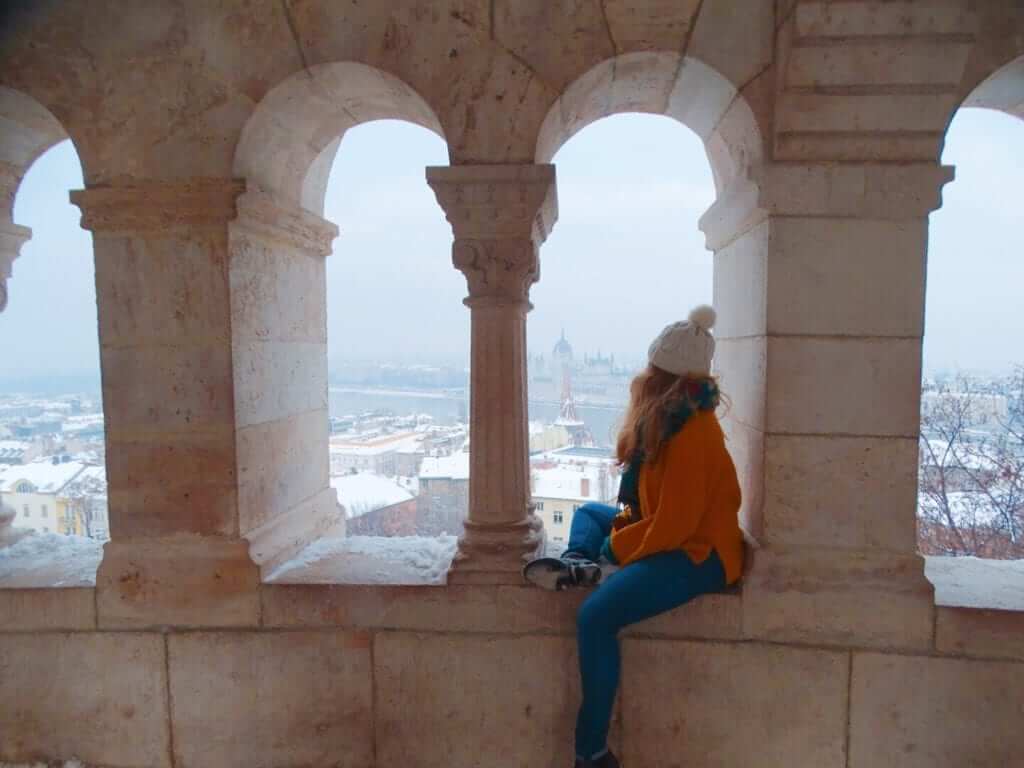 The best season for a weekend Budapest itinerary
There's no right or wrong time to spend a weekend in Budapest. It's enchantingly beautiful in winter with views of the frozen Danube river and turrets coated in snow.

However, it's a vibrant city come summer with lots of outdoor events, parks and restaurants and bars serving food and drink outside.

Spring and autumn are also good times to visit: you'll avoid the summer crowds and it's not too chilly in either season.

If you're visiting in the summer months, incorporate some of these things to do Budapest during summer. Enjoy!
Budapest itinerary for 3 days – overview
Day 1, Pest side: Free walking tour, Hungarian Parliament, Shoes on the Danube and Budapest Bath House. For the evening, take a Danube boat cruise and eat at Langos Papa restaurant

Day 2, Buda side: Central Market Hall, St Stephen's Basilica, Chain Bridge, Buda Castle, ruin bars

Day 3, Jewish Quarter & Gellert Hill: Dohány Street Synagogue, Jewish Quarter, Mazel Tov restaurant, Gellért Cave Church, sunset at Gellert Hill.
Budapest itinerary – day 1
Start with a free walking tour
Begin your 3 day Budapest itinerary by immersing yourself in the city and learning from a local guide.

Most of my city guides suggest starting with a free walking tour. After all, who doesn't love free things?

Free Tour offer various free walking tours of Budapest including an introduction to the city and a Buda Castle tour. They operate on tips so be sure to give one if you enjoyed yourself or learnt something new.
Take a tour of Hungarian Parliament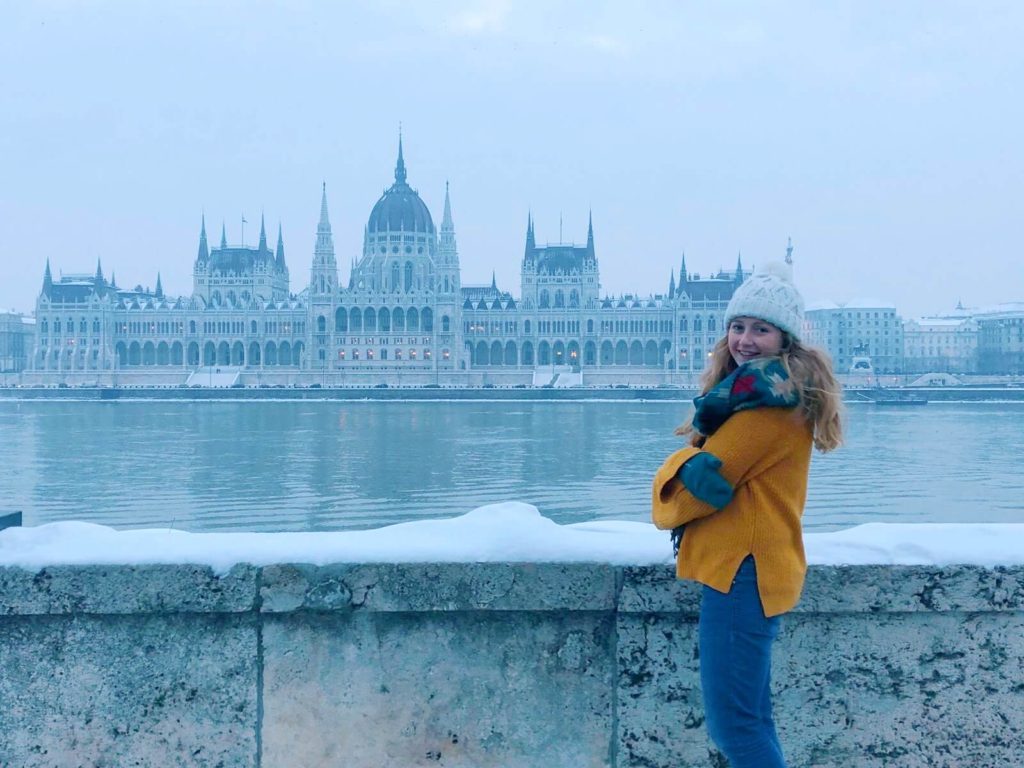 To head inside Hungary's most iconic building, be sure to book a few days in advance. Inside, you'll view the Hungarian crown jewels and explore the maze of chambers and staircases while learning about the building's history from a guide. Book your tour here.

Alternatively, visit Parliament from the outside and snap some photos. You also get fantastic views from the other side of the Danube (pictured above) but we'll save this side of Budapest for tomorrow!
Shoes on the Danube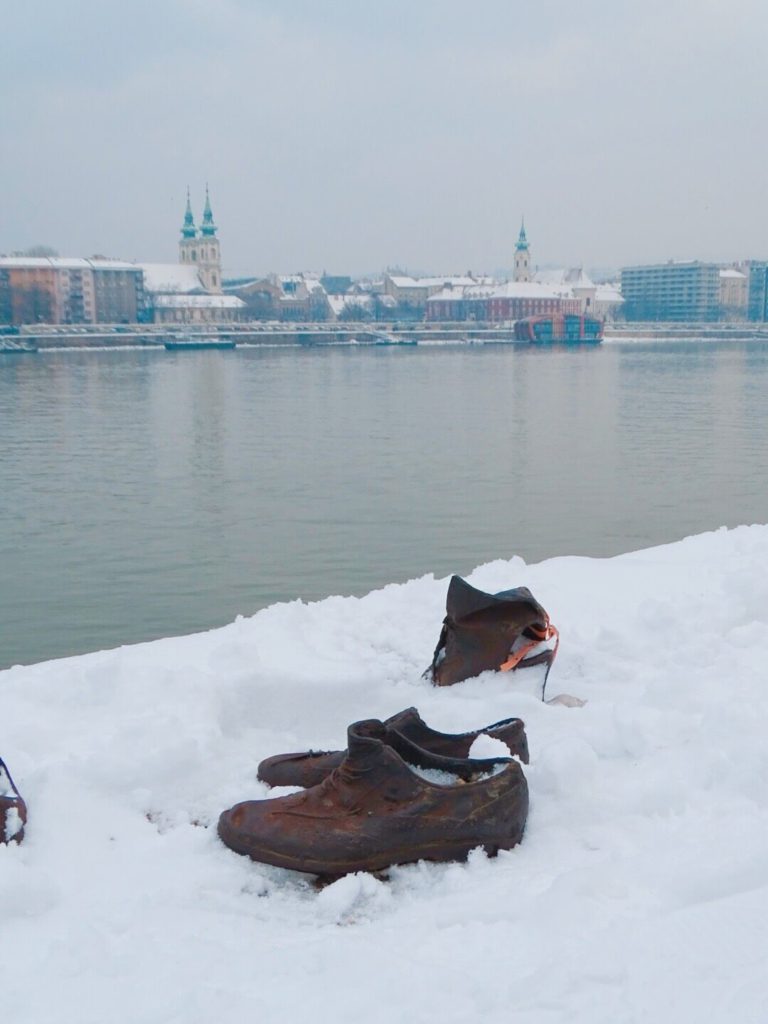 Nearby Parliament, you'll find this memorial. A collection of metal shoes sit on the banks, remembering those who were shot and murdered there during World War II.

The Arrow Cross militiamen were a fascist party who overtook the government in the mid 20th century, killing thousands and forcing countless Jews into concentration camps.

While the whole period was an atrocity, this specific memorial commemorates the 3,500 people killed on these banks and lost to the Danube, 800 of whom were Jews.
Széchenyi Spa Baths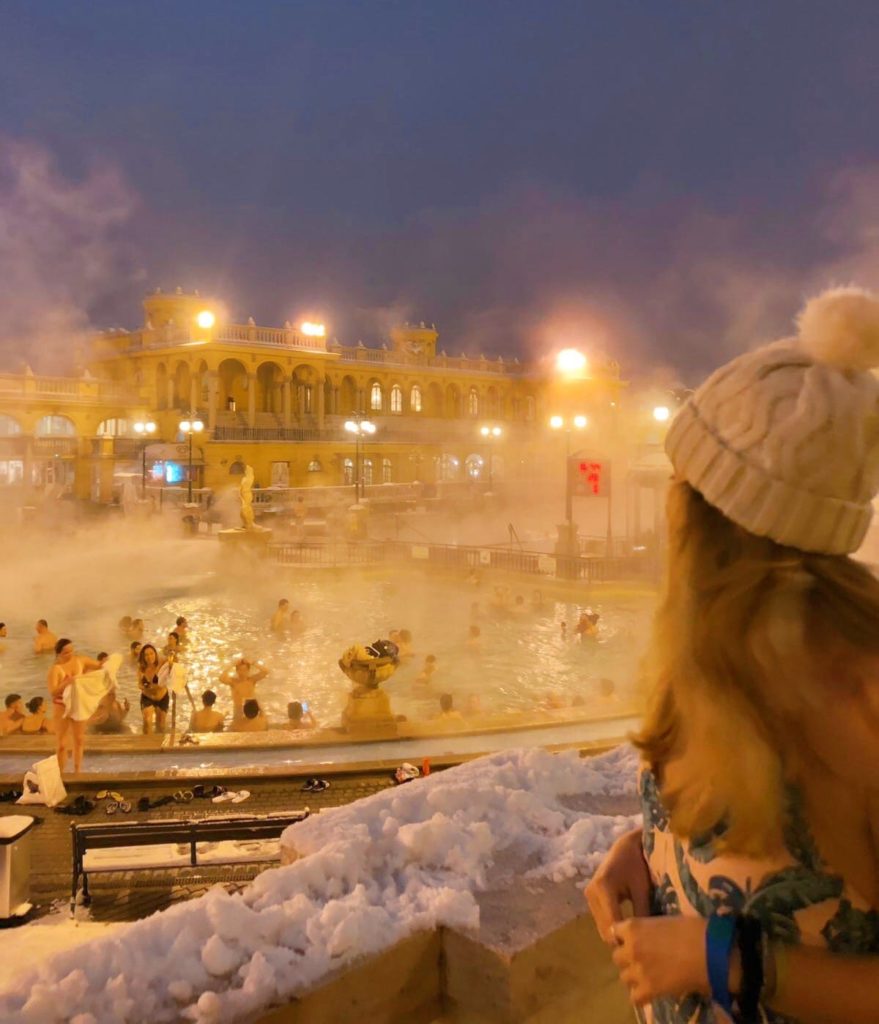 Add a thermal bath to your 3 day Budapest itinerary regardless of the season. Hungary has a long history of bubbling hot springs which have been used for leisure purposes for decades. Depending whether or not you like a hidden gem, you have a few options.

The Széchenyi Baths are the most popular option, their bright yellow facade set against the blue sky and cloaked in plumes of steam. I've been twice and can't vouch for them enough. Entry is €22 on weekdays and €24 on weekends including entry to the indoor and outdoor pools as well as locker hire.

The outdoor pools are by far the best, even if you have to run outside in swimwear during the winter. It's a lot of fun in the evenings especially if you take advantage of the bar, although you won't benefit from the gorgeous photo opportunities that you get in daylight.
Book a skip-the-line ticket here.
Other thermal baths in Budapest:
Gellert Baths are the second-most visited baths in Budapest. I hear the indoor baths are prettier than Széchenyi's but the outdoor ones aren't as good
Lukacs Baths – these are similar to Szechenyi but with more of a local feel and (allegedly) the most mineral-rich waters
Irgalmasok Veli Bej Baths – this hidden gem has fantastic views over the city
Rudas Baths – with 500 years of history, this bath complex includes a thermal room, a wellness room, a ladies-only area, and a rooftop pool. For a treat, book a spa & dining experience.
Budget tip – Lukacs Baths are free with a Budapest Card. If you're not fussy about which spa you visit, get your €20 Budapest Card here and choose Lukacs (usually €12 entry).
City Park
Rather than board a train from Széchenyi fürdő Metro station outside the baths, take a walk in City Park. This large green space is flanked by World Heritage Site, Heroes' Square, home to the Millennium Monument commemorating 1000 years since the Magyar conquest and foundation of the Hungarian state.

From Heroes' Square, you can hop on a train from Hősök tere station.
Head for a hearty Hungarian dinner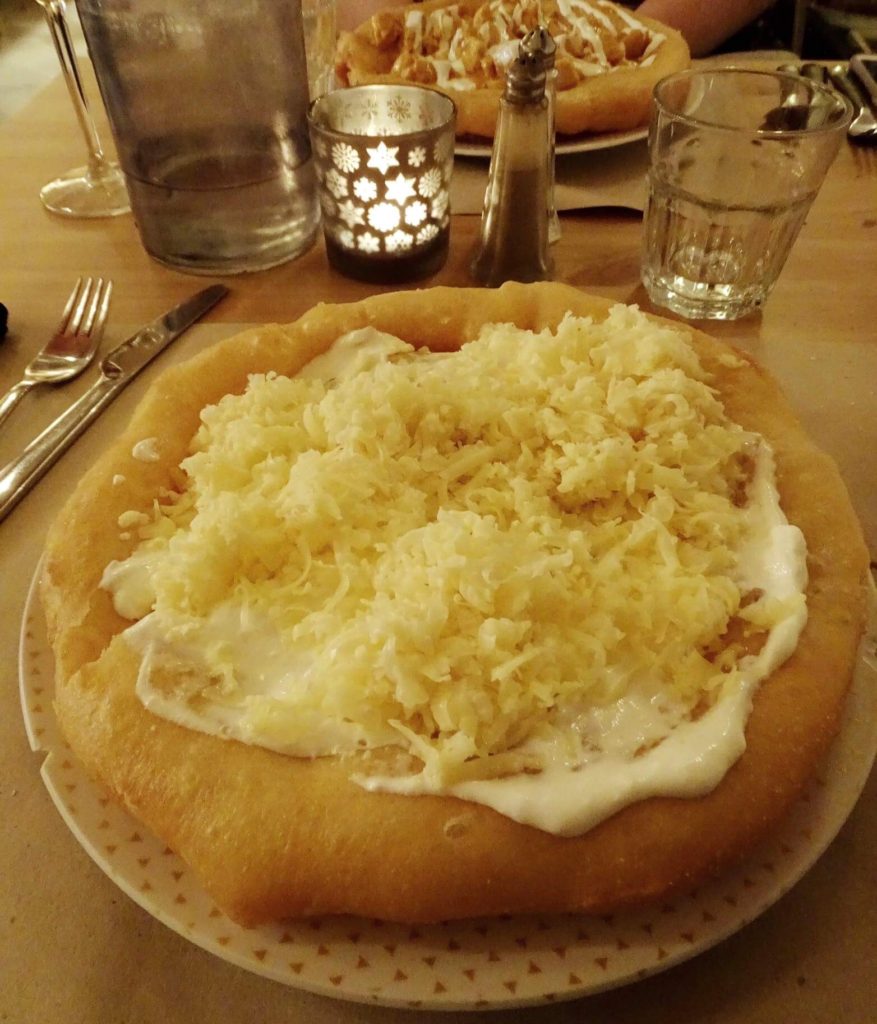 There are countless restaurants and bars in Budapest, though we were exhausted on our first night from our 5am airport wakeup. From the thermals baths, we hopped on the Metro a couple of stops to Langos Papa, a gem of a Hungarian restaurant. Here you can try langos, deep-fried slabs of dough topped with calorific ingredients.

Order them individually or opt for the €10 dinner menu which includes a starter and dessert. I began with goulash and ended with cherry strudel: the perfect introduction to Hungarian food. There are so many langos varieties to choose from but you can't beat the classic cheese and sour cream combination.
Evening boat cruise
The Danube has all kinds of evening entertainment from restaurants on the banks, party cruises and sit-down dinner cruises.

We took a sightseeing cruise with a glass of wine and audio commentary. They offer a totally different view of beautiful Budapest: even if you've seen the main sights already, they look effortlessly more beautiful at night, especially the majestic Hungarian Parliament building. Book your Danube river cruise here.
Budapest itinerary – day 2
For us, our second day in Budapest was the busiest for sightseeing. We were glad we'd had a relatively early night!
Central Market Hall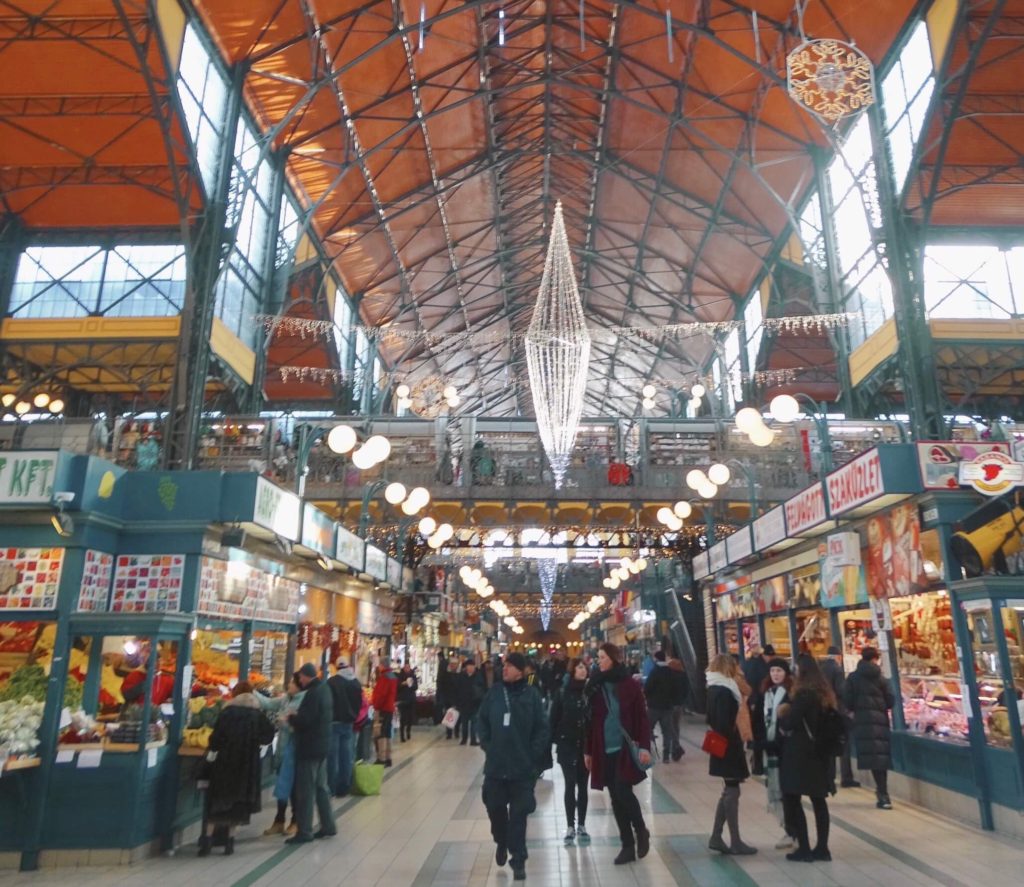 Continue your 3 day Budapest itinerary by wandering Central Market Hall and warming up over local food and drinks. Downstairs, it resembles a local market with fresh fruit, vegetables, fish and every type of salami imaginable.

Upstairs, it has a food court and all the souvenirs you could ever need (including ones you probably will never need!).

Grab breakfast here. If you're feeling adventurous, tuck into goulash or langos for breakfast. Anything goes in Hungary… Especially when you're hungry 😉
Related activity: Central Market food tour with tastings
St Stephen's Basilica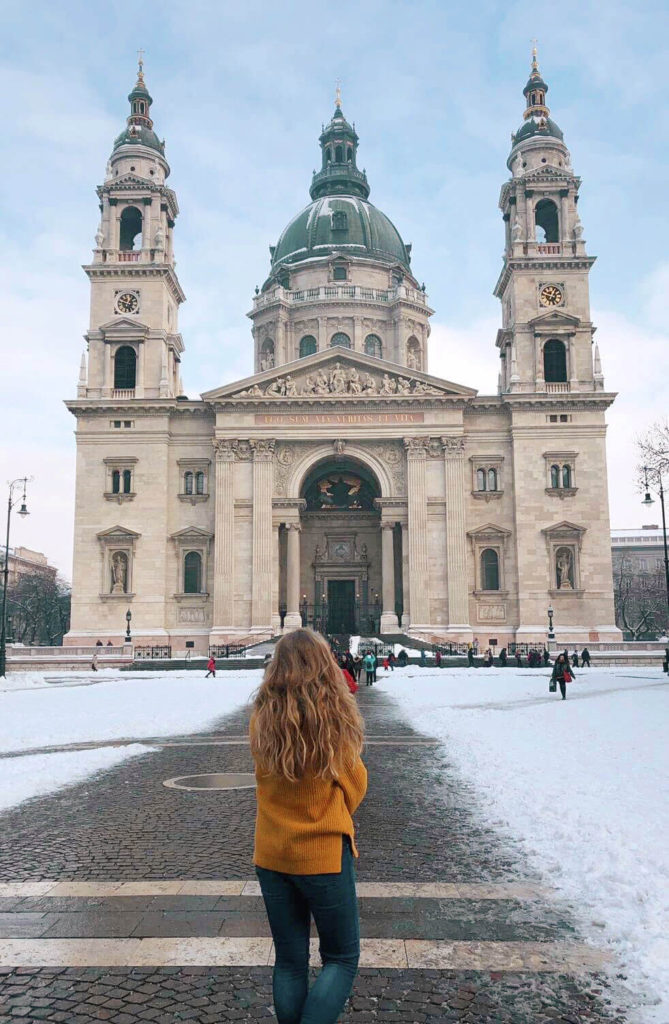 For a panoramic view of Budapest, click to the top of this 18th-century church. The view of Budapest in winter is especially pretty when scattered with snow.

Climbing the tower costs 500 HUF (€1.40) which is a bargain for the photo opportunities it brings. There's a lift if you don't fancy the steep flight of stairs.

Venture inside the church for a small donation. It's worth it to see the ornate, detailed ceiling. It gives Dohány Street Synagogue (which we'll visit later) a run for its money, and it's a great way to explore the different faiths in Budapest.
Food options near St Stephen's Basilica
For coffee and traditional pastries (plus the biggest and best sausage roll I've ever eaten), pay a visit to Artizan Bakery. This cosy cafe just a short walk from St Stephen's is the perfect breakfast or morning/afternoon pitstop, especially if you want to warm up from the cold.

In warmer weather (and for major Instagram points), indulge at Gelato Rosa. We couldn't handle it at -2 degrees but the rose-shaped ice creams look delicious.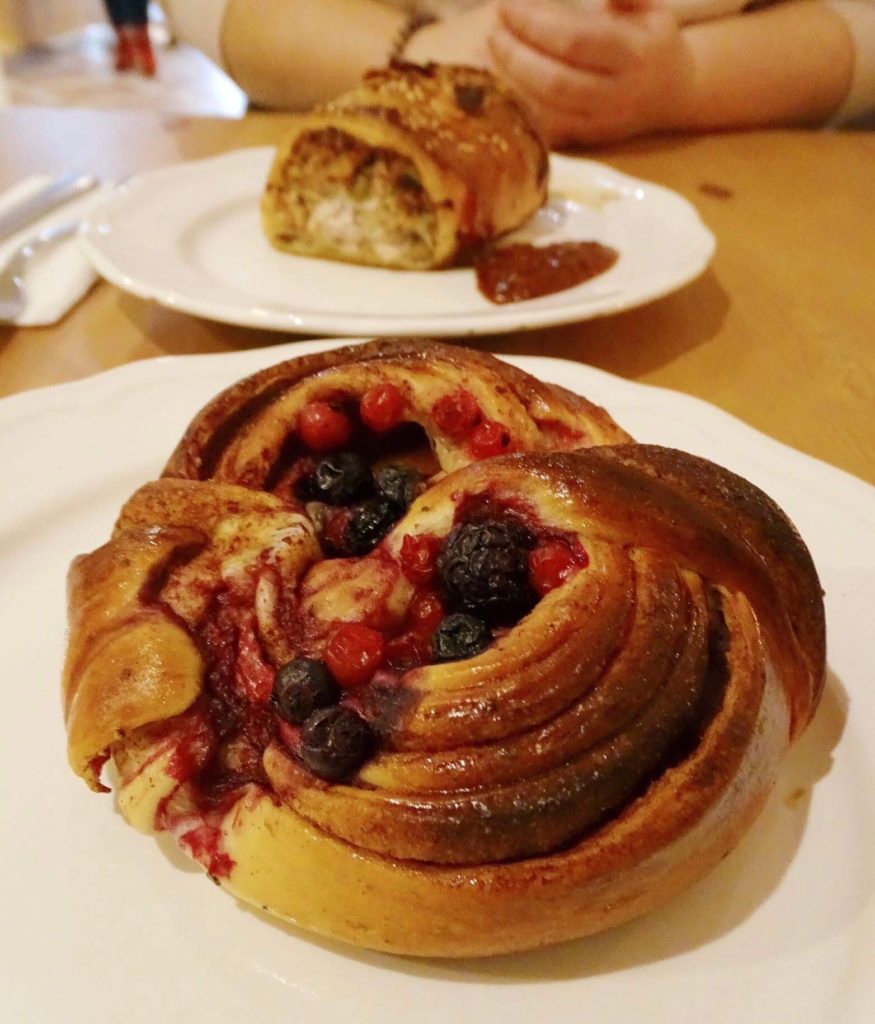 Walk across Chain Bridge
Next, walk 20 minutes to Buda Castle across Széchenyi Chain Bridge.

The Danube river once separated the ancient cities of Buda and Pest so it's an important part of history. It's now a symbol for awakening and the joining together of east and west. The giant stone lions guarding the bridge are equally iconic.
Buda Castle and Fisherman's Bastion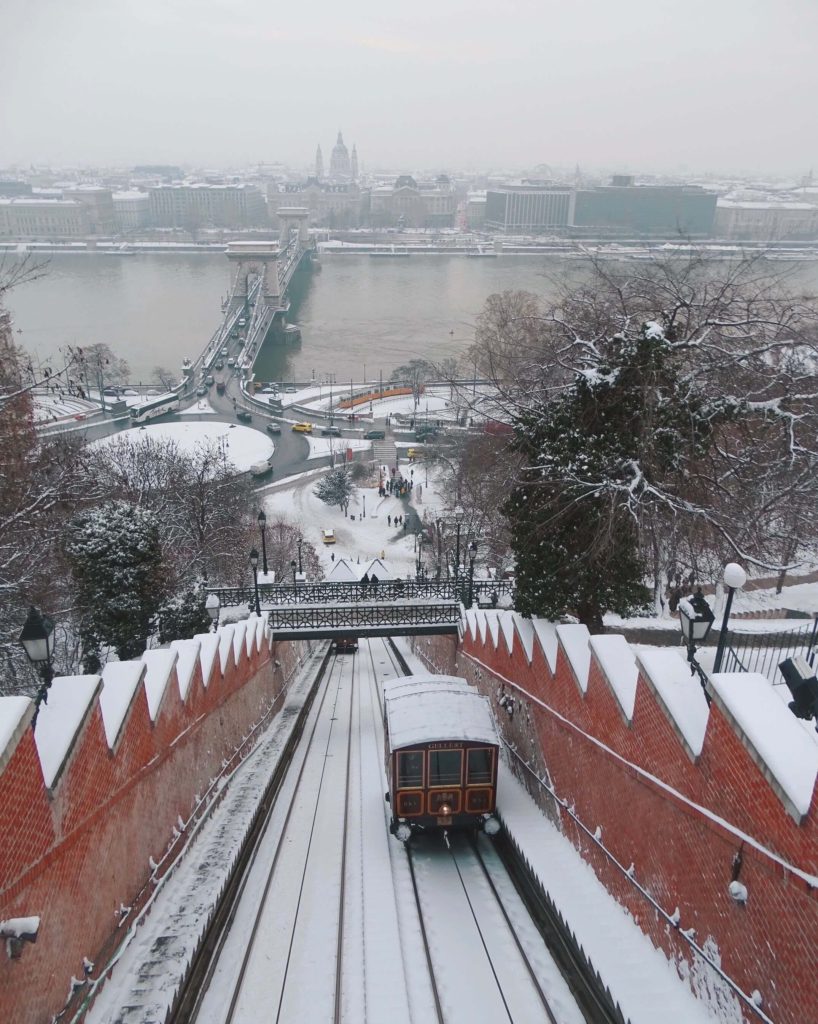 At the top of Buda Hill on the other side of the river stands Castle Hill, a must for three days in Budapest.

It's a relatively easy climb but you might want to catch the funicular for novelty value, or just because you can't be bothered to walk (no judgement)!

A one-way funicular ticket costs 1,200 HUF. Once you reach the top, turn left for Buda Castle or right for Fisherman's Bastion. Preferably take two hours and do both.

I particularly enjoyed Fisherman's Bastion, a lookout tower straight out of a fairytale. The views over Budapest are spectacular.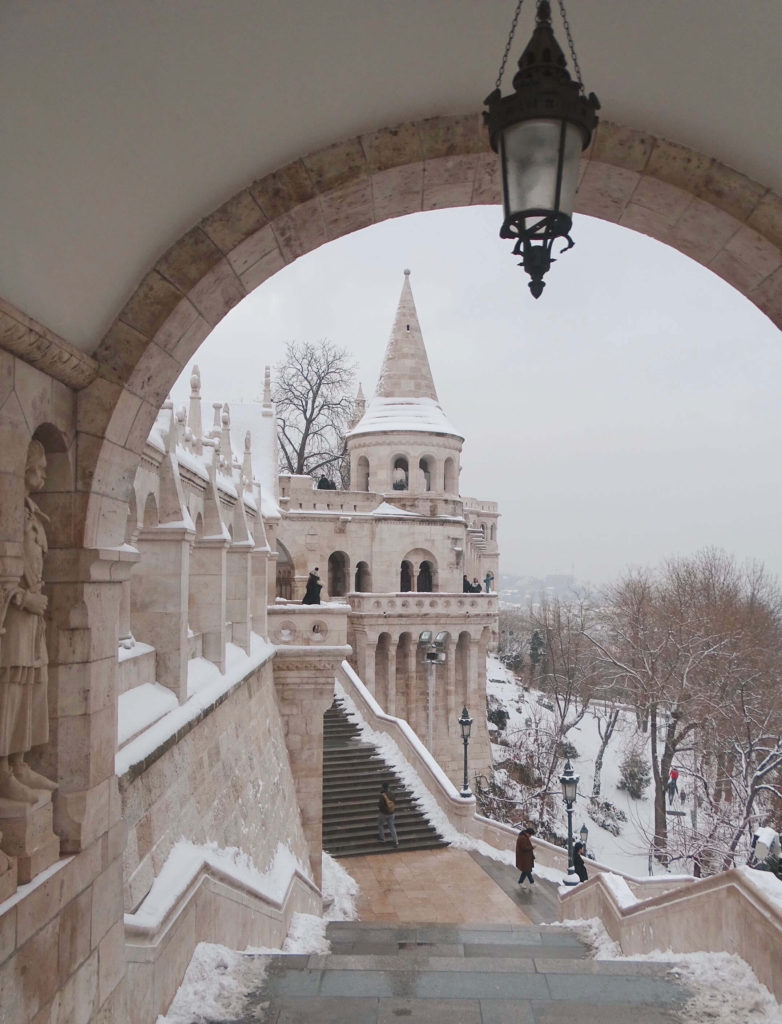 Be sure to stop at Matthias Church, built in 1015. When the city was captured by the Turks, it was turned into a mosque but luckily not before its goods had been sent to Bratislava for safekeeping. Nowadays, its gothic turrets and mosaic tiles are a highlight.
Also at the complex is Budapest History Museum detailing the city from Roman times through Turkish rule, war, communism to the modern-day. You can also stop at the Hungarian National Gallery, the city's fine art gallery. Browse thousands of works of art from medieval to surrealist. Climb to the dome at the top for unrivalled city views.

Entrance fees at Buda Castle:
Budapest History Museum – 2,000 HUF
Hungarian National Gallery – 1,800 HUF
Fisherman's Bastion – 800 HUF
Matthias Church – 1,500 HUF
Make your way back down Castle Hill and walk along the river until you're opposite the Hungarian Parliament building. From here, you can hop on a Metro train from Batthyány tér, though good luck trying to pronounce it!
Simpla Kertz (or another ruin bar)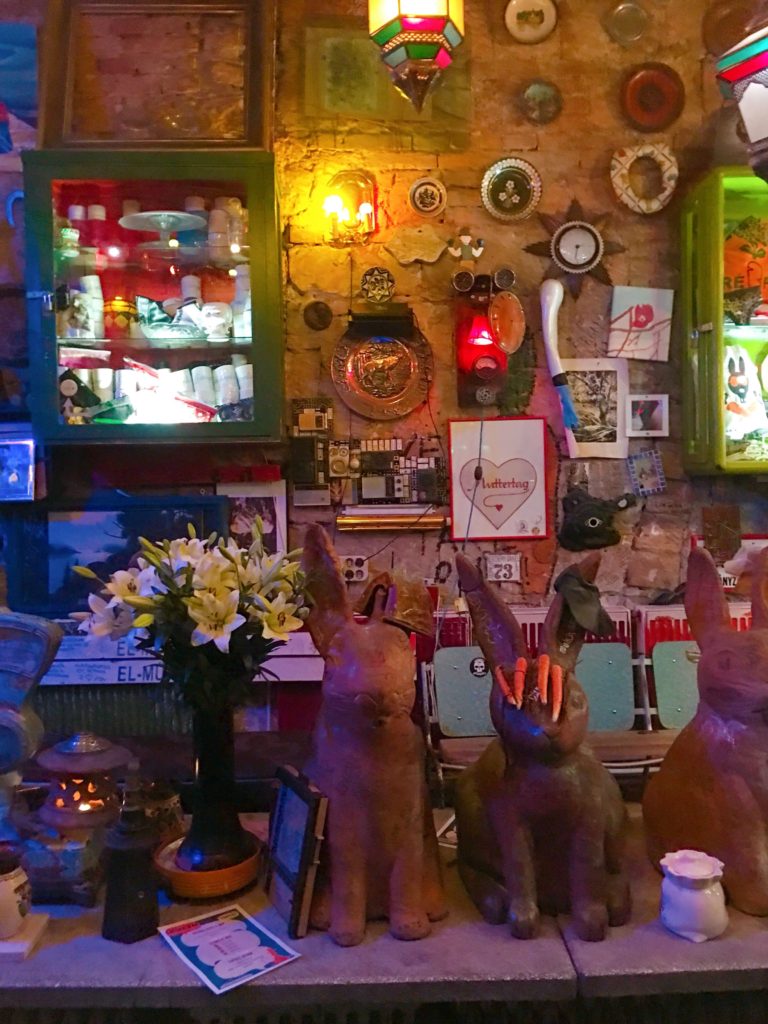 For a weekend Budapest itinerary, head to a ruin bar or two. They're busiest on weekends but you'll have a good time regardless of the day, especially if you visit Simpla Kertz. This is Budapest's most iconic ruin bar, once a hidden gem and now popular with tourists.

Ruin bars in Budapest have sprung up in derelict warehouse buildings, giving new purpose to abandoned buildings. Simla Kertz is packed full of quirky furnishings from pianos to bathtubs that you can use as benches.

Wrap up in winter as it's not much warmer than the outdoors unless you curl up by a heat lamp with a shisha pipe. Drinks are definitely tourist prices, with bottles of wine starting at €14.

Other ruin bars in Budapest include Anker't, Ellato Kert and Durer Kert.
Budapest itinerary – day 3
Dohány Street Synagogue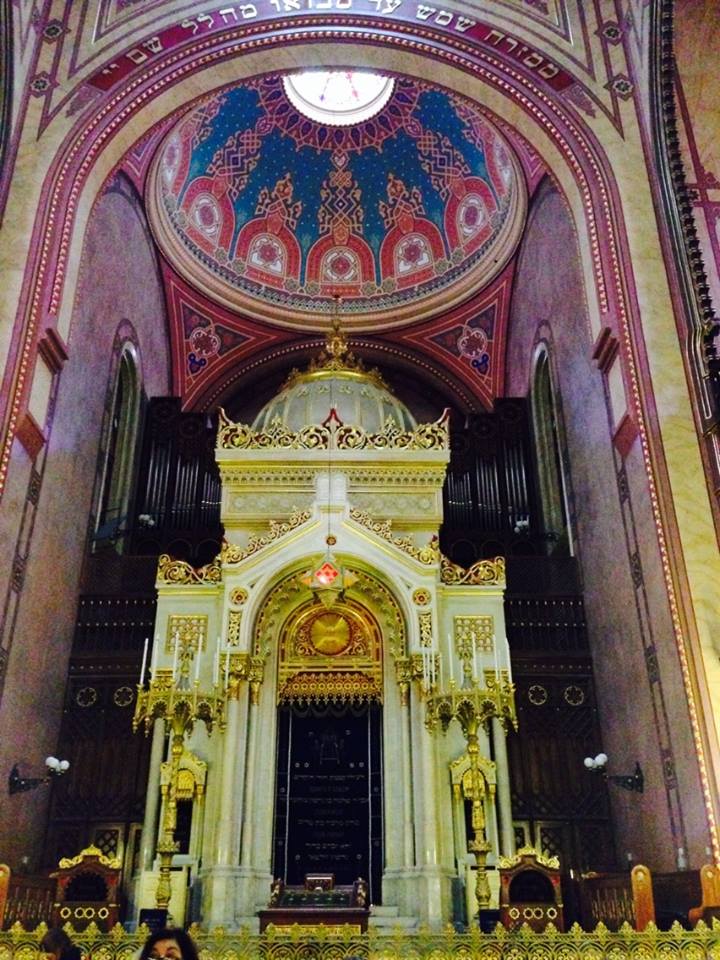 As the largest synagogue in Europe (not to mention the most beautiful), Dohány Street Synagogue is the ultimate place to learn about Jewish history as you explore this architectural masterpiece. It was built in the 1800s borrowing Moorish styles from North Africa and Spain.

During its history, it's been raided, bombed and used as a base for German Radio before being returned to the tragically diminished Jewish community.

Entry costs 4,500 HUF (€13) and includes a guided tour, entry to the Hungarian Jewish Museum in the same building, and access to the memorial to the 30,000 Jewish Hungarians who were killed during the Holocaust.
Suggested activity: Budapest Jewish heritage tour
The Jewish Quarter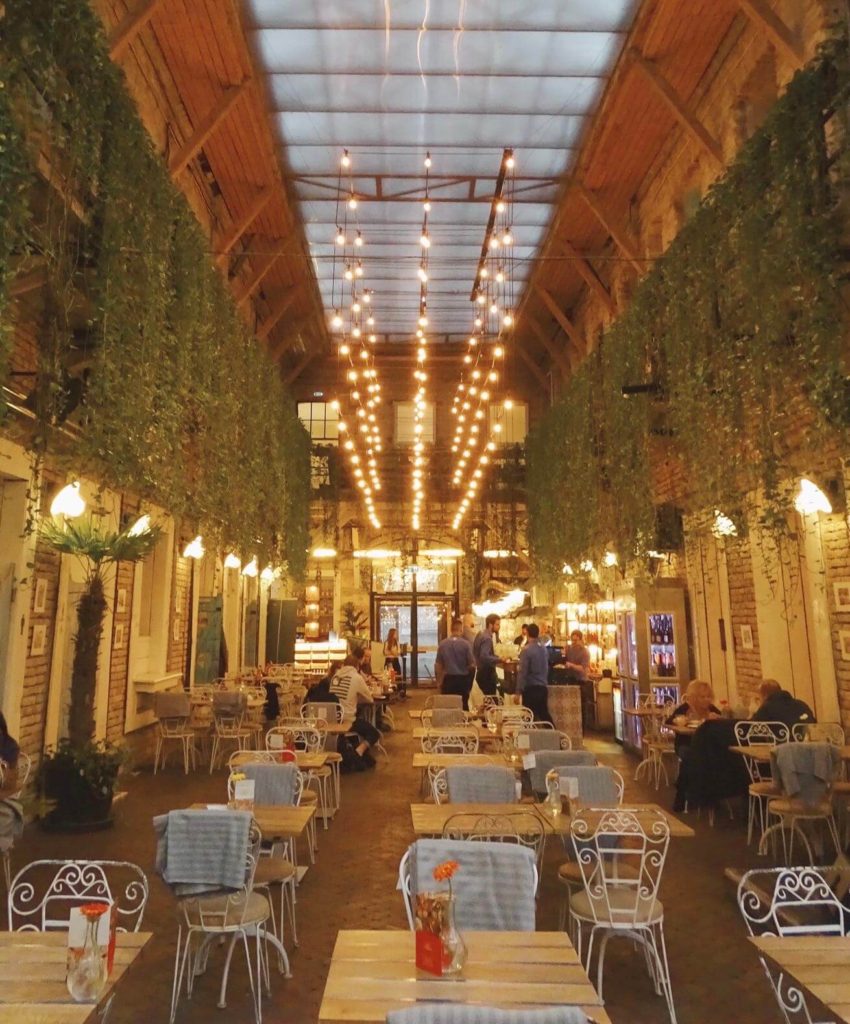 Afterwards, wander the Jewish Quarter further for amazing street art, cafes and restaurants.

For an indulgent brunch before or after the synagogue, visit Mazel Tov inside a refurbished warehouse (making it technically a ruin bar). This Middle Eastern-inspired eatery serves the best shawarma, hummus, falafel and shakshuka in the city.

For dessert, walk around the corner to Noah's Patisserie Cafe to try flodni, a typical Jewish cake made with plum jam, walnut paste and poppy seeds.
Explore the caves
Many tourists have no idea but there are some enormous caves nearby Budapest, one of which is rumoured to have imprisoned Vlad the Impaler (the real-life Count Dracula)!

Two of the most popular are Pálvölgyi Cave and Szemlő Mountain Cave. However, for this Budapest 3 day itinerary, I would recommend visiting Gellért Hill Cave in the afternoon so you can enjoy sunset from the top of the hill.

Gellert Cave Church was built inside a cave by monks in the 1920s. Not only was it used as a wartime hospital but tragically, the head monk was executed inside by the ex-communist government.

Gellert Hill can be reached by foot from the city (simply cross Liberty Bridge). You can hire an audio guide to learn more about the caves.
Sunset at Gellert Hill
If views from Buda Castle weren't enough for you the day before, spend the evening at Budapest's most scenic vantage point.

The hill is named after Saint Gerard who sadly also met his demise when anti-Christian rebels threw him from the top. Despite the gruesome history, this is the best place to watch sunset in Budapest.

Pack a picnic and finish your 3 day Budapest itinerary in style!
Extras for your Budapest itinerary
These stops will be on my Budapest itinerary next time I'm in town:
The House of Terror – the Fascist Arrow Party's headquarters held their enemies in these basement chambers. It's certainly a sombre visit, but an important one to understand Budapest's history. Entrance is 3,000 HUF.
Margaret Island – this island on the Danube is a lovely place to relax in the summer. There are fountains, swimming pools, parks, gardens and even a water park! Entrance is free and you can arrive by tram.
New York Cafe – dating back to 1894, this has been named the most beautiful cafe in the world. It's a little pricey but what else would you expect? Visit for breakfast (as early as possible before it gets busy).
Where to eat during 3 days in Budapest
There's so much to eat and drink during a Budapest weekend itinerary, from hearty Hungarian stews to Israeli cuisine and decadent desserts.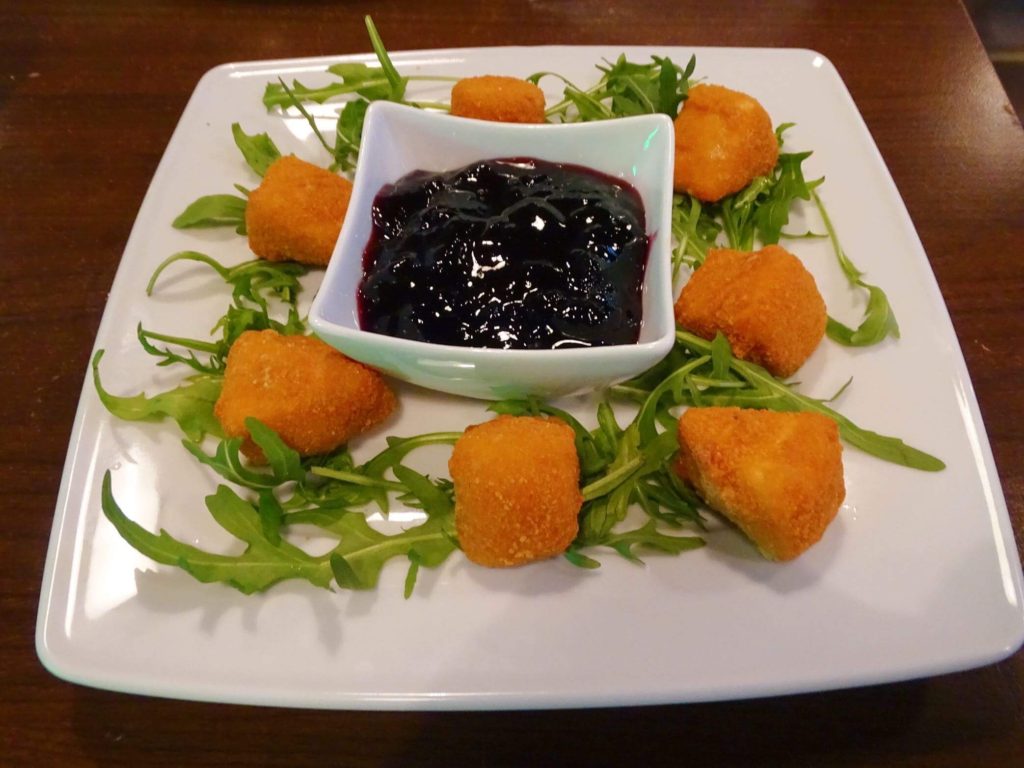 Some of the best Hungarian dishes to look out for include:
Langos – deep-fried flatbread smothered with cheese and other ingredients
Chicken paprikash – chicken cooked in a sauce made from onions, paprika, butter and cream
Goulash – this typical stew (sometimes served in a bread bowl) is popular around Central and Eastern European countries
Halászlé – fish stew with copious paprika
Töltött kaposzta – cabbage leaves stuffed with meat, rice and topped with sour cream
Breaded camembert cheese with blackcurrant dip.
Read next: Budapest food guide
Alternative activities for your Budapest itinerary
Maybe it's your second time in Budapest or perhaps you want to escape the crowds and see an alternative side of Budapest. It's a quirky and creative city with lots of street art, hipster cafes and off-beat things to do.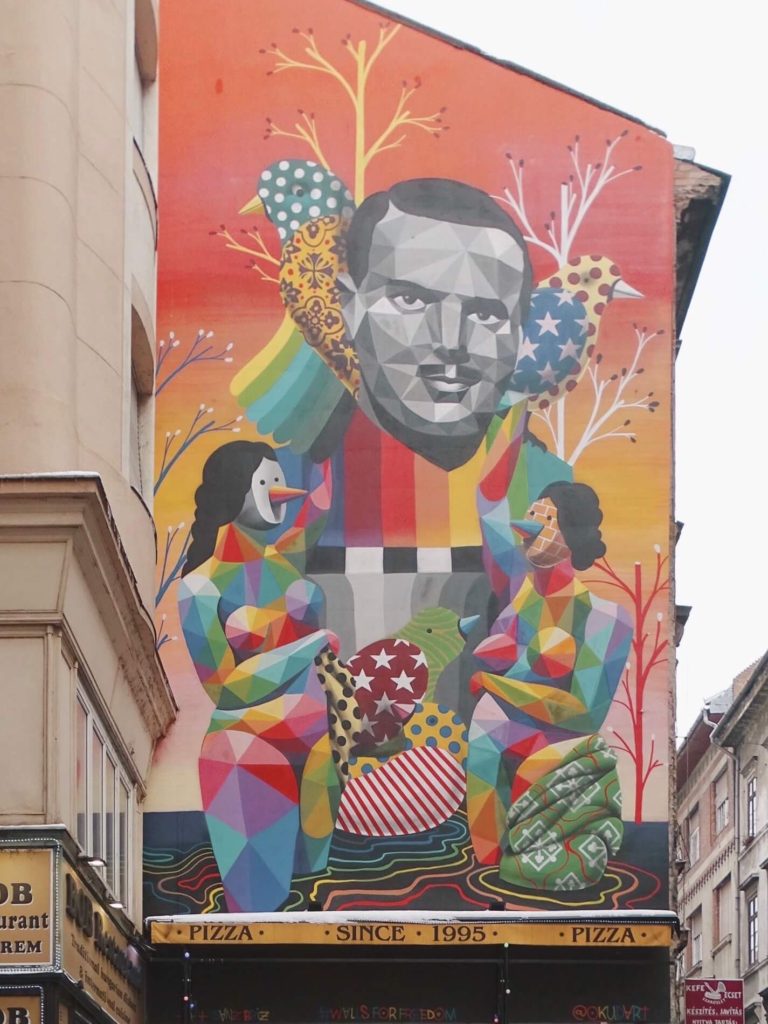 Some of the best quirky things to do during three days in Budapest include…
House of Houdini – this quirky museum focuses on the life of Hungarian-born American illusionist, Harry Houdini.
The Pinball Museum – this museum has over 100 pinball museums saved from the scrap heap. While away a rainy afternoon by playing on them.
Flea markets – visit centrally-based Gozsdu Weekend Market, Lőrinci Flea Market and the numerous other flea markets in Budapest. If your trip coincides with a weekend, there are even more to choose from.
Discover street art & quirky sights with an alternative Budapest walking tour.
Top tips for a 3 day Budapest itinerary
Bring comfy shoes – there's a fair bit of walking required.
The currency is Hungarian Forint. There's 350 HUF to 1 Euro.
You should only use ATMs at banks. For the love of God, avoid Euronet (freestanding) ATMs like the plague! They charge insane rates and totally rip you off.
Budapest is a safe city but, like any capital, there may be pickpocketing. Consider a bum bag with secure zip for security.
Make sure to bring your own towel to the bath houses. The ones for hire are pretty grim. I travel with a quick-drying microfibre towel.
Don't travel anywhere without insurance. I use World Nomads.
Where next?
If you're travelling around Europe, there are plenty of fantastic cities nearby. These include:
Thanks for reading my Budapest itinerary!
Thanks to my gorgeous friend Jenny for being my Instagram wife on this trip!
Read my other Europe blogs:
For more travel content, follow me on Instagram, Facebook, Twitter and YouTube.
See you next time for more adventures,
Rose
Ps. Liked this Budapest itinerary for 3 days? Pin it for later!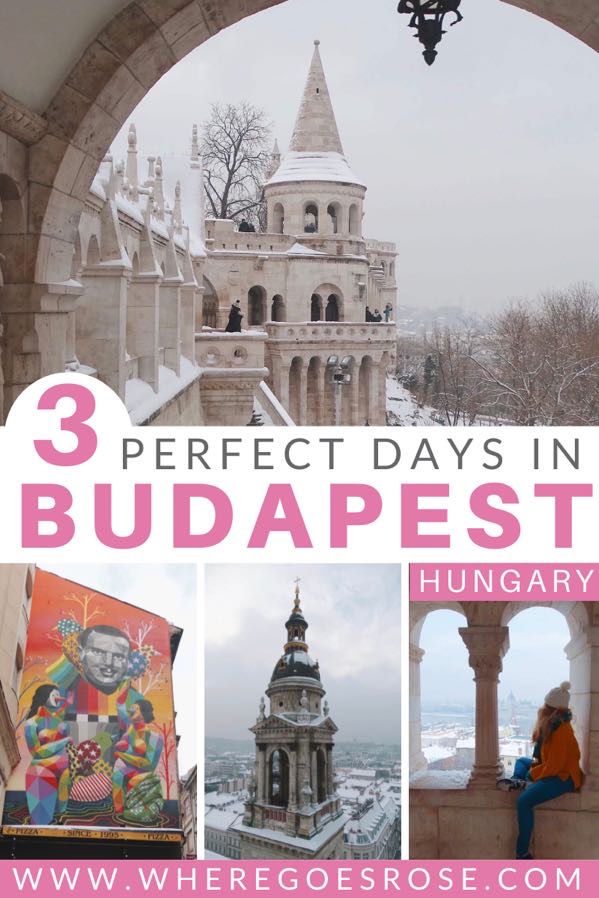 TRUSTED RESOURCES FOR VISITING HUNGARY

Getting around by air – I use Skyscanner to find the best-value flights, using the 'search by month' tool to find the cheapest dates. You can also use the 'to anywhere' feature if you're flexible on where you're going.

Driving in Europe – use Rentalcars.com to compare car rentals in European countries (and all around the world).

For trains, I use RailEurope. The search feature allows you to compare prices, and they show live departure times on the website.

For buses, I use Flixbus. Find journeys between European countries from €1! 

Use Omio to compare trains and buses in one search. It's so handy!

For hotels and self-catering apartments, I use Booking.com. You can filter by review score and price to find the best-rated budget places. For hostels, I use Hostelworld.com.

To save money on accommodation, I use Trusted Housesitters, a website that connects homeowners going away and travellers who can sit their homes & pets.

Browse tours and activities on GetYourGuide.

Need travel insurance? I use World Nomads. They cover 150 countries and have 24-hour emergency assistance.

Check out my resources page for more travel discounts and budget tips from my 10+ years on the road!