This post may contain affiliate links to things like tours, hotels, Amazon associates and products. These help me earn a small commission at no additional charge to you.
Looking for an idyllic place to visit in the Czech Republic that isn't Prague? Look no further than Cesky Krumlov, the closest thing I can picture to a real-life fairytale. There are plenty of things to do in Cesky Krumlov including an impressive castle and UNESCO-protected old town.
CESKY KRUMLOV ESSENTIALS

Accommodation: Booking.com / Hostelworld

Tours & activites: GetYourGuide

Getting there: Bus (FlixBus), Train (Omio)
When I planned my month of backpacking through Europe, I knew I wanted to visit my friend Kerrie in Prague. I'm not a fan of visiting a country and just seeing the capital so I decided to see where else I could visit in the Czech Republic

Cesky Krumlov sprung up in my search and I was hooked as soon as I saw the photos. Could somewhere really be that idyllic in real life? There was only one way to find out…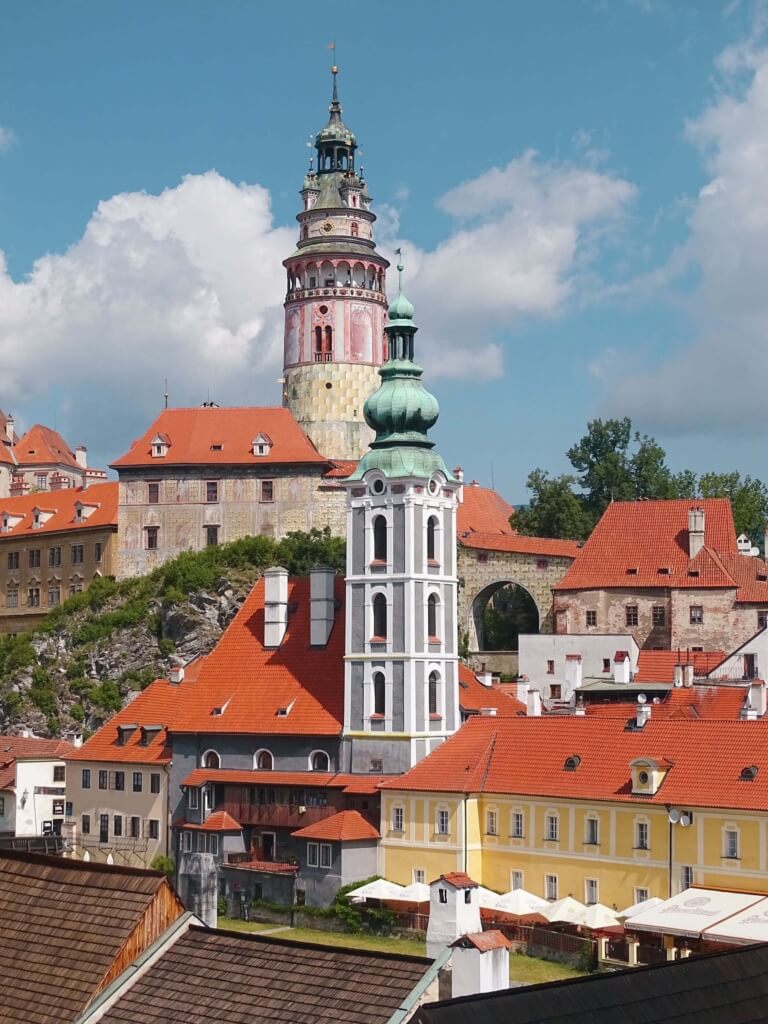 Where is Cesky Krumlov?
It's in the south of the Czech Republic, not far from the border with Austria. If you're travelling between Prague and Vienna, it's the perfect stop-off. Cesky Krumlov is a 2.5-hour drive from Prague and a further 2.5 hours from Vienna. Easy peasy!!
How to visit Cesky Krumlov – day trip vs. staying overnight
Every single day, hundreds of tourists come for day trips in Cesky Krumlov. There are two reasons why I'd advise you spend the night:
How can you really do justice to a city in a day, even if it is a small one?
From 12-4pm in the summer, the city centre is packed. If you stay overnight, you can explore in the morning and late afternoon, getting the place to yourself once the tour buses have left.
There are plenty of places to stay and some excellent restaurants. If you have the time, you won't regret spending a night or two in Cesky Krumlov.
If you only have 1 day, consider a tour:
Where to stay in Cesky Krumlov
Cesky Krumlov is more catered towards independent guesthouses than chain hotels which is something I always like in a place.

Hostel: the best place to stay on a budget is Hostel Postel right in the centre of the Old Town with dorm beds from €22 and private rooms should you want the social hostel atmosphere but to have your own space. Check availability from €22 a night here.

Hotel: For a comfy king room right in the heart of town, Penzion U náměstí (At The Town Square) is a convenient base with period features, a sofa area and kettle in each room. Includes breakfast. Check availability from €50 a night here.

Private apartment: with TV, kitchen, living room and total privacy, go for Apartment Adam. Check availability from €55 a night here.

Tip – Cesky Krumlov gets busy in summer months so I'd recommend booking ahead where possible!
How to get to Cesky Krumlov
Unless you have your own car, the best way to get to Cesky Krumlov is by bus or train. I caught the FlixBus from Prague for just $5 and it also leaves and departs from Vienna. The bus station in Cesky Krumlov is just a short walk to the city centre – no taxis needed.

A train also runs between Prague and Cesky Krumlov. It's slightly more expensive but the views are unrivalled.

Book your journey from Prague to Cesky Krumlov.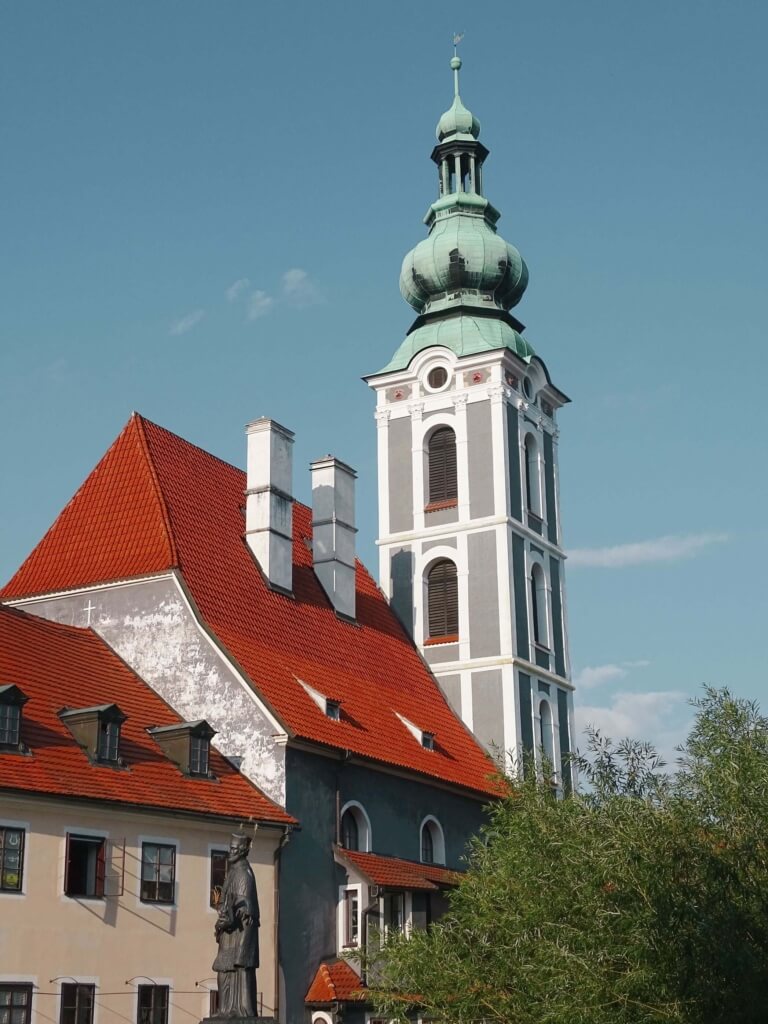 Cesky Krumlov card – is it worth it?
For 400 CZK (around €15), you can purchase a Cesky Krumlov card which allows you too enter several attractions and the museums for free. If you want to get the best out of your trip, learn about the city and see some art, it's a good investment.

The card includes entry to:
Castle Museum and Tower
The Regional Museum
Egon Schiele Art Centrum
Fotoatelier Seidel Museum
The Minorite Monasteries.
Things to do in Cesky Krumlov
If you're wondering what to do in Cesky Krumlov, there are a few options but none better than wandering the historic centre and soaking up the atmosphere.

As the city is protected by UNESCO, there's nothing crumbling or falling down: it's all perfectly preserved as it would have been in its heyday.

Actually, the facade of the city is a little too perfect. The problem with UNESCO places? They're not quite real, as I'll discuss later.

For now, here are the top things to do in Cesky Krumlov…
1. Cesky Krumlov Castle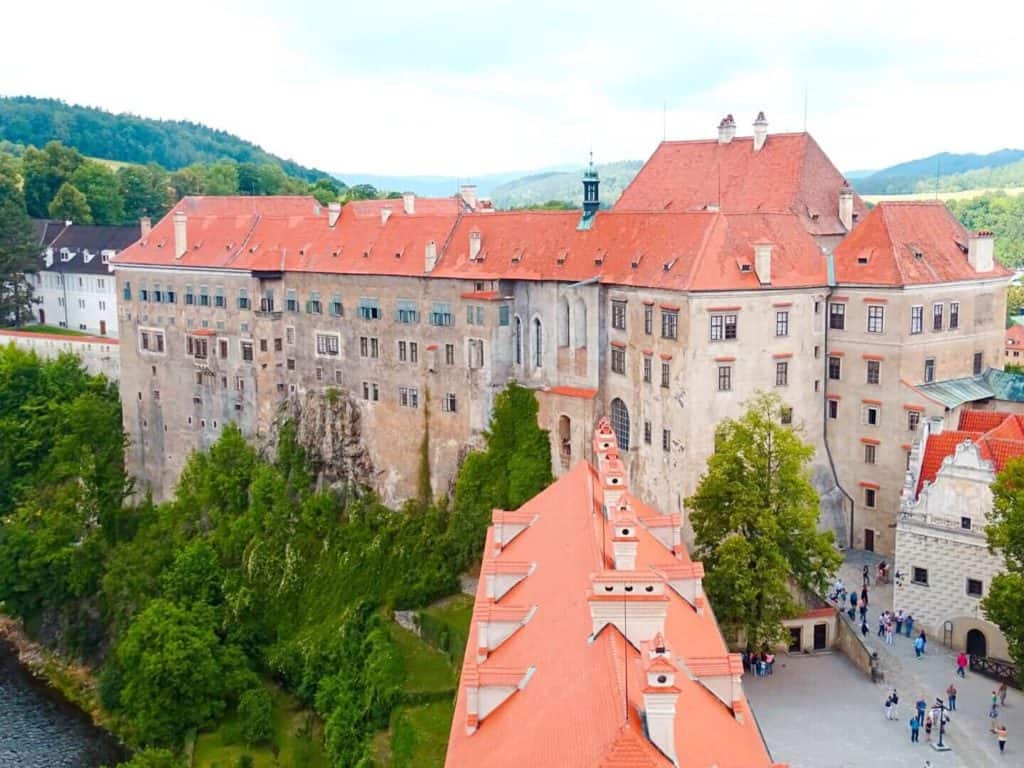 You (literally) can't miss Cesky Krumlov Castle. Situated in the heart of town, it's visible wherever you are. As the second-largest castle in the Czech Republic, it's only trumped in size by Prague Castle. Given the vast difference in size between the two cities, Cesky Krumlov Castle is notably more prominent and striking.

Castle entrance fee: 210 CZK (170 CZK for 18-24-year-olds and seniors). Take a guided tour for 300 CZK.
Read next: A complete guide to Cesky Krumlov Castle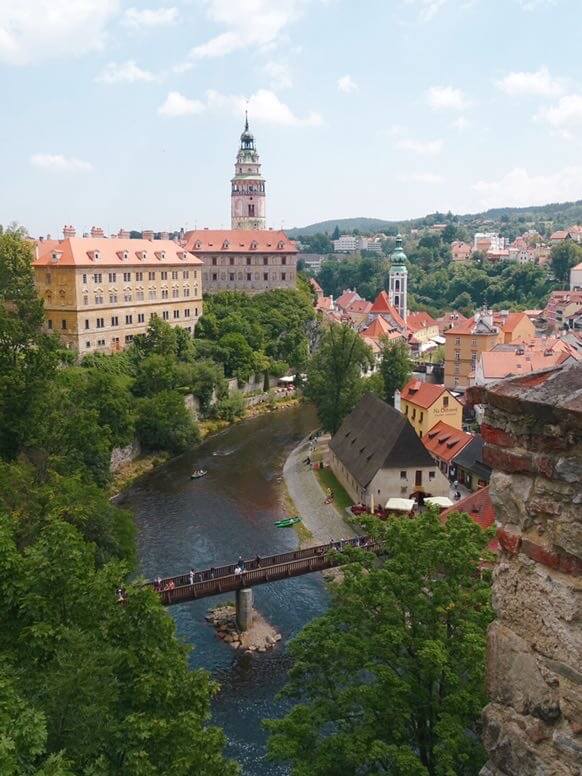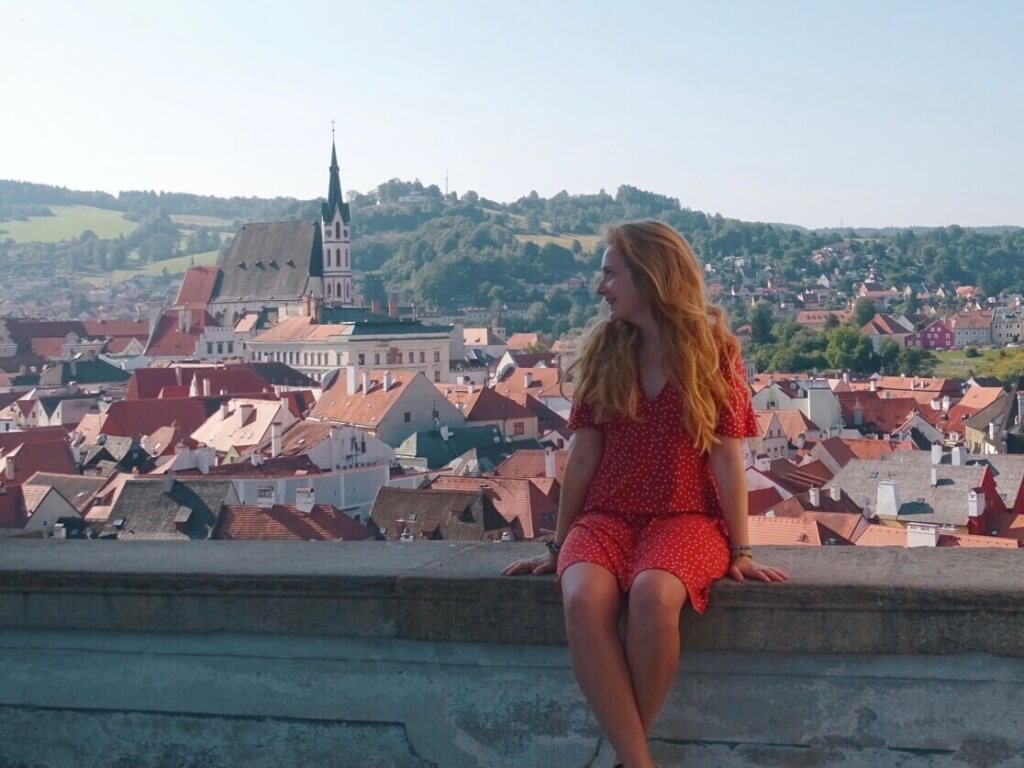 Tip for visiting the castle – arrive early especially if you want photos at the iconic walkway looking out over the city. The castle opens at 9am and you'll have a couple of hours before the tour buses flood in.
2. Wander the castle gardens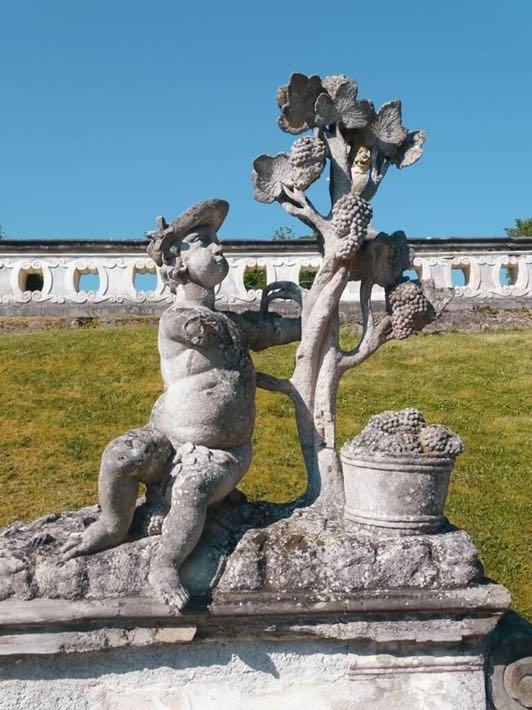 A highlight of visiting the castle is wandering the beautifully manicured gardens which can be found towards the back of the property. On a summers day, you can easily spend an hour relaxing here. Why not bring a picnic?

See if your visit times with a performance at the revolving theatre in the grounds.
3. Tour the baroque castle theatre
Take a tour of the castle's baroque theatre, the best-preserved example in the world. The official tour costs 380 CZK and can be booked on arrival to the castle.

When the property was inhabited by royals in its heyday, performances here would have lasted 6 hours and were only open to those personally invited by the royals.
4. Climb the castle tower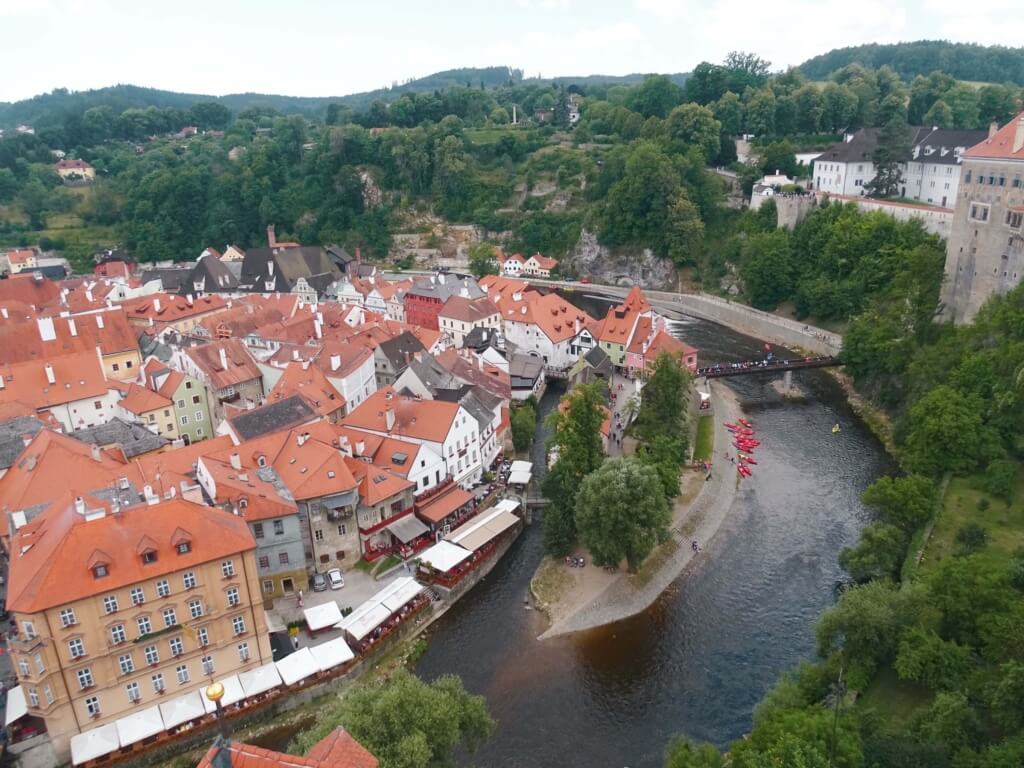 One of the best things to do in Cesky Krumlov is climb the castle tower. To climb the 162 steps, buy a Castle Museum & Tower ticket (150 CZK) which – as the name suggests – also grants you access to the Castle Museum. I only really wanted to see the view from the tower but there isn't an option for this alone.

Is it worth it? I can't deny it's stunning. You don't need long at the top so I'd suggest only doing it if you really want the photos.
5. Free walking tour with Wiseman
I love a free walking tour and I'd highly recommend this one as a fun thing to do in Cesky Krumlov. Facts I learnt include:
Only 20% of locals are religious – a very low figure
The Czech Republic invented sugar cubes and contact lenses!
Cesky Krumlov was ruled by a wealthy family called the Rosenbergs for years but then it was bought by a man so rich he forgot he owned it and never visited.
Instead of turkey, Czech people eat carp for Christmas. They keep it in the bath to clean it in the run-up to Christmas. Children bond with it and when it vanishes on Christmas day, parents tell them it swam away. This is the Czech equivalent of finding out Santa isn't real.
During WWII, the city was virtually destroyed. People who bought property then are millionaires now. But our guide said no one would have done that strategically as it was a 'literal hole'. You wouldn't think it now!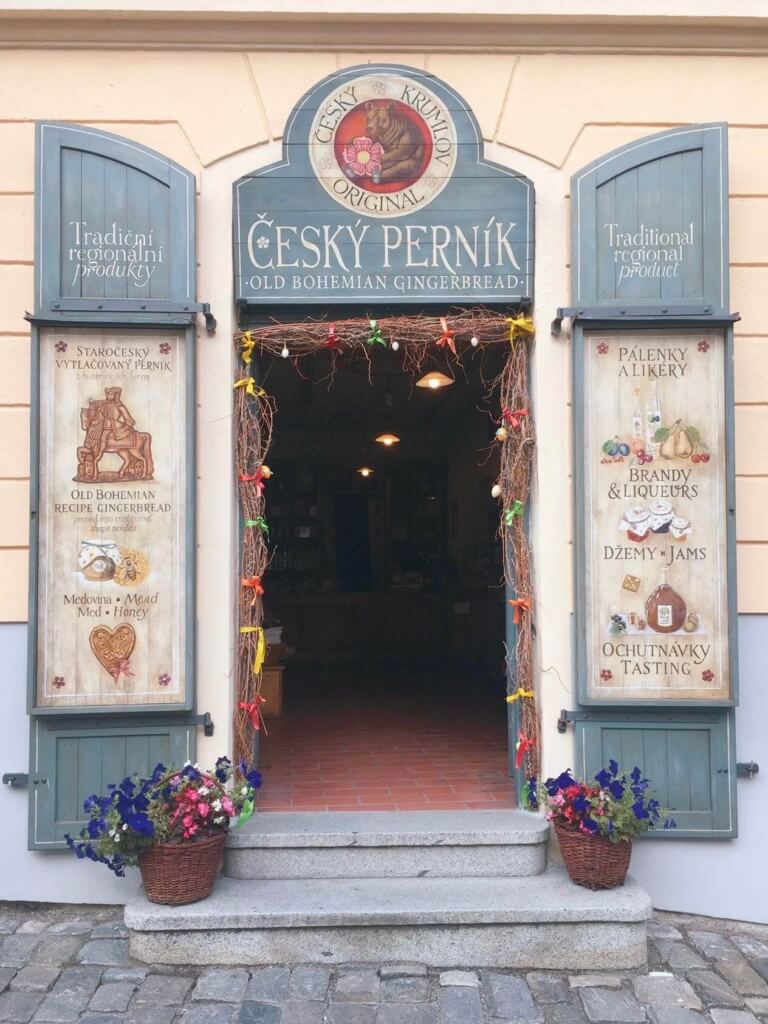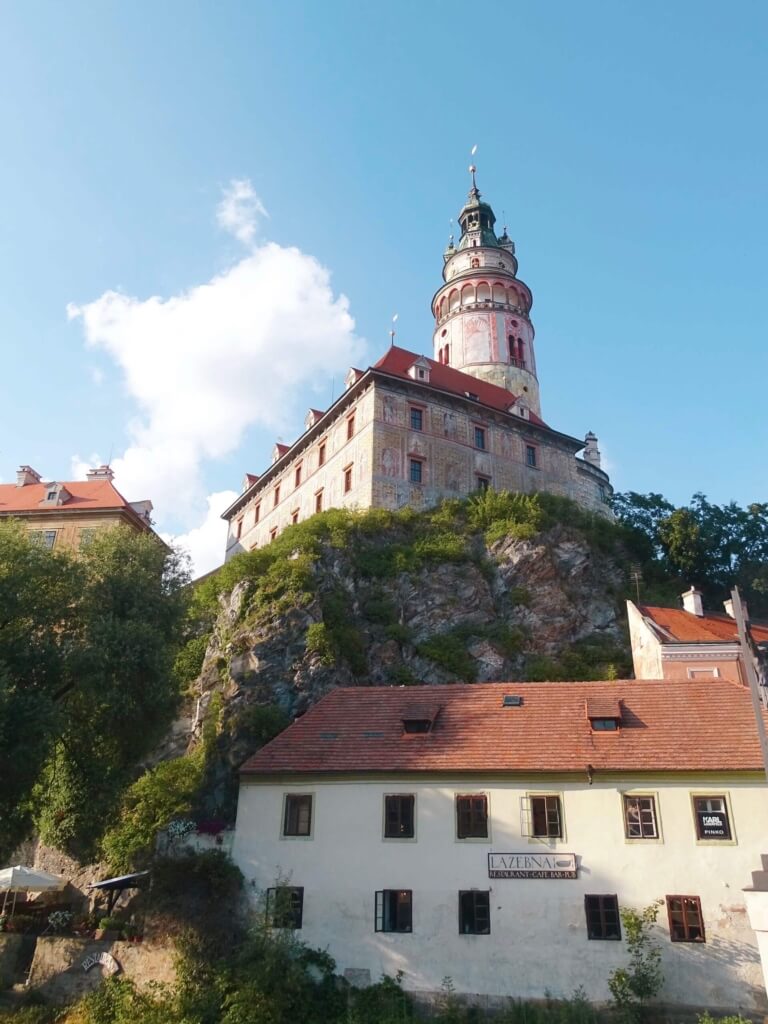 The Wiseman Free Walking Tour departs every day at 10.30am from the Infocentrum office in the central square. There's an additional 3pm departure from April to October.
6. View from Seminární zahrada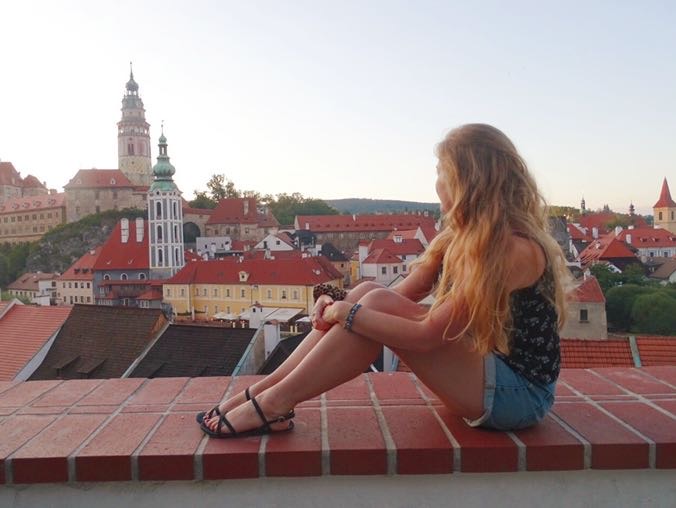 One of the prettiest spots in Cesky Krumlov is the courtyard at Seminární zahrada. I actually went here three times in 2 days: firstly when I found it by accident, secondly with the Wiseman tour and thirdly on my last night to take photos at sunset.

From here you get a panoramic view of the castle, houses and rolling houses in the distance.

If you're travelling on a budget and don't want to pay to climb a tower, consider this a free alternative. The view is just as lovely even if it's not as high up.

Recap of the best views in Cesky Krumlov:
Castle Tower (150 CZK)
Castle Cafe – free
Open walkway from the castle to the gardens – free
Seminární zahrada – free.
7. Hire a boat
In good weather, the river through Cesky Krumlov is busy with boats. Hiring a raft, kayak or canoe looks like fun.

Book a wooden raft river cruise (with a guide who does the rowing for you!) or hire a canoe and go at your own pace.
8-15. Visit the museums
For such a tiny city, there are a wide array of museums in Cesky Krumlov. A few of the top ones include…
16. The Church of St Vitus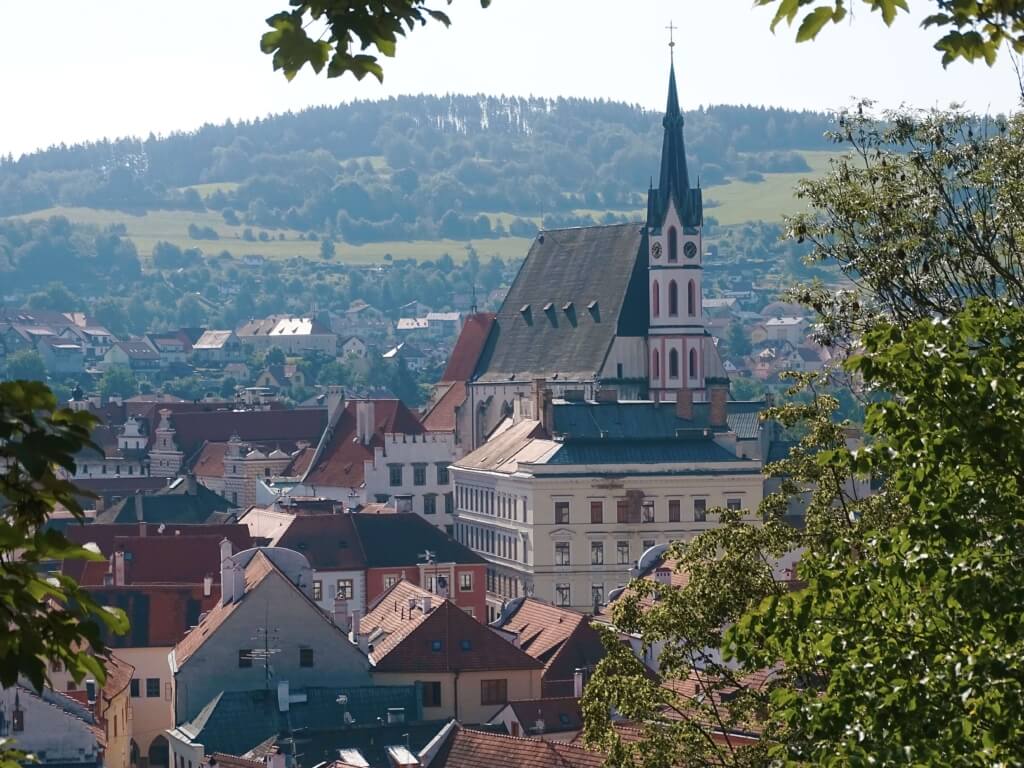 Gaze over Cesky Krumlov from any viewpoint and you can't fail to miss the Church of St Vitus.

This Roman Catholic Church took over 30 years to be built in the 1400s, making it one of the oldest surviving buildings in the city. It has historical importance because several notable members of the Rosenberg and Schwarzenberg families are buried inside.

You'll catch pretty views of this gothic church from any viewpoint but an even better option is to head inside and look around. If your visit times up, you can even attend a classical music concert inside the church.

Address: Horni, 381 01 Cesky Krumlov.
17. Egon Schiele Art Centrum
One of the top things to do in Cesky Krumlov for art fans is visit Egon Schiele Art Centrum. This large gallery displays classical and contemporary artwork from the 20th-century.

The draw for many is the floor dedicated to Egon Schiele, an Austrian painter known for his colourful and evocative work. Browse his art and learn about his life.

The gallery also displays work from other artists including Salvador Dalí and Gustav Klimt, whose famous painting, The Kiss, I saw while spending 3 days in Vienna. There are ever-changing exhibitions at the gallery, as well as a lovely cafe in the garden.

Address: Široká 71, 381 01 Ceský Krumlov.

Entrance fee: 200 CZK for adults, 100 CZK for students, 150 CZK for over 65s.
Things I didn't like about Cesky Krumlov
While Cesky Krumlov is gorgeous, everywhere in the world has downsides. I'm keen to showcase the good things to do in Cesky Krumlov but also highlight the 'travel realities' that many people miss. There were a few things that irked me about this UNESCO city. These included:

The locals have been pushed out. I know this happens in many other places too but it's to an extreme degree here. Virtually no one lives inside the city anymore; it's all guesthouses and Airbnbs.

UNESCO are the big bosses. In the castle gardens, you'll find a modern theatre building which UNESCO hate. They've threatened to take away funding if it isn't removed which causes problems with the locals who love it. The city seems to be controlled by their say-so.

There's a live bear kept under the castle moat and I think that's really cruel.

Tensions are forming between the Asian tourists and the Czech locals. Understandably, different cultures have different ways of behaving and it seems like the locals aren't responding well to the influx of tourists. I can see it from both sides. The atmosphere wasn't great.

These are things I noticed in just 2 days. They're not all unique to Cesky Krumlov – I see them as observations about the changing world we live in.
What to eat in Cesky Krumlov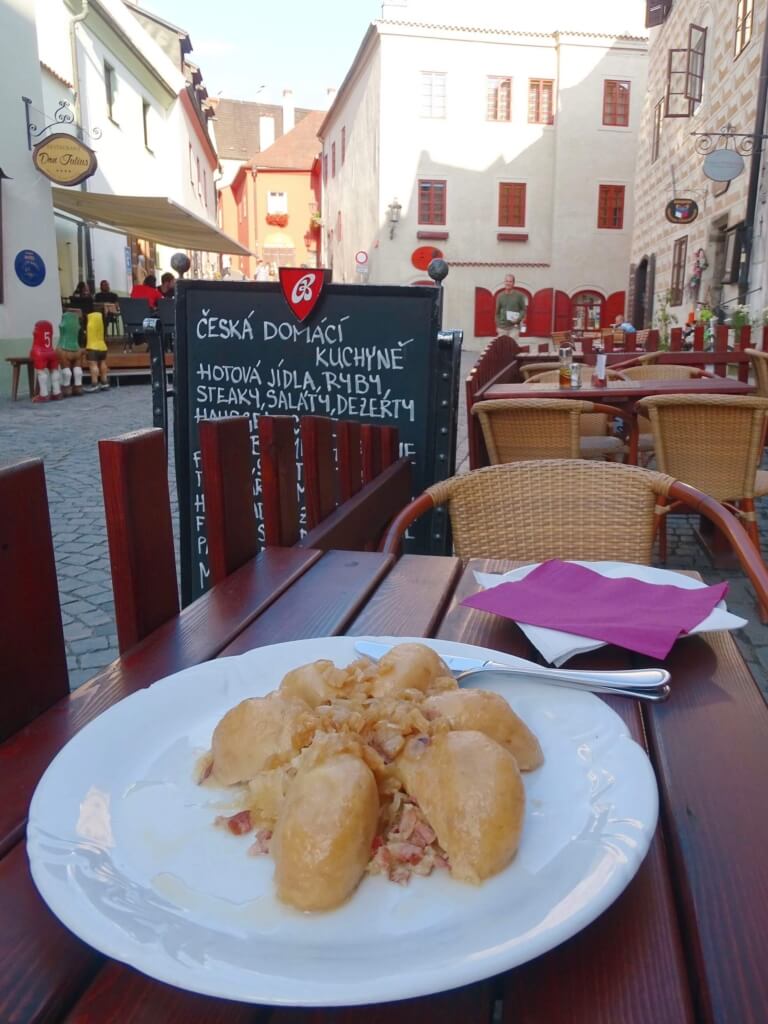 If you run out of things to do in Cesky Krumlov, eat! The historic town is geared towards tourists so it's tricky to dine with the locals. Saying that, there are lots of atmospheric Czech restaurants where you can tuck into the local Czech cuisine. Dishes to try include:
Svickova – the national dish made with beef, cranberry, bread dumplings and cream. I wasn't a massive fan of this but I ended up eating it twice regardless. When in Czechia!
Bramborove knedlik – potato dumplings with soured cabbage, a classic Czech dish (pictured above) with a somewhat vinegary taste that goes well with potato.
Guláš – the Czech version of goulash with meat and vegetables. This hearty dish will warm you up on a cold day but you can still find it on menus throughout the summer.
Trdelník – chimney-shaped desserts made with dough, sugar and other toppings.
Řízek – many countries in Eastern Europe have a version of the schnitzel and this is Cesky Krumlov's offering. I was told that at Christmas they swap chicken for trout since it's their festive version of turkey.
Read about more Czech food in my Prague food guide.
Restaurants in Cesky Krumlov
Don Julio Eggenberg Restaurant: This popular restaurant can seat 200 people giving it a sociable beer hall feeling in the evenings. You can try all the classic Czech dishes here made according to traditional recipes. It's built on the site of an old beer cellar and you can still sample traditional Eggenberg beer here today.

Restaurant Bohemia: Dating back to the 17th century, this atmospheric venue will transport your mind back several centuries. You can order meat, fish, salads and a range of Czech beers while enjoying the lively atmosphere of this period restaurant.
Read next: my guide to Czech wine in Moravia wine region
Thanks for reading!
I hope you're feeling better informed on what to do in Cesky Krumlov. It may be more of a constructed fairytale than a real one… But you can't deny it's gorgeous!
Check out my other Europe blogs:
See you next time for more adventures,
Rose
Ps. Liked these things to do in Cesky Krumlov? Pin this for later!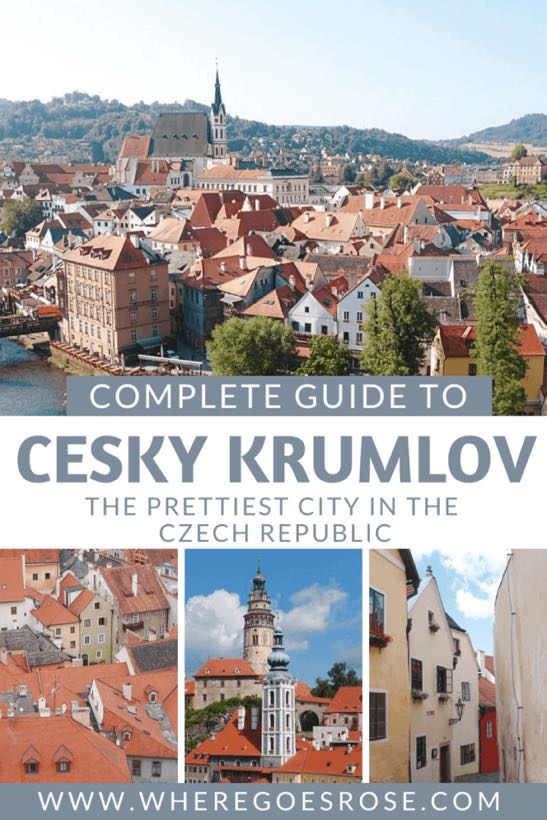 TRUSTED RESOURCES FOR VISITING THE CZECH REPUBLIC

Getting around by air – I use Skyscanner to find the best-value flights, using the 'search by month' tool to find the cheapest dates. You can also use the 'to anywhere' feature if you're flexible on where you're going.

Driving in Europe – use Rentalcars.com to compare car rentals in European countries (and all around the world).

For trains, I use RailEurope. The search feature allows you to compare prices, and they show live departure times on the website.

For buses, I use FlixBus. Find journeys between European countries from €1!

For hotels and self-catering apartments, I use Booking.com. You can filter by review score and price to find the best-rated budget places. For hostels, I use Hostelworld.com.

To save money on accommodation, I use Trusted Housesitters, a website that connects homeowners going away and travellers who can sit their homes & pets.

Browse tours and activities on GetYourGuide.

Need travel insurance? I use True Traveller (for UK & Europe residents) since it's some of the most affordable insurance out there but still covers everything you'd need including various activities, valuables and pre-existing conditions. Unlike some companies, they insure you if you're already travelling / don't yet have your flight home booked. Get a quote.

For travel insurance for other nationalities, I recommend Hey Mundo and for long-term digital nomad travellers, I suggest Safety Wing.

Check out my resources page for more travel discounts and budget tips from my 10+ years on the road!