This post may contain affiliate links to things like tours, hotels, Amazon associates and products. These help me earn a small commission at no additional charge to you.
Oaxaca is one of my favourite new cities this year. The charming low-rise buildings and countless food markets are worth a visit, and I also fell hard for the Oaxaca street art.

Like the best urban murals around the world, the street art of Oaxaca is more than simply decorative. It tells stories of Mexico, its residents and their struggles. From indigenous rights to natural disasters, you can learn a lot through Oaxaca's street art.
OAXACA QUICK LINKS

Accommodation: Booking.com / Hostelworld

Copy of Lonely Planet Mexico

Activities: GetYourGuide / Viator

Getting there: Flight / Rentalcars.com / Busbud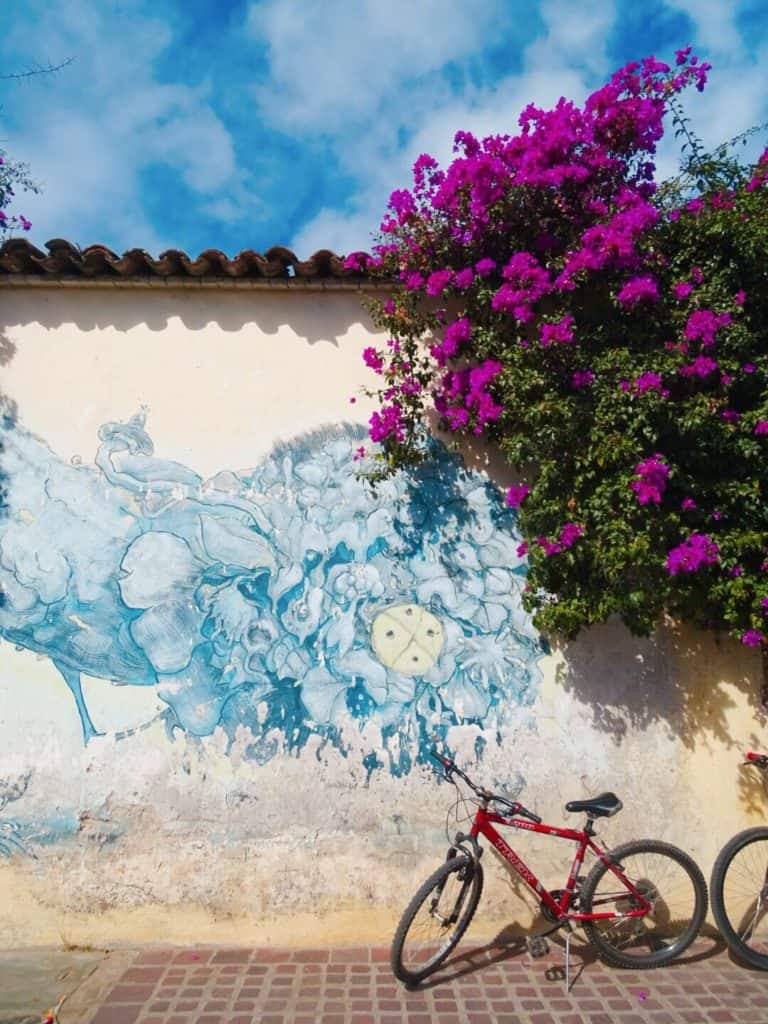 Street art cycling tour with Coyote Aventuras
I was lucky enough to be invited on Coyote Aventuras' street art cycling tour. During this half-day tour, we explored more of Oaxaca than I'd have been able to on foot. Our guide, Shai, was really knowledgeable so I got to learn about the murals, as well as the artists who created them.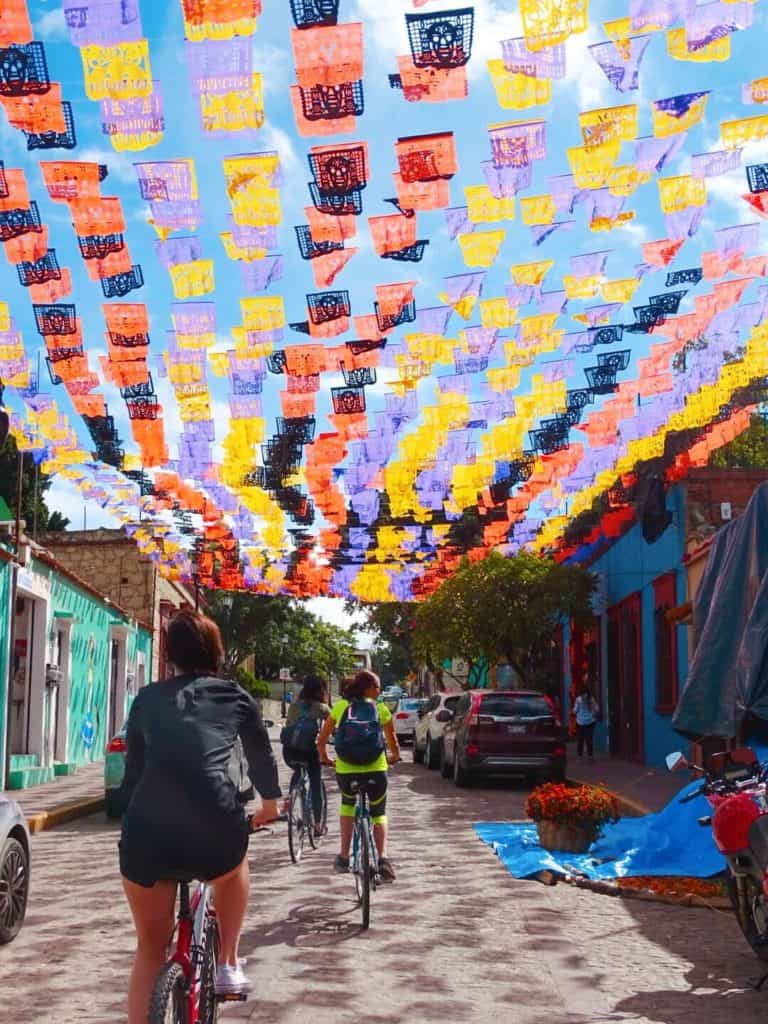 Whether you choose to explore with Coyote Aventuras or solo, I would highly recommend fitting the Oaxaca street art into your sightseeing plans. Finding it is easily one of the best things to do in Oaxaca, plus street art is always a good idea!
Where to find street art in Oaxaca
It won't take you long to find street art in Oaxaca; it's on every corner. There's not so much in the historic city centre since most of the buildings are protected but outside of this, there's tons to be found.
Memorial to the 43 missing students, Berriozabal Street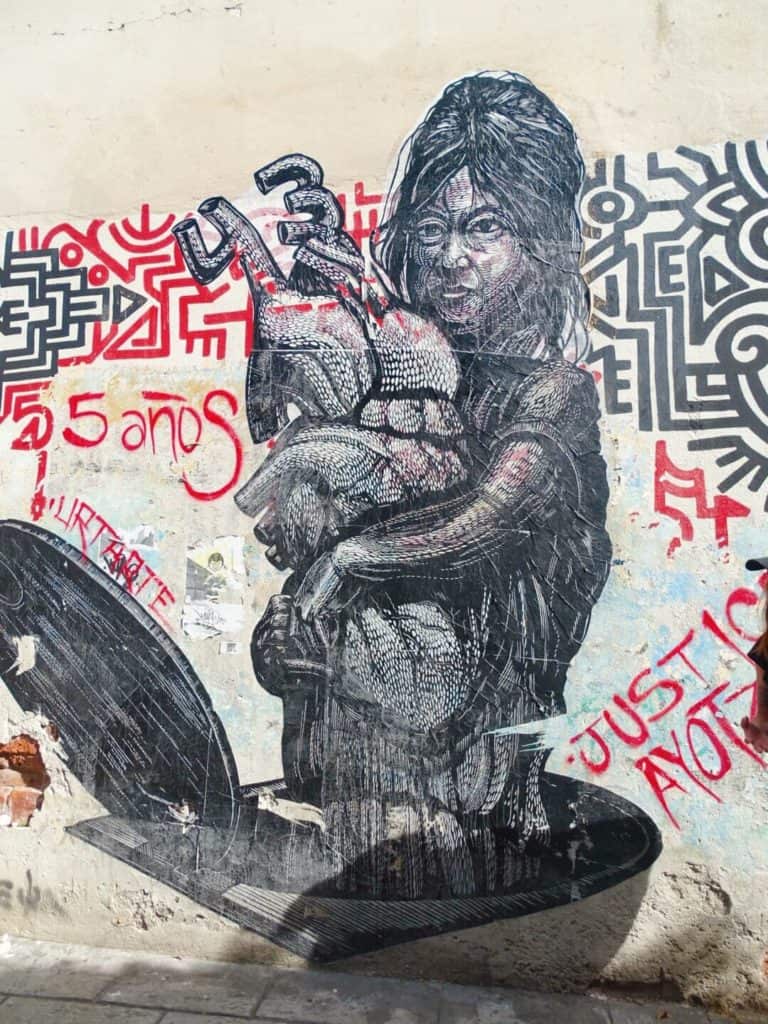 I was shocked to learn the history behind this piece of work by the Urtarte Collective on Berriozabal Street.

It tells the story of the 43 missing indigenous students who vanished en route to a peaceful protest in the state of Guerrero. They were protesting for better rights, for example the teaching of indigenous languages in schools rather than just Spanish.

Sadly, they never made it to the protest. They ran into police and were never seen again. One year later, bodily remains of six students were found in a burned out bus. The other 37 were never found.

Indigenous rights remain an issue in Mexico. Pieces of Oaxaca street art like this communicate the issues and push for better rights and representation.
Jose Lopez Alavez
Some of the best street art in Oaxaca can be found on Jose Lopez Alavez. Enter Parallel gallery into Google Maps and you'll find an array of colourful street art spreading all down the street. As well as indigenous-themed images, Shai told us that a local bakery had commissioned images of recipe books and cooking equipment to promote their business.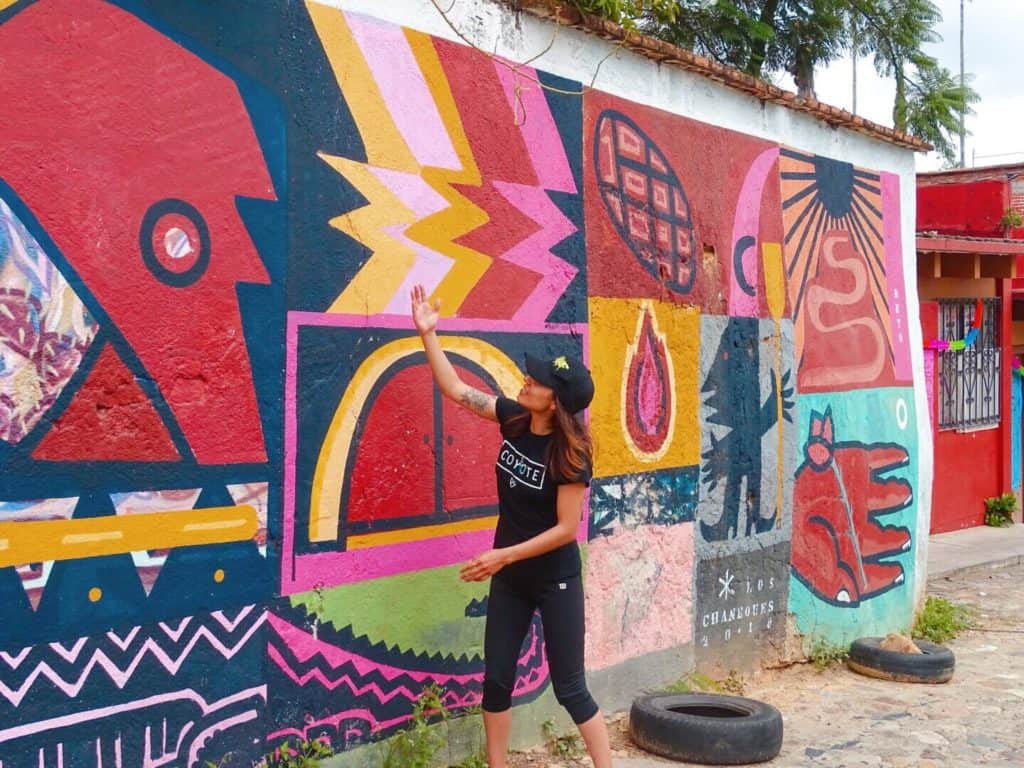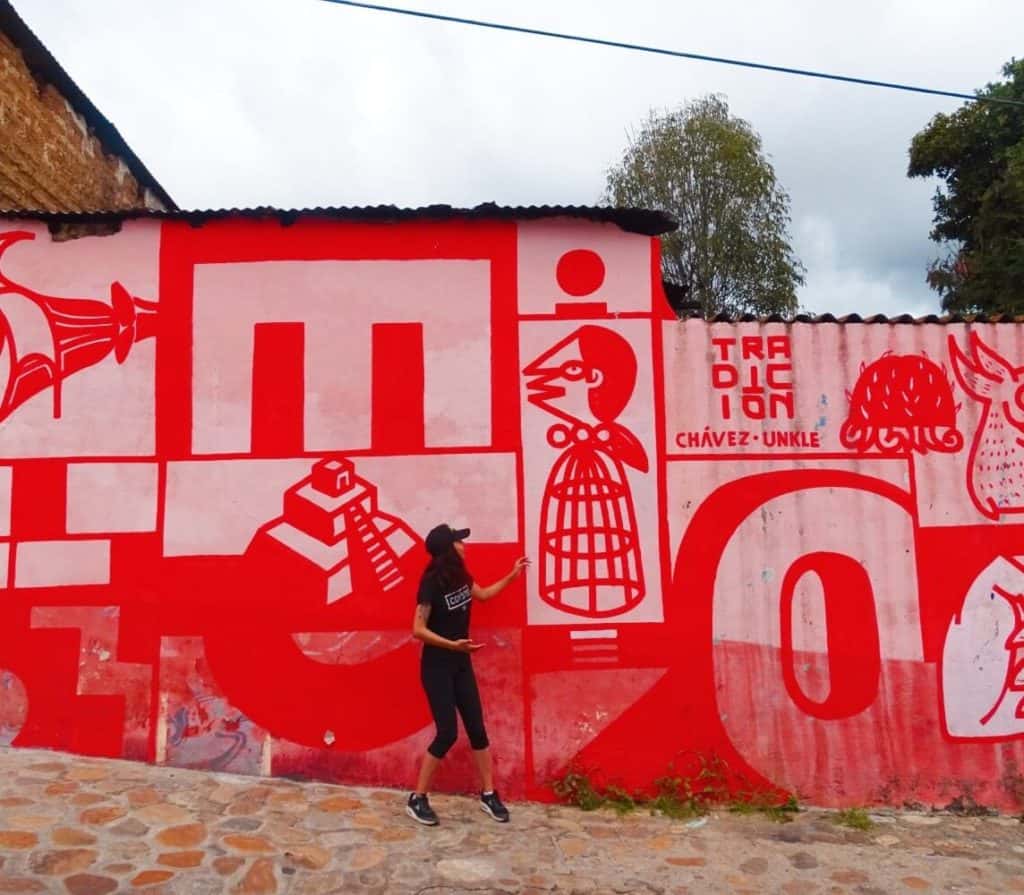 Don't stop at the street art corner though – there's loads more Oaxaca street art further down Jose Lopez.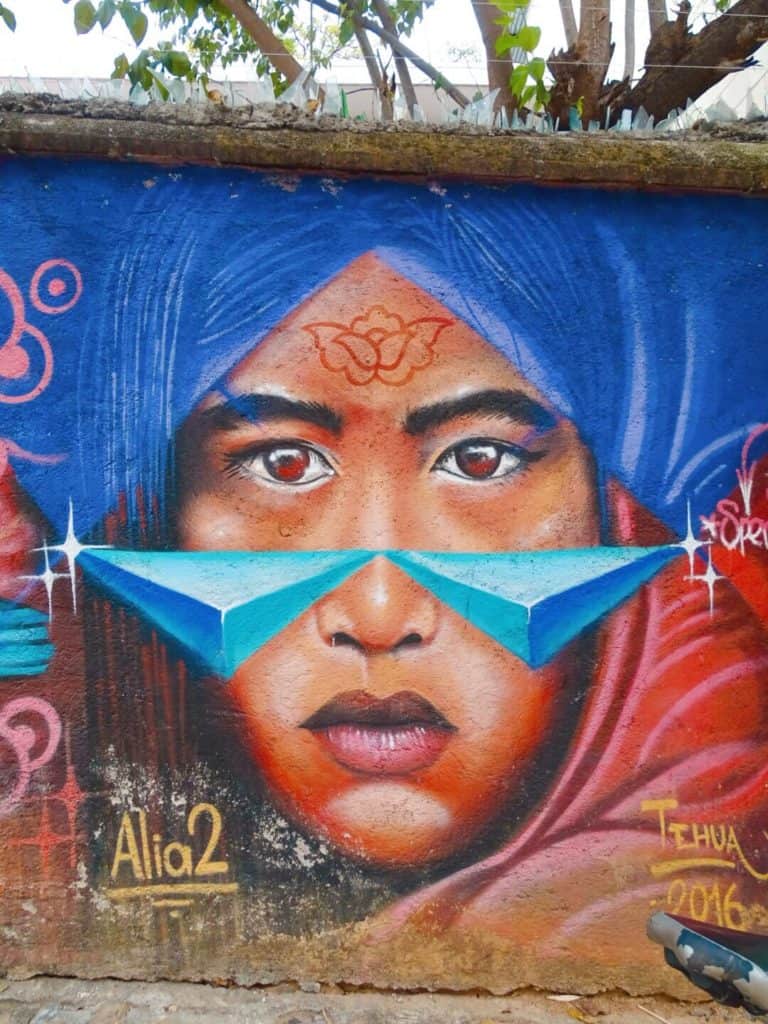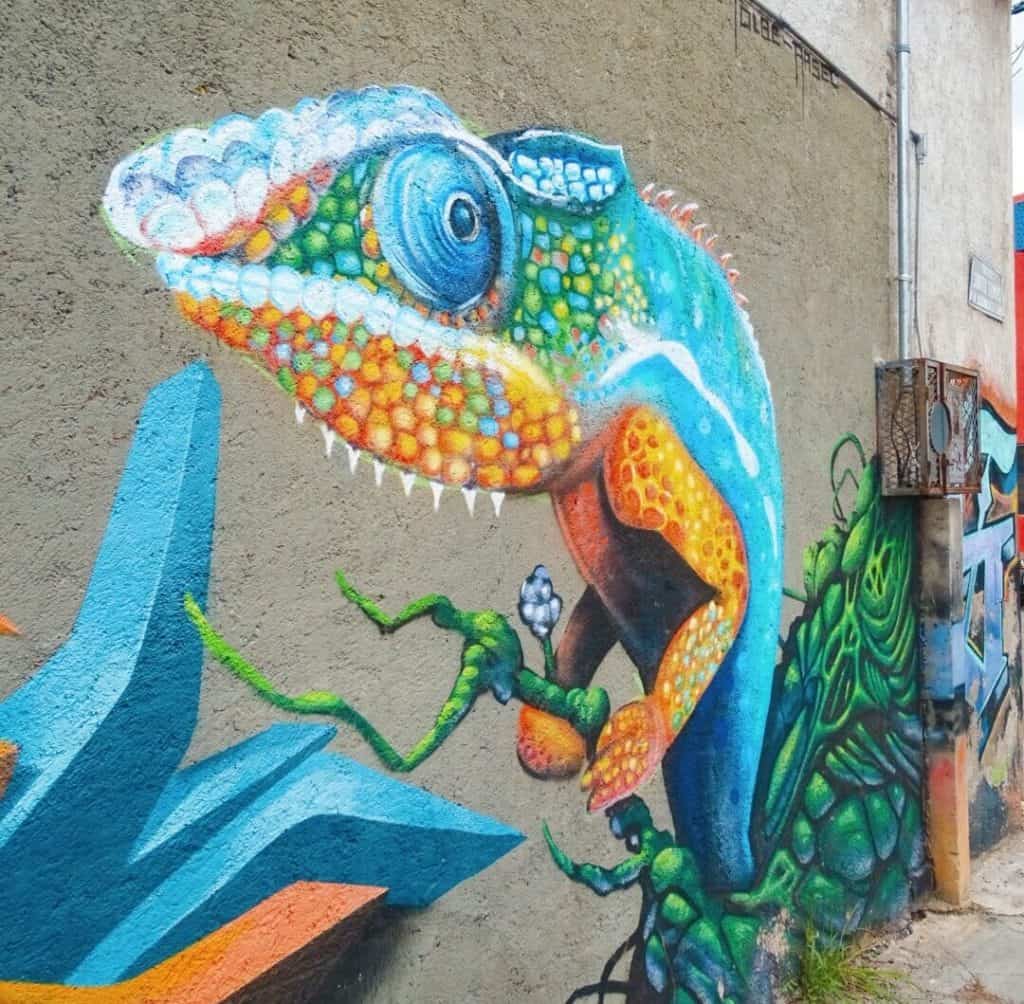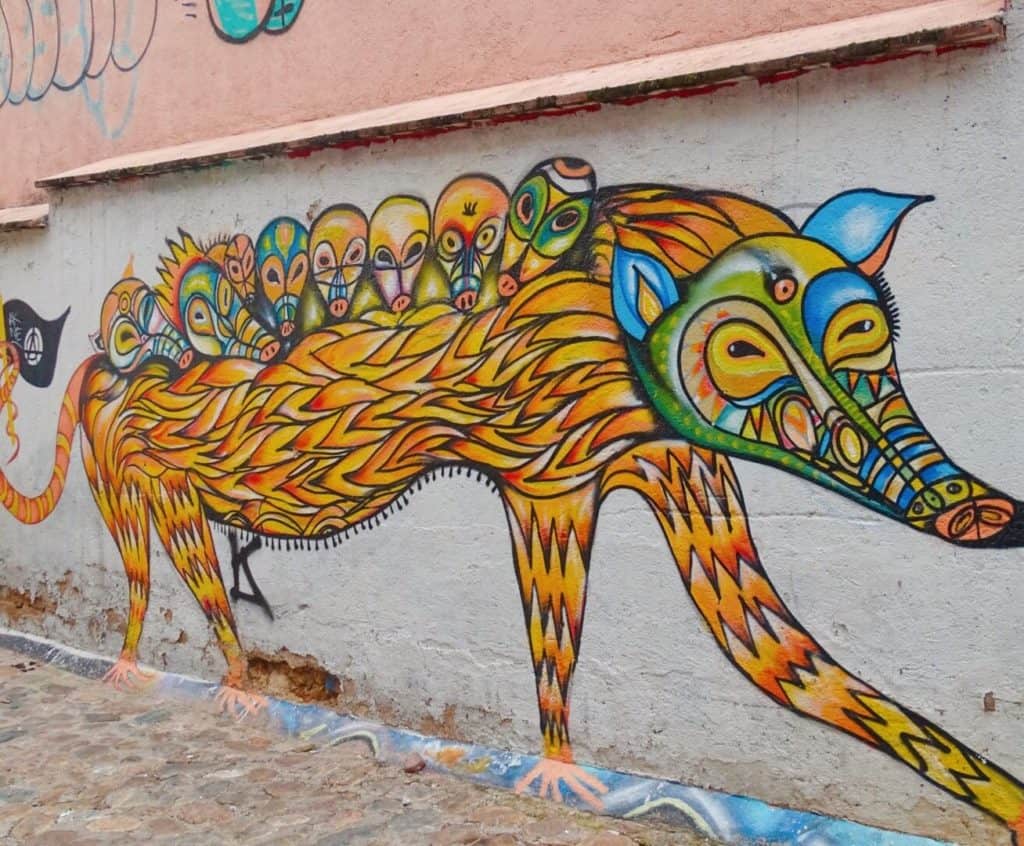 I loved this colourful iguana, as well as this street art possum which I learnt has become a symbol for protest in Mexico. During standoffs and riots, protestors were known for throwing rocks and branches at the police. On one occasion, a protester threw a nearby possum as it was the only thing in reach. The story spread and the reputation stuck: possums = rebellion.
Rainbow fish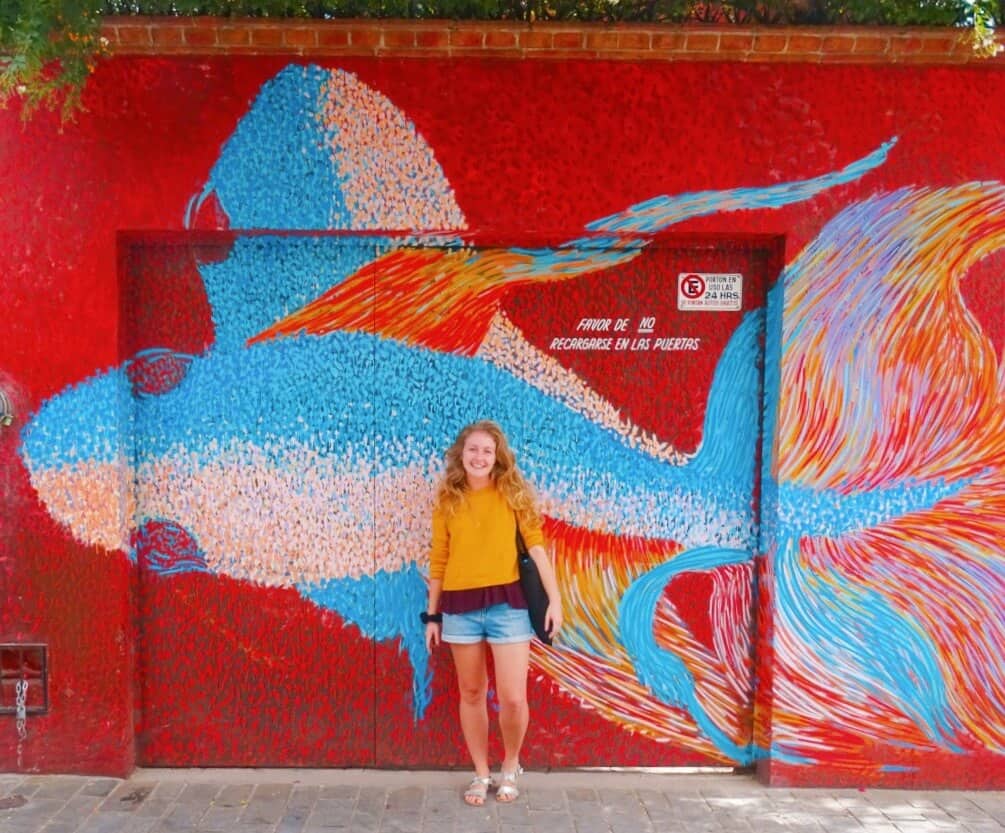 One of my favourite pieces of Oaxaca street art was this giant rainbow fish on Plaza de la Cruz de Piera.

Shai told us the artist, Katalina Manzano, had painted it with more than aesthetics in mind. The whole piece is made of coloured dots which are meant to represent how people are made up of many elements. Shai pointed out that everyone who enters your life leaves behind some colour. It's up to you what you do with that! I love this analogy.
Earthquake memorial on Aldama Street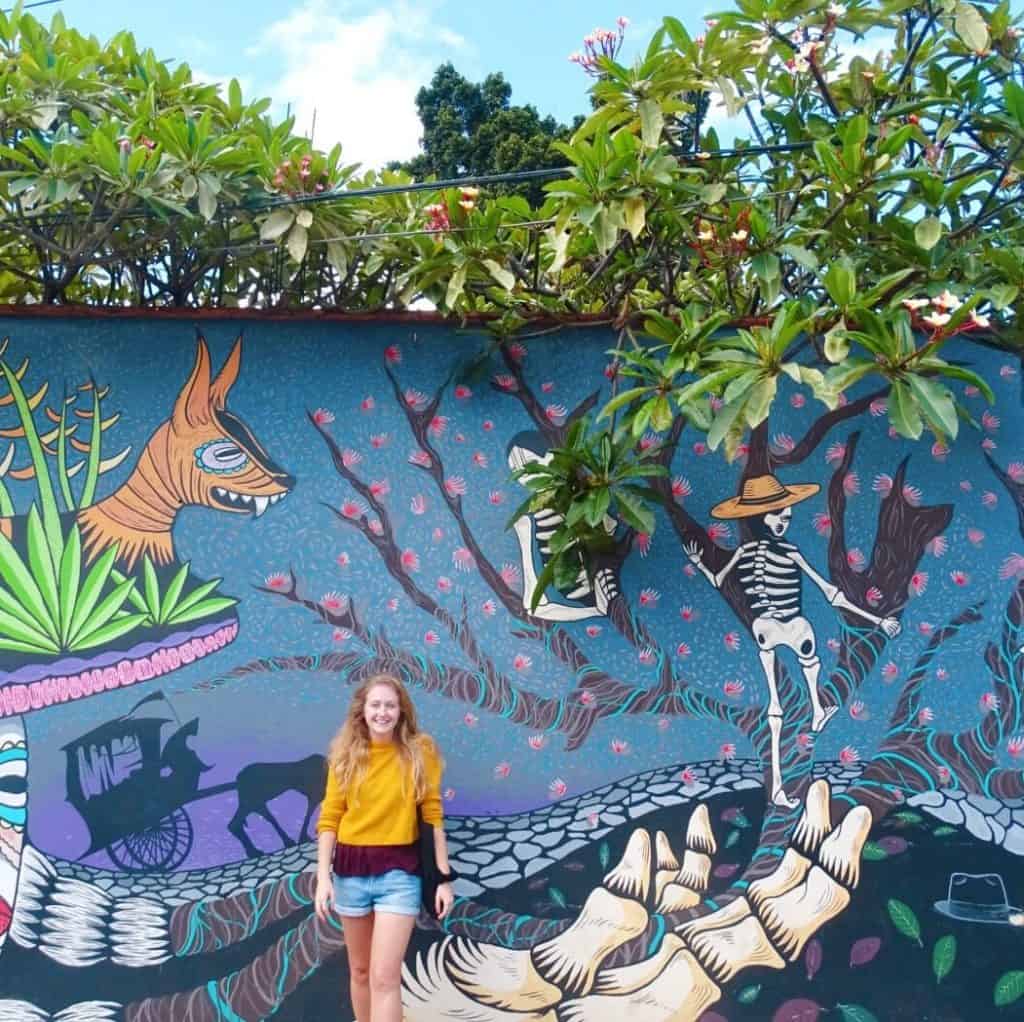 Seeing these murals on Aldama Street was very fitting since I was visiting Oaxaca during Day of the Dead. In Mexico, the way death is perceived is different because people don't skirt around the issue. This image of a family lost to the 2017 earthquake is confronting and in-your-face, yet not sad or sombre.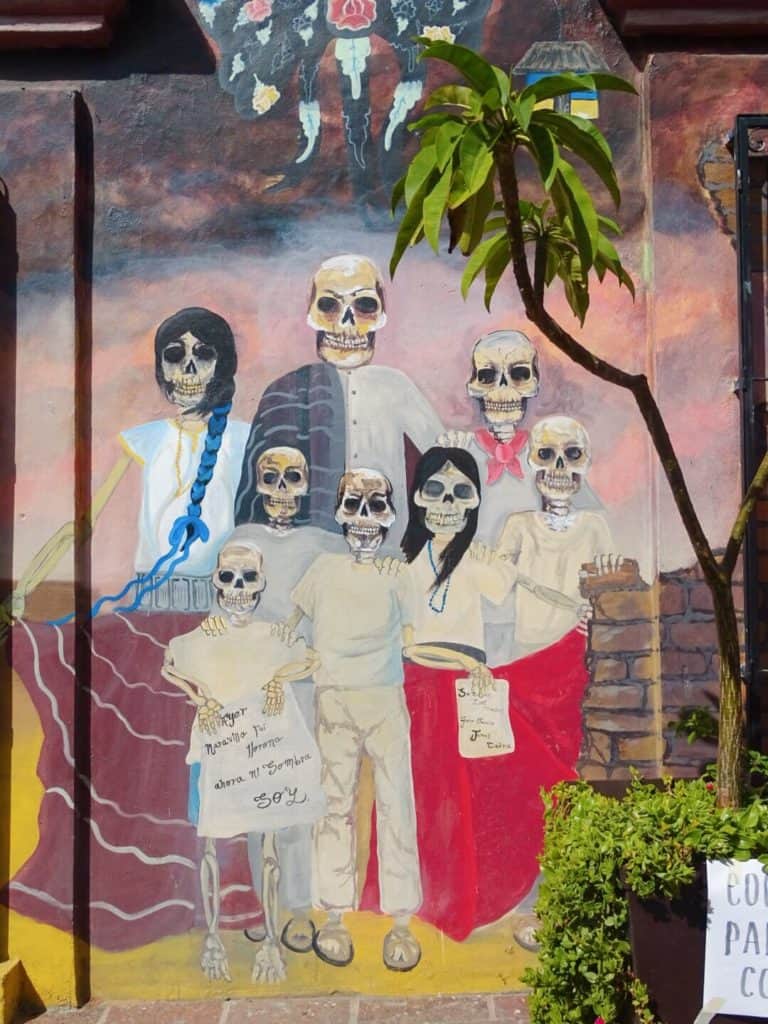 You can find these images, including dancing skeletons at Aldama 303.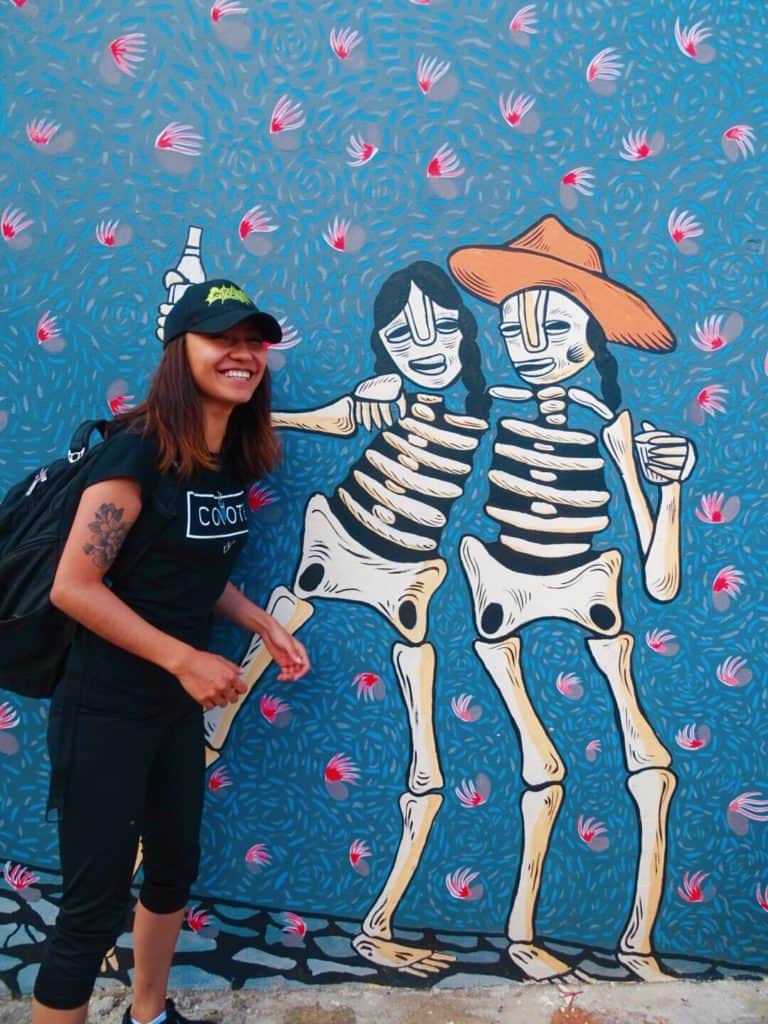 Magic mushroom art
Through the Oaxaca street art I learnt about Mexican magic mushrooms and their spiritual connection to nature. Rather than being used as a recreation or party drug, they've been used for generations as a type of medicine.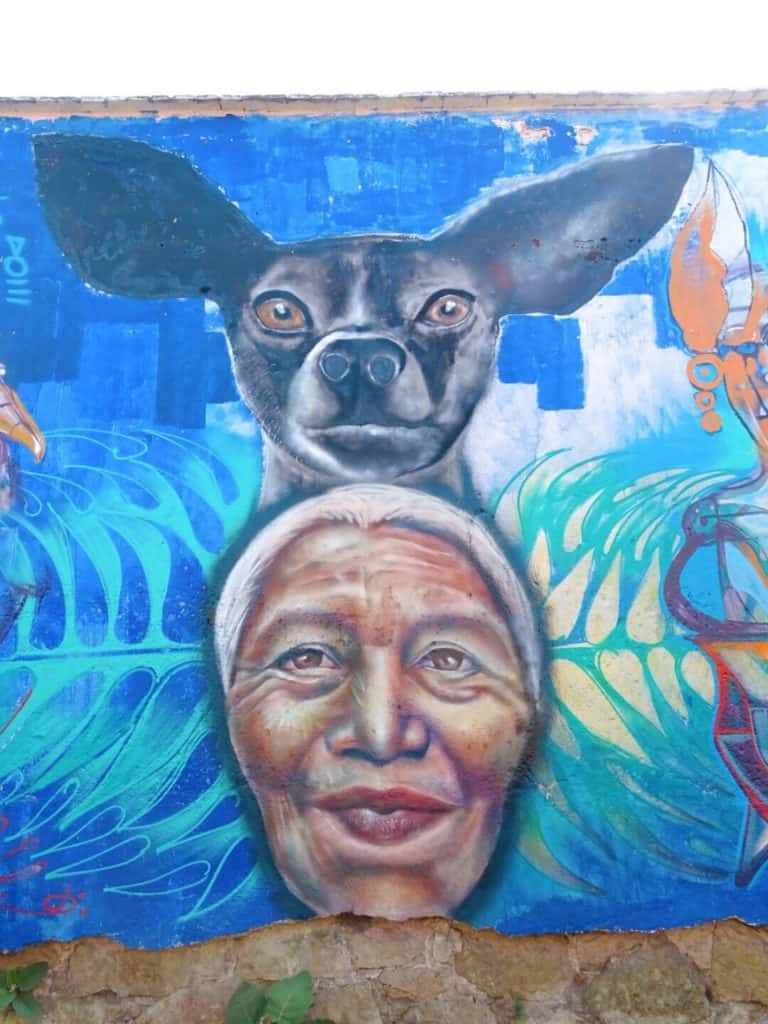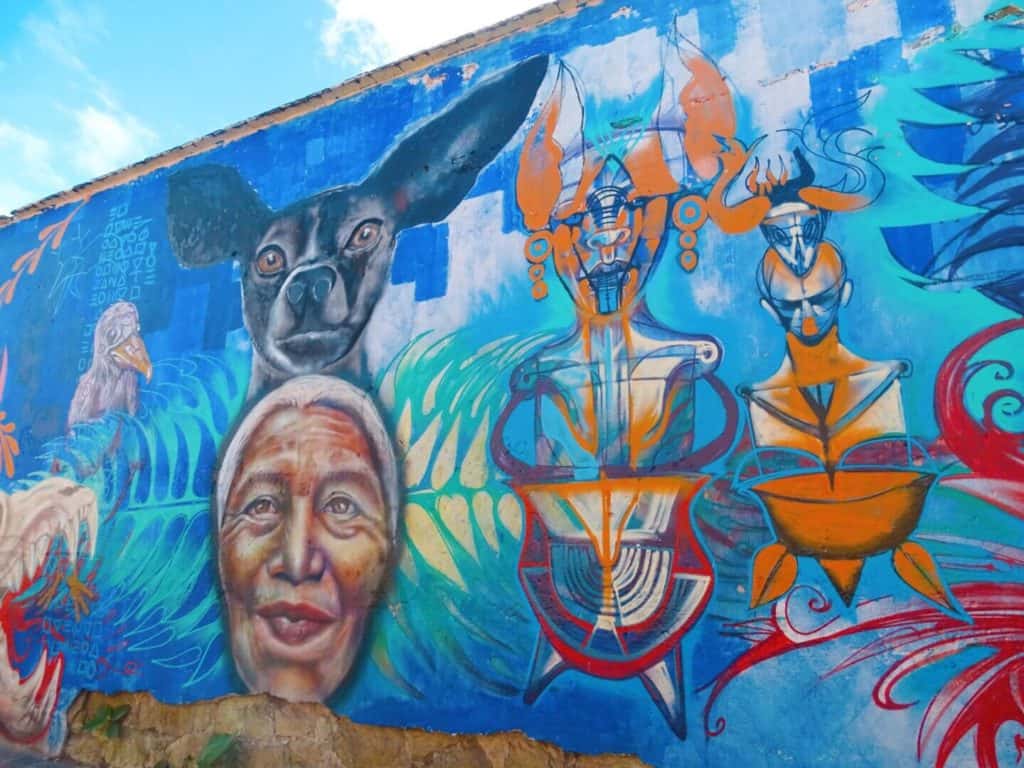 Shai explained to us the story of Maria Sabina, a Mexican woman known for her knowledge of magic mushrooms. She was from a Oaxacan community called Huautla de Jimenez and became famous when she supplied them to the Beatles. However, she later said she regretted it because they became commercialised as a result.

Set your Google maps to Panadería Curtidiriaz where you'll find these colourful images of María Sabina painted by Erica Sanchez. You'll see her beside a xoloitzcuintli, a hairless Mexican dog believed to be highly spiritual.
Spaceman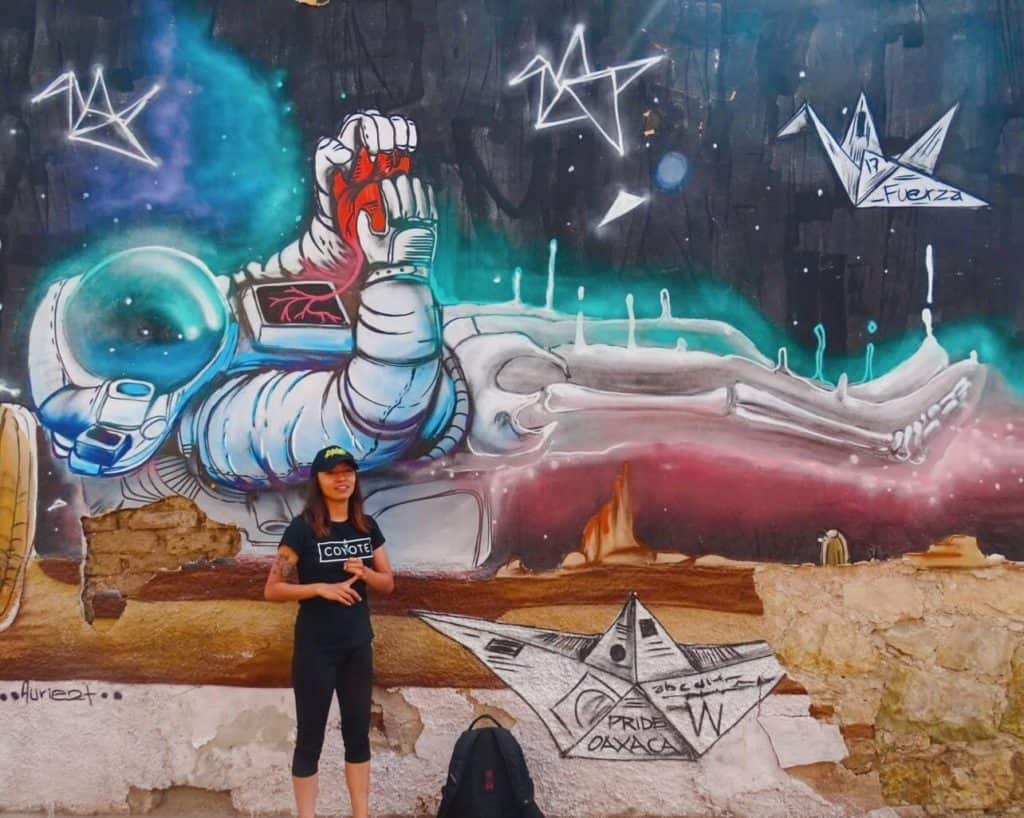 Just along from the magic mushroom street art, you'll find more Oaxaca street art. Shai explained this giant spaceman shows society's dependency on technology. I also liked this colourful octopus woman kissing a deep sea diver. I'm not sure the meaning of this image but it's always fun to guess when it comes to street art.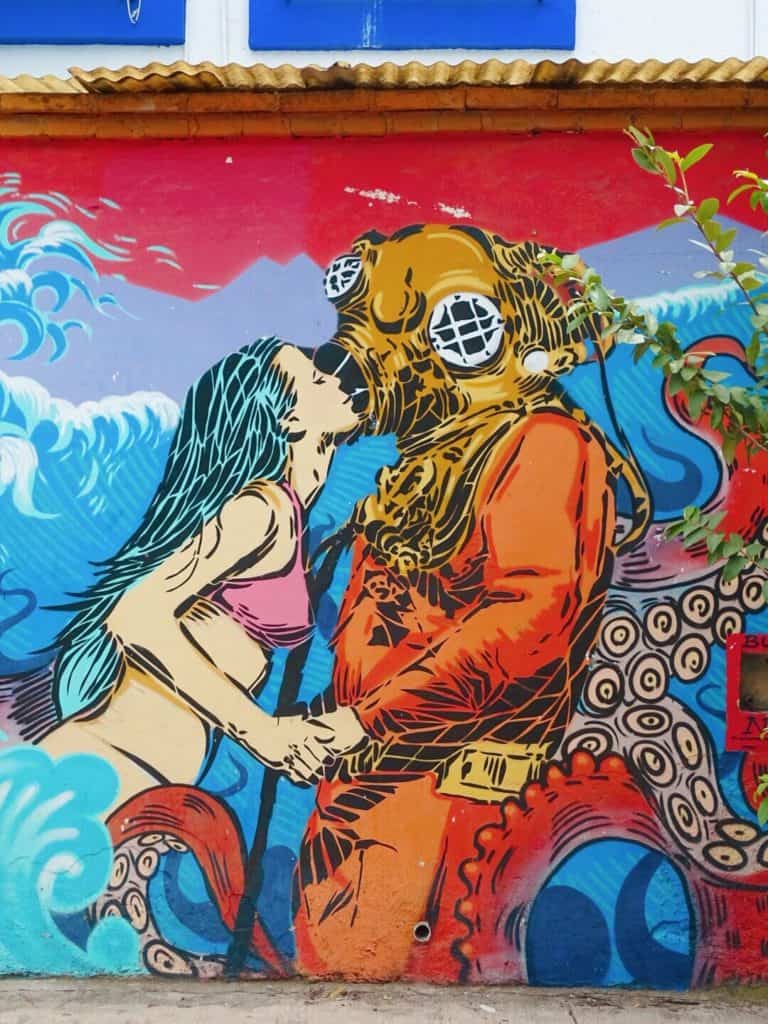 So what are you waiting for? The street art is one of the best things about Oaxaca so I urge you to get exploring, preferably on the amazing street art bike tour with Coyote Aventuras.

I hope you have a better idea of where to find street art in Oaxaca after reading this blog. If you find more, let me know in the comments 🙂
Rather do a walking tour?
If bike riding is not possible or enjoyable for you, there's also a highly-rated walking tour around the city's colourful Jalatlaco area. Visit murals, art studios, try your hand at printing and take home your handiwork. Book for $50.
Where to stay in Oaxaca?
Hostel – I stayed at Oaxaca Central Hostal. I'd recommend this colourful hostel with a leafy outdoor garden area and amazing home-cooked breakfasts that change each morning.
Budget hotel – check out Hotel Casona Oaxaca or an affordable option with period features and a sunny courtyard ($30)
Midrange hotel – Hotel NaNa Vida – this stylish hotel in a colonial blue building in the heart of Oaxaca boasts garden views, Mexican artwork and a sunny terrace ($60).
Packing list for Oaxaca
Thanks for reading my Oaxaca street art guide!
VISITING MEXICO?
These are my trusted resources:

Getting around by air – the quickest (and often cheapest) way to travel between Mexican cities is by flight. I use Skyscanner to find the best-value flights, using the 'search by month' tool to find the cheapest dates. You can also use the 'to anywhere' feature if you're flexible on where you're going.

Getting around by bus (environmental option) – buses in Mexico are comfy with free snacks and an in-journey entertainment system. I use Busbud to find the best prices.

Driving in Mexico – use Rentalcars.com to compare car rentals in Mexico (and all around the world).

For hotels and apartments, I use Booking.com. They have a wide range of accommodation for all budgets, plus the loyalty programme gives you discounts and upgrades.

For hostels, I use Hostelworld.com. Hostels in Mexico are great for meeting other travellers.

To save money on accommodation, I use Trusted Housesitters, a website that connects homeowners going away and travellers who can sit their homes & pets.

I use GetYourGuide for tours & activities when I don't want to travel solo. I also check Viator as they often have fun & unique options.

EatWith – your one-stop for Mexico food tours, cooking classes and hosted meals with local chefs and foodies.

Need to top up your Spanish? Pack a Lonely Planet Mexican Spanish Phrasebook & Dictionary.

Need travel insurance? I use True Traveller (for UK & Europe residents) since it's affordable but covers everything you'd need including various activities, valuables and pre-existing conditions. Unlike some companies, they insure you if you're already travelling / don't yet have your flight home booked. Get a quote.

For travel insurance for other nationalities, I recommend Hey Mundo and for long-term digital nomad travellers, I suggest Safety Wing.

Check out my resources page for more travel discounts and tips from 10+ years of travel!
Note: While I was hosted by Coyote Aventuras, all opinions are my own.
Check out my other Mexico guides:
See you next time for more adventures,
Rose
Ps. Liked my Oaxaca street art guide? Pin it for later!