This post may contain affiliate links to things like tours, hotels, Amazon associates and products. These help me earn a small commission at no additional charge to you.
The Floating Gardens of Xochimilco are a unique part of Mexico City, far removed from the skyscrapers and palaces of the centre. In this guide, I'm going to explain how to visit Xochimilco Floating Gardens, why they're unique and what to expect.

I recently visited Xochimilco's Floating Gardens, otherwise known as chinampas, as a day trip. The fact you can take an entire 9-5 day trip without leaving Mexico City is mind-blowing. This city is enormous and incredibly diverse. While bobbing along the peaceful steam with no humans for miles around, it felt surreal that I hadn't left the 22 million megacity.
MEXICO CITY QUICK LINKS

Accommodation: Booking.com / Hostelworld

Copy of Lonely Planet Mexico / Mexican Spanish Phrasebook & Dictionary

Activities: GetYourGuide

Food tours: Eatwith

Getting around: Metro / Metrobus / Uber
Read next: How to spend 5 days in Mexico City
Where are the Floating Gardens of Xochimilco?
Xochimilco is most famous for its trajineras, large multicoloured riverboats that roam the waterways, carrying passengers (predominantly tourists) and mariachi bands serenading them. While this is a fun experience for your Mexico bucket list, the boats are owned by a few wealthy families who pay to the government, plus they're not especially environmentally friendly.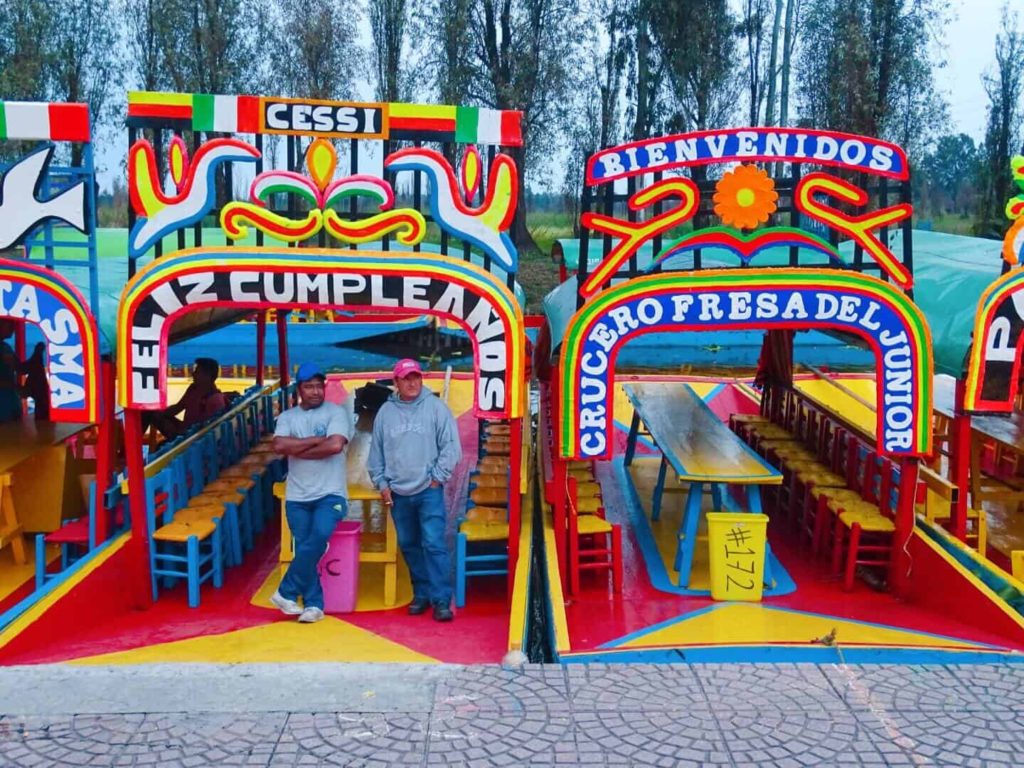 I was interested in learning more about the lives of the locals in Xochimilco, seeing some nature, and promoting practices that support the locals…

….Enter Pachoa Mexico! I'll talk more about this sustainable company further on.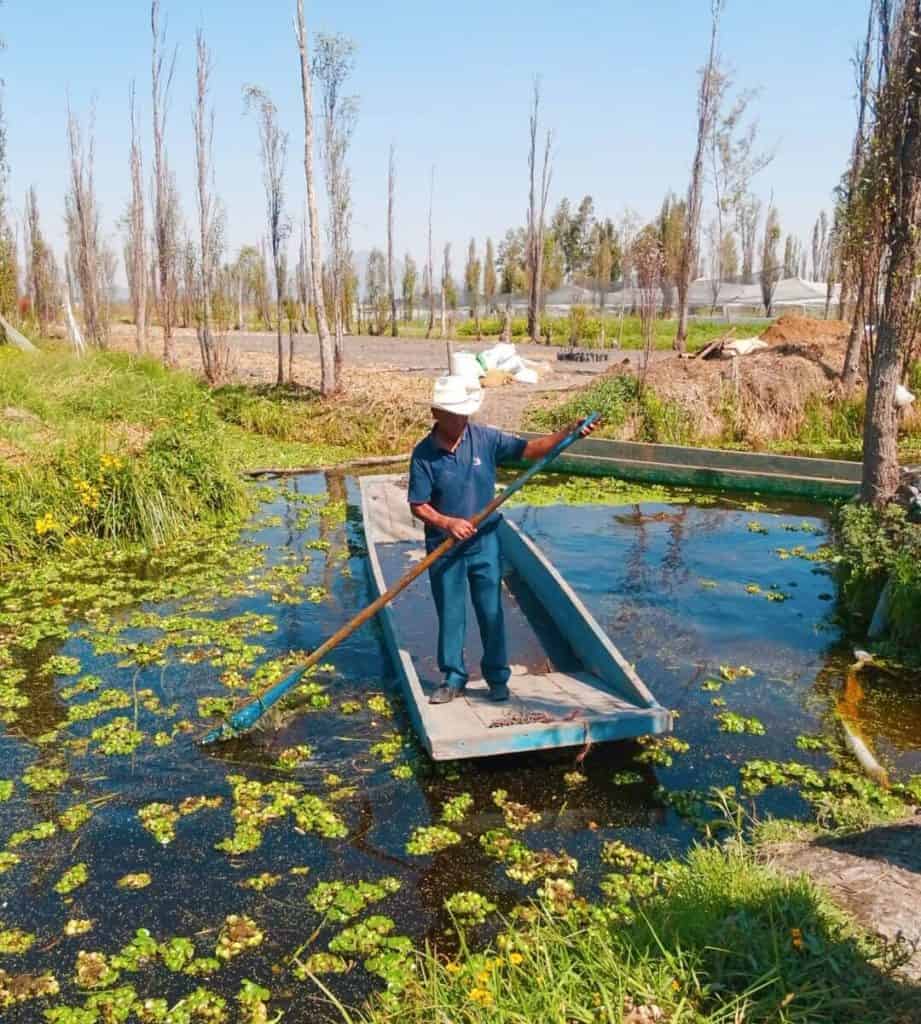 Quick background of The Floating Gardens (chinampas)
True to their name, the Floating Gardens of Xochimilco are islands of greenery in the Xochimilco waterways. Locals have used them to farm and grow crops and vegetables since pre-Hispanic times, meaning the history of the chinampas spans at least 500 years.

I initially wondered if they were naturally-formed islands but I was told no, locals created them for agriculture. Centuries ago, the locals would have slowly stacked layers of mud to eventually form countless fertile islands for growing crops and vegetables.

Once they'd grown and harvested their produce, locals would travel by boat from Xochimilco all the way to the heart of Mexico City (something you can no longer do) to sell their goods at Merced & Jamaica Markets, two of Mexico City's biggest and busiest markets to this day. This journey took 10 hours each way so was quite the mission.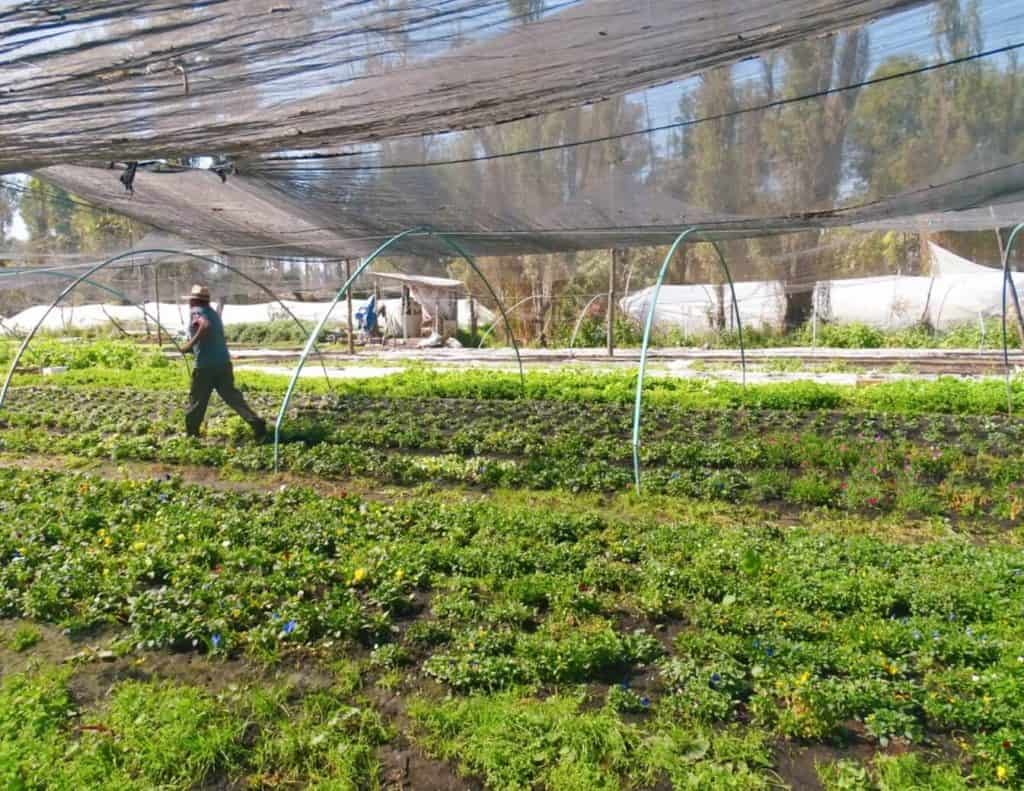 How to get to Xochimilco Floating Gardens
If visiting Xochimilco by public transport, prepare for a long journey from Mexico City centre. Despite only being 15km away, it can take up to 1.5 hours on public transport. My best Mexico City travel tip is to acquaint yourself with the Metro but know when to splash out and grab an Uber.

Public transport: Board blue metro Line 2 from the Zocalo and ride it to Tasqueña (if coming from Roma or Condesa, you'll have to travel to central to join Line 2). From Tasqueña, change to the Xochimilco Light Rail which takes around 30 minutes. The journey should only cost 11 pesos. If you don't have a travel card already, pick one up for 10 pesos and add credit at any station counter.

Uber: If visiting Xochimilco Floating Gardens by Uber, the ride should take less than an hour. Expect to pay around 250 pesos. Unfortunately, there's no UberPool available for this route. This option is obviously best split with a group as it's more than 20 times the cost of public transport.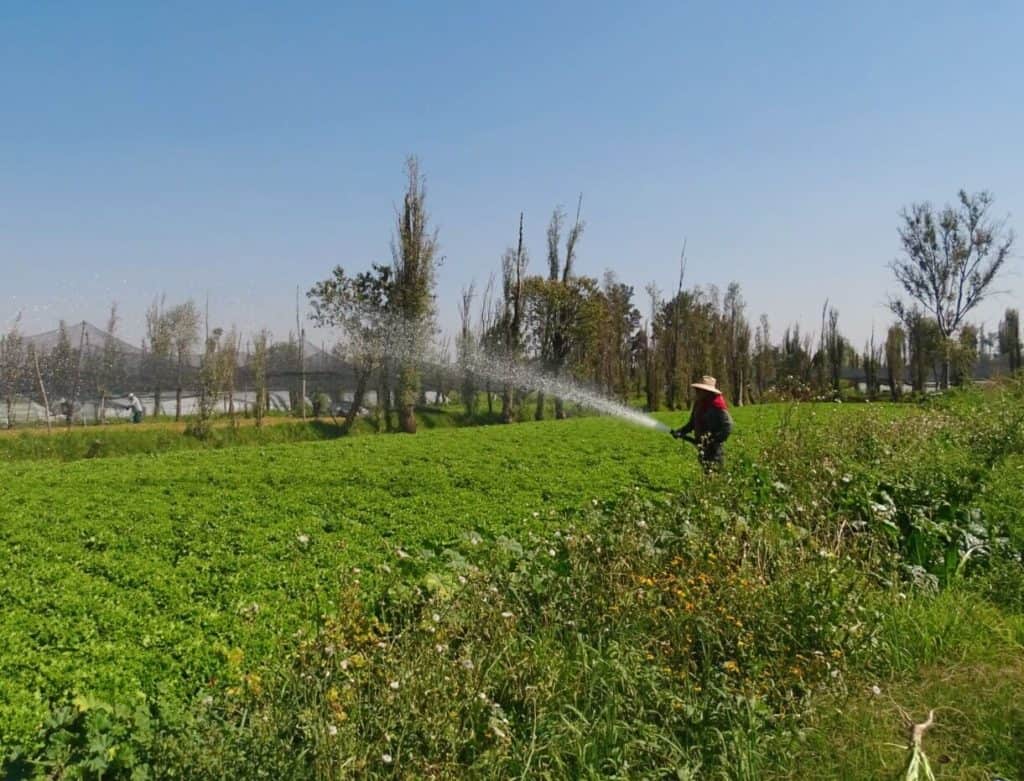 Riding the trajineras vs. going deeper
If you fancy a fun day on the river, follow the crowds from the station and board a colourful trajinera. I assumed you could jump in these with strangers but I learnt the drivers usually charge per party. This means it's definitely best to get a group together or ask people at the port to share.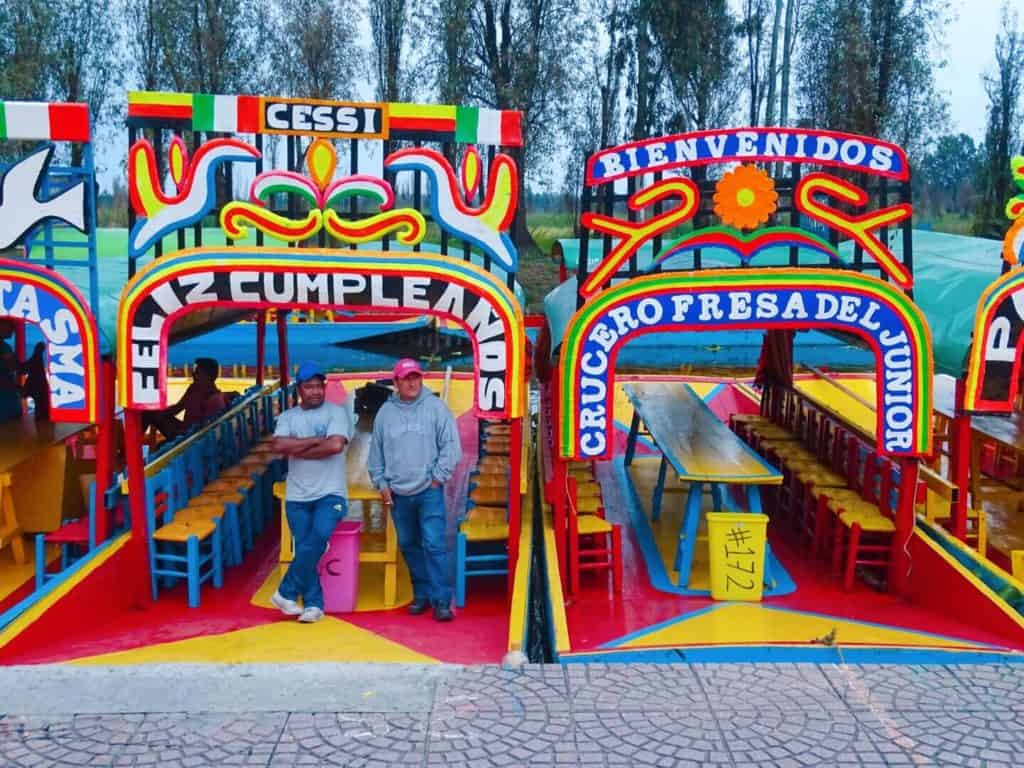 If you're with a group, I imagine it would be a lot of fun to hire one, bring some drinks and party to mariachi music! Boats usually charge around 500 pesos per hour. Alternatively, you can take a guided Xochimilco tour; these often also include Coyoacan and UNAM University.
Floating Gardens Xochimilco tours
To escape the busy trajinera port and see a more local (not to mention peaceful) side to Xochimilco, I would highly recommend travelling with a guide. It's not really possible to learn about the Floating Gardens of Xochimilco without one, plus you'll support local livelihoods. As a solo female traveller in Mexico, it's always fun to band together and meet other travellers.

I was invited to join Pachoa Mexico's Pre-Hispanic Floating Gardens & Mezcal Trip which can be booked as an Airbnb Experience. This trip runs as a small group of up to 10 guests. The highlight was boarding a tiny wooden boat and cruising through the Xochimilco chinampas without another soul around. The only sounds were frogs croaking and birds chirping. So peaceful!

As well as learning all about the region and meeting local, Don Juan, who has worked on the islands his whole life, we also got to sample locally-produced mezcal and eat some of the best food I'd had in ages!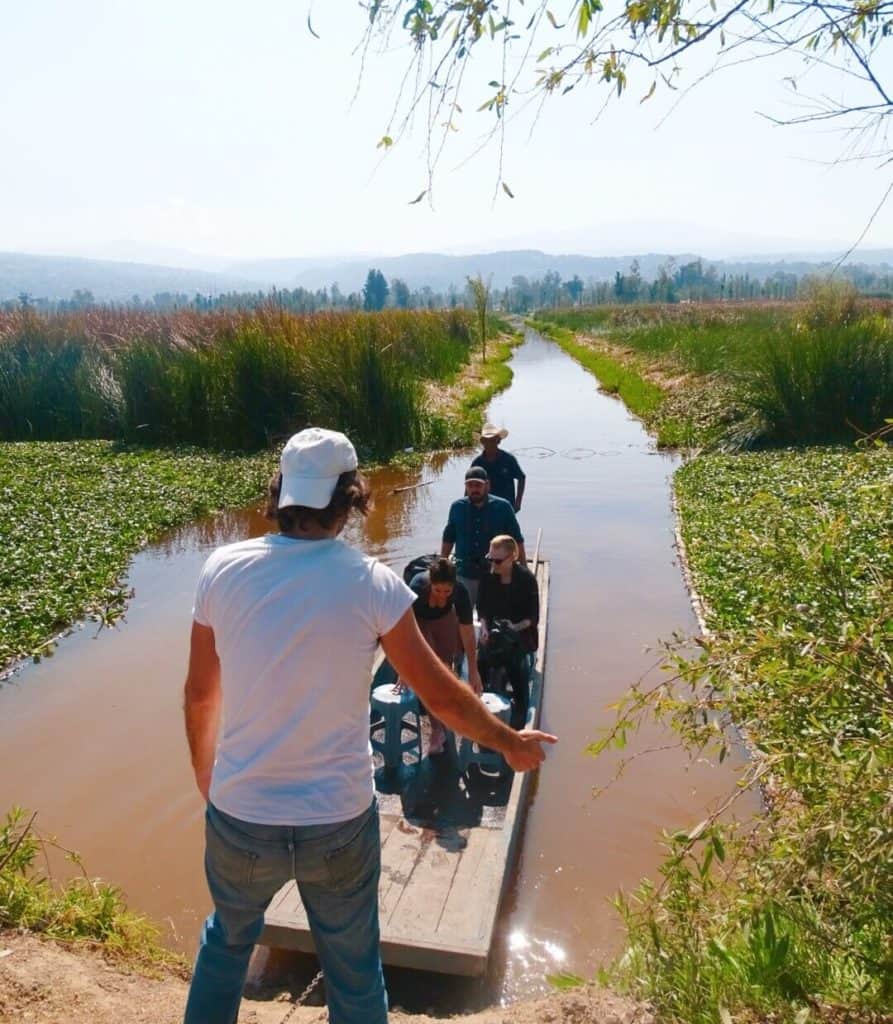 A bit more about Pachoa Mexico: This company is run by two Mexico City locals, Sergio and Jose Manuel who describe Pachoa as 'not a tour'. They work with the locals and make it a real learning experience for tourists. So if you're wondering how to visit Xochimilco Floating Gardens, I would really recommend travelling with them.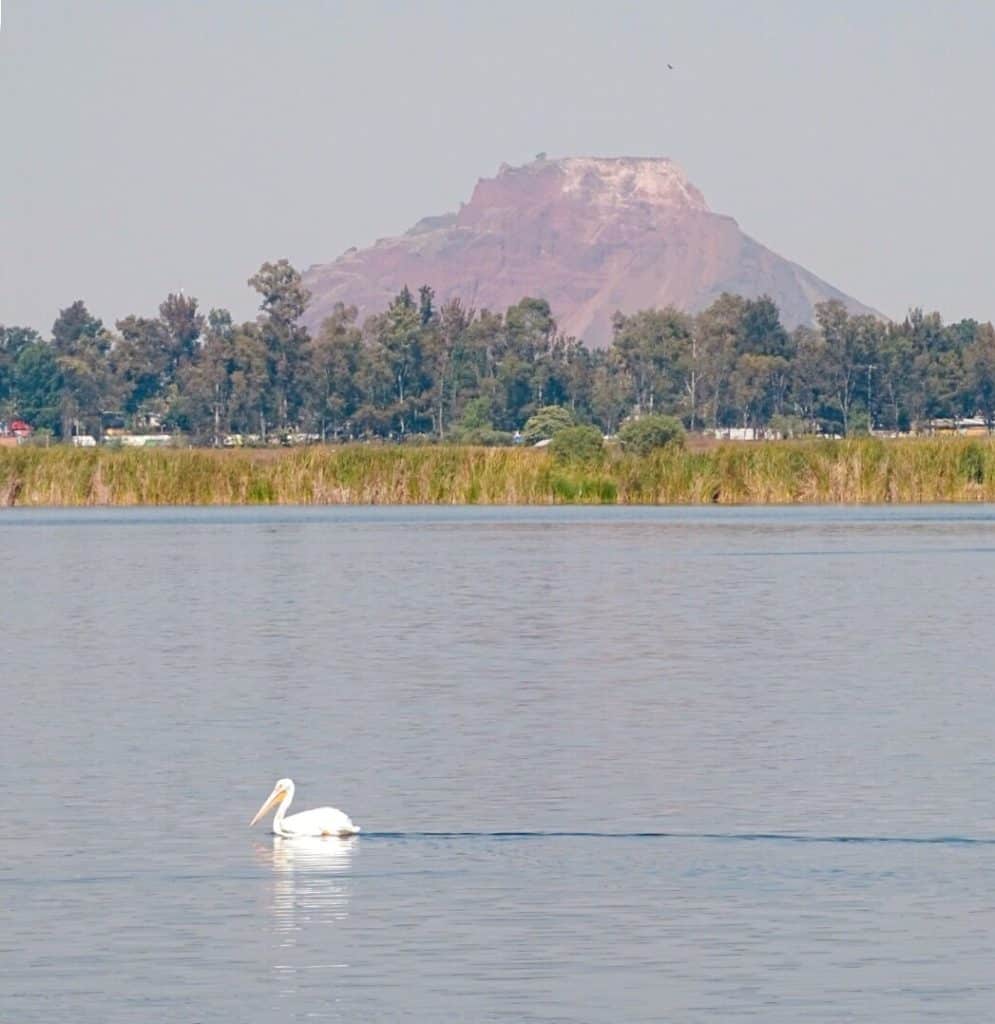 Other things to do in Xochimilco
Whether you're coming to experience the chinampas specifically or ride the trajineras, don't rush away afterwards. Xochimilco is a diverse and colourful area of Mexico City and I'd recommend spending a bit of time exploring the following stops:
Mercado San Gregorio Atlapulco
This local market is one of my favourites. This was partly to do with Sergio and Jose Manuel knowing where all the best food was! Rather than big busy markets in Mexico City centre, it was lovely to chat with the locals and enjoy the slower pace of life.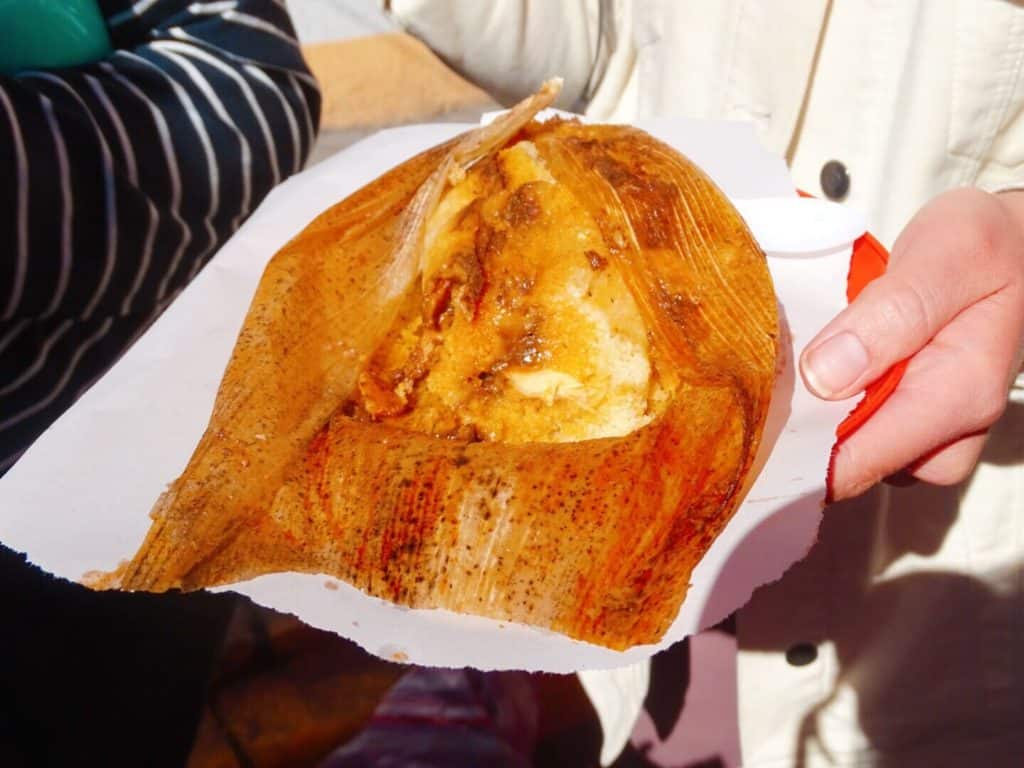 There are loads of authentic Mexican eats in Mercado San Gregorio Atlapulco. We tried:
Tamales – corn dough, meat and salsa served inside a banana leaf. So moreish.
Atole -a smooth corn drink flavoured with fruit or cocoa
Pulque – a fermented agave drink and its non-alcoholic counterpart, agua miel, squeezed straight from the plant
Tortas (Mexico's answer to the sandwich) stuffed with meat, avocado and chipotle. So indulgent!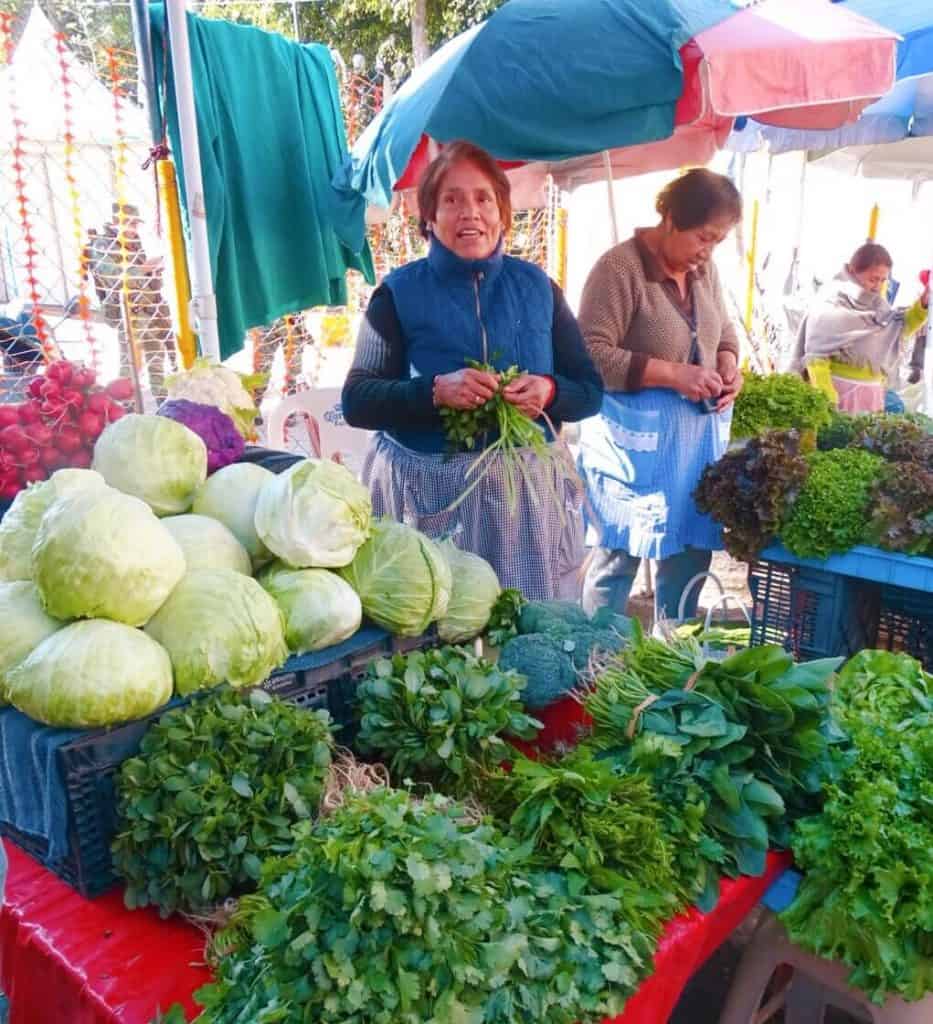 Eat tlacoyos!
Whatever you do in Xochimilco, don't forget to tuck into some hearty tlacoyos, one of my all-time favourite Mexican street foods. These delicious corn snacks are stuffed with either frijoles (beans), queso (cheese), or papa (potato). Like most Mexican foods, they're seasoned to taste so you can add however much spice you want at the table.

Eat these at Tlacoyos Doña Bety in Av. Cuauhtémoc of Mercado San Gregorio Atlapulco. Look out for the open-front shop below.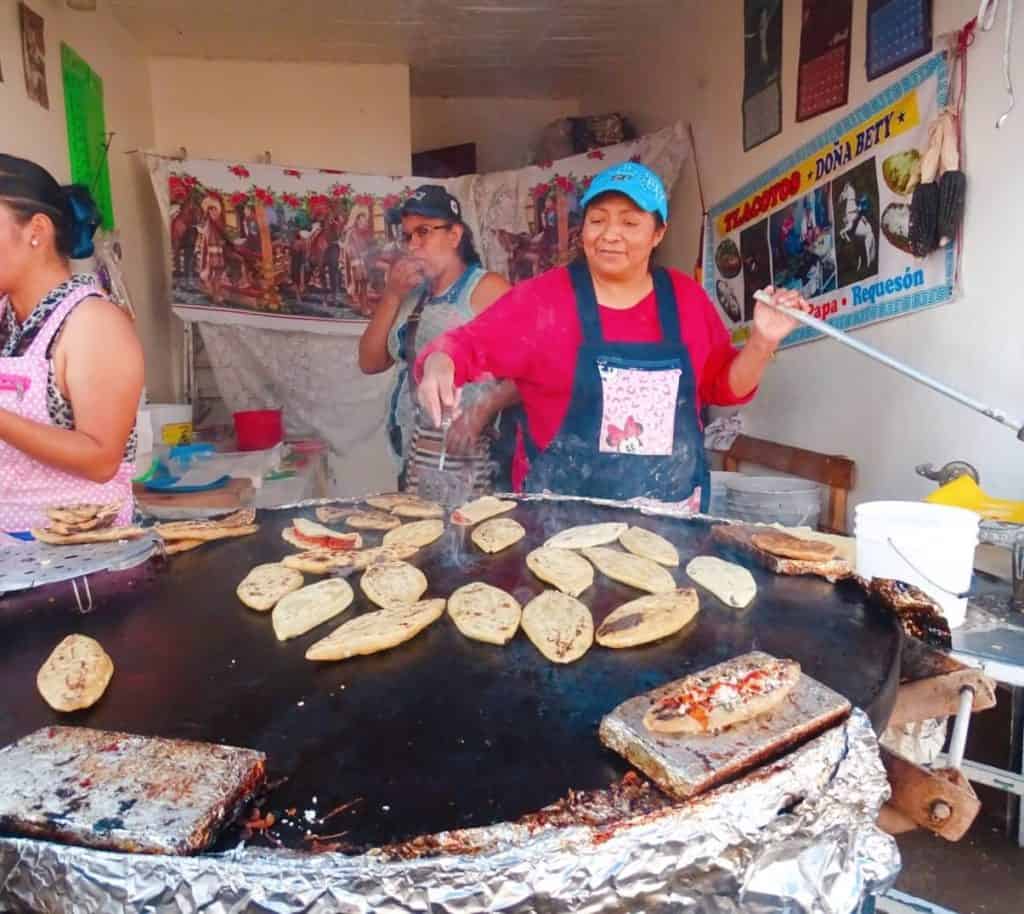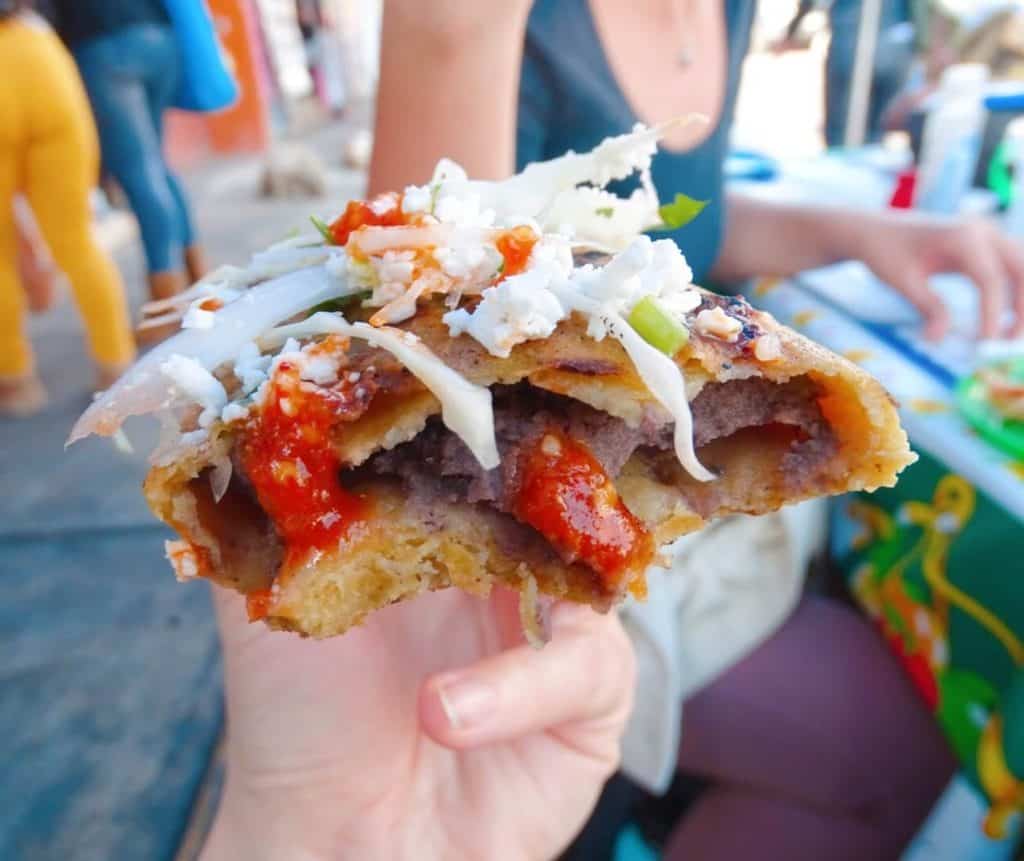 Learn about the legend of La Llorona
Another cool experience I had in Mexico City on a different occasion was watching the La Llorona live performance from a trajinera. This colourful cultural show tells of the legend of La Llorona (The Weeper), a pre-Hispanic woman who can't accept the death of her child and is said to haunt Xochimilco to this day. It's a spooky but worthwhile watch, performed on a small island with an audience of trajineras.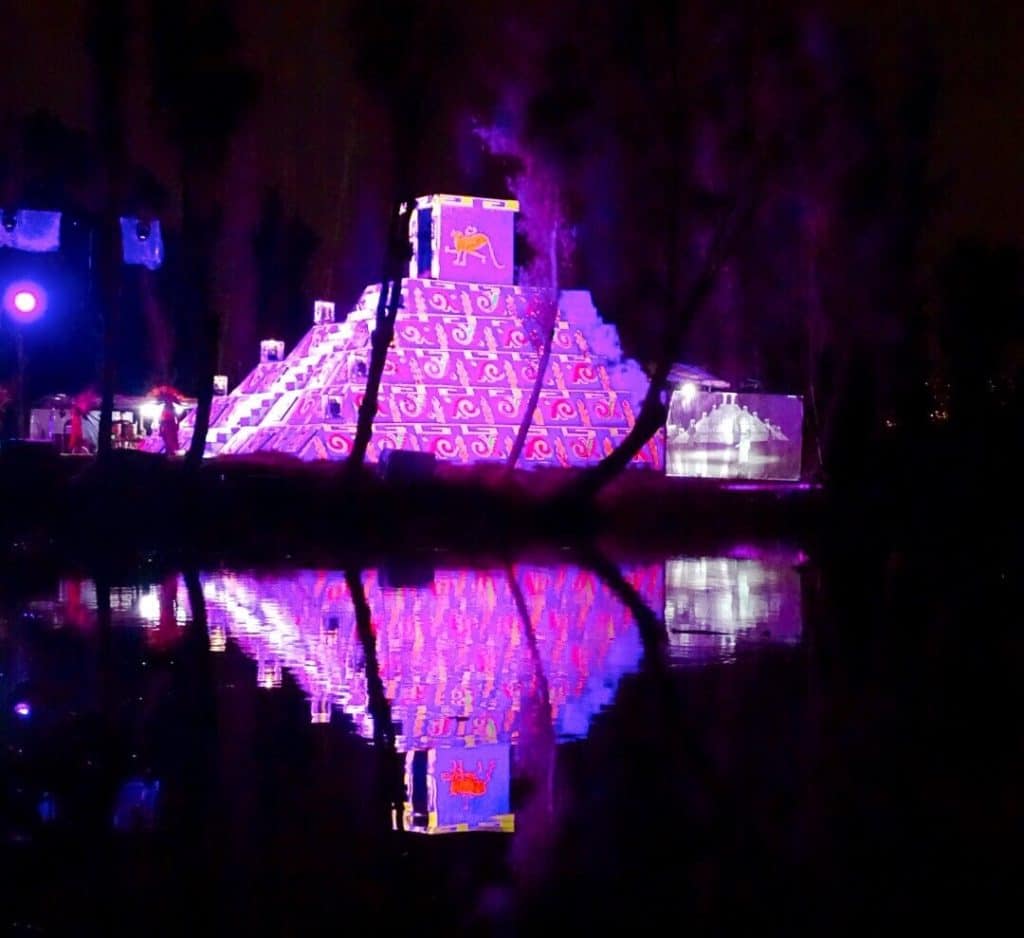 You can catch this show on weekend nights in October and November, around the Day of the Dead. The boats leave from Embarcadero Cuemanco Xochimilco but it's a good idea to have a ticket in advance. These can be bought on Ticketmaster or at pick-up locations in Mexico City which include bookshops and cafes. I'll update these details for 2021 so you know when tickets are released.
Where next?
Many people combine a trip to Xochimilco with Coyoacan as they're not far away. I spent 10 days living in charming Coyoacan, an old-fashioned settlement eventually enfolded into Mexico City. It's known mainly for Frida Kahlo but there are plenty of other things to do in Coyoacan as well as some fantastic Coyoacan food and drink.
VISITING MEXICO?

Pick up the latest copy of Lonely Planet Mexico and a Mexican Spanish Phrasebook & Dictionary.

Getting around by air – the quickest (and often cheapest) way to travel between Mexican cities is by flight. I use Skyscanner to find the best-value flights, using the 'search by month' tool to find the cheapest dates. You can also use the 'to anywhere' feature if you're flexible on where you're going.

Getting around by bus (environmental option) – buses in Mexico are comfy with free snacks and an in-journey entertainment system. I use Busbud to find the best prices.

Driving in Mexico – use Rentalcars.com to compare car rentals in Mexico (and all around the world).

For hotels in Mexico, I use Booking.com – they also have self-catering apartments. You can filter by review score and price to find the best-rated budget places. For hostels, I use Hostelworld.com.

Browse Mexico tours and activities on GetYourGuide. I also check Viator as they often have unique offerings.

Need travel insurance? I use True Traveller (for UK & Europe residents) since it's affordable but covers everything you'd need including various activities, valuables and pre-existing conditions. Unlike some companies, they insure you if you're already travelling / don't yet have your flight home booked. Get a quote.

For travel insurance for other nationalities, I recommend Hey Mundo and for long-term digital nomad travellers, I suggest Safety Wing.

Check out my resources page for more travel discounts and budget tips from my 10+ years on the road!
Thanks for reading!
I hope you have a better idea of how to visit Xochimilco Floating Gardens and you're excited to explore this unique part of Mexico City. After having spent four months in CDMX (and counting) it's still one of my favourite experiences.
Note: While I was hosted by Pachoa Mexico, all opinions are my own.
For more travel content, follow me on Instagram, Facebook, Twitter and YouTube.
Read my other Mexico blogs:
See you next time for more adventures,
Rose
Ps. Liked this guide to visiting Xochimilco Floating Gardens?