Villa Spiza Split
I had a generous portion of linguine with clams, giant shrimp and a light sauce made from olive oil and garlic. I finished with tiramisu which can be so hit-and-miss in restaurants but I can confirm it was a good one, even though my expectations were high after my first course.

Other menu highlights include starters like Pag cheese (which you can read about in my guide to Pag Island), Dalmatian prosciutto and soups. For mains, there are various pasta dishes; fresh fish including sardines, clams, prawns and scampi; and meat dishes like lamb, duck and veal ranging from 80-150 kuna.

There's also a huge range of local red and white wines with glasses from 20 kuna and bottles from 110 kuna.
Konobo Fetivi
The menu offers meat and fish dishes cooked accordingly to Dalmatian recipes. I loved the octopus and chickpea stew which was enormous even though it's listed as a starter. I also tried the shrimp soup which was delightfully rich and creamy. I only tried this dish in one other Split restaurant but this was by far the best.

Other dishes mentioned in their reviews include the cuttlefish and black risotto so I'd recommend trying them, too!

Not only is it a relaxed, ambient restaurant but I can still remember the friendly waitress even though I'm writing this 2 months after my visit. All-in-all, this is a fantastic place to eat in Split!
Brasserie on 7
On the popular Riva with plenty of outside seating and ocean views, Brasserie on 7 is one of the most atmospheric restaurants in Split. Of course, it's no hidden gem and the prices reflect this, but it's not outrageously expensive given its location.

I was lucky to try a bunch of different dishes when they participated in 'Split restaurant week' in March 2022. Three-course brunch, lunch and dinner menus were reduced to 100-150 kuna which was fantastic value for the high-quality ingredients used. Sadly, this week only happens once a year and not in peak season!

The general theme is French/Croatian so expect lots of fresh seafood, meat and patisserie goods. Brunch dishes start from 75 kuna and main meals start from 100 kuna, plus there are plenty of wines, beers and cocktails to wash it down with.
Corto Maltese Freestyle Food
Although I thought the prices were higher than average here, this is a popular restaurant where I've eaten several times.

The theme is Croatian and Italian food so expect dishes like risotto, gnocchi and pasta. Creative ingredients and funny names like 'ragu against the machine' give Corto Maltese Freestyle a quirky edge over other many other Split restaurants serving similar dishes.

I had the 'smoke on the water' risotto with tomato sauce, smoked mussels, prawns and a rich dollop of cream cheese. The flavours worked perfectly although I could have done with a slightly bigger portion.

They also serve a bunch of fish and meat dishes like rib-eye steak and lamb confit along with a huge range of creative cocktails. Since the interior is fun and quirky, I'd recommend it as an atmospheric place for dinner and drinks. We visited as a group of 10 before a night out.
Tortuga Bar & Grill Split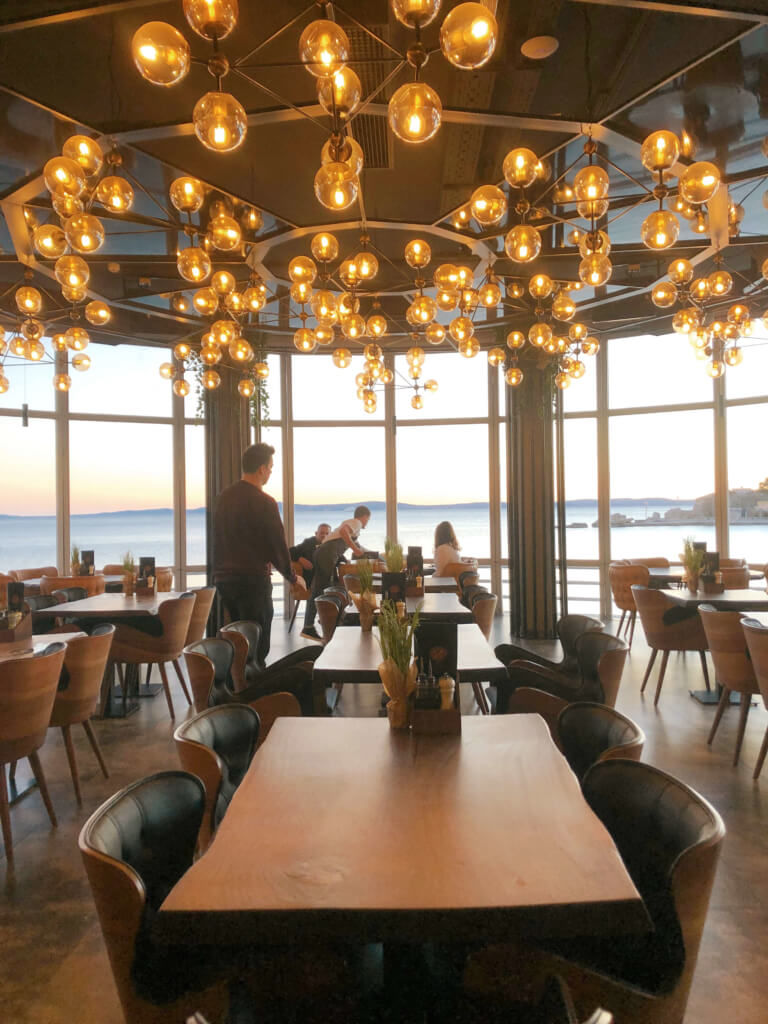 If you love meat, this is a great place to eat in Split with 5 stars on Trip Advisor. The spacious restaurant with floor-length windows and sea views is located near Bacvice Beach, a 15-minute walk from the city centre. We managed to bag a table for a large group at sunset without a reservation but this was in March so I'm guessing you'll need to book ahead in peak season.

One of my main memories from dining at Tortuga Bar & Grill is of the amazing staff. Despite the fact you can rarely split bills in Split (the irony), they created us all separate bills and went around with the card machines. If that was a nightmare for them, they didn't show it.

Steaks, burgers and grilled meat dishes are on the menu. My stuffed chicken fillet was nice enough (I'm not a huge meat fan) but my friend had an aged and marinated T-bone steak that he declared one of the best he'd ever had! As you can probably guess, there's not much for vegetarians here.
Fabrique Pub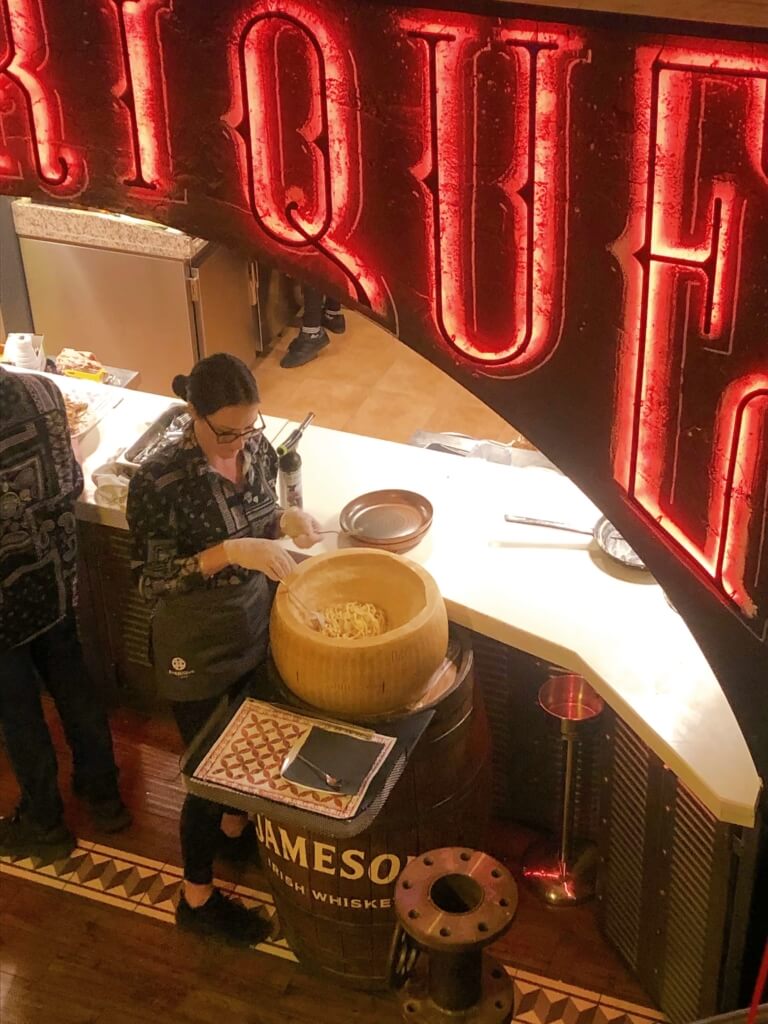 Another meat-heavy restaurant in Split is Fabrique Pub. My friend and I shared a Balkan platter with ćevapi, grilled chicken and sausages, focaccia, bbq beans, ajvar (red pepper paste) and kajmak (clotted cheese).

On another occasion, we shared a rich pasta dish served inside a giant wheel of cheese. To summarise, the dishes at Fabrique are OTT with lots of choice. Long restaurant menus are usually a bad sign and although Fabrique isn't gourmet, it's a cool venue that turns into a bar with a dance floor at night.

Come for a late dinner and slide straight into a night out. The cocktails are great as my friend Steph would know after she was hit with a €100 bill after ordering ALL of them! I love the cherry spritz cocktail which slides down easily, unlike the Balkan platter which made dancing very difficult!
Pizzeria Bokamorra Split
Mini Bota Sushi & Oyster Bar
SILK – Pan-Asian Fresh Street Food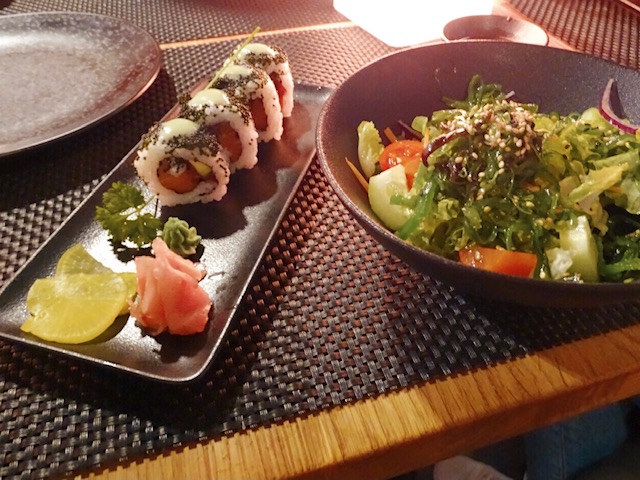 The third place I ate sushi – alongside other Asian dishes – was SILK. This Asian fusion restaurant in Split serves dishes like ramen, kimchi rice, fried chicken, okonomiyaki, dumplings and katsu curry. I usually prefer when a restaurant sticks to one cuisine but there aren't too many other Asian options in town so I shouldn't be picky.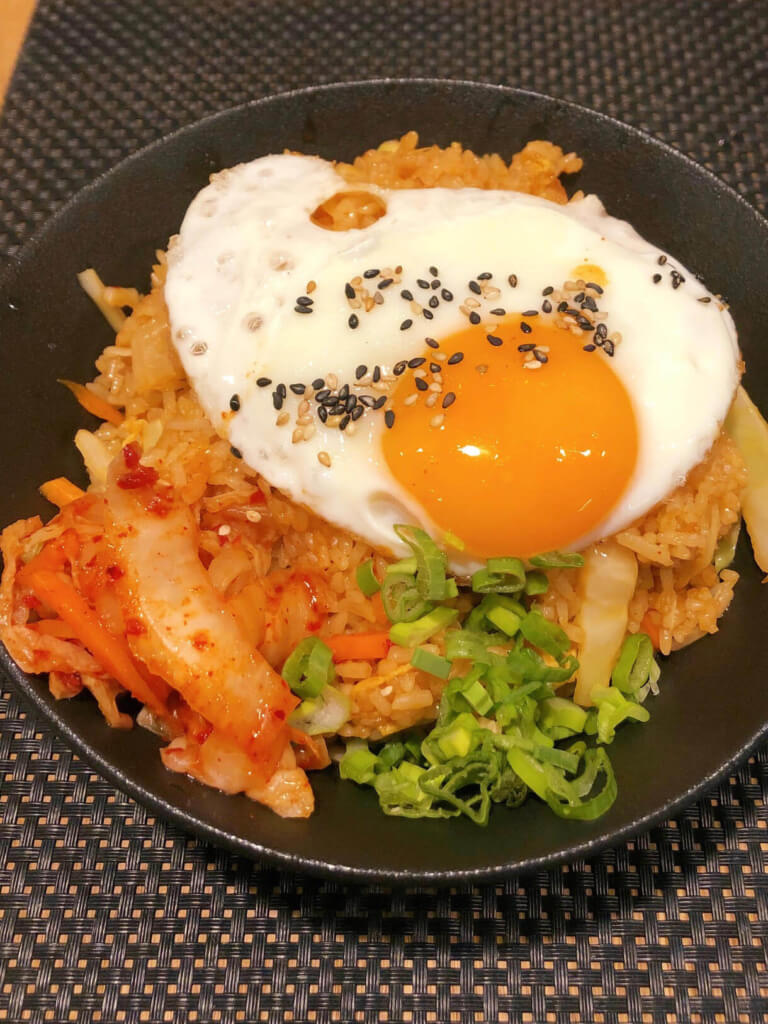 .
I've tried the pad Thai (not the best I've had but I have been to Thailand) and the Vietnamese fresh spring rolls (amazing and I've also been to Vietnam!), the kimchi rice, fried chicken, sushi, seaweed salad and mochi… Not all on the same occasion 😉

Prices are quite high but I guess that's expected for tourist food in Split especially since it has great reviews.
To Je Tako
Sexy Cow
Gostionica Apollo 11
Kantun Paulina
ST Burek
Luka Ice Cream & Cakes
Split food tours
Wine in Split