This post may contain affiliate links to things like tours, hotels, Amazon associates and products. These help me earn a small commission at no additional charge to you.
During my solo travels in Croatia, I took a fantastic day trip to Plitvice Lakes from Zagreb. This beautiful National Park had been on my radar for years so I was excited to finally see it with my own eyes.

These days, Instagram has a habit of hyping places up, and the reality often falls short. The photos I'd seen online were so stunning that I was intrigued to experience the real deal. Could it live up to expectations?
Essential links

Tours: GetYourGuide / Viator

Car hires: Rentalcars.com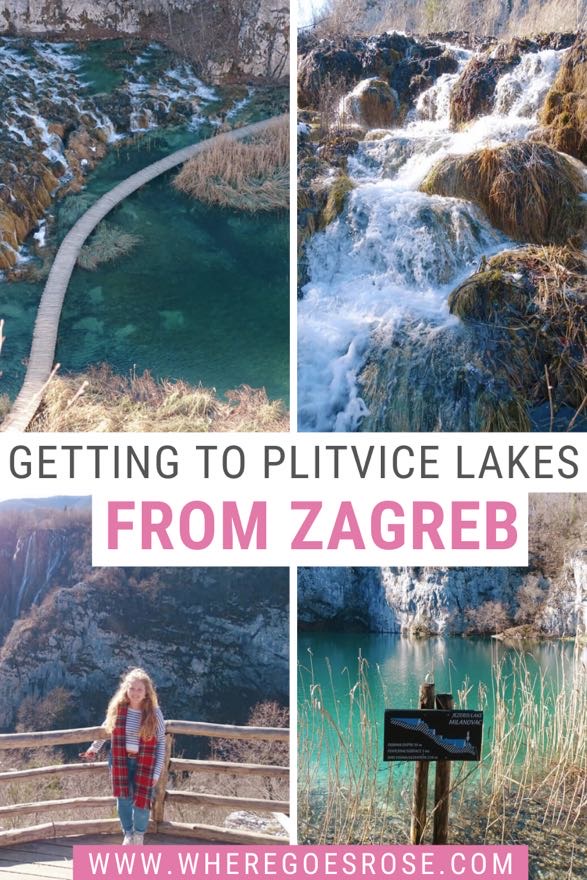 Like Croatian National Parks? Read my guide to visiting Krka Nat Park from Split!
How far is Zagreb from Plitvice Lakes?
Located south of the capital, the distance from Plitvice National Park to Zagreb is 87 miles or 140 km.

Driving takes around 2 hours by car, or slightly longer if you're taking a coach trip. Either way, it's must closer than visiting during a day trip from Split or Dubrovnik.
How to get to Plitvice Lakes
In this next section, I'll run through the options for visiting the park. There are several ways to get there from the capital at varying prices.
Visiting Plitvice from Zagreb by day tour
This is how I took a Plitvice day trip from Zagreb. I have to say it really took the pressure off organising things myself. I'm happy to navigate local buses but I wanted to explore as much of the park as possible before it got dark and the winter bus schedule was slightly limiting.

The other benefit of my organised day tour was meeting other friendly travellers and learning from our Zagrebian tour guide. He was a wealth of knowledge, telling us all about Croatian history and culture.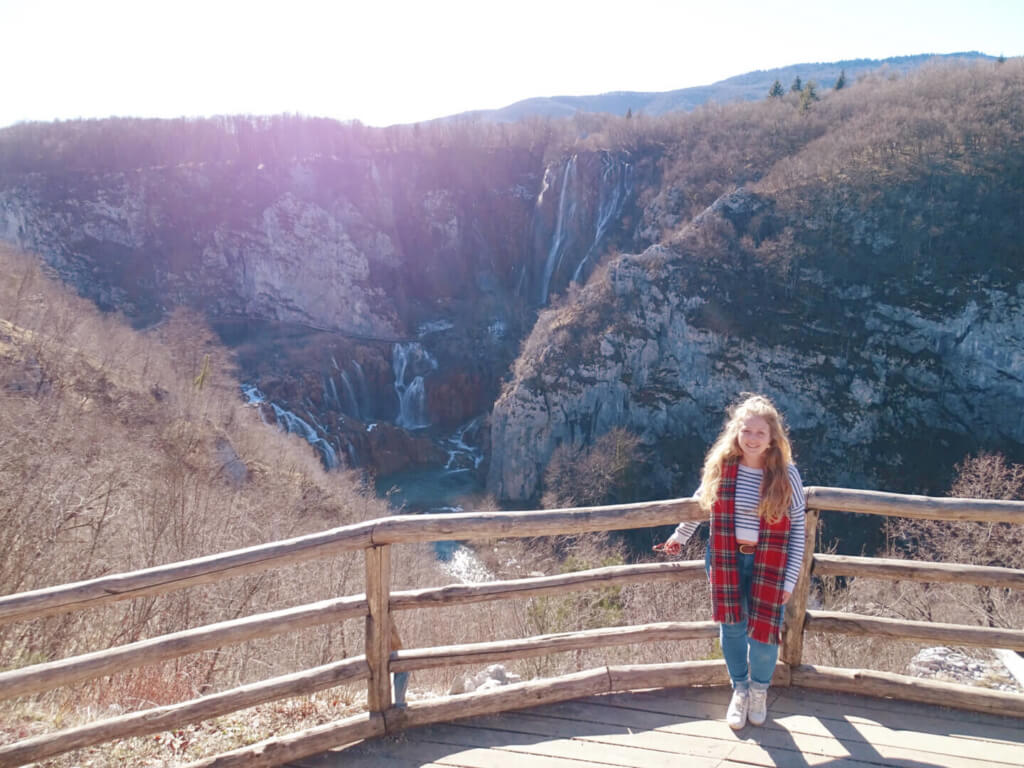 There are two types of tours from Zagreb to Plitvice:
Large group tours by coach: These Plitvice day tours from Zagreb run April to October costing around €80. Because of the logistics of navigating such a large group, they do a medium 3-4 hour walk in the park.

Small group tours (max 8) by minibus: The option I took at €100. These run year-round. In good weather, they take a longer 5-6 hour walk in the park allowing you to see more. In the off-season, they do the 3-4 hour circuit (unless there's snow when they do a shorter one, but our guide said they always warn guests in advance of this).

Which is best? If you're visiting in the off-season, your only option is a small group tour. If you're visiting April-October, I would still recommend this option to see more of the park and feel less like cattle. Of course, the tours aren't super cheap so it depends if you have the extra €20 to spare.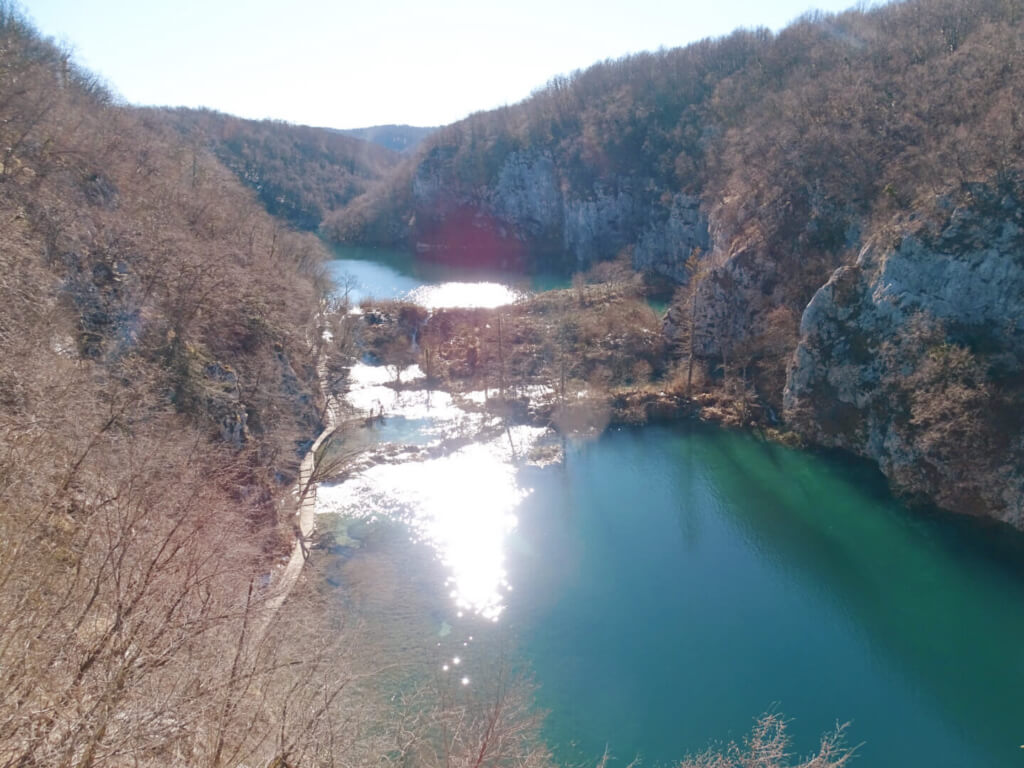 Private tours from Zagreb to Plitvice Lakes
If you're travelling in a group of between 2 and 15 people, it can be cost-effective to take a private tour. You'll have a vehicle and tour guide to yourself.

These start from €150 each and decrease per person as you add extra passengers. For example, at 5 passengers, you'll only pay €130 per person.
Bus from Zagreb to Plitvice Lakes
You can travel the 136 km journey from Zagreb to Plitvice National Park by bus; an inexpensive option compared to organised tours. Tickets start from 85 kuna each way and the journey takes between 1 hour 50 minutes and 2 hours 40 minutes.
How to book tickets? One option is to book them in advance using Omio. Alternatively, get them at the bus station. Although you can do this on the day, in peak season you may want to guarantee a ticket by purchasing a day in advance.
Board a bus from Zagreb to Plitvice Lakes from Autobusni Kolodvor Zagreb. Buses arrive in Plitvička Jezera (entrance 1 of the National Park).

The frequency of buses to Plitvice Lakes from Zagreb depends on the season. In Feb 2022, there was only a 10.30am and 2.30pm bus. In peak season, they depart at 5.45am, 6.30am, 7.30am, 8am, 10.30am etc. Check the exact schedule at the bus station but they are very frequent, up to 10 times daily.
Zagreb Airport to Plitvice National Park: jump on a connecting bus outside the terminal building destined for Zagreb bus station. From here, you can board the bus from Zagreb to Plitvice.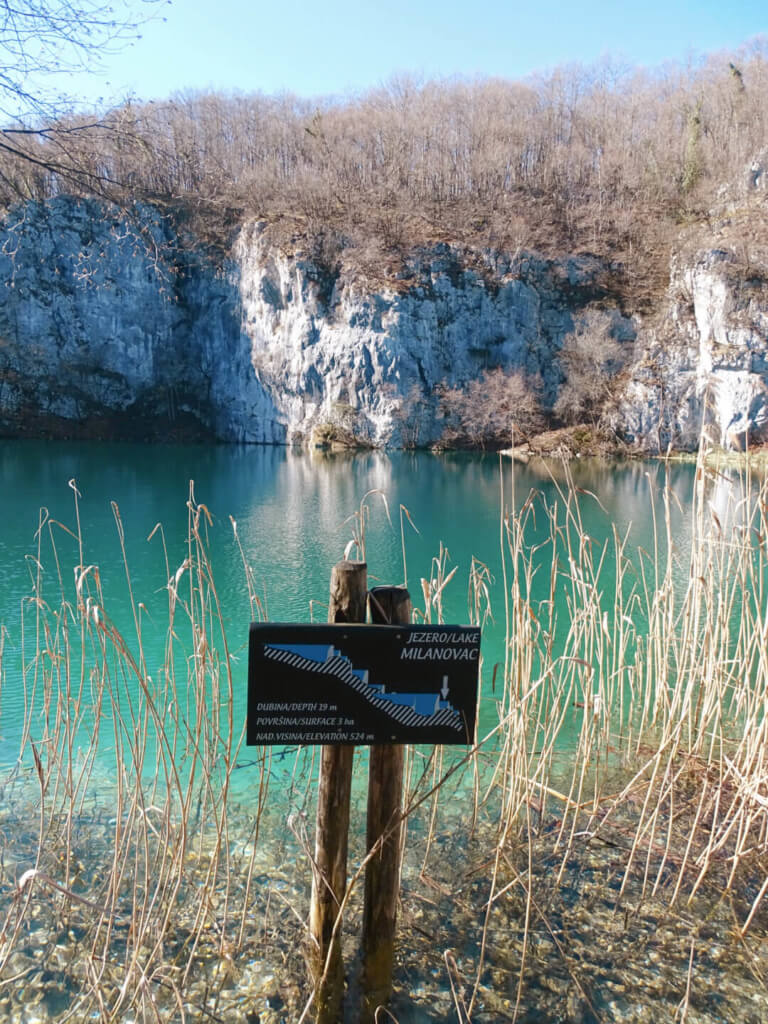 Zagreb to Plitvice Lakes by car
Driving is relatively straightforward in Croatia so this is a good option should you wish to visit Plitvice National Park from Zagreb independently. Use Rentalcars.com to find and rent a vehicle in Zagreb.

Leave Zagreb via the E65 to Karlovac. Leave Karlovac by Route 1, following it all the way to Plitvice.
What's the best season to visit Plitvice Lakes?
The best time to visit Plitvice is a balance between beauty and busyness!

Winter (November-February): Plitvice in winter is often cold and snowy. It can be a winter wonderland with roaring waterfalls powered by freshly-melted ice. Certain sections of the park will be closed. With daytime temperatures around 1-degree Celcius, wrap up warm and be careful on the boardwalks and trails as they can be slushy and slippy.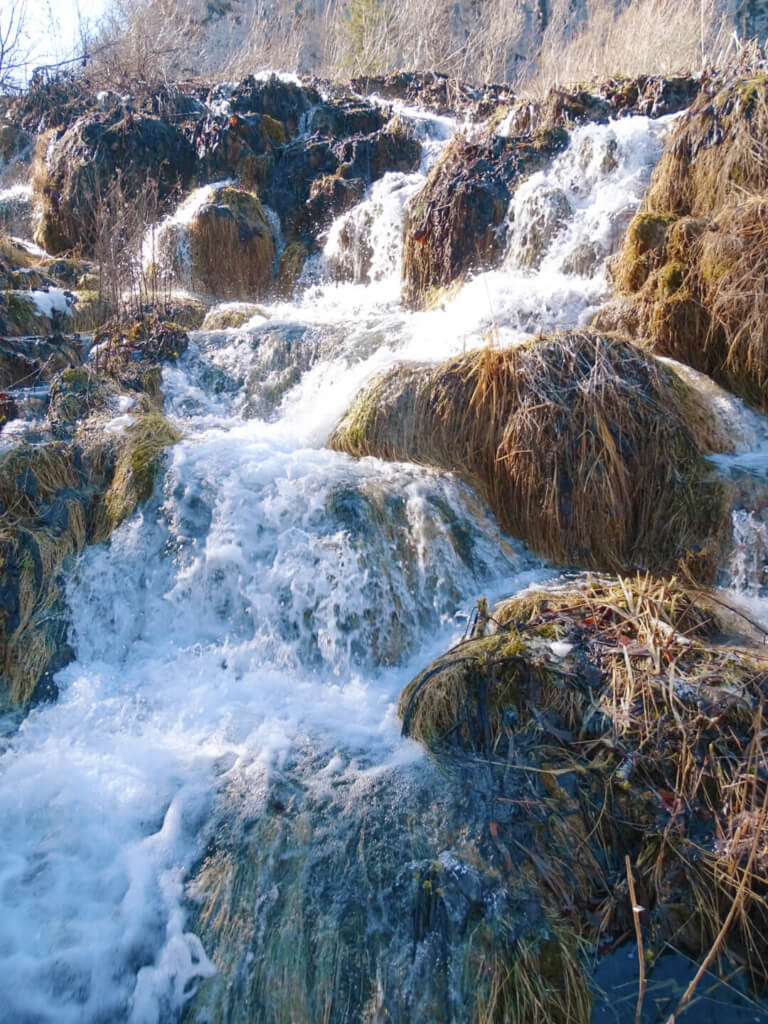 Spring (March-May): The park starts to reopen as couch tours to Plitvice from Zagreb begin from April. The weather gets warmer and the park becomes green again.

Summer (June-August): Plitvice is green, bountiful and beautiful. It's peak tourism season and up to 18,000 tourists a DAY arrive at the park. You'll need to purchase your tickets a few days ahead of time. Bring sunscreen, a hat and enough water.

Autumn (October-September): Tourism season is winding down so this can be a lovely time to visit Plitvice Lakes. The weather cools down but is not yet frosty.
Plitvice Lakes entrance fees (2022)
Jan-March & Nov-Dec: 80 kuna (€10.80)
May-October: 180 kuna (€24)
June-September: 300 kuna (€40).
If you're taking a Plitvice Lakes tour from Zagreb, the entrance fees will be covered in the tour price. This is why tour costs fluctuate by season.
Plitvice Lakes day trip from Zagreb – what to expect
Time to get excited for your adventure! Plitvice is undoubtedly one of the most beautiful places in Croatia. Here's what to expect when travelling from Zagreb to Plitvice Lakes:
Stop at Rastoke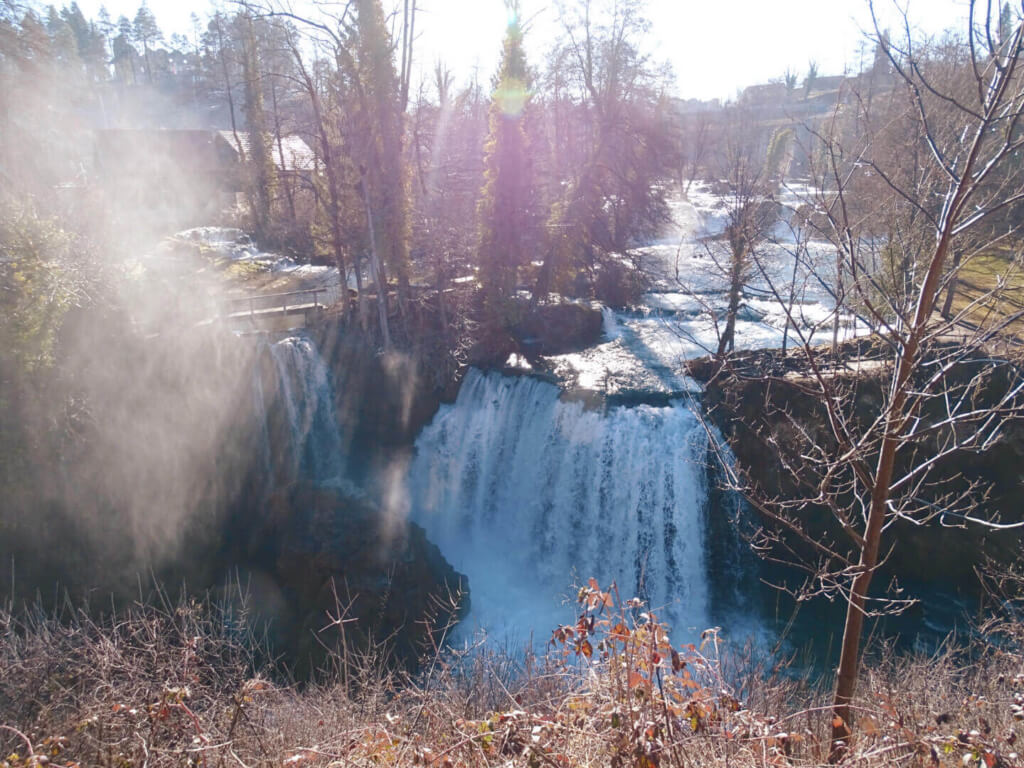 Rastoke is a charming village on the banks of the River Korana, part of the larger town of Slunj. Just 25km from Plitvice, it makes a handy stop-off point. Day tours generally call here, the small groups allowing passengers to order some food or simply wander the picturesque village full of waterfalls.

It's best to visit Rastoke before Plitvice rather than after. The Rastoke waterfalls are impressive but will seem underwhelming if you've been gazing at Plitvice all day!
Arriving in Plitvice from Zagreb & learning about the park
Plitvice is no slow burner: some of the most majestic views of the park greeted us as soon as walked in!

Our guide, Goran, began telling us all about the park. It became Croatia's first national park in 1949 and a UNESCO Heritage Site in 1979.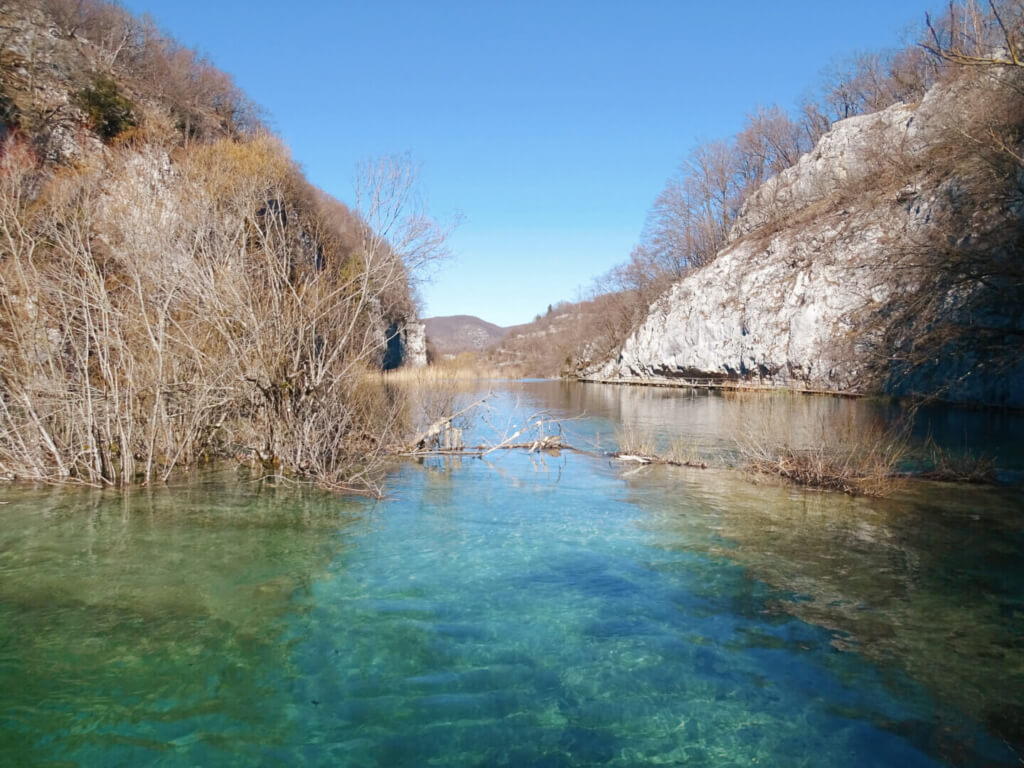 The karst park is made of limestone and dolomite rocks. Water enriched with carbon dioxide penetrates them, carving weird and wonderful shapes.

With 32 caves, the Čudinka pit and Vršić pit are two of the most impressive karst structures dipping below ground to 203 metres and 154 metres respectively. Other sites of interest include Mračna špilja (Dark Cave), Golubnjača Cave and Vile Jezerkinje (Lake Fairies' Cave).

You can't swim in the lakes for several reasons, one being that chemicals (from sunscreen etc) would upset the balance of the water and mess up nature's careful balance.
The different routes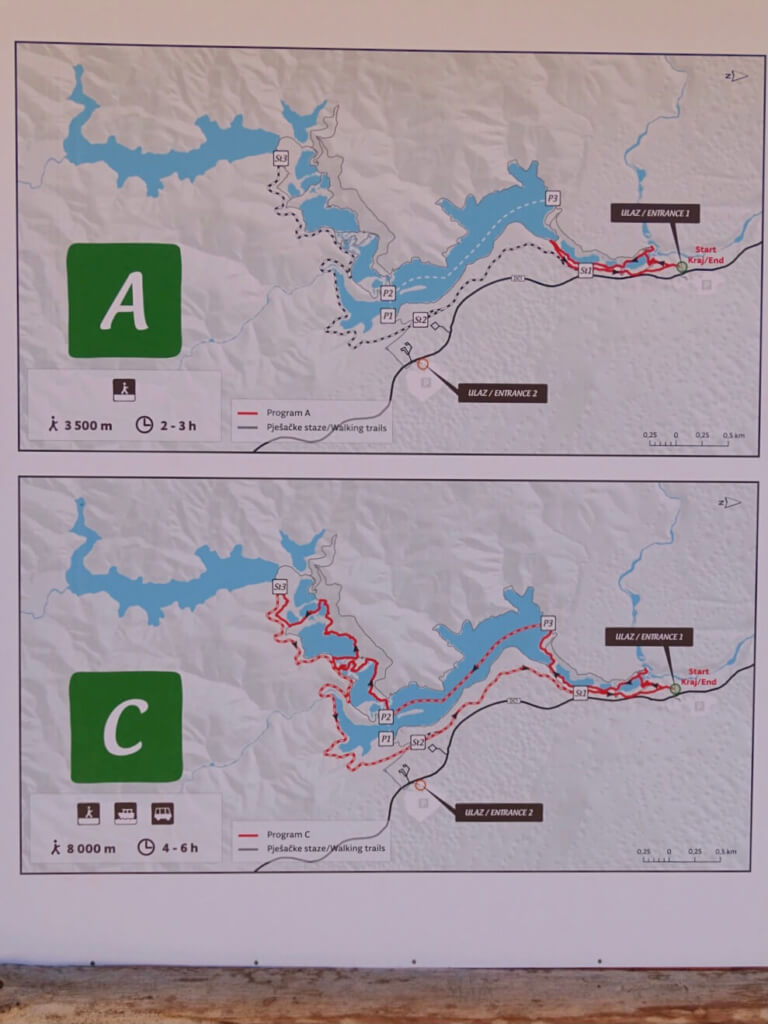 If you're taking a tour to Plitvice Lakes from Zagreb, you won't have a say about the route you take. Coach trips will take route B and small groups will generally take route C in high reason and route B in low season.

Route A is optimum if you want a short stroll to snap a few photos, or if it's bad weather. During certain winter periods, the park will close apart from the route A sections.

Route K is a huge trek taking up to 8 hours. Considering the journey time between Zagreb and Plitvice Lakes, it would be hard to do it in a day. Consider staying overnight in Plitvička Jezera so you can arrive at the park early.
Boat trip on Kozjak Lake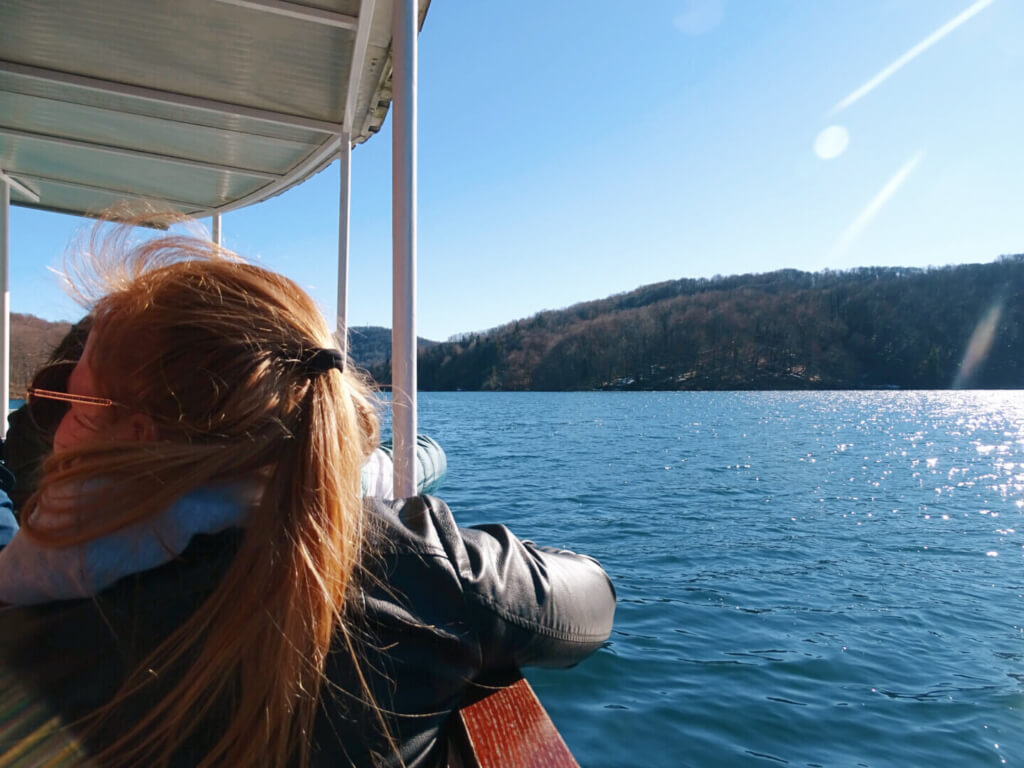 After a gentle hour and a half of walking along the boardwalk and admiring our stunning surroundings, we arrived at Kozjak Lake.

This is your respite stop for the day with toilets and a cafe serving overpriced tourist food. If you didn't eat in Rastoke or bring sandwiches, you'll have to grab something for fuel here.

We boarded the 1pm boat crossing Kozjak Lake. The price of the boat is included in your entrance fee so just show your ticket.
Return leg – Plitvice Lakes to Zagreb
The benefit of taking a tour is that you don't need to worry about this. Your tour will take you from Plitvice to Zagreb, arriving late afternoon.

If you're taking public transport, you can board the Plitvice Lakes to Zagreb bus. From entrance 2, it's a short walk to the bus stop where you'll find a ticket office, or you can buy your ticket on the bus.
Final thoughts on visiting Plitvice Lakes from Zagreb
I really enjoyed my day trip from Zagreb to Plitvice Lakes. No, Plitvice in winter isn't as green and beautiful as during the summer months (unless you visit when there's snow and experience the winter wonderland vice – it had mainly all melted during my trip) so manage your expectations and don't check Instagram before you go!

However, visiting in the off-season gave me the unique opportunity to see Plitvice without the crowds. We had the place virtually to ourselves. What a unique experience! I don't think I'd enjoy it much during the busy summer months.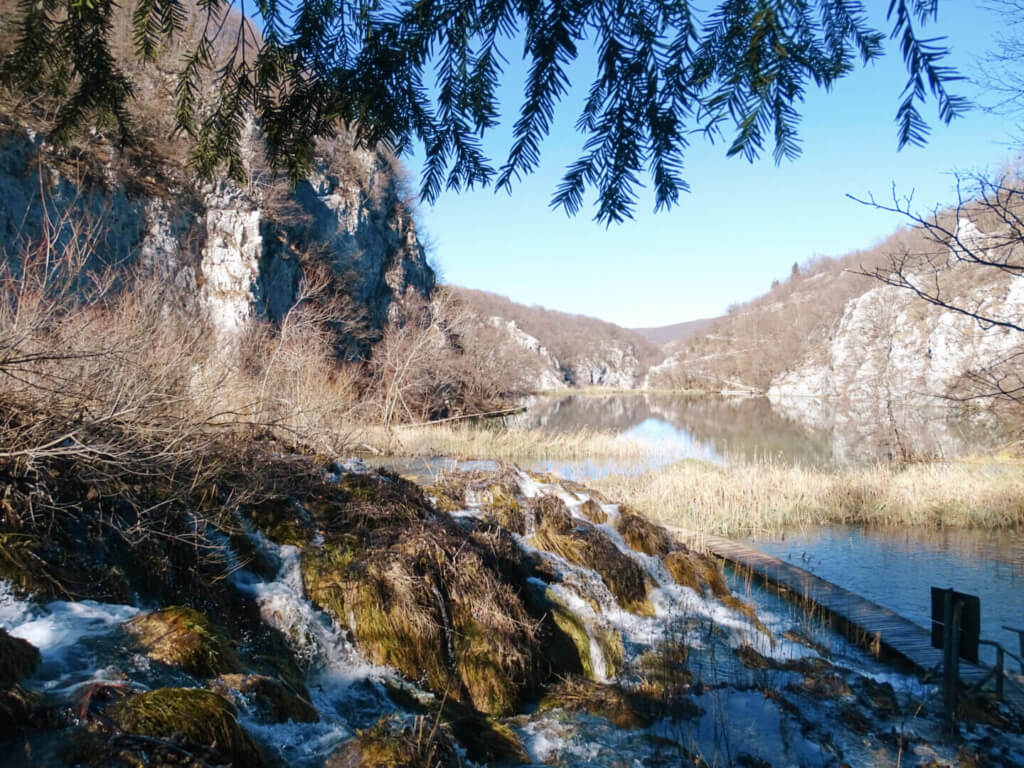 Is it worth staying overnight in Plitvice?
In terms of exploring the park, it's not a challenge to get the best of it during a day. It's easy to travel to from Zagreb to Plitvice, get immersed in nature and head home during the afternoon.

However, I can see one huge benefit of staying overnight in Plitvice: being able to arrive in the park before the crowds!

Tour groups generally arrive around 11am so there are a few precious hours before the crowds descend. In peak season, this would be the undeniable benefit of staying overnight.

There are a few hotels like Hotel Jezero and highly-rated apartments like Art Apartmant.
Thanks for reading!
I hope you have a better idea of how to get to Plitvice Lakes and what to do there. It's well worth the journey 🙂
Read my other Croatia posts…
Zagreb:
Split:
Dubrovnik:
More Croatia:
For more travel content, follow me on Instagram, Facebook, Twitter and YouTube.
Liked this Zagreb to Plitvice Lakes day trip? PIn it for later on Pinterest!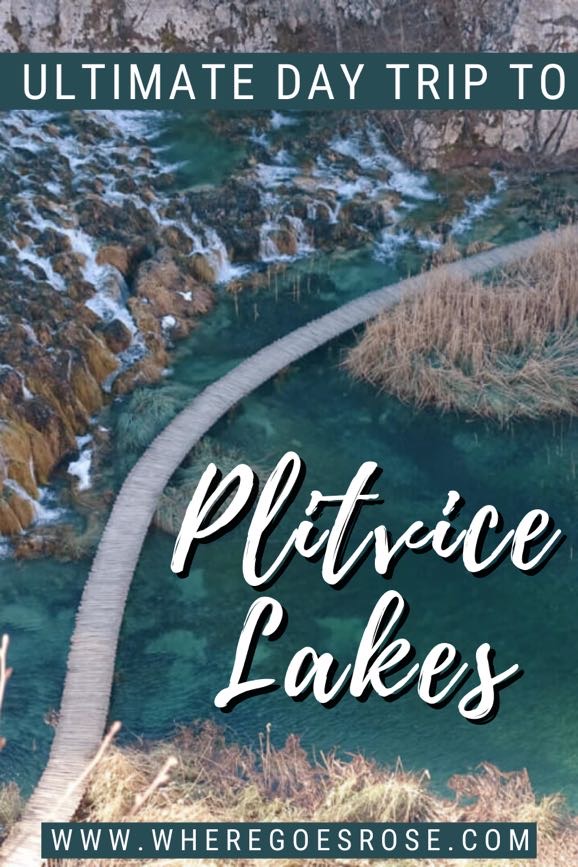 TRUSTED RESOURCES FOR VISITING EUROPE

Getting around by air – I use Skyscanner and Kayak and search by month to see the cheapest dates.

Driving in Europe – use Rentalcars.com to compare car rentals in European countries (and all around the world).

Confused about visas? I use iVisa to check visa requirements and apply for visas online.

For trains, I use RailEurope. The search feature allows you to compare prices, and they show live departure times on the website.

For buses, I use FlixBus. Find journeys between European countries from €1!

Use Omio to compare trains and buses in one search. It's so handy!

For hotels and self-catering apartments, I use Booking.com. You can filter by review score and price to find the best-rated budget places. For hostels, I use Hostelworld.com.

To save money on accommodation, I use Trusted Housesitters, a website that connects homeowners going away and travellers who can sit their homes & pets.

Browse tours and activities on GetYourGuide.

Need travel insurance? I use World Nomads. They cover 150 countries and have 24-hour emergency assistance.

Check out my resources page for more travel discounts and budget tips from my 10+ years on the road!