This post may contain affiliate links to things like tours, hotels, Amazon associates and products. These help me earn a small commission at no additional charge to you.
The street art in Bristol is one of my favourite things about the city. You can either take an organised tour, spot bits at your leisure or, for a happy medium, take a self-guided Bristol street art tour.

It was my third in the last year after taking them in both Cape Town and Shoreditch. Like any kind of tour they have their pros and cons – you get a better understanding of the street art and its meanings thanks to your guide but sometimes you feel a bit rushed.

I did lose the group for about 5 minutes and had to run after them, snapping photos on the move… but maybe that was my own fault for ogling cats through the window of a cat cafe!?

This tour was with Where the Wall and what I really liked was that our guide, Alex, was a street artist himself. This hadn't been the case with either of my past tours so it felt really authentic and like we got a good level of insight, especially when he talked about the pieces he'd actually done – who could know better?

I would highly recommend seeking out some street art during a weekend in Bristol. In this guide, you'll find the works of art I saw & their locations in case you're doing it alone.
BRISTOL ESSENTIALS

Bristol Lonely Planet

Accommodation: Booking.com

Activities: GetYourGuide

Getting there: Trainline / Busbud
Pin this for later!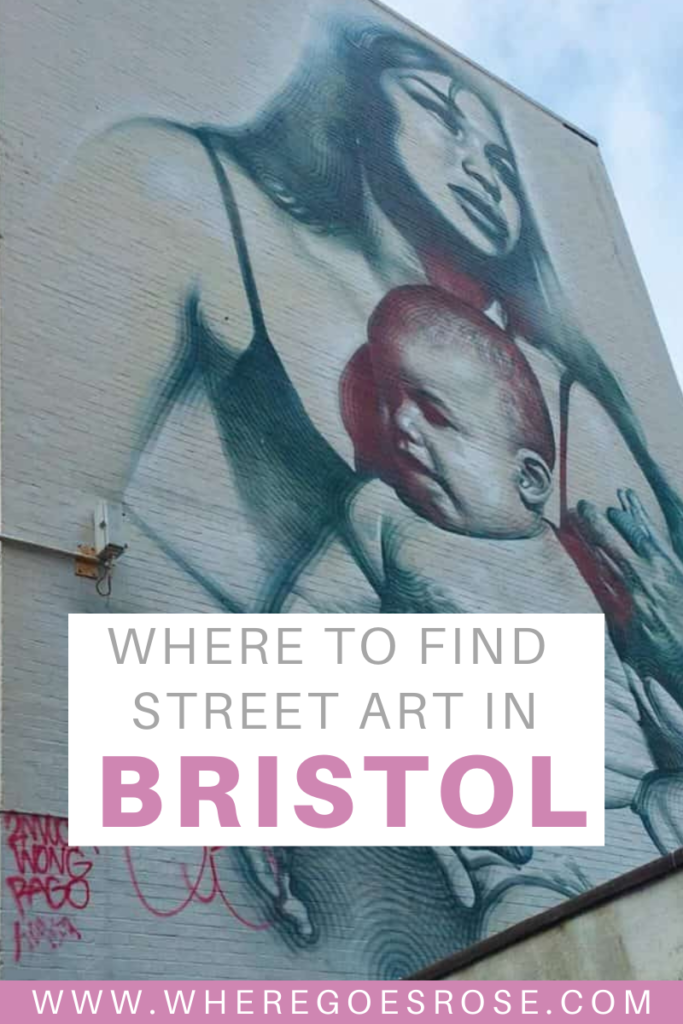 Why is Bristol street art so famous?
A certain artist you have probably heard of had really put Bristol on the street art map globally! There are plenty of pieces of Banksy street art in Bristol which you will see if you follow this guide.

These pieces of art usually pop up out of the blue, such as the Banksy sneezing woman art that popped up on the side of a house in December 2020. A local man spotted someone on scaffolding but didn't make the connection until crowds gathered in the streets to snap the newest piece of Bansky street art in Bristol!

While Banksy may have kickstarted the popularity of street art in Bristol, now there are plenty of other street artists who visited Bristol from all around the world to make their creative mark. One of the world's largest street art festivals even takes place in Bristol each year! I'll tell you about some of the other Bristol street artists as we go.
Where to find Bristol street art
Bristol street art map:
Want a guided tour? Check out this street art tour with a local guide or this self-guided Bristol street art tour by mobile app
Self-guided Bristol street art walking tour
If you're travelling the UK on a budget, you may not fancy paying for a tour. For a free and informal self-guided Bristol street art tour, follow the below itinerary. After these stops, I'll share a few additional locations, street art history and my favourite Bristol artists!
Stop #1 – College Green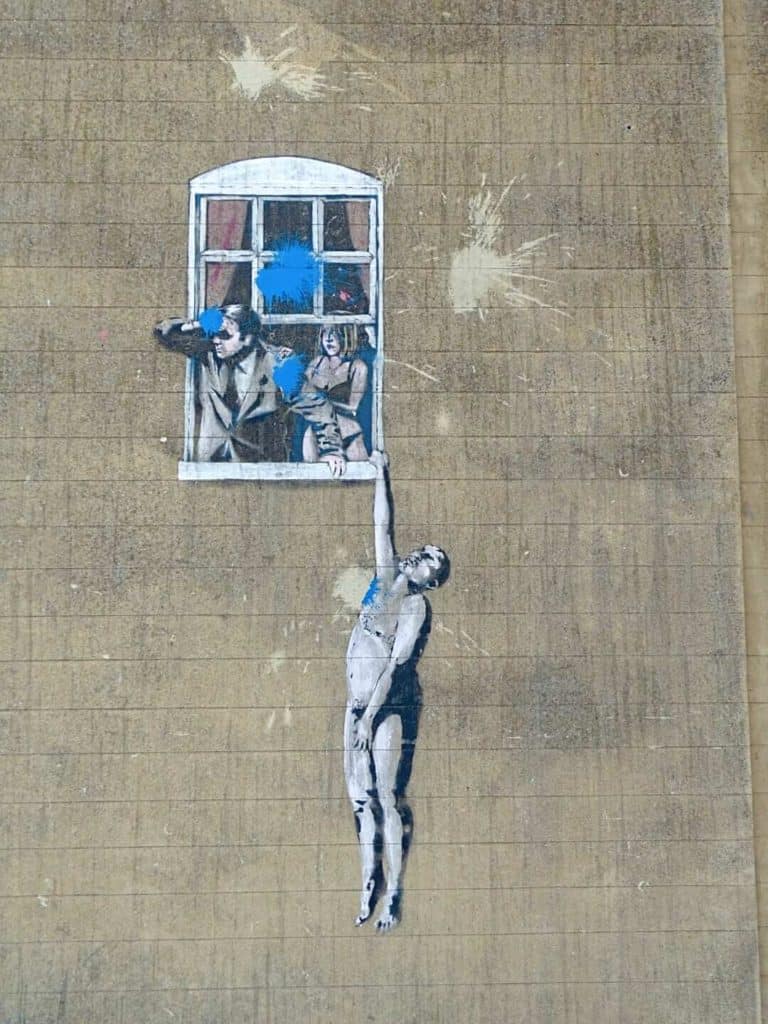 You'll start the tour by seeing Banksy's Well Hung Lover on Frogmore Street. It's high up so the best view is from Park Street (across the road from College Green) before taking the windy staircase down to Frogmore Street itself.
Stop #2 – Frogmore Street (under the tunnel)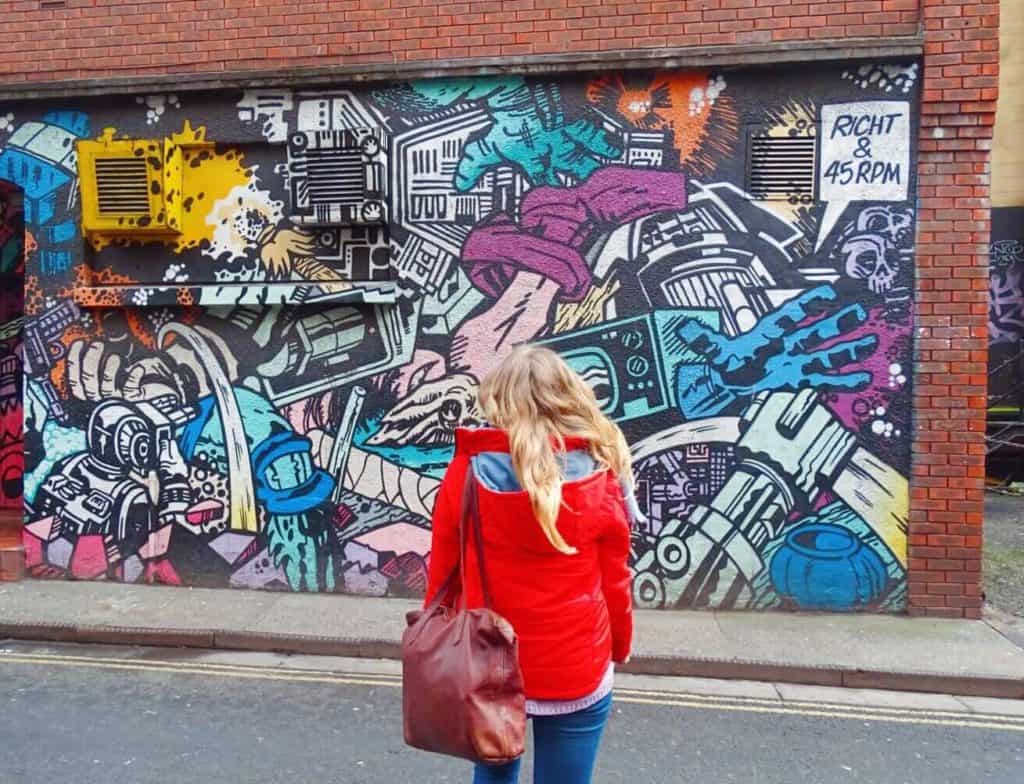 Just below the Banksy is this colourful and chaotic image above. A little further down the street you'll find this black and white stencil of two children by artist JPS.

Apparently James Paul Scanlon's work was inspired by Banksy and our guide told us this particular design was created quickly with skill and a stencil – and took just six minutes to be put up. It comprises three stencils: black, white and grey to create the tones.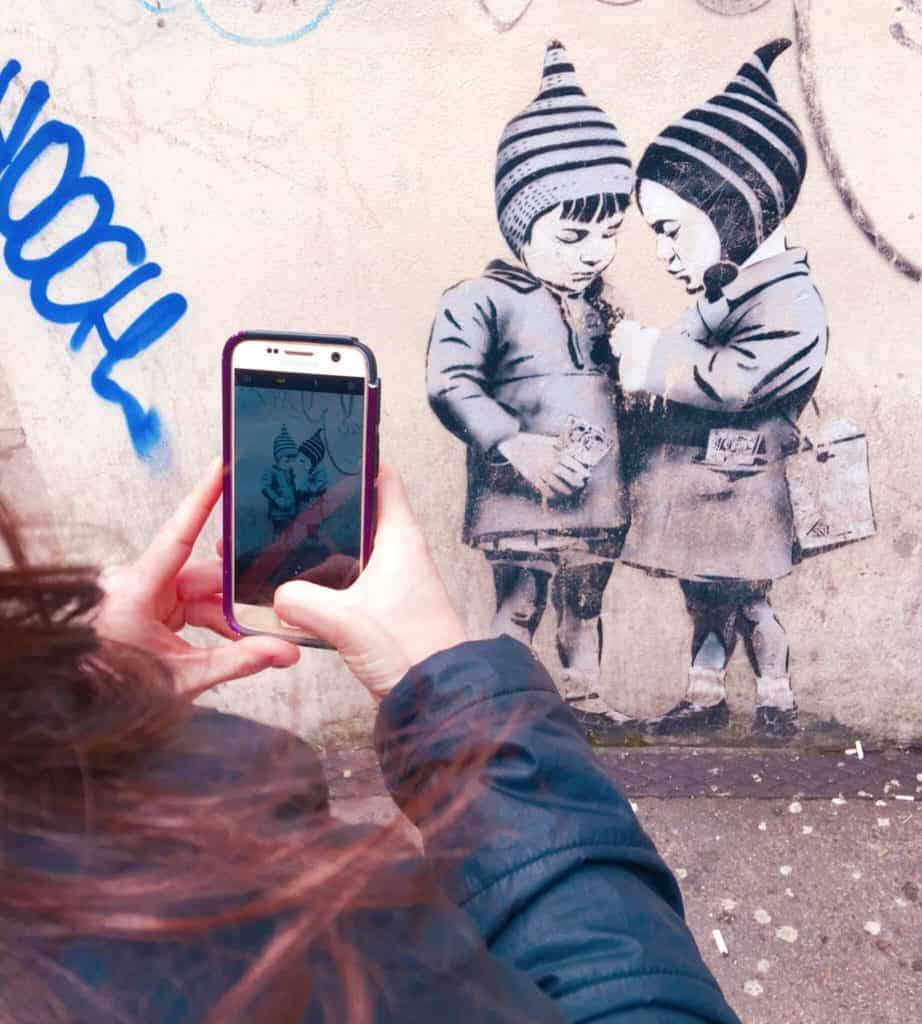 Stop #3 – Culver Street
The more you learn about the Bristol street art, the more you'll realise it's about more than just pretty pictures. This Spartacus image above, also by JPS, a few paces from the one above tells the story of slavery and freedom in Bristol.

It became a wealthy city when John Cabot (the voyager who first 'discovered' the coast of North America) brought slaves to the region, and the image here represents the freedom that they long struggled for.

It's also in memory of Andy Whitfield, the actor who played Spartacus and passed away in 2011.
If you find that story interesting you can see representations of the Native American, Chinese, African and Catholic slaves that helped to build Bristol carved into some of the architecture in town. It's may not be street art but it's still an important artistic representation of the city's history.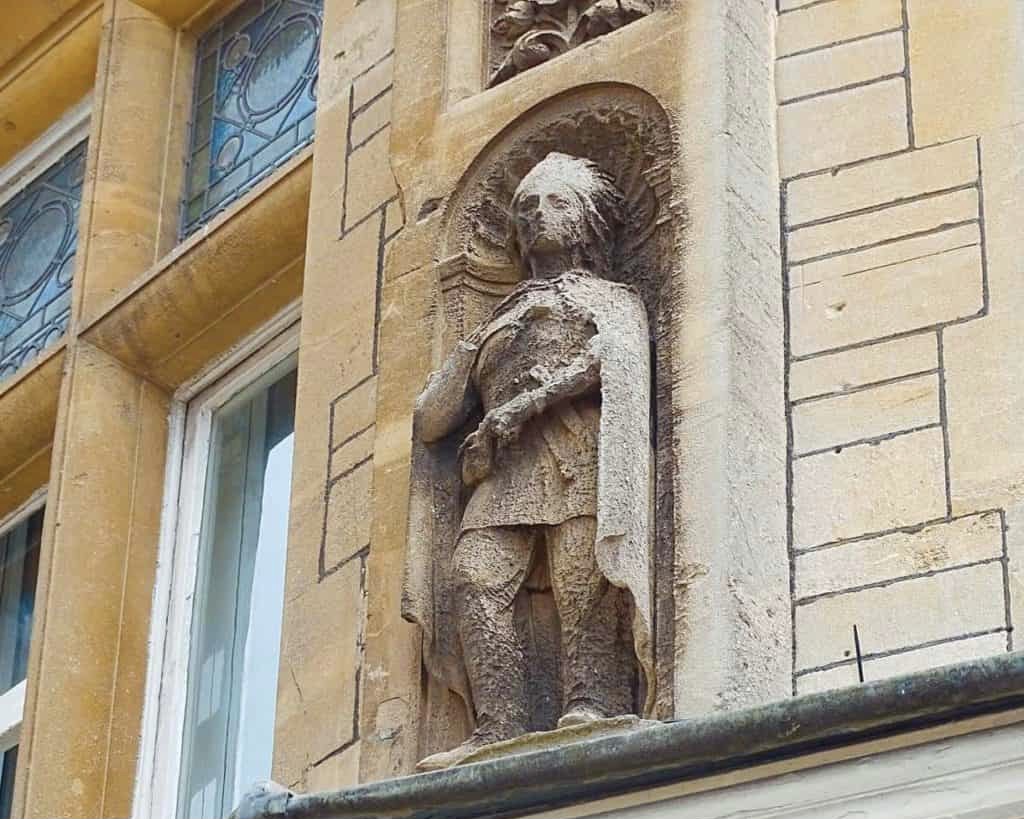 Stop #4 – Leonard Lane
Next, we headed for town and soon found this little alley which was my hands-down favourite place for street art in Bristol. Begin by locating the entrance on Corn Street. It doesn't look much from the outside but it's certainly a Bristol hidden gem when you get inside!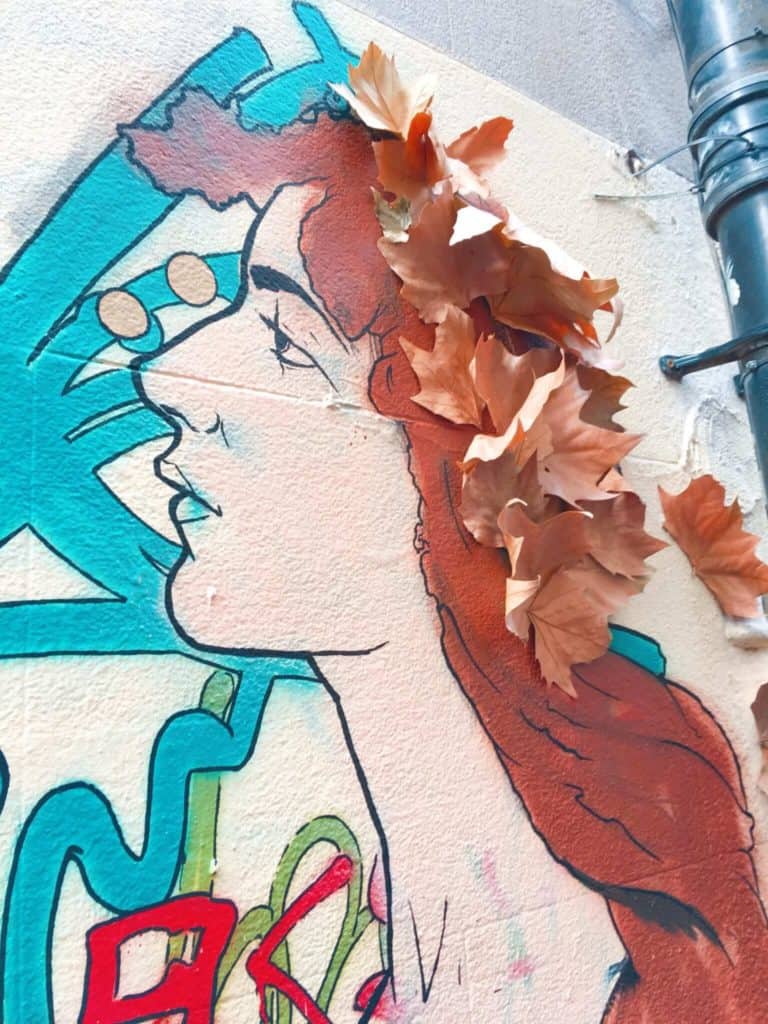 It was here our guide explained that street artists often add to other artists' work. An example is this woman above who has recently had leaves added to her hair to give the piece a multidimensional feel.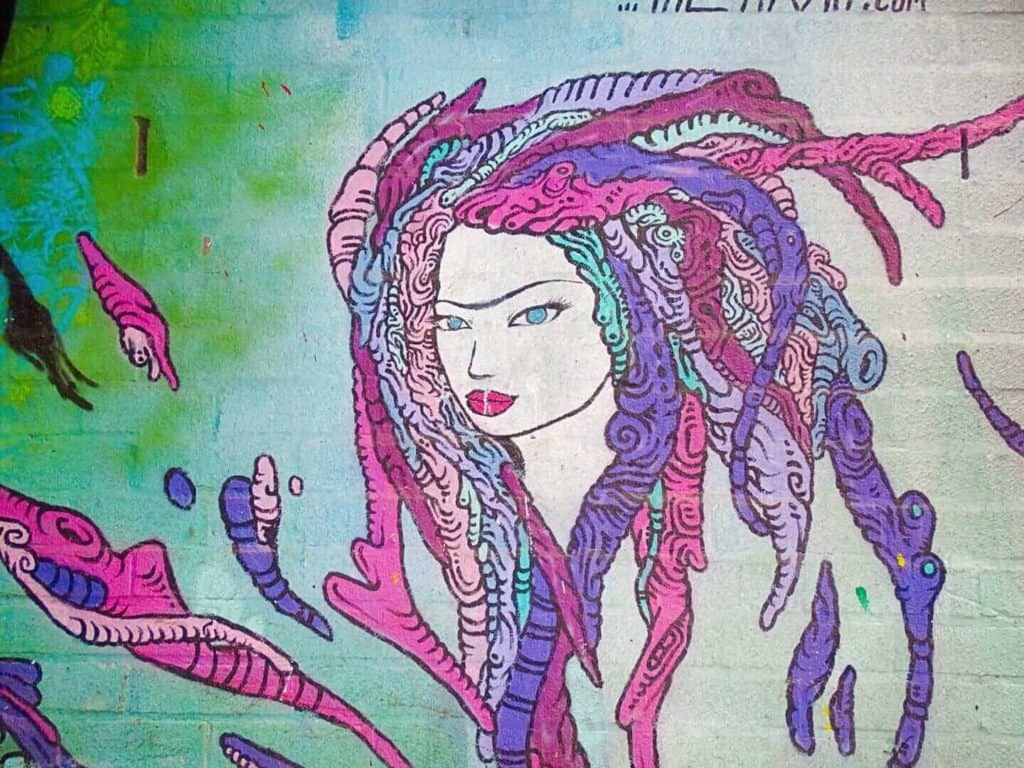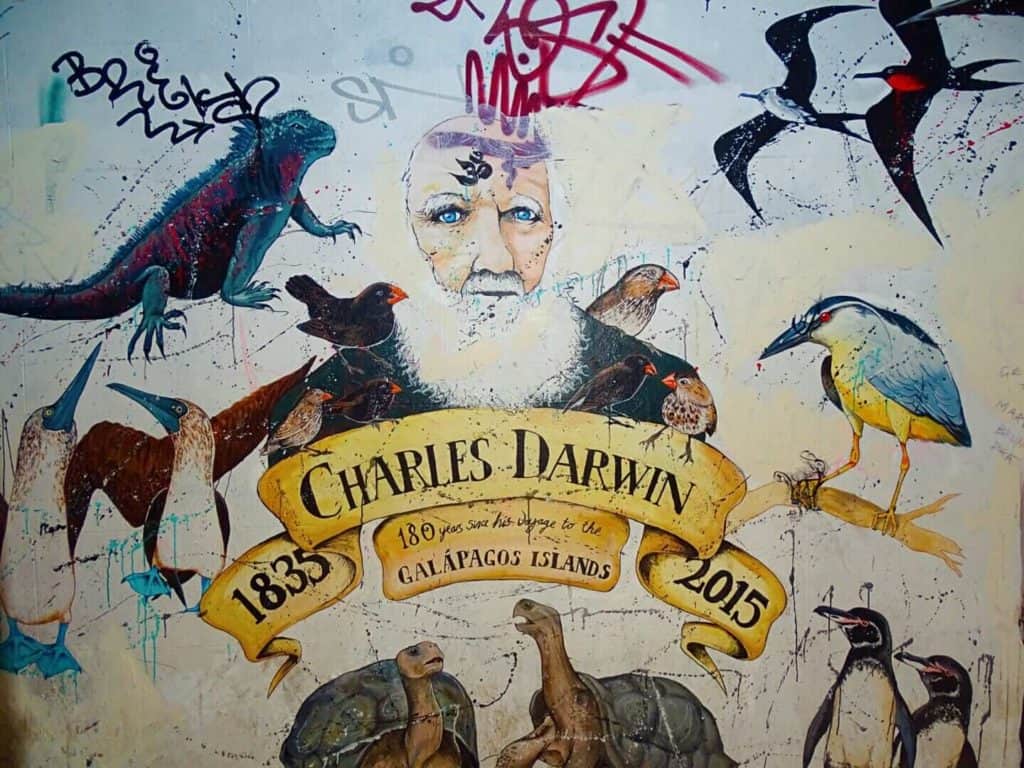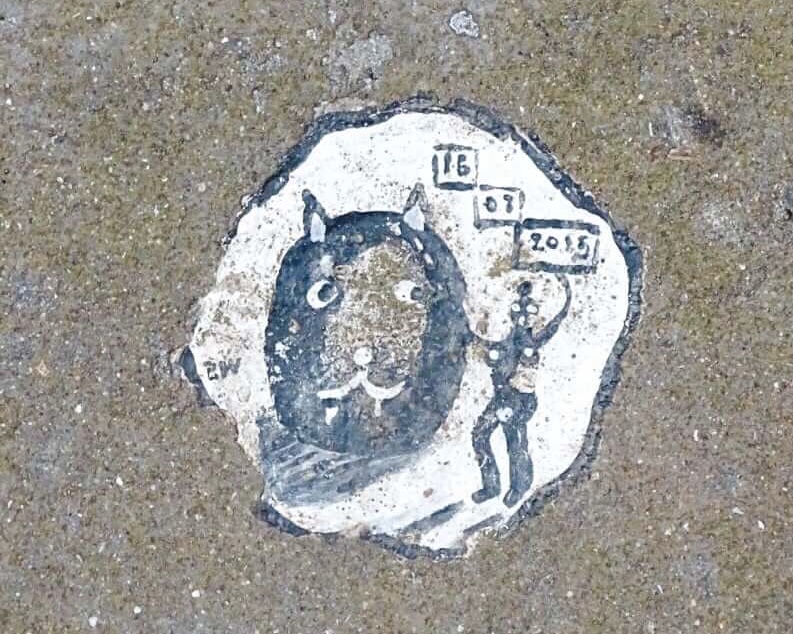 Leonard Lane was a place where it was great to have a Bristol street art guide. Alex instructed us to look down to the gum splats by our feet – and we noticed many were actually tiny designs! One even showed a miniature image of Leonard Lane itself. I'd have never noticed this level of detail alone.
Stop #5 – Bell Lane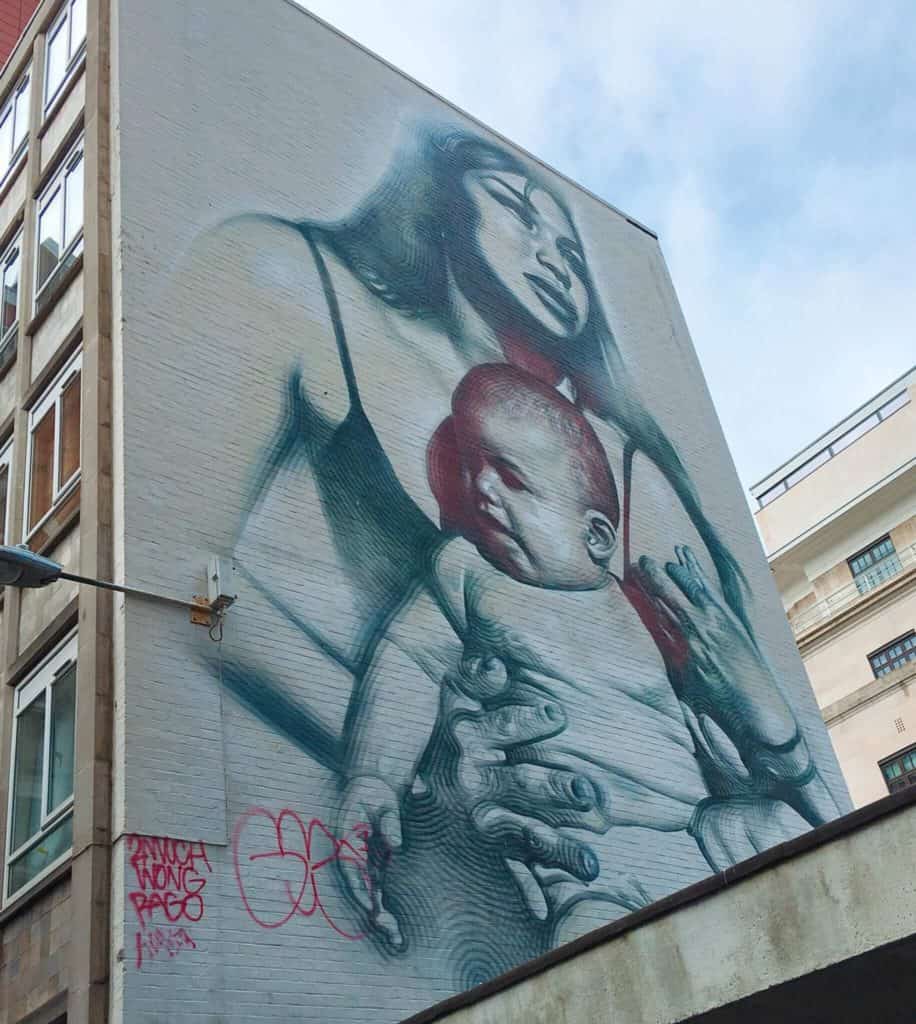 You'll exit Leonard Lane on Small Street but don't stop – keep going forward on to Bell Street which isn't as tight as Leonard but is still an enclosed alleyway. You'll see lots more Bristol street art and eventually come out besides St John's Church.

This mother and child piece by El Mac is technically on Nelson Street but you can see it clearly from Bell Lane.
Street art stop #6 – Church of St John / Broad Street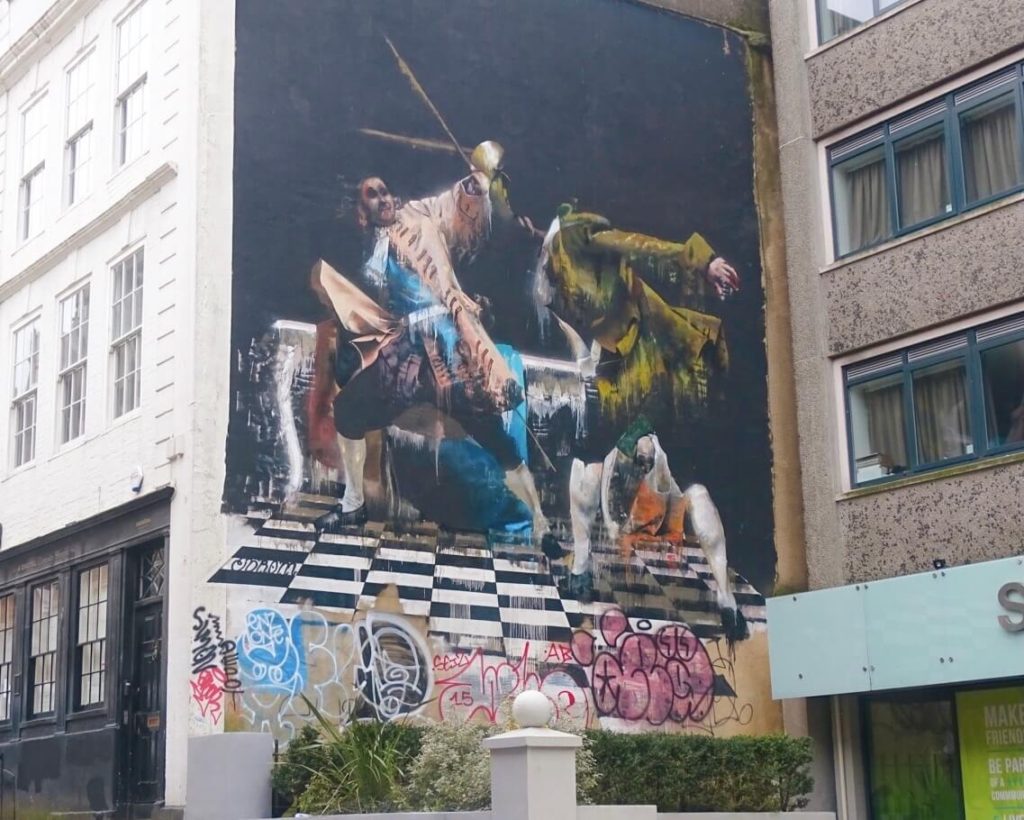 Exit Bell Lane on to Broad Street where you'll see this medieval piece by Conor Harrington on the corner. You'll emerge beside the Church of St John which has a quirky side to it.

The two walk-through tunnels are layered in street art: one with lions to represent England and the other with unicorns to represent Scotland.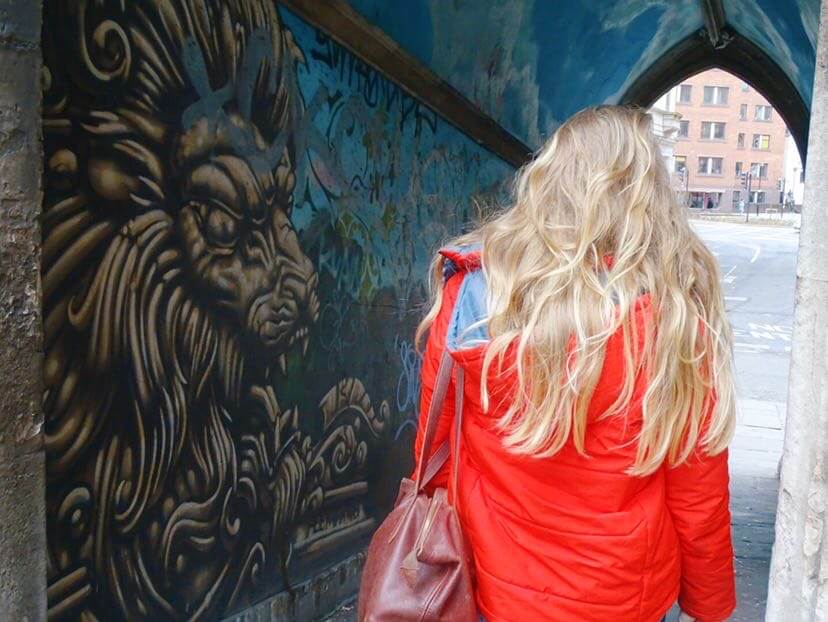 This resulted in me learning a new fact. I didn't know that the unicorn was Scotland's national animal. They're known for being noble and courageous so who cares if they're real!?
Stop #7 – Quay Street / Nelson Street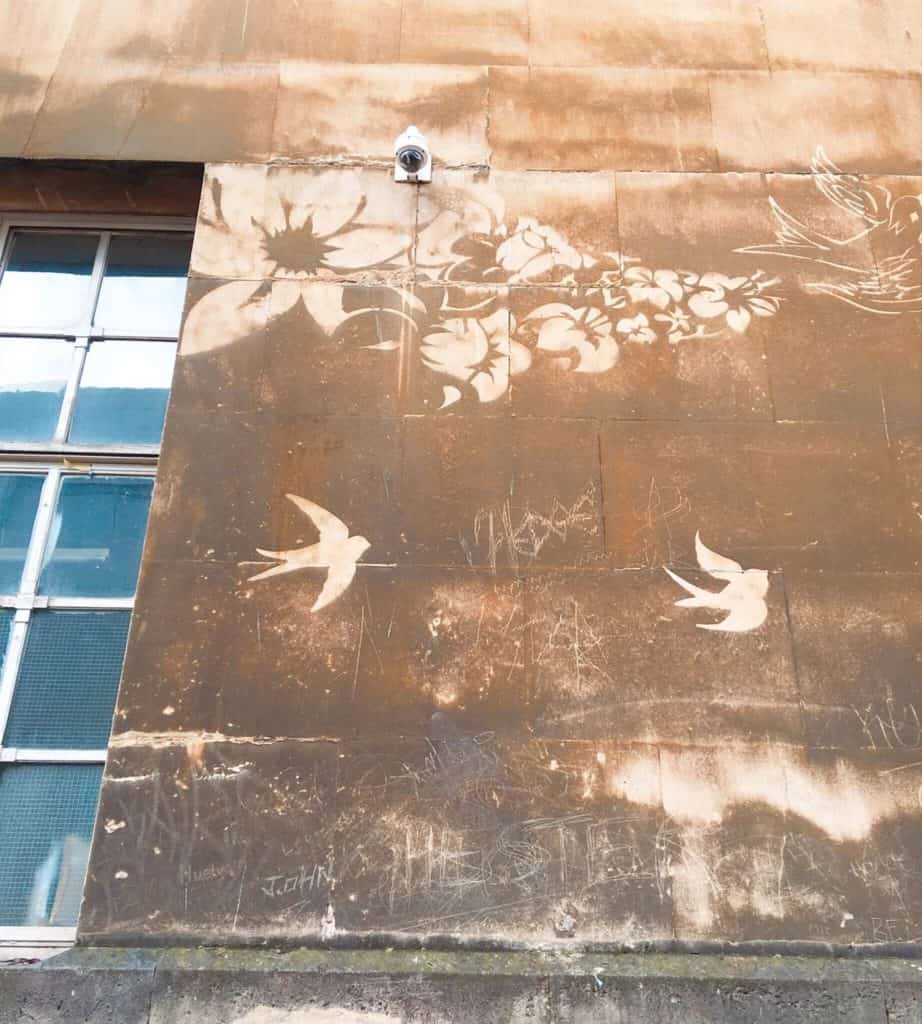 Once walking through the tunnels you'll be on Quay Street which connects to Nelson Street. Here there are various pieces of art like the giant dog by Aryz and Stik below.

However, one of the most unique examples was this 'reverse graffiti'. This is also called eco-graffiti and uses no paint but the technique of cleaning sections of the wall to create contrast.
Stop #8 – The Bearpit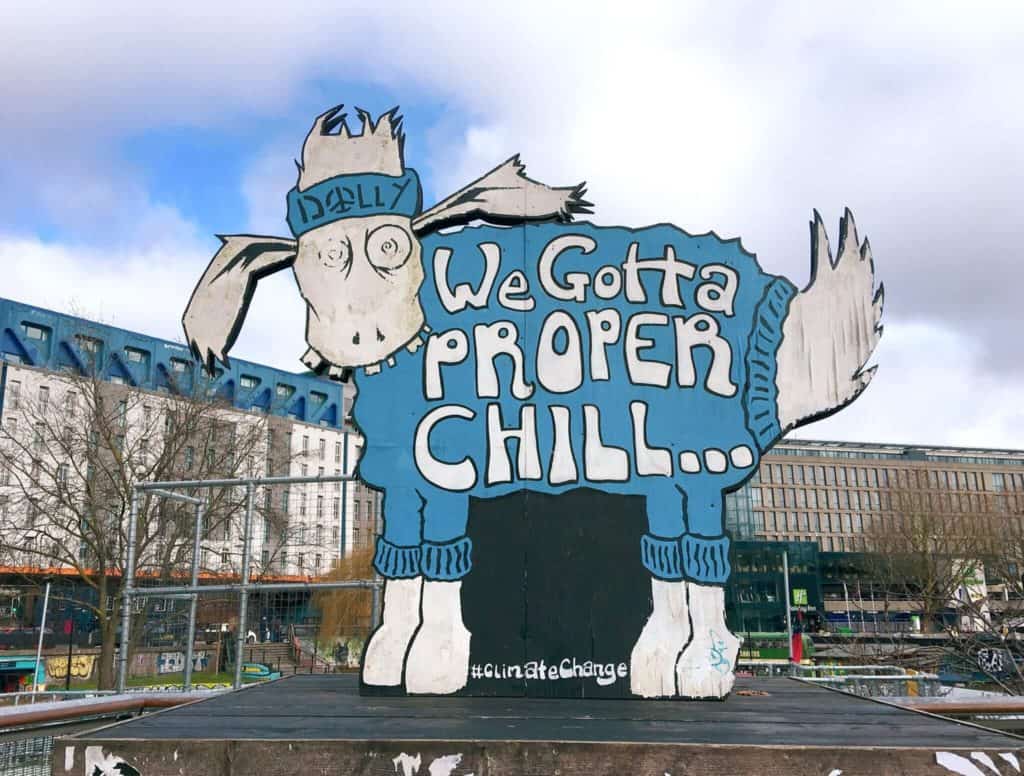 If you take a self-guided street art tour in Bristol you're likely to pass the Bearpit, a regenerated space where underground road tunnels meet. It's a quirky place for street art in Bristol and has various pop-ups and street food stands like the punny Bearritos Mexican van.

We didn't spend much time there but it's somewhere quite unique with a bit of an East London vibe to it.
Stop #9 – North Street
If ever I stay in Bristol and my friends aren't around, I'll be straight to the Full Moon hostel which looks cool from the outside but apparently is even more interesting inside as each dorm room has a unique work of art on the wall. You'll find it on North Street just two minutes from the Bearpit.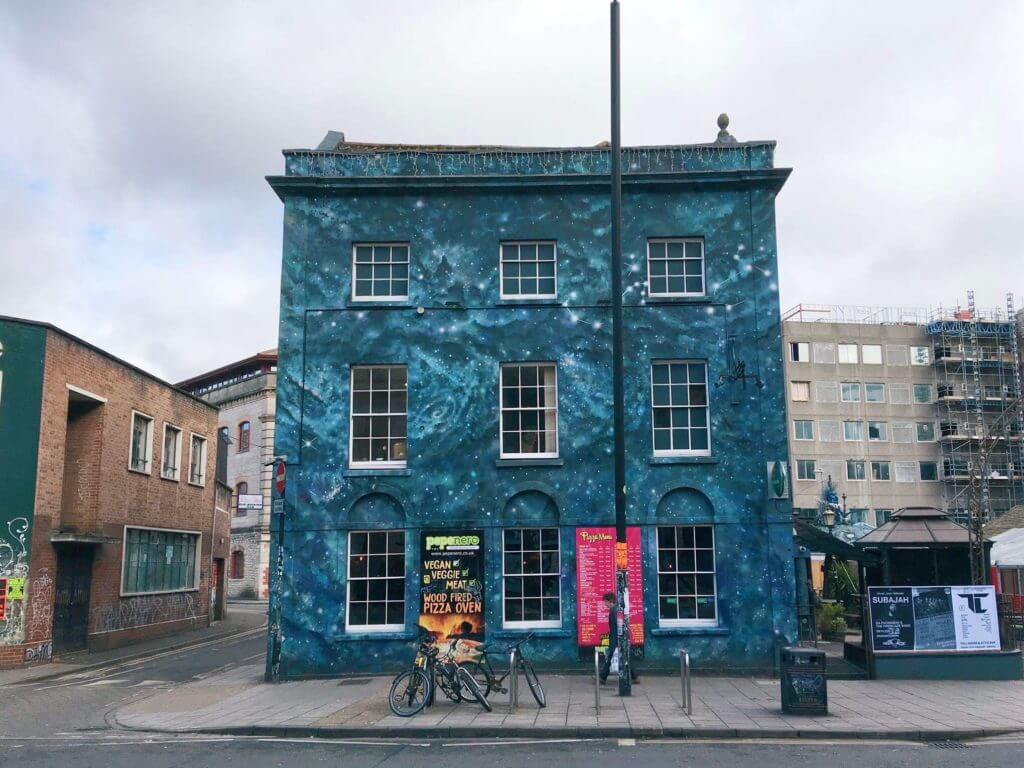 On the left outside wall as you walk down Moon Steet there are another few pieces of art worth checking out.
Stop #10 – Wilder Street/Backfields Lane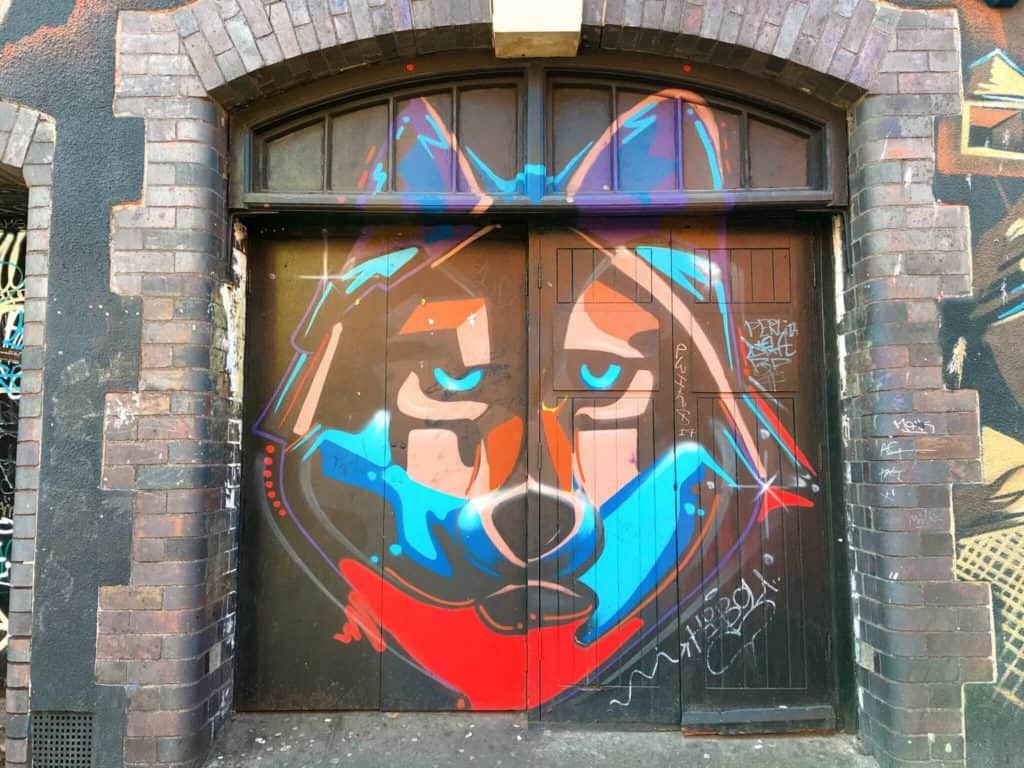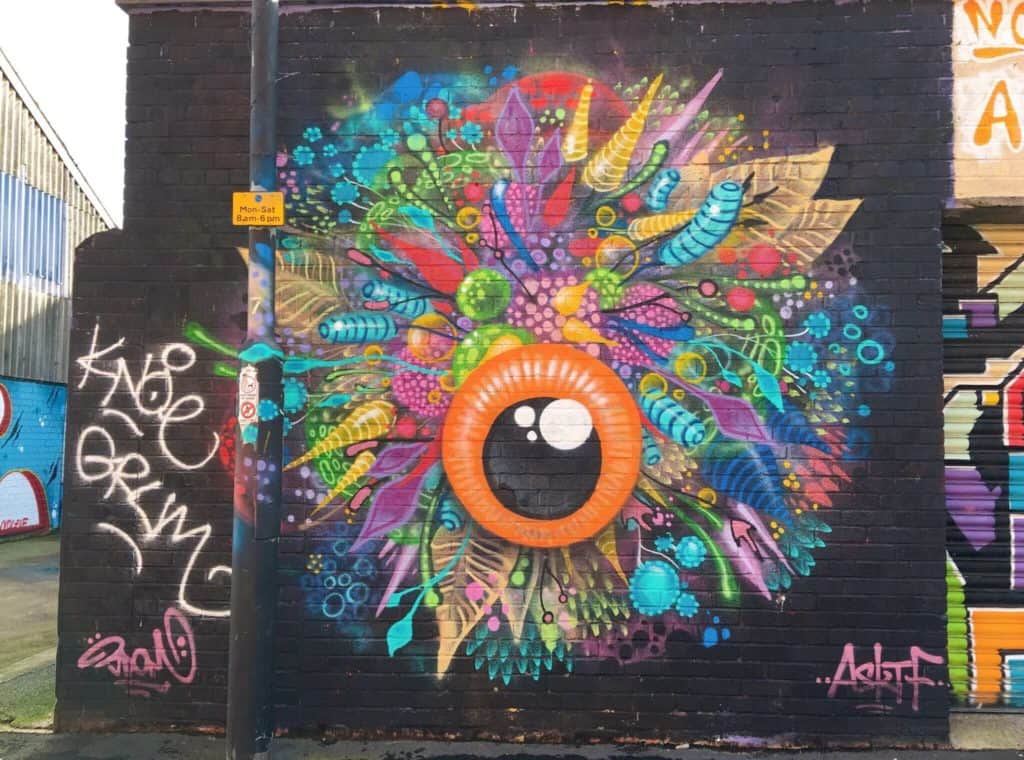 There are a few more colourful wall canvases in the area behind the Full Moon including one wall all completed by female street artists. It got me thinking how male-dominated it is as an industry – hopefully that'll change!
Stop #11 – Stokes Croft
The first thing I saw when we arrived in the quirky Stokes Croft area (adjacent to Moon Street) was this yellow woman by artist Stinkfish. It was a fantastic introduction to the neighbourhood which is one of Bristol's coolest and most quirky areas. Of course there's street art here!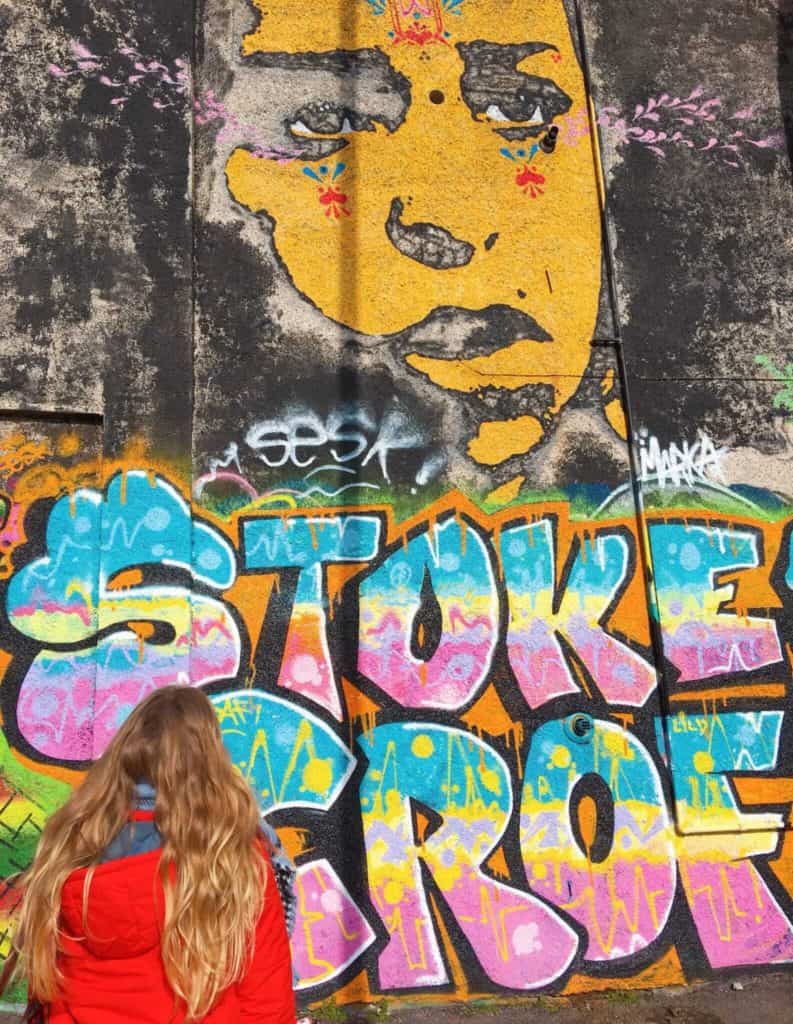 We ended our Bristol street art walking tour at hippie cafe, the Canteen, where there are two well-known pieces outside. One is Banksy's Mild, Mild West which was a response to riot police attacking partygoers at unlicensed 90s raves.

Our guide told us it became relevant again when locals protested against a new Tesco's. Next to the Banksy is this Roman image by Cosmo Sarson which is apparently made of a kilo of gold. The most expensive street art in Bristol for sure.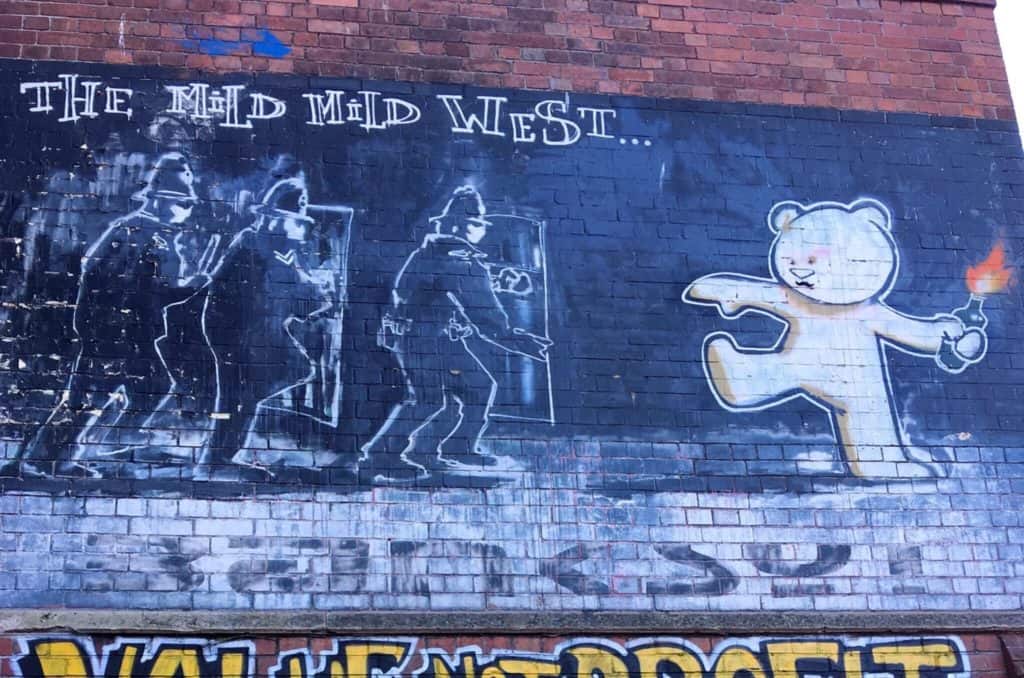 Aaaaand that's the end of my self-guided Bristol street art tour! However, I'd also recommend checking out…
Bedminster
I ended up seeing the Bedminster street art by total accident as it was the area I stayed in with my friend who lives there. I didn't even know there was street art there 'til we wandered her neighbourhood and I ended up spying some giant pieces, many of which impressed me more than the works I'd seen earlier.

Areas of interest include:
The giant gull on Back Lane
The crying eye on Mount Pleasant Terrace
The cat and mouse on Gladstone Street.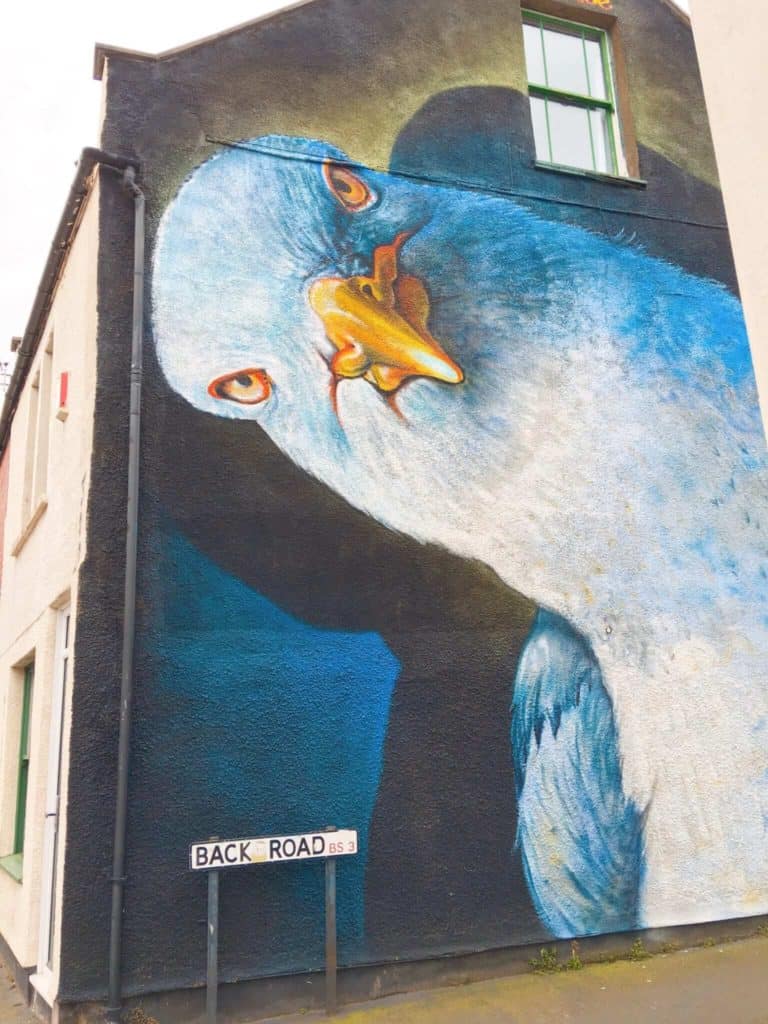 Final piece – 'Girl with a Pierced Ear Drum'
Sadly I missed this piece myself but it's a popular mural so I'd recommend squeezing it into your itinerary. Not far from M Shed and the SS Great Britain is this quirky remake of the famous Girl with a Pearl Earring painting. It's been around since 2014 and isn't likely to vanish soon.

Perhaps it's no accident that the piece is nearby Aardman Studios known for TV shows such as Wallace and Gromit. This piece of art is no less creative!
What is the difference between graffiti and street art?
Our guide brought this up whilst still on the first street of the tour – would you know? I didn't.

Alex told us that graffiti was originally defined as the art of letter writing on the street and came from the Italian word to scratch which generally had negative connotations of damage.

Urban art became popular during the 80s when hip hop grew in New York. It became seen as a form of self-expression and now 'street art' means anything creative you interpret on the street – this can include visual art and performances/expressive displays.
An event for your Bristol street art diary – UPFEST
Held in Bedminster each year is the largest event of its kind, UPFEST. Street artists come from around the world to adorn wonderful murals all over the neighbourhood which remain until the following year when they are removed and replaced by new pieces.

A John Lennon piece by my favourite street artist, Kobra, stayed in the Aldi carpark for a while but has now left the building – but hopefully there will soon be another vibrant mural in its place!
Who are the other Bristol street artists?
So Banksy doesn't get all the credit, make sure you know about the other street artists who have made Bristol the colourful, creative place it is today.
INKIE (real name Tom Bingle) has been creating street art around Bristol since the 1980s. He's originally from Clifton, an area known for the Clifton colourful houses but nowadays his work can be seen in London and further afield. From Art Nouveau to urban, Maya architecture and Islamic geometry, his work is unbelievably diverse and take influences from all over the world.
Cheba is responsible for the art on Full Moon hostel (pictured earlier in this blog) as well as countless other pieces of Bristol street art. His Weapon of Choice Gallery is worth a visit while in Bristol.
Nick Walker is known for his stencil-style street art which was thought to have influenced Banksy's style. Walker's work has appeared in Bristol since the 1980s and often features his signature character, a man in a bowler hat.
Female-led Bristol street art
Like many locations, the street art in Bristol has traditionally been male-dominated. While there's no denying the talent of artists like Banksy and Nick Walker, it's great that female street artists are becoming more active and included in the street art scene in Bristol.

Inspired by the Painted Ladies of San Francisco, the 'Six Sisters' is an enormous new art piece in Bedminster created by local artists Lucas Antics and Ejits. I'm yet to see and photograph this piece but here's a mural by Lucas Antics found in Stokes Croft.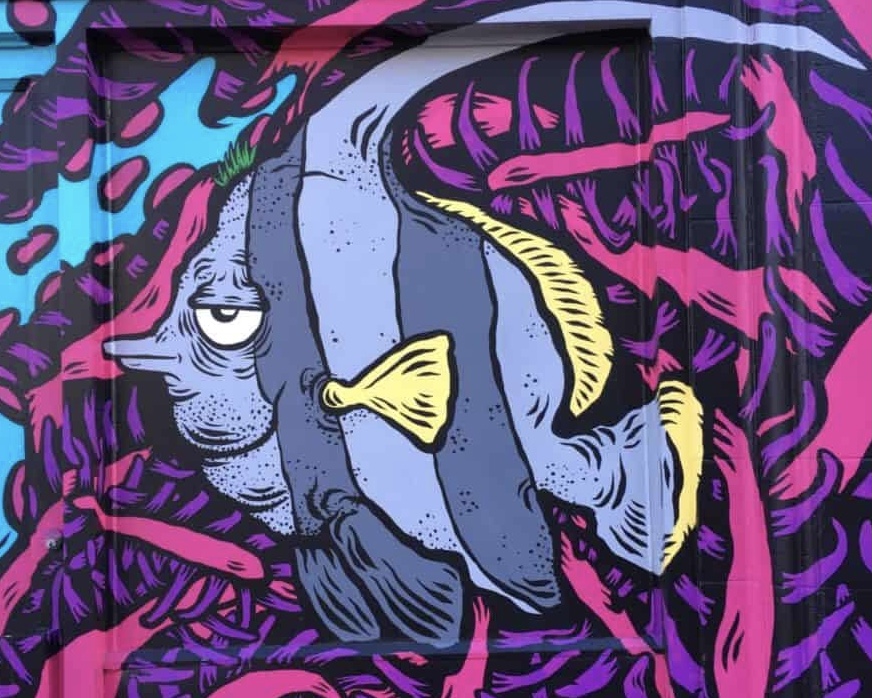 Are you a street art fan visiting the UK? Check out:
Thanks for following my self-guided Bristol street art tour!
I hope you have a better idea of where to find street art in Bristol!
Like Bristol / street art? Check out my other posts:
See you next time for more adventures,
Rose
For more travel content, follow me on Instagram, Facebook, Twitter and YouTube.
Ps. Liked my Bristol street art guide? Pin this for later!
TRUSTED RESOURCES FOR VISITING THE UK

Guide books – LP always get my seal of approval. Use the latest copy of Lonely Planet England.

Getting there & around by air – I use Skyscanner to find the best-value flights, using the 'search by month' tool to find the cheapest dates. You can also use the 'to anywhere' feature if you're flexible on where you're going.

Car hire – use Rentalcars.com to compare car rentals and campers in the UK (and all around the world).

For UK trains, I use Trainline. The search feature allows you to compare prices with other modes of transport.

For buses, I use busbud. It's the only site that compares UK coaches and buses. Find London to Manchester journeys for £1!

For hotels and self-catering apartments, I use Booking.com. You can filter by review score and price to find the best-rated budget places. For hostels, I use Hostelworld.com.

Browse UK tours and activities on GetYourGuide.

Need travel insurance? I use True Traveller (for Europe residents) since it's some of the most affordable insurance out there but still covers everything you'd need including various activities, valuables and pre-existing conditions. Unlike some companies, they insure you if you're already travelling / don't yet have your flight home booked. Get a quote.

For other nationalities, I recommend Hey Mundo and for long-term digital nomad travellers, I suggest Safety Wing.

See all my suggestions on my resources page.