This post may contain affiliate links to things like tours, hotels, Amazon associates and products. These help me earn a small commission at no additional charge to you.
Nusa Ceningan intro
If you're spending 2 weeks in Bali or longer, I'd highly recommend a detour to the Nusa Islands. This pristine trio is apparently what Bali used to feel like… 30 years ago!

I spend 3 days on Nusa Penida which is the biggest. Nusa Lembongan, where I was based while visiting Nusa Ceningan, is the most popular with tourists and the second-largest, while Ceningan Island is tiny. What it lacks in size, it makes up for with beautiful beaches, white sand and clear, bright blue water.

Is this paradise? I think so!

Although I visited Nusa Ceningan as a day trip from Nusa Lembongan, it would be a lovely place to spend a few nights. It's certainly quieter and more relaxing than Lembongan.
Getting to Nusa Ceningan from Bali
There's no direct ferry from Bali so your best bet is travelling to Nusa Lembongan first. The ride from Bali takes around 30 minutes by speedboat. You can buy tickets at your hotel, any tour office, or online. Book your ticket with GetYourGuide.

From Nusa Lembongan, it's easy to reach Nusa Ceningan because the islands are connected by bridge. You can cross on a scooter or even walk.

Coming from Nusa Penida? I didn't take this option myself but I know you can catch a local boat for 50k IDR to visit Ceningan from Penida. It departs from Toya Pakeh harbour and drops you near the famous Yellow Bridge, taking just 15 minutes.
Getting around Nusa Ceningan Island
If you're a confident scooter driver, your best bet is hiring one from your accommodation or any rental agency on Lembongan. Check your insurance covers it and that you're provided with a helmet!

Once you've got a set of wheels, it's super easy to get around the island. None of the Nusa Ceningan attractions are far apart; you can drive the whole island in 20-30 minutes if you don't stop. Expect to pay around Rp. 70,000 a day for scooter hire.

If you're not a confident driver, fear not: you can hire a scooter and driver to take you around for the day. I found a guide willing to take me on a scooter day tour for Rp. 150,000 ($10). Bargain!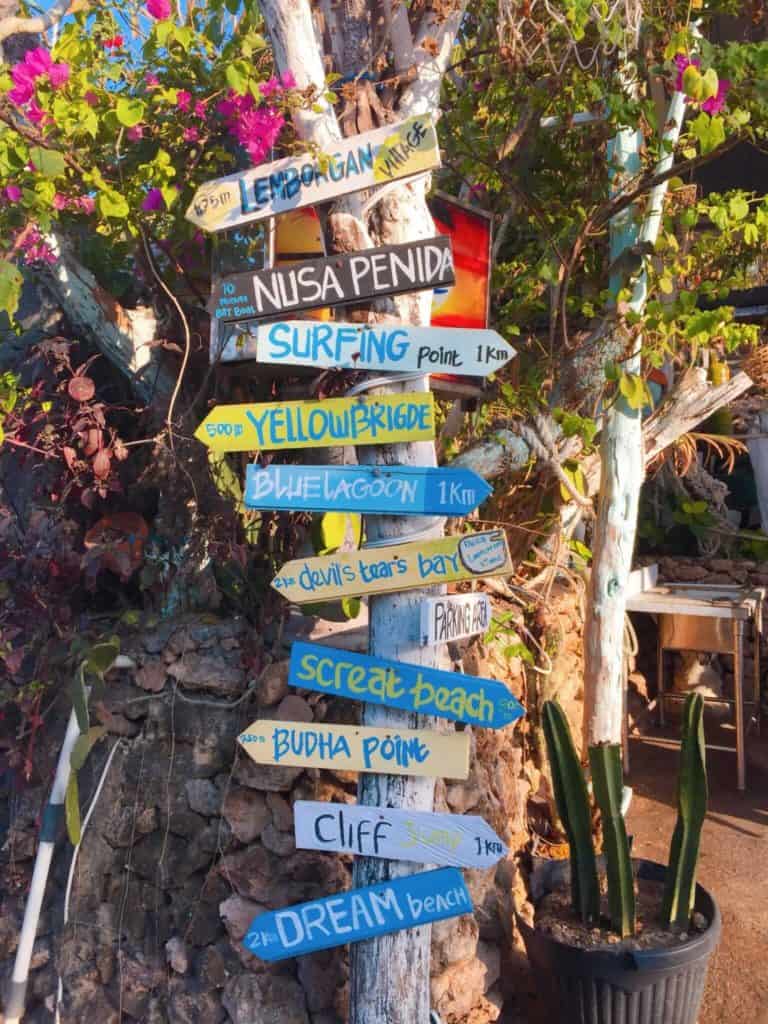 Can you walk around Nusa Ceningan?
Yes, you can explore on foot because the island is connected to Nusa Lembongan by the iconic Yellow Bridge.

Although I took a day tour, I realised walking around Nusa Ceningan is easily doable. Most of the attractions are near to each other so it seemed silly for my driver to wait in each place just to drive me a short walk away.

My driver and I started the day by travelling from my hostel on Nusa Lembongan to the Blue Lagoon. He then took me to Mahana Point but, because I wanted to spend longer there and my next stop wasn't far away, I suggested he just come and pick me up later.

I ended up walking around during the afternoon and relaxing at a beach bar until he came to collect me.
Things to do in Nusa Ceningan, Bali
Next, everything to see and do on this Indonesian island!
Cross the Yellow Bridge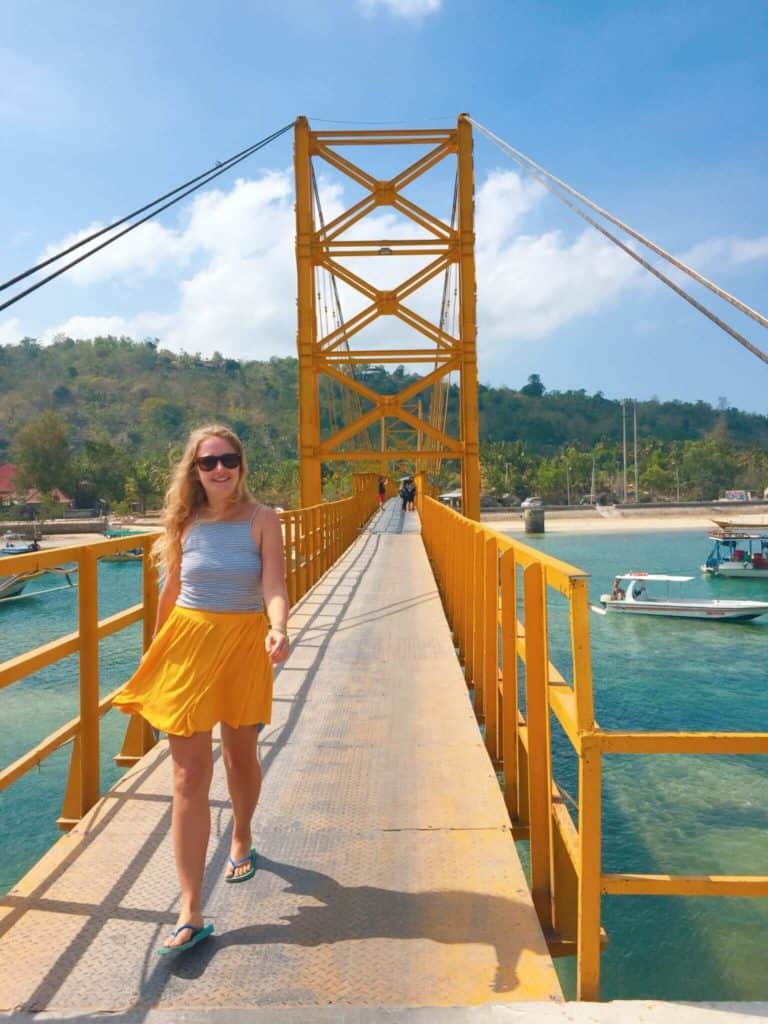 No journey from Nusa Lembongan to Nusa Ceningan is possible without walking or riding a scooter over the Yellow Bridge. Its iconic, Instagrammable facade is snapped by almost every visitor to either island.
Unfortunately, it has some sad history. In 2016 it collapsed, killing eight people. It has since been rebuilt and is now safe for pedestrians and motorbikes to cross.
The Blue Lagoon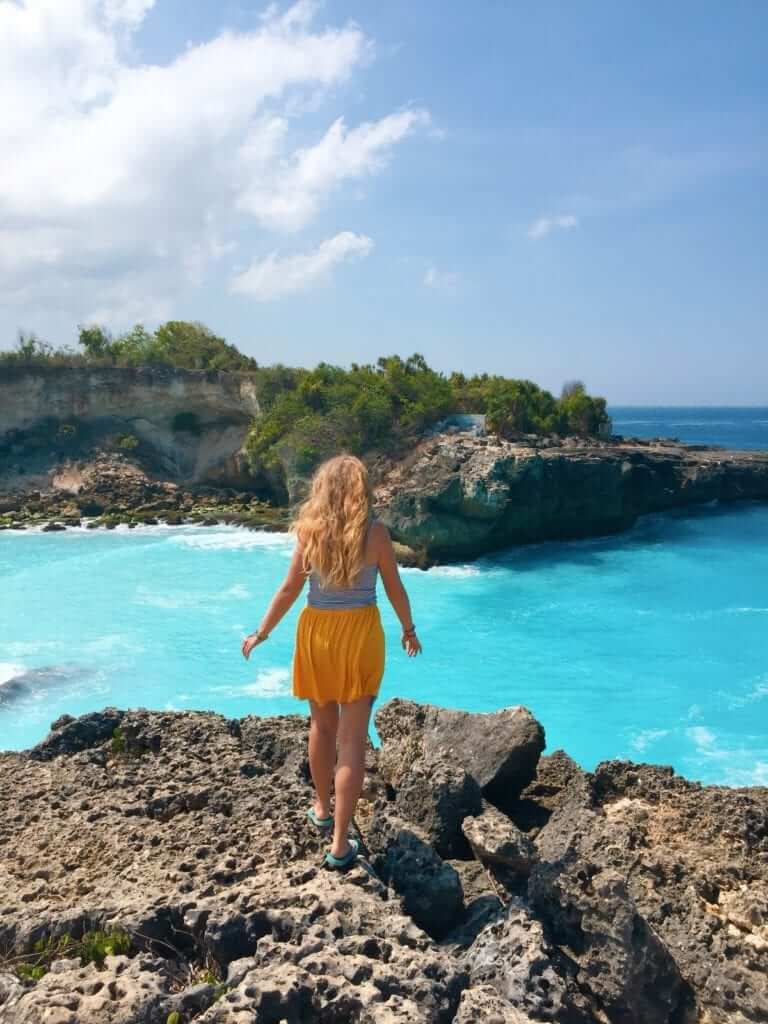 One of the best things to do on Nusa Ceningan is visit the Blue Lagoon. As the same would suggest, it's the most spectacular shade of bright blue – it hardly looks real.

There's nothing really to 'do' at the Blue Lagoon, it's more somewhere to admire and take a few photos. You absolutely cannot swim in the Blue Lagoon. Once you see how violently the waves crash against the craggy cliffs, you'll understand why.

However, there is a cliff-jumping point just around the corner. There are several jumps from 4-13 metres depending how adventurous you're feeling.

Factor in 15 minutes or so at the Blue Lagoon but you don't need to spend long. From here, you're a minute's walk or drive from your next stop…
Mahana Point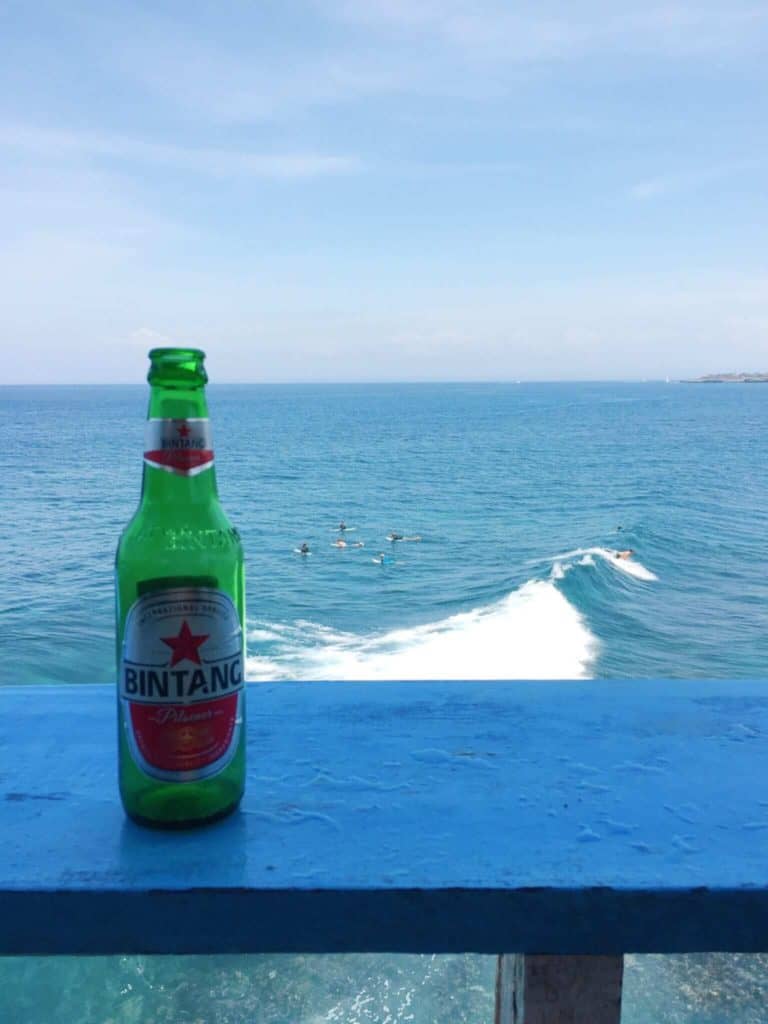 Mahana Point is where insane humans come to throw themselves into strong currents in the name of cliff jumping. Slightly more sane people come to have a drink and watch them. Since the jump costs 50k IDR (and because I'm a real baby when it comes to adrenaline), I skipped the jump and had a beer instead.

You can have your food and drink at a table if you choose but I liked sitting at the wooden blue bar that looks directly out over the ocean. Here you'll watch surfers ride the waves, as well as those crazy cliff jumpers brave the 15-metre fall.

This is where I decided to ditch my scooter driver. He was all ready to take me around the coast to the final stop of a beach bar, but that would have been a day cut short. I decided to stay here longer then go for a dip in the water down at the neighbouring beach…
(Not-so) Secret Beach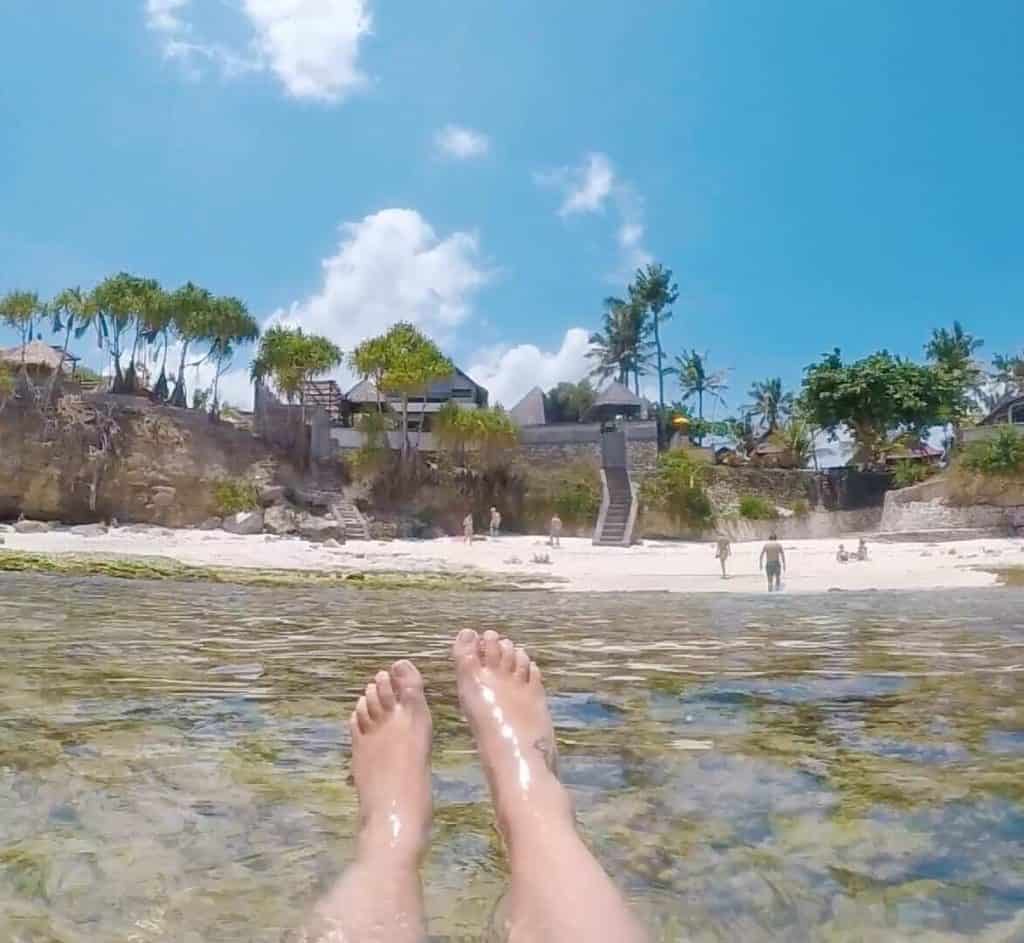 Secret Beach should possibly change its name as it's definitely no Balinese hidden gem. Saying that, I've been to busier beaches. The water here is very shallow but it's good for a dip. If you like keeping cool, you need to visit before midday.

By 12pm there was absolutely no shade – not even a speck around the cliff corners. With the sun hot on my skin, I decided to take a 15-minute walk in search of shade and food, my two favourite things…
Brunch at Next Level Cafe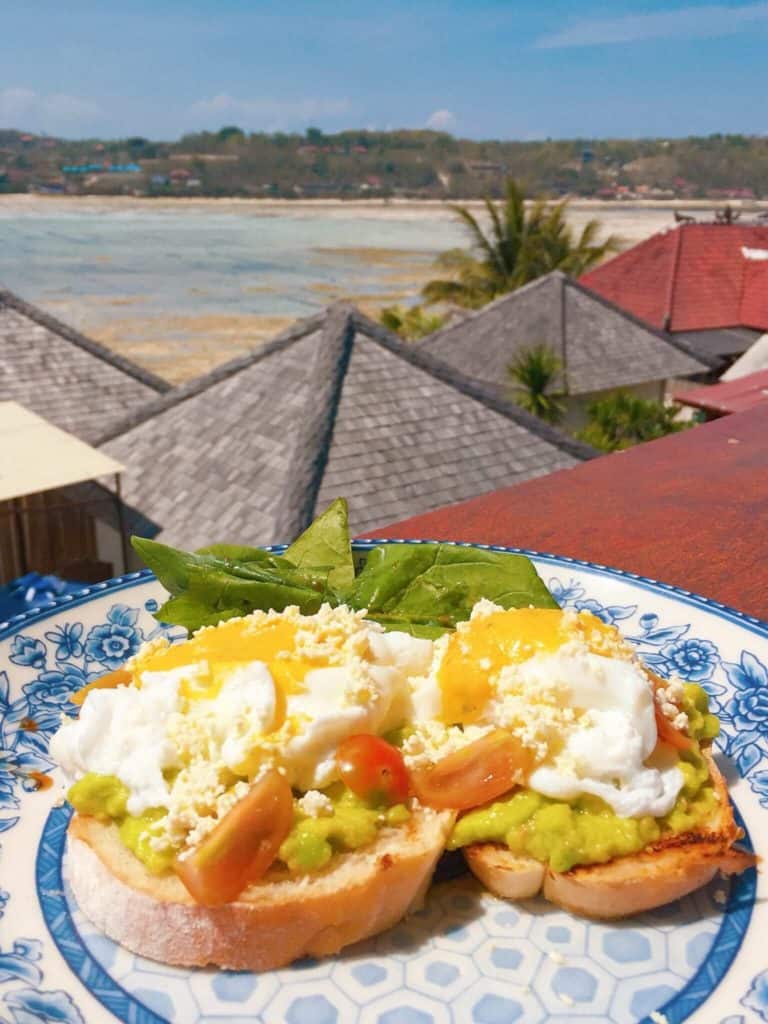 The gorgeous Next Level Cafe is colourful with great breakfasts, lunches, coffees and smoothies. I loved its local business ethos, as well as the views over the island's rooftops. Browse the menu.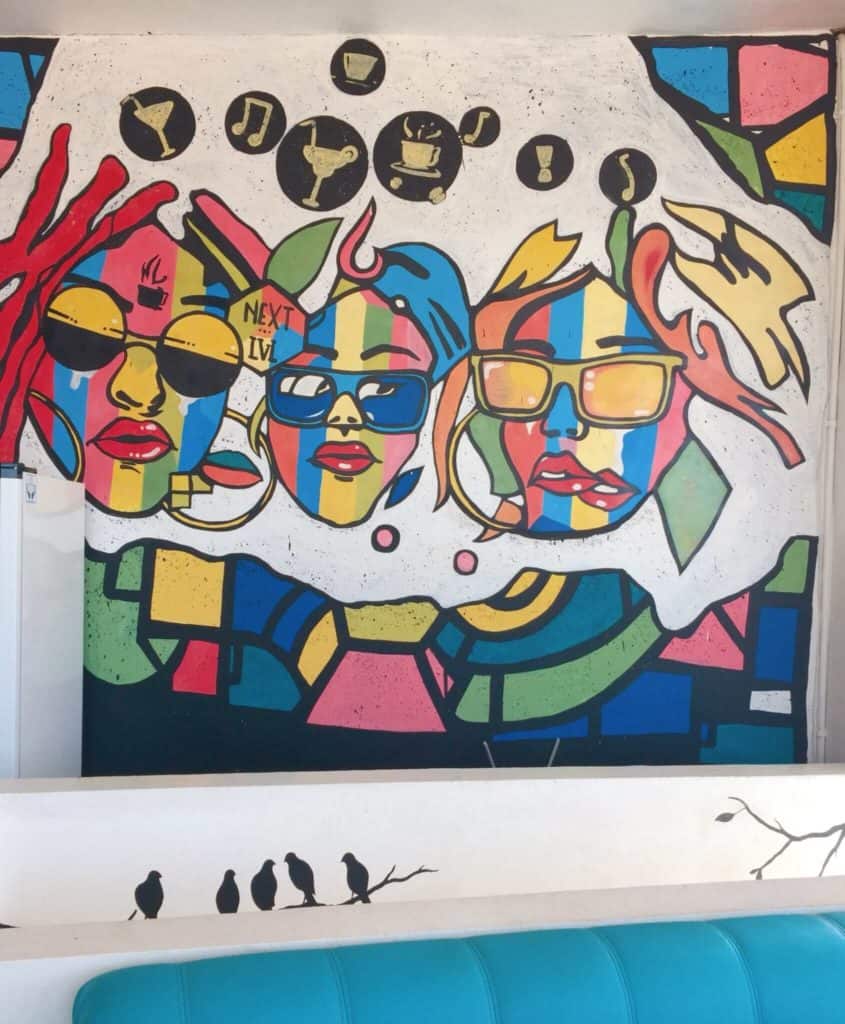 Relax at a Beach Bar
I'm not usually a resort type of person. I prefer eating street food and swimming in the ocean to infinity pools and paying over the odds. However, I loved Seabreeze.

Bean bags, hammocks, Instagrammable swinging baskets and a pool… What's not to like?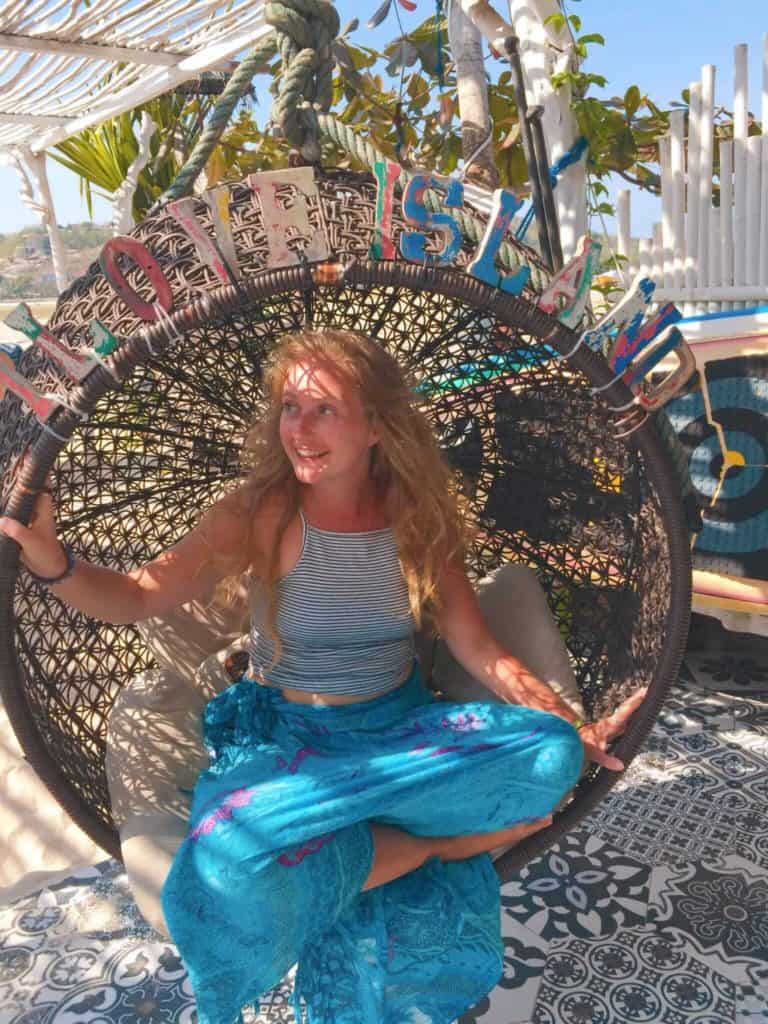 Whether you eat or just order a beer or soft drink, it's easy to while away an afternoon at Seabreeze Ceningan or any of its neighbour bars. They all look out over the bay between Nusa Ceningan and Nusa Lembongan, although it's more scenic at some times of the day than others… When the tide's out, it's a barren seaweed wasteland!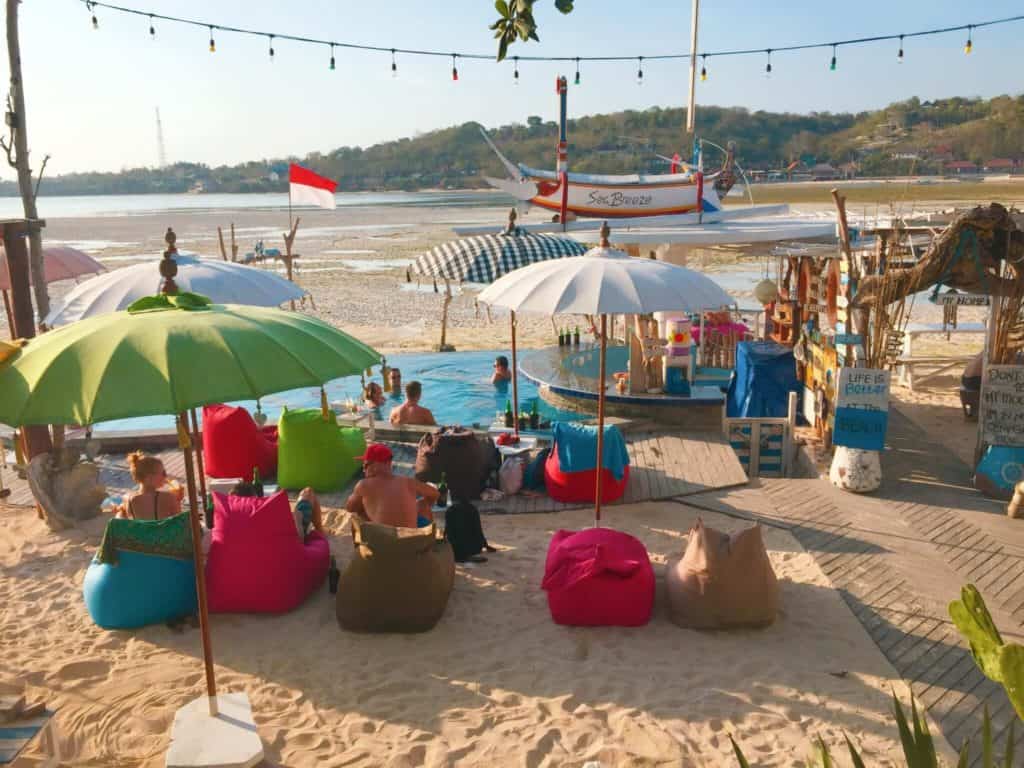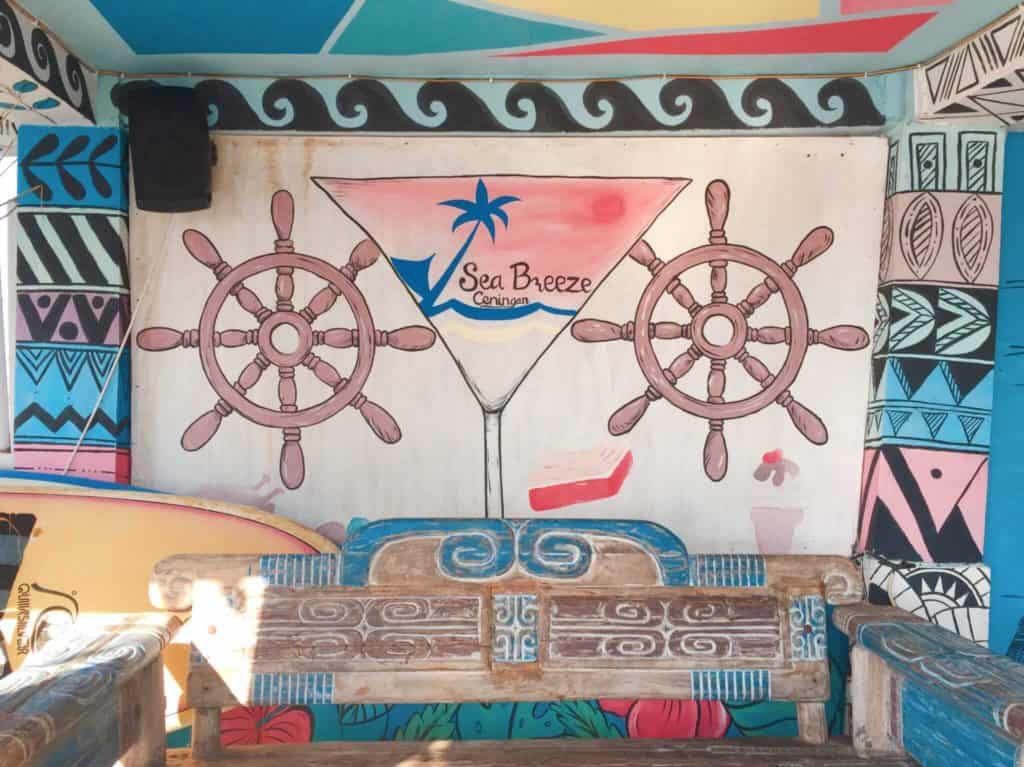 Finally, at 5pm, I texted my scooter driver for pickup. Heading back to Nusa Lembongan, I was happy, chilled and just a little sunburnt.

Turns out walking around Nusa Ceningan wasn't that hard after all. If you stay near the Yellow Bridge on Lembongan (for example at Bong Hostel), you could easily do the whole day on foot. My hostel was the other side of Lembongan so I definitely needed the ride there and back.
More activities in Nusa Ceningan
Although I just spent a day exploring the main attractions, there are a few other things to do in Nusa Ceningan should you have time. These are…

Surfing: both Ceningan Island and Lembongan are becoming known for surfing. Ceningan's best spot is near Mahana Point and since it's not too well-known, it's never crowded.

Fly on the Abyss Zipline: located at Ceningan Island Resort, this is the place for adrenaline junkies to soar about crystal clear waters. The ride costs 50k IDR per person.

Diving: I love diving but didn't have a chance on the Nusas – I was too preoccupied snorkelling with mantas! However, I've heard that Ceningan Divers is the best vendor on the island: they have great reviews mentioning quality equipment and experienced instructors. I bet the underwater world is fantastic if the crystal-clear water is anything to go by!

Nusa Ceningan map
Where to stay on Nusa Ceningan
To stay overnight, consider…
Where to stay on Nusa Lembongan
If you'd rather stay here like I did and visit Ceningan as a day trip, consider…
Read my other Nusa Island guides
Don't miss my other suggestions & foodie recs:
Thanks for reading my Nusa Ceningan travel guide!
Check out my other Bali & Asia posts:
Ubud blogs:
Canggu blogs:
See you next time for more adventures,
Rose
For more content, follow me on Instagram, Facebook, Twitter and YouTube.
Ps. Liked these things to do in Nusa Ceningan Bali? Pin it for later!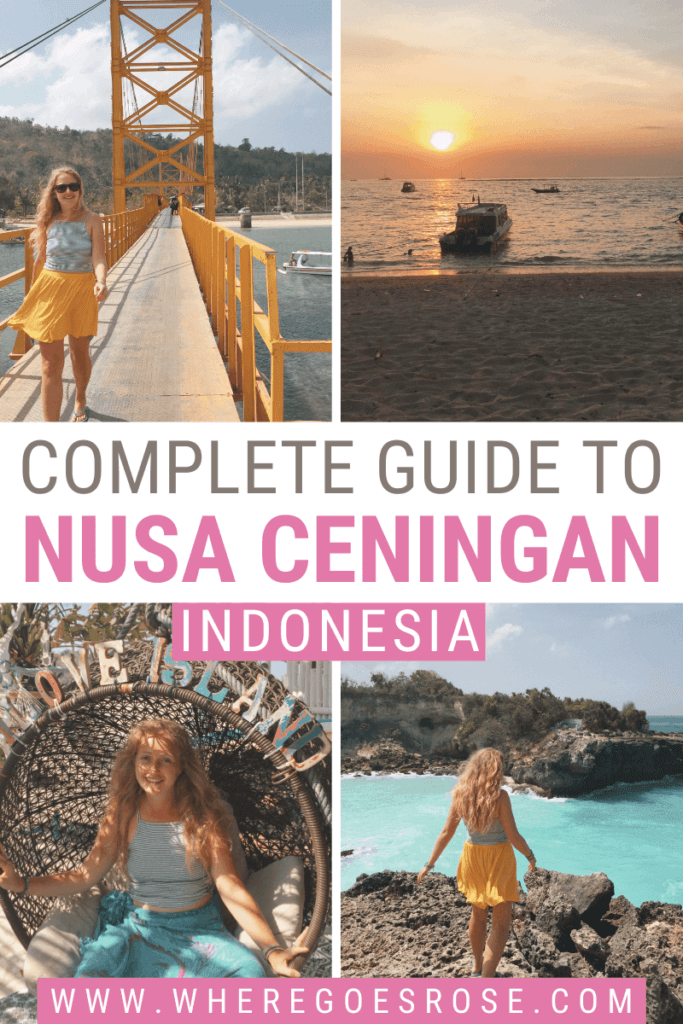 Bali useful links

Flights – I use Skyscanner to find the best-value flights, using the 'search by month' tool to find the cheapest dates. You can also use the 'to anywhere' feature if you're flexible on where you're going.

Stay connected with E-sim data plans that don't require delivery or collection; just scan the QR code.

In my opinion, Lonely Planet offer the best guidebooks. Get the latest Copy of Lonely Planet Bali.

I use Booking.com for accommodation. They have the best range of hotels and self-catering apartments, plus you can filter by review score and price to find the best-rated budget places. For hostels, I use Hostelworld.

To save money on accommodation, I use Trusted Housesitters, a website that connects homeowners going away and travellers who can sit their homes & pets.

For activities, I use GetYourGuide and Viator as they both have a huge range of affordable tours.

Need travel insurance? I use True Traveller (for UK & Europe residents) since it's affordable but covers everything you'd need including various activities, valuables and pre-existing conditions. Unlike some companies, they insure you if you're already travelling / don't yet have your flight home booked. Get a quote.

For travel insurance for other nationalities, I recommend Hey Mundo and for long-term digital nomad travellers, I suggest Safety Wing.

Check out my resources page for more travel discounts and tips!