Klungkung Royal Courts of Justice
As well as a rich dose of history, a trip to Klungkung is a warm-up for a day's temple hopping. The architecture is typically Balinese with terracotta engraved pillars and angry gargoyles manning the property. I learnt that's exactly their purpose.

The Balinese place great importance on their statues, carrying god-like ones many miles on pilgrimages, and deeming outward-facing gargoyles the protectors of their property. The ceilings at Klungkung were something special with insanely detailed artwork telling the tales of the island's history.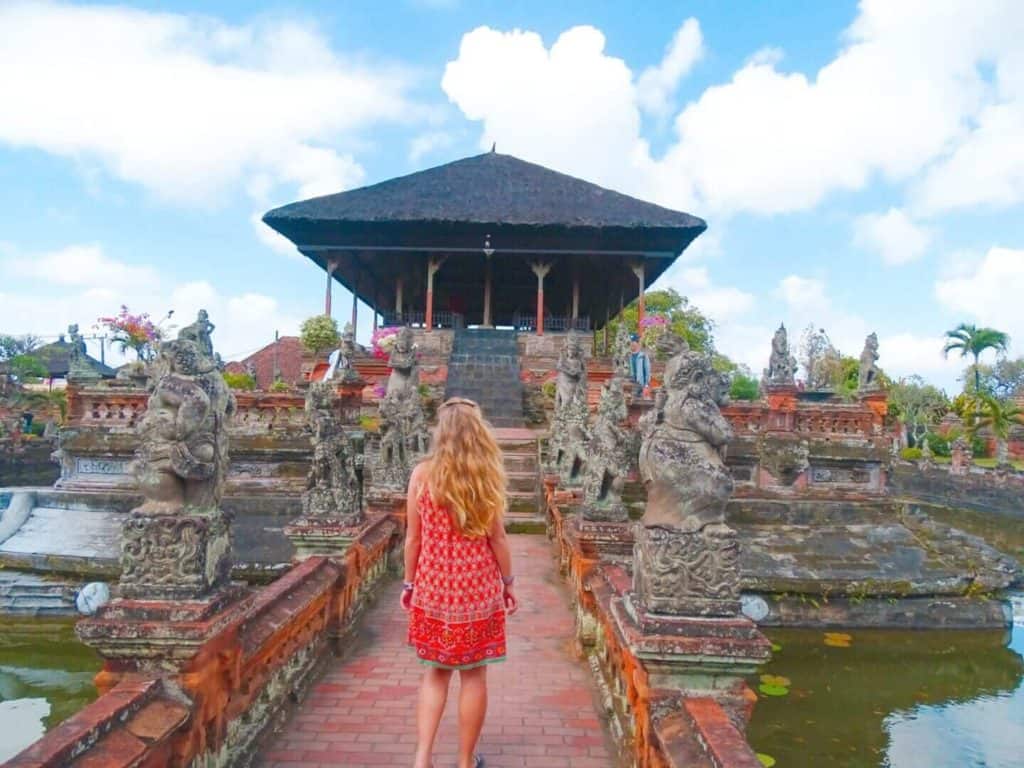 Goa Lawah Temple
Besakih Temple
Kehen Temple
Bukit Jambul Viewpoint
Penglipuran Traditional Village
Subak Juwuk Manis Rice Fields
Amed
Another main reason to visit Amed is the amazing scuba diving, There are a heap of great dive sites for all skill levels including beginner. Bunutan Point is a gentle drift dive alive with colourful corals, sponges and fish. At nearby Tulamben, you'll find the famous U.S.A.T Liberty wreck which can be accessed directly from the shoreline and is shallow enough to see from the surface.

Other than the stunning scenery and epic diving, Amed as an area is tranquil and relaxing: the perfect escape from the hustle and bustle of the more popular tourist areas in Bali.

Entry submitted by Sophie from Australian Coffee Lovers.
Sideman
Candidasa
Taman Festival
Today, you can visit the old park and wander through dilapidated buildings covered in street art. Vines wrap around old pillars and creep up building walls.

Because the park is thought to be haunted, you will rarely find a crowd. The broken glass, art pieces up the walls, and lush foliage in the park have created a strange yet intriguing vibe you cannot find elsewhere in Bali. Taman Festival Bali is found in northern Sanur, set back from the beach.

Entry submitted by Chantae from Chantae Was Here.
Munduk
Taman Beji Griya Waterfall
Walking down to the waterfall area is a beautiful sight. One option is to let a Balinese local guide you through a purification ceremony. They can then explain each part of the ceremony and lead you down past the waterfall to the hidden canyon. The light filtering from above makes this a magic place to clear one's mind.

There are a few steps down to the river so this waterfall is not suitable for wheelchairs and younger children who may find the steps too steep and slippery. To visit the waterfall, you will need a driver or a motorbike. It's best visited from Ubud which is a 25-minute drive away.
Munduk Waterfall