This post may contain affiliate links to things like tours, hotels, Amazon associates and products. These help me earn a small commission at no additional charge to you.
It's good news for veggies. Unlike more meaty cuisines like Vietnamese, you're actually going to have options in Indonesia. While Balinese people are rarely vegetarian and do eat a lot of meat, as a tourist you'll find countless veggie cafes and restaurants in Canggu and Ubud.

Many are even run by locals so you don't need to stick to expensive Westernised options.
Best Balinese foods to try
During the two months I spent travelling solo in in Bali, I ended up eating a lot of traditional Balinese dishes. Many were vegetarian Balinese dishes but not all of them. So, now that I'm full of knowledge and satay, here's what to eat in Bali…
1. Gado Gado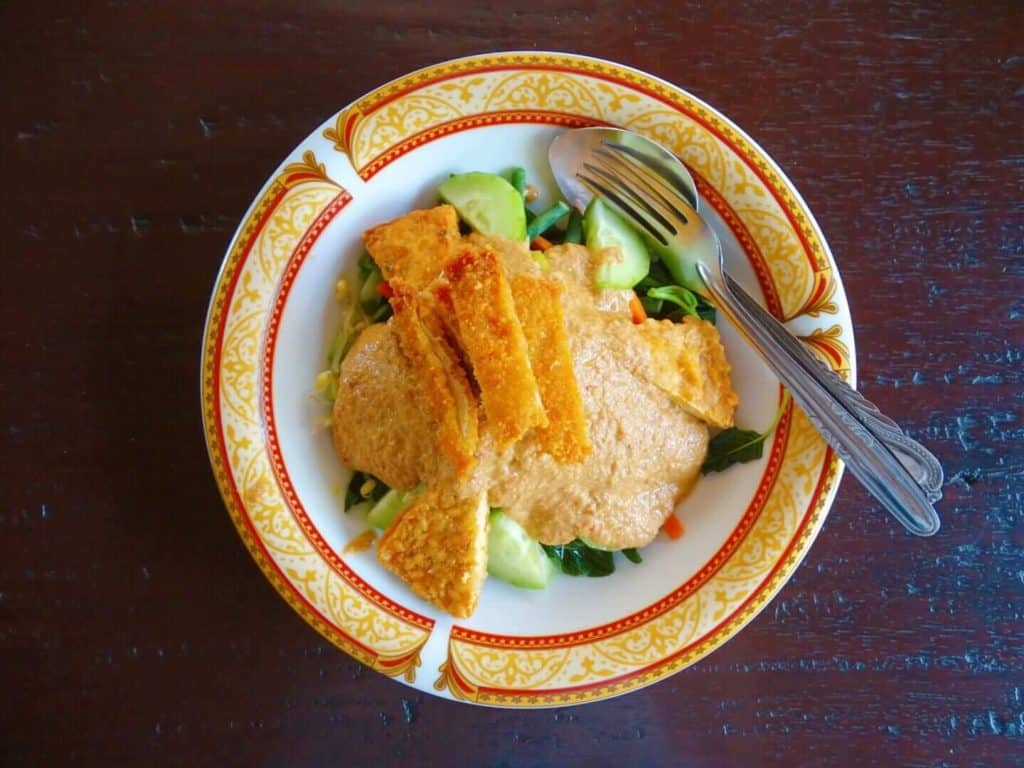 Gado gado is probably the best Balinese food for veggies! The dish is essentially a giant plate of carrot, cucumber, spinach and bean sprouts doused in rich, nutty satay sauce. It's often served with a hard-boiled egg and tofu or tempeh. I've rarely ever seen it with meat.

As an Indonesian staple, you'll find gado gado all over, usually for less than 30,000 IDR ($2). This portion pictured only set me back 50p.
2. Lumpia rolls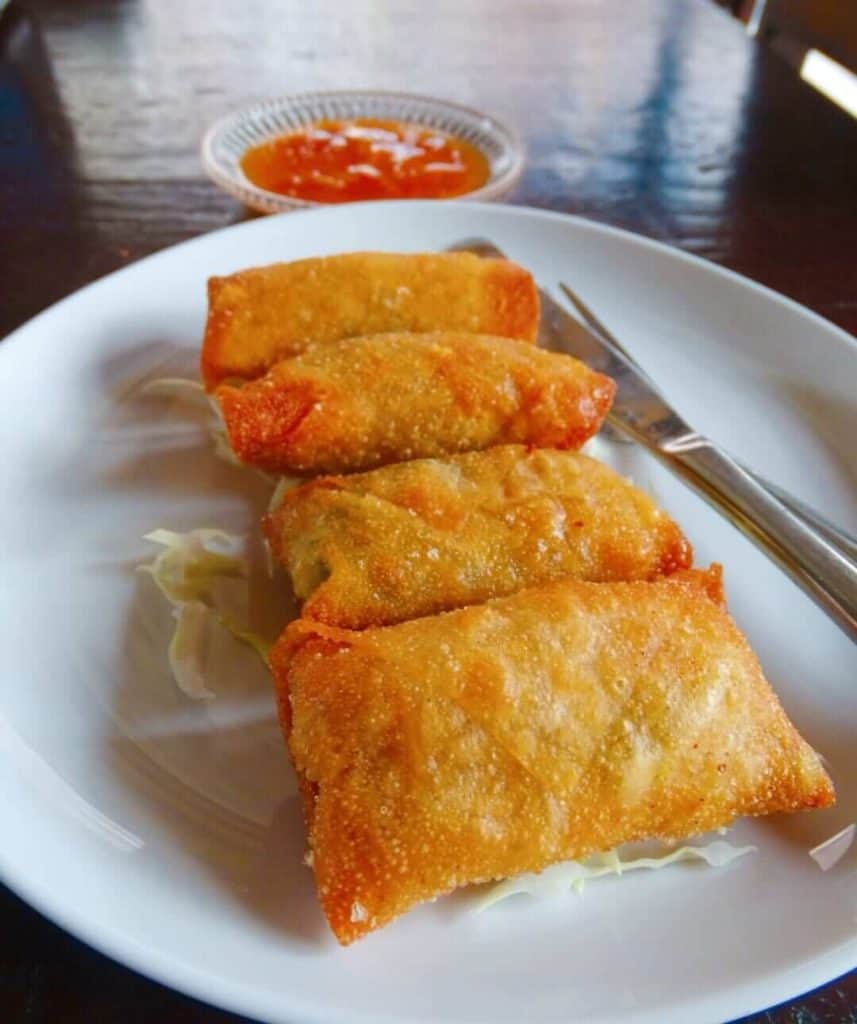 Probably not the healthiest Balinese food to try, lumpia rolls are very tasty and moreish. They're best described as spring rolls, crispy on the outside with succulent meat or vegetables inside. There's not much else to say about these – they make a good starter or sharer with a main dish.
3. Mie goreng (fried noodles)
'Goreng' translates as fried and 'mie' means noodles. Any traveller to Southeast Asia will have tucked into a hearty portion of fried noodles before; they're a staple throughout many countries. In Bali, mie goreng is usually made with chicken, seafood or veg, topped with fried crackers that resemble Chinese prawn crackers without the fishy flavour.

Mie goreng is a modest Balinese dish served in many an authentic Ubud warung.
4. Sate (satay)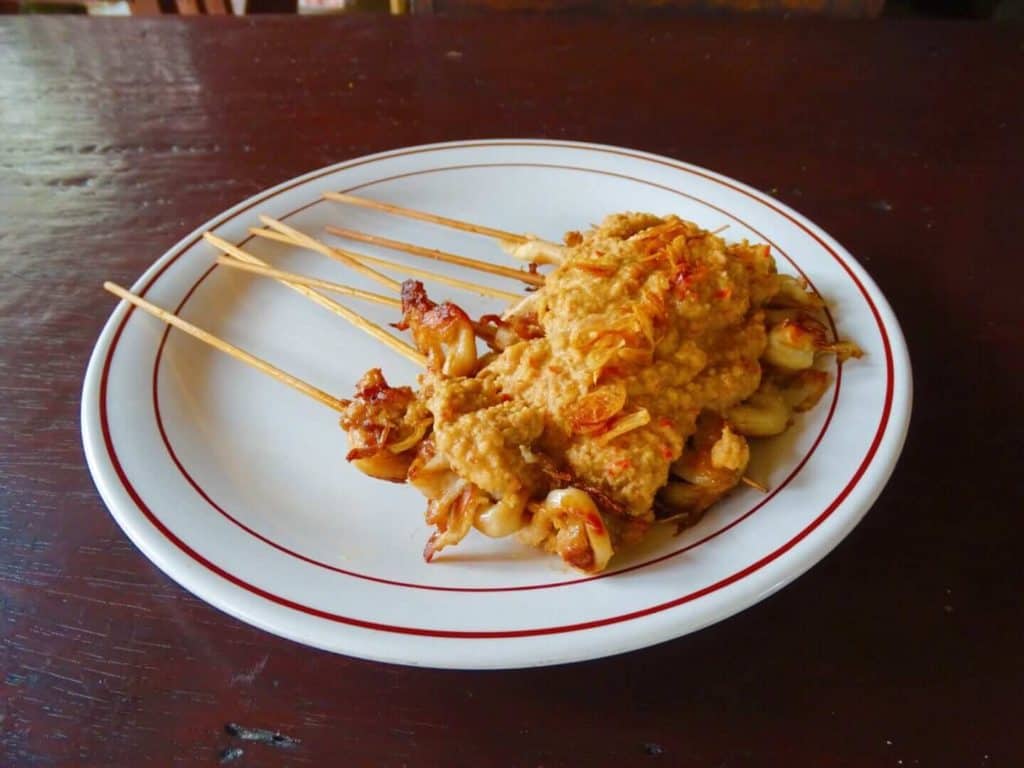 One of the best Balinese foods to try has got to be satay, right? Who doesn't love the moreish nutty flavour especially when served warm?

I can't get enough of chicken satay skewers (sate ayam) whether they're in a restaurant or grilled on the side of the road. Saying that, the garlic mushroom satay skewers at Siboghana Warung in Ubud are to die for.

I made them from scratch in a cooking class by liquidising peanuts, garlic, ginger, chilli and coconut sugar, then drizzling it over the mushrooms. Next level veggie bliss.
5. Sate lilit
This is a delicious Balinese street food also found in restaurants and even touristic cafes. Fish or pork meat is minced and mixed with chili, galangal and lime, then and served on lemongrass sticks. Sate lilit can be eaten alone as a quick snack or as part of…
6. Nasi campur (a mix of Indonesian goodies)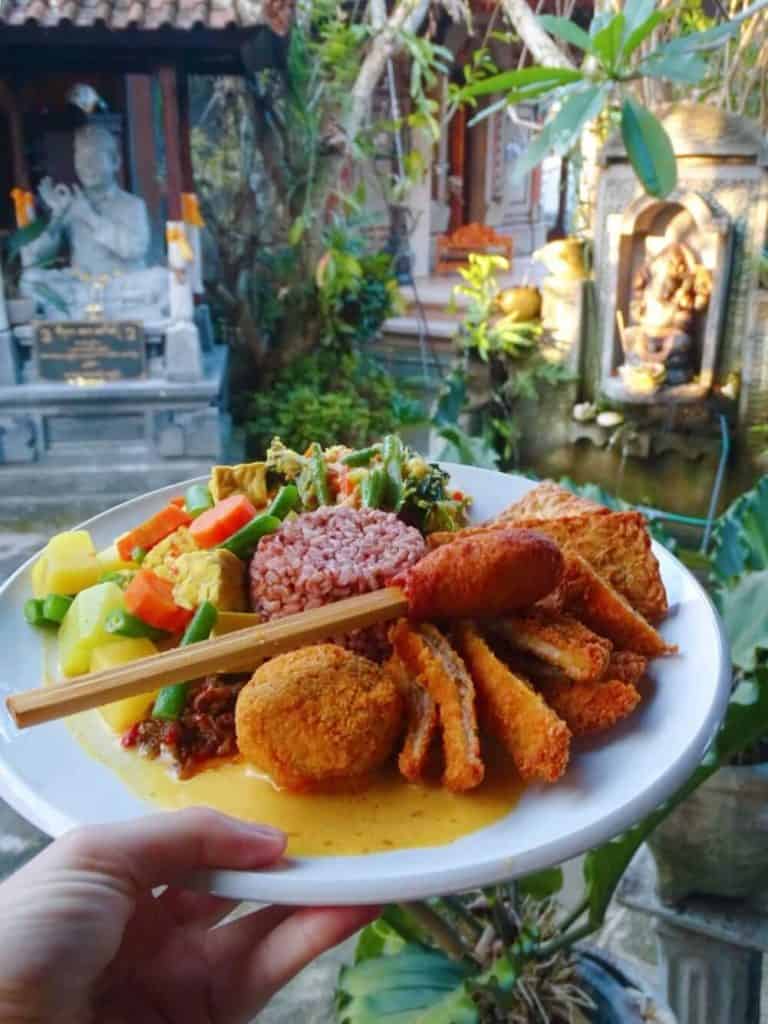 Nasi campur has got to be the overall best Balinese food for me, simply because you get so much of it. An average portion of nasi campur may include rice, sate lilit, tempeh, peanuts, veggies and breadcrumb chicken.

Many local warungs serve nasi campur in a counter; you simply point at whatever you like the look of and get it dished up. This is one of my favourite ways to eat in Indonesia!
7. Tempeh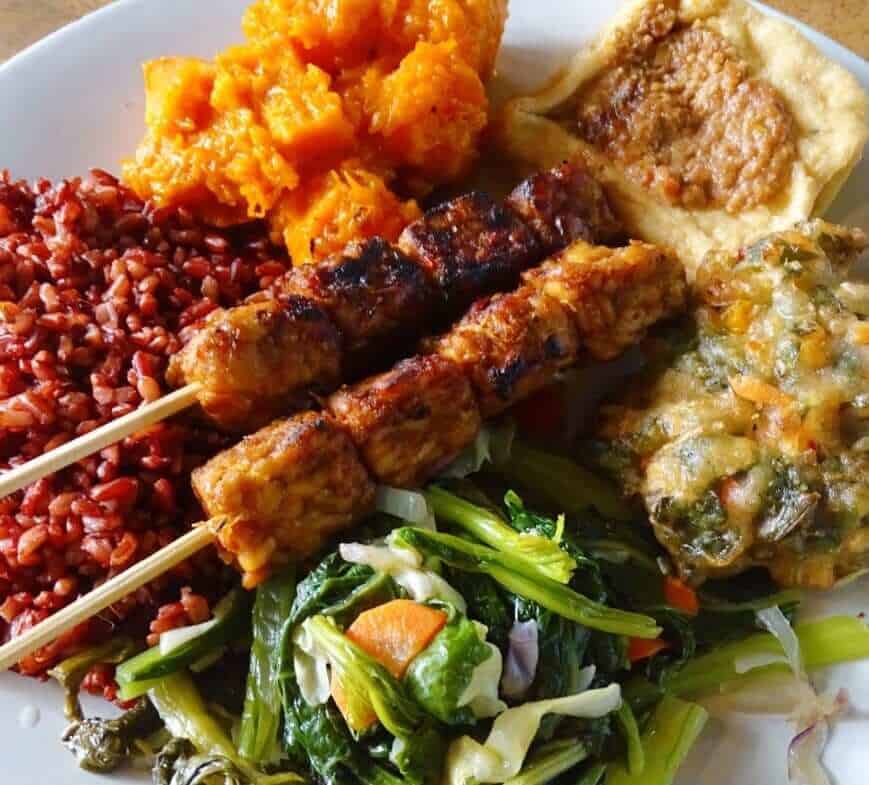 Next in my Bali food guide, tempeh isn't a dish in its own right but an Indonesian staple nonetheless.

Tempeh is made of fermented soybeans which may not sound super delicious but I can assure you it is. It's sometimes served on skewers or as cubes in curries, sauces or just with some sambal spice. I can't get enough.
8. Nasi goreng (fried rice)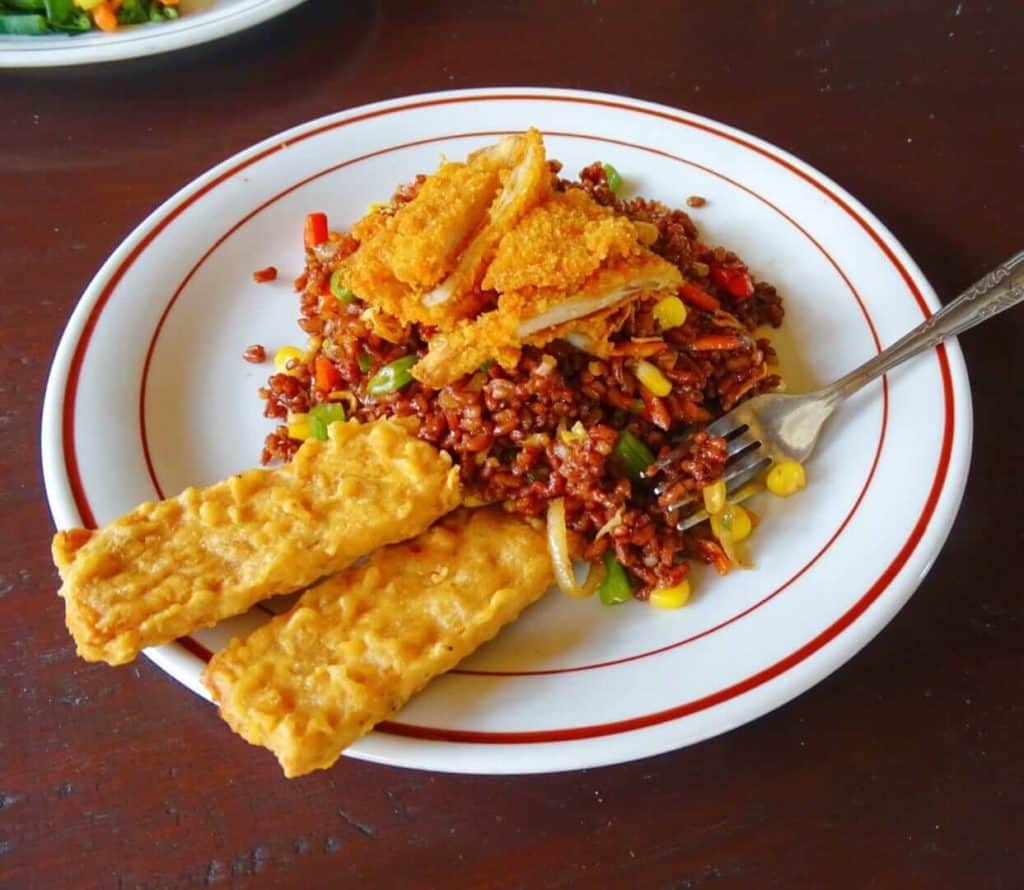 Nasi goreng (or fried rice to you and me) is a simple Indonesian staple that's usually cheap and filling. You should learn to love it because there will undoubtedly be a day when you're out and about in Bali and it's the only thing for lunch.

It's most commonly served with chicken or as a veggie version with corn, pepper and onions. I like nasi goreng because it's usually made with red rice which I prefer to white rice – plus, it's healthier.
9. Babi guling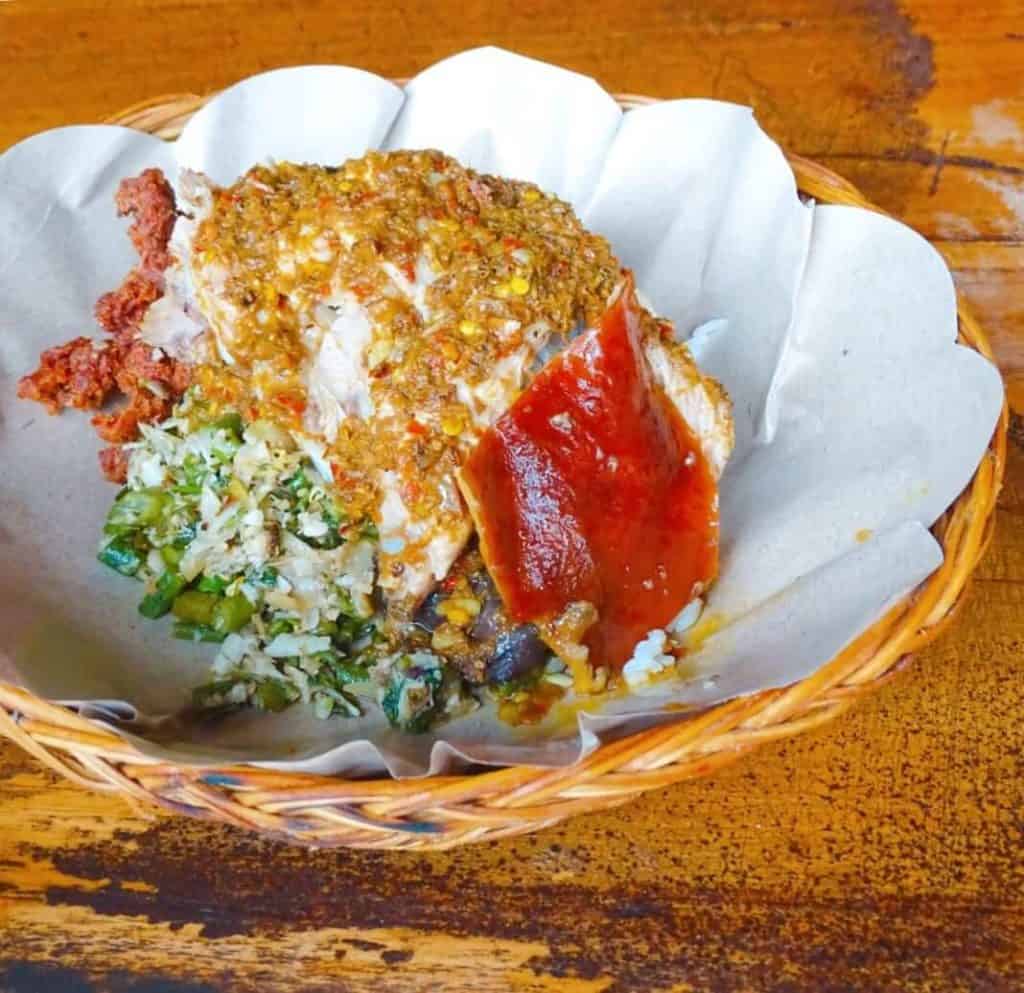 Destroying everything I just said about veggie food, enter babi guling!

No Bali food guide would be complete without mentioning this succulent roast pork dish. It's commonly found stuffed with chilli, lemongrass, turmeric and garlic then baked in coconut milk. It sprung to international fame when Anthony Bourdain visited Ubud and deemed it the best roast pork he'd ever had. I can't disagree!
10. Sayur urap (coconut veggies)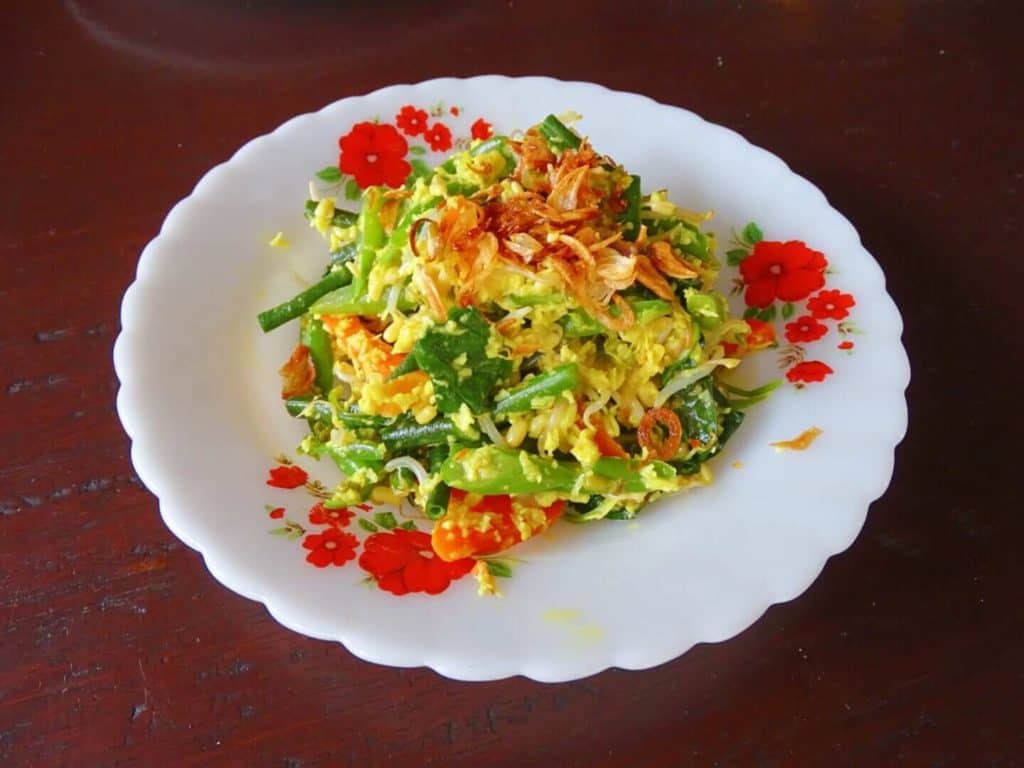 This dish is really simple but it's tasty and great for veggies. Sayur urap means cooked veggies with coconut. It's really flavoursome and makes for a healthy main dish when served with rice.
11. Kare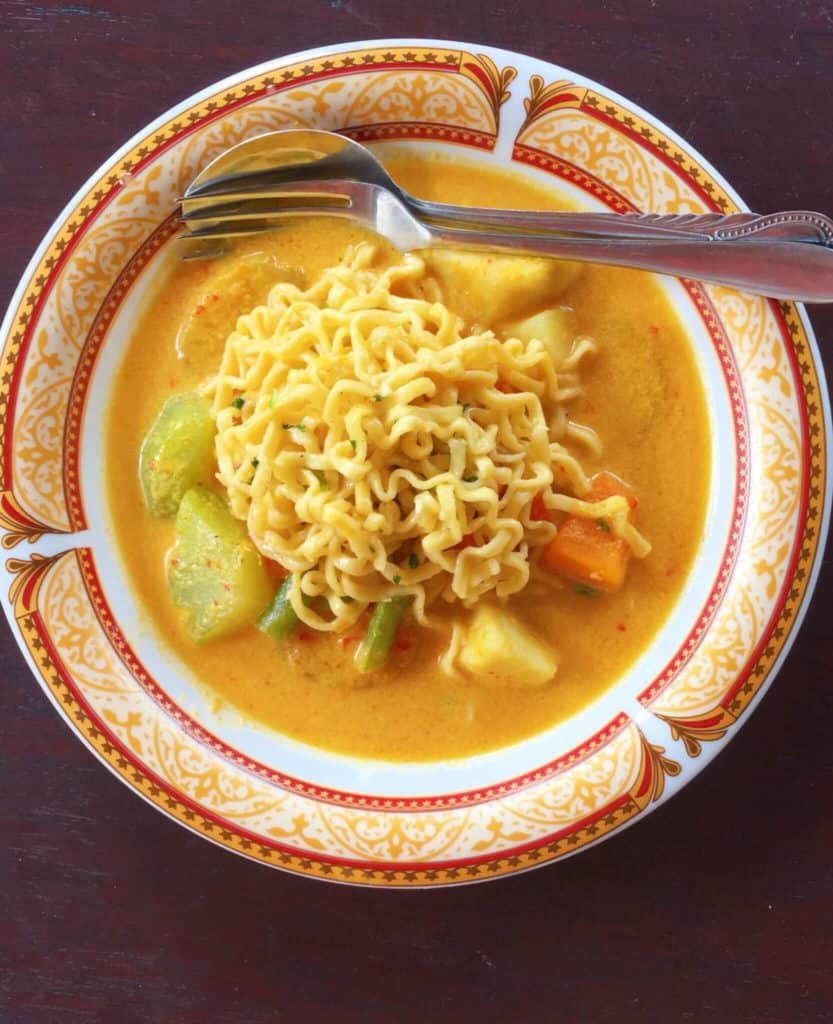 This Thai-style curry is served with meat or vegetables. I've seen it served as kare ayam (with chicken) but I've only tried it at Ubud's Siboghana Warung as a veggie version with noodles and sweet potato. This was super tasty and only 20,000 IDR (less than $1.50).
12. Pisang goreng
As you know by now, goreng means fried. Pisang goreng is a Balinese dessert made from chopped, fried bananas. Sometimes they're topped with honey, palm sugar or shaved coconut but I've even had them with chocolate sprinkles.

This is the perfect dessert after a Balinese dinner and not too unhealthy… Banana is one of your 5-a-day, right?
Looking for the best places to try these Balinese foods in Ubud?
Check out my guide to the 9 best local warungs in Ubud. I tried and tested all these places myself so I can promise they're all tasty and affordable.
---
YUM. Are you excited to try all the best Balinese foods? I'm hungry just from writing about them but sadly I'm about to leave Indonesia 🙁
Thanks for reading my Bali food guide
Check out my other Bali & Asia posts:
Ubud blogs:
Canggu blogs:
Nusa Islands:
See you next time for more adventures,
Rose
For more content, follow me on Instagram, Facebook, Twitter and YouTube.
Ps. Liked these Balinese dishes? Pin it for later!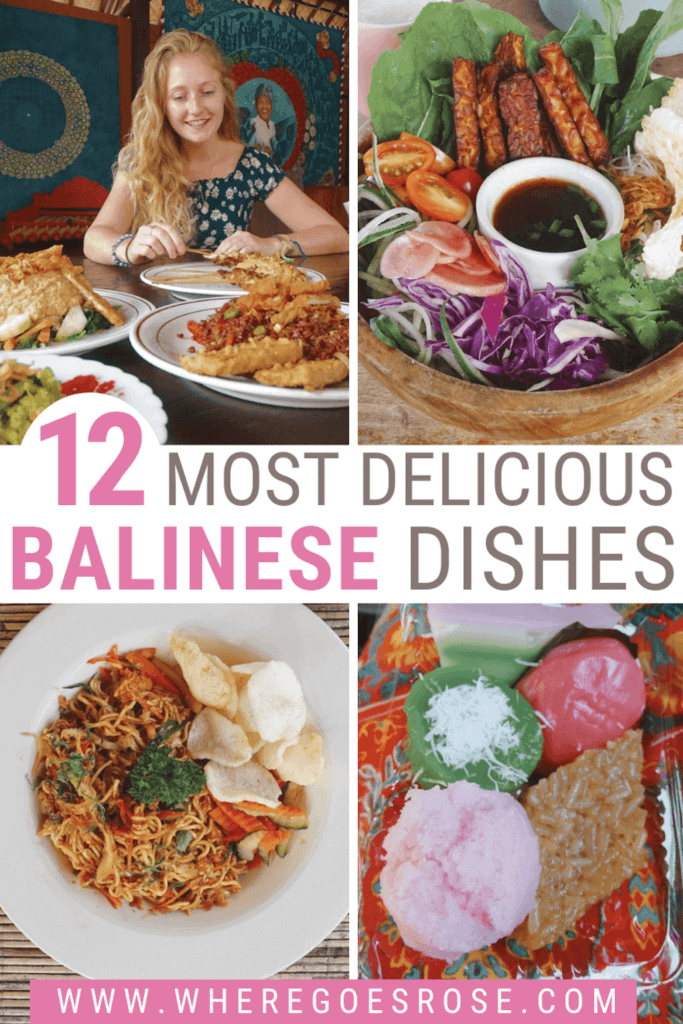 Bali useful links

Flights – I use Skyscanner to find the best-value flights, using the 'search by month' tool to find the cheapest dates. You can also use the 'to anywhere' feature if you're flexible on where you're going.

Stay connected with E-sim data plans that don't require delivery or collection; just scan the QR code.

In my opinion, Lonely Planet offer the best guidebooks. Get the latest Copy of Lonely Planet Bali.

I use Booking.com for accommodation. They have the best range of hotels and self-catering apartments, plus you can filter by review score and price to find the best-rated budget places. For hostels, I use Hostelworld.

To save money on accommodation, I use Trusted Housesitters, a website that connects homeowners going away and travellers who can sit their homes & pets.

For activities, I use GetYourGuide and Viator as they both have a huge range of affordable tours.

Need travel insurance? I use True Traveller (for UK & Europe residents) since it's affordable but covers everything you'd need including various activities, valuables and pre-existing conditions. Unlike some companies, they insure you if you're already travelling / don't yet have your flight home booked. Get a quote.

For travel insurance for other nationalities, I recommend Hey Mundo and for long-term digital nomad travellers, I suggest Safety Wing.

Check out my resources page for more travel discounts and tips!