This post may contain affiliate links to things like tours, hotels, Amazon associates and products. These help me earn a small commission at no additional charge to you.
After 6 weeks living and working remotely on this breathtaking Portuguese island, I'm here to tell you about the many, many things to do in Madeira from hikes and adventurous activities to striking natural attractions, cultural excursions, culinary pursuits and more.

I've been to many islands during my last 10 years of (almost) full-time travel and I don't need to think twice about whether or not Madeira is one of the most beautiful. It can easily compete with Thai and Mexican islands with its sweeping coastline and craggy mountains.

Despite its beauty, I NEVER want to hear the words 'Hawaii of Europe' uttered ever again (or in fact, hear anywhere subbed the 'somewhere' of somewhere else: it's not imaginative or necessary!).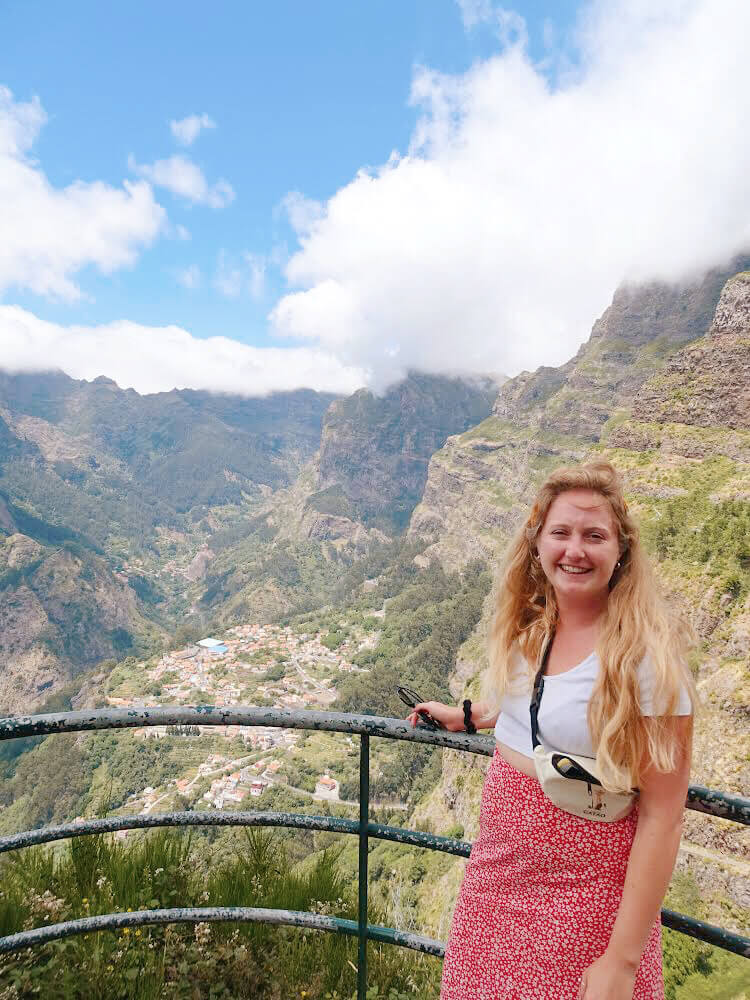 I fell in love with Portugal during 2021 and 2022, especially my 3-month home base of Porto and of course the vibrant capital of Lisbon. My time in Madeira was the cherry on the cake!
MADEIRA ESSENTIALS

Accommodation: Booking.com / Hostelworld

Getting there: flight (Skyscanner)

Madeira activities: GetYourGuide / Viator

Guidebook: Pocket Lonely Planet Madeira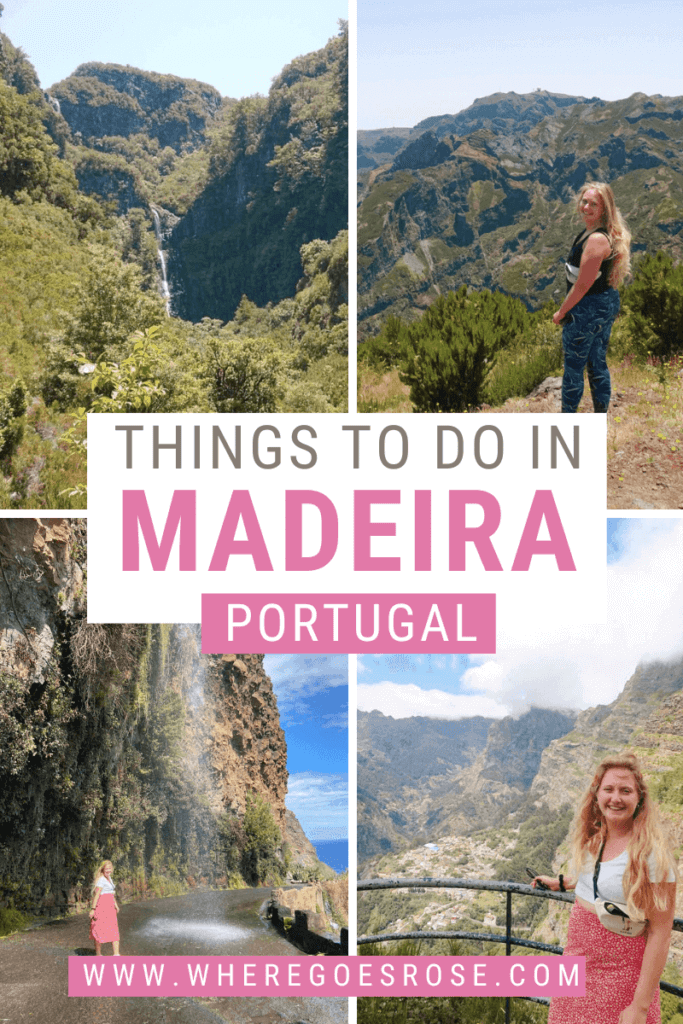 Getting around Madeira
However beautiful, Madeira is not the cheapest place plus it's notoriously hard to get around. Our hire car cost us €1,000 a month and we were hit with a further €500 of charges for some minuscule scratches! Luckily, there were 5 of us to split the costs.

A complete list of options would be:
Car hire – this is your best bet. The things to do in Madeira are spread across the island and hard to reach without a car. I recommend Rentalcars.com.
Public transport – this is limited but you'll be able to travel from Funchal to major tourist attractions around Madeira. If you're not based in Funchal, consider another option.
Day tours – several companies offer tours around the island by van, car or 4×4. Most will only pick up from Funchal but it's worth checking. I use Viator and GetYourGuide for tours and excursions.
Hop-on-hop-off bus tour – to see the key sights in Funchal and its surroundings, get a ticket for €20.
How to organise your Madeira sightseeing?
Split the island into zones, visiting the east one day and the west the next. Of course you won't see everything, but you could see the key highlights during two days like this.

Whether you take these tours or simply follow the itineraries, I would suggest:
Active things to do in Madeira, Portugal
For hikers, there's no end to the activities in Madeira. Among the many hikes in Madeira include numerous levada walks, defined as those following manmade waterways that provide fresh water to the islanders.

Here are some of the best hikes and levada walks for those looking for fun things to do in Madeira…
1. Pico do Arieiro to Pico Ruivo (PR1 hike)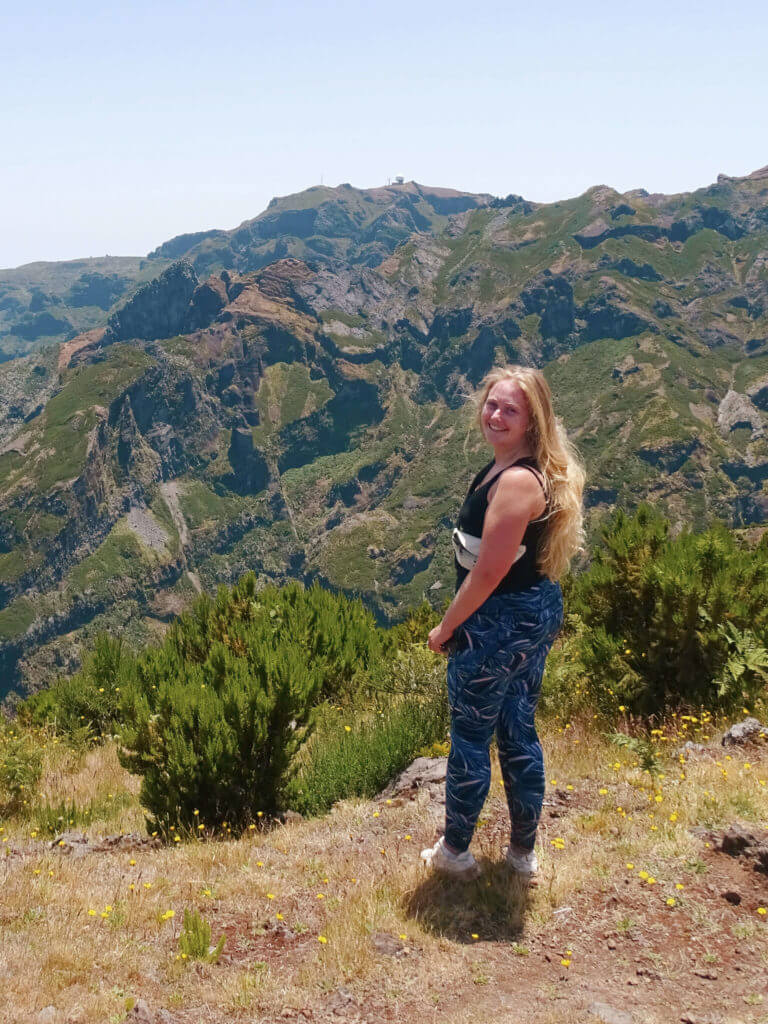 One of my favourite – and most exhausting – days in Madeira was spent traversing the PR1 trail between Pico Arieiro and Pico Ruivo, two lofty peaks (the latter being the tallest on the island). This is easily the island's most famous hike as well as the most difficult.

It's an exciting route, climbing ladders, traversing through tunnels and along paths cut into the cliff face.

I found it especially exhausting because I did it on one of the hottest days of the year, plus I went as part of a small group tour which meant I couldn't stop for a breather on my own schedule.

Distance: 11km.

Duration: 3-4 hours.

Incline: 1,000m.

Difficulty level: I would describe it as quite difficult due to the steep incline with lots of stairs. I'm not super fit but I do hike fairly often and it's one of the harder trails I've taken.

Tips for the Pico Arieiro and Pico Ruivo hike:
Pick a cooler day for the hike if your schedule allows
Pack a cap, sunscreen and enough water: there's nowhere to buy drinks on the hike apart from Casa de Abrigo Pico Ruivo which is near the end
Start at Pico do Arieiro near the famous sunrise spot.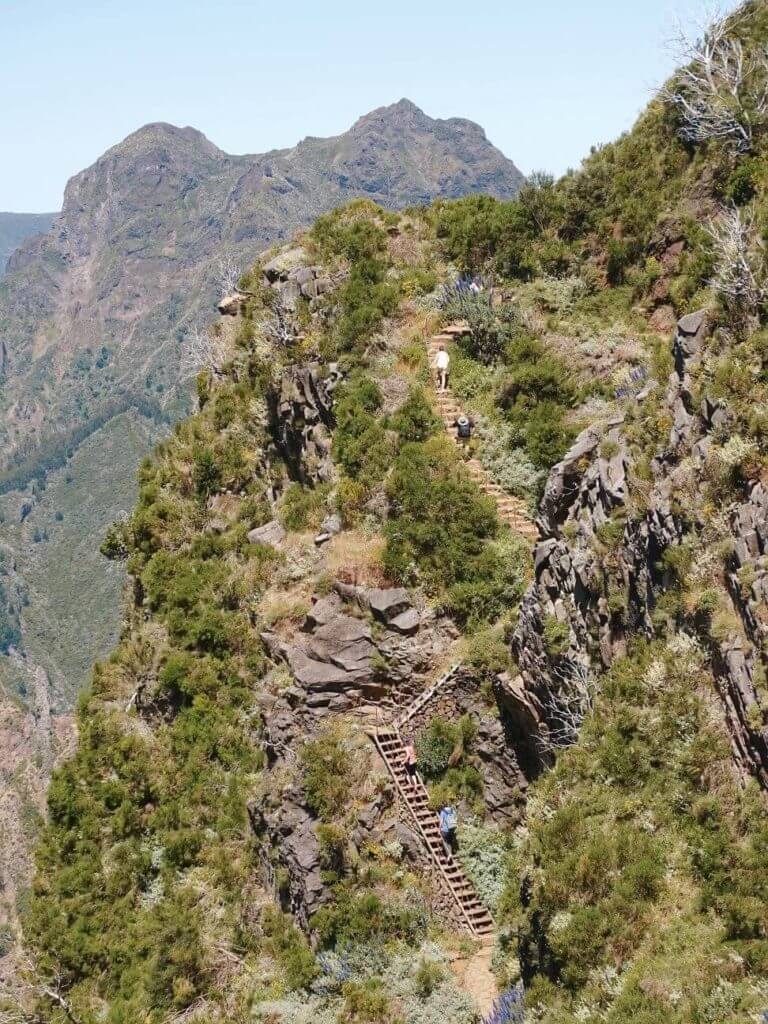 How to arrive at the hike:
By car: the Pico do Arieiro starting point is a 30-minute drive from Funchal. The only problem is that the hike is one way, finishing at Pico Ruivo. Hiking the entire trail again to get the car would have killed me off.
By taxi: a taxi from Funchal will cost around €40 each way.
By group tour: this is what I did and it was extremely useful since it was cheaper than a return taxi. It was also great to learn from a guide and meet fellow hikers. The only downside was not being able to hike at my own pace. Here's the GetYourGuide hike I took.
By hitchhiking: If you get dropped at the starting point by taxi, you could consider hitchhiking home. Any fellow hikers leaving the Pico Ruivo parking area will have to take the road to Santana and from here you could even get a bus back to Funchal.
Sadly there's no public transport connecting the hike itself.
Watching sunrise – a great option is to start the hike at sunrise, watching it from the Pico do Arieiro viewpoint platform before beginning the hike. Several tour companies offer this. To ditch the crowds, you could start hiking along the trail (guided by first light) and find a more secluded sunrise spot.
2. Take the PR1.2 hike instead
Those looking for active things to do in Madeira may prefer this shorter hike up Pico Ruivo. It's a lot easier than the peak-to-peak hike but boasts the same striking scenery. Another benefit compared to the intensive one-way PR1 is that you can arrive and depart Pico Ruivo parking lot without worrying about how to retrieve your car after.

Starting from Achada do Teixeira, the Vereda do Ruivo (PR1.2 hike) is relatively flat until you reach the Abrigo house where you can stop for refreshments. Here, it takes a steep incline up 1,861m Pico Ruivo. The views from the top are well worth it!

If you're feeling energetic, you can continue on the PR 1.1 trail.
3. Verada da Ponta de São Lourenço (PR8 hike)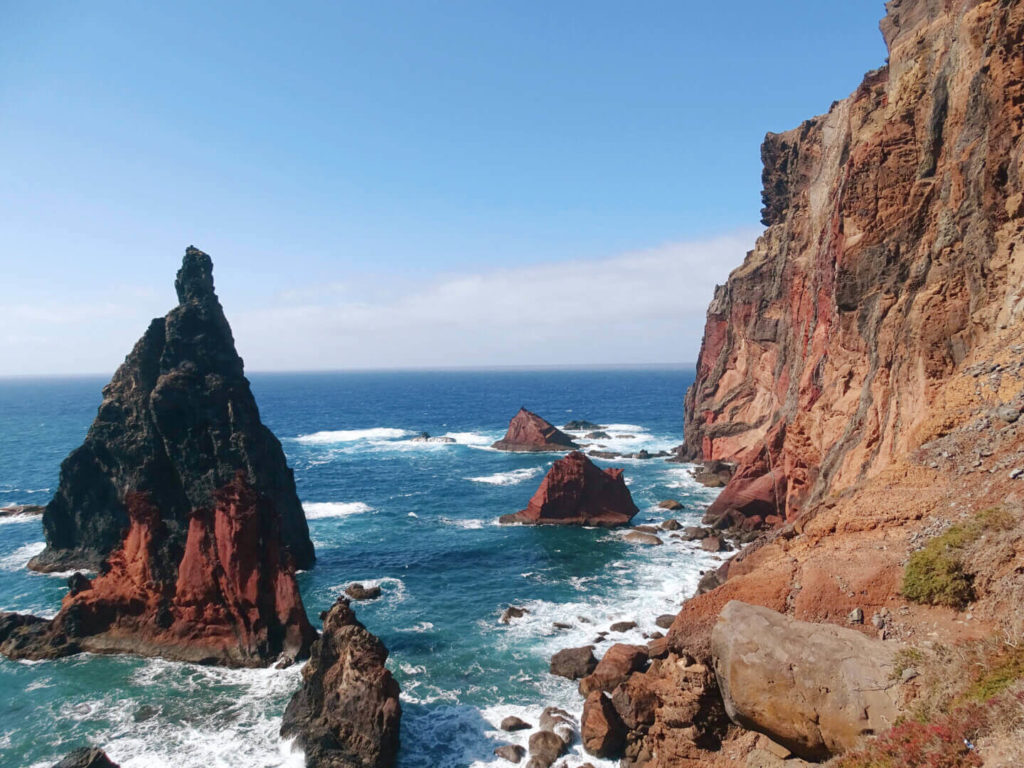 Despite Pico Arieiro and Pico Ruivo garnering attention as the most beautiful natural attractions of Madeira, one of my favourite days on the island was spent with my housemates hiking the PR8 trail. It may not have world-class striking peaks but the sublime coastal scenery is second to none.

This narrow peninsular off the east coast of Madeira is known as Sao Lourenço. Here you can clearly see the volcanic origins of Madeira with craggy sea structures made from limestone and blackened basalt rocks.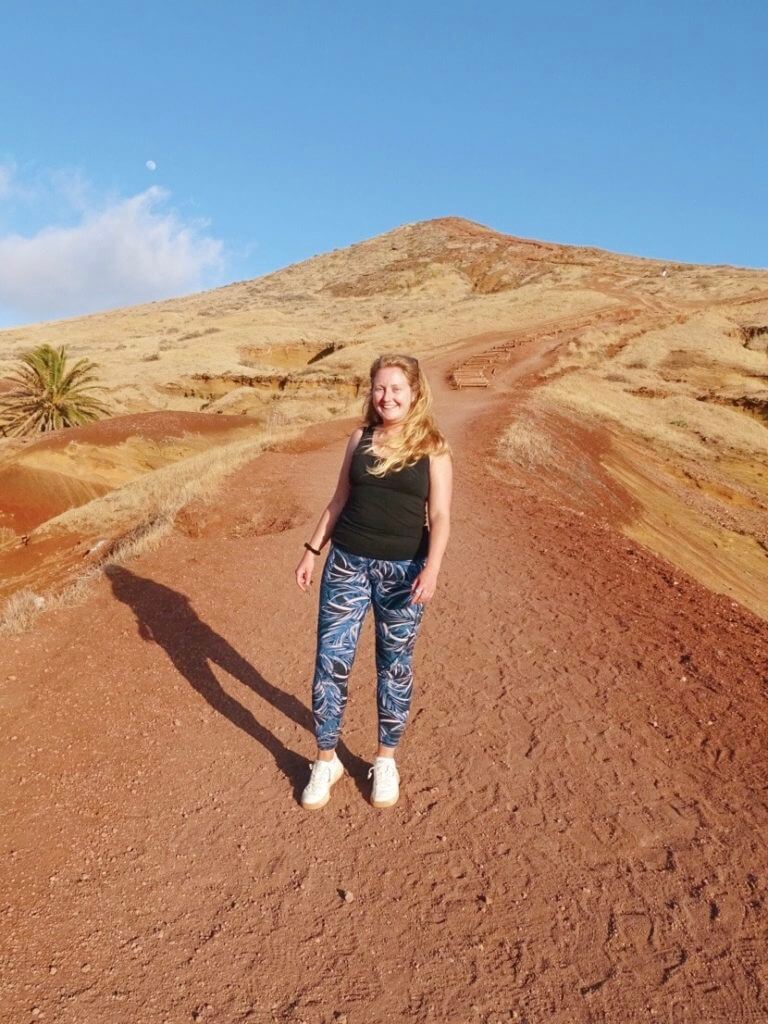 The finish point is São Lourenço Point, shortly after the Sardine House cafe where you can stop for refreshments. It was closed when we visited after 6pm but we borrowed their outdoor tables for our packed dinner of bread and canned fish (are we Portuguese yet?).

The hike is 7km there and back. It's not too difficult but prepare for some uphill sections towards the end of the peninsular. Don't wear white trainers if possible because they'll be stained forever by red dust!

Starting the hike: there's plenty of on-road parking or you can catch Bus SAM 113 from Funchal's La Vie mall to the starting point of the hike (Baía D'agra, the last stop) for around €6 return. Check the timetable.
4. Enjoy the gentle 25 Fontes levada walk (PR6)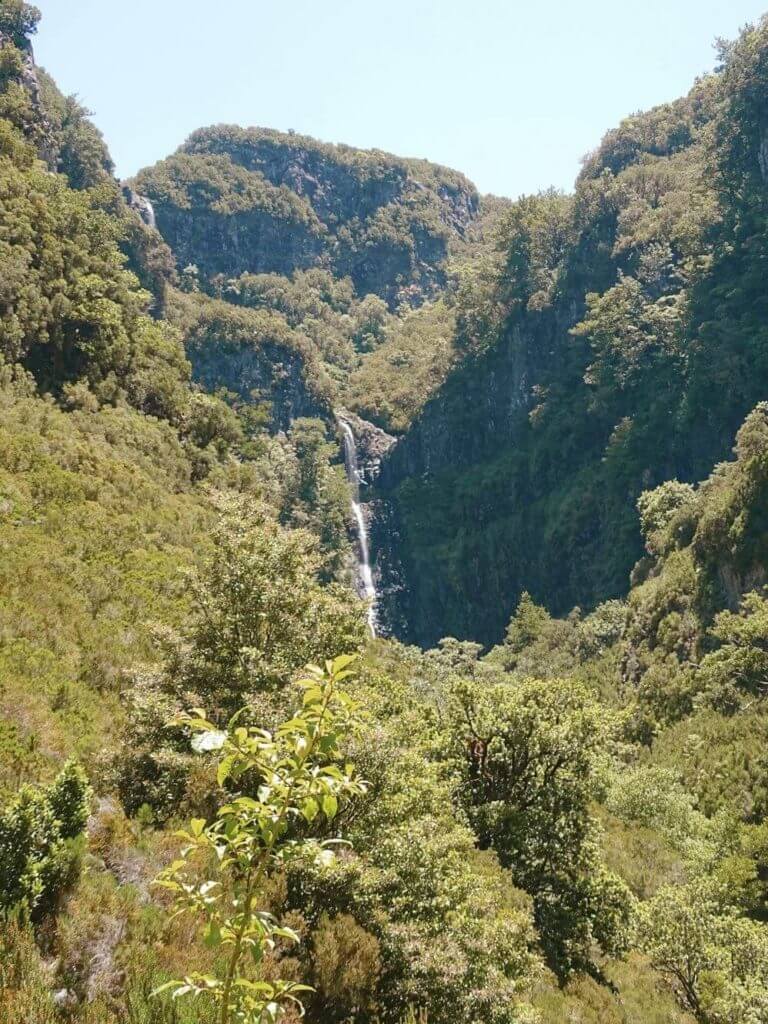 The island's best-known levada walk is another of the top Madeira attractions for nature lovers. Typical of a levada walk, the path follows a manmade waterway as it meanders through striking natural surrounds.

If the pico-to-pico hike sounds too challenging, the 25 Fontes levada walk (PR6) is an ideal alternative. The 4.5km route is approximately a 3-hour return hike. The path is mainly flat and shaded by the canopy of the 25 million-year-old laurel forest. It ends at Lagoa das 25 Fontes waterfall where you can take a dip… If you can handle the icy waters and the crowds that congregate on weekends!

There's also the PR6.1 hike that starts at the same parking area (regional road E.R. 110) and reaches a different (but just as striking) waterfall.
Visiting without a car? Take an organised walk with Nature Meetings who offer a variety of hikes and excursions around Madeira
5. Levada dos Balcões (PR11)
One of the most scenic levada walks is the PR11 route. Verada dos Balcões translates as balcony pathway without exaggeration: the route offers unrivalled views over Ribeira da Metade valley, ending at a sublime viewing platform.

For this hike, be sure to check the weather for cloud cover: on a bad day, you might see nothing at all! This is a quick hike of 1.5km, taking around 1.5 hours for the return trip. Start from Ribeiro Frio.
6. Levada do Caldeirão Verde (PR9)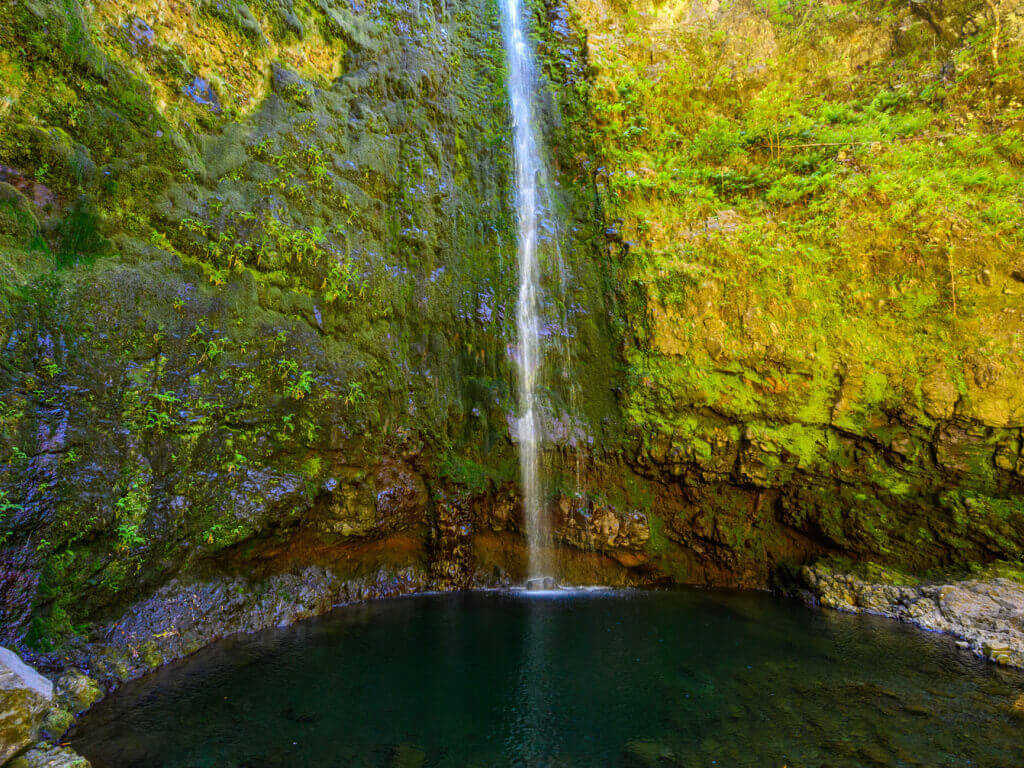 The PR9 route meanders through Queimadas Forest Park, finishing at 100m-tall Caldeirão Verde waterfall, cascading into Caldeirão Verde lake known for its brilliant blue and green waters. The trail is also known for its rare Laurisilva trees, protected by UNESCO.

It's one of the longer levada walks at 8.7km, taking approximately 5.5 hours including the return journey. The park's entrance is marked by a traditional thatched cottage where you can find facilities and car parking.
7. More levada walks
It would be hard to complete all the levada walks in Madeira unless you're staying a really long time! Others like Verada do Fanal (PR13) provide new landscapes and challenges. No two walks are the same so why not do as many as possible?
Natural attractions in Madeira
These beautiful things to do in Madeira are far away from the towns, letting you soak up more of the breathtaking scenery. Work some of the following into your Maderia sightseeing plans…
8. Porto Moniz Natural Swimming Pools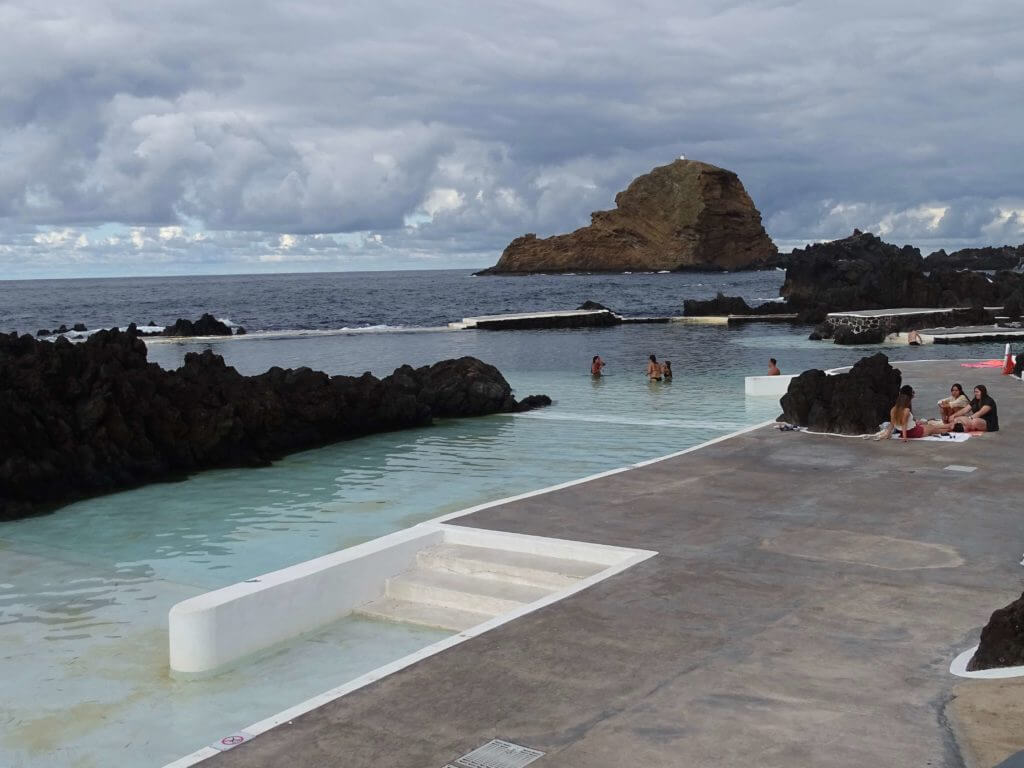 Google Madeira and it won't take long for photos of Porto Moniz to start cropping up. Located at the most north-westerly point of the island, these natural ocean pools are one of most popular places to go in Madeira, buffered from the ocean by a wall of black volcanic rocks.
See it on my film – my Instagram video
Offering beautiful ocean views, they're a safe, shallow place to swim even for children and non-confident swimmers. If you drive there along with the north coast, you'll have your fair share of spectacular scenery before you arrive. The complex has decent facilities including changing areas and an (overpriced) cafe.

The pools are open from 9am-7pm for the small entry price of €3pp.
If you don't want to head that far afield, visit Doca do Cavacas pools in Funchal instead. More about this place in my Funchal, Madeira attractions section coming up…
9. Take a northern coast road trip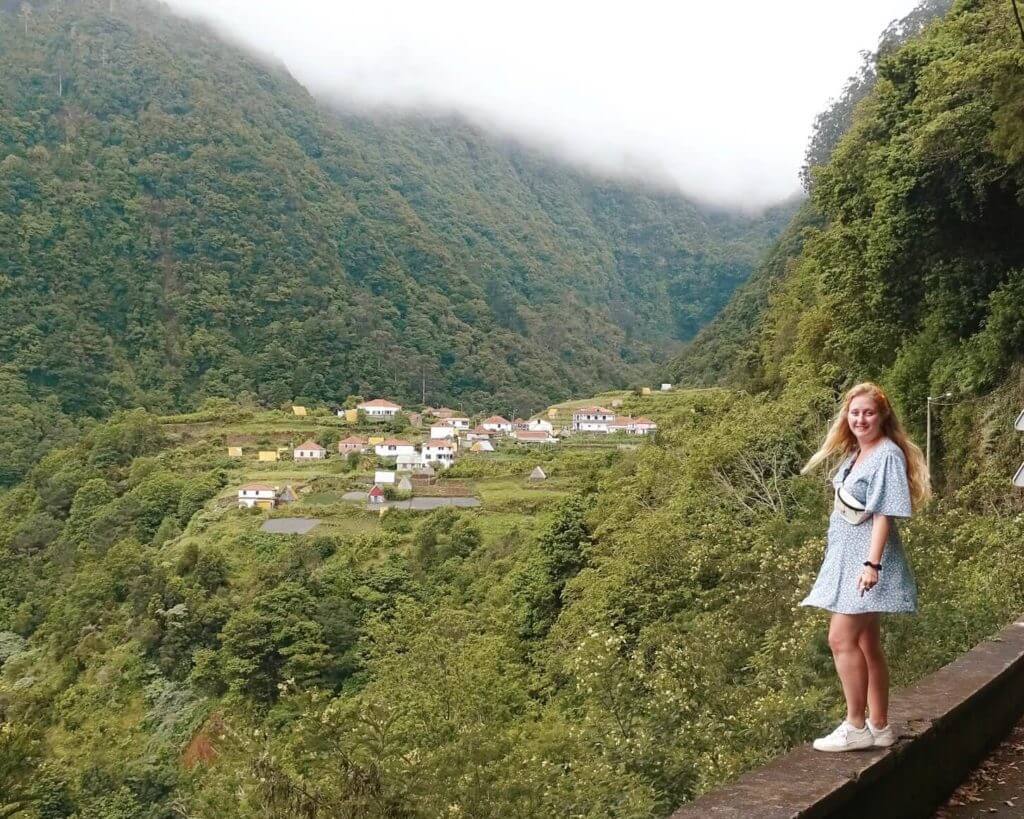 Once when sat on a beach, a local practising his English told us that the northern coast of Madeira is the most beautiful part of the island, usually missed by tourists. When my friends and I drove from our place in Santa Cruz to Porto Moniz, we saw his point.

Although some northern highlights like Santana traditional houses receive tourist footfall, there's a vast stretch of coastline, not to mention inland villages, untouched by the modern day. Passing through the village pictured above, we got out of the car to marvel at our surroundings.

This tiny village named Ilha enclosed by mountains and low-hanging clouds was the most hauntingly peaceful place. Although we didn't have time for it, I notice there's a hiking route starting here, the PR1.1.
10. Drive through Anjos Waterfall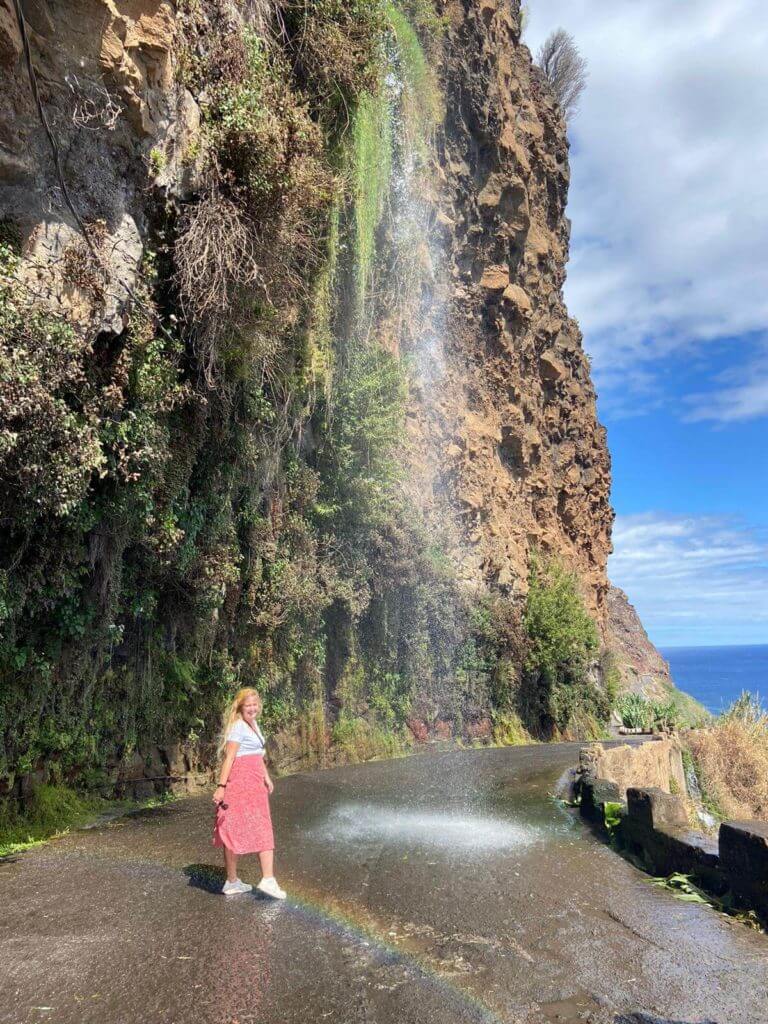 Of all the unusual things to do in Madeira, Anjos Waterfall might be the most Instagrammed – and impractical. Try to imagine a functional road where cars pass. Then, imagine a waterfall cascading over it. Then, imagine 30 tourists in their swimwear trying to pose and take photos!

Yes, it's chaos. Oh, and did I mention it's located on the edge of a cliff with a sheer drop? Well, it is.

The Waterfall of the Angels is located on Madeira's south coast, close to Ponta del Sol. You can't deny it's an iconic place so I'd recommend driving through… very slowly and carefully. With the windows closed!
11. São Vicente Caves (temporarily closed in 2023)
These giant lava tubes are around 890,000 years old, formed by ancient volcanic eruptions. Discovered by locals in 1885, they were opened to the public in 1996 and quirky became one of the top tourist attractions in Madeira.

These striking caves can be explored by a well-lit 1000m walkway, accessible as part of a guided tour at the Volcanism Centre and Caves, open Tuesday-Sunday, 9am-6pm. Located near the quaint town of São Vicente between Seixal and Santana on the north coast, they're best visited by car.
12. Try canyoning
If peaceful nature leaves you wanting, one of the best activities in Madeira is canyoning. Rapel through ancient canyons cut by waterfalls, surrounded by rich flora and fauna. Several companies offer canyoning excursions led by experienced professionals with all the required safety equipment.

I am too much of a baby for this but my housemate LOVED IT. Browse canyoning experiences here.
Best Madeira beaches
After a busy day, one of the best things to do in Madeira is kick back on a beautiful beach with a sundowner. Many of Madeira's beaches are stony but there are some sandy ones to be found alongside striking black sand beaches. Be sure to visit…
13. Praia da Calheta
Not too far from Anjos Waterfall is a rare white sand beach. Praia da Calheta isn't the biggest beach but it's a good option should you need a beach day.

There's not much shade so the sand gets extremely hot. Rent umbrellas from €1.50 and sunbeds from €2, or cool down at the small beach bar on the left side of the beach.
14. Seixal (black sand beach)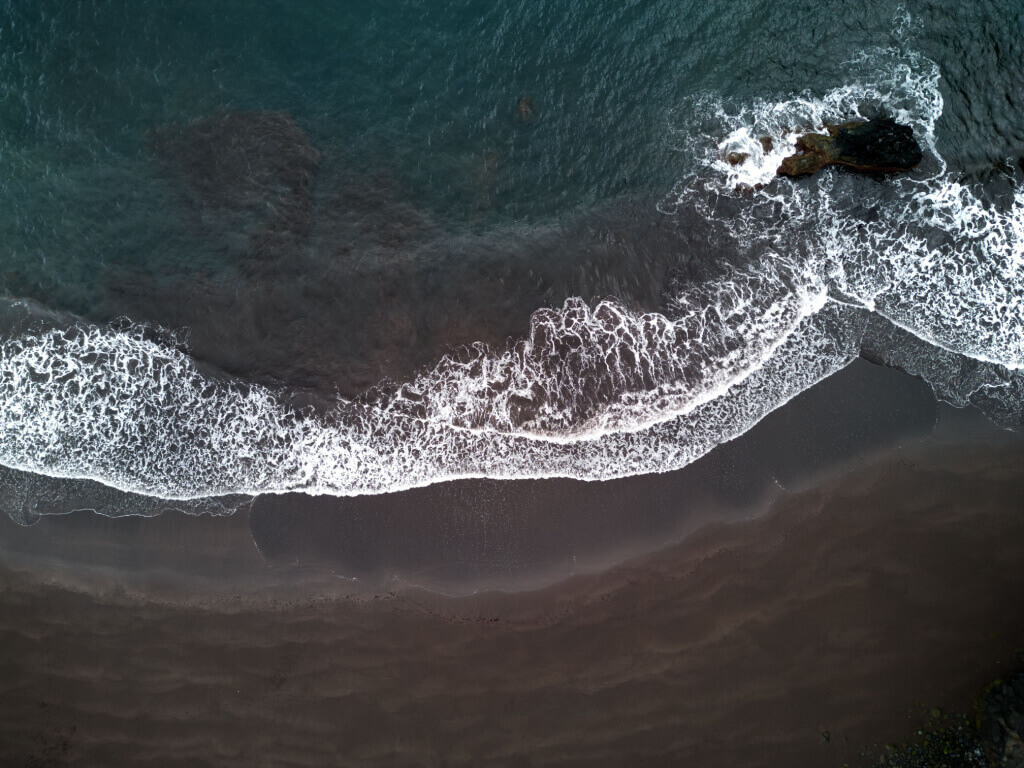 On Madeira's north coast near Porto Moniz lies one of the island's famous black sand beaches. Praia de Seixal has been voted one of the most beautiful beaches in Europe and it's little wonder as to why.

Surrounded by green cliffs with clear water and black sand, it's an ideal place to spend a day with a small natural lagoon cordoned off by volcanic rocks.

Visitor's info: There's free parking, facilities and a small cafe. The best time to visit is the morning because the sun is blocked by the mountains by the afternoon.
15. Praia de Machico
Another white sandy beach on Madeira is Praia de Machico on the southeast coast. It's a pleasant place to sunbathe or swim if you have time before or after the nearby São Lourenço hike.
It was here I tried my first EVER peanut butter and jelly sandwich (courtesy of my American housemates). A defining moment in my life!
Miradouros & scenic viewpoints
Some of the most beautiful places in Madeira with impressive views include…
16. Fajā dos Padres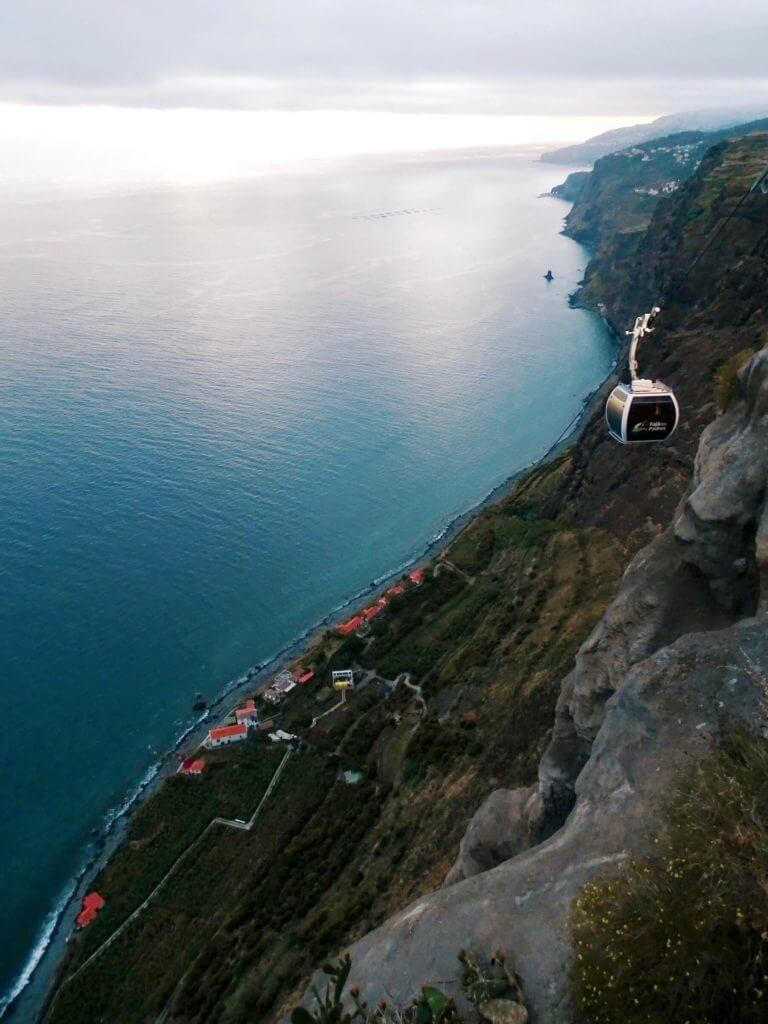 The word fajā refers to flat land at the bottom of a cliff, created by ancient lava flow. Madeira is an island cut and shaped by volcanic activity with plenty of places to admire the outcome. One is Fajā dos Padres: a towering, 250m cliff offering spectacular views from the cable car station at the top.

Ride the cable car down to ocean level for €10 including access to a huge organic farm. After wandering between fruit trees and soaking up the views, you can stop for an organic meal at the restaurant. There are also a few cottages that can be rented overnight.
17. The Nun's Valley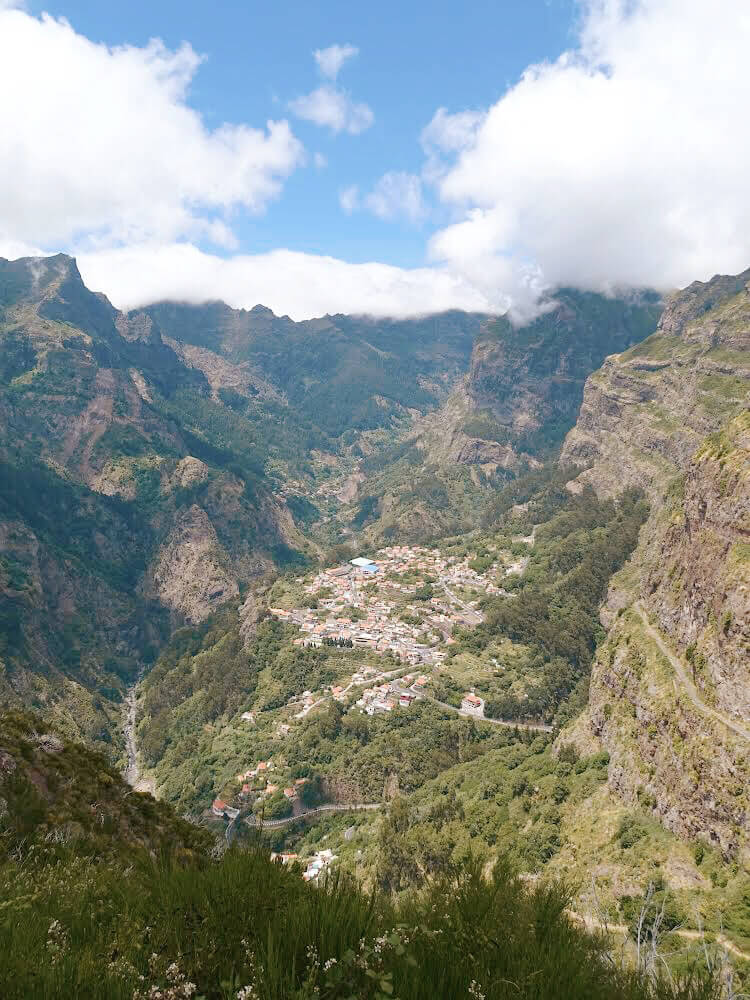 The Nuns Valley is one of the most beautiful places in Madeira but it's also one of the most stunning places I've EVER been (which is quite a lot of places by this point).

Nuns fleeing French pirates in the 1500s made it to this remote part of the island on foot. Surrounded by steep mountains, it's difficult enough to access via car along a paved road, so I can't imagine their treacherous journey!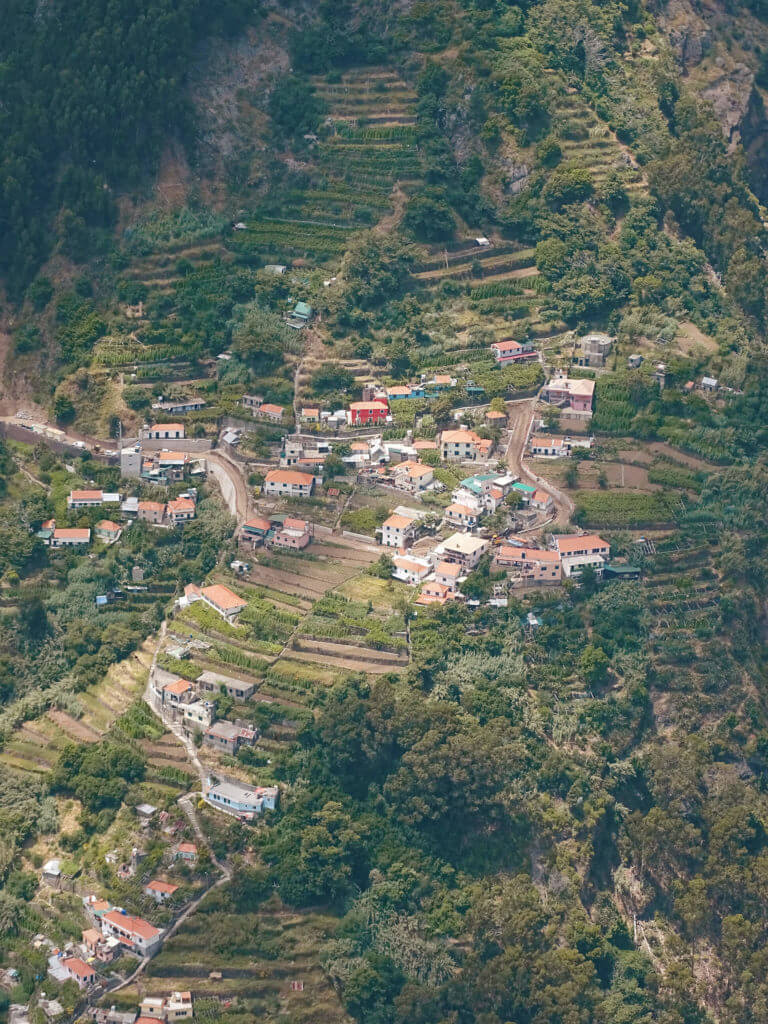 We had what you might call a big fail starting our day at the Paredão viewpoint where the thick cloud cover meant we could barely see past our noses. If the weather's good, I hear this is a fantastic spot for views and not too touristy.

Luckily, by the time we reached Miradouro Eira do Serrado, the clouds had cleared. The landscape from this famed viewpoint is one of the most popular things to see in Madeira so expect coach trips and an overpriced cafe. Still, the viewpoint is free and well worth visiting!

Top tip – check the weather in advance and hang around in Curral das Freiras village if it doesn't clear right away. This village in the valley makes for a good pitstop with tasty chestnut-themed dishes at La Perla Restaurante. More about Madeira food to come!
See it on my film – my Instagram video
18. Farol da Ponta do Pargo (lighthouse)
Located at the most westerly tip of the island, Farol da Ponta do Pargo offers spectacular views, especially at sunset. This cute red and white lighthouse has just celebrated its 100th birthday and, on weekdays, you can visit a small museum detailing its history.

You can park for free and follow a cliffside pathway (290 metres above sea level) to the viewing area.
19. Cabo Girão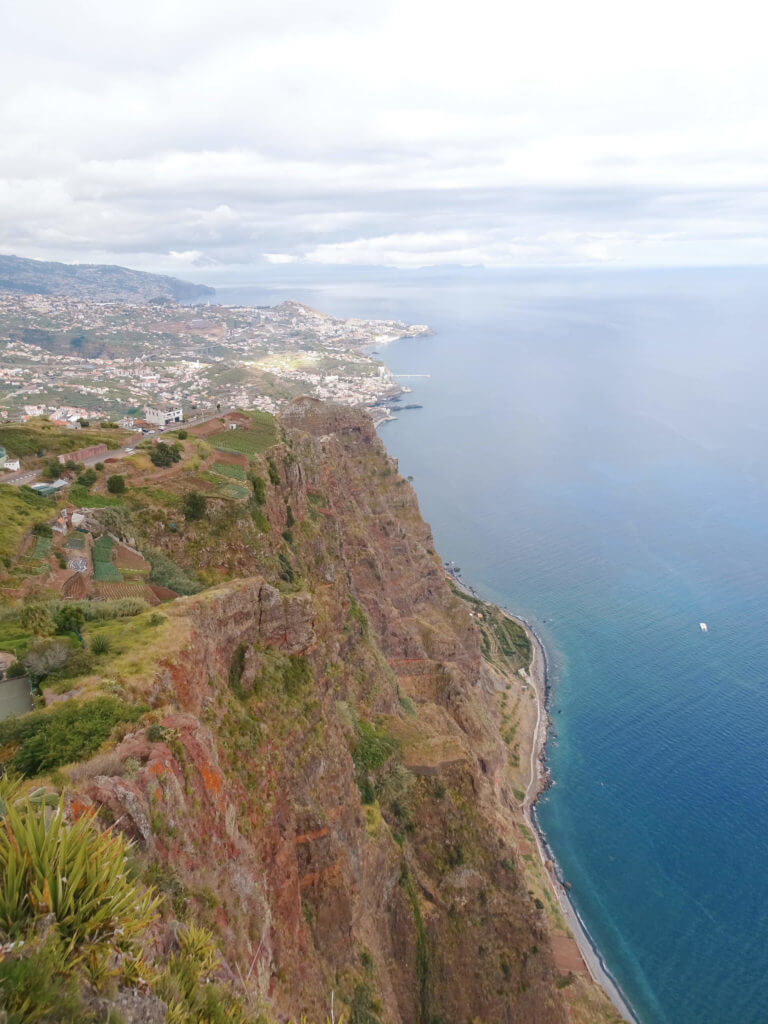 Receiving up to 1,800 daily visitors, visiting the viewing deck at Cabo Girão (one of the world's tallest cliffs) is one of the most popular things to do in Madeira. It may be touristic but it's worth visiting for some of the most beautiful coastal views on the island.

However, the glass platform may not be a good Madeira activity for those with a fear of heights! The sheer drop underfoot looks down on the ocean and beach, 580 metres below.

Visitors info: entry is free and so is parking. It's open 9am-8pm but I recommend visiting early or late to avoid the crowds. Since it's located near Fajã dos Padres, you can easily combine the two cliffside viewpoints into the same day.
See it on film – my Instagram video