This post may contain affiliate links to things like tours, hotels, Amazon associates and products. These help me earn a small commission at no additional charge to you.
If you yet haven't heard of Pushkar, I'm going to give you 10 reasons to visit.

I first visited Pushkar in 2015 and it was still a bit of a hidden gem at this stage. Now it's not really a secret, in fact it's pretty touristy. But I still rate Pushkar. It was one of my favourite places in Rajasthan from my first trip to India so I decided to include it in my second trip, too. Only two places from my 2015 trip got a return visit so I think that's high praise indeed.

Pushkar is the ultimate escape from India's fast-paced, hectic cities. I won't say it's totally chilled: it's still India so locals will want your photo and those horns will always beep! But it's certainly no Delhi or Jaipur. Here you'll find peaceful cafes, fresh veggie food and serene lakeside views. If you need a break from India's madness, you can't do better than Pushkar.
PUSHKAR ESSENTIALS

India Lonely Planet

Accommodation: Booking.com / Hostelworld

Activities: Klook

Getting around: flight (Skyscanner) / bus / train (12Go)

Travel insurance: World Nomads

Check out my food around the world archives!
Pushkar intro
Pushkar is a holy city in Rajasthan on the edge of the Thar Desert. The whitewashed town feels breezy and peaceful so it's easy to forget about the landscape that surrounds it. Seek out a hilltop view and you'll see rolling desert for miles around. You'll also see people riding by on camels.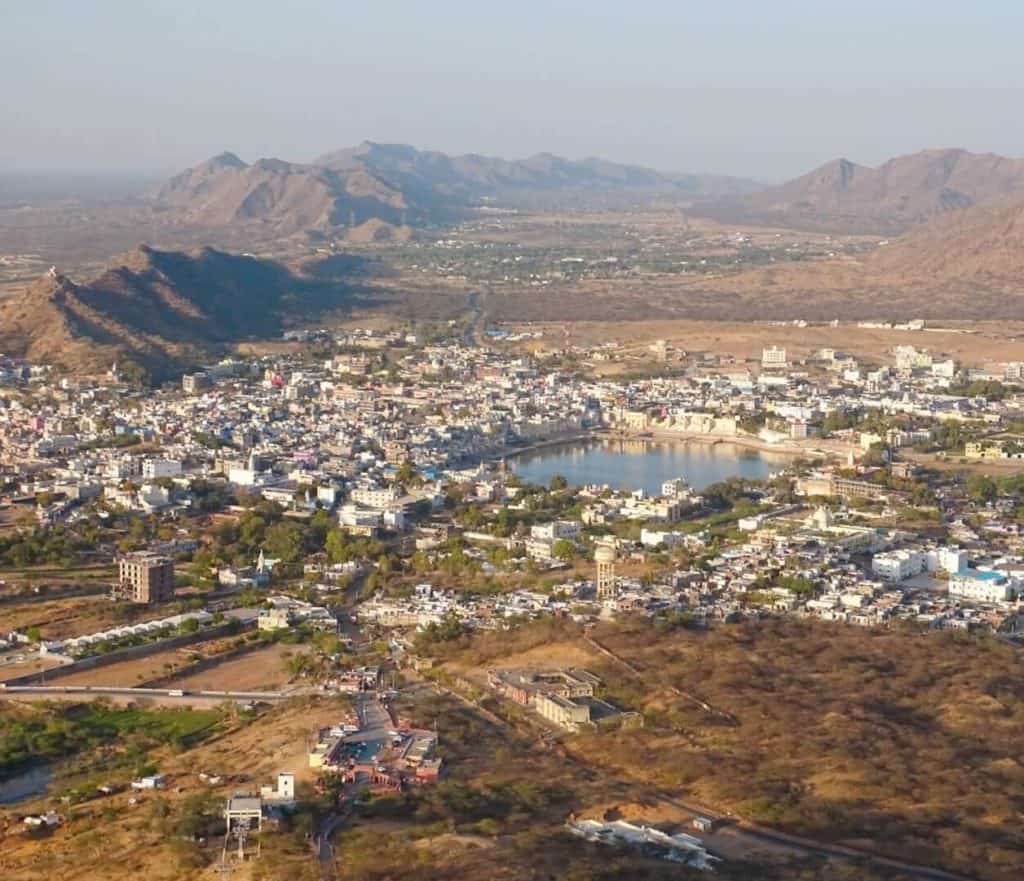 Set around 52 lakeside ghats where locals wash, socialise and worship, Pushkar is one of India's holiest cities. Despite being a relatively small town, it's home to more than 500 temples. Most locals follow a pure veg diet which means no meat or eggs. Pushkar is also a dry city which means no alcohol is sold.

Pushkar is home to Brahmaji Temple, a rare temple dedicated to Hindu creator-god, Brahma. For this reason, Indians from all over take pilgrimages to Pushkar. And for that reason, they are countless sweet shops so they can take home gifts to their families. If that's not a reason to visit Pushkar, I don't know what is 😉

So, what's good in Pushkar? Why would you come here and what can you do? Pushkar isn't jam-packed with activities but that's part of the charm. The slower pace of life is why you should visit.
Getting to Pushkar
There's no train station in Pushkar, the closest is Ajmer Junction a 30-minute drive away. For that reason, I'd recommend taking the bus. From Jaipur to Pushkar is a 4-hour ride.

So with no further ado, here are a list of reasons to visit Pushkar!
1. Amazing desert scenery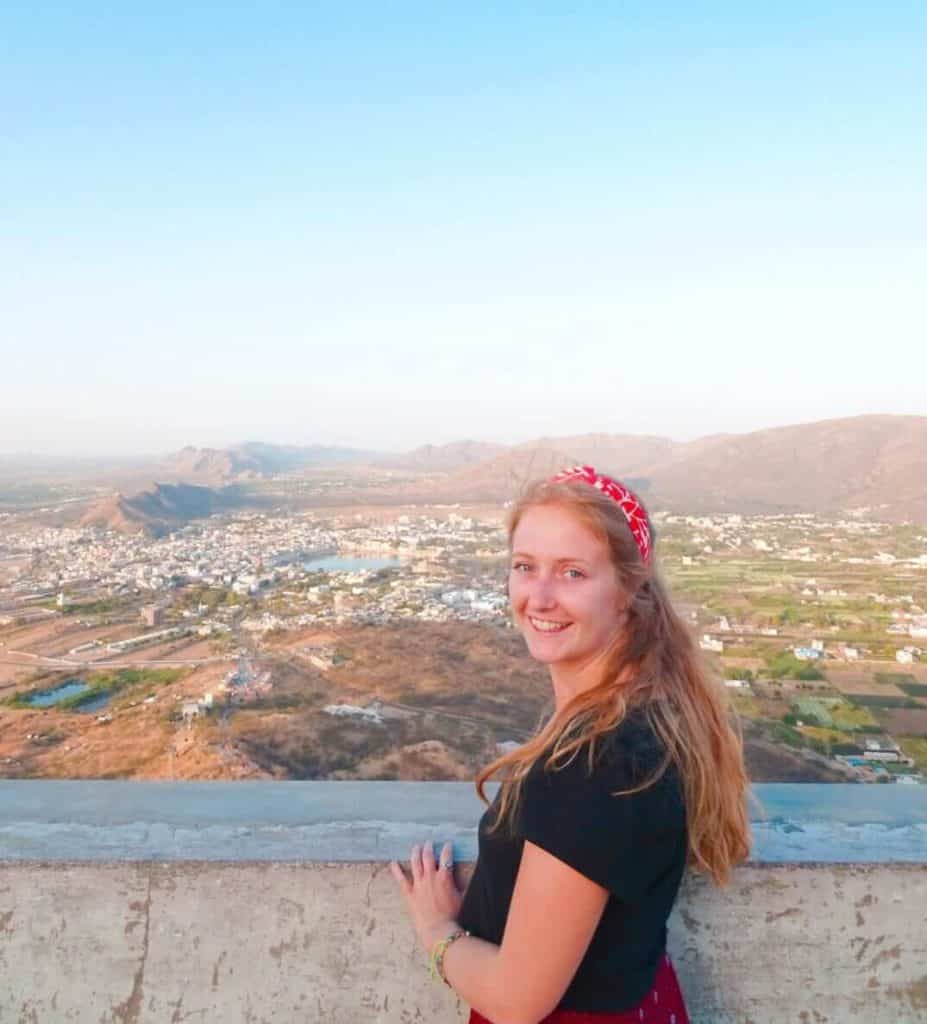 India is so diverse. It's easy to see many different types of scenery during one trip. Snowy mountains, beautiful beaches, arid deserts – they're all here.

For desert scenery, it doesn't get much better than Pushkar (apart from maybe Jaisalmer further north-west). One of the best things I did in Pushkar was summit the hill to Savitri Mata Temple. I took the rickety cable car but you can also climb the steps if you're more sporty than me.

By heading up Pushkar's main hill, you really get a real lay of the land. Do it at sunrise or sunset for the best views and photos.
2. It's home to temples not found elsewhere in India
With so many temples and forts in India, I was keen to find something different or unusual, hence why I enjoyed visiting India's main Sikh temple in Amritsar. Pushkar's Brahmaji Temple is unique; the only temple in India dedicated to Brahma. This popular pilgrimage site made of marble and stone located beside the holy lake was built 600 years ago.

You can't take photos inside this temple; I wasn't even allowed to take my camera inside (they offered a locker service at the front gate). I'd recommend just visiting Brahmaji just to look around and make visual memories.
Related activity: divine Pushkar walking tour
3. Peaceful vibes at Pushkar Lake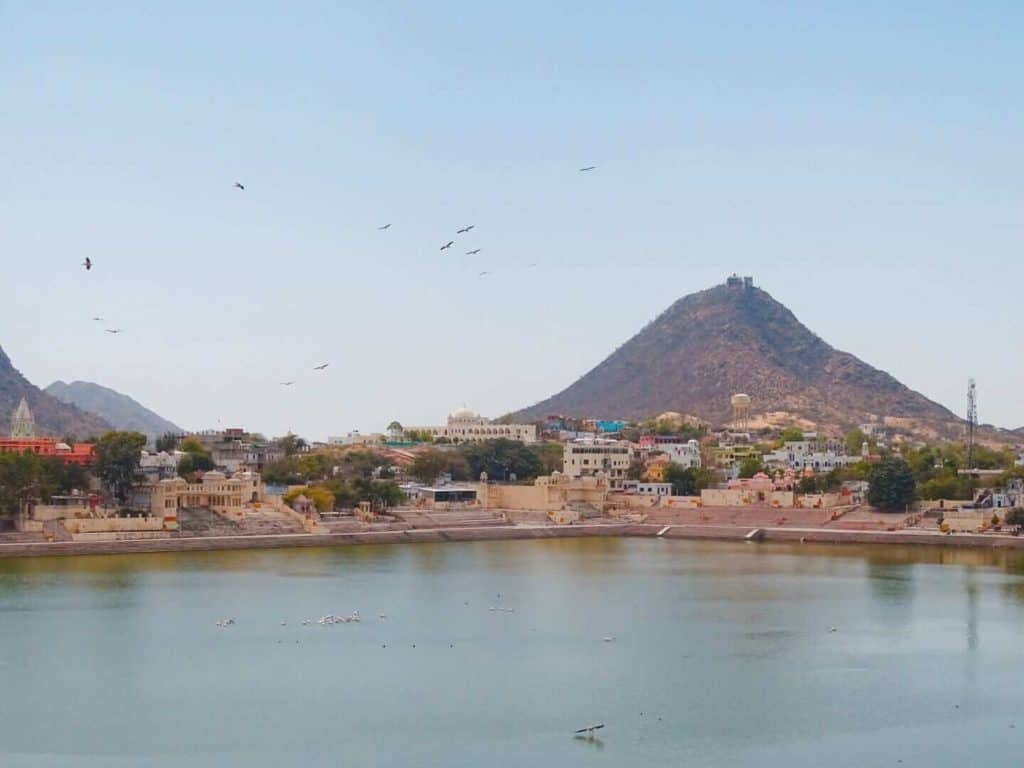 Pushkar Lake is a highly spiritual place. Even though I'm not religious and I don't relate to it on that level, there's something very therapeutic about this area. Locals in colourful saris sit on the steps, children splash in the water and birds flit across the clear sky. There are areas surrounding the lake reserved for locals and, as a general rule, you can't take photos as it's an area where people bathe. It's a place to just be.

When I think back to my first trip to India in 2015, peaceful Pushkar Lake comes to mind. That's part of the reason I wanted to re-visit this charming town.

Lots of Pushkar cafes offer gorgeous lakeside views. I'd especially recommend the rooftop cafe at U-Turn Hotel which you can visit without being a guest of the hotel. It's cool, shady and serves great coffee with views of Pushkar Lake. I spent almost a whole day here.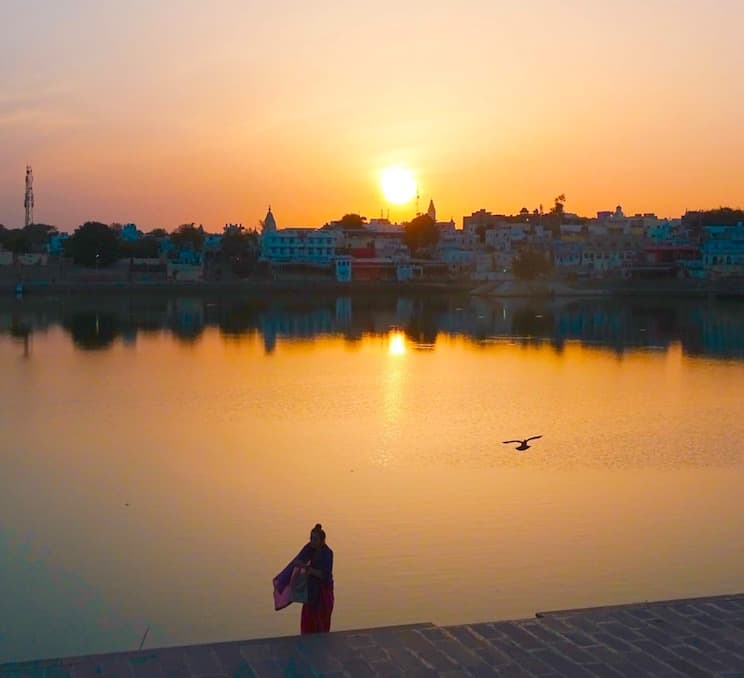 Peaceful Pushkar is a great place to experience a sunset. During this time of day, gentle religious chants echo over the lake while tourists and locals alike sit on the steps.

Where to see sunset in Pushkar? I usually avoid the uber-touristy restaurants but I was starving at sunset time so decided to eat dinner at Sunset Cafe by the lake. For a joint full of Westerners serving Italian food alongside curries, I didn't expect a lot but actually my veggie kofta was very tasty. You could sit and just have a drink or relax on the steps by the lake and not spend anything at all.

If you have two nights in Pushkar, spend one here and another at Savitri Mata Temple at the top of the hill.
5. So many cool cafes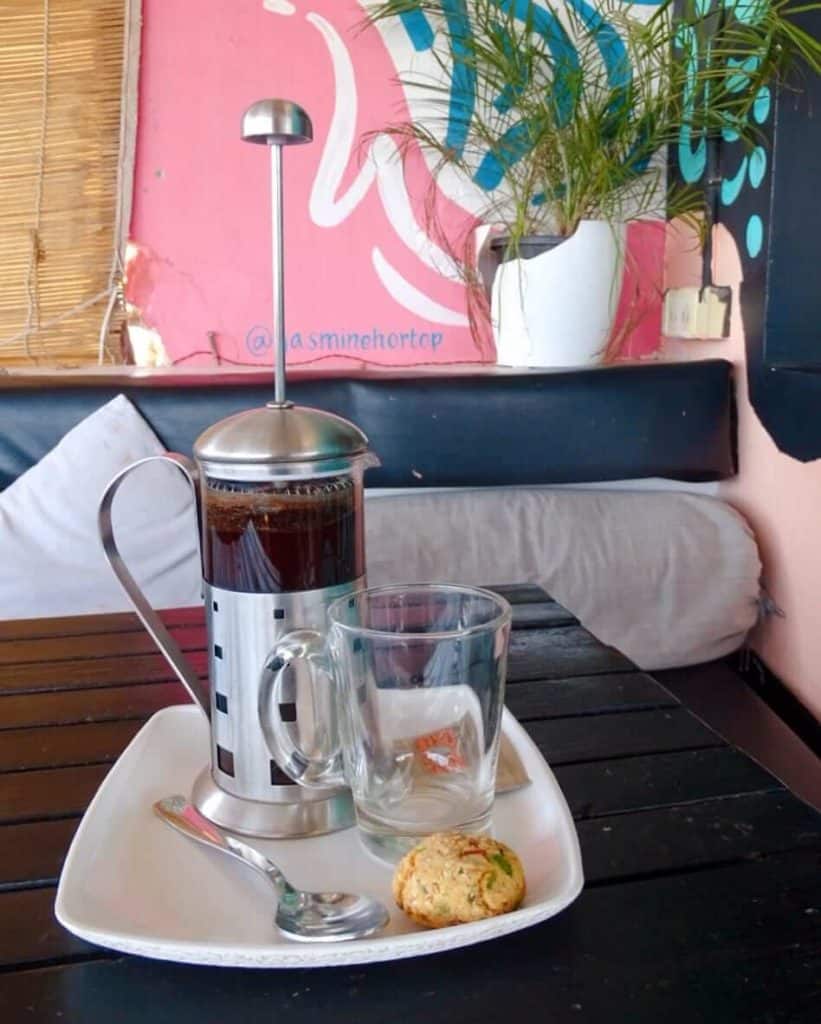 Pushkar is cafe heaven. I had this French press coffee at U-Turn Hotel, which I already mentioned, but there are plenty of other peaceful spots to read a book and sample tasty veggie food and coffee.

Some of my favourites were Laughing Buddha Cafe, Sonu Juice and Sixth Sense Restaurant. As many of these places do attract tourists, prices are a little inflated. But when you can get a tasty meal and drink for 200 rupees, it's just not bad, is it?
6. Colourful (and cheap!) shopping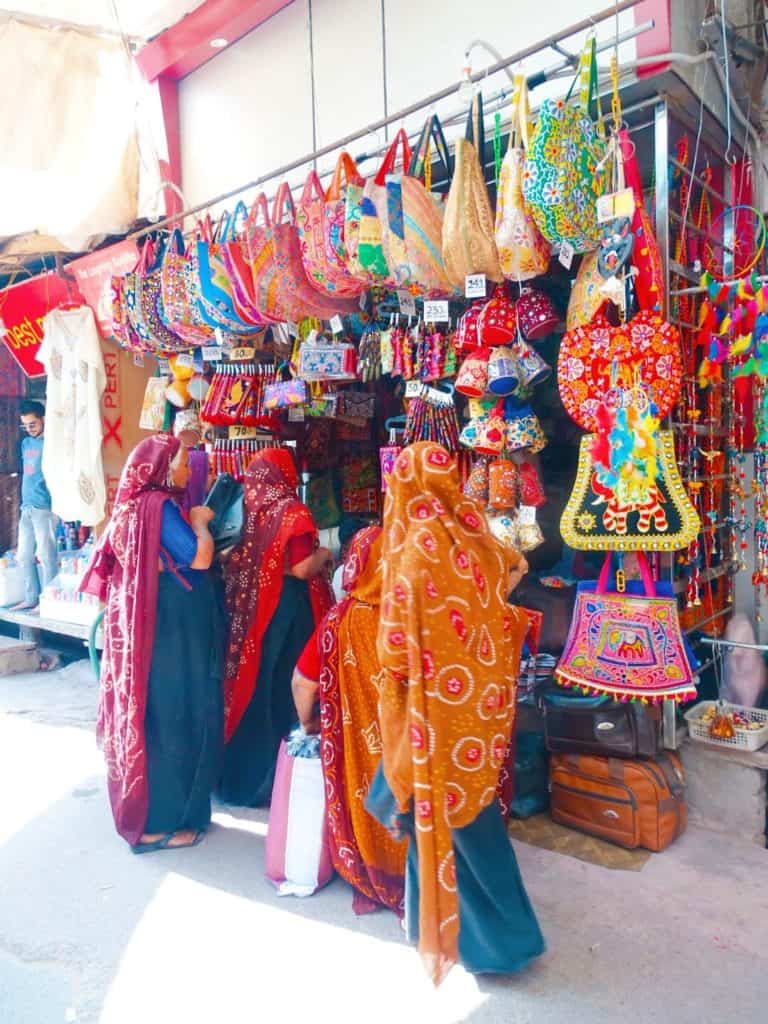 Throughout my first stops in India, people told me I should hold out for Pushkar. I can confirm this is a sensible move!

The main streets are lined with some of the most vibrant and colourful dresses, saris, shoes and bags I've seen. Everything is gorgeous and so affordable. I bought a top, embroidered water bottle holder and two silk headbands for 400 rupees. I didn't find it easy to haggle in Pushkar: the prices were low to start with and vendors wouldn't budge. But then I didn't really need them to.
7. Photo opps (and grammable doorways!) everywhere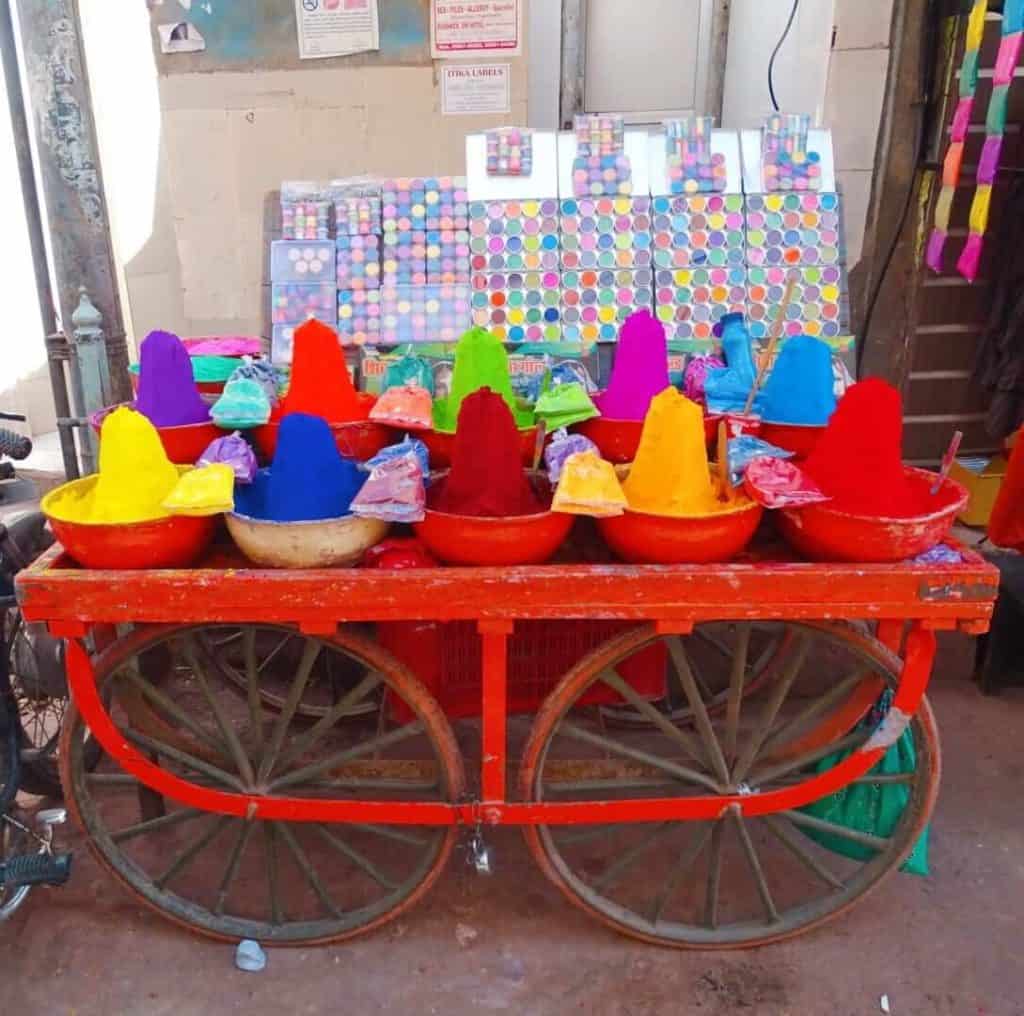 Photographers and blogger will have a field day in Pushkar, as will anyone with a creative eye or penchant for colourful doorways.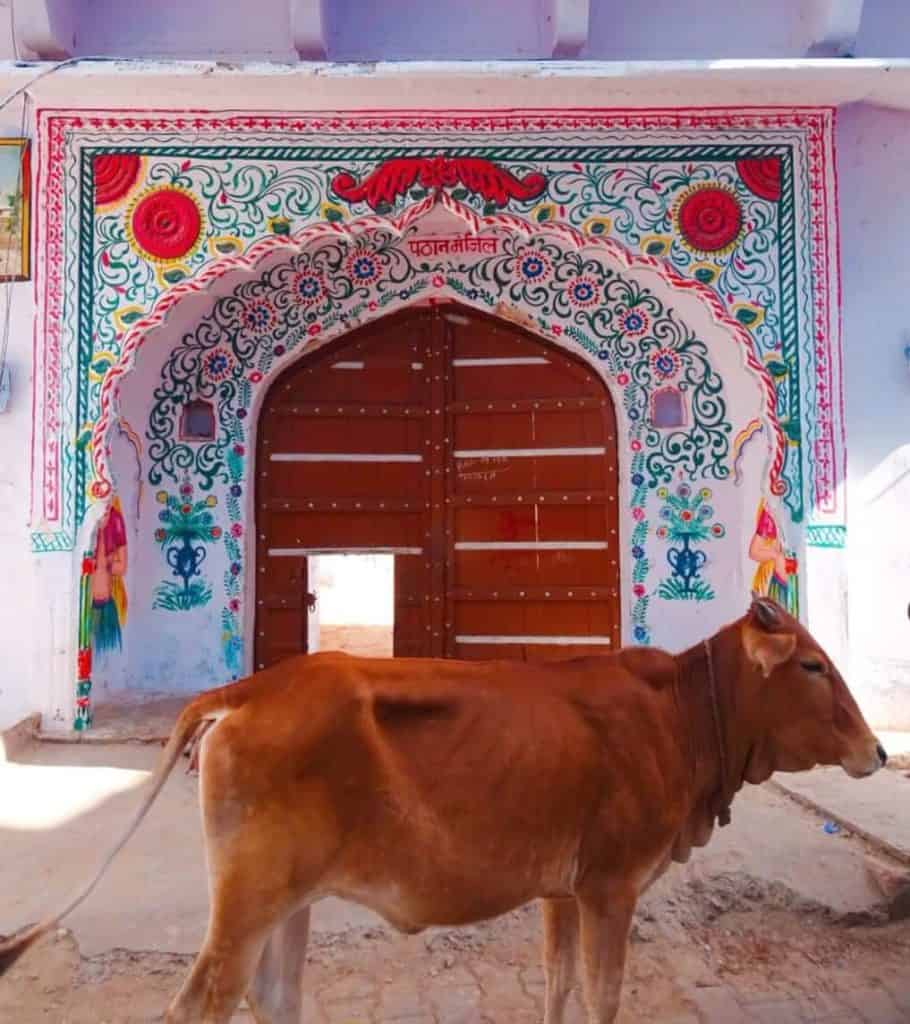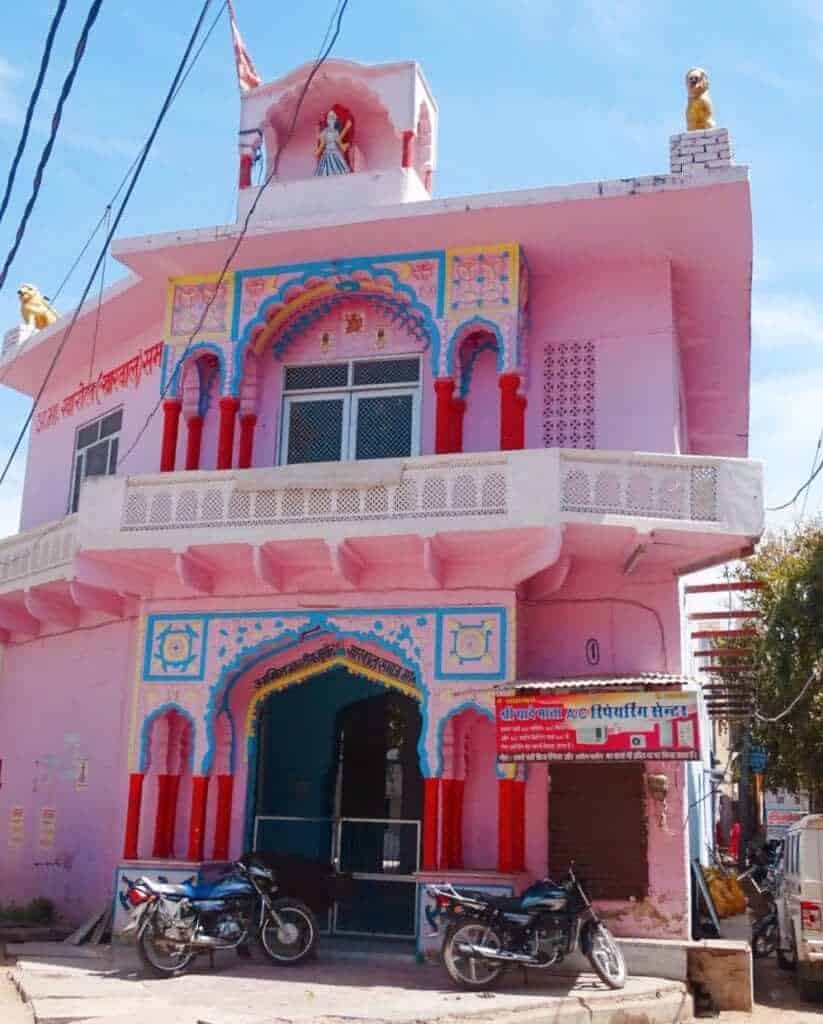 Seriously, isn't Pushkar just heaven? Wandering the dreamy backstreets and snapping pink buildings, detailed doorways and Hindu temples is the perfect way to spend a morning.
8. The foooood!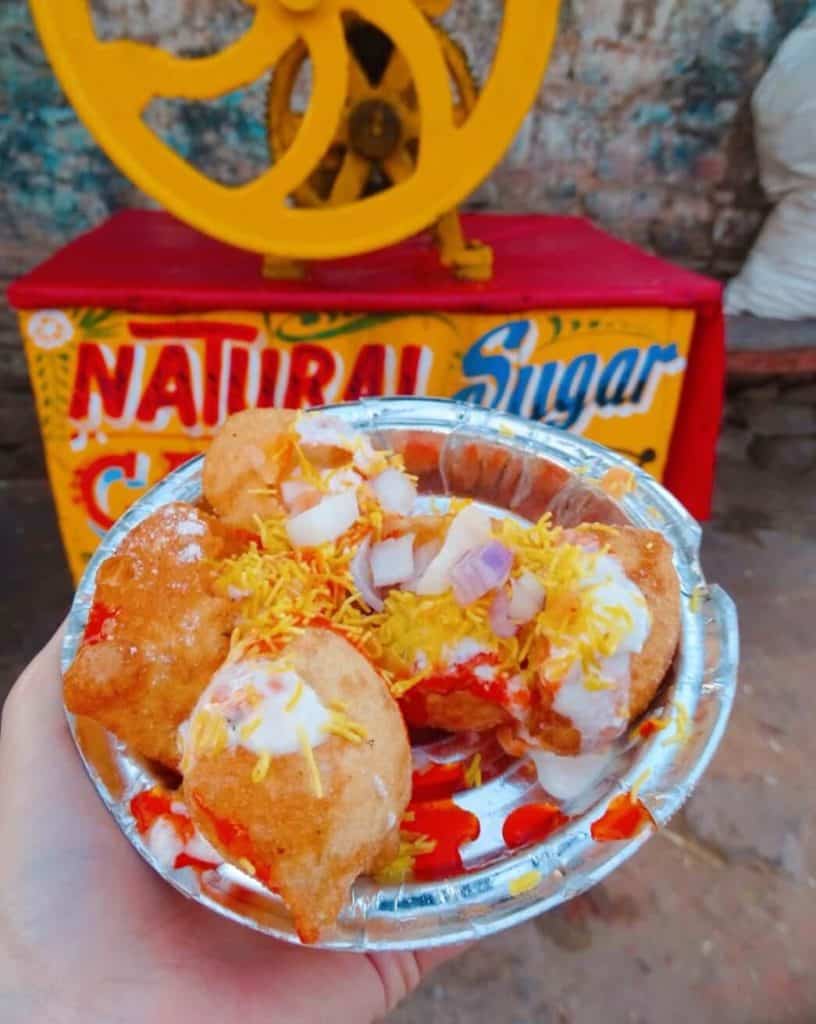 I mean, the food is a reason to visit anywhere in India if I'm honest! The food in Rajasthan is particularly good. Pushkar is a great place to get stuck in because there's such a blend of local and tourist places. If you're easing your stomach into India gently, you can sample milder Indian curries in gorgeous cafe surroundings.

If you're confident and ready to dive in, there's tons of affordable street food.
Related activity: Pushkar food tour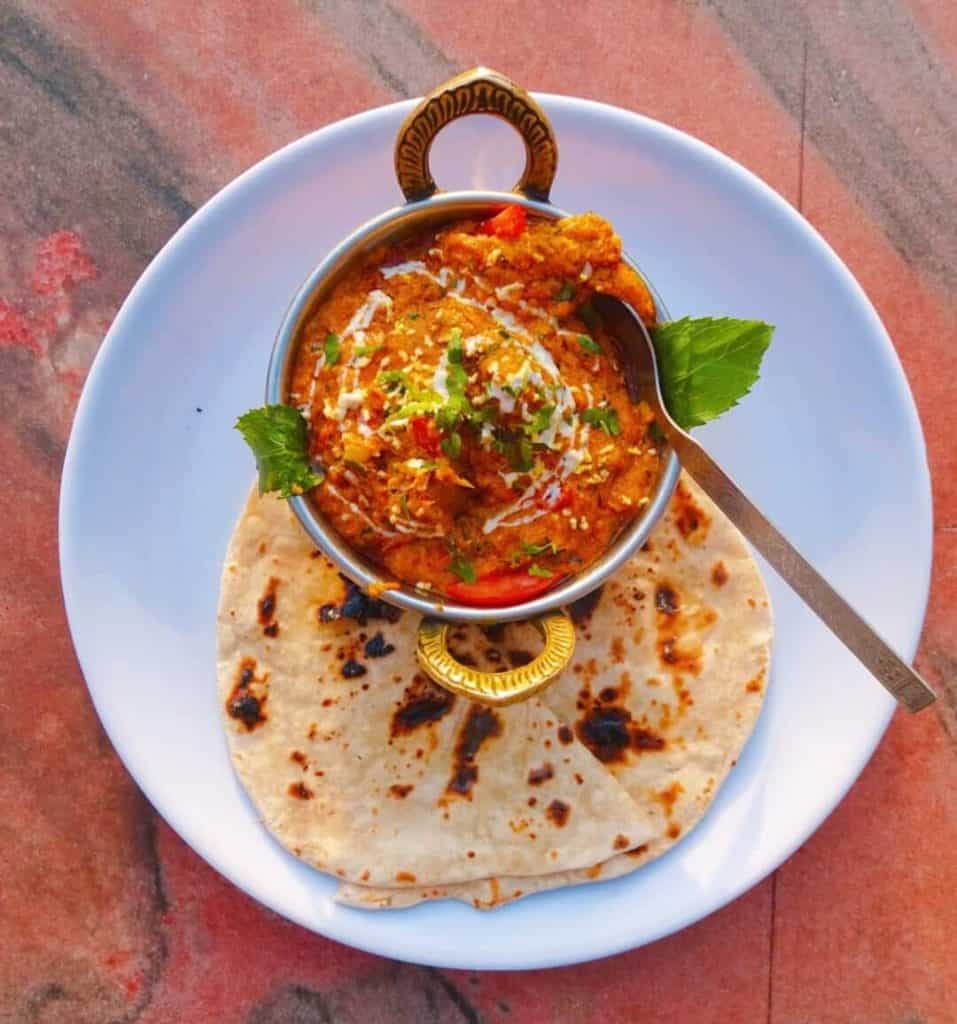 One of the best things I did in Pushkar was take a food tour for 500 rupees with my hostel, Moustache. We tried 14 local delicacies which you can check out on YouTube:
The tasty falafel is another reason to visit Pushkar. Due to a lot of Israelis taking trips to India, the cuisine has slipped into the culture. Now you can't walk down the main street without fresh, garlicky falafel wafting under your nose.
9. Endless temples to explore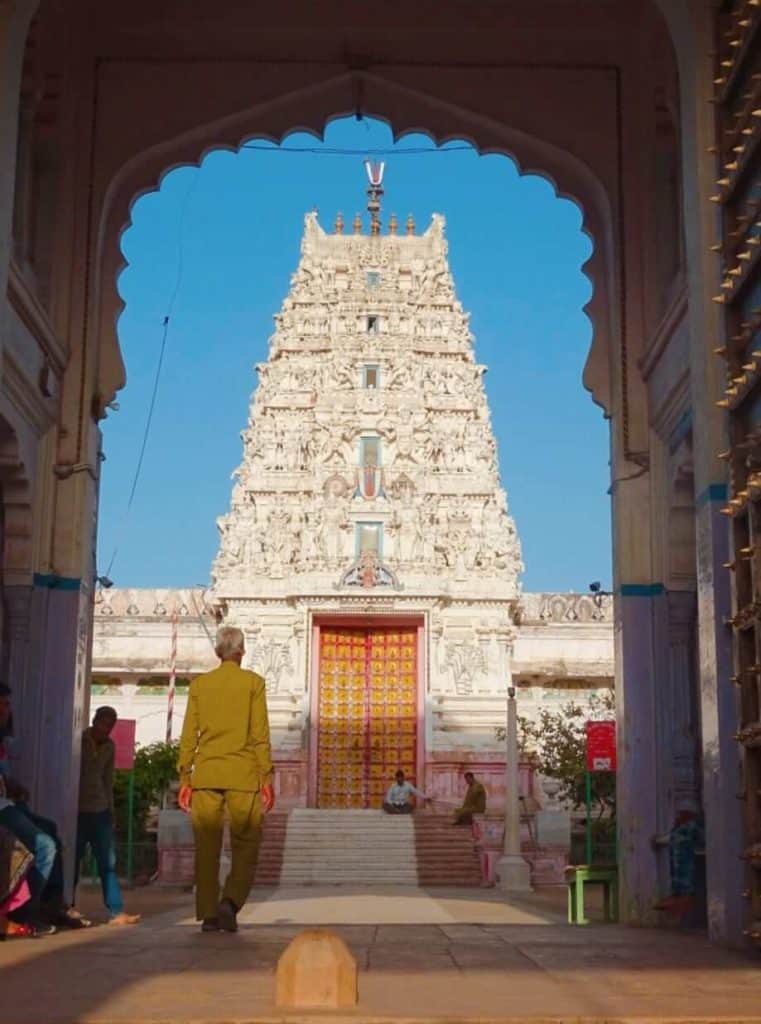 Surely there are few towns as small as Pushkar with quite so many temples. I thought Chiang Mai was temple-dense with over 300 but Pushkar has over 500. I'm not sure the smaller ones can be visited by tourists as they're hidden away on the outskirts or even on private properties.

Even so, temple fans have a reason to visit Pushkar. I'll admit I'd seen a lot by the time I arrived but I enjoyed wandering the streets and stumbling across them anyway.
10. It's safe
Pushkar is easily one of the best places in India for solo female travel so there's no need to worry about security. There are plenty of friendly hostels and the locals are used to seeing foreign tourists.

I hope you enjoyed these reasons to visit Pushkar! I've yet to hear of anyone not falling in love with it. I hope I'll be back for round 3 sometime soon 🙂
Looking for accommodation in Pushkar?
Thanks for reading
Check out my other India posts:
See you next time for more adventures,
Rose
For more travel content, follow me on Instagram, Facebook, Twitter and YouTube.
Ps. Persuaded by my reasons to visit Pushkar? Pin this for later!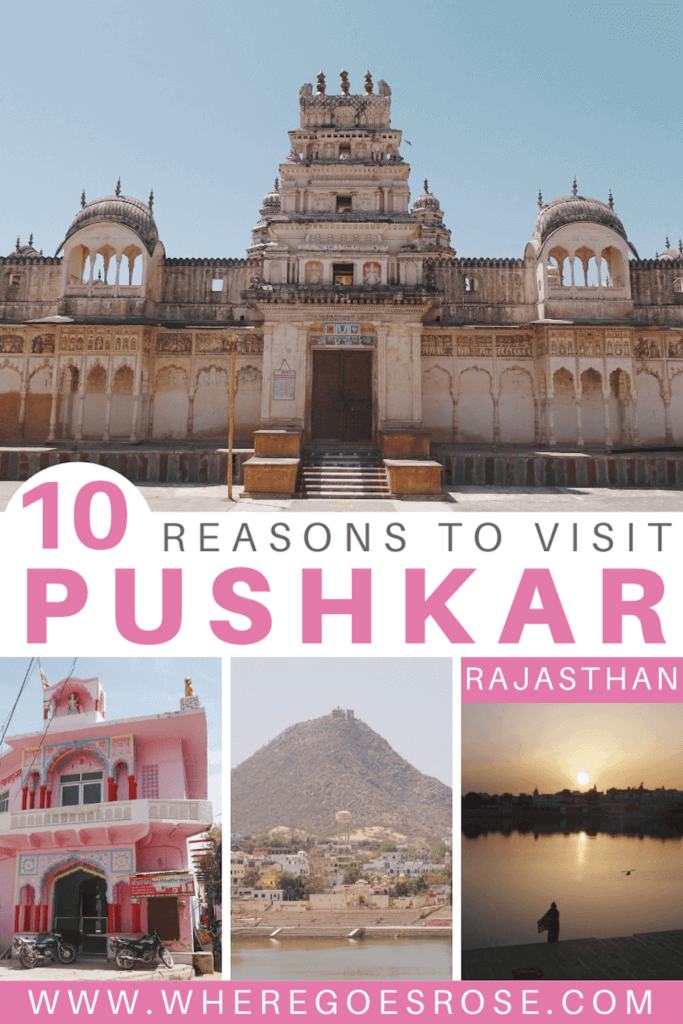 VISITING INDIA? 

These are my trusted resources:

Getting around by air – it's easy to get between cities by flight. I use Skyscanner and search by whole month to find the best value dates.

Buses – buses are comfy and efficient. Use 12Go to book.

Trains – these are a good option for long journeys because you have a bed rather than a seat. Use 12Go to book.

For hotels, I use Booking.com – they also have self-catering apartments. You can filter by review score and price to find the best-rated budget places. For hostels, I use Hostelworld.

Browse tours and activities on GetYourGuide. I also check Viator and Klook in case they have a better price.

For food experiences with passionate local chefs and foodies, check out EatWith.

Pack the latest copy of India Lonely Planet.

Need travel insurance? I use World Nomads. They cover 150 countries and have 24-hour emergency assistance. 

Check out my resources page for more travel discounts and tips!