This post may contain affiliate links to things like tours, hotels, Amazon associates and products. These help me earn a small commission at no additional charge to you.
Welcome to my Rishikesh travel guide! I just spent 3 weeks in Rishikesh and it's now a firm favourite.

After seeing a lot of stunning photos online before visiting, I had a feeling I was going to really like Rishikesh especially since it's known as one of the best places in India for solo female travel. I didn't want to overhype it as that's how places fall short but I was hoping it would be as pretty as I'd pictured.

I had a work project to finish and knew there was a good cafe scene in Rishikesh so decided to spend 2 weeks there. In the end, I was sick and ended up staying closer to 3. I'd say I got to know Rishikesh pretty well during that time which has enabled me to put together this detailed Rishikesh travel guide.

Hopefully I'll be back again to India someday and come back to Rishikesh!
RISHIKESH ESSENTIALS

India Lonely Planet

Accommodation: Booking.com / Hostelworld

Activities: Klook

Getting there: flight (Skyscanner) / bus / train (12Go)

Airport transfer

Travel insurance: True Traveller (European travellers) / Hey Mundo (other nationalities) / Safety Wing (digital nomads)
Rishikesh background
Let's begin this Rishikesh travel guide with a little background. Rishikesh is one of the places to visit in Uttarakhand state in Northern India.

As a holy city, it's been known for its spiritual importance for some time and even attracted a visit from The Beatles in the '60s. This really put it on the map with Westerners and in recent years, it's become a hotspot for Eat, Pray, Love types doing a little soul-searching and a lot of yoga.
Read next: tips for a solo trip to India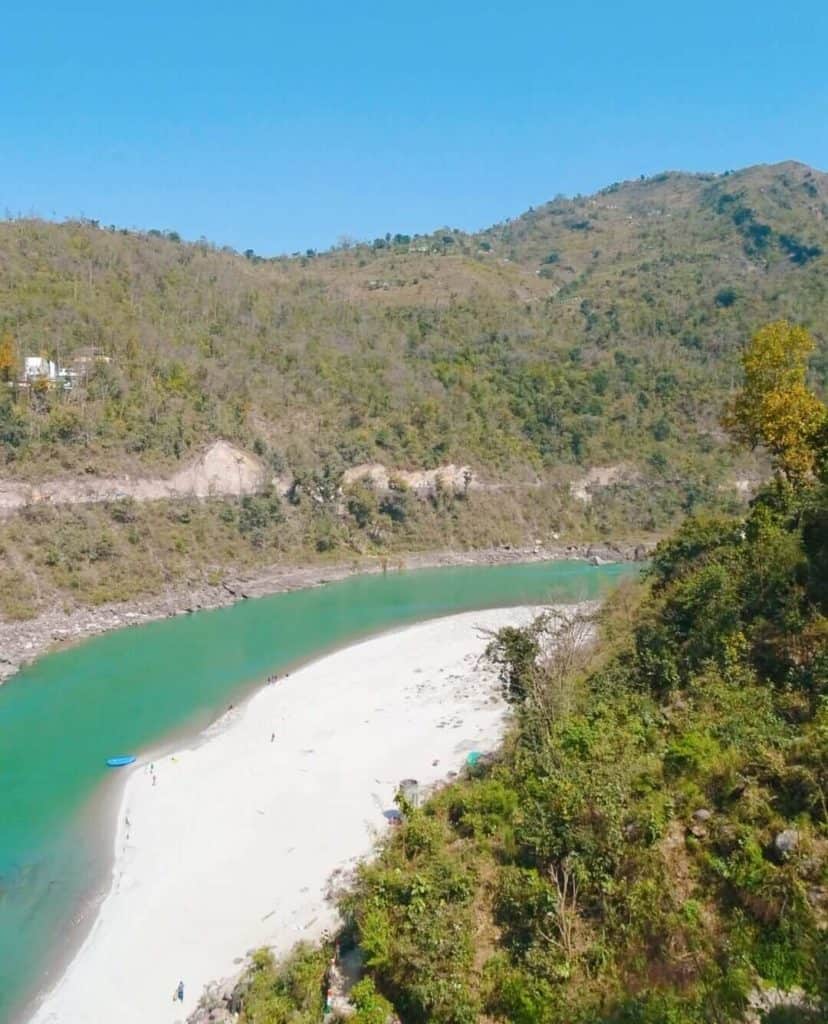 Getting to Rishikesh
Bus: I arrived into Rishikesh by overnight bus from Dharamsala but it's more common to arrive by bus from Delhi (both journeys take 13 hours). The bus station isn't far from the centre of Rishikesh so it's easy to jump into a tuk-tuk once you arrive.

Train: There's no train station in Rishikesh but there is one an hour's drive away in Haridwar so if you're going somewhere before/after that can only be reached by train, that's your best option. Arranging taxi journeys in India is easy and affordable; just ask staff at your accommodation to help.
Use 12go to book your India trains & buses.
By air: The closest airport is Dehradun Airport, only a 40-minute drive from Rishikesh. You can fly from Delhi to Dehradun from £20 if you don't fancy the overnight bus ride. Book your Dehradun airport transfer in advance.
Where to stay in Rishikesh
It's worth noting that there are two areas of Rishikesh: the tourist part around Laxman Jhula bridge and the local heart a 30-minute drive away. While I'd recommend checking out both, the really scenic and relaxing part of Rishikesh is the tourist area by the bridge.

I stayed at an amazing hostel, Shiv Shakti, which had so much atmosphere and really wonderful, caring staff. Half of them took me to hospital during my stay so I would know! They also put on Bollywood dance nights, a free hostel dinner on a Thursday and trips to the beach, ghats and sunrise temple when enough people sign up. Highly recommended!

Staying in an ashram: Many visitors stay in ashrams in Rishikesh which are spiritual hermitages, sometimes with monasteries attached. Staying in one usually involves veggie meals, yoga classes and following a daily schedule.

I believe they vary a lot: some are strict and spiritual, others just include food and board and you can do whatever you want during the day. Alternatively, get a feel during an ashram tour.
Rishikesh travel guide – things to do
Despite being pretty laid back, I found that there are actually a lot of things to do in Rishikesh. It's not really one for city types but it's fantastic if you like nature, outdoor adventures, anything spiritual or just kicking back in a cafe with a good book.

During my three weeks, I did these things around my schedule of work, coffee and returning to hospital (in case I haven't harped on about it enough).
The Beatles Ashram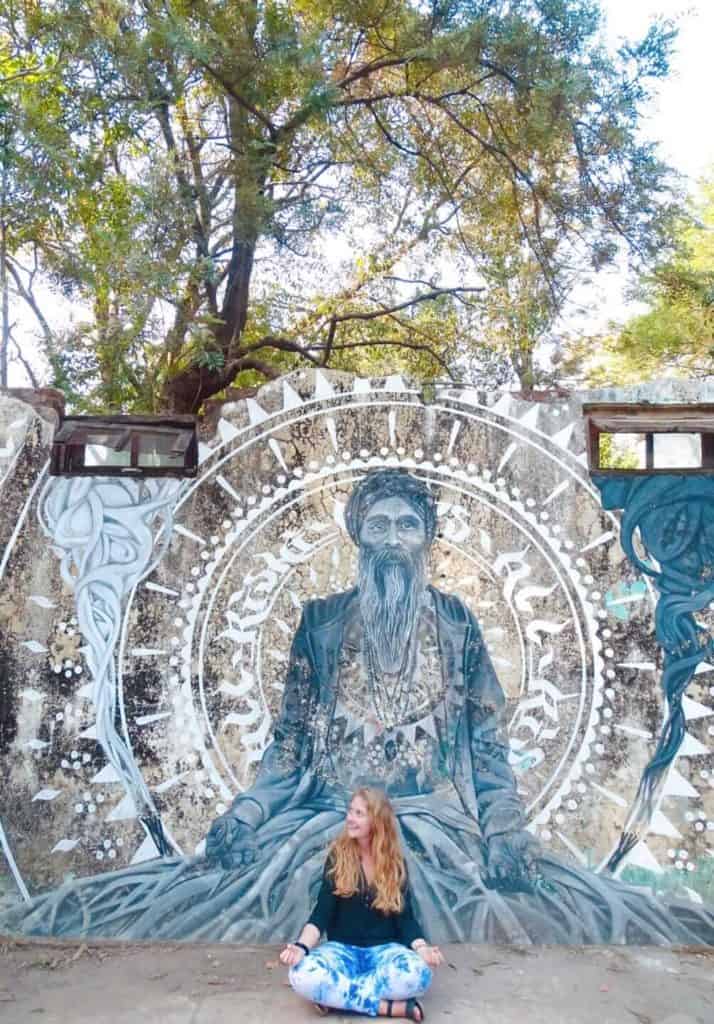 Probably the most famous thing to do in Rishikesh, the Beatles Ashram is most definitely for tourists.

Entrance is 600 rupees for foreigners, something that enraged many of the hippie yoga types I met in Rishikesh. While they skipped it, deeming it 'too touristy', I'm well aware I AM a tourist and I have to say I loved my visit!

I liked that the Beatles Ashram has been kept as it was rather than polished and restored like many of Asia's sights. In case you don't know, this is where the Beatles lived in the 1960s while taking a meditation retreat in India. It's said they wrote their best material post-meditation here, something that doesn't surprise me.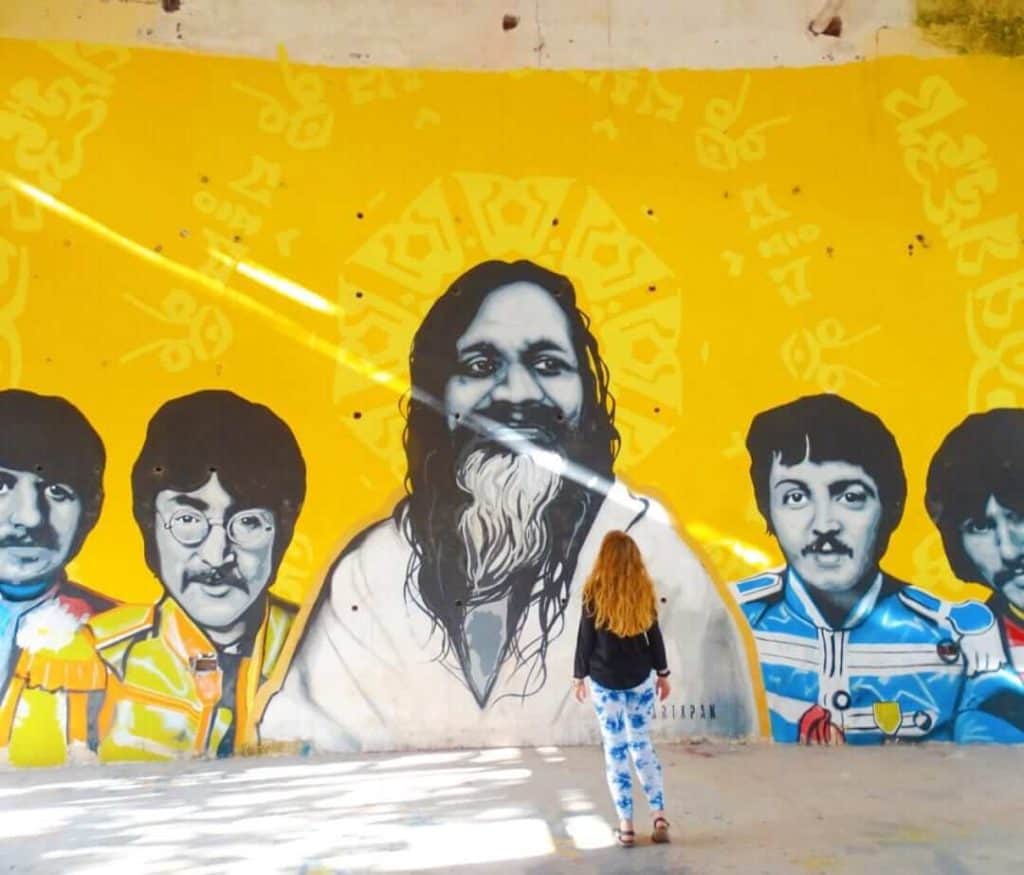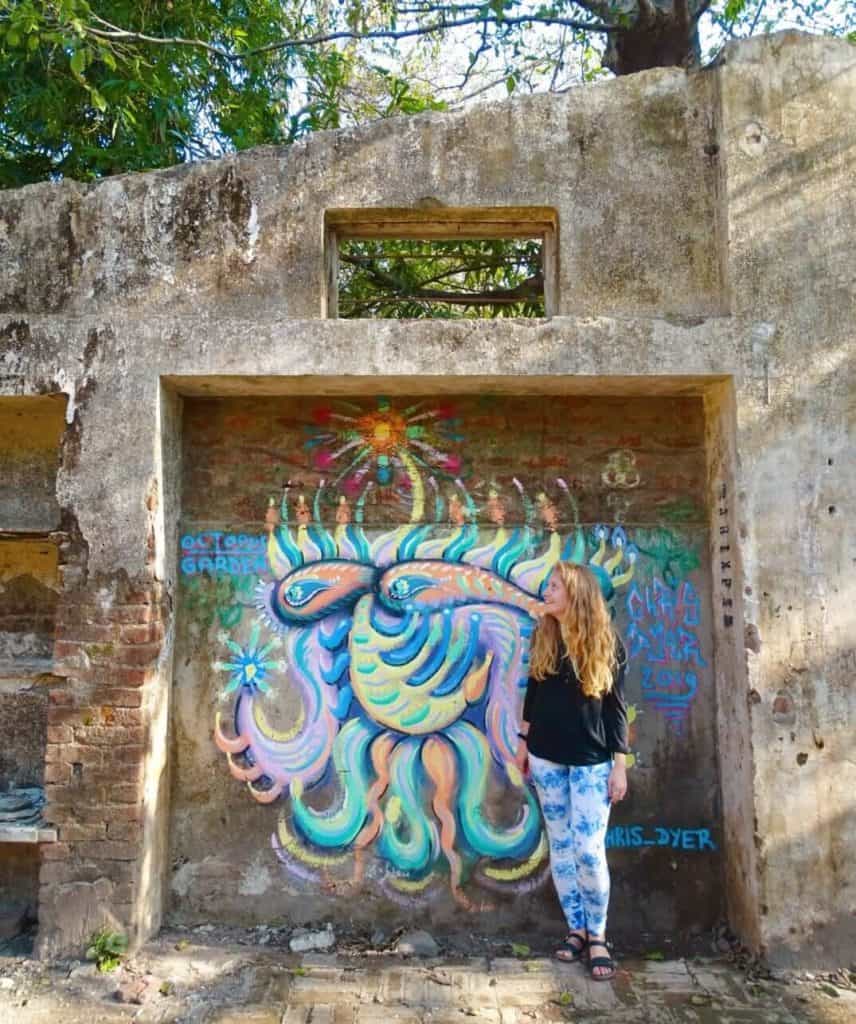 The only new addition to the Beatles Ashram is the colourful collection of urban murals. The site is otherwise kept as it was 50 years ago, including the dilapidated Beatles bungalow where they actually lived. Seeing the bath the Beatles would have used felt very surreal!
Aarti ceremony at Triveni Ghat
While Rishikesh doesn't always feel like the 'real India', there are a few ways to get stuck into the culture.

Riverside ghats date back centuries, acting as holy places to wash, pray and give offerings to the Ganges. Triveni Ghat is the point where the river splits into three forks, putting Rishikesh on the map as one of India's holiest places.

Each night, the ceremony at Triveni Ghat attracts hundreds of locals, as well as a handful of tourists. You'll be in the minority which personally I think is a great way to experience India.

After the atmospheric show, you can purchase flowers and other offerings to release into the river, and a big dance party follows. The locals were so friendly and welcoming, encouraging us to join in. How could we say no?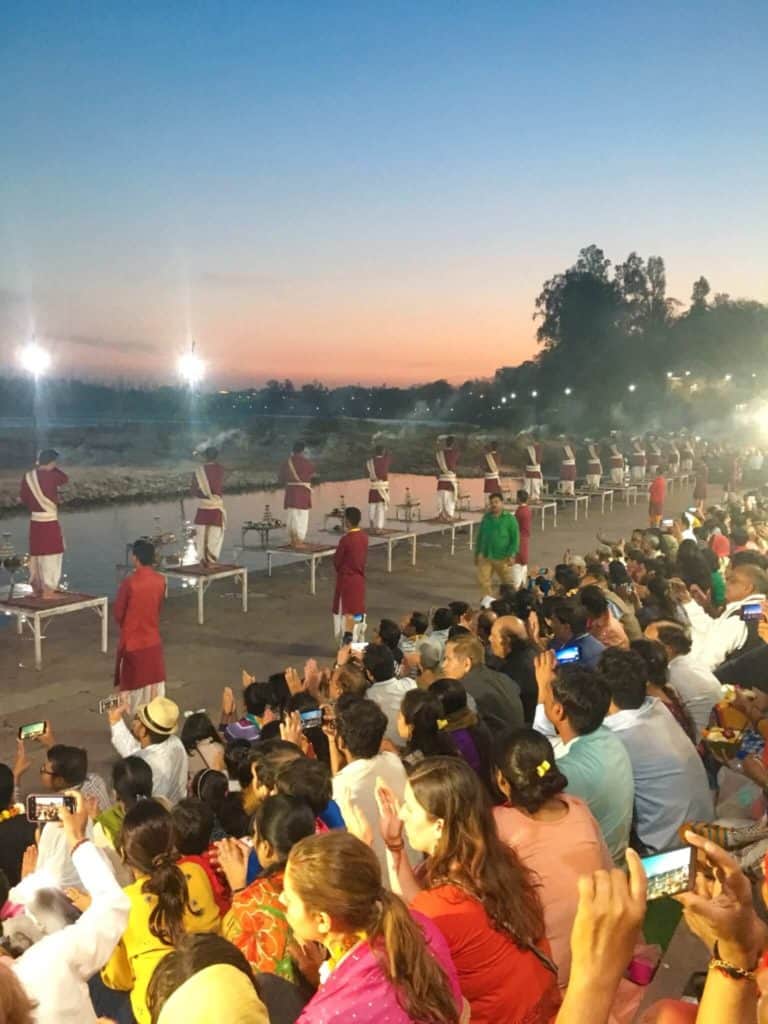 The ceremony is free and starts daily at 6pm. To get there, grab a tuk-tuk from this rank. Whatever they initially quote you, haggle for half.
Do some yoga
No Rishikesh guide would be complete without yoga! India is the birthplace of yoga and Rishikesh is one of the most popular places to try it. You won't find many better backdrops than the peaceful Ganges.

While there are so many places to try yoga in Rishikesh with options for all abilities, I liked Swami Vivekananda near to Little Buddha Cafe. This is a yoga and meditation school with beginners classes every day at 8am.

You can buy classes in bulk which makes it cheaper: I had a 10-class pack and really enjoyed starting my days with an hour of yoga before breakfast. I believe it's 2,000 rupees for this pack.

Yoga teacher training in Rishikesh: Another popular thing to do in Rishikesh is take the 200-hour yoga teacher training course. Plenty of schools offer this for under £1,000 a month including all your food, accommodation and some activities. It sounds like an incredible month and people come away with friends for life.
Have a beach day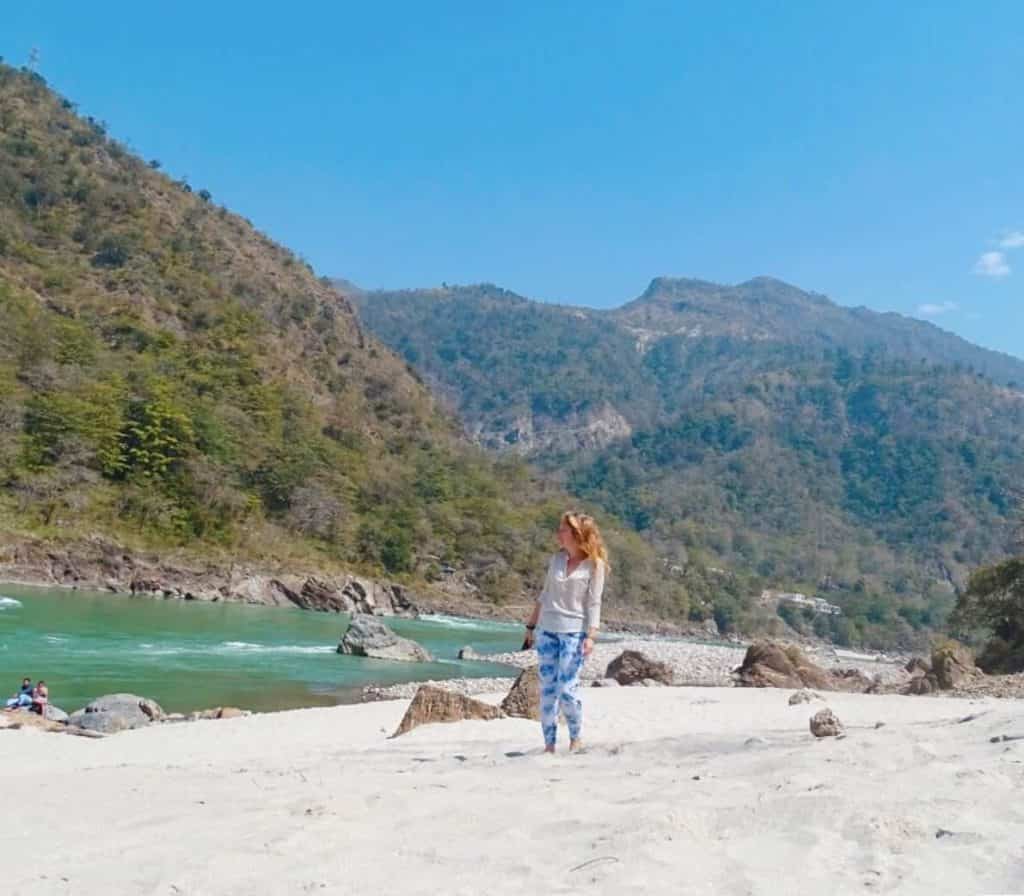 A beach day miles from the ocean? Yup! Rishikesh is known for its white sandy riverbanks which double up as beautiful beaches.

The easiest one to visit near Rishikesh is Riverside Beach, just a 15-minute walk from Laxman Jhula bridge. It's not your traditional beach day since you can't swim in the current or strip off in this religious area, but I still enjoyed relaxing on the white sand with my book.
Better yet, find Secret Beach
My best day in Rishikesh was finding Secret Beach with the staff at Shiv Shakti hostel.

In classic 'The Beach' style, the locals never disclose the location in an effort to preserve it. I don't want to be the person to post it all over the internet so I'd advise asking a local – for example the staff at Shiv Shakti Hostel who run weekly trips there.

Once you find the orange bridge connecting the main road with the white sandy beach on the other side, you'll know you've nearly made it. A few locals were relaxing on the first beach but we continued further, up and over the hill and had this piece of paradise to ourselves!

The beach is almost an hour's scooter drive from Rishikesh and there's nowhere to buy water or snacks onsite so make sure you bring enough.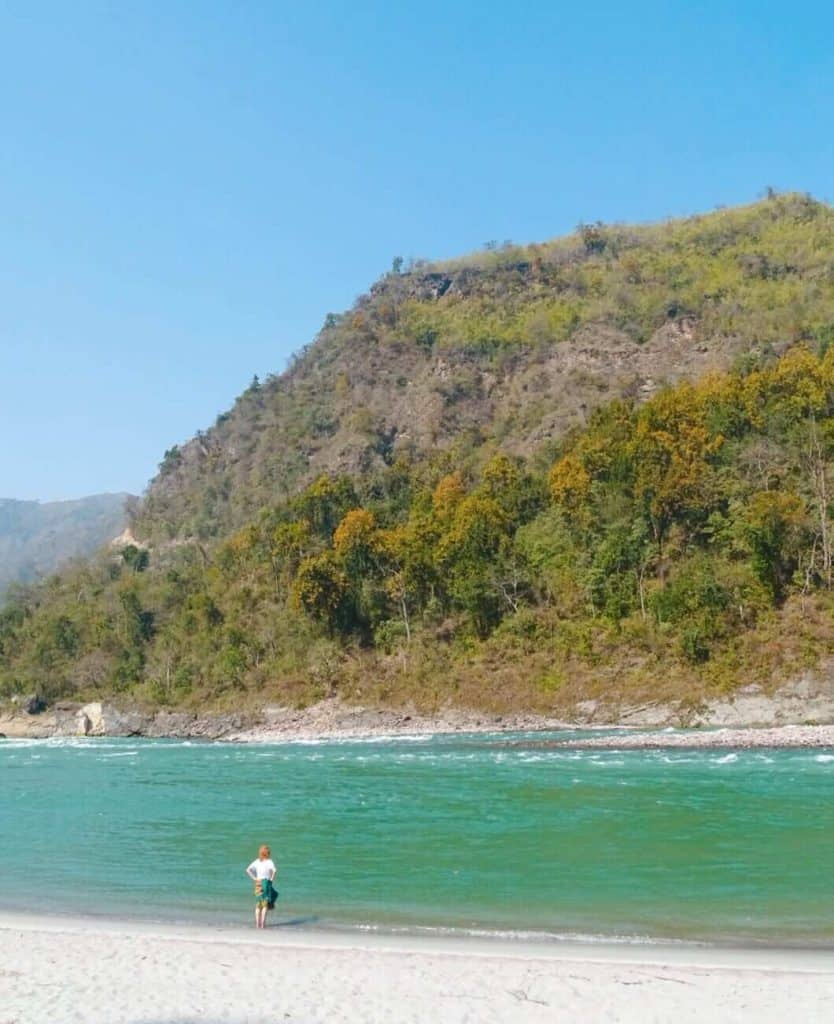 Get spiritual: meditation or sound healing!
The meditation class I tried at Swami Vivekanand was great. I didn't expect to feel so peaceful or moved during my first experience of meditation; I really got into it. Would recommend!

I also tried sound healing at World Peace Yoga School which is apparently world-renowned with studios as far away as Holland and Mexico.

I have to say it didn't do anything for me. The vibration from the bowls so close to me was uncomfortable and made me feel ticklish. I couldn't clear my mind and relax although that's not the fault of the class. The friend I went with loved it!
Go rafting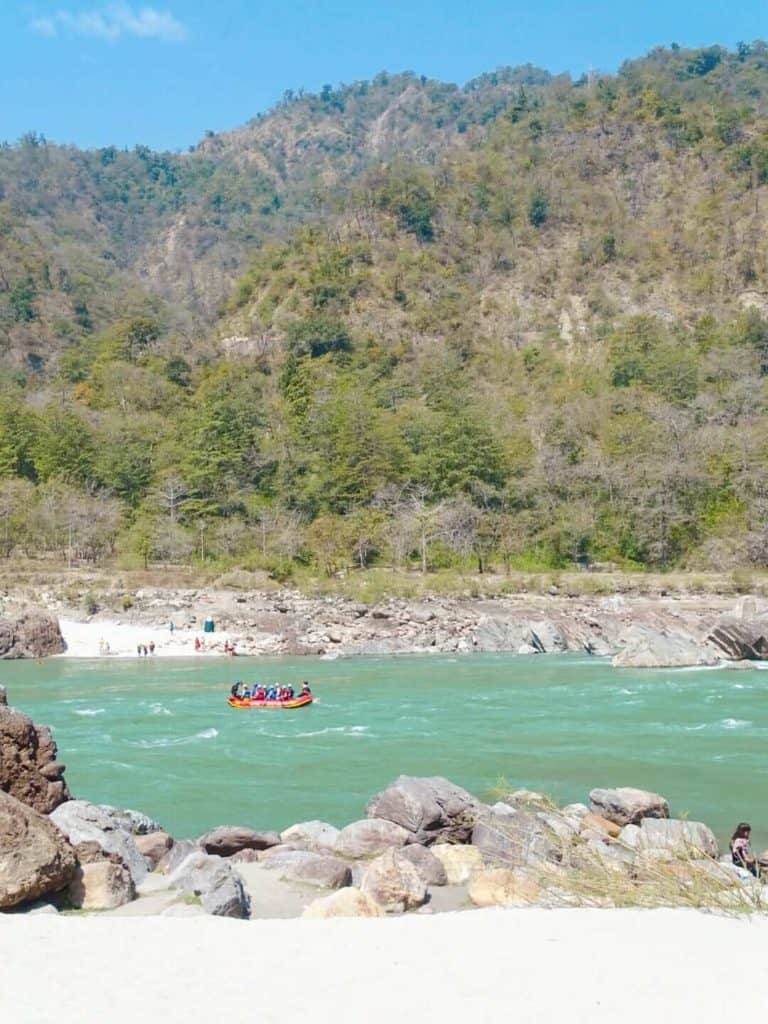 Personally, I didn't try rafting in Rishikesh. I had a bad experience in South America and since I've ticked it off my bucket list, I'm not bothered about doing it again. But you might want to give it a try.

I hear there are white rapids as well as peaceful sections where you just float past the Rishikesh scenery. Most hostels and tour operators offer rafting packages.
Cafe hop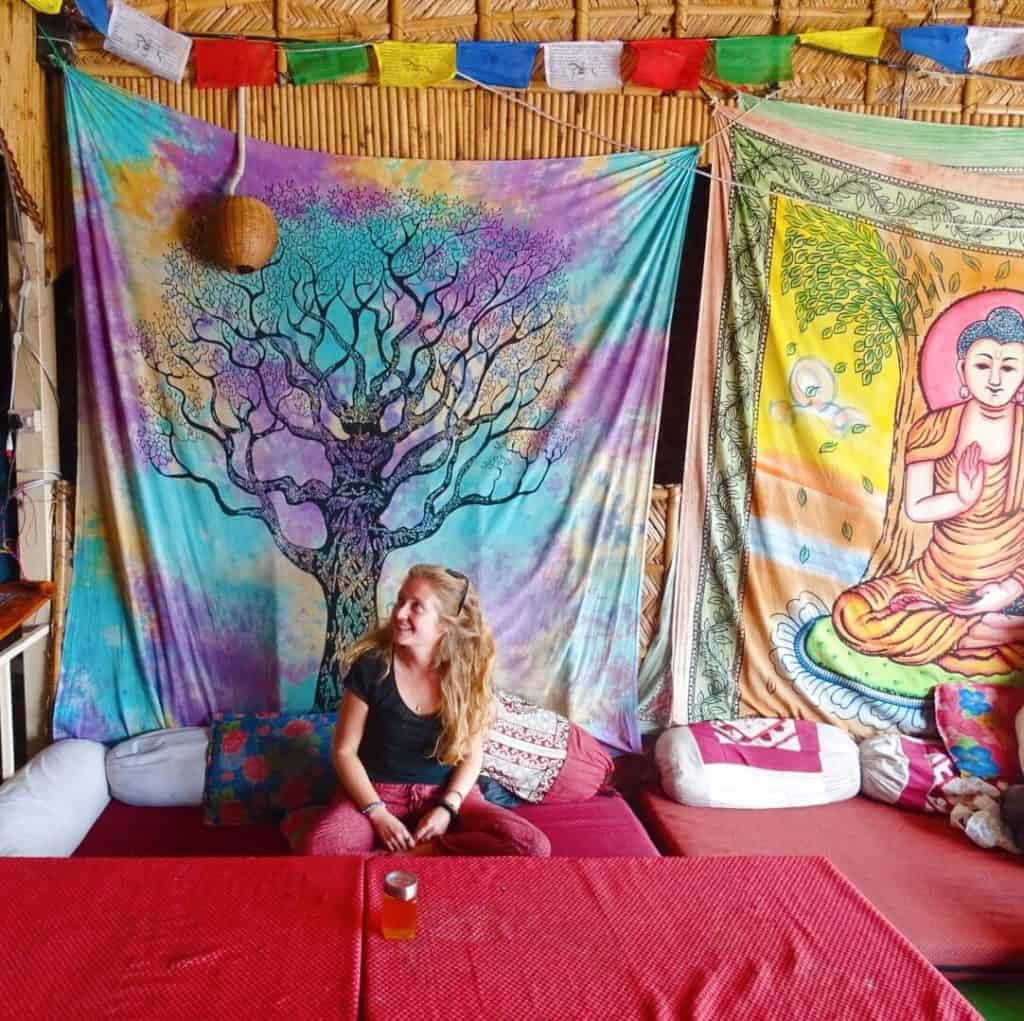 Well, it wouldn't be a Rishikesh travel guide without food! Rishikesh is famed for its cafe scene and for good reason.

Most of them serve Indian food but it's more catered to Western tastes and served alongside a host of Israeli, Mexican and Italian dishes. Oh, and a lot of veggie burgers! The Rishikesh cafe menus are insanely long and the food is great but the highlight is the gorgeous views.

You could while away whole days watching the roaring Ganges with a good book (believe me, I did).
Eat real Indian food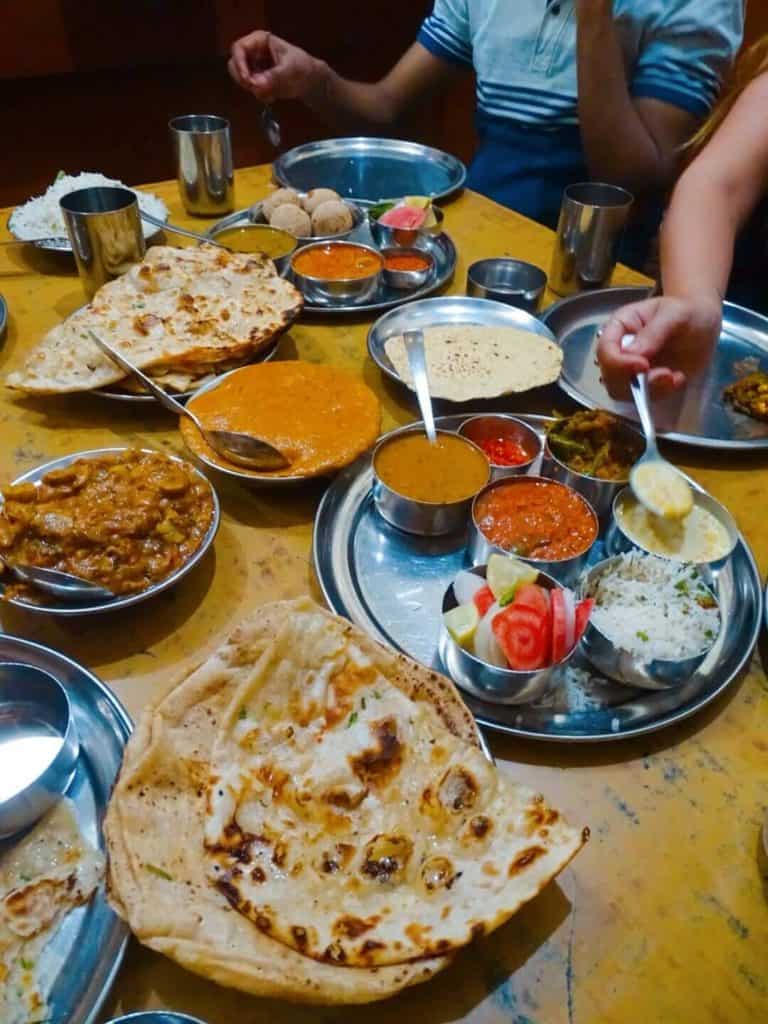 It's not hard to ditch the veggie burgers and find authentic North Indian food in Rishikesh, as well as some decent South Indian food, too.

My favourite meal was this delicious spread at Rajasthani Restaurant which is a popular local spot near Triveni Ghat. For desserts, try the Indian sweets (they take up whole counters so you can't miss them). I also had some amazing stuffed dosas at Madras Hotel, a South Indian Restaurant near Rajasthani.

Both these eateries are a tuk-tuk ride from the tourist area but you can also walk to the north side of Laxman Jhula and try real Indian food at Mamta Restaurant and its neighbours.
Related activity: Rishikesh food crawl
Sunrise at Kunjapuri Devi Mandir Temple
Of all the things to do in Rishikesh, this wasn't my absolute favourite. After a 4am wake-up, we climbed a set of concrete stairs and watched sunrise from another concrete platform which was packed out with people.

I'd been expecting something a bit more natural but at least we had clear weather and saw some gorgeous views.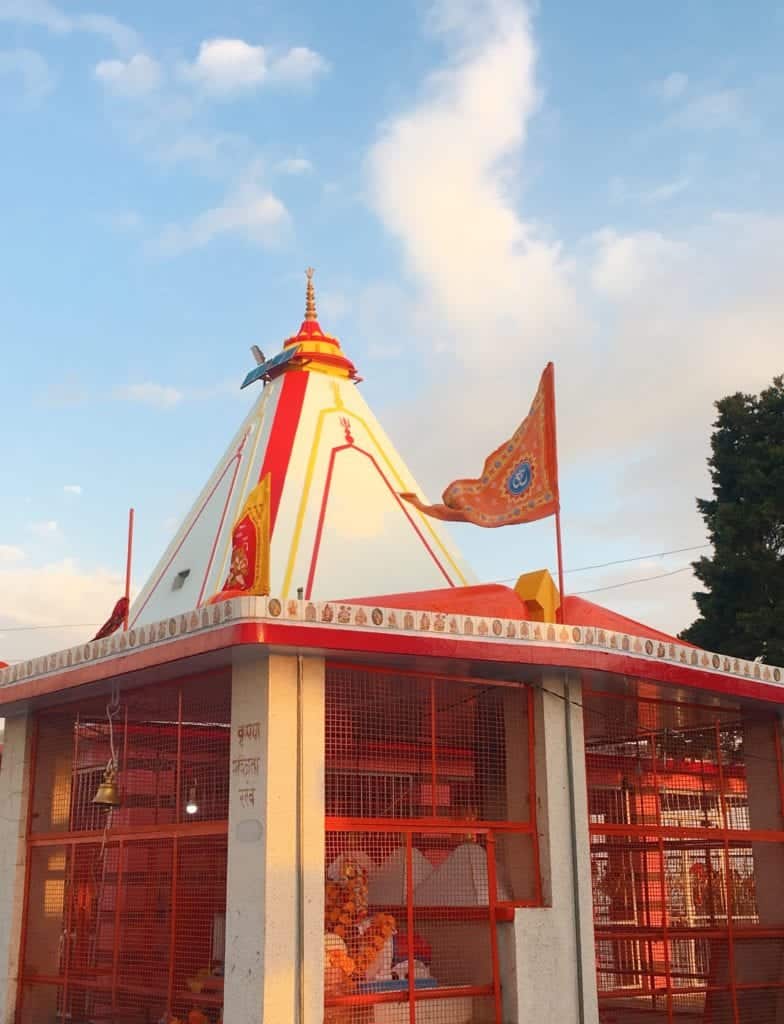 How to reach the temple for sunrise: Jeep taxis up the mountain are very expensive so it's best to organise it with a tour group. One option is the sunrise trekking tour that starts by driving you up to the temple for sunrise then treks back down to Rishikesh through the countryside, stopping at Neer Garh Waterfall.

The whole trip takes 8 hours and costs around 800 rupees per person if there's a group of you. Seeing the countryside and rural homes was worth it. I booked at my hostel but plenty of local tour operators who run the same trip.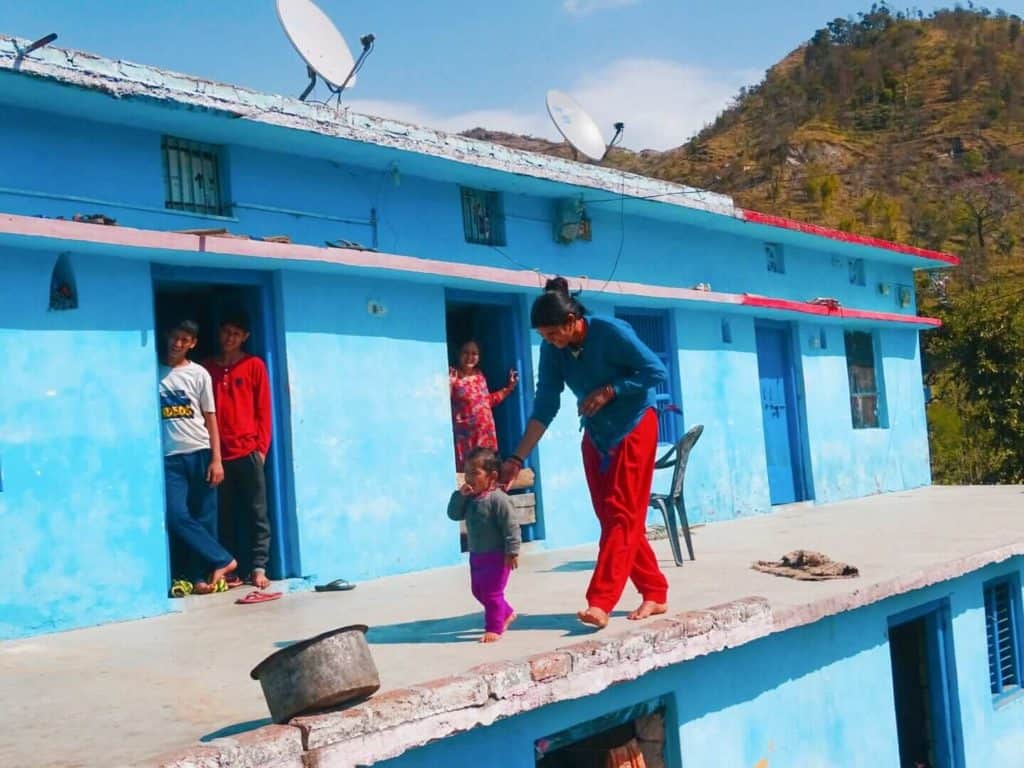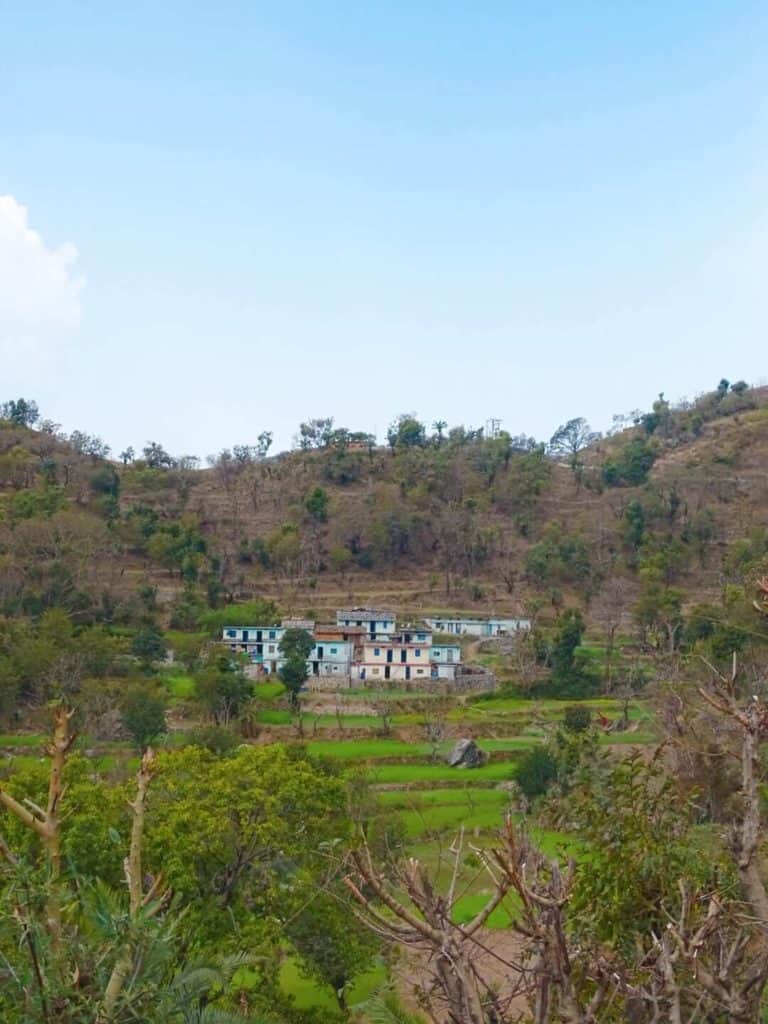 Trek to Neer Garh Waterfall
This set of three waterfalls in the forest is a good way to escape the city for a few hours. It was included on the journey down from the temple mentioned above, however if you don't fancy the 4am start you can trek up to it from Rishikesh any time of day.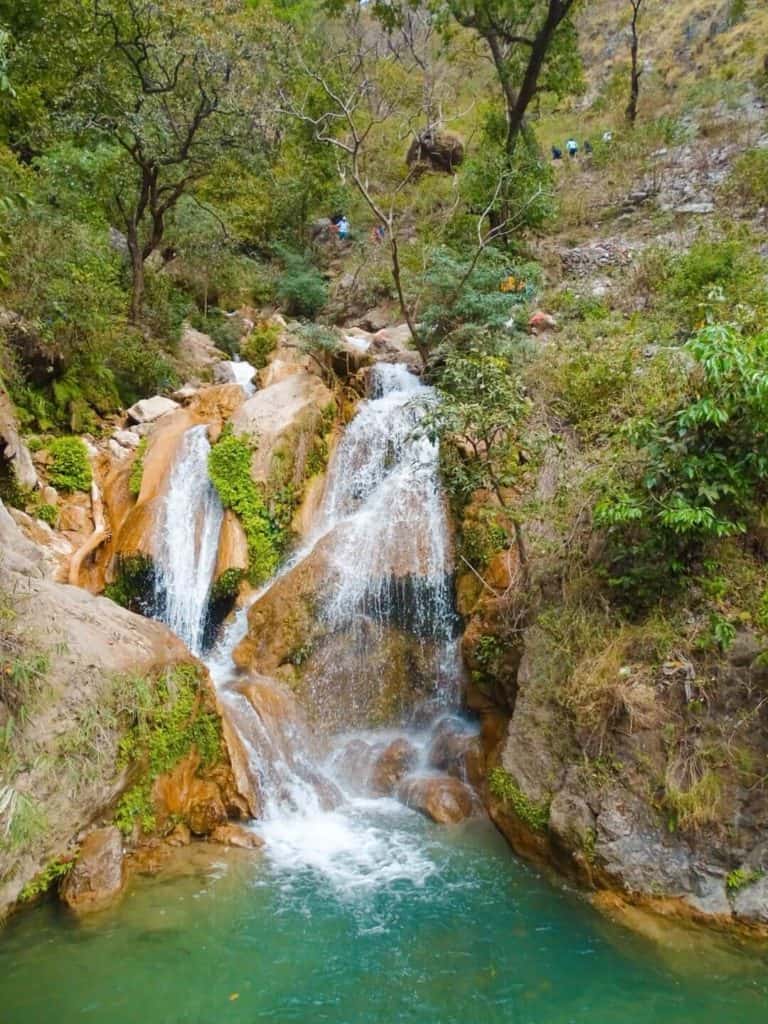 Other options for getting to Neer Garh Waterfall include hiking, hiring a scooter (definitely only if you're a confident driver!) or getting a taxi. The last option is pretty pricey and we got charged 800 rupees on the way down so it was a good thing there were 8 of us.

Hiking to Neer Garh Waterfall will take 1.5 hours each way from Rishikesh and hiring scooter will cost around 300 rupees per day.

Entrance to Neer Gahr Waterfall is free.
Patna Waterfall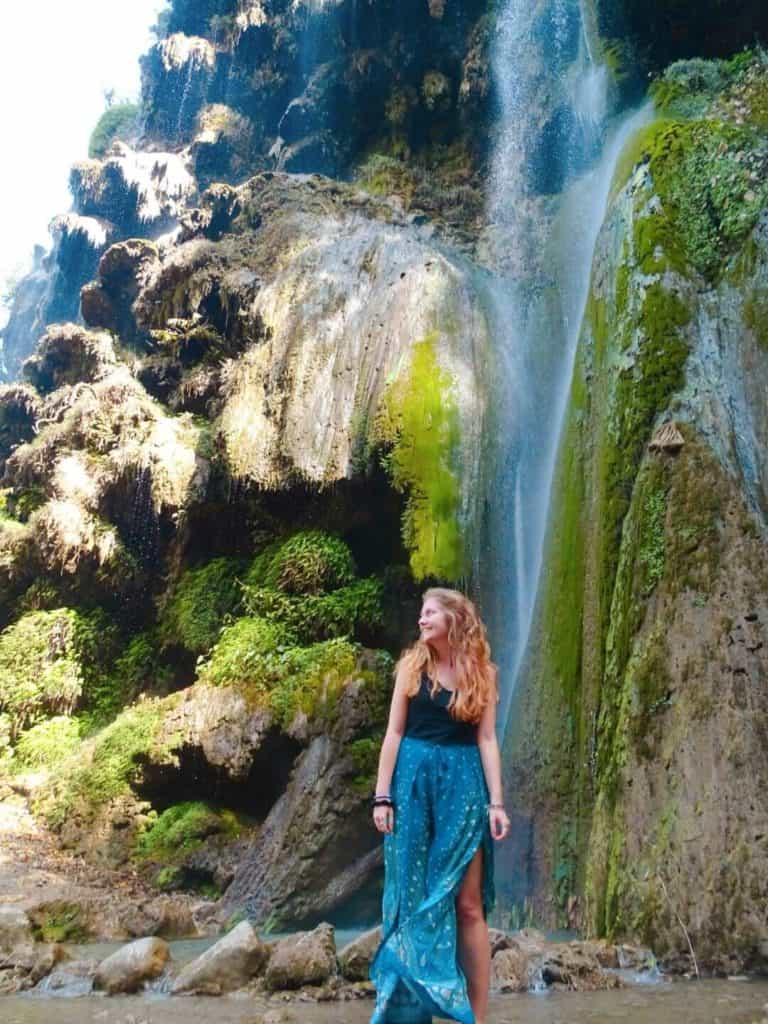 For a nicer waterfall even closer to Rishikesh, seek out this hidden gem. Patna Waterfall is a 10-minute drive from Laxman Jhula bridge but for some reason, it's not well known by tourists.

We hopped on bikes with the Shiv Shakti hostel staff but you could hire your own, get a taxi or walk in just under an hour.

Once you arrive from the main road, there's a 15-minute uphill hike to reach the waterfall. Here you'll find Indian tourists on the weekend but hardly anyone if you visit on a weekday.

As it's India, you should be mindful about stripping off into swimwear but we did this as part of a group and felt perfectly safe. It's not possible to swim in Patna Waterfall but you can walk into and behind the refreshing cascade.
Hire scooters & explore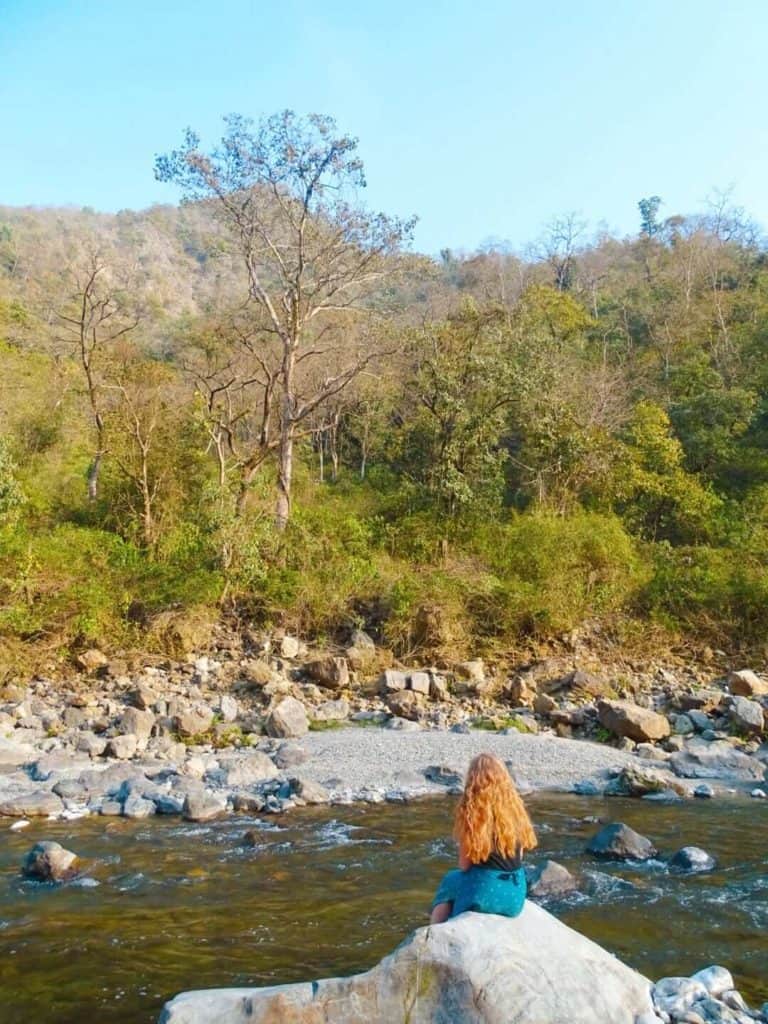 As part of the trip mentioned above, a group of us from the hostel explored the countryside around Rishikesh, stopping at bridges, beaches and waterfalls. If you feel confident riding a scooter, you should do this too. It's a gorgeous way to spend a day and a great way of getting to know Rishikesh beyond the tourist spots.

Drive to Patna Waterfall then continue onwards. Scooter hire is about 300 rupees for the day, not including gas.

The police will fine you if they see you without a helmet and – for safety reasons too – insist on getting one when you hire your bike. Lots of vendors don't even offer them as so few Indians wear them, but you have to remember that most locals have been driving a scooter since they were and 10 and you haven't!
Check for festivals & events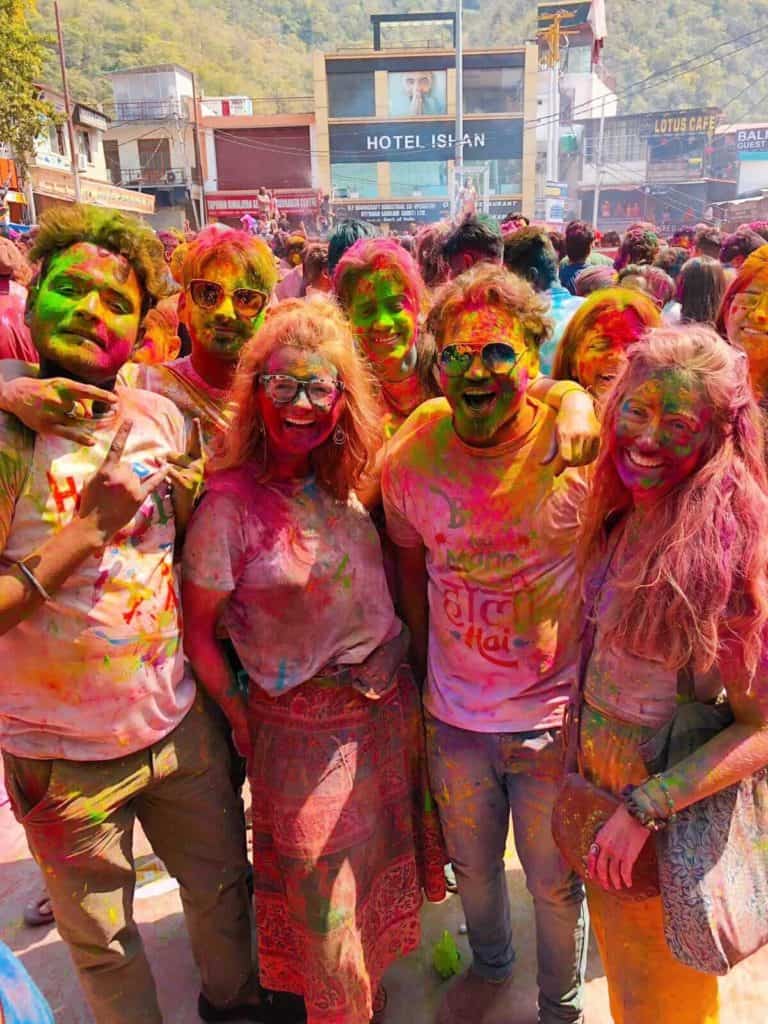 Finally in my Rishikesh travel guide… How to experience a party in a dry city!

The best thing to do in Rishikesh is to experience a festival. During my visit, I experienced Holi festival in Rishikesh (literally the highlight of my year) and an expat-style reggae festival. Basically, there's always something going on, from local celebrations to events put on by Westerners who base themselves in Rishikesh.

Ask your hostel and keep an ear out for things going on; many of them like Holi you won't be able to miss!
Ps – as I mentioned, Rishikesh is a dry city so you won't find alcohol sold here. Your liver will thank you!

Phew – what a list! That should give you some things to do in Rishikesh for now!
Thanks for reading my Rishikesh travel guide!
Check out my other India blogs:
See you next time for more adventures,
Rose
For more travel content, follow me on Instagram, Facebook, Twitter and YouTube.
Ps. Liked my Rishikesh travel guide? Pin it for later!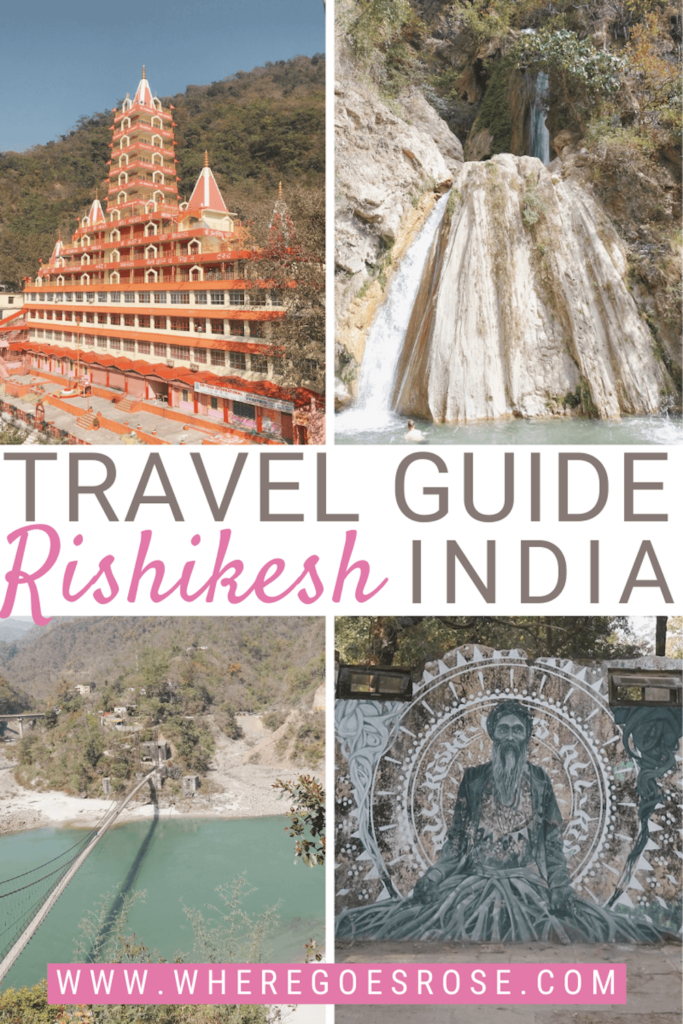 VISITING INDIA?

These are my trusted resources:

Getting around by air – it's easy to get between cities by flight. I use Skyscanner and search by whole month to find the best value dates.

Buses – buses are comfy and efficient. Use 12Go to book.

Trains – these are a good option for long journeys because you have a bed rather than a seat. Use 12Go to book.

For hotels, I use Booking.com – they also have self-catering apartments. You can filter by review score and price to find the best-rated budget places. For hostels, I use Hostelworld.

Browse tours and activities on GetYourGuide. I also check Viator and Klook in case they have a better price.

For food experiences with passionate local chefs and foodies, check out EatWith.

Pack the latest copy of India Lonely Planet.

Need travel insurance? I use True Traveller (for UK & Europe residents) since it's affordable but covers everything you'd need including various activities, valuables and pre-existing conditions. Unlike some companies, they insure you if you're already travelling / don't yet have your flight home booked. Get a quote.

For travel insurance for other nationalities, I recommend Hey Mundo and for long-term digital nomad travellers, I suggest Safety Wing.

Check out my resources page for more travel discounts and tips!