This post may contain affiliate links to things like tours, hotels, Amazon associates and products. These help me earn a small commission at no additional charge to you.
My friends and I took a trip to Taxco from Mexico City and fell in love with this cultural, charming place. There are so many lovely things to do in Taxco that I've been raving about it ever since!

In this blog, I'm going to share my tips including how to get from Mexico City to Taxco and where to eat, shop, drink and stay.
Visiting CDMX? Check out my 5 day Mexico City itinerary
Taxco is a small town with less than 1,000 residents. It's incredibly pretty and idyllic but still feels local, unlike those UNESCO towns that have become artificially perfect. Amongst the colonial buildings are bustling markets where locals pick up their groceries and eat authentic Mexican dishes for a handful of pesos.
Another thing I liked? It doesn't receive a huge amount of foreign tourists which keeps prices low. Taxi rides across town cost 30 pesos and you can drink cocktails for half the price of Mexico City. If you're in the mood for an indulgent weekend and a spot of shopping, this is the place!
TAXCO QUICK LINKS

Hotels & apartments: Booking.com

Copy of Lonely Planet Mexico / Mexican Spanish phrasebook

Activities: GetYourGuide

Getting there: bus, car hire or day tour
Where is Taxco?
Is Taxco safe?
While some foreign travellers have reservations about visiting Guerrero because of the US department advising against travel there, Taxco is a very safe part of the state.

Our time in Taxco was idyllic and trouble-free. I haven't heard of any travellers having issues.
Although I travelled with friends, I have no doubt Taxco would be a suitable place for solo travel in Mexico, although possibly not overly social as there are no backpacker hostels.
Getting to Taxco from Mexico City
Hiring a car in Mexico City: driving to Taxco would work out cheaper than visiting by public bus, especially if there's a group of you. Use Rentalcars.com to find the best price.

Bus: We caught the bus from Taxqueña (Terminal de Sur) in the south of Mexico City. The journey takes 2 hours 20 minutes providing there's no traffic and drops you in the centre of Taxco. Book your tickets on Check My Bus. Expect the journey to cost around 600 pesos return.
Taxco from Mexico City as a day trip
There are places like Xochimilco and Teotihuacan that can easily be visited as a day trip. While it's possible to travel from Mexico City to Taxco and back as part of a day trip, it'll be rushed. Like Puebla and Tepoztlan, it's best to stay overnight if you can.

If you have just one day allotted for Taxco, I would recommend a GetYourGuide day tour to Taxco and Cuernavaca. You'll be picked up from your accommodation which will save you travelling to Taxqueña terminal to catch a bus from Mexico City to Taxco. With almost 5 hours on the bus, it would be stressful to see Taxco in 1 day by public transport.
Where to stay in Taxco
There are plenty of places to stay in Taxco. I recommend…
Budget: Capital O Hotel Cielito Lindo

Mid-range: Boutique Pueblo Lindo

Self-catering apartment: Habitación Céntrica y acogedora
Browse all Taxco hotels, guesthouses and self-catering apartments on Booking.com.
How long to spend in Taxco?
We spent just one night in Taxco, leaving Mexico City at 8am and returning by 10pm the following day. This gave us the best part of 2 days in Taxco which was long enough. Any longer and you might run out of things to do in Taxco, but if you feel like relaxing, a couple of extra nights would be perfect.
Things to do in Taxco
Although I love the capital, one of my top Mexico City tips is to escape the hustle and bustle in favour of quieter cities. The best thing to do in Taxco is get up late, wander the cobbled streets at your leisure and do little more than sip coffee, eat authentic Mexican food and admire the architecture.

However, if you're feeling more energetic, there are hillside climbs and natural waterfalls to bathe in.
In this blog, I'll run through all the top things to do during a trip to Taxco from Mexico City!
Take the cable car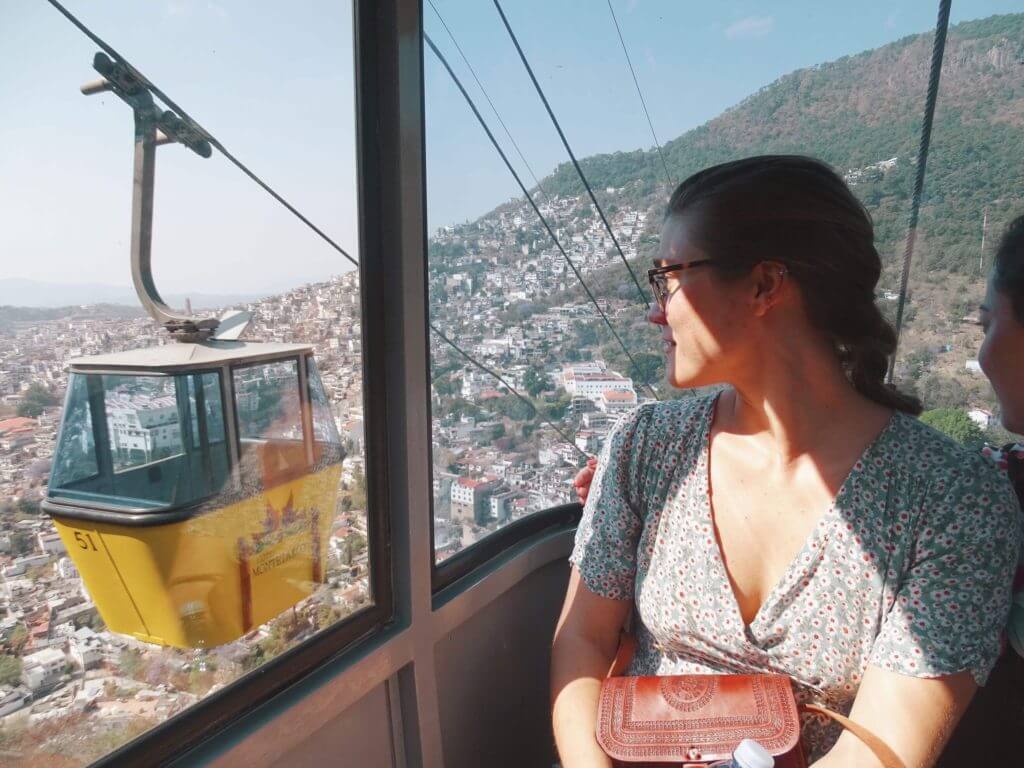 I hadn't seen cable cars in any other Mexican cities so jumped to take a ride. The views from Taxco Cableway are immense.

The bright yellow cars can be boarded from this point, about a 20-minute walk from the city centre. With so many hills and cobbled roads in Taxco, even short walks are a bit of a mission. You can catch a cab instead and pay just 35 pesos.

Taxco Cableway costs 100 pesos return, a high price point when you consider the ride takes barely 5 minutes. However, the views are incredible, both as you ascend and from the top.
Indulge at Hotel Montetaxco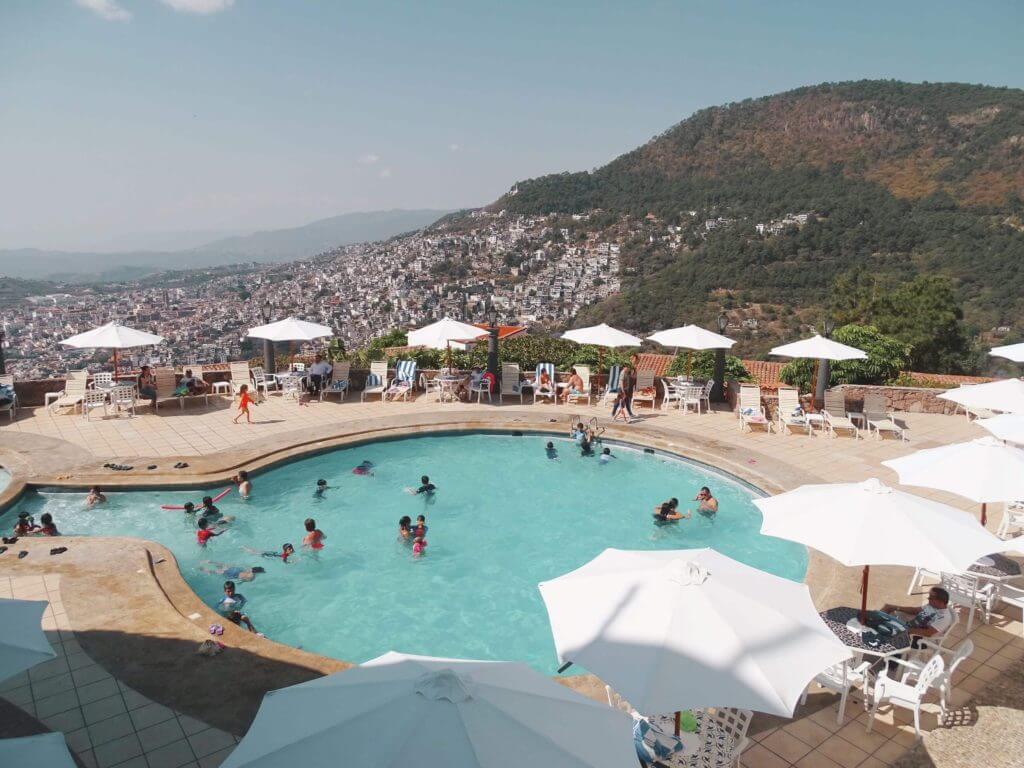 Once you reach the top of Taxco hill via the Cableway, you'll be at one of the most luxurious locations in the city. You have a couple of options here. You can do what we did and check out the views for free, or you can head into the bar and restaurant to dine with a backdrop of Taxco.

Obviously, prices are inflated here but not outrageously so. You can eat chilaquiles for 120 pesos which isn't terrible when you consider the location.

Alternatively, you can stay over at Hotel Montetaxco. Rooms start from 1,200 pesos a night per 2 people which isn't bad at all. This includes access to the swimming pool, golf course, tennis court, steam room and gym. You can reach the city by 10-minute drive or via the cable car. If you're in the mood for a luxurious stay and lazy days with beautiful views, I don't think you can beat this place.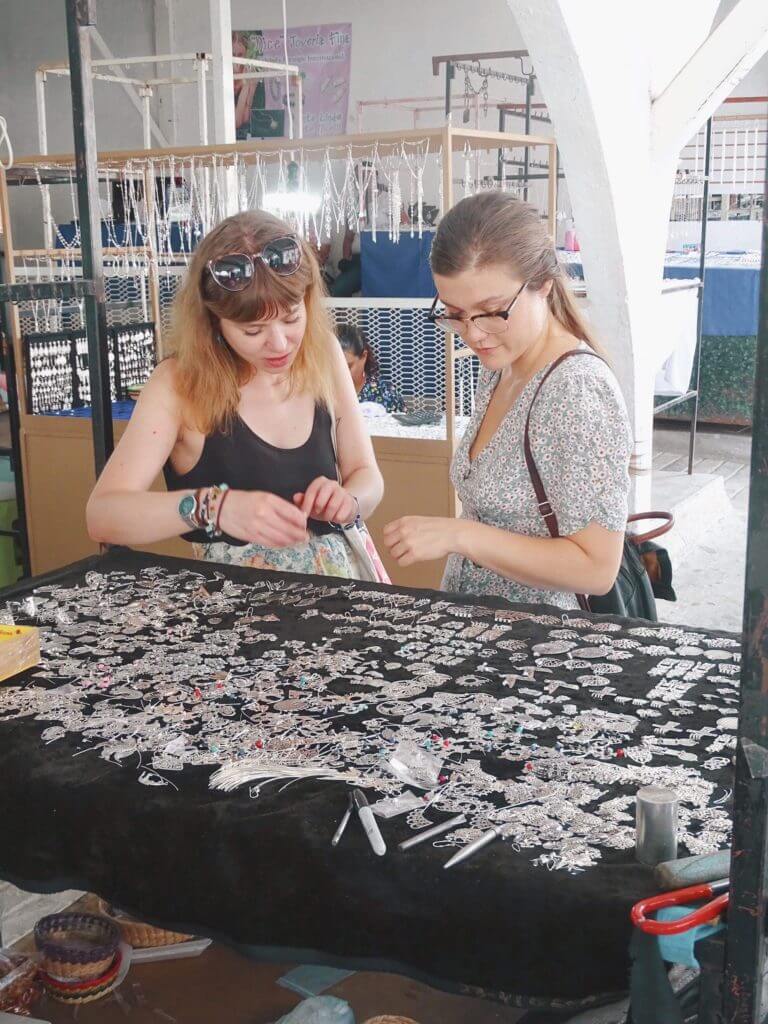 I don't know how I've made it 800 words into this blog without mentioning the thing that puts Taxco on the map: silver!

Silver in Taxco has traditionally been mined from the local area and crafted into jewellery onsite. The industry spans a long history: locals would have paid the Aztecs with silver in exchange for protection.

Times have changed but the industry hasn't. One of the best things to do during a trip from Mexico City to Taxco is shop for silver jewellery and other silver goods. I bought a beautiful sterling silver ring with a blue stone for just 160 pesos.

There's quirky, as well as traditional, jewellery. We saw earrings with unicorns, Peppa Pig and household items like microphones, shovels and tools. The silver jewellery of Taxco can be quite odd but that's all part of the charm.
Shop for handicrafts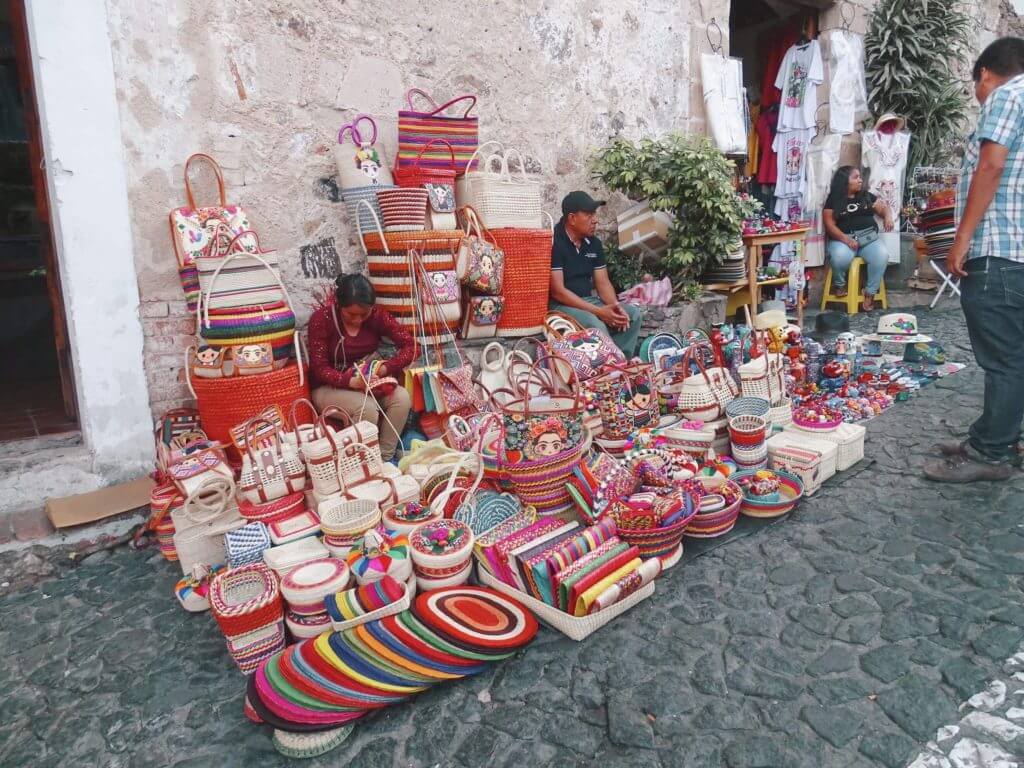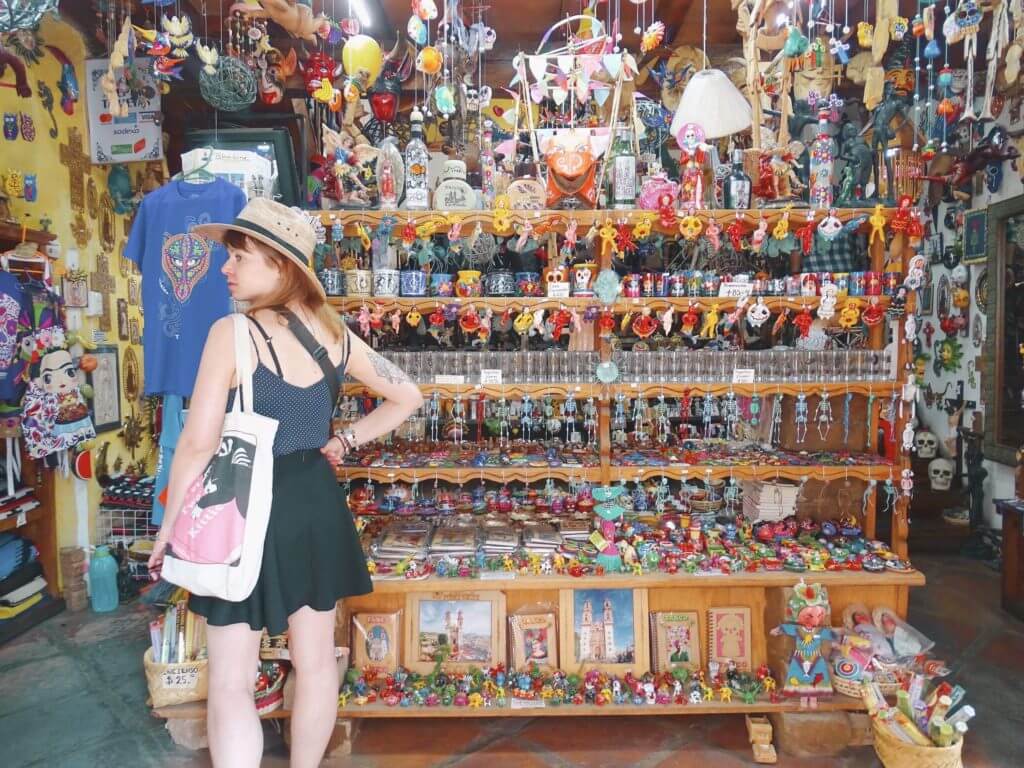 I knew about Taxco's silver history before visiting but didn't realise how many other things there would be to buy. We spent less time at silver shops and more time browsing colourful markets and boutiques selling gorgeous clothes, bags, cushion covers, trinkets and more.

If you're taking a trip from Mexico City to Taxco, you should make the most of the cheaper prices in Taxco. You could decorate a whole house without breaking the bank!

Agatha boutique just off the main square is one of the best places to shop for clothes. A couple of my friends bought beautiful handmade dresses with Mexican floral prints. For 500 pesos you'll get a gorgeous new outfit.
Journey up to El Cristo Panoramico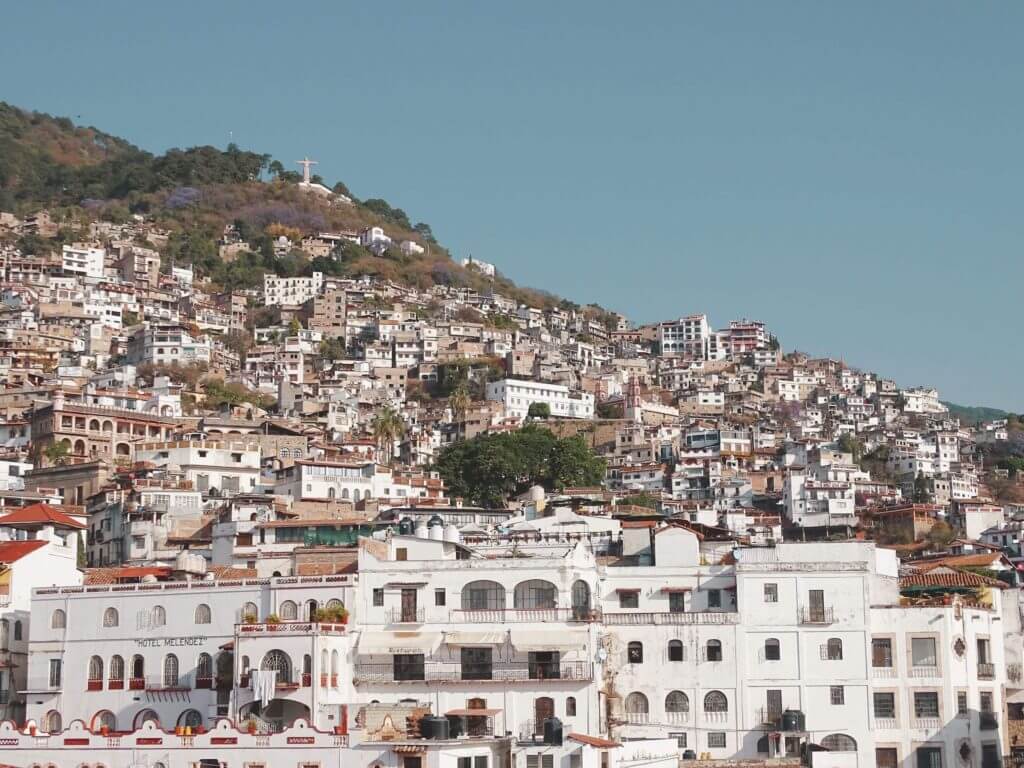 This Jesus statue looks over Taxco from a lofty position on the hillside. If you've already travelled up to Hotel Montetaxco via the cableway, you might not want to visit the statue since the views are similar from both.
But if you have time, why not? There's no entrance fee to reach the El Cristo Panoramico and you'll pay just 120 pesos return for the 30-minute drive there and back by taxi. Alternatively, you can hike up to the statue if you're feeling energetic. The views would certainly be worth it!
Eat at Rosa Mexicano Restaurant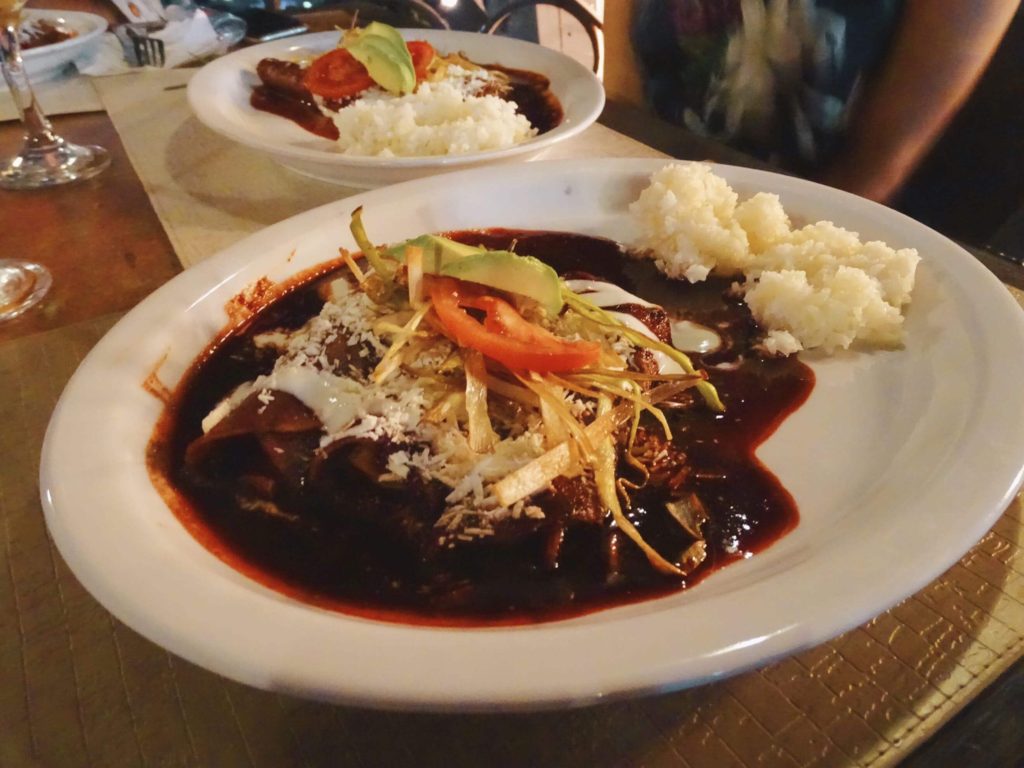 One of the best things to do in Taxco is eat! We had a fantastic meal at Rosa Mexicano Restaurant. It was truly one of the tastiest meals I've had in Mexico and it wasn't even particularly expensive, although perhaps I'm too used to the high prices of food in Roma and Condesa.

As we waited for a table on the beautiful patio overlooking a panoramic view, we joked that we would probably take one look at the menu and have to leave. We assumed the premium location meant premium prices but nope, we ate delicious main dishes for only 100 pesos!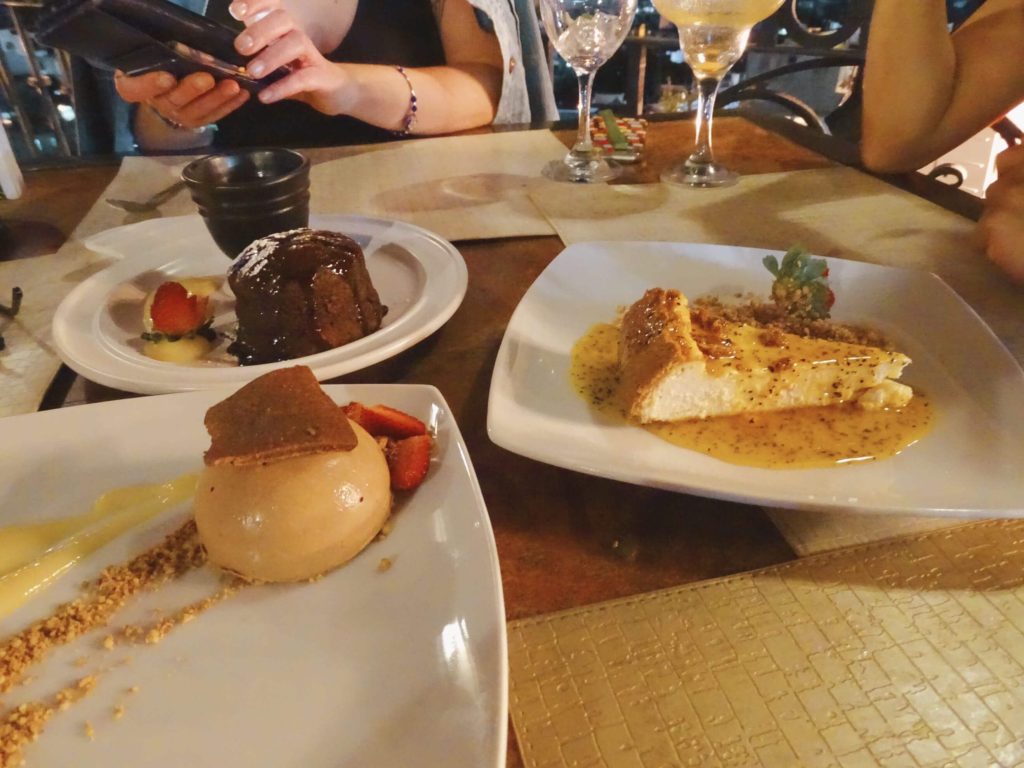 I can vouch for the jamaica mole enchiladas which were rich and flavoursome with a tangy aftertaste of hibiscus. I also tried the pink mole enchiladas which were subtly creamy with a hint of sesame. They weren't bright pink but more of a pale pink-orange, made with rose mole which is a speciality dish from Taxco.

We washed the meal down with margaritas and finished by sharing some desserts. The chocolate volcano and passionfruit cheesecake were amazing! We paid 300 pesos each for everything.
Related read: 36 best Mexican foods to try
Frappes at Santo Cafe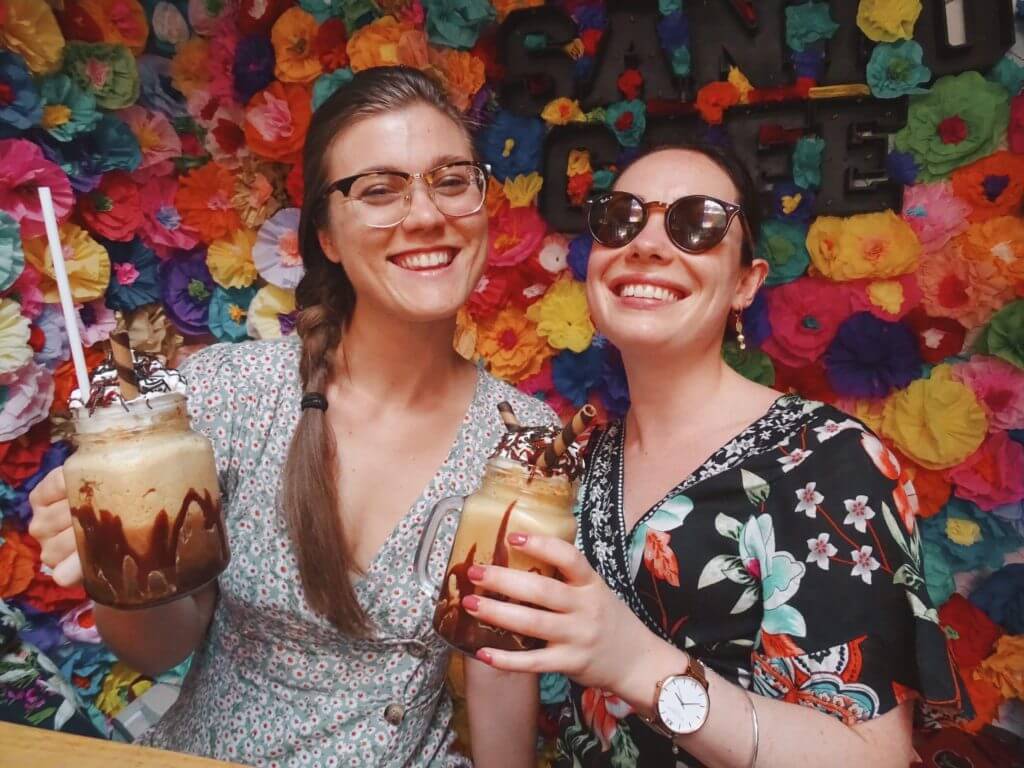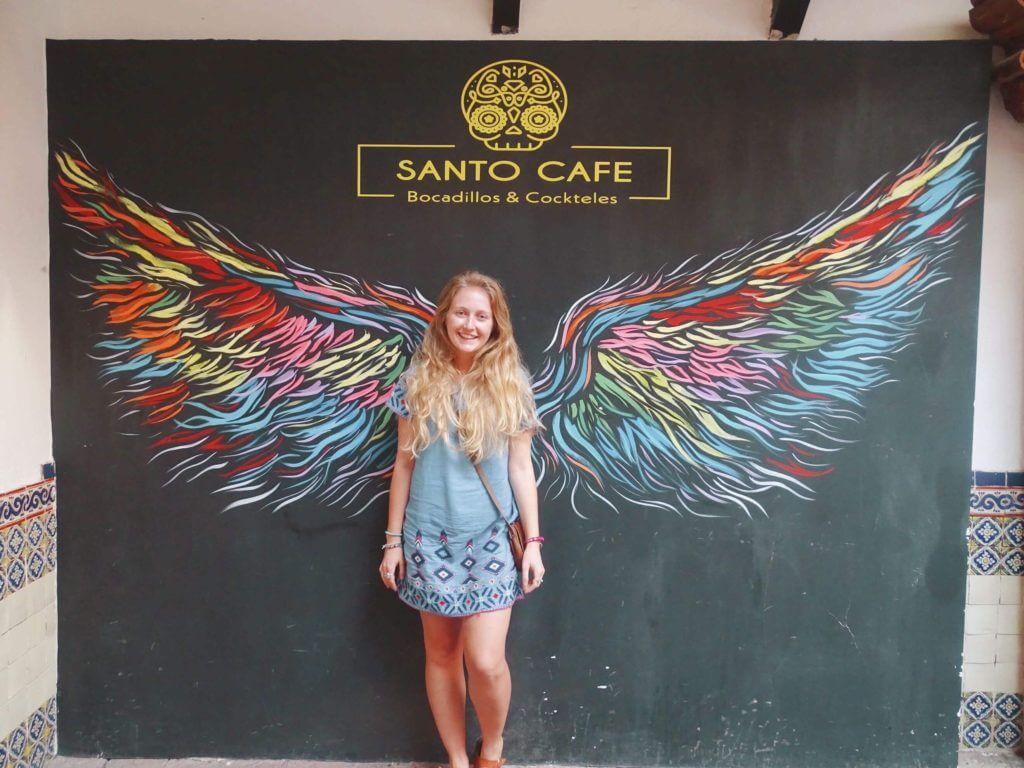 Did you come all the way to Taxco to drink frappes at an Insta-friendly cafe? It may not be the most cultural thing to do in Taxco but we had a great time here, especially since it was very hot during our March visit and we needed to cool down.

As well as the colourful Mexcian flags hanging from the ceiling, an Insta wing mural to pose with and a 3D flower wall, the best thing about Santo Cafe is the frappes. These cost 45 pesos and come topped with whipped cream, chocolate sauce and edible staws. They were so good we came back two days running.

Don't miss the amazing crafts shops upstairs which sell some of the prettiest purses and bags I saw in Taxco. Santo Cafe can be found beside Taxco's main square.
Try a berta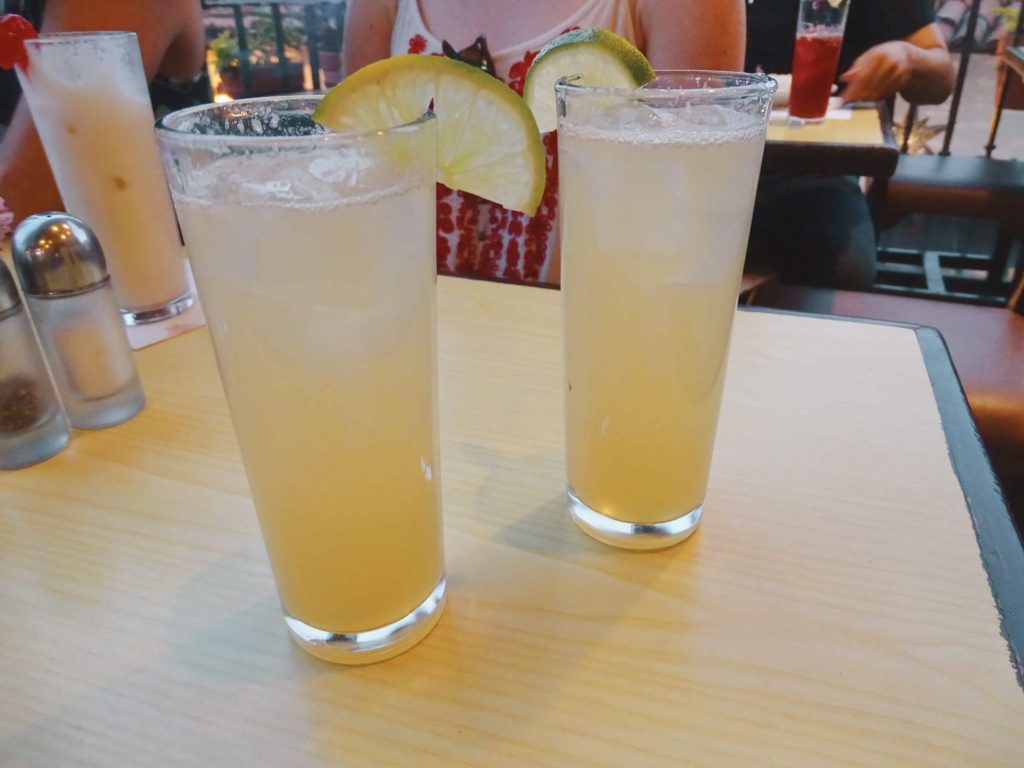 When we found out that Taxco had a signature cocktail we knew we should have it for cultural reasons, obviously!
Lime, honey and tequila make up a Berta cocktail. I didn't love them: they were overly sweet and didn't have much flavour besides the honey.

I'm glad we tried them but I switched back to margaritas for the rest of the weekend (and my life)…
Sip on a sundowner
On the topic of cocktails, another unmissable thing to do in Taxco is visit a rooftop bar. As a scenic city, it's hardly surprising there are lots of these around. One of the best places for a sundowner is Hotel Montetaxco where you can watch the sun sink behind Taxco.

For a rooftop drink closer to the centre, I would suggest visiting one of the bars around the main square. From any of their balconies, you can look down and people-watch over the busy square with a marg in hand. Expect to pay around 75 pesos a cocktail.
Get lost in the backstreets
One of my favourite experiences in Taxco was walking to the Cableway and accidentally exploring the backstreets on the way. There are so many charming multi-story houses, many painted white with balconies and colourful flower displays. The sea of white against the hillside reminded me of Greece… with the adorable addition of Volkswagen Beetle taxis!
Visit Santa Prisca de Taxco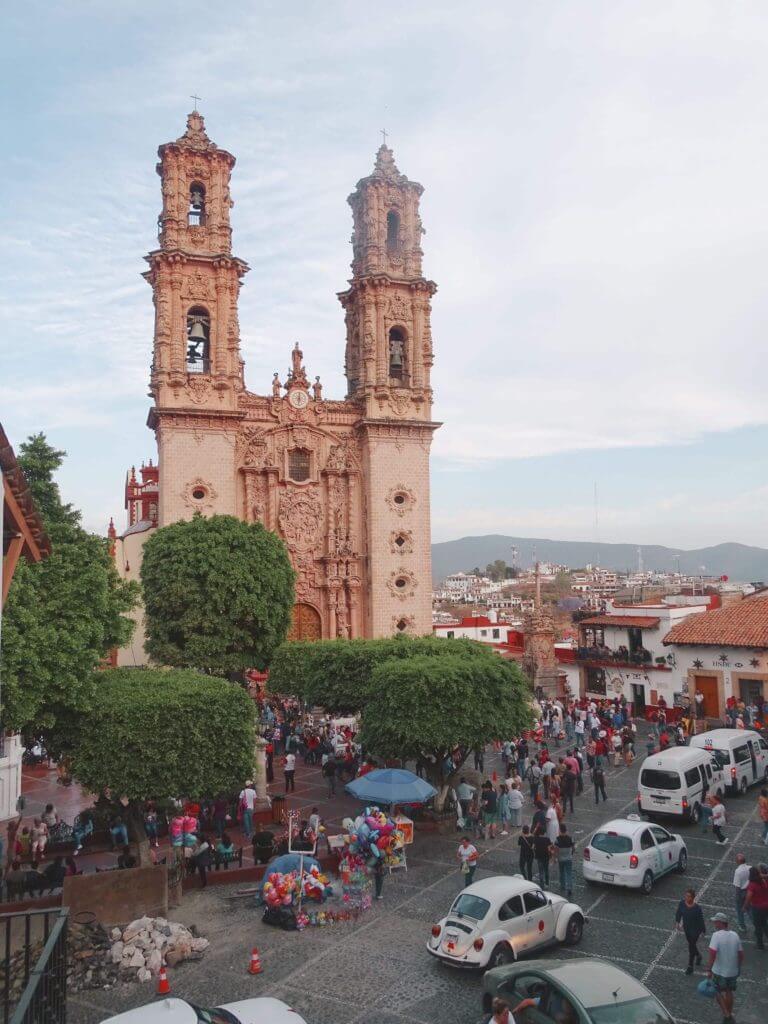 Another of the most impressive things to do in Taxco is visit this enormous colonial church built by one of the richest mine owners in the 18th century. The interior is a little underwhelming in comparison but since entry is free, it's worth a quick visit while visiting Taxco from Mexico City.
Eat ice cream at Tepoznieves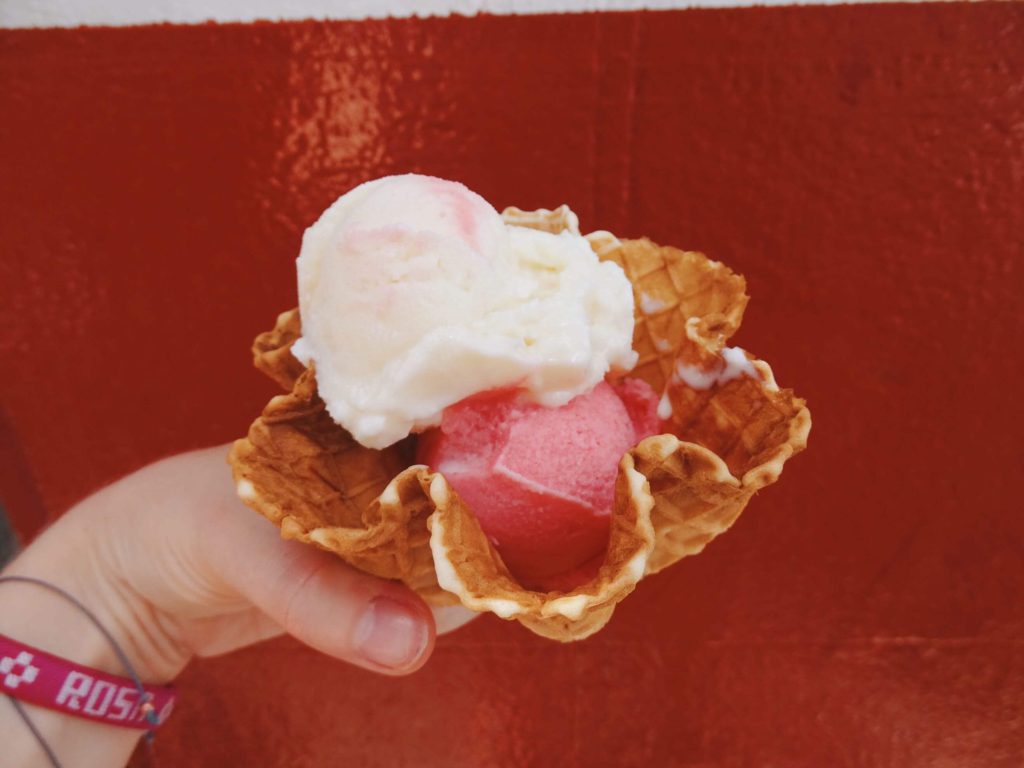 There's no debate when it comes to the best ice cream in Taxco. Tepoznieves is a type of ice cream born in Tepoztlan, another scenic town not far from Mexico City. As I learnt while visiting, there's fantastic food in Tepoztlan and the ice cream is no exception!

At Tepoznieves, you can try various milk and fruit flavours including rose petal, coconut gin, passionfruit, mezcal, mango and funky ones like nopal (cactus). For an environmentally friendly – and delicious – option, forgo the styrofoam cup for a flower-shaped cone bowl.

Tepoznieves is in the central square of Taxco. Two scoops of ice cream will cost just 40 pesos.
Brunch at La Intriga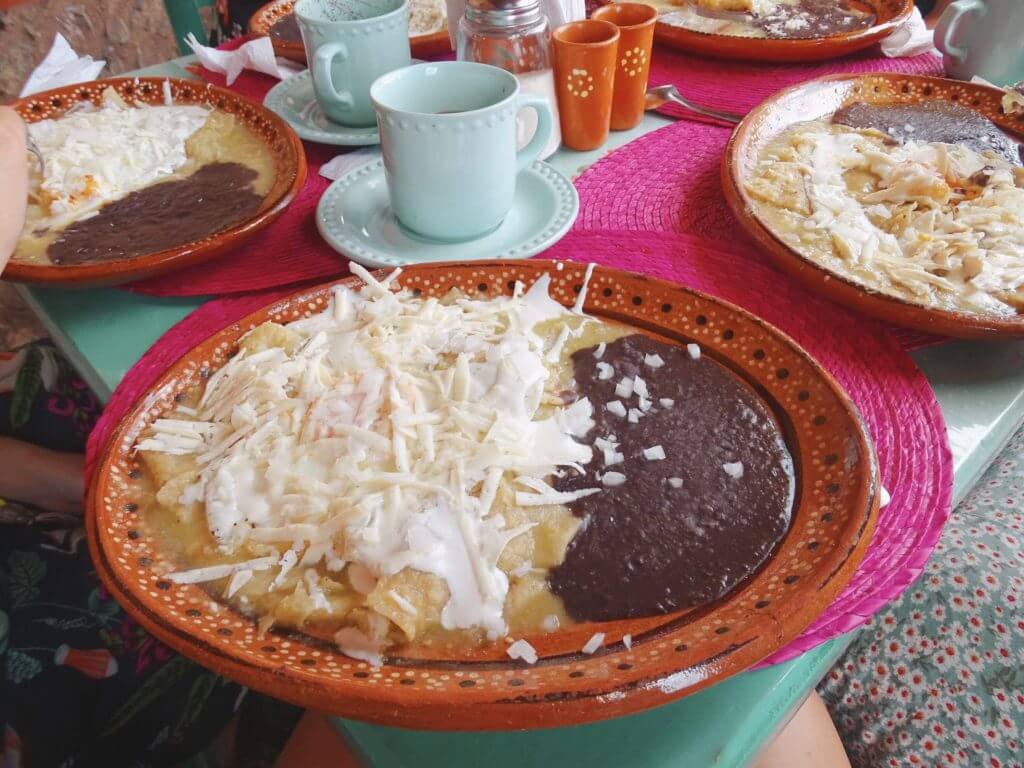 We ate a tasty brunch at La Intriga Taxco. This pretty cafe is bright and colourful with hot pink tablemats and muted blue tables and mugs. We ate outside but the interior is a sight to behold with an enormous ceiling hanging made from papel picado flags. The highlight was, of course, the chilaquiles made with salsa verde, cheese, cream and frijoles.
Museum of Religious Art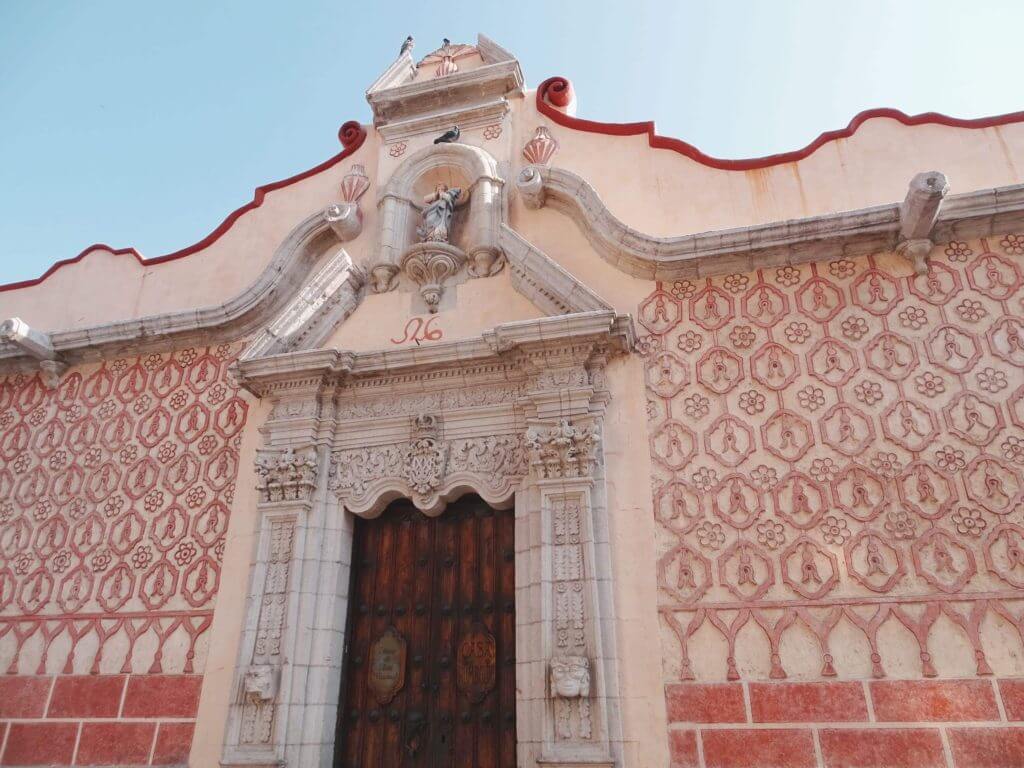 As one of the oldest colonial buildings in Taxco, this museum is worth a visit for its pretty pastel tiles alone. It's built in Moorish style with Islamic influence which was stylish in Spain during the colonisation of Mexico.

I only saw the museum from the outside since my friends and I were more in the mood for food and cocktails than museums during our gals weekend away. However, if you're an art fan, head inside for just 20 pesos.
Eat queso malinalli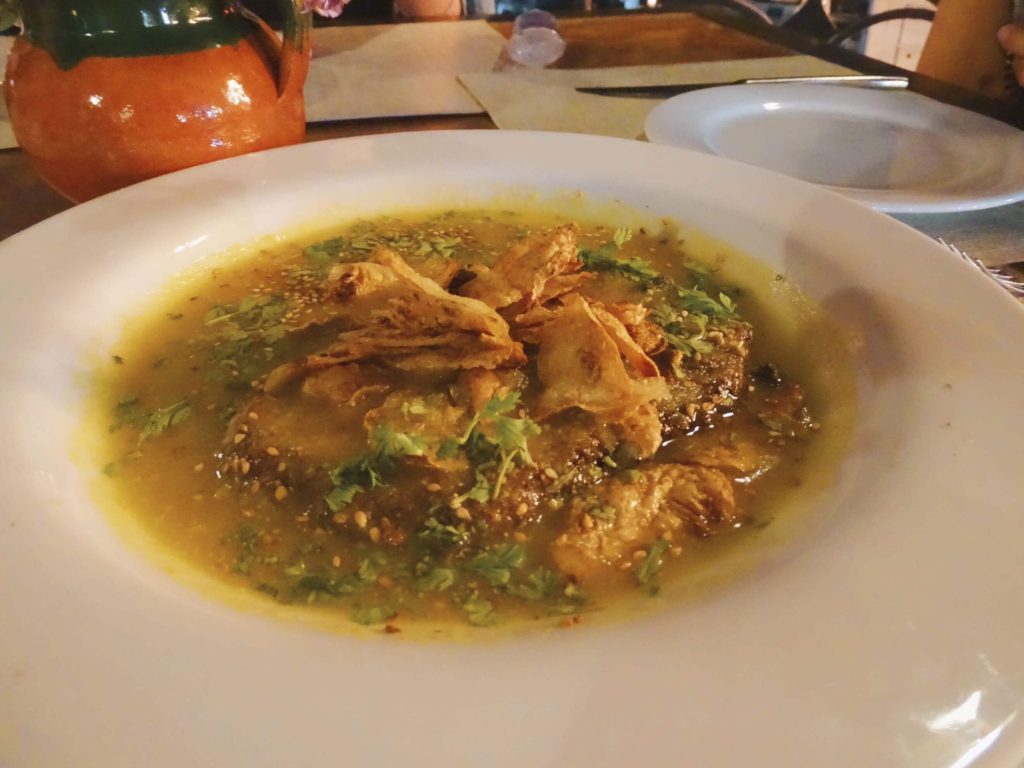 If you know me, you'll know I love cheese! So of course I enjoyed this dish. Marinated cubes of oozy cheese are melted into a flavoursome sauce and topped with cilantro. I usually hate this herb but it wasn't overpowering.

Despite having never seen queso malinalli in Mexico before, we noticed it on almost every Taxco restaurant menu. Trying it is certainly one of the best things to do in Taxco for foodies.
Pozas Azules de Atzala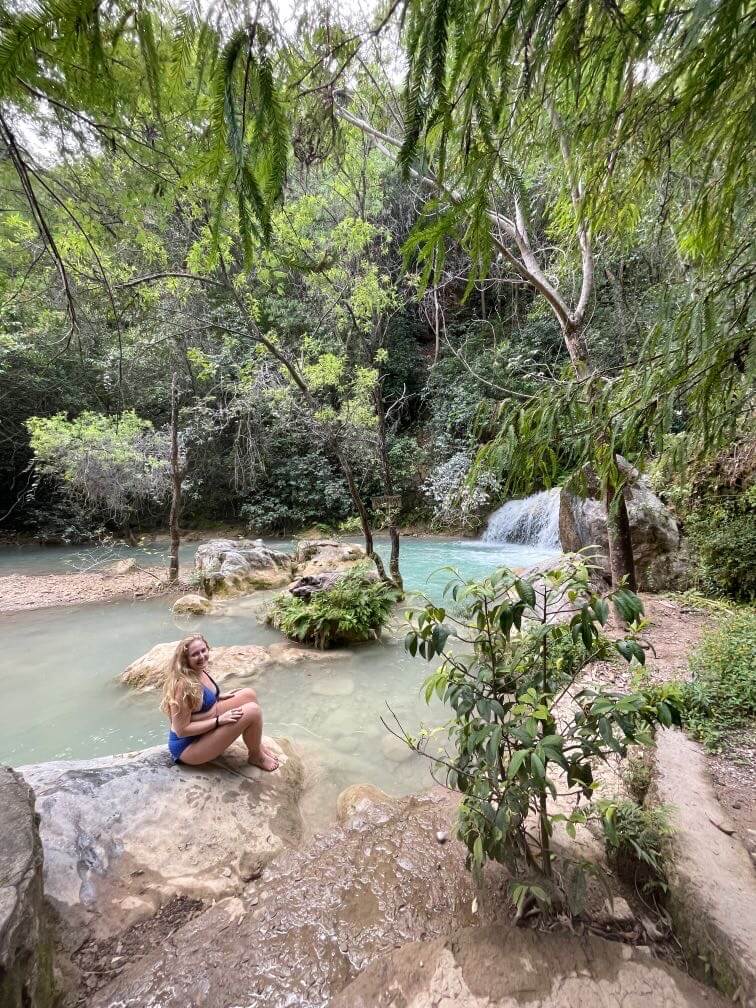 Pozas Azules de Atzala, translating as Blue Pools, are located out in the countryside, a 40-minute drive from Taxco. To visit, agree a reasonable rate with any local taxi driver or board a cheap and cheerful collectivo from outside Coppel Plateros.

Entry costs 100 pesos per person and you can spend a couple of hours swimming in the various pools.

We were lucky on the journey back to Taxco because our collectivo driver stopped and let us explore Cascada de De Cacalotenango, a beautiful waterfall!
Thanks for reading these things to do in Taxco!
I hope you have a better idea about visiting Taxco from Mexico City. I have such fond memories of exploring this charming city. Since I visited in early March 2020, it became one of my final travel memories before a long drought, then I returned in 2022 to make new memories!
Check out my other Mexico blogs:
VISITING MEXICO?
These are my trusted resources:

Getting around by air – the quickest (and often cheapest) way to travel between Mexican cities is by flight. I use Skyscanner to find the best-value flights, using the 'search by month' tool to find the cheapest dates. You can also use the 'to anywhere' feature if you're flexible on where you're going.

Getting around by bus (environmental option) – buses in Mexico are comfy with free snacks and an in-journey entertainment system. I use Busbud to find the best prices.

Driving in Mexico – use Rentalcars.com to compare car rentals in Mexico (and all around the world).

For hotels and apartments, I use Booking.com. They have a wide range of accommodation for all budgets, plus the loyalty programme gives you discounts and upgrades.

For hostels, I use Hostelworld.com. Hostels in Mexico are great for meeting other travellers.

To save money on accommodation, I use Trusted Housesitters, a website that connects homeowners going away and travellers who can sit their homes & pets.

I use GetYourGuide for tours & activities when I don't want to travel solo. I also check Viator as they often have fun & unique options.

EatWith – your one-stop for Mexico food tours, cooking classes and hosted meals with local chefs and foodies.

The latest copy of Lonely Planet Mexico.

Need to top up your Spanish? Bring a Lonely Planet Mexican Spanish Phrasebook & Dictionary.

Need travel insurance? I use True Traveller (for UK & Europe residents) since it's affordable but covers everything you'd need including various activities, valuables and pre-existing conditions. Unlike some companies, they insure you if you're already travelling / don't yet have your flight home booked. Get a quote.

For travel insurance for other nationalities, I recommend Hey Mundo and for long-term digital nomad travellers, I suggest Safety Wing.

Check out my resources page for more travel discounts and tips from 10+ years of travel!
See you next time for more adventures,
Rose
Liked this Mexico City to Taxco guide? Pin it for later!