This post may contain affiliate links to things like tours, hotels, Amazon associates and products. These help me earn a small commission at no additional charge to you.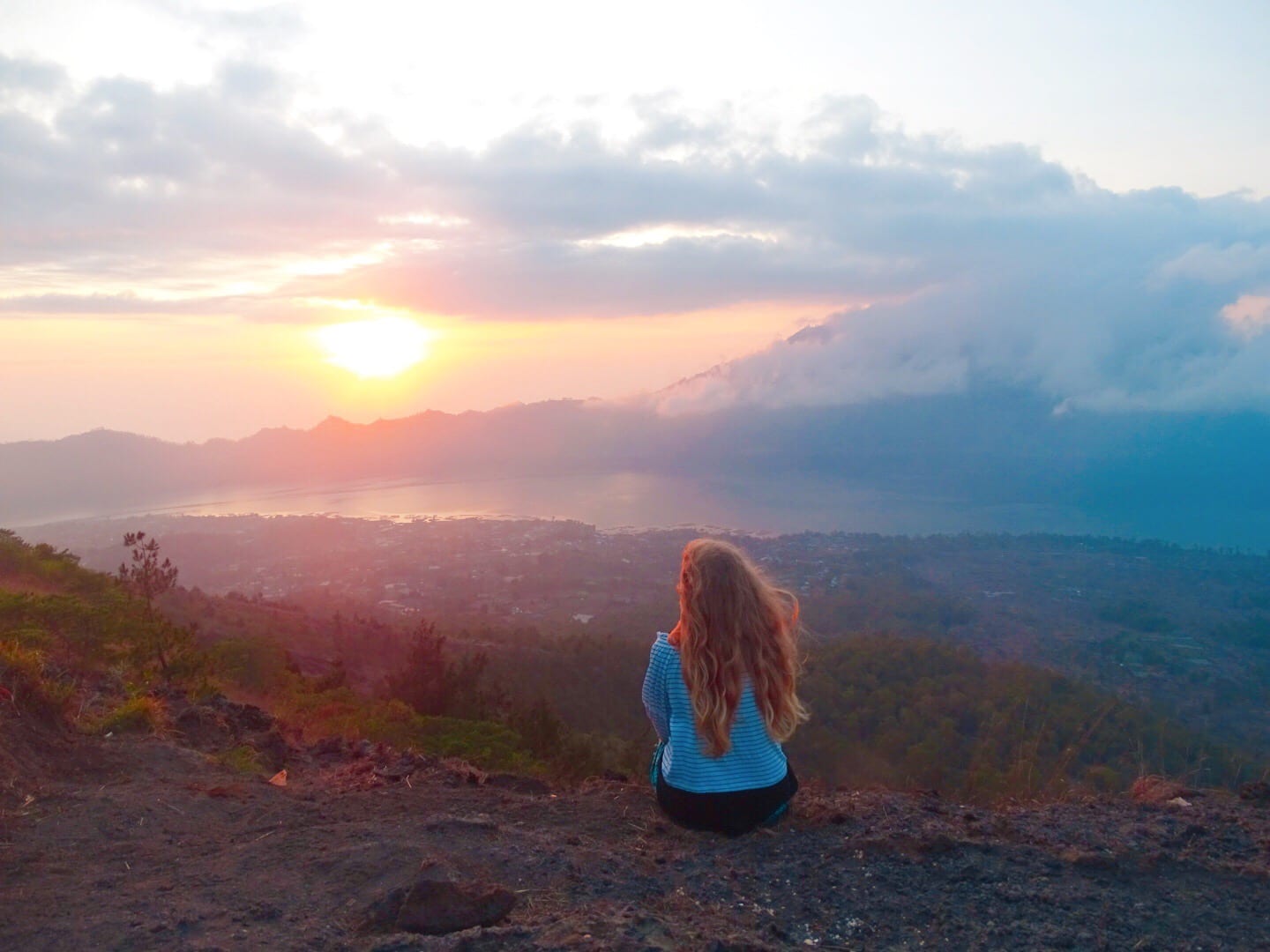 Read next: more of the best things to do in Northern Bali
Although I was solo travelling in Bali, I did the sunrise Mount Batur hike with a friend who was visiting from Australia. As a solo traveller, I'll do most things by myself: go to restaurants, the cinema, a new continent… You name it!

But, not being especially sporty, I sometimes need a push when it comes to physical challenges. Going with a friend meant we could support each other and I'd be less likely to sleep through my alarm and miss the whole thing… It's happened before!
Read next: The ultimate 2 week Bali itinerary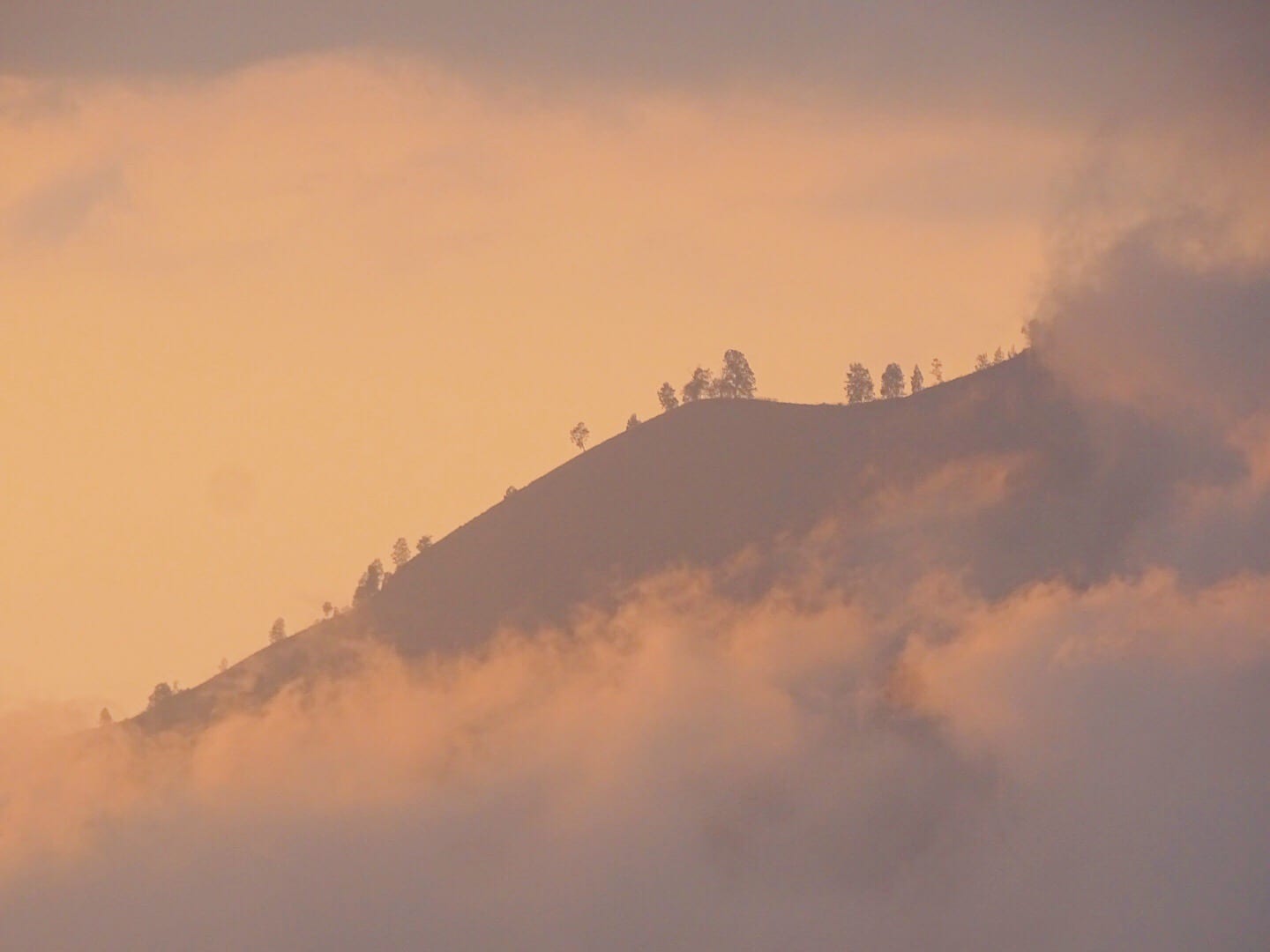 Hiking Mount Batur is one of the most popular things to do near Ubud so we planned to do it while based there. However, a small spanner was thrown in the works when we had a scooter crash driving back from Lempuyang Temple in the east of Bali.

For the rest of our time in Ubud, neither of us could walk very well or bend our knees. Kinda crucial for the whole hiking thing!

So we decided to climb Mount Batur at the end of Josh's trip instead, when we got back from Nusa Penida. However, we ended up staying in Canggu for two days which is a bit further from the volcano. This meant an even earlier pick-up!

From Canggu, we were the first picked up and the last dropped off. We toured the whole island collecting and dropping people along the way. We spent a total of 5 extra hours in the car that the Ubud hikers missed.
Bottom line, if you can hike Mt Batur from Ubud, do!
So, where is Mount Batur?
The volcano is located in the northeast of Bali in the Kintamani District.
Related read: 101 Asia travel tips
Batur background
Mt Batur (Gunung Batur) is an active volcano in Bali that first erupted 30,000 years ago and last erupted in the year 2000. In comparison, Bali's most active volcano, Mount Agung, last erupted in 2019. As these stats suggest, it's far safer to explore Batur than Agung, plus the hike is much easier.

Mount Batur is located at 5,600m above sea level with an altitude of 1717 metres. As I'll mention later, this doesn't mean you need to trek the whole distance because most companies start at Toyabungakah which is already elevated.

Batur is a caldera volcano with a collapsed top and a crater lake inside. If that wasn't scenic enough, you can still see blackened lava trails from when the eruption in 2000.
Mount Batur hiking info
There's a longer and shorter route; most tour companies will take you on the shorter hike. This is 7km there and back, taking around 1 hour to the summit from the starting point.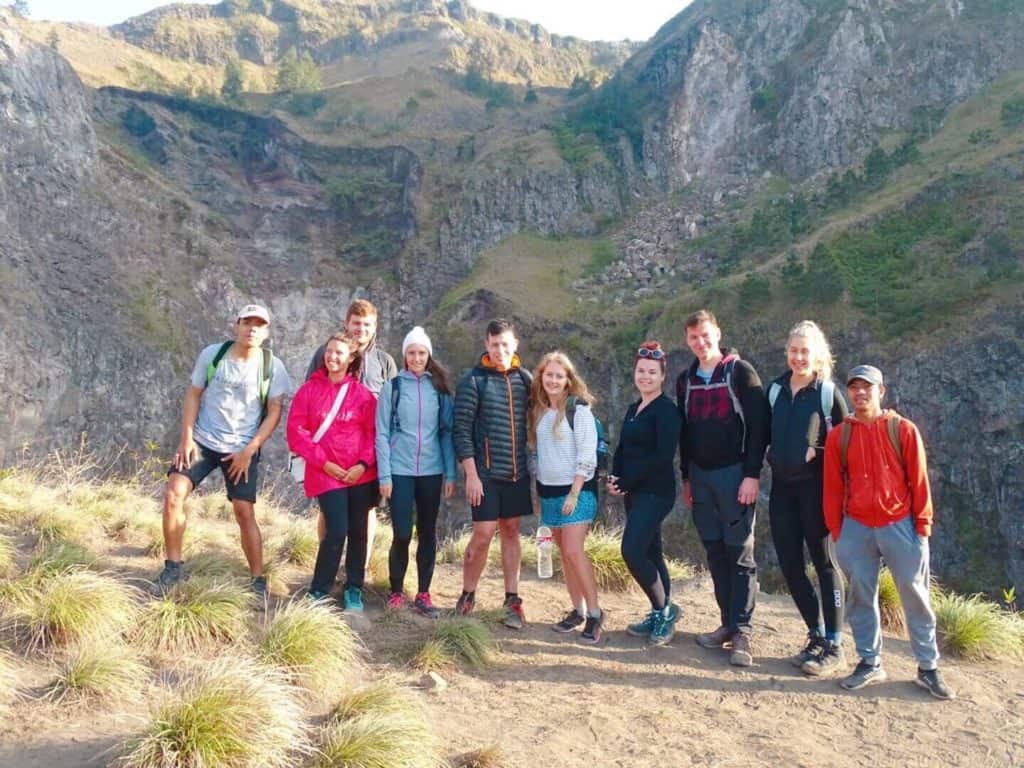 Honestly, it wasn't that hard! If I say it, it's gotta be true 😉 If you're asking yourself 'how hard is hiking Mount Batur?' I wouldn't stress too much.

I read so many mixed reports beforehand, saying it was everything from 'super easy' to the hardest thing someone's ever done. It clearly depends on the person but I wouldn't even put it in the top 30 hardest things I've done, and I have no proper trekking experience.

The worst bit is being up that early, plus how slippy it is on the way down. Getting up was a bit of cardio and I was sweaty even at 4am, but it could have been much worse. It's also worth mentioning that it's dark on the way up. Your guides will have torches but you should stay alert and keep an eye on your footing.

It's well worth the effort to experience one of Bali's best hikes!
Mount Batur sunrise tours
These tours include return transport, breakfast and the services of our guides. It was worth it for them alone: they were lovely and so helpful, guiding my every footstep when it was slippy. I'd have had no idea where to go or what to do in the dark without them.

If coming from Ubud, you'll be picked up at 2.30am. As we were coming from Canggu, we were picked up just after midnight… an extra 2 hours sleeping is another reason you should do the trek from Ubud!

You can't do the sunrise Mount Batur trek without a guide. It would be too dangerous. Also, there's no public transport connecting Batur with the popular tourist bases. The trekking tours are affordable so there's no reason not to take one.

I can vouch for GetYourGuide tours: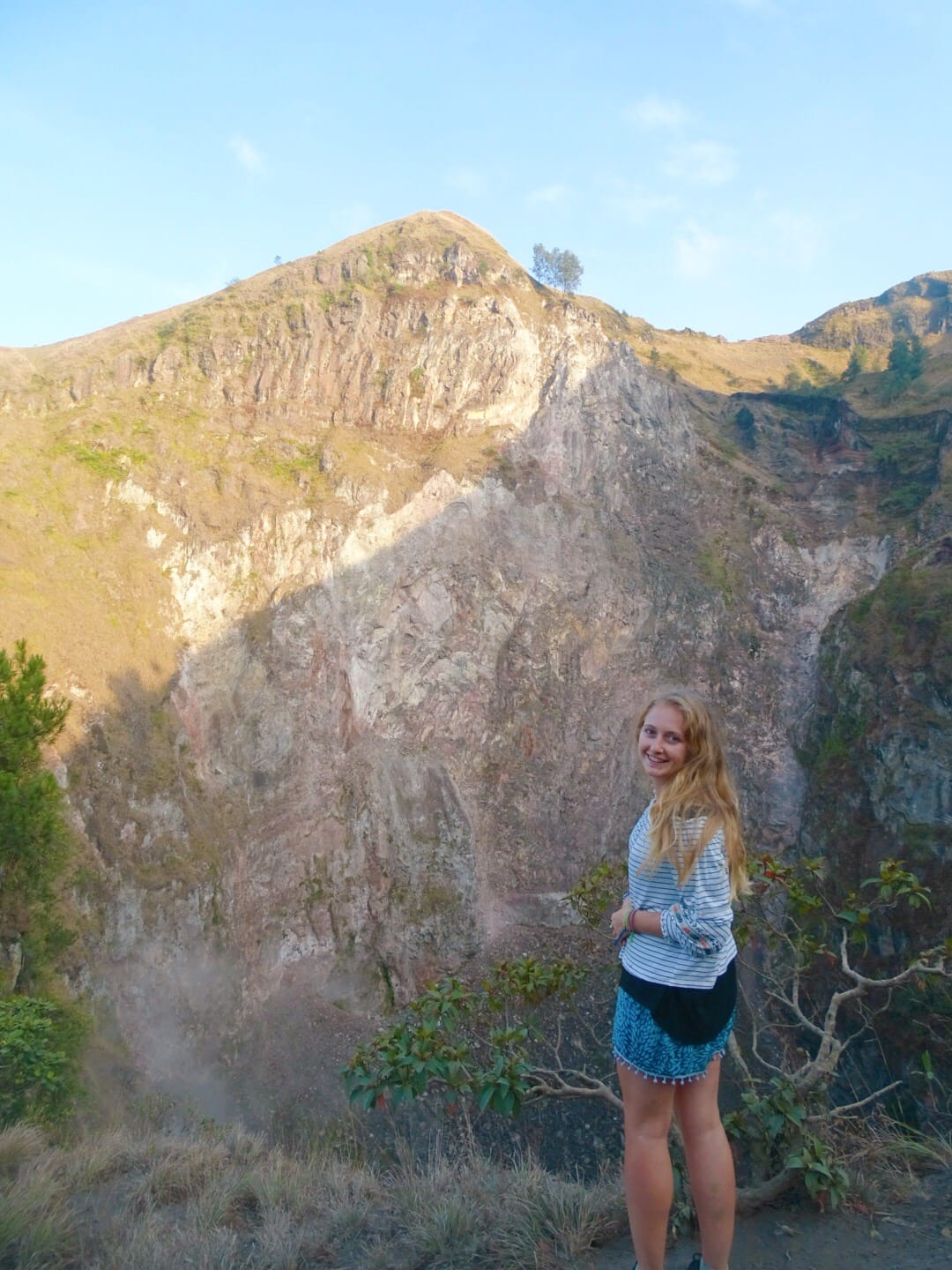 Which is the best tour to take?
Since there are several on offer, I would suggest:
What to expect on a Mt Batur sunrise hike
The first thing you should know? It gets seriously cold! At almost 2,000 metres elevation, it's chilly in the early hours of the morning. But many travellers forget, thinking Bali is eternally warm.

You can expect temperates of 8-15° Celsius at the summit.

Make sure to pack something warm. I barely own anything warm in Asia so I brought a light jumper (pictured). You don't need thermals; just an extra layer that you can stash in your backpack when the sun's up.

Another thing to know before climbing Mount Batur is that it'll only ever be as good as the sunrise. If you get a cloudy day, you might see nothing. Don't panic, though; as I'll mention in a moment, there's more to do at the top than just see the sunrise.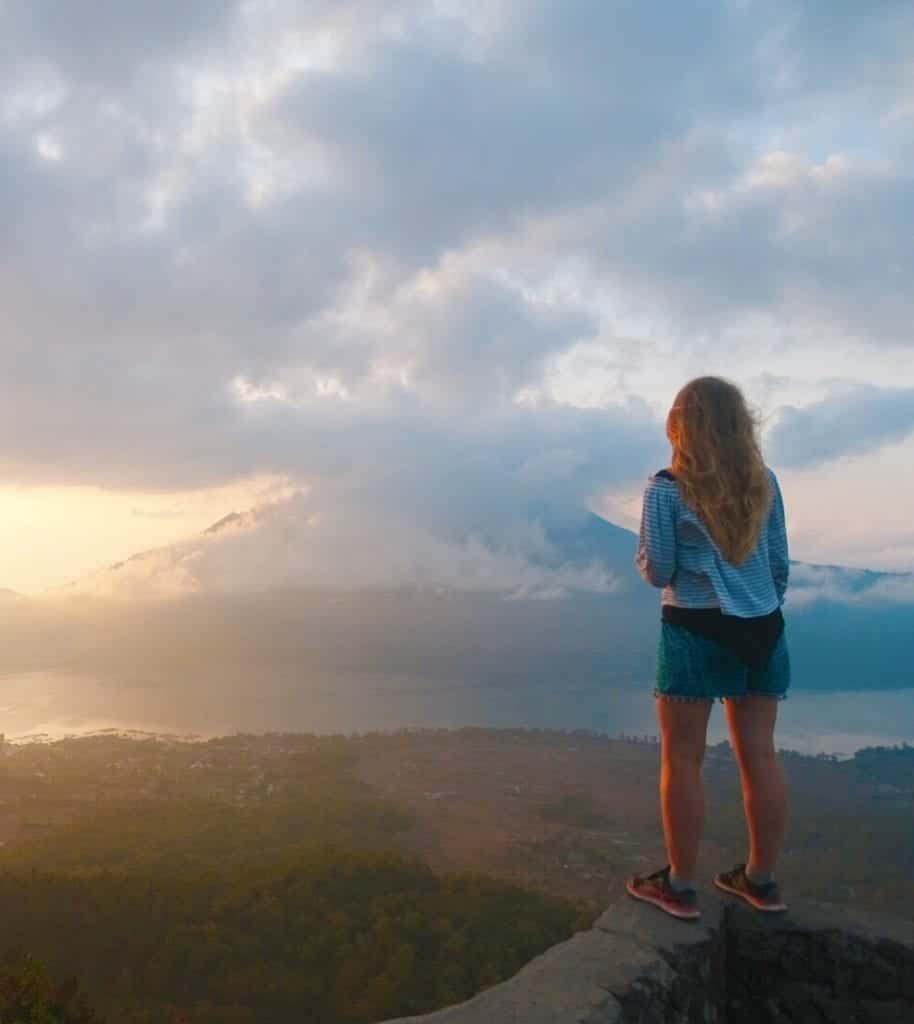 What to expect during the hike
People climb every day so expect to find it busy on the track. Depending on the season, it may be even busier in peak tourism months.

Our guides told us there wasn't a lot of point going fast because we'd hit 'traffic' AKA the group in front. So I shouldn't have worried about being the slowest in the group. There's no advantage to being too speedy!
Saying that, you can't go too slowly… sunrise won't wait for you! We started hiking shortly after 4am, and sunrise was at 6am. You'll want to be there a bit before to get comfy and start snapping the dreamy orange skies, so you need to keep a moderate pace.

Luckily, you don't need to worry about setting your own pace because the guides are very knowledgeable and take care of that. They won't let you miss sunrise!
What to expect at the summit
Well, this really depends on the weather conditions on the day of your climb. We were rewarded with dreamy pink and orange skies which gave way to clear views of Mount Agung, shrouded in low-hanging clouds.

If it's cloudy, sunrise may not be the main event. I assumed we'd soak up the views and head back down but actually, there's more to experience when hiking Mount Batur.

I loved learning about the volcano and its thermal activities. While it's currently classed as an active volcano, it isn't currently erupting. As well as seeing Bali's largest canyon, we received a good geography lesson.

You'll see plumes of steam coming from crevices in the rock faces and our guides explained what causes these, demonstrating that you can boil an egg over them. As you can imagine, it felt amazing to warm our hands over them.

Later in the day, this would certainly not be necessary – it was already getting hot as we made our way down.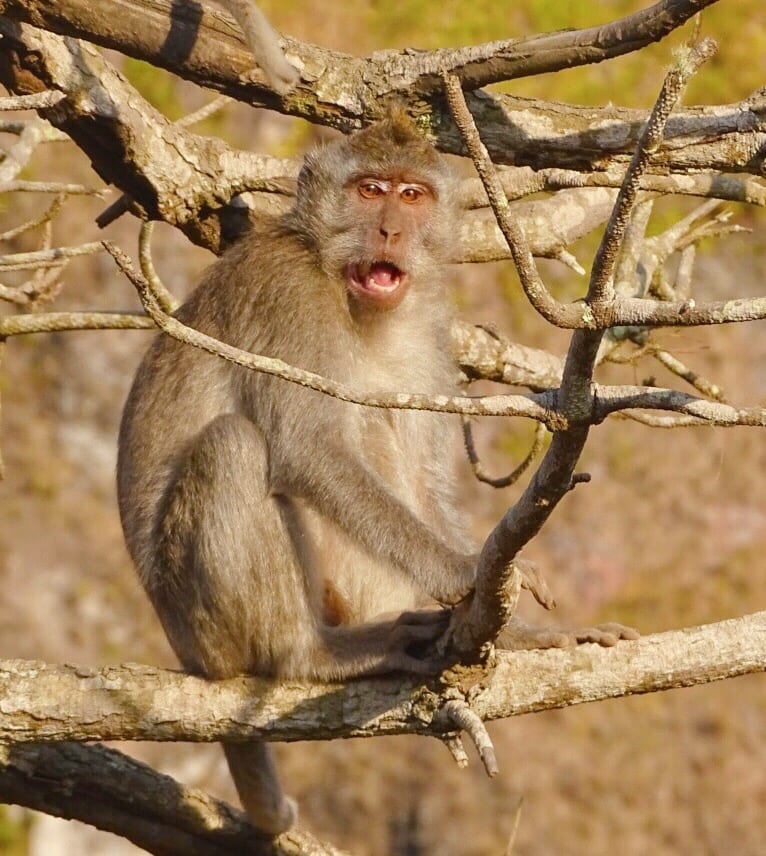 The way down
I'd wondered about the difficulty of the sunrise Mount Batur hike but I hadn't considered coming down. It was so slippy and our guide had to patiently hold my hand most of the way!

On the plus side, I was fascinated to see the surrounding black, rocky landscape that we hadn't been able to see on the way up in the dark. This is the product of historical eruptions that have characterised the landscape and destroyed other signs of life. It looked like another planet… Or at least what I imagine one to look like!

The journey down took around 45 minutes, quicker than the way up.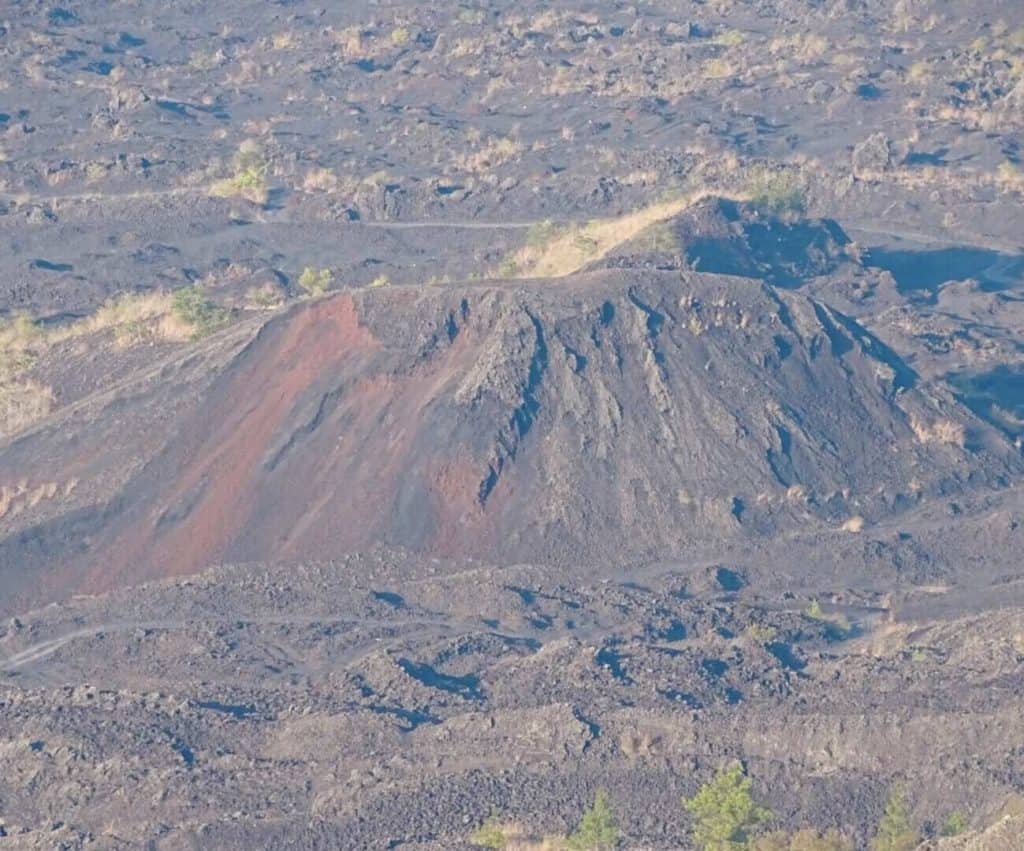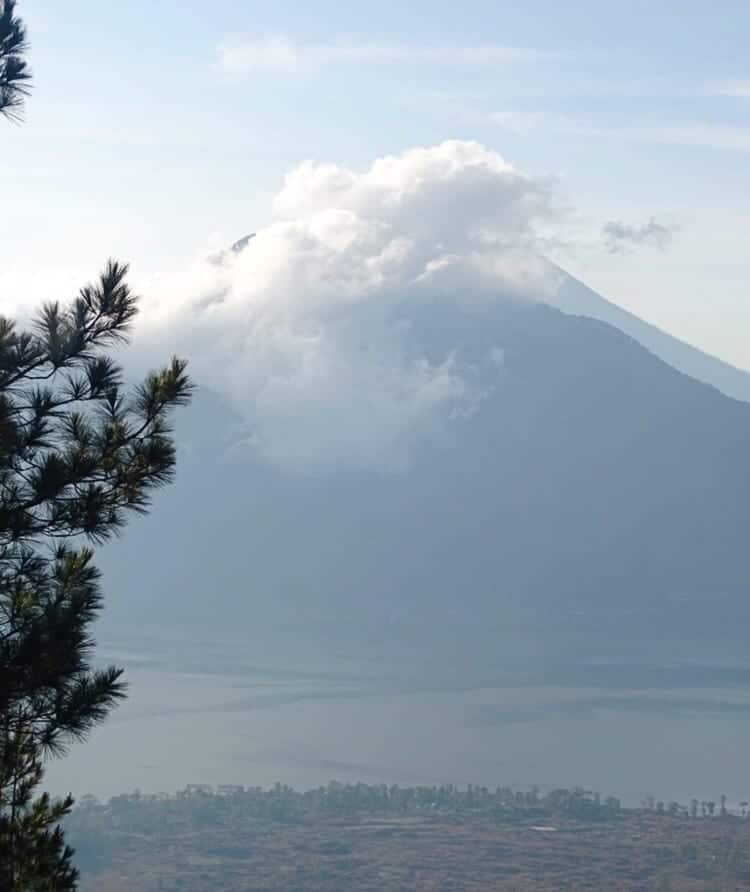 After the hike
After our sunrise hike up Mount Batur, we stopped at a coffee factory. Being given a free mini coffee overlooking amazing views isn't exactly first-degree torture but I was falling asleep sitting up after our early start!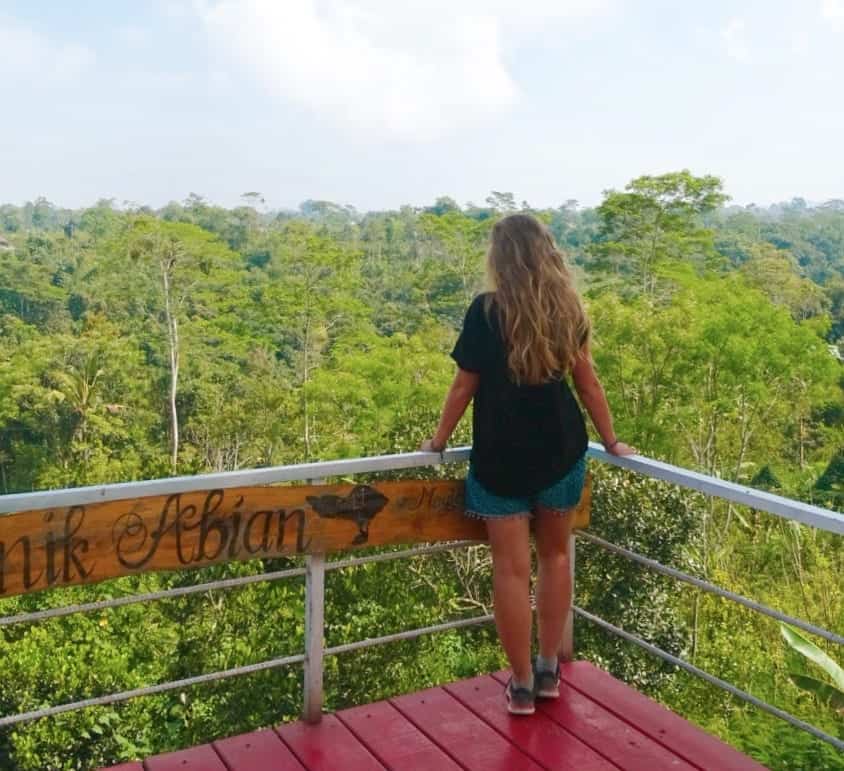 However, as I said, amazing views!

We drank our coffee and gratefully climbed back into the van to head home. We returned to Canggu at 2pm, desperate to eat and sleep. The breakfast included on the tour was decent: a mini pancake and some boiled eggs and bread, but it was well past lunchtime and we were starving again.

Brunch at my favourite Canggu restaurant then a relaxed day by the pool was in order. Hoorah!
Our itinerary
Here's a little insight into what our day looked like. Check your tour operator's schedule as I can't guarantee it will be exactly the same…

1am-2.30am: hotel pick-up

3.30am: arrive at Toyabungkah village

5.30am: arrive at the Mount Batur sunrise viewpoint

6am: explore the caldera area

7am: begin your descent

8.30am: depart by car from Toyabungkah village

9.30am: stop at a Balinese coffee plantation or hot springs depending on the tour you've booked

11am (ish): drop-offs start at Ubud hotels

12pm – rest of day: lay around triumphantly considering how much you've achieved before others have even woken up!!
Best time to hike Mount Batur
The dry season is easily the best time for Mount Batur trekking. The drier months from May to October are the safest time to trek because the terrain won't be wet or slippy.

Provided it hasn't been raining, other times of the year can be fine, too.

Don't be immediately deterred if rain is forecast: it may be just for an hour or so later in the day. Generally, it's morning rain you should worry about for the sunrise hike up Mount Batur. If the last few mornings have been clear, you should be fine. Check with local guides in the days before your trek.
What to pack for trekking Mount Batur
Hiking shoes – you don't need proper boots, some battered old trainers will do
A warm layer while you wait for sunrise at the top
Enough water – remember you have to carry it so only take what you need. Around 750ml to a litre will do
Suncream/sunglasses – pack these for when the sun comes up
Plasters/band-aids (whatever you call them) in case of blisters
Camera – to capture your hike. Pack this away until the top; you won't capture much in the dark plus it's hard to hike carrying a camera or even with it around your neck.
Snacks – I bought some cereal bars and I was still so hungry by the end despite eating the breakfast provided by our guides. My body is clearly not used to 700m hikes before dawn!
Swimwear if you are doing a tour with a hot springs stop
Money for tipping your guide – if they give good service which I suspect they will. Around 50-70 IDR (around $5) is enough.
Browse Mt Batur sunrise trekking prices and book:
Thanks for reading my sunrise Mount Batur guide!
Check out my other Bali & Asia posts:
Ubud blogs:
Canggu blogs:
Nusa Islands:
See you next time for more adventures,
Rose
For more content, follow me on Instagram, Facebook, Twitter and YouTube.
Ps. Liked my guide to hiking Mount Batur? Pin it for later!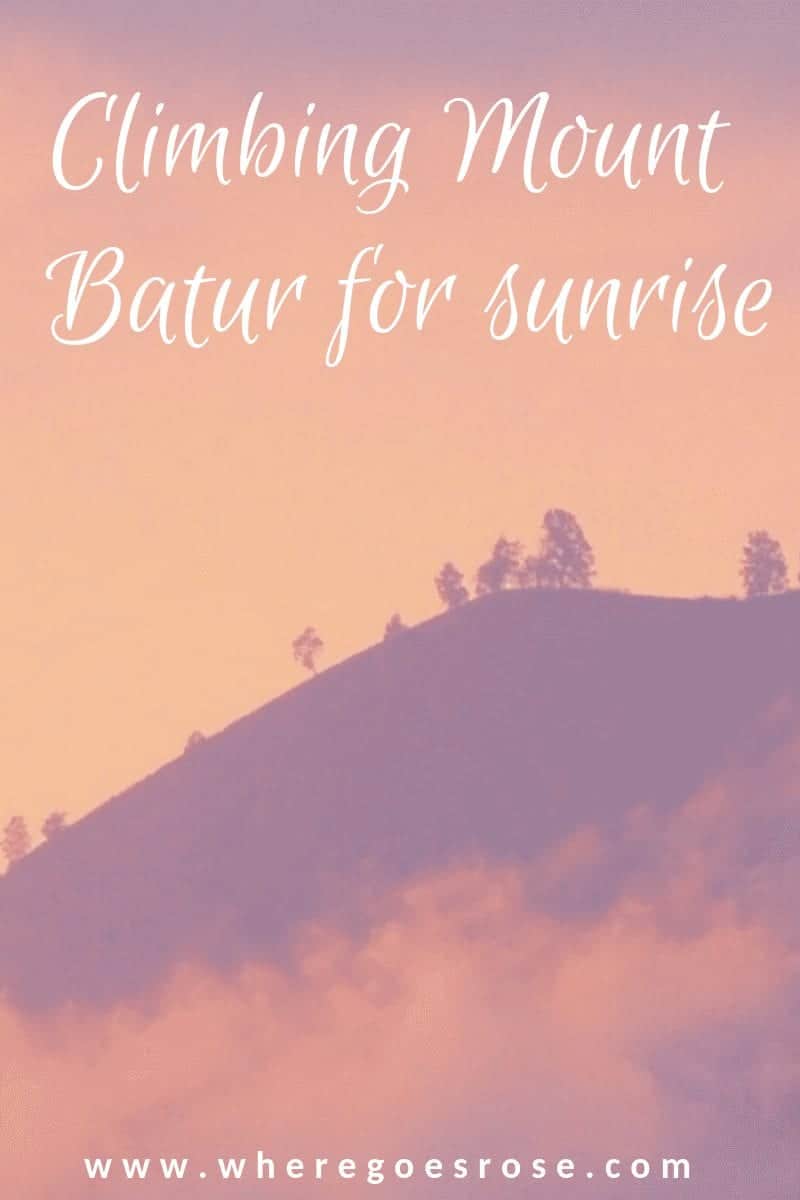 Bali useful links

Flights – I use Skyscanner to find the best-value flights, using the 'search by month' tool to find the cheapest dates. You can also use the 'to anywhere' feature if you're flexible on where you're going.

Stay connected with E-sim data plans that don't require delivery or collection; just scan the QR code.

In my opinion, Lonely Planet offer the best guidebooks. Get the latest Copy of Lonely Planet Bali.

I use Booking.com for accommodation. They have the best range of hotels and self-catering apartments, plus you can filter by review score and price to find the best-rated budget places. For hostels, I use Hostelworld.

To save money on accommodation, I use Trusted Housesitters, a website that connects homeowners going away and travellers who can sit their homes & pets.

For activities, I use GetYourGuide and Viator as they both have a huge range of affordable tours.

Need travel insurance? I use True Traveller (for UK & Europe residents) since it's affordable but covers everything you'd need including various activities, valuables and pre-existing conditions. Unlike some companies, they insure you if you're already travelling / don't yet have your flight home booked. Get a quote.

For travel insurance for other nationalities, I recommend Hey Mundo and for long-term digital nomad travellers, I suggest Safety Wing.

Check out my resources page for more travel discounts and tips!