This post may contain affiliate links to things like tours, hotels, Amazon associates and products. These help me earn a small commission at no additional charge to you.
After returning home from a year exploring Asia I was in love with laksa and crazy for curry.

At first, I didn't have huge expectations for the Asian restaurants in Oxford but turns out I'd never really explored them properly before. Probably due to people visiting the University from all around the globe, Oxford is a diverse city where families and individuals serve food from their home cultures.
OXFORD ESSENTIALS

Oxford Lonely Planet guide book

Accommodation: Booking.com

Activities: GetYourGuide

Must read: my food blogs

Getting there: Trainline / Busbud
So if you're visiting Oxford, skip the high street chains and support what's lovely, local and delicious in my little city.

Just to add, I didn't intend for this list of Asian restaurants in Oxford to be as long it is. I assumed it would be just a handful but it turns out there are loads of amazing options I couldn't leave off.
Best Asian restaurants in Oxford
From Chinese restaurants in Oxford to Indian and Southeast Asian, here are some of the best Asian restaurants in Oxford (in no particular order). Happy eating!
1. Taste Tibet – Nepalese street food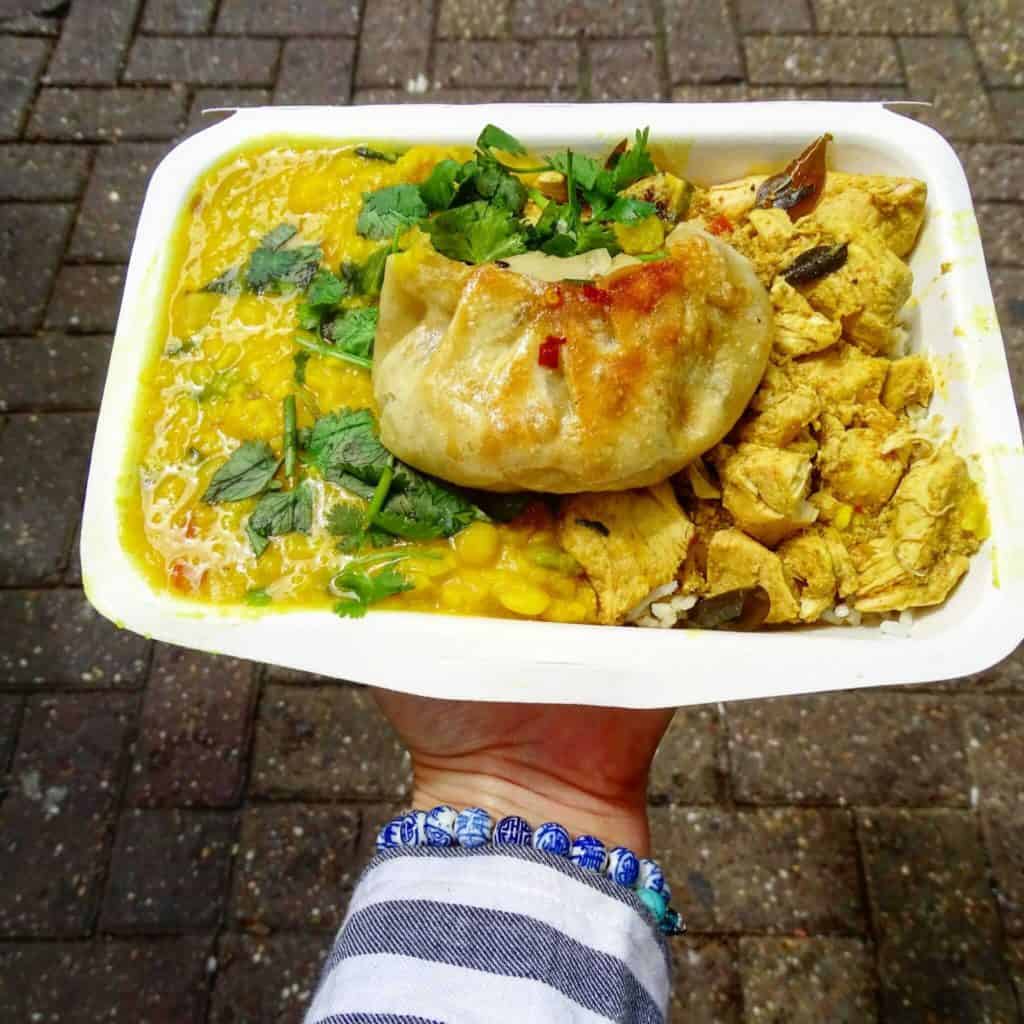 While Chinese and Indian food is in abundance in every UK city, here you can find some of the more unusual Asian food in Oxford.Set up by Yeshi Jampa, a young cook from rural Tibet, the dishes here couldn't be more authentic. They started at Gloucester Green Market in Oxford, a few years ago and, as of 2020, have their own restaurant at 109 Magdalen Road off Cowley Road.
2. Sasi's Thai – bargain lunch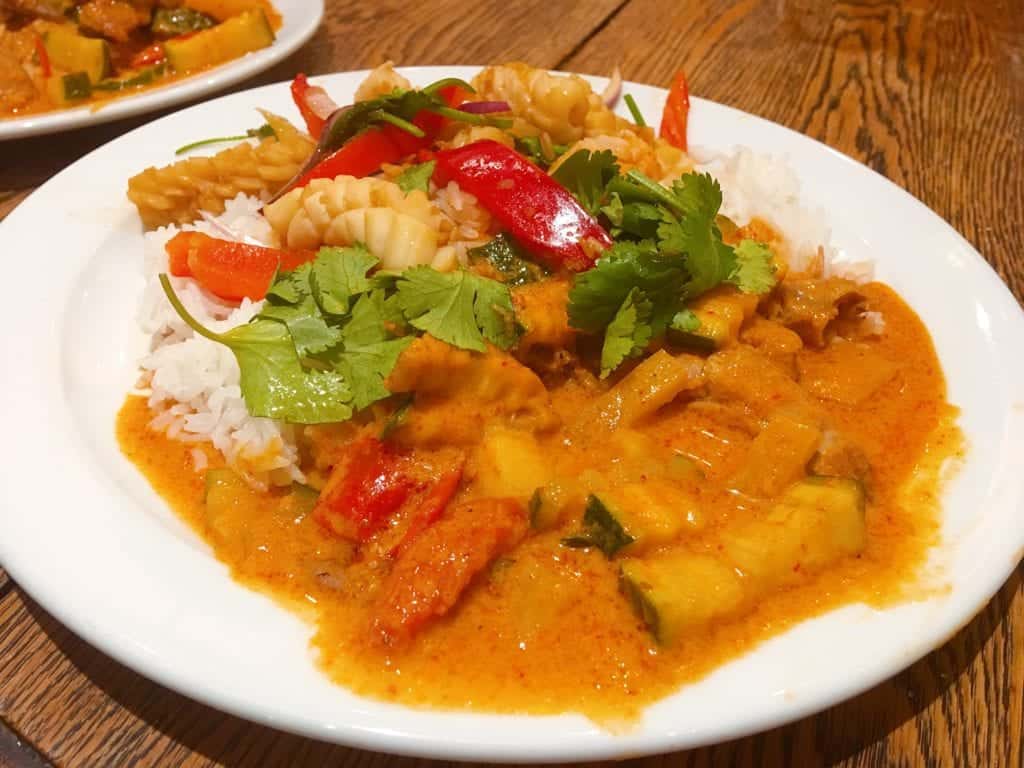 Some of the most authentic and affordable Asian food in Oxford can be found at Sasi's Thai. A generous scoop will set you back a fiver and keep you full for the rest of the day.

Head to the canteen-style cafe in the Covered Market between Monday and Saturday and choose from traditional Thai dishes served with rice. It can be tough to grab a seat at peak lunchtime but it's worth the effort.

The good news is that if you can't pick one thing it's only an extra £1.10 to get two types – I went for red duck curry and stir-fried squid.

Main dishes: £5.50 for one dish with rice; £6.60 for two dishes with rice.
3. Edamame – authentic Japanese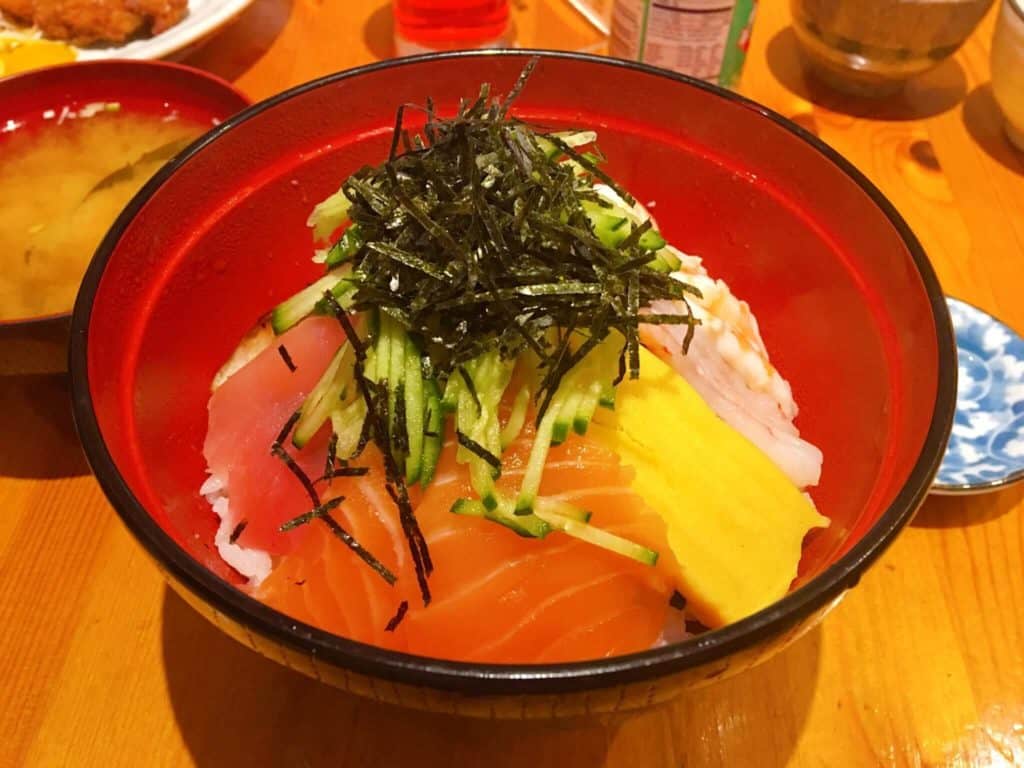 Delicious and affordable sushi? Can this even be England? YES. Edamame on Holywell Street is one of the best Asian restaurants in Oxford for its high-quality ingredients. I love the enormous bowls of Japanese ramen and hearty katsu curries.

Visit Wednesday-Sunday for lunch, Friday-Saturday evenings for dinner or Thursday evening for sushi night. Aside from fitting around these opening times there are zero downsides… Grab a seat on a shared table and tuck in.

Main dishes: £7-£10.50.
4. Zheng – upmarket Malaysia
This Malaysian and Chinese restaurant in Oxford is a real gem. After travelling in Malaysia, I was thrilled to come home and find delicious Malaysia food in Oxford. The star dish is the sweet and salty 'cereal prawns' although you can't go wrong with the nasi lemak or dim sum, either.

Zheng is in quirky neighbourhood, Jericho, and is dimly lit and romantic in the evenings. If my word's not enough, check the rave reviews of which there are many.

Main dishes: £8-£19.
Read next: Where to eat in Jericho, Oxford
5. Oli's Thai – unbeatable curry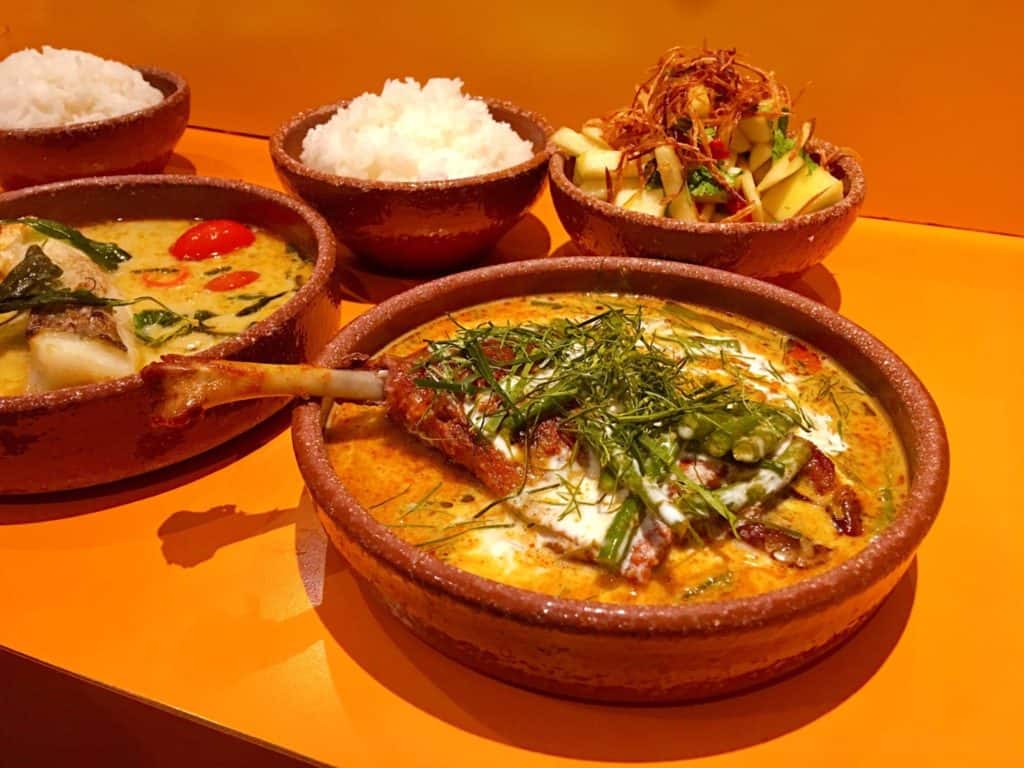 Another amazing Thai restaurant in Oxford!

Does the thought of a three-month waiting list put you off? I think it actually entices me into finding out what all the fuss is about. In the case of Oli's Thai, the fuss is fully justified as my duck Panang curry was probably the tastiest dish I'd eaten all month.

My mum ordered the yellow fish curry which was rich and flavoursome, and we also ate a side of apple, mint and cashew salad plus a sweetcorn fritter starter and prawn crackers. Everything was 10/10.

Just make sure to get there on the dot of 12pm or 5pm (and remember the Magdalen Road is a 20-minute walk from town) to blag a walk-in seat at the bar – your other option is getting in the three-month reservation list.

Yep, getting there is a bit of a faff but you'll be rewarded with some of the best Asian food in Oxford for your efforts.

Main dishes: £11-£15
6. Banana Tree – the best Asian chain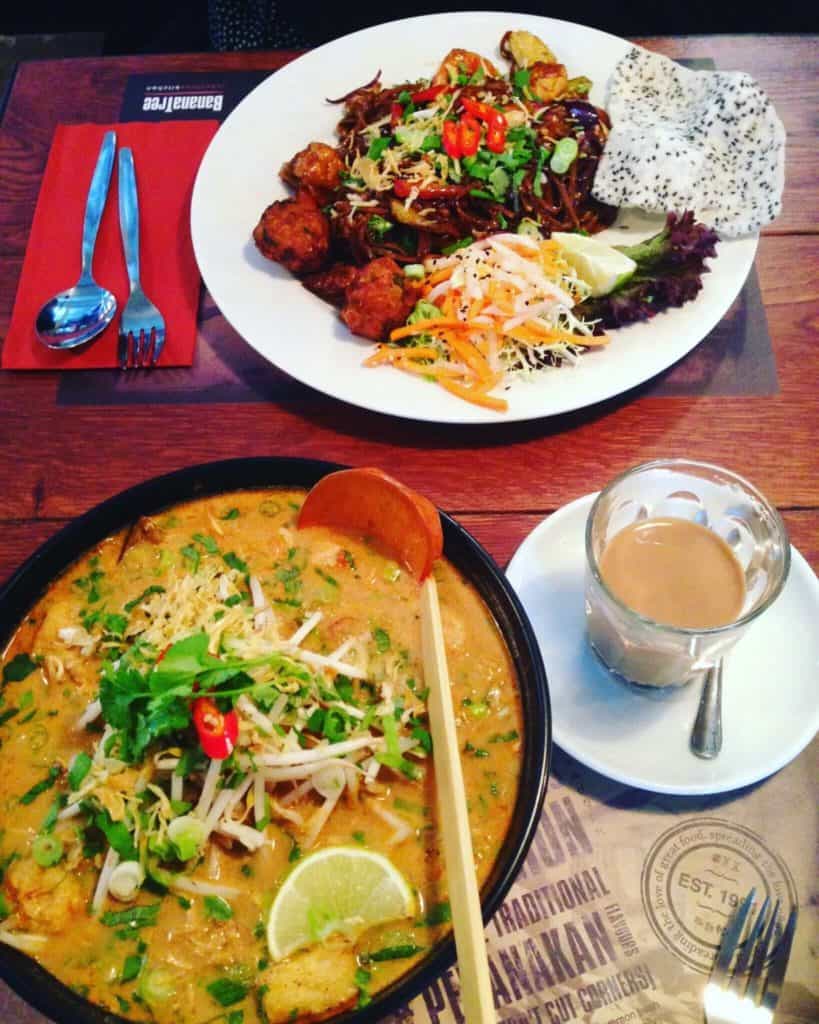 Oxford's George Street is chain restaurant mania and Banana Tree is probably the only one you'll find me at.

Despite the fact it's a mismatch of Southeast Asian cuisines, I couldn't sing its praises more – I love the bun bo Vietnamese salad bowl and the Malaysian laksa noodle soup. Get here for a quick, affordable Asian lunch or dinner.

Main dishes: £8-£12 at dinner or opt for the discounted lunch menu.
7. Dosa Park – no frills Indian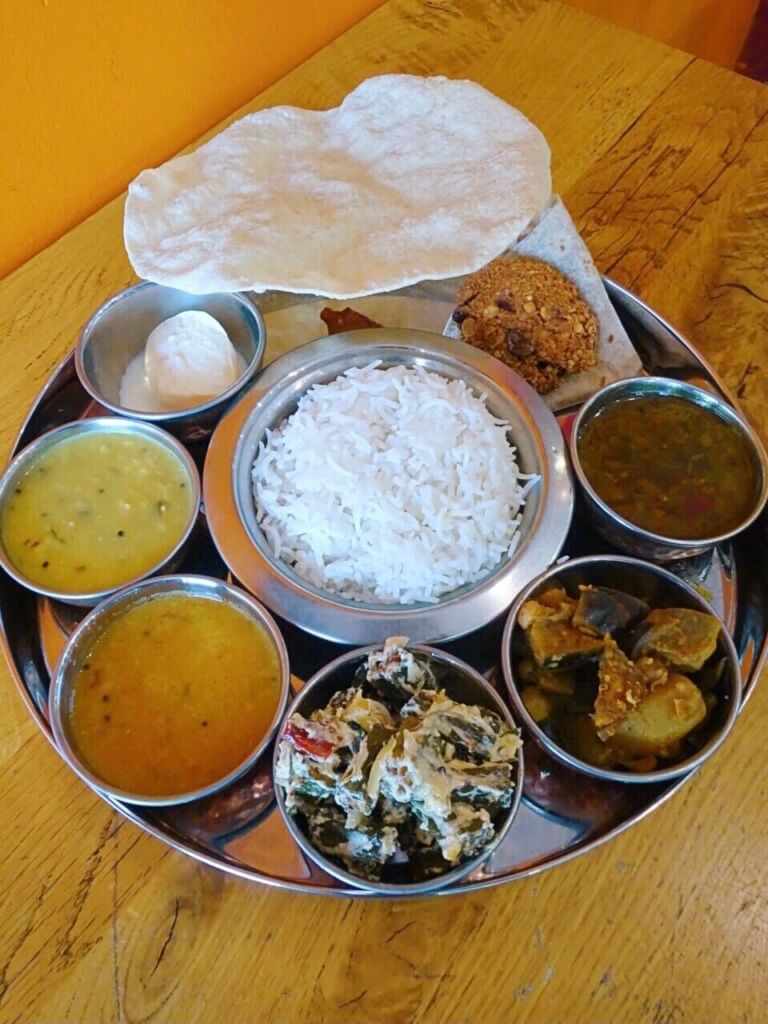 Renowned for its authentic South Indian food, this casual restaurant by Oxford train station really isn't much to look at. But who needs aesthetics when you've got cheap, delicious Indian food?

Order the kottu (sliced roti with meat, veg and spicy sauce), dosa (crispy batter with dips) or any of the masala dishes. Nothing on the menu will set you back more than a tenner.

Main dishes: £5-£10.
8. Tuyen's Vietnamese Kitchen – street food
If you're in Oxford on the second or fourth Saturday of the month, head to North Parade Market, another one of my favourite markets in Oxford. Tuyen's catering business serves amazing pho ga (chicken noodle soup – £5) and fresh spring rolls (£2.50) – it's easily the best Vietnamese food in Oxford.

Tuyen doesn't have a restaurant but I think a real experience would be eating at one of her BYOB supper clubs (£25) or taking a cooking course (£50) with her.

Main dishes: £5.
9. Coconut Tree – Sri Lankan food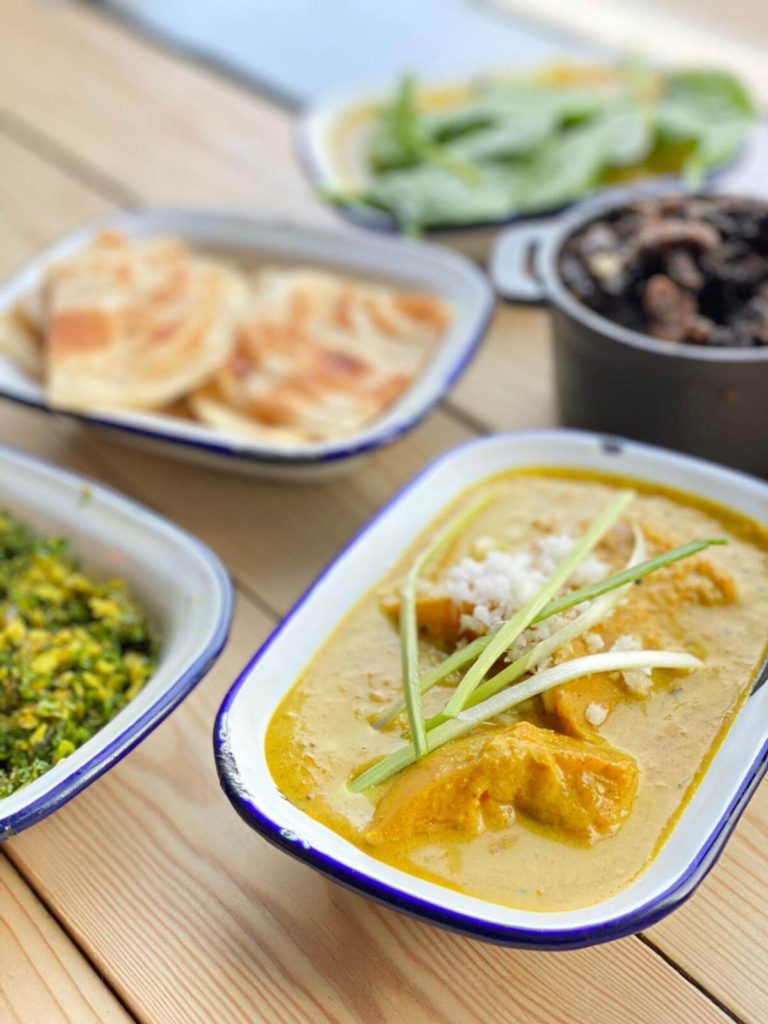 Coconut Tree is on the edge of town (St Clements) and brings to Oxford what there was absolutely none of before: Sri Lankan food!

The Coconut Tree came to life when the owners decided to share their home cuisine with us Oxfordians. I'm so glad they did: the hoppers (crispy egg pancakes) and kottu (meat, veg and roti in a delicious messy pile) brought back wonderful memories of my trip to Sri Lanka.

Coconut Tree is one of the best places for vegans in Oxford as almost half the menu is entirely vegan. It's a shame I'm moving back to Asia (the irony), otherwise I'd eat here all the time…

Coconut Tree is a great outdoor restaurant in Oxford thanks to its pop-up covered seating area.

Main dishes: from £5.
10. Ramen Kulture, St Giles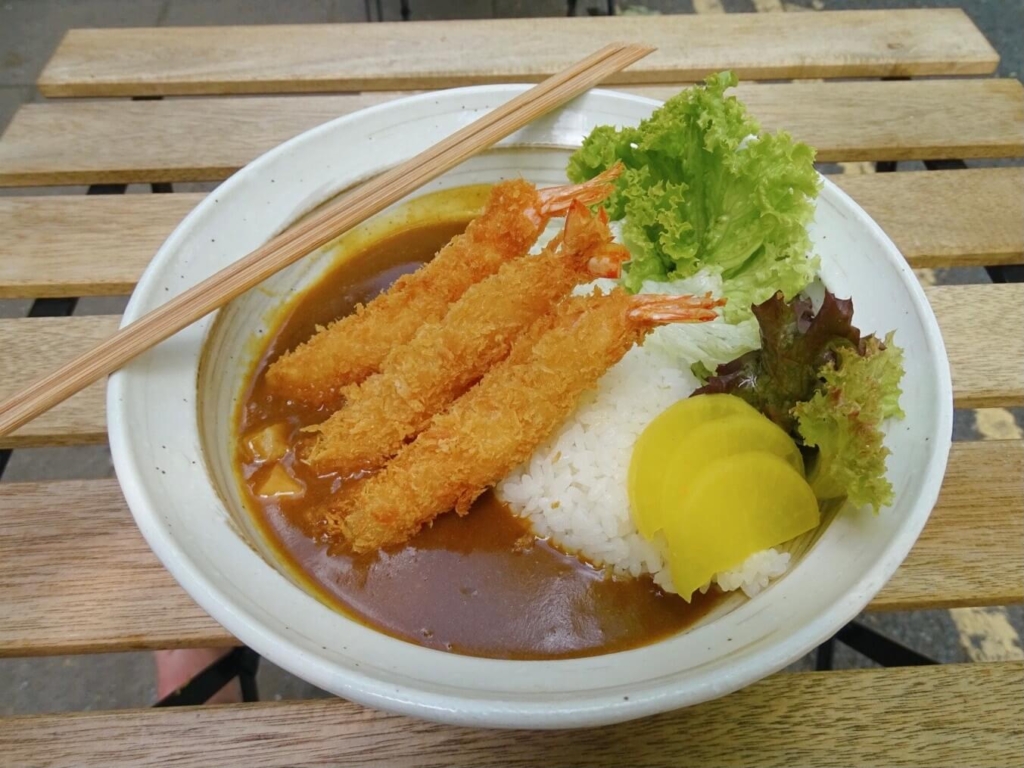 This newcomer on the Oxford food and drink scene is another gem. Ramen Kulture on St Giles is a cosy cafe with just a few seats inside and a couple more outdoors.

They specialise in ramen and Japanese rice dishes with several varieties of each. My katsu curry with tempura prawns was rich and super filling. They also serve Japanese starters like takoyaki, gyoza and edamame.

Wash it down with sake and, if you're still hungry, finish your feast with mochi or green tea ice cream. I'll be back to try the ramen dishes but I don't know how I'll choose between spicy tonkatsu, teriyaki duck and miso tofu…

Main dishes: £9-12 (starters from £4).

Do you know of any other Asian restaurants in Oxford I can add to the list?
Thanks for reading
If you liked it, please share it 🙂
Check out my other Oxford guides:
See you next time for more adventures,
Rose
For more travel content, follow me on Instagram, Facebook, Twitter and YouTube.
Ps. Pin this for later on Pinterest!