This post may contain affiliate links to things like tours, hotels, Amazon associates and products. These help me earn a small commission at no additional charge to you.
I love a good coffee and recently I may have become a coffee snob. To be honest, I blame Oxford cafes for setting the bar too high!

I can taste the difference between a good and bad coffee. My heart bleeds when my cappuccino comes to the table half made of foam. I feel silently disappointed when there's not a leaf drizzled onto my beverage.

Yup, it's official – I'm obsessed. But, in the spirit of embracing who I am, I'm celebrating the fab coffee around me and have sniffed out the best coffee shops and cafes in Oxford.

OXFORD ESSENTIALS

Oxford & Cotswolds Pocket Lonely Planet guidebook

Accommodation: Booking.com

Activities: GetYourGuide

Getting there: Trainline / Busbud
Coffee in Oxford
The Oxford restaurant and cafe scene is fantastic. It's a great city for independent coffee shops meaning you need set foot in Starbucks.

Many of the Oxford coffee shops are set inside creaky, quirky buildings dating back six centuries. If that isn't coffee shop character, I don't know what is!

Plenty of Oxford coffee roasteries have recently started roasting their own beans on-site and selling them for you to take away. Great news for locals and tourists in need of their daily brew.
Best coffee and cafes in Oxford
In no order whatsoever, here are my top picks for the best coffee in Oxford. I hope they help enhance your trip!
Vaults & Garden, Radcliffe Square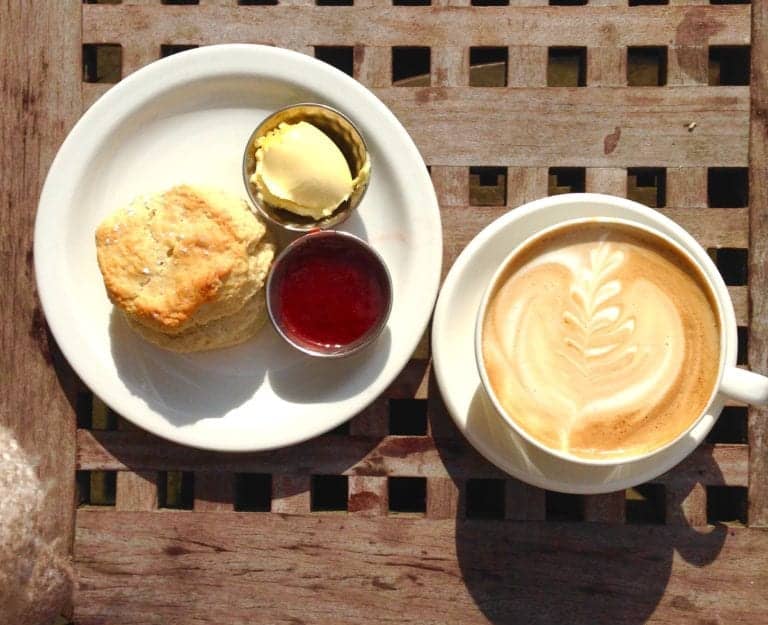 If we were judging on surroundings alone, Vaults & Garden would wipe the floor with all other Oxford cafes.

Set inside St Mary's Church between High Street and Radcliffe Square, this gorgeous cafe has inside and outside seating. Choose to eat outside in Oxford by relaxing at a table in the garden overlooking the Radcliffe Camera, the most iconic and photographed building in Oxford.

Luckily, they also serve some of the best coffee in Oxford so I can include it in this guide. Vaults & Garden understand the importance of coffee which is now the second popular drink in the UK after gin… I mean, tea!

They not only support sustainable, environmentally coffee growing practices, but they also only support shade-grown coffee which is an alternative to sun-grown coffee, produced at the expense of the world's rainforests.

Choose from flat whites, cappuccinos, Americanos, macchiatos and more. I went for a flat white, beautifully decorated with a leaf pattern and served with scones, jam and cream.

Address: University Church, 1 Radcliffe Sq, OX1 4AH.
Taylors, High Street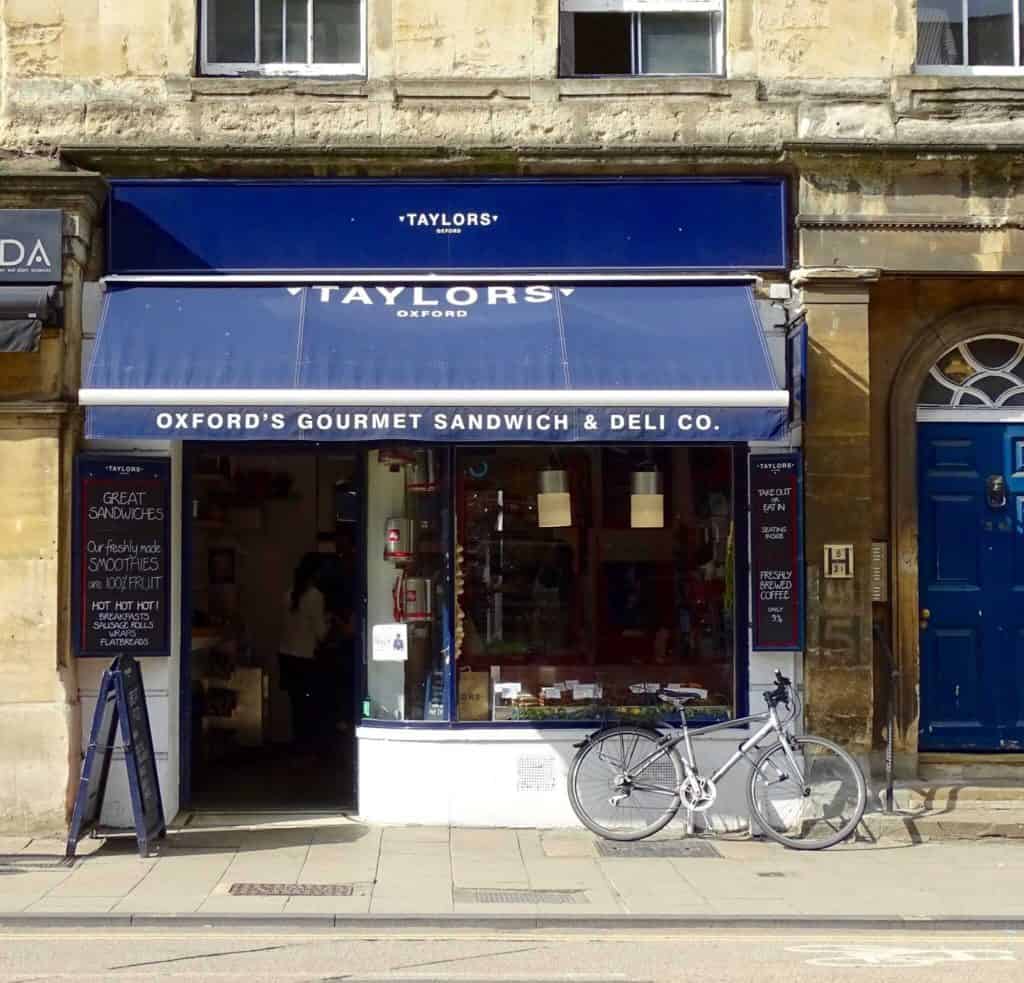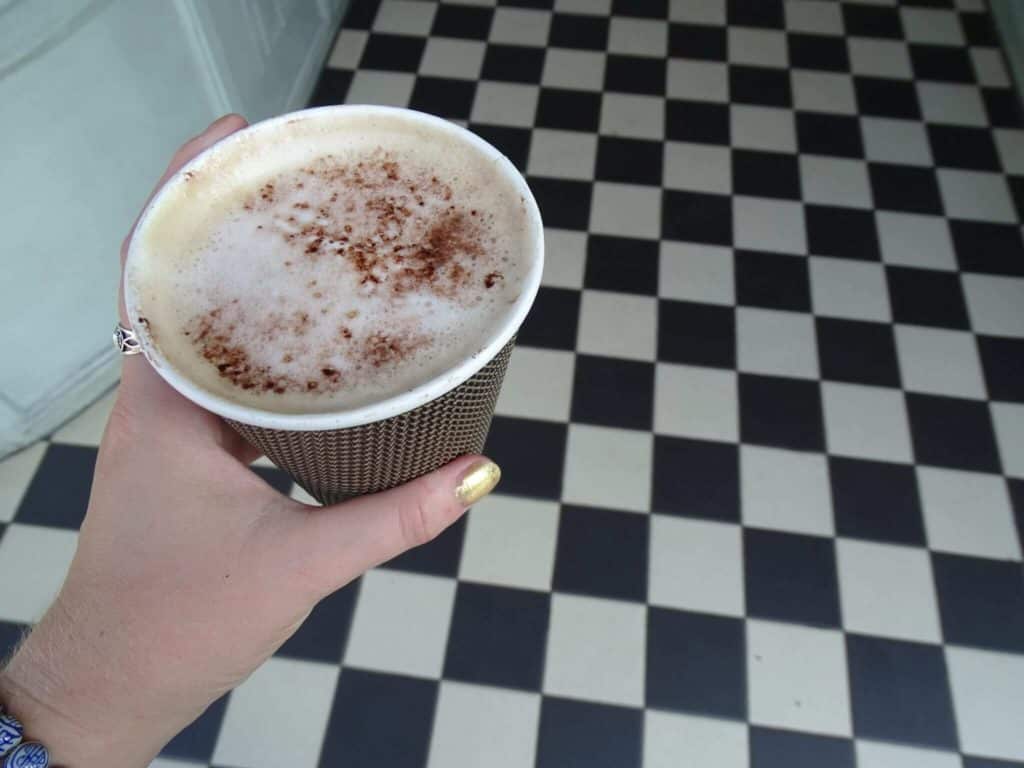 Taylors is not somewhere to linger over coffee in Oxford as it's a takeaway joint. But what it lacks in cosy cafe feel, it makes up for in amazing coffee.

Taylors is my go-to morning fix as I work across the road from the High Street branch. I'm there so often I should probably have some sort of share in the business. Or at least a free weekly coffee!

After starting up in Oxford over 20 years ago, there are now six branches of Taylors so they've got all bases covered for when you're in need of coffee in Oxford. They use only hand-roasted, organic fairtrade coffee and organic milk.

I challenge you to leave with just a coffee rather than one of the cakes, croissants or gourmet sandwiches they're well-known for.

Locations: There are two Taylors on High Street at numbers 19 and 58. Another centrally-located Taylors can be found at 31 St Giles.
Missing Bean, Turl Street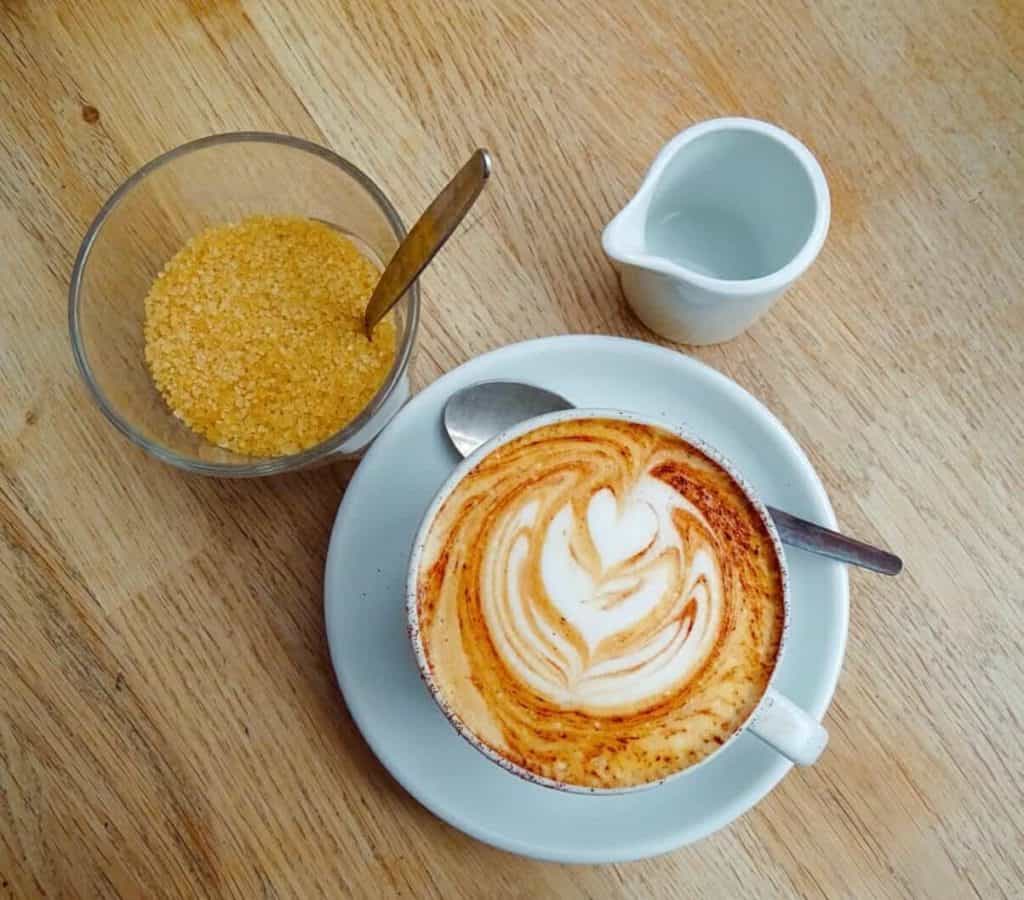 The Missing Bean is often hailed as the best coffee shop in Oxford. This guide isn't in any particular order otherwise the Missing Bean would probably be my overall top choice.

The small cafe is a cosy place to relax solo or catch up with friends. While it has a touch of that hipster coffee vibe that can be found around the world, it also has a distinct 'Oxford' feel, maybe because of the students who traipse in and out, or perhaps because of the views of Turl Street with its many bicycles resting against golden college buildings.

Missing Bean source their coffee beans from Colombia and Nicaragua, basing them on sustainability and flavour. They roast their coffee nearby at their Magdalen Road Roastery and serve delicious, aesthetically pleasing coffee at their Turl Street cafe.

Try the baked goods including blondies, cookies and shortbreads.

Although it can be tricky to bag a table (the Missing Bean is no hidden gem), this only makes me keener to join the party and banish my caffeine-related FOMO. In summer months they place tables outside, or you can always squeeze into a seat along the window bar.

Address: 14 Turl Street.
Oxford Wine Cafe, Jericho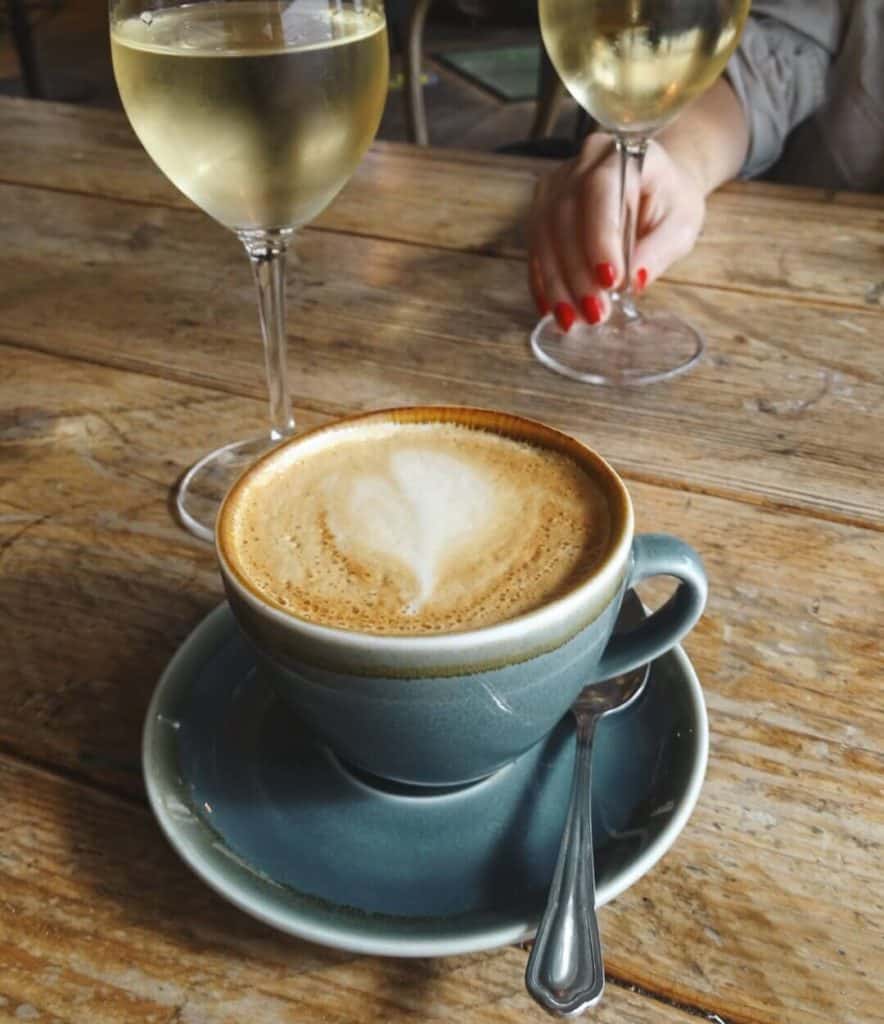 I visited this Jericho cafe for the wine but will definitely return for the coffee.

The relaxed venue on the corner of Little Clarendon Street serve wines from around the world (by the glass or bottle), cheeseboards and pizzas: basically all the best things in life.

The coffee they serve is from Ue Coffee Roasters, one of my favourite Oxfordshire businesses.

I love the bright and simple aesthetic of Oxford Wine Cafe with its full-length windows and large wooden tables. It serves all purposes: you can pop in for a quick glass of wine after work, have coffee with friends, or work from your laptop in the quieter back area.

Address: 32 Little Clarendon St, Oxford OX1 2HU.
Related read: neighbourhood guide to Oxford's Jericho
GAIL'S Bakery, Little Clarendon Street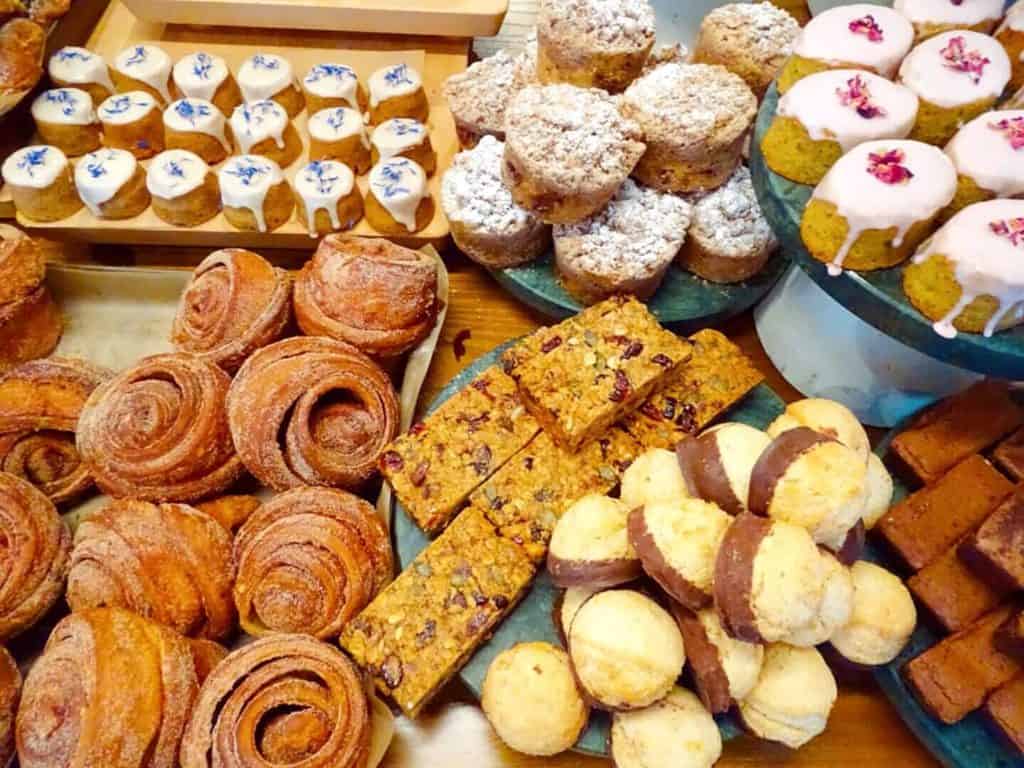 GAIL's is another of my favourite cafes in Oxford, frequented mainly by locals and Oxford Uni staff on their lunch breaks. It's just slightly away from central Oxford on Little Clarendon Street leading towards Jericho, one of my favourite areas of Oxford for independent restaurants and cocktail bars.
Read next: where to eat & drink in Jericho
At GAIL's, the coffee is delicious, the interior is bright and homey, and the WiFi's super speedy… What else could you need from an Oxford coffee shop?

Oh yes, cakes! I have a bad habit of coming to GAIL's to grab a coffee and leaving with a cinnamon swirl for breakfast and a coconut macaroon for lunch. GAIL's is not just an Oxford coffee shop but also a bakery. Everything is freshly made that day and as pretty as it is tasty.

GAIL's gets pretty busy at weekends as they also serve brunch. If you're visiting for coffee as a group or hope to stay a couple of hours, arrive early or better yet, visit on a weekday.

Address: 21-22 Little Clarendon St, OX1 2HU.
Colombia Coffee Roasters, Covered Market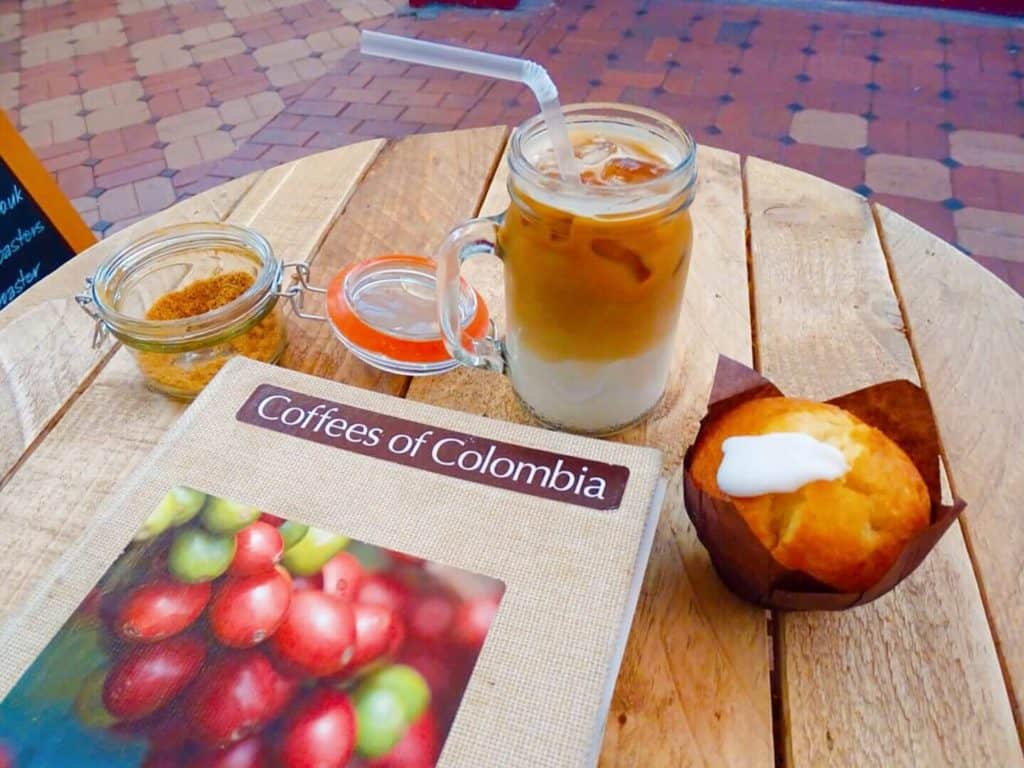 Any guesses as to where Colombia Coffee Roasters source their beans? Ecuador, Peru maybe? 😉

Describing themselves as a speciality, single-origin coffee roasters, they grow and roast their quality coffee beans in Colombia, of course! While it's still on my bucket list to sip coffee in Colombia, at least I get to sample the flavour at home in Oxford.

As well as the quality coffee and delicious baked goods (try the lemon muffin), the location is great. Colombia Coffee Roasters is hidden away from the busy city centre inside the Covered Market and surrounded by other fab Oxford businesses.

You can drink inside or outside come rain or shine since even the tables 'outside' are protected from the heavens by the roof of the Covered Market.

Even if you just swing by for a cup of joe, you'll probably leave with a bag of freshly-roasted coffee to make at home or an artisan chocolate bar. If you're serious about coffee, you can even buy speciality brewing equipment here.

Address: Covered Market, OX1 3DZ.
Related read: What to eat & buy in Oxford's Covered Market
Jericho Coffee Traders, High Street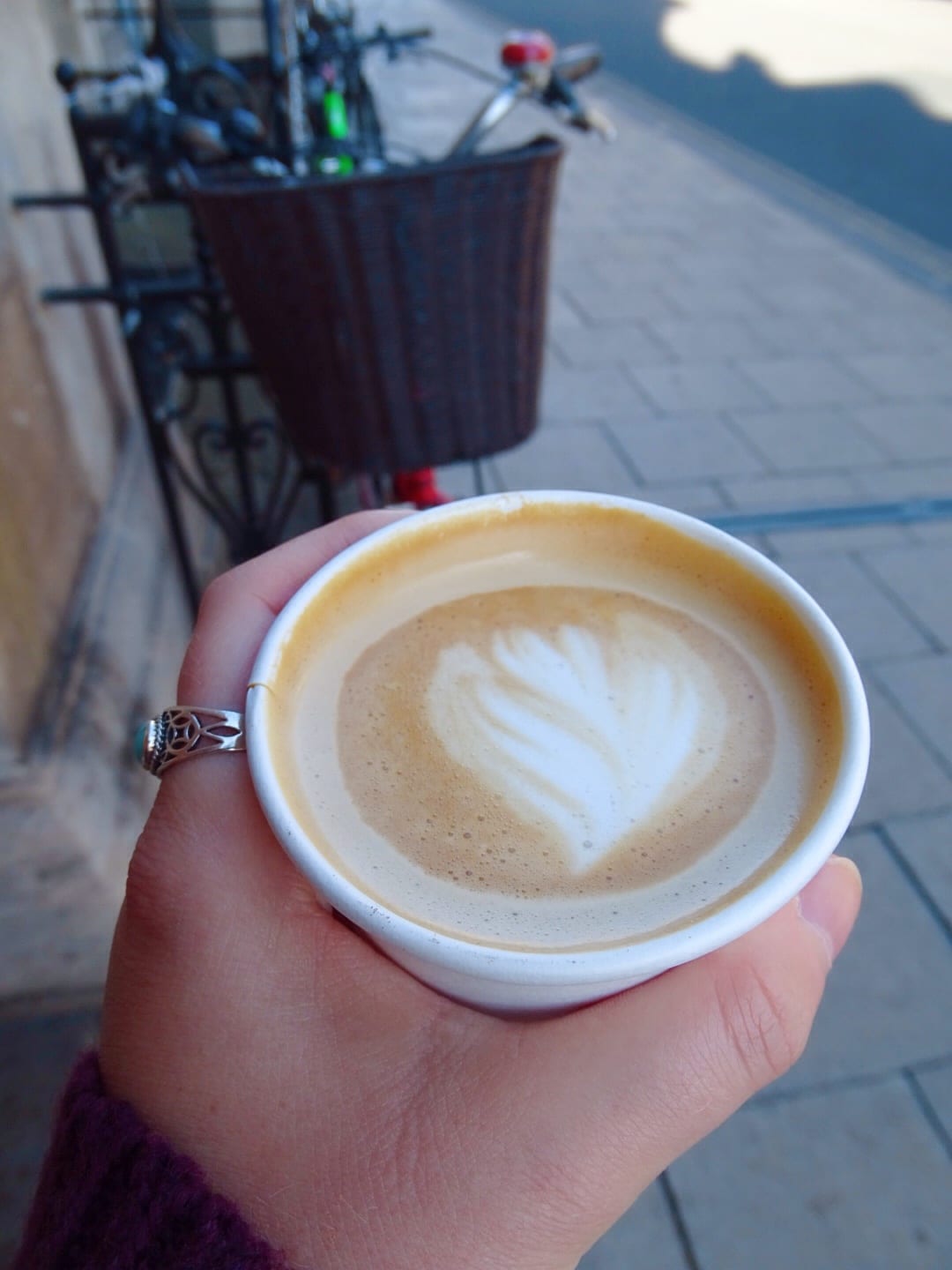 Another Oxford coffee shop that can't be missed is Jericho Coffee Traders located not in Jericho but along the High Street.

Jericho Coffee Traders are a bit of an Oxford institution, selling coffee beans in-store and travelling the country with their pop-up coffee van. However, if you're en route to work or visiting Oxford for the day and hoping to visit a cosy cafe, you'll be most welcome at their High Street 'espresso bar'.

This is another Oxford cafe with a quirky feel and a window bar perfect for people-watching. The smell of fresh coffee always wafts out the front door which means I can never resist popping inside (this is becoming increasingly hard on my bank balance). They also serve pastries and cakes.

You can also visit their Coffee Roastery in Osney, see how a roastery works and stop for coffee and cake.

Address: 105 High St, OX1 4BW.
Society Cafe, St Michael Street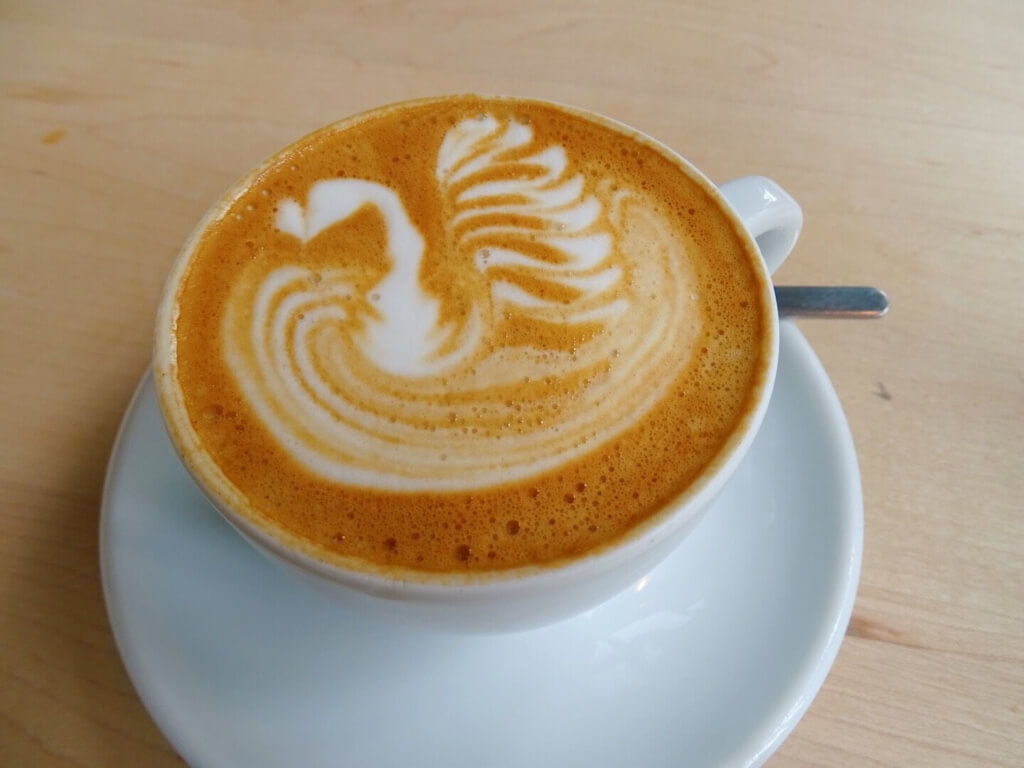 This cafe on St Michael's Street (with a couple of other branches in Bath and Bristol) takes coffee seriously. As well as two espressos from their most popular coffee farms around the world, they also have three filter coffee choices that change depending on the day.

They also serve all the classics like flat whites, cappuccino and Americanos. They even roast their own hot chocolate – I'm keen to try the white variety.

Unlike some of the social coffee shops in Oxford, Society has a co-working feel on weekdays with lots of remote workers and students on laptops.

The interior at Society is clean and hipster with cool artwork. Downstairs, there are quirky workspaces and booths.

Address: 12-16 St Michael's St, OX1 2DU.
Coffeesmith Oxford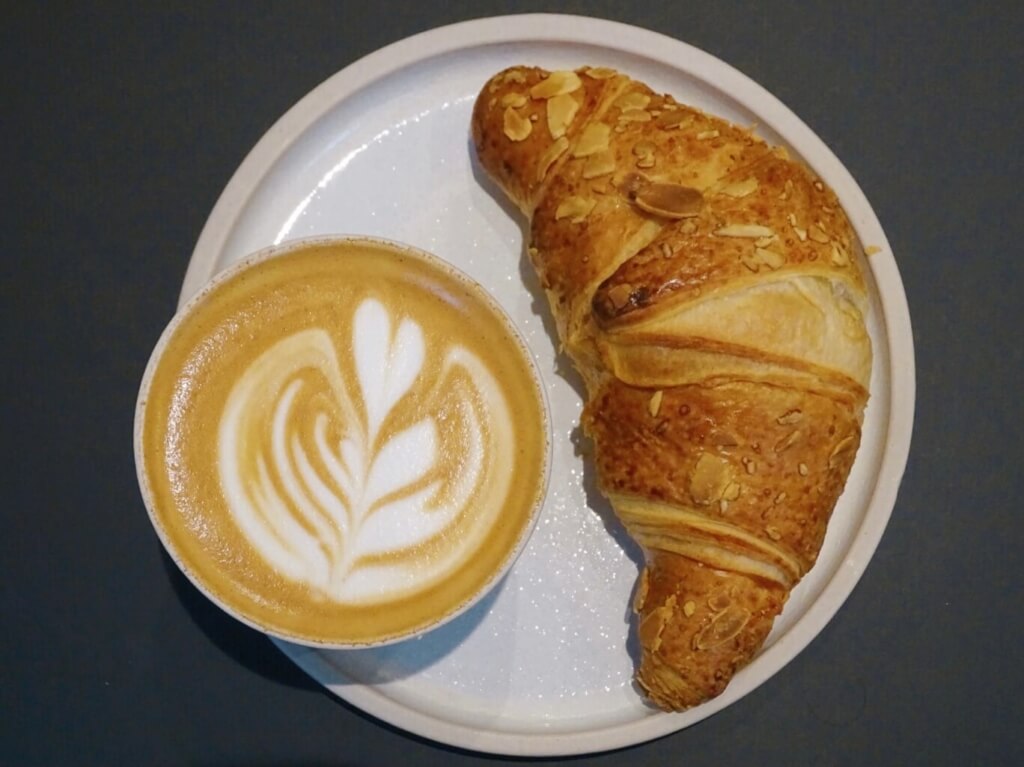 Nestled inside a 12th-century building at the entrance to Golden Cross Shopping Centre (leading to the Covered Market), this gem of a coffee shop delivers both atmosphere and baked goods in abundance.

Coffeesmith Oxford is the perfect place to curl up with a book or meet to socialise in small groups. There are no large tables so expect an intimate, cosy vibe… oh, and a great soundtrack!

As well as all sorts of speciality coffees, there are baked goods (I had the almond croissant), cheese toasties and brunch dishes. Just the perfect cosy cafe.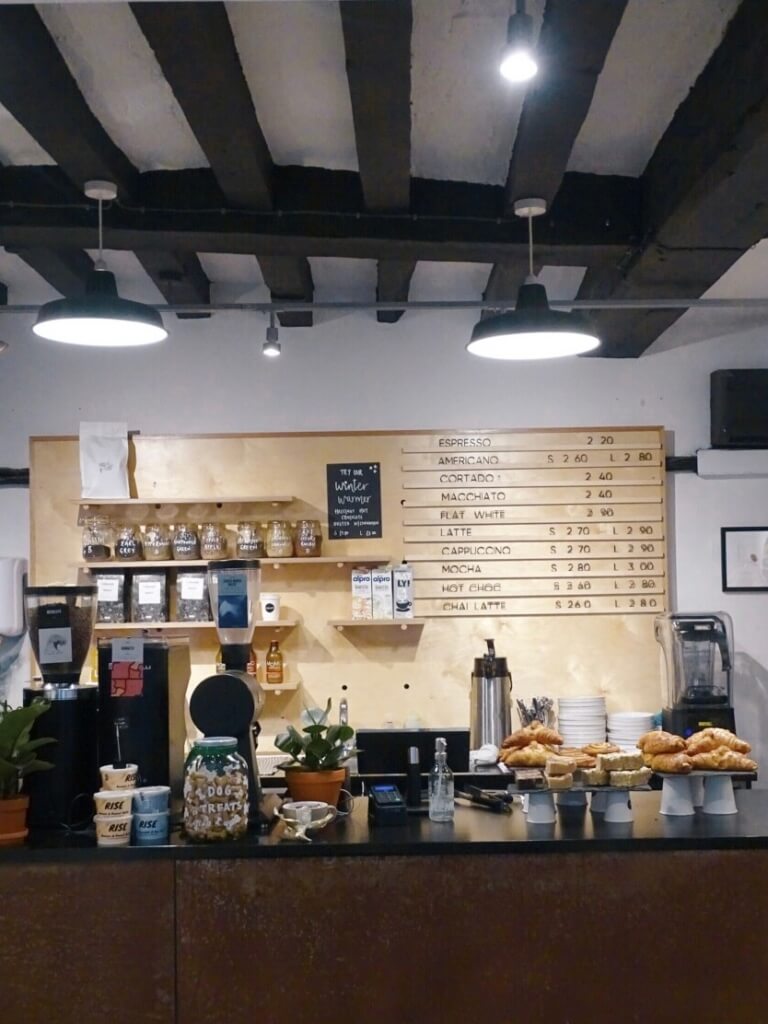 Only complaint – there was a chalkboard outside announcing the presence of Wi-Fi but after I'd ordered, the network didn't even show.
Address: 14-15 Golden Cross, Oxford OX1 3EU.
Queen's Lane Coffee House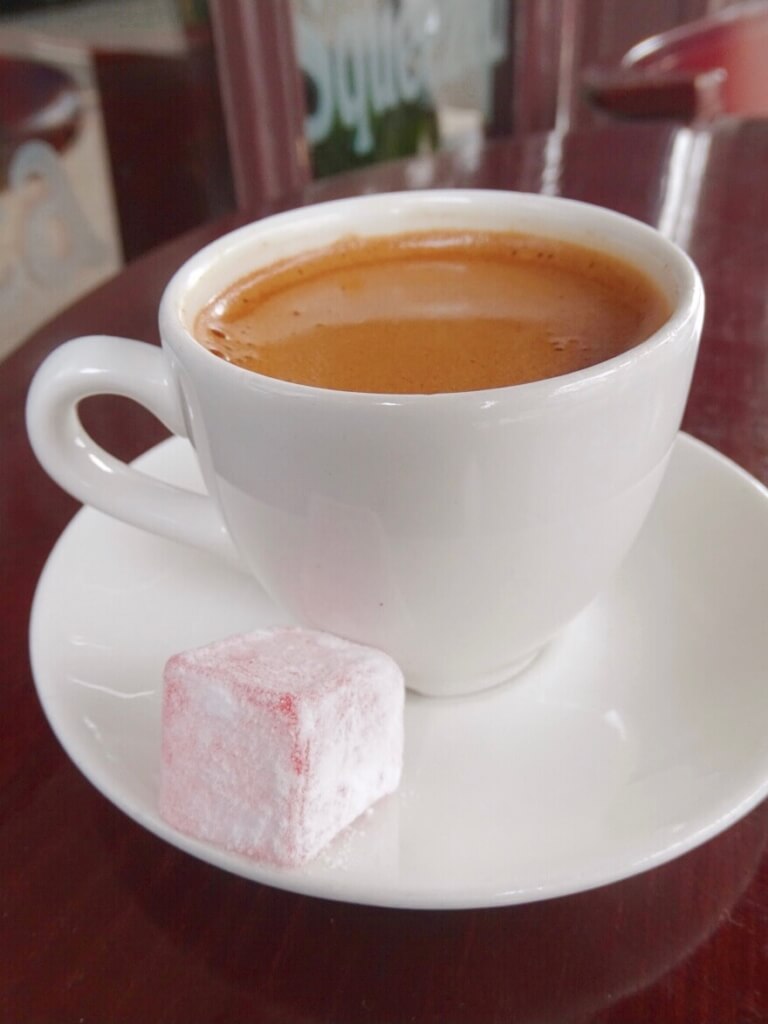 The oldest coffee house in Oxford is also the oldest coffee house in Europe!

Queen's Lane Coffee House is a must for coffee fanatics visiting Oxford, and a local institution dating back to the 1650s. It was established by Cirques Jobson, a Jewish Syrian, and remains a family business to this day.

Unlike the fancier cafes in Oxford, it has a distinct no-frills feel. While they serve all your usual coffees and fry ups, the best thing to order is the strong, dark Turkish coffee with Turkish delight (£3.50) or a Turkish cooked breakfast. Don't miss the baklava.

Address: 40 High St, Oxford OX1 4AP.
Handle Bar Cafe & Kitchen, St Michael Street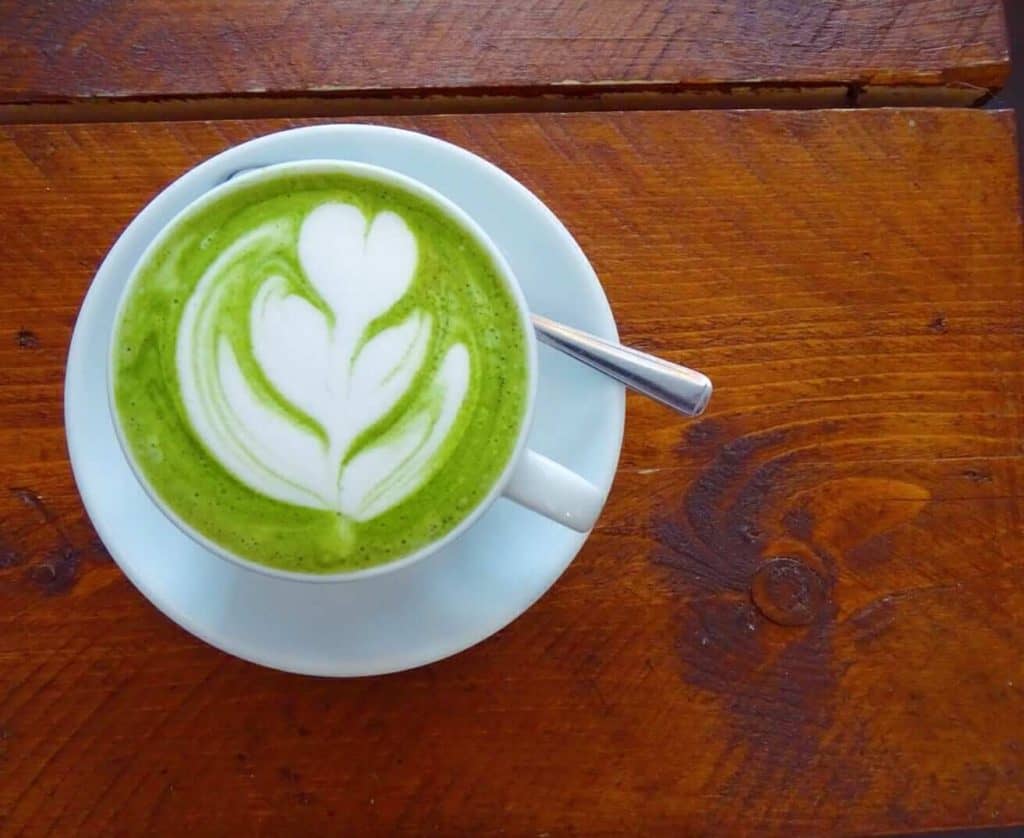 Just a few doors down from Society, you'll find Handle Bar Cafe. You can also eat lunch and breakfast but that doesn't take away from the quality of the coffee which can rival that of speciality roasteries.

They also serve my favourite matcha lattes (as well as regular coffees) so I'm sold.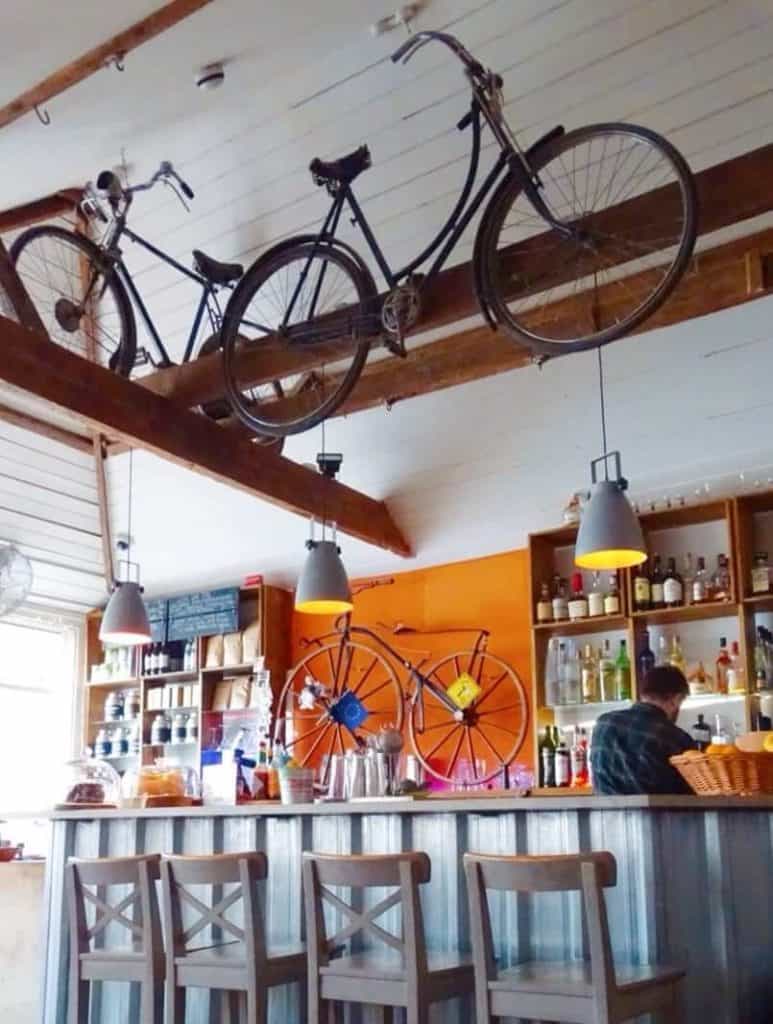 Handle Bar has a quirky, cosy feel with bicycles hanging from the ceiling (downstairs is a bike shop which explains the theme).

During lunchtime, it's even a no laptop zone to encourage a social vibe.

Address: 28-32, St Michael's St, OX1 2EB.
Barefoot Cafe, Walton Street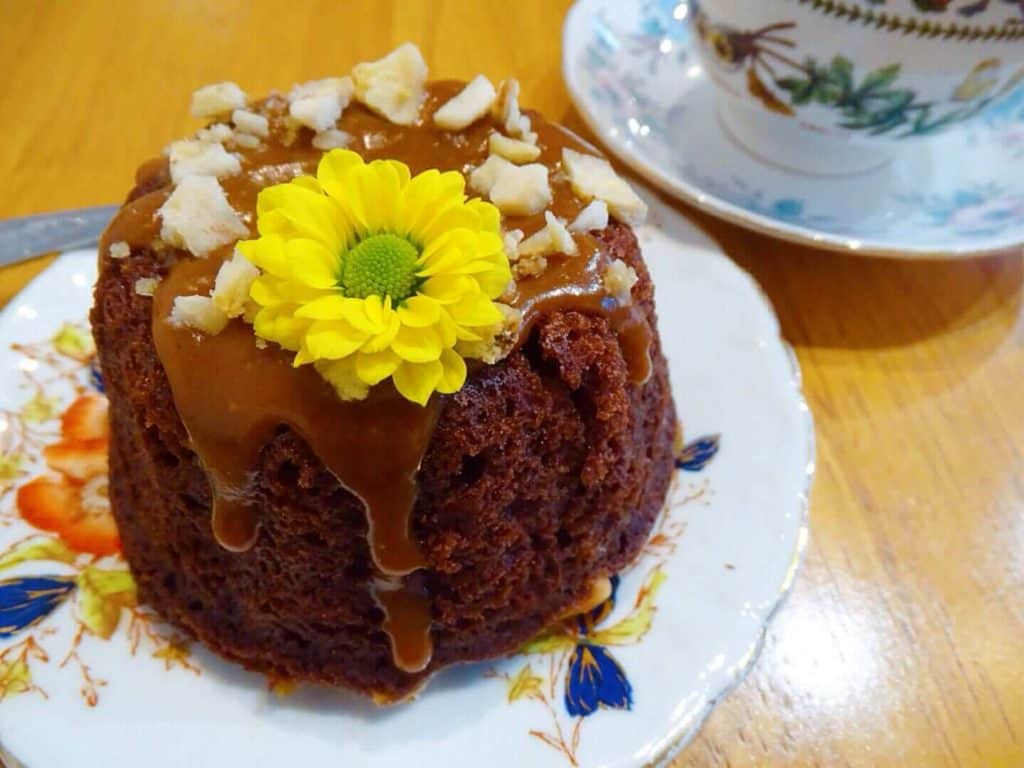 No self-respecting cafe could be around the corner from GAIL's and not have competitively amazing cakes and fresh bread.

Baked highlights at Barefoot include sticky toffee apple cake; parsnip, apple and walnut bread; and toffee popcorn cake. The pretty cupcakes decorated with flowers and coconut shavings could have been made for Instagram but also manage to taste divine.

Even though the sweet treats will catch your eye first, the coffee is just as tasty and served in vintage chinaware.

As well as all your classic coffees and looseleaf teas, you can try a few more unusual concoctions like pink rose lattes. However, I won't lie, I'll stick to a regular latte next time!

The vibe at Barefoot also deserves a 10/10 because it's as bright and homey as it gets.

Address: 74a Walton Street, OX2 6EA.
BREW, North Parade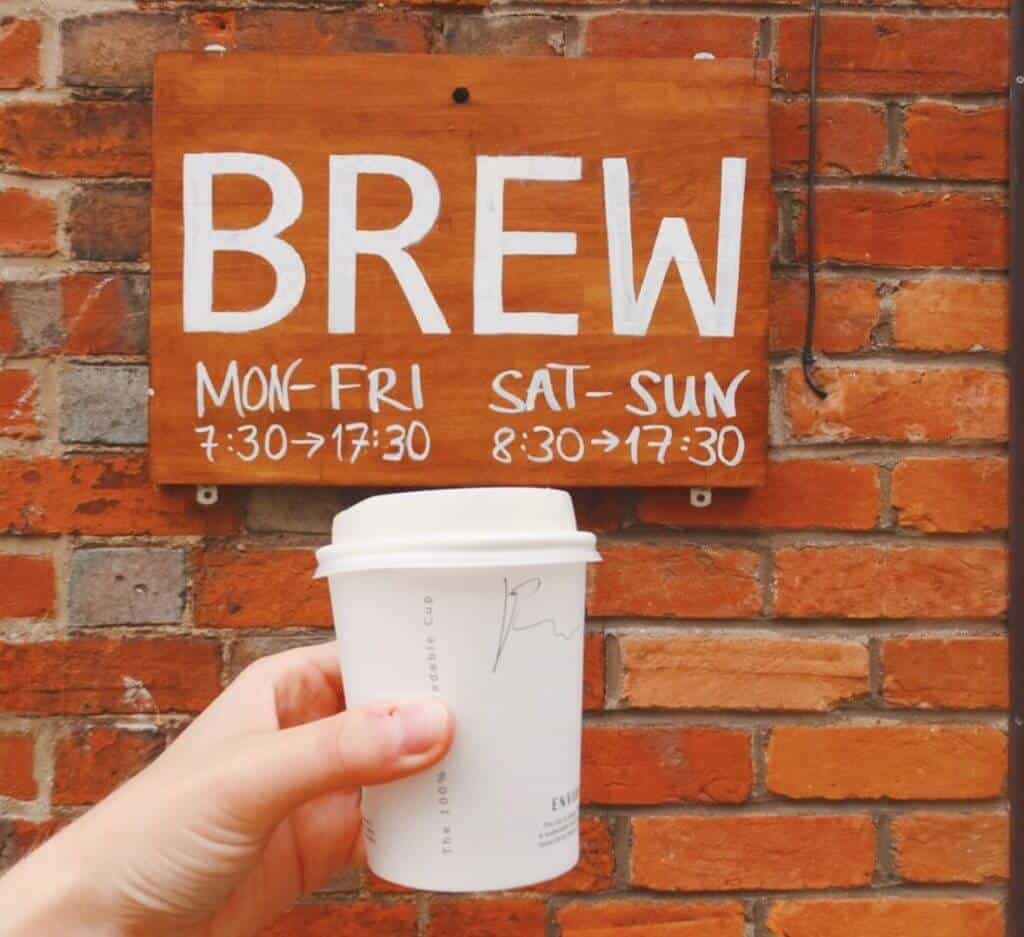 This cute independent cafe is on North Parade, one of my favourite streets in Oxford, just across from the Insta-friendly pink Rose & Crown pub (which has a small but lovely pub garden in Oxford).

Since it's a twenty-minute walk from central Oxford, it may not be worth coming all the way from town to visit BREW. However, if you're visiting on the 2nd or 4th Saturday of the month for North Parade Market or you're checking out this pretty part of North Oxford anyway, I would recommend popping in for an excellent coffee.

BREW serve a range of speciality coffees also with a choice of plant milks. There are just a few tables if you're drinking in, surrounded by vinyls and coffee-making paraphernalia. Just the perfect independent cafe!

Address: 75B Banbury Road, OX2 6PE.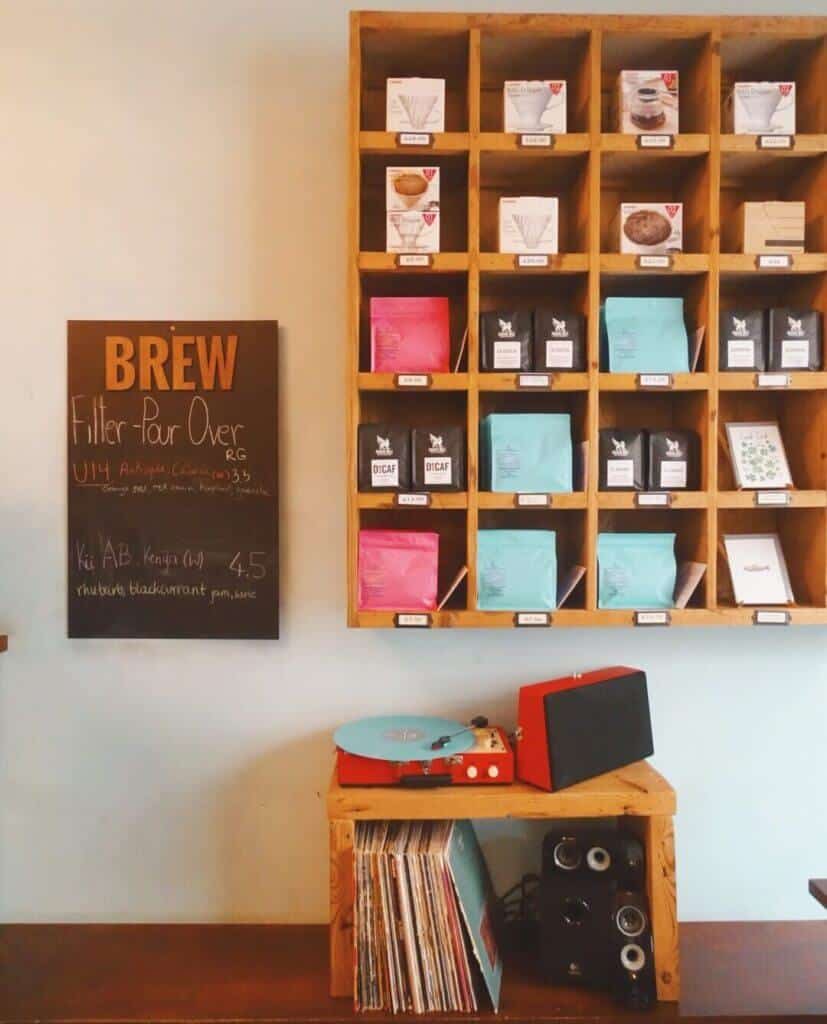 Black Sheep Coffee, George Street
This isn't an independent coffee shop in Oxford like the rest in this blog, but it's worth a try when in need of strong, speciality coffee in central Oxford.

Black Sheep Coffee have stores in London, Manchester and, as of 2019, one here in Oxford. Set up by two office workers sick of bad coffee chains in London, their motto is 'leave the herd behind': an ethos I can get behind.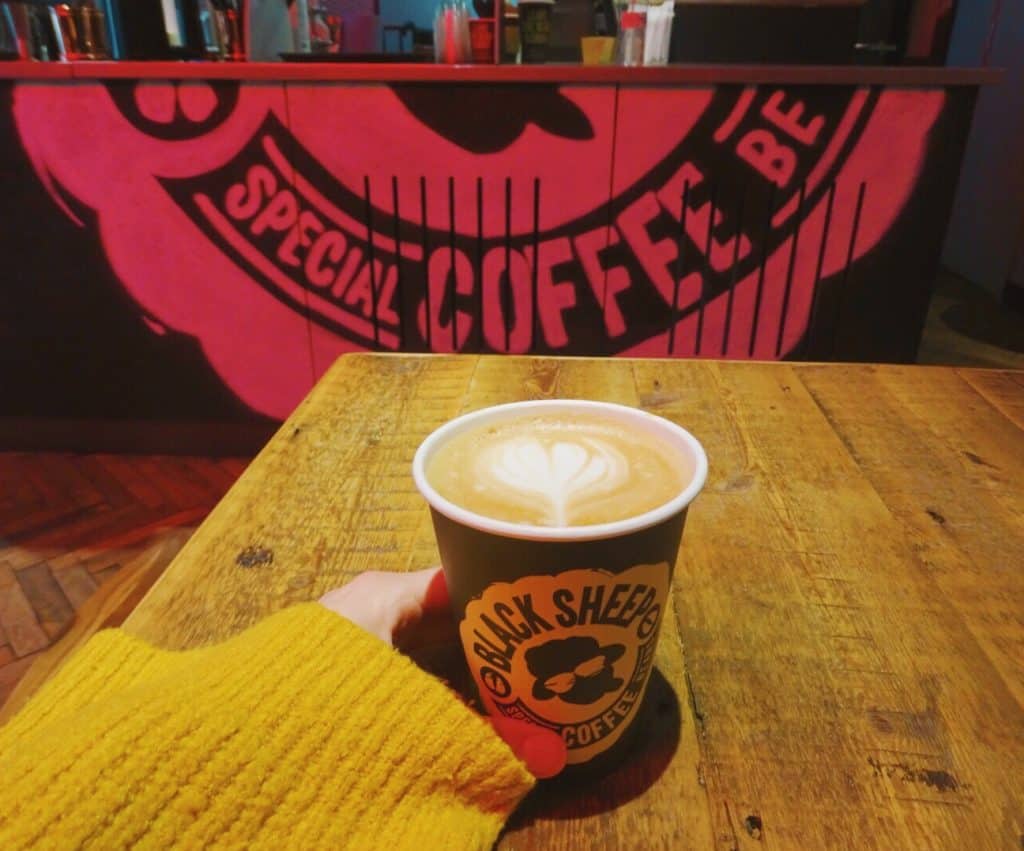 The coffees here are suitably strong and aesthetically pleasing. The George Street cafe is dark and moody with some quirky indoor murals, serving your usual speciality coffees, as well as matcha, CBD coffee and delicious-looking waffles in all number of flavours.

You can purchase ground coffee beans and reusable coffee cups.

Note – it's usually a pet peeve of mine when cafes serve disposable cups to drink in. However, this was a temporary measure due to 2020 safety regulations.

Address: 4 George Street, OX1 2AF.
Triple Two Coffee, Broad Street
Another Oxford coffee newcomer is Triple Two Coffee. With a few other branches around the UK, they're not an independent cafe in Oxford but they do serve excellent coffee in a central location.

With the motto 'real food, awesome coffee', they serve all your usual coffees and plenty of sandwiches, salads, cakes and baked goods.

Unlike some teeny cafes in Oxford, they have plenty of seating in the spacious downstairs area.

Address: 12 Broad Street, OX1 3AS.

Local tip – you get a free coffee for downloading their mobile app and there's also 20% off for students.
Horsebox Coffee, Parks Road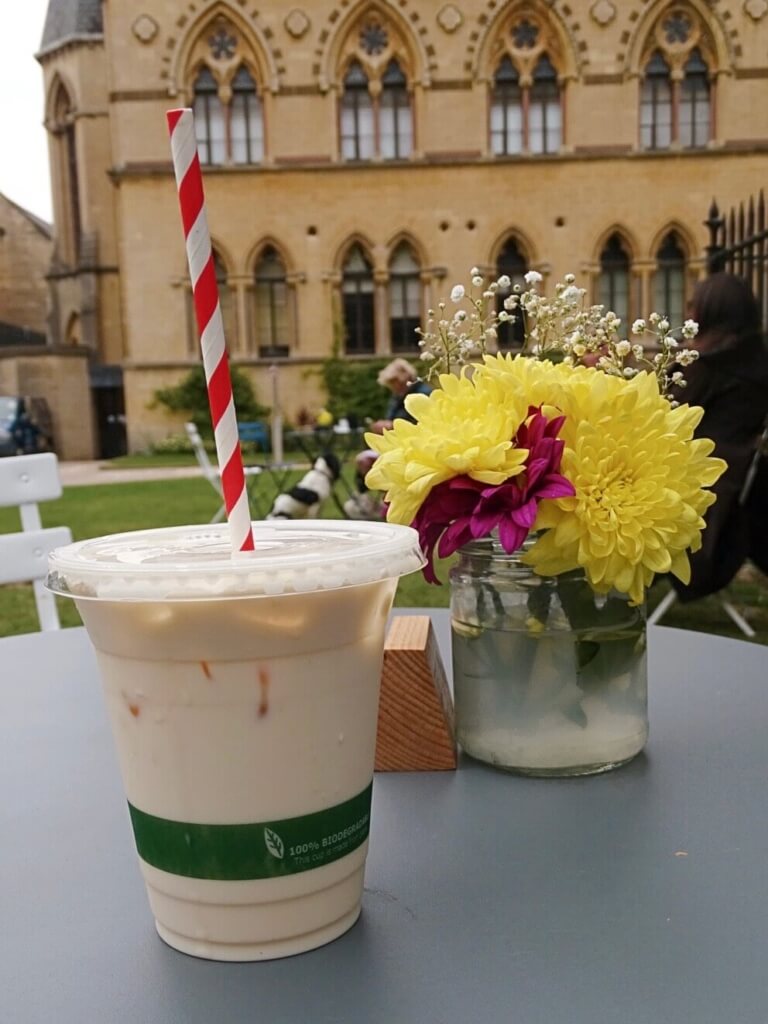 This cute mobile coffee bar serves speciality coffee outside the Natural History Museum on Parks Road. When the weather's good, it's a lovely place to sit outside in the grounds.

Horsebox Coffee Roasters serves hot and cold coffees including lattes, cappuccinos, filter coffees and guest blends.

I can vouch for the iced chai latte which is sweet and creamy and better yet, served in fully compostable cups. As they say on their website, 'sustainability filters through everything we do, from sourcing to serving'. I'm here for it!

Address: S Parks Road, Oxford OX1 3PP.
Cafe Vespa, Gloucester Green Market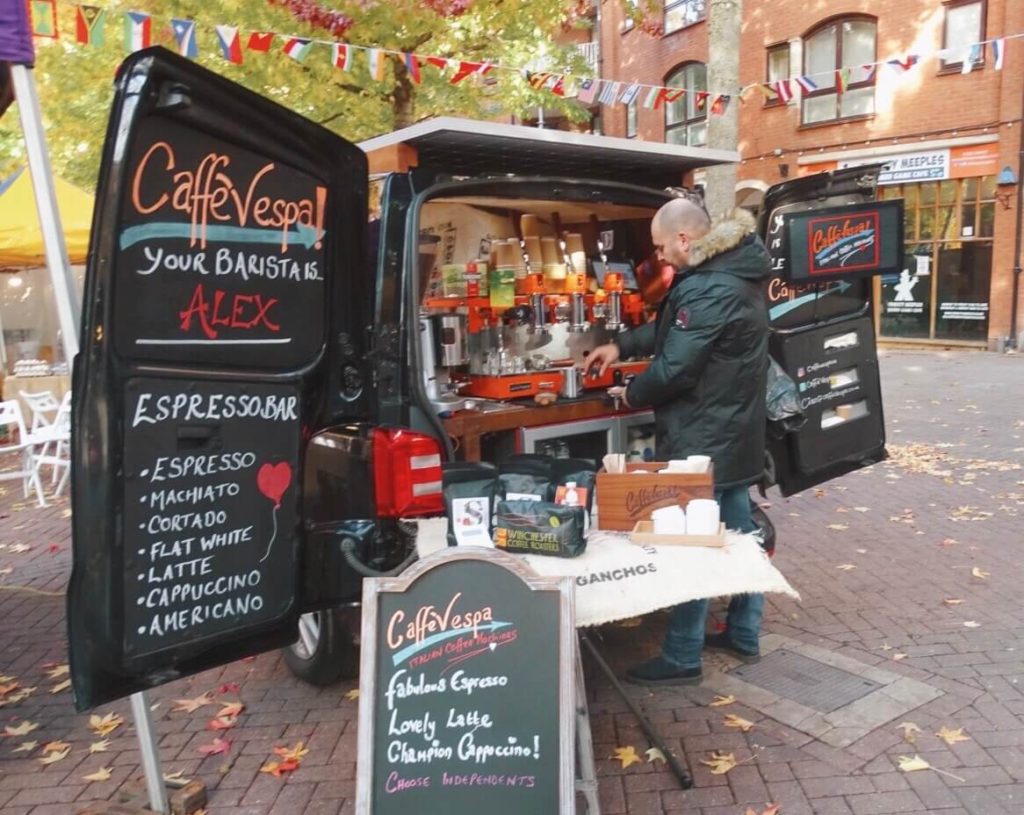 Alex's portable espresso bar can be found at Gloucester Green Market from Thursday to Sunday.

Choose from macchiatos, cortados, flat whites, lattes, cappuccinos and Americanos. If you can't pick between all the amazing street food at the market, grab a coffee and browse.

For everything to eat at the market, check out my guide to visiting Gloucester Green Market.
Related read: all the best Oxford food markets
Opera Cafe
This is a small but lovely place to grab coffee and lunch on the corner of Little Clarendon and Walton Street. Pair your coffee or fresh juice with a Middle Eastern-inspired bite to eat.

Brunch dishes include shakshuka and all your usual avocado and egg combos (served 'til 2pm) while lunch dishes include spicy chicken and halloumi wraps and Moroccan soups and salads. Of course, you can also simply visit for coffee and cake. Don't miss the baklava!

Address: 31 Walton Street, OX2 6AA.
More cafes in Oxford
These coffee shops are still on my 'to-visit' list.
The Grand Cafe – this is one of the more expensive cafes in town and, although it claims to be the oldest, I believe Queen's Lane Coffee House actually holds this title. Still, if you're looking to celebrate or treat a loved one, the cream tea is a treat.
Thirsty Meeples – I'm yet to visit this board game cafe on Gloucester Green but plenty of friends can vouch for it. Pay for the amount of time you spend while sampling the coffee and playing games.
Cafe Coco – I mention this cafe in my Oxford brunch guide but it's also a cute spot for coffee and cake, away from the hustle and bustle of the city centre.
Peloton Espresso – this quirky bike cafe on Cowley Road is another one I've heard good things about but have yet to visit.
BRICK @ Modern Art Cafe Oxford – I haven't visited this cafe since it closed a few years back for renovation. If it's as good as it was before, I can vouch for the freshly roasted coffee, cakes and hearty, healthy lunches.
Thanks for reading!
Check out my other Oxford posts:
See you next time for more adventures,
Rose
For more travel content, follow me on Instagram, Facebook, Twitter and YouTube.
Ps. Liked these best coffee shops in Oxford? Pin this for later!