I love a good coffee and recently I may have become a coffee snob. To be honest, I blame Oxford cafes for setting the bar too high!

I can taste the difference between a good and bad coffee. My heart bleeds when my cappuccino comes to the table half made of foam. I feel silently disappointed when there's not a leaf drizzled onto my beverage.

Yup, it's official – I'm obsessed. But, in the spirit of embracing who I am, I'm celebrating the fab coffee around me and have sniffed out the best coffee shops and cafes in Oxford.

OXFORD ESSENTIALS

Oxford & Cotswolds Pocket Lonely Planet guidebook

Accommodation: Booking.com

Activities: GetYourGuide

Getting there: Trainline / Busbud
Coffee in Oxford
The Oxford restaurant and cafe scene is fantastic. It's a great city for independent coffee shops meaning you need set foot in Starbucks.

Many of the Oxford coffee shops are set inside creaky, quirky buildings dating back six centuries. If that isn't coffee shop character, I don't know what is!

Plenty of Oxford coffee roasteries have recently started roasting their own beans on-site and selling them for you to take away. Great news for locals and tourists in need of their daily brew.
Best coffee and cafes in Oxford
In no order whatsoever, here are my top picks for the best coffee in Oxford. I hope they help enhance your trip!
Vaults & Garden, Radcliffe Square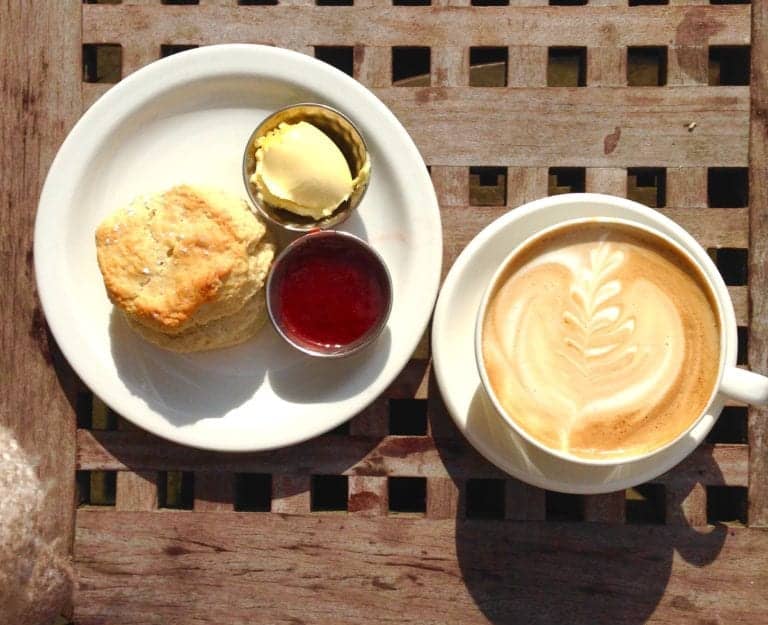 If we were judging on surroundings alone, Vaults & Garden would wipe the floor with all other Oxford cafes.

Set inside St Mary's Church between High Street and Radcliffe Square, this gorgeous cafe has inside and outside seating. Choose to eat outside in Oxford by relaxing at a table in the garden overlooking the Radcliffe Camera, the most iconic and photographed building in Oxford.

Luckily, they also serve some of the best coffee in Oxford so I can include it in this guide. Vaults & Garden understand the importance of coffee which is now the second popular drink in the UK after gin… I mean, tea!

They not only support sustainable, environmentally coffee growing practices, but they also only support shade-grown coffee which is an alternative to sun-grown coffee, produced at the expense of the world's rainforests.

Choose from flat whites, cappuccinos, Americanos, macchiatos and more. I went for a flat white, beautifully decorated with a leaf pattern and served with scones, jam and cream.

Address: University Church, 1 Radcliffe Sq, OX1 4AH.
Missing Bean, Turl Street
Oxford Wine Cafe, Jericho
GAIL'S Bakery, Little Clarendon Street
Colombia Coffee Roasters, Covered Market
Jericho Coffee Traders, High Street
Society Cafe, St Michael Street
Coffeesmith Oxford
Queen's Lane Coffee House
Handle Bar Cafe & Kitchen, St Michael Street
Barefoot Cafe, Walton Street
BREW, North Parade
Triple Two Coffee, Broad Street
Horsebox Coffee, Parks Road