This post may contain affiliate links to things like tours, hotels, Amazon associates and products. These help me earn a small commission at no additional charge to you.
Oxford is full of great restaurants and sit-down dinners but there are also some excellent Oxford markets that I recommend visiting whether you're a local or tourist.

lAs a lifelong Oxford local, I'm here to tell you about the best markets in Oxford that I've visited many times over the years. When I worked in the city, I used to love visiting them during my lunch break and trying a different dish each time.

I love visiting food markets all around the world, sussing out all the stalls and trying to work out what to eat – even if half the time I end up at the first one I saw. Browsing and working up an appetite is half the fun.
Looking for more formal al fresco dining? Check out these Oxford restaurants with outdoor seating and my guide to the best Oxford pubs with gardens.

Some of these markets are great for hot ready-to-eat street food and others are community farmers markets in Oxford. I'll share which is which as we go along.
Gloucester Green Outdoor Market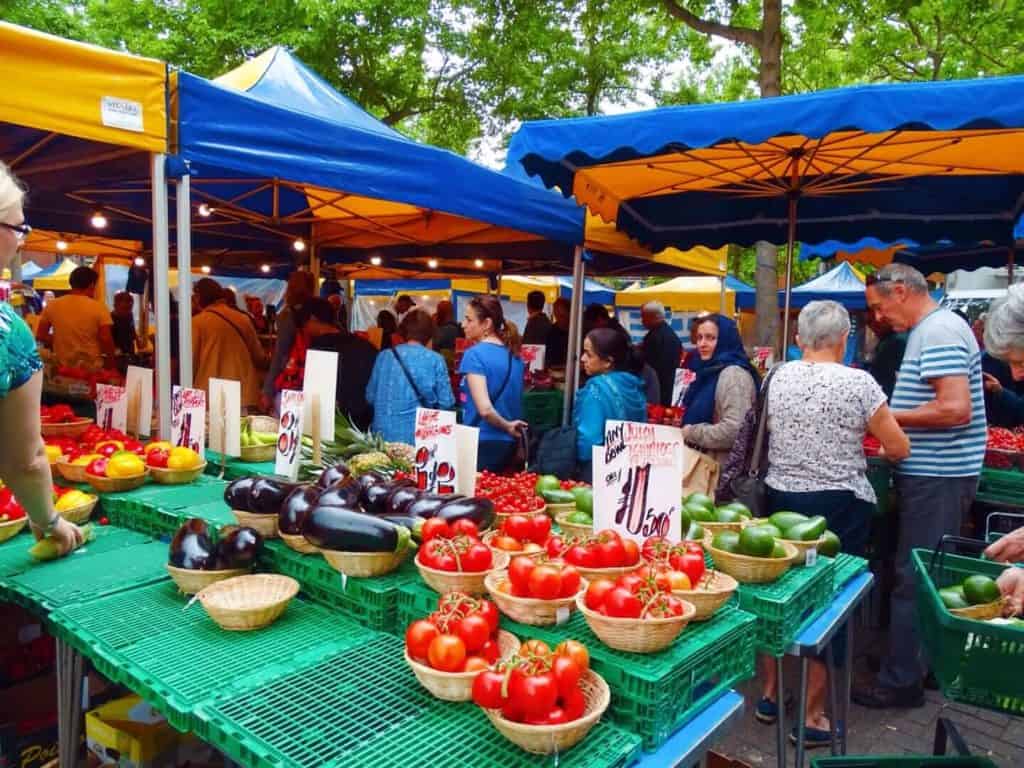 This Oxford food market, Gloucester Green Outdoor Market, is the heart of the city during the latter half of the week. One half of the market sells fresh produce while the other half sells delicious street food.

Nearby the less-than-amazing chain restaurants of George Street, a ton of local businesses start serving ready-to-eat authentic world cuisine from 9am. This open-air market great place to try new cuisines that you can't elsewhere in Oxford, for example Ethiopian, Tibetan, Hungarian and Goan.
Read next: a complete guide to visiting Gloucester Green Market Oxford (and what to eat!)
Lula's Ethiopian Cuisine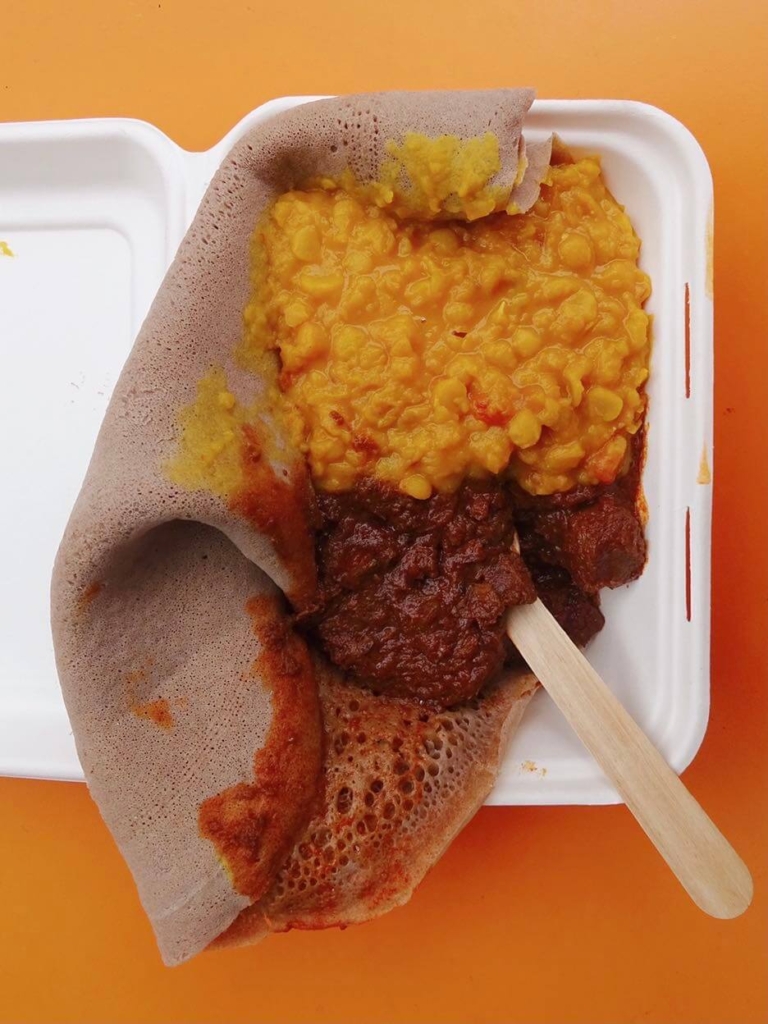 Some of my favourite Oxford market food is served at Lula's Ethiopian Cuisine. If you've tried Ethiopian or Eritrean food before, you'll know about injera, a type of sourdough bread served with curries. You can scoop up messy mouthfuls of curry using your hands and injera as a spoon. Prices start from £7.
Gyoza Oxford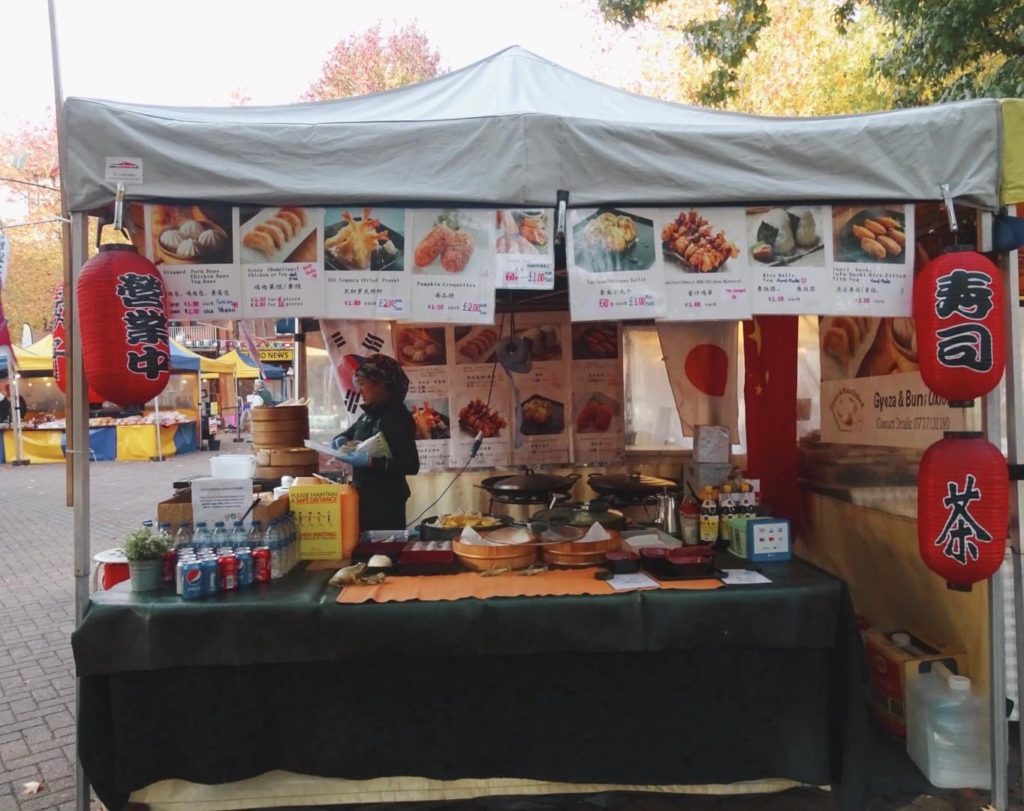 The lovely chef and owner of Gyoza Oxford serves Japanese dishes like gyoza, onigiri, takoyaki (squid batter balls), steamed buns and pumpkin croquettes. There are plenty of veggie options available. You can build boxes with items starting at 60p! Bargain.
Ceylon Spicy Caterers
Another example of fantastic Asian food in Oxford is Ceylon Spicy Caterers. They serve Sri Lankan dishes like kottu (sliced roti with spices and cooked veggies or meat) and coconut sambal. There aren't many places to eat Sri Lankan food in Oxford – only Coconut Tree on St Clements – so it's an excellent excuse to try the tasty, veggie-friendly cuisine for less than £7.
Gloucester Green Market info: 9am-4pm, Wednesday, Thursday & Friday, 10am-5pm, Saturday | 78 The Heyes, Oxford OX1 2BU.
Oxford Covered Market
The Covered Market is an indoor food market in Oxford has been around since 1774 and brings a load of character to the city centre.

It does sell fresh market goods but its main focus is static shops that rarely change, most of which are local Oxford businesses. Many sell souvenirs, clothes and trinkets but I'm, of course, focussing on the food…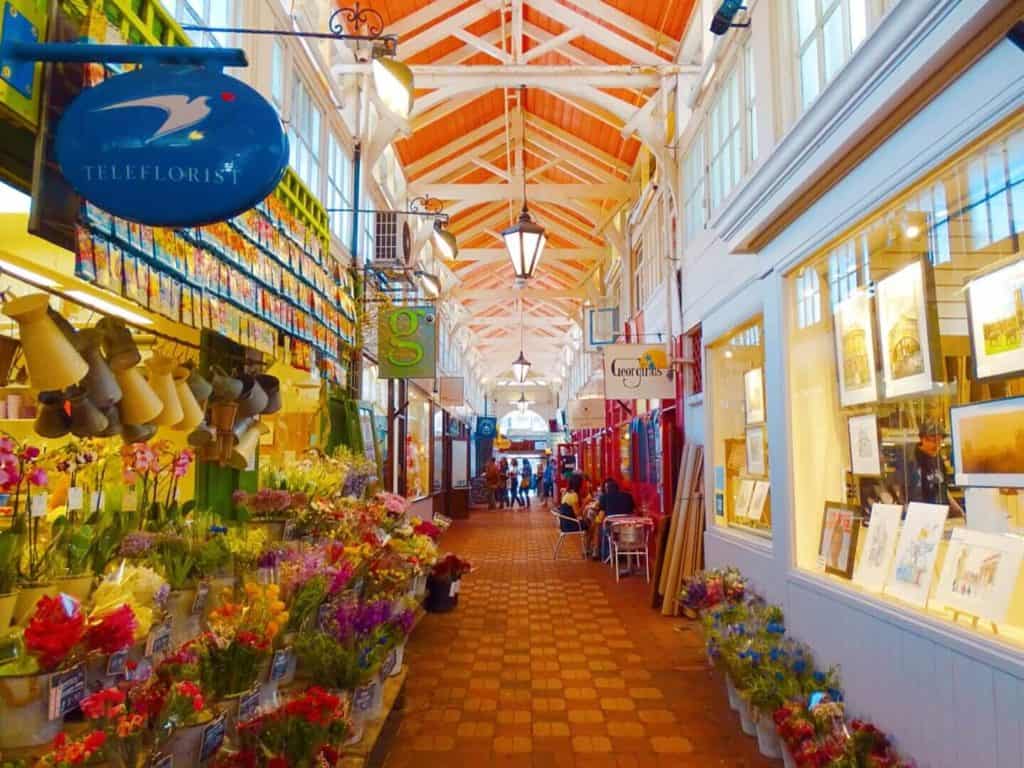 Read next: Oxford Covered Market visitor's guide
Sasi's Thai
Sasi's Thai serve affordable, authentic Thai food in giant scoops. It's a squeeze to find a seat at lunch but it's well worth it. Most mains are £5 or you can get an extra scoop of a different curry for £7.
Georgina's Cafe
This colourful cafe is one my favourites. Georgina's Cafe serve delicious Greek mezze. It's not market food but I'll make an exception because I love this friendly, cosy cafe.
Alpha Bar
At Alpha Bar, sizeable takeaway salads are under £5. Salads may not sound particuarly exciting but these are super salads packed with tasty ingredients like feta-stuffed red peppers, stuffed vine leaves, fish, meat and veggies. Even a small one will keep you stuffed for hours.
The Souvlaki Brothers
The chatty siblings from Souvlaki Brothers serve excellent Greek food. They started life at North Parade Oxford Market but have since bagged a permanent stand at the Covered Market where they've continued serving delectable Oxford market food.

I had a delicious halloumi souvlaki wrap with tzatziki, paprika and fries.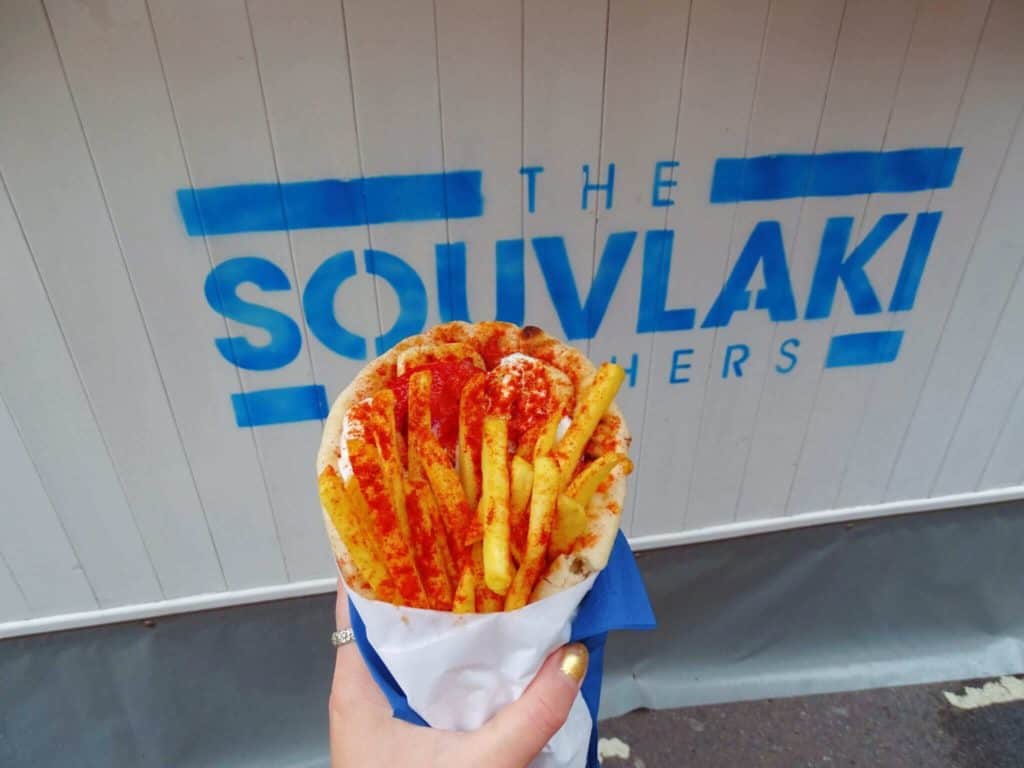 Pieminister
Pieminister serve pies with all different fillings and sides including gravy, mash and peas. They have a small cafe in Oxford Covered Market where you devour a heart, messy meal for under £10. Being English never tasted so good.
Ben's Cookies
The birthplace of what's now a chain, Ben's Cookies are served warm and gooey (insert heart-eyes emoji here). Dark chocolate and ginger is my favourite flavour. They've recently started serving vegan cookies although they were out of stock by mid-afternoon when I last visited.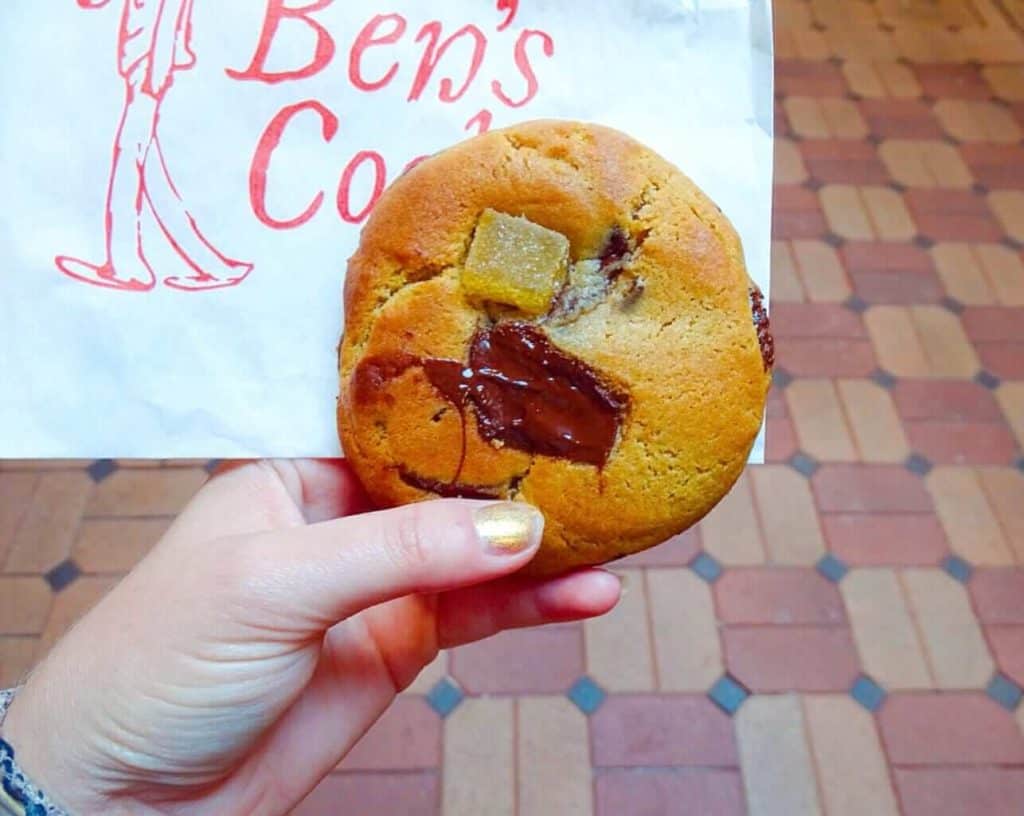 Covered Market opening times: 8am–5.30pm Monday-Saturday and 10am–4pm on Sundays (individual trader times may vary so check their websites/socials) | Market St, Oxford OX1 3DZ.
North Parade Market Oxford
Next up, North Parade Market. This wholesome farmers market in Oxford doles out tasty produce to its guests on the 2nd and 4th Saturday of each month. North Parade is a gorgeous street so make sure you take a trip with or without the market.
Note – the vendors at North Parade Market vary weekly due to their individual commitments. I can't promise all these stands will be here every week.
Tuyen's Vietnamese Kitchen
Here you'll find yummy, authentic Vietnamese dishes. The fresh spring rolls with prawn (£2.50) were just as good as the ones I ate in Vietnam, and the pho ga (chicken noodle soup, £5) was hearty and satisfying on a cold morning.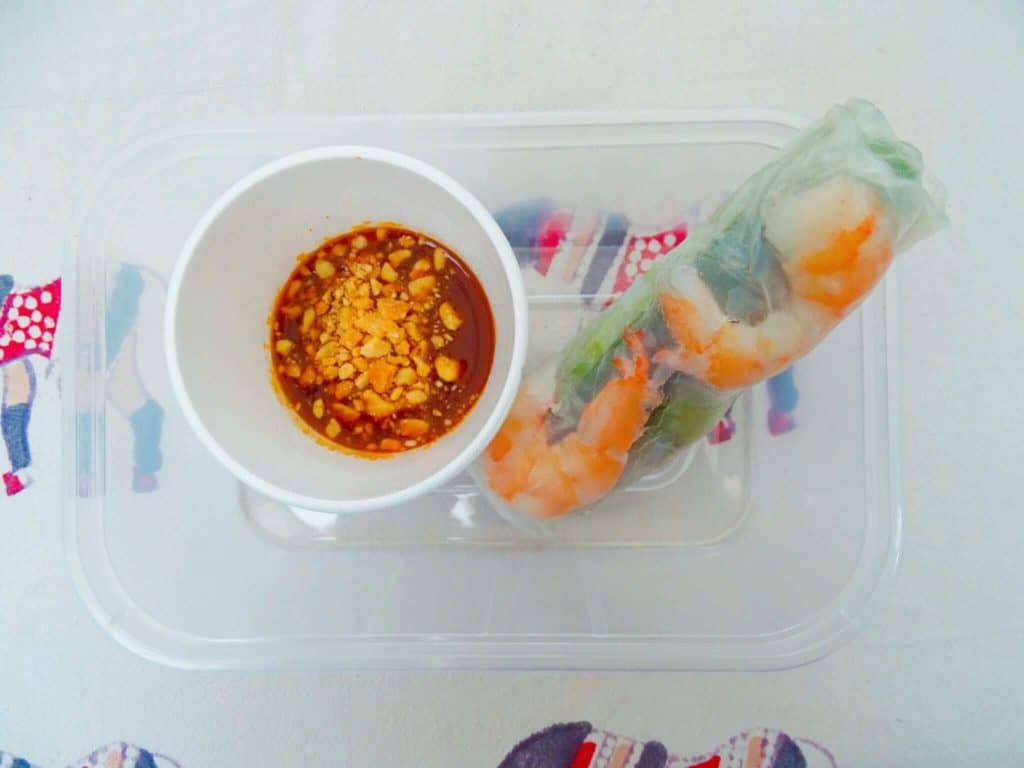 Sin Azucar Organic Chocolate
Love chocolate but watching your sugar consumption? Sin Azucar is Spanish for no sugar. These goodies contain high percentages of Peruvian cacao and quality ingredients including orange, dates, ginger and pumpkin seeds.
Padstow Fish
This is the place to purchase fresh seafood from sea bass to monkfish, lemon sole, swordfish and oysters. It doesn't get fresher than Padstow Fish.
PSOUL
With the tagline 'if almonds can be milk, you can be anything', this is Oxford's first vegan food van. Try PSOUL's delicious vegan burgers in eye-catching pink buns and take home freshly baked brownies and peanut butter cookies for later.
North Parade Oxford Market info: 10am-2pm on the second and fourth Saturday of every month | North Parade Avenue, OX2 6LX.
East Oxford Farmers Market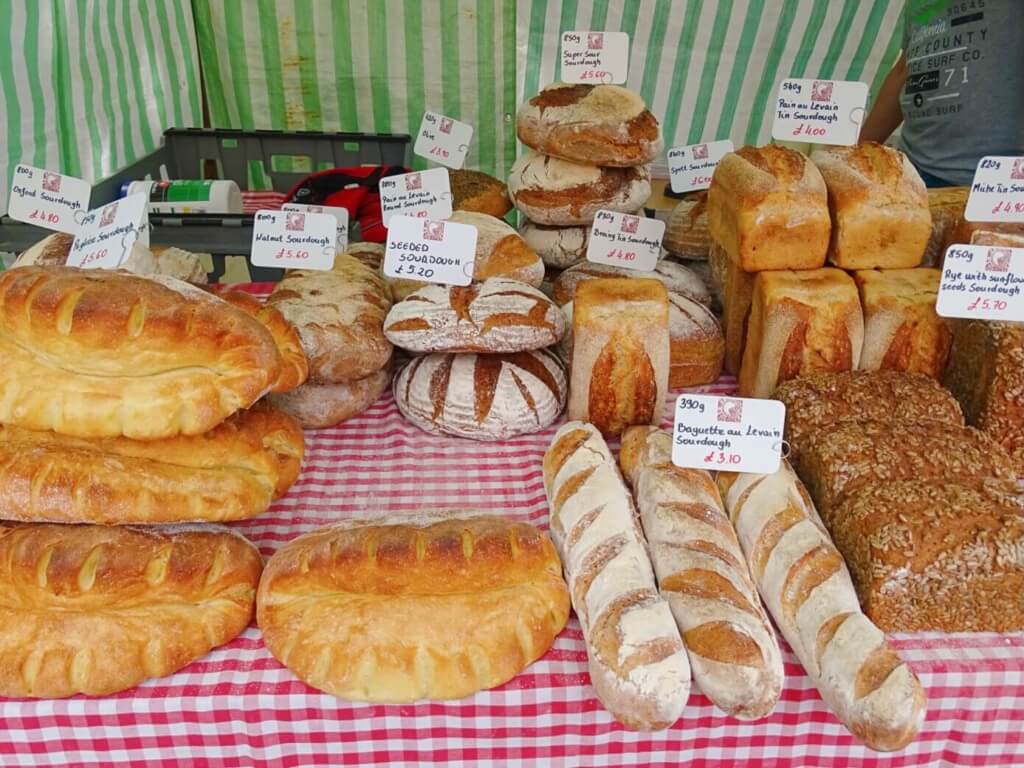 East Oxford Farmers Market is a lovely community-run market held near Cowley Road on Saturdays.

As the name suggests, it's more about local produce (think bread, milk, cheese and honey) than street food, although there are a few things you can sample while wandering around, starting with takeaway coffee at the front.

A few top picks include…
Mediterranean
I ate the best falafel of my life at this stand serving Mediterranean and North African veggie and vegan food. In this box below I've got hummus, falafel, stewed aubergine in tomato, lentil curry and a giant crispy roll stuffed with potato and cheese.

Fill a box for £7.50. I imagine it would last several days in the fridge.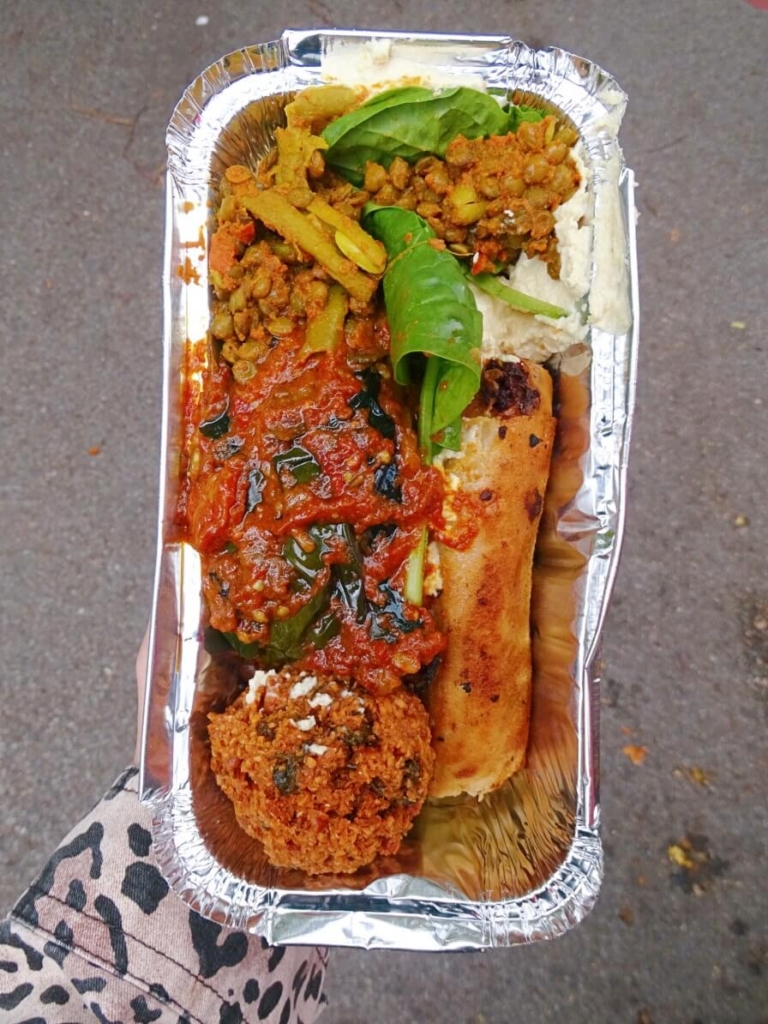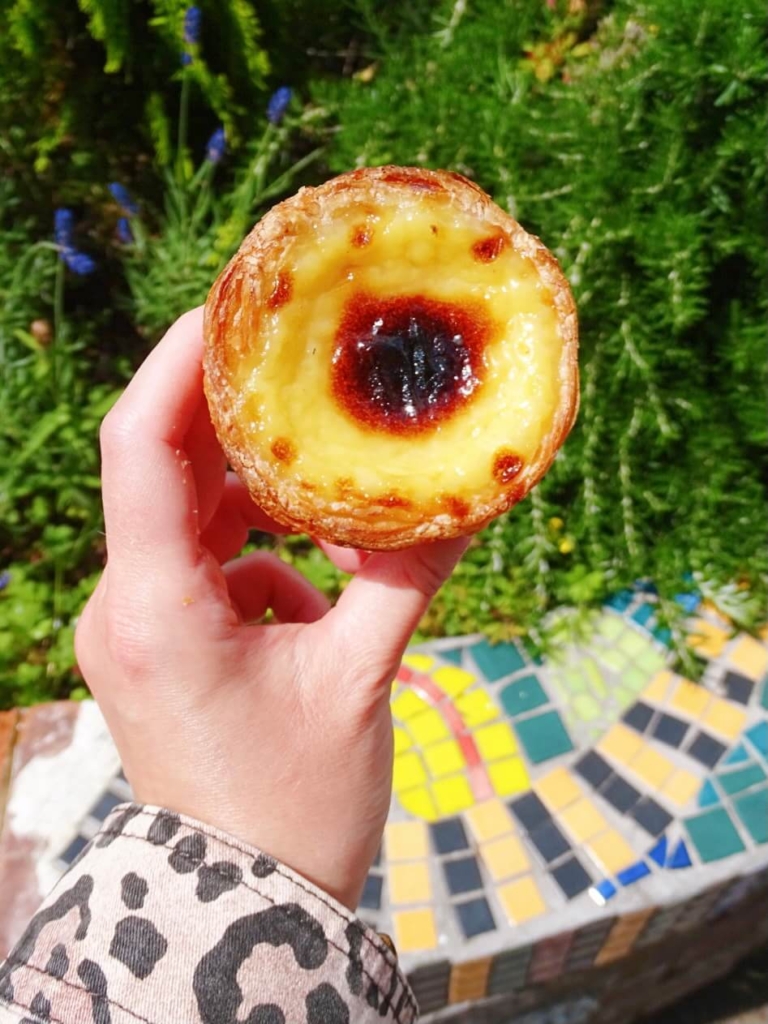 Tuga Pastries
The lovely Portuguese owner of this food stand serves the sweetest, gooiest custard tarts. One pastel de nata is £1.60 or you can buy them in bulk to get more for your money. Tempting!
Sesi Refill
I love the ethos of Sesi Refill. They allow customers to fill empty containers with fairtrade, organic dried foods, shampoos and detergents. Just remember to preorder and bring your containers.
Johnny Hot Stuff
Made in Henley, these fiery condiments are infused with sweet ingredients like date and mango. For every 150ml bottle brought, £1 is donated to Alzheimer's Research UK.
Headington Market Oxford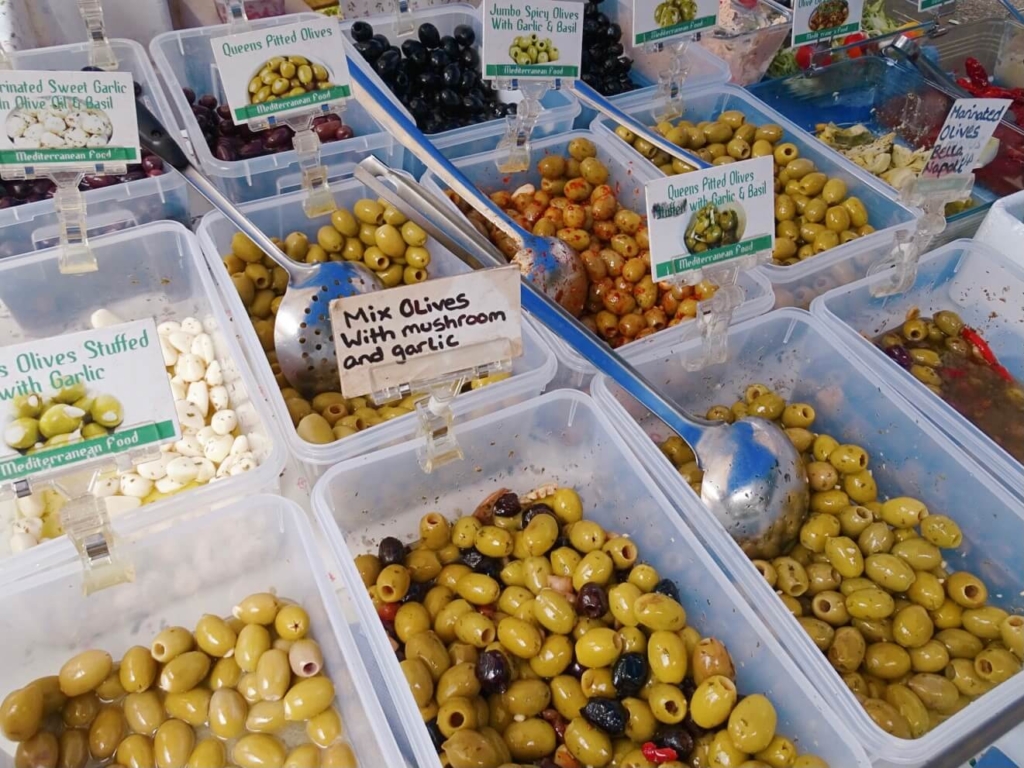 Headington Saturday Market is another Oxford farmers market. Shop essential items while supporting local businesses.

Since it's not far from East Oxford Farmers Market (20 minutes by bus or 35 minutes on foot), I combined them both into the same morning.

Don't come hungry because there's not much ready-to-eat food… Plus you might get carried away and buy everything! Still, it's a wonderful place to browse British cheese, fresh fish and pre-prepared meals to eat later in the week. There are also stands serving organic bath and beauty products.

Highlights include…
Ali's Olives
For £4.50, fill a box with as many types of olives as you like. Friendly Ali told me the pitted queen olives with garlic and basil are the best. He also sells baklava and various flavours of Turkish delight including cherry.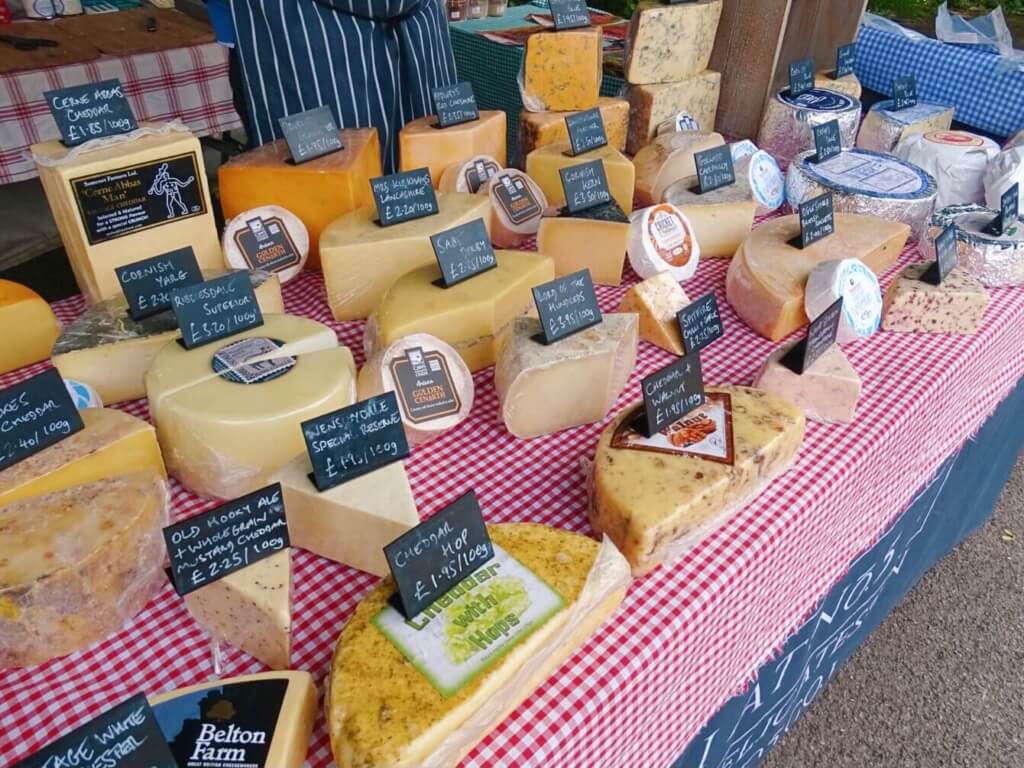 Deli at No.5
Fish and cheese fans need look no further! The Deli at No.5 stocks countless types of British cheese which the knowledgeable owner can tell you all about. Visit towards the end of the morning to get great deals on fresh fish.
Headington Market info: 10am-2pm, every Saturday | London Rd, Headington, Oxford OX3 9BB.
Oxford Christmas Market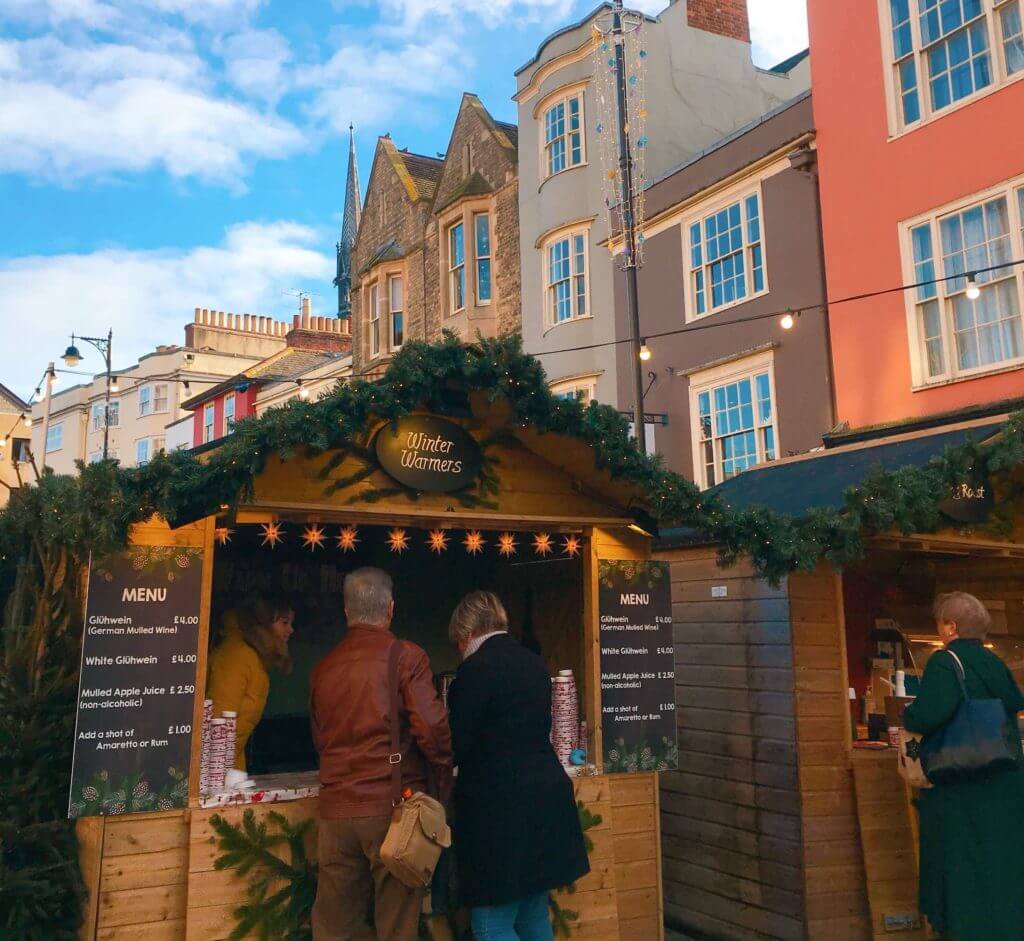 It's not the biggest or best Christmas market in the UK but if you're in Oxford come December, it's worth checking out Oxford Christmas Market.

This Oxford market serves all the usual German classics like bratwurst and mulled wine. You can also browse adorable hut-shaped stalls selling everything from gourmet cheese and chocolate to trinkets and Christmas decorations.
Oxford Christmas Market info: Usually late November until early January; check the website for next dates | Broad Street.
Thanks for reading my Oxford market guide
Are you drooling yet? Do you know any other Oxford food markets I should write about? Let me know in the comments.

If you liked it, please share it 🙂
Check out my other Oxford posts:
See you next time for more adventures,
Rose
For more travel content, follow me on Instagram, Facebook, Twitter and YouTube.
Ps. Liked these Oxford markets? Pin this for later!